STICKII Club is a monthly sticker subscription. This subscription is $10 dollars a month, and you get an envelope filled with 6+ sticker sheets, 1 STICKII storage insert, and 3 stationery items. Shipping is $1 to the US, $1.75 to Canada, and $2.50 international. There are 3 choices for this subscription – Cute (lovable, super charming, sweet); Vintage (provincial, picturesque, delicate); or Pop (quirky, iconic, eccentric). You can even change your order every month if you like, as long as you do it by the cutoff date.
STICKII Club is a monthly sticker subscription with 3 styles to choose from. Enjoy endless varieties of stickers as unique as you are, plus member perks in our shop and early access to new releases.
This is a review of the Vintage Pack!
My items arrived in an envelope and everything was tucked into this vinyl holder.
I received two stickers that have the theme listed. I used one on the corner of my holder so I can quickly grab the stickers I need when looking for past packs. The second sticker can be used however you wish. You can store the vinyl holder in an A5 folio. The theme was Lavender & Honey.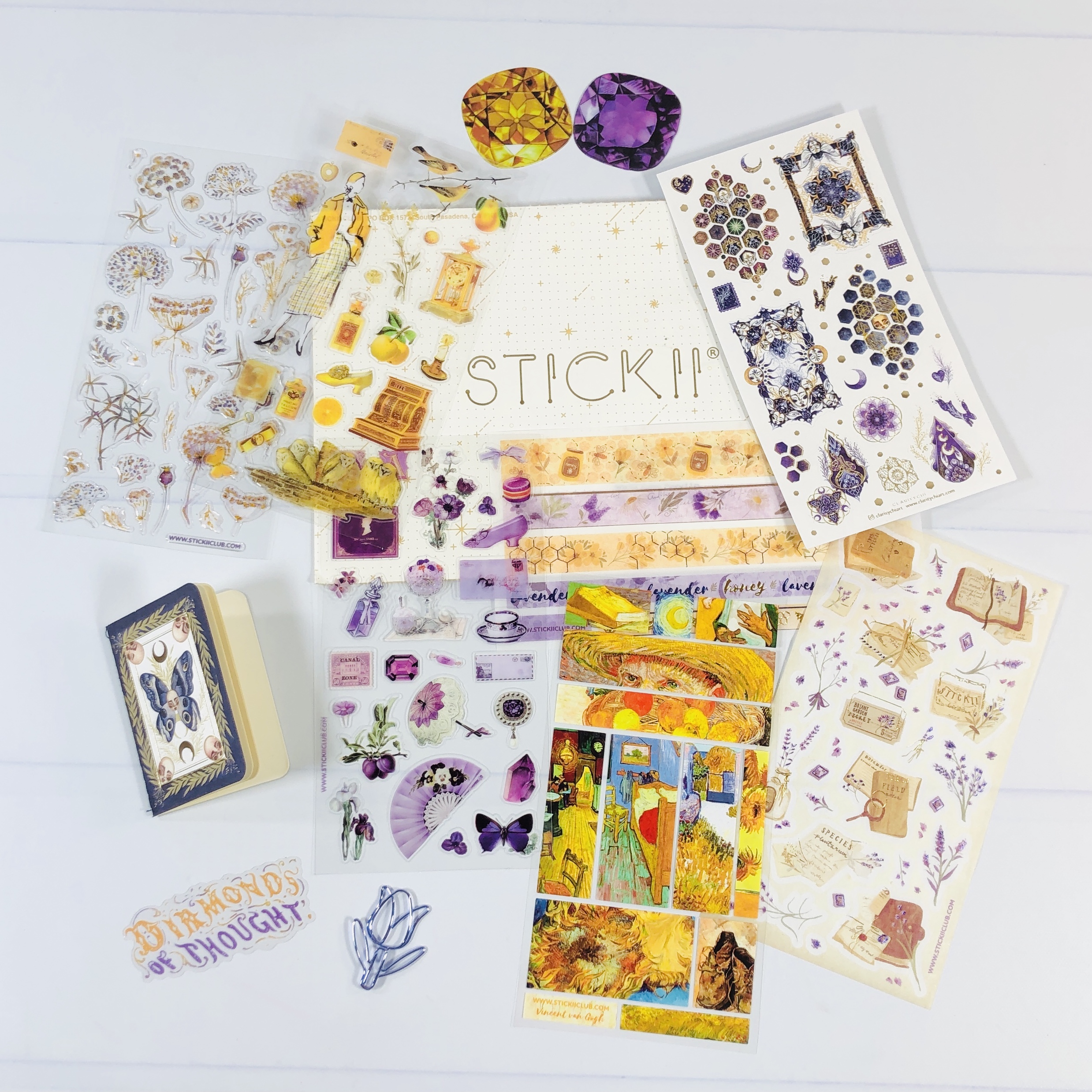 Everything in my Vintage Pack – Lavender & Honey!
Sticker Flakes are single stickers that are loose. I received two that look like jewels and that are 1.5″ across and a third sticker reads "Diamonds of Thought" and is 2.5″ across.
Tulip Paperclip STICKII sends stationery items and occasionally they will send a cute paperclip. This one is lavender and shaped like a tulip!
Mini Notebook from @claritychiart The notebook has illustrations that include a butterfly and faces that look moon-like. There are gold foil accents.
The pages inside are blank and the book measures 2″ x 3″.
Washi Strips These washi strips are so pretty, I love the bee motif on the bottom. There are gold and purple metallic accents.
@claritychiart Stickers Here is a sheet by the collaborative artist. It has those same moon faces as the notebook and these are very detailed. I love the gold metallic touches.
Jelly Stickers These epoxy stickers are in 3-D and have herbs and flowers all over. There are gold metallic accents too.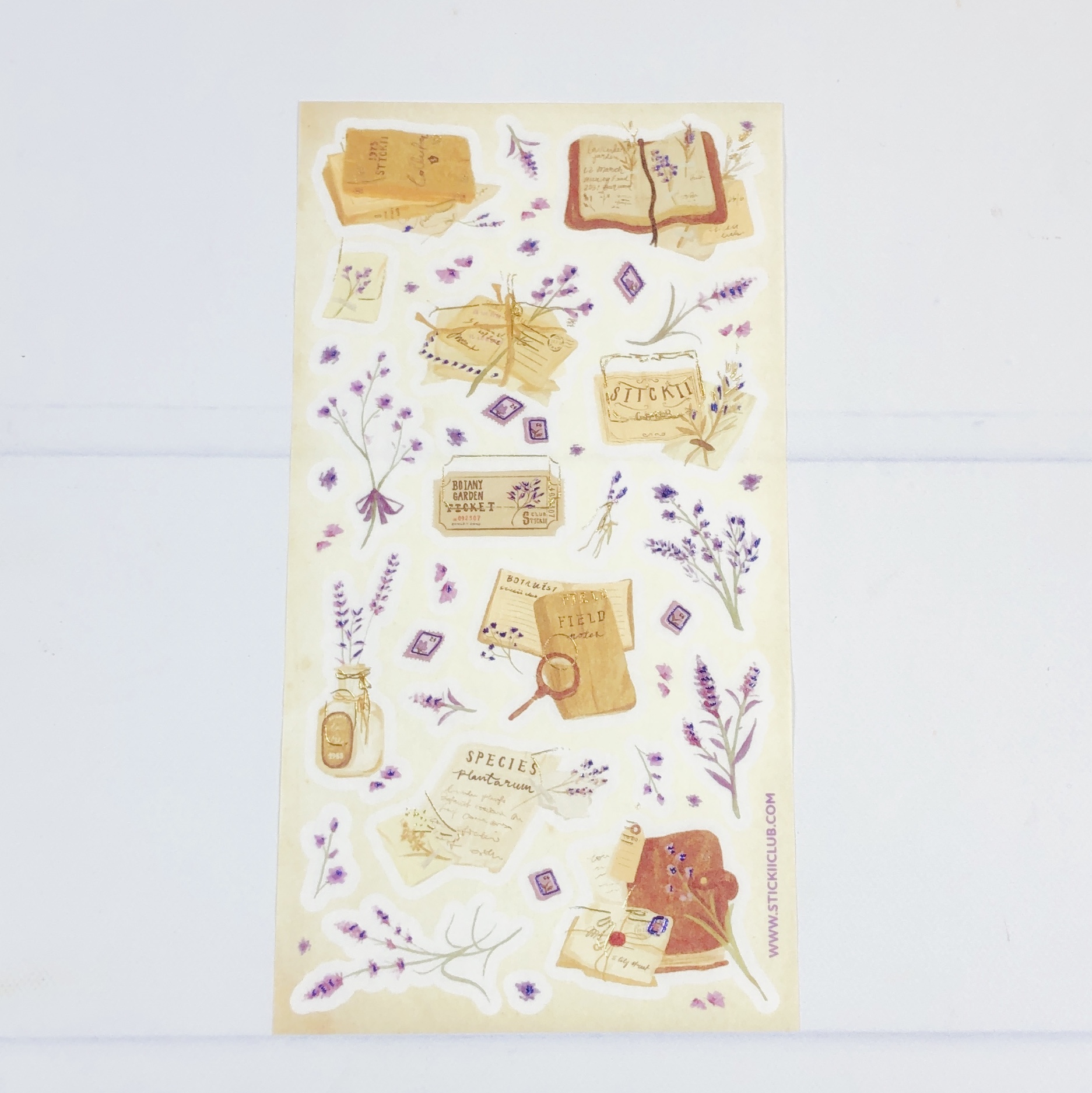 Field Guide is printed on washi and has both gold and purple metallic accents. The flowers are adorable and they even managed to fit in the word STICKII in there!
Vincent van Gogh Sheet I have been excited by the recent inclusion of sheets with scenes from famous artists! This is a sheet of images from van Gogh and they add a bright pop of sunshine anywhere!
Golden Touches has a well-dressed woman along with owls, a butterfly, and other golden objects. Printed on vinyl.
Lovely Lavender also has a butterfly (I love butterflies!), plums, and all sorts of items in purple.
I think this was one of my favorite STICKII shipments, the gold and purple shades really spoke to me and I liked the florals and feminine aspect since I tend to like pretty objects. I usually use the stickers in my planner and I can't wait to see how these colors look together! I don't know if I have a favorite sheet, but I hope STICKII will continue to include the sheets with masterpieces on them!
Let us know what you think of this month's STICKII pack!