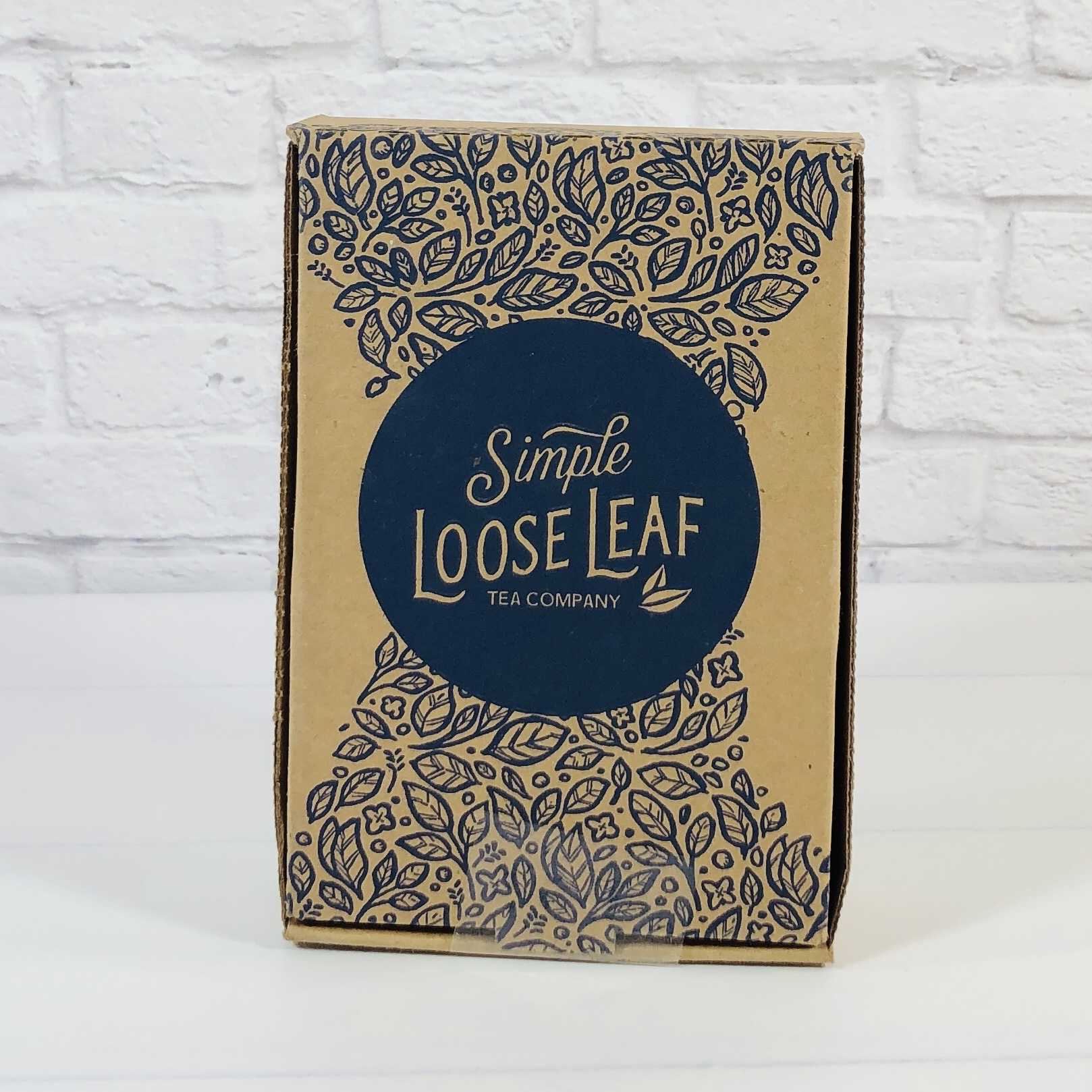 Simple Loose Leaf is a monthly tea subscription box, which delivers four half ounce hand selected, loose-leaf teas each month. Subscriptions are $10 a month and you can choose from 4 different tea types: Black, Green, Herbal, or Sampler. They send both single origin teas and blends and include linen bags for steeping in your very first box. The teas are packed and shipped by employees with developmental disabilities so they can earn a paycheck and learn life skills.
Simple Loose Leaf's tea subscription box made our readers' choice list of best tea subscription boxes!
DEAL: Get $3 off on your first tea order! Use coupon code 3B1TEA. OR Get $5 off on your first box! Use coupon code 05BOX001.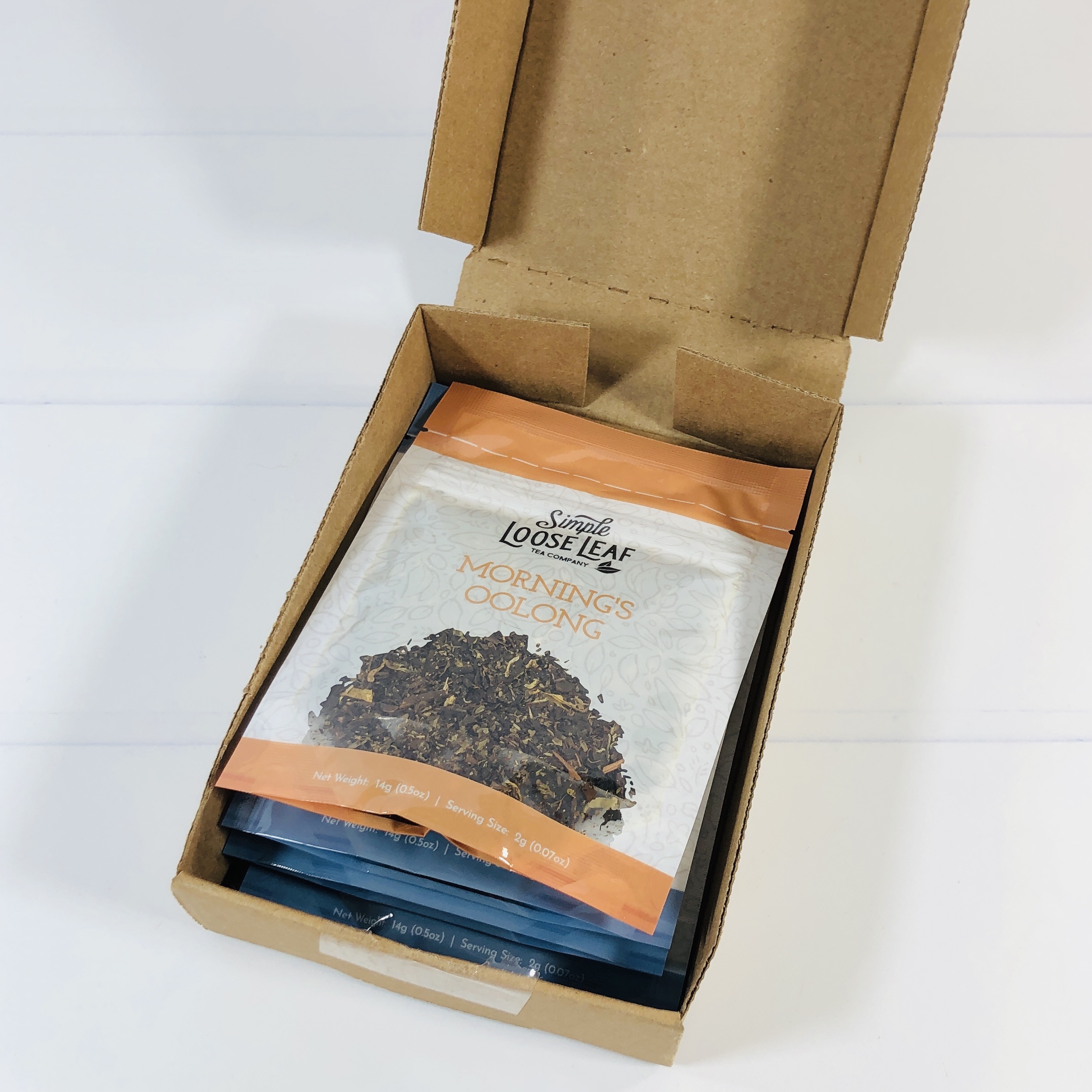 This is a review of the Black Tea Box!
Black Tea Box

Each month receive 4 new black loose leaf teas or 3 black teas and something that black tea drinkers will love
The Black Tea Box is a great fit for the tea drinker that wants to experience the darker flavor profiles that black teas have to offer
Explore teas from China, India, Sri Lanka, and more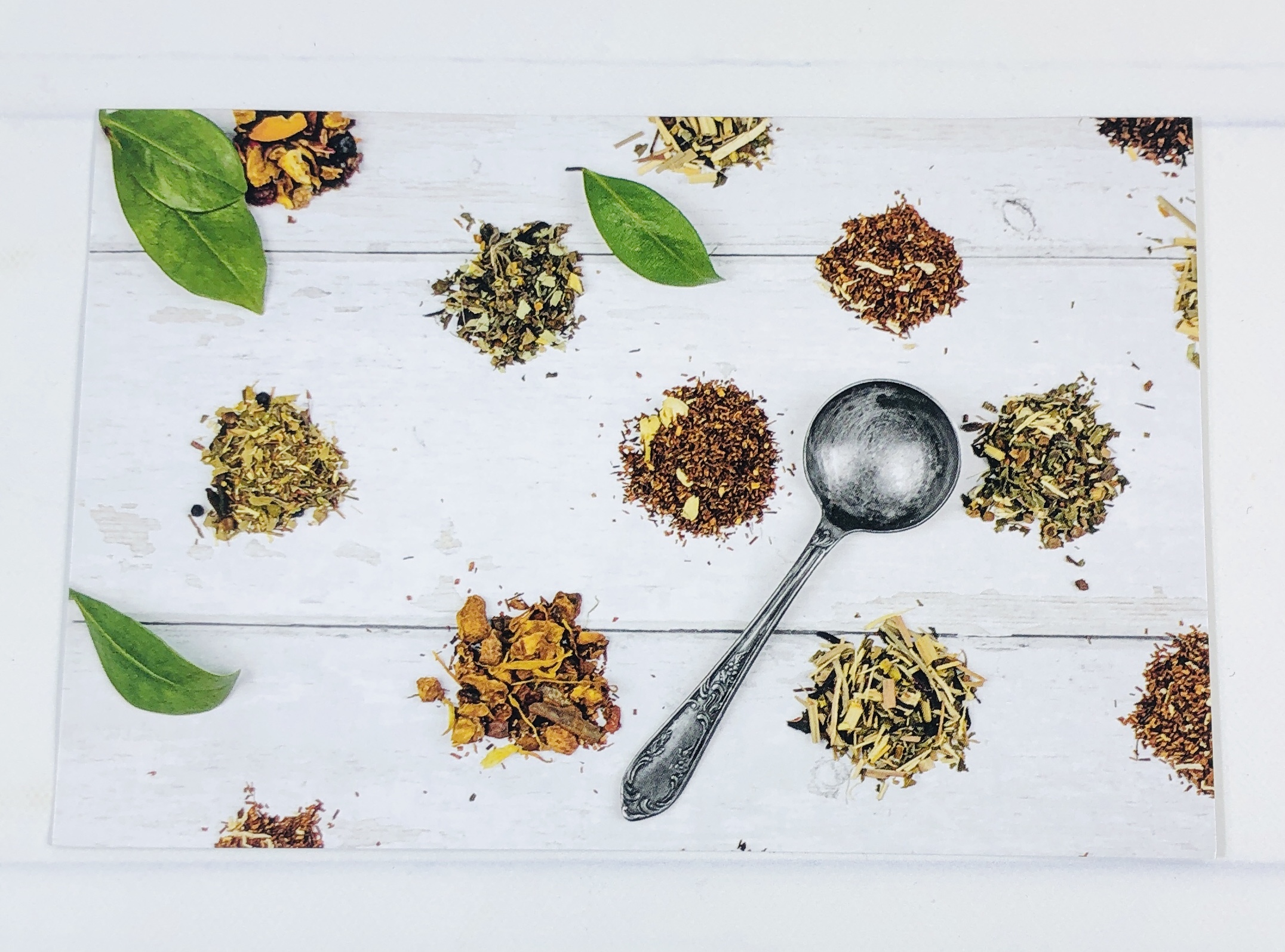 I received a card this month!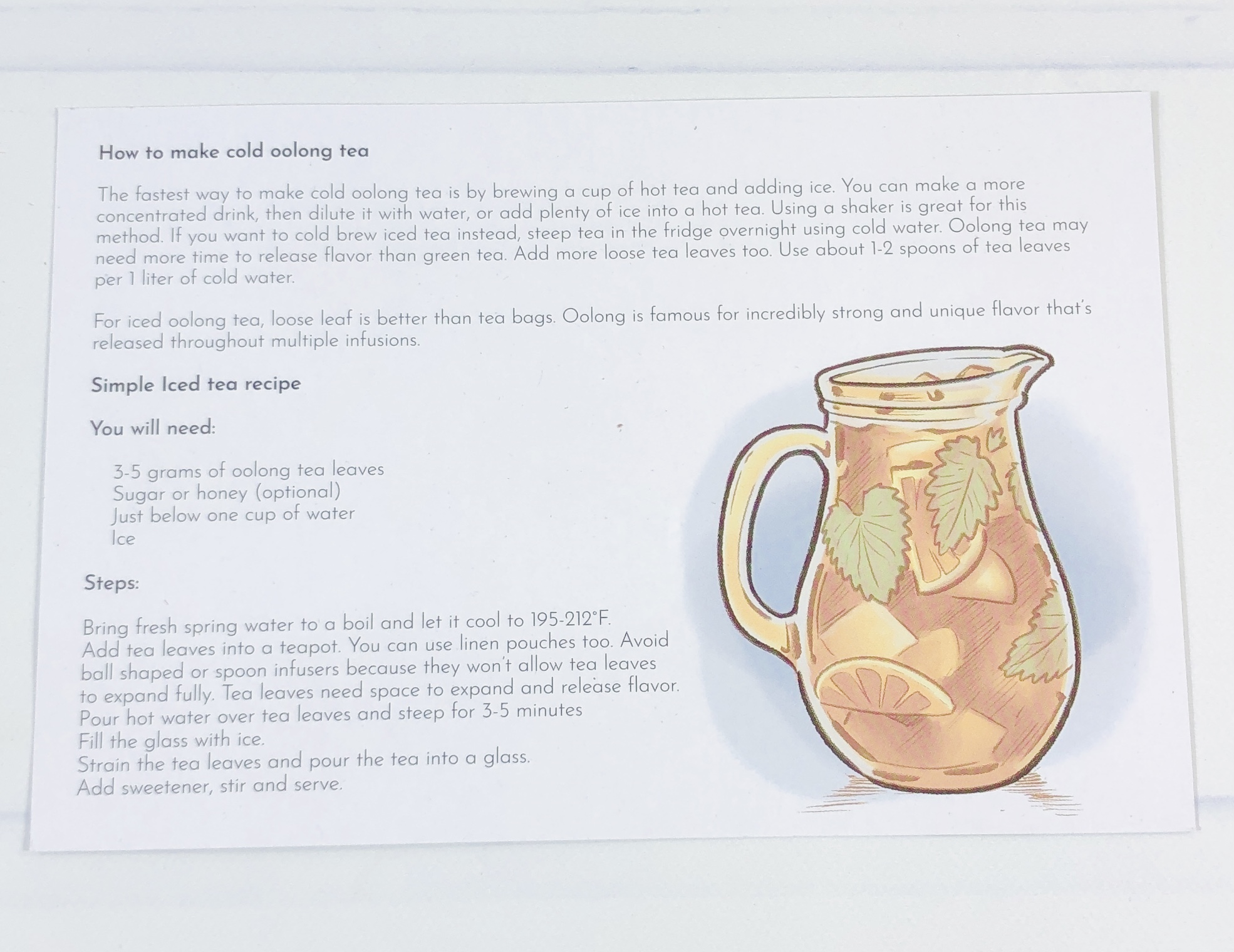 The back of the card had an iced tea recipe using oolong tea leaves.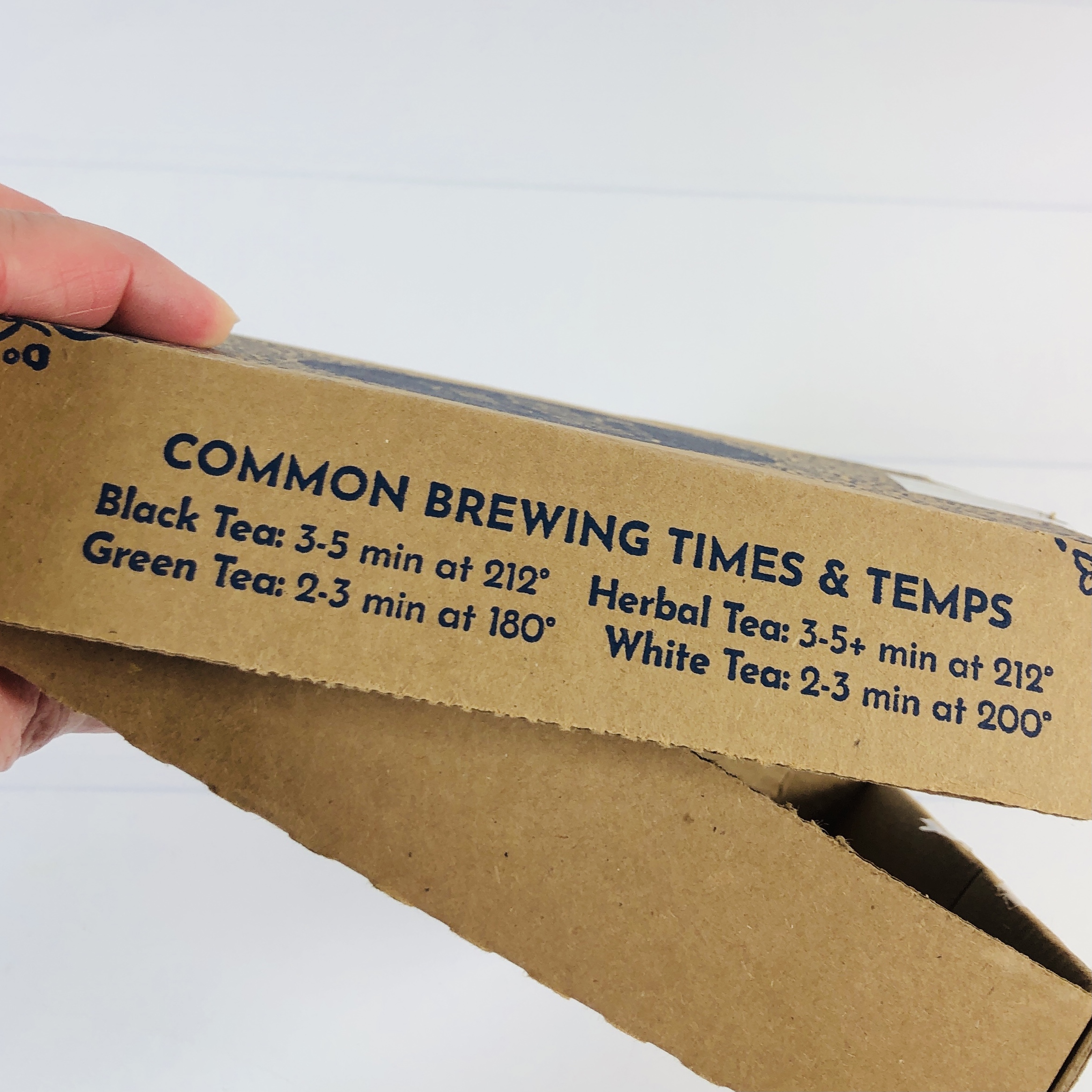 The side of the box had some helpful tips for steeping times and water temps. For instance, green and white tea should never be steeped with boiling water or for longer than 3 minutes (they will turn bitter).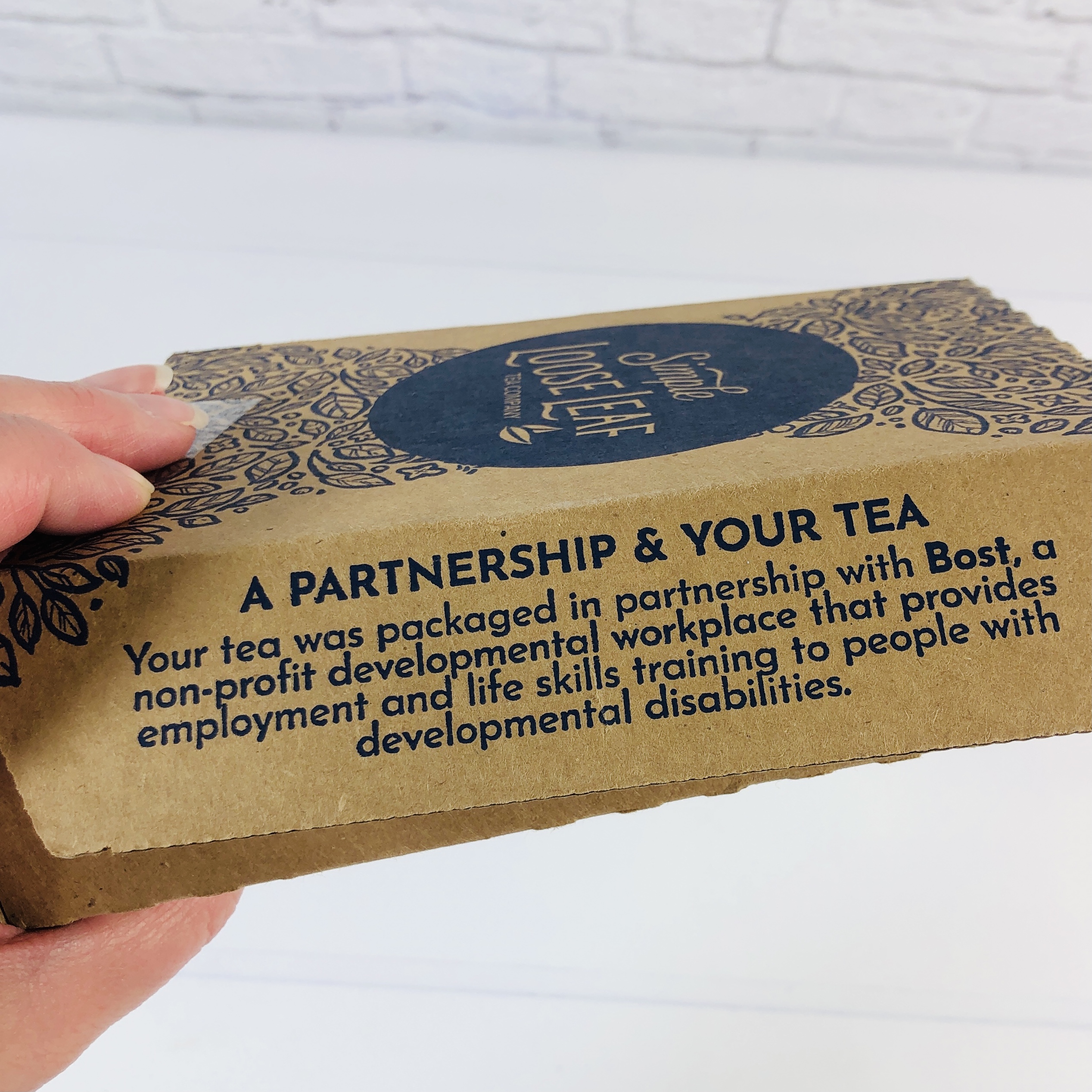 A reminder that employees are getting life skills through working is on the other side of the box.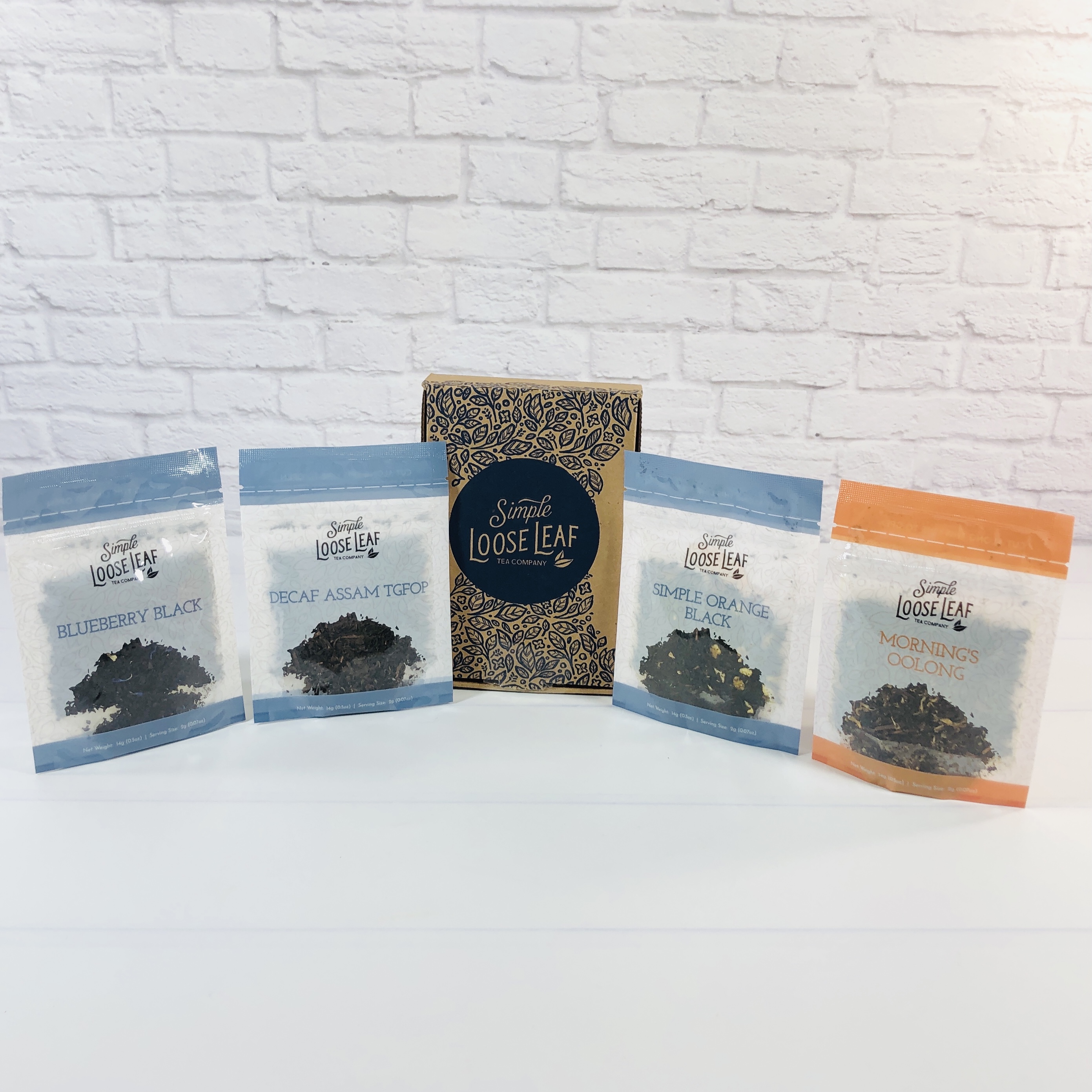 Everything in my box!
I received two fruity black teas, a decaf black tea, and a flavored oolong.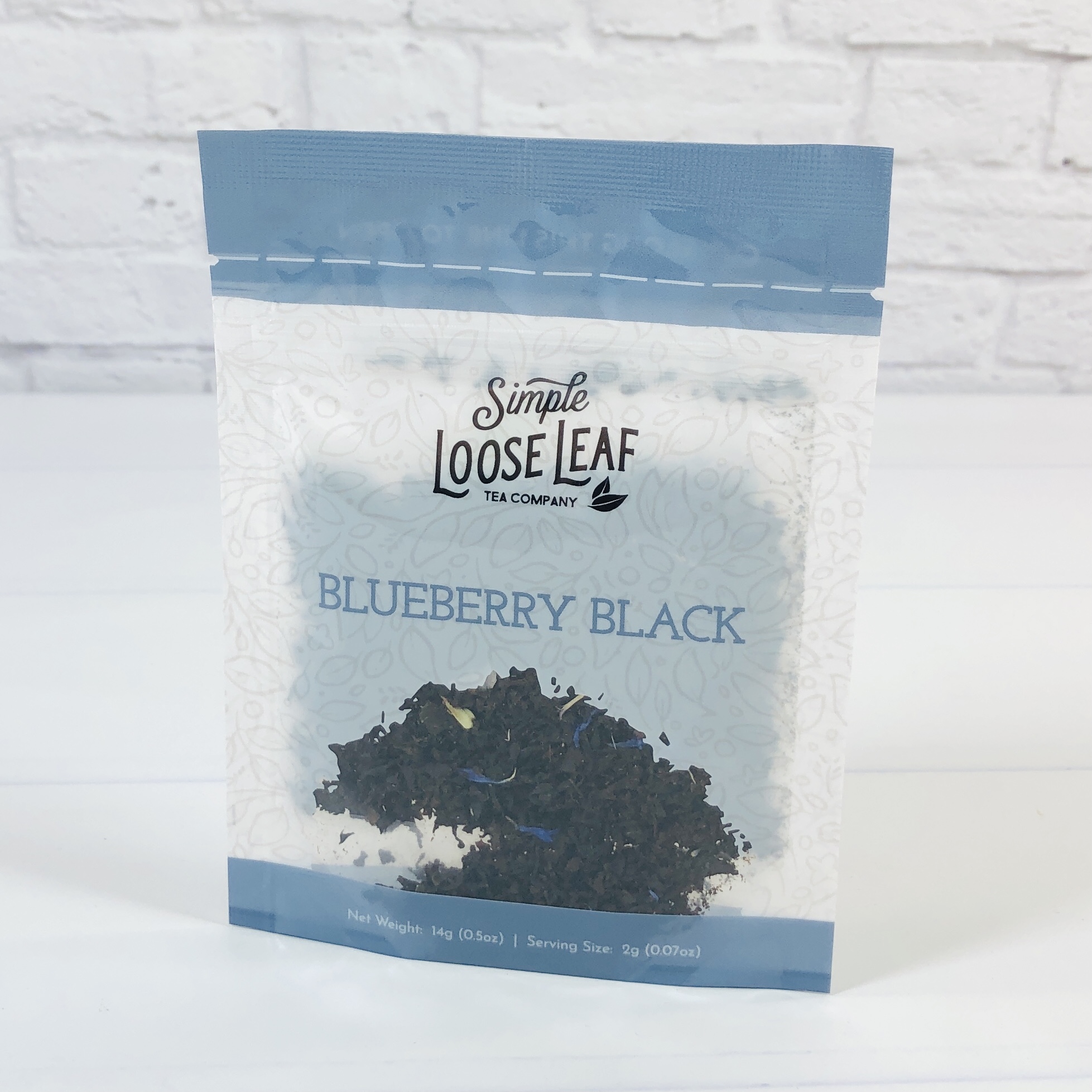 Blue Berry Black Tea Sometimes fruity teas go a little overboard into juicy territory but this blend was perfectly balanced.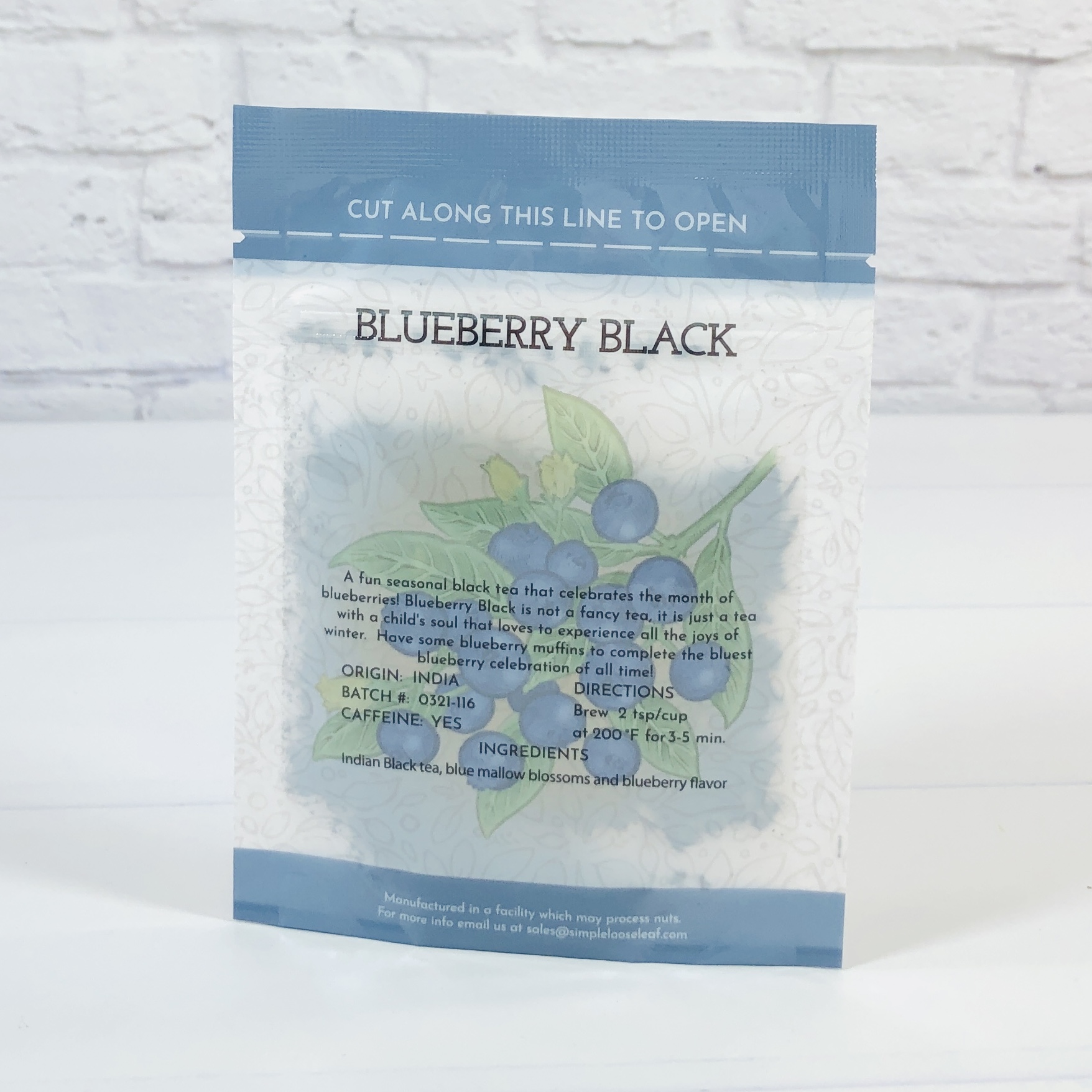 Black tea, blueberry flavor, and blue mallow blossoms make it a feast for the eyes as well as the palate. It was perfect with a little sugar and milk and I bet it would be awesome iced, too.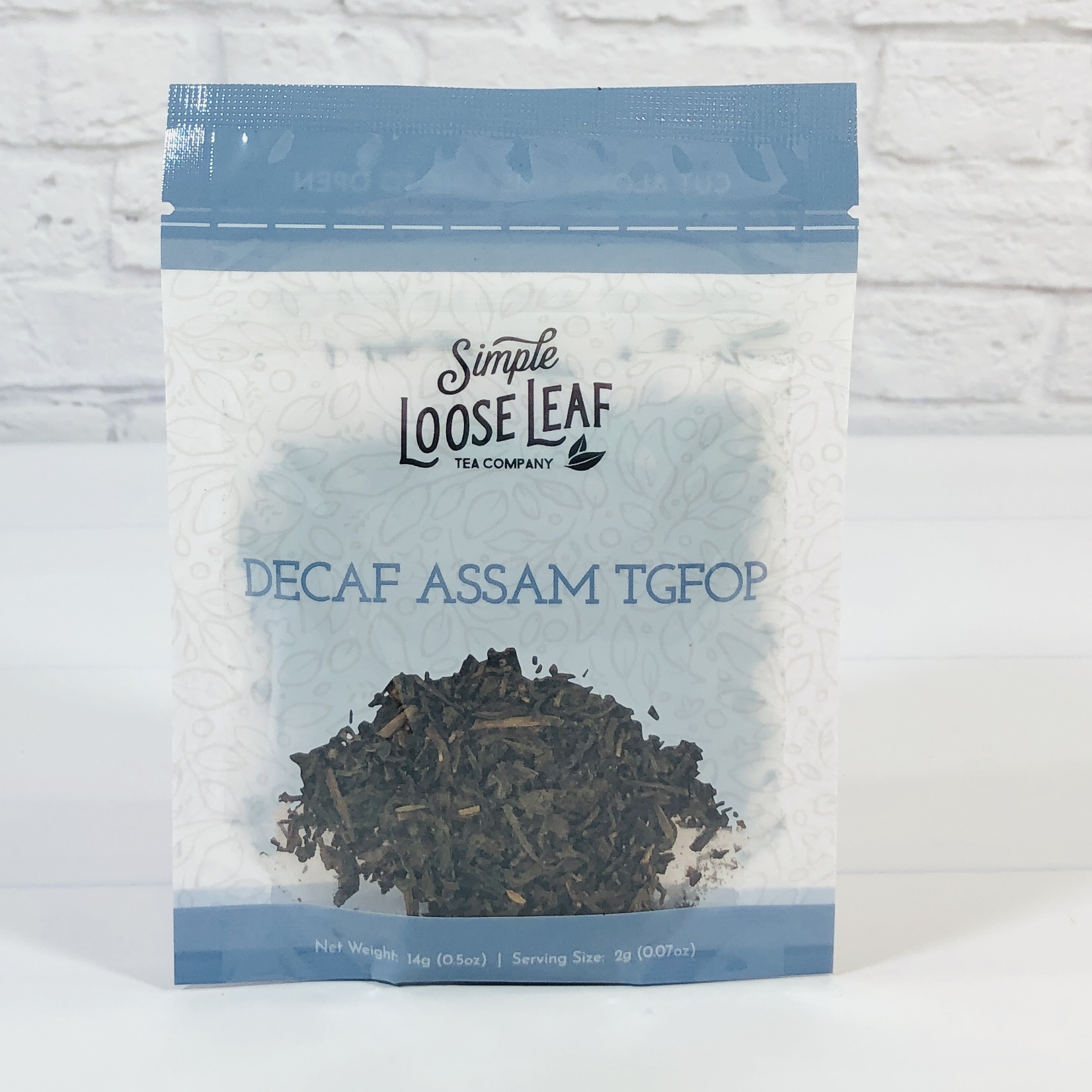 Decaf Assam TGFOP Tea I remember years ago that decaf tea wasn't very good, it had something bland and flat about it that I didn't care for but some improvements have been made in the past couple of decades!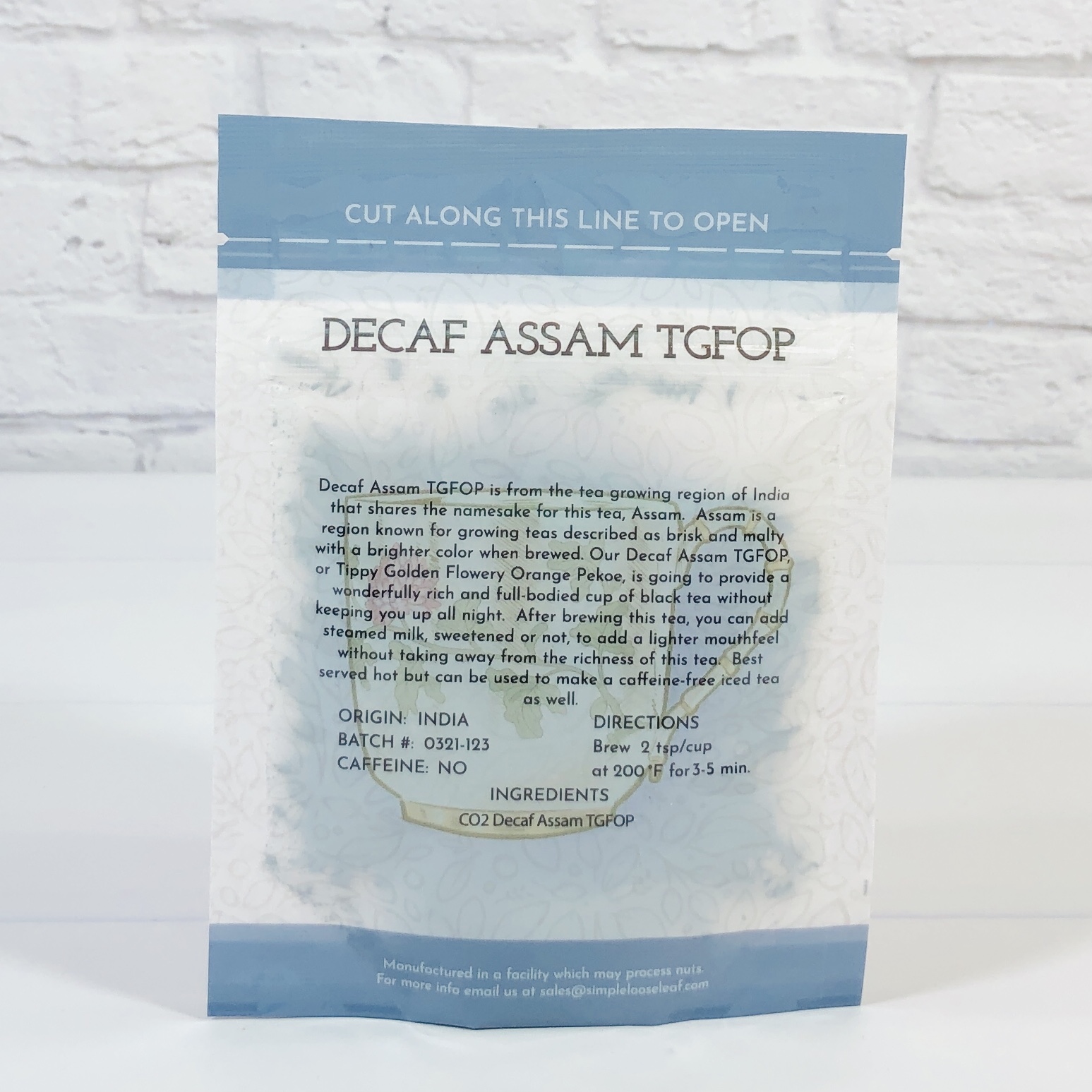 This is a Tippy Golden Flowery Orange Pekoe, which is a grading system used for this type of tea, and it's pretty high up there. It just happens to be decaffeinated, so when I really wanted a cup in the late afternoon I felt confidant reaching for this tea. It had none of the bite or strong tannins that I usually find with black tea but it was perfect with milk and sugar, a classic cuppa.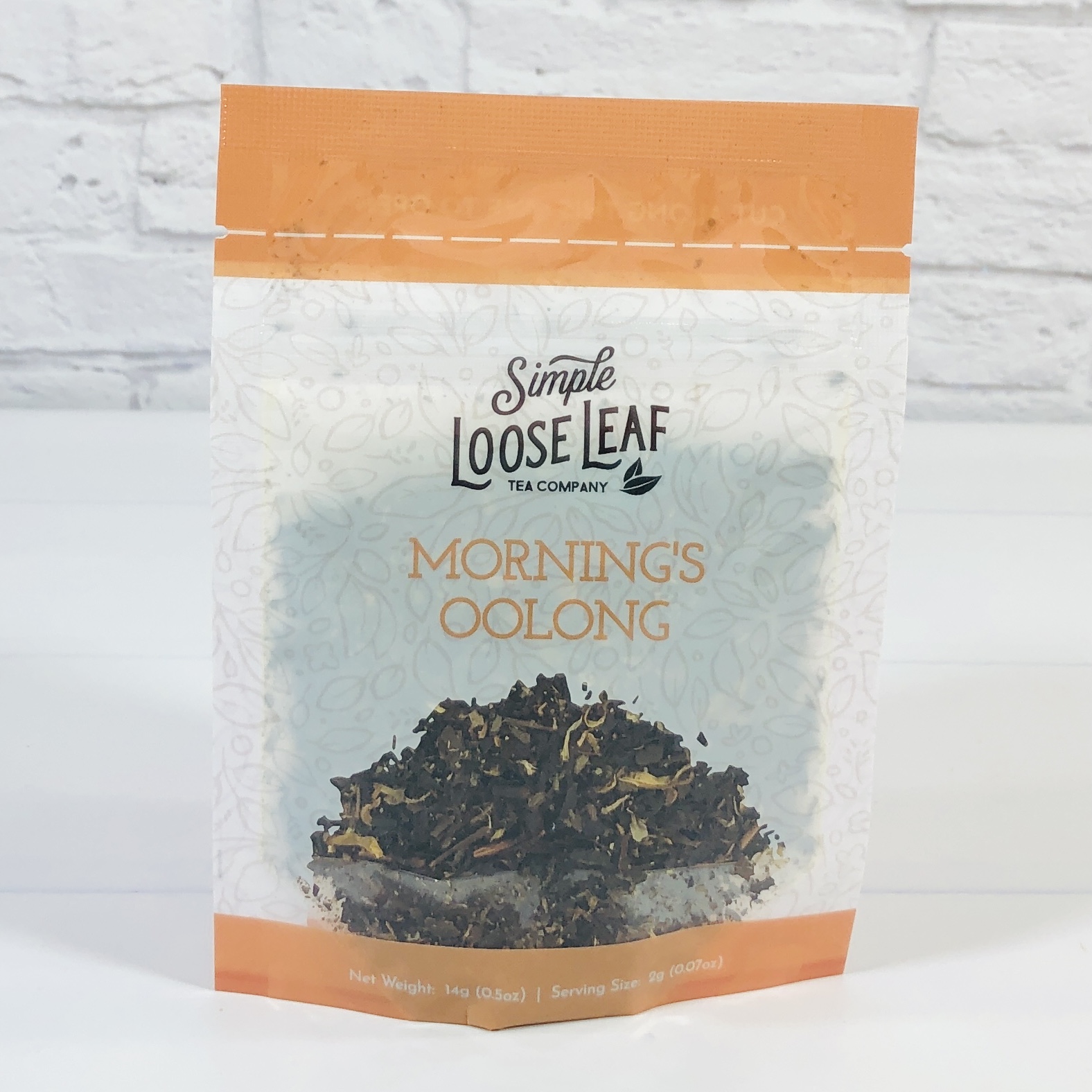 Morning's Oolong Tea is made with oolong tea leaves, which are between black and green in terms of flavor. They are supposed to have a lower caffeine level than black and Simple Loose leaf suggests trying this as a morning sip.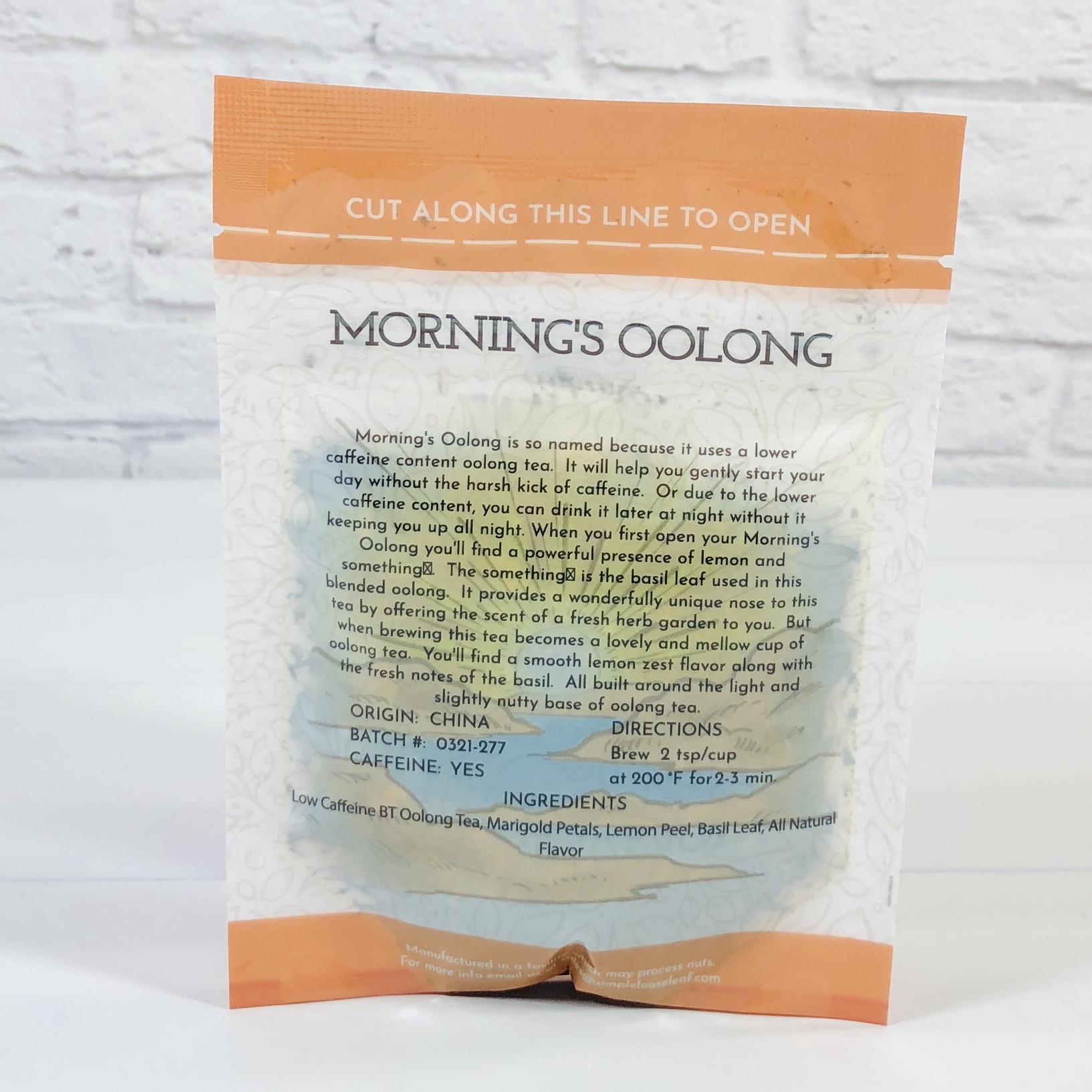 I prefer to have a high caffeine tea in the morning but this is ideal the afternoon. It has lemon and basil, although I couldn't taste the basil really. I would say that the "all natural flavor" is most likely lemongrass. I added sugar but not milk and didn't find the tea to be bitter at all.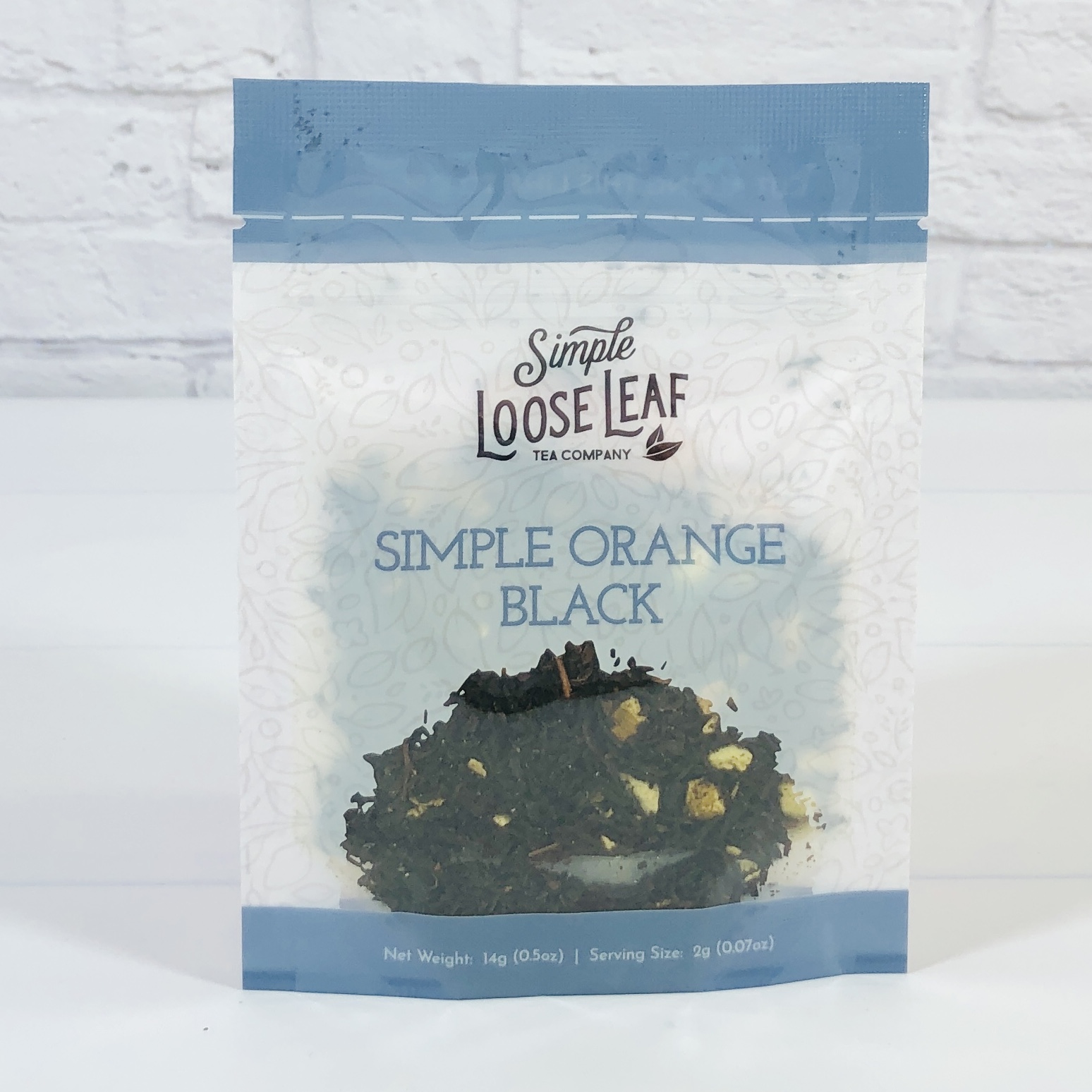 Simple Orange Black Tea is almost too fresh for me, it smelled like oranges and reminded me of my breakfast juice.
Black tea, orange peel, and flavoring gave it a very orangey flavor and I added milk and sugar but I really think this would be excellent as an iced tea, so that's how I will prepare the remainder! If I were to drink it hot again, I would put a sprinkle of cinnamon in the cup first.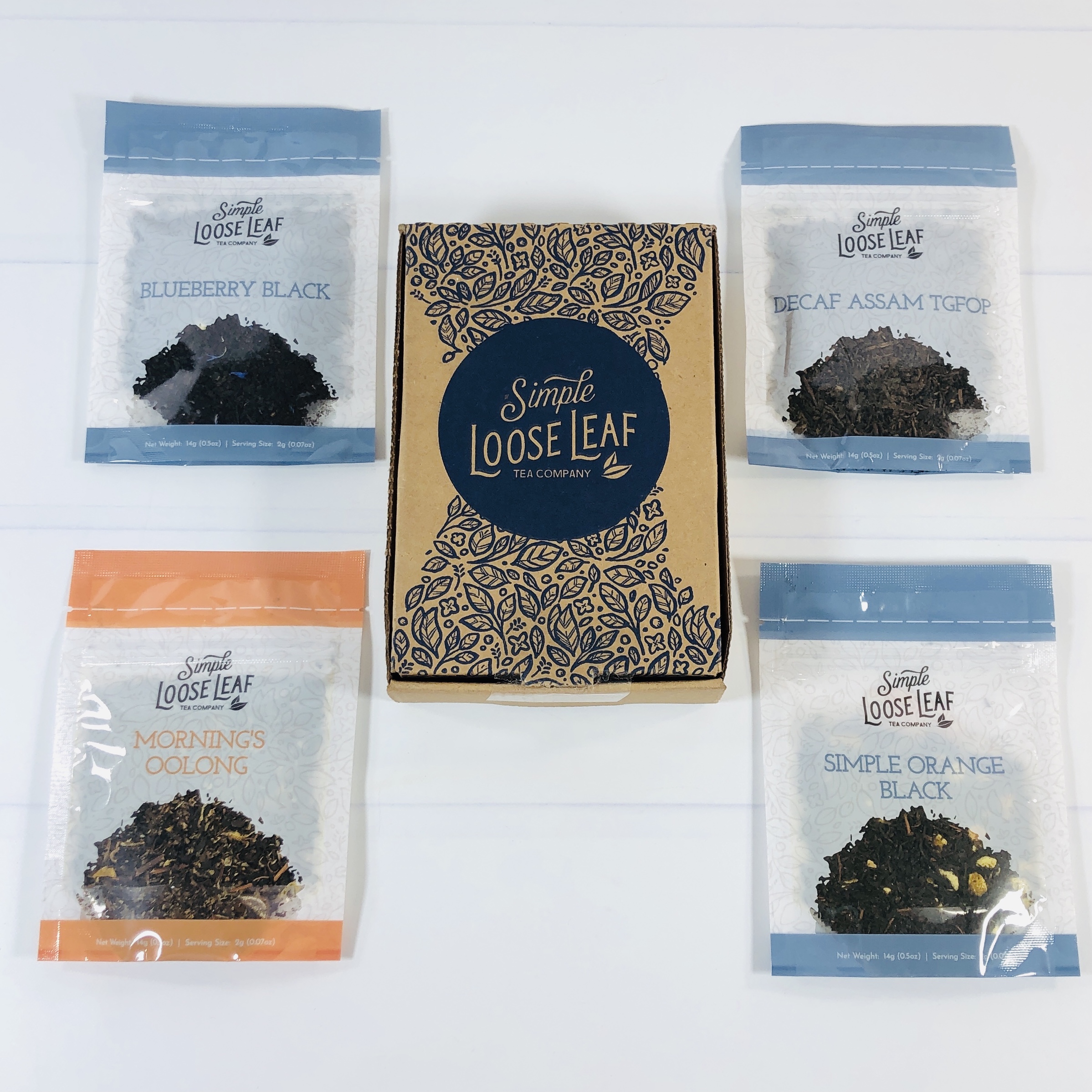 Simple Loose Leaf is a fun box to try, I love exploring the different flavors they send each month. Most of these were flavored teas and were very fruity, and even the decaf was tasty! I think the blueberry and orange teas would be wonderful on ice, and as it's heating up in my area it won't be long before I finish them up in that way.
What do you think of this month's box?