We have the reveal of the May 2021 Ipsy Glam Bag for the regular Ipsy Glam Bag subscription, Glam Bag Plus, and Glam Bag X!
What comes after April's showers? May's flowers. We're leaning into Mother Nature's best beauty inspo with a fresh roster of bloom-studded Glam Bag designs. To be more specific, each bag features a custom illustration of pink peonies—which just so happen to be the fave flower of May's Glam Bag X curator, Khloé Kardashian! Let this month's design be a reminder to stop and smell the flowers (literally and figuratively!) every now and then.

For a deeper look into our May bags, we tapped designer Joanne Wong to show the inspo behind what made these Glam Bags so bright, beautiful, and totally unique…just like you!
May 2021 Glam Bag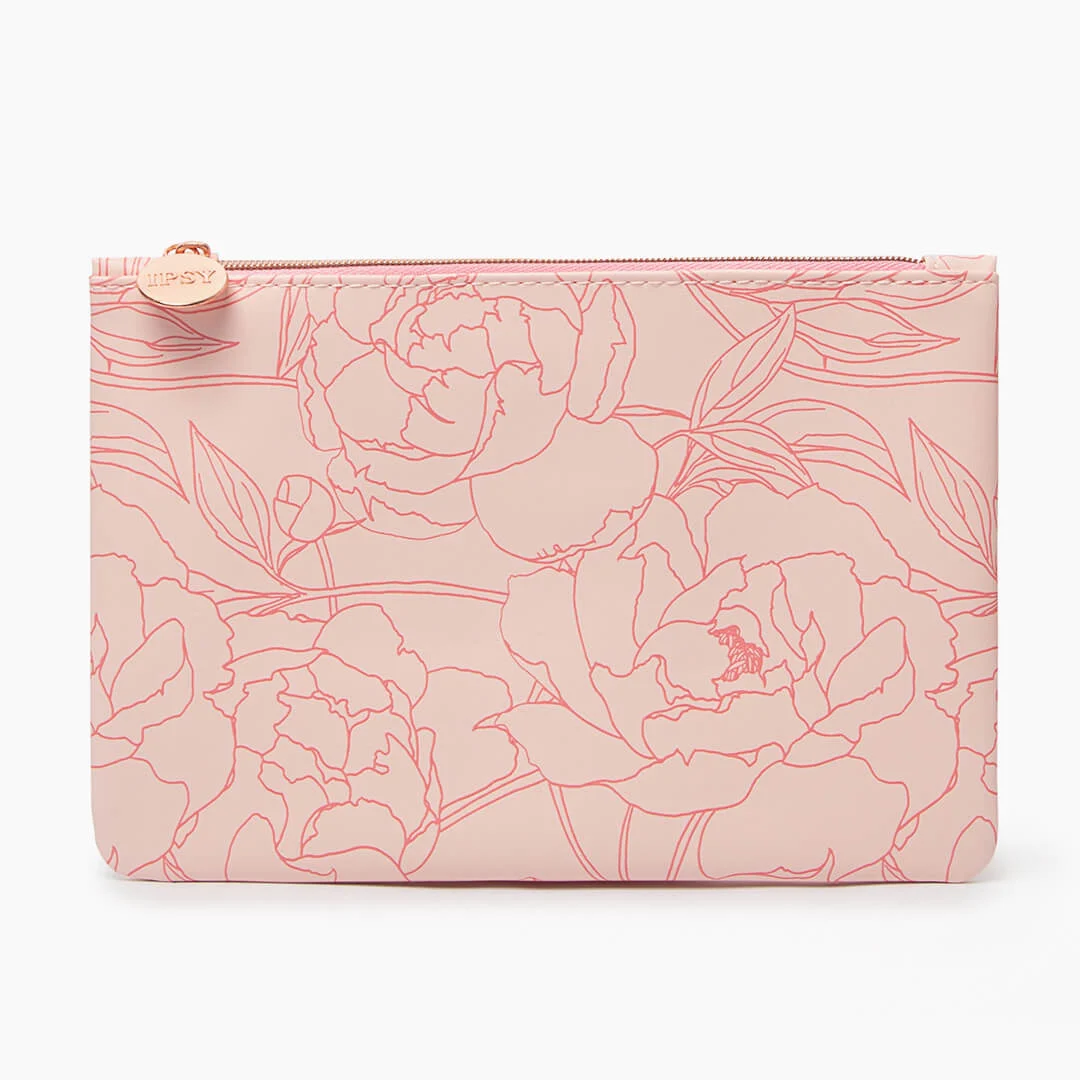 Right in line with the fresh spring floral vibes the IPSY team was channeling for the month, the May Glam Bag features a detailed line illustration of peonies with a monochromatic pink color scale. "The color combination of the rose gold metal zipper puller, pink peonies, and the rosy lining inside is so beautiful," explains Wong. "Plus, the material is so soft and smooth."

Crafted with a durable faux leather, this bag can handle it all—spills wipe away easily, it can resist dents and dings from being tumbled around in your tote, and will keep its charm for the long haul.
May 2021 Glam Bag Plus
The May Glam Bag Plus features a soft, lightweight microfiber material and nylon drawstrings, printed with this month's signature peony illustration. The just-right shade of pink is the perfect pop of color to accompany a neutral palette of creamy whites, tans and camels, or gray.

And not only is the May Glam Bag Plus super chic, it's incredibly versatile. "The pouch is totally reusable. I can carry it around as a wristlet, pop it inside of a larger bag, or reuse it as a gift bag by tying a cute bow with the drawstrings," says Wong. Have an excess of unused beauty products laying around? Stash them in your Glam Bag Plus and stuff with tissue as an easy gift for your beauty-loving friends and fam. (P.S. Don't forget! Mother's Day is on May 9th.)
Glam Bag X
Ipsy Glam Bag X does not automatically include a bag. You will have the option of selecting a bag as one of your picks.
Get ready for a luxe experience. The second edition of Glam Bag X, curated by Khloé Kardashian, features a soft faux leather exterior (aka easily cleaned), rose gold zipper pulls, and an ultra soft interior with a surprise peony pop.

When designing May's Glam Bag x Khloé, Wong wanted to create a multi-use bag that didn't skimp on details. "It's very travel friendly—easily carried around with the top handle and foldable to maximize packing space. Also, the double zipper pullers allow you to access the bag easily on one or both sides without completely opening the whole bag," Wong tells us.
What do you think of the Ipsy bag spoilers this month?
Ipsy is a monthly beauty subscription that's just $12 per month and the most popular beauty subscription box! Ipsy Glam Bag Plus is an upgraded beauty subscription with full-size items (5 per month). When you subscribe to either of these, you can purchase additional items for your bag. You'll also be eligible to select the quarterly Glam Bag X upgrade featuring curator-picked full-size products!