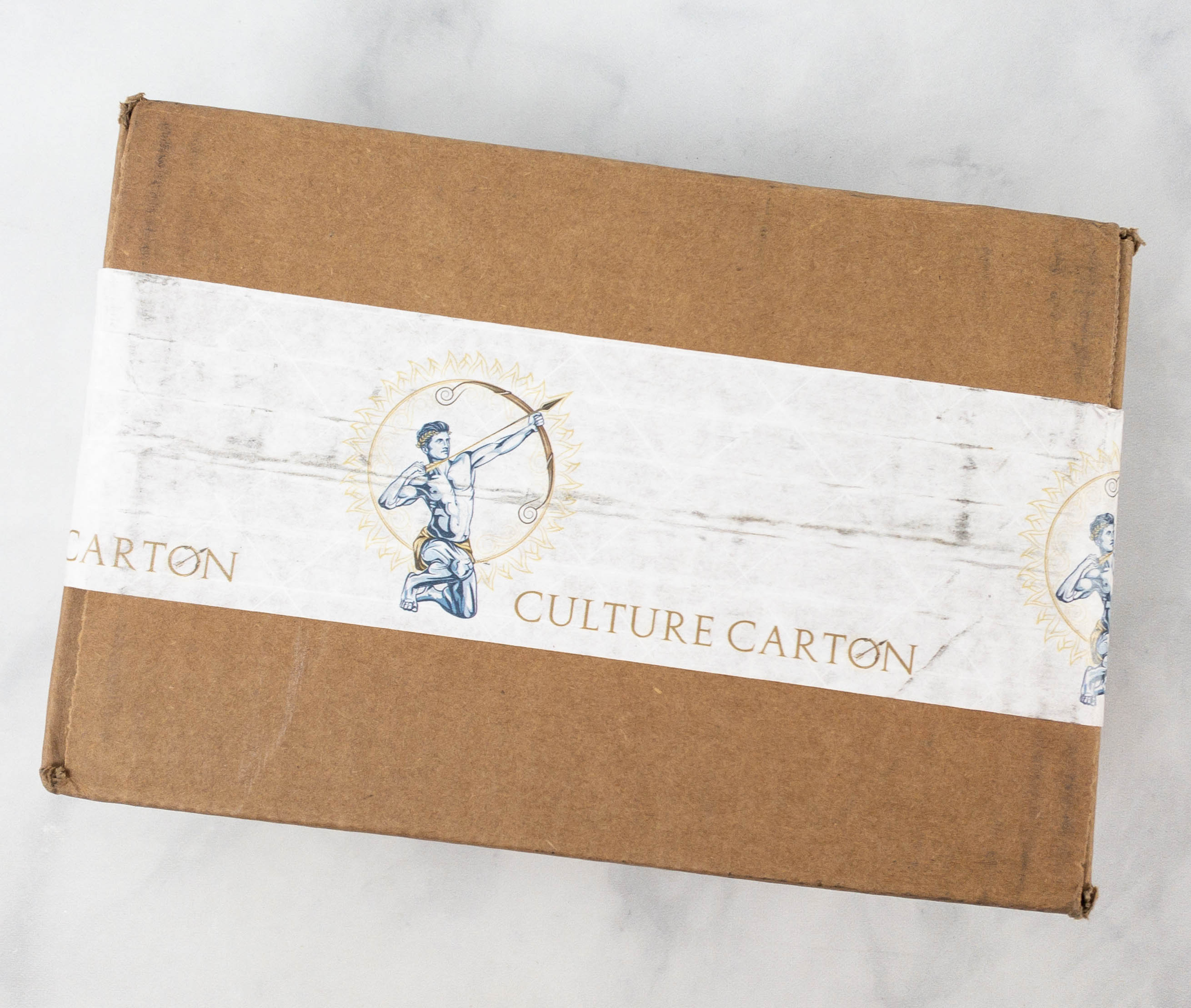 Culture Carton is the subscription box for men that embraces themes relating to self-improvement. Whether it be improving one's mind, health, style, or career, this box is for the man who wants to go above and beyond, not being content to be just ANY man. It is for him who wishes to strive toward a more cultured and sophisticated self. Among the items in the box is a book that a cultured man would want in his growing library, along with select accessories curated around a monthly theme related to improving some aspect of one's self.
Culture Carton's men's subscription box made the list in our 2021 readers' choice picks of best subscription boxes for men!
There are 3 box options: Culture Carton Standard (men's lifestyle items + book, $45 per month), Culture Carton Essential (lifestyle items only, $35 per month), and Book Club (book only, $16 per month). This is the review of Culture Carton Standard.
DEAL: Get 10% off your first box. Use coupon code HELLOSUB.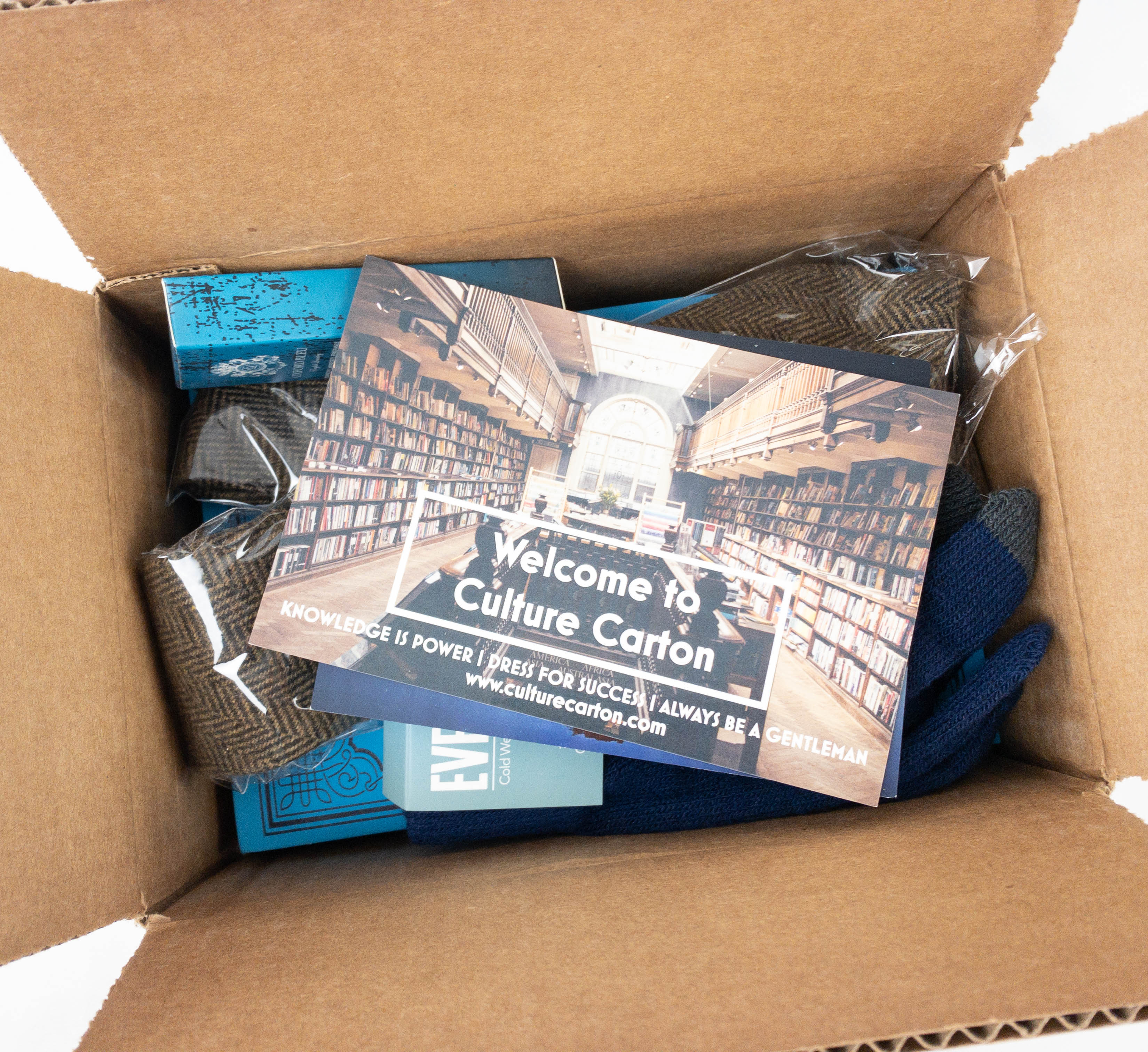 Everything was well-packed in a brown box.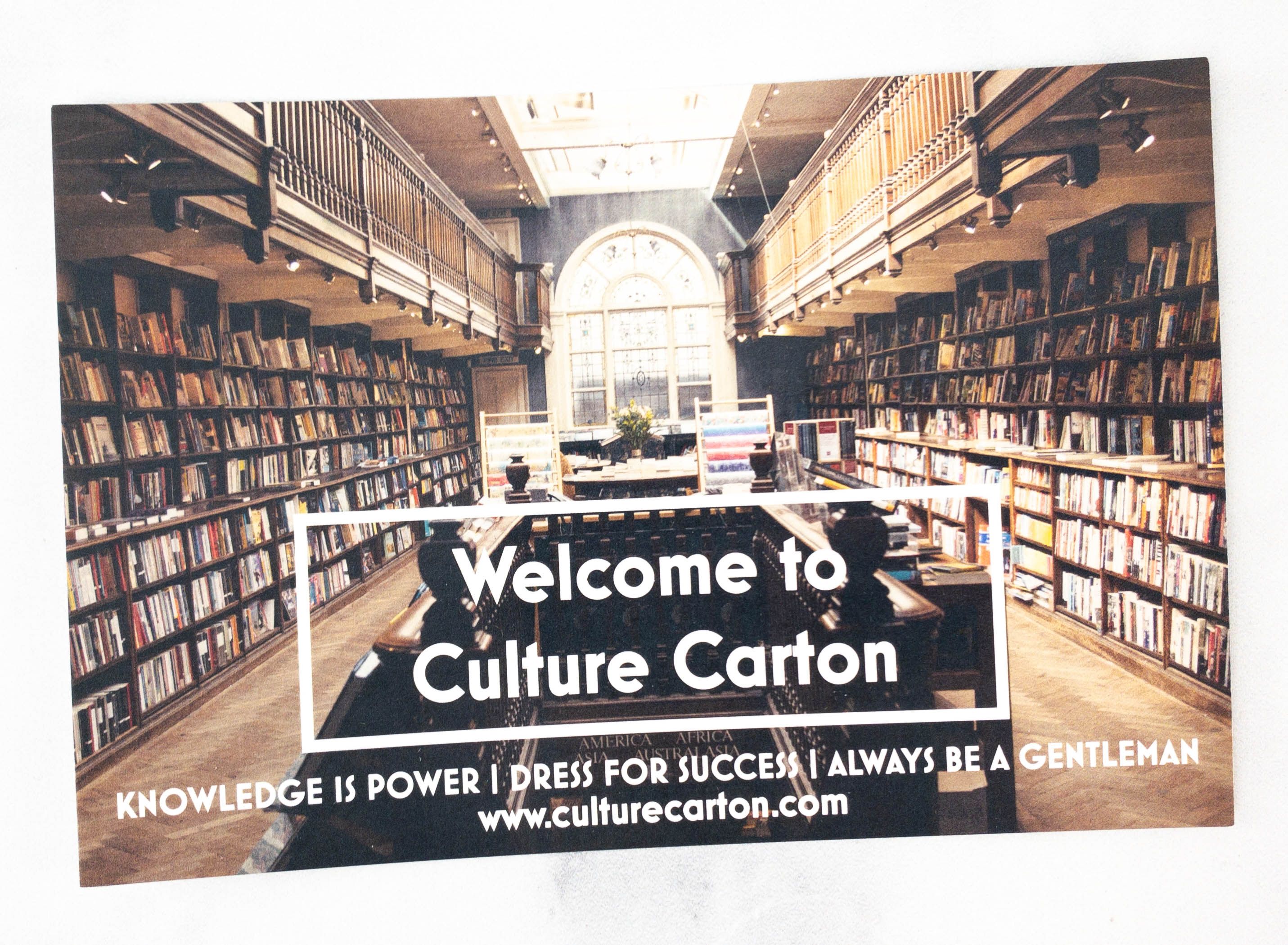 This card welcomes subscribers to Culture Carton.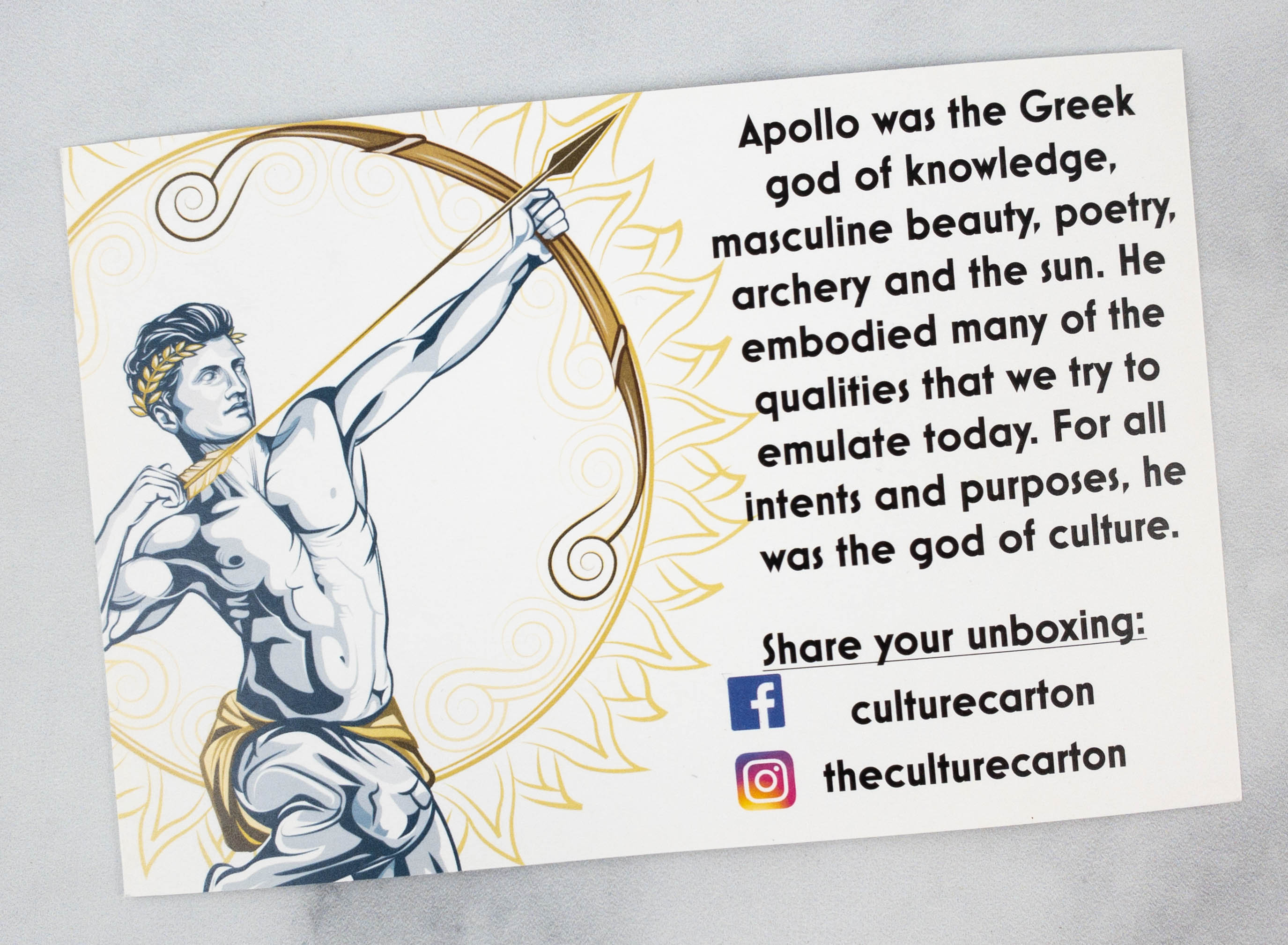 Apollo is the inspiration for the curation of this subscription box.
Another card features a beautiful scenery!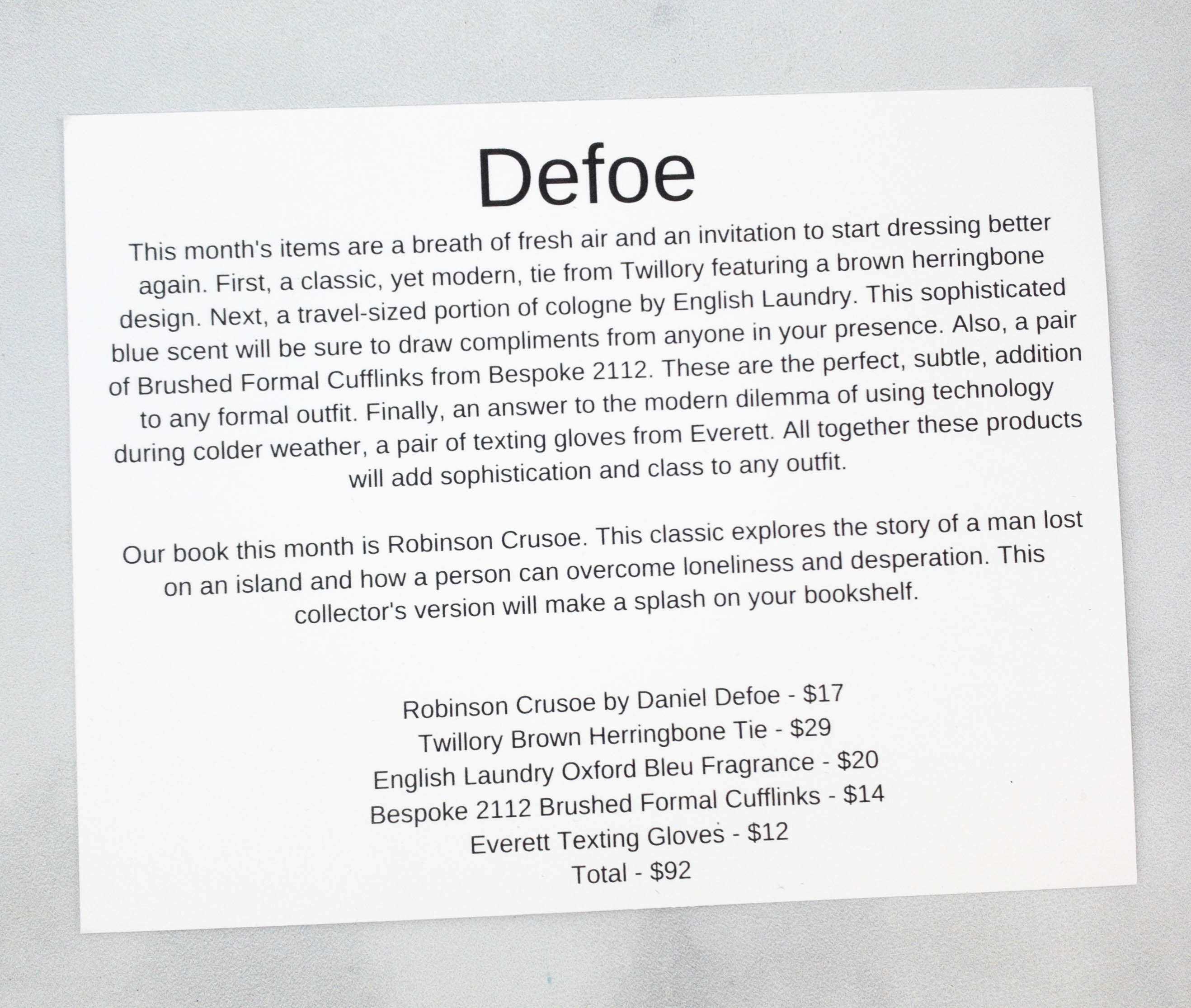 The theme title is a reference to the author of this month's literary selection. The March 2021 theme is Defoe!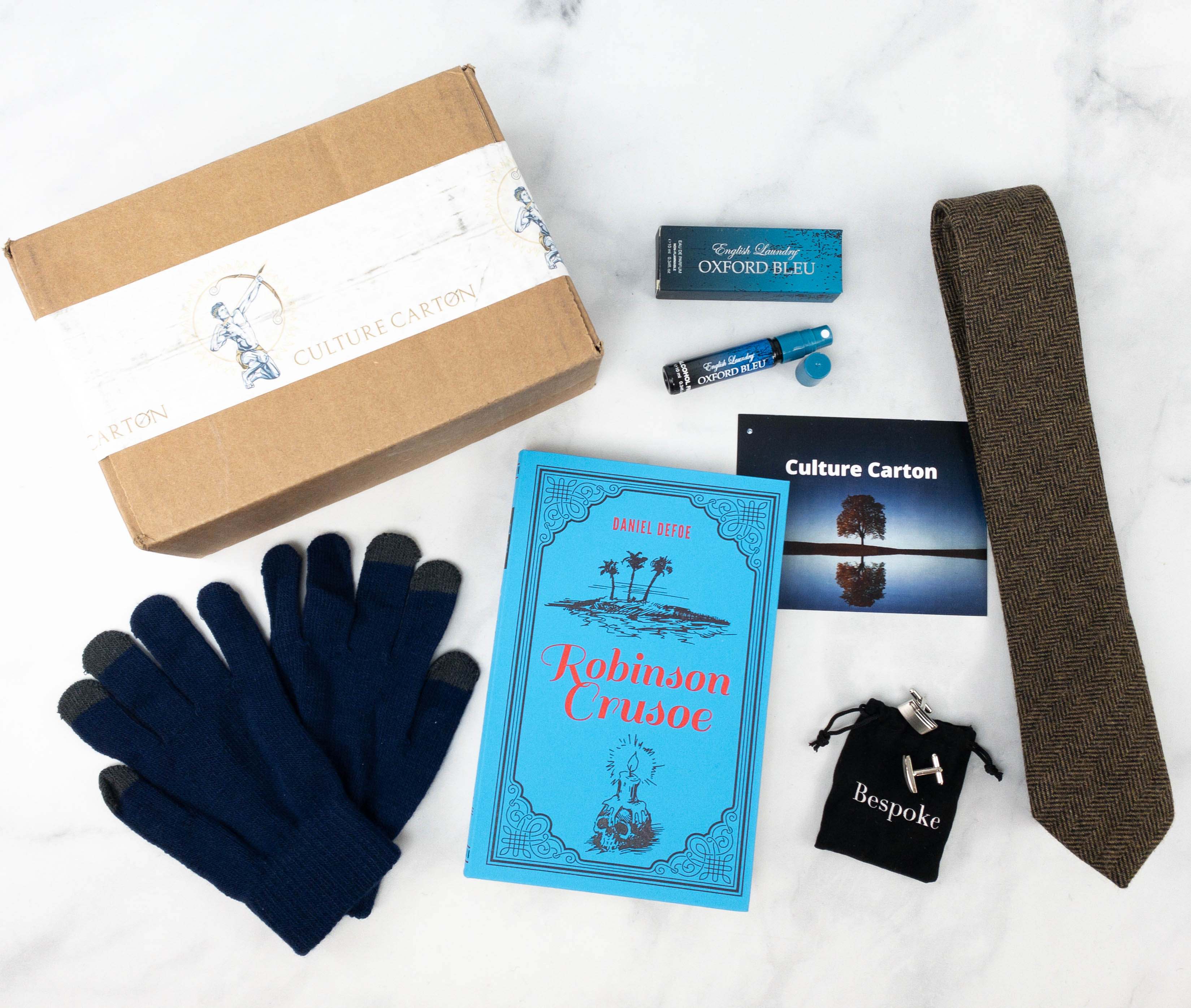 Everything in my March 2021 Culture Carton!
Everett Texting Gloves ($12) These knit gloves are designed to keep my hands warm, while allowing me to use my smartphone at the same time. It would have been better if this was included in a box earlier than March, as it's already 70 degrees in a lot of the country.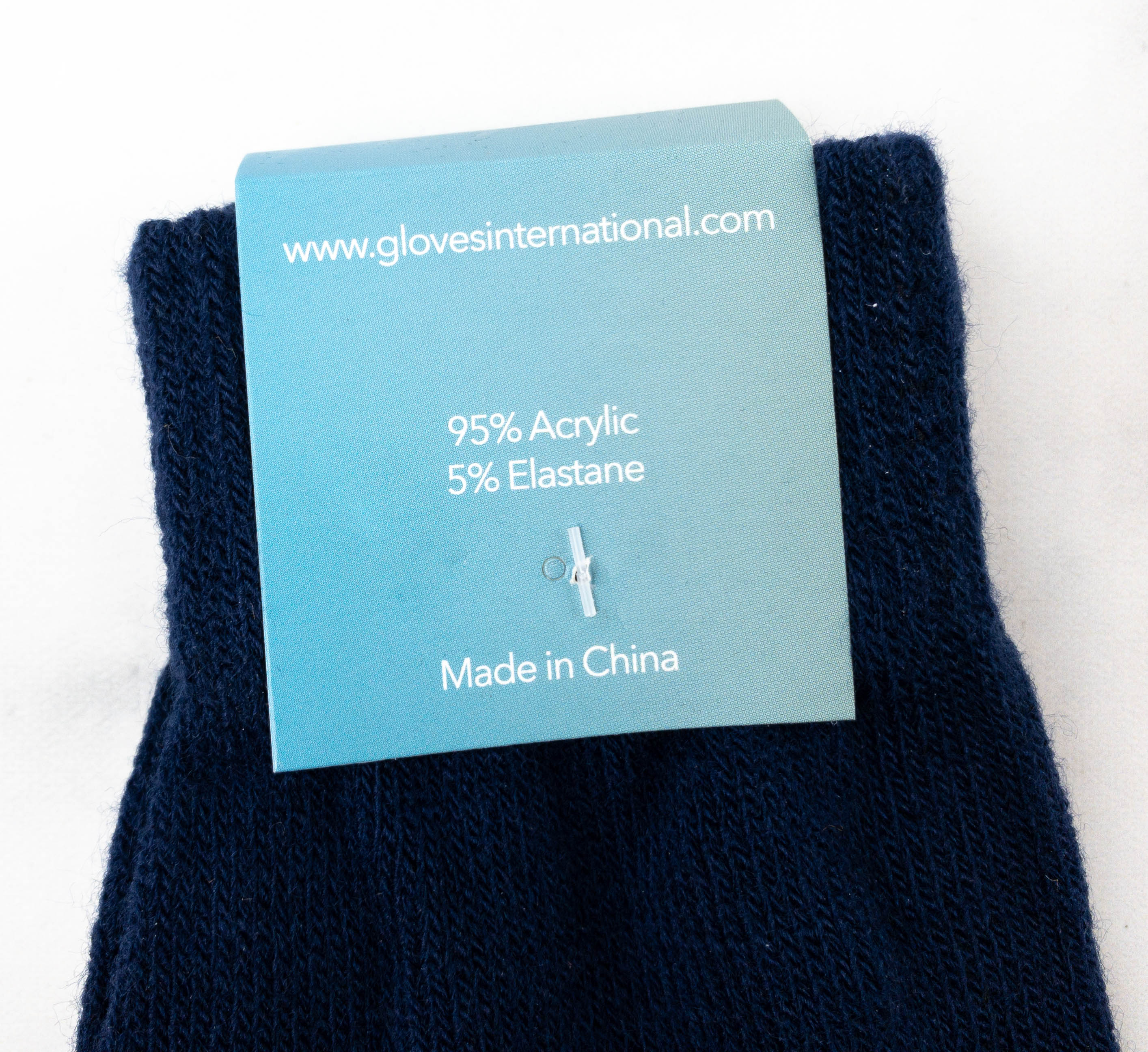 According to the tag, these gloves are made in China using 95% acrylic and 5% elastane.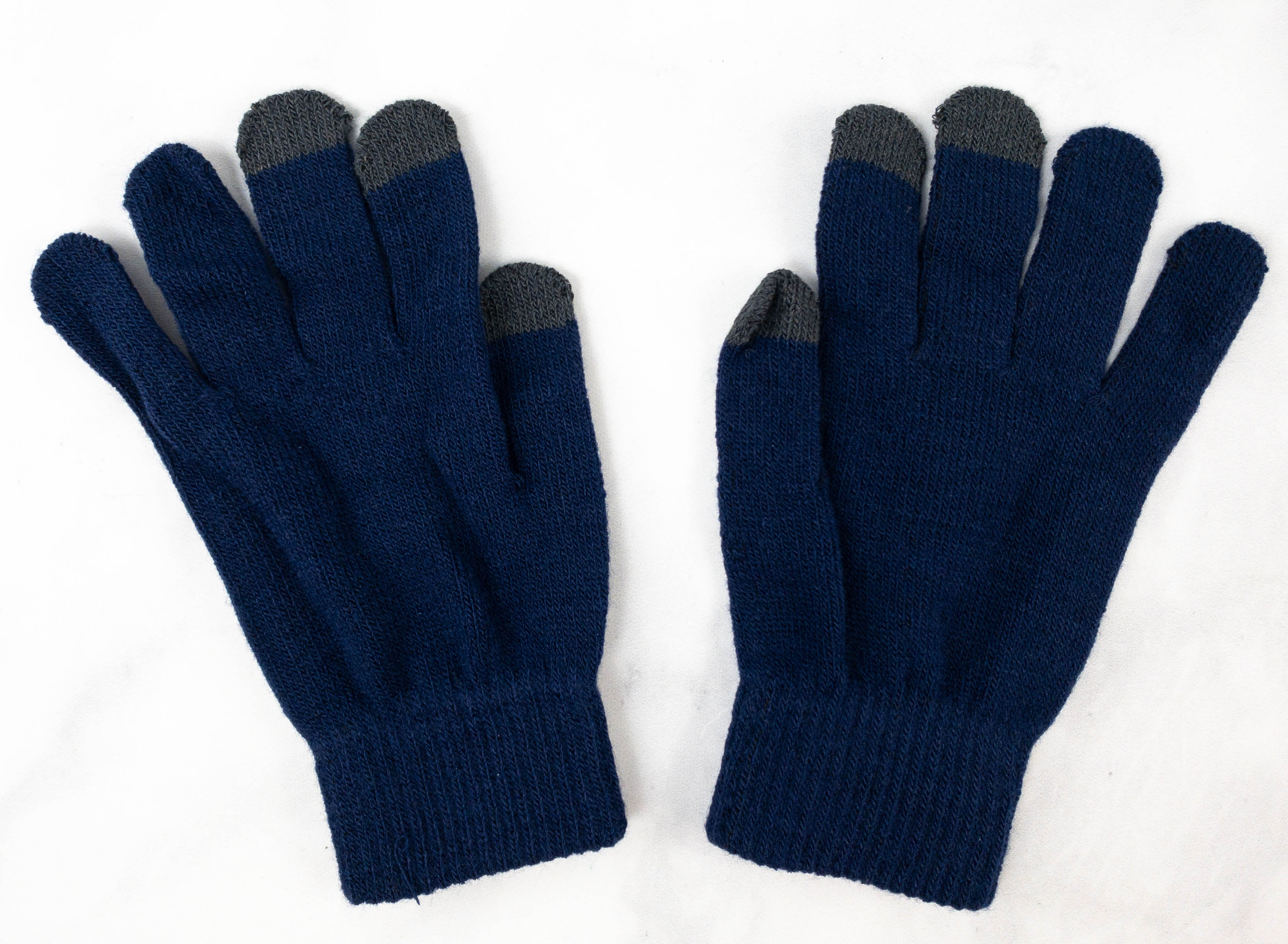 These gloves are soft and easy to wear. The cuffs are ribbed, making them really comfortable as well.
The fingertips have special coating that works with the touchscreen functions on gadgets. It's really handy. With this, I don't have to remove my gloves just to check my phone, send a text message, or answer a call.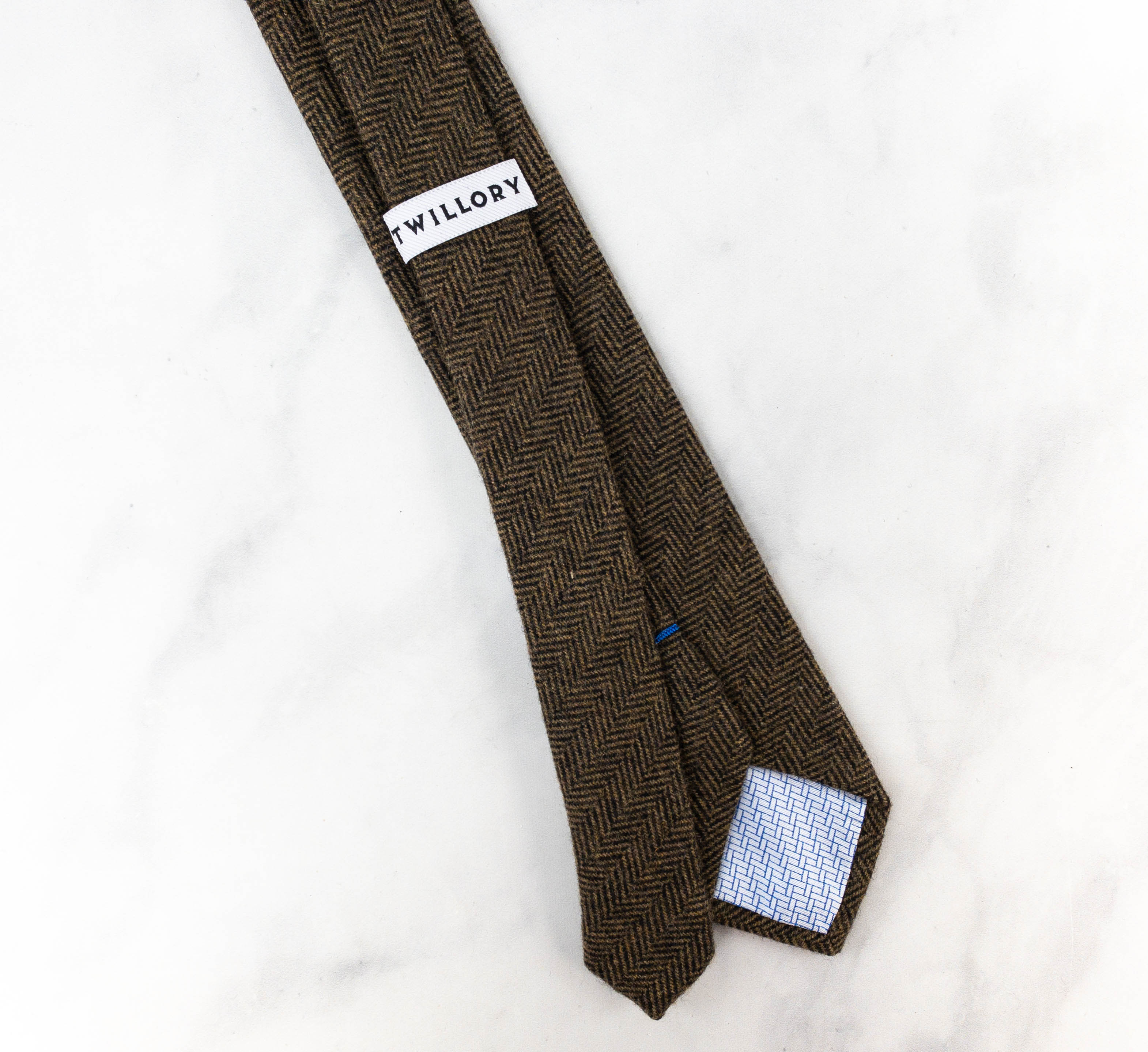 Twillory Brown Herringbone Tie ($25) This elegant tie is made from a wool blend. It features a herringbone pattern that goes all the way to the back of the tie.
The pattern is in brown and black. It looks really cool from a distance!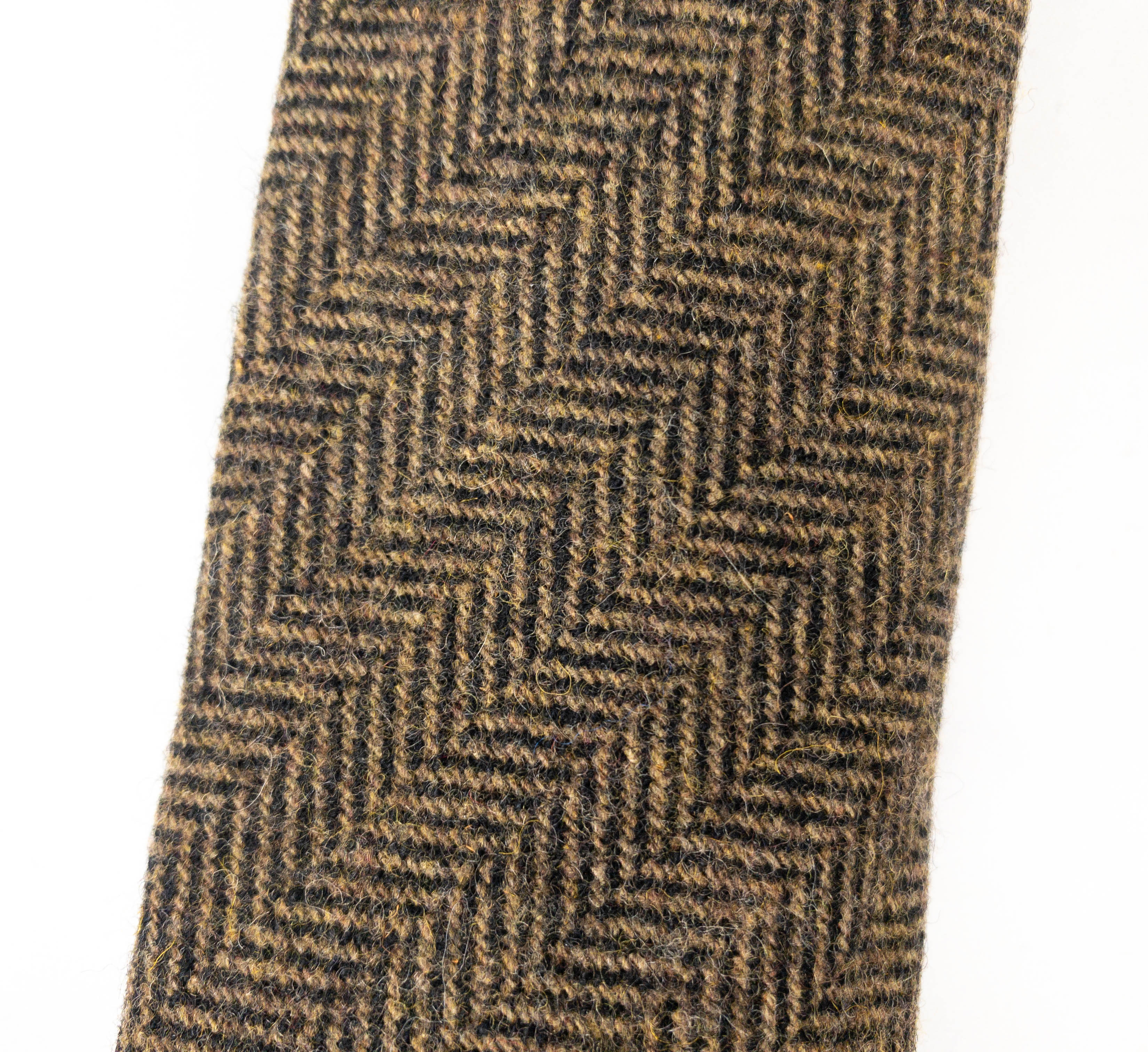 My only problem with the tie is that hair, fur, and dirt easily sticks to its surface. Still, it's a beautiful piece and a great addition to my existing collection of ties.
Bespoke 2112 Brushed Formal Cufflinks ($14) This month's box included formal cufflinks and they were packed in a black drawstring pouch.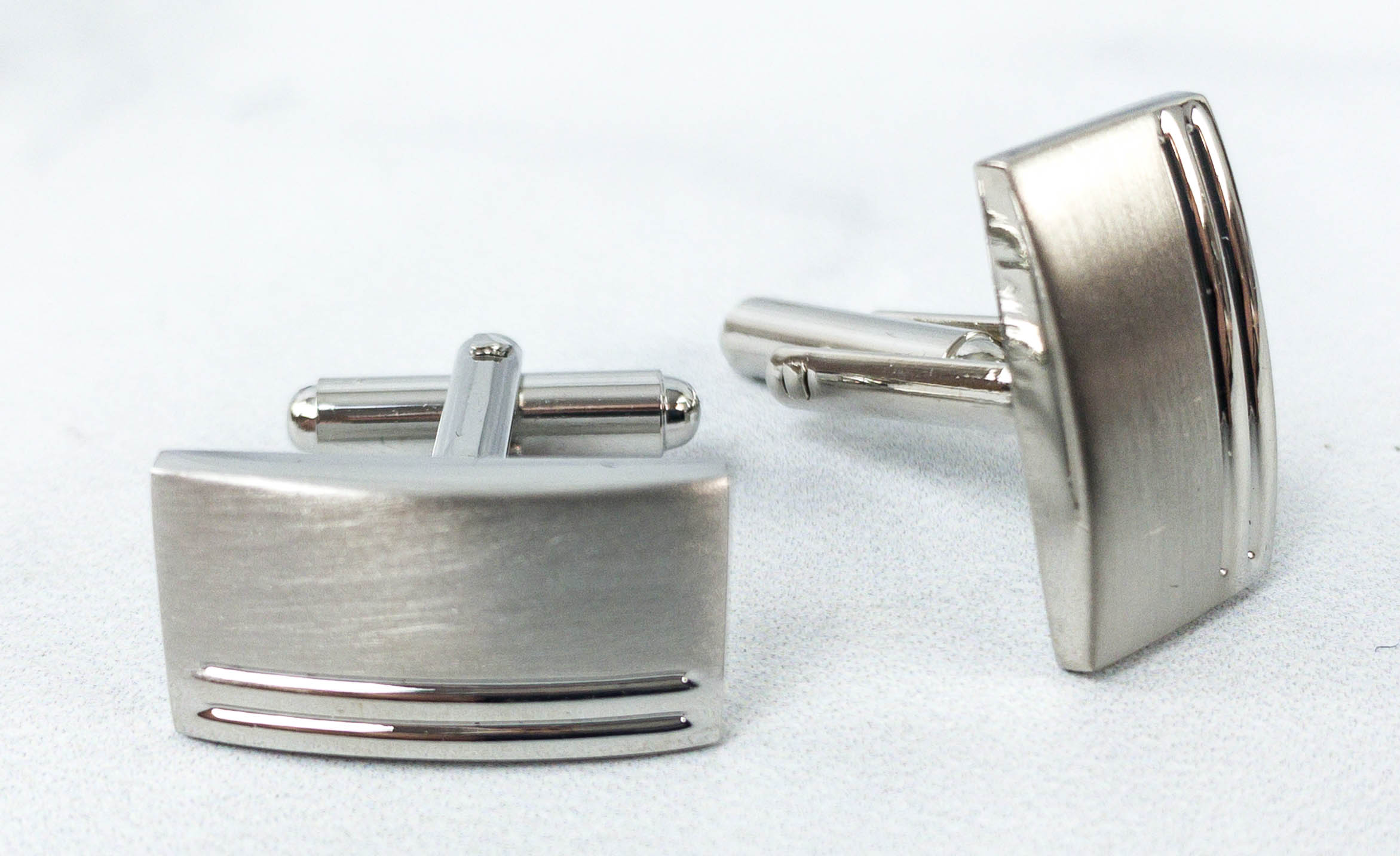 Each plate has a brushed silver finish and double stripes for its design.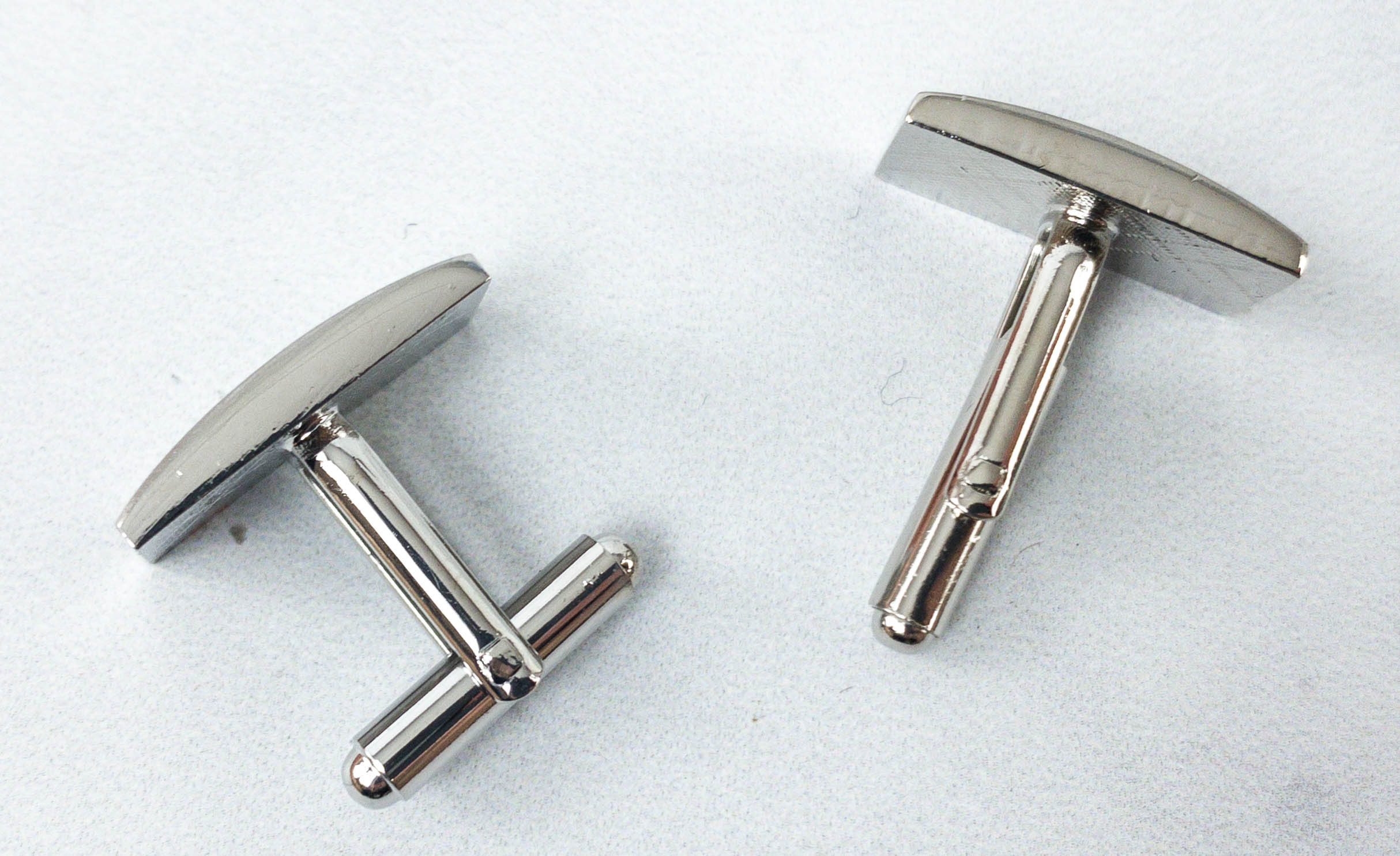 The post and toggle clasps had a shiny finish compared to the plate's brushed effect.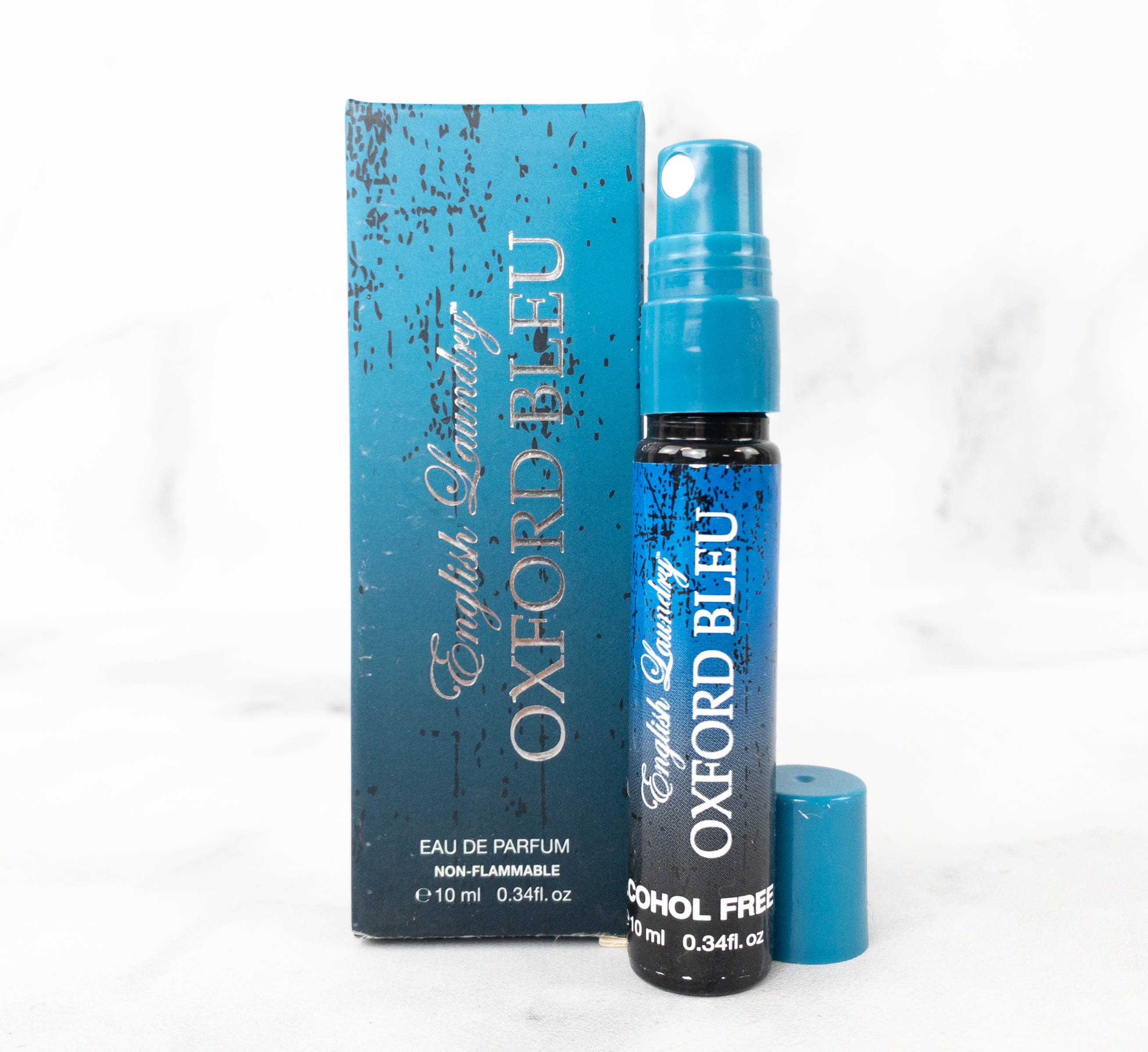 English Laundry Oxford Bleu Fragrance ($8.50) As we all know, smelling good is just as important as looking great! This fragrance has top notes of mint, green apple, lemon with mid notes of iris and geranium scent. Finally, a woodsy base of sandalwood and vanilla completes its unforgettable and captivating aroma.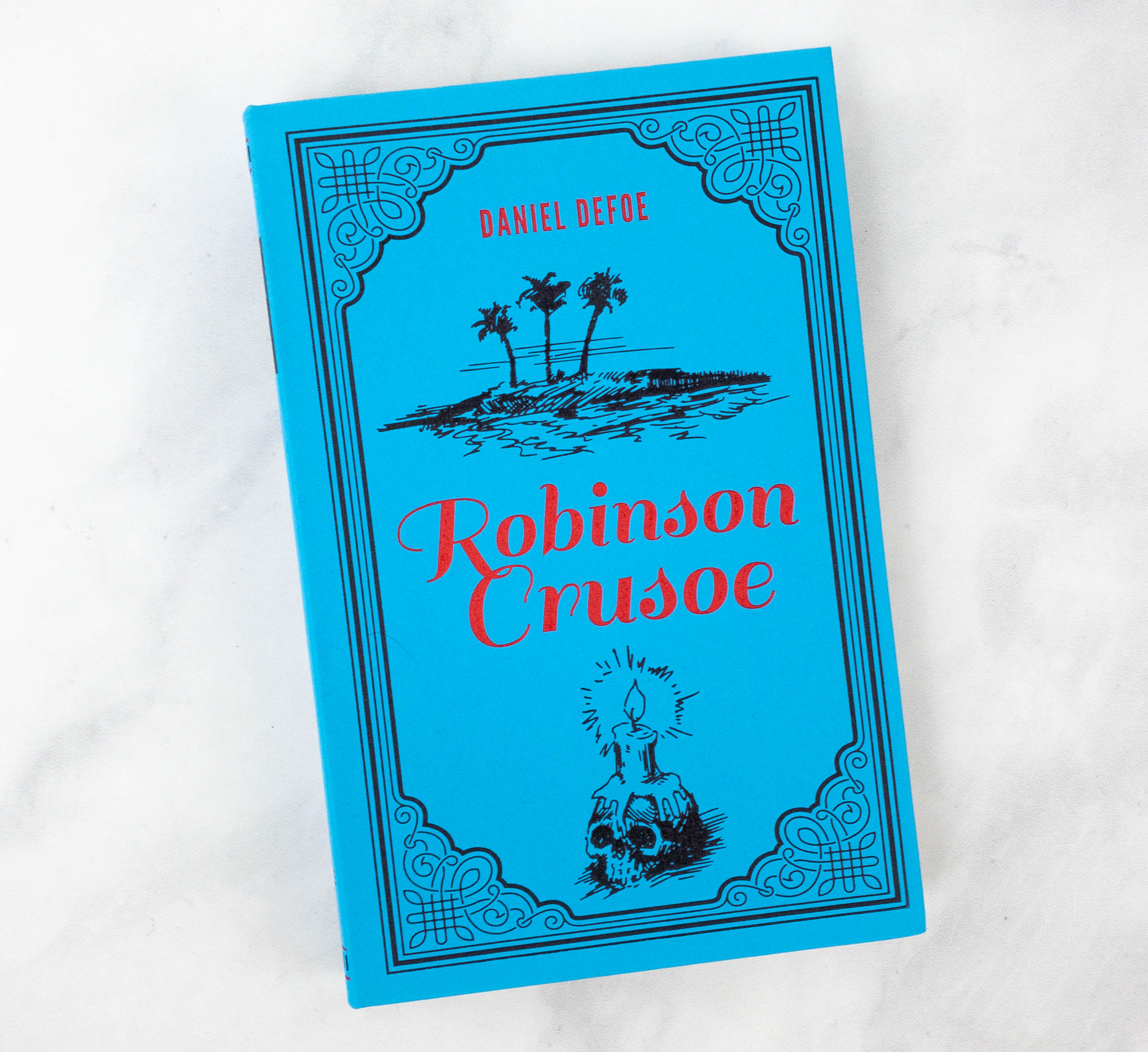 Robinson Crusoe by Daniel Defoe ($6.99)
Robinson Crusoe is a novel by Daniel Defoe, first published on 25 April 1719. This first edition credited the work's fictional protagonist Robinson Crusoe as its author, leading many readers to believe he was a real person and the book a travelogue of true incidents. It was published under the considerably longer original title The Life and Strange Surprizing Adventures of Robinson Crusoe, Of York, Mariner: Who lived Eight and Twenty Years, all alone in an un-inhabited Island on the Coast of America, near the Mouth of the Great River of Oroonoque; Having been cast on Shore by Shipwreck, wherein all the Men perished but himself. With An Account how he was at last as strangely deliver'd by Pyrates. Epistolary, confessional, and didactic in form, the book is a fictional autobiography of the title character (whose birth name is Robinson Kreutznaer)—a castaway who spends years on a remote tropical island near Trinidad, encountering cannibals, captives, and mutineers before being rescued.The story is widely perceived to have been influenced by the life of Alexander Selkirk, a Scottish castaway who lived for four years on the Pacific island called "Más a Tierra" (in 1966 its name was changed to Robinson Crusoe Island), Chile. However, other possible sources have been put forward for the text. It is possible, for example, that Defoe was inspired by the Latin or English translations of Ibn Tufail's Hayy ibn Yaqdhan, an earlier novel also set on a desert island. Another source for Defoe's novel may have been Robert Knox's account of his abduction by the King of Ceylon in 1659 in "An Historical Account of the Island Ceylon," Glasgow: James MacLehose and Sons (Publishers to the University), 1911.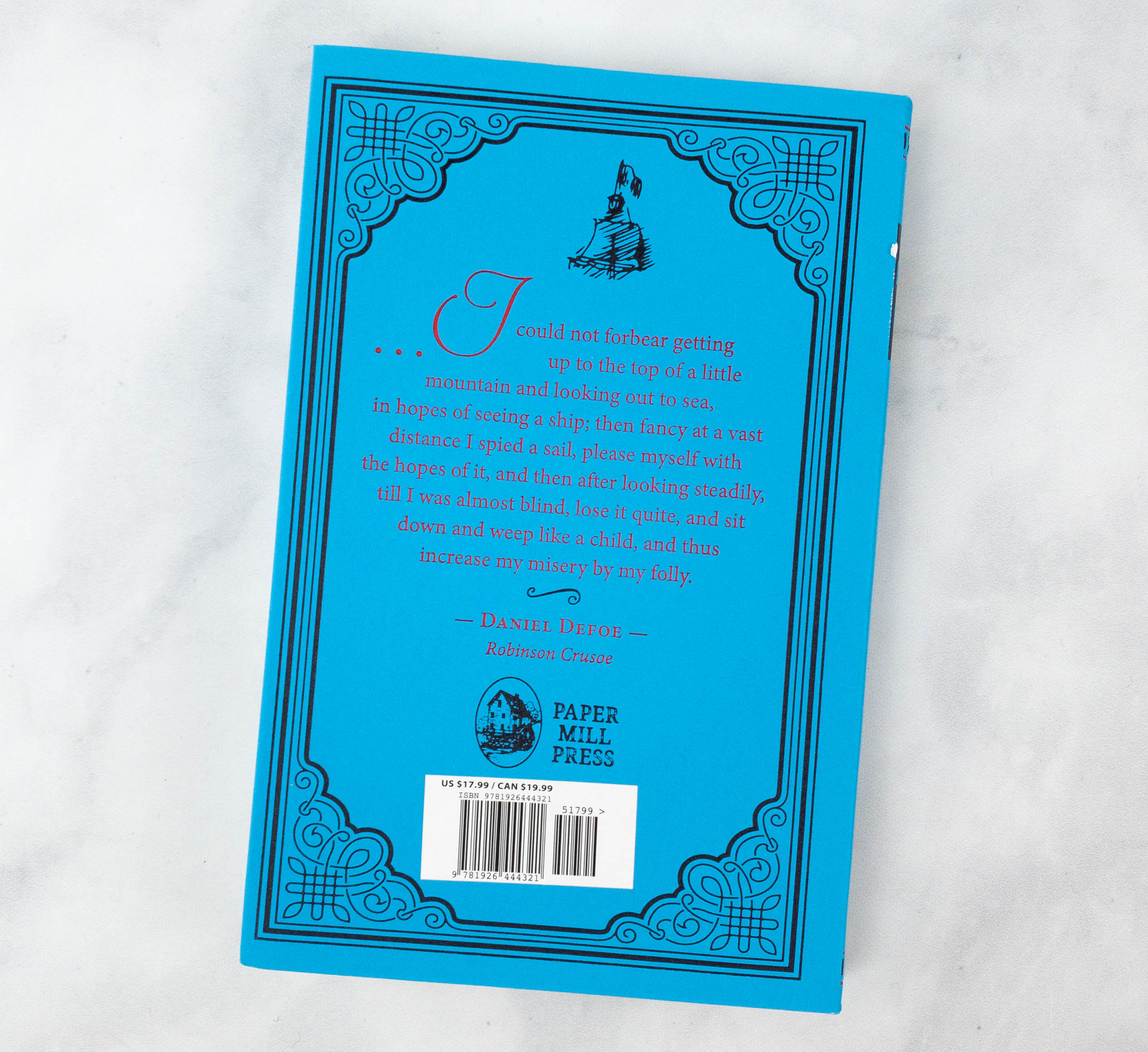 I'm happy with this month's book pick for Culture Carton Standard!
It's an inspiring and moving story, with a protagonist named Robinson Crusoe who had great interest on going out to the sea. He experienced a lot of unfortunate events but he always managed to get up and establish himself. Eventually, it made him realize that whatever happened in his life, he is still lucky to be alive.
I really enjoyed this month's Culture Carton box! It included useful accessories, including gloves that allows me to use gadgets while wearing them, a classic-looking tie with a herringbone pattern, and silver-colored cufflinks. This month's featured book is also an excellent choice! The novel explores themes of individuality and isolation, and although it was written a long time ago, its lessons are still relevant for the present times. Value-wise, this box is also impressive! Excluding the price of the book, its retail value is already at $59.50, which is higher than the price of the box!
What's your favorite item this month?