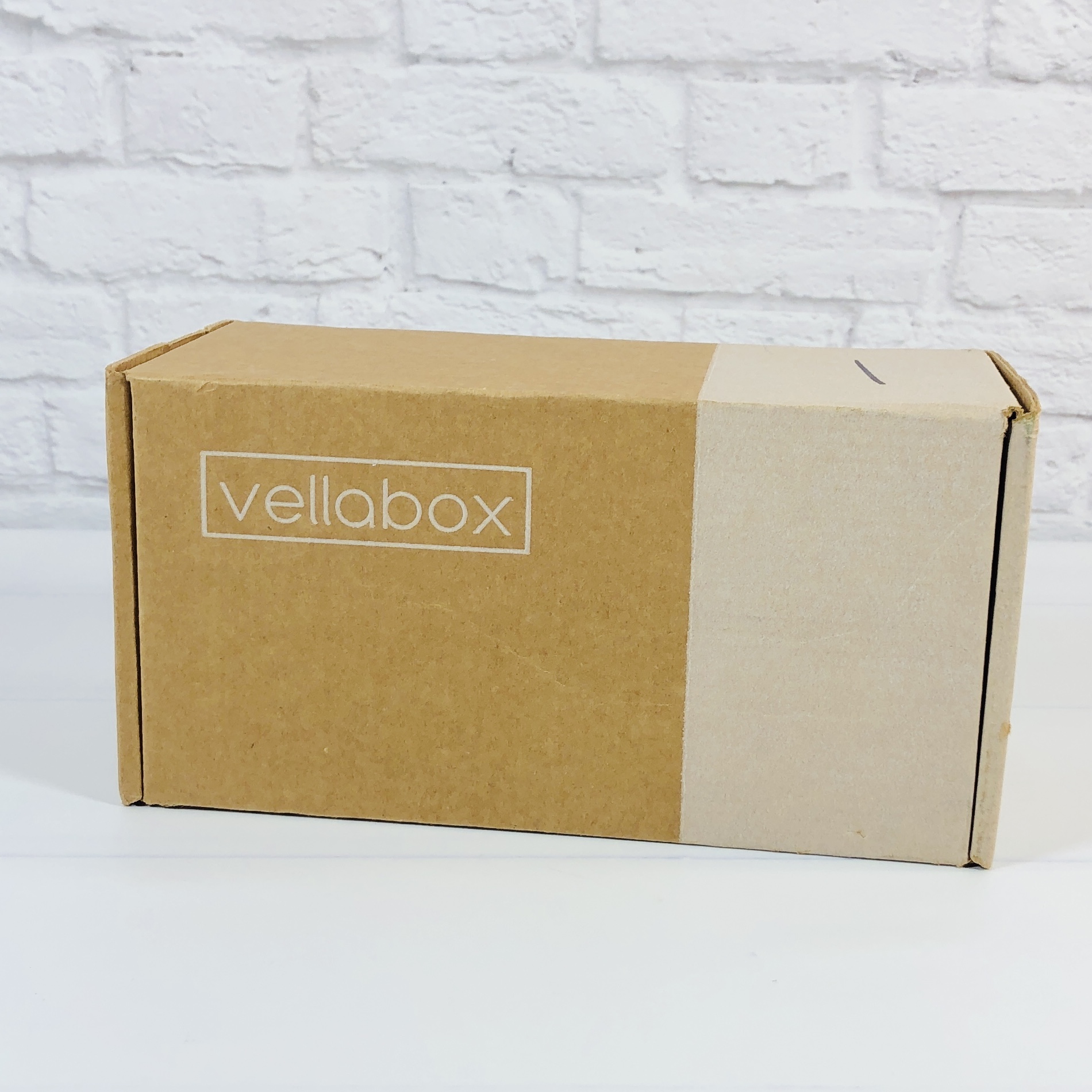 Vellabox is a monthly natural candle subscription box. The candles are always in seasonally inspired scents and are created by the finest American artisans. Each box features a different candle brand. The candles are from small businesses and are made of all-natural wax, cotton braided wicks, and premium fragrance oils. Vellabox also includes a surprise lifestyle gift in every box.
Our Vellabox Candle Curator handpicks the candles and guarantees that they are always all-natural, seasonally relevant and bound to bring warmth and joy to any space. The surprise gift in your box each month is chosen carefully to align with our team's health-centric values.
DEAL: Save 50% on your first box! Use coupon code HELLOSUB50.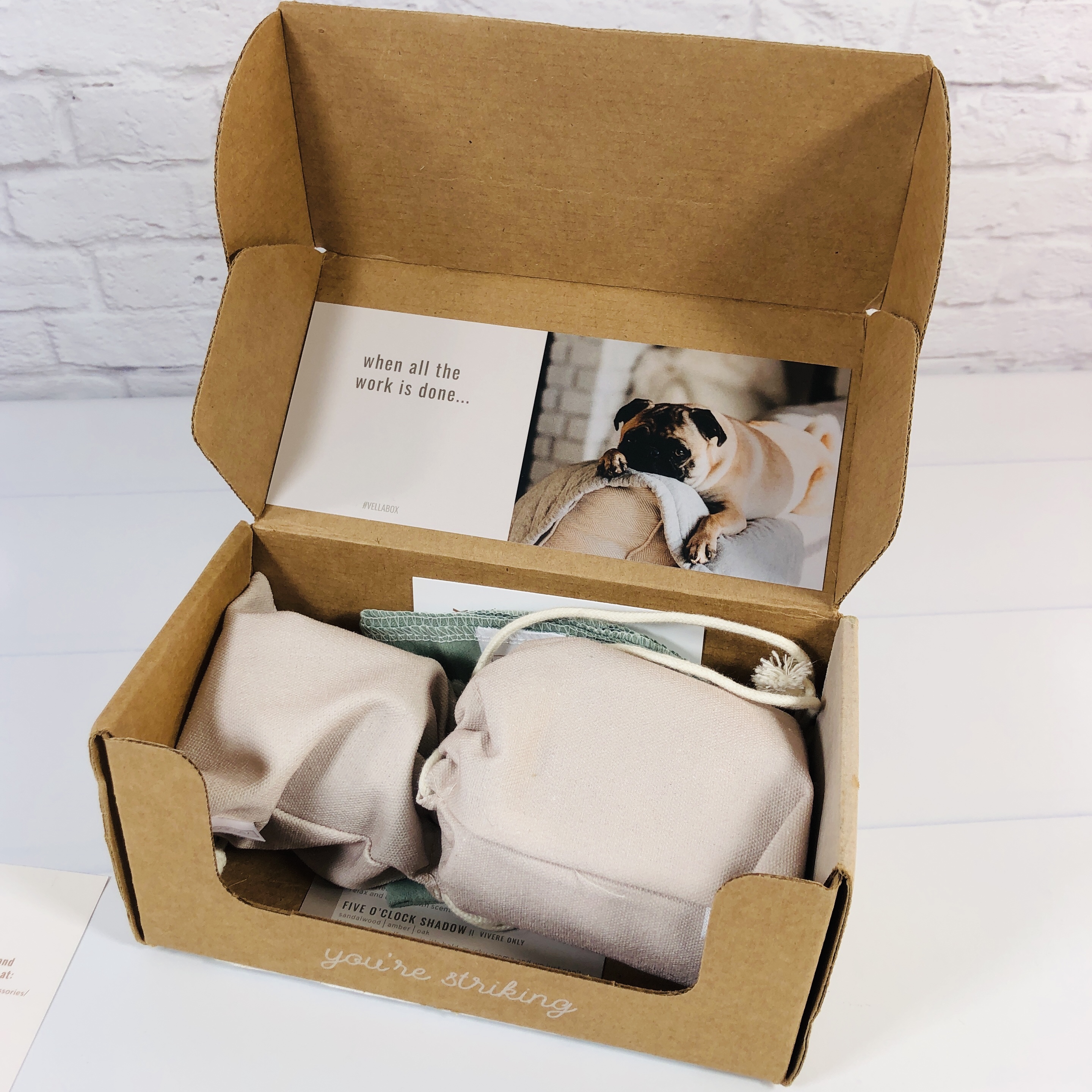 The first thing you need to do is decide which level you prefer. You can choose from The Lucerna Box ($10) which includes a 4 oz candle monthly, The Ignis Box ($20) with an 8 oz candle monthly, and The Vivere Box ($30) with an 8oz + a 4 oz candle monthly. Each level receives the bonus lifestyle gift. Shipping is $3 per month for Lucerna and Ignis to the US, and free for Vivere. Vellabox now ships to Canada for $8 per box.
I am reviewing The Vivere Box.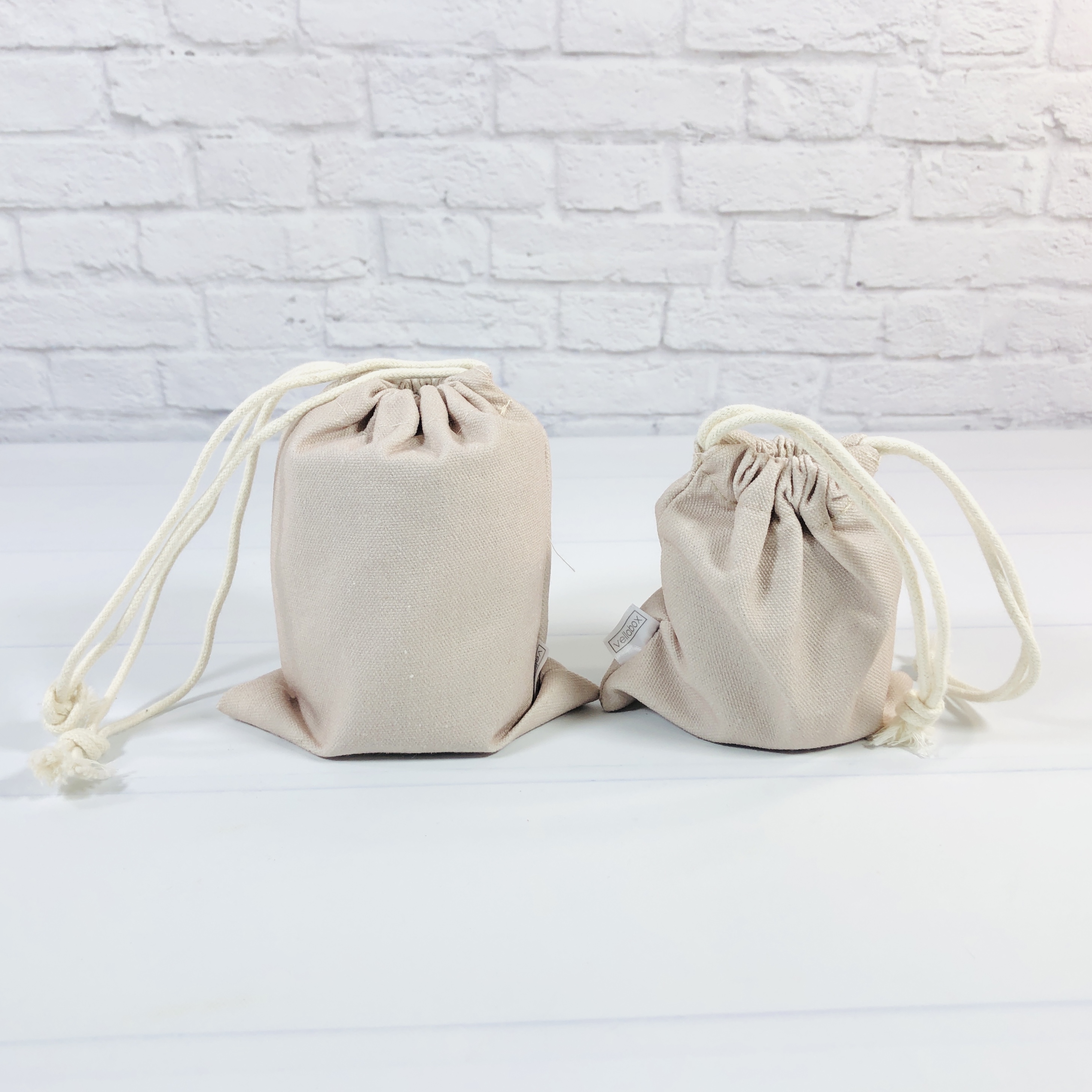 The candles were in reusable drawstring canvas bags. The bags can hold items like jewelry or other trinkets.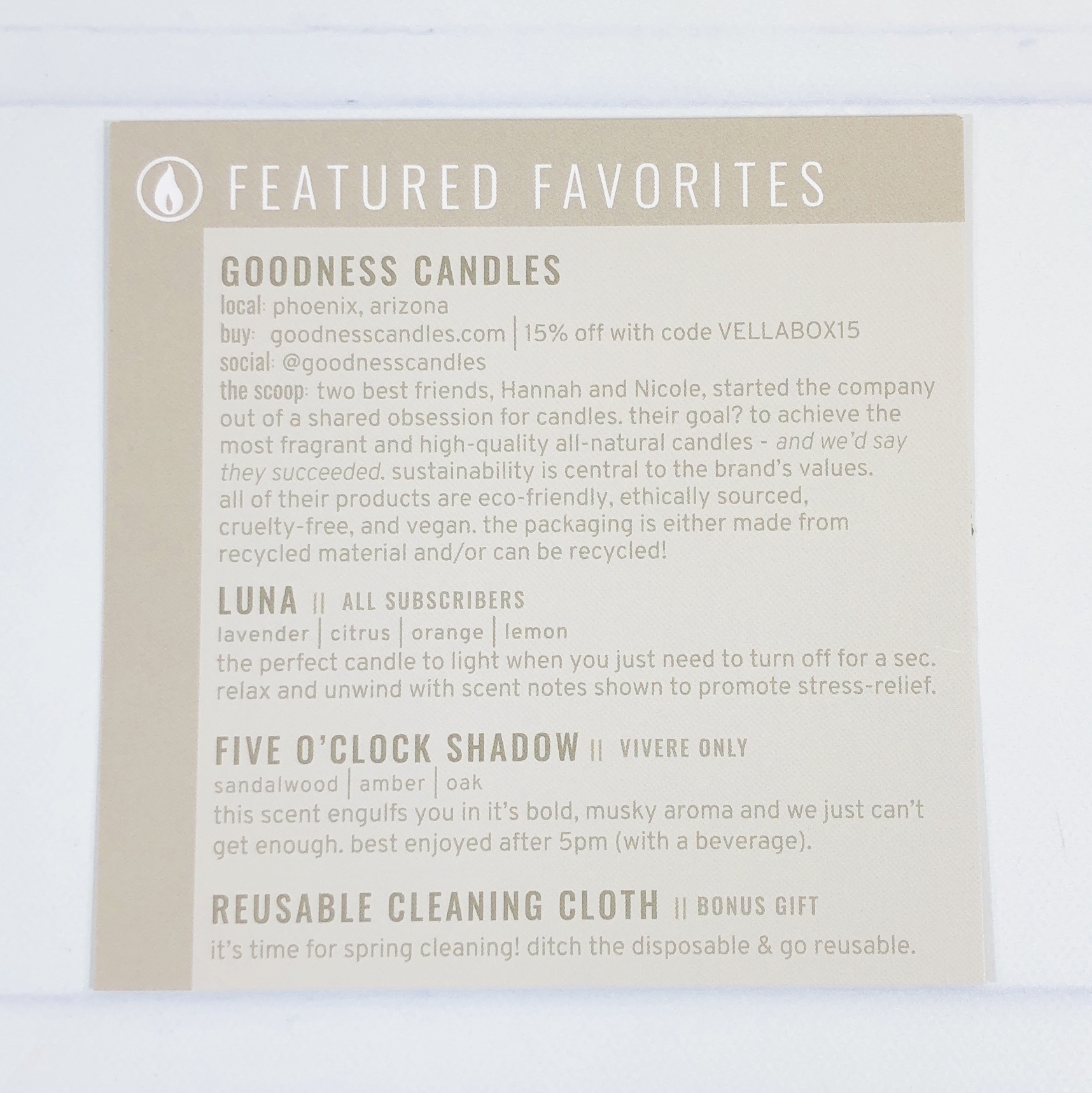 There was a card with info on the featured candle brand, Goodness Candle, and a coupon code for future purchases from that brand!
Environmental sustainability is extremely important to both of us and we work hard to reflect in both our candles and packaging. Everything we use is either made from recycled material and/or can be recycled. Our wax is 100% natural soy with no added chemicals, meaning they produce around 90% less soot than paraffin candles. We recommend our customers reuse their glass jars and even offer local customers a 50% discount on their next candle if they save their jar for us to pick up. Our labels are made of 100% recycled kraft paper. All of our packaging can be recycled and we use eco-friendly "bubble wrap" and packing peanuts, which dissolve in water and are biodegradable.
The back of the card reminded me that after partaking in spring cleaning, I should sit back with a lit candle and enjoy my hard work!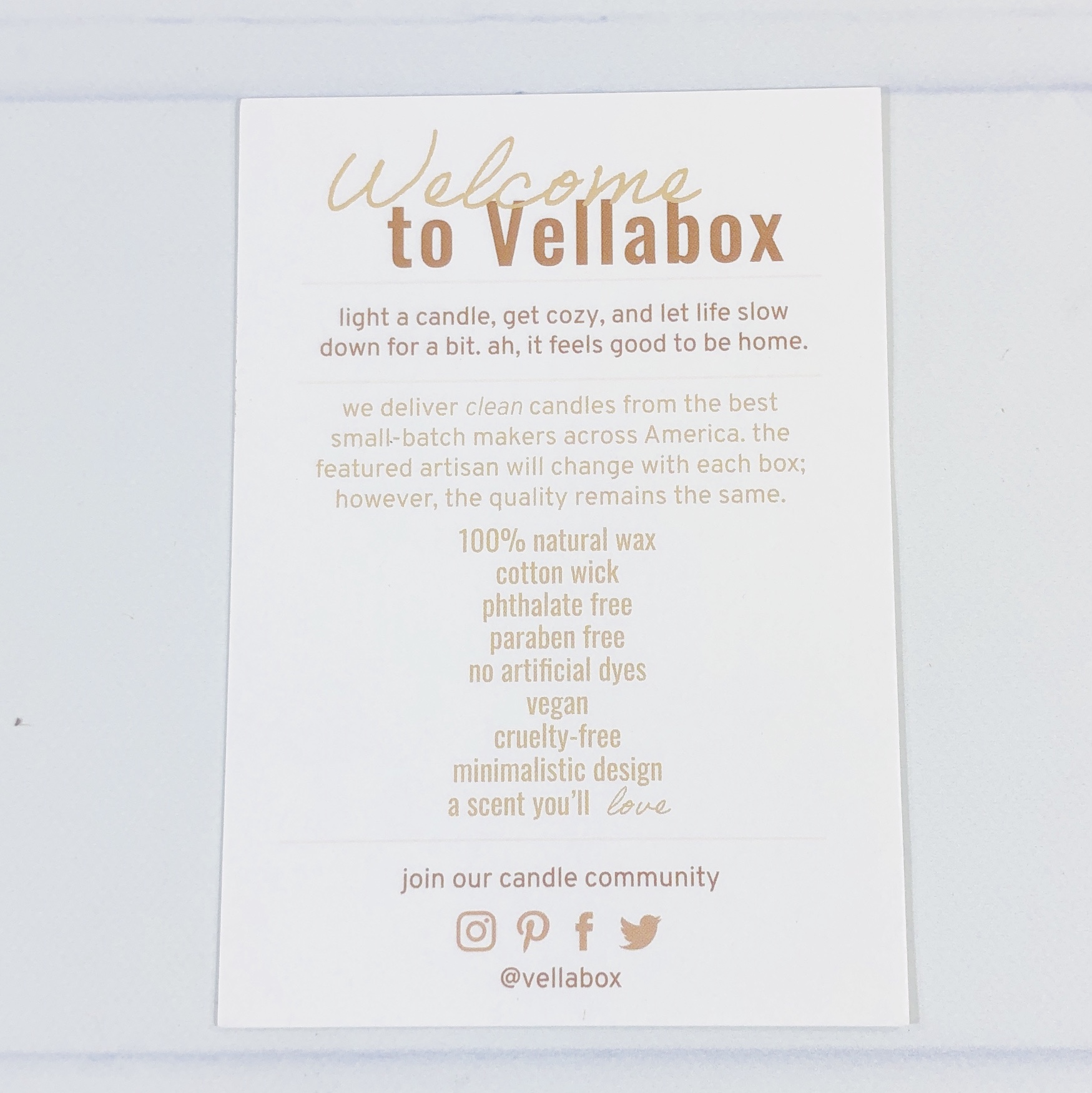 New subscribers will receive a card welcoming them to Vellabox. The card reminds me of what I can expect to find in my candles, like no artificial dyes and 100% natural wax.
A second card tells me that I can buy wick trimmers and snuffers at the online store.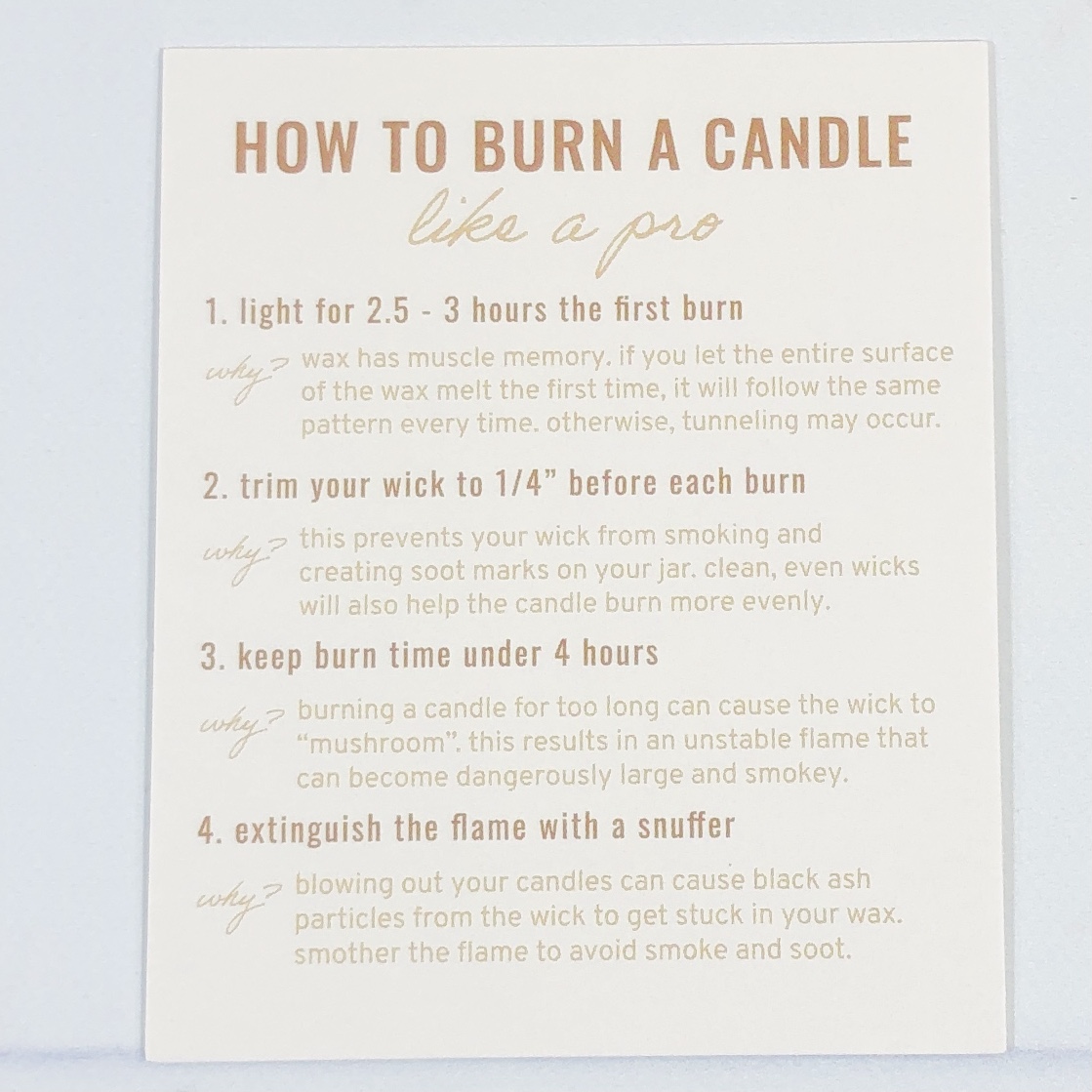 The back of the card had some helpful tips to get the most out of burning the candles, like making sure to burn it long enough the very first time to avoid a future of tunneling candles.
Here's everything in the box!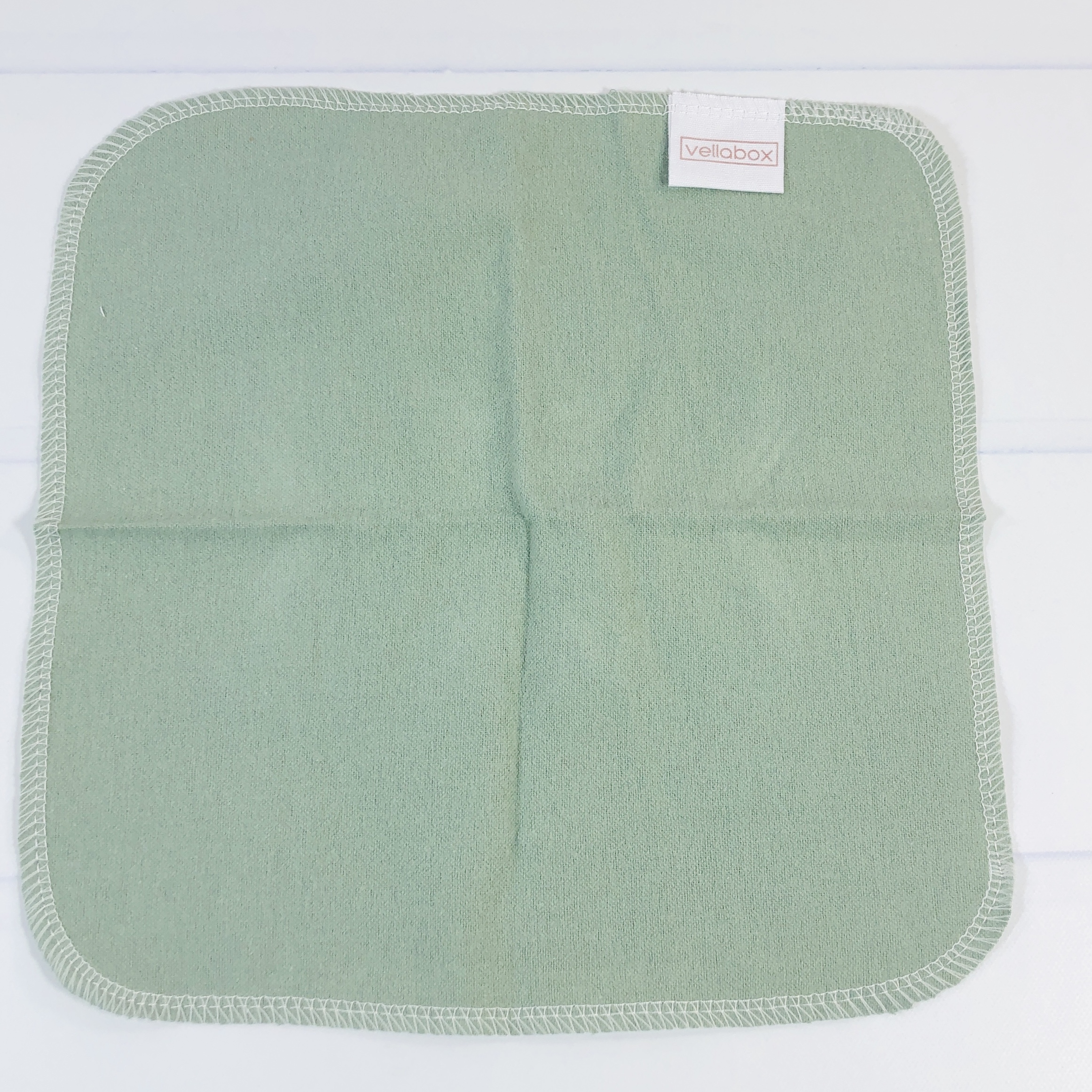 Eco Friendly Cleaning Cloth Vellabox sends an environmentally-friendly extra each month and for March it is a reusable cleaning cloth. The cloth is about 9.5″ x 9.5″ and in a sage green shade that I adore.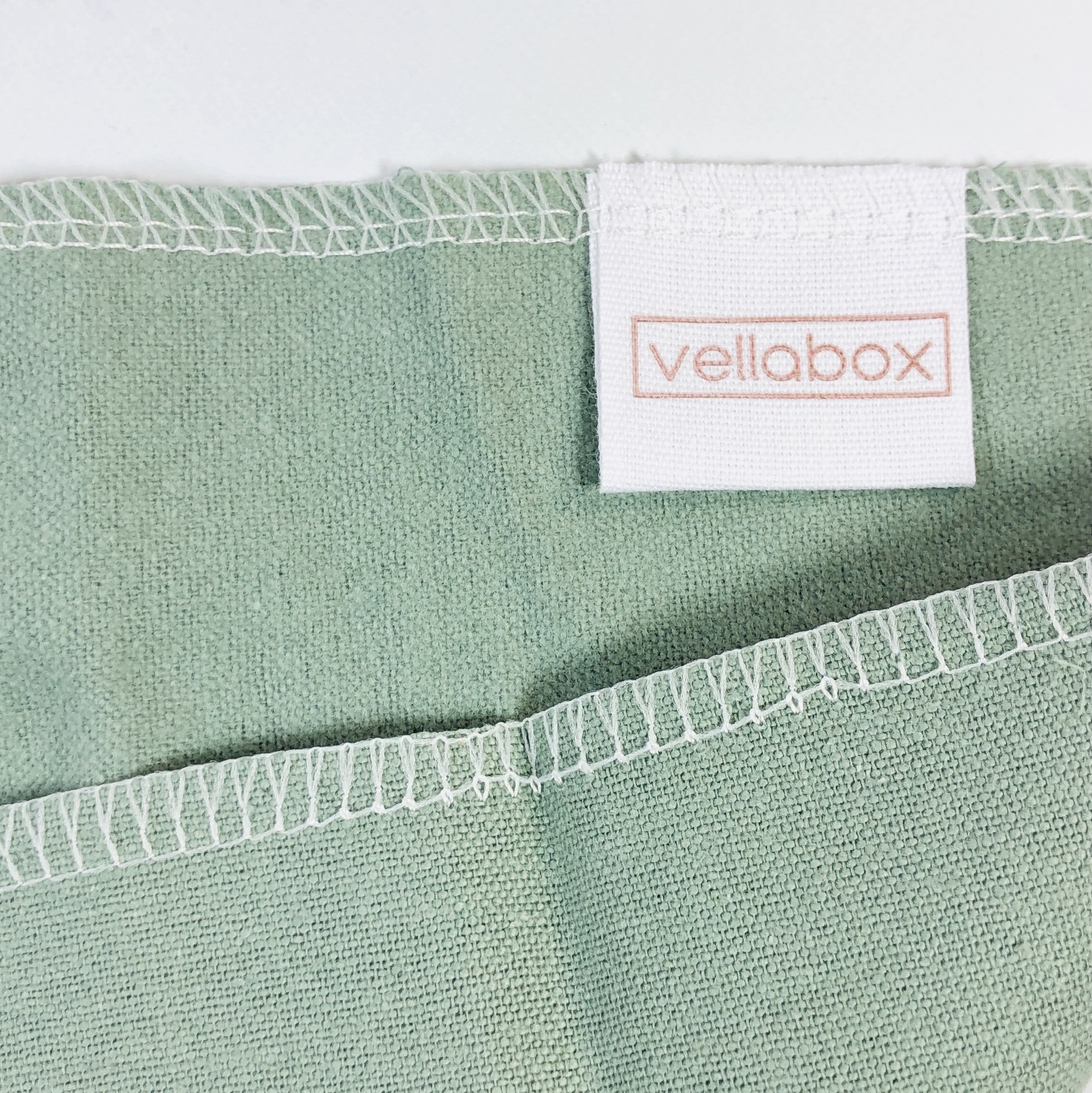 One side is softer than the other. I'm not sure what it's made of but plan on washing it with my regular towels.
Goodness Candle Luna Candle ($20) The larger of the two candles this month is in the scent Luna, which has notes of lavender, cedar, orange, and lemon.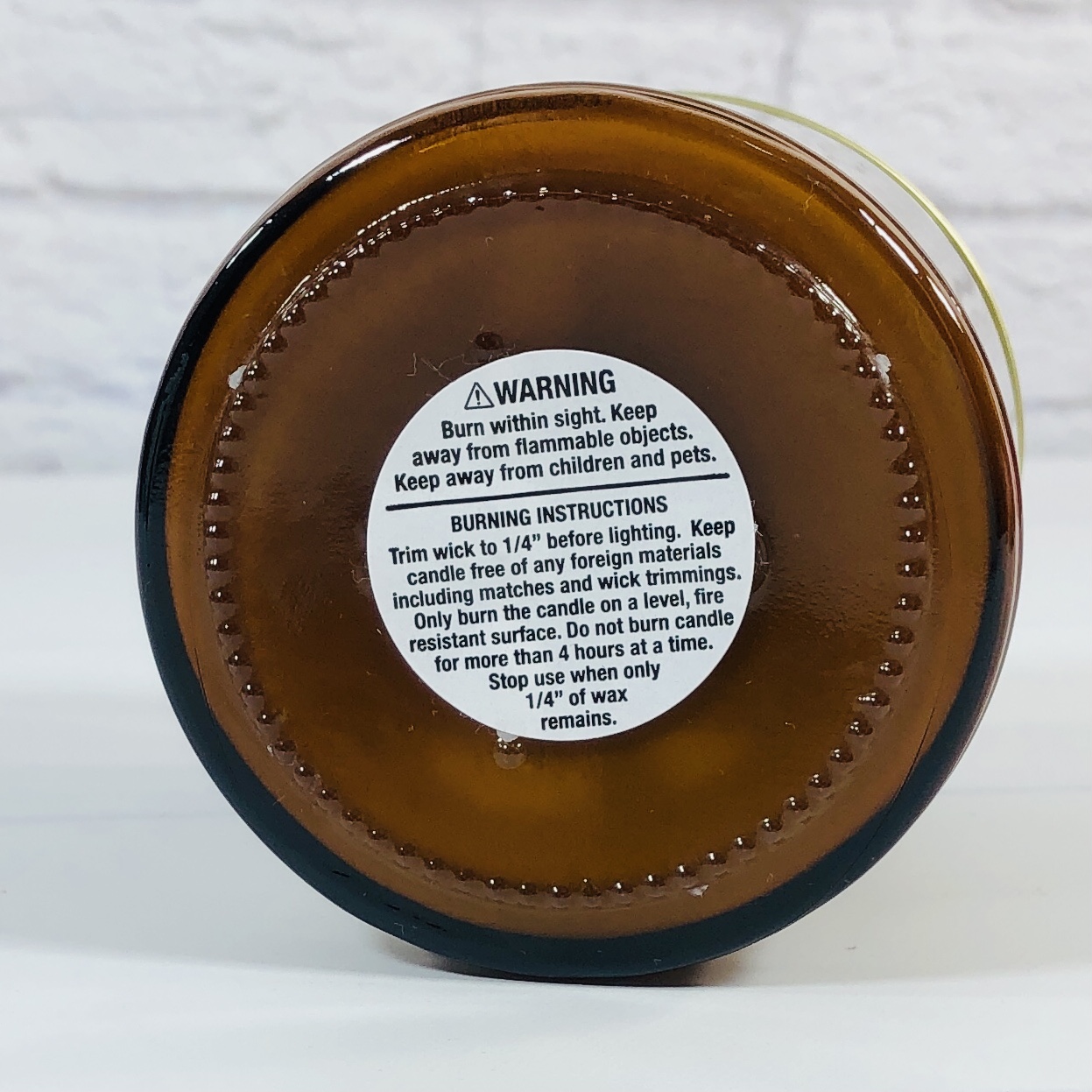 Burning instructions are on the bottom of the candles, please keep them out of the way of little hands and paws!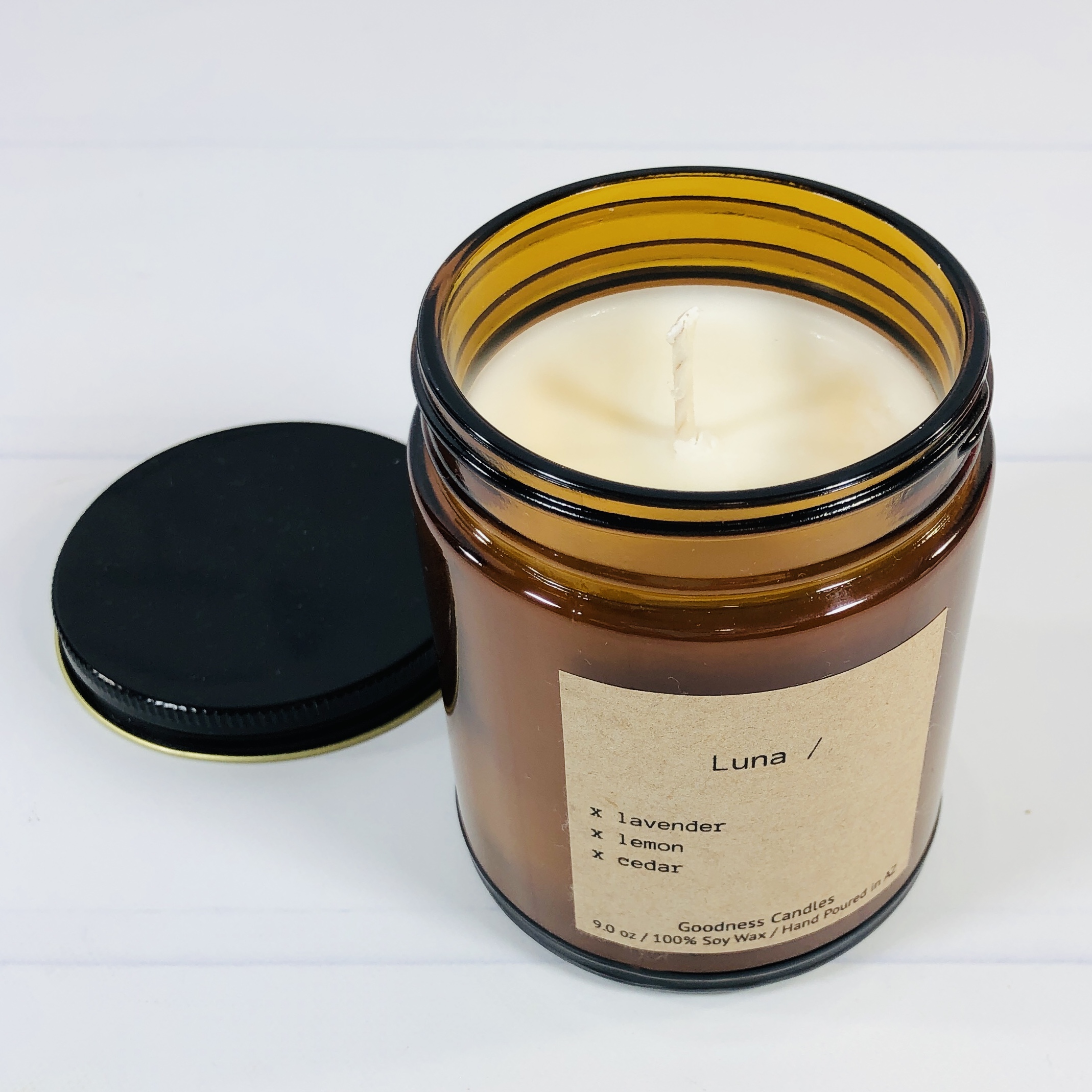 Luna smells clean and uplifting, with a natural lavender note. It carries the scent well in a small room, and is even noticeable if I have it burning in a bigger room. I like the natural notes, especially the relaxing hint of lavender.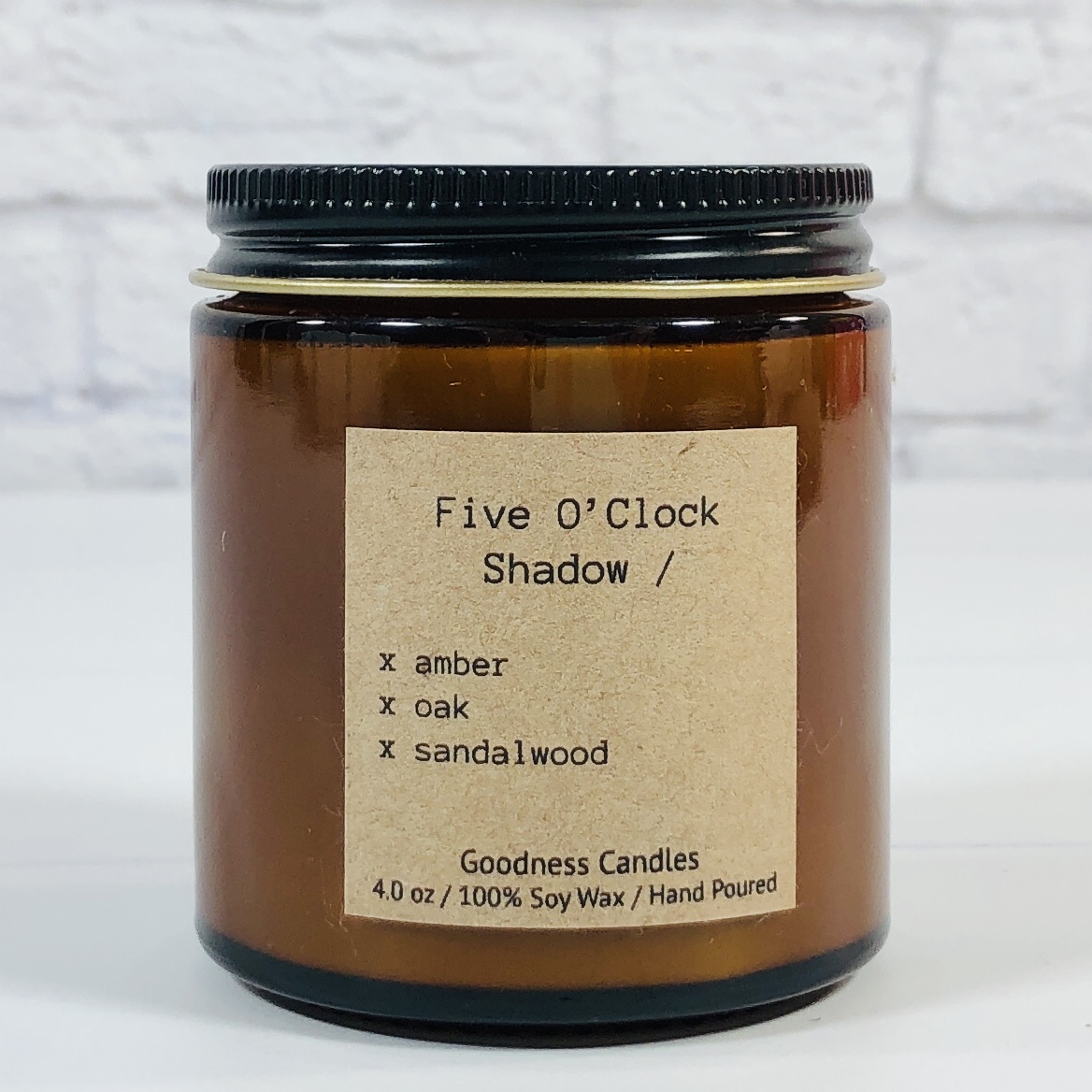 Goodness Candle Five O'Clock Shadow ($10) When I purchase candles for myself, nine times out of ten I will pick a scent that is warm, spicy, woodsy, or almost manly. This is the perfect example! It has notes of sandalwood, amber, and oak and smells like a handsome library, one with a fire burning in the grate and maybe a nice bottle of something rich on the desk.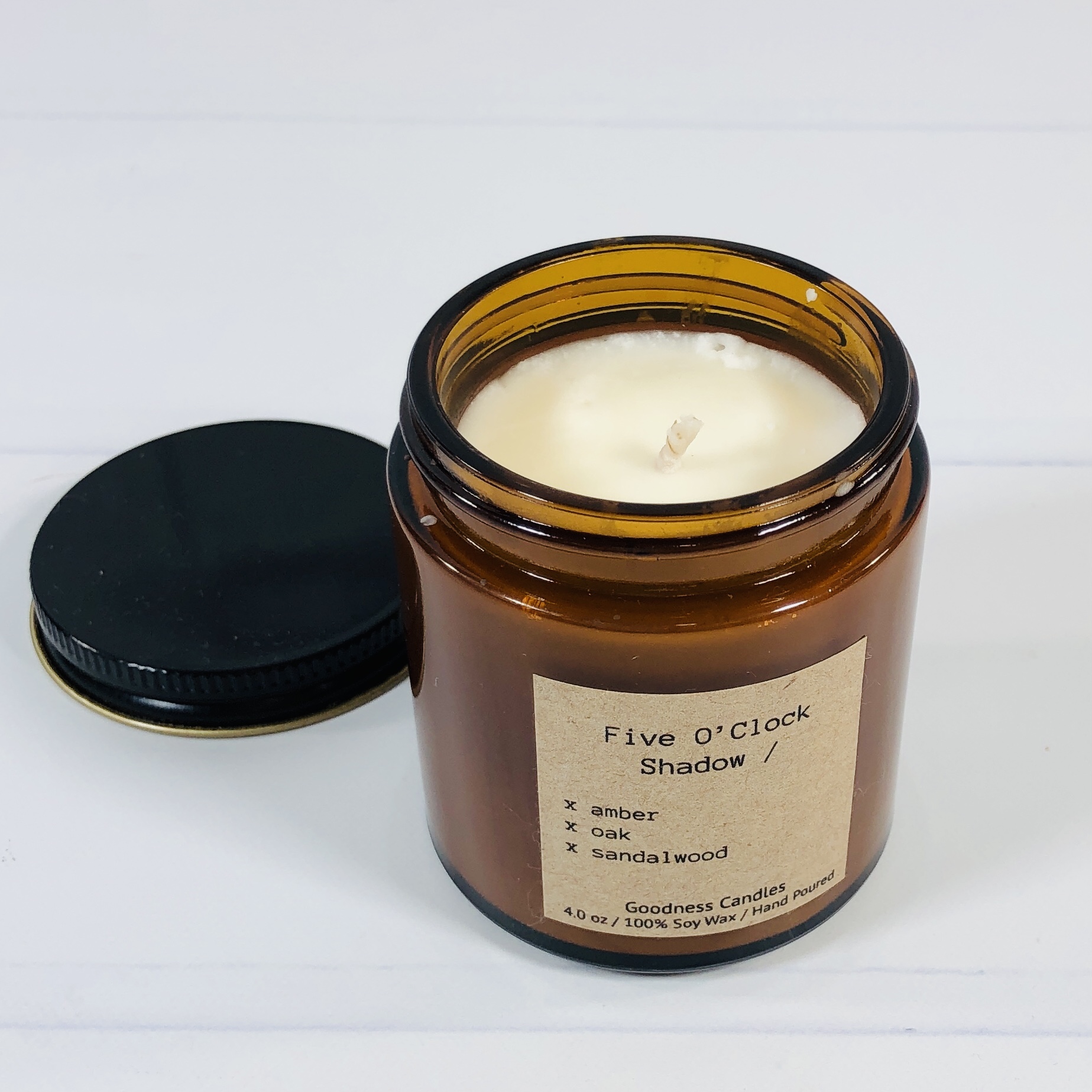 The candle should burn for about 20-30 hours.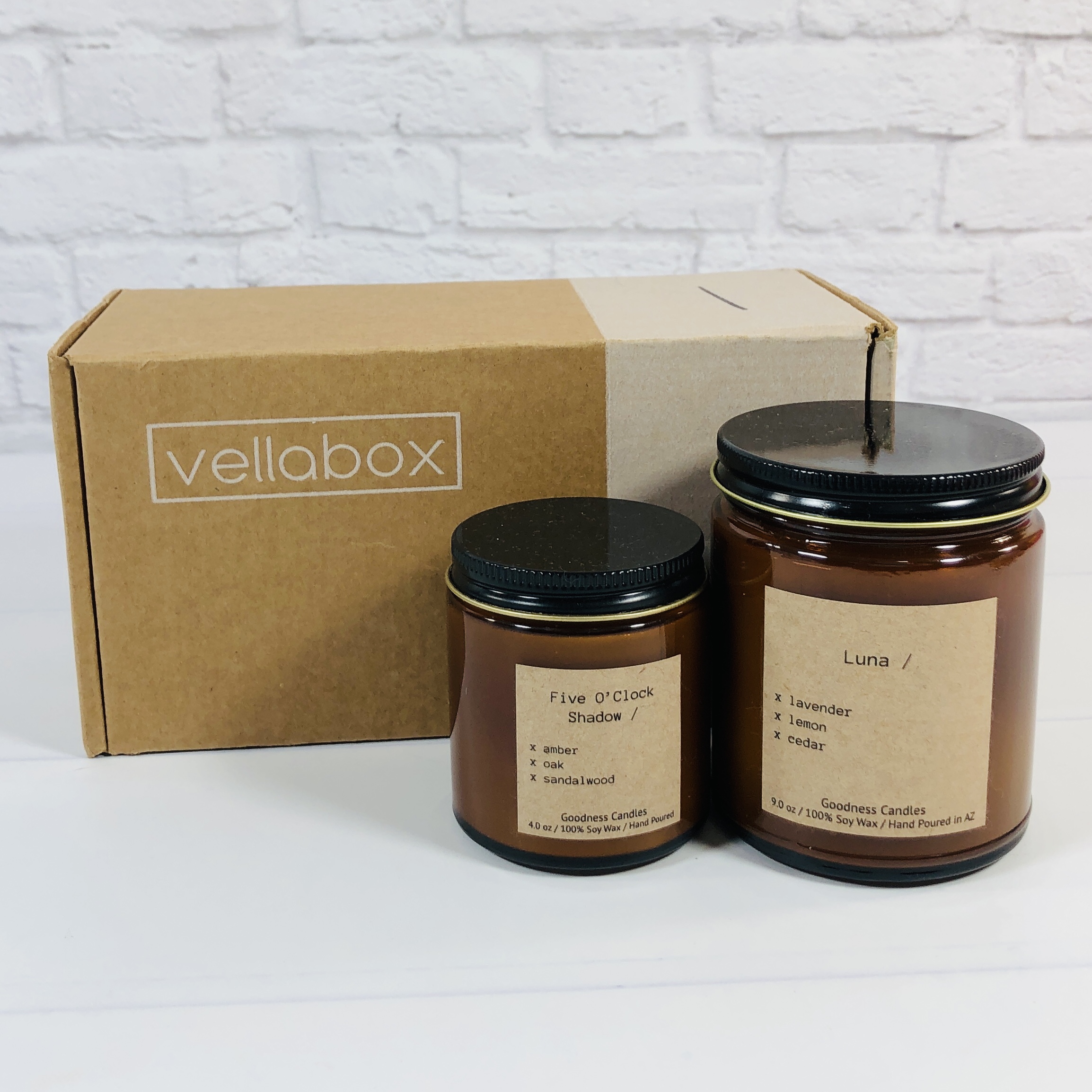 I really enjoyed my new candle scents from Goodness Candles via Vellabox! Vellabox has introduced me to so many new-to-me brands and I have been impressed with them all. I especially like warm scented candles and so Five O'Clock Shadow was a clear winner but guess what, Luna was perfectly lovely too, in a clean and herbaceous sort of way. Like most of the candles from this subscription, Goodness Candles had a scent level that wasn't super strong but that was noticeable, just the way I like it. I don't want to live in a scented fog, I want to be gently reminded that the candle is there, burning just a few feet away, and it doesn't set off my allergies.
What do you think of this box?