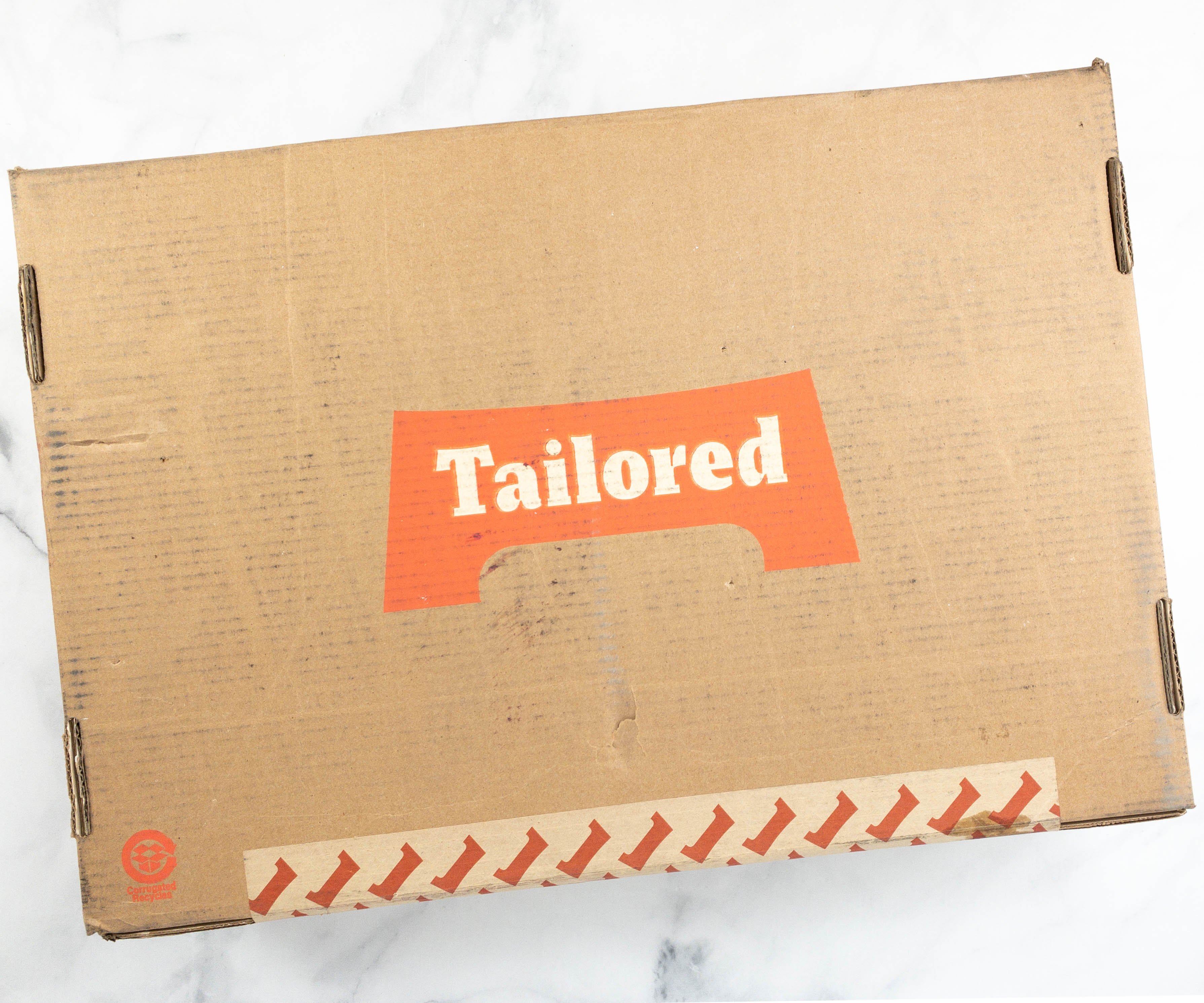 Tailored Pet Nutrition is a subscription that delivers personalized kibble recipes for dogs. Upon sign up, you just have to answer a quiz for your pup's health profile, including age, size, and activity level, as well as ingredients that you'd like to avoid. From the results, they would recommend a recipe and send it to your door along with feeding instructions. You can decide how often you'd like to receive your order, and you can change or cancel at any time. The price depends on your dog's personalized plan, it could range anywhere from $26 per month to $54 per month.
DEAL:  Get 50% off + FREE Shipping on your first subscription order! Use the coupon code TAILORED50 at checkout!
OR Get 20% off + FREE Shipping with one-time purchases! Use the coupon code TRY20 OR use the coupon code SAVE10 to get $10 off SITEWIDE + FREE Shipping!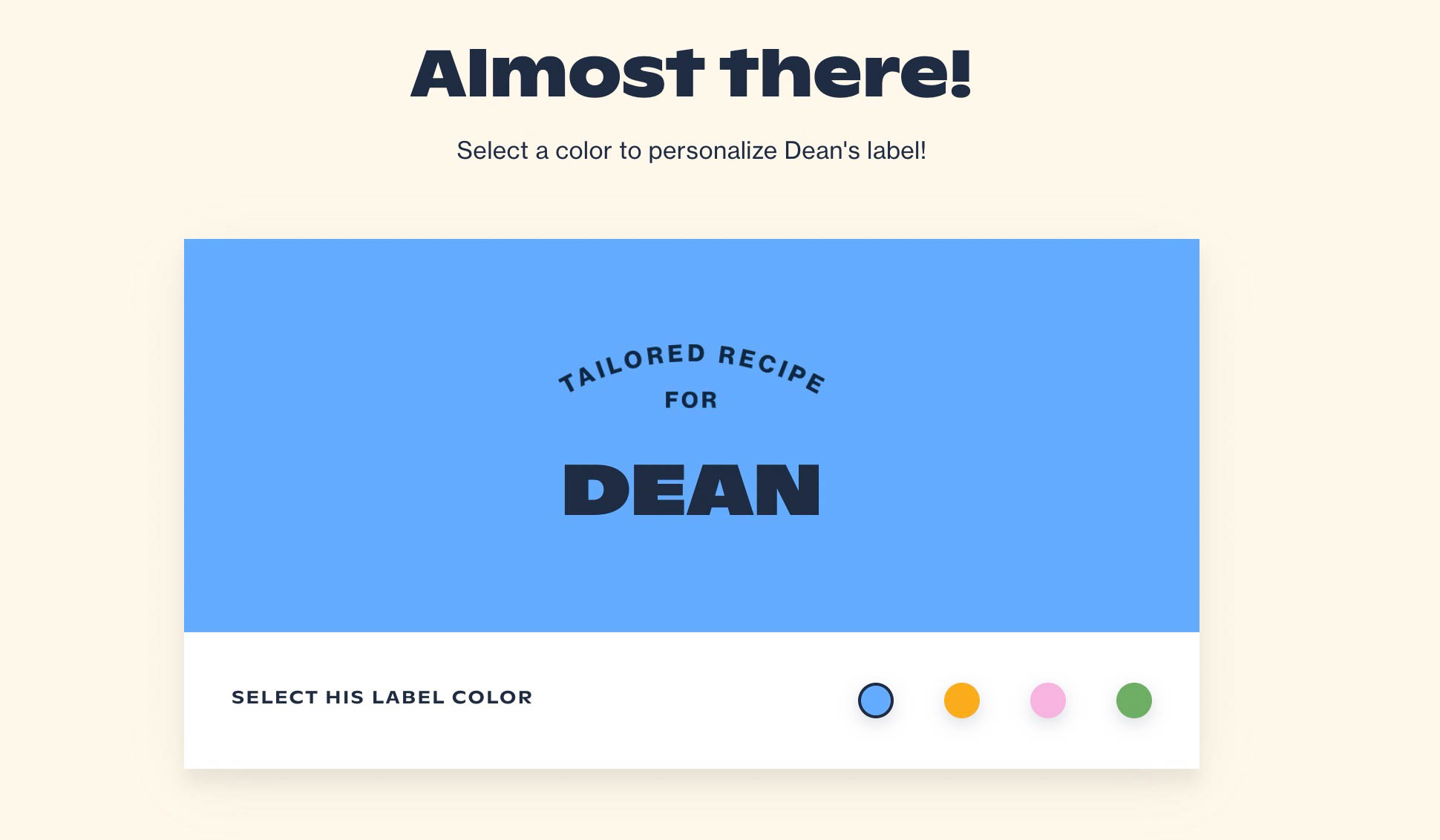 This is what the quiz looks like for this dog food subscription! It's fun and easy to fill up, and you can even choose a label color for you dog.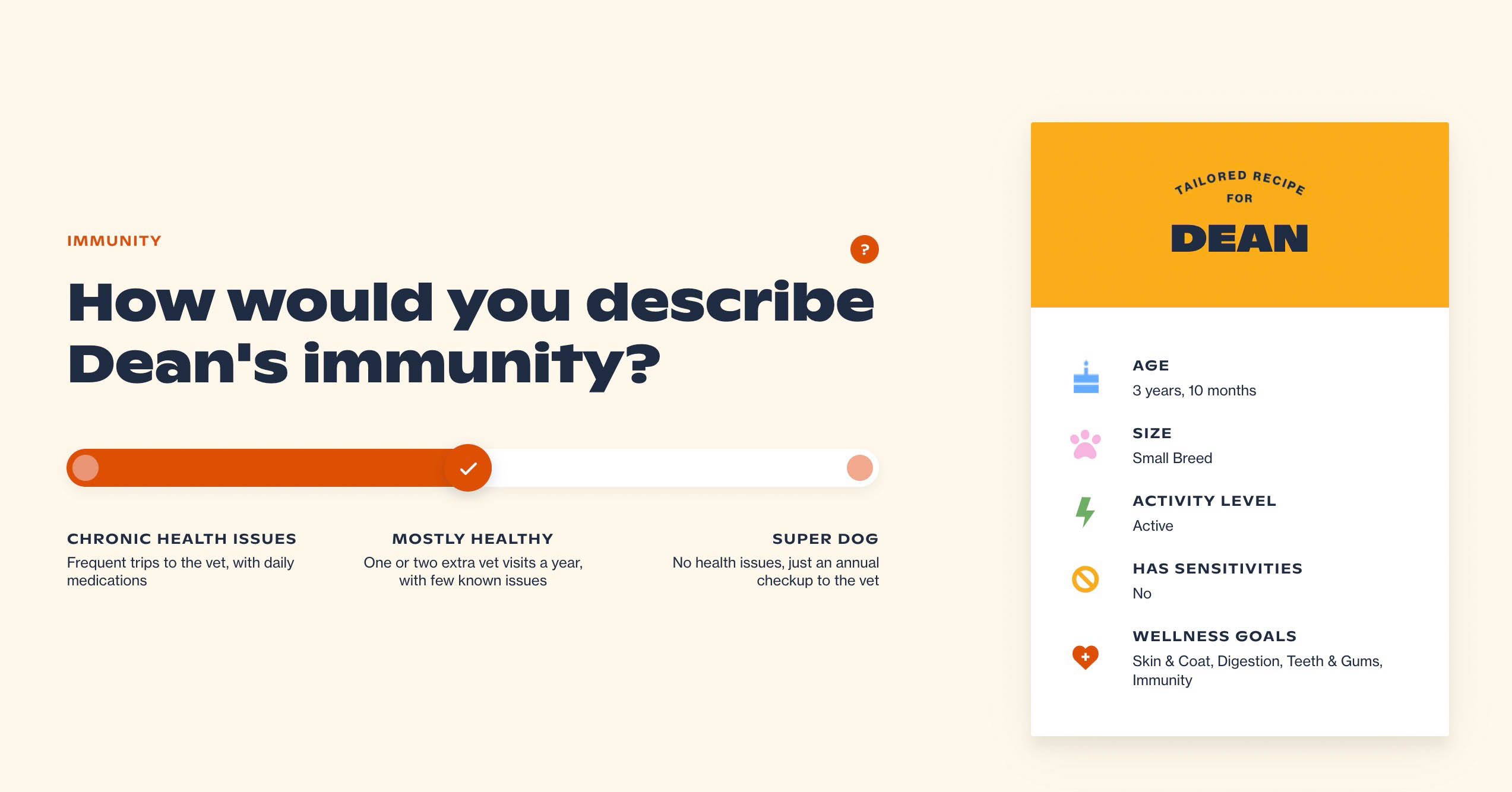 They need to know about your dog's immunity to be able to provide them the right dog food! As for Dean, he's 3 years and 10 months and he's a mostly healthy dog. He's also pretty active!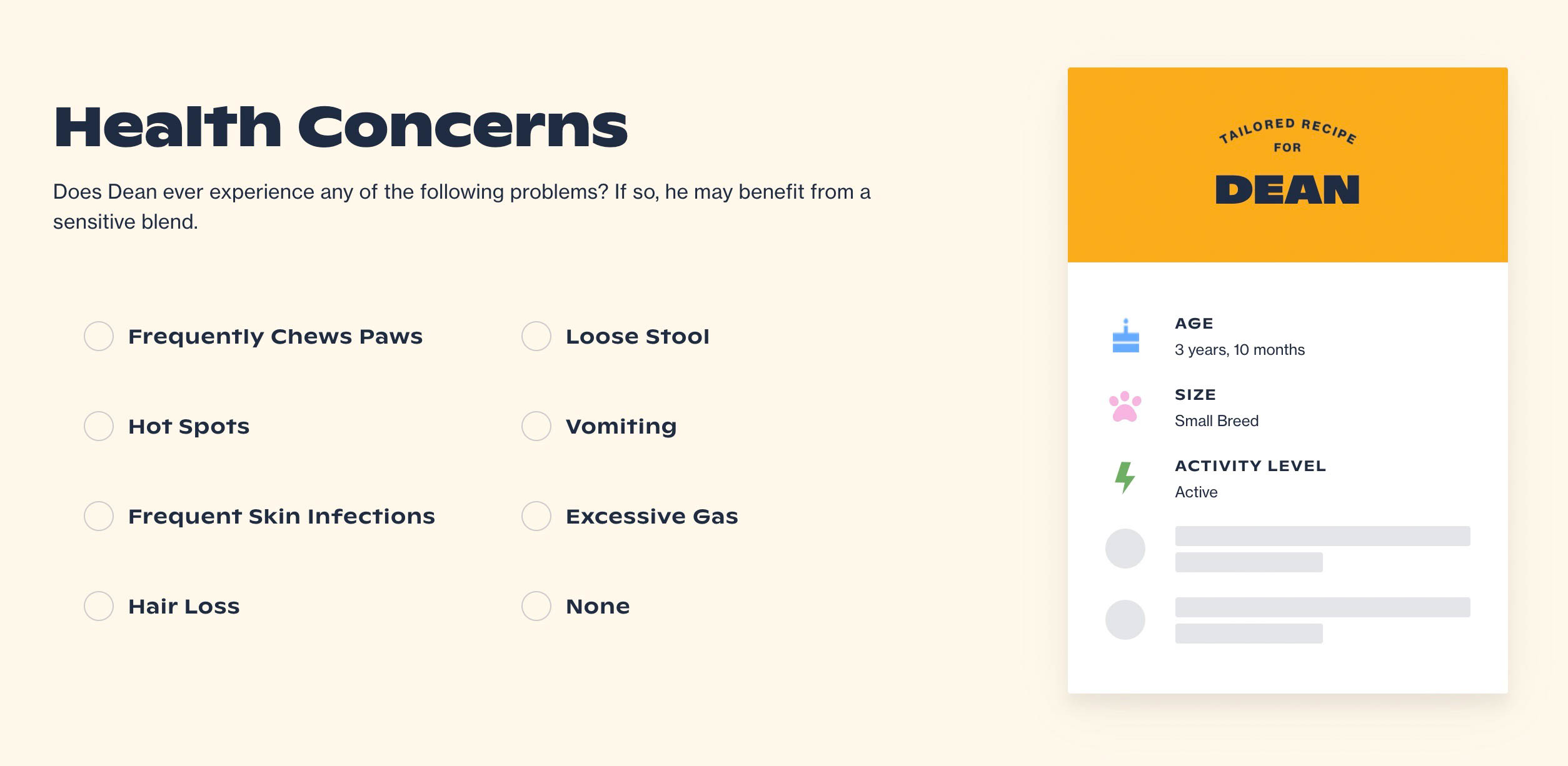 Next up is health concerns! Choices for this part of the quiz include: frequently chews paws, hot spots, frequent skin infections, hair loss, loose stool, vomiting, and excessive gas. You can also choose "none" if your dog doesn't have any of those.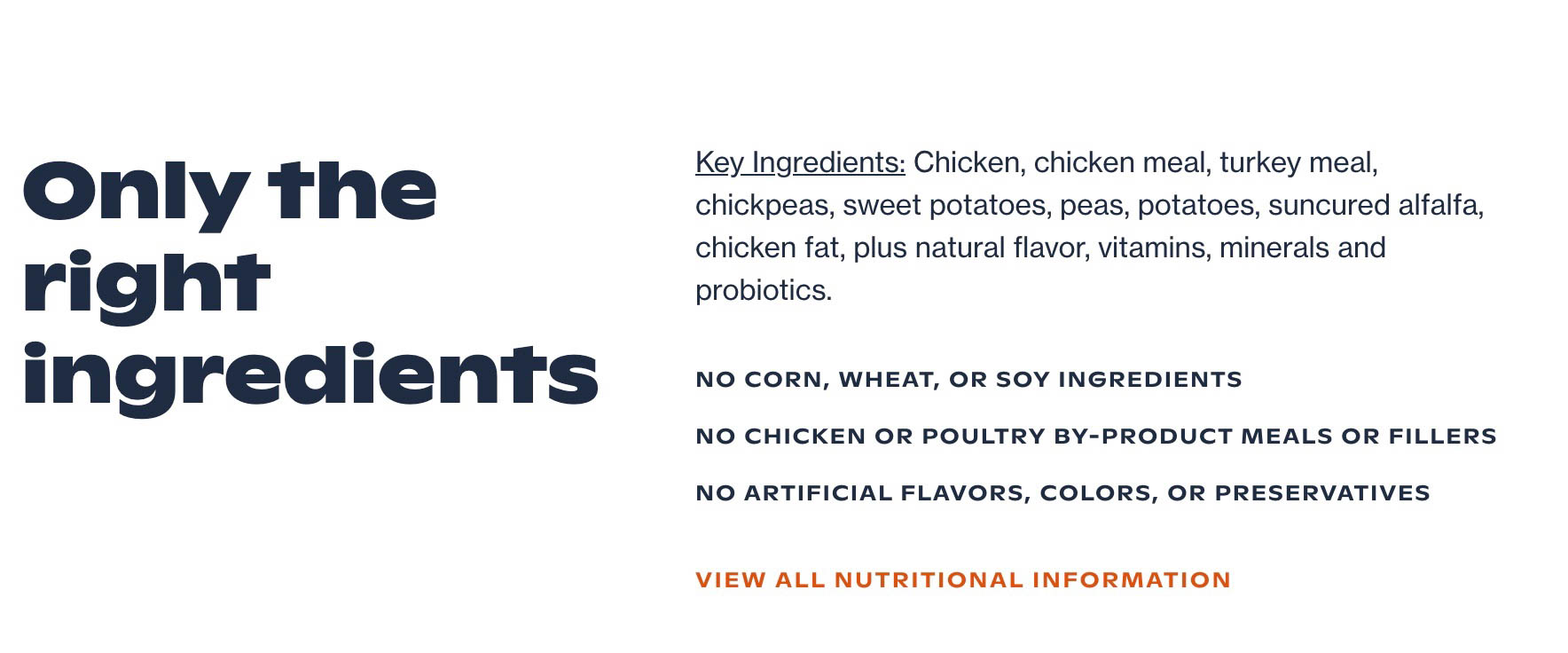 They provide the list of ingredients right away so you'll know what goes into your dog's food!
Good news for allergy dogs: Tailored can craft Limited Ingredient Diets their protein options with 7 to 10 ingredients, plus vitamin, minerals and taurine (if applicable).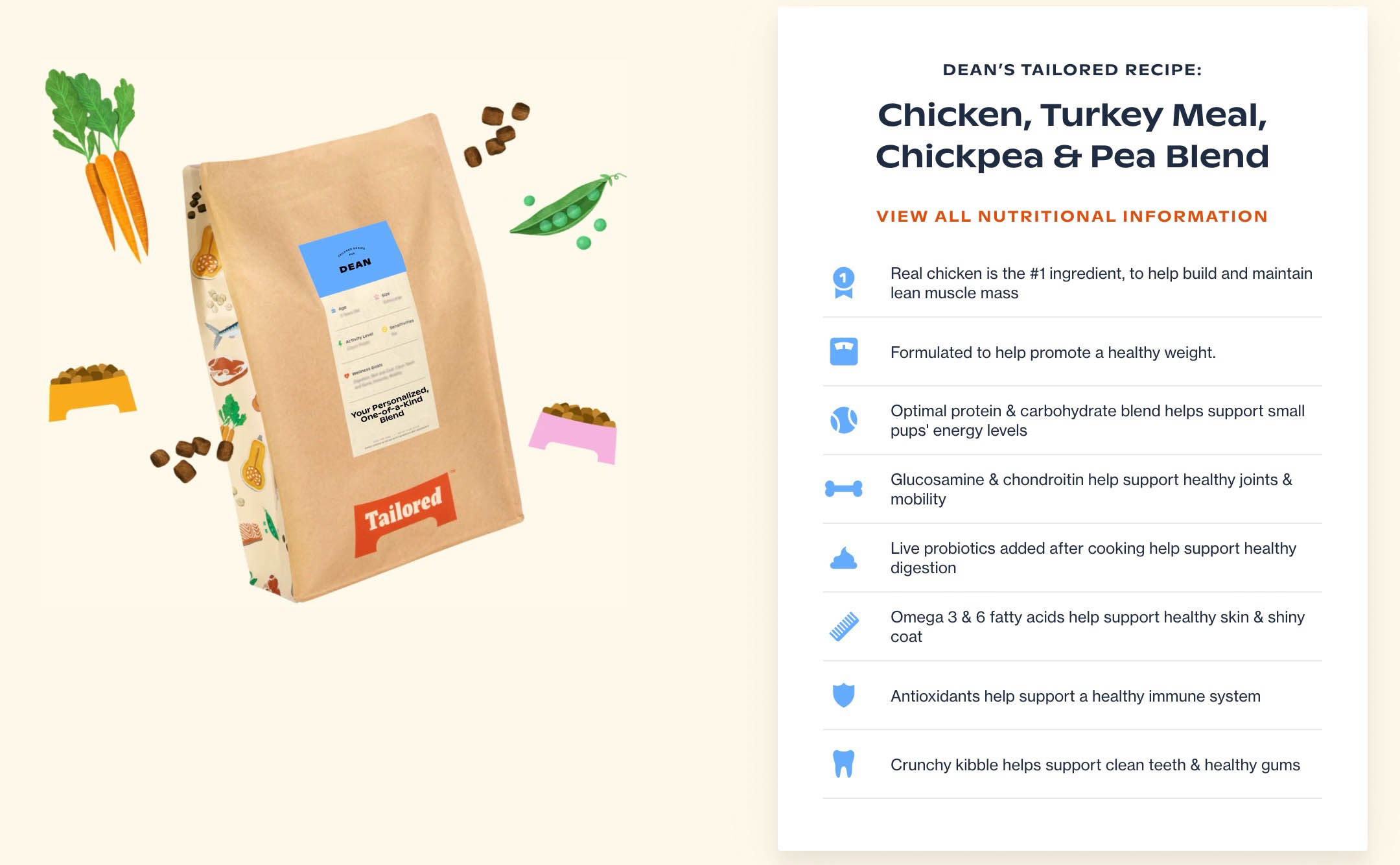 The tailored recipe for Dean is the Chicken, Turkey Meal, Chickpea & Pea Blend!
Tailored recipes were developed in collaboration with veterinarians and canine nutritionists, and prepared in a food facility in the USA. They also promise to use only natural ingredients with the necessary added vitamins and minerals.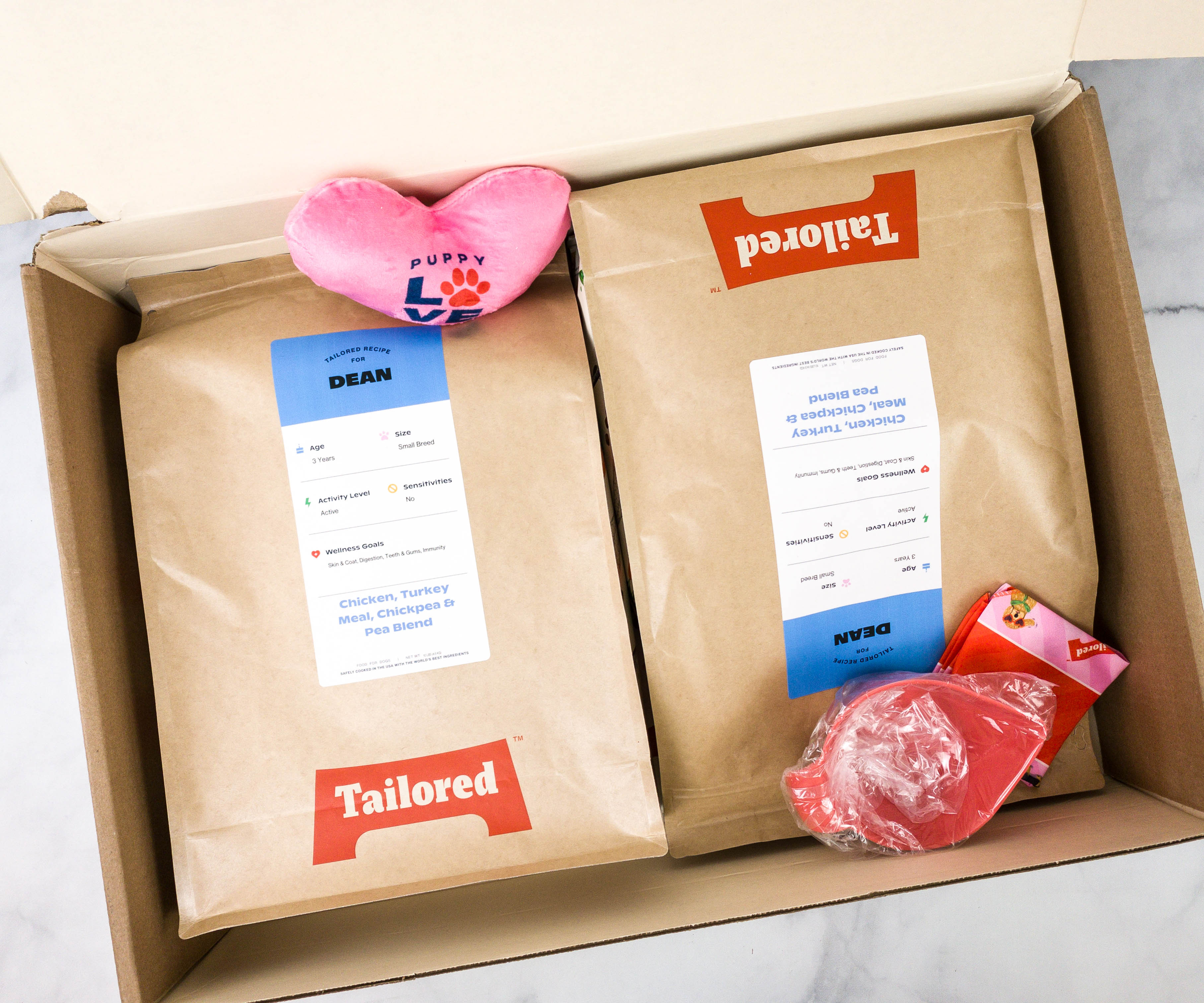 The kibbles were packed in two separate bags. These bags are recyclable, as well as the corrugate boxes and inserts.
TerraCycle and Tailored​ have partnered on a way to keep your pet and the planet happy with a national recycling program for Tailored pet food packaging. Tailored ships carbon neutral on the house and supports urban and sustainable forestry programs.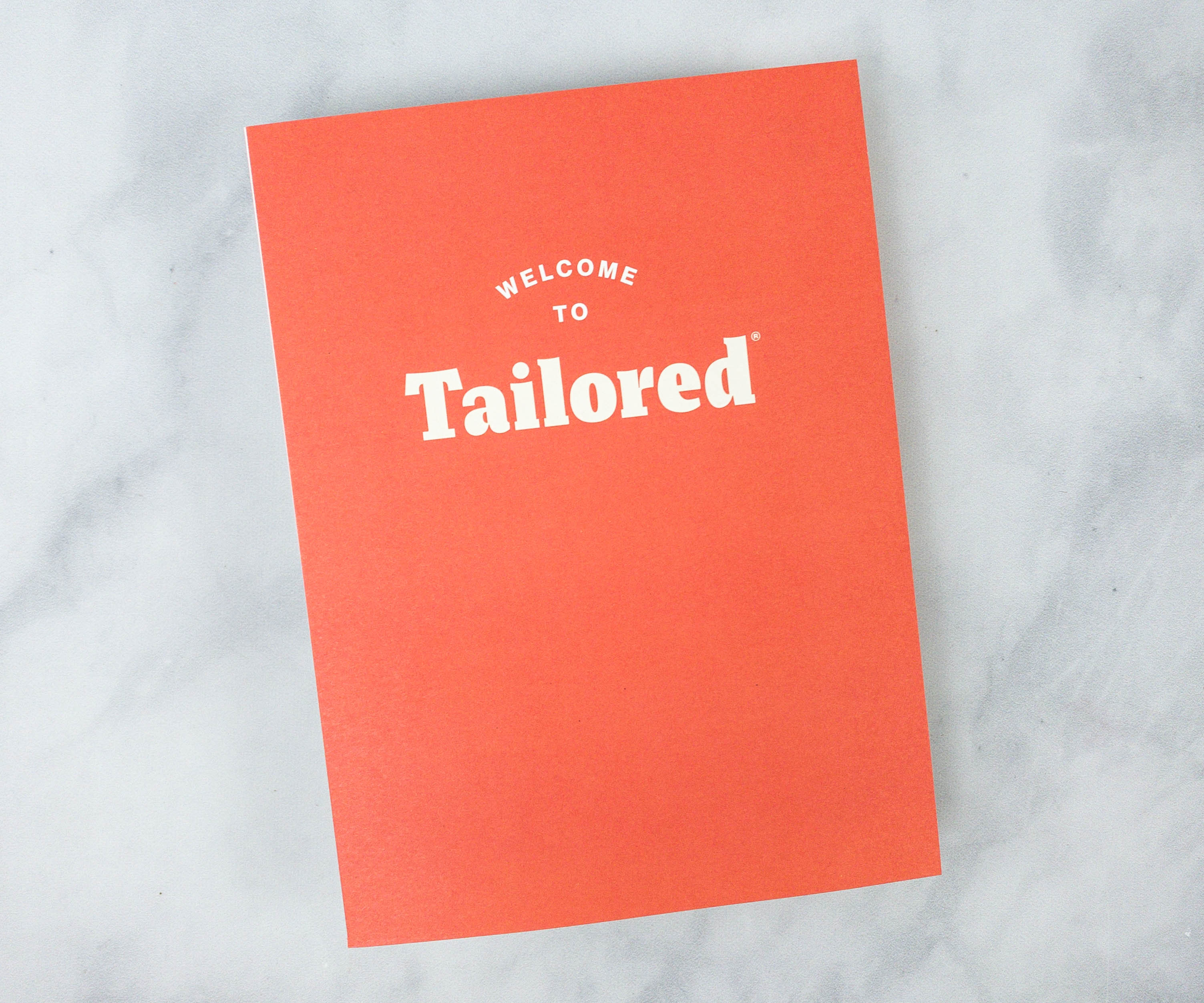 This booklet contains things you need to know about the subscription.
There's a welcome message from Team Tailored, as well as a reminder to check your email to activate your account and manage your account needs.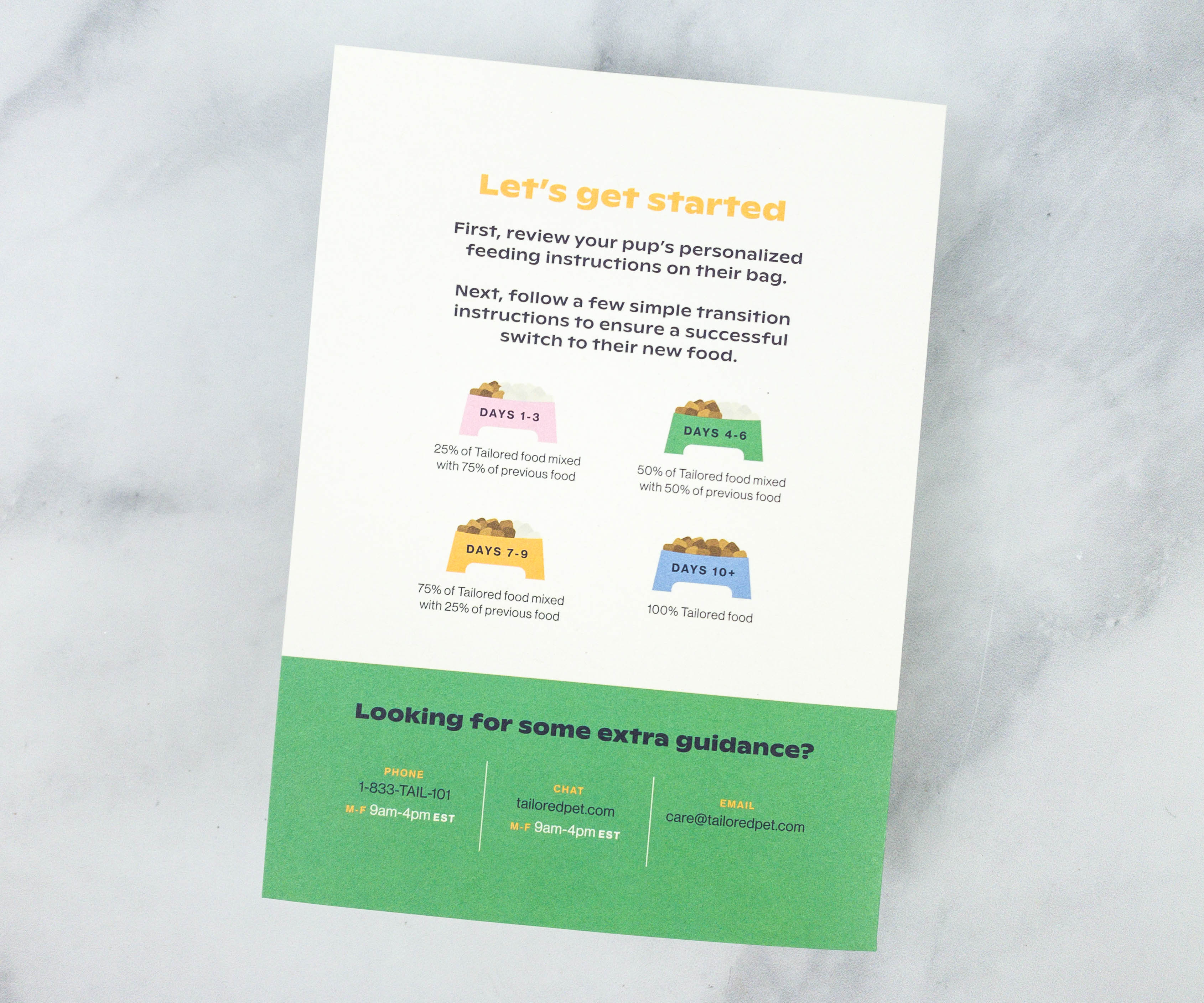 At the back, they included detailed instructions on how to properly feed the personalized kibbles to your pups.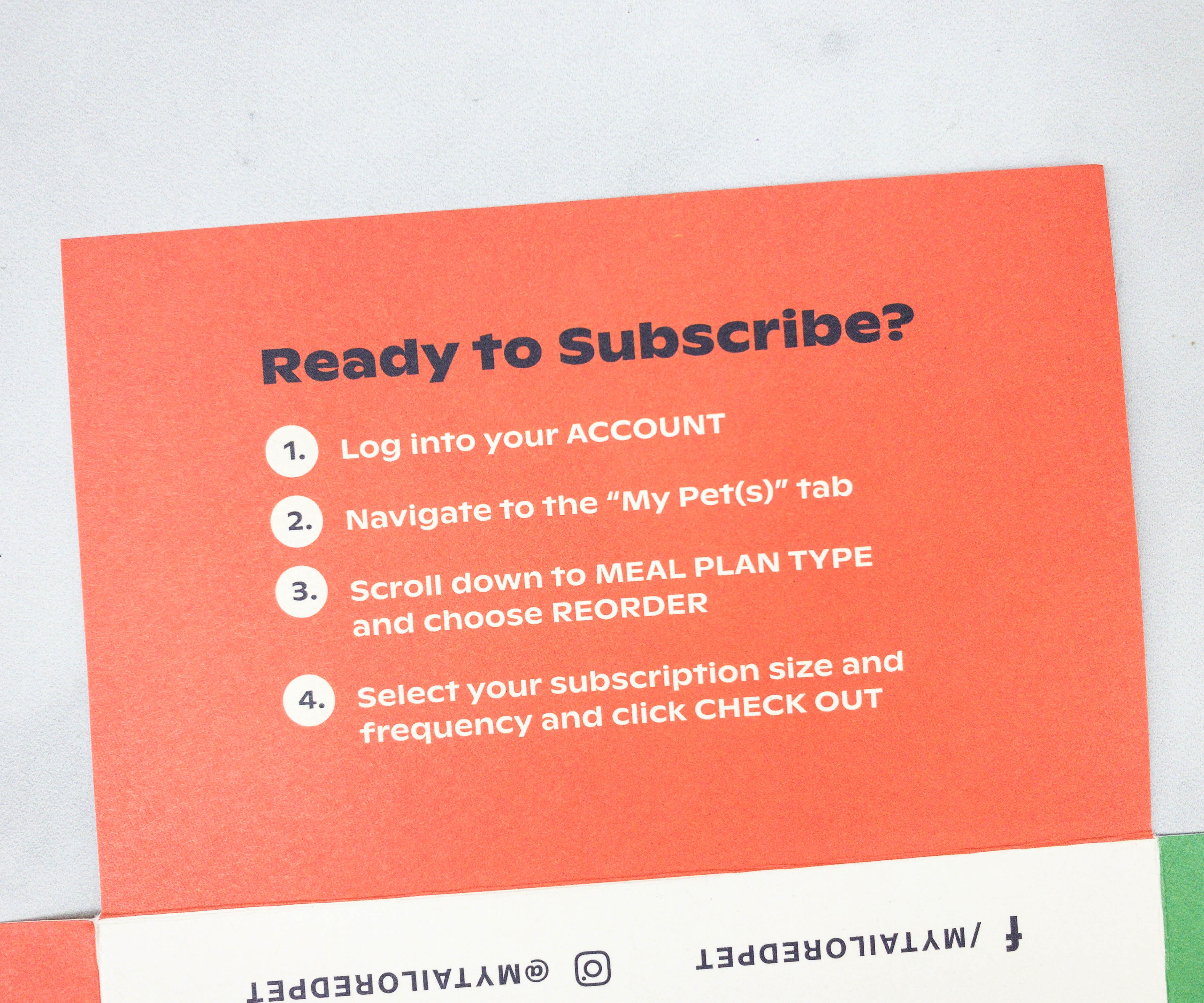 Once you have your account, all you just need to do is to choose your meal plan type and select the size and frequency of your subscription!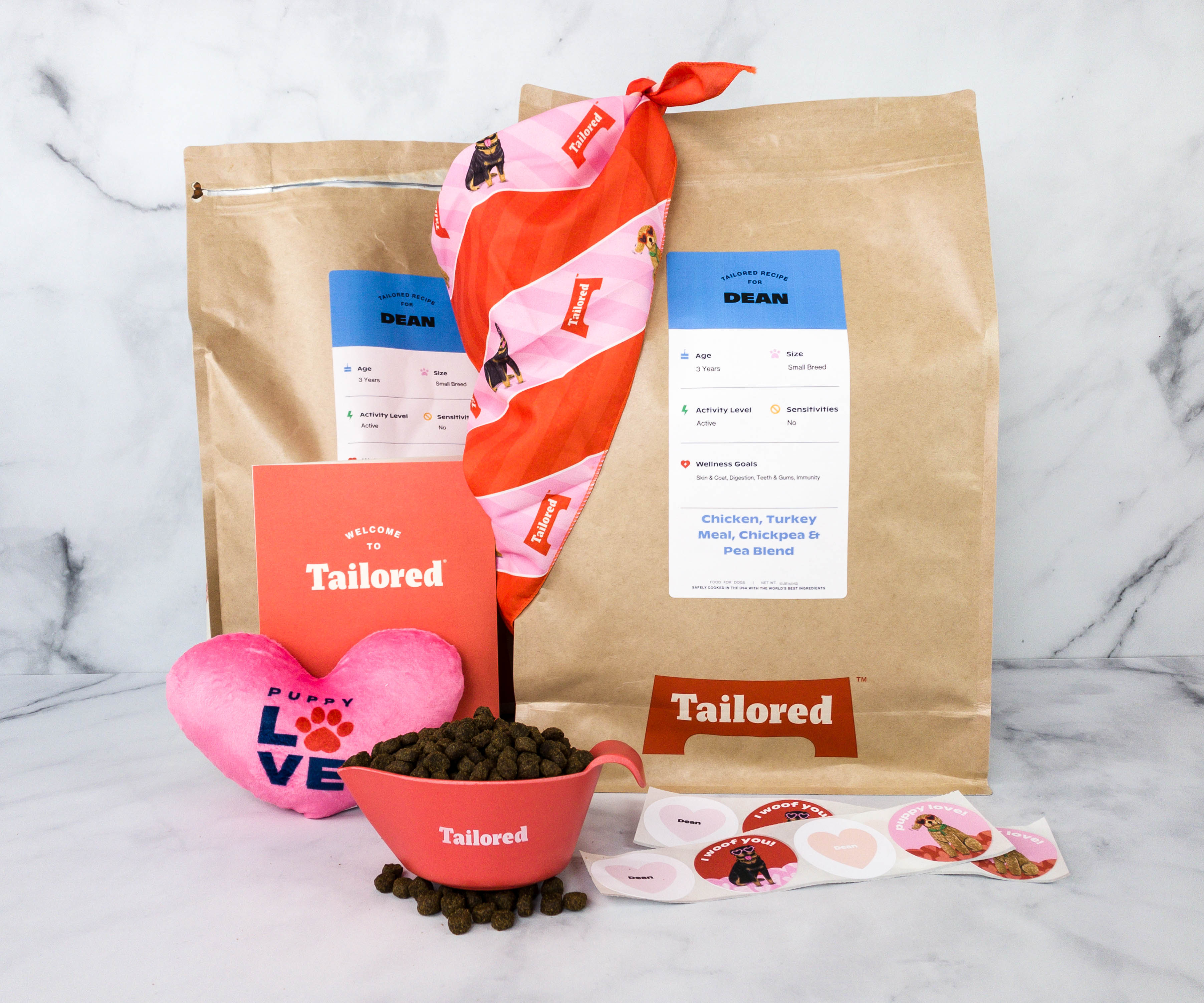 Everything in my box!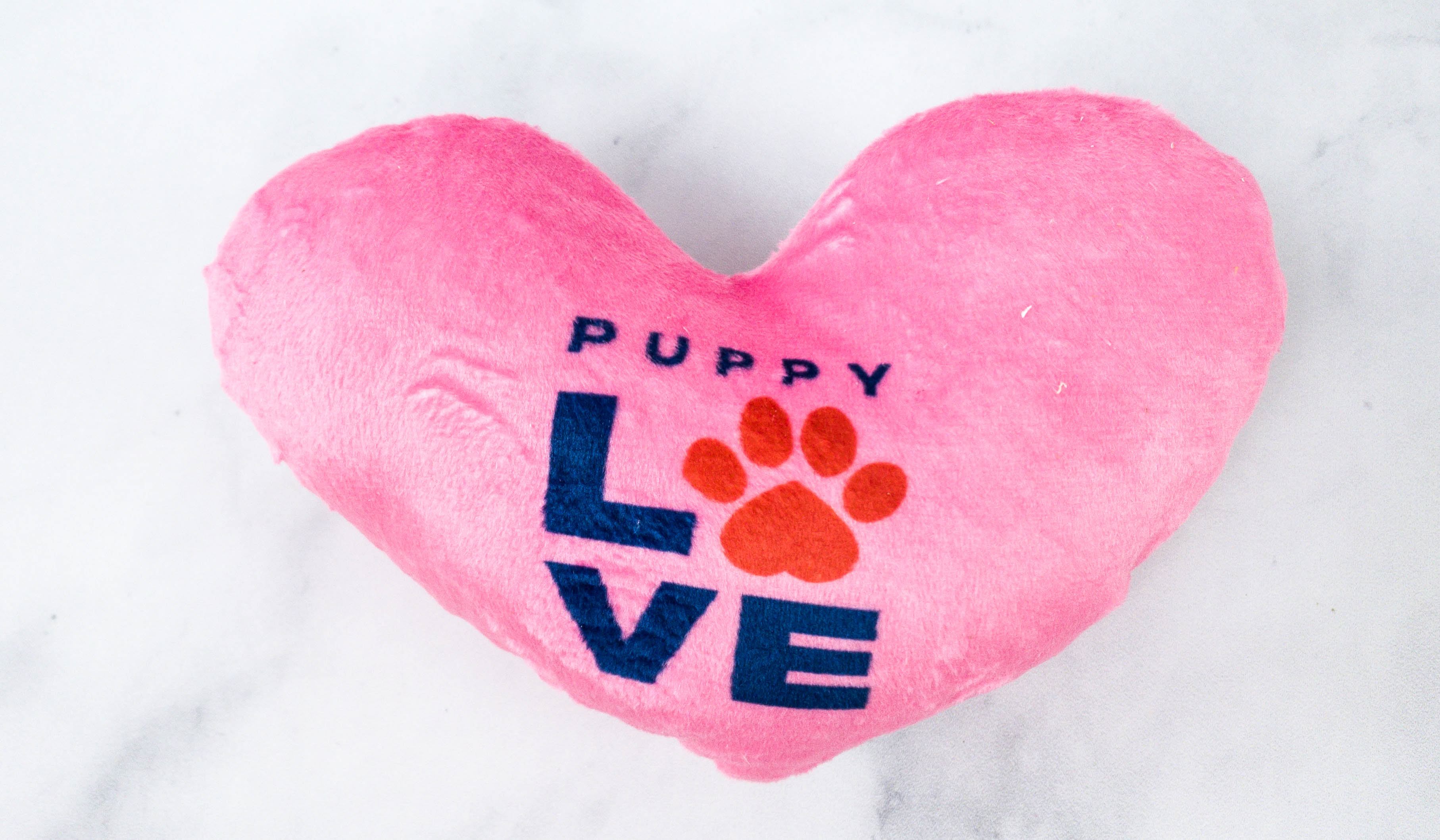 Pillow. This month, the box includes exclusive bonus items! The first one is a soft and furry heart-shaped pillow. It's in pink, with Puppy Love printed in front. (We received this box in February)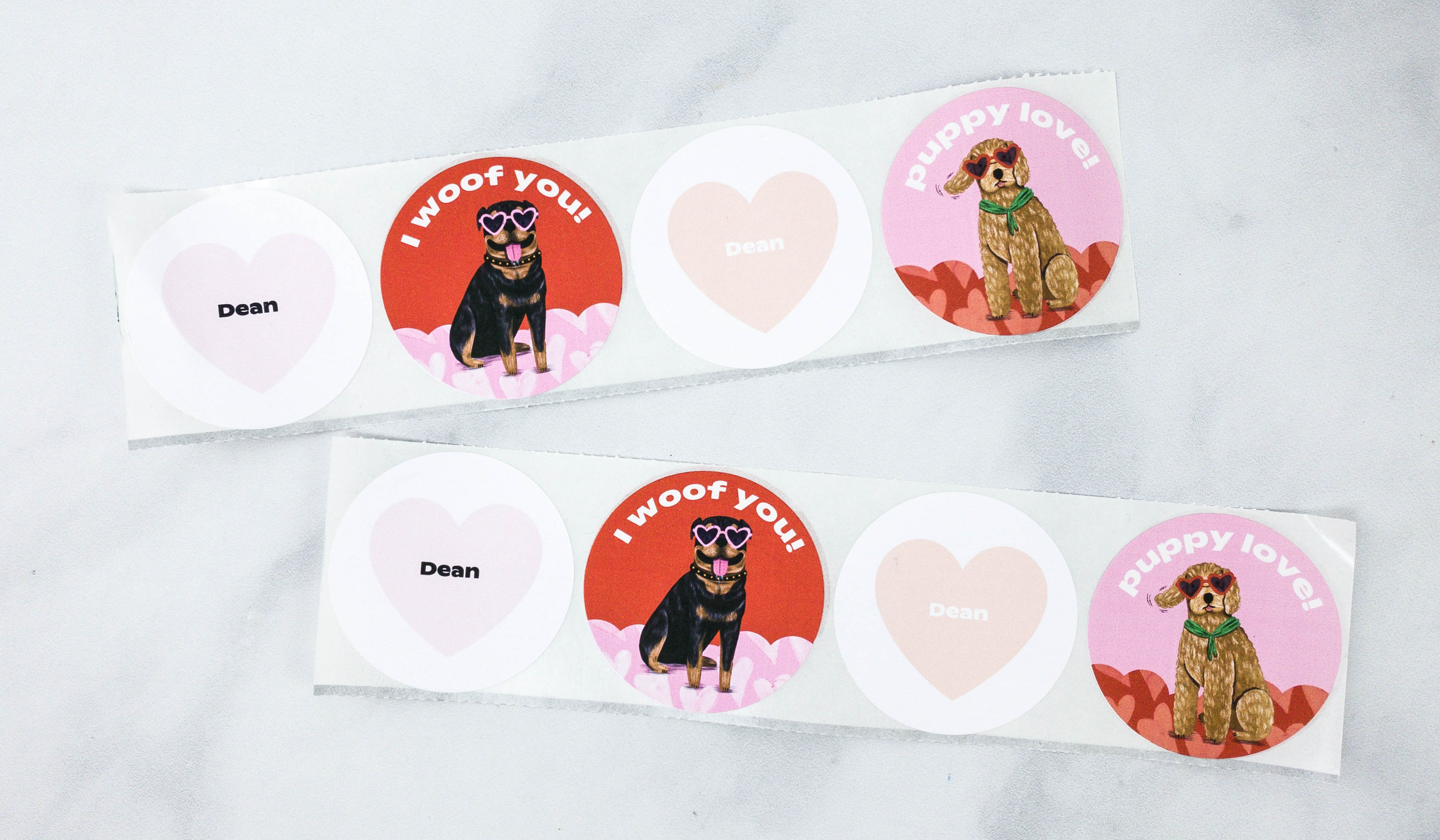 Stickers. Here are custom-made sticker sheets with the name of my pet, Dean!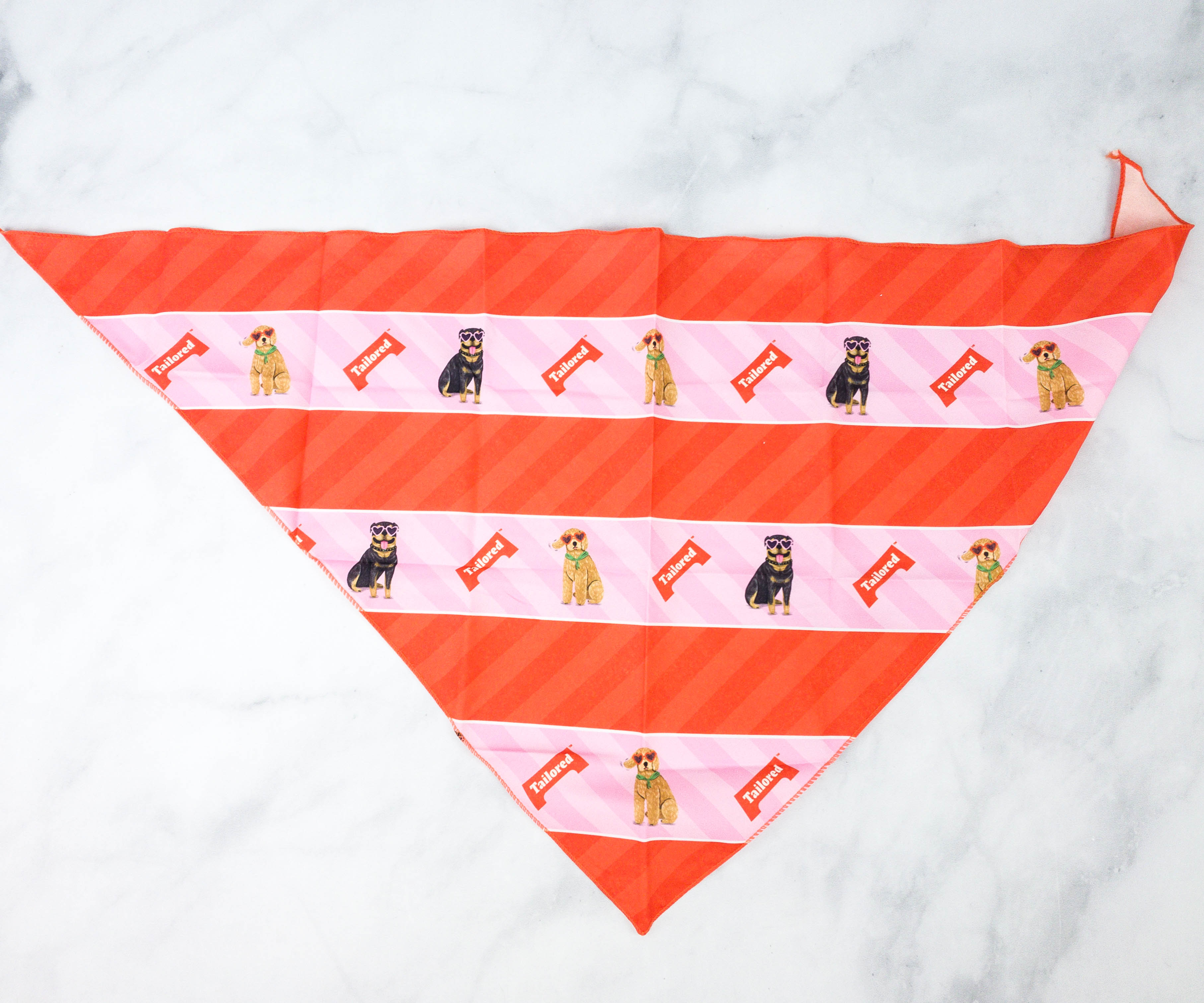 Bandana. Another bonus item from Tailored is a bandana made from premium-quality fabric with pink and orange stripes.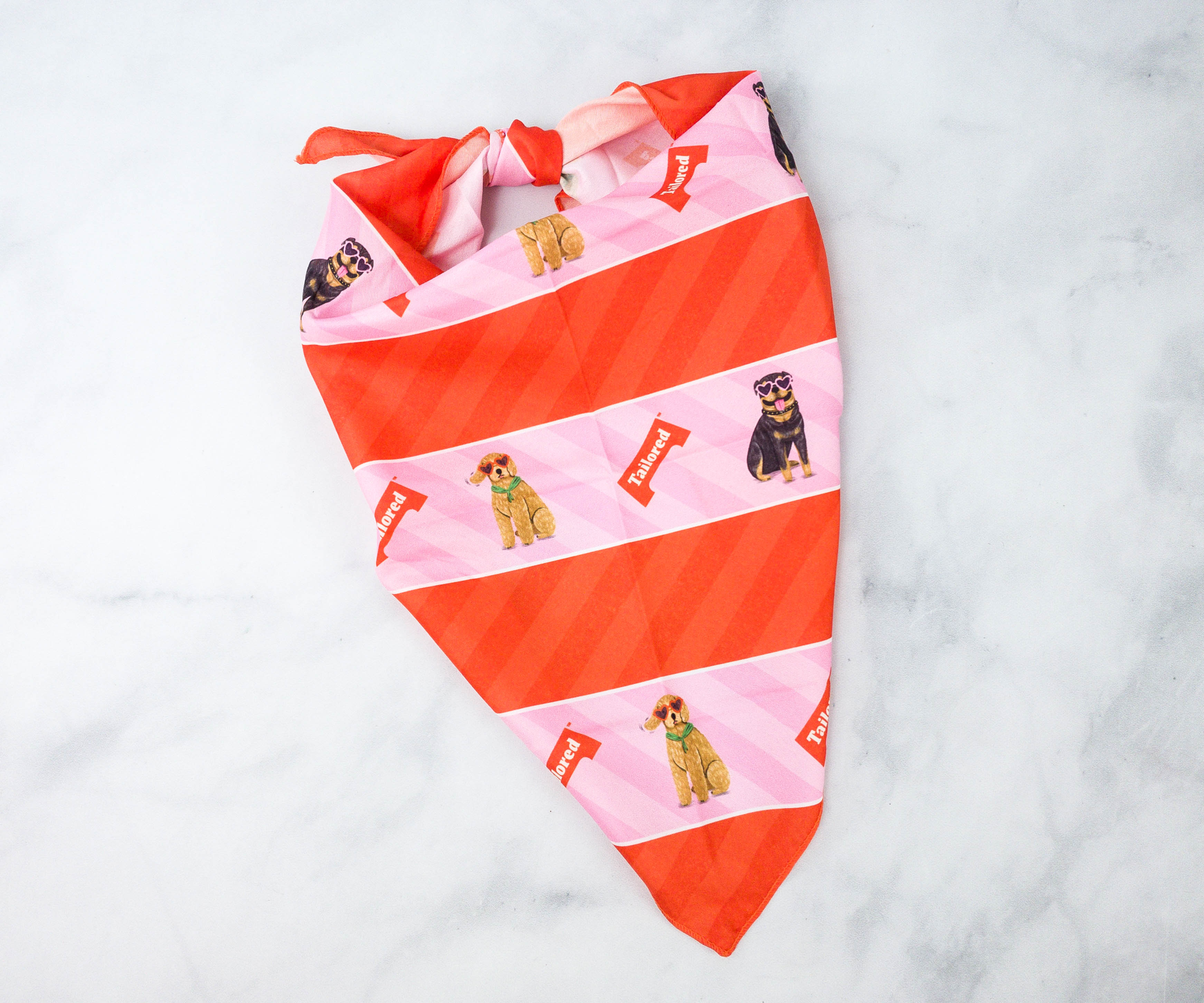 It also features the brand's logo, and cute illustrations of a poodle and rottweiler!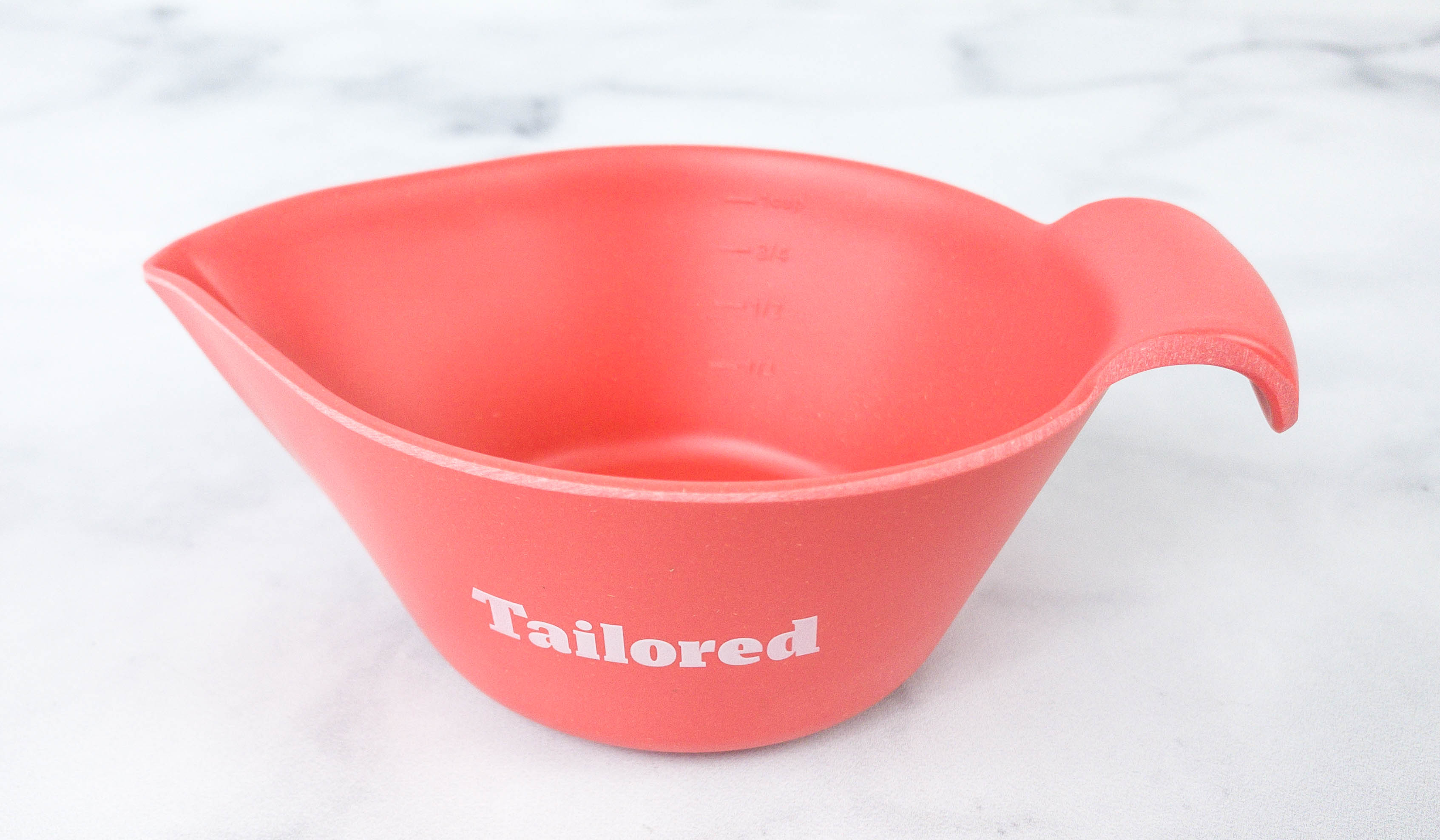 Scoop. This scoop from Tailored is made from 100% bamboo material. It has a short handle, a spout on the opposite side, and measuring label on the side. The scoop is biodegradable that's dishwasher safe and included in first orders!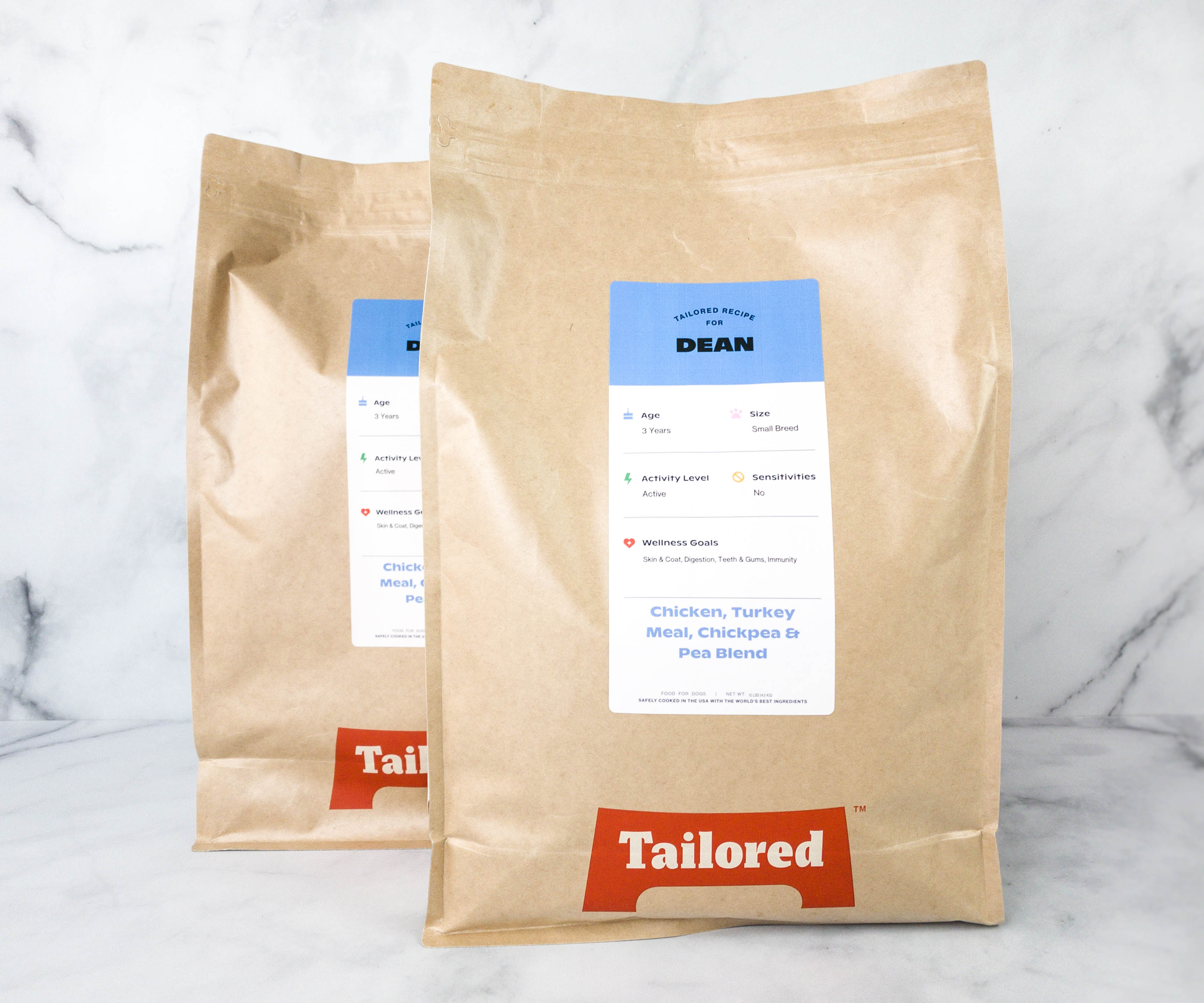 Chicken, Turkey Meal, Chickpea & Pea Blend. The kibbles were packed in thick, resealable, brown paper with a label and Tailored logo printed in front.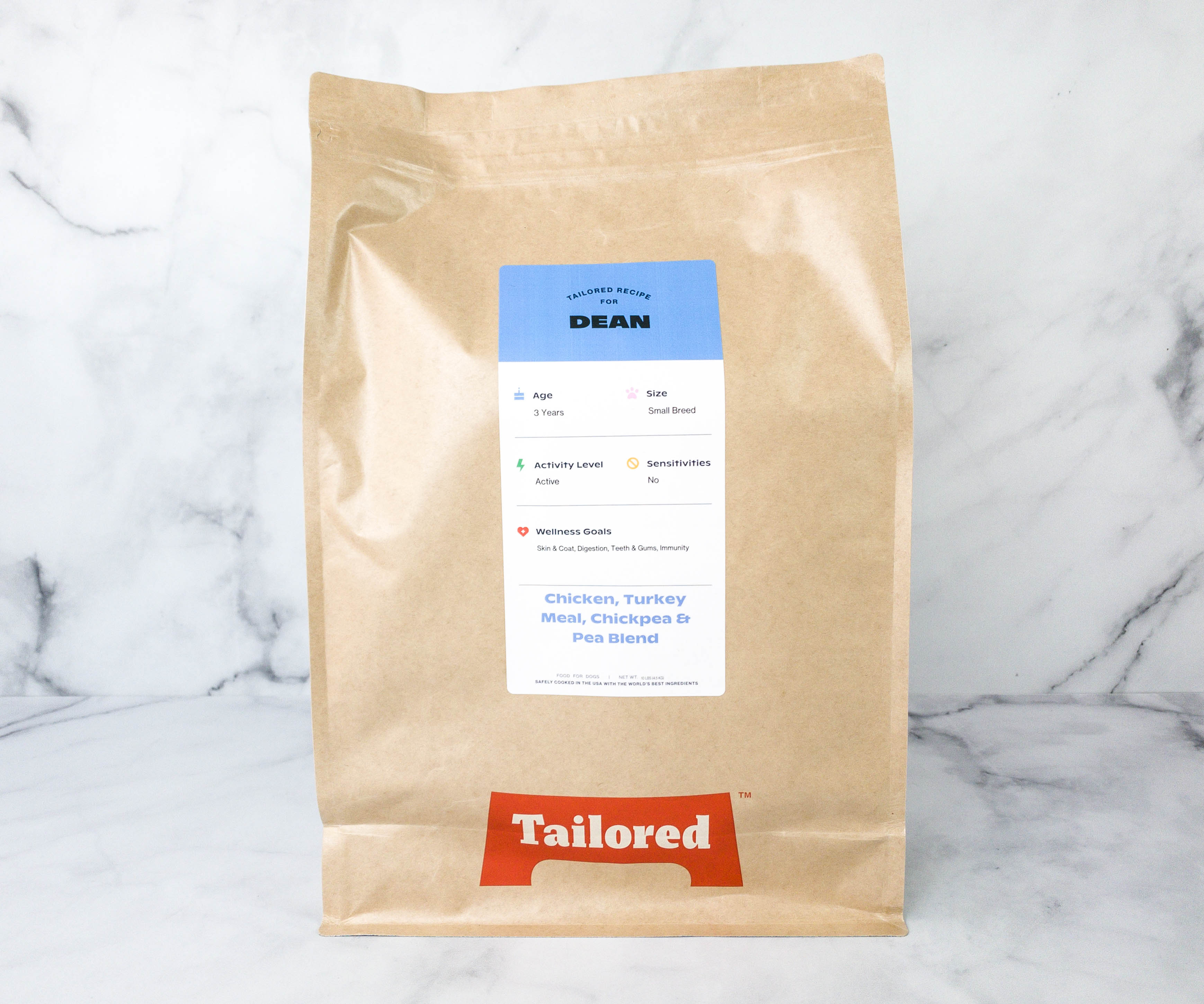 Tailored recommends to slowly transition your dog to their kibble recipe over a period of 7 to 10 days. These are the transition instructions included in the booklet:
Days one through three, mix 25% Tailored food with 75% previous food.
Days four through six, mix 50% Tailored food with 50% previous food.
Days seven through nine, mix 75% Tailored food with 25% previous food.
Days ten and beyond, your dog is fully transitioned and you can feed 100% Tailored food.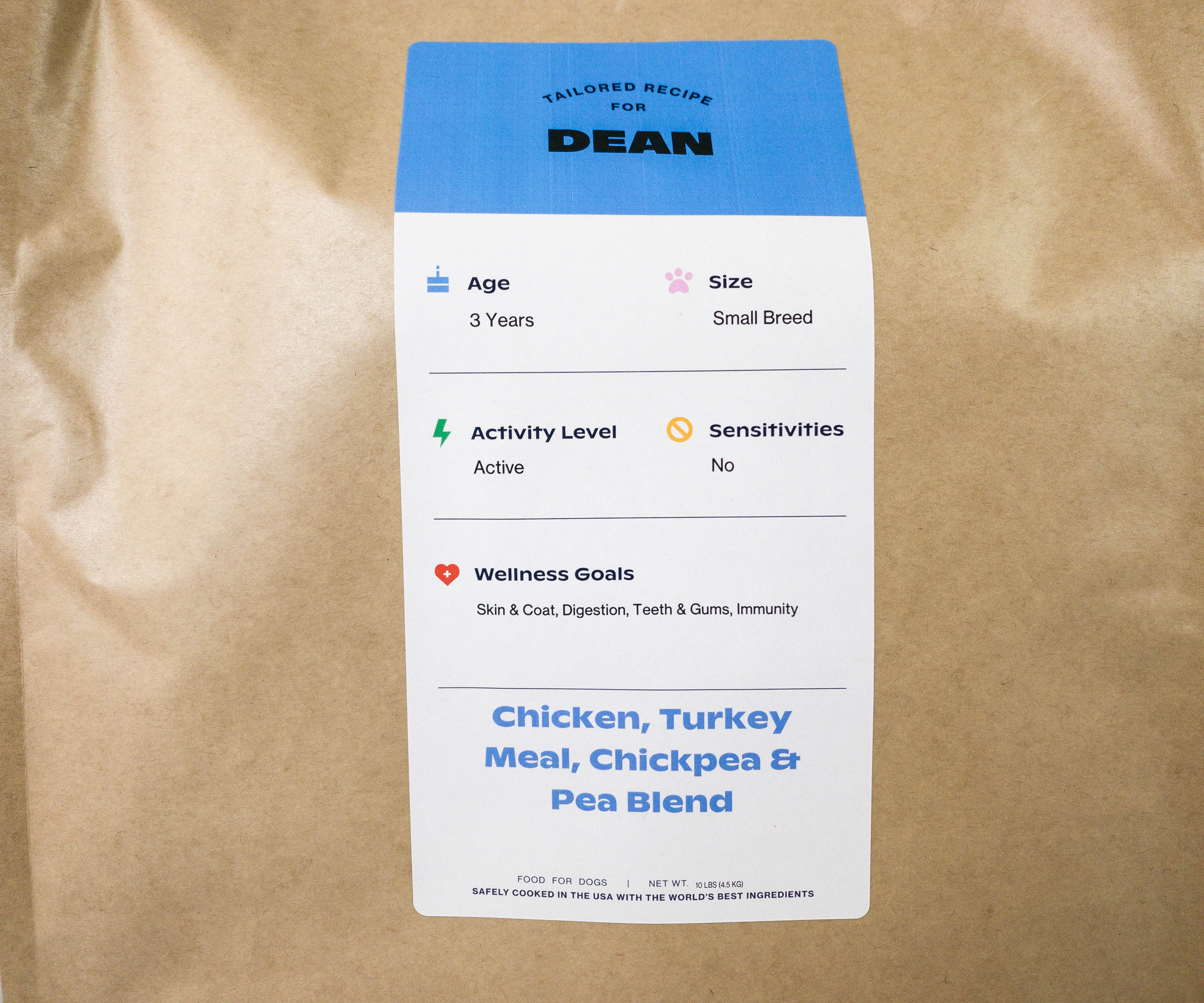 This kibble recipe is tailored for Dean! He's a 3-year-old small breed dog, and he's active. His wellness goals also include maintaining healthy skin and coat, digestion, teeth and gums, and immunity.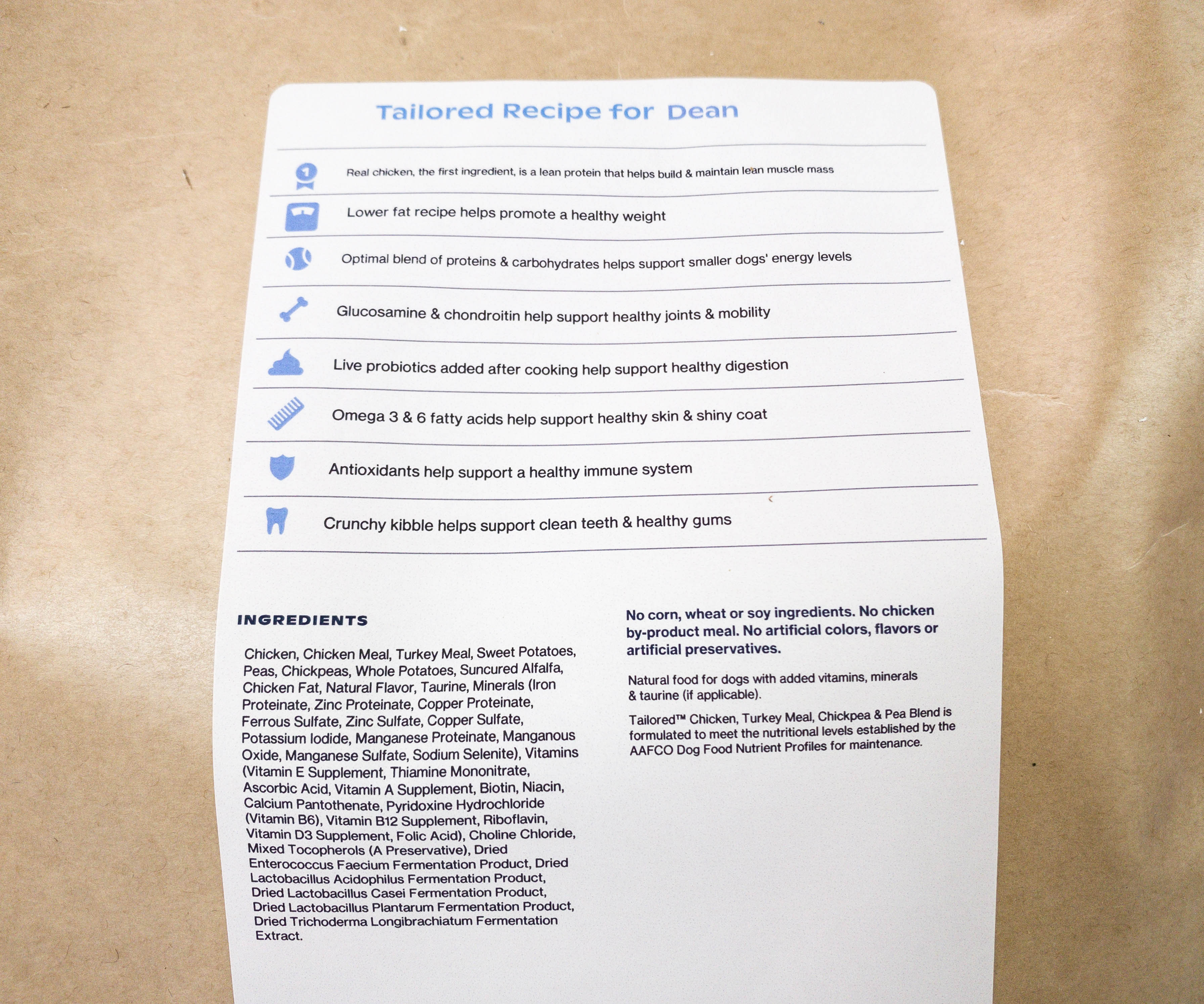 At the back, you'll find a list of ingredients and other important information about the personalized kibble recipe. For Dean's recipe, the main ingredient is real chicken for a boost of lean protein. He needs it to build and maintain lean muscle mass. This is also free from corn, wheat, and soy, and it doesn't contain artificial flavors, colors, and preservatives either.
This recipe is low in fat, which helps promote healthy weight. It also contains proteins and carbohydrates for maintaining energy levels, as well as glucosamine and chondroitin for healthy joints and mobility. According to the feeding guideline on the label, I should feed Dean 1 1/2 cups per day for weight reduction!
Feeding amount is for weight reduction. Once desired healthy weight is reached, gradually increaser feeding amount to maintain desired weight.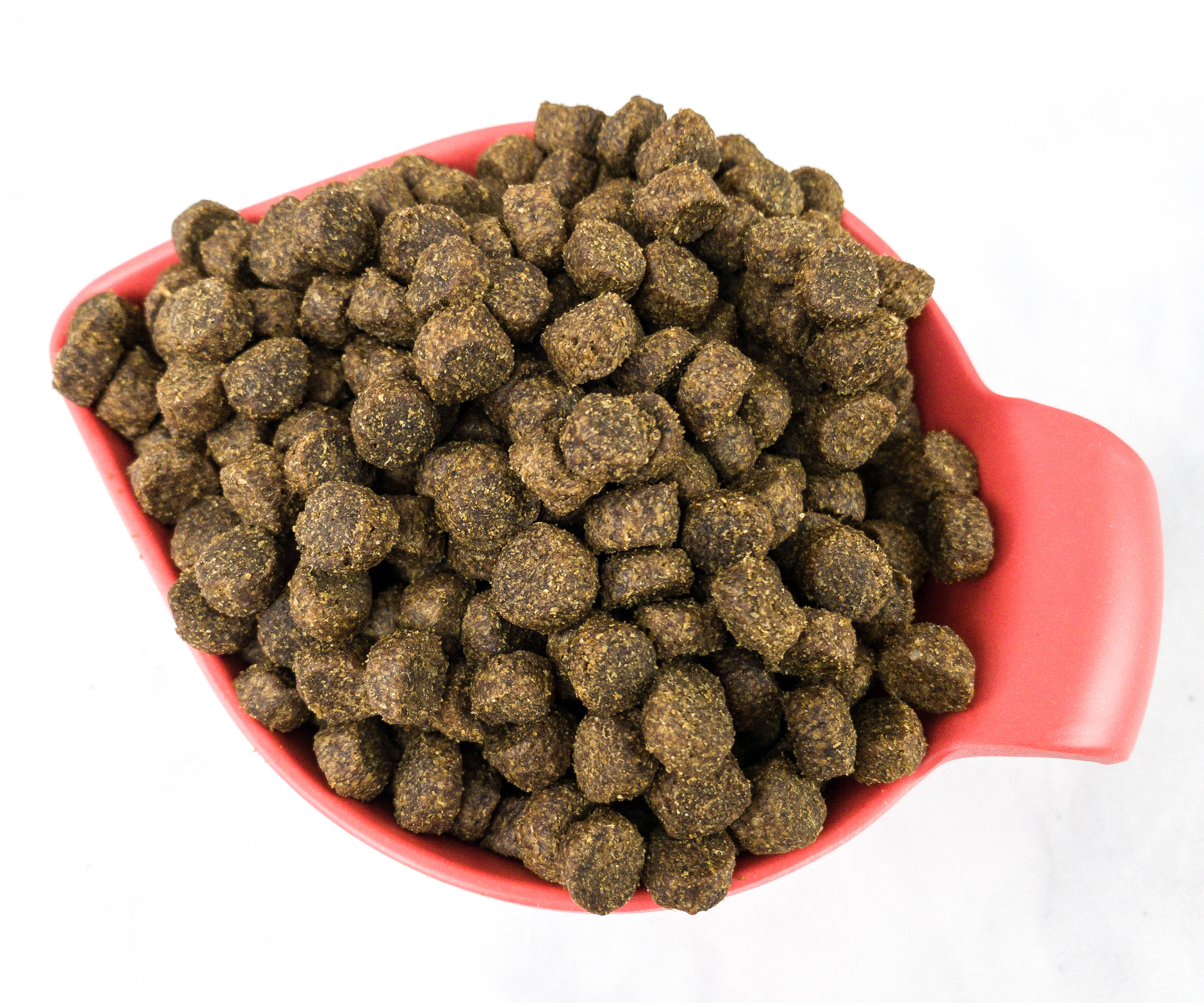 Inside the bag are these kibbles in dark brown color with rough and crunchy texture. Another unique thing about these kibbles is that they contain probiotics for healthy digestion! Our dogs are smaller, so the kibble is smaller. They customize the kibble size for the size of your dog!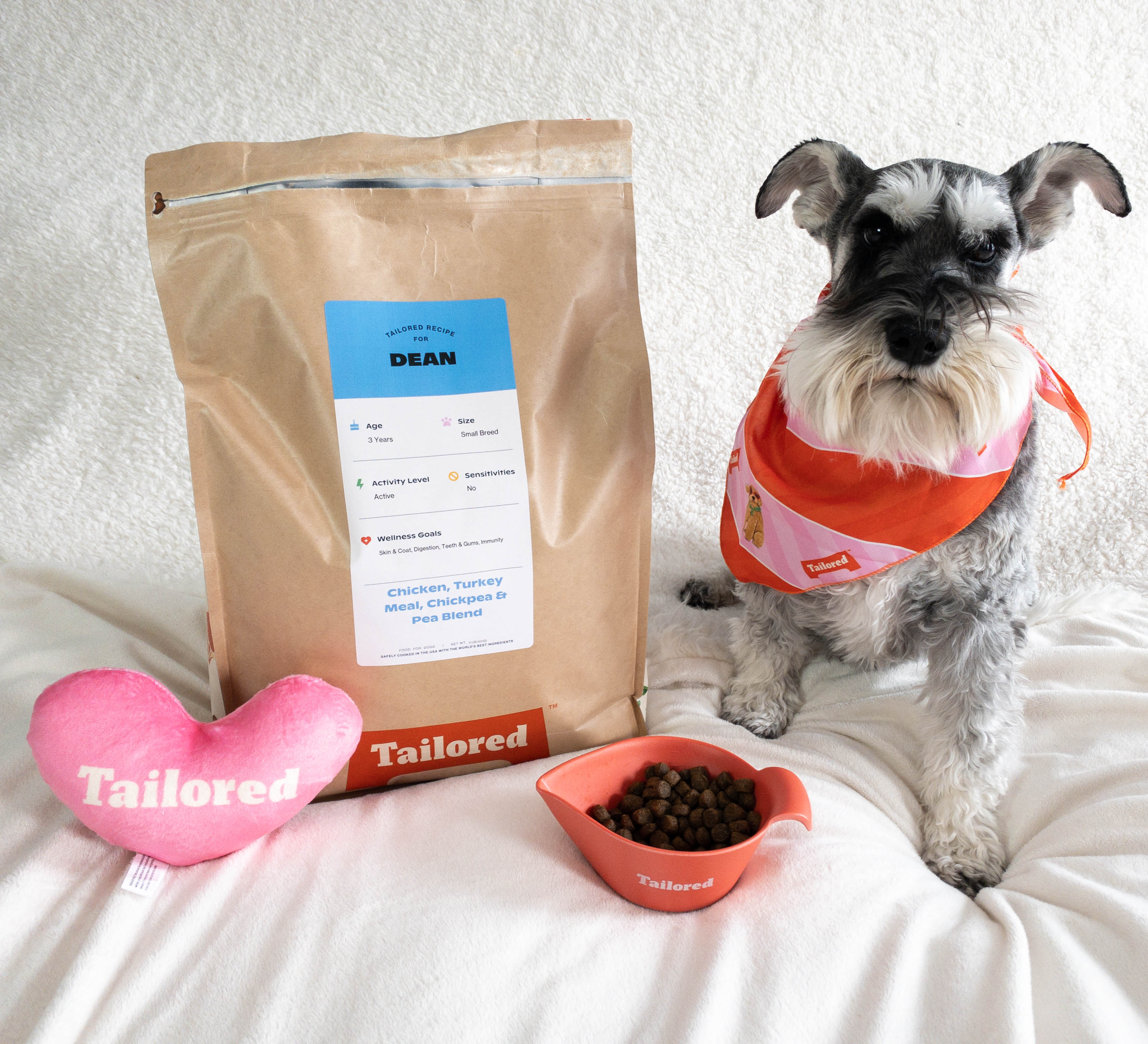 Here's Dean with the bag of kibbles! He's also wearing the bandana and he loves it!
Dogs have different nutritional needs and priorities, that's why it's great to have subscriptions like Tailored which sends recipes personalized to your dog's own health profile. This is especially helpful if your dog has specific health concerns, like being overweight or having problems with their joints. The sign-up process is actually pretty smooth, you just have to answer the questions and they'll do the rest. Dean is an active dog, so they recommended a protein-rich kibble recipe. It's also packed with nutrients and minerals to help maintain healthy skin and coat and support his immune system. So far, Dean loves the kibbles! He gobbles them up as soon as the meal is served. If you want to make sure that your dog is getting the appropriate nutrition for their age and current health condition, this personalized kibble recipe subscription is worth considering. It's more convenient compared to the regular kibble in stores and it doesn't contain harmful ingredients or fillers.
What do you think about the kibbles from Tailored?