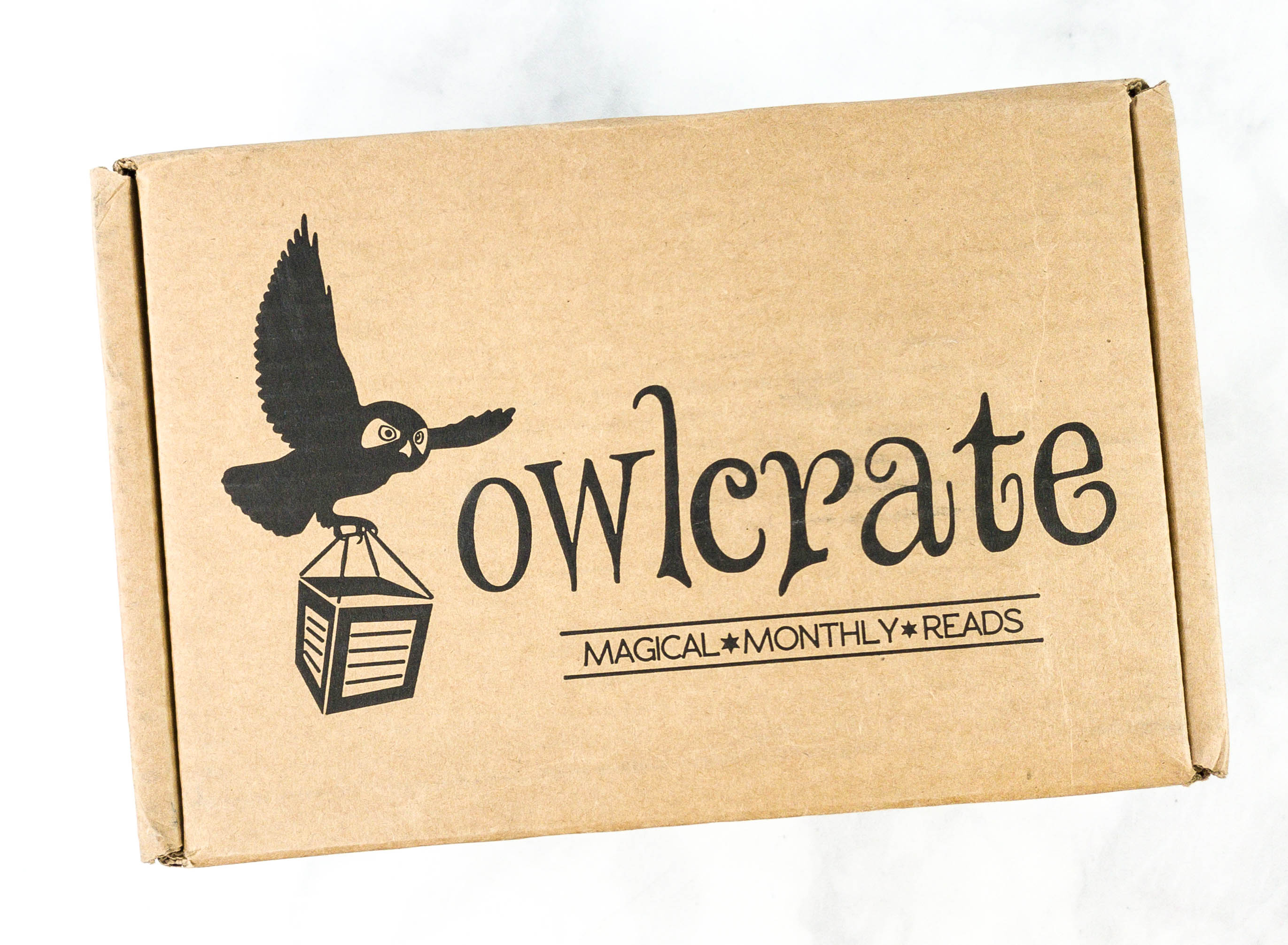 Owl Crate is a monthly subscription of books and bookish items. Each OwlCrate contains one new Young Adult novel, as well as 3-5 other bookish items all matched to the monthly theme. OwlCrate always sends the best items to go along with their theme with the hottest new books out there.
DEAL: Use coupon code HELLO15 to save 15% on your first subscription!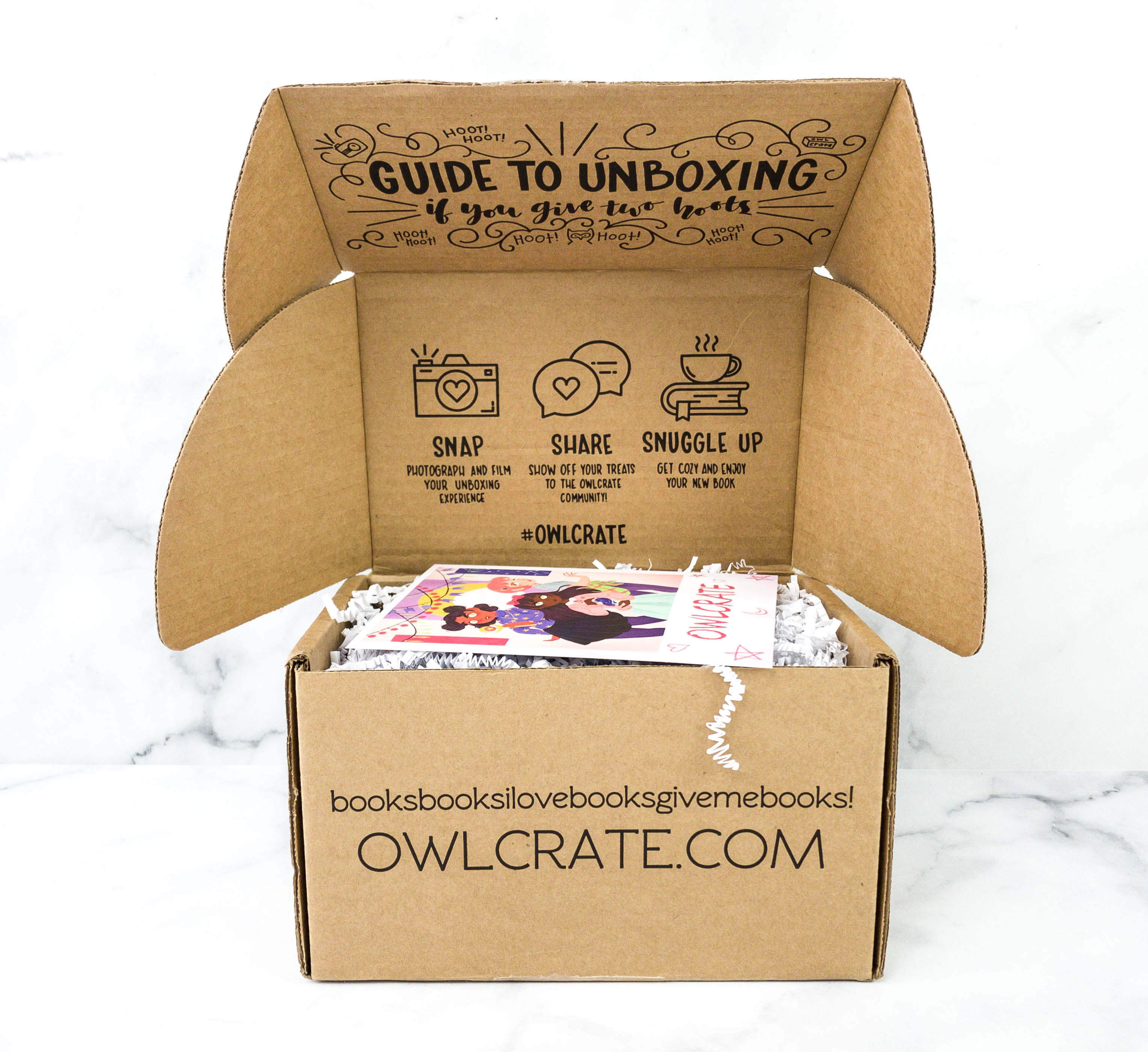 February's theme is MAGIC UNLEASHED!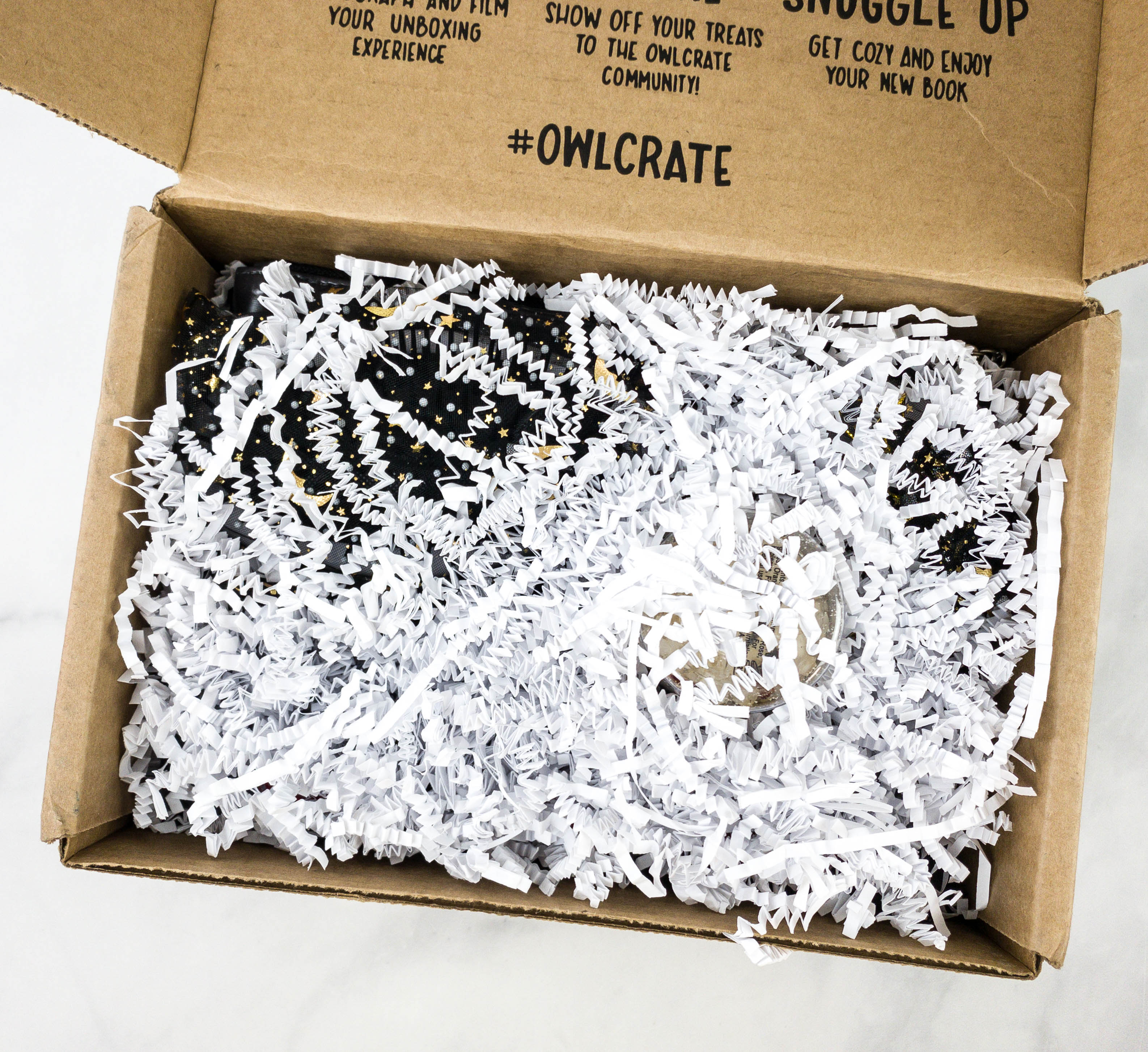 The items were cushioned with white squiggles.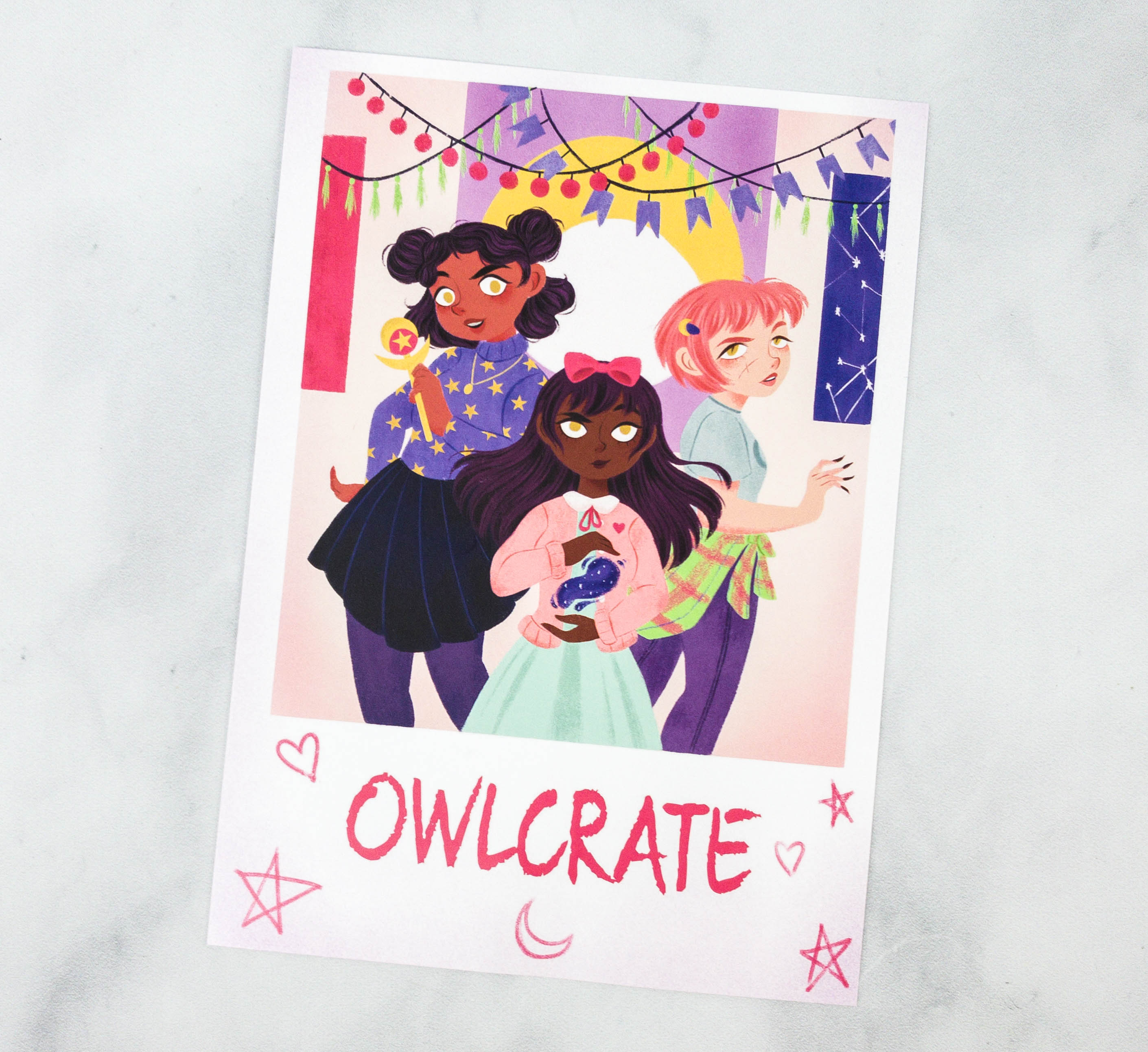 OwlCrate always has the best info card prints!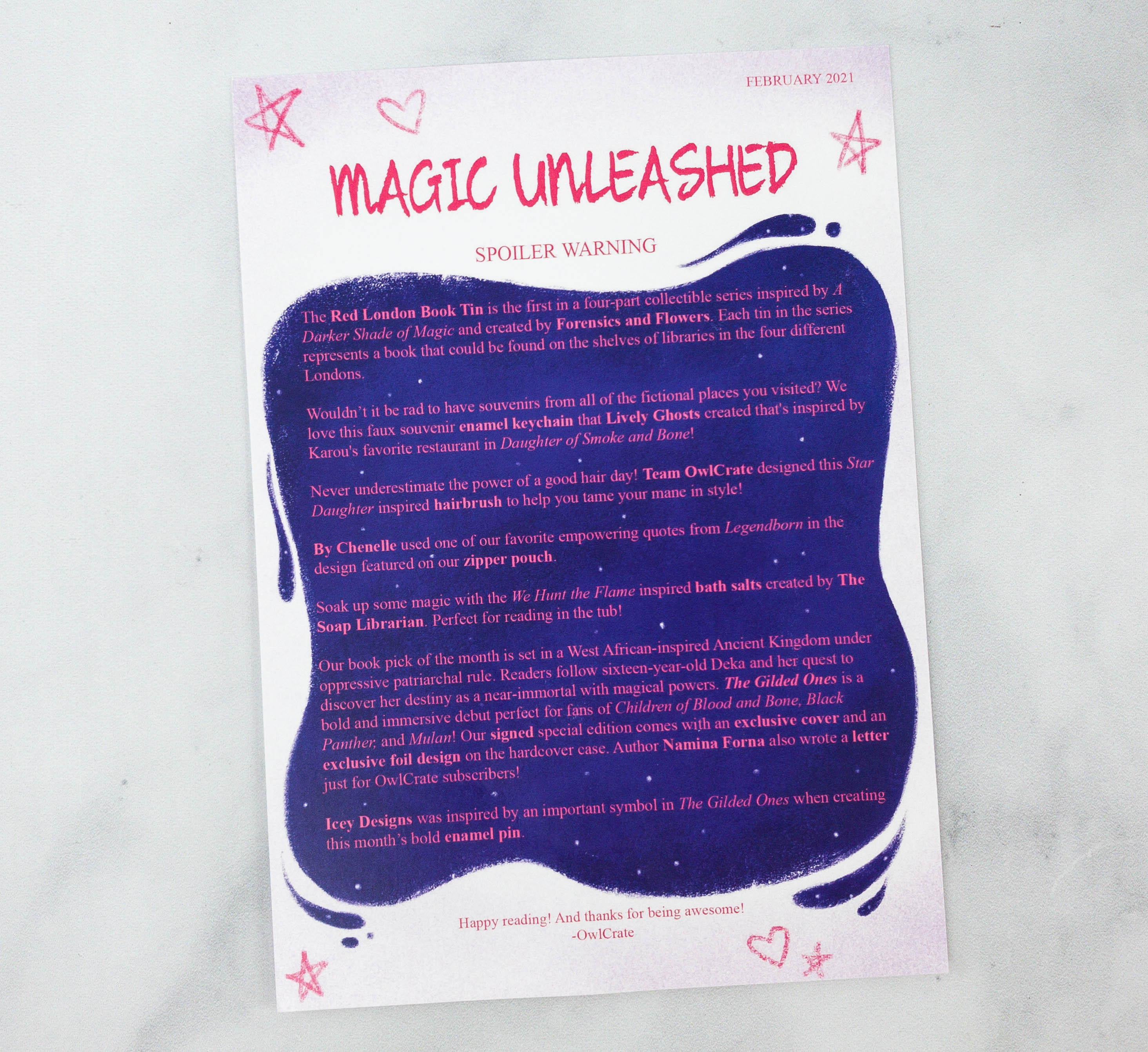 The flip side contains some spoiler warnings.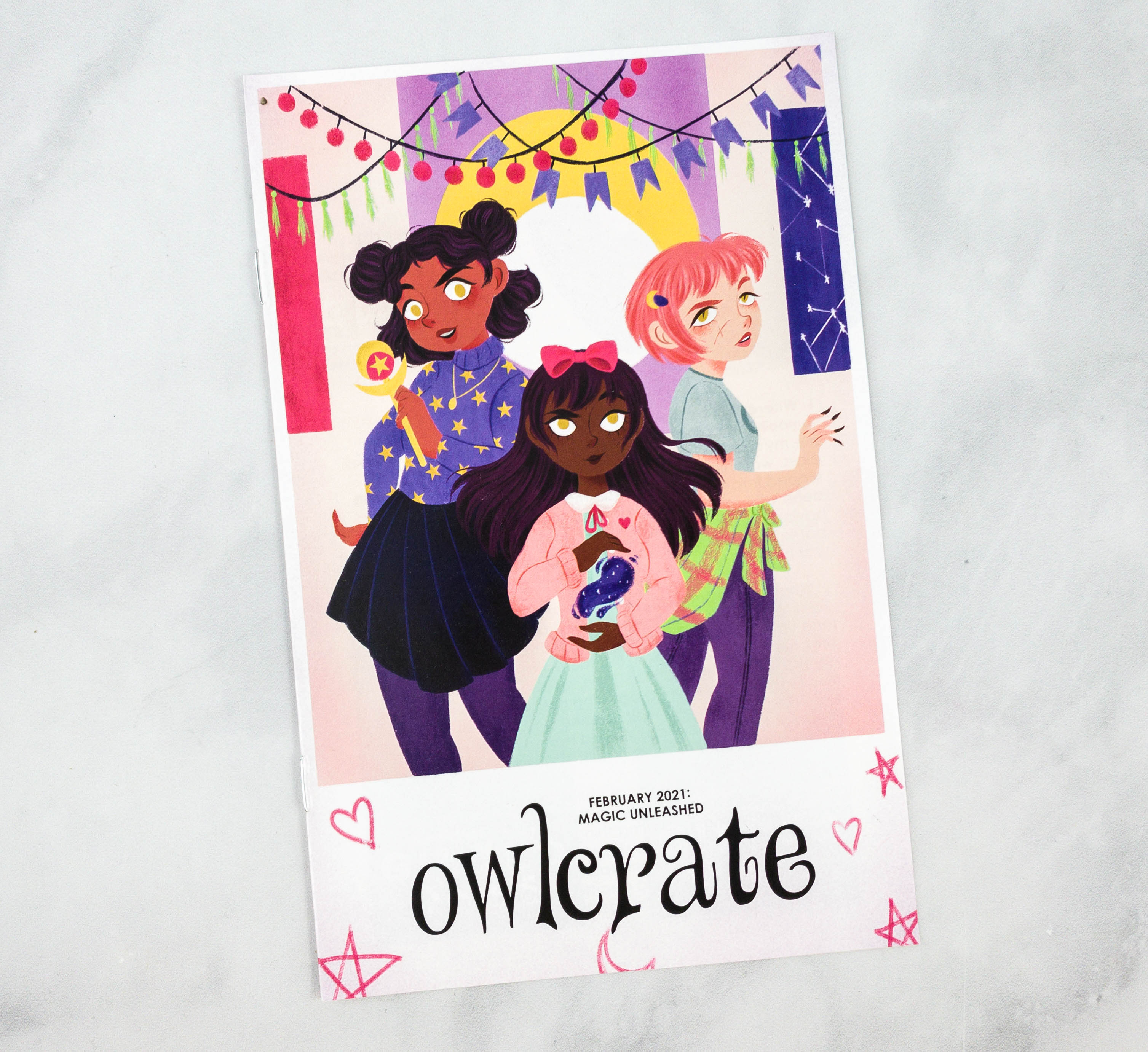 They also included a mini-magazine!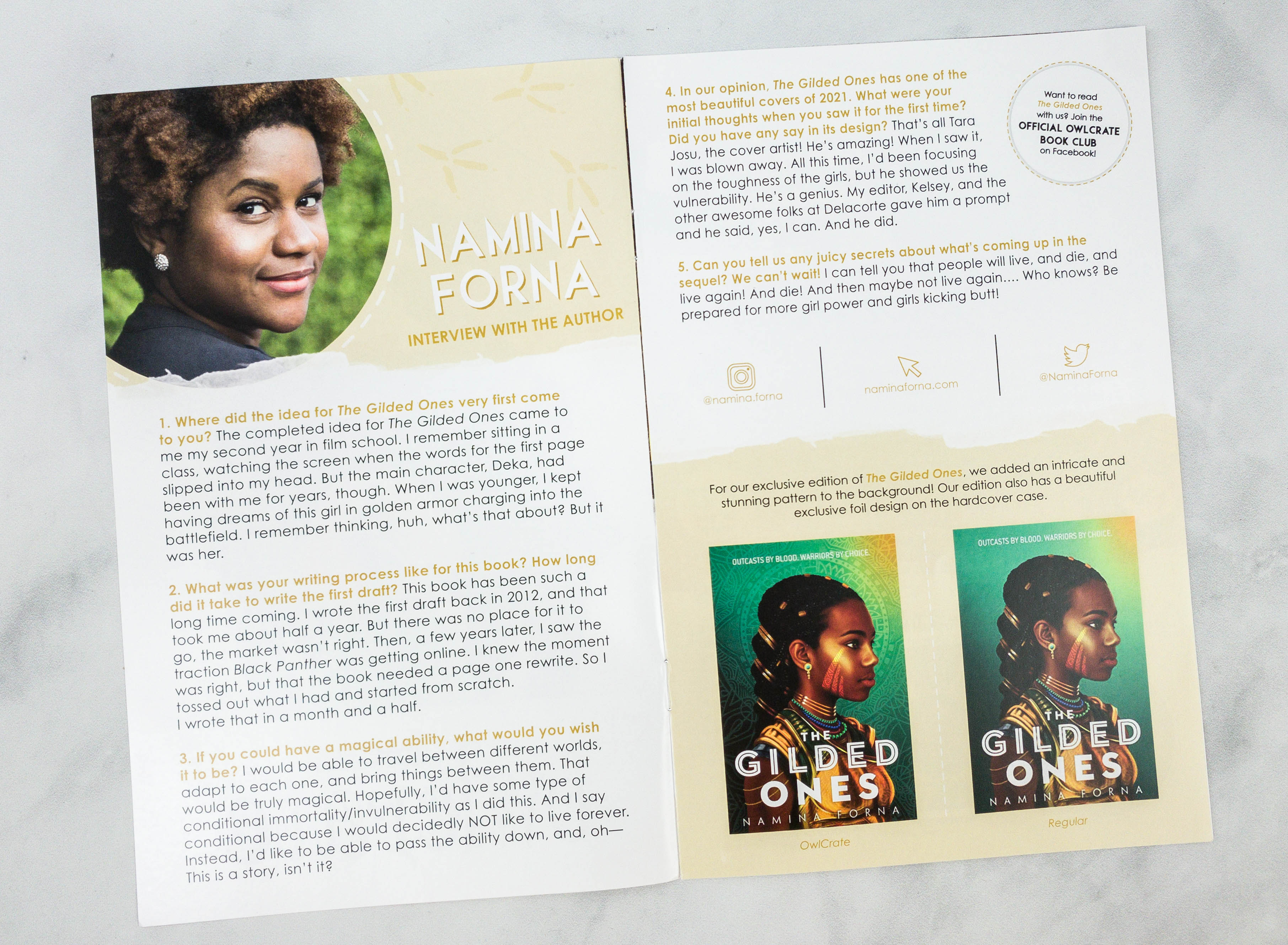 The mini-magazine includes an author interview. This month's featured author is Namina Forna. Knowing what inspired the author to pen a story can help us understand the book better.
The mini-magazine also included some fun activities, while the other page is another interview with a vendor, Riddle's Tea Shop. There are even book suggestions for those who liked the featured book this month, and it includes Girls of Paper and Fire, Raybearer, and A Song of Wraiths and Ruin.
There's also a box photo challenge that you can join.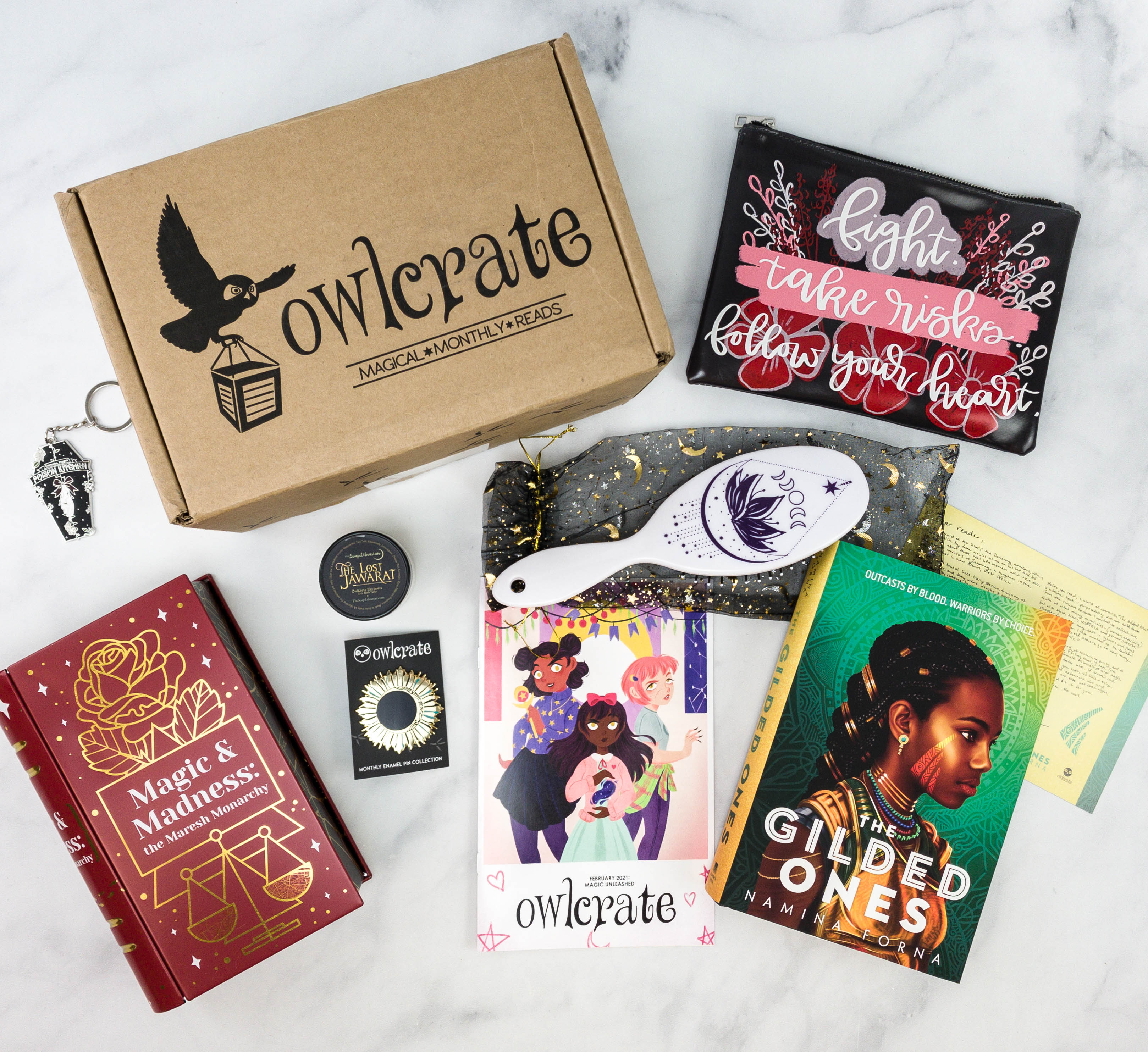 Everything in our February 2021 OwlCrate!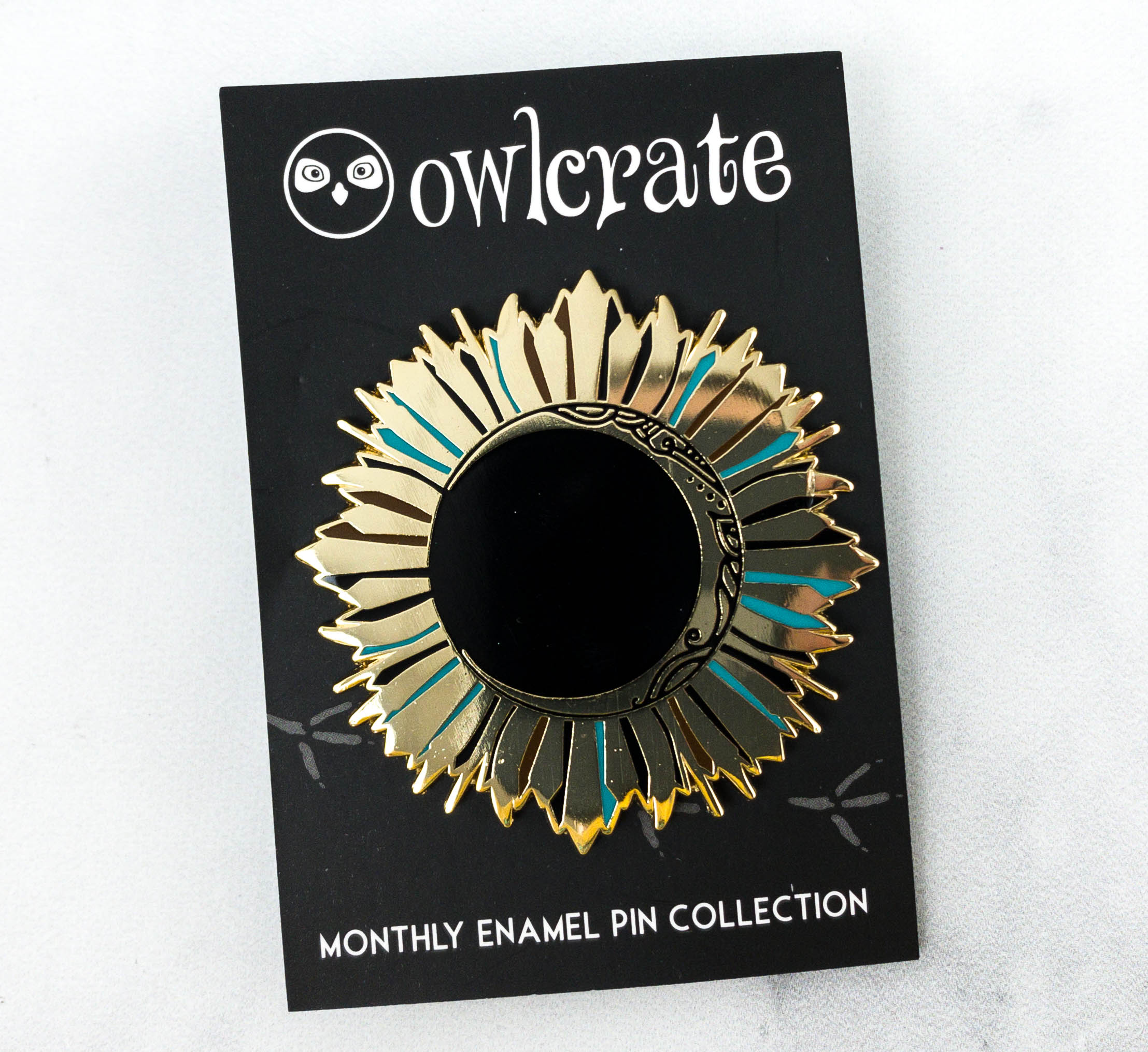 Enamel Pin. For this month's pin, Owl Crate collaborated with Icey Designs. The design is inspired by an important symbol in The Gilded Ones, which this month's featured book. I love the quarter moon detail with intricate patterns on the side! They also added some colors between the rays, including blue-green, black, and brown.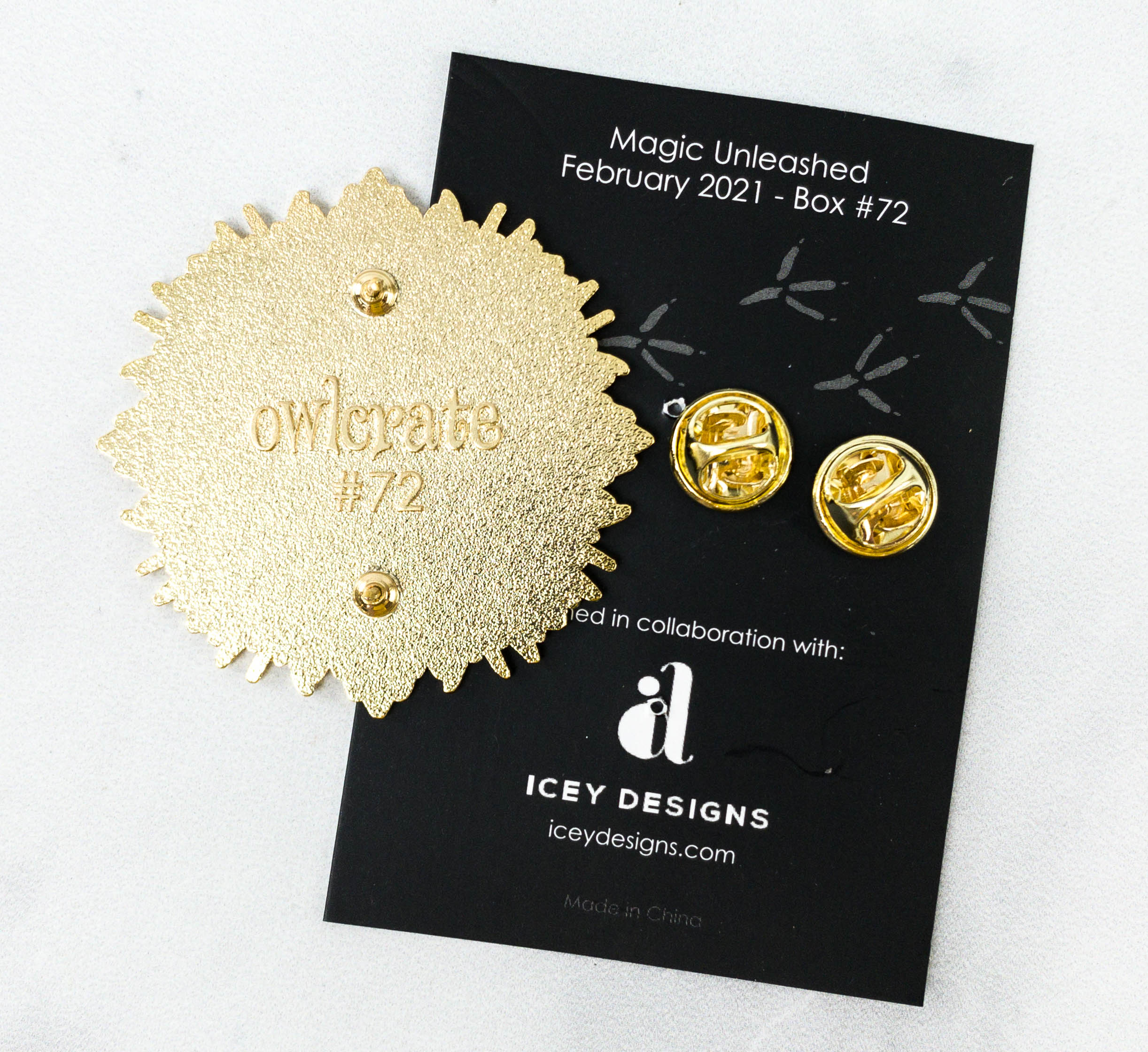 The pin is a bit heavy so it's supported by two posts.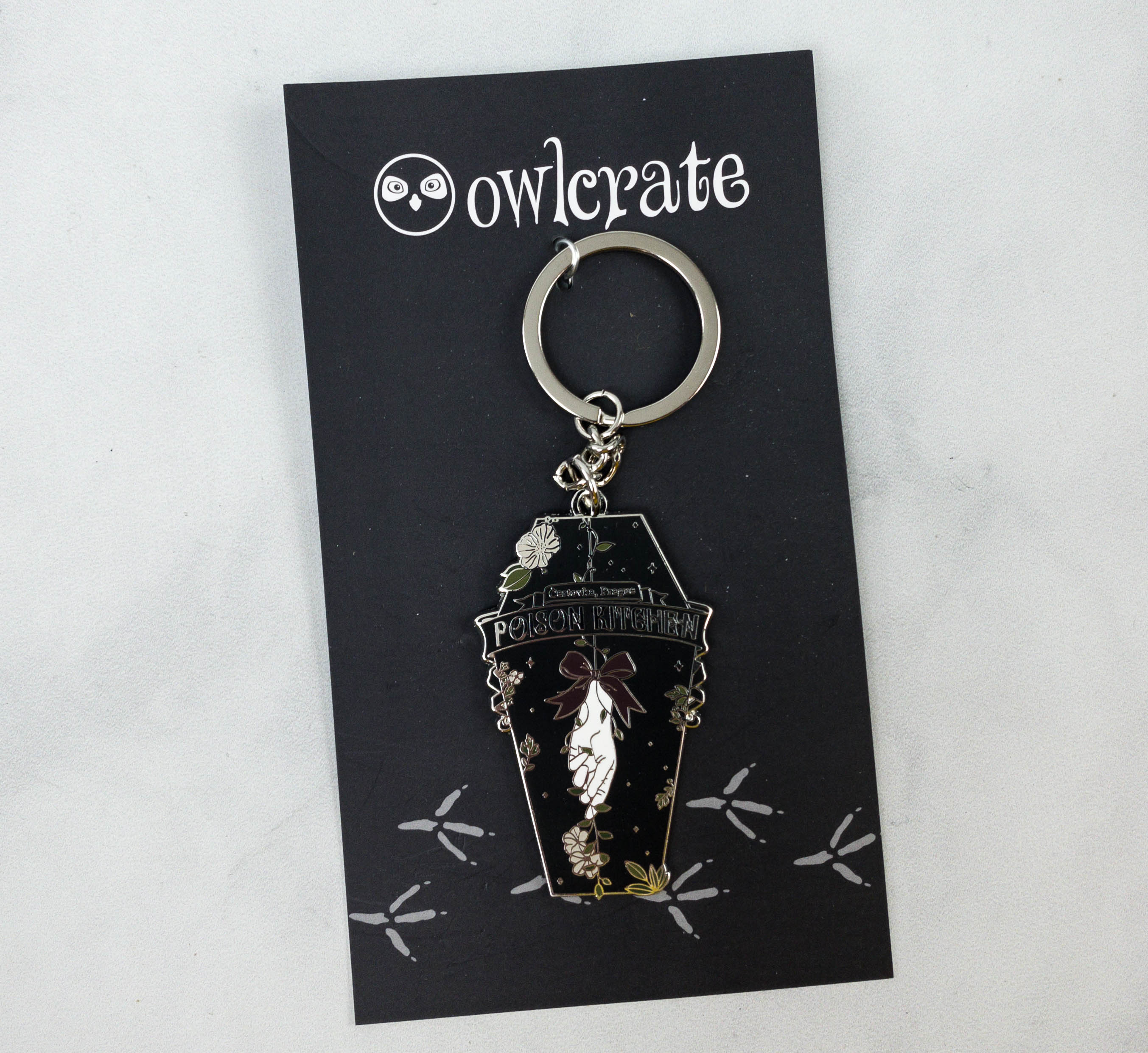 Enamel Keychain. It's a keychain inspired by Karou's favorite restaurant in Daughter of Smoke and Bone!
This was designed by Lively Ghosts and made exclusively for OwlCrate.
The keychain is shaped like a coffin. It also features a hanging hand with a ribbon, holding a flower.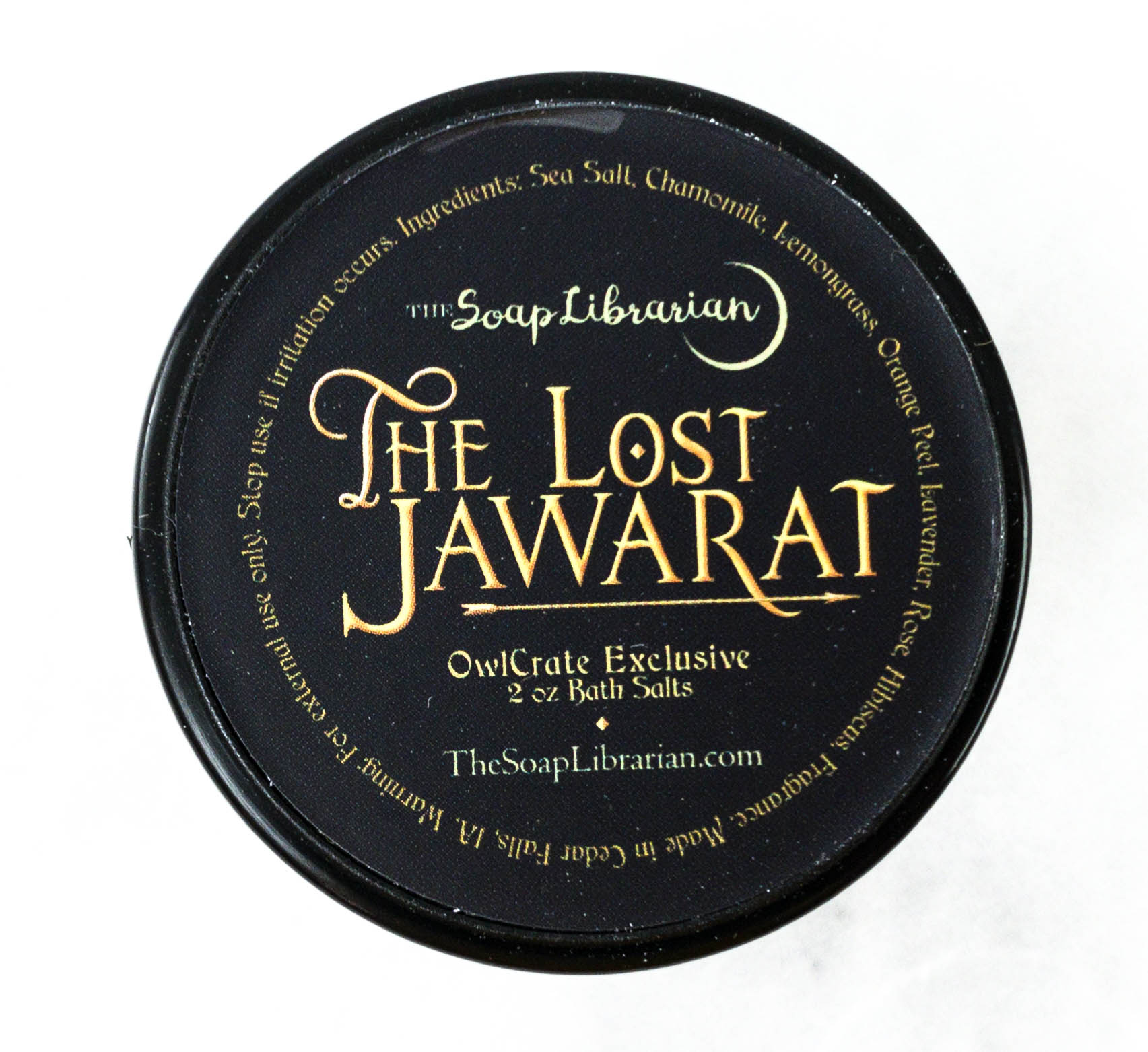 Bath Salts. These bath salts smell great! Made exclusively for OwlCrate by The Soap Librarian, it contains chamomile, lemongrass, orange peels, and lavender, to soothe the senses.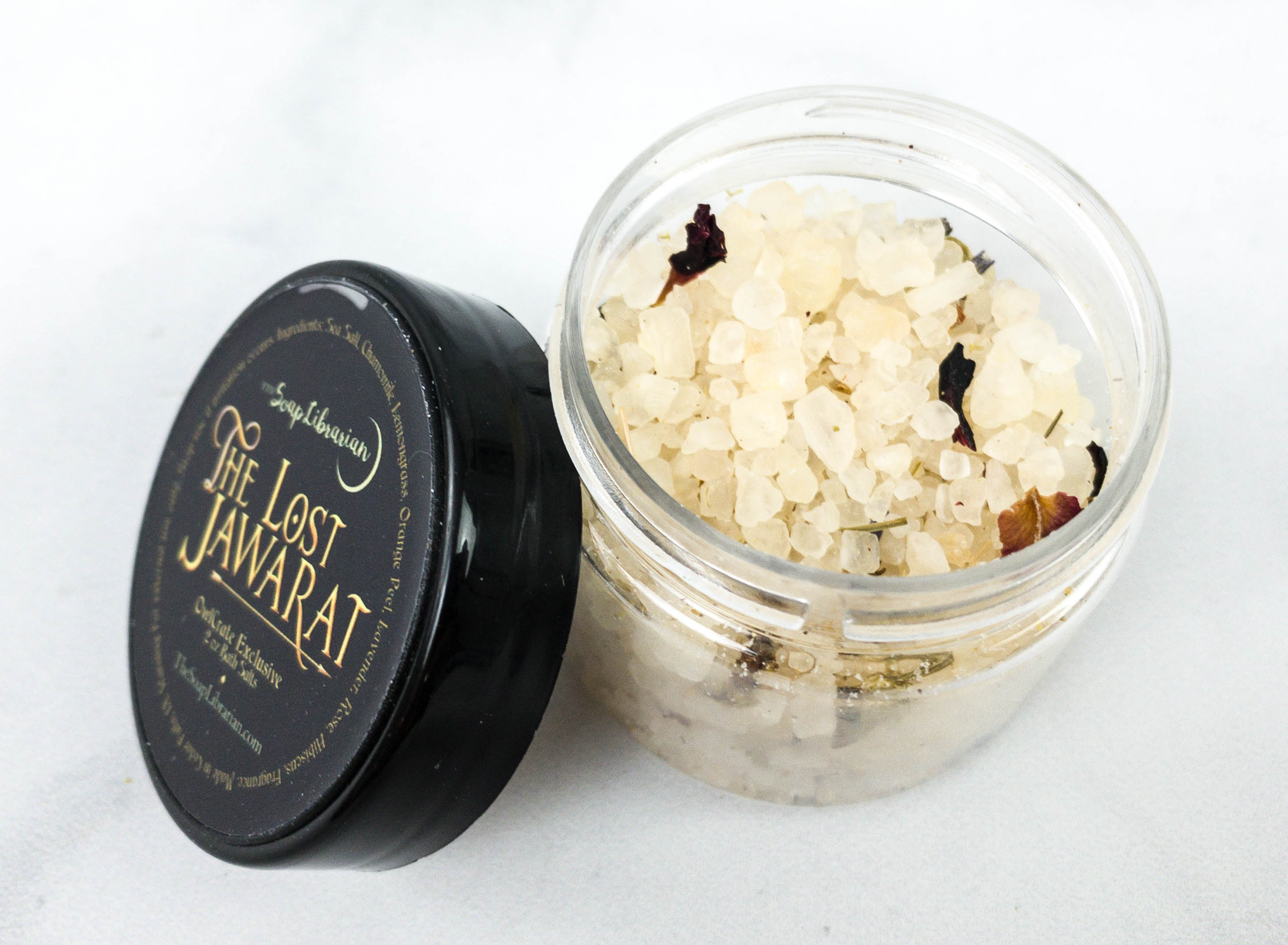 When you open the container, you'll see actual herbs mixed in with the salt. This is great to use when you want a relaxing bath or just whenever you need some self-care!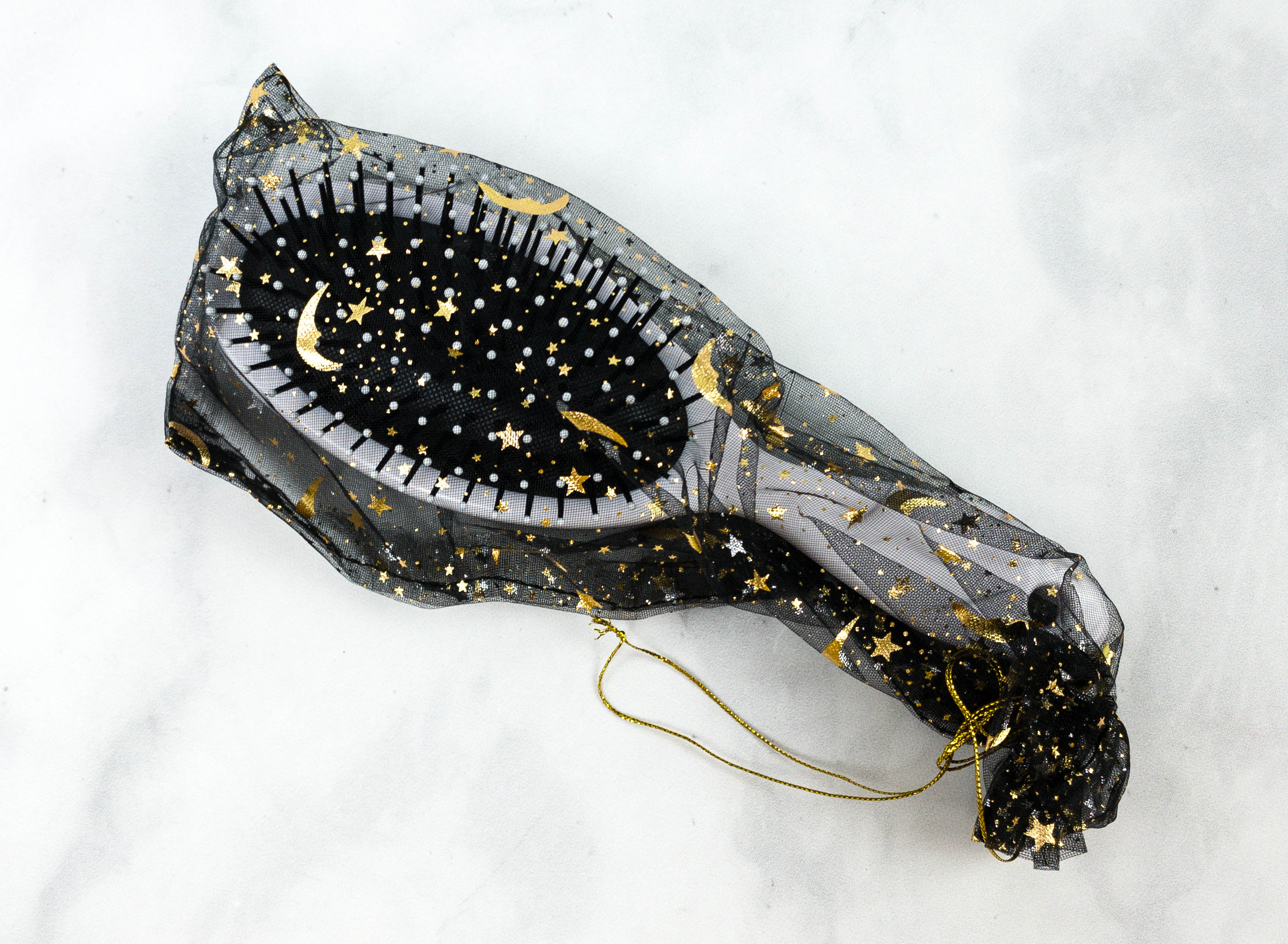 Hairbrush. I also received a hairbrush which came in a black see-through pouch that has golden stars and moon on it.
The hairbrush is white. It also comes with a cute, magical design at the back, inspired by Star Daughter.
The bristles are soft and they feel good on the scalp!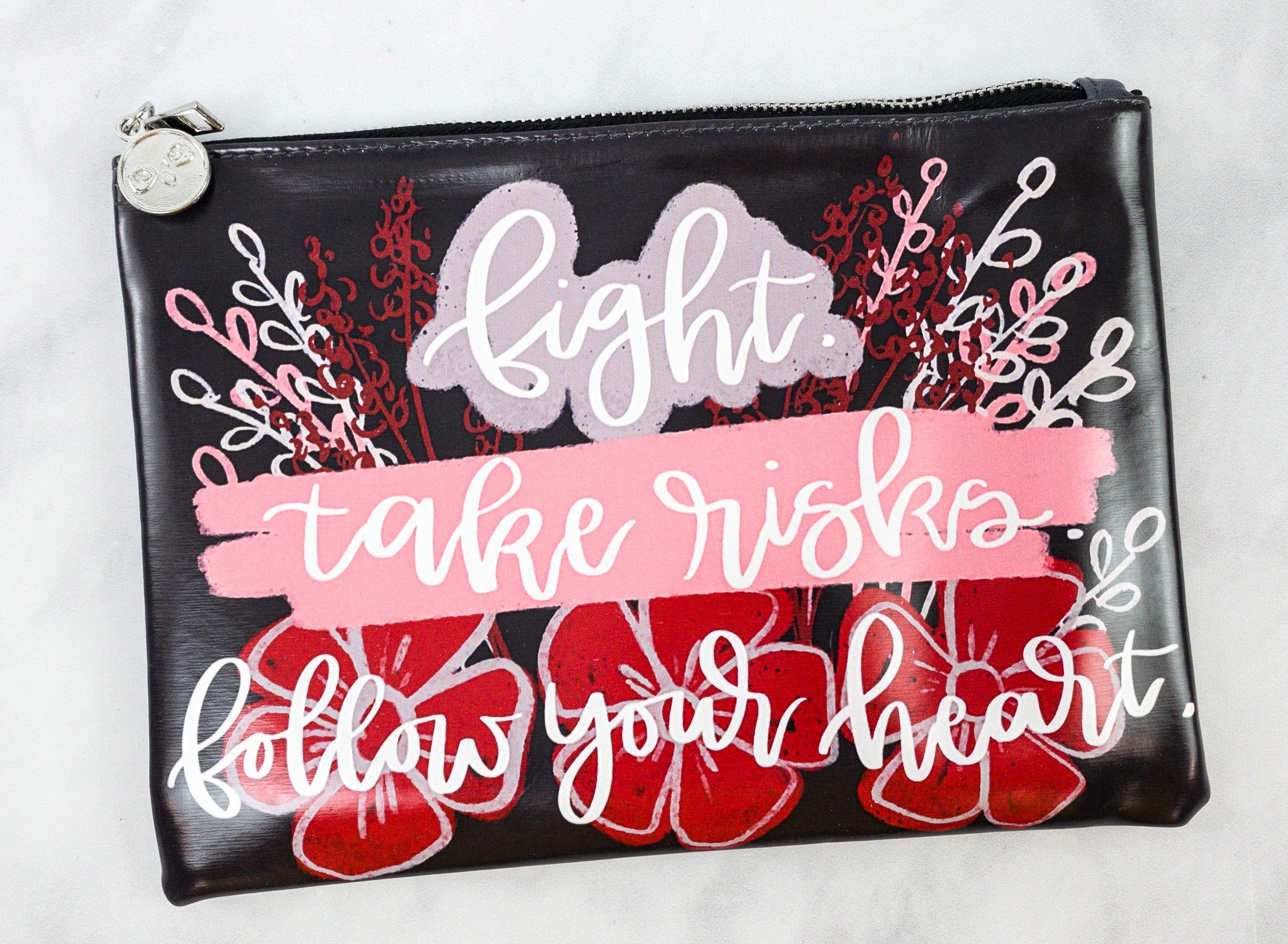 Zipper Pouch.  This pouch comes with an encouraging quote from Legendborn: "Fight. Take risks. Follow your heart." It's in black and it comes with a zipper enclosure. The print has a nice color scheme as well, which includes pink, red, and white.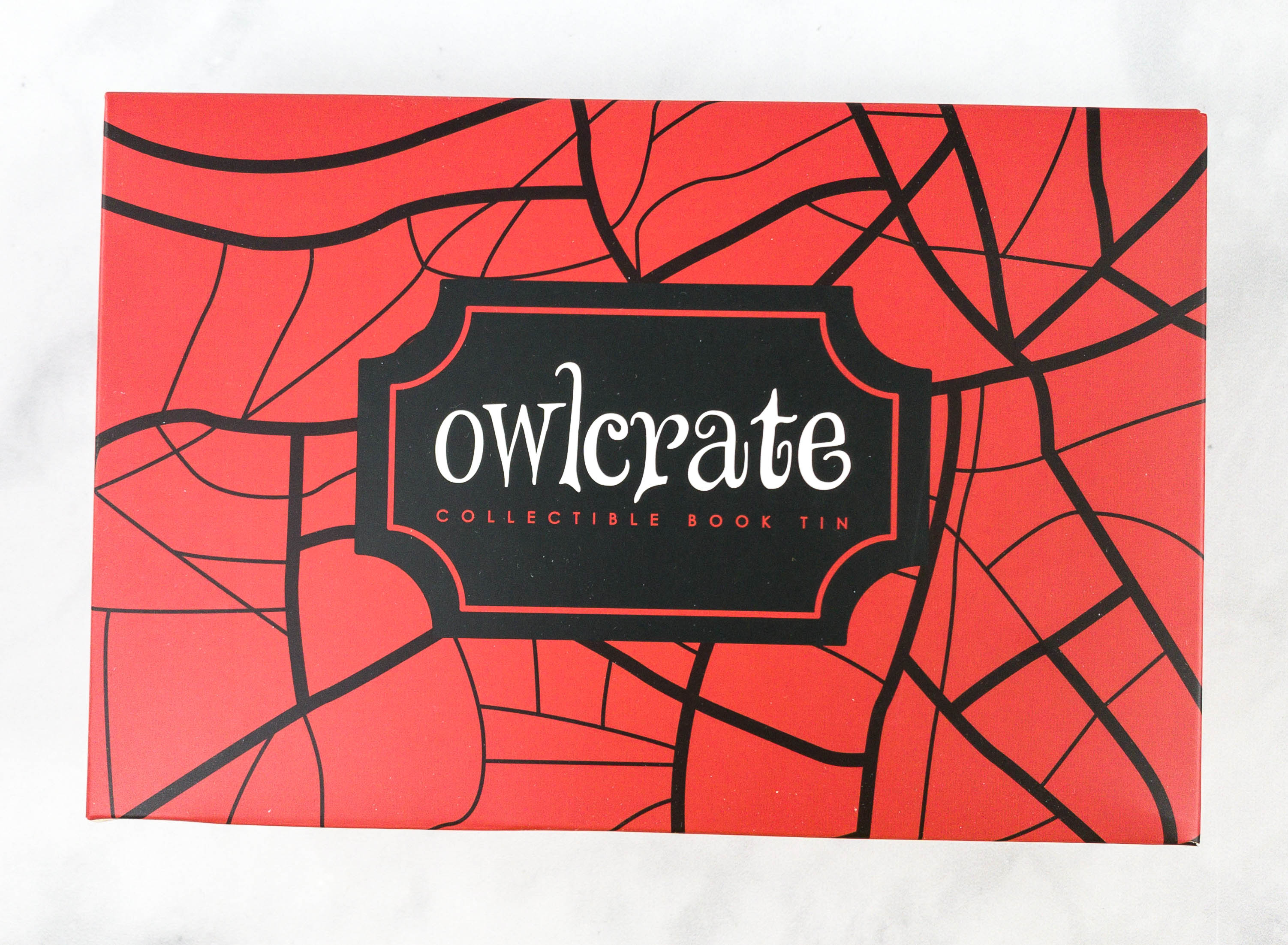 Red London Book Tin. Among all the bookish items this month, this one is what I'm most excited about. It's a tin container that looks like a book!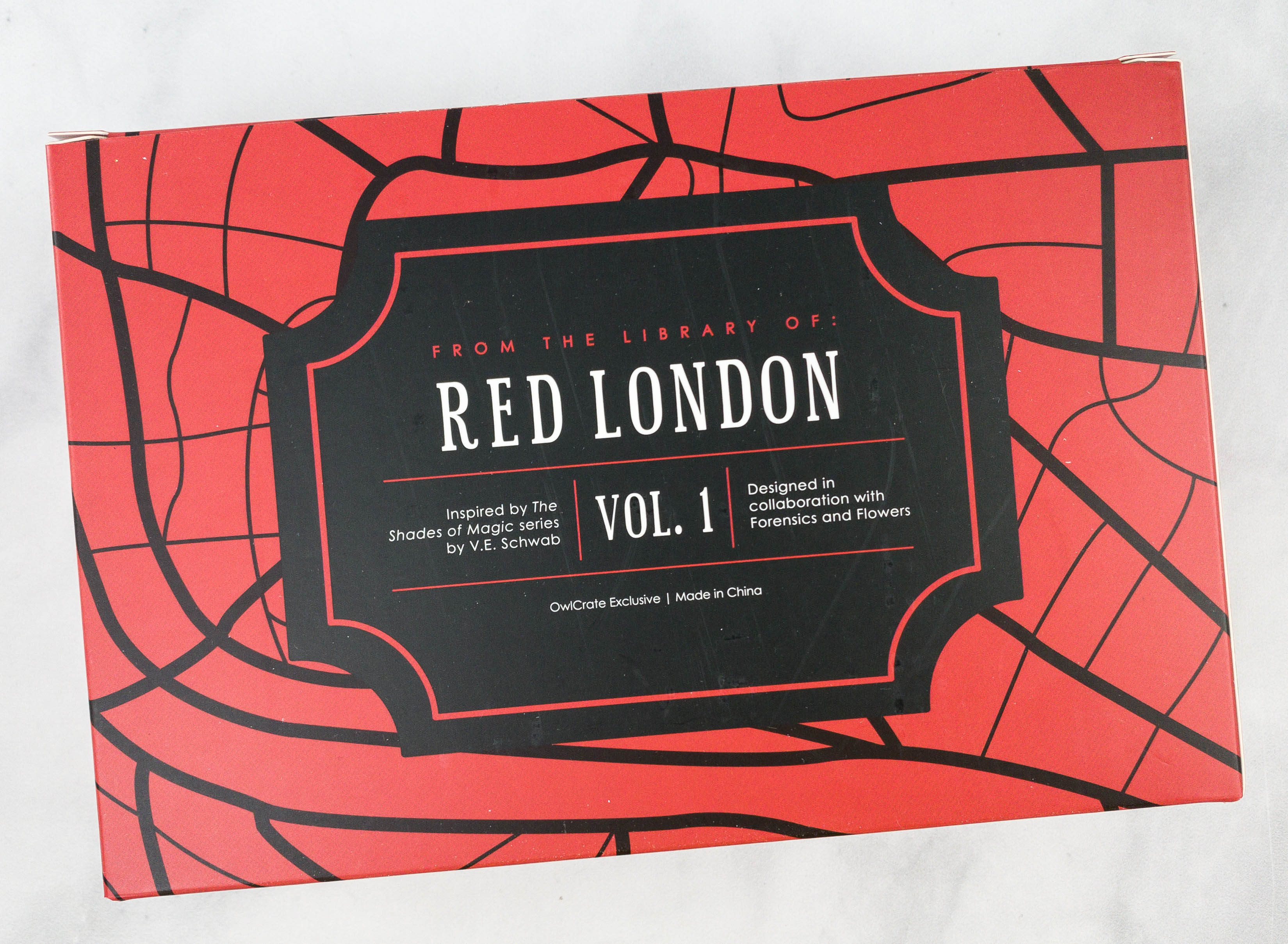 This item was designed in collaboration with Forensics and Flowers. It also came in its own box packaging!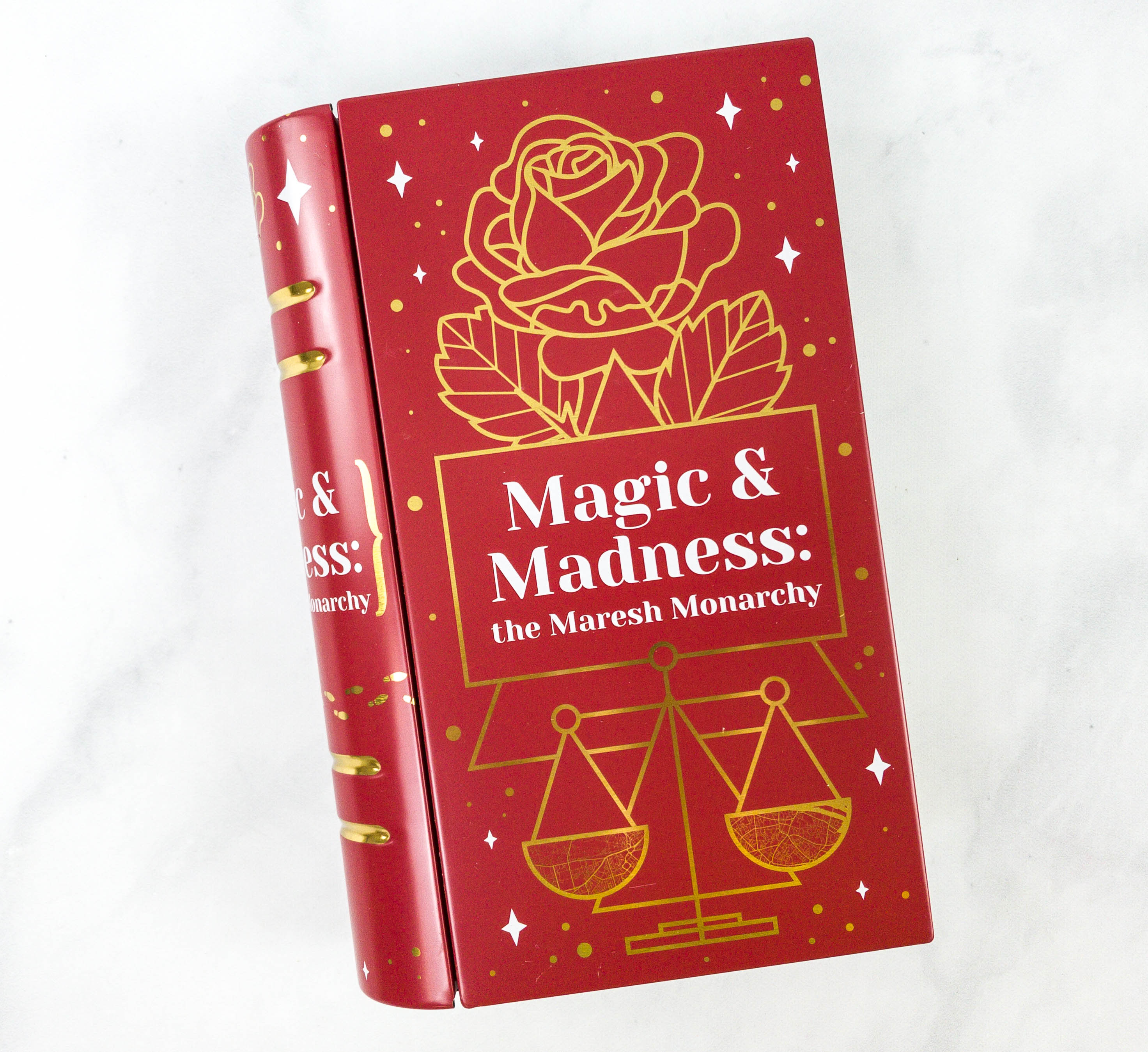 This design was inspired by V.E. Schwab's A Darker Shade of Magic. It's also the first in a four-part collectible series. Each book tin design represents a book that could be found on the shelves of libraries in the four different Londons.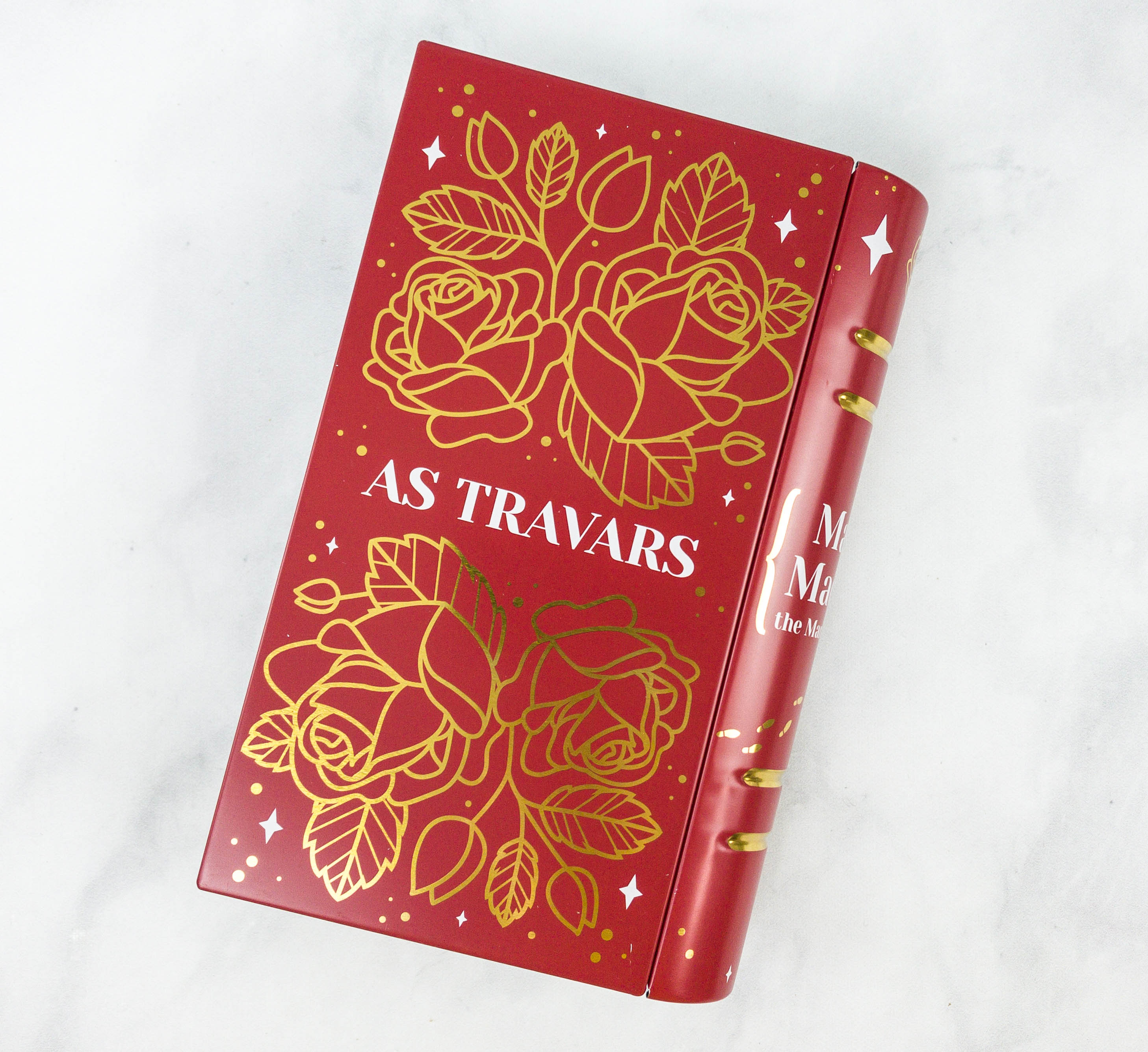 The design is so pretty with the red background and gold details accentuated by some white sparkles.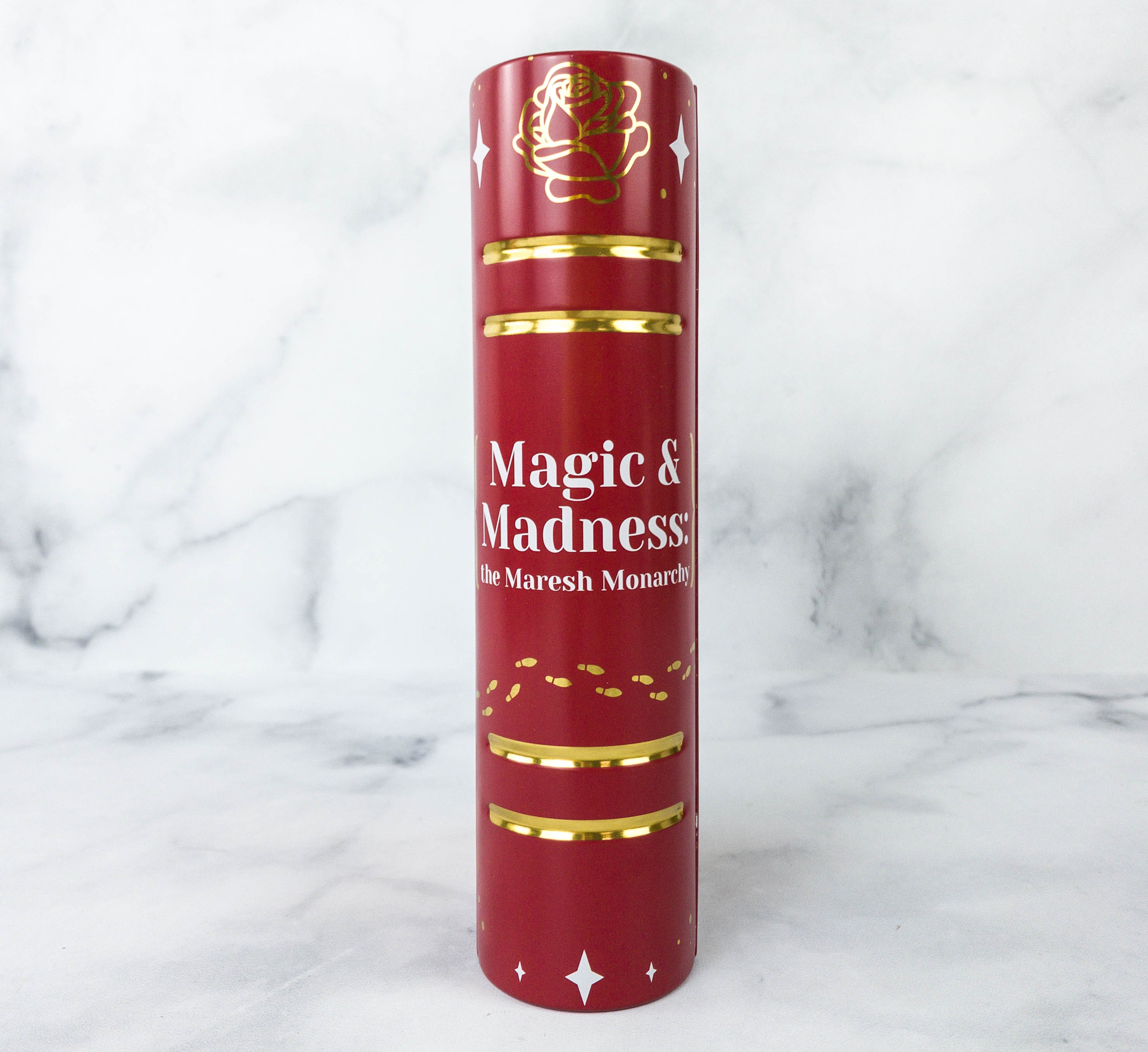 The tin is really shaped like a book so you can make it a secret compartment and hide it in between the real books on your shelf!
It's also quite spacious, so you can put a number of trinkets and accessories inside, or even photos and keepsakes.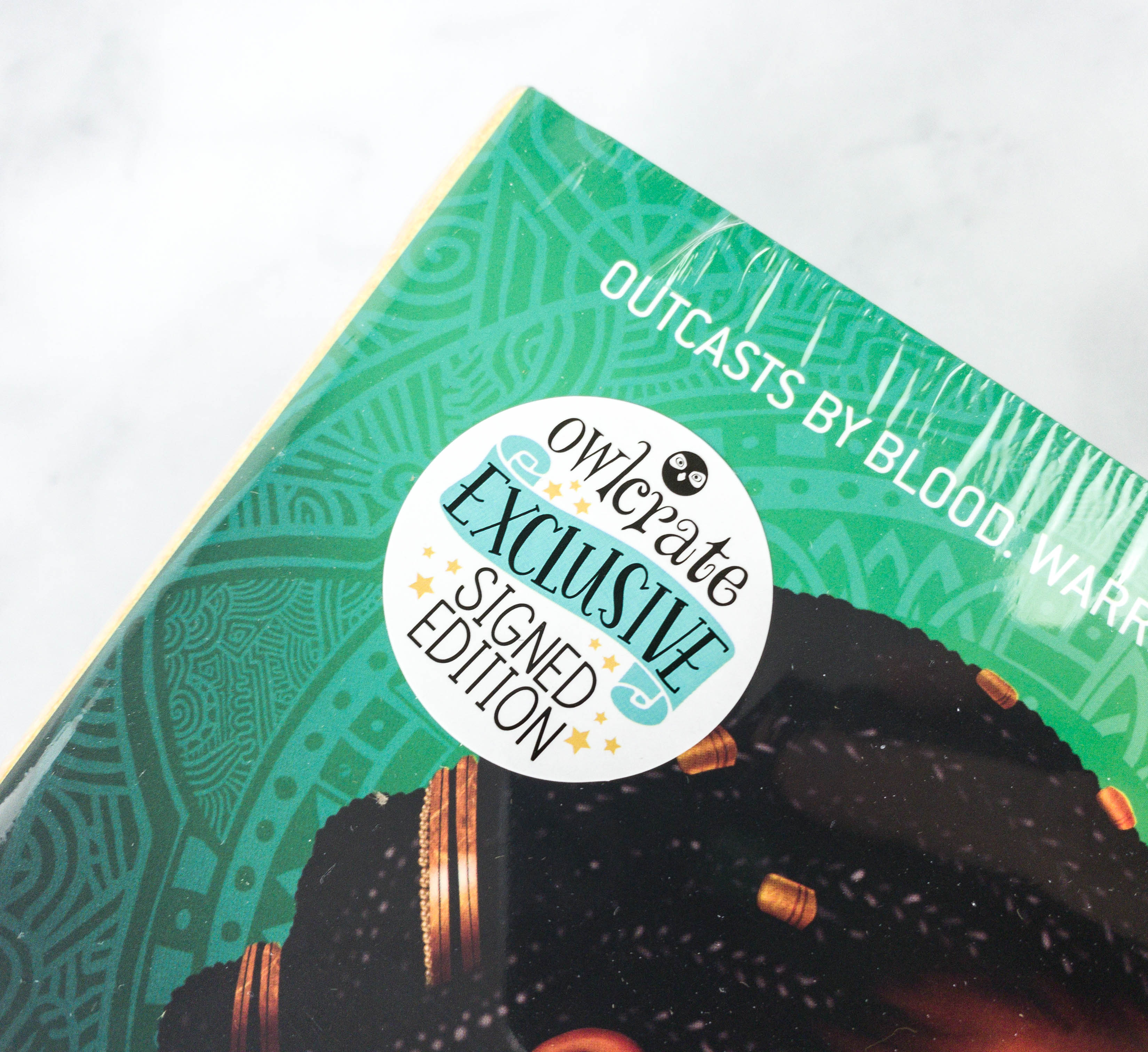 The Gilded Ones by Namina Forna ($15.88)
The most anticipated fantasy of 2021. In this world, girls are outcasts by blood and warriors by choice. Get ready for battle. 

Sixteen-year-old Deka lives in fear and anticipation of the blood ceremony that will determine whether she will become a member of her village. Already different from everyone else because of her unnatural intuition, Deka prays for red blood so she can finally feel like she belongs.

But on the day of the ceremony, her blood runs gold, the color of impurity–and Deka knows she will face a consequence worse than death.

Then a mysterious woman comes to her with a choice: stay in the village and submit to her fate, or leave to fight for the emperor in an army of girls just like her. They are called alaki–near-immortals with rare gifts. And they are the only ones who can stop the empire's greatest threat.

Knowing the dangers that lie ahead yet yearning for acceptance, Deka decides to leave the only life she's ever known. But as she journeys to the capital to train for the biggest battle of her life, she will discover that the great walled city holds many surprises. Nothing and no one are quite what they seem to be–not even Deka herself.

The start of a bold and immersive fantasy series for fans of Children of Blood and Bone and Black Panther.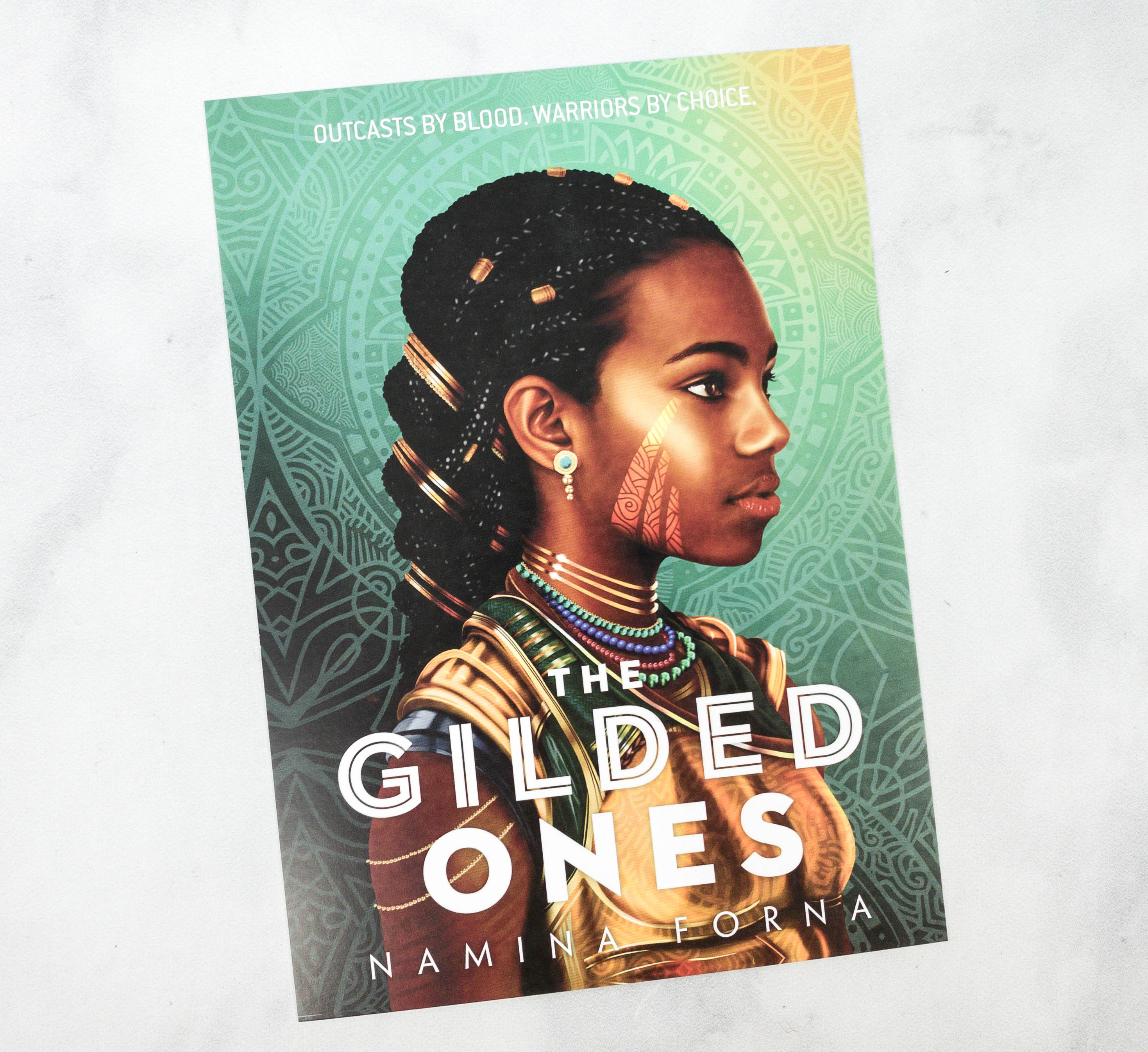 The book comes with a card that features the same design as the cover.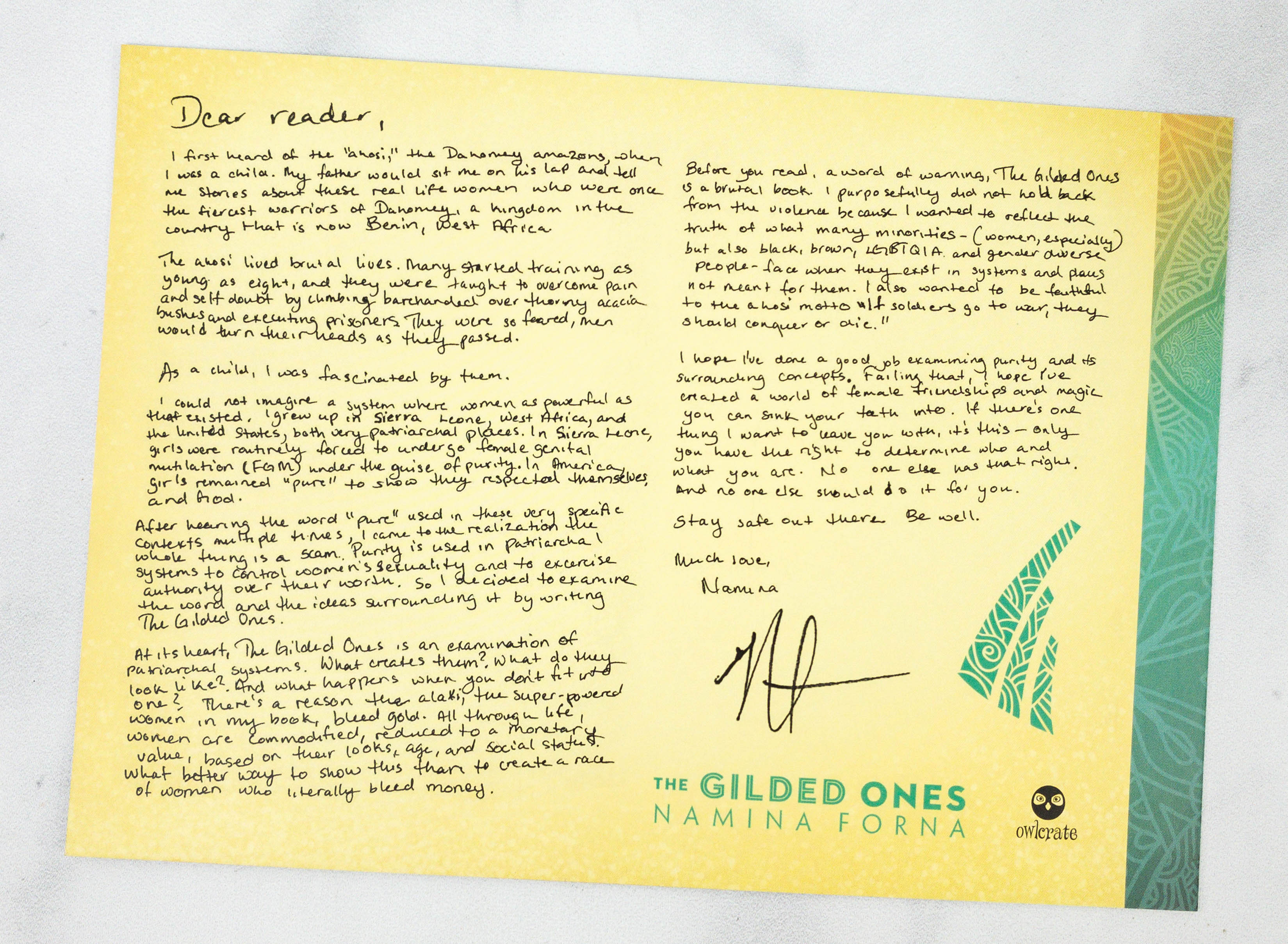 At the back of the card is a letter from the author, Namina Forna.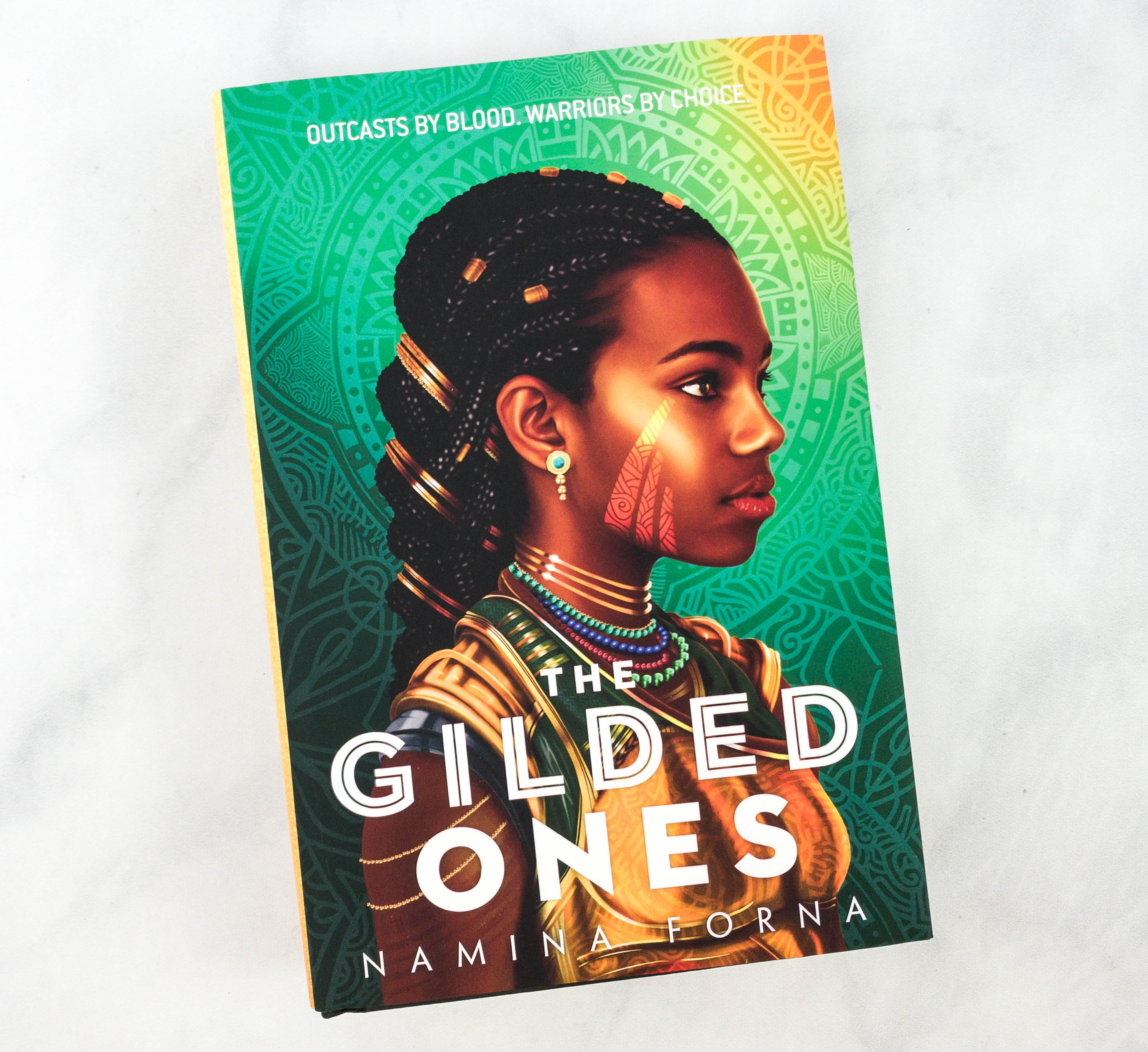 I love the illustration on the cover! It's so stunning!
The message at the back is thought-provoking…
Are we girls or are we demons? Are we going to die or are we going to survive?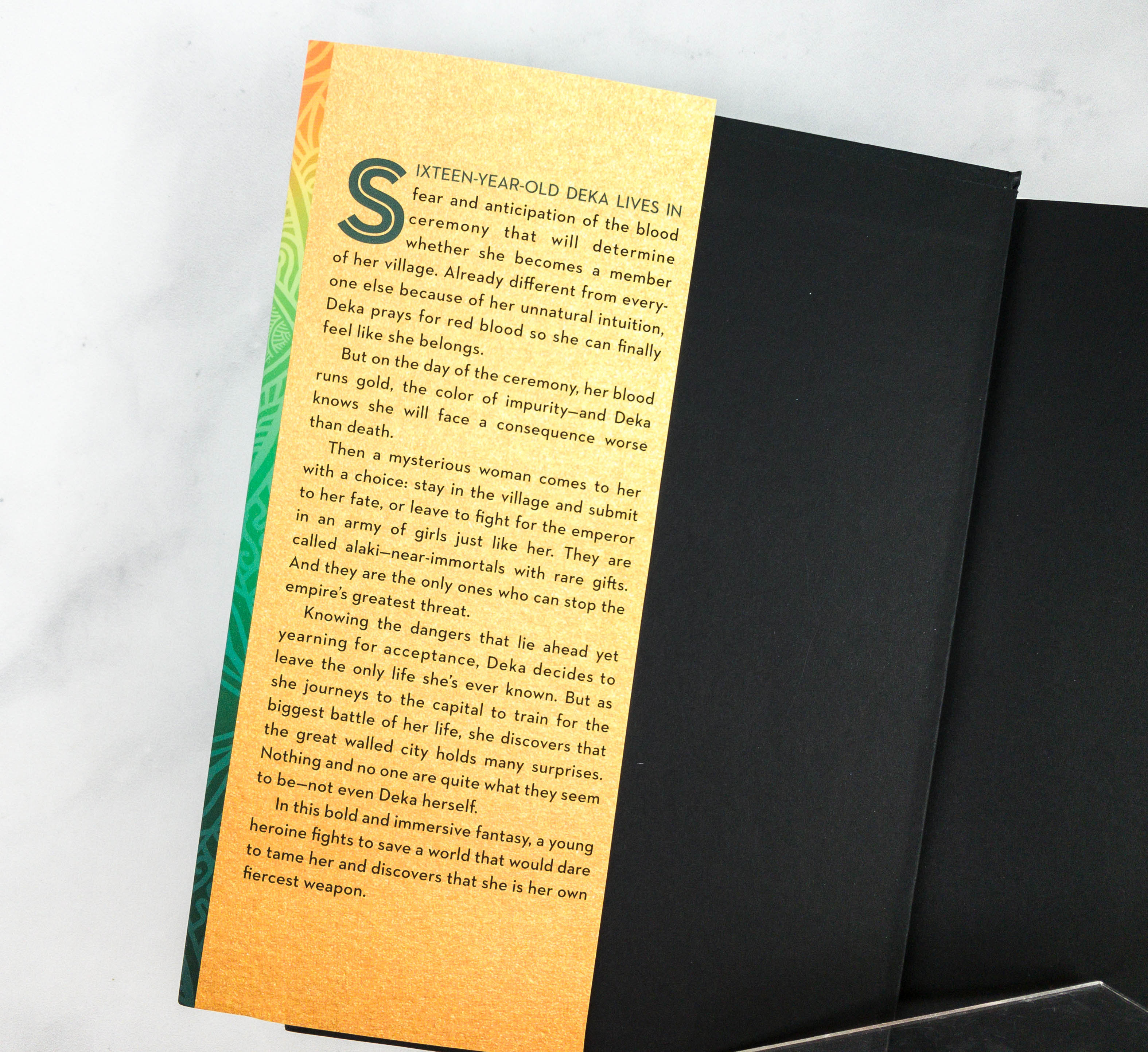 The synopsis can be found at the flap of the book's dust jacket.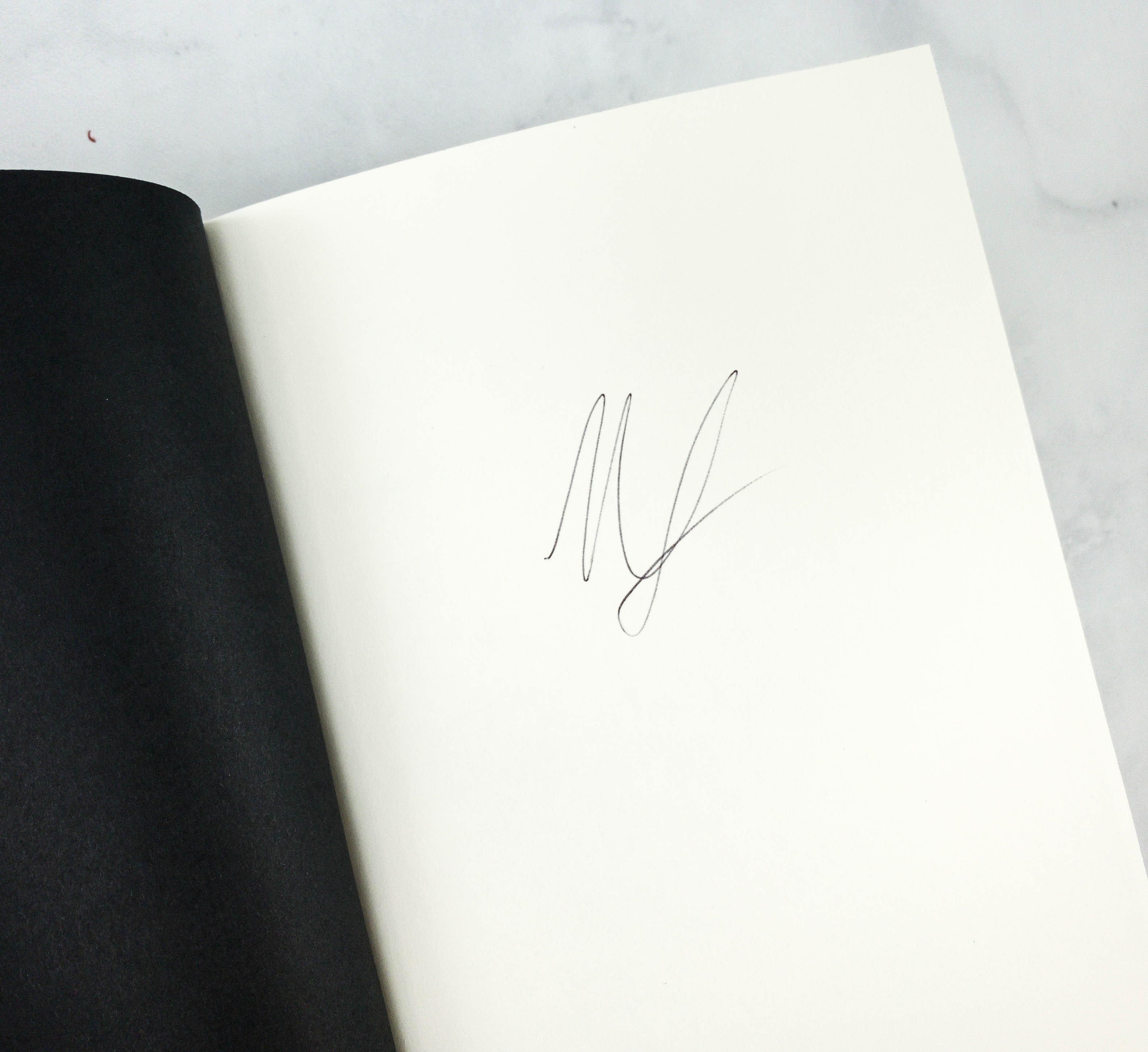 Yes, this is a signed copy!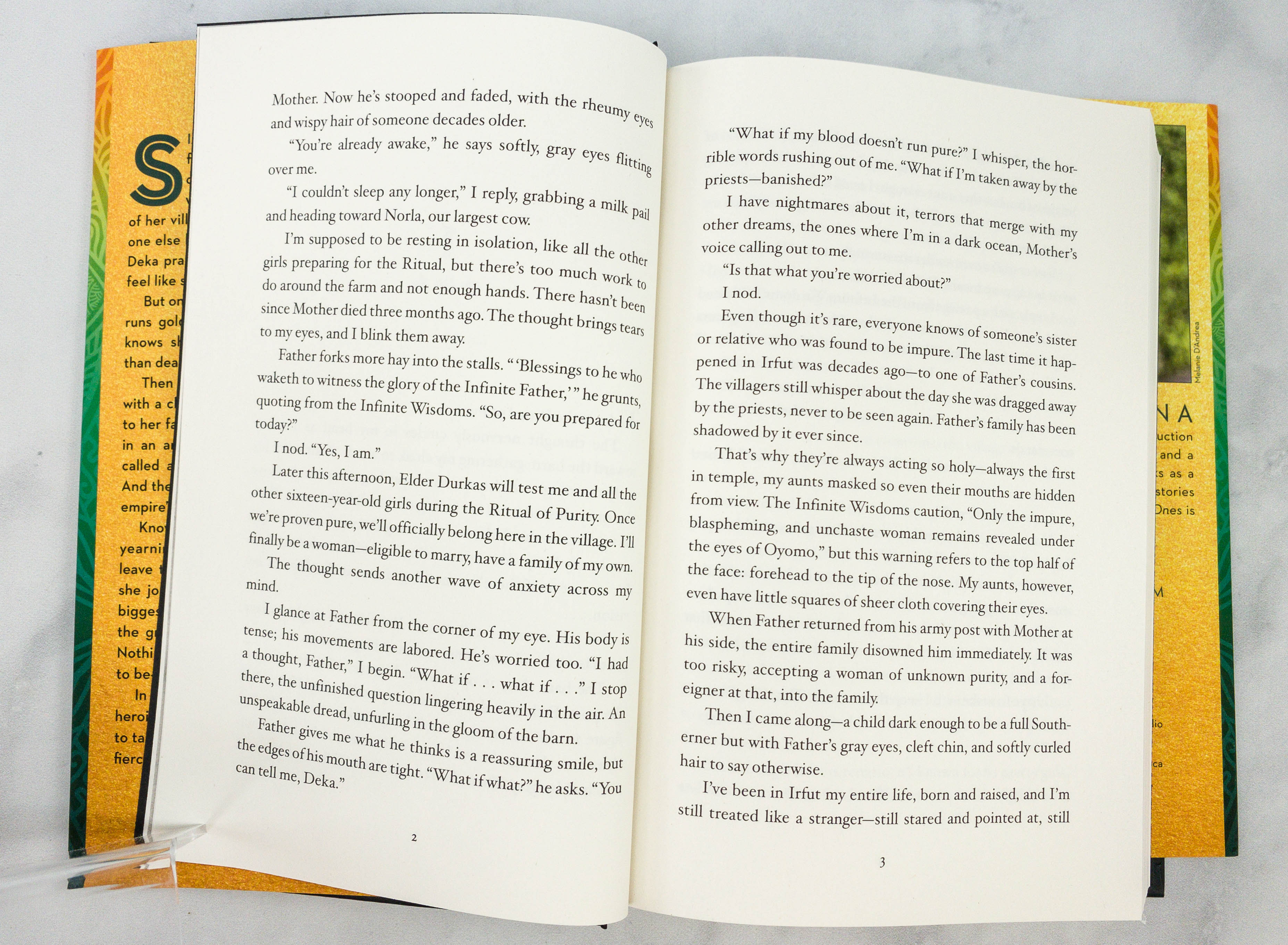 The strory follows Deka, a sixteen year old girl who is a part of a deeply patriarchal society that abuses women and girls. She belongs in a society where being worthy is determined by the color of someone's blood. If you have red blood, you are pure so the society will accept you. But if it's gold, you are then tagged as an abomination and you will either be killed or enslaved.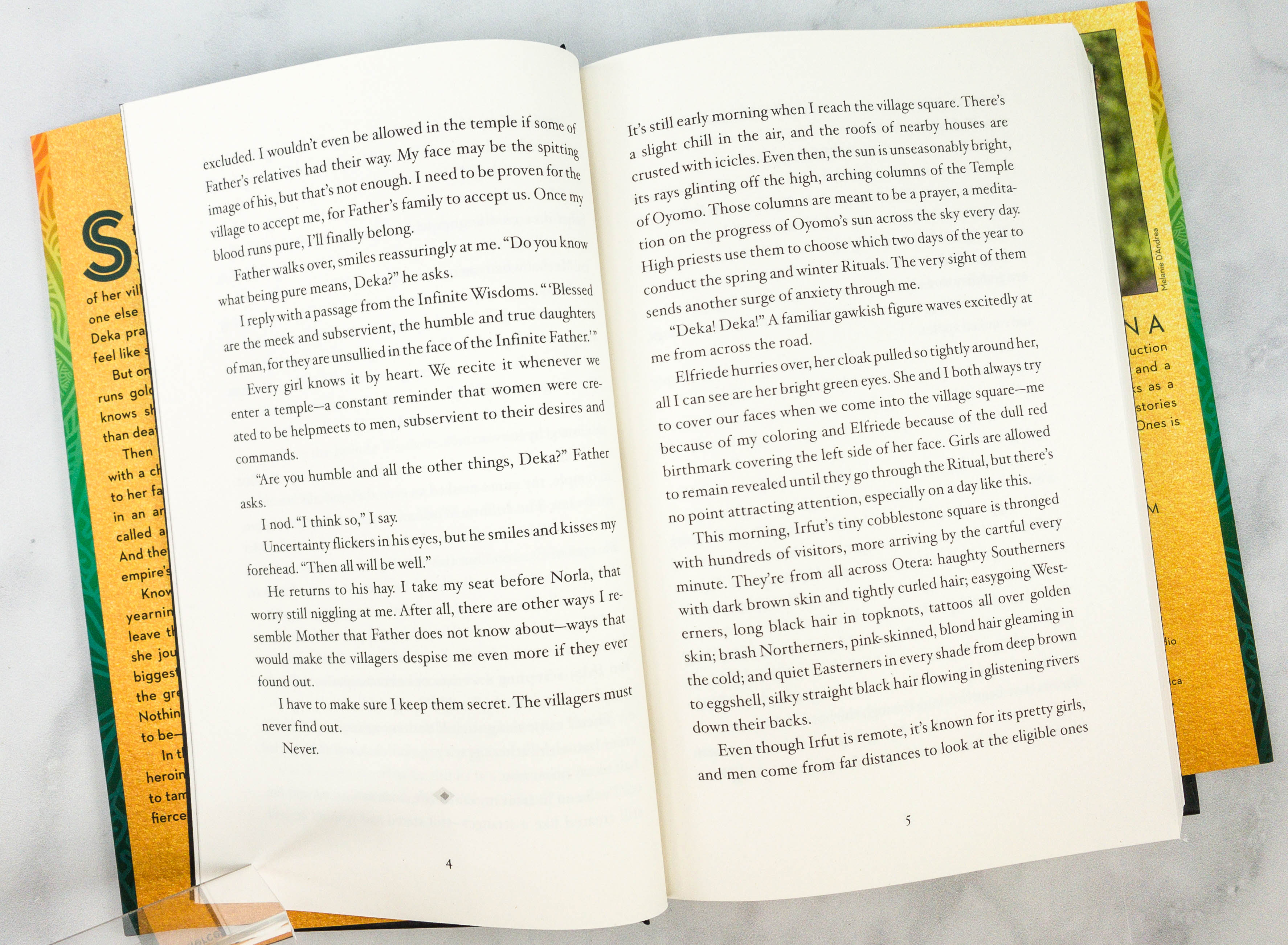 I like how the book talks about real-life issues like racism, misogyny, trauma, inequality, abuse, and more. It's a really powerful novel and I love how it empowers women, people of color, and other minorities. The book has a lot of twists and turns! You will really have to be patient to get answers but over all, it was a really good book!
Here's a sneak peek for next month's box!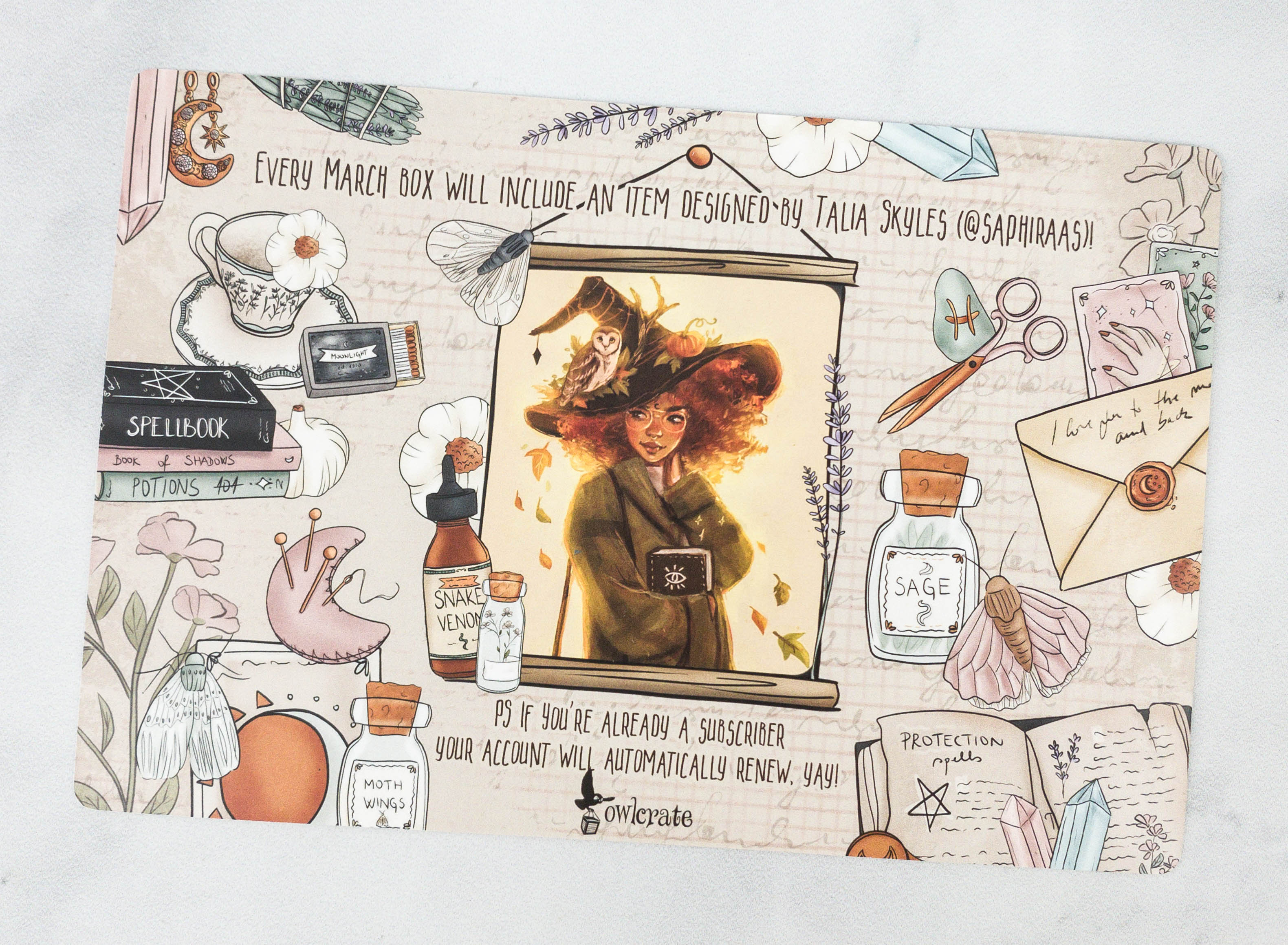 According to it, every March Box will include an item designed by Talia Skyles.
This month's OwlCrate box was filled with magical items! I like that they really stuck to the theme and curated the box with items that were inspired by different books. My favorite is the book tin! It's a really awesome piece that will look good on display but can be functional as well. The novel included in this box is also a good read. I enjoyed the plot so I would definitely continue reading the next book. OwlCrate never fails to come up with fun and exciting themes for their boxes. If you're looking for a book subscription that also sends bookish items, this one is for you! The teaser for next month looks great and I'm excited!
What did you think of this month's Owl Crate theme? Are you excited for next month's theme?