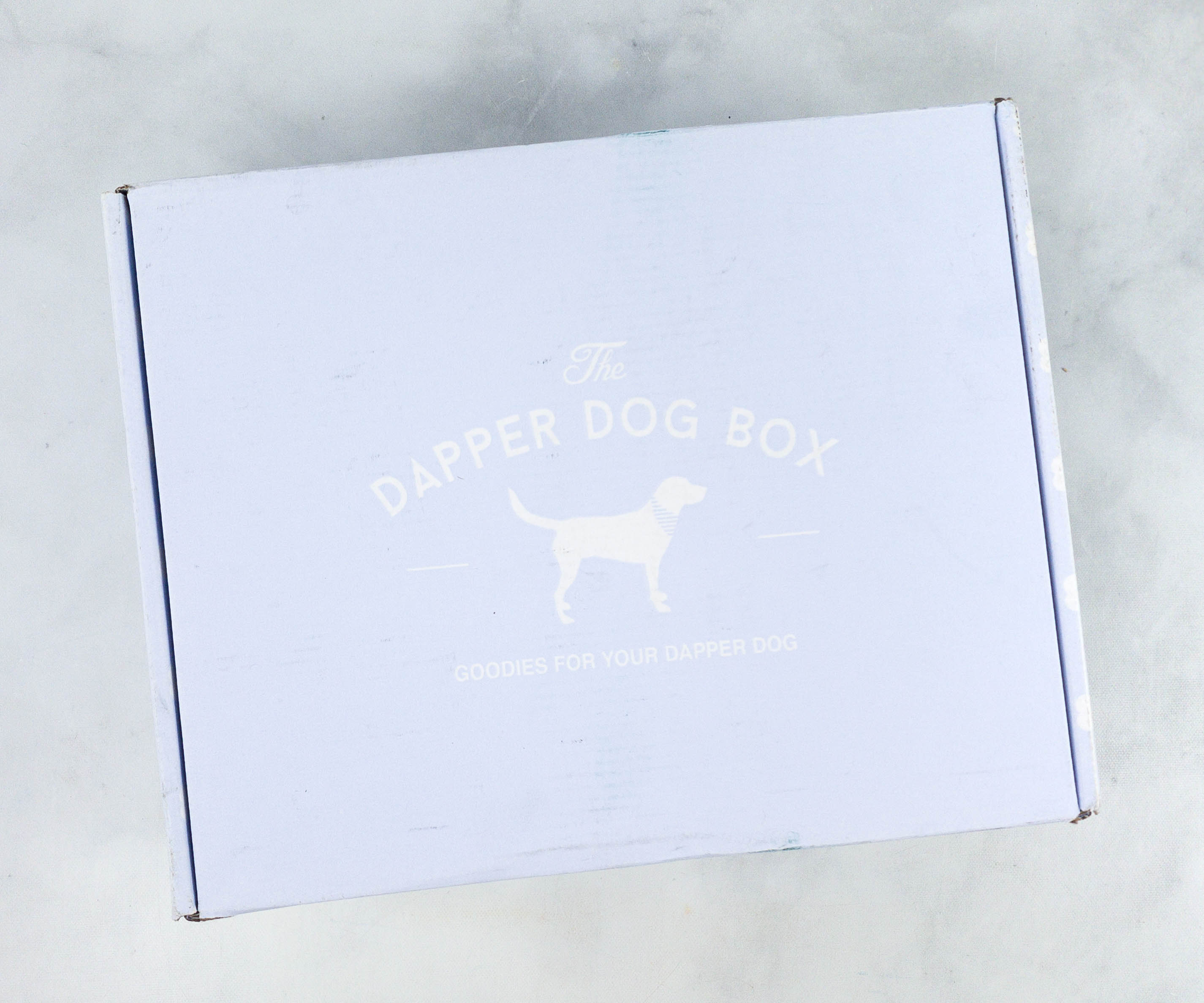 The Dapper Dog Box is a monthly box for your best friend in the world – your dog! They source organic and natural items from passionate small companies that love dogs, hand-picking each item for your dog based on a personalized survey. The survey lets you customize your box for gender, five different dog sizes, and also any allergies. The regular sized box has 4-6 items with an average $50 value.
DEAL: Save 10% off your first shipment! Use coupon code HELLOSUBSCRIPTION.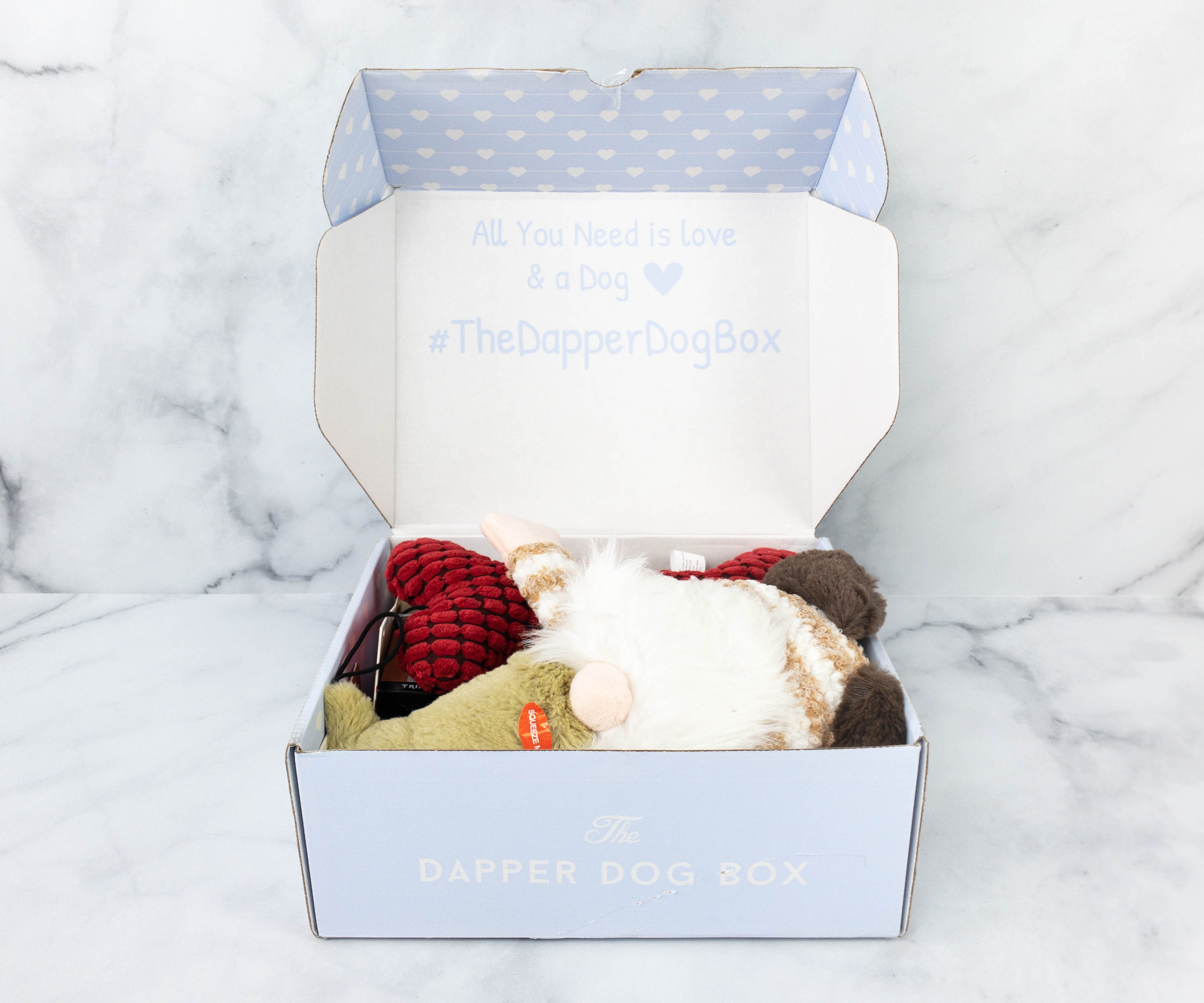 The interior of the box cover says "all you need is love and a dog" and I couldn't agree more.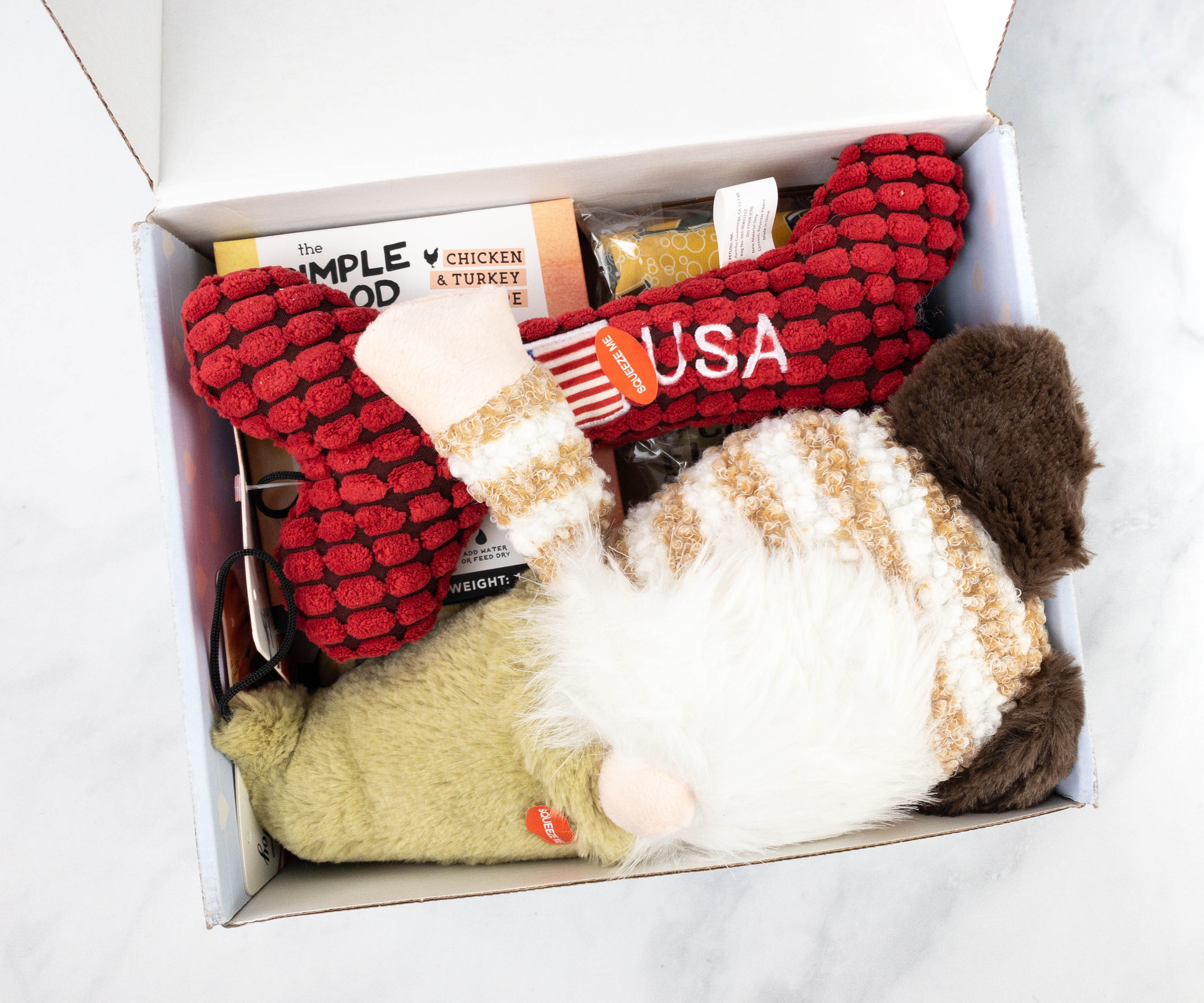 The box is full!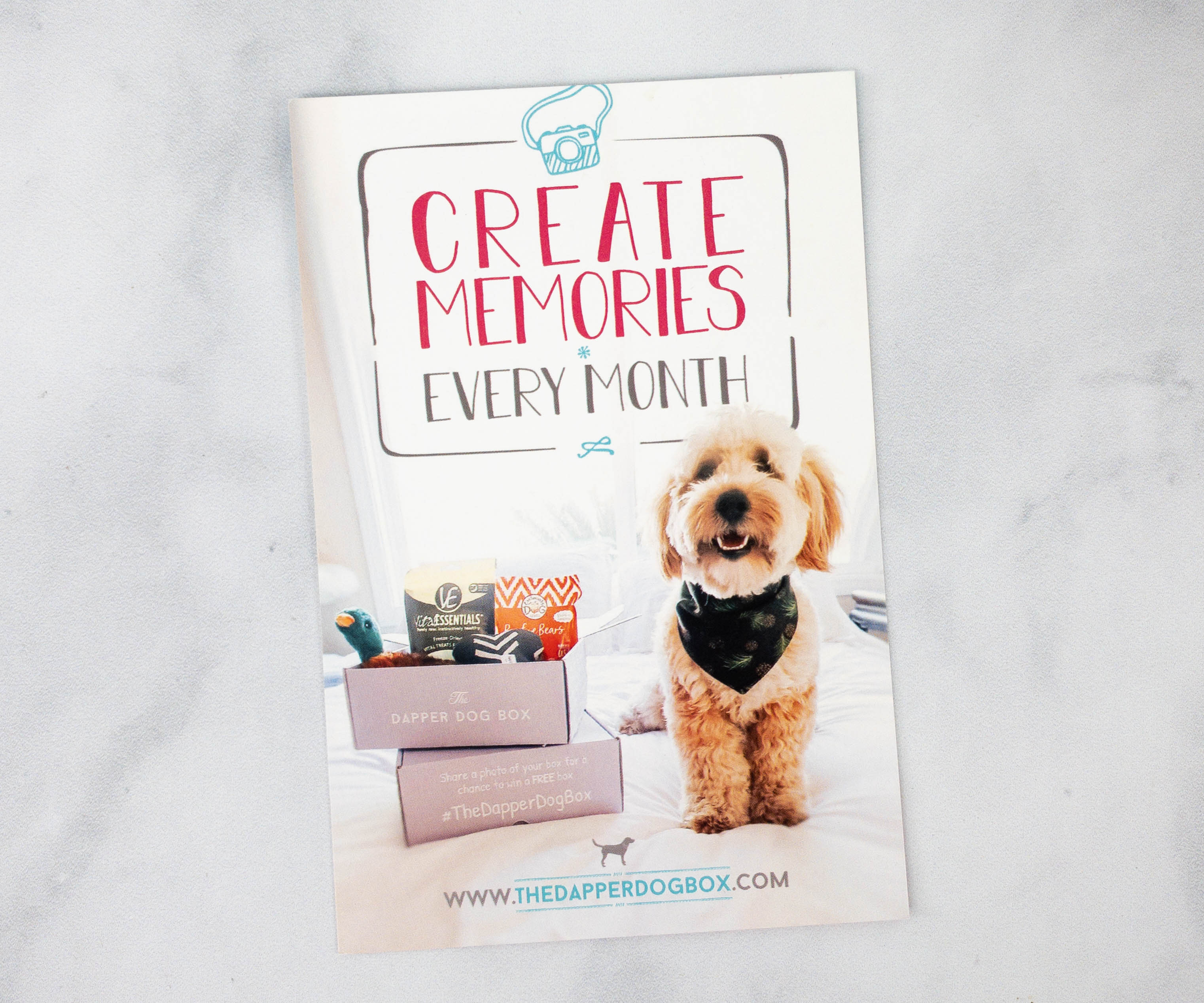 Every box comes with a cute information card.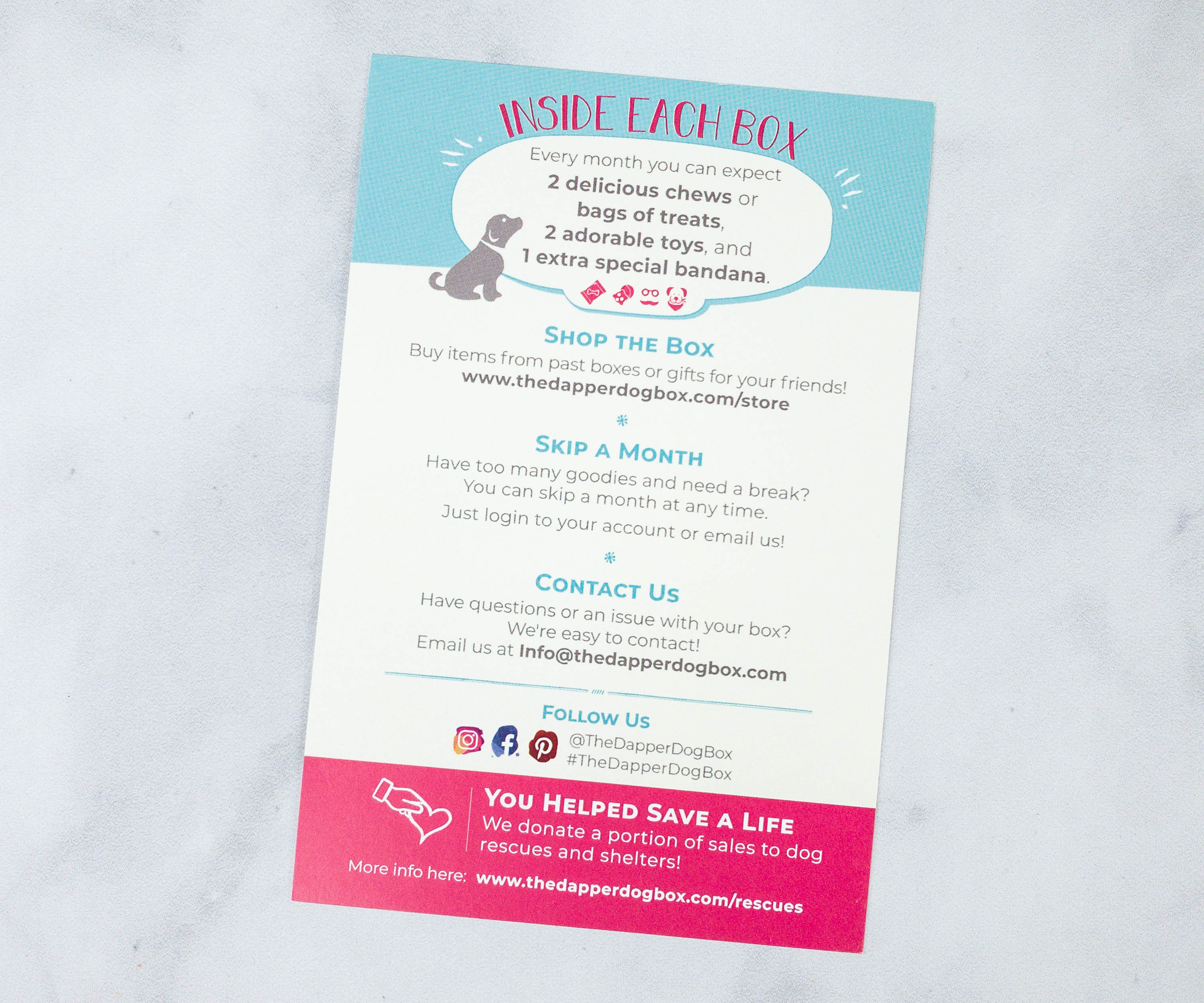 The back of the card provides all the information you need to know about the box.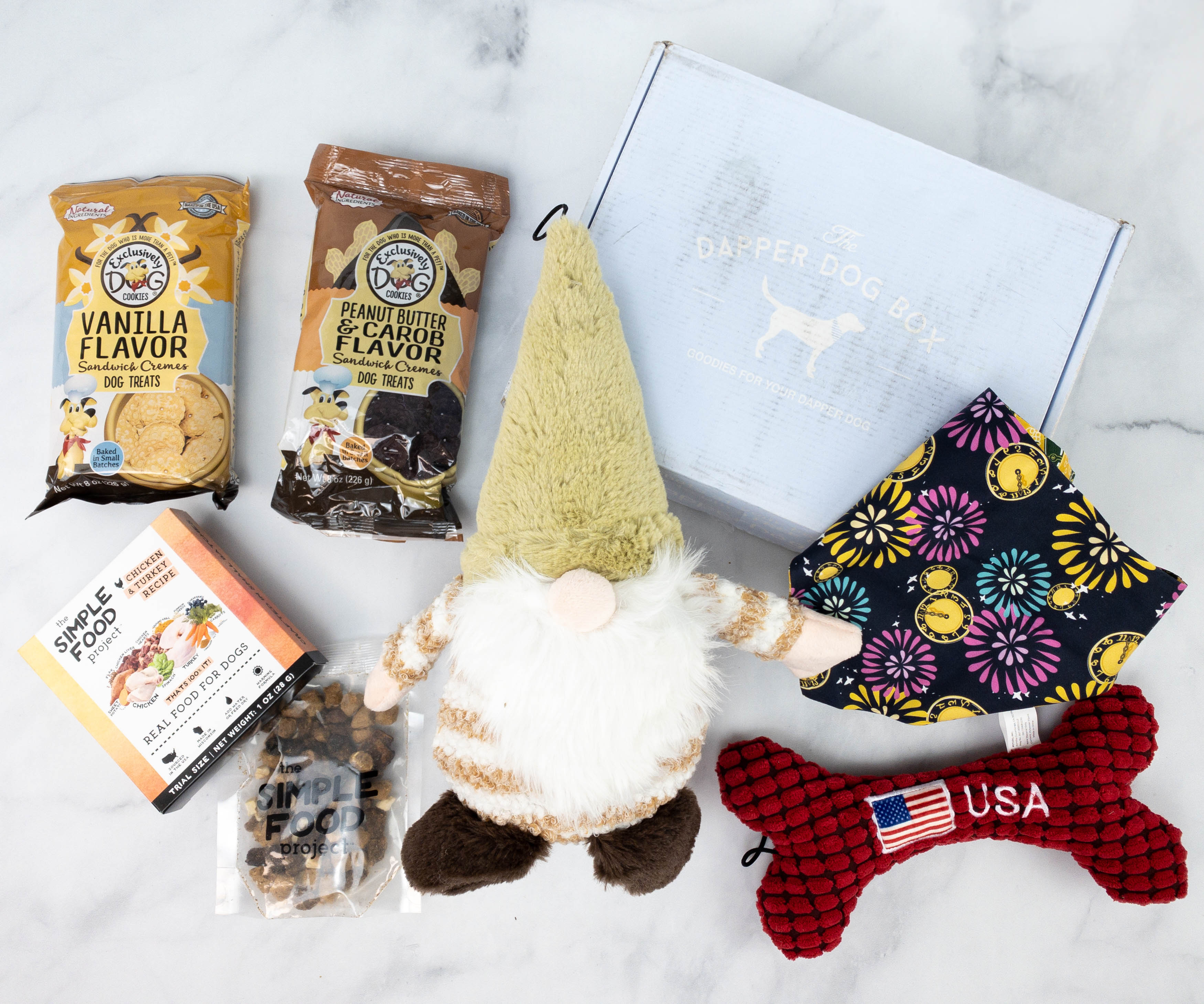 Everything in my January 2021 box!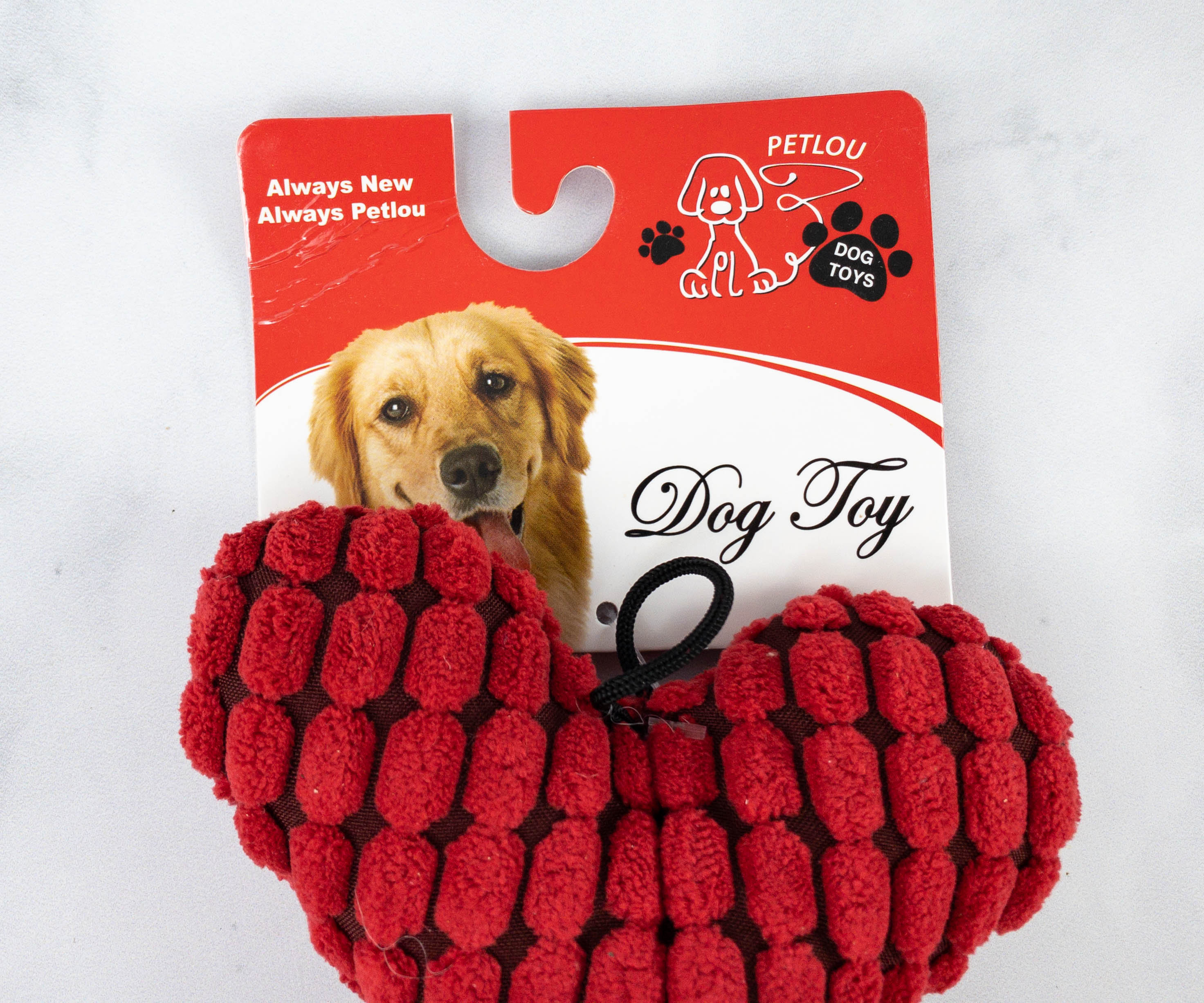 Petlou Dog Bone Dog Toy. The first toy in the box is a red, bone-shaped toy made from durable fabric with layers of soft and squishy stuffing inside.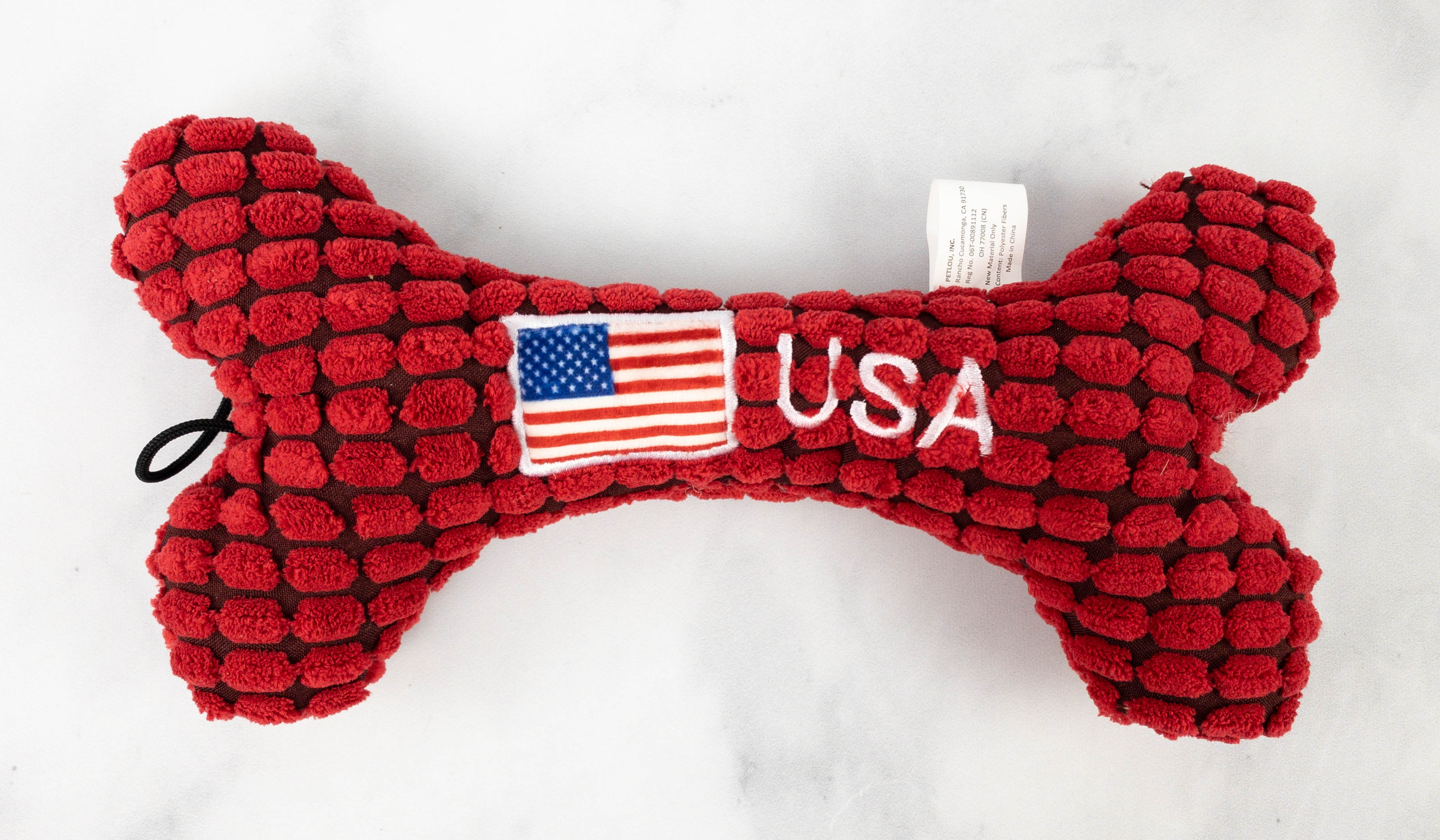 It has a nice texture that dogs love. Also embroidered on the plush toy is the US flag!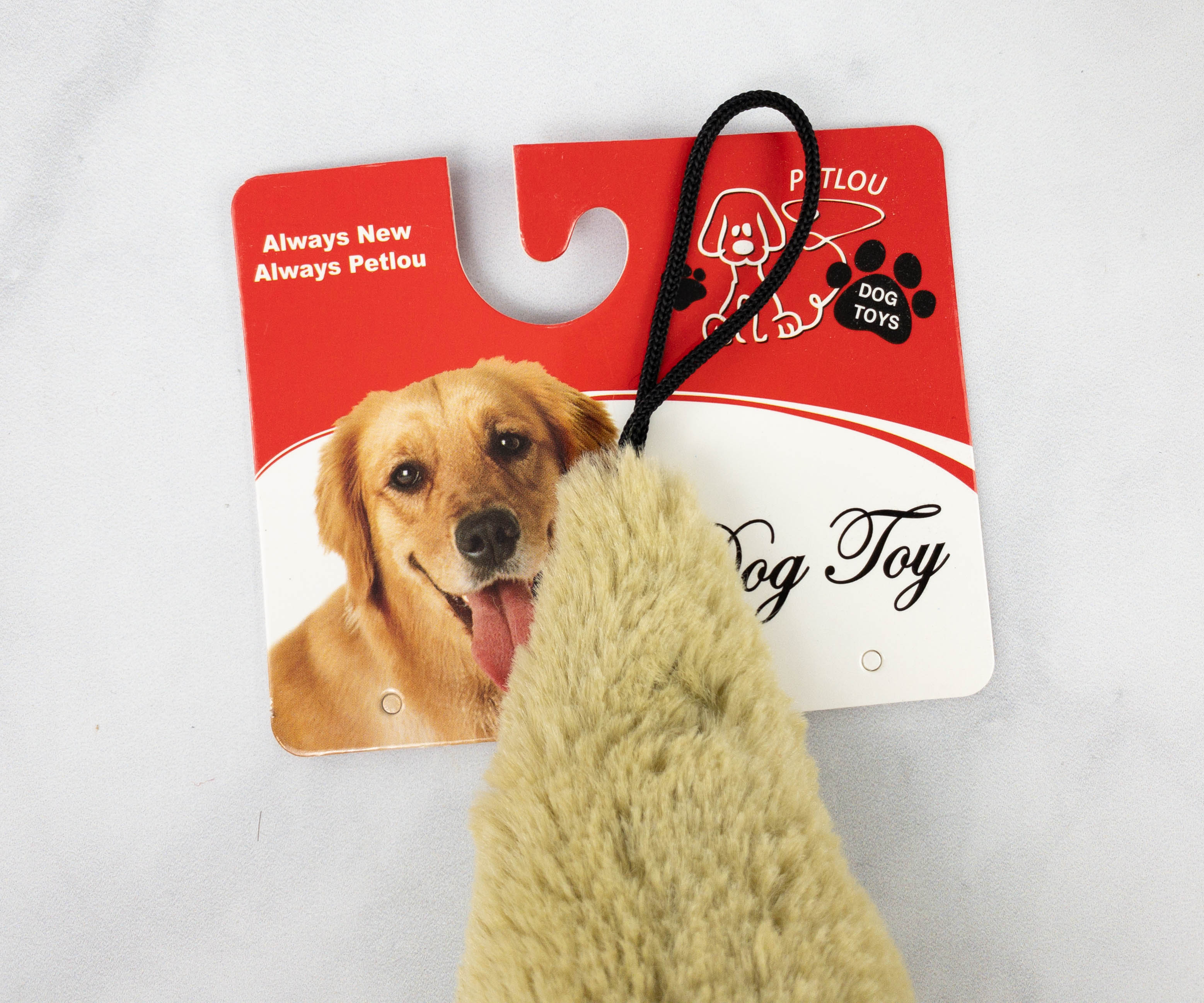 Petlou Gnome Dog Toy. The next toy is a plushie inspired by a gnome. It's soft and fluffy!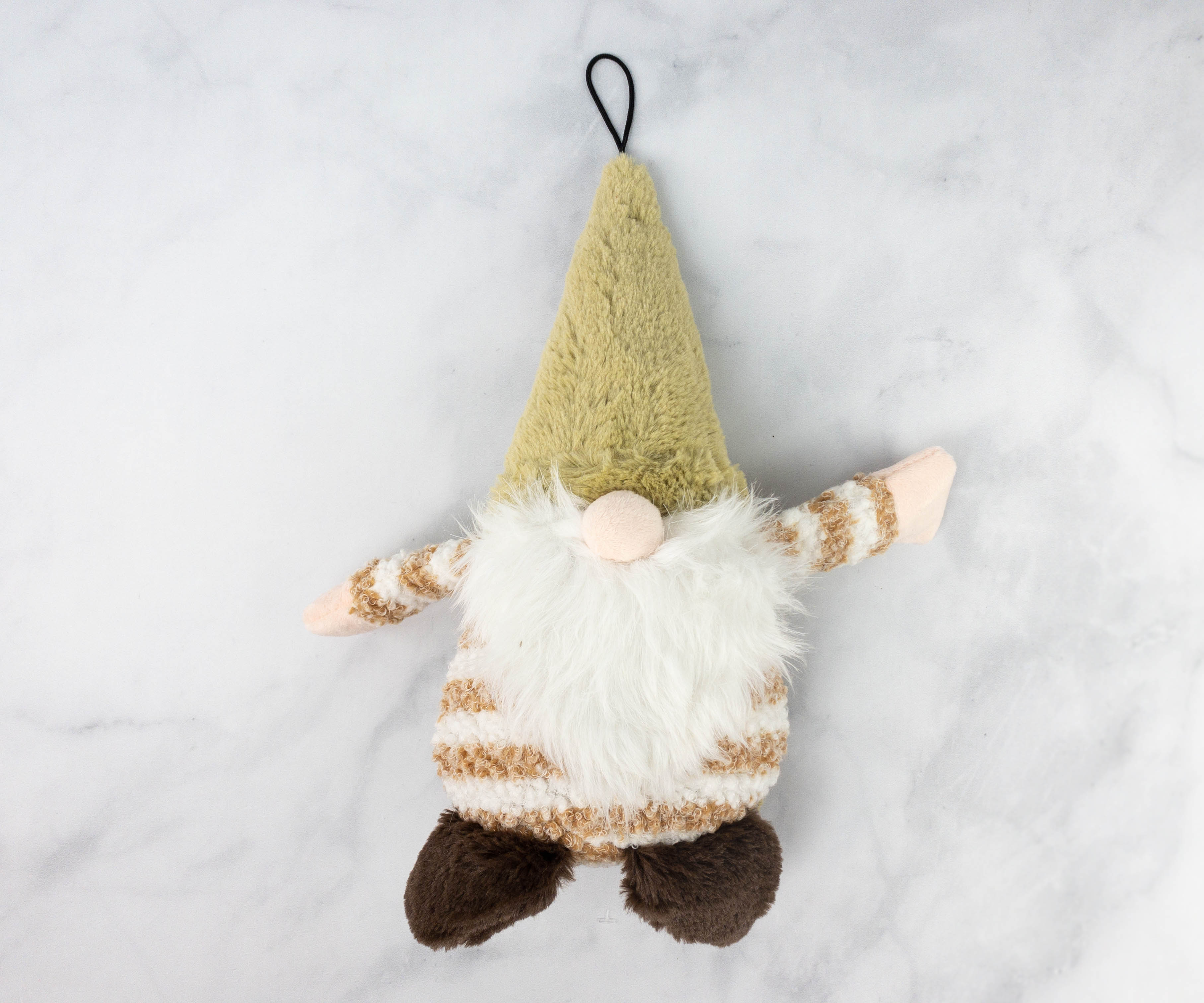 This dwarf is so detailed! It comes with a pointy brown hat, classic striped sweatshirt, and a thick, lengthy beard.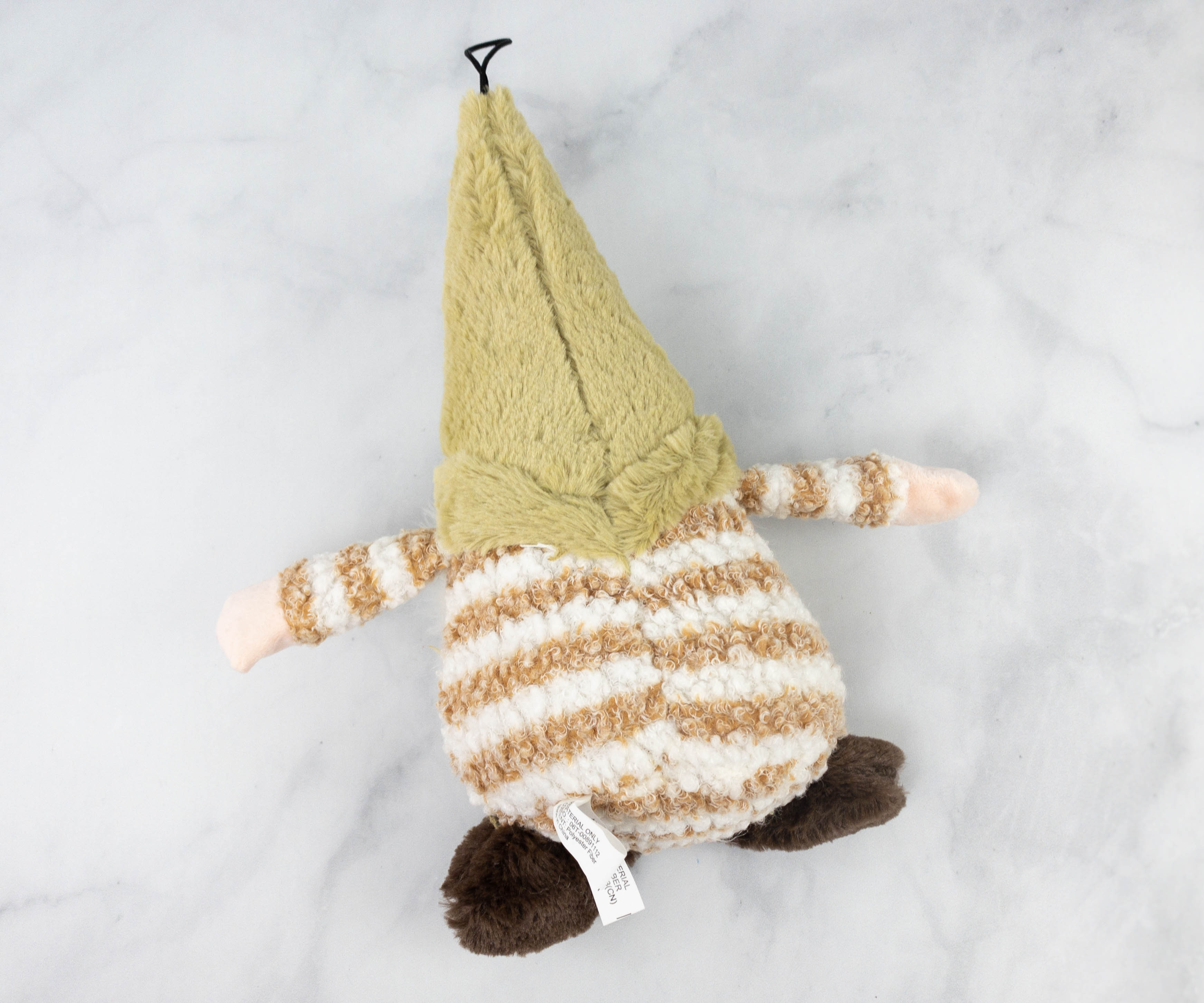 It's a well-crafted plush toy with reinforced seams, making it more durable. This toy is perfect for playing fetch!
Bandana. Here's this month's featured double-sided bandana! One side of the bandana has a yellow base color with bottle and bubble prints all over.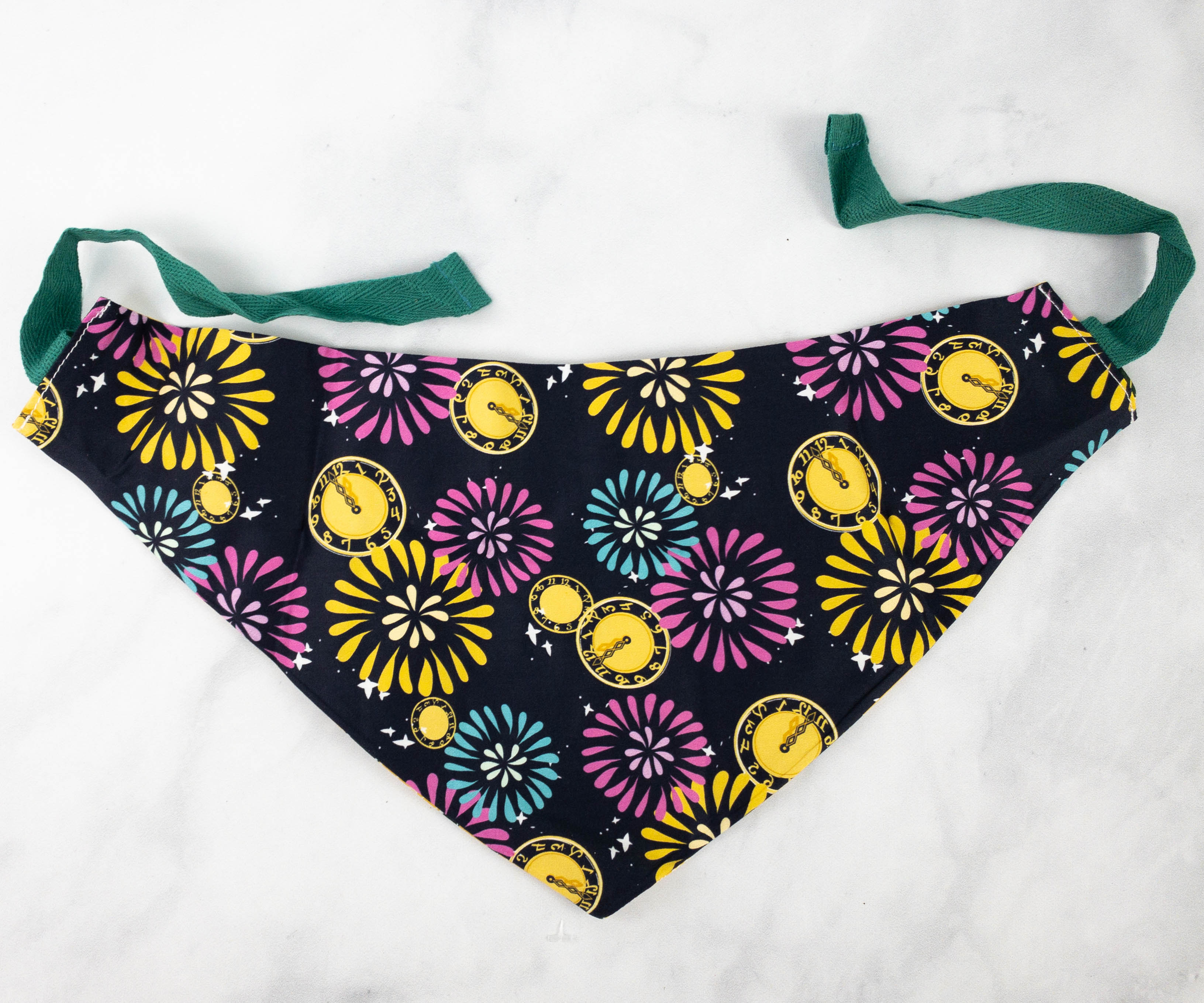 The other side of the bandana has a New Year-themed design that features fireworks and clocks all over!
Like the other bandanas we've received from this subscription, the prints are vibrant and the fabric itself is soft and lightweight!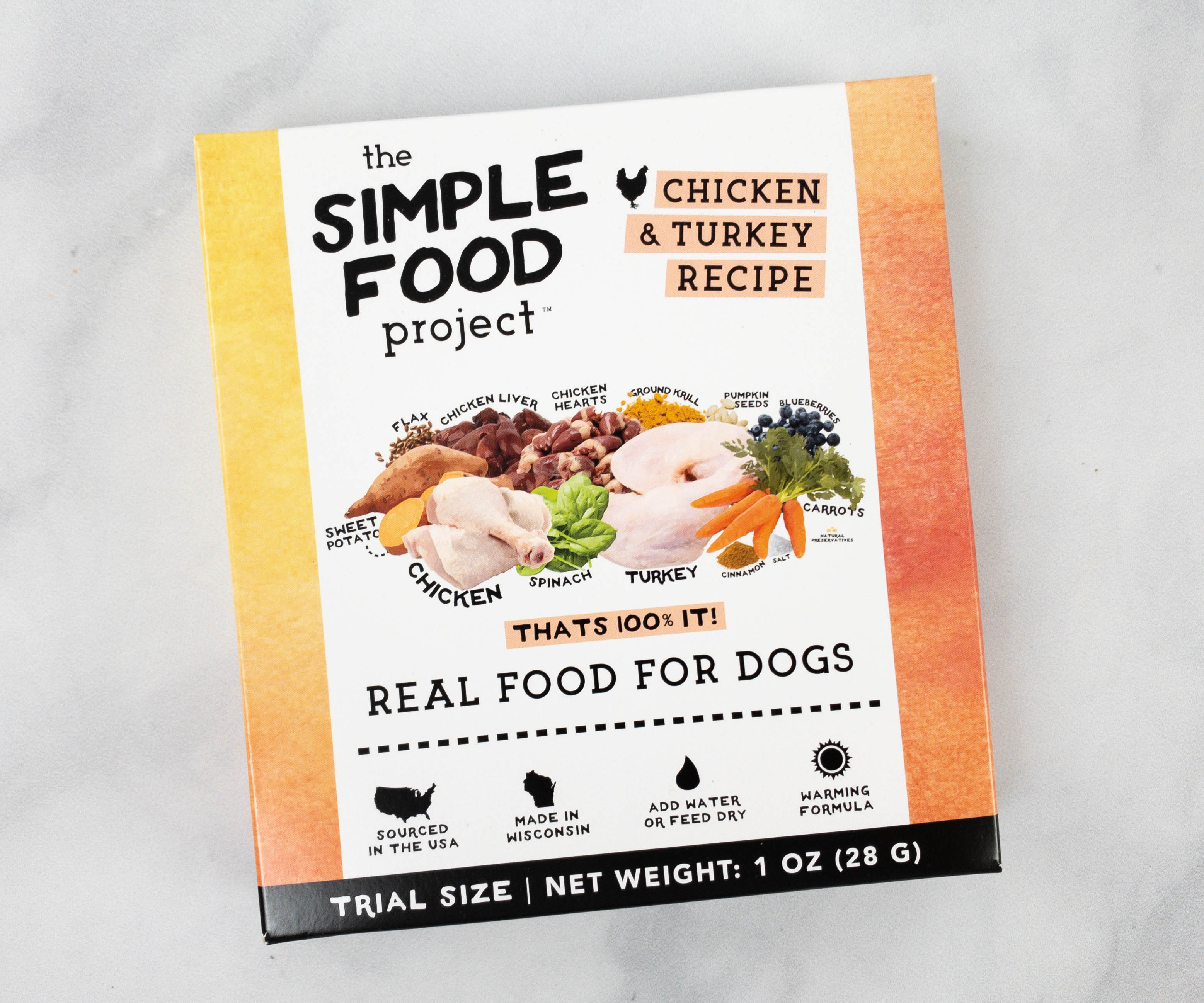 The Simple Food Project Chicken & Turkey Recipe Dog Treats ($2.48) A blend of chicken and turkey were used in making these delicious treats for dogs. They are high in protein, and they don't contain any artificial ingredients or preservatives.
Other ingredients are sweet potatoes, flaxseed, carrots, whole ground krill, pumpkin seeds, blueberries, cinnamon, spinach, and preservatives.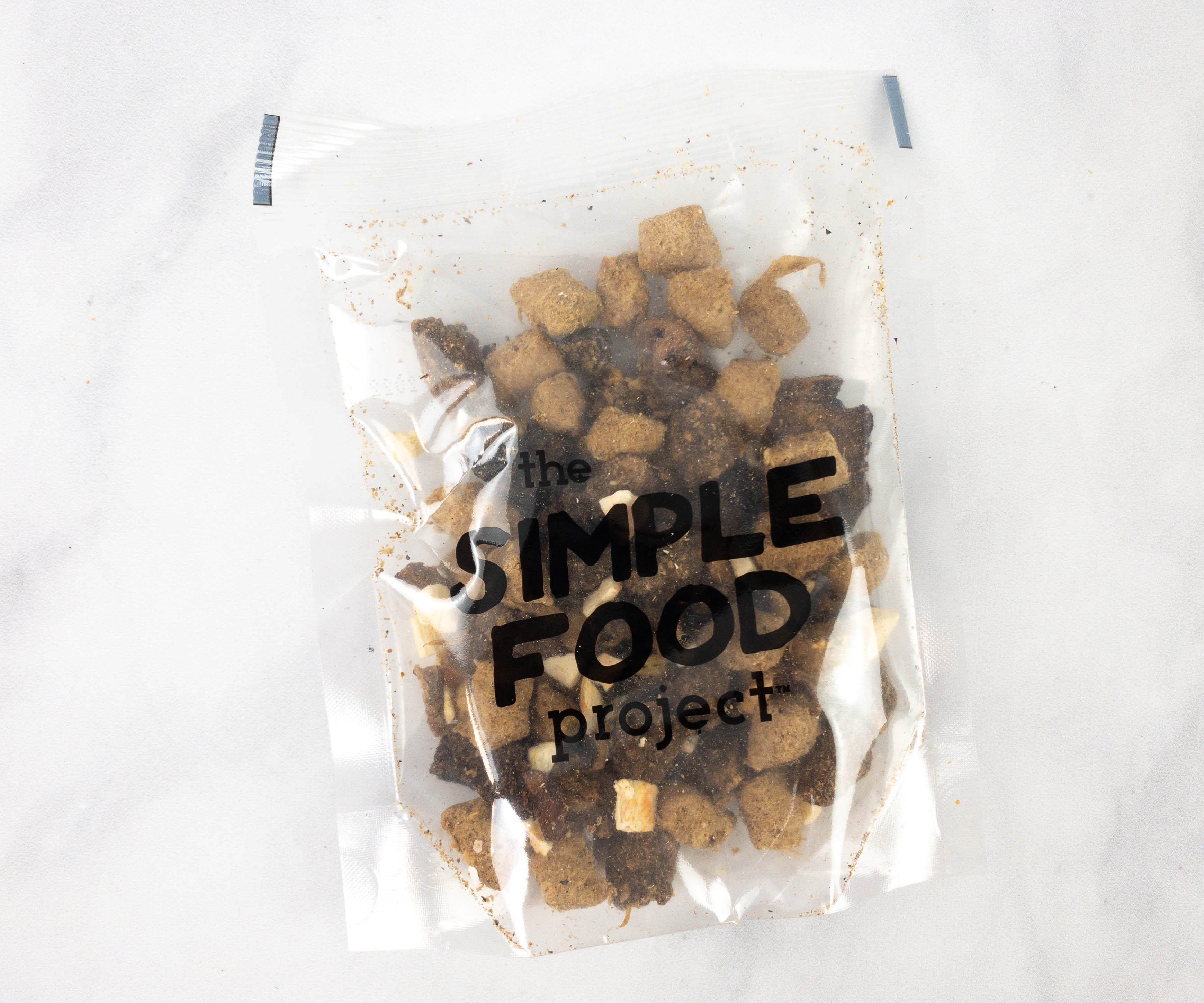 The bite-sized treats came in a resealable bag. You either can serve it dry or add a bit of water!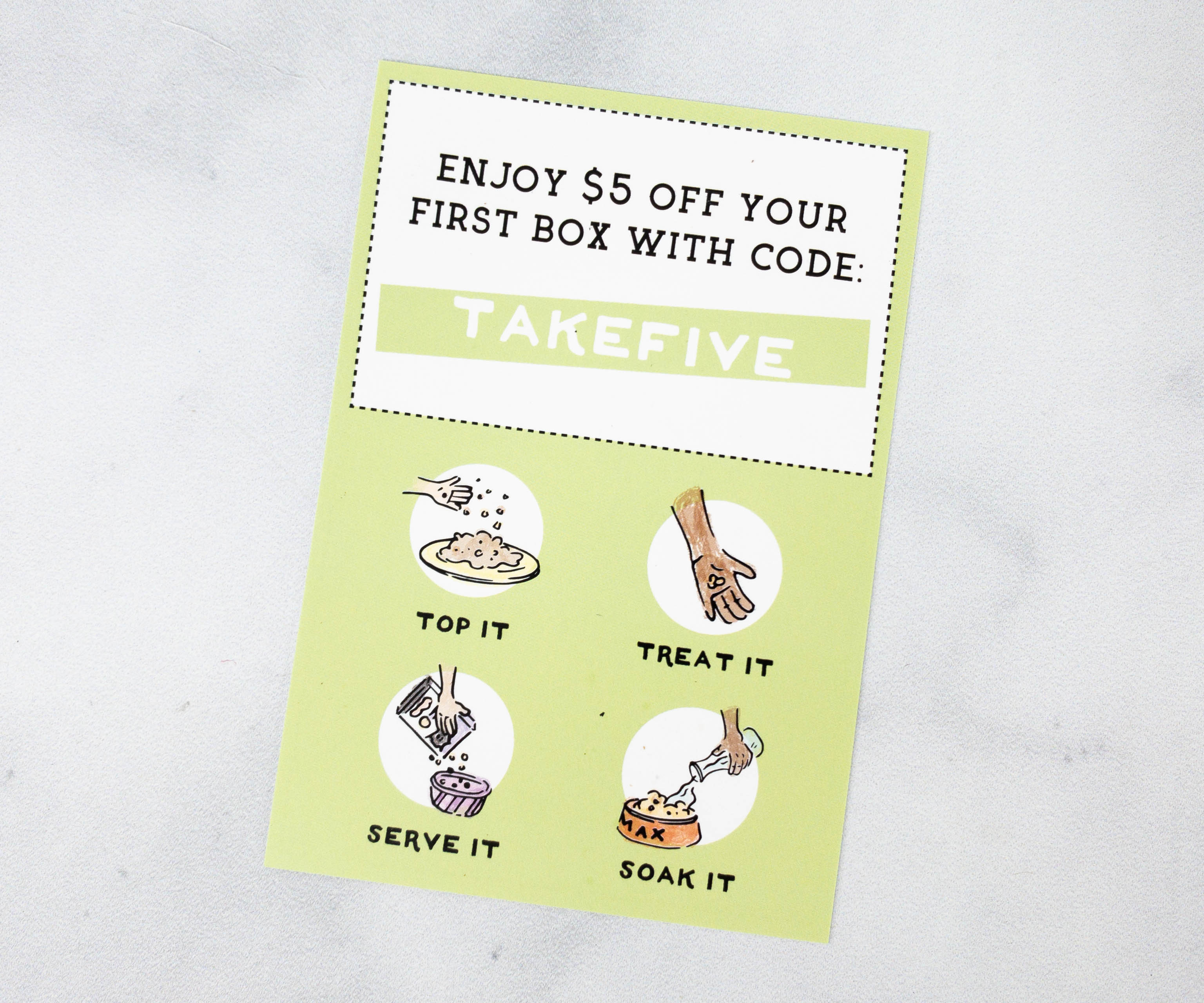 Also included in the box is a $5 off coupon code!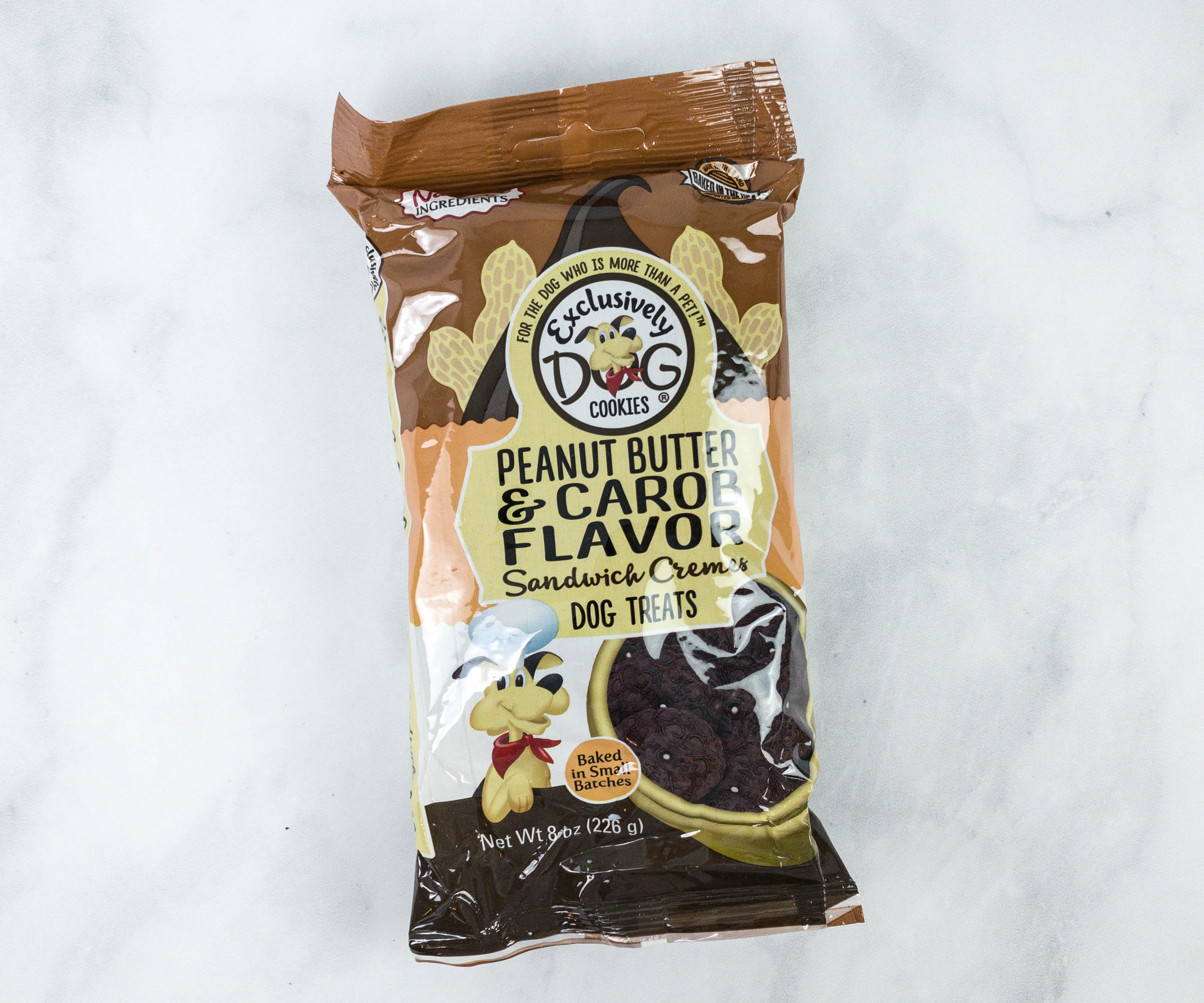 Exclusively Dog Cookies Peanut Butter & Carob Flavor Sandwich Cremes Dog Treats ($5.99) These cookies are made especially for dogs! They contain peanut butter that is known to be rich in protein and health fats, plus carob powder that gives the treats a sweet taste.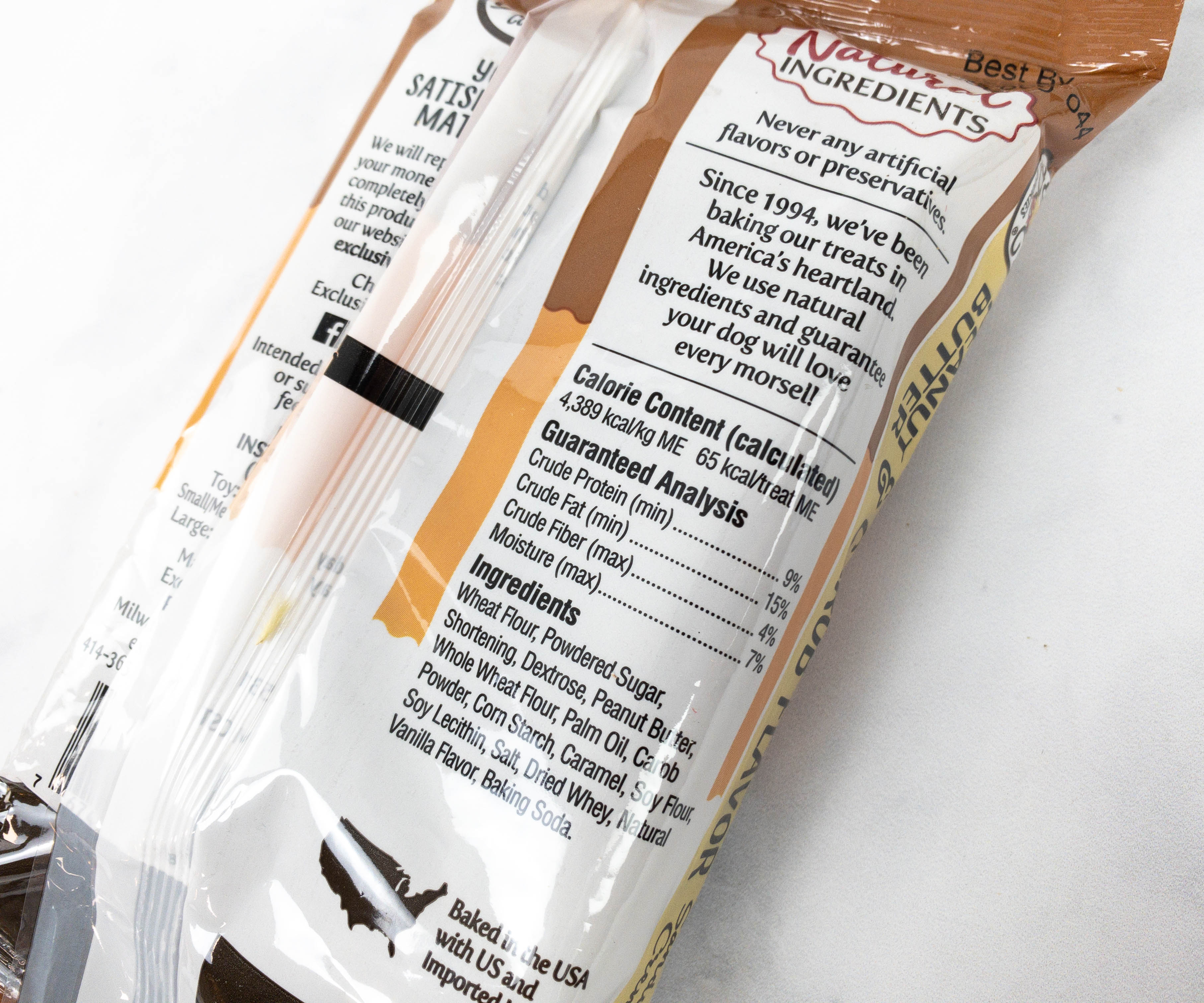 They are sourced and baked in the US! Other ingredients include palm oil, caramel, baking soda, and natural vanilla flavor.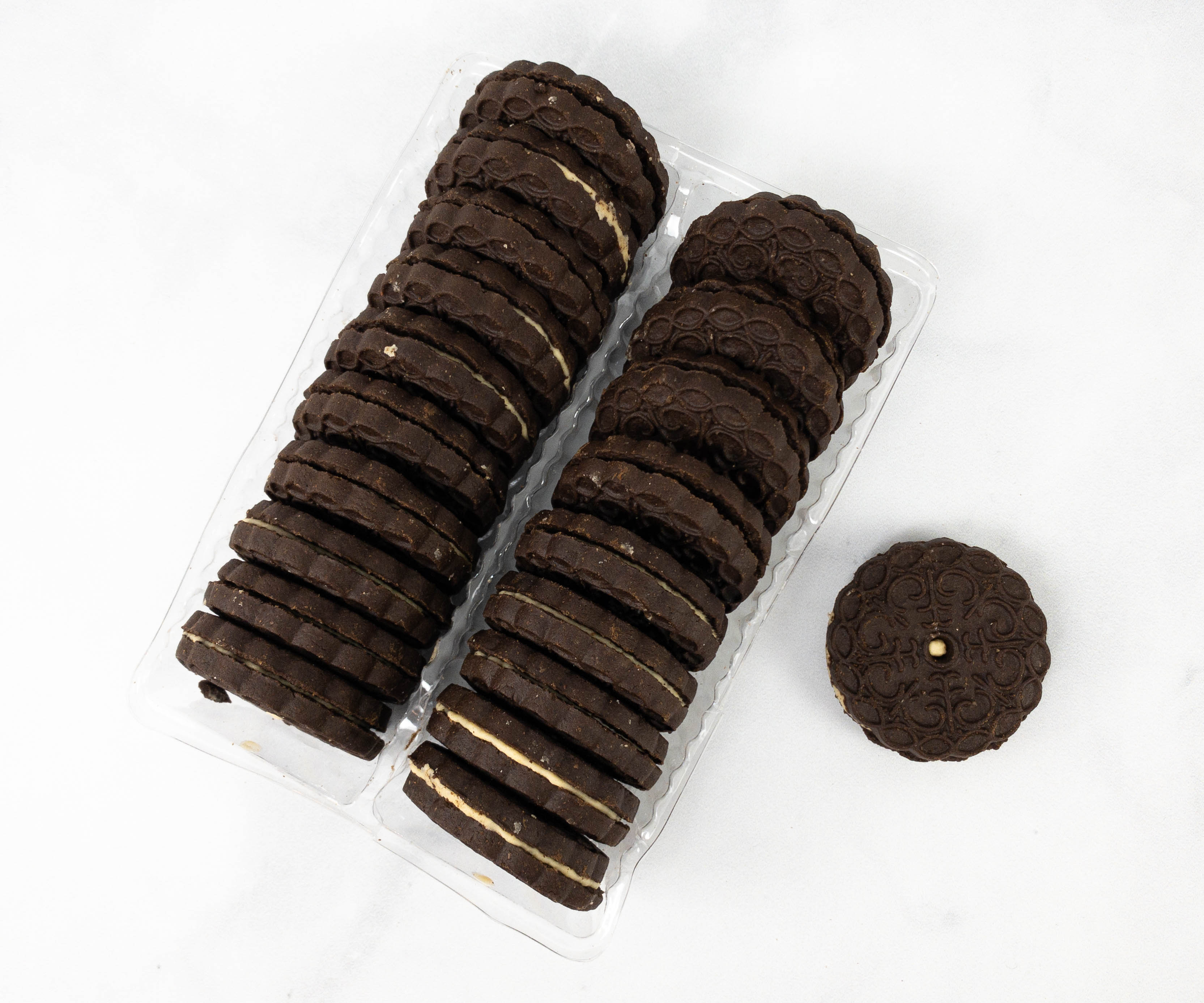 The pack includes 10 cookies for dogs, with thick and creamy fillings. They're also crunchy!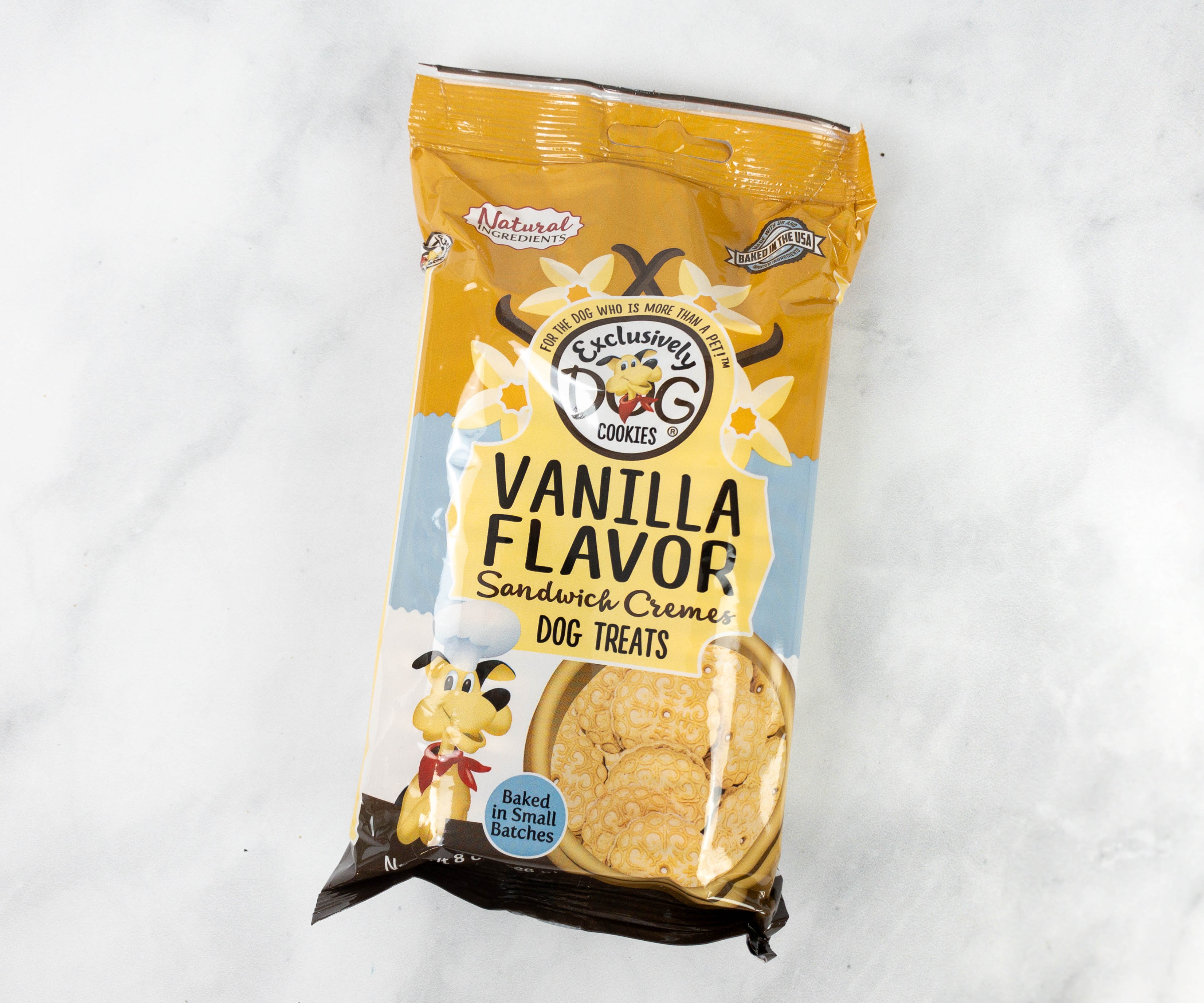 Exclusively Dog Cookies Vanilla Flavor Sandwich Cremes Dog Treats ($5.99) Here's another pack of cookies for dogs, and this time it's in vanilla flavor!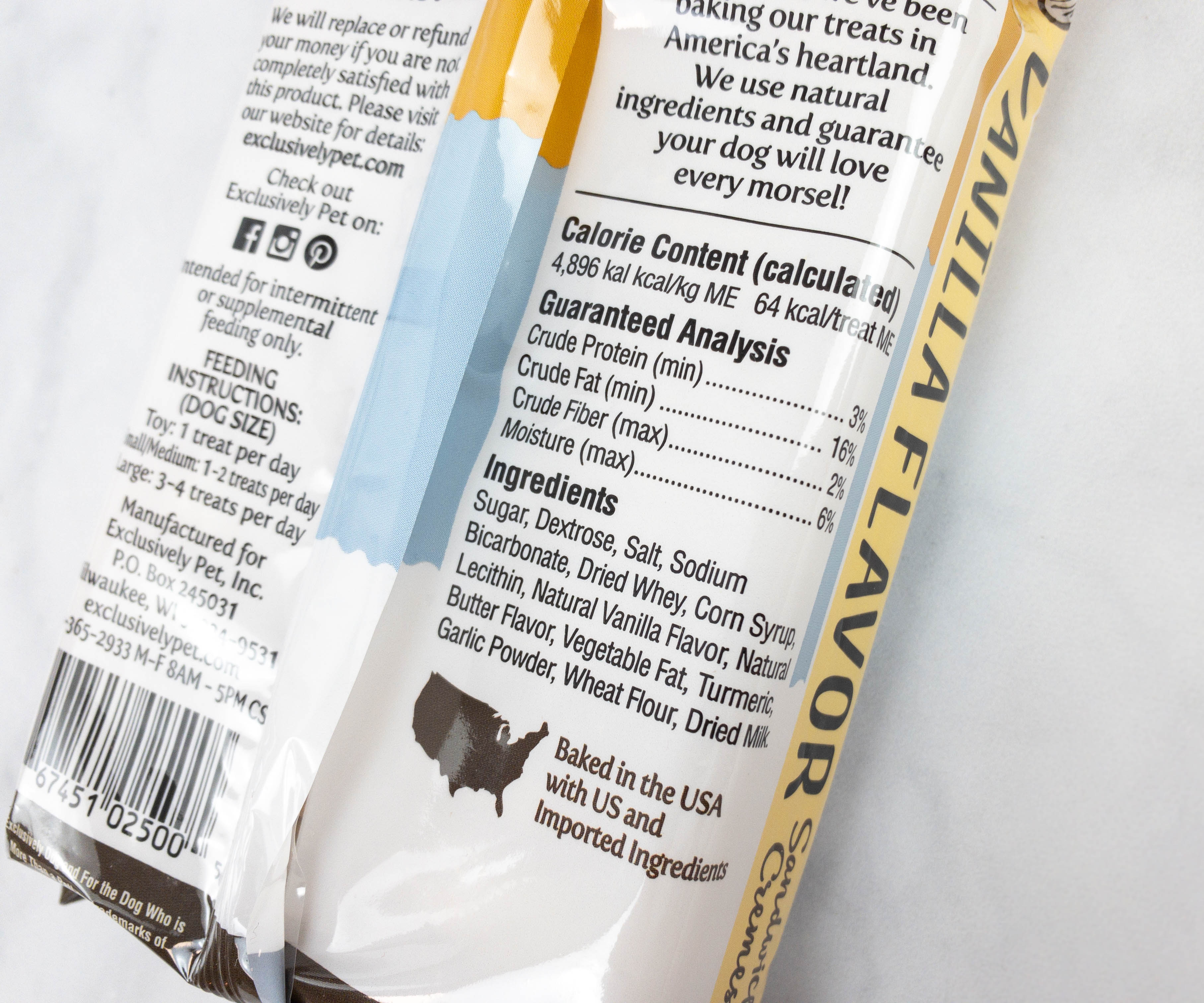 Like the first pack, the ingredients are sourced and baked in the U.S.A. It includes natural butter flavor, turmeric, garlic powder, wheat flour, dried milk, dried whey, corn syrup, and natural vanilla flavor.
These vanilla cookies were crunchy! They make great snacks for dogs or even as a training reward. My dogs were NUTS over these cookies!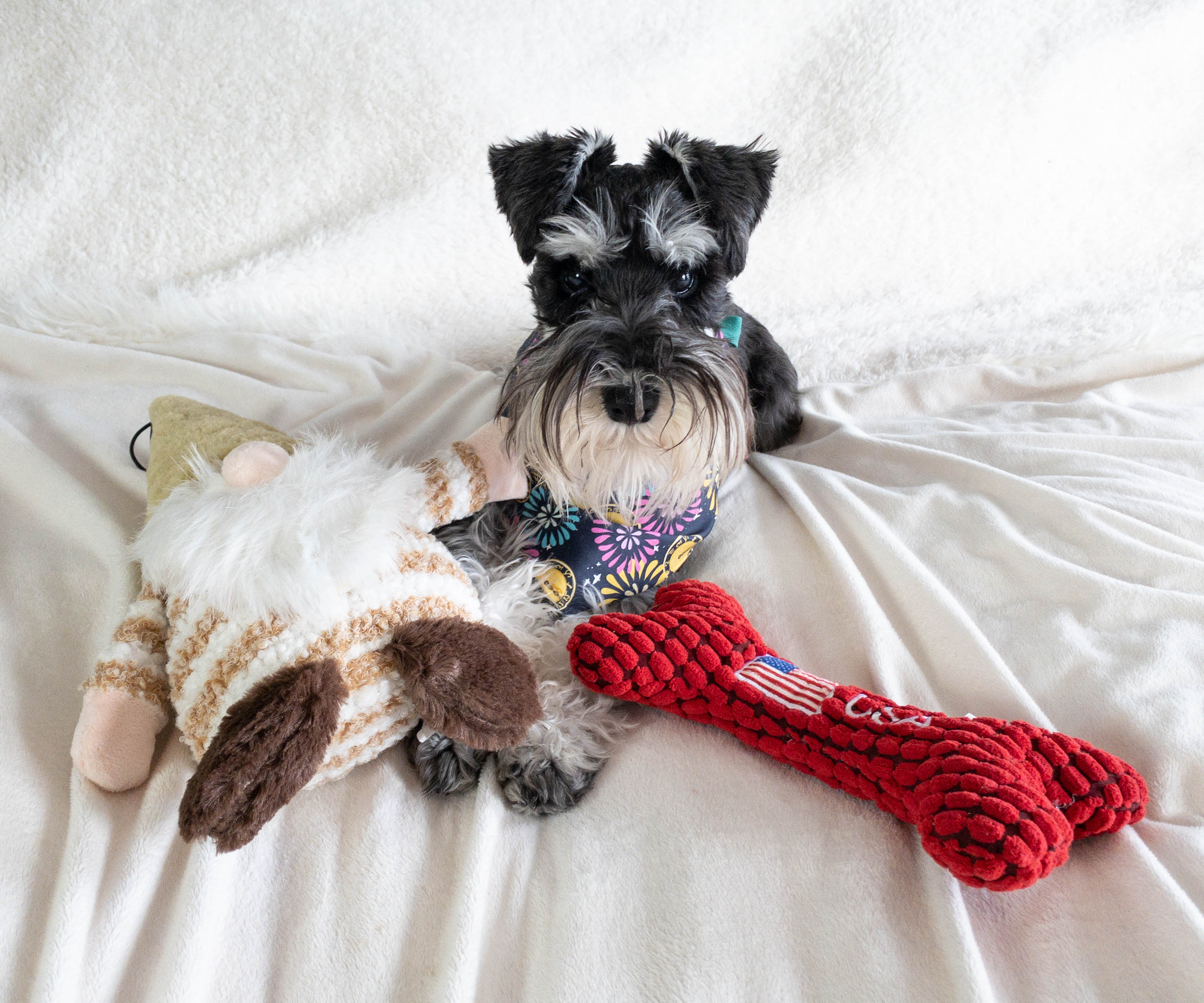 Buffy is happy with her new set of plush toys and the bandana!
The Dapper Dog Box did a great job again this month! The box is filled with fun toys for dogs, as well as delicious dog treats made only with healthy ingredients. Buffy definitely loved both the peanut butter and vanilla cookies. She's always happy to munch on them during snack time! She also loved playing with her new toys, especially the gnome plushie. Just like every month, this box includes a two-sided bandana. It makes a nice accessory for dogs or even as a prop for photo ops. Buffy have no problems wearing it and I'm happy. All in all, this is a good subscription box for dogs, especially if you want to be able to customize the items based on their gender, size, and allergies!
Did you love this month's box as much as we did?