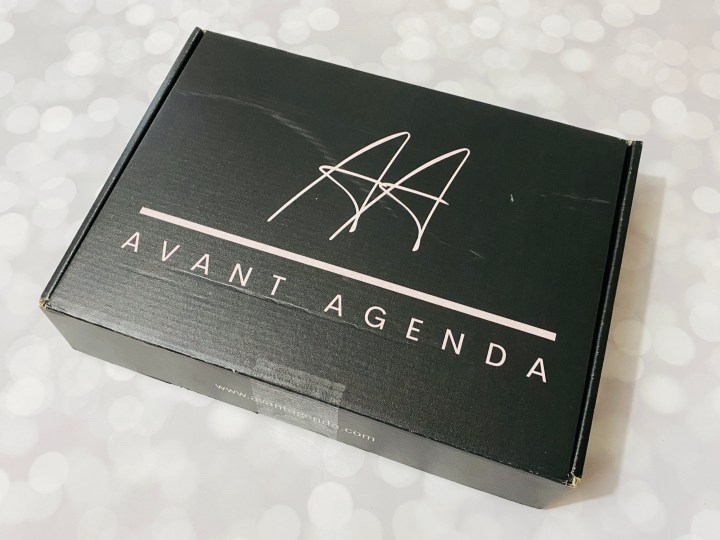 I'm thrilled to be reviewing the Avant Agenda subscription for planner addicts! Avant Agenda is a great subscription for both established planner addicts and those new to the scene. Your first box includes a planner in your desired size, along with inserts, pens, and other goodies to level up your planner situation! Subscriptions are $39 a month with free shipping within the US. They ship internationally as well!
DEAL: Save 25% on your first box! Use this link and use coupon code HELLO25OFF.
First look!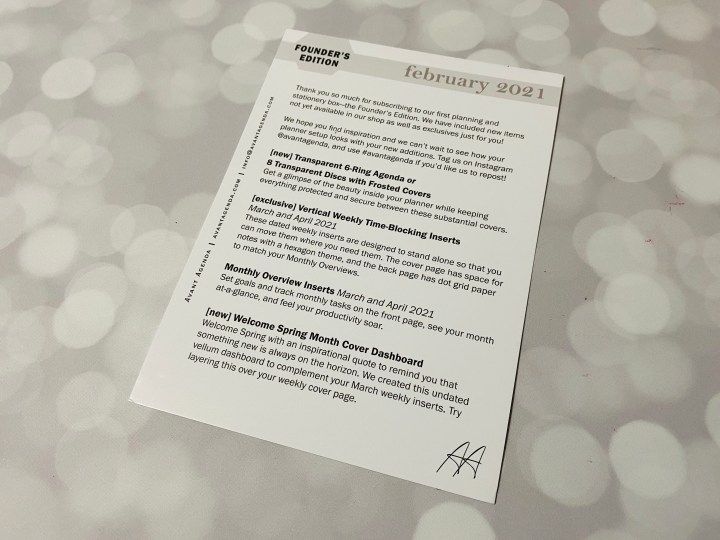 This is the February 2021 box, the Founder's Edition. It includes everything you need to start planning!
There is a lot packed into this box — let's get into it!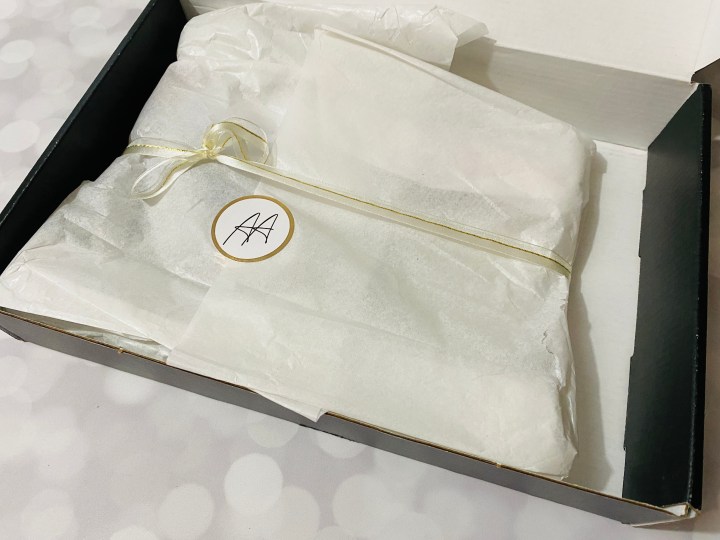 The packaging is very well done with ribbon and a branded sticker.
Here's everything in my box laid out! Everything is packed in plastic to keep it neat and clean. I do find the plastic excessive given the nature of planners to be something that can be used year after year by just switching out the contents. The plastic trash I accumulated with the unboxing was a lot. The pens could be packed inside the pencil case to keep them clean, for example, and the inserts could be secured with a branded paper band to cut down on the plastic.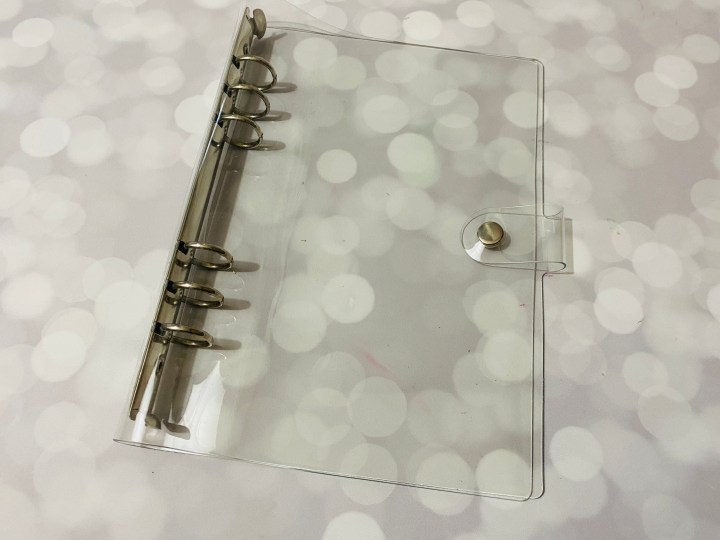 I chose the A5 size for my planner, as the planner I use is that size. The planner is a nice glossy transparent design with a snap to secure it. I'll probably use my own which is a bit more colourful but the transparent/see-through aesthetic is REALLY on trend right now as you can switch up the design easily using dashboards and inserts.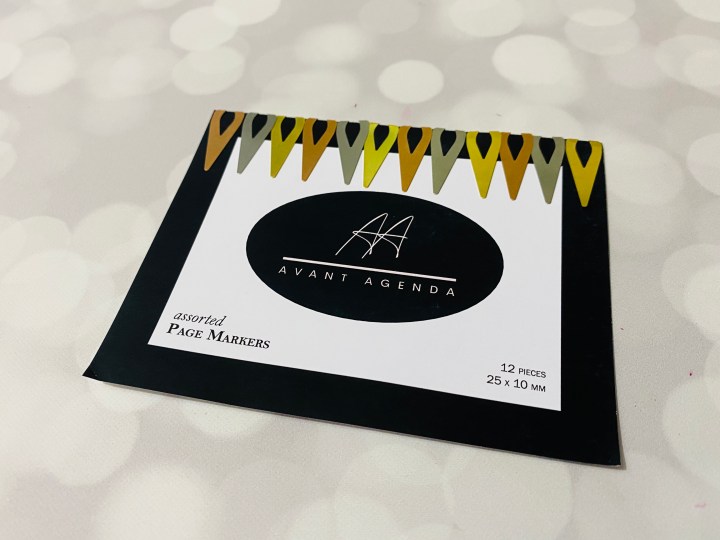 Page Markers — Pointed page markers to mark your page, attach other pieces of paper like journaling cards, etc. I love the tri-colour assortment of metal colours.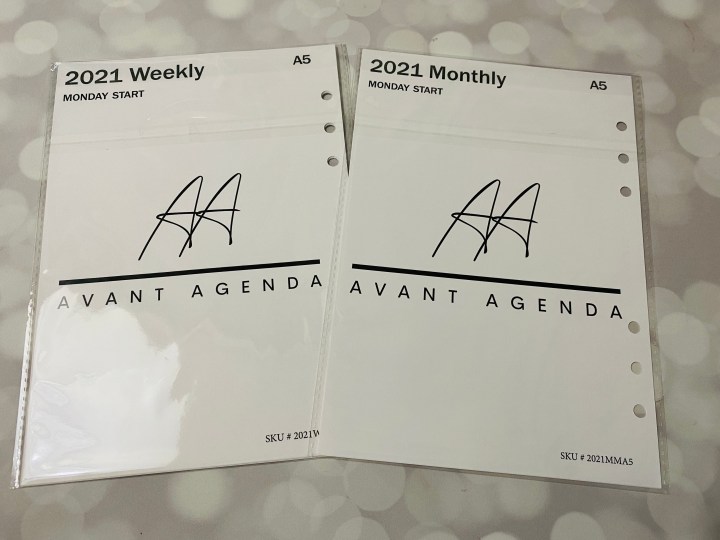 Weekly and Monthly Inserts — The February box included two sets of inserts each for both March and April.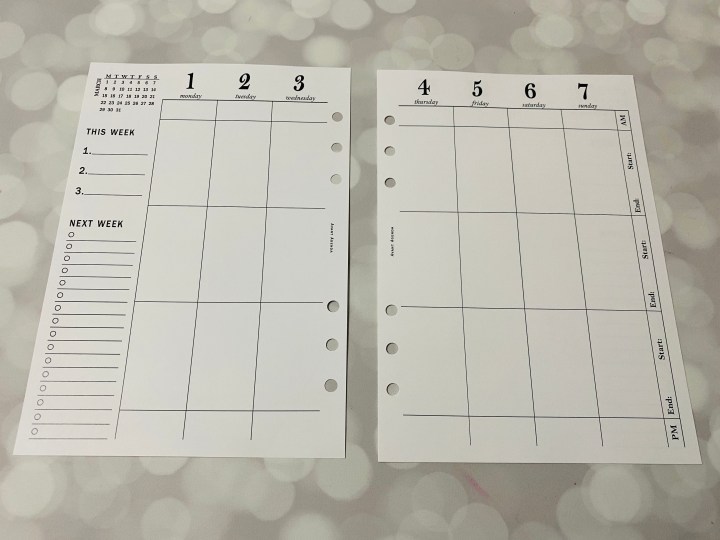 The Weekly layout shows one week at a time across both pages, leaving lots of room to record all of your appointments, reminders, and notes. The clean layout means you can have fun decorating with washi tape, stickers, and coloured pens. I can't wait to fill in my planner!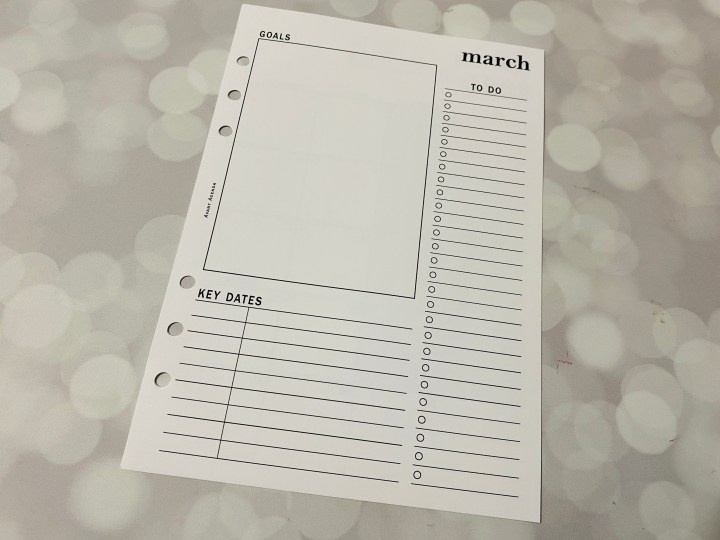 The Monthly layout has a nice big dashboard on the first page — a monthly view of your goals, to-do, and also key dates to record birthdays or other appointments.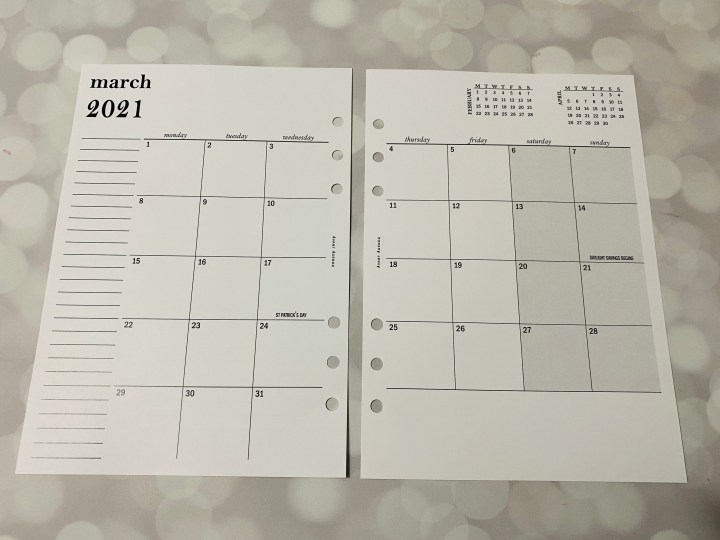 The monthly layout itself starts with Monday, which will take me a bit of getting used to, but again I appreciate how clean and functional the layout is allowing for full customization of colour scheme. It also features small calendars for the previous and following months on the top right corner for reference.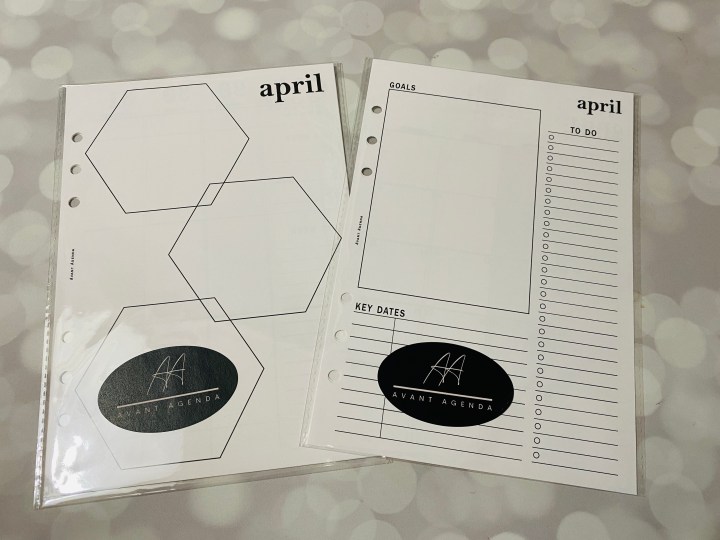 The April set of inserts are identical in form and function.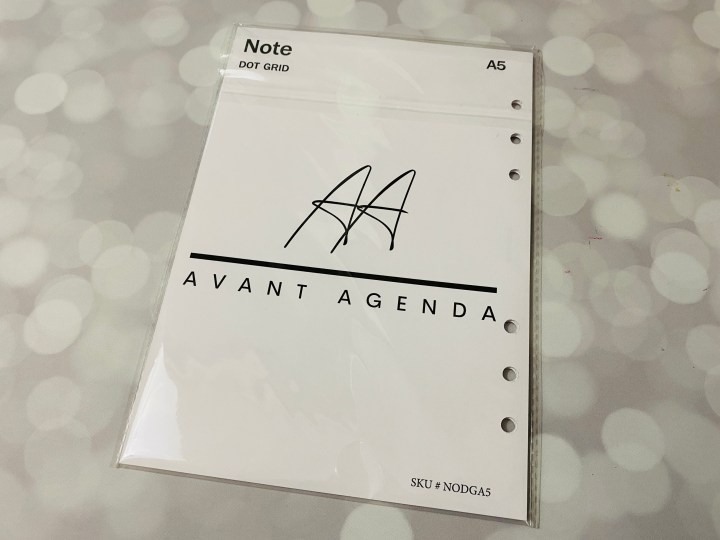 Another selection for our new planner is a set of dot grid paper. There are 15 double-sided sheets for a total of 30 pages.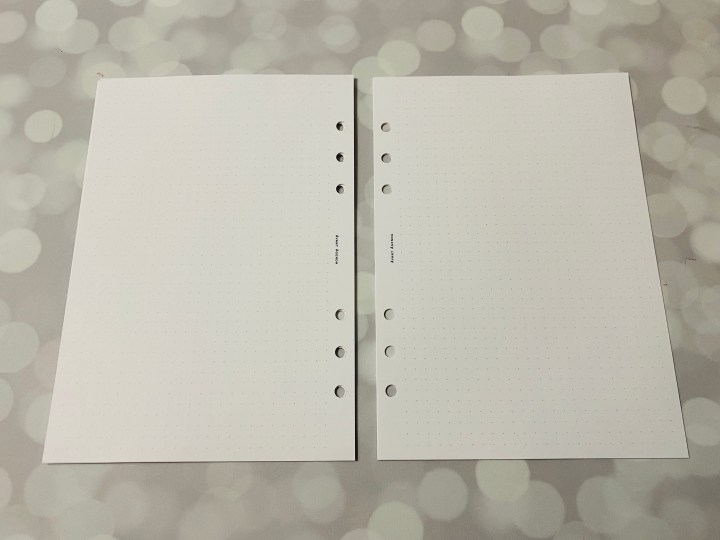 The dotted grid paper is subtle but works great for plotting out charts, checklists, etc.
Two dashboards in a nice translucent vellum paper are included. One is a quote by Jade Goodal and the other is Hal Borland.
I like how you can see the dashboard through the paper.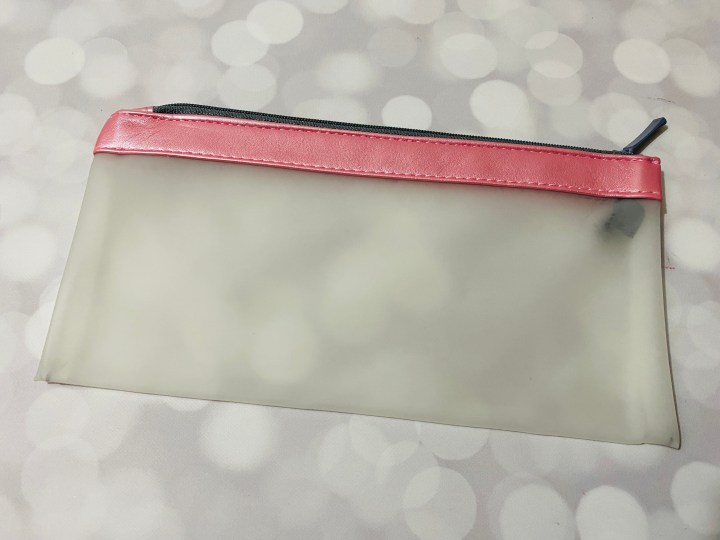 Pencil case — A cute pencil case to stash your pens, markers, clips, stickers, and so on.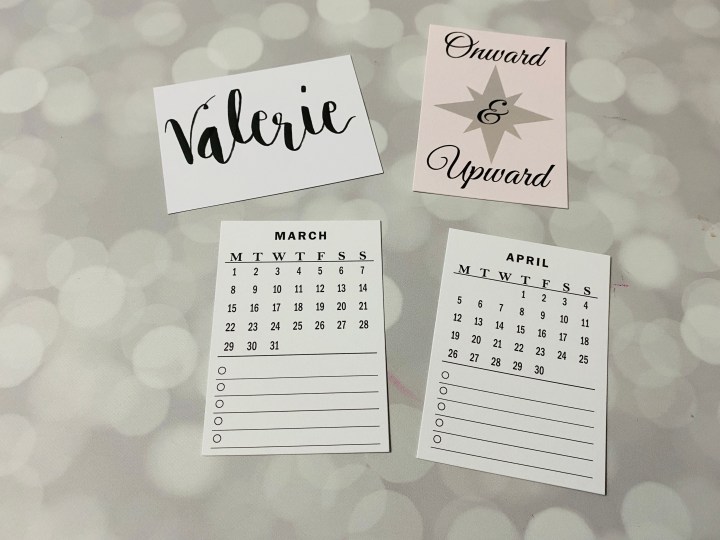 Four planner cards are included! I love the one with my name on it, as well as the Onward & Upward card. There are also two mini calendars which are great for clipping to your cover or dashboard for quick reference.
The reverse of the cards features more quotes. I really like the mixture of floral and geometric designs that have appeared throughout the box.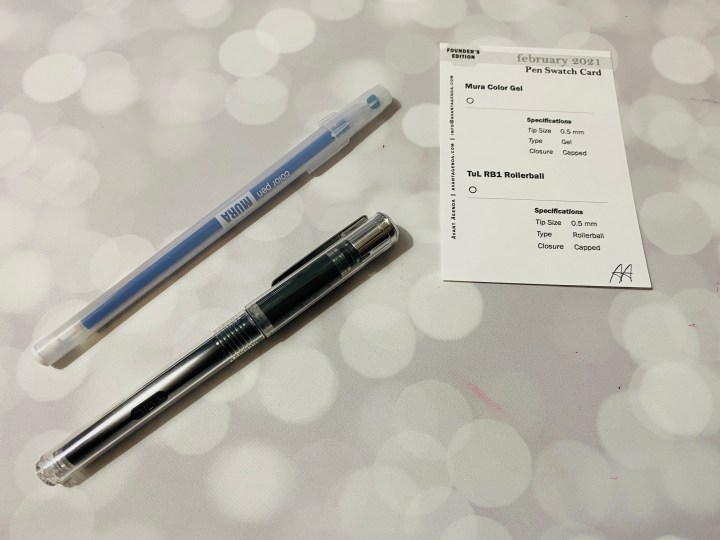 Two pens were included with the box. I absolutely love the addition of a pen swatch card and wish every stationery box included something similar!
The Mura Color Gel pen is a gel pen and the TuL pen is a rollerball. Both pens are okay in my opinion — not the best I've used but not the worst. I usually find a thicker tip to write more smoothly so that's just my preference!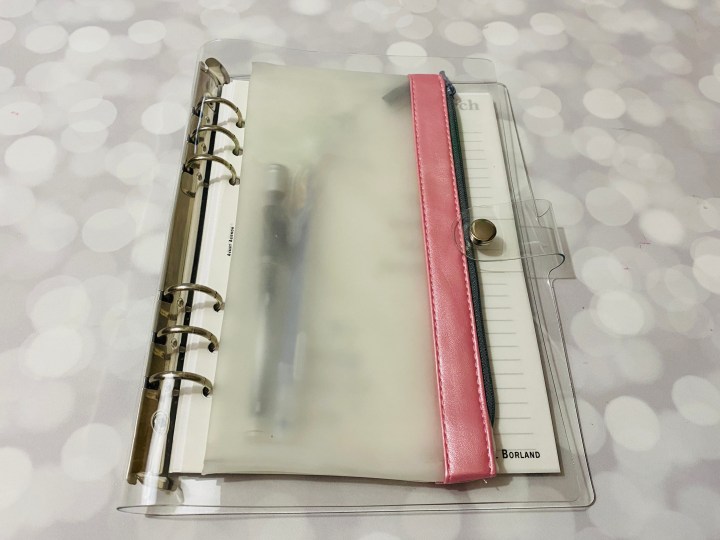 I like that the pencil case fits nicely in the planner itself, so you could easily stow it away and carry everything together in your purse without issue.
The February 2021 Avant Agenda box was a lot of fun to open! I love that they sent me absolutely everything I needed to start planning if I were new to the topic, and the inserts are some of the highest quality I've used which is amazing. You can buy the inserts on their website for the whole year for a great price but the box is a more fun way to fill in your planner a couple months at a time with extra goodies for function and for design. I think this is a great box for anyone who enjoys planning, especially since you can customize the size of your inserts as well as preferred colours. My only nitpick would be the excessive plastic packaging as I think that can easily be reduced.
What did you think about the Founding Edition of Avant Agenda?