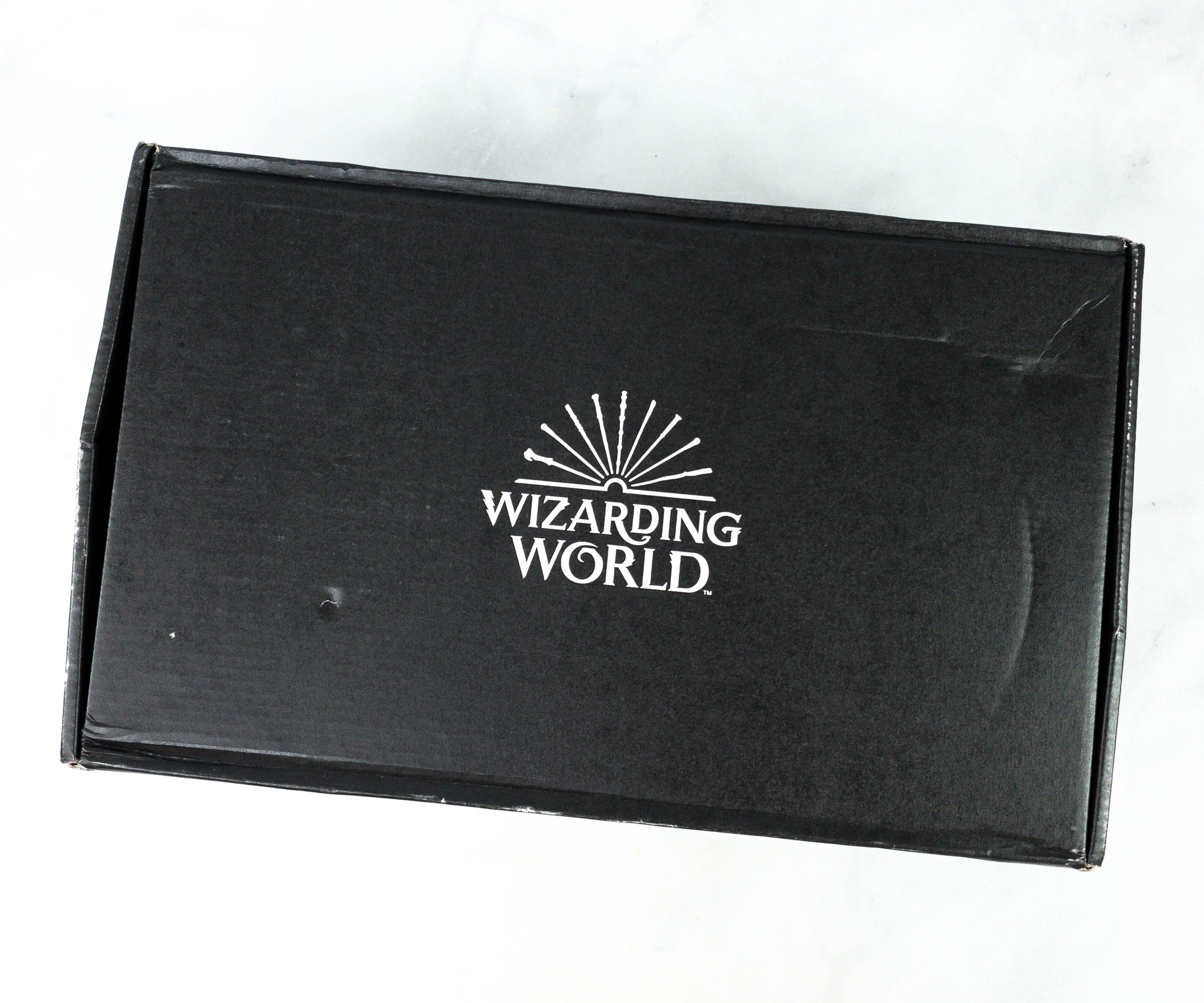 Wizarding World Crate from Loot Crate is the bi-monthly and official Harry Potter & Fantastic Beasts subscription box. For $39.99 every other month, you'll get 5-7 unique and officially licensed Harry Potter and Fantastic Beasts merchandise, so there's no need to go to Diagon Alley!
DEAL: Save 15% on any subscription plan when you use this link and coupon code HELLOSUBSCRIPTION15.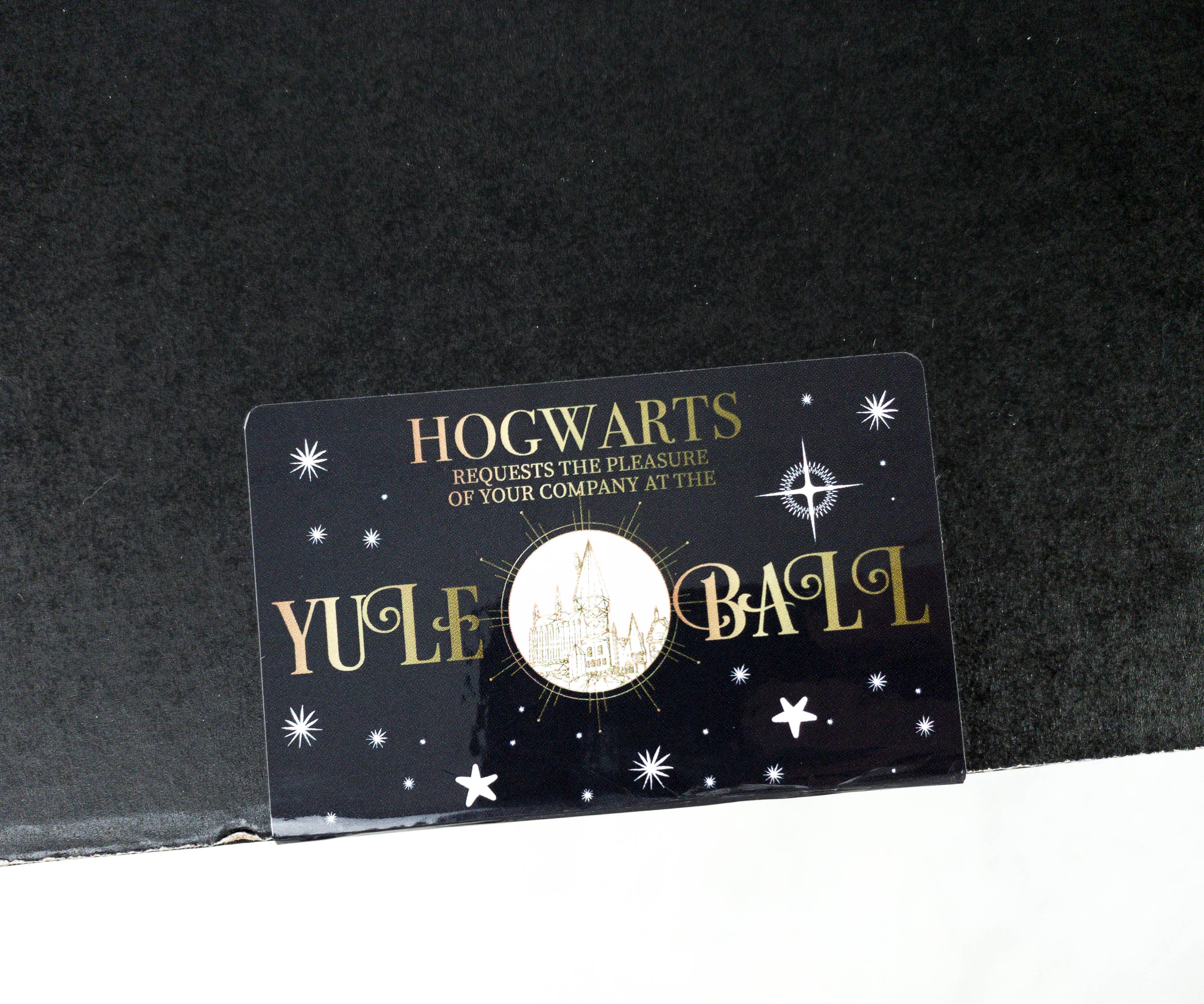 The box is sealed with a sticker that features one of the most awaited events in Hogwarts, the grand Yule Ball!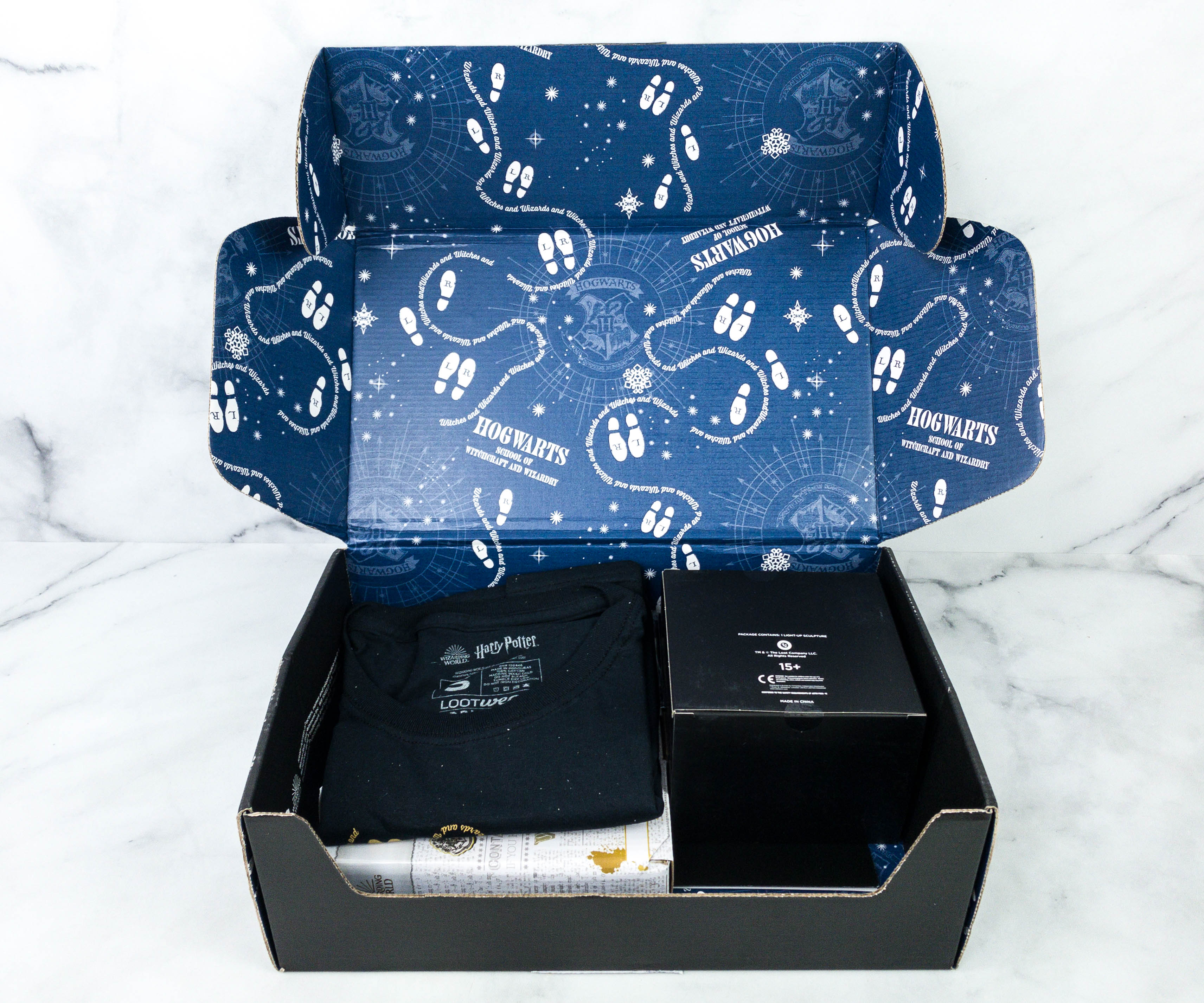 All the items were packed in a sturdy black box!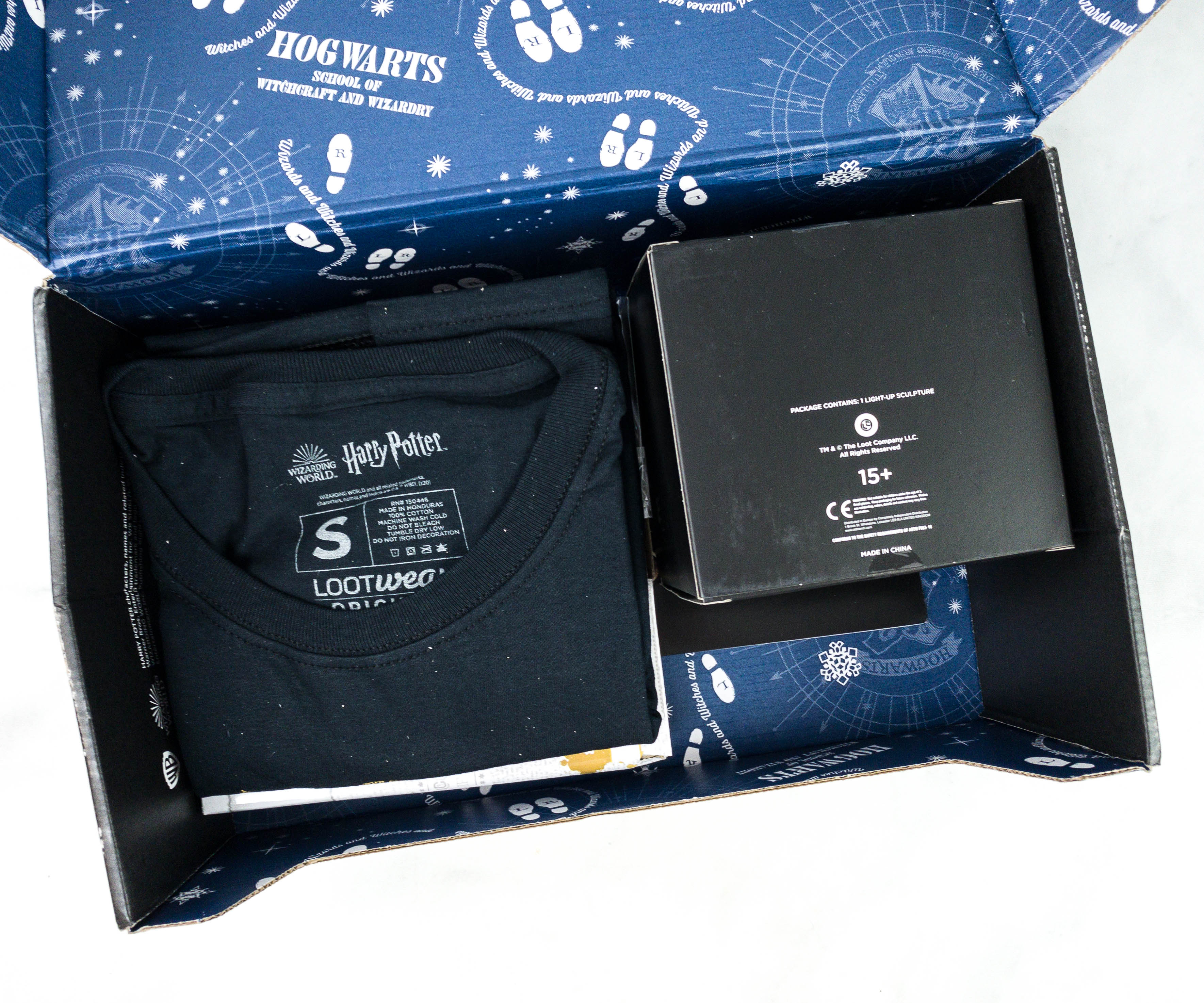 Some of the items came in their own, original packaging.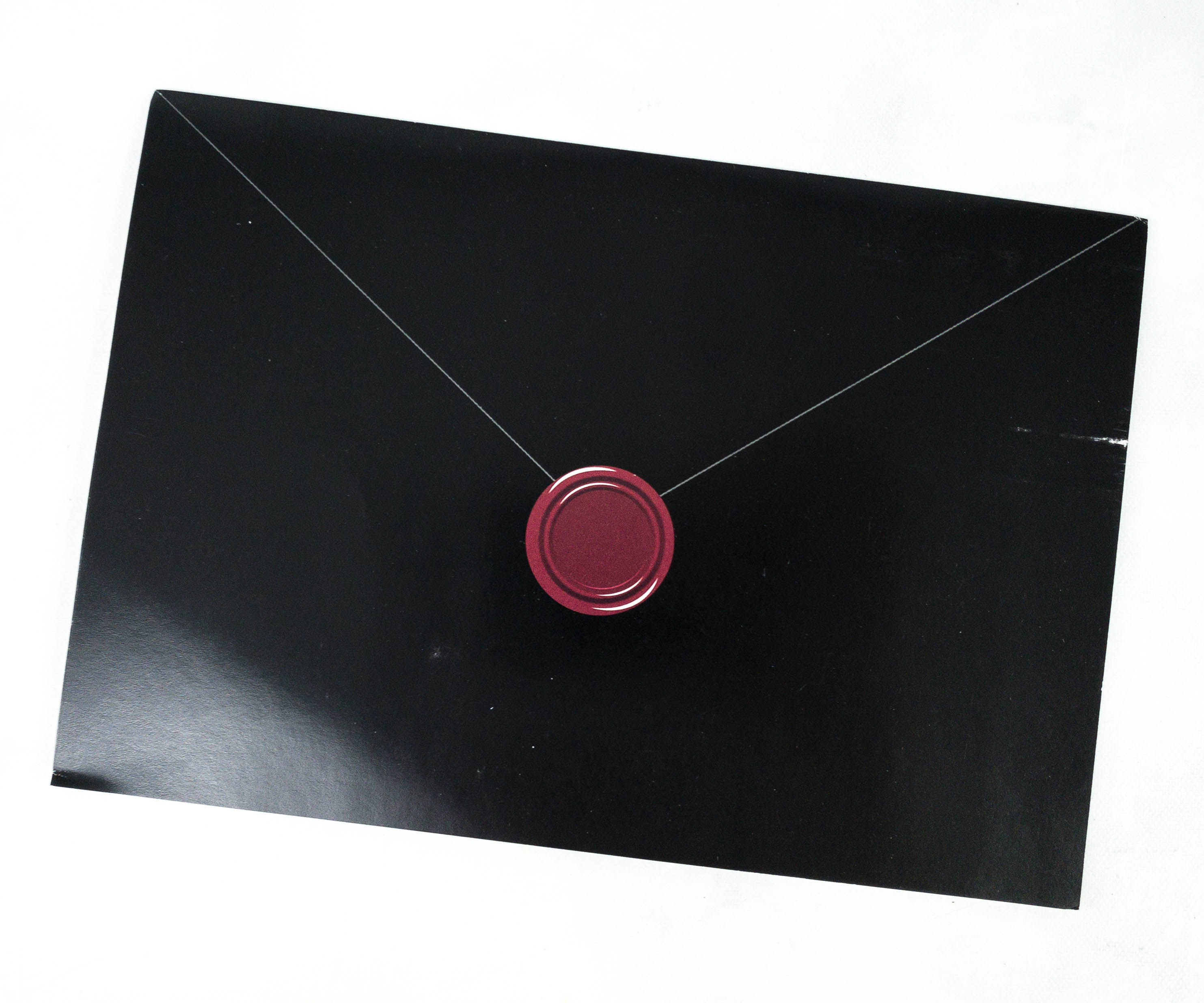 This month's box includes a black envelope with faux seal.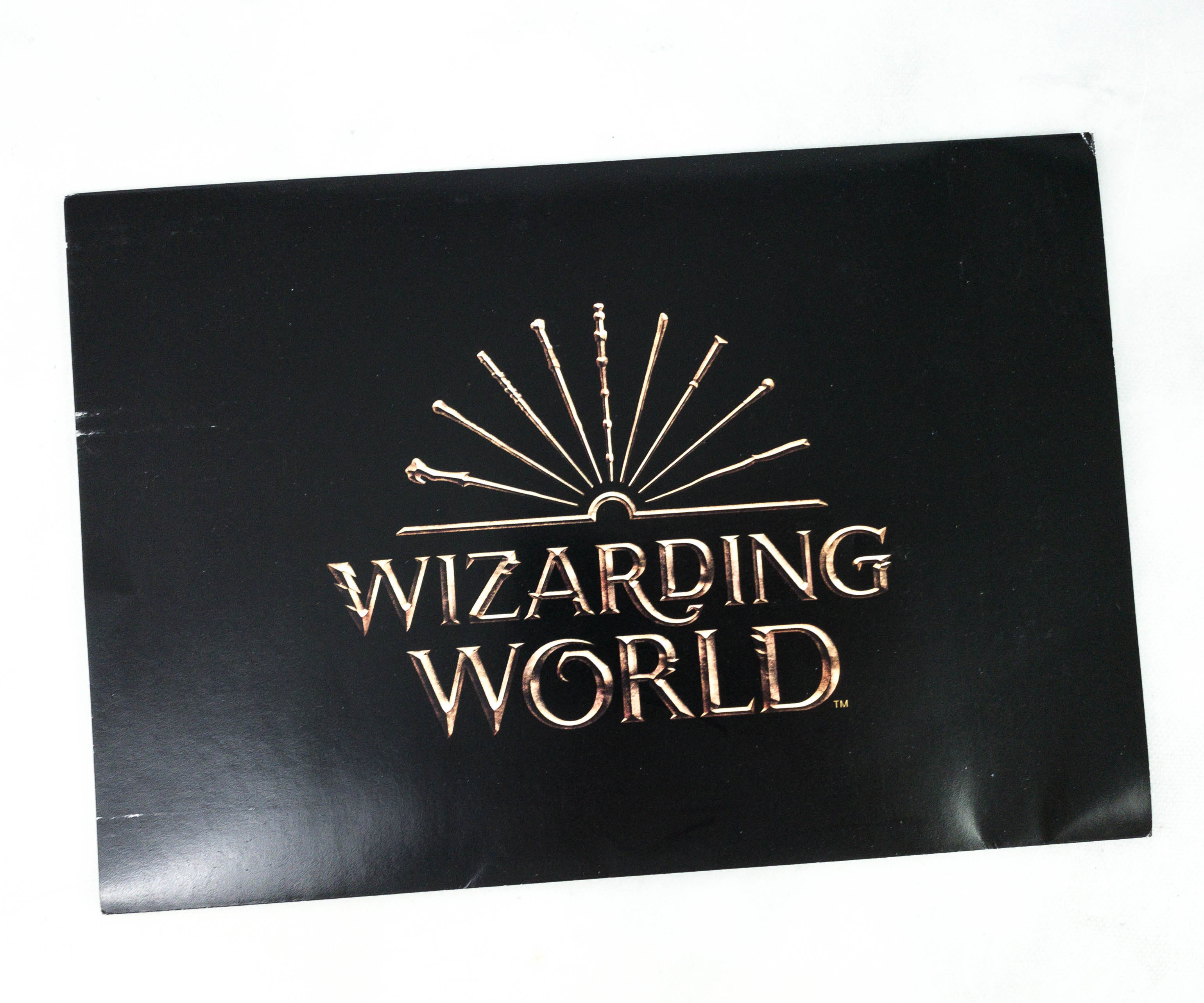 Printed at the back of the card is the crate's logo!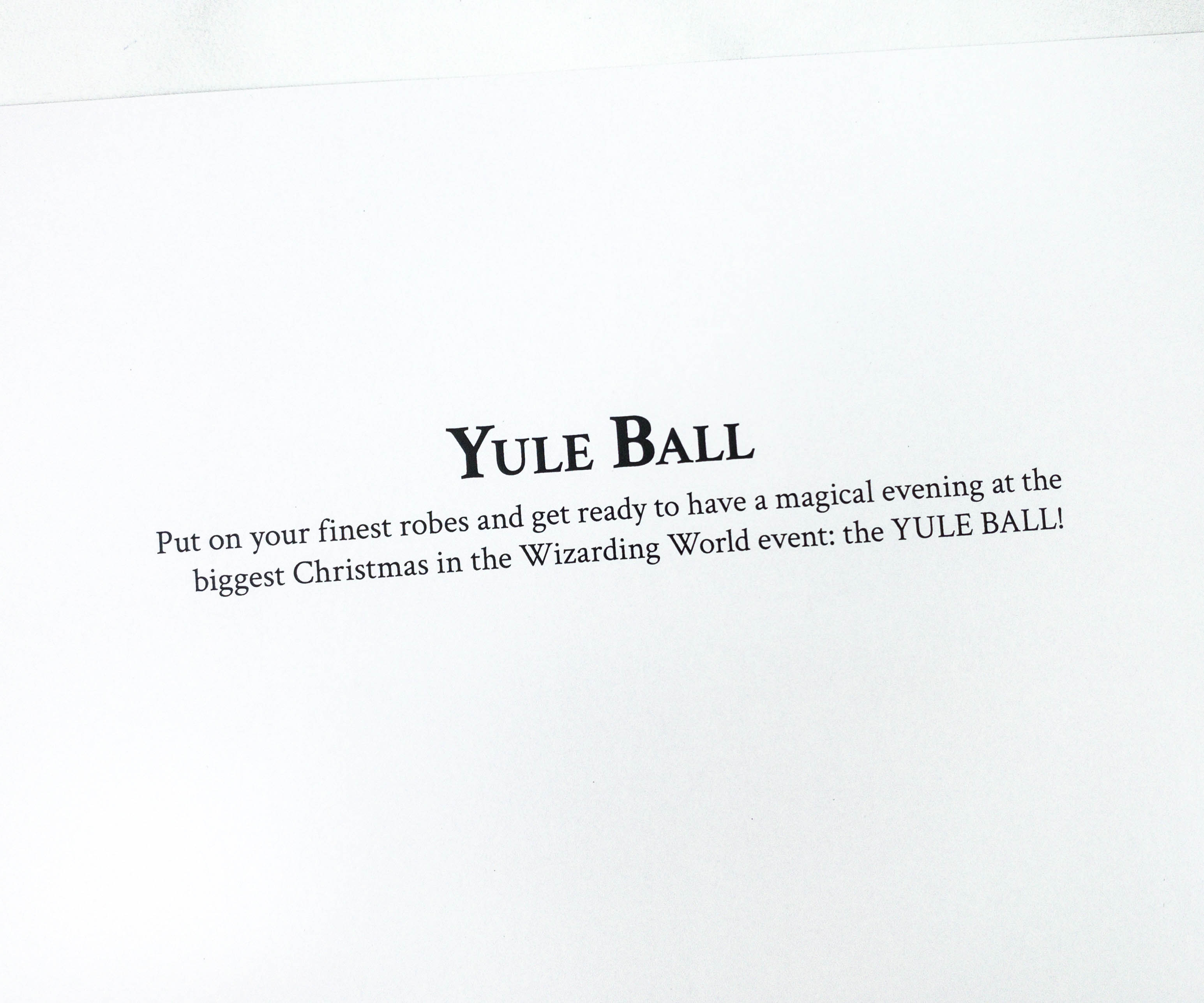 As hinted by the sticker that seals the box, the theme this month is YULE BALL.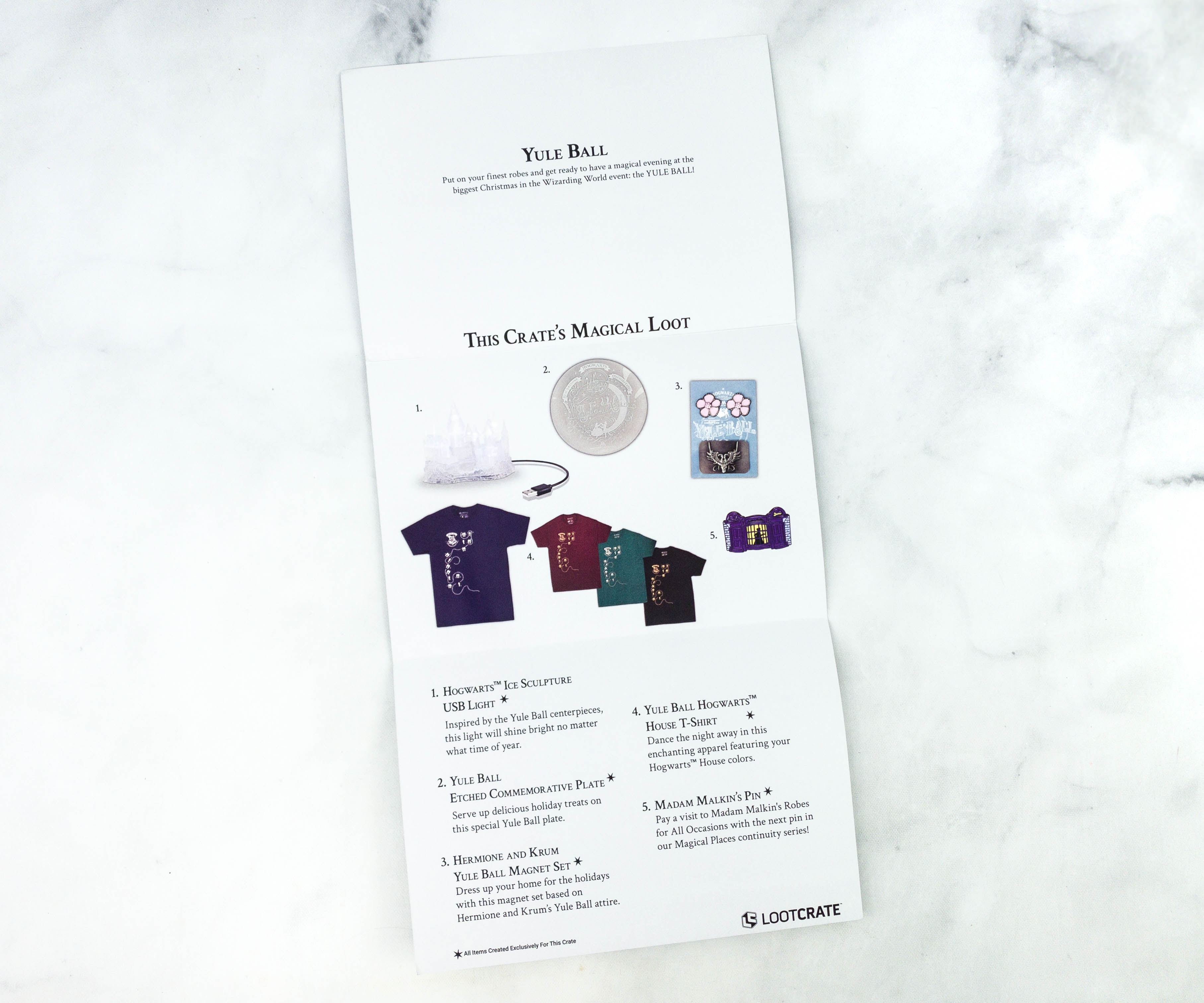 The box also includes an information sheet.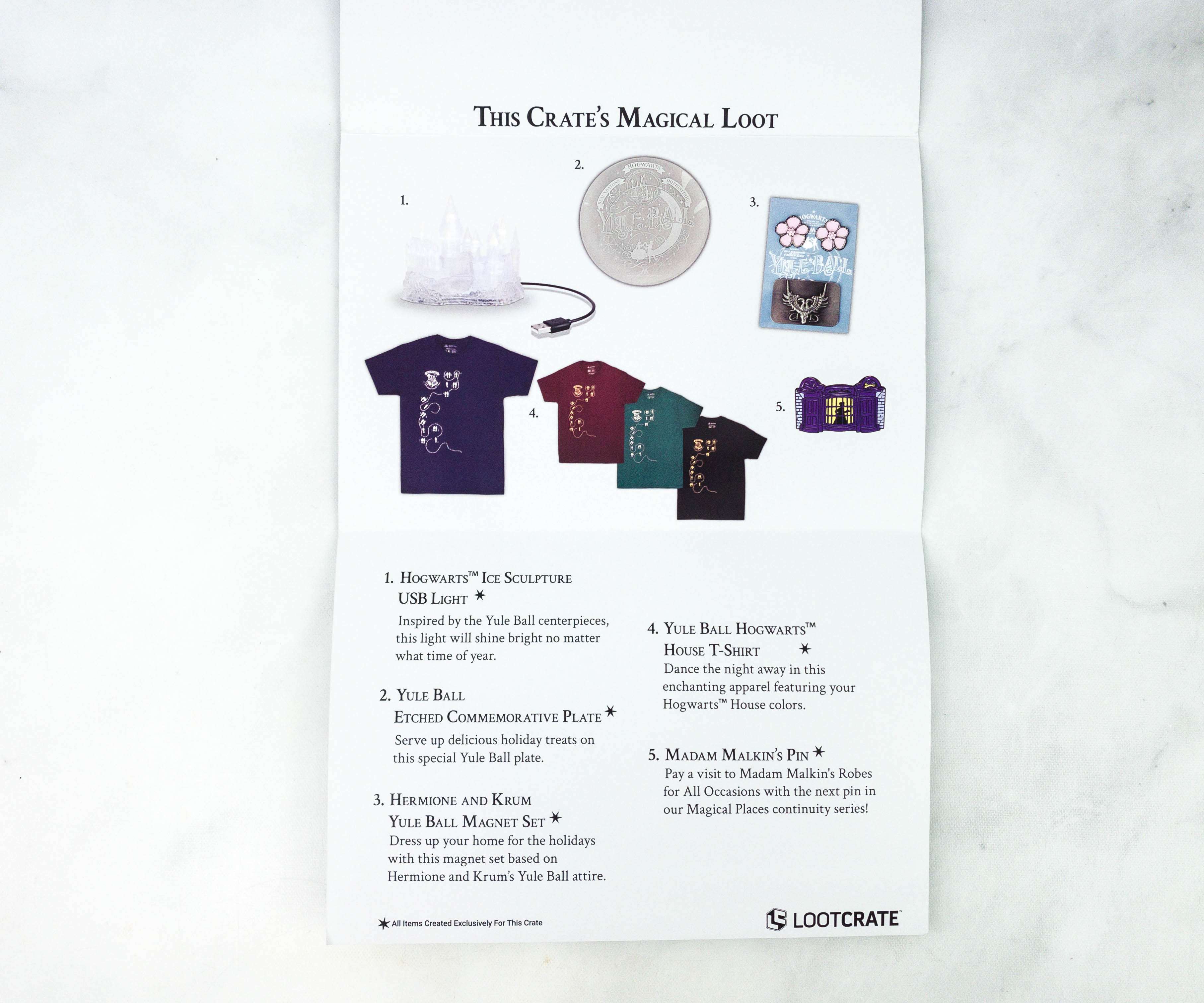 It features a complete list of all the items included this month!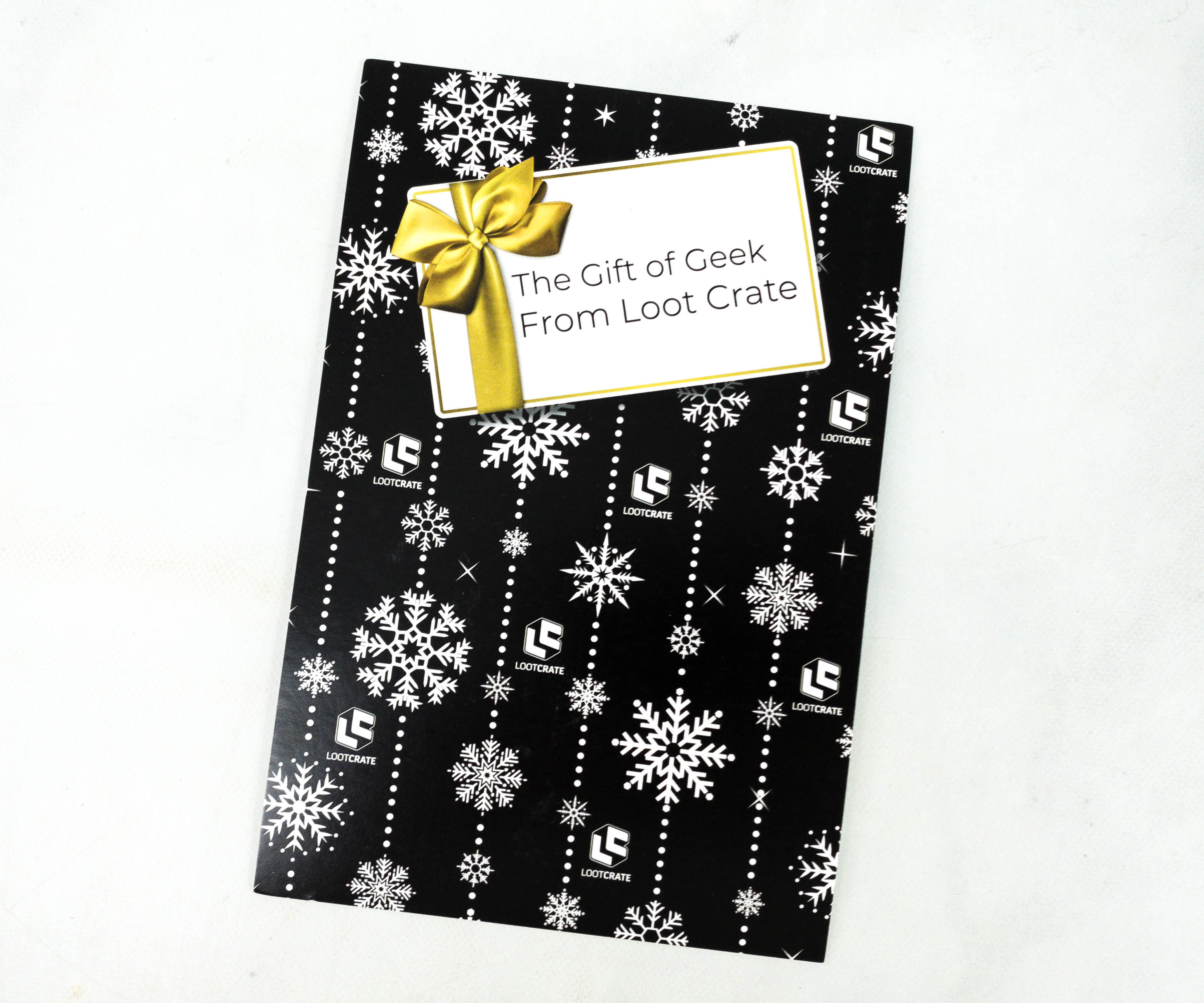 Check out this cute bonus item from Loot Crate!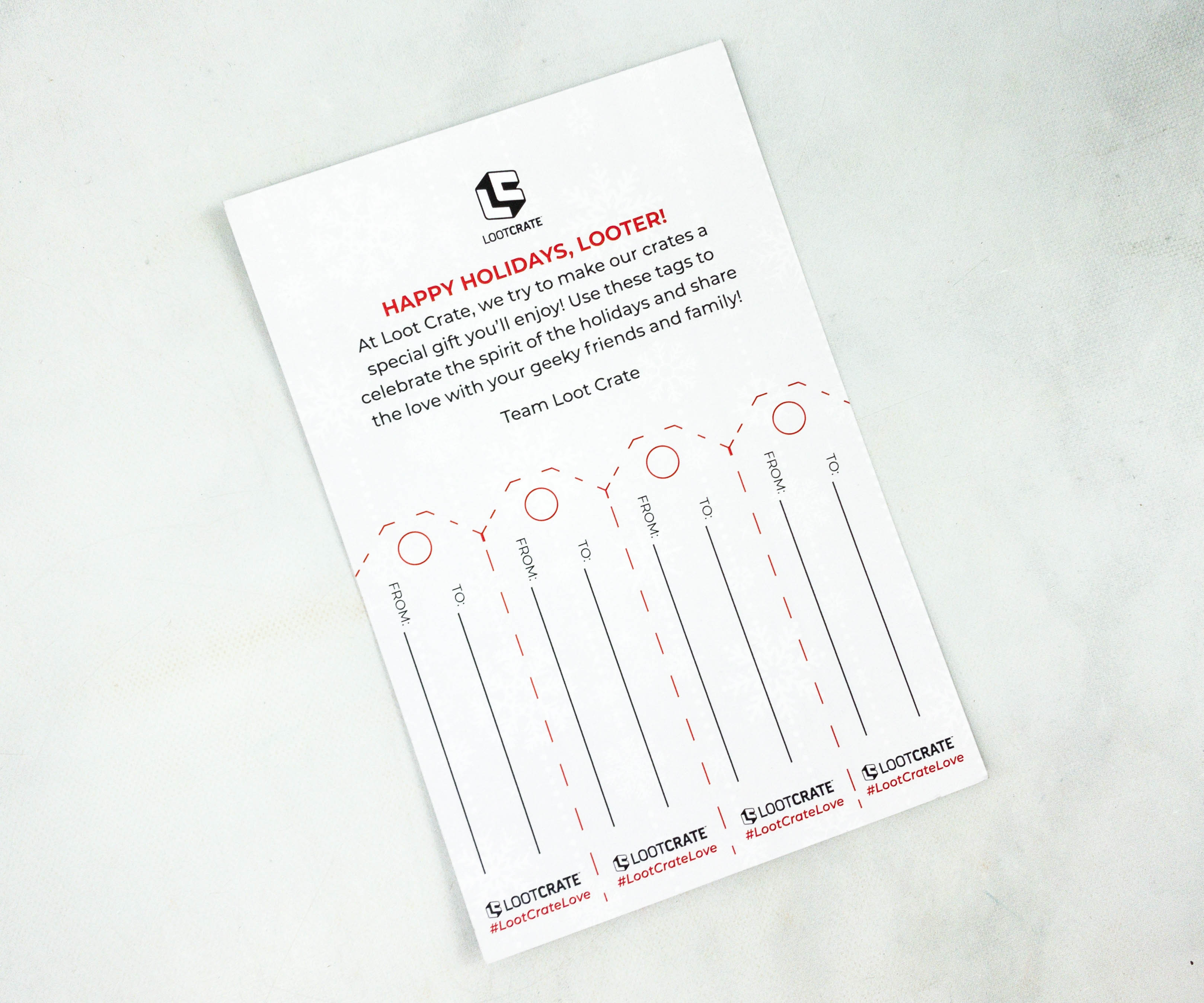 Featured at the back of the card are some exclusive tags that you can use for gifting.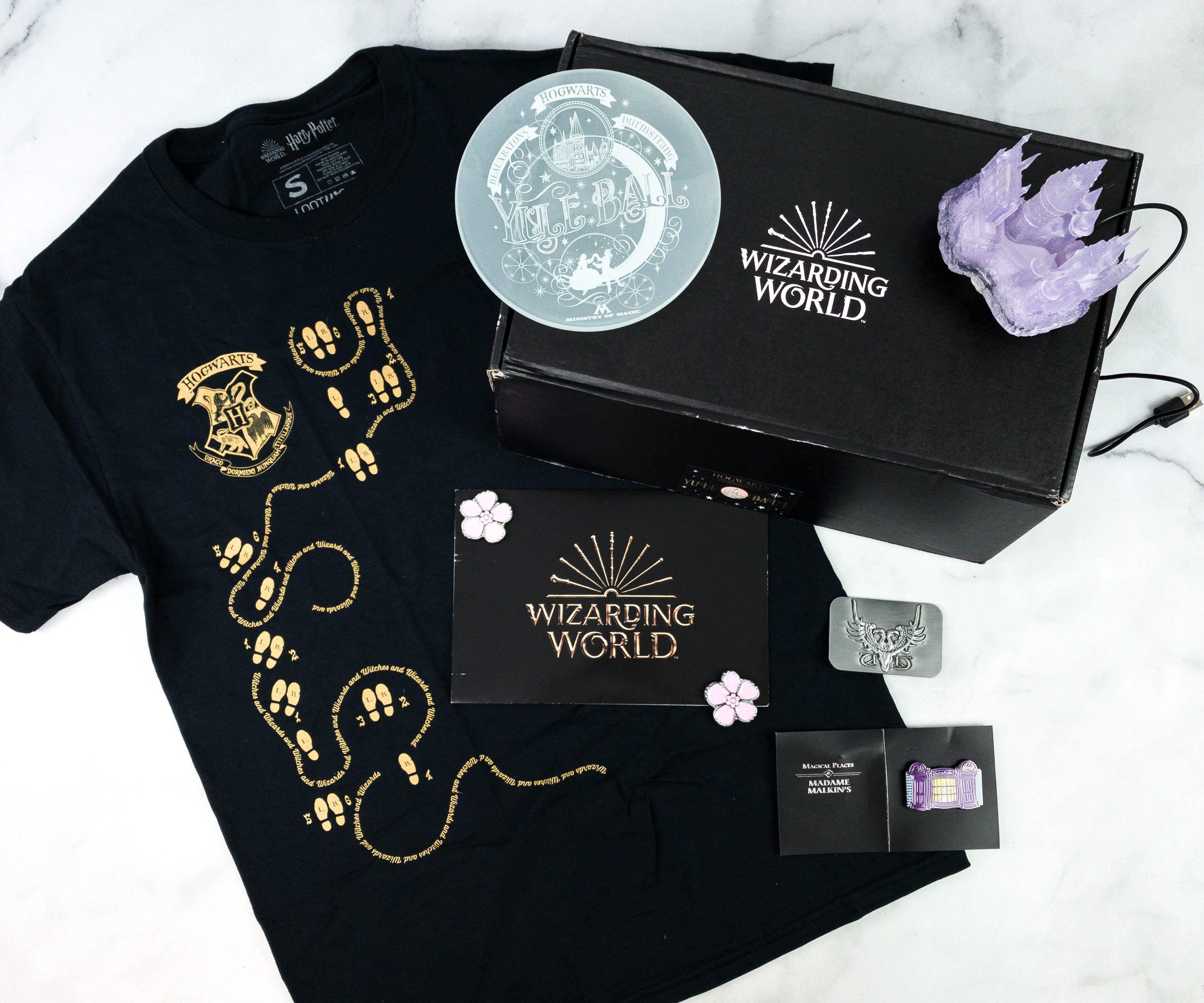 All the magical loot in this month's crate!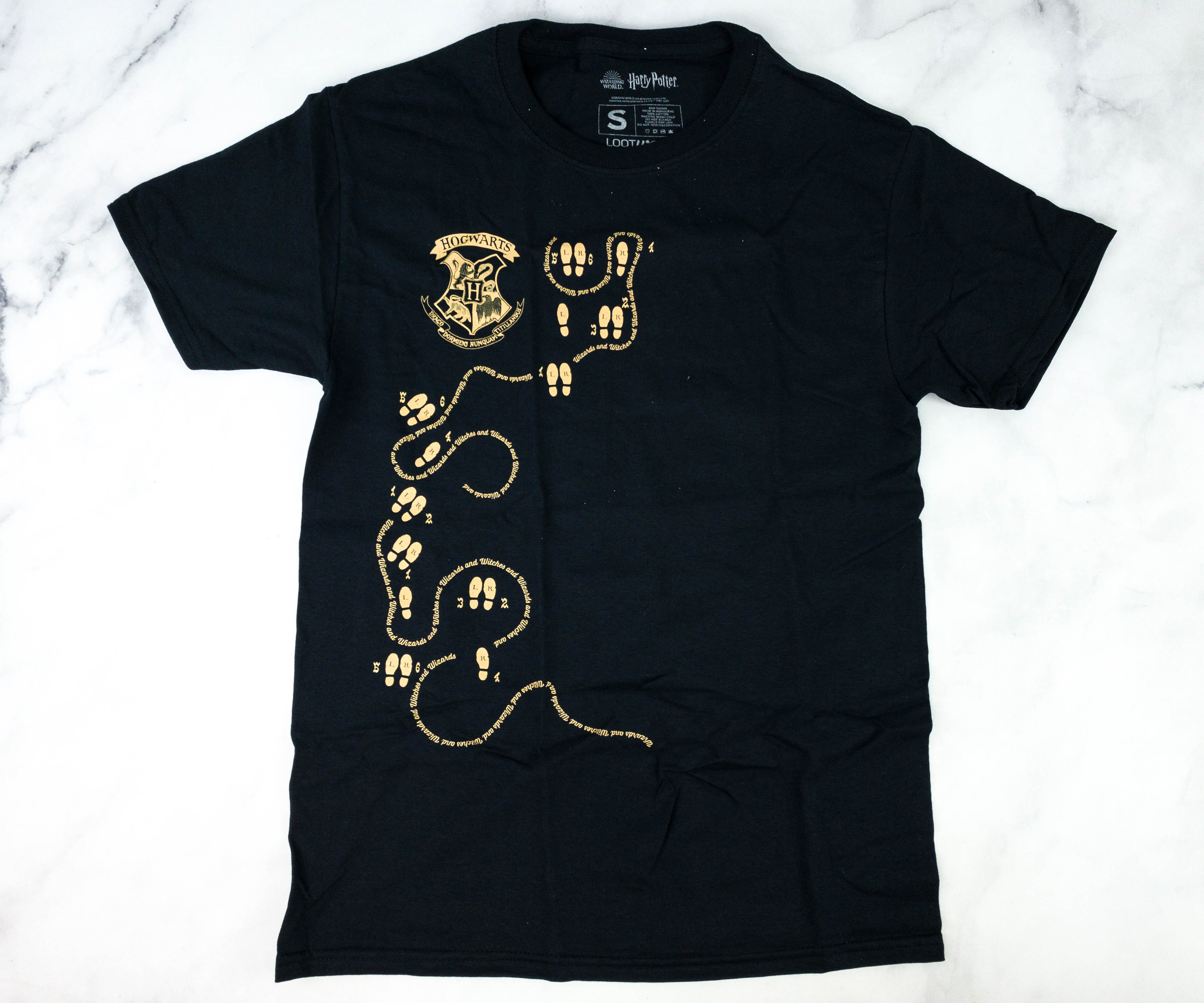 Yule Ball Hogwarts House T-Shirt. This month's featured shirt is in black. It's a round neck tee made from premium-quality, soft fabric. Of course, its print is a nod to the Yule Ball!
On the upper part of the print features Hogwarts School of Witchcraft and Wizardry logo and below it are footprints connected by a line made from by continuous prints of the words "Wizards and Witches".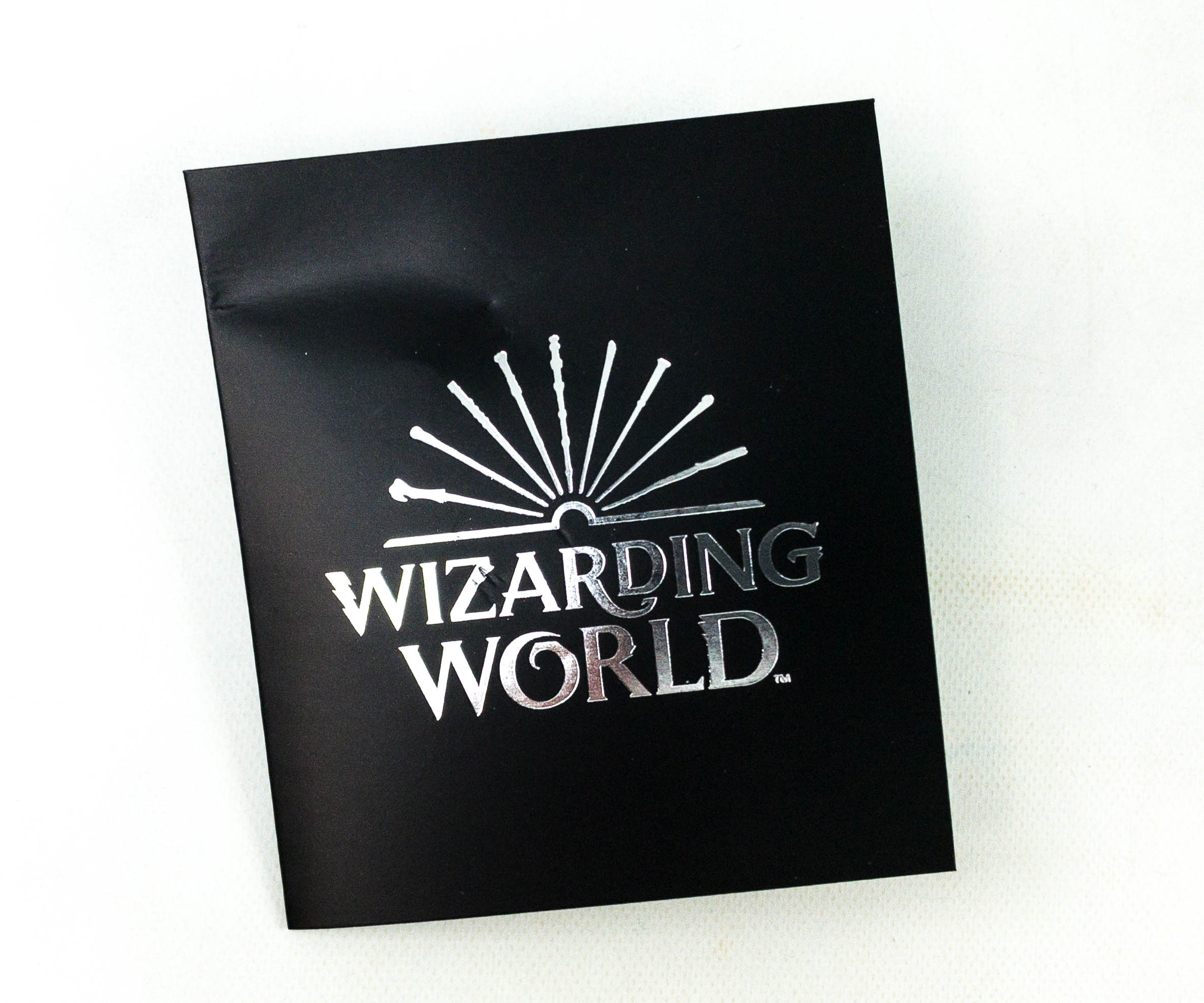 Madam Malkin's Pin. It's an exclusive pin from Wizarding World Crate!
According to the packaging, this pin features the magical place of Madame Malkin, a British witch that owns the Madam Malkin's Robe for All Occasions in Diagon Alley!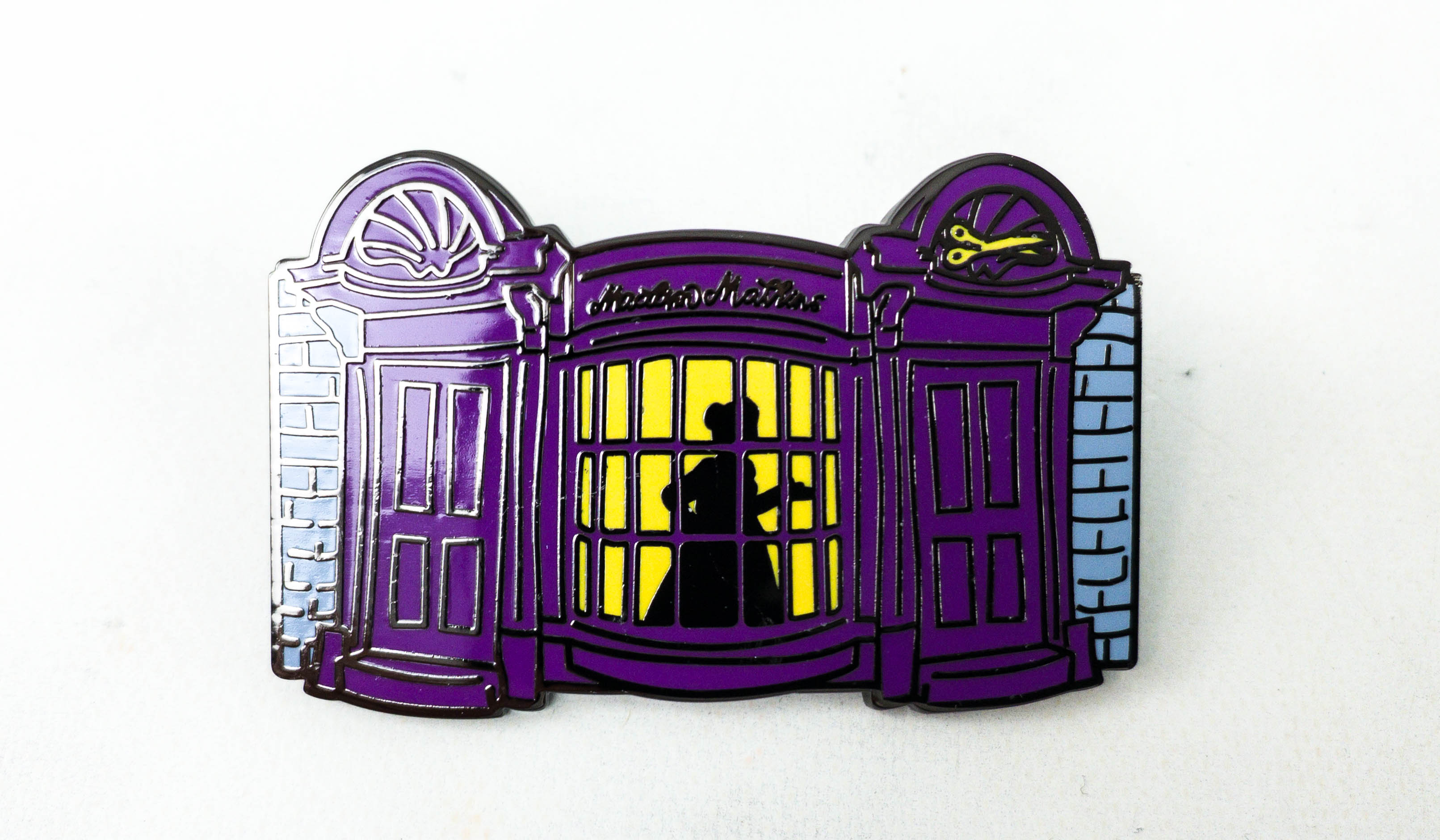 This pin features the store of Madam Malkin, a blue-colored brick wall with a pair of purple-colored entrance door and a large window that features Madam Malkin's silhouette. The details are on point!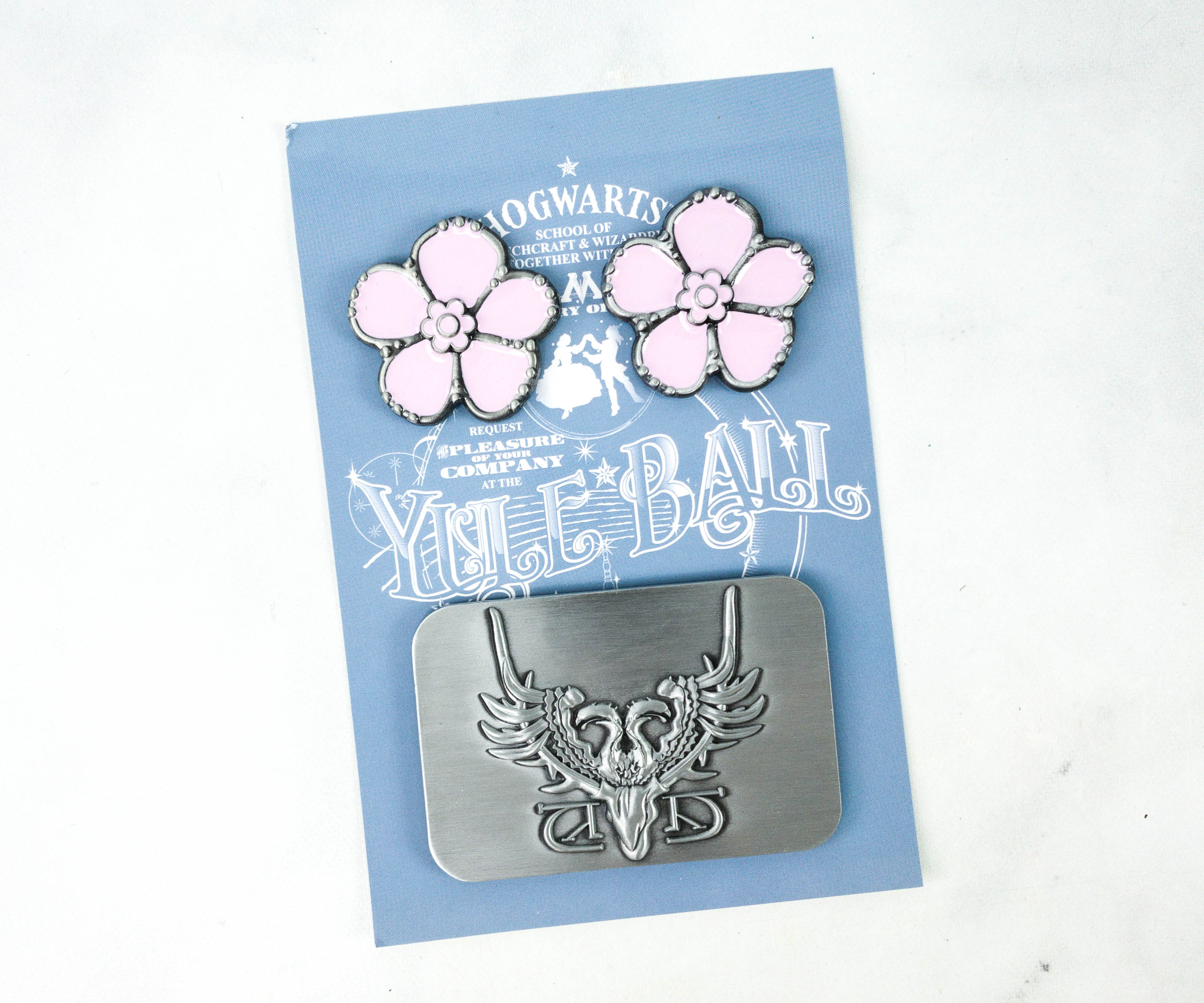 Hermione and Krum Yule Ball Magnet Set. According to the card, this magnet set is based on Hermione and Krum's Yule Ball attire.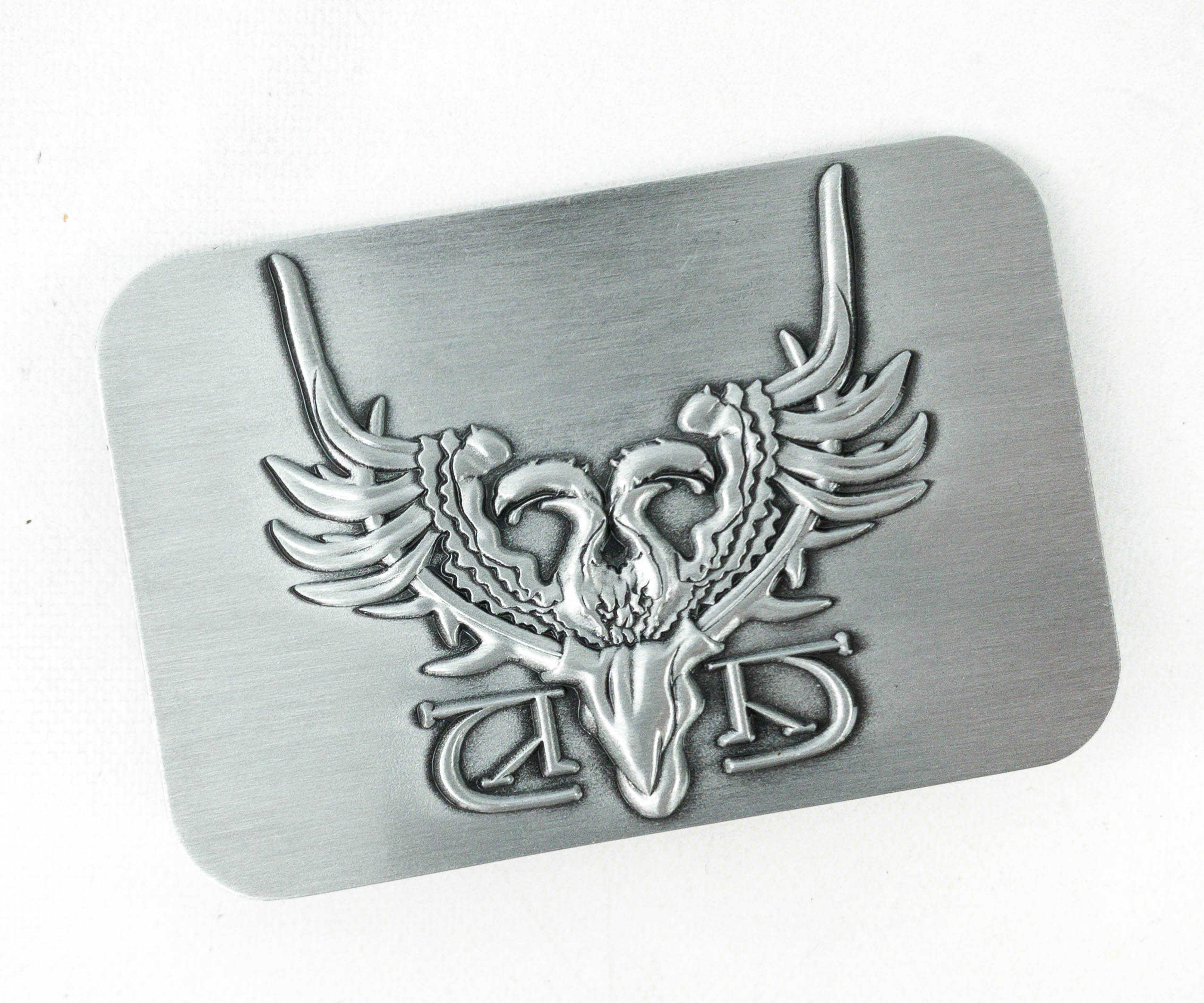 This magnet features Durmstrang Instititute's crest, which is known to be a part of Viktor Krum's belt buckle that he wore during the Yule Ball.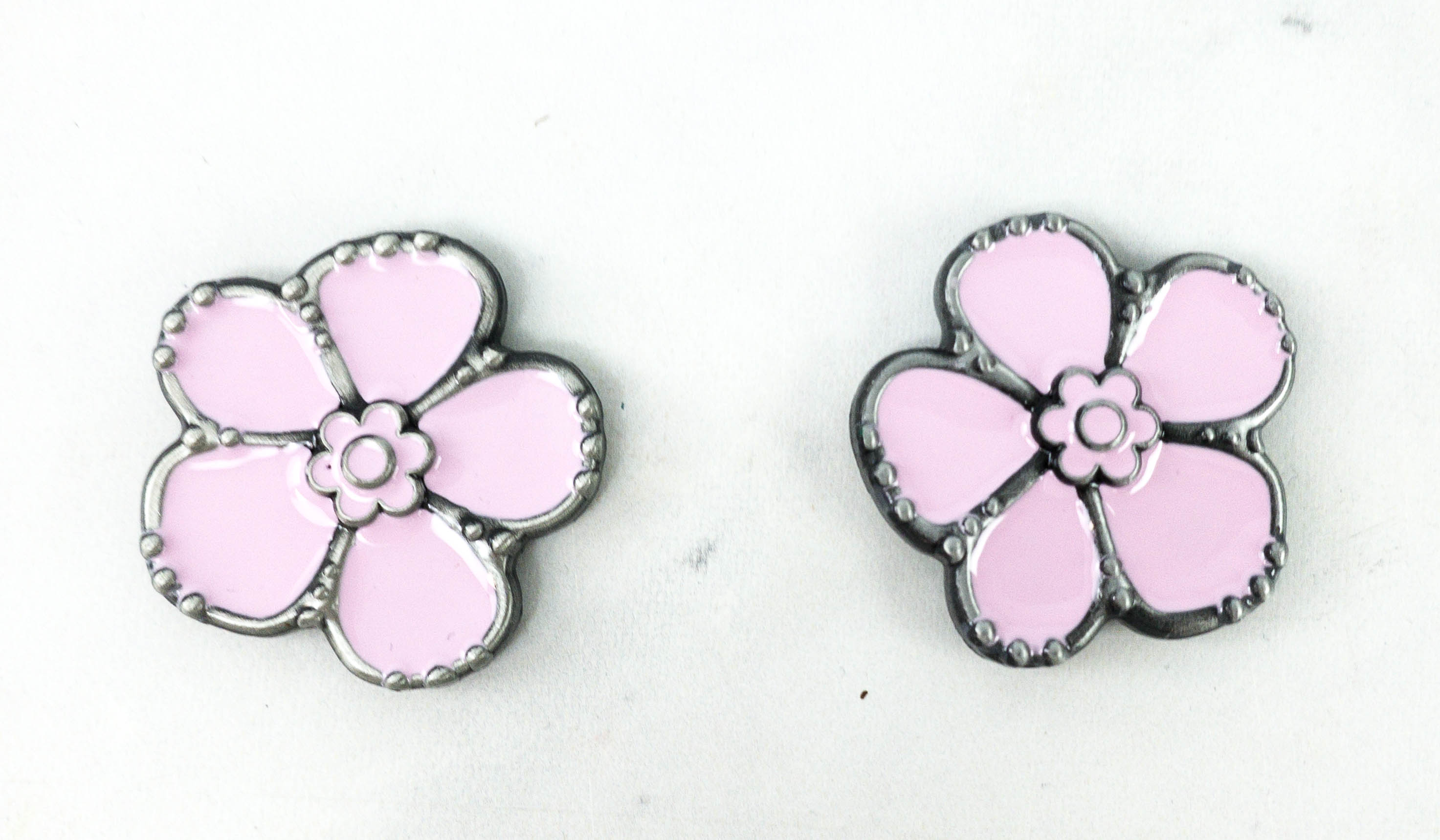 Of course, I also have a pair of pink flower magnets that look like the earrings Hermione Granger wore during the ball. She wore it together with her magical pink dress and Sleekeazy's hair potion!
Hogwarts Ice Sculpture USB Light. This is a limited-edition miniature ice sculpture of Hogwarts School of Witchcraft and Wizardry!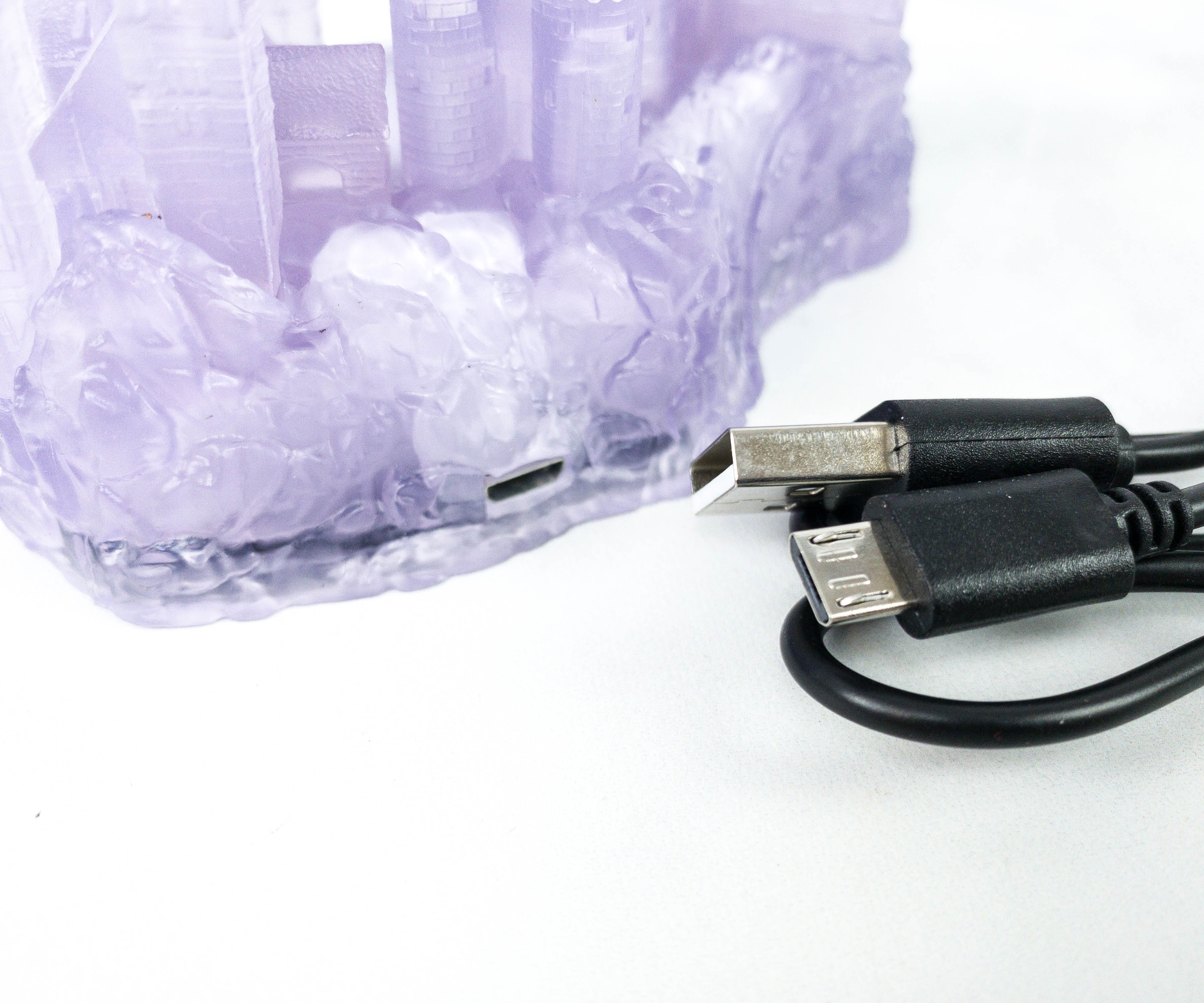 It's a USB-powered figure that comes with its own USB cord that you can easily connect to your laptop or desktop.
This miniature ice sculpture of Hogwarts School is mesmerizing. It's a great desk display for any Potterhead!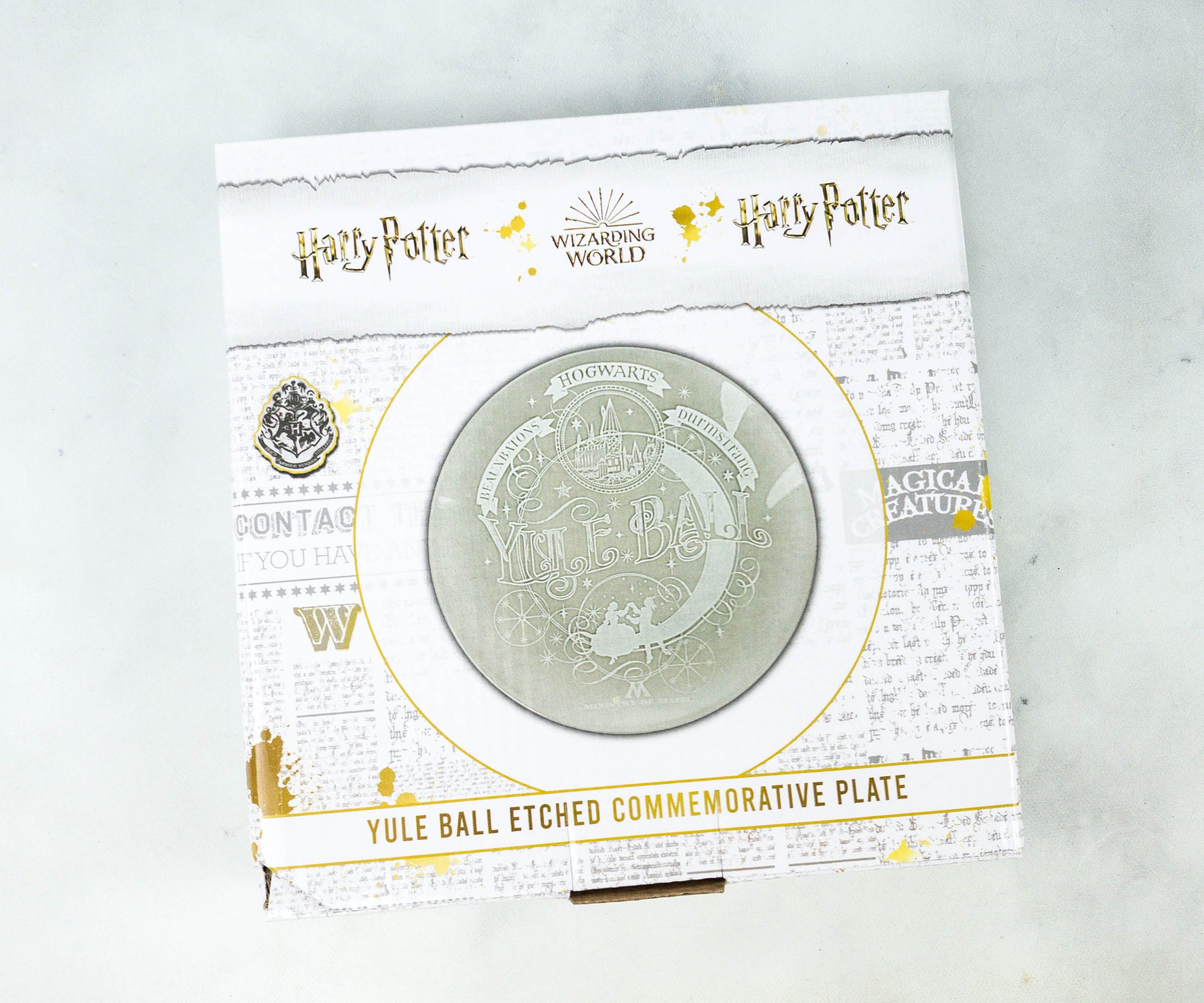 Yule Ball Etched Commemorative Plate. This exclusive plate was made in commemoration of the Yule Ball, and it came in its own box to keep it safe during transit. It's unique and it makes a nice item for display as well!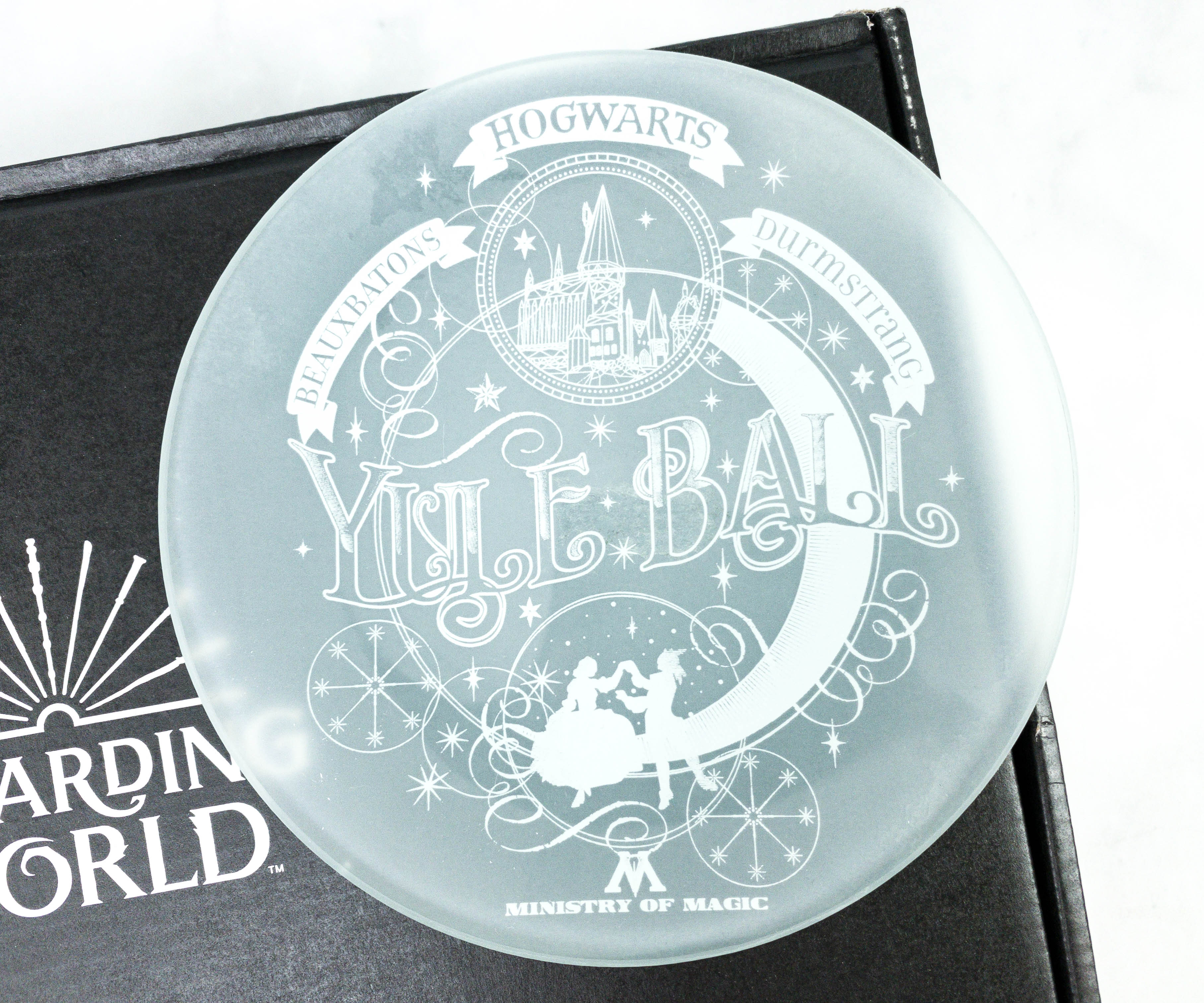 The design is etched and I looks so pretty! I'm happy to have this exclusive merch in my collection!
FYI – this box arrived at the end of December.
This month's Wizarding World Crate always includes high-quality items for Potterheads, like this month's Yule Ball-themed merchandise. My favorite is the commemorative plate, as it's exclusive to this box and the etched design just looks so magical. I also like the magnets based on Viktor Krum's belt buckle and Hermione Granger's earrings. As always, the box includes a shirt that you can wear to show off your never-ending love for the series. The shirt fabric itself is soft, and the print looks vibrant. This box is a great way to relive my favorite Harry Potter moments, and also an easy way to score exclusive merchandise, apparel, and collectibles! It's perfect for Harry Potter fans and collectors of all ages!
What do you think of this month's Wizarding World box?