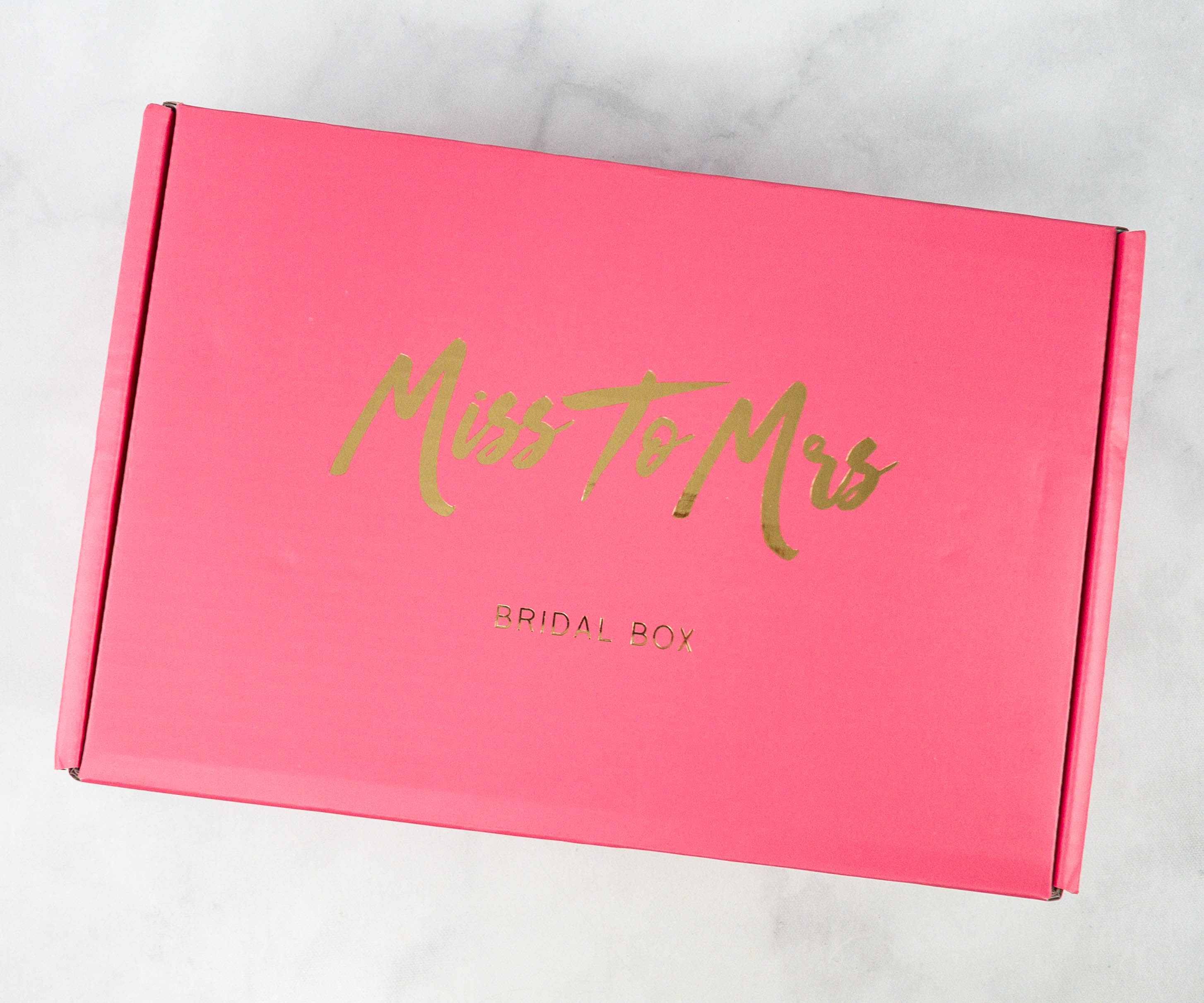 Miss to Mrs. Bridal Box is a wedding subscription service made for brides-to-be. The box costs $35 each. Each month, receive stunning bridal accessories, planning tools, apparel, decor ideas, and wedding day essentials. An example is the "Let's Plan This" themed box which is all about items to help at any stage of wedding planning. Engagement ring wipes kit to keep that rock sparkly, a "Bride-To-Be" Tumbler for all those ring selfies, wedding day cards, and more.
DEAL: Get 30% off your first box! Use coupon code BOX30.
Everything is wrapped in white tissue paper with the box's logo printed all over it.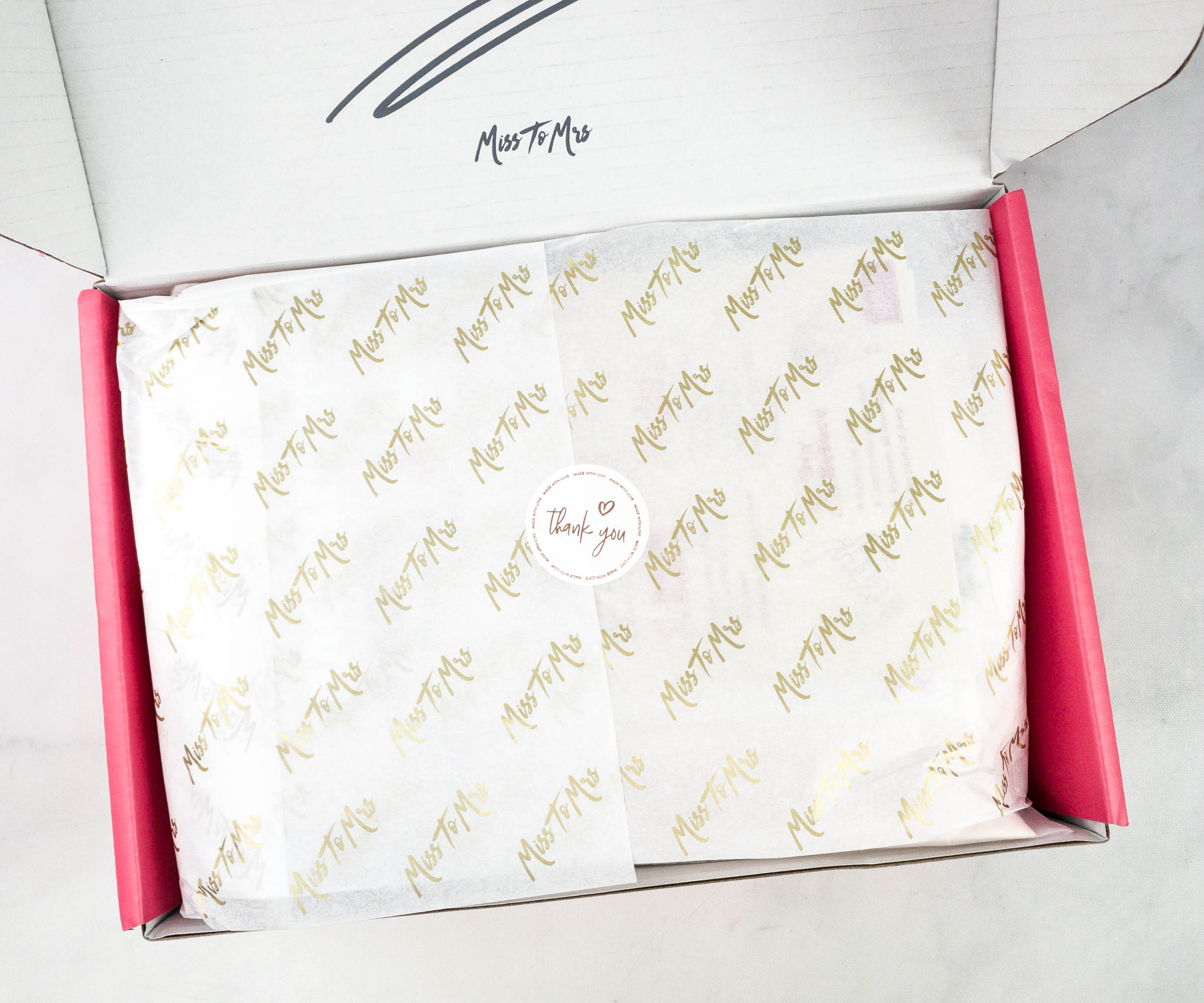 It's also sealed with a "Thank You" sticker.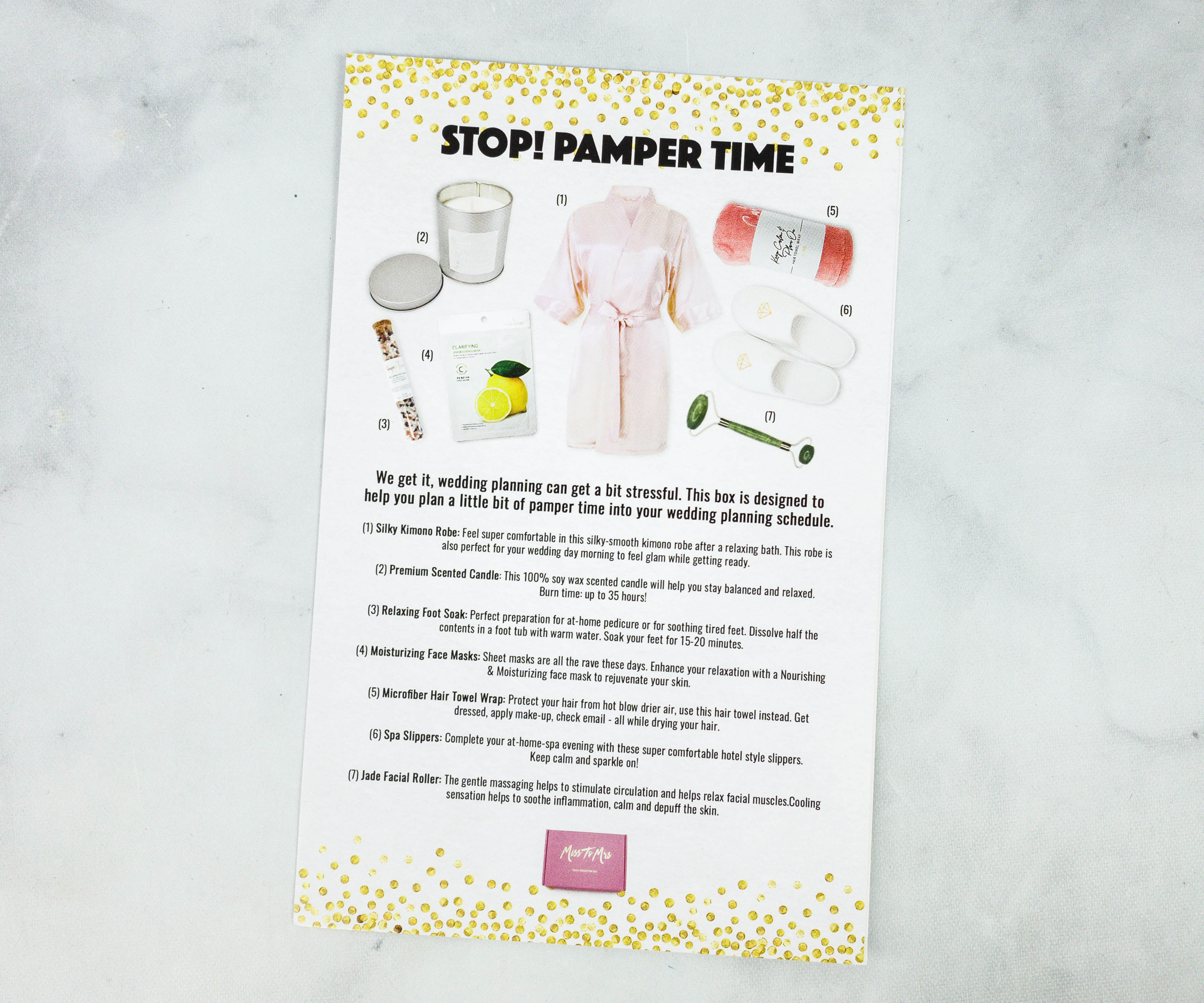 This card tells us the contents of the box. The theme is "STOP! PAMPER TIME" Too funny!
Some of the items were even packed with foam net for protection during shipping.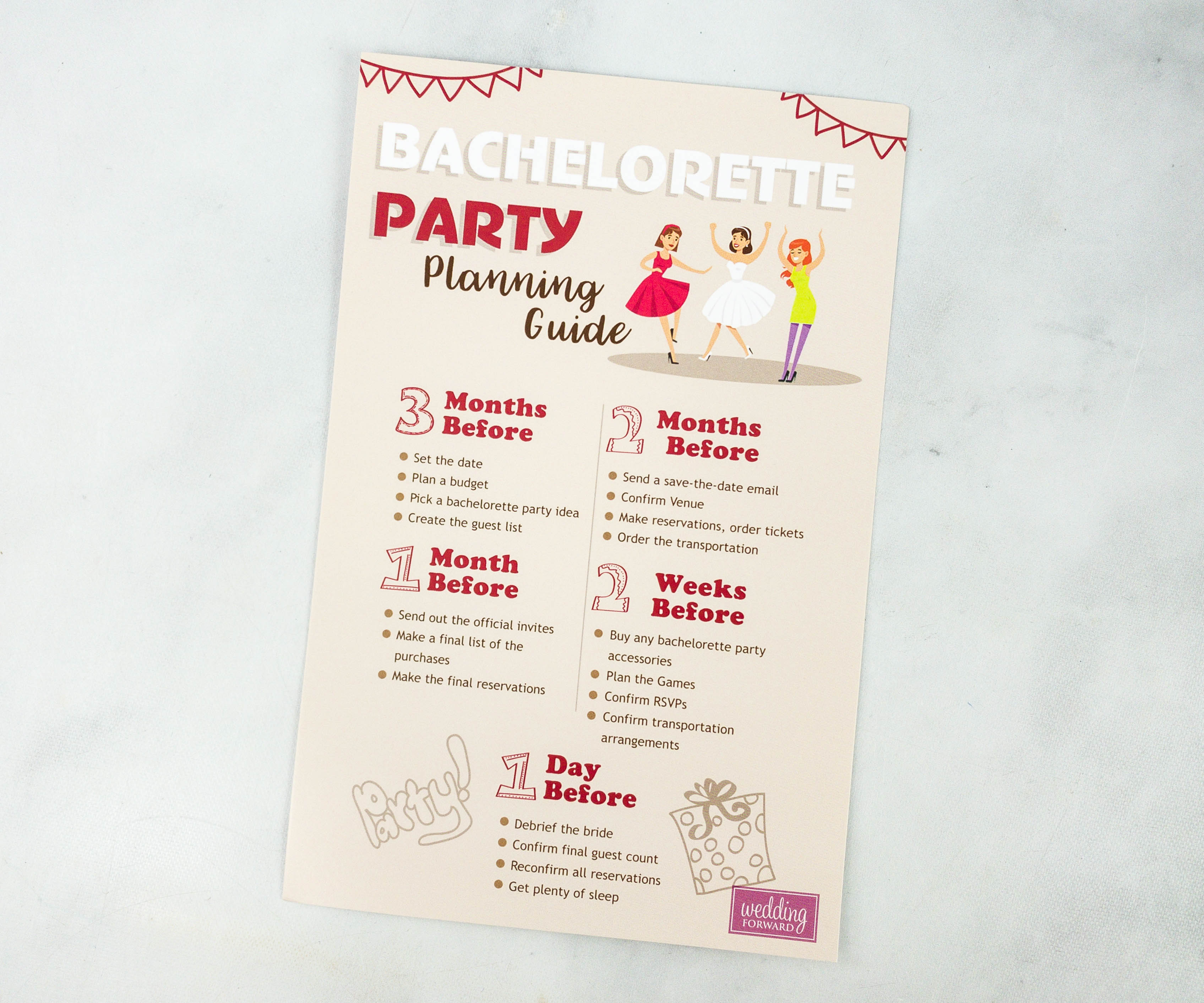 There's a pamphlet that has a Bachelorette Party Planning Guide!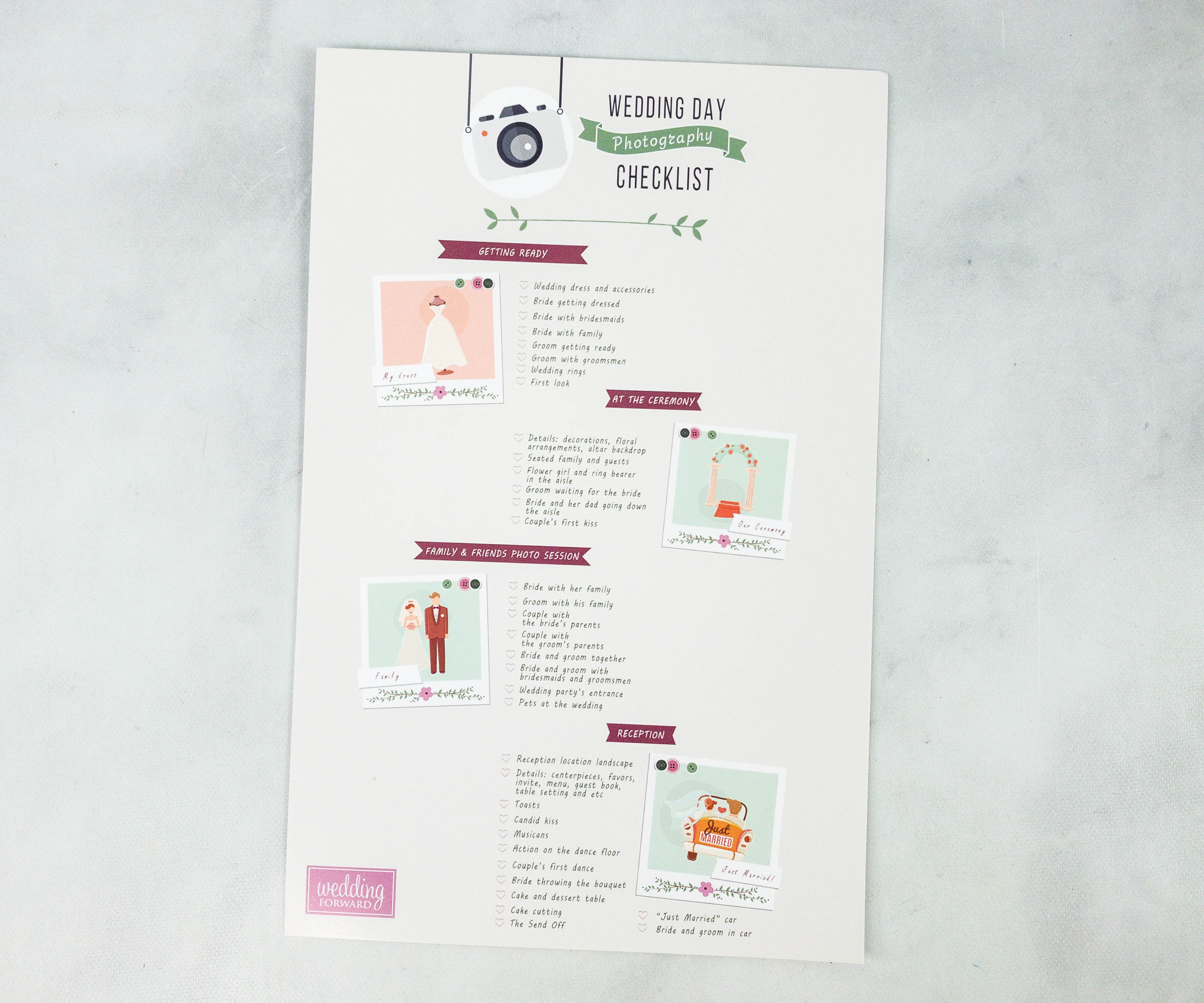 The other side has a wedding day checklist!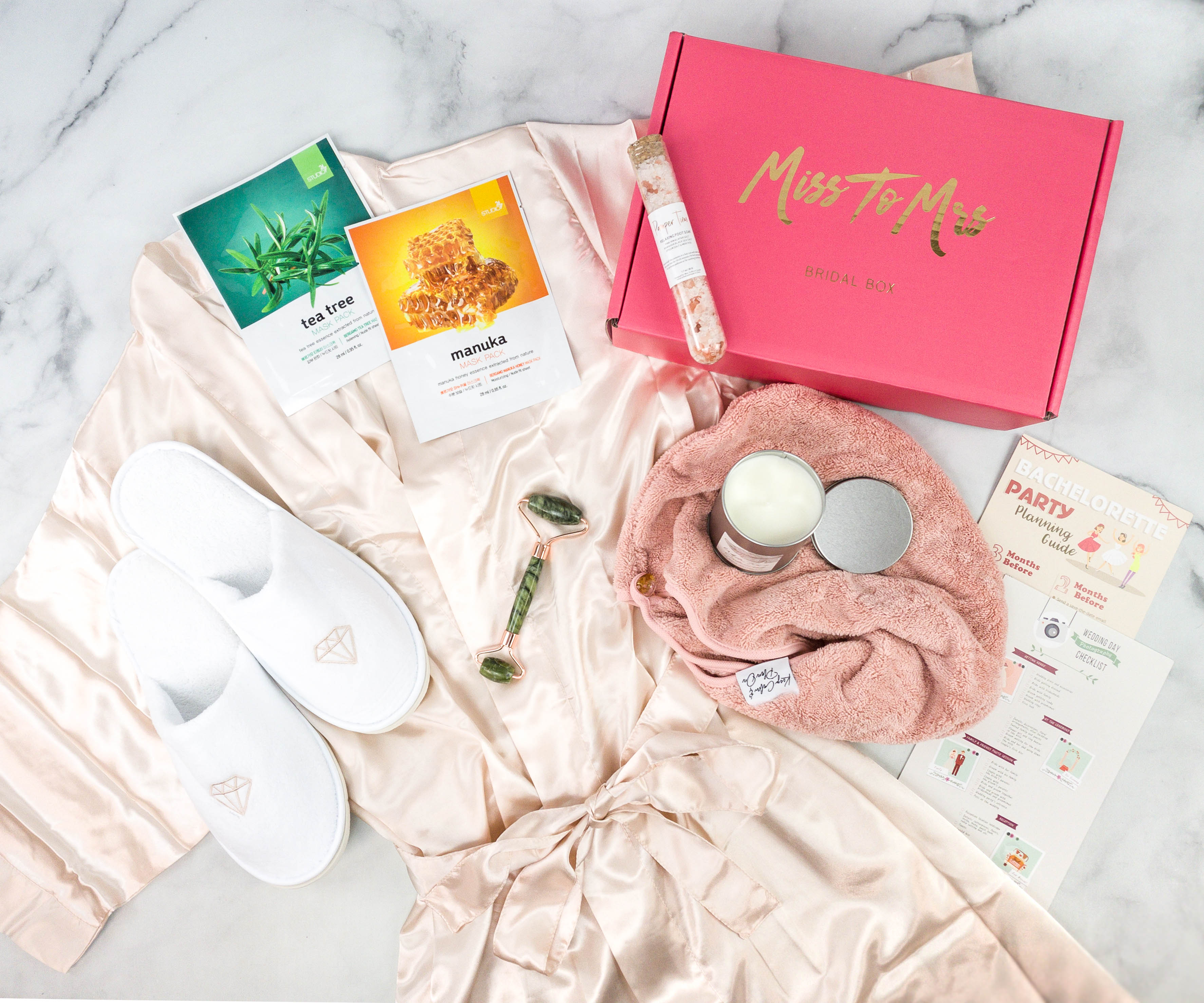 Everything in my box!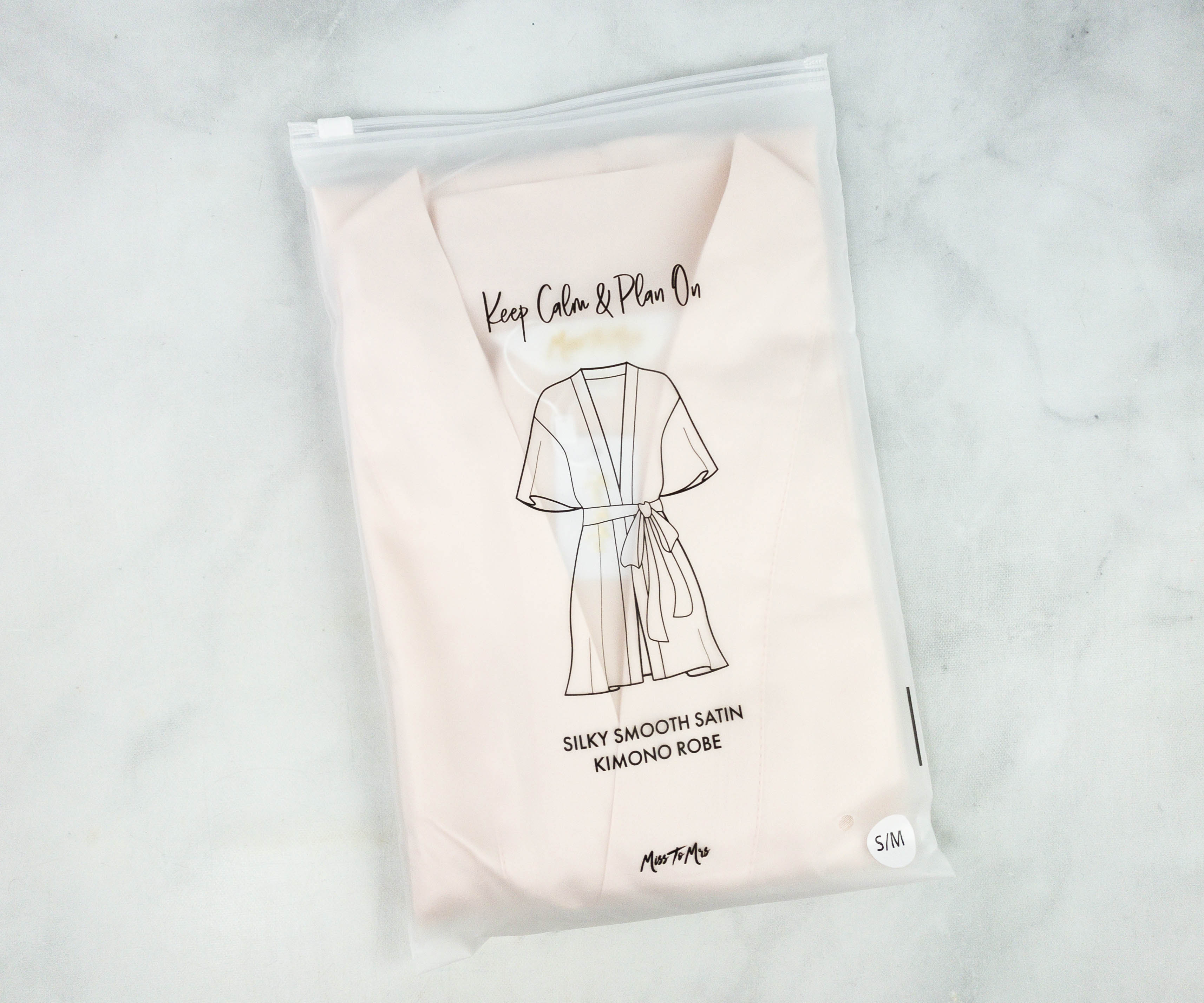 Silky Kimono Robe. For gorgeous preparation day photos, they sent this lovely kimono! It's smooth and silky, perfect for those backstage candids that will surely make their way to the family photo albums.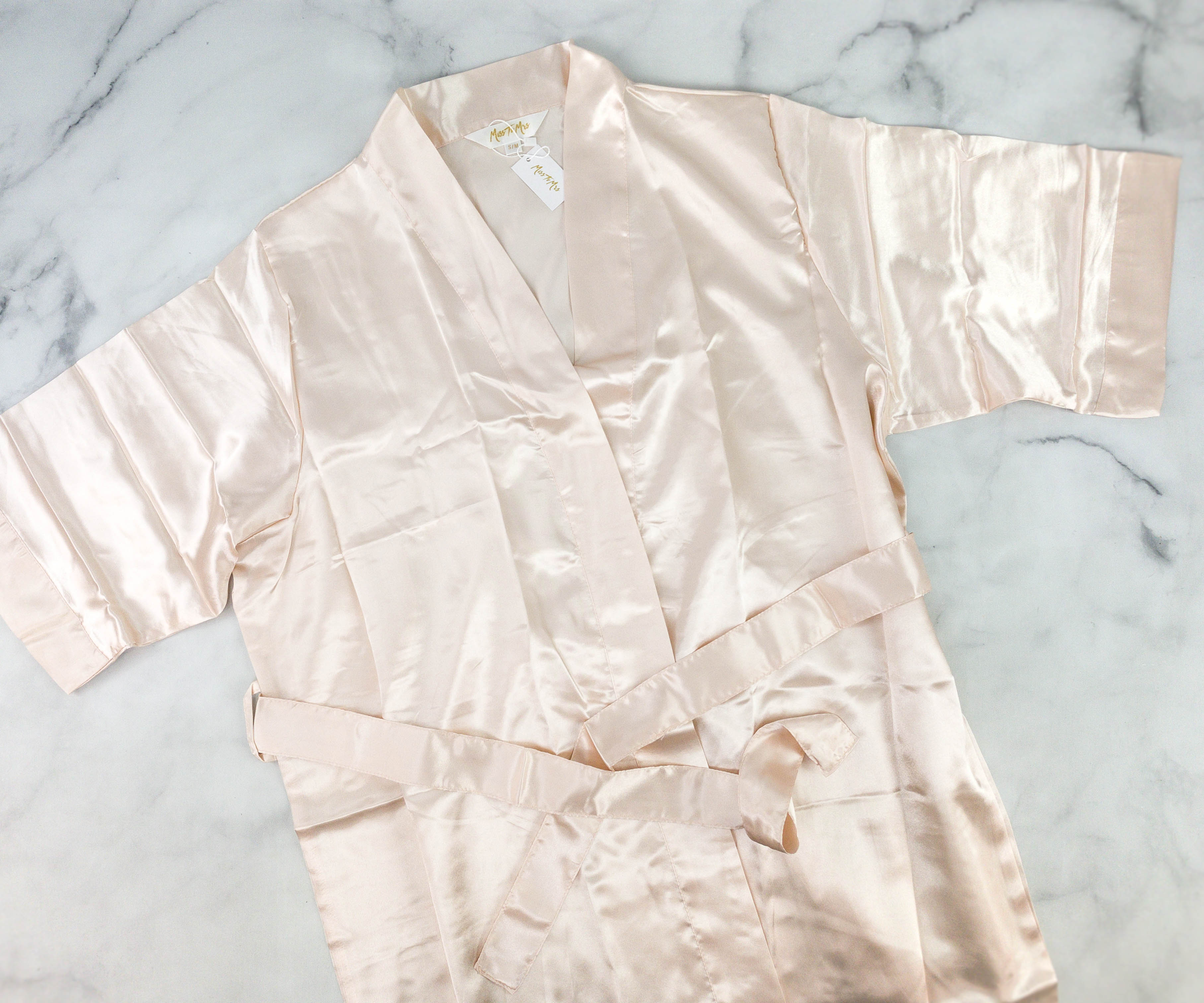 The material is so lightweight so you won't have problems moving around wearing it. It's also the perfect outfit for hair and make-up as you can easily change into your wedding gown without any problems!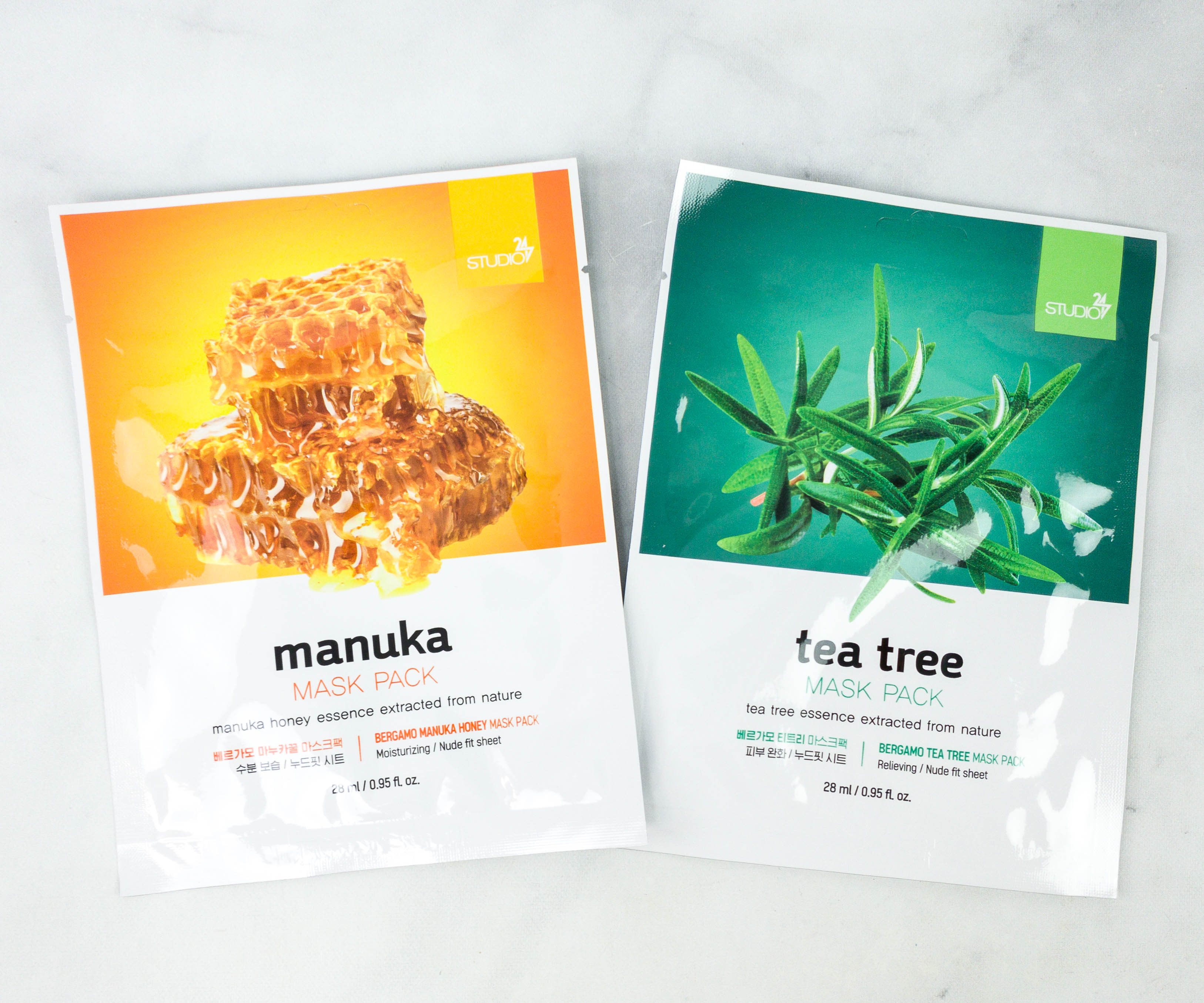 Moisturizing Face Masks. To hydrate your skin before the big day, they sent these face masks from Korea! These will help moisturize your skin so you can have the perfect canvass for make-up on your big day. You can even pop them in the fridge for an extra boost of freshness!
Jade Facial Roller. The jade roller came in its custom box to prevent any damage!
Jade is known to help with circulation. It is also said to detoxify and help soothe the skin.
You can use this the night before the big day or for your everyday skincare routine prior to it! This beauty tool helps ensure that your skincare products will get soaked up nicely.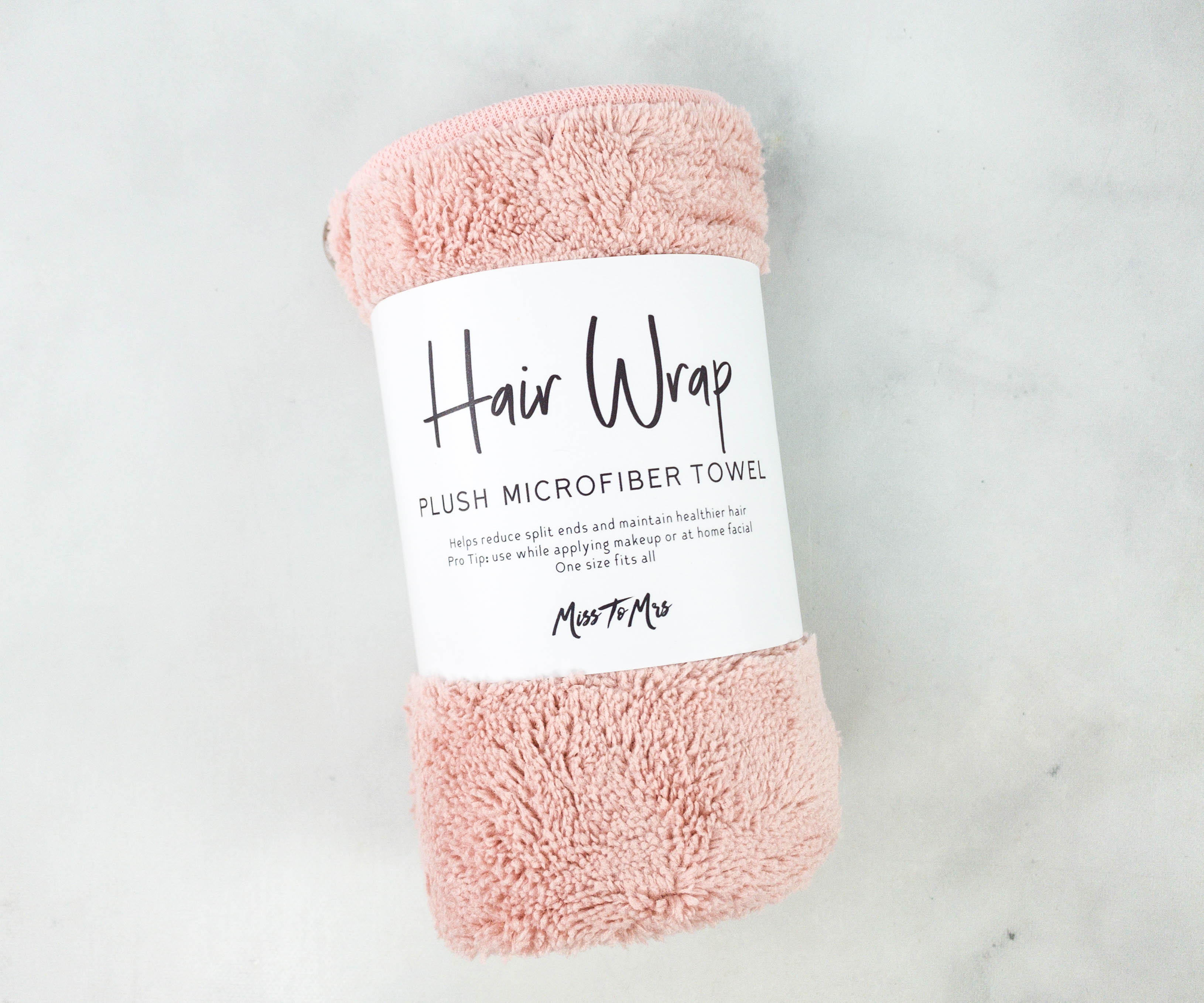 Microfiber Hair Towel Wrap. With this towel wrap, you can keep your hair out of the way while preparing your face.
It's made of microfiber so the towel soaks up all the excess water from your hair and helps it dry up quickly.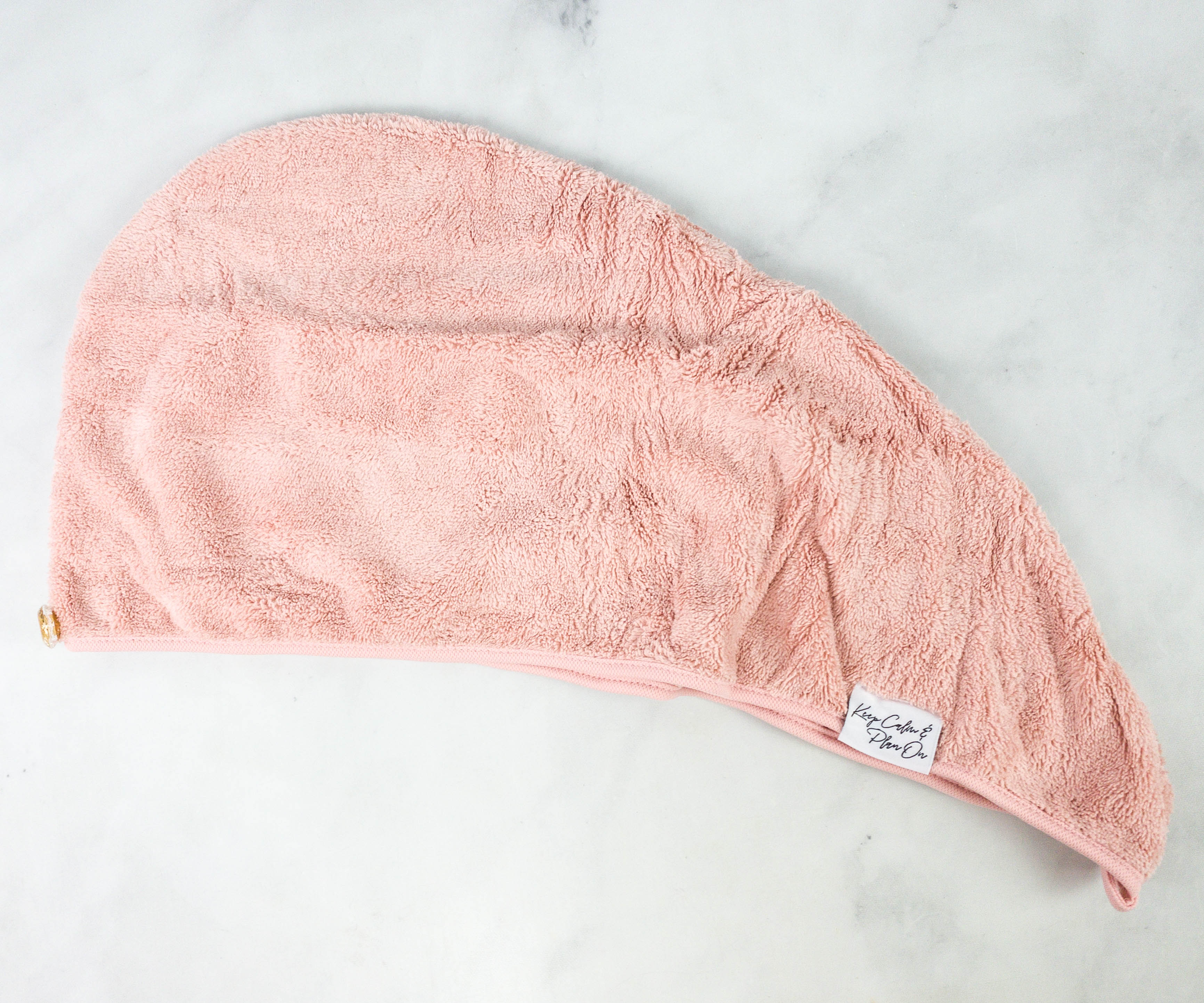 This is also easy to use as there is a button in front where you can loop the end to secure it in place.
The best thing is that it's reusable!
Spa Slippers. I love that they also sent these spa slippers! During the big day, this will be a big help as they're easy to wear and you can be on the go where you're needed.
You can wear these to ensure that your feet will be comfortable up until the time you'll need to put on your wedding shoes. It even looks good in photos, together with the silk robe!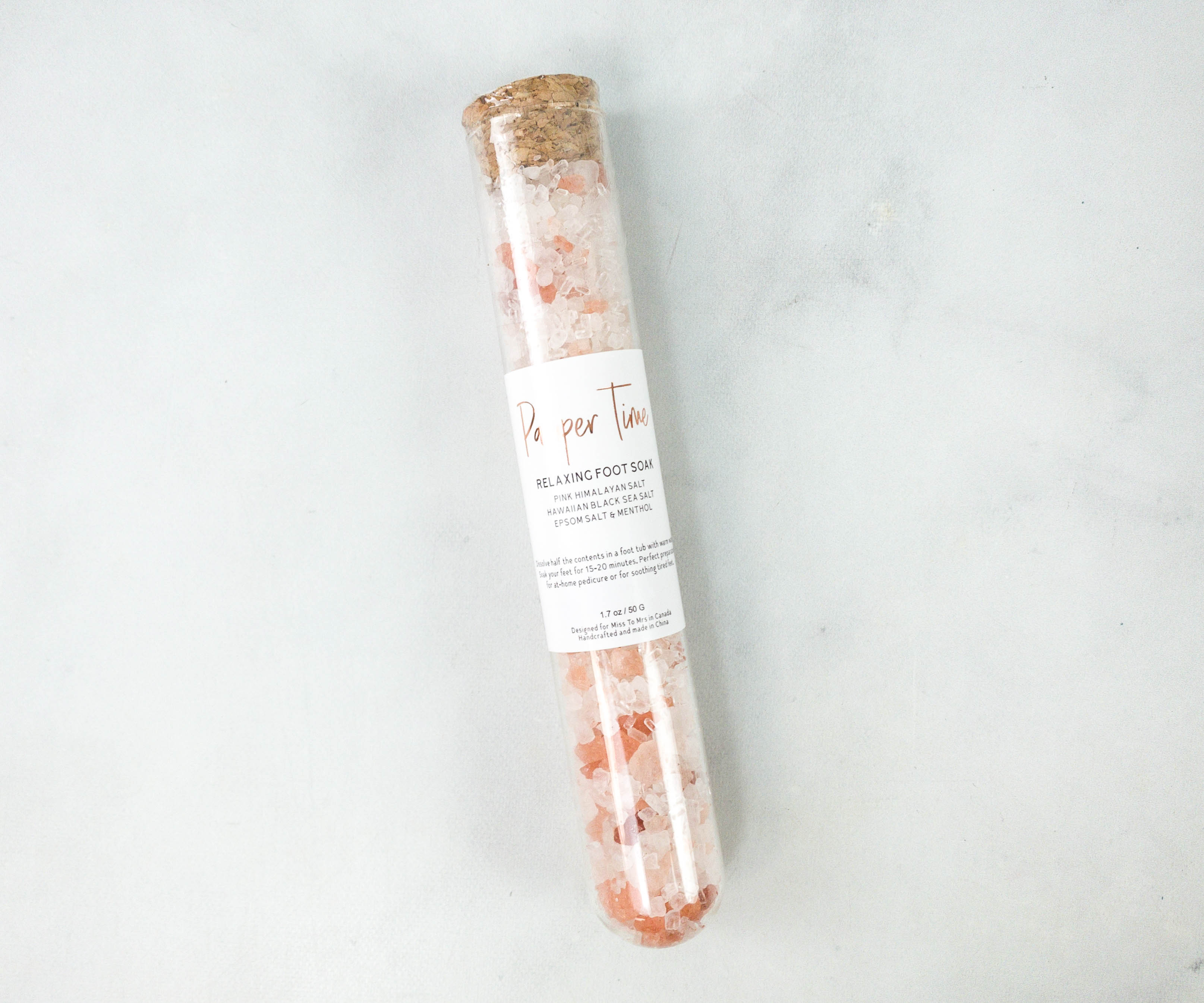 Relaxing Foot Soak. After a long day of walking and dancing in heels, it would be nice to give the feet some pampering with a foot soak. This one is packed in an easy-to-carry tube and it contains Epsom Salt which is known to help relieve stress or inflammation.
Premium Scented Candle. Finally, once the big day is over and it's time for some R and R with your partner, you can light this candle up and get enveloped in a lovely scent to help you relax!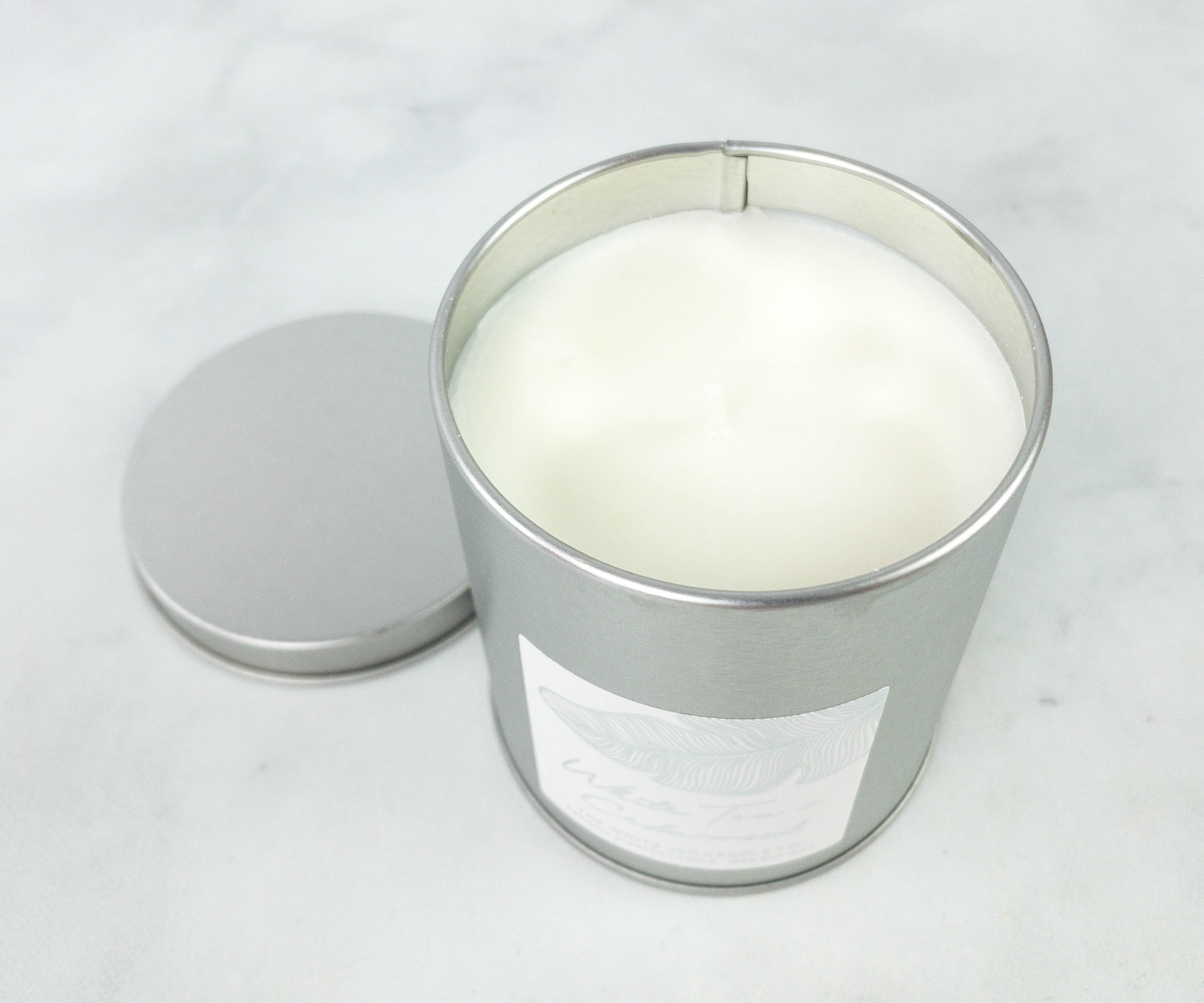 I like that it came in this tin can packaging because you can still repurpose it after use. Maybe put some wedding day trinkets in so you can have a mini memory jar from the day of your wedding!
This month's curation is packed with a lot of useful items for brides-to-be! From beauty tools to relaxing products, it's evident that they put so much thought into the curation. The standout item in this month's box is the silky robe. It's soft and lightweight, and most importantly, it looks good in photos! You can also pair it with the slippers for a more relaxing vibe! The tips and tricks that they included in the cards are also of great help. All in all, I think this box makes a great gift if you have a friend, colleague, or family member who is getting married soon! It's also a good way to remind them to relax and just enjoy their special day!
Are you getting this box too?