The Valentine's Day Gifts from KiwiCo are now available in the Valentine's Day Shop!
Don't forget, you can also save 40% off your first month of any subscription in the KiwiCo Family – Kiwi Crate, Koala Crate, Doodle Crate, Tinker Crate, Panda Crate, Atlas Crate, Eureka Crate, or Maker Crate!! Just use this link!
Here are some of the most loved gifts from Kiwico!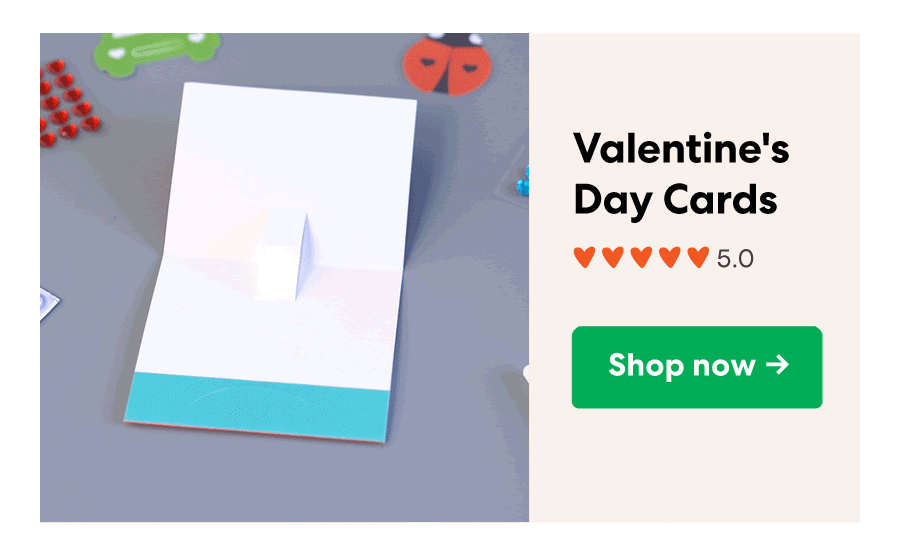 Valentine's Day Cards $14.95
Make a set of Valentine's Day cards that really pop — with this pop-up card-making kit! Add an adorable pop-up shape to an existing card template, then decorate it with marker art, stick-on jewels, and even wiggle eyes. Finish it off with a thoughtful note for your favorite friend. Then learn to make your own pop-up cards from scratch — so you can make a card for every valentine on your list! Comes complete with everything you need to make 27 craftastic cards.
Animal Bath Bombs $17.95
Dip your toes into bubbly bathtime chemistry with animal-shaped bath bombs you make yourself! Learn about acid-base reactions and the science of molecules while mixing up a colorful chemical concoction, then press the mixture into bath-bomb shape. Drop your finished bath bombs into water to see fizzy chemical reactions — in action!

One project can make 3-6 unique bath bombs.
Paper Pulp Art $34.95
Why paint on paper when you can use the paper itself to make a totally unique artwork? Learn how to take dried paper pulp, turn it into a colorful slurry, then turn it into a colorful painting! Harness the tools of the trade — from the included cookie cutter to foam stencils you can design yourself — to shape the different parts of your composition. Hang up your finished artwork on a sleek wood frame, then start all over again to make a couple more perfect paper pulp paintings!
Light-Up Speaker $39.95
Explore the science of sound by building an amplification circuit to power your own personal speaker. With this kit, build and customize your speaker with a glowing LED, and learn about transistors and electromagnetism through the included instruction set. Recommended for ages 12+.
Punch Needle Pillow $34.95
Explore textile art, with a project that packs a serious punch! Plan your design for your punch-needle pillow, transfer it onto the fabric, and mount it to the punch frame. Learn how to use (and thread!) your punch needle, so you can fill in your design with colorful, fluffy yarn. Finish off by sewing and stuffing your pillowcase — then display your completed work to show off your design stuff!