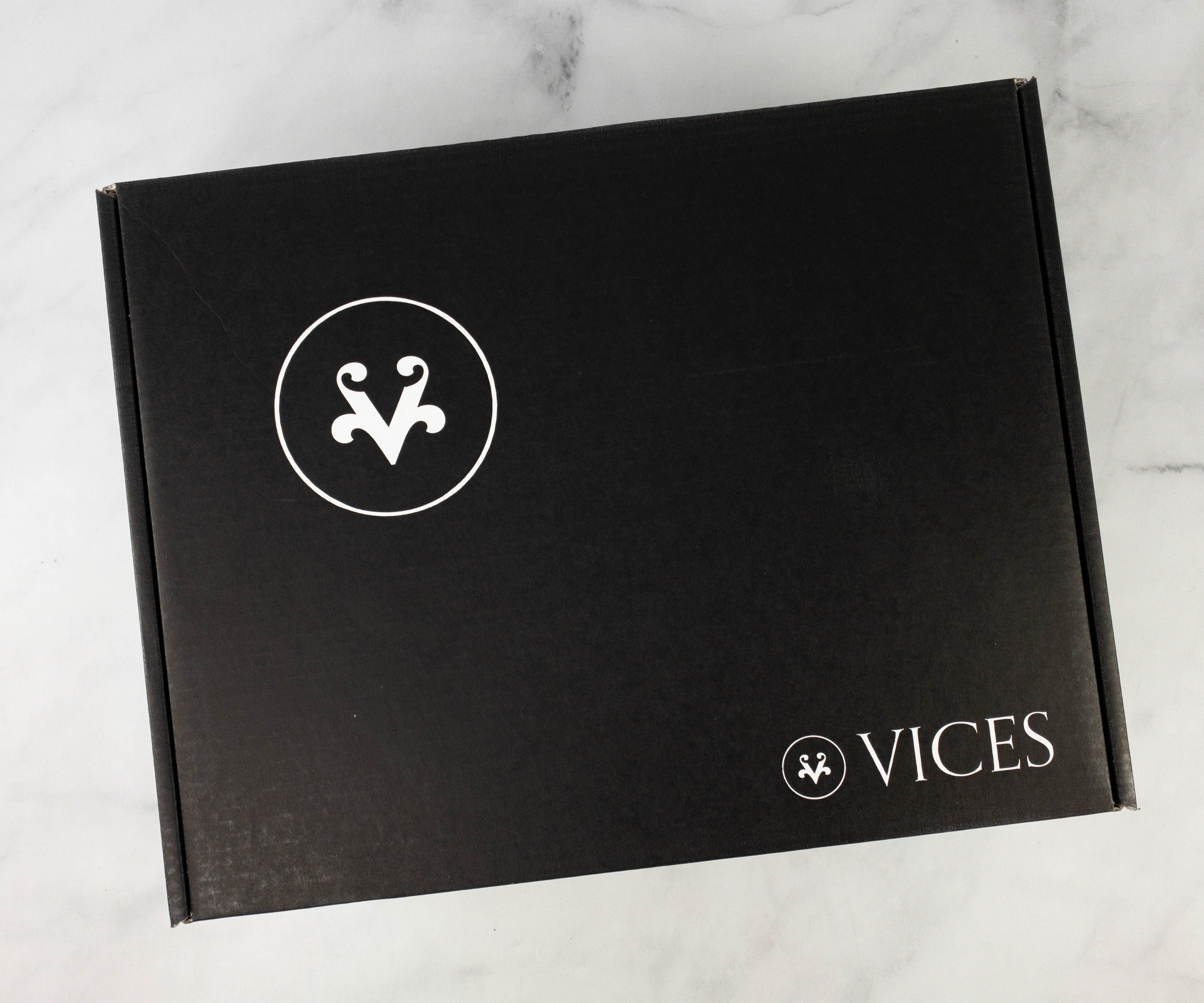 Vices is a monthly luxury subscription service that delivers a collection of "storied treasures." The subscription costs $159.95 per month, and each box comes with a collection of incredible products and experiences that have been curated for your enjoyment. It was formerly called Robb Vices, but now it's just Vices!
DEAL: Get $50 off your first box! Use the coupon code LUXURY50 at checkout!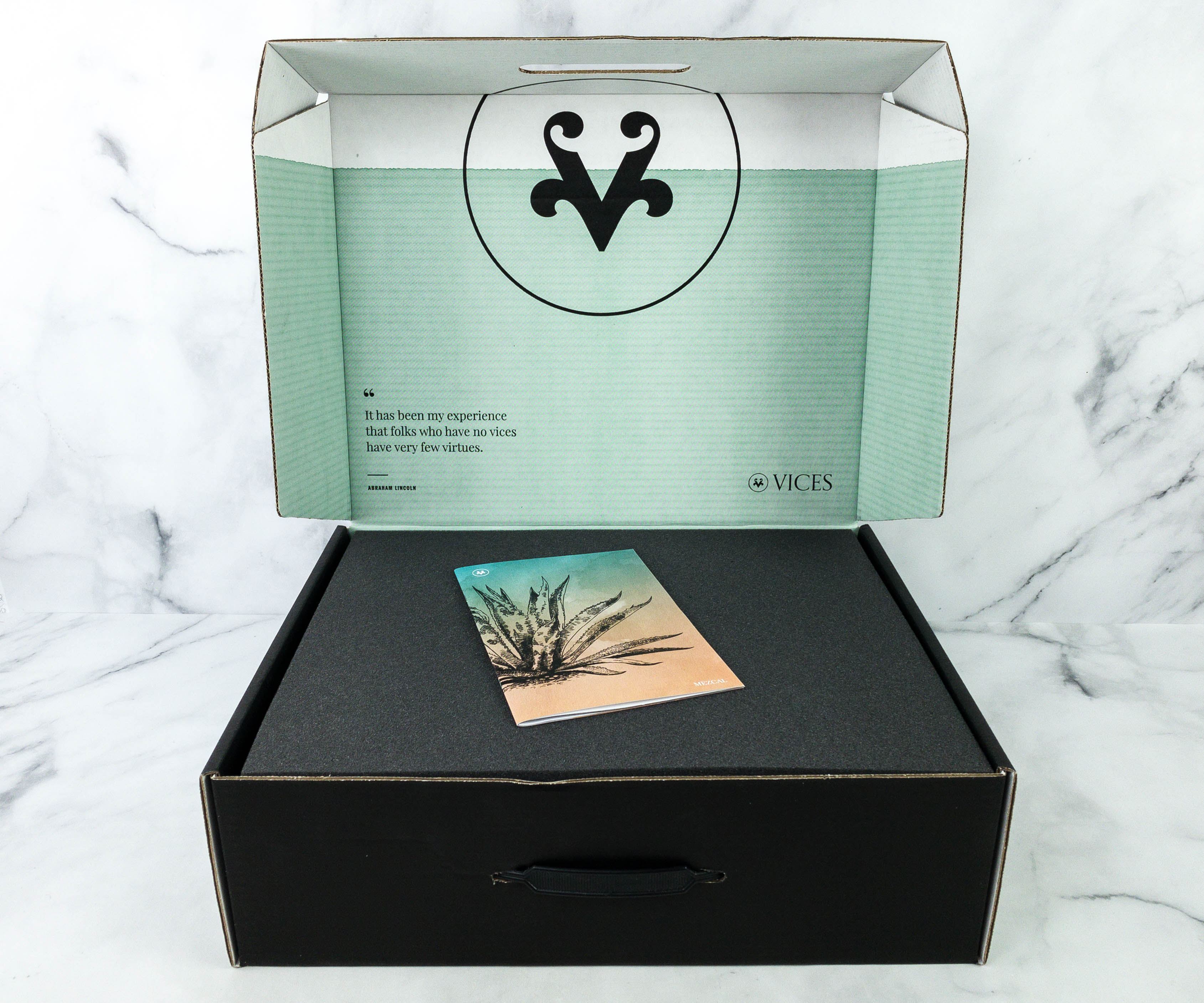 All the items are curated in a thick customized carton case with the Robb Vices booklet on top.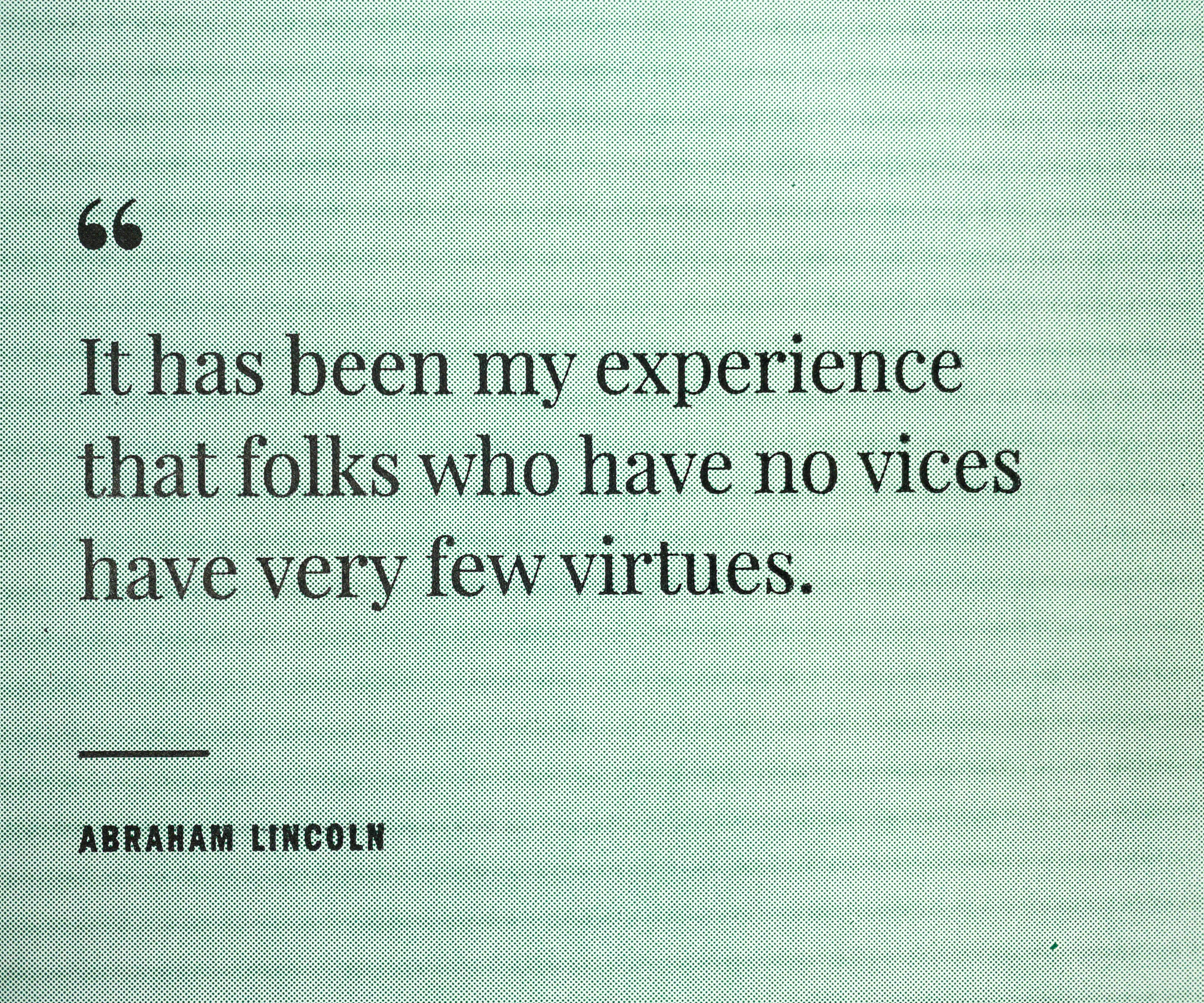 It has been my experience that folks who have no vices have very few virtues.

– Abraham Lincoln
Each item is cradled in a custom-fitted foam case to make sure that they arrive in their best condition.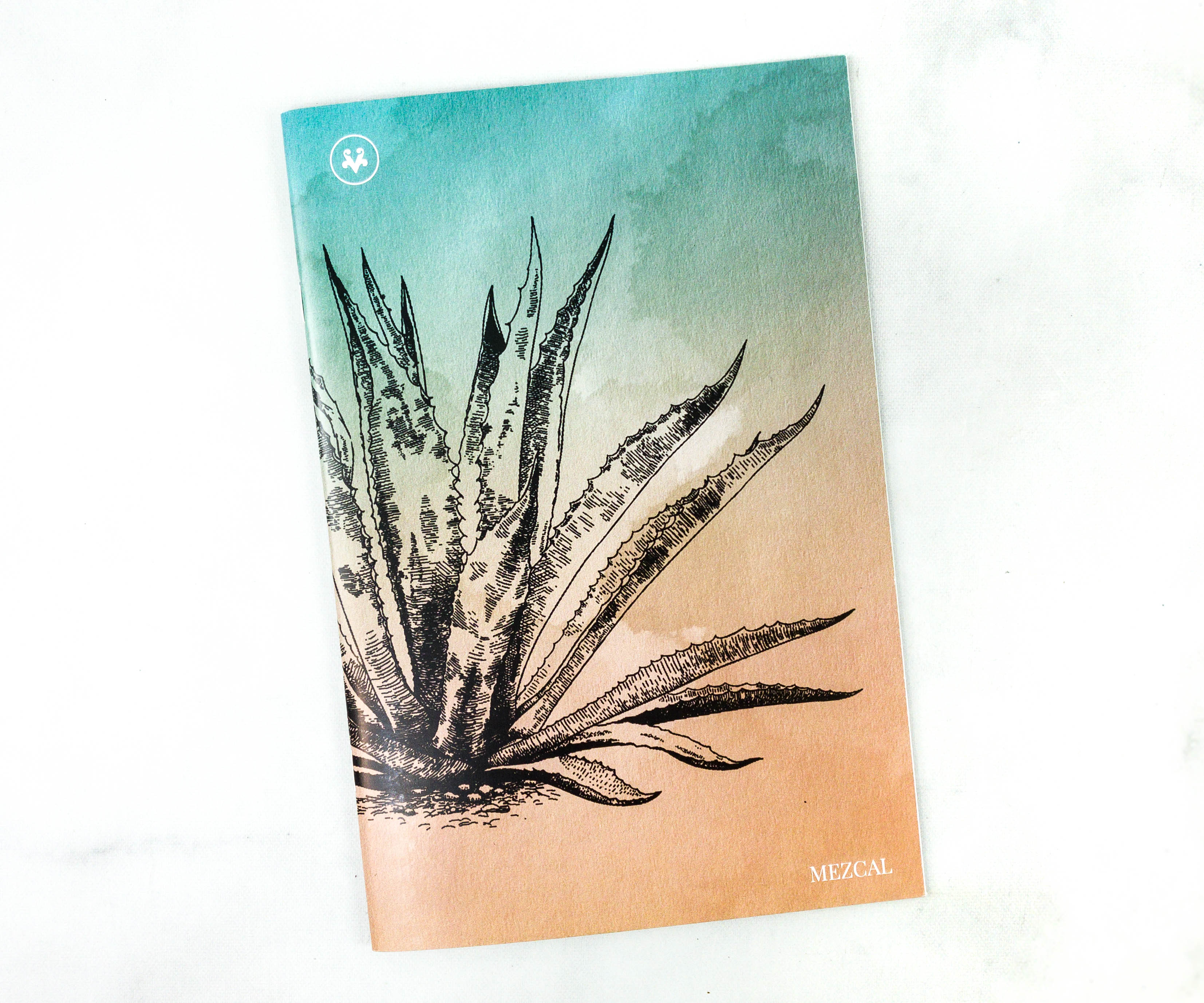 Included in this month's box is a booklet. It contains interesting features, plus information about the box's contents.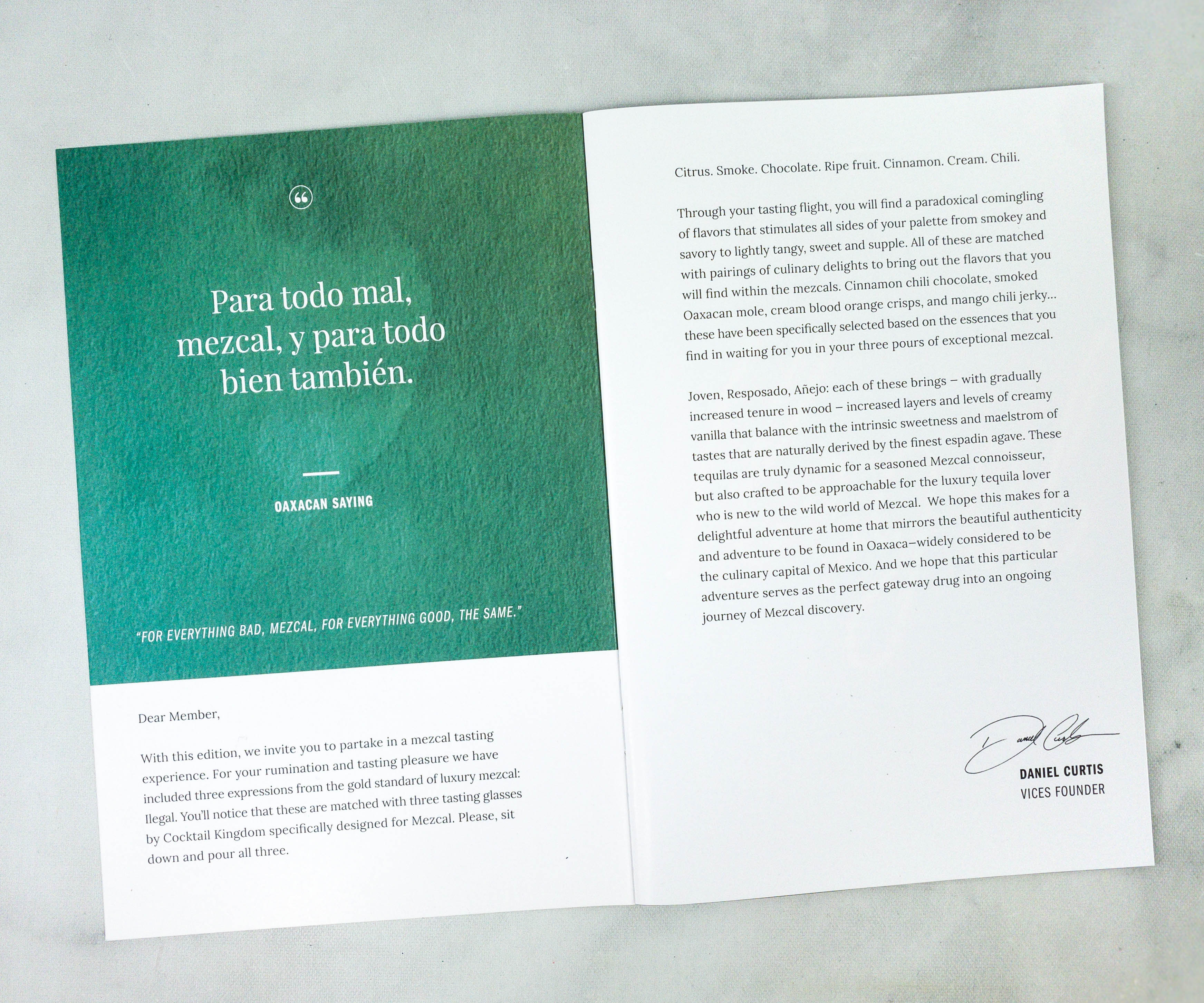 Inside the booklet is a message from Daniel Curtis, Founder of Robb Vices.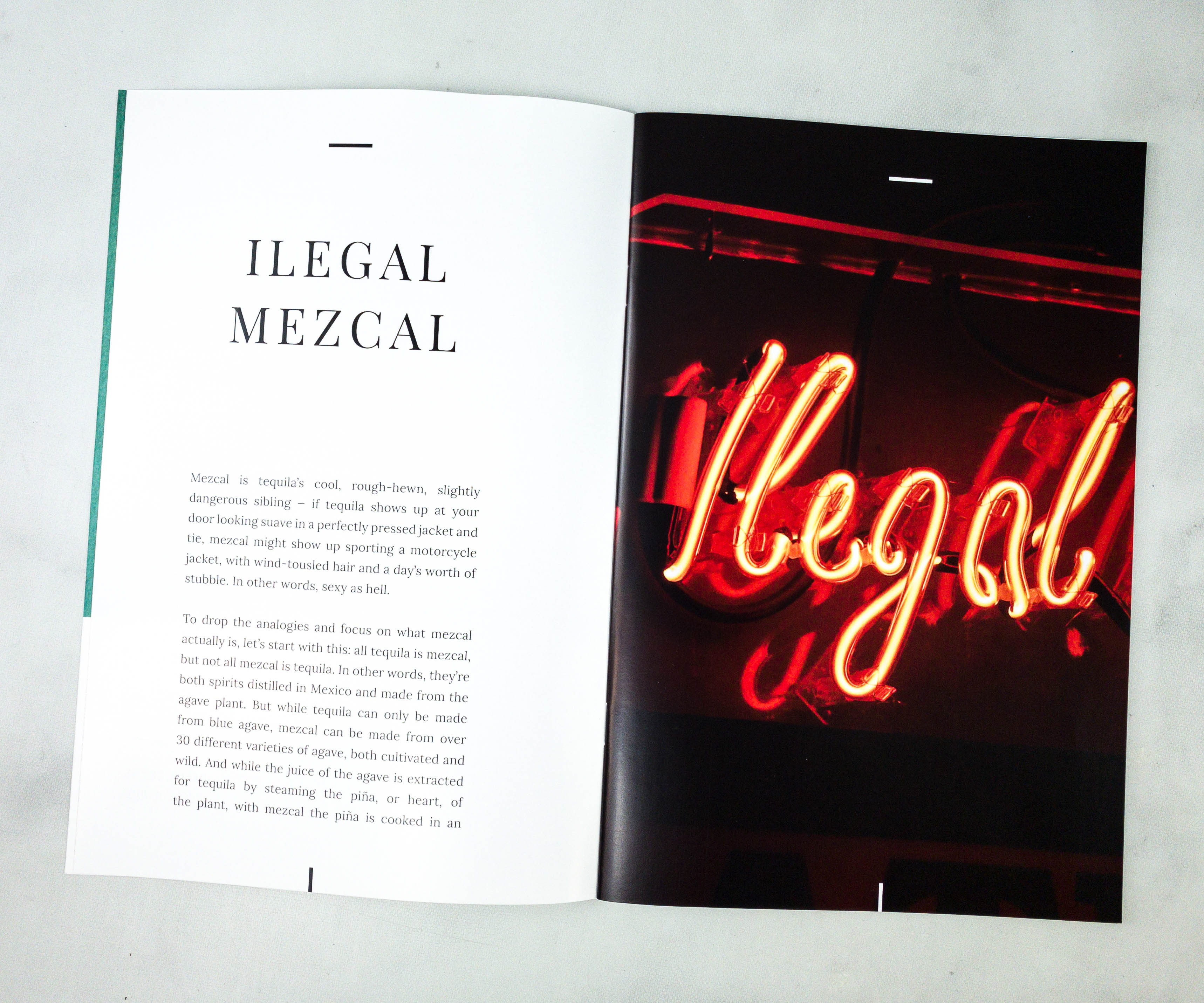 The story of the premium product is told through this novella-sized booklet with a multi-page featurette on each selection. This part of the booklet discusses the similarity and difference between mezcal and tequila.
According to this article, all tequila is mezcal, but not all mezcal is tequila. They are both spirits, yet the tequila is only made of blue agave while the mezcal can be made from over 30 different varietes of agave.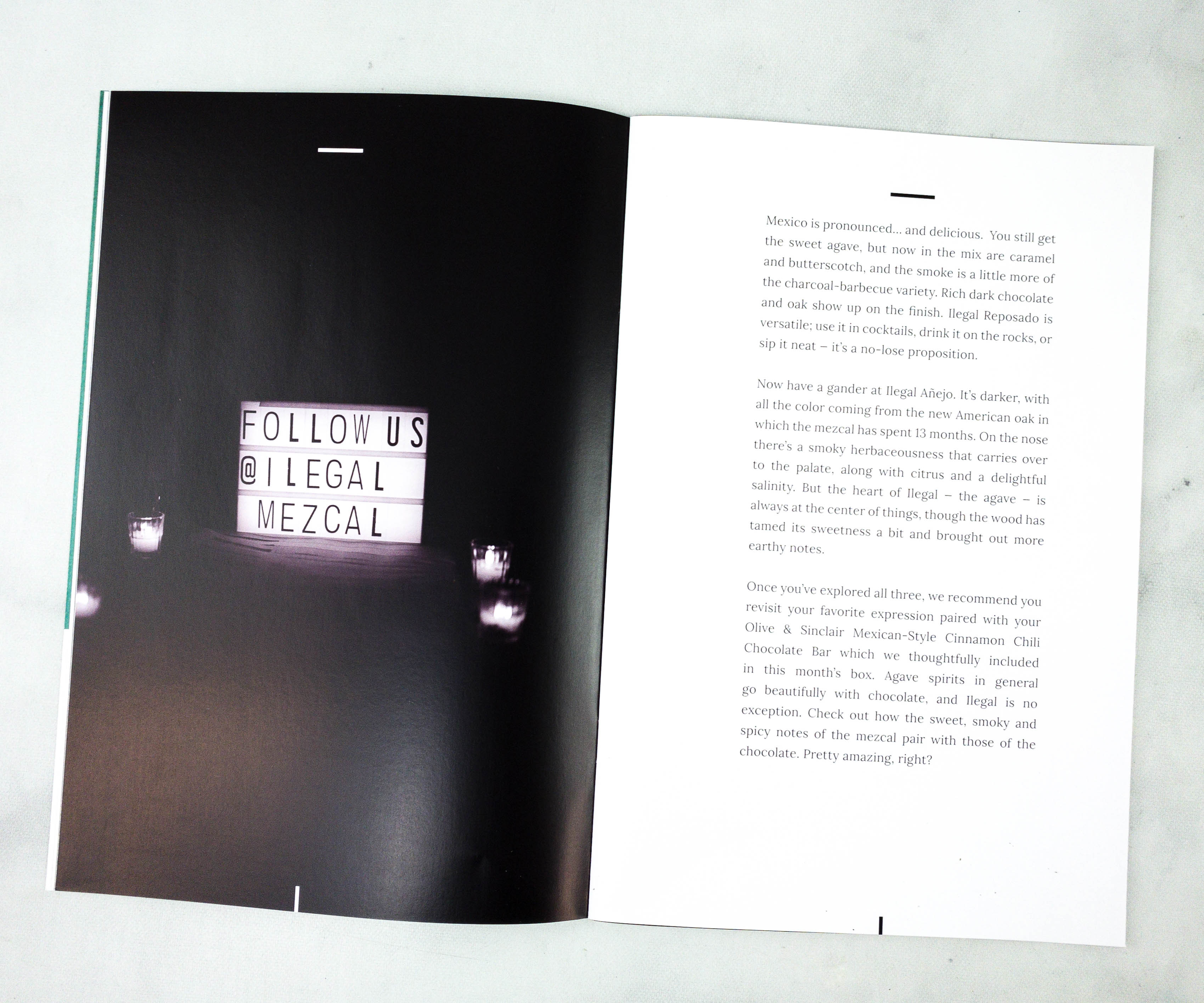 This is such an interesting read!
The next feature is all about Mexican chocolate!
Mexican chocolate is not your average chocolate. Made from ground roasted cacao nibs, sugar, and cinnamon, it has a slightly granular texture and a distinctive spiced flavor.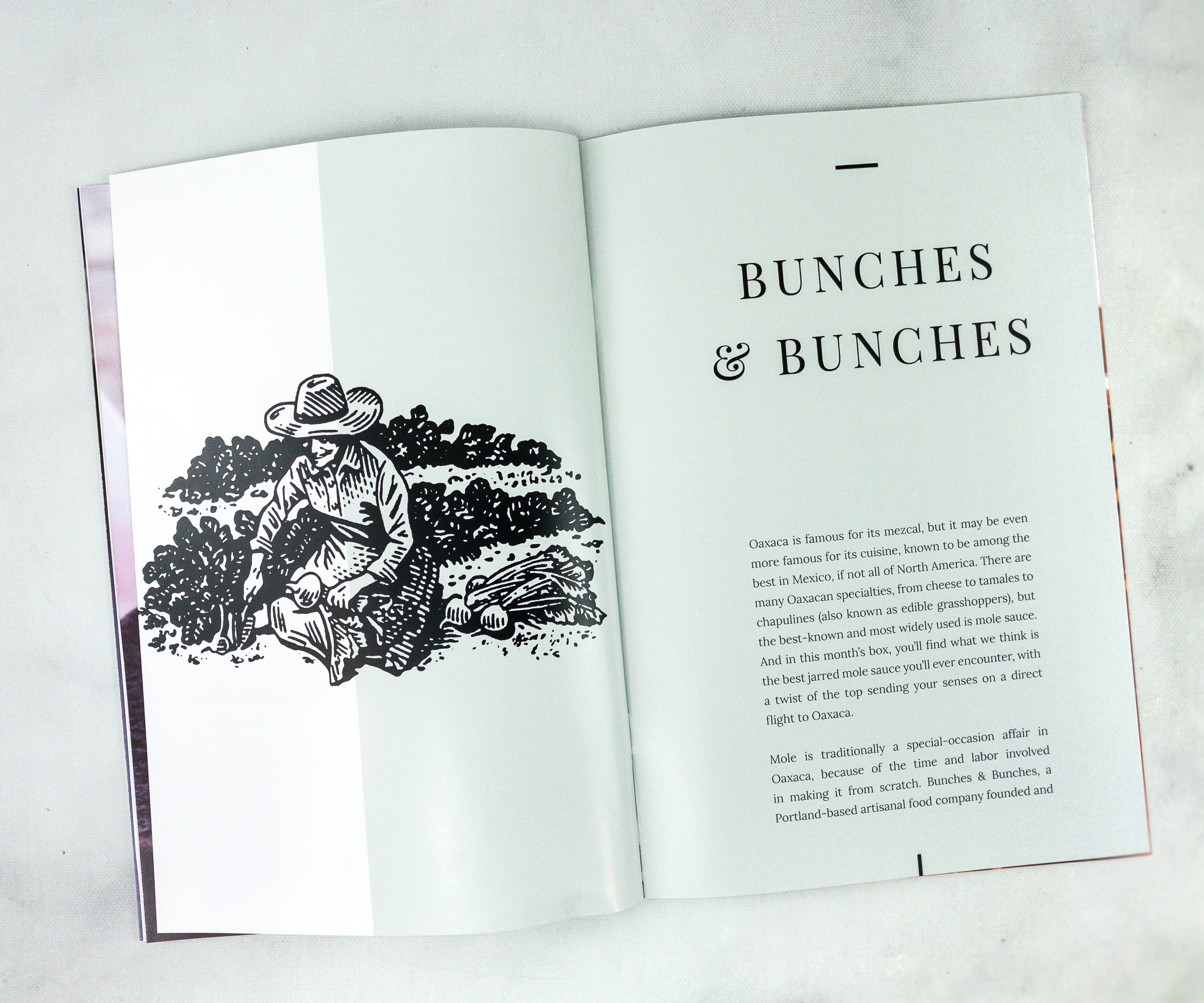 Here, they discussed Bunches & Bunches, a Portland-based artisanal food company known for their tasty delicious goods and treats!
As always, this booklet comes with a directory of all the items this month.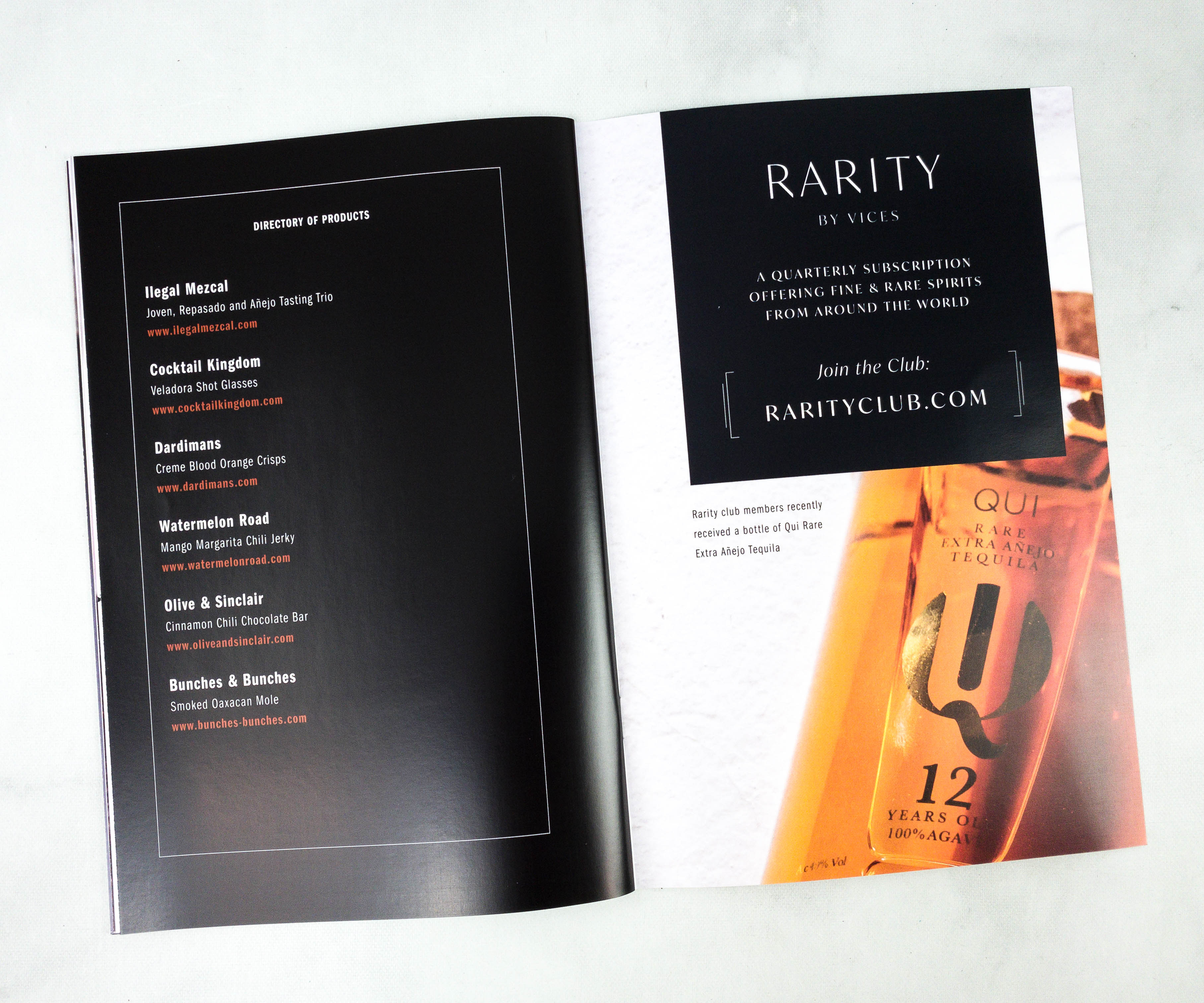 Featured on the other side of the booklet is Rarity by Vices. This quarter's Rarity club members received a bottle of Qui Rare Extra Añejo Tequila!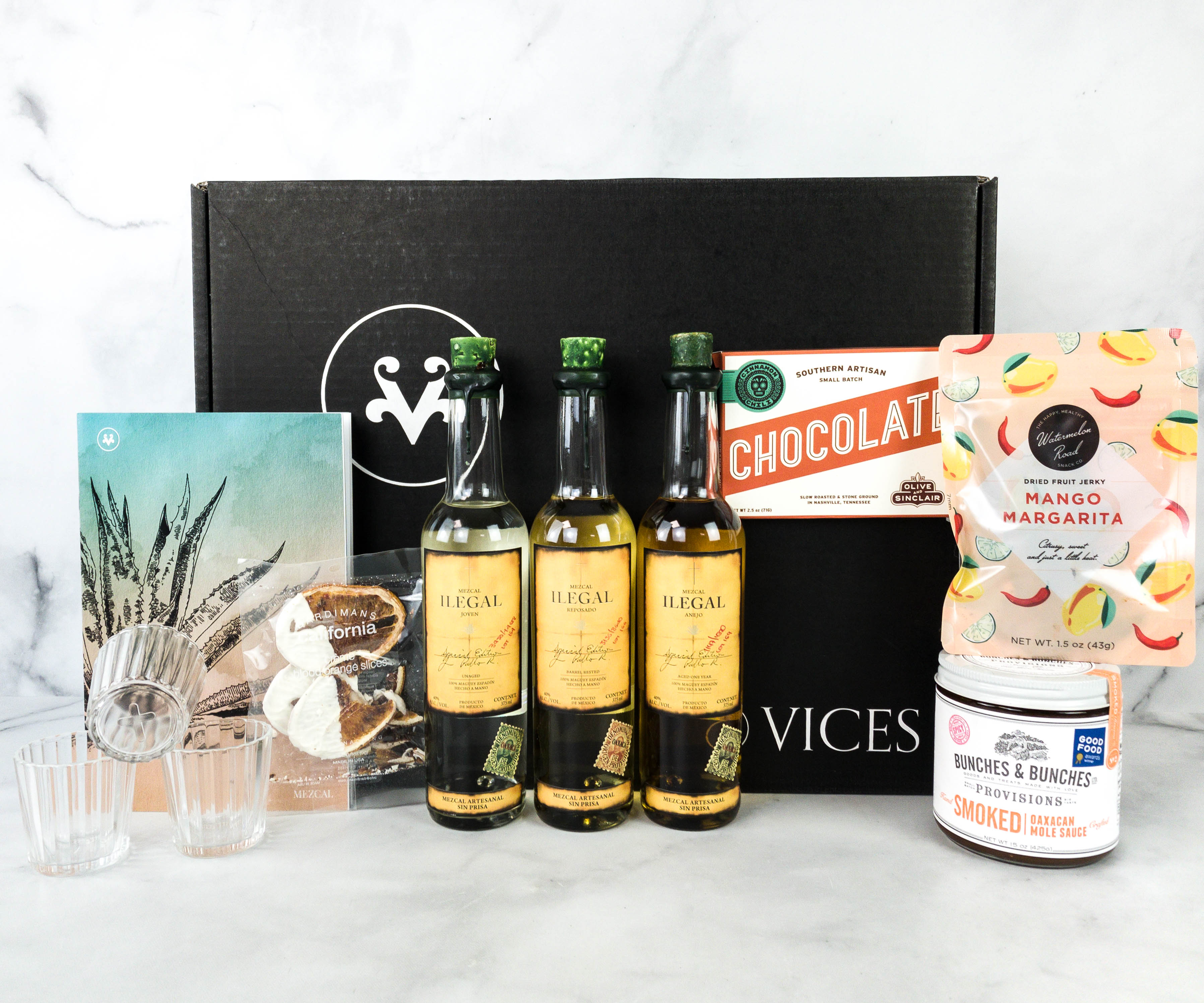 Everything in my November 2020 box!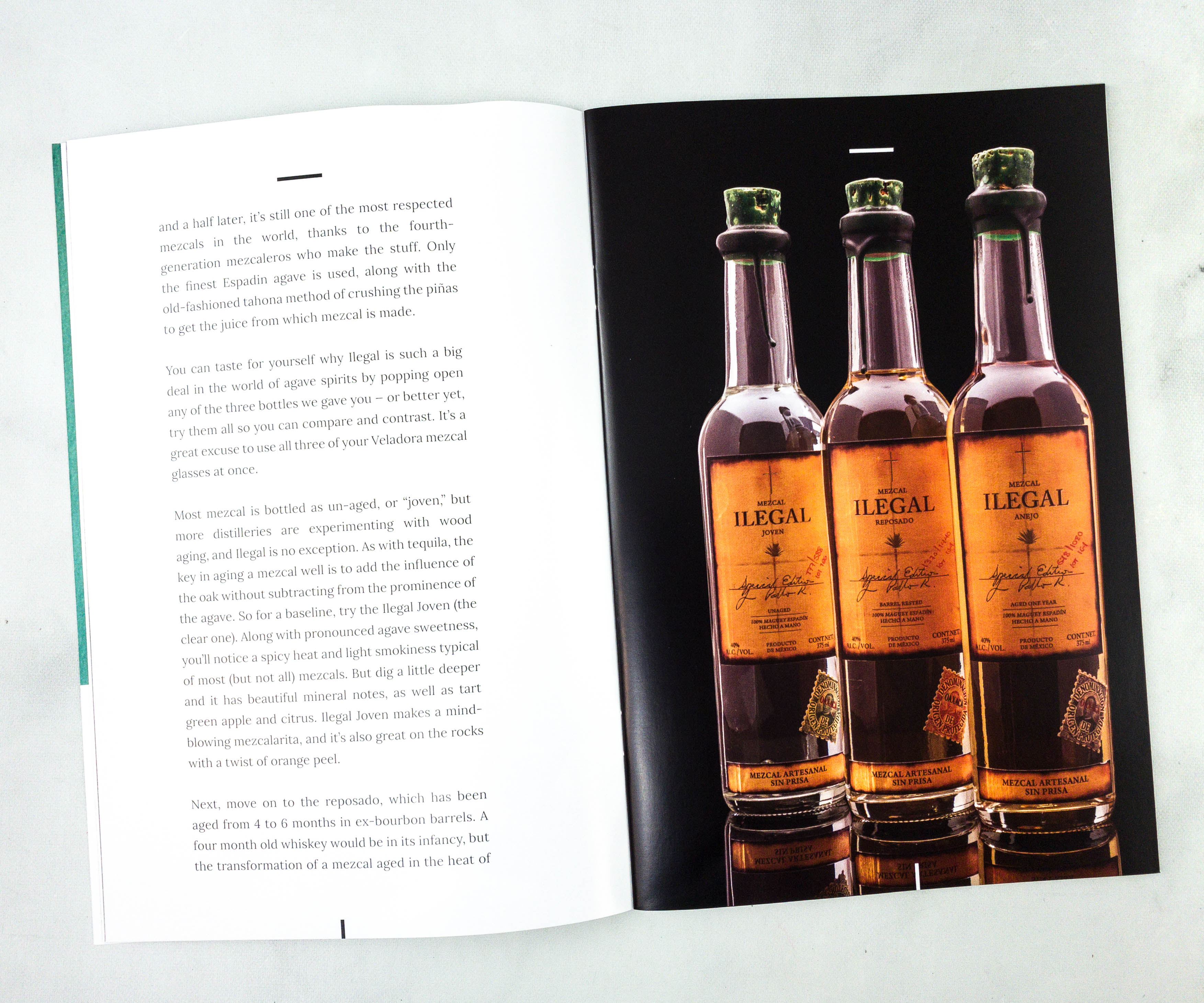 First up is the drinks!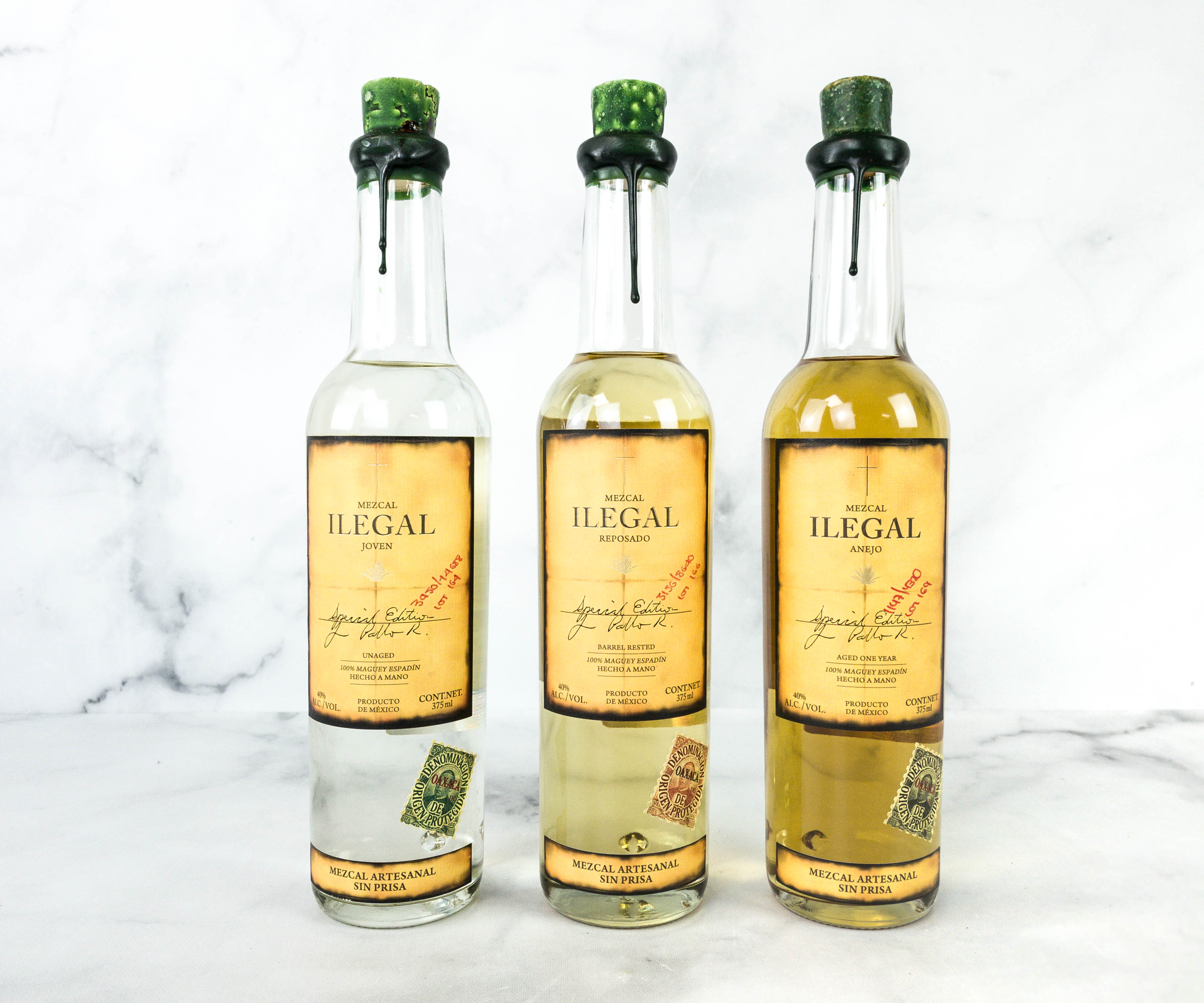 This month's box includes three different versions of Mezcal Ilegal: JOVEN, REPOSADO, and AÑEJO!
Each one features different colors, textures, and tastes!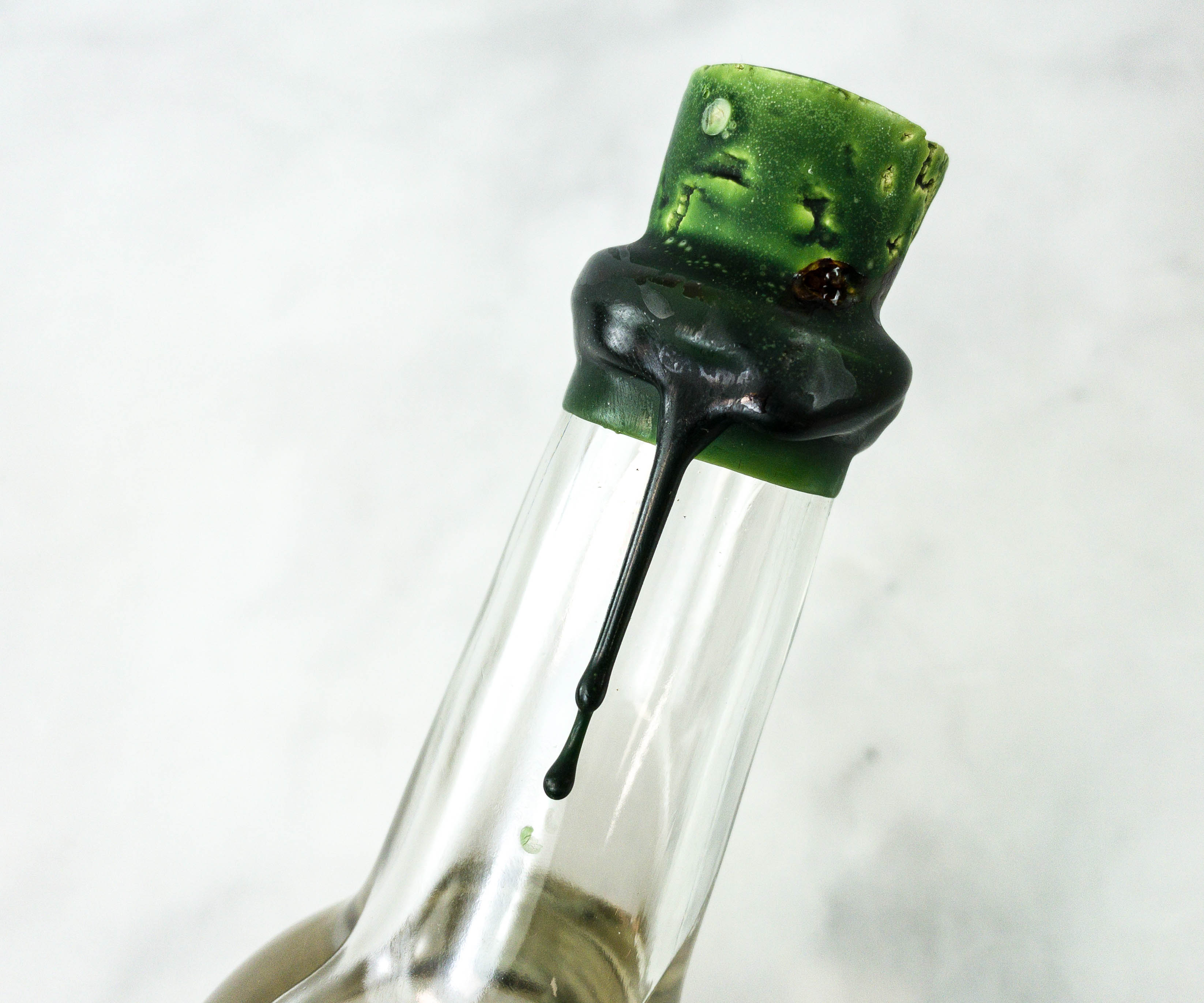 These bottles were carefully sealed using a unique technique that uses melted candles.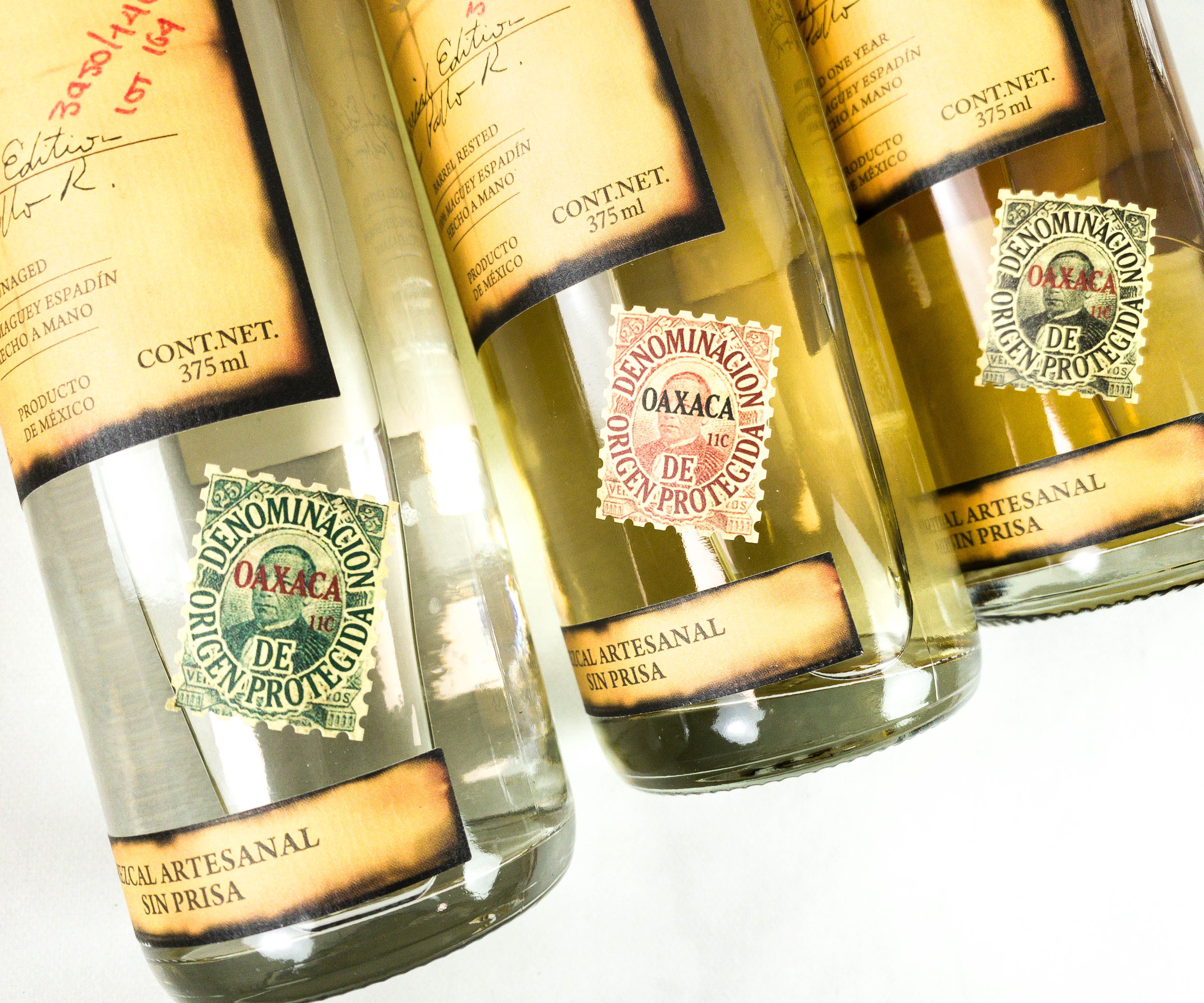 These bottles also come with their own respective Oaxaca Seal for authenticity.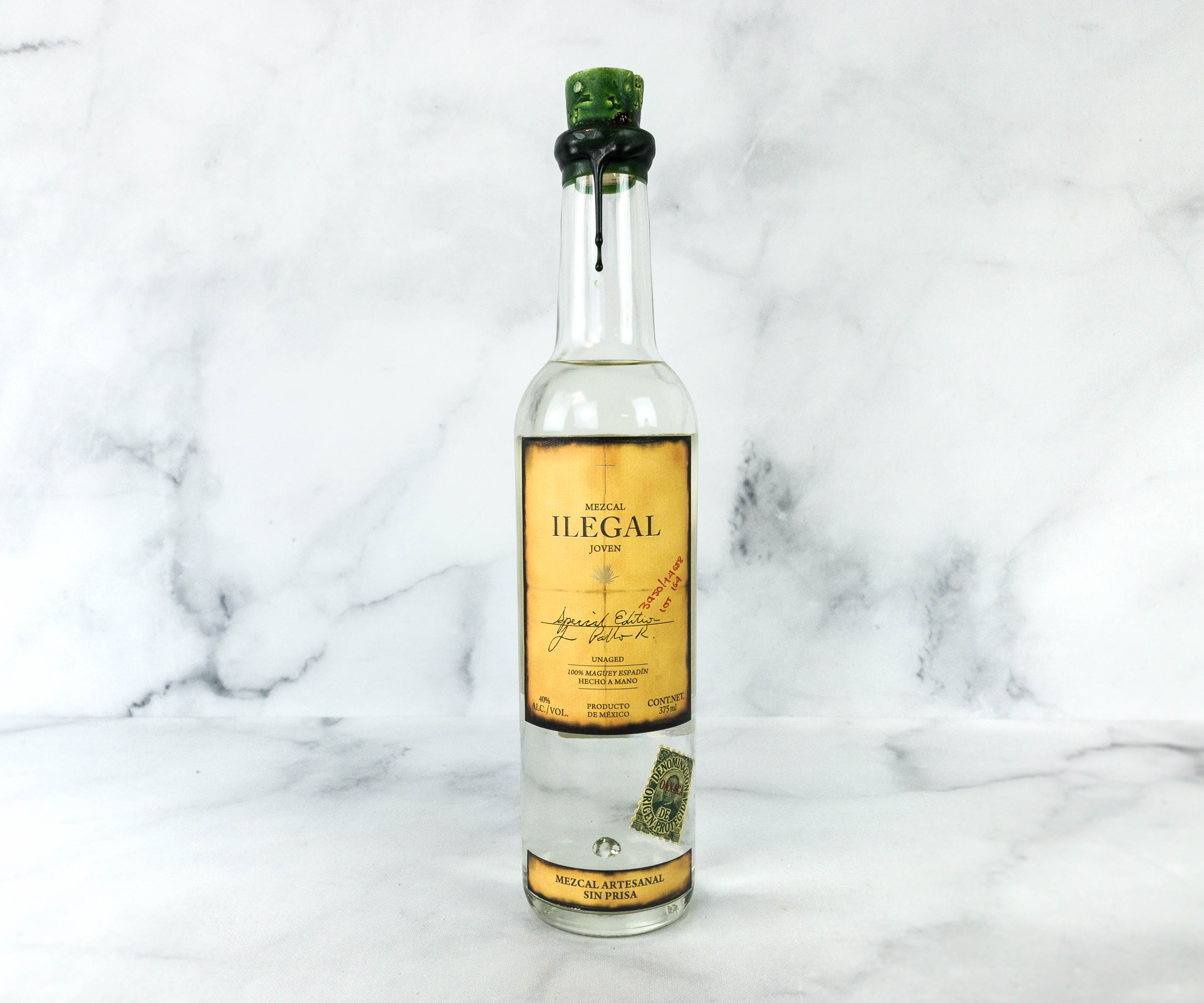 Ilegal Mezcal Joven ($25) The first bottle is Joven, an Ilegal Mezcal made from 100% wild espadin agave, Oaxacan sun, water, and time.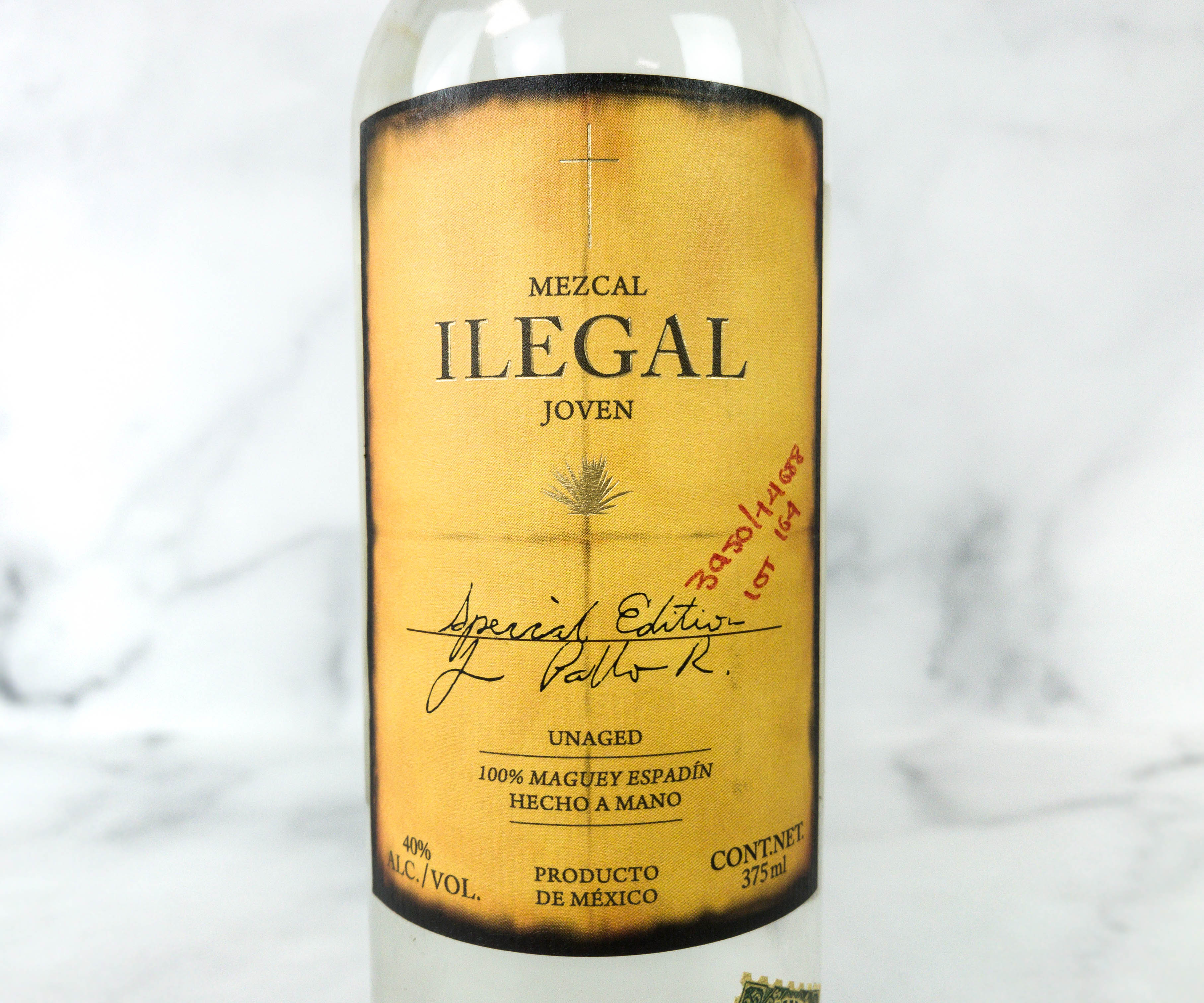 It's an un-aged spirit that features a full-bodied agave flavor with hints of pears, apples, and citrus flavor. This drink also possesses strong eucalyptus and mineral aromas which compliments perfectly well with its floral notes.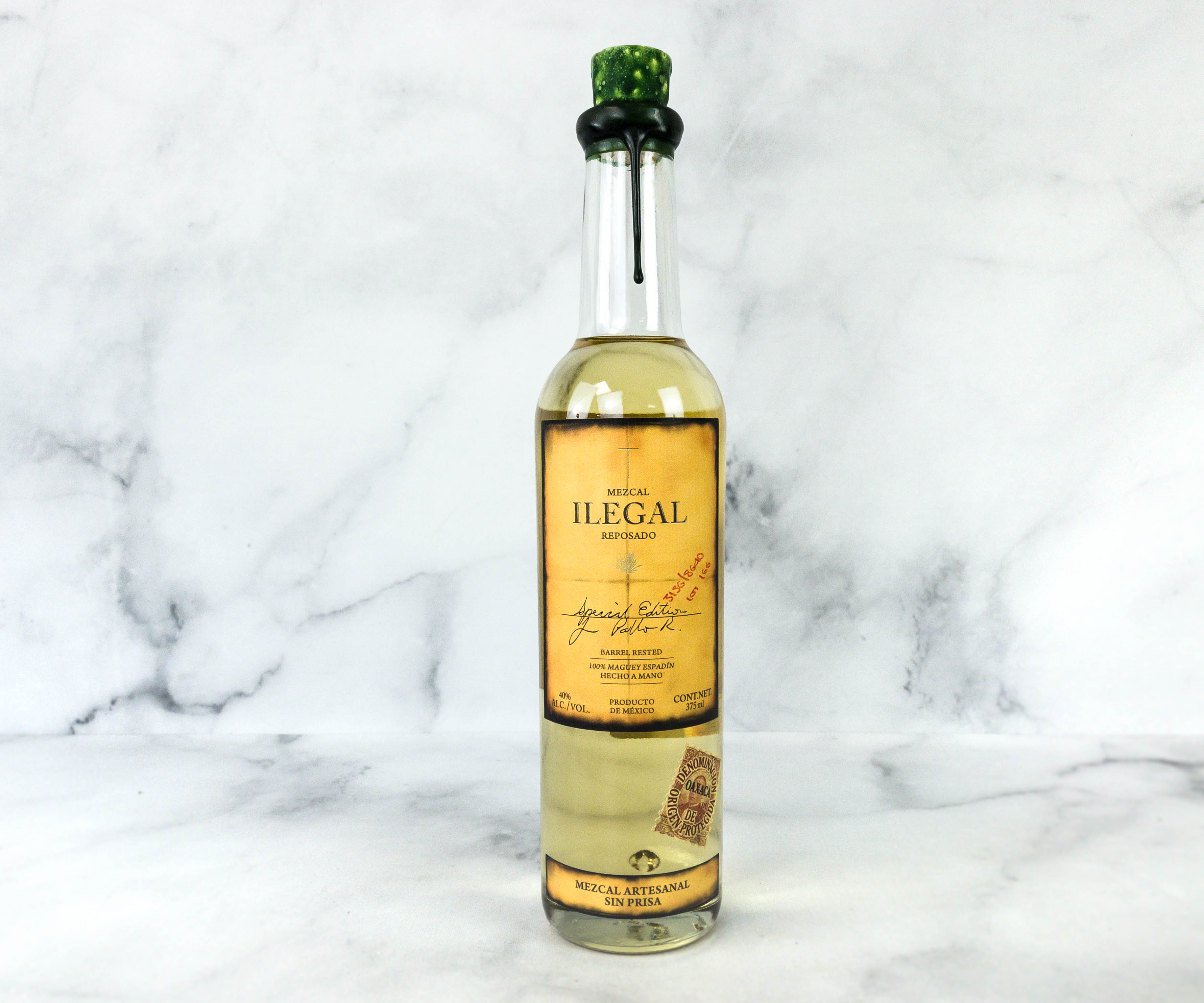 Ilegal Mezcal Reposado ($30.50) Resposado is a 4-month old spirit, aged in a medium-charred American Oak. This Mezcal is made from 100% espadin agave blended with roasted piñas.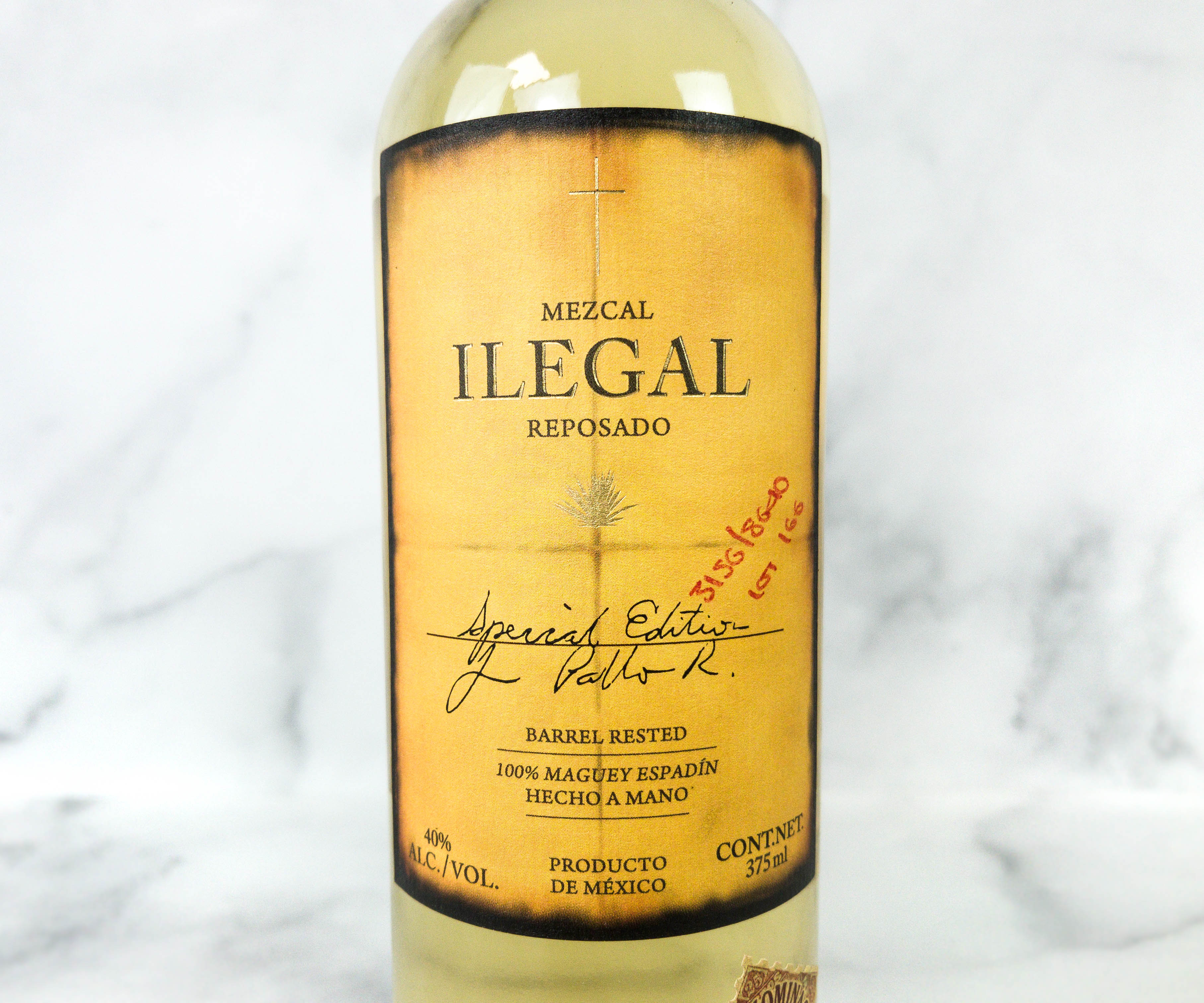 It's a luscious drink that features a woody, caramel-like scent, butterscotch, caramel, cedar, pipe tobacco, and agave flavor with an oaky, woody finish.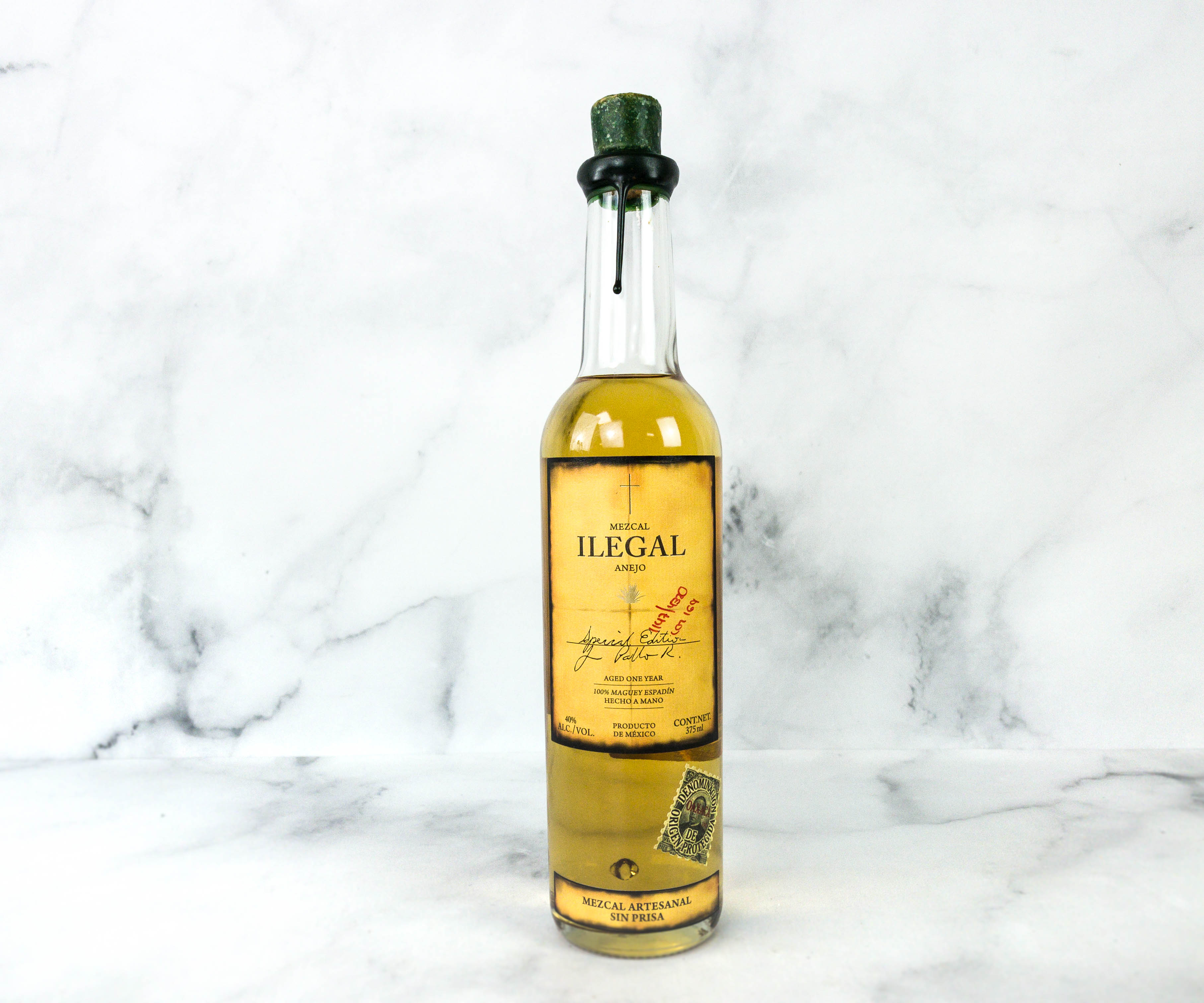 Ilegal Mezcal Anejo ($50) Like the first Mezcal spirit, Anejo is also made from 100% wild espadin agave, Oaxacan sun, water, and time. The only difference is that Anejo is aged for 13 months in a combination of American and French Oak.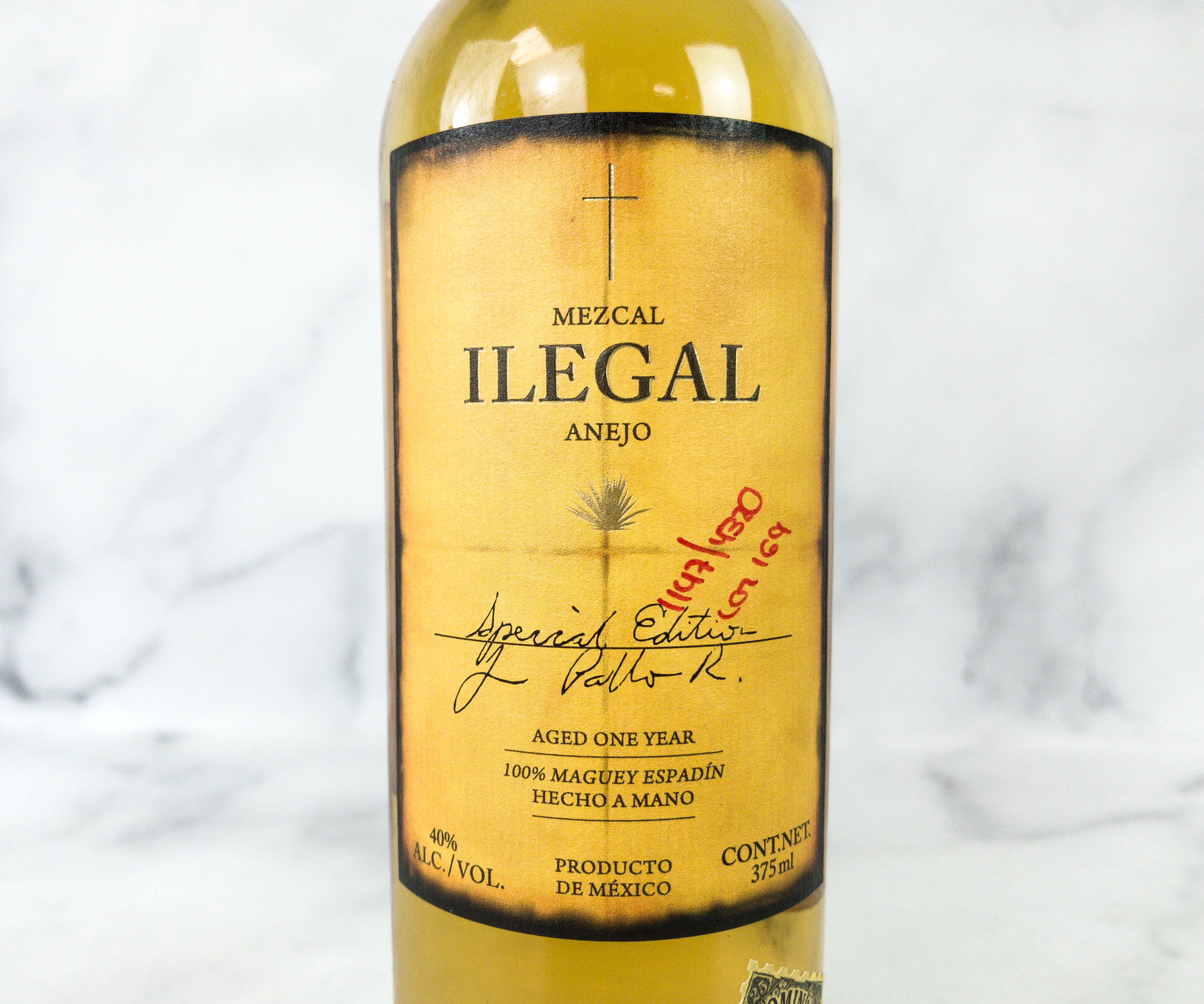 This spirit opens with hints of honey, dried herbs, cherries, and a soft smoke scent. It also features a floral, orange rind, and herbal taste with an earthy, cocoa-like finish.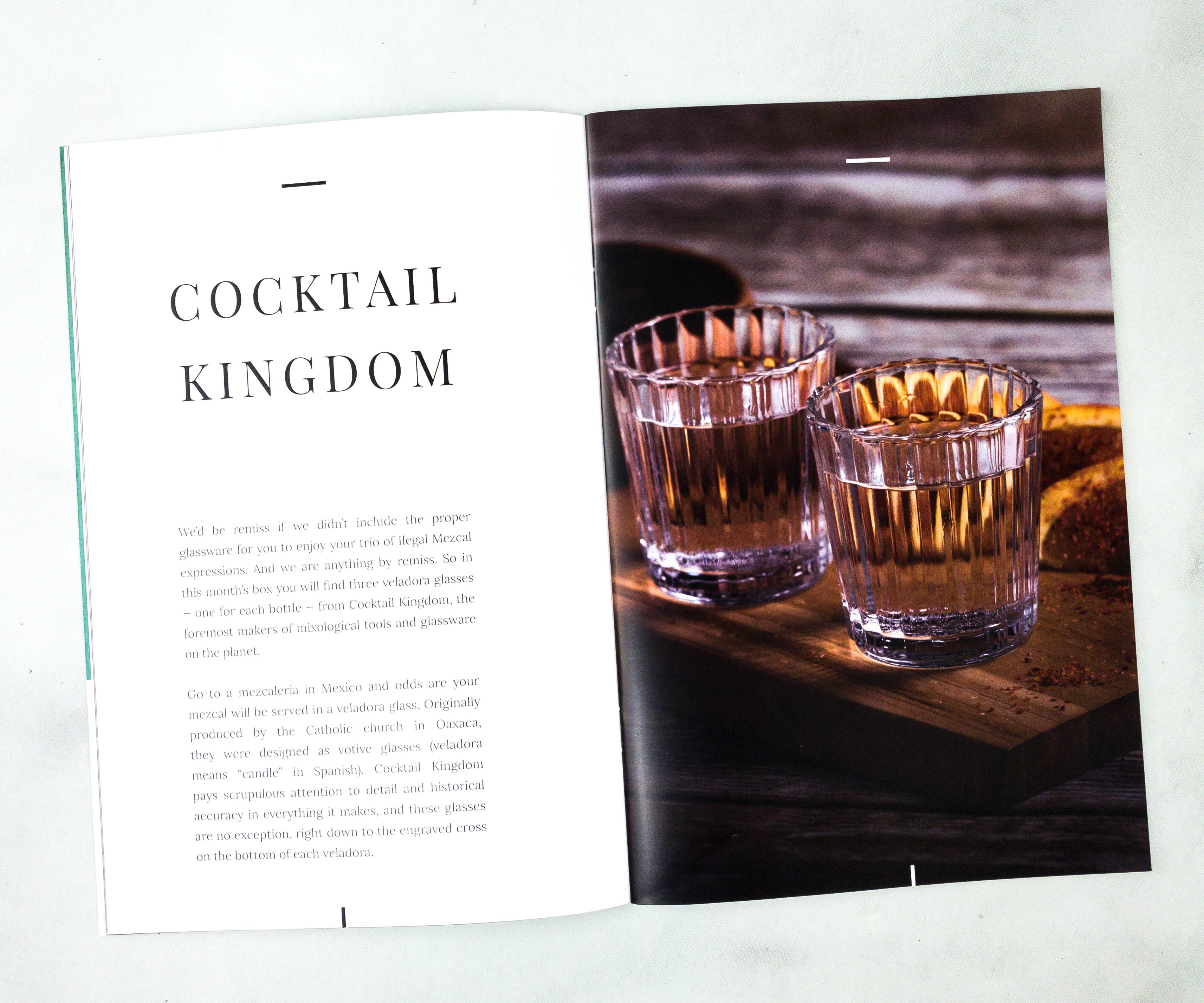 Cocktail Kingdom Veladora Shot Glasses ($4.50) What better way to drink your Mezcal spirit than using a set of traditional Mezcal glasses!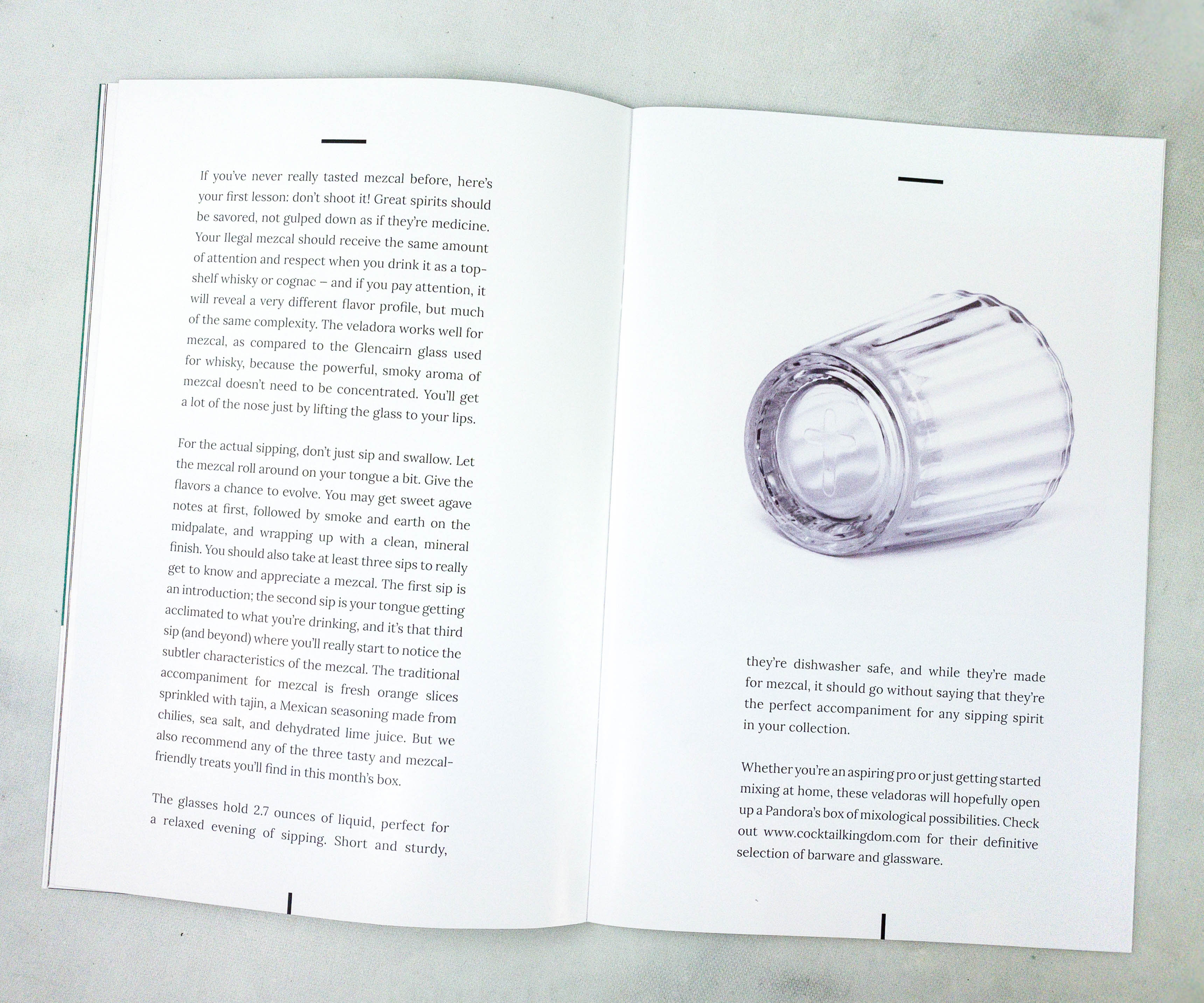 According to the article, veladora means "candle" in Spanish, meaning these glasses are originally produced as church votives.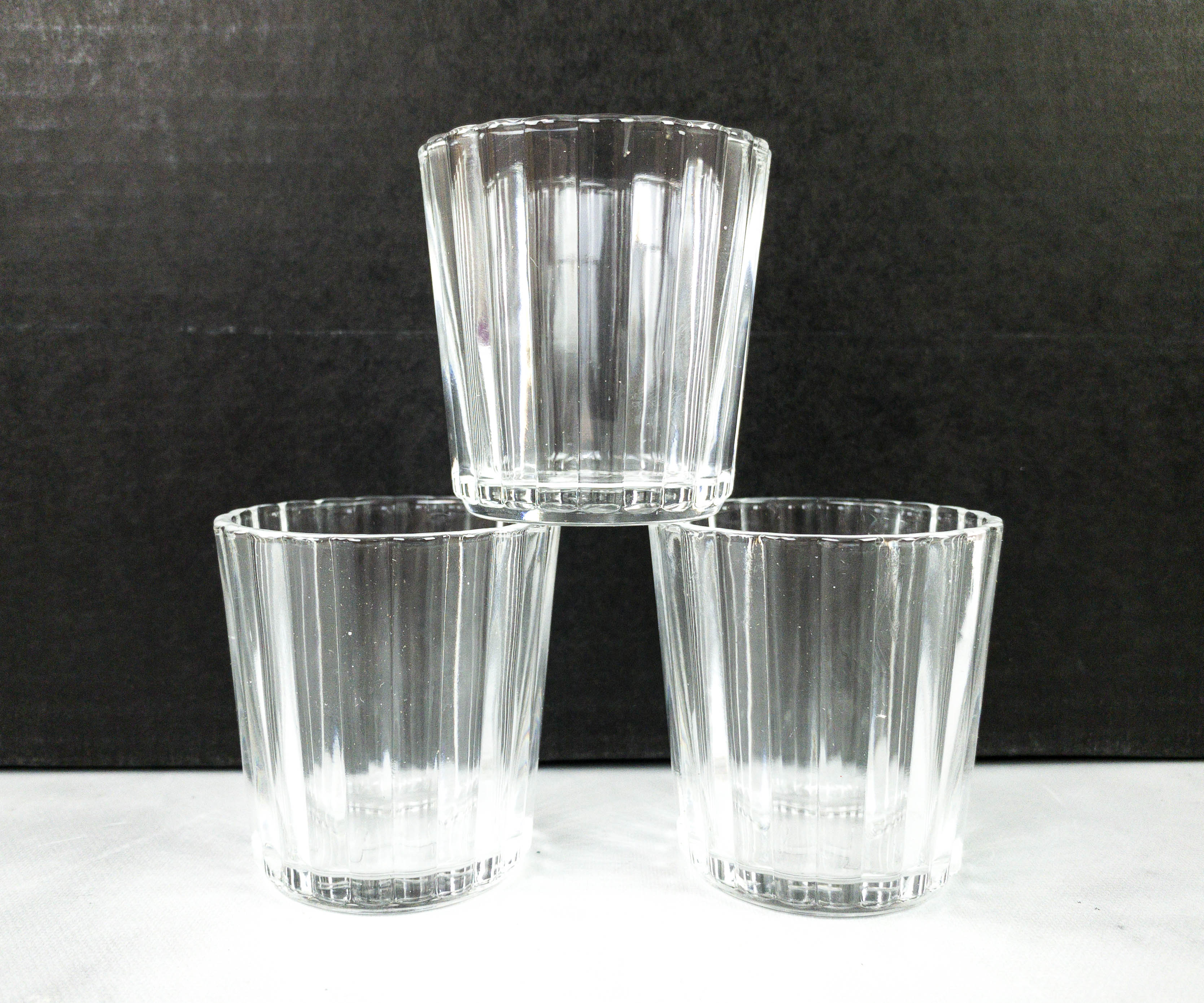 This month's box includes three pieces of veladora glasses made from premium-quality materials that can hold up to 2.7 ounces of liquid.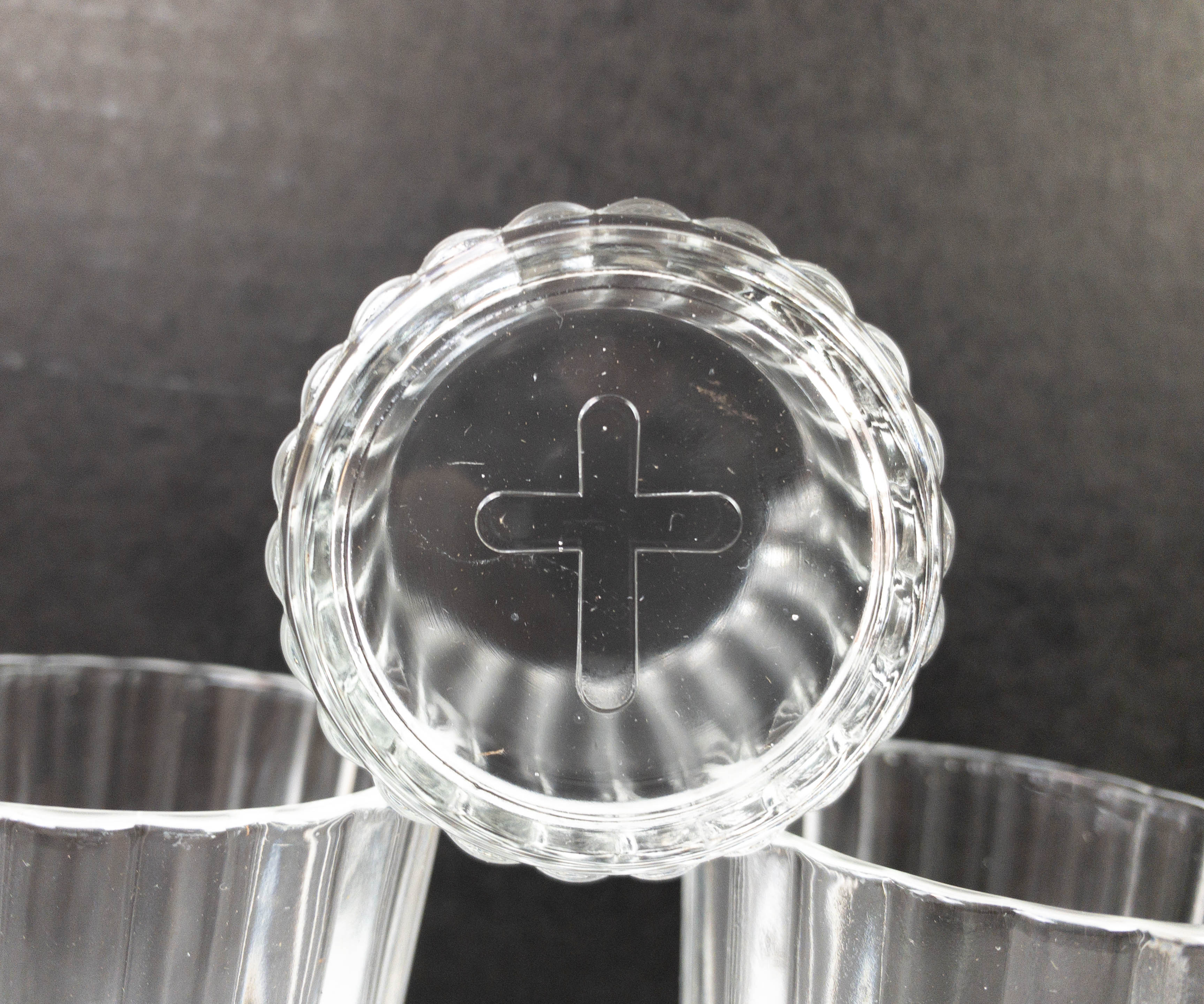 Each piece also comes with a cross design engraved at the bottom part. I know the literature says these are church votive inspired, but by the looks of them they just seemed like perhaps they were sourced from an actual ecclesiastical supply shop.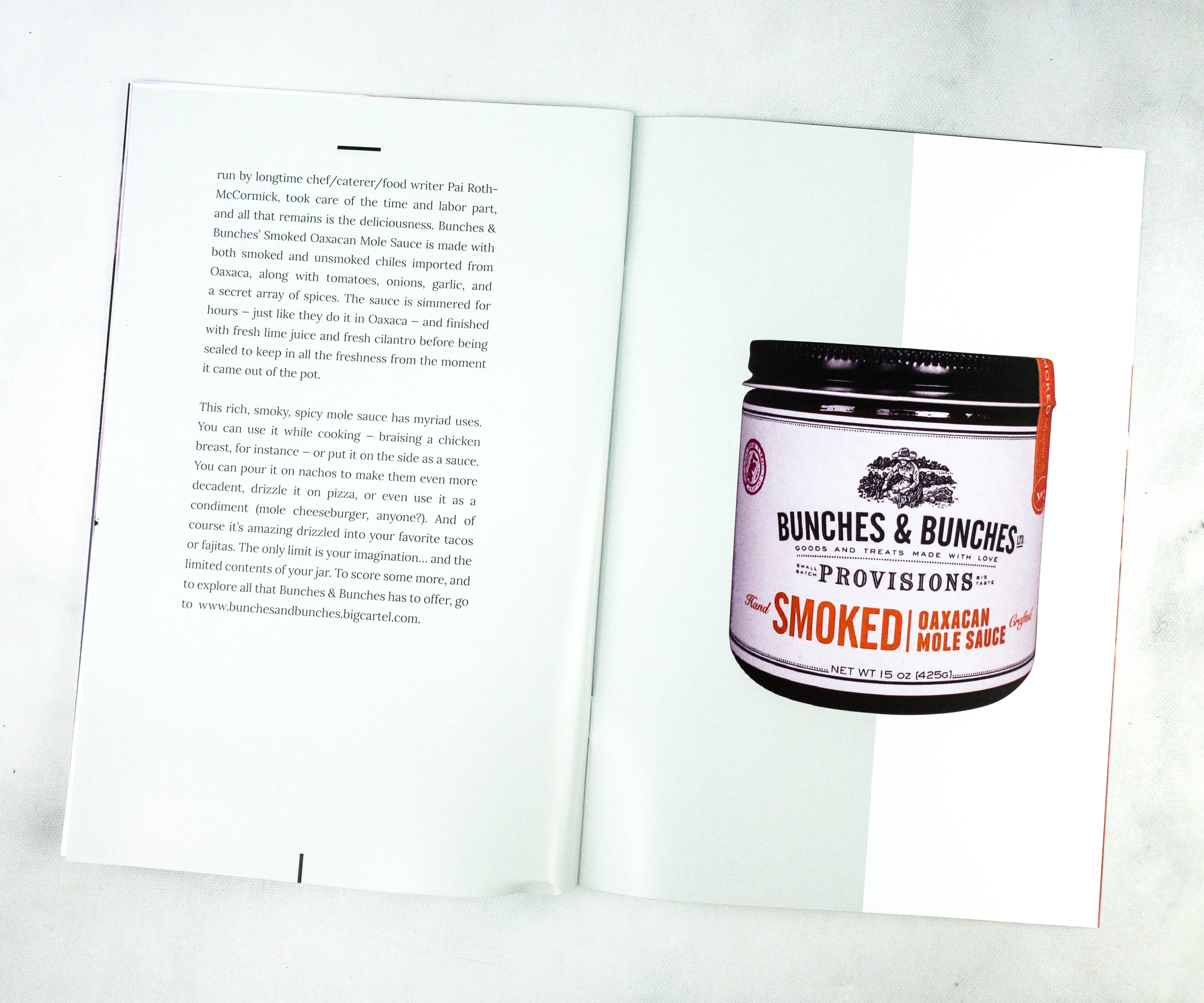 Bunches & Bunches Smoked Oaxacan Mole ($12.95) It's an award-winning mole sauce that can be used as a braise, sauce, slather, dip, or condiment. For those who are not familiar, mole sauce is a traditional Mexican sauce made with fruit, chili pepper, and spices.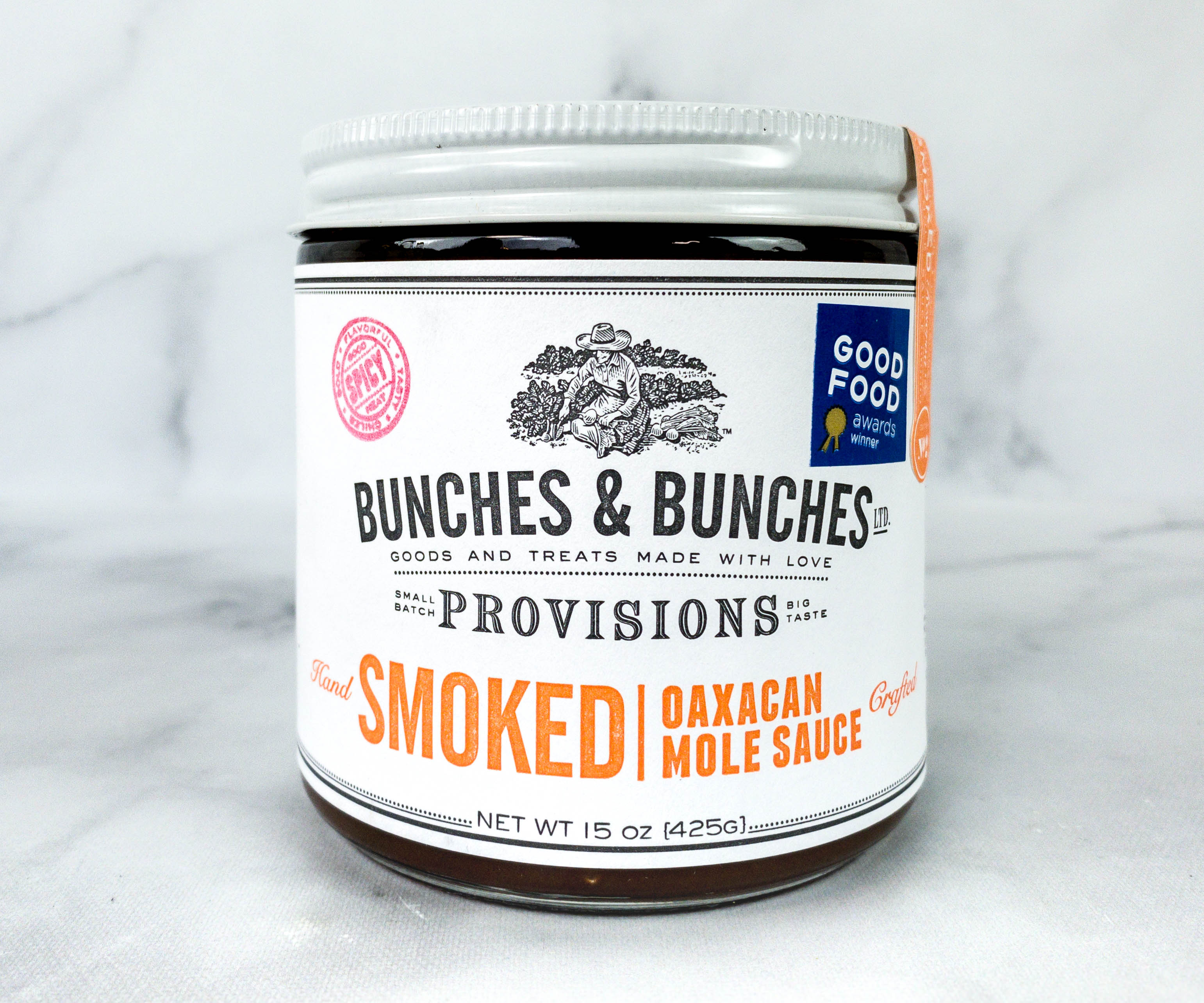 Produced in small batches, this sauce contains a well-balanced blend of both smoked and unsmoked chiles imported from Oaxaca, plus tomatoes, onions, garlic, and spices.
Featured at the back of the container is a brief history of the product.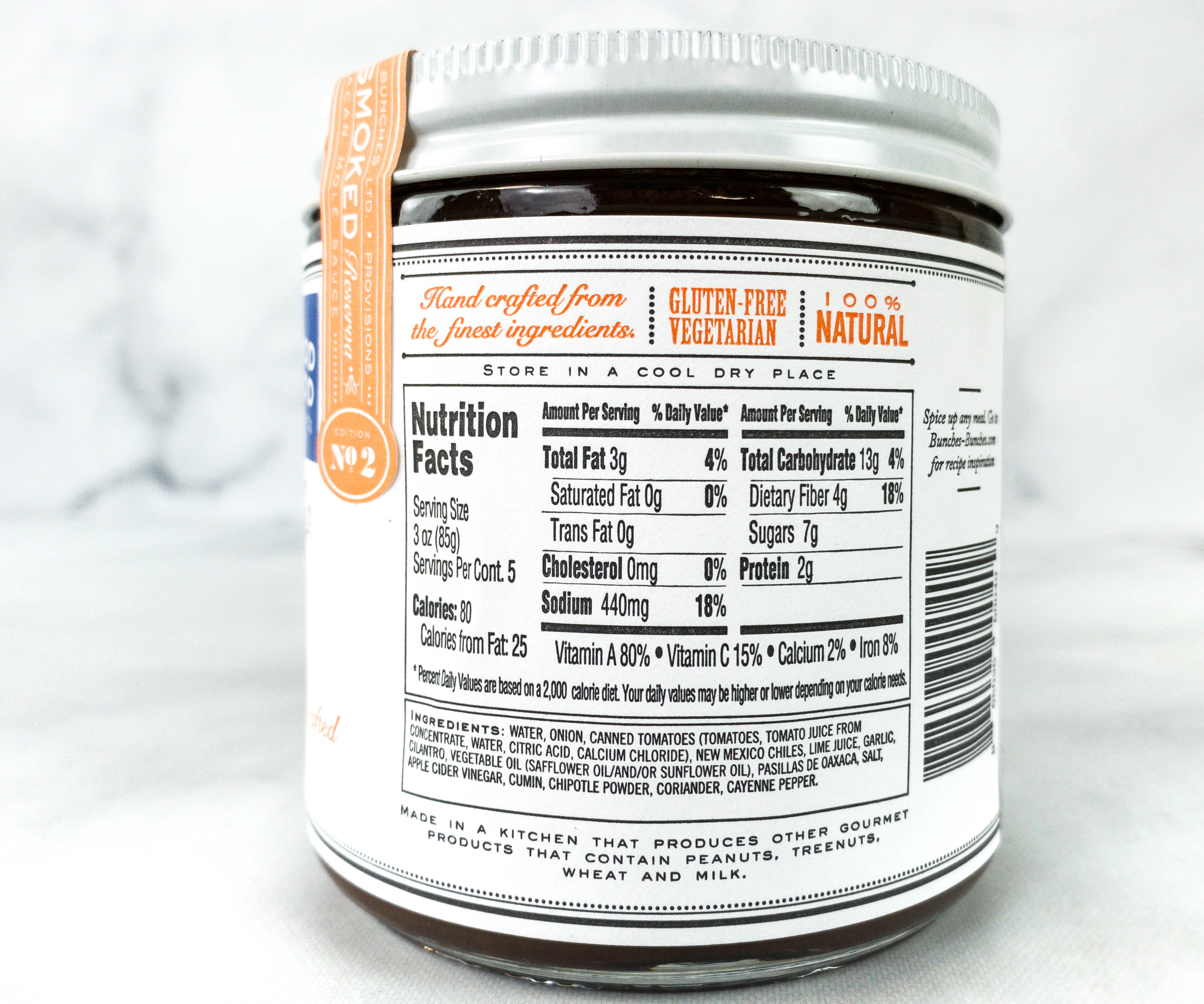 This sauce is natural and gluten-free. It's also packed with vitamin A and vitamin C!
This sauce was simmered for hours, no wonder it came out so flavorful. To use, just heat it up and it's ready to be served.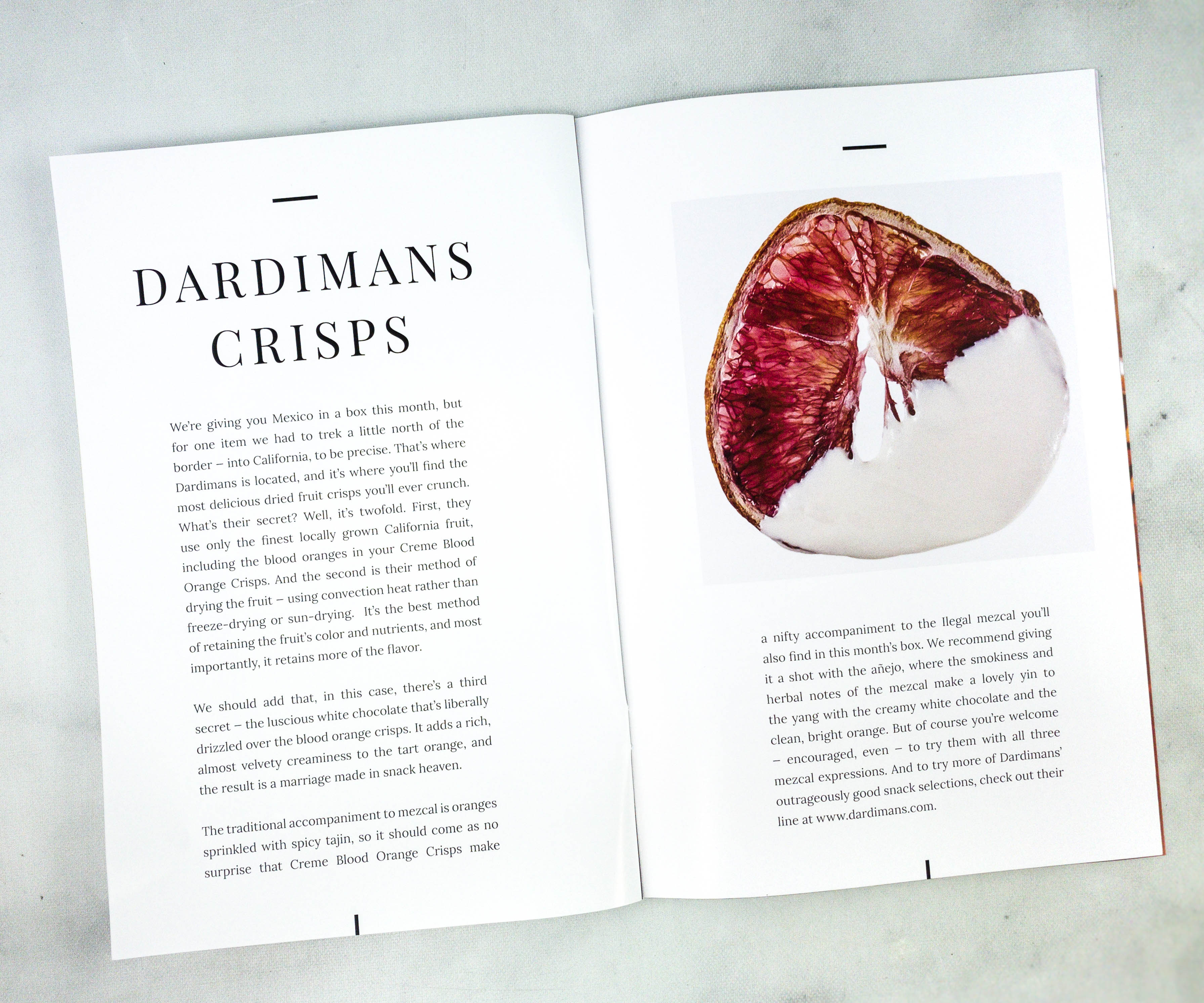 Dardimans Crisps.  It's a pack of dehydrated fruits from California that doesn't contain additional sugar or preservatives. They were dried using convection heat, not freeze-dried or sun-dried, so their color, flavor, and nutrients are well-preserved.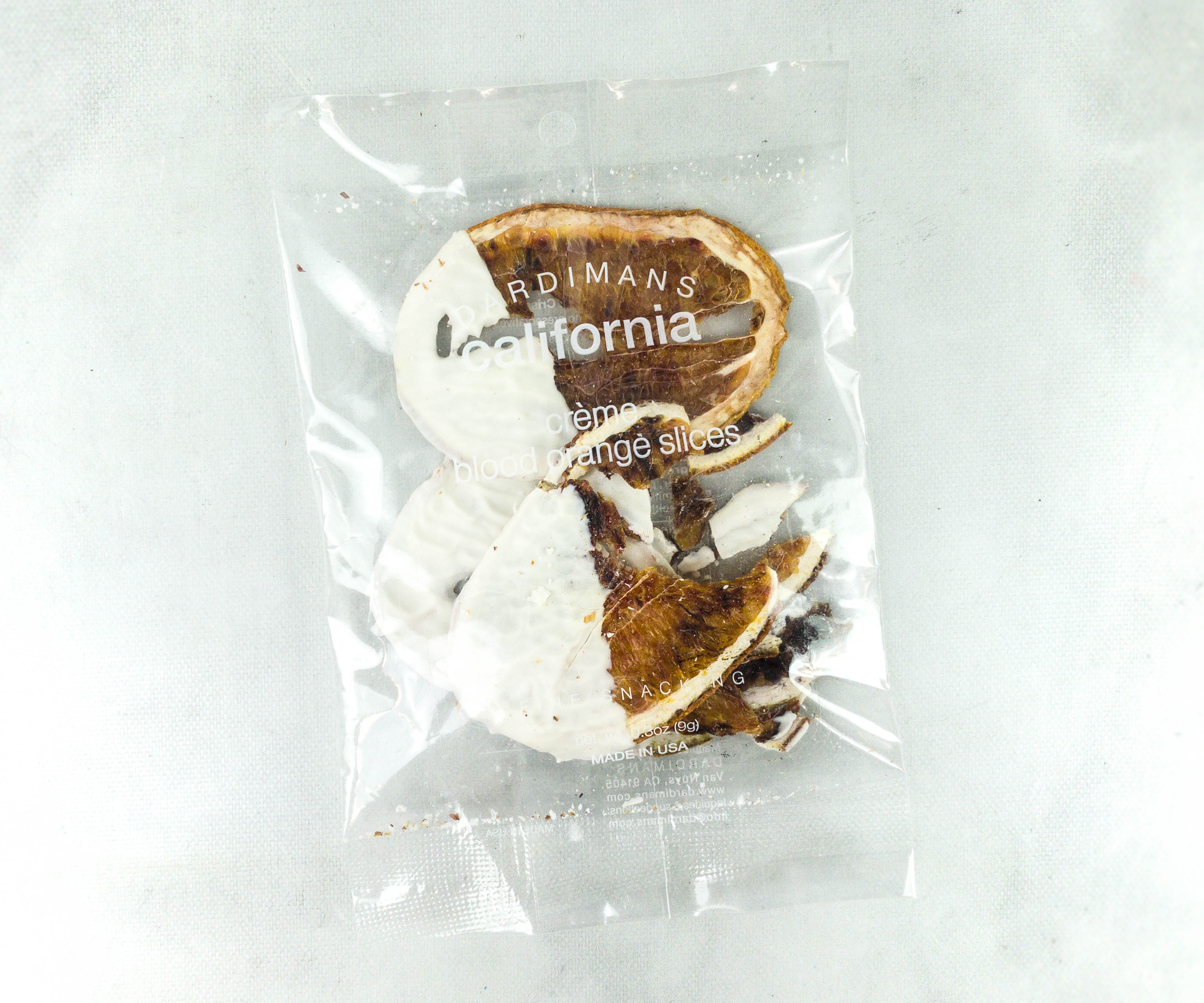 The pack is clear so you can easily see the orange slices inside. All you just need to is add it to your favorite spirit to make it more special!
Watermelon Road Mango Margarita Chili Jerky ($6) This is definitely not your ordinary dried mango! It's way tastier since the mango is infused with lime juice and coated with chili powder.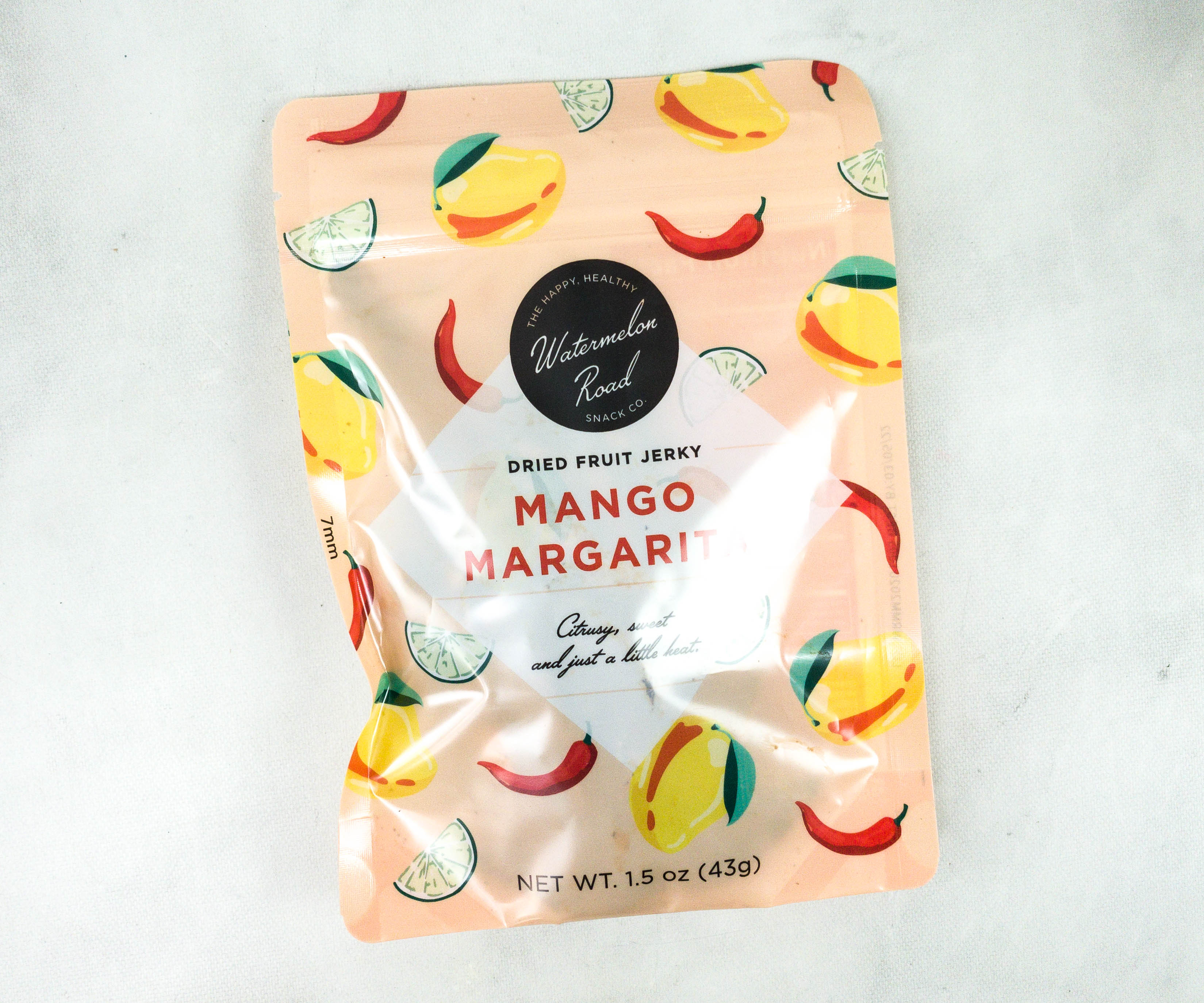 Each piece is chewy and delicious, with a well-balanced mix of sweet and spicy flavors with a little kick of sourness.
This snack is paleo-friendly, vegan-friendly, and gluten-free. It has no added sweetener either!
Here's a look at the mouthwatering slices of dried mango partly covered with chili powder. Every bite brings extra heat that just makes me reach for more!
Olive & Sinclair Cinnamon Chili Chocolate Bar ($7.50) It's a Mexican-style cinnamon chili chocolate bar produced in small batches in Nashville, Tenessee.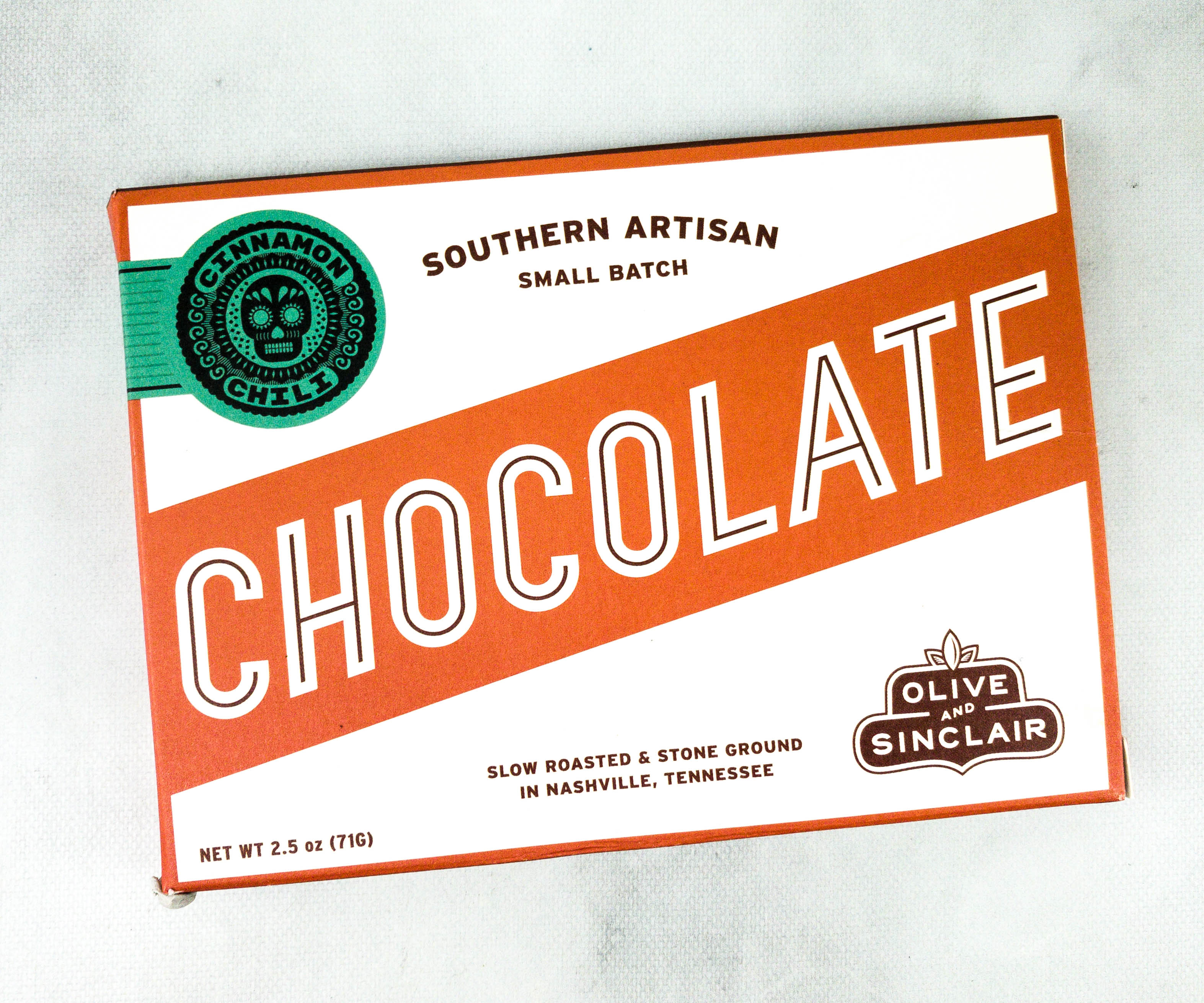 This chocolate is made from single-origin cacao beans from Ghana mixed with the organic cinnamon from Ceylon, cayenne pepper, sugar, and kosher salt.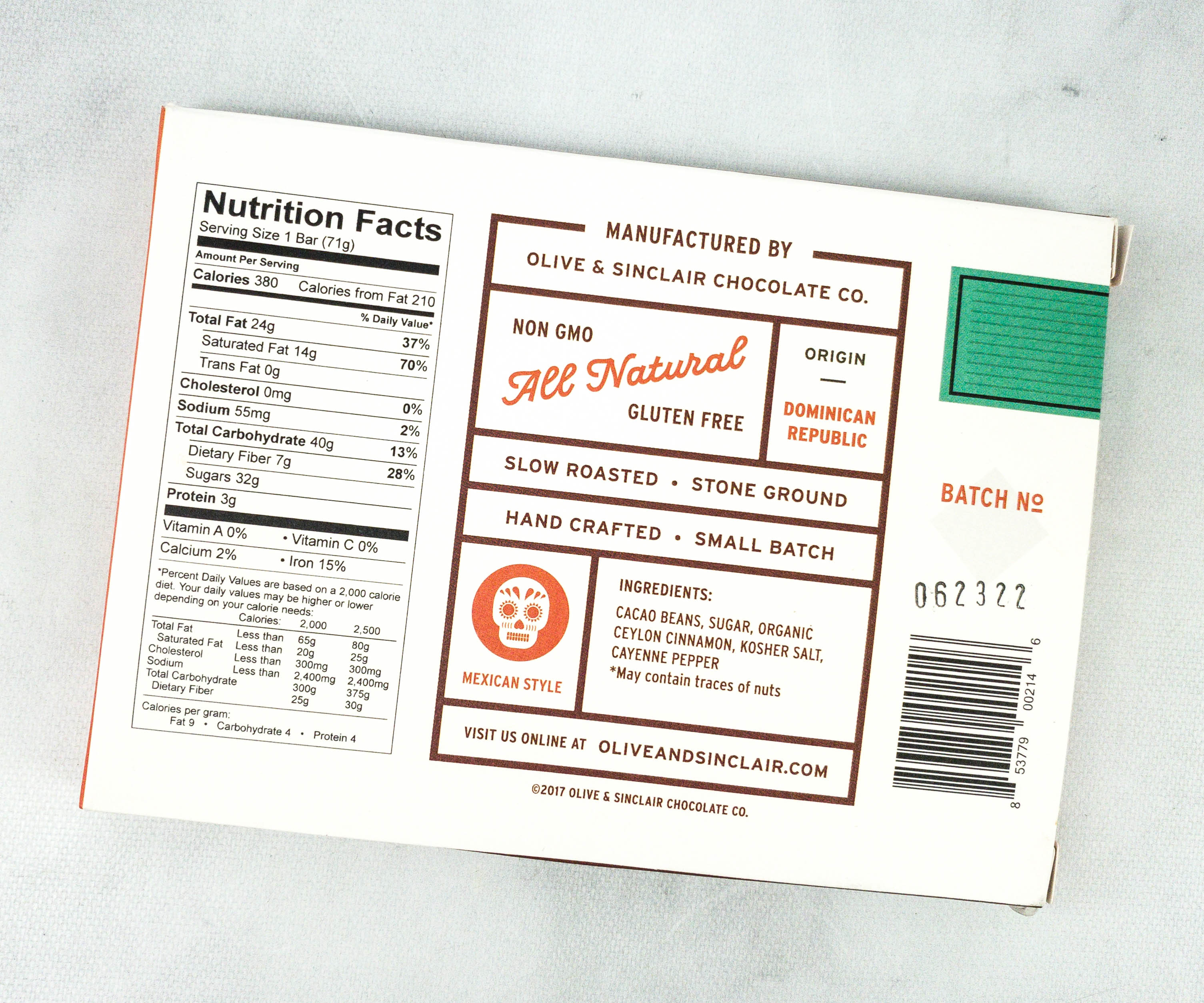 Featured at the back of the box are all the information we need to know about the product, including the nutritional facts, ingredients used, process, and even the batch number.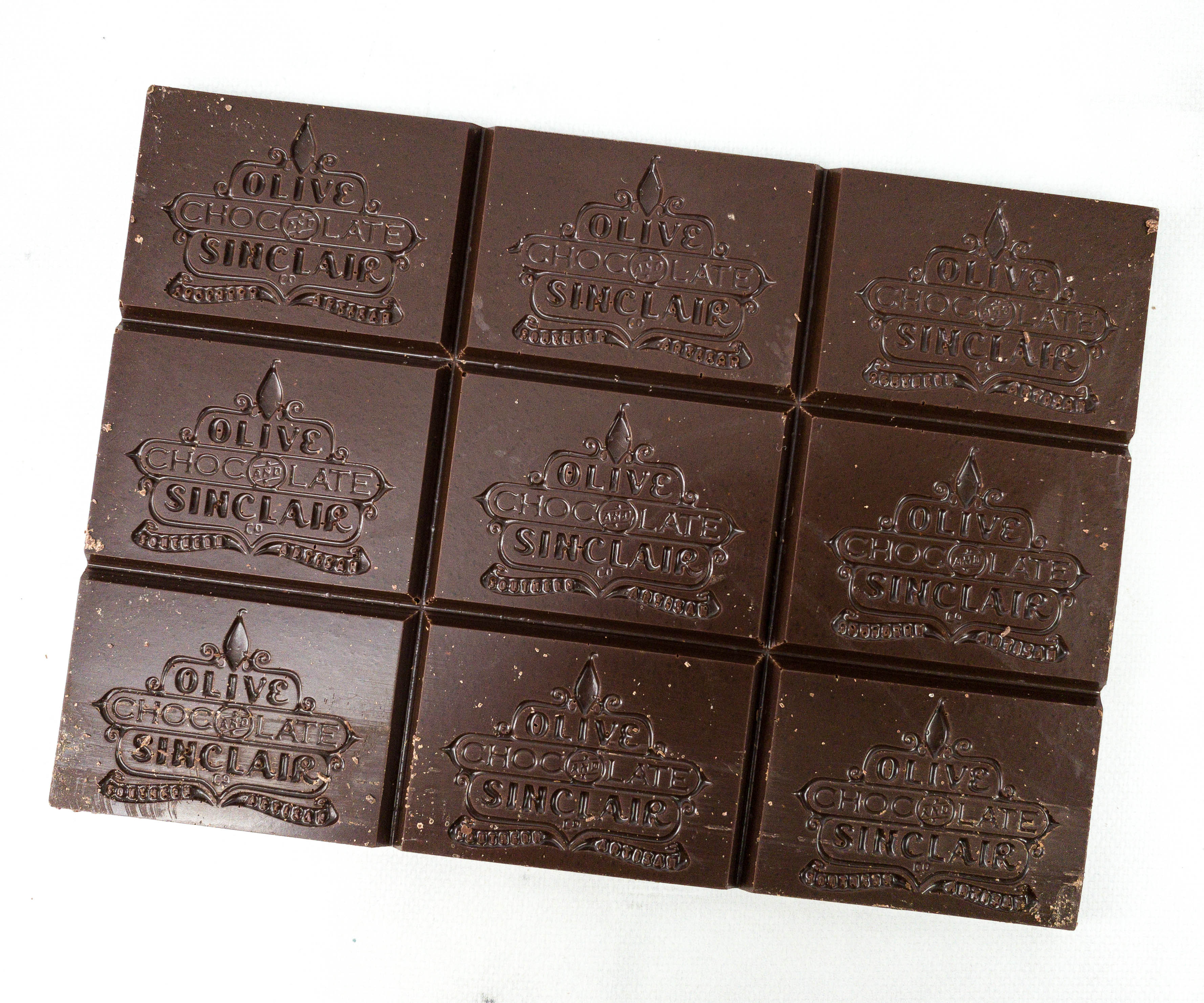 The chocolate is divided into 9 smaller pieces. Engraved also on each piece is Olive & Sinclair's logo.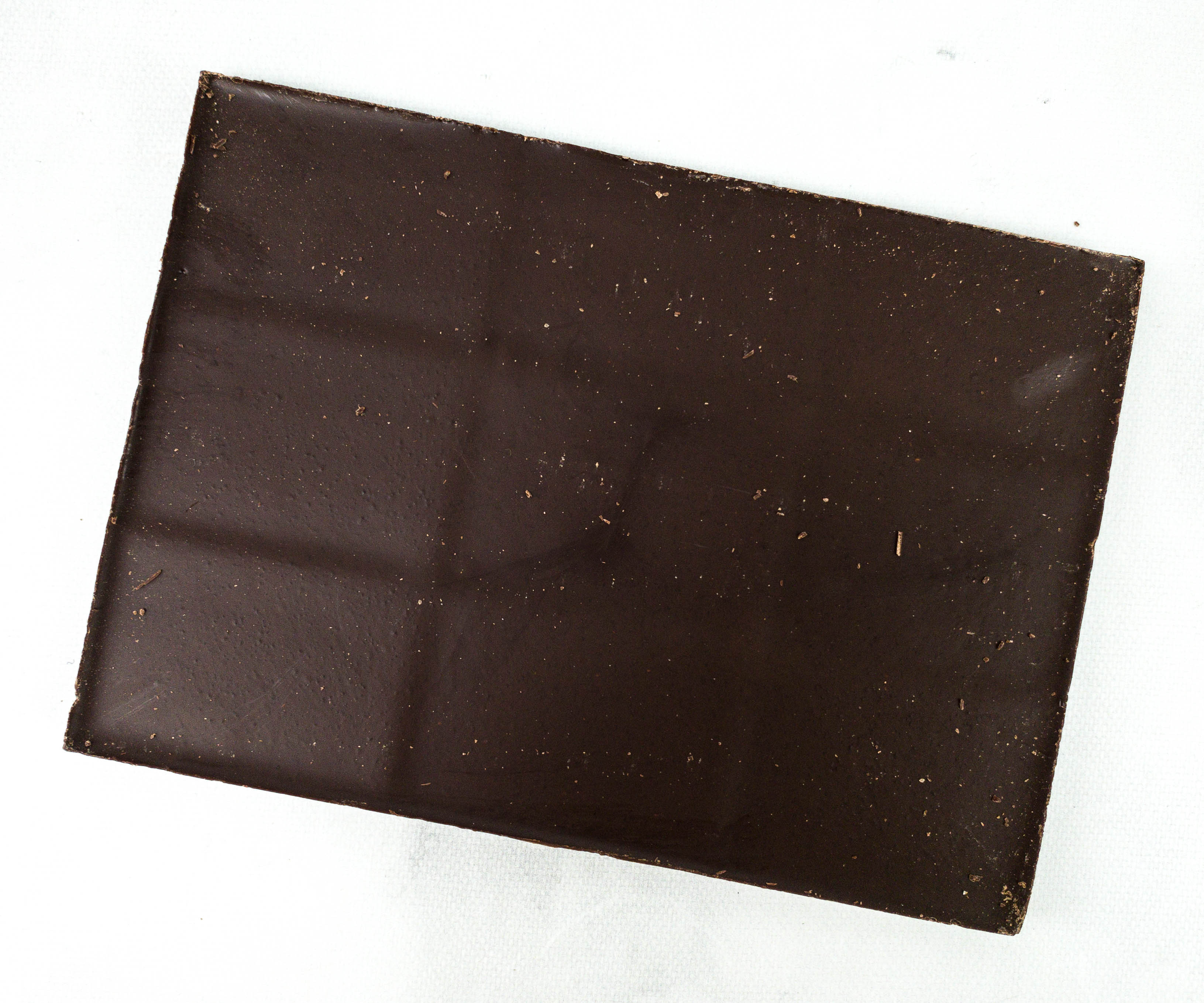 Its smooth texture and rich chocolaty taste combined with the warm heat of cinnamon and a hint of cayenne makes it the perfect chocolate. I tried it together with my Ilegal Mazca, and it was absolutely perfect!
Robb Vices box is totally amazing! They never fail to provide classic, sophisticated, and high-quality items for people with exquisite tastes! This month's box is all about Mexico and I have received a variety of Mexico-sourced products which includes spirits, premium chocolate, delicious treats, and even glasses. What I really love about this month's curation is that they all complement each other. This subscription is a bit pricey, but for all the things that I received, I can say it's totally worth it as a luxury experience, especially if you're looking for a good corporate gift! The value isn't always there with this subscription, but spoiler alert – December blew me away!
What do you think of this month's Robb Vices box?