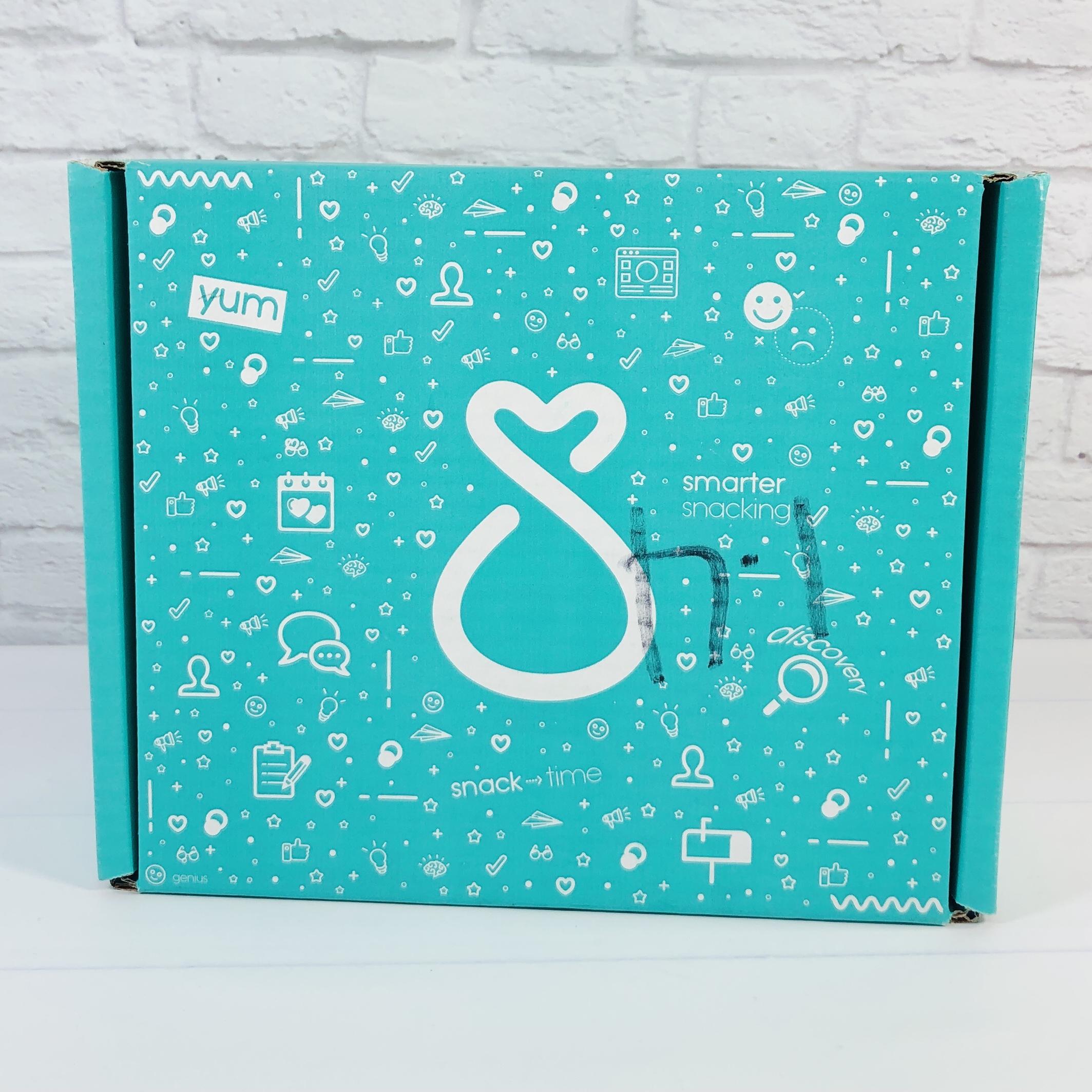 SnackSack is a monthly subscription service that sends boxes filled to the brim with a combination of organic, non-GMO, gluten-free, all-natural, vegan, and fair-trade snacks to your door every month! Expect to receive between 11-15 items each month and each one is a full serving size.
SnackSack has 4 options to choose from – Classic SnackSack, Vegan SnackSack, Gluten-Free SnackSack, and Vegan + Gluten-Free! All plans are $24.95 a month.
SnackSack is a monthly delivery of unique healthier snacks to your home or workplace. Our collections are based on seasonal themes and flavors, and allow you to discover new delicious healthier snacks. Our focus is on providing you with better options that are free of artificial ingredients.
This is a review of SnackSack Classic Box.
DEAL: Get 10% off the entire lifetime of your subscription with coupon code HELLO or use coupon code HELLO20 to save 20% on your entire plan!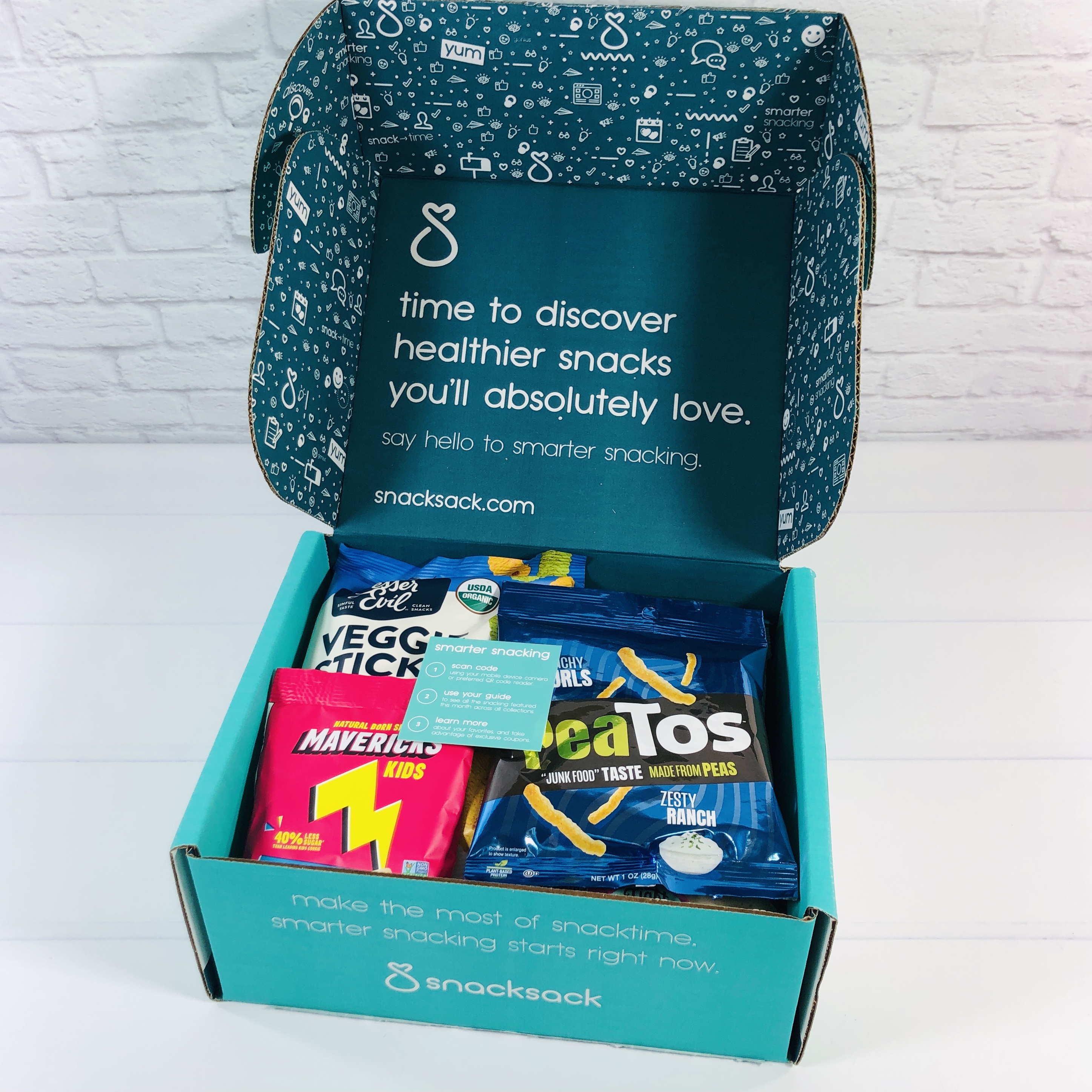 The box features cute doodles on the inner flaps!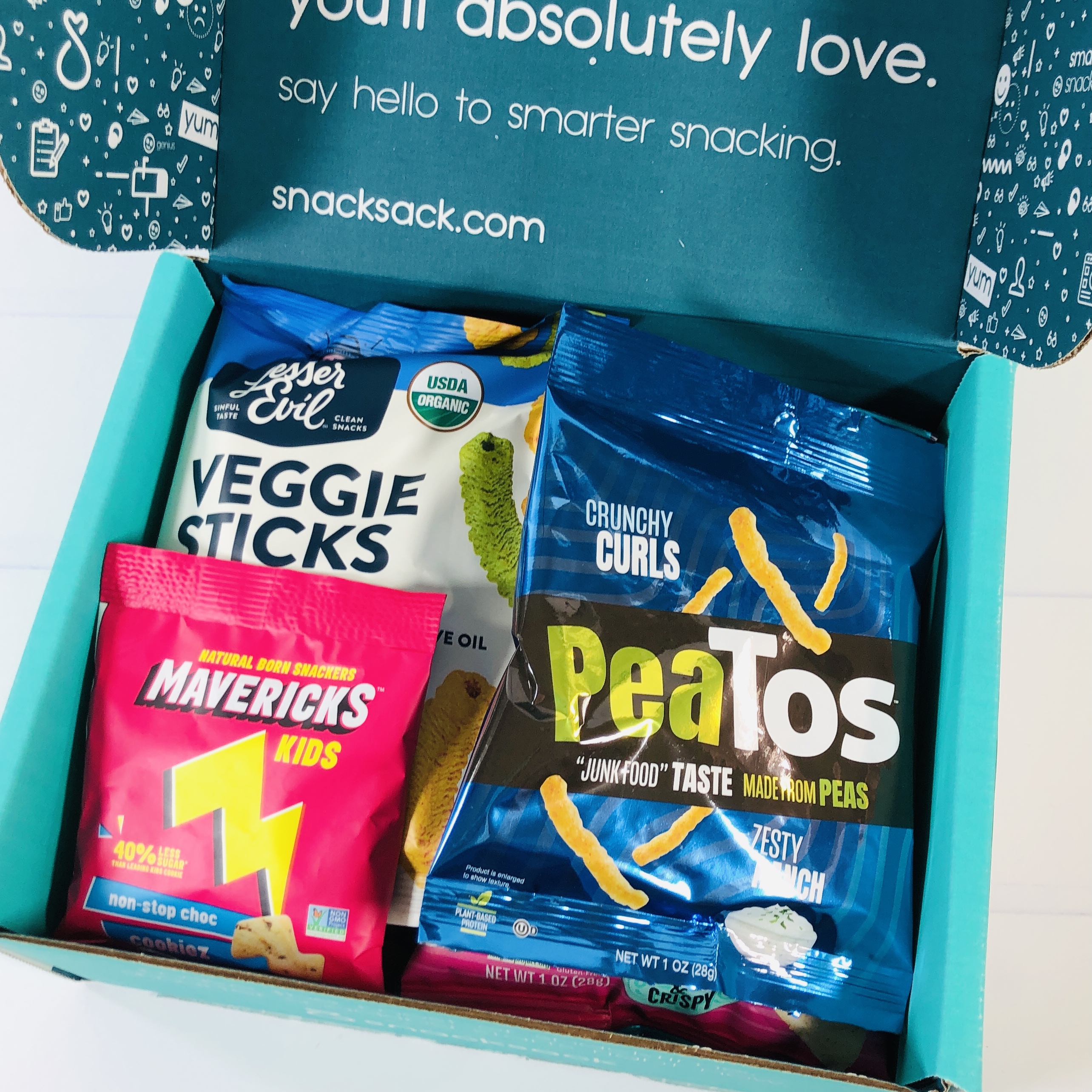 Everything arrives stacked neatly in the box.
I found a small card that had a QR code on the back. Scan the card to see your snacks!
Everything in my November 2020 box!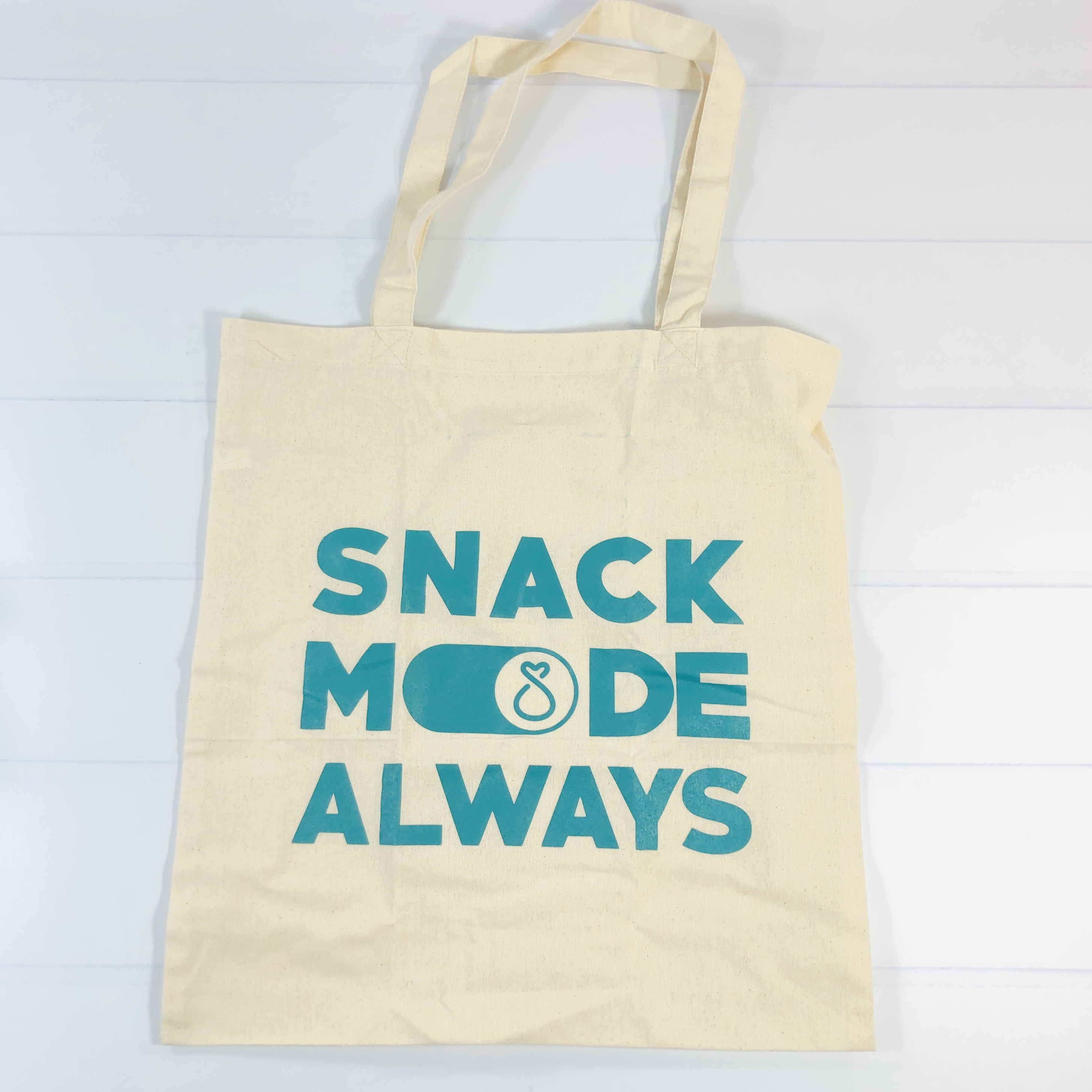 Tote Bag I got an actual SnackSack to stick my snacks in, or possibly my library books. After 6 months I should have enough to replace my worn out reusable grocery bags! The bag is about 16″ x 15″.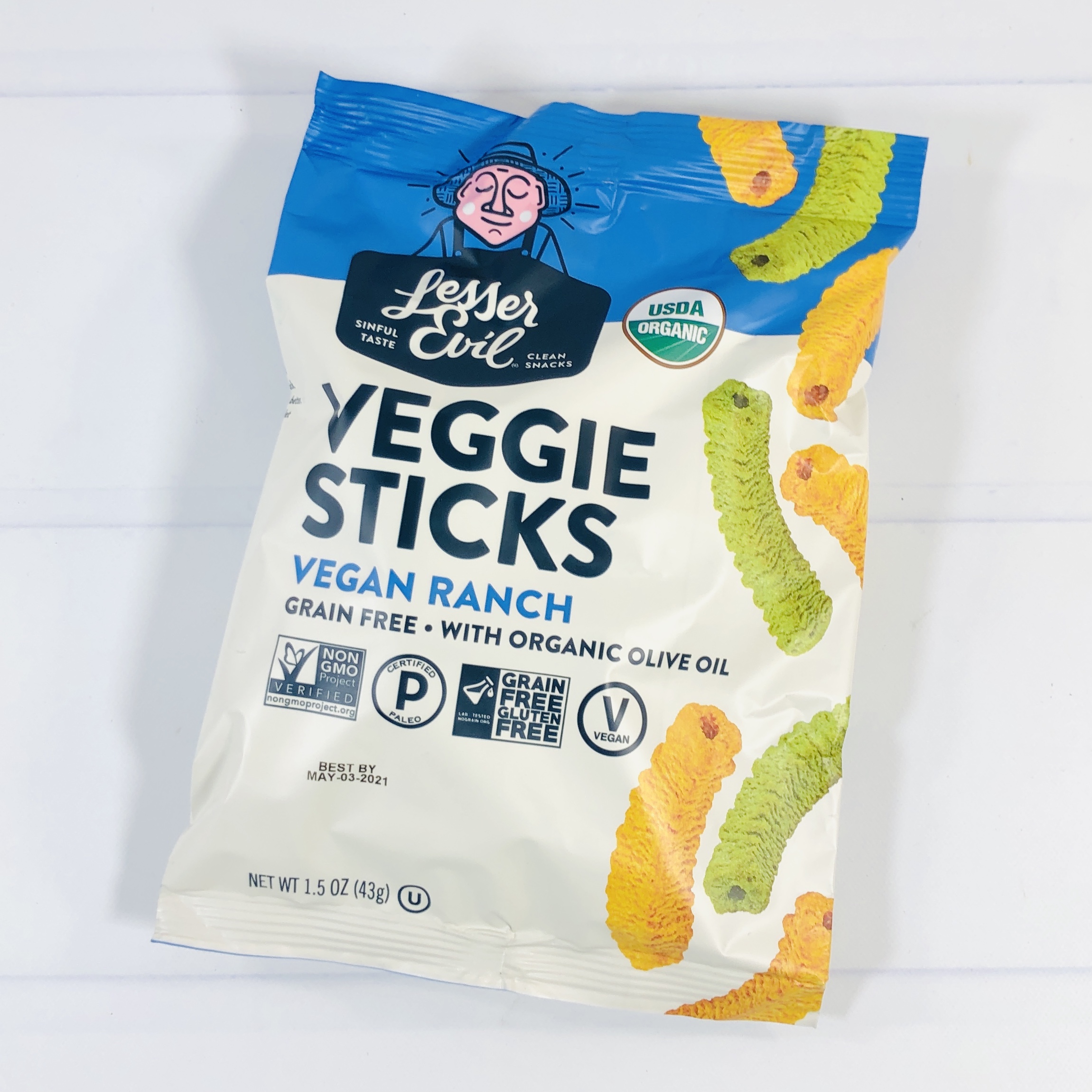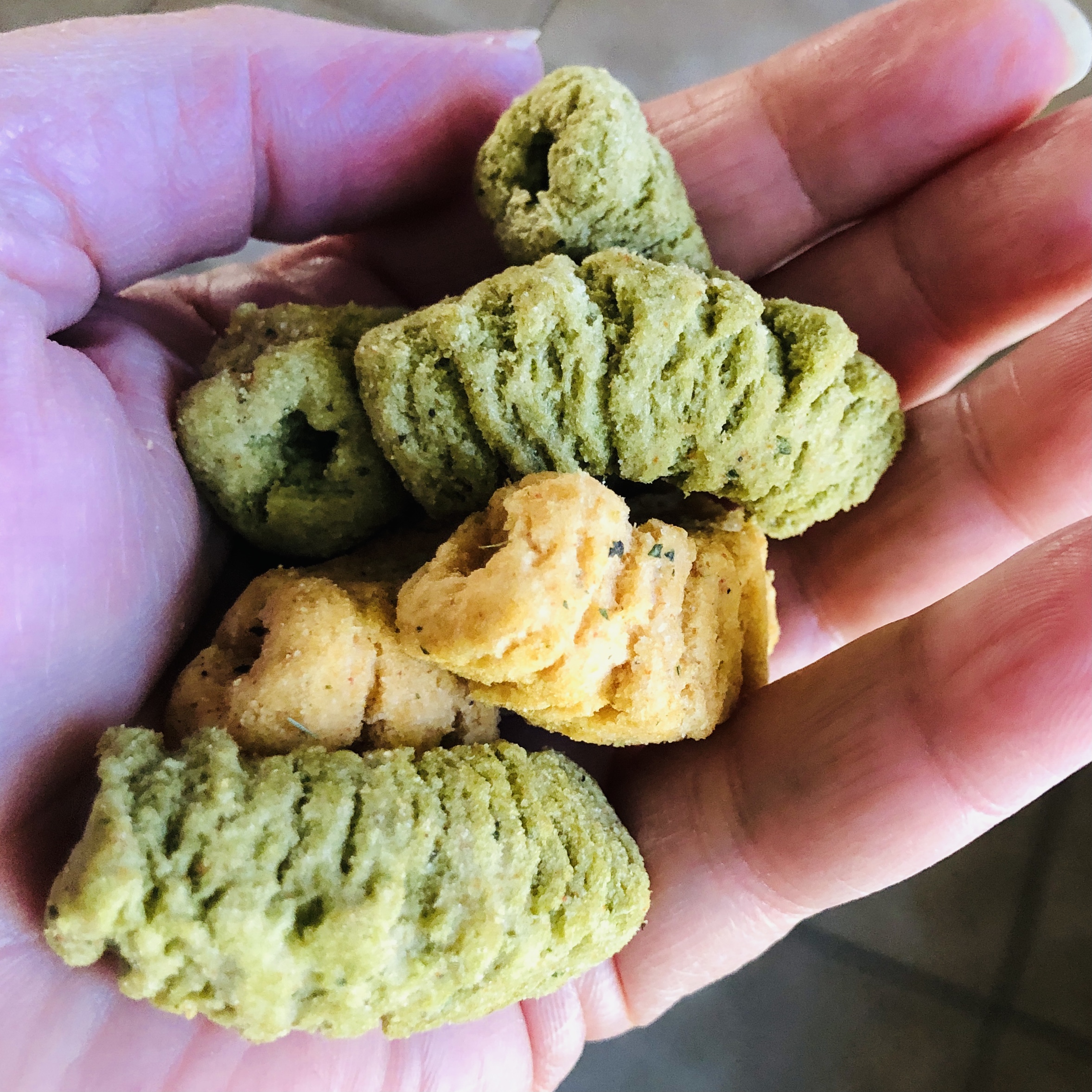 Lesser Evil Veggie Sticks Vegan Ranch The texture of these veggie puffs is unique, and the ranch flavoring is vegan. I guess I don't need my snack foods to taste like veggies, and these did. I didn't mind the brown stick, it kind of tasted like sweet potatoes but the green one is flavored with spinach and broccoli and was a flavor I didn't care for. The sticks are a blend of cassava and tapioca flours and I am glad I got to try them, this brand makes an amazing vegan buttery popcorn.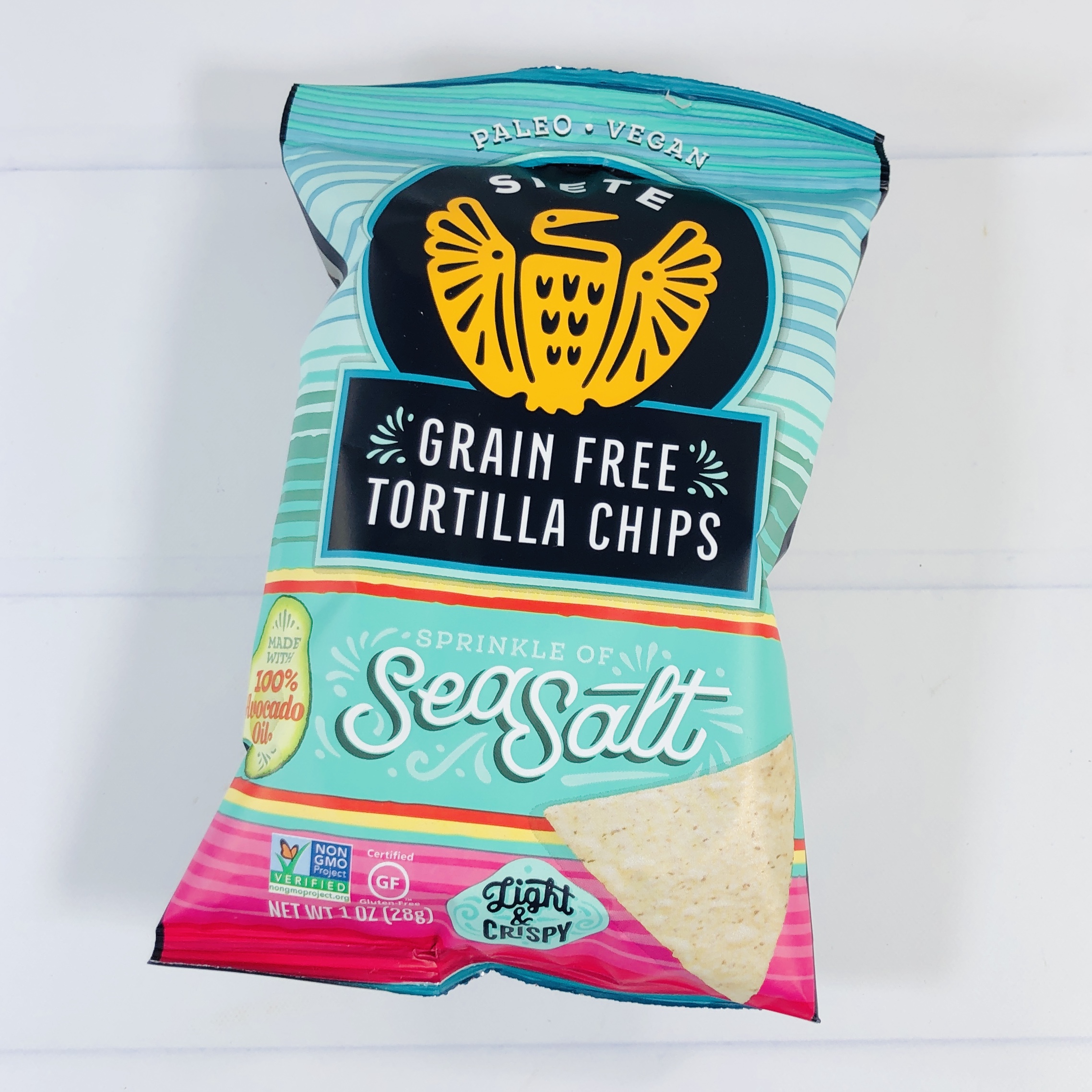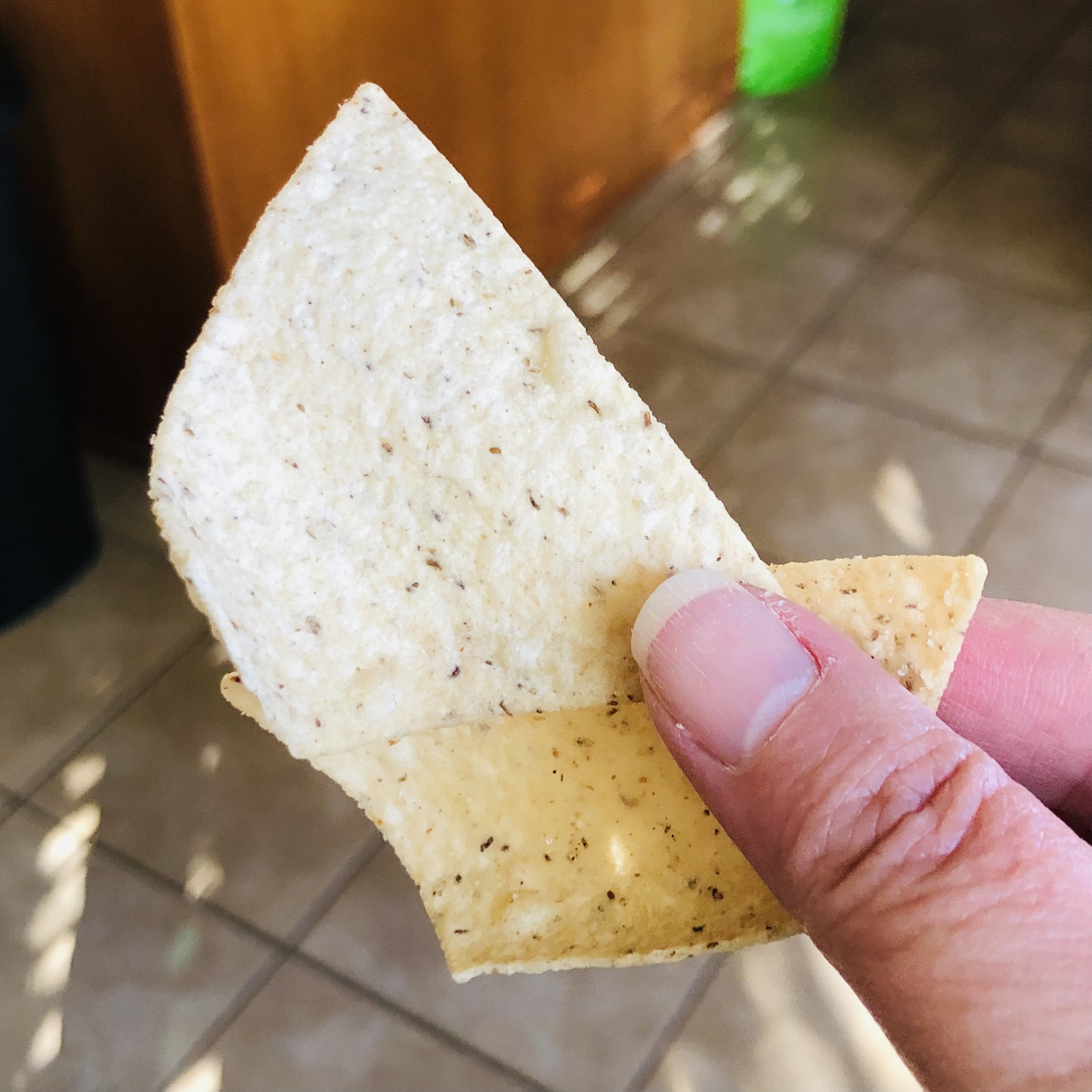 Siete Grain-Free Tortilla Chips in Sea Salt I love these grain-free chips! They have a base of cassava flour instead of corn but the texture and mouthfeel, even scoopability are like that of a classic tortilla chip. The flavor is practically the same, or at least I like it, and I've eaten tortilla chips all my life. These are local to my area and I was excited to see them on the end cap at my grocery store.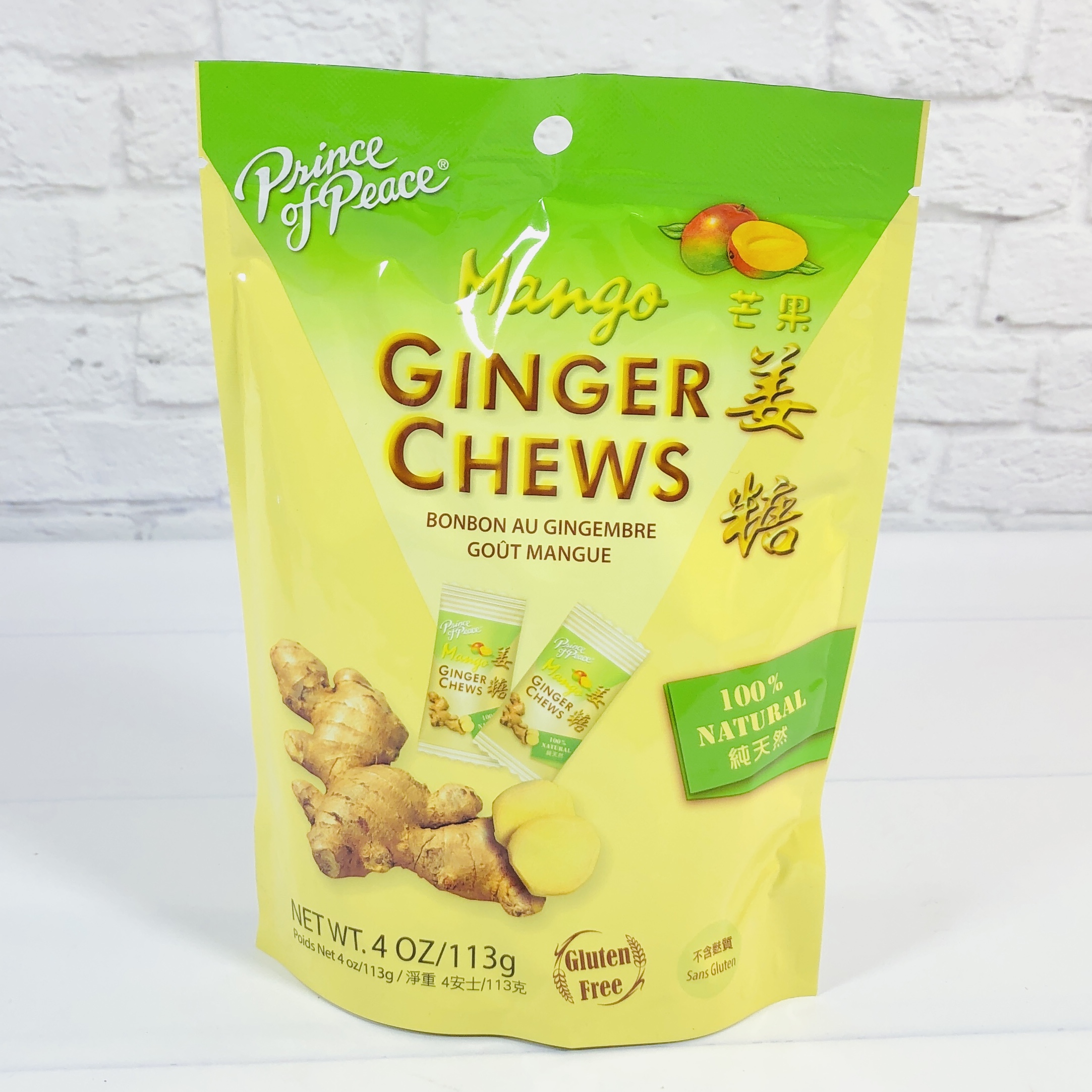 Prince Of Peace Mango Ginger Chews ($4.79) There are about 28 individually wrapped mango ginger candies in this bag. They are spicy, sweet, and sticky but I usually just let it melt in my mouth rather than chewing it. Ginger may help relieve nausea and so I always have a bag of these on hand for my "natural" first aid kit.
PeaTos Crunchy Curls I think these are supposed to be a substitute for a cheesy snack that rhymes with PeaTos, except in a spicy ranch flavor. These are better than that other snack, and I never thought I would say that about a pea-based product. The base is made of peas, lentils, and fava and the flavor has the twang of ranch and every once in a while it would taste spicy. These have fiber too, which is more than I can say for that cheesy brand.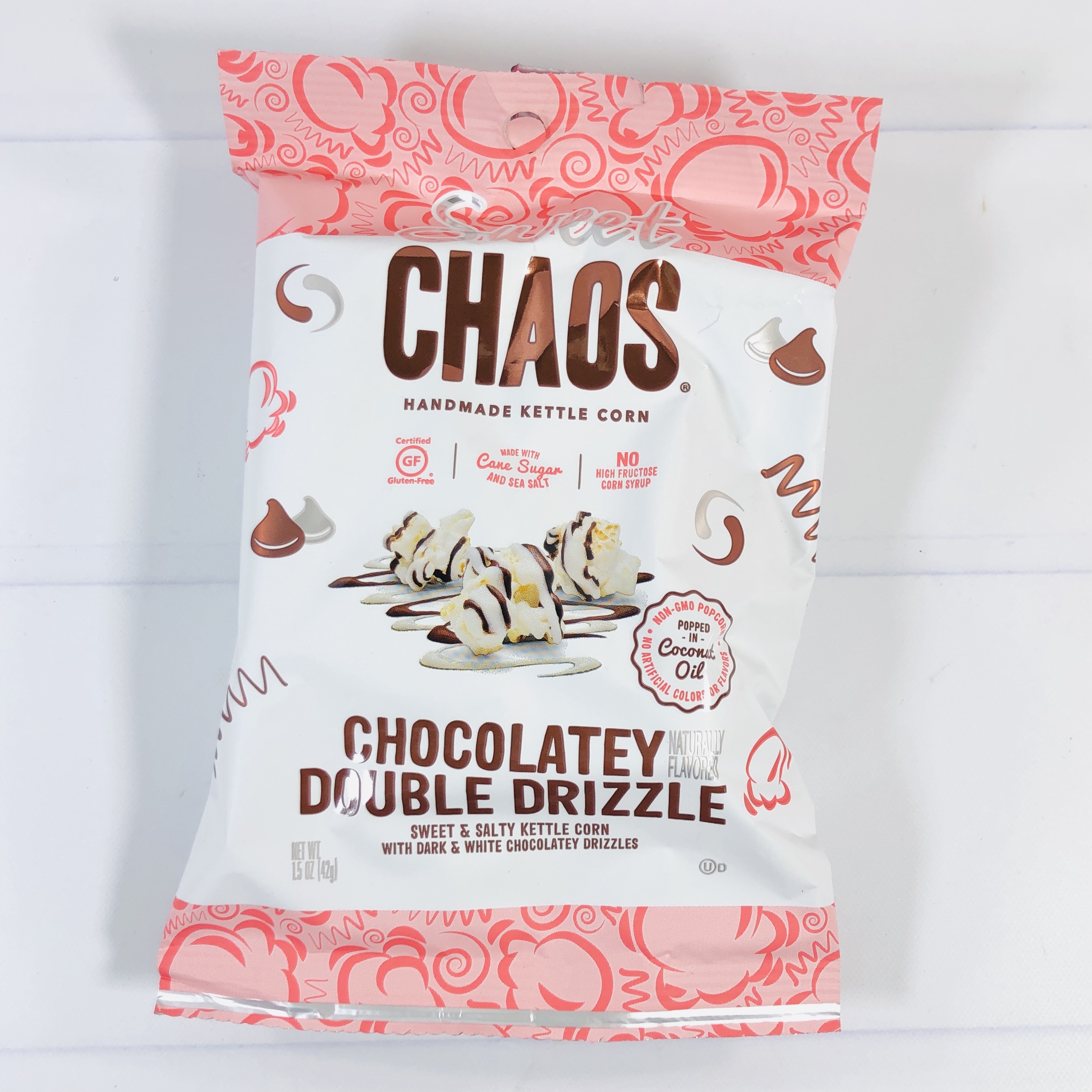 Sweet Chaos Chocolatey Double Drizzle Sweet & Salty Kettle Corn Not only do I like salty sweet kettle corn, but I especially like kettle corn drizzled in toppings, like this black and white version. The kettle corn has a crunchy glaze in some parts but then everything is covered in white and dark chocolate and it is scrumptious!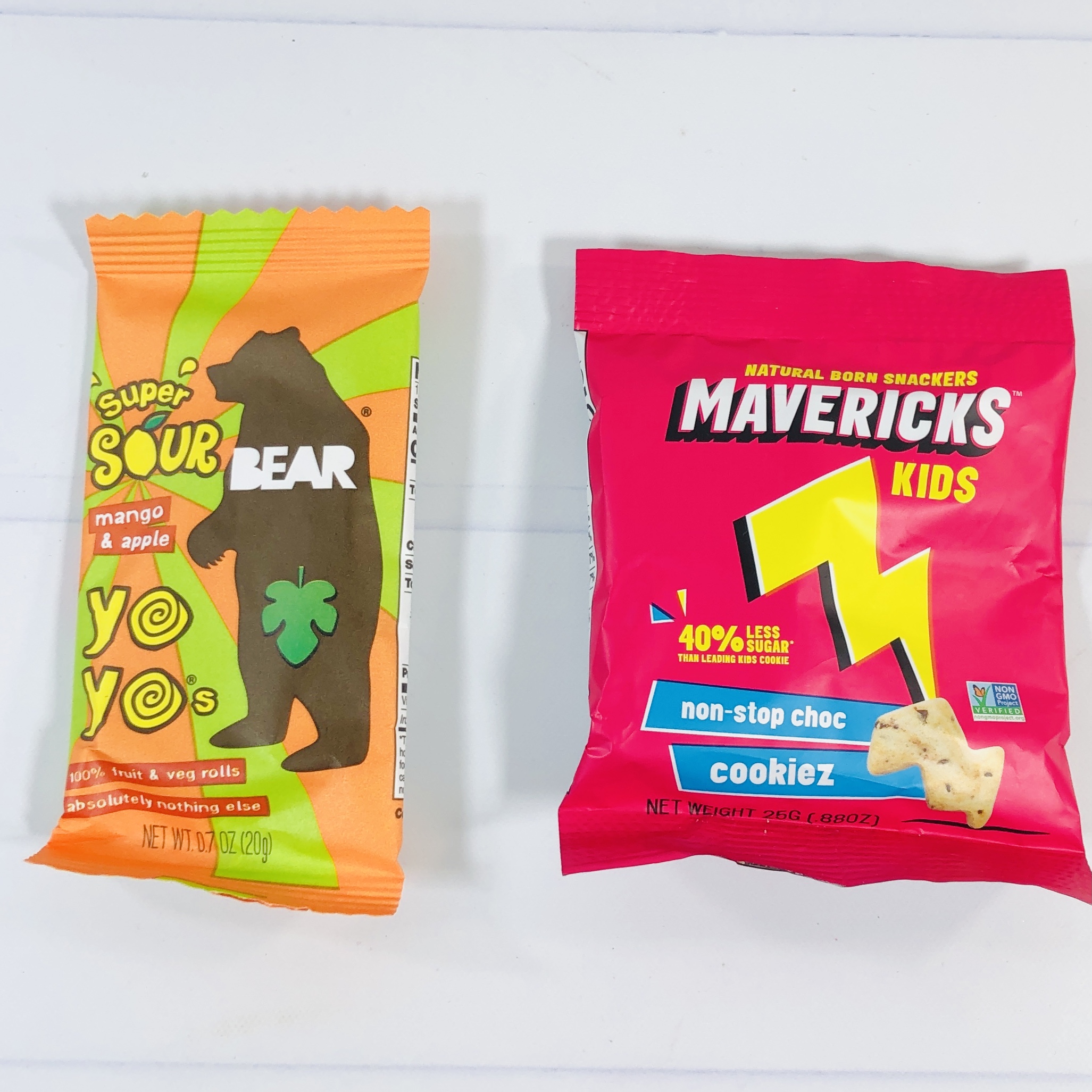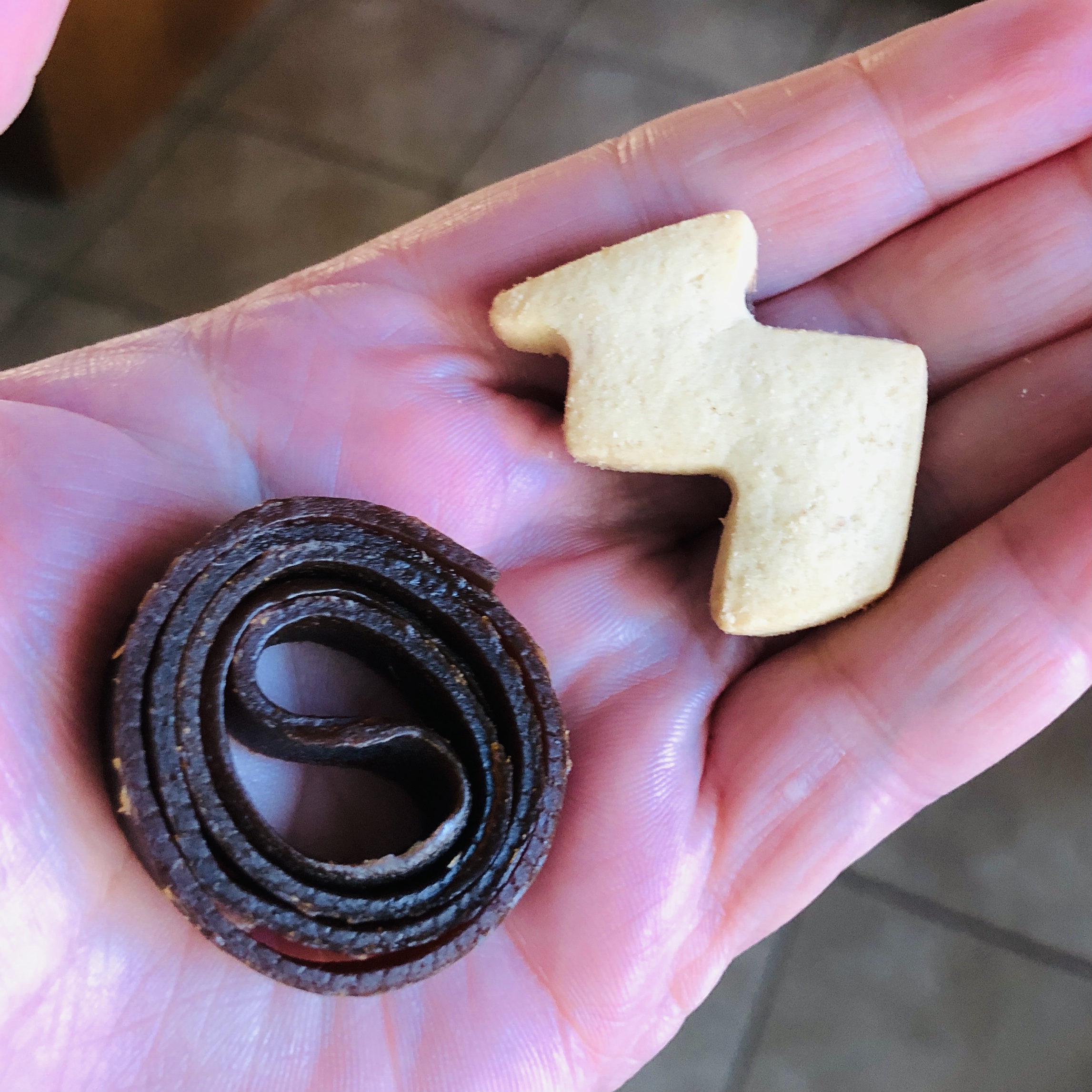 Bear Super Sour Mango & Apple Yo Yo's are fruit leathers made from apples, pears, lemons, mango, butternut squash, carrots, and spirulina. These aren't sour the way Sour Patch Kids are, it's more natural. There were two rolls in the pack and it also had a collectible card. I think I would prefer them without the added lemon juice, and my daughter, who loves gummy stuff, wasn't a fan.
Mavericks Kids Cookiez in Non-stop Choc are lightening bolt shaped cookies that are a cross between shortbread and an animal cracker. I couldn't taste the chocolate but I don't think kids would mind so much.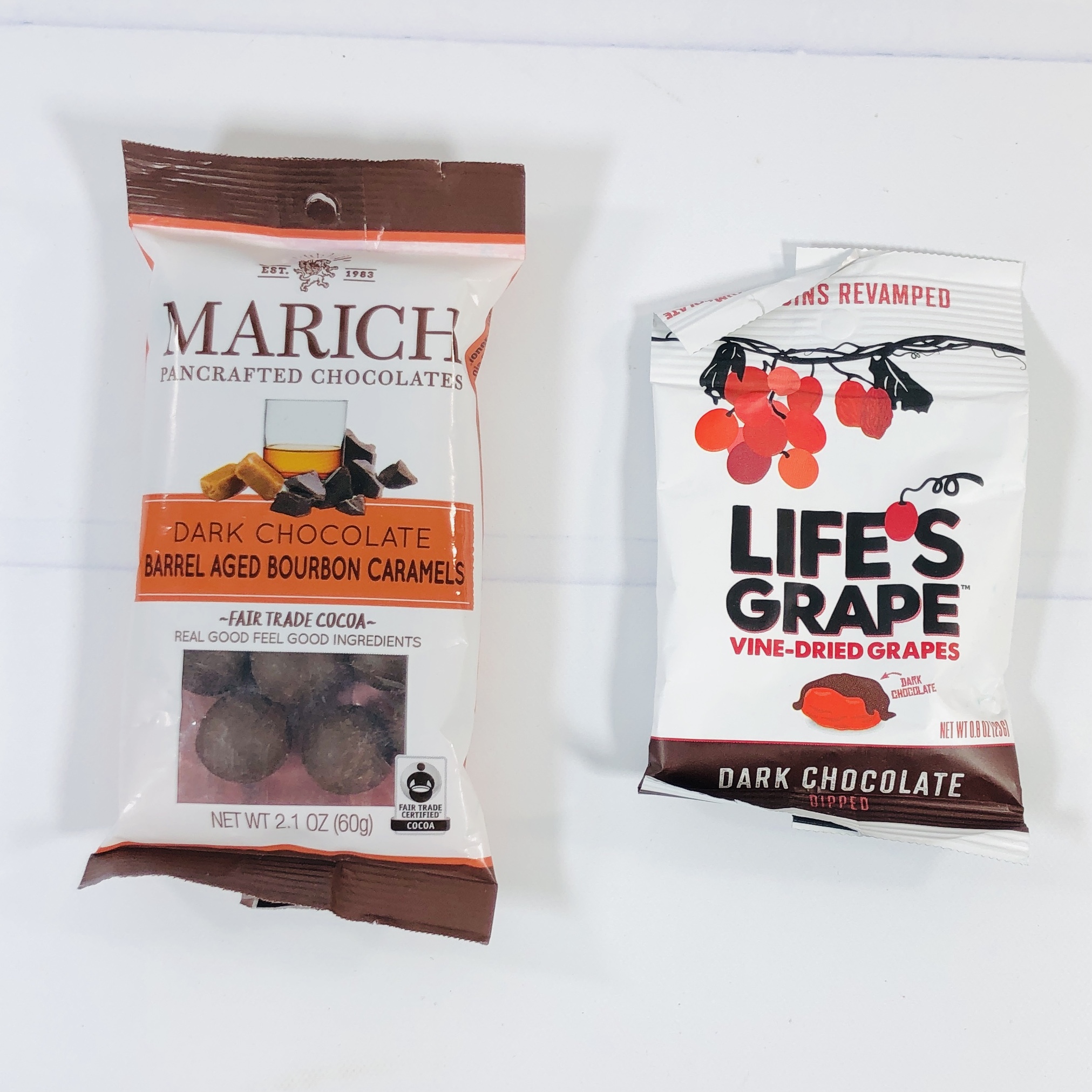 Marich Barrel Aged Bourbon Caramels are covered in chocolate. It says dark chocolate but I think it tastes like milk but the best part is the boozy caramel that is simply divine. I don't think I should drive after eating this.
Life's Grape Dark Chocolate My daughter was looking at this bag as said "aren't vine-dried grapes just raisins?" and she isn't wrong! These are plumper and sweeter than the usual and while the chocolate covered raisins from the store have a kind of waxy coating, this one doesn't. It's covered in dark chocolate, but then dusted in cocoa. So delicious.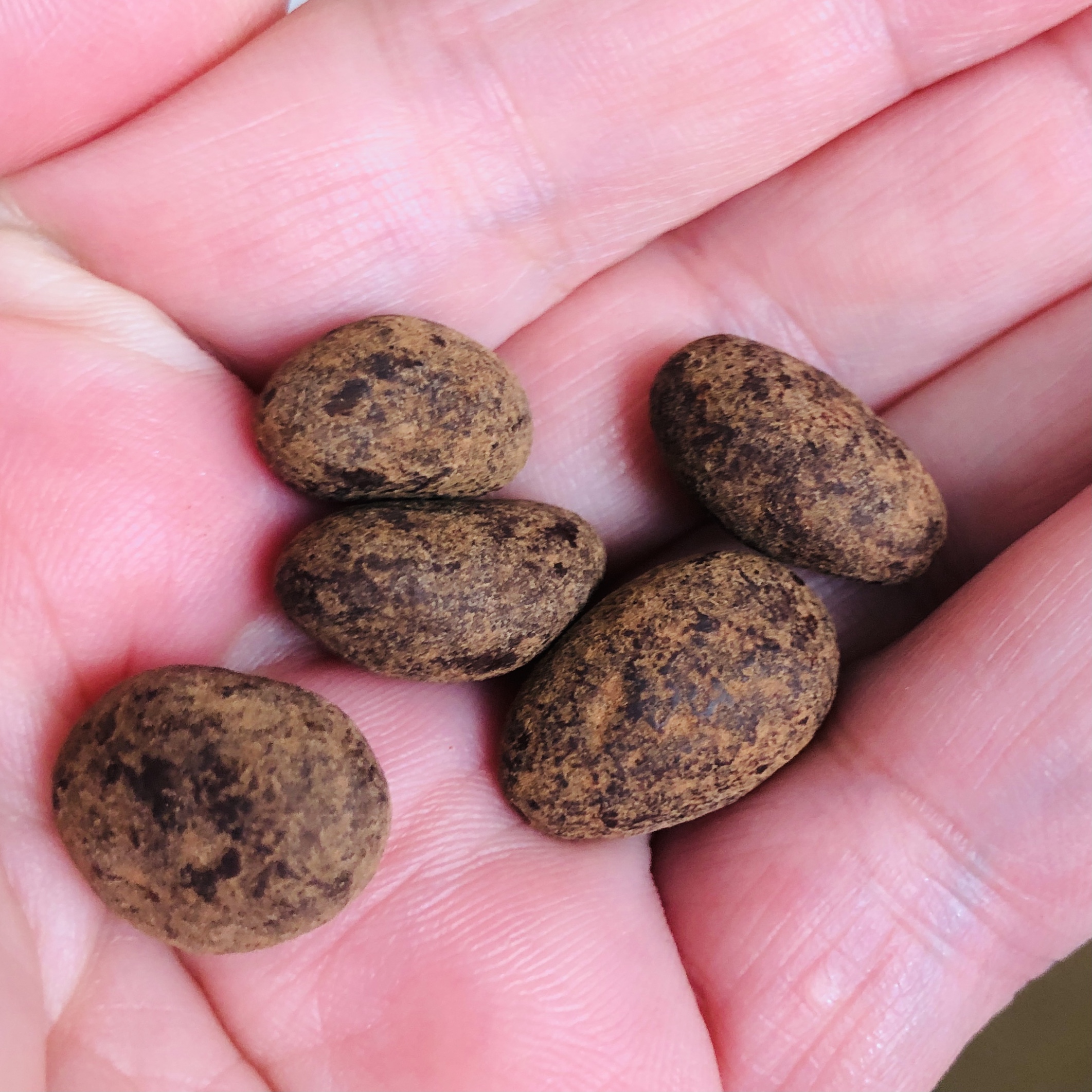 Here's the chocolate covered "vine-dried grapes".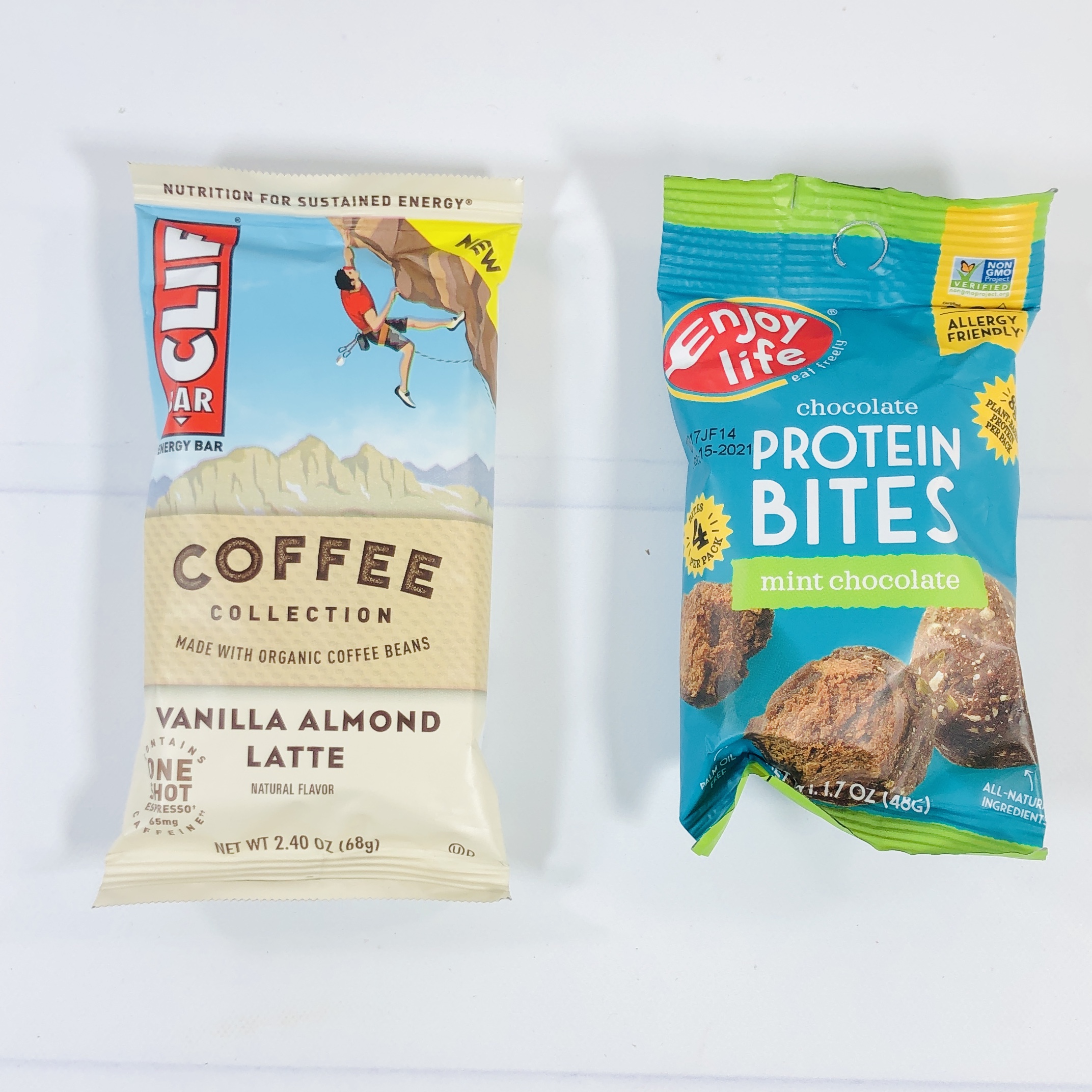 Clif Bar Energy Bar Vanilla Almond Latte They weren't kidding when they called this an energy bar – it has 65mg of caffeine, the same amount that can be found in a shot of espresso! It has soy protein isolate, rolled oats, and coffee and the flavor and texture were good, it was soft-baked. The coffee flavor wasn't super strong, but it complemented the vanilla and almond perfectly.
Enjoy Life Mint Chocolate Protein Bites These protein balls have sunflower protein, pumpkin seeds, rice protein, and chocolate and are flavored with mint. They are amazing and I didn't know it at first but there are covered in chocolate and have a chewy middle. This is probably the best protein bar I've ever tried, it was super decadent.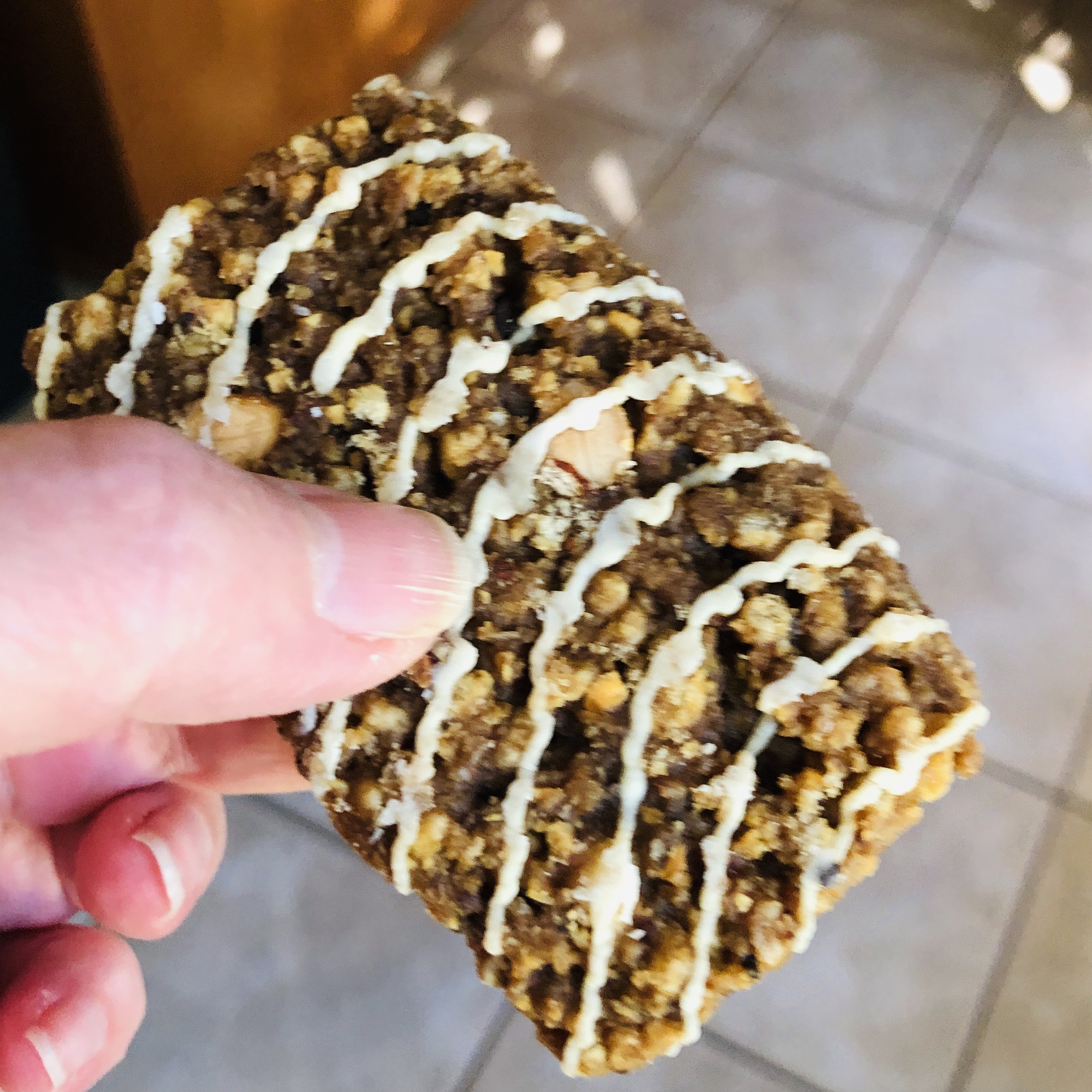 Here's the Clif Bar.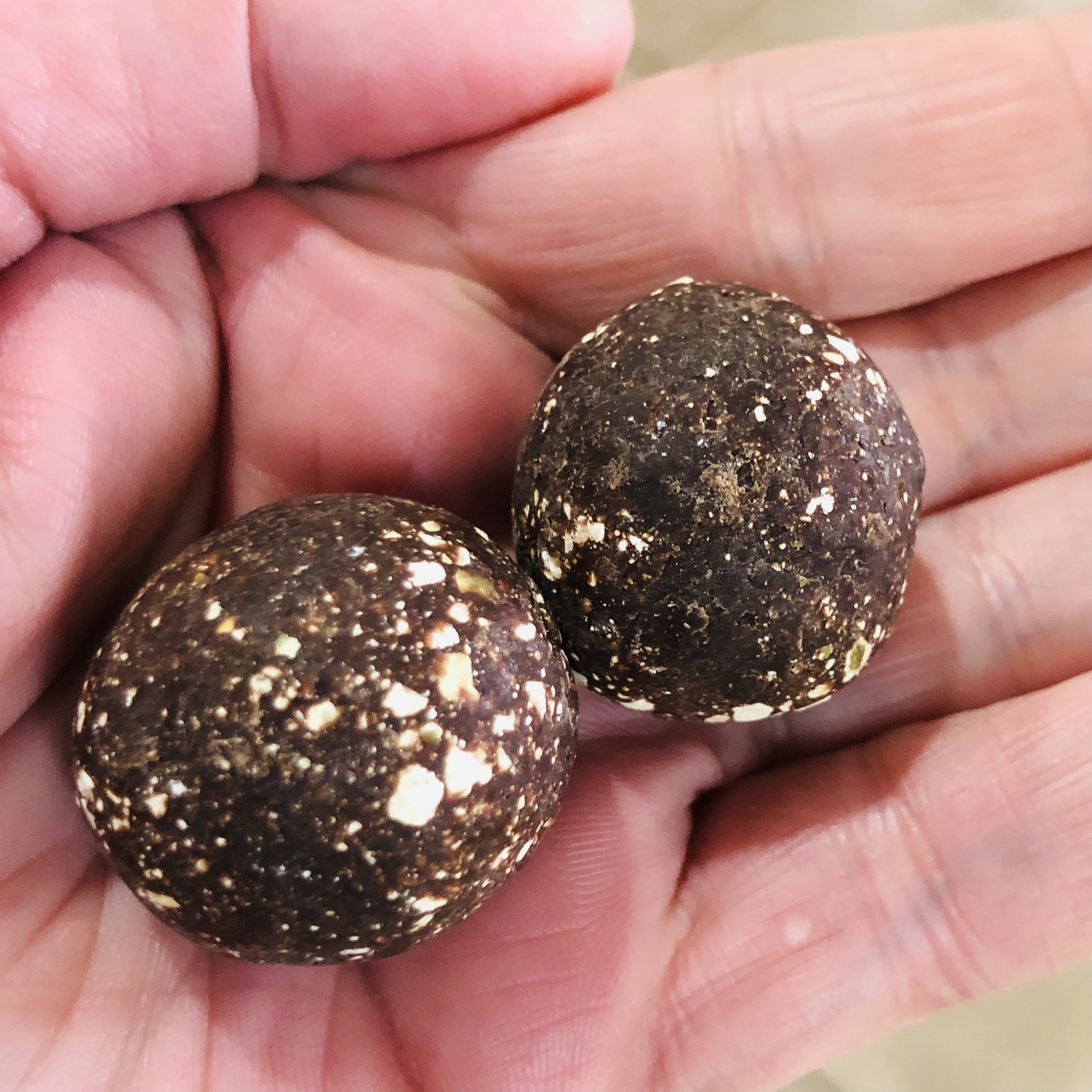 Here's the mint chocolate protein balls (there were a few of the balls in the pouch). Please send more!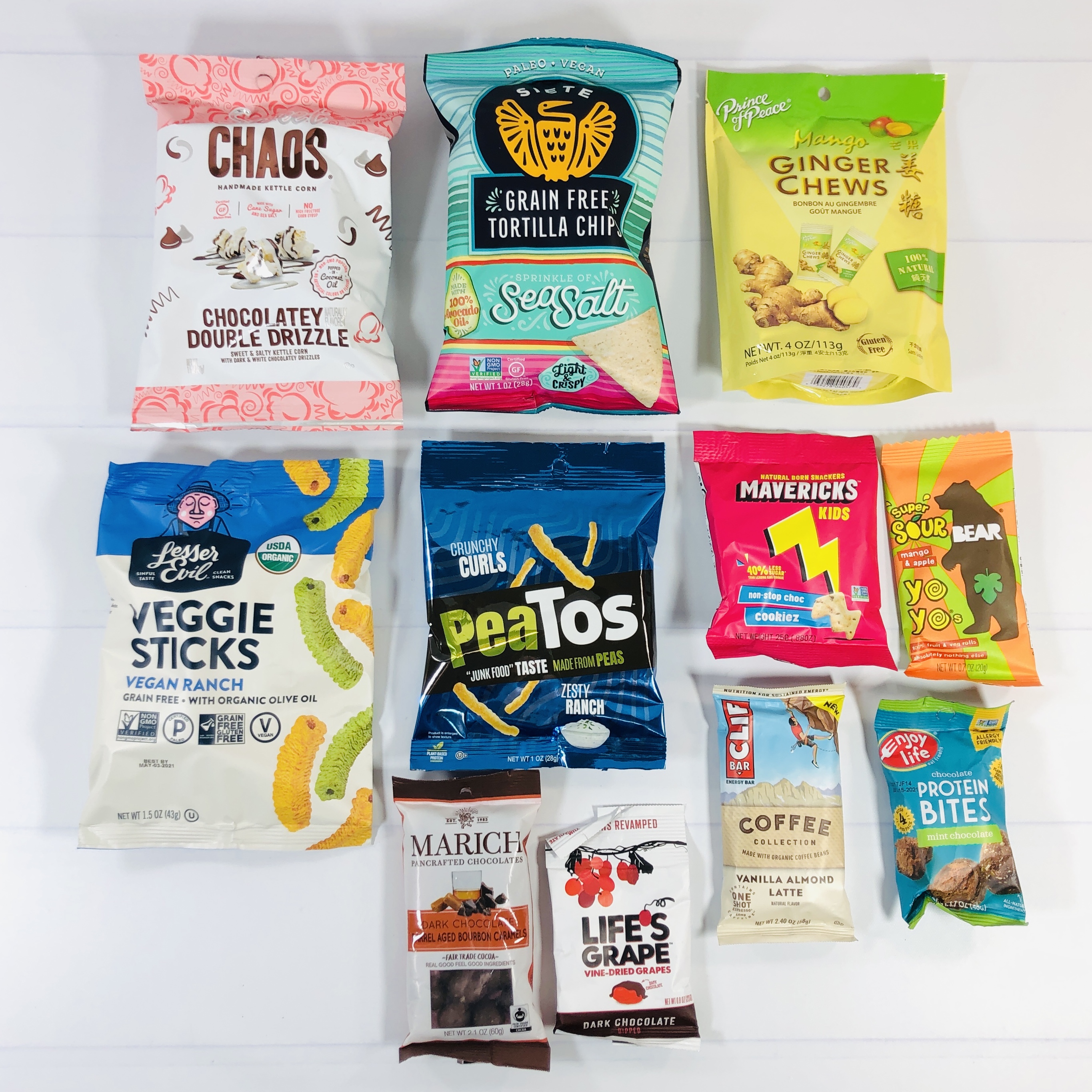 I thoroughly enjoyed my November SnackSack box, the treats were incredible! Anything with chocolate is a surefire hit with me and there was chocolate aplenty this month. The corn-free tortilla chips are one of my favorite snacks and the PeaTos are a new fave. I thought this was a great combo of chips, sweets, and bars and can't wait for the December box, I'm pretty sure we're getting a festive flavor of the Sweet Chaos popcorn for the holidays!
What do you think of this month's SnackSack Classic?