Ipsy is a monthly beauty subscription. You get five makeup, beauty, skincare, and hair care items in a cute bag for $12 a month! It's the most popular subscription box and a great way to sample new colors and beauty brands that you may have never heard of, as well as some of the bigger names. Ipsy also offers a Glam Bag Plus for $25 a month and Glam Bag Ultimate for $50 a month.
There are many bag variations every month for Ipsy – login to your account to check out how-to videos and tips for your products.
IPSY was founded on a singular mission: to inspire individuals around the world to express their unique beauty. Everything we do is to support you on your journey to self-discovery, so you'll feel confident letting your unique beauty shine every day.
Most of my items were inside the cute makeup bag but make sure to double check the mailing bag, sometimes larger items (like makeup brushes) can be found there.
The theme for the July is Take A Break!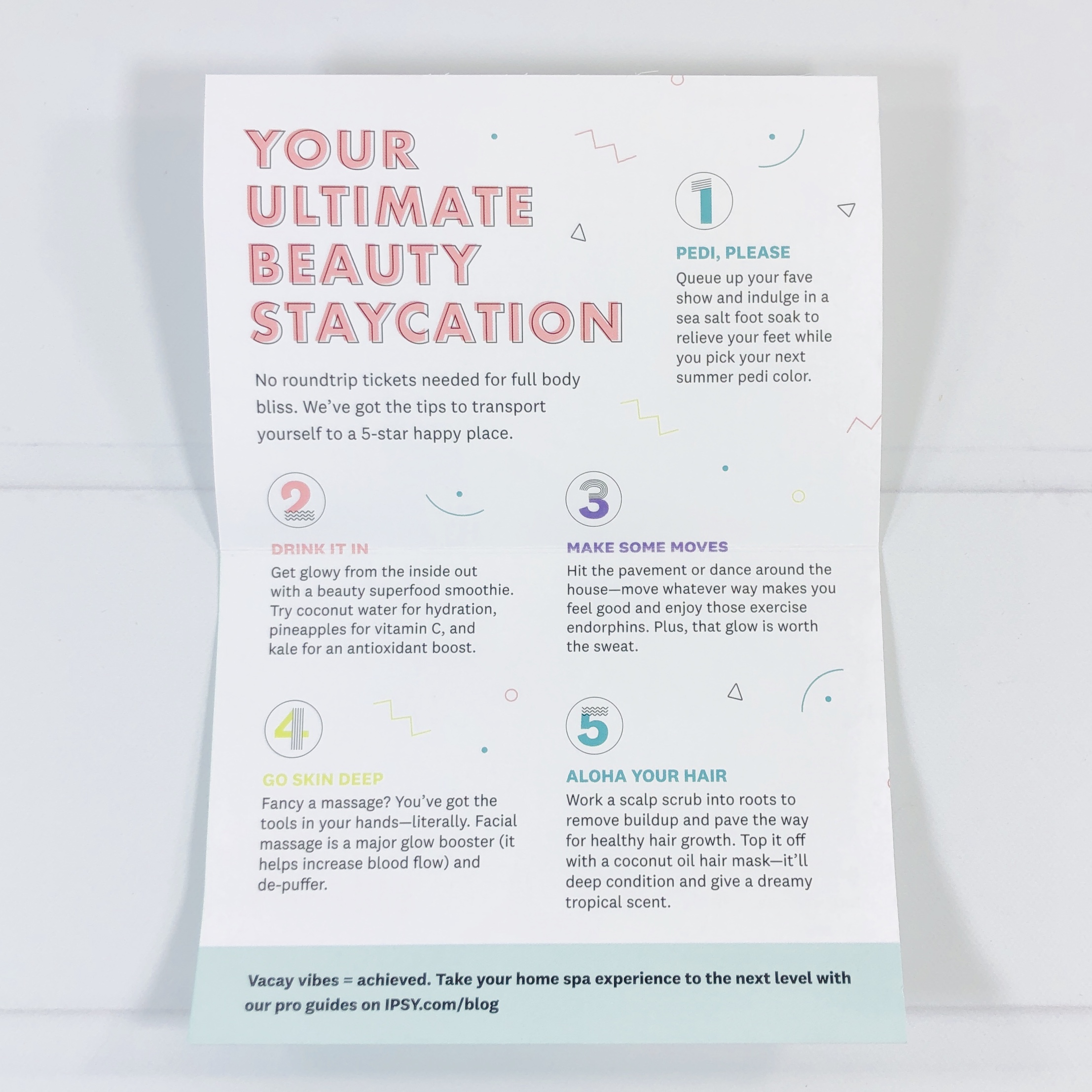 Inside I found a couple of ideas to use for my Staycation, because the only trip I'm making this summer is to Puerto Backyarda.

The back of the card mentioned a few reminders on how to get the most from your Ipsy subscription.

Everything in my box! Some of the items came in their own boxes, but you can find instructions for use and ingredients on the Ipsy app and website.
Ipsy Glambag for this month has an interesting feel to it. The plastic is a little see thru and the design has palm trees and the sun.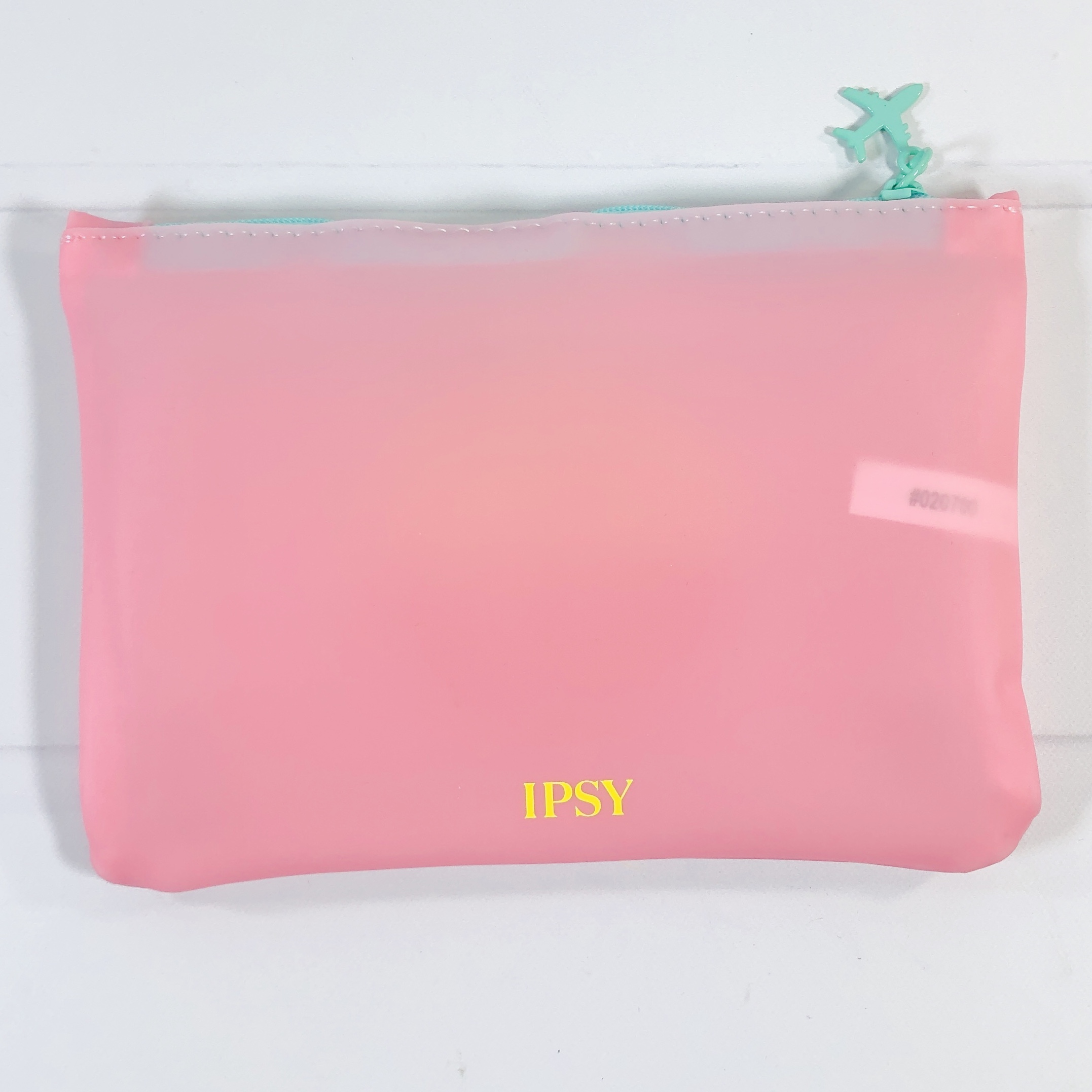 The back says Ipsy.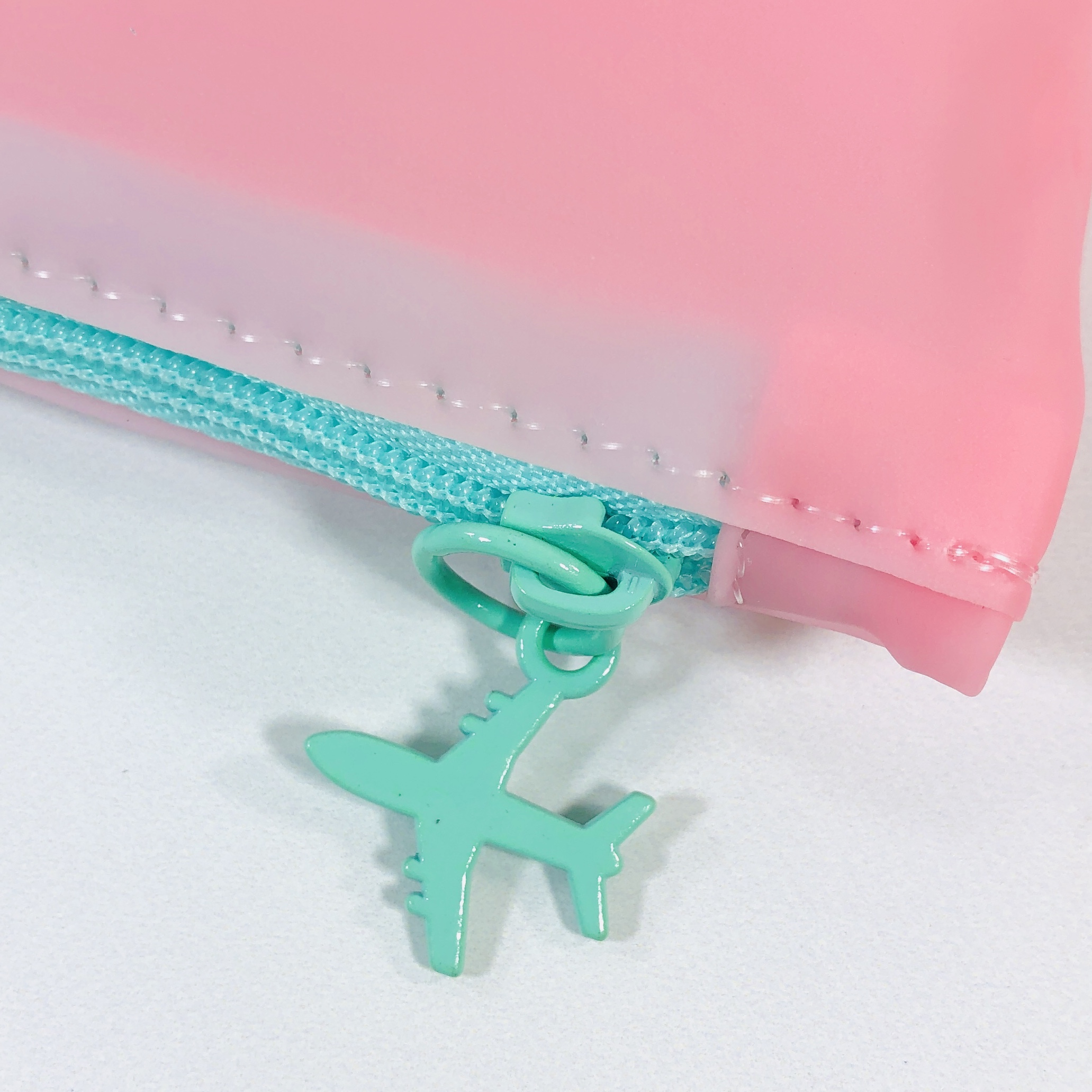 The zipper pull is a plane! The bag is about 7″ x 5″.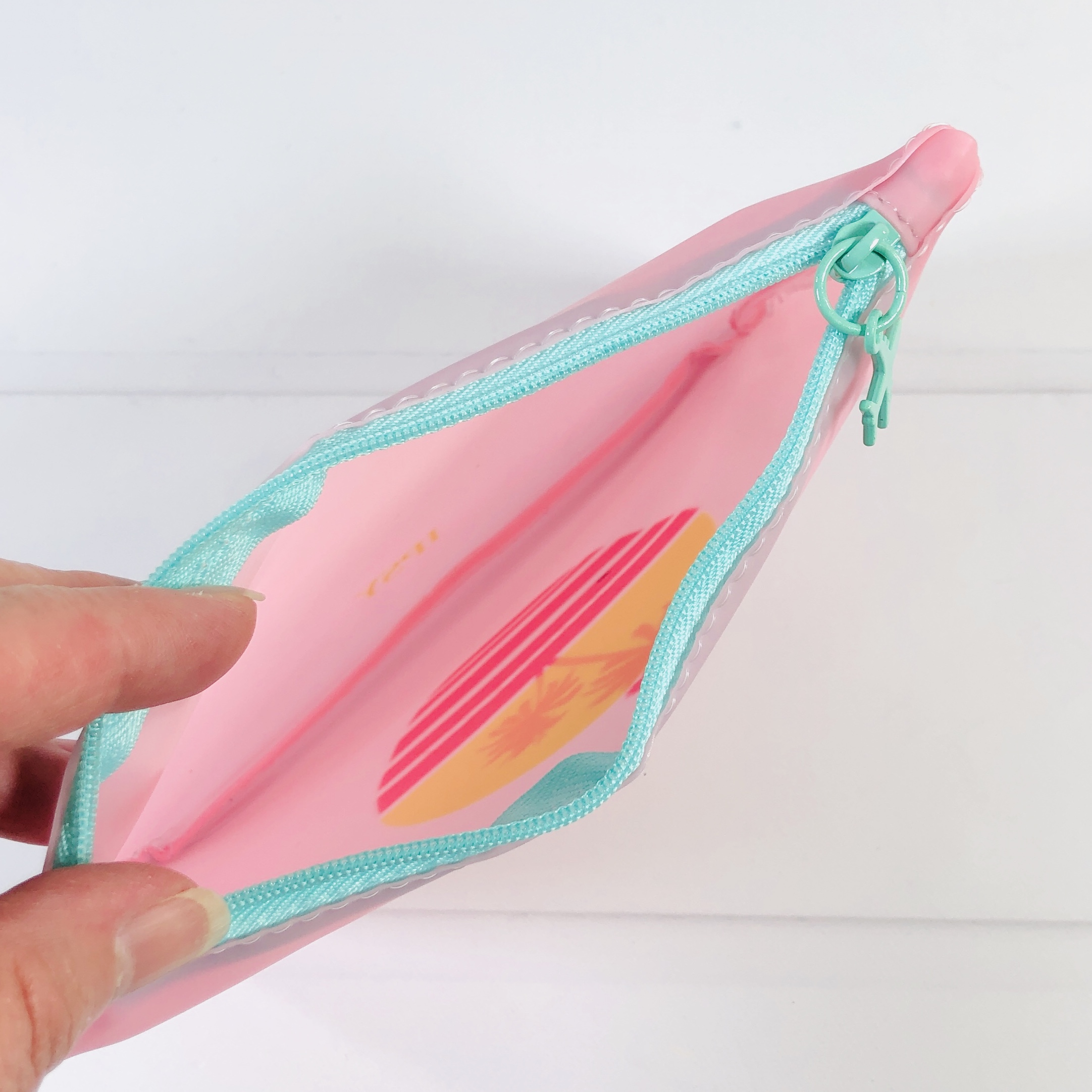 I love the blue zipper and the inside has no pockets.
Hempz Citrine Crystal & Quartz Body Lotion ($7.99 for travel size) I've received Hempz lotions in all kinds of scents and this one was a hit for me. The non-greasy lotion, which contains shea butter and hemp seed oil, has a sugared citrus scent that I enjoyed, and it wasn't too strong for my nose. It also has ground quartz and is supposed to leave skin shimmery but I saw no shimmer at all, so I'll try to give it a good shake next time and see if that helps.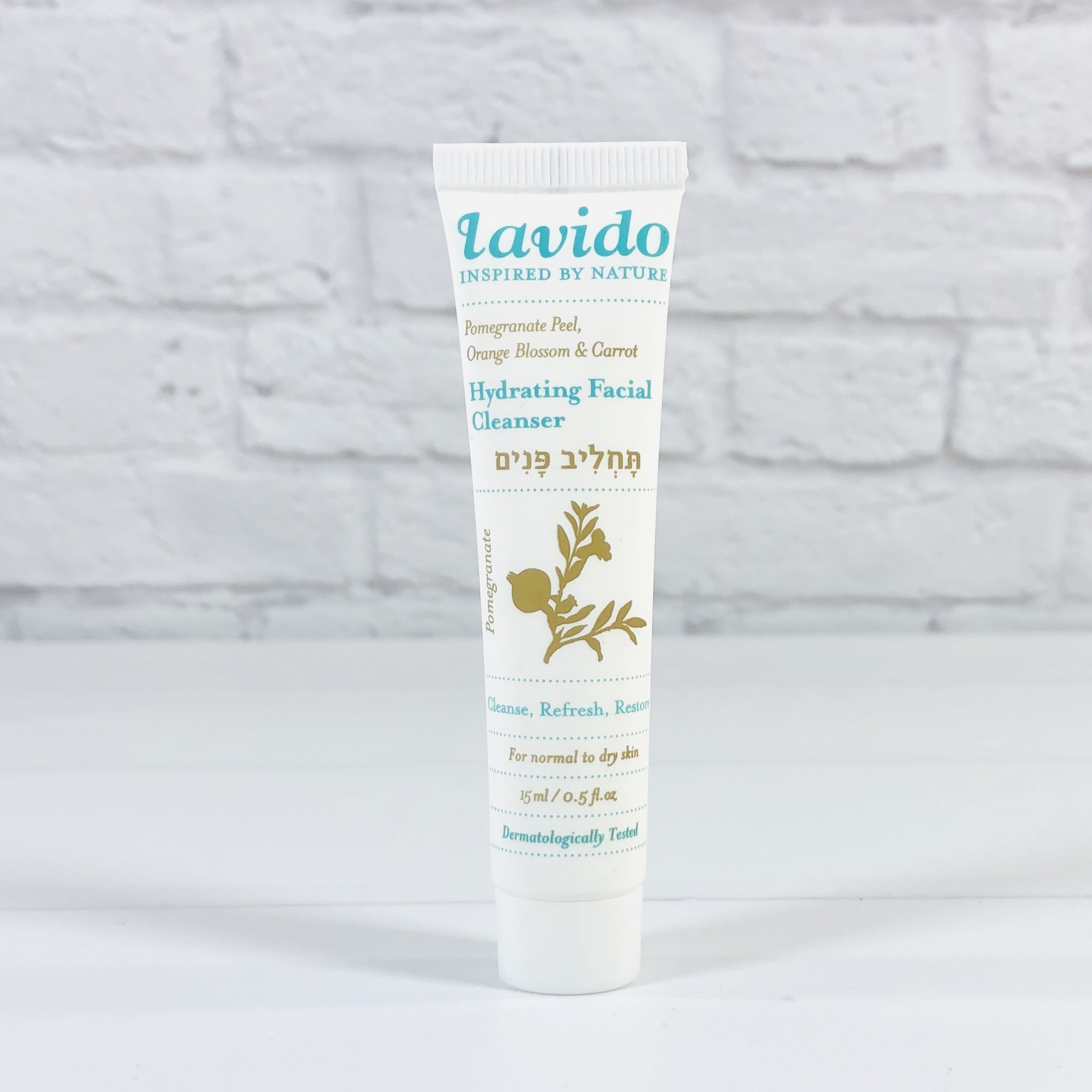 Lavido Hydrating Facial Cleanser ($3.58) is for normal to dry skin, which I have, so I wasn't surprised to find that it was more milky than sudsy. It has carrot and pomegranate extracts to revitalize and soothe skin and salicylic acid to help shed those old cells. I needed to use a second cleanser to make sure everything was removed but that's pretty much what I do with all cleansers anyways.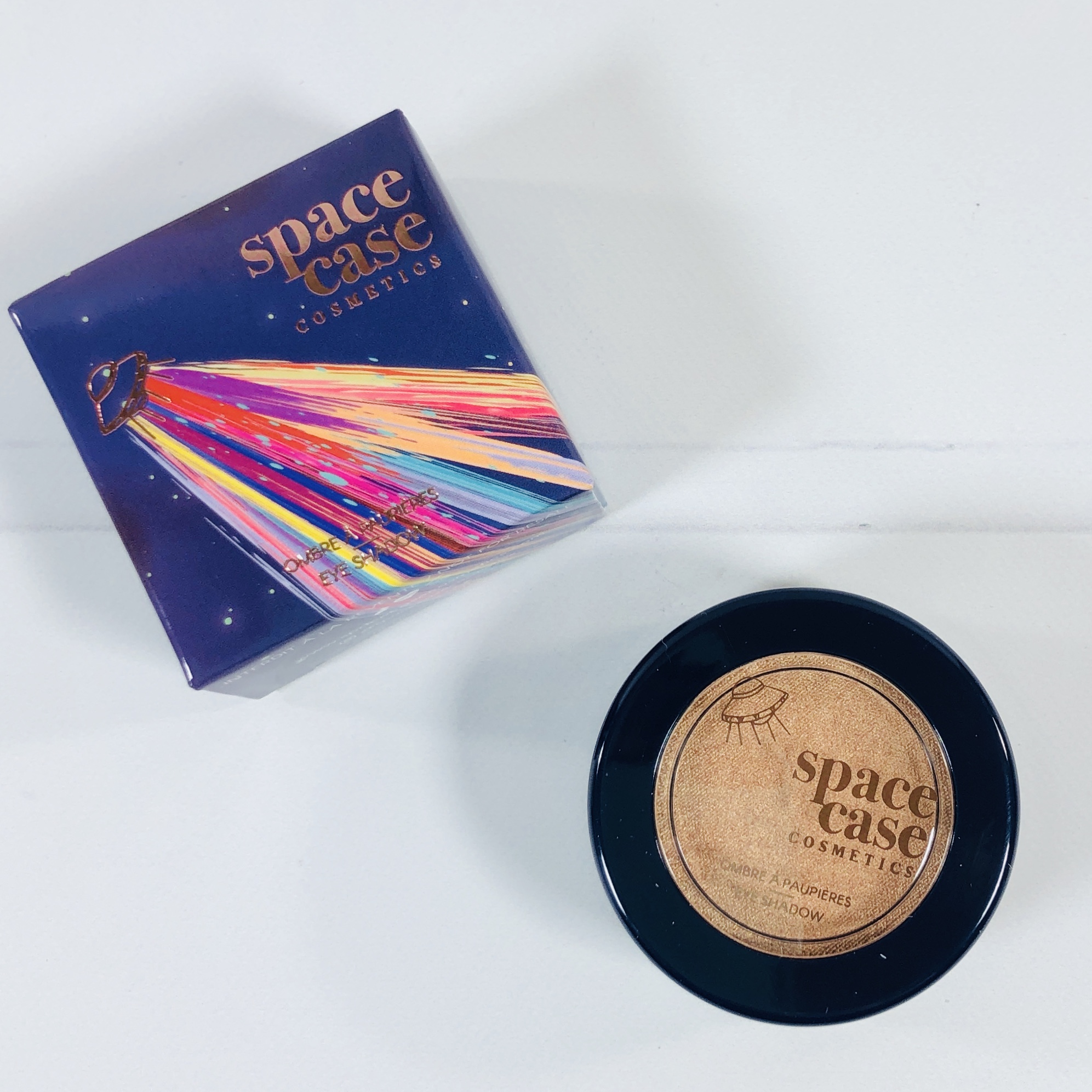 Space Case Cosmetics Eyeshadow in Gold Base ($9) is a full-sized product!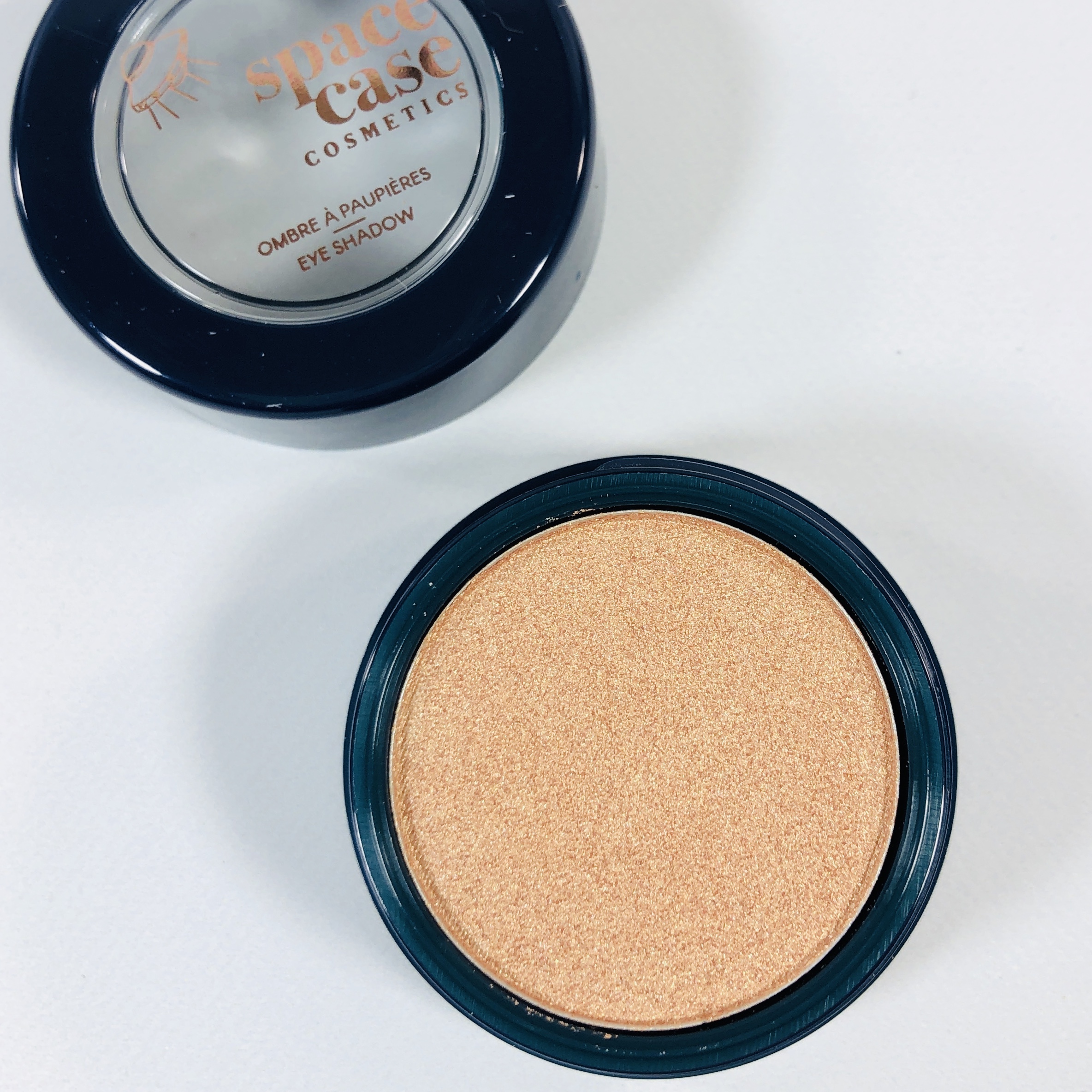 It's a medium gold shimmer eye shadow and I like the shimmery look it brought to my lids.
I applied it with my finger, I feel like it's the best way to keep this type of product from falling onto my cheeks. I used a matte brown shadow in my crease and this combo will keep me going throughout the fall too.
KVD Vegan Beauty Tattoo Liner in Trooper ($7.64 value) I'm not much for liquid liners but of all I've tried this one seems to work the best!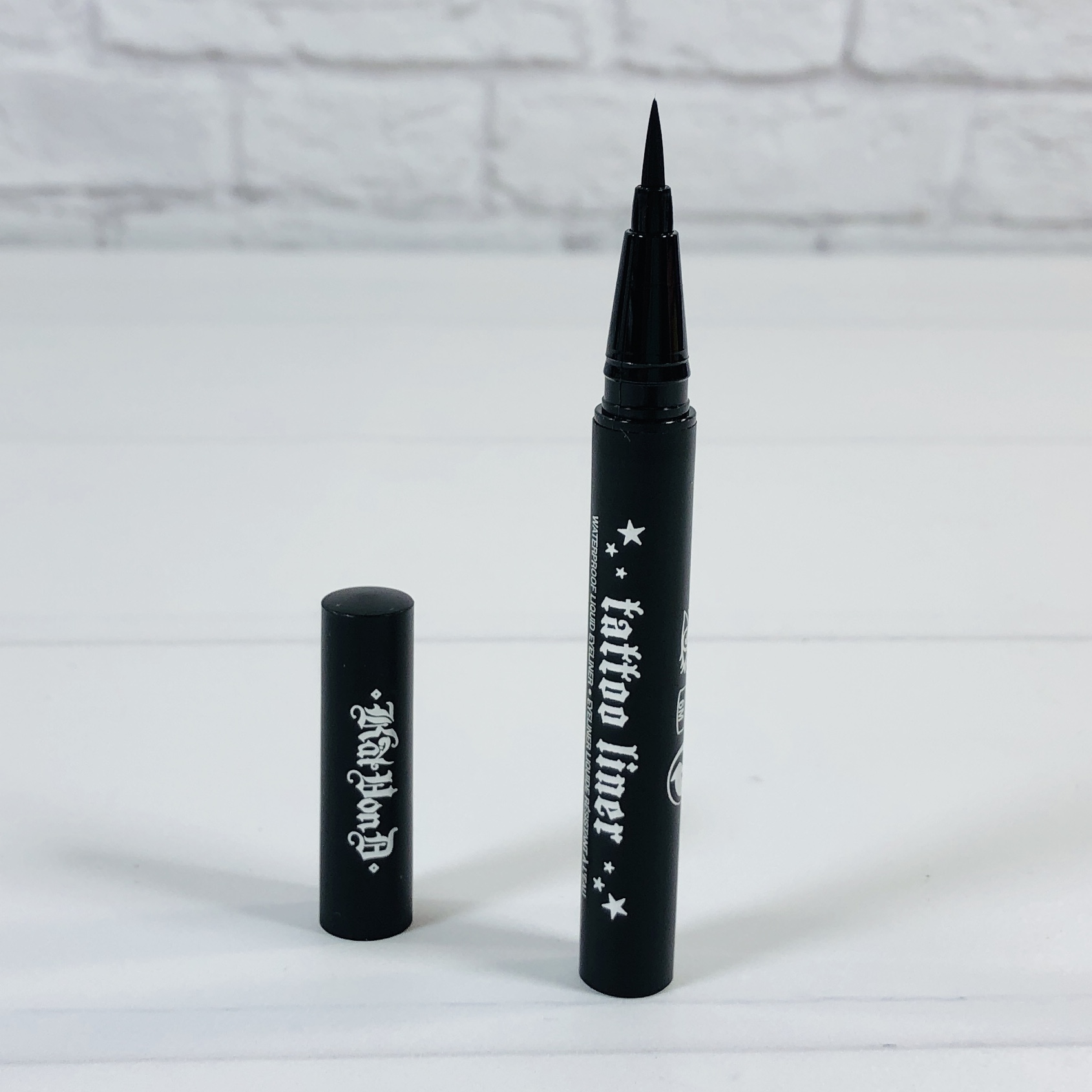 It dries quickly so it didn't smudge in my crease. I'm never going to be able to master application, it's not my thing, but this is a quality product for sure.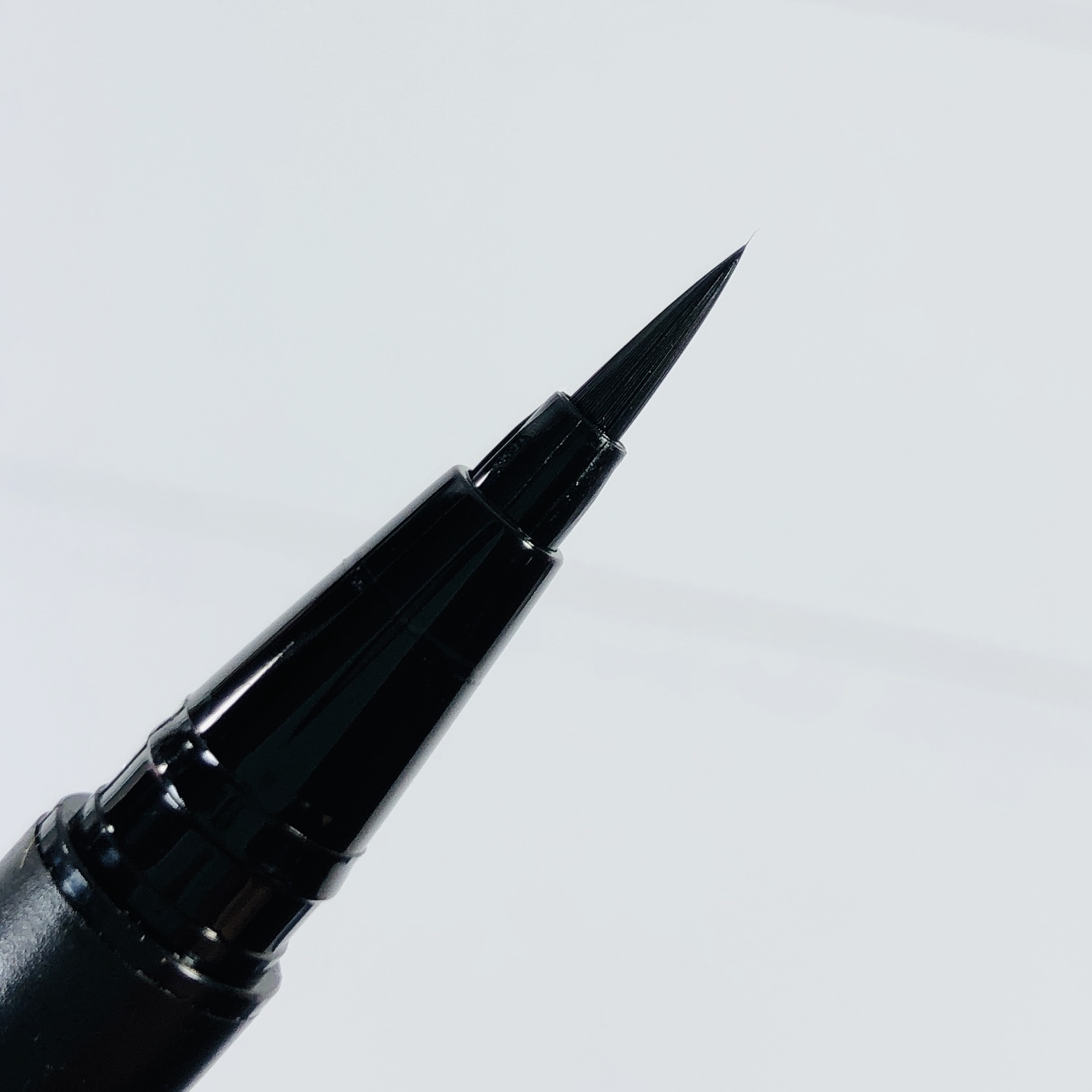 The line is very fine at the tip and it is easier to apply than other brands.
Thrive Causemetics Lip Filler Long Wearing + Plumping Lip Liner in Ghizlan ($20) was my sample choice this month and I love the color!
This color is described as a "universally flattering plum mauve" shade. It can be worn as traditional liner but it's also soft enough to fill in the entire lip. I don't know that it plumped up my fine lips, but it sure looked good every time I looked in the mirror.
Swatched from top: lip liner, eye liner, eye shadow.
What a cute bag and summery items in my July Ipsy Glam Bag! The body lotion was my favorite item, it smelled so good and was non-greasy. The lip liner was also a hit, I love the feel of it and the color was perfect for me. The eye shadow and liner will take me through fall and the cleanser worked well for my skin type. The value for my July bag was around $48.21!
What did you get in your Ipsy this month?