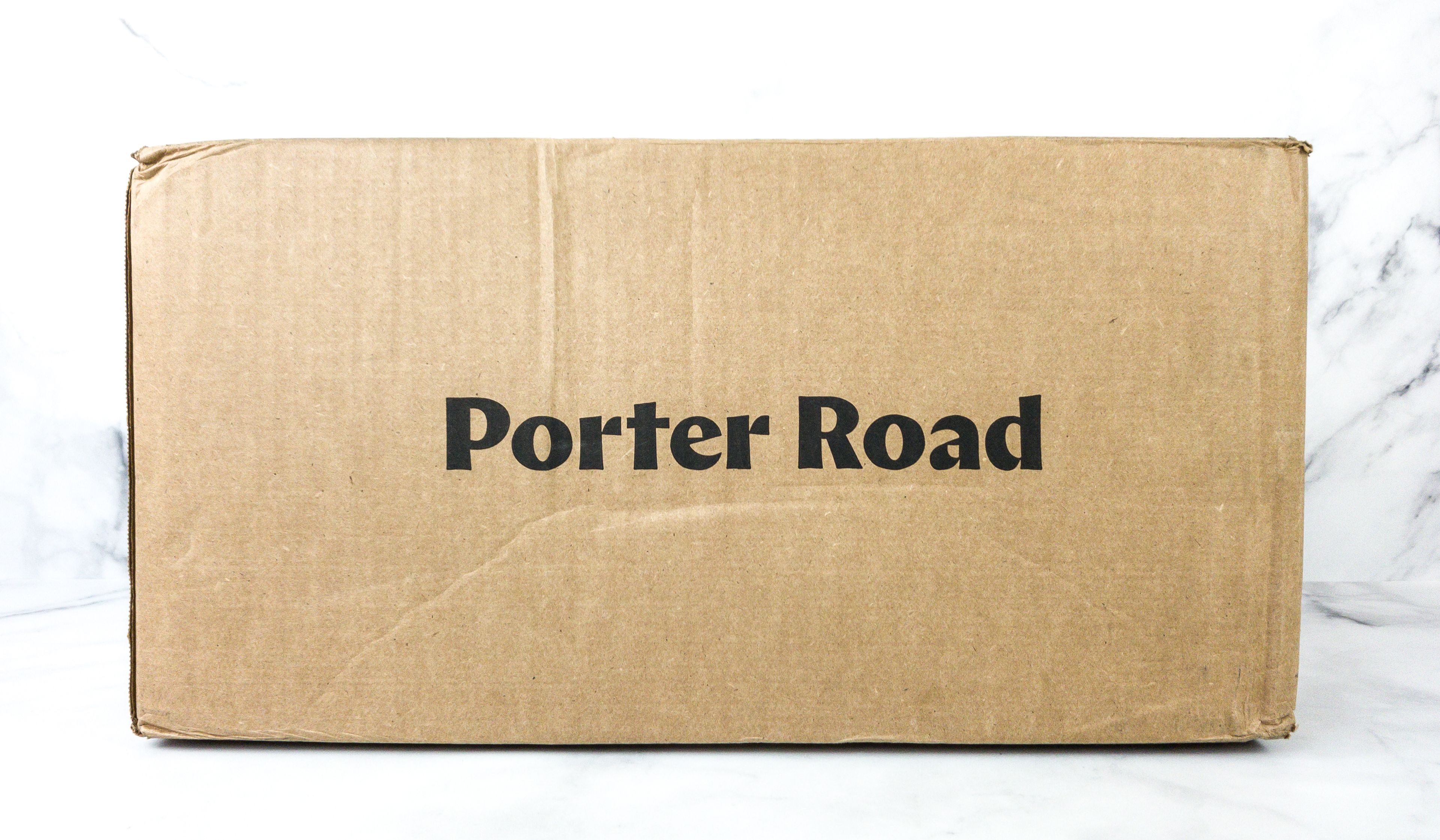 Bespoke Post is a men's lifestyle subscription box offering sophisticated accessories, gear, and curated interest kits, although nearly all of their offerings are unisex and would be equally appropriate for any woman.
My wife grabbed this limited edition box "DRY-AGED" box right before Father's Day, in a subscriber-exclusive email! It's a collab between Bespoke Post, and Porter Road! It was a limited edition box priced at $105 – the perfect intro to Porter Road's new subscription!
DEAL: For a limited time, use code MYFIRST to save 25% on your first box!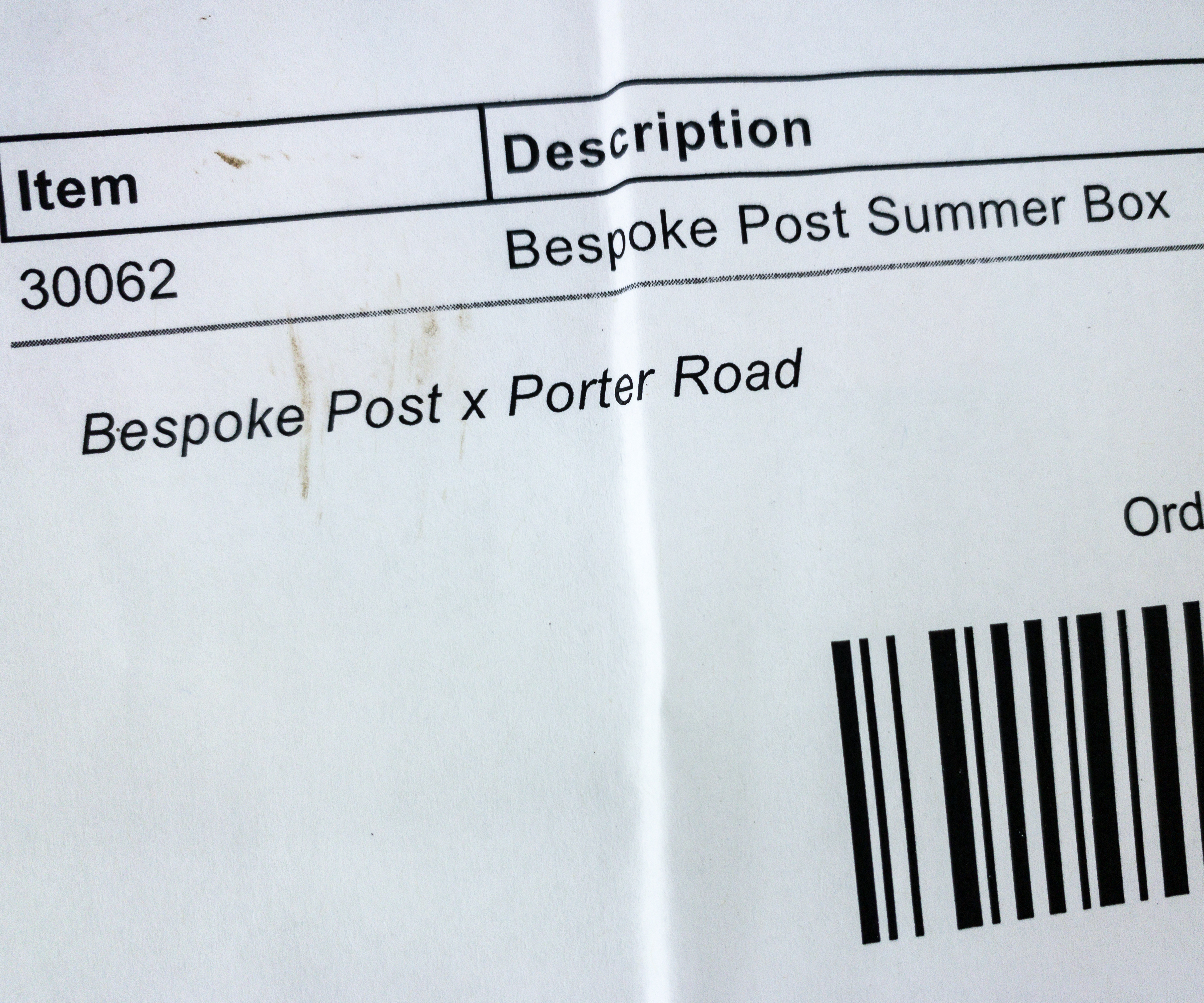 The box comes with a sheet that lists what we received in our box.
There's also a note about the meats included in the box and how to handle them.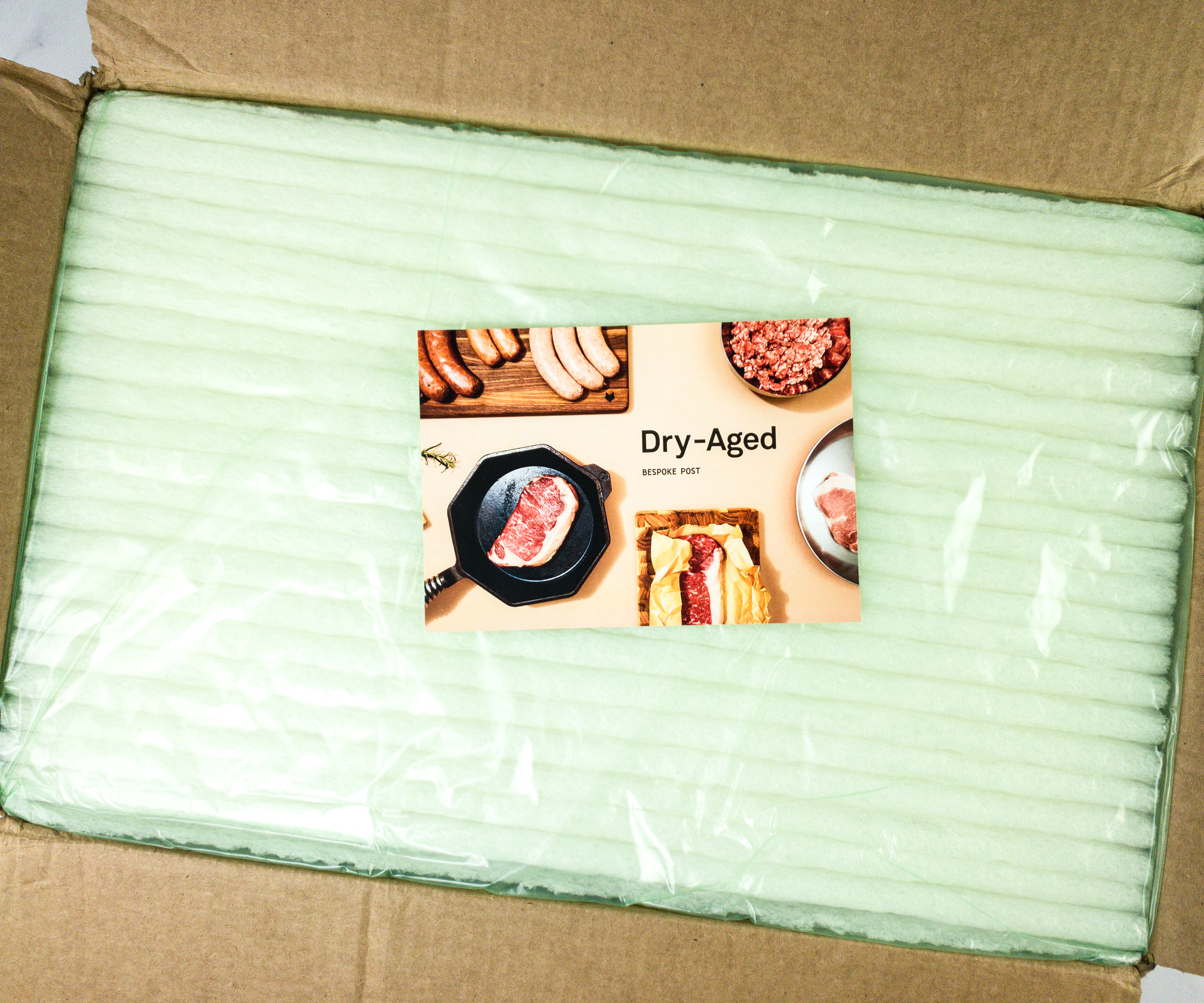 Upon opening the box, we were welcomed with a thick styrofoam case and a card on top.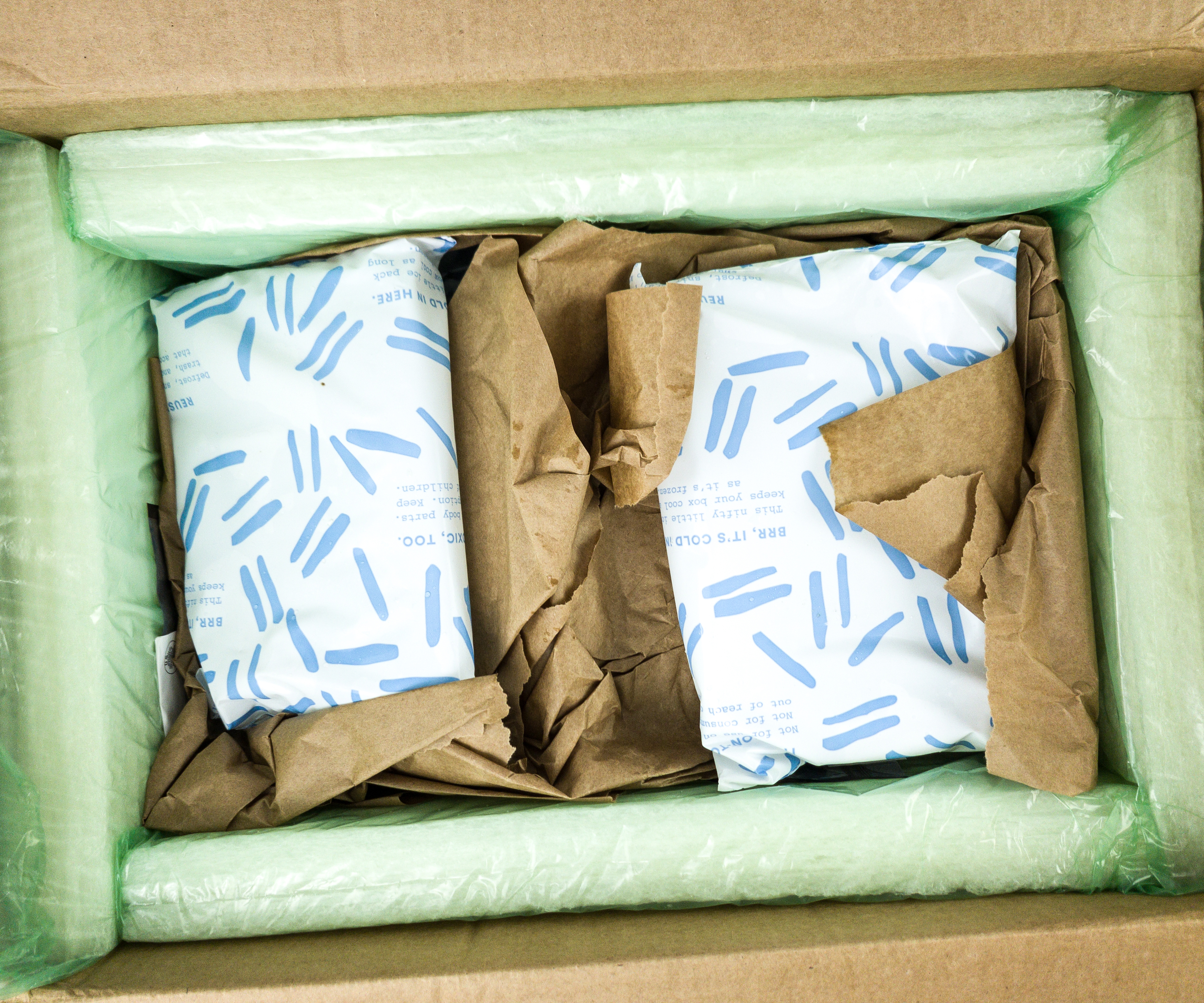 All the items were carefully packed in a thick styrofoam case surrounded by ice blocks, ensuring that the meats arrive in great condition.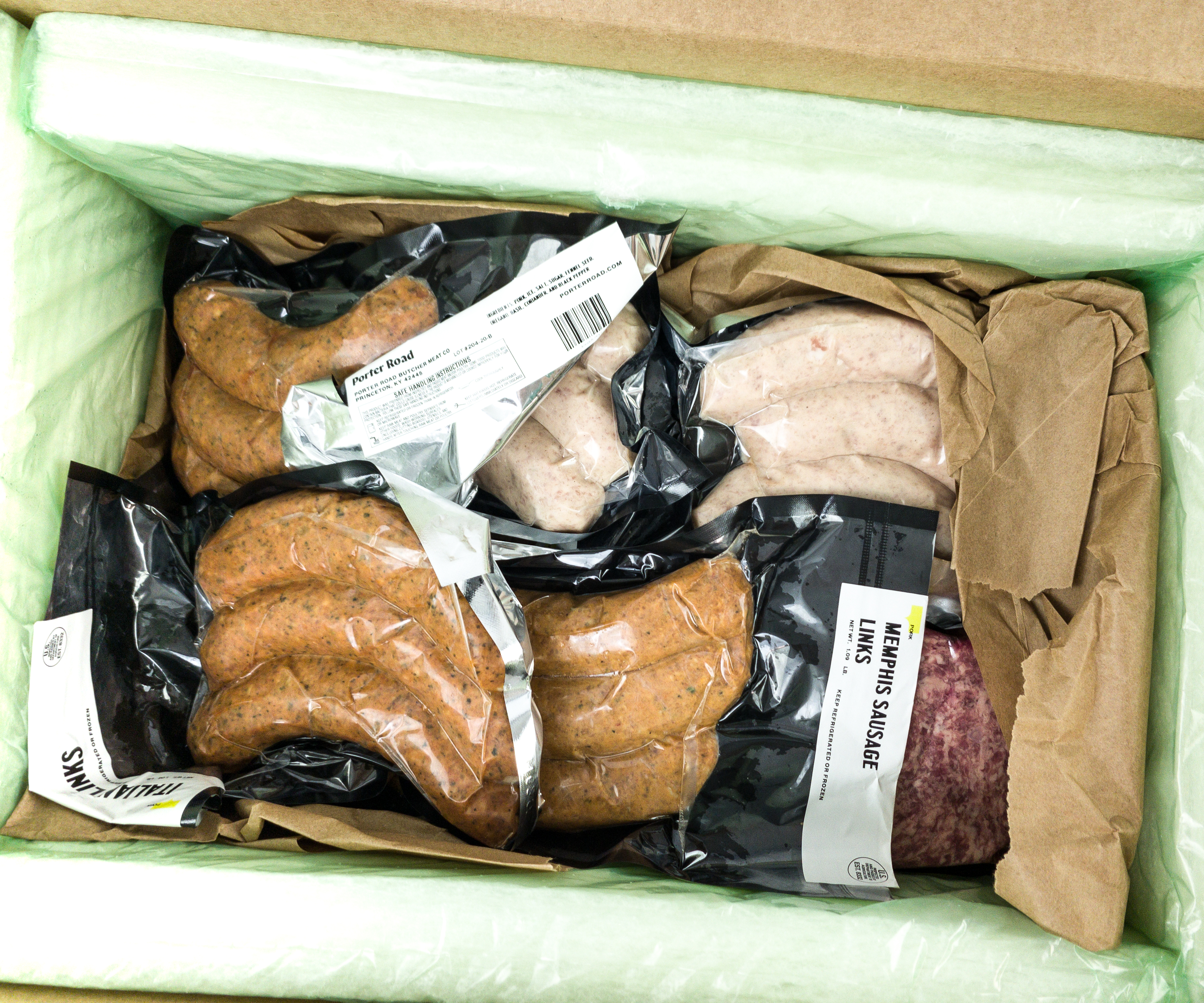 This Bespoke Post x Porter Road box, Dry-Aged, is sold out. It was priced at $105 per box.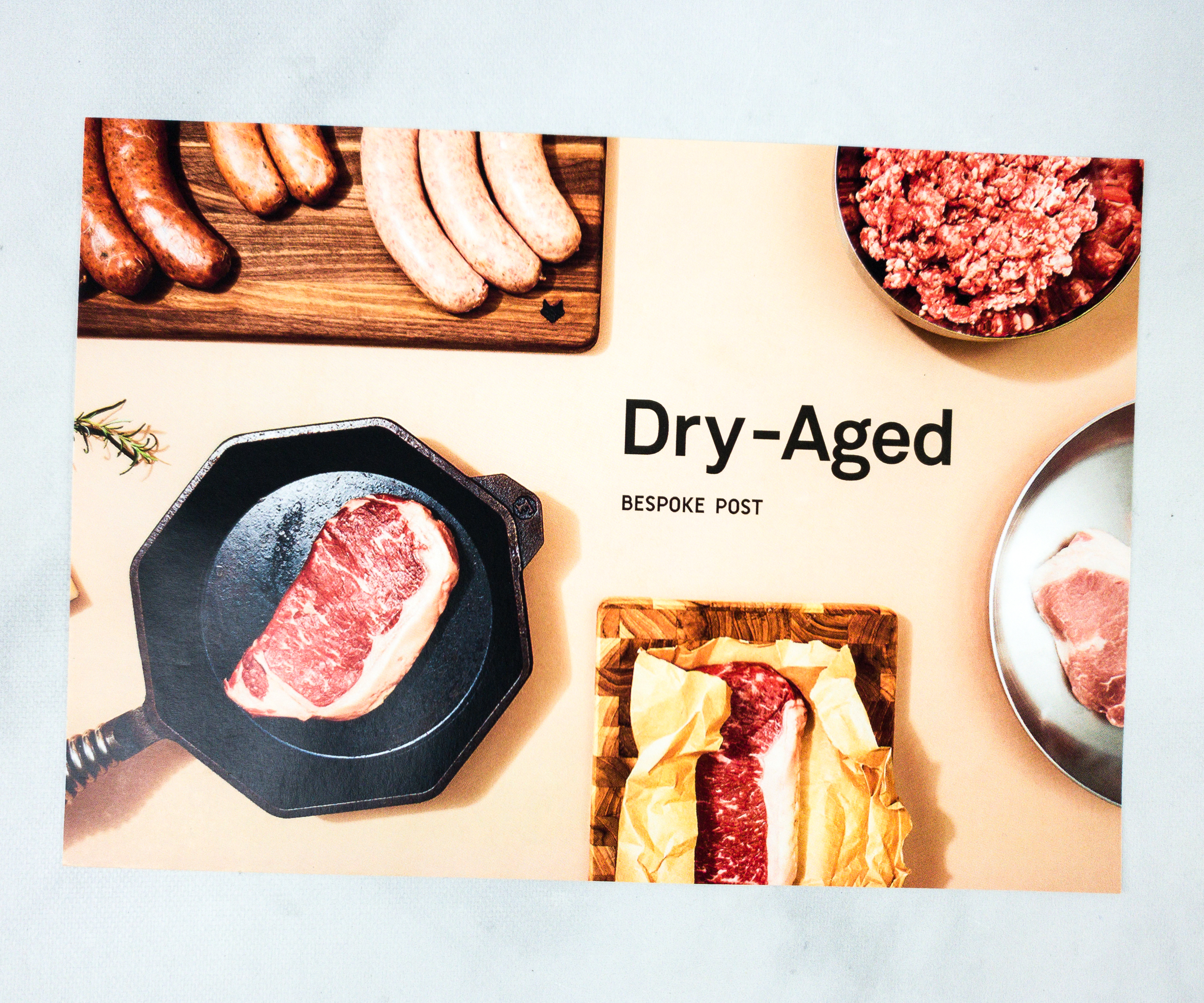 Here's the information card from Bespoke Post.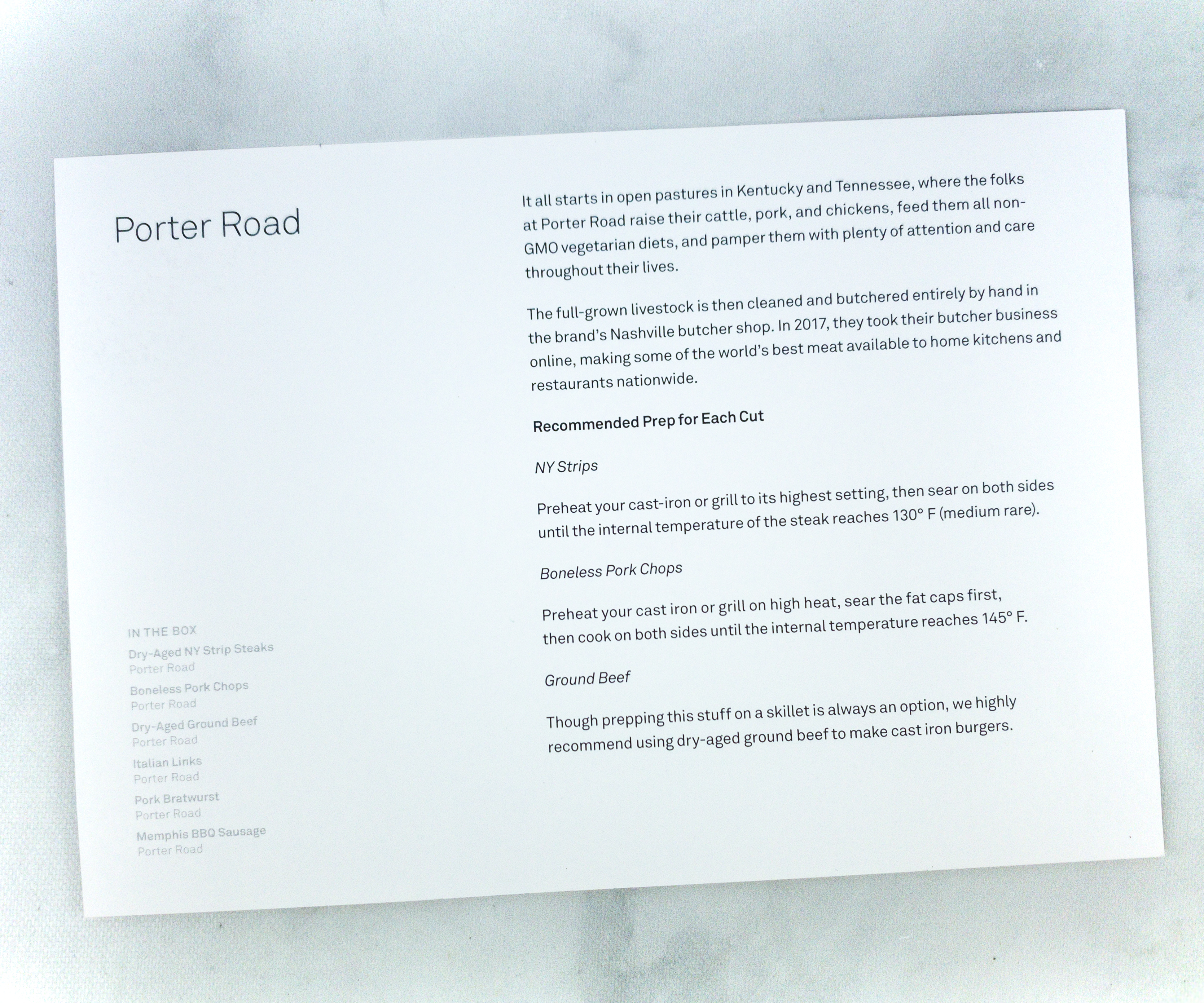 The back of the card has a brief introduction to Porter Road, plus recommended prep methods for each meat.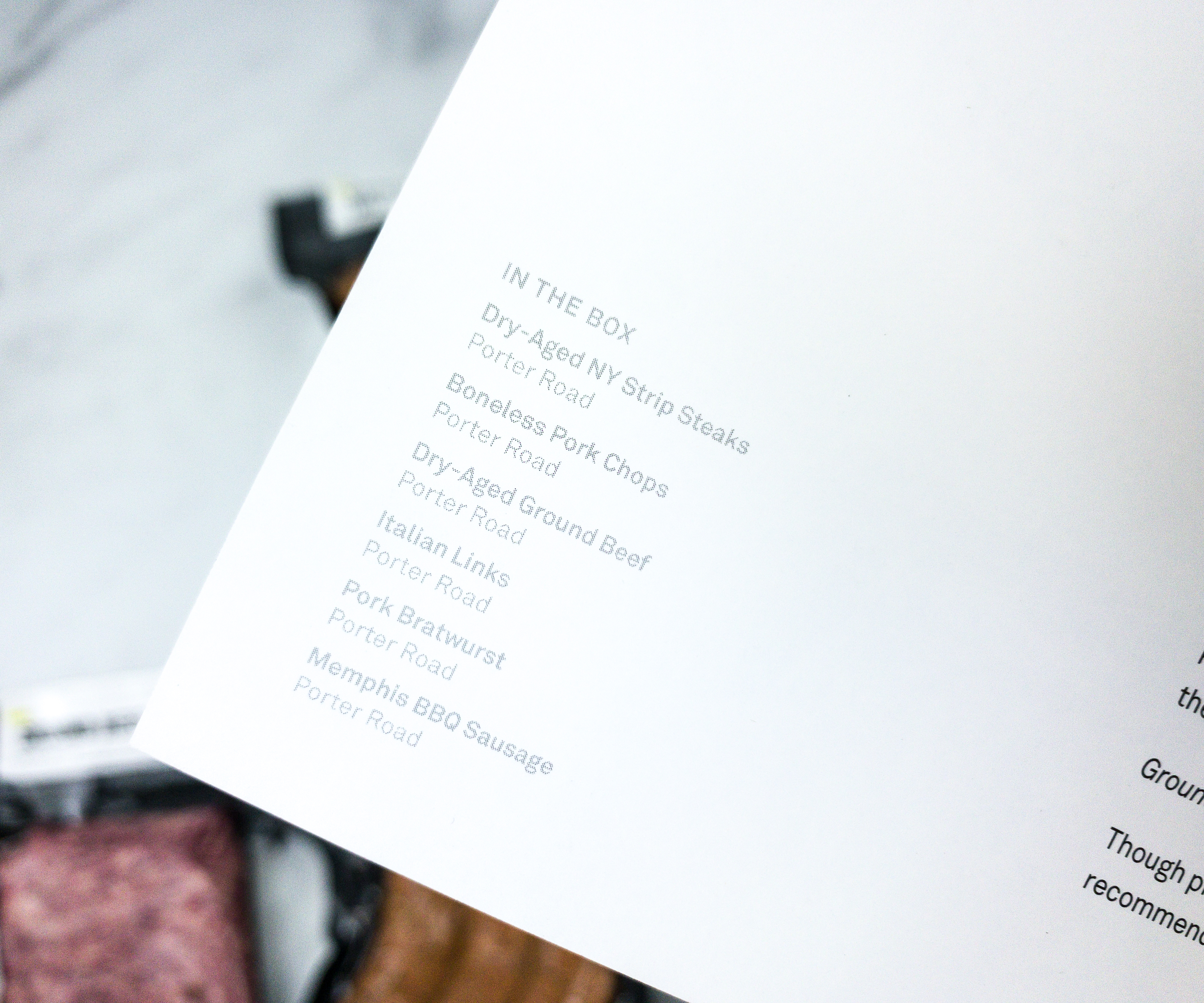 We have Dry-Aged NY Strip Steaks, Boneless Pork Chops, Dry-Aged Ground Beef, Italian Links, Pork Bratwurst, and Memphis BBQ Sausage in the box!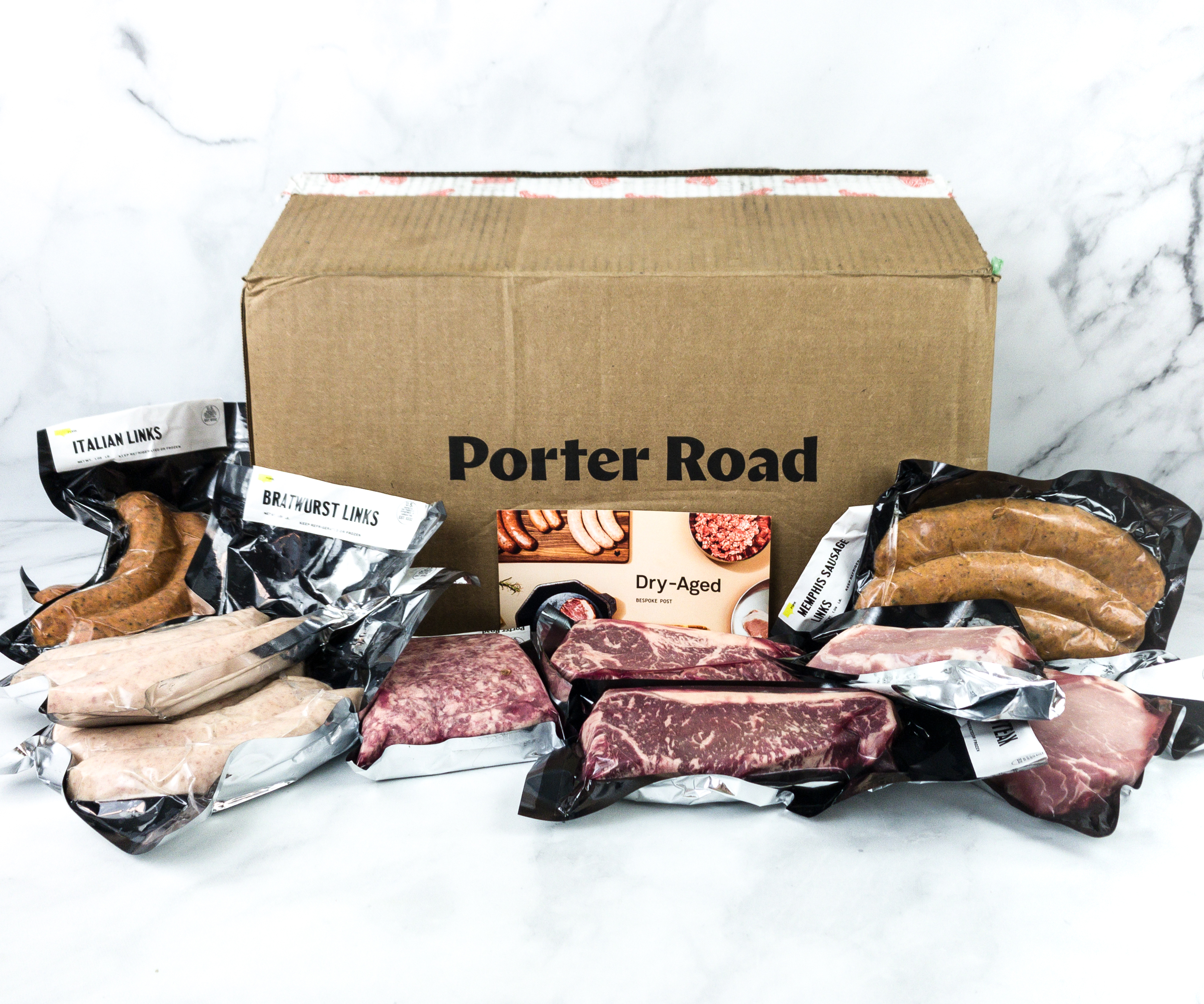 Everything in my Bespoke Post x Porter Road Limited Edition box!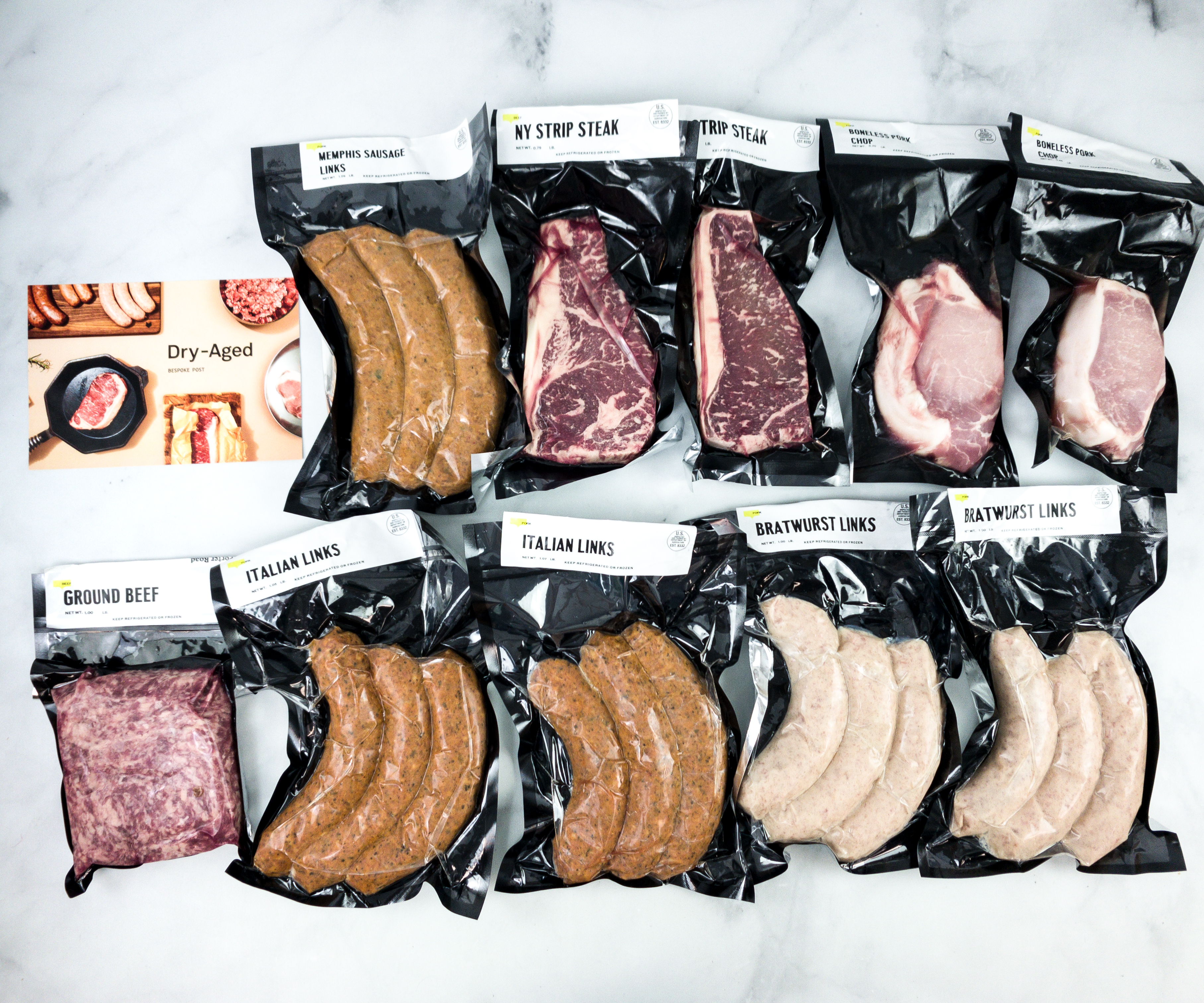 All the meats arrived vacuum-sealed in separate packaging, with their corresponding tags on top.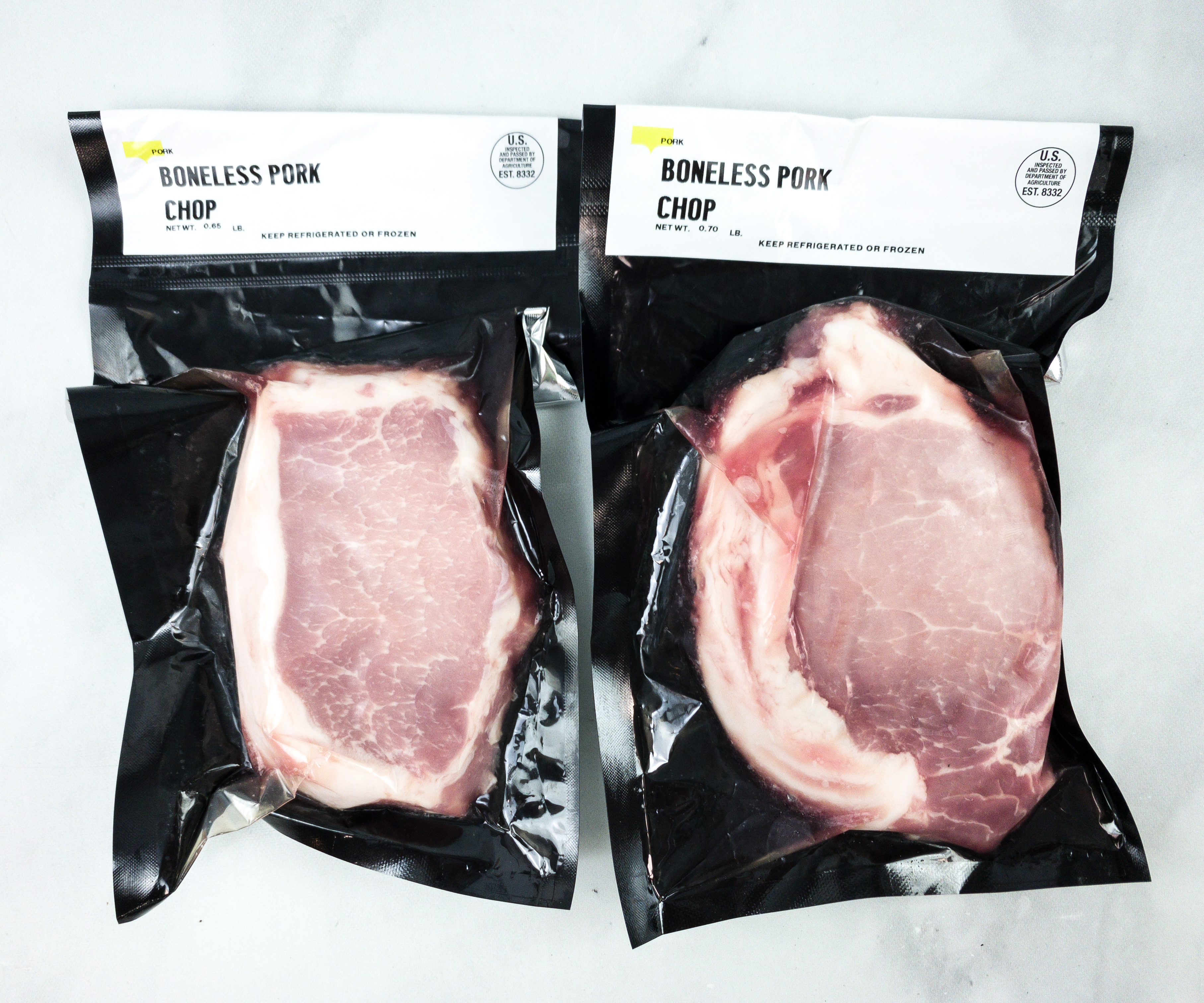 Boneless Pork Chops. We have two packs of boneless pork chops that weigh 0.65 and 0.70 lbs respectively. This cut is one of the most popular parts of pork for cooking because it's low carb, budget-friendly, and easy to prepare! Also, it's pasture-raised, harvested, and hand-cut in the USA, just like the other meats in this box.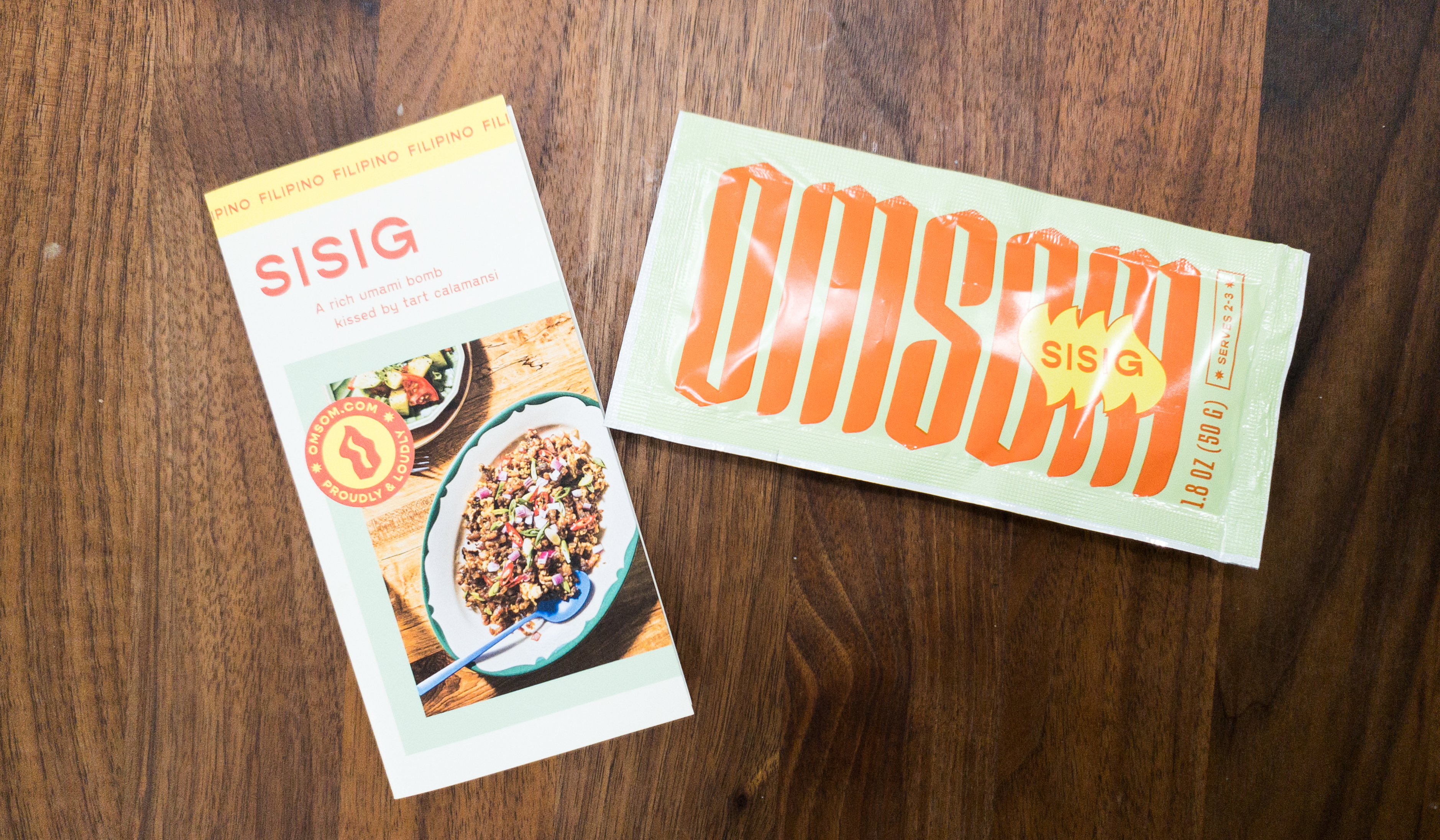 Pork chops are great for grilling and frying, but this time, we used them to make Sisig! It's a popular Filipino dish, which is usually seasoned with calamansi, onions, and chili peppers.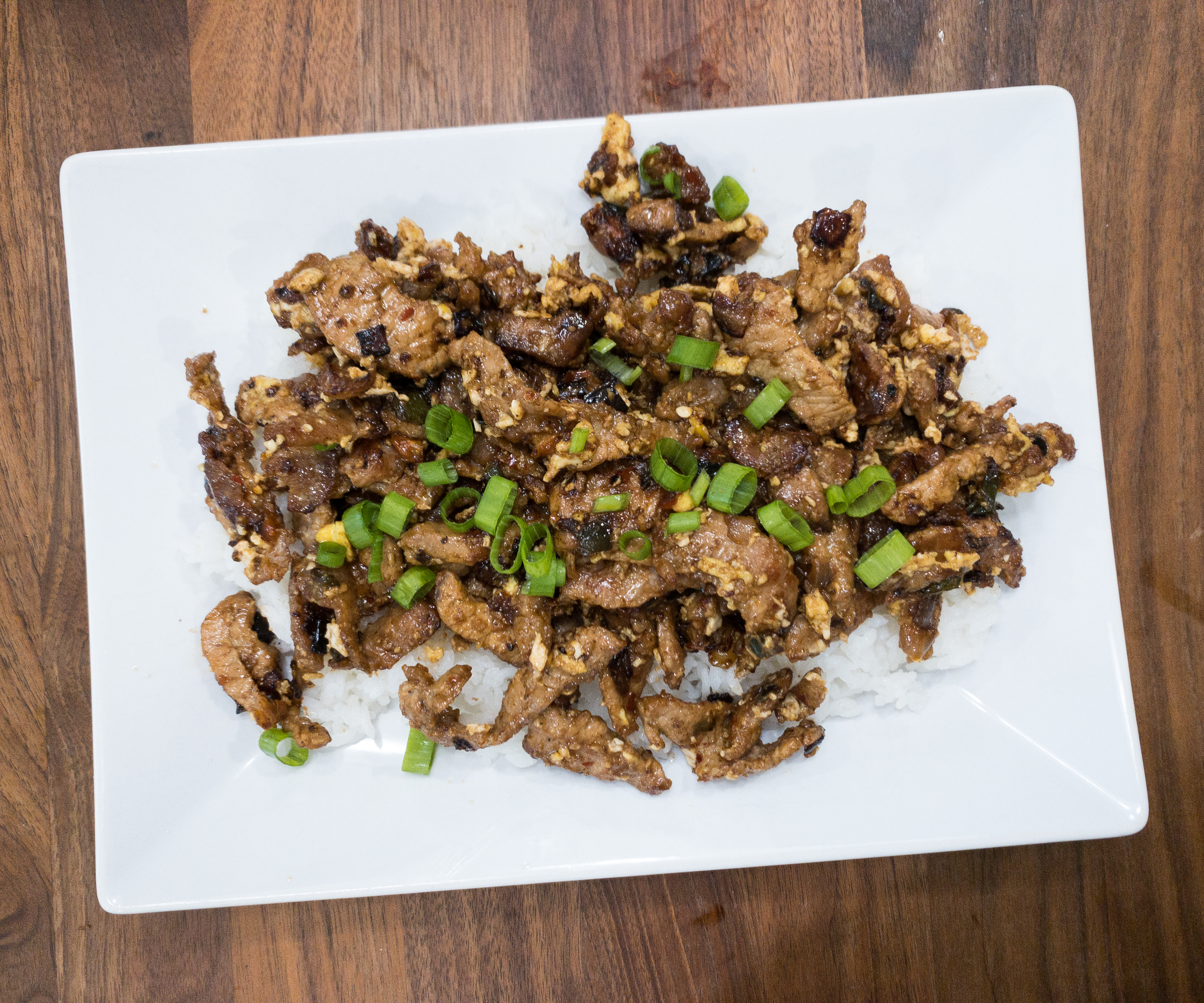 Cooking this dish has three parts: boiling, broiling, and grilling the meat. Once done, we added spring onion and drizzled it with calamansi!
You can also add chili peppers if you want it to have a little kick of spiciness. This dish is best served with rice!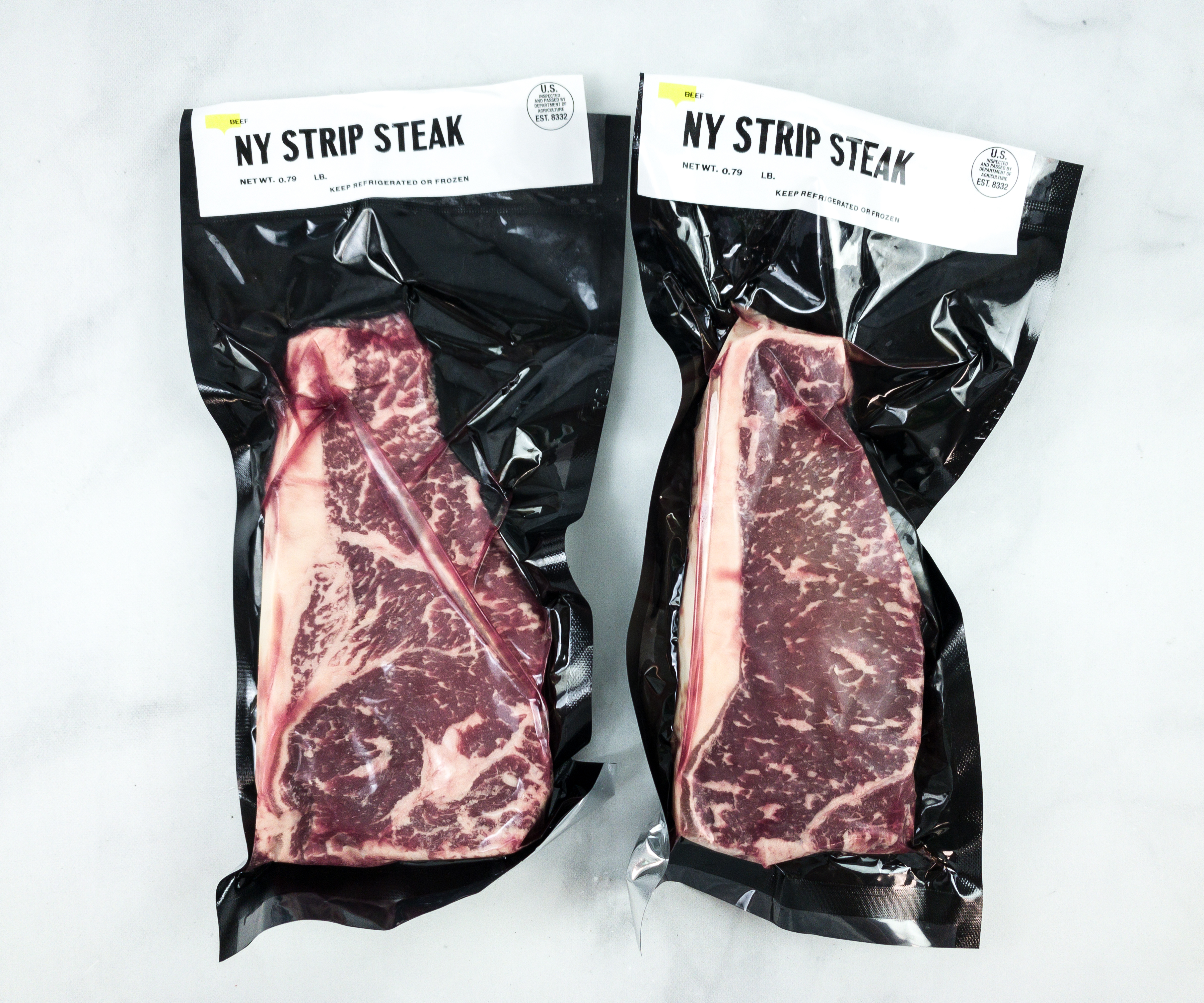 Dry-Aged NY Strip Steaks. Each box will include either 2 NY strips or 2 boneless ribeyes. We received the NY strips, a classic cut of beef extracted from the area located just below the cow's backbone.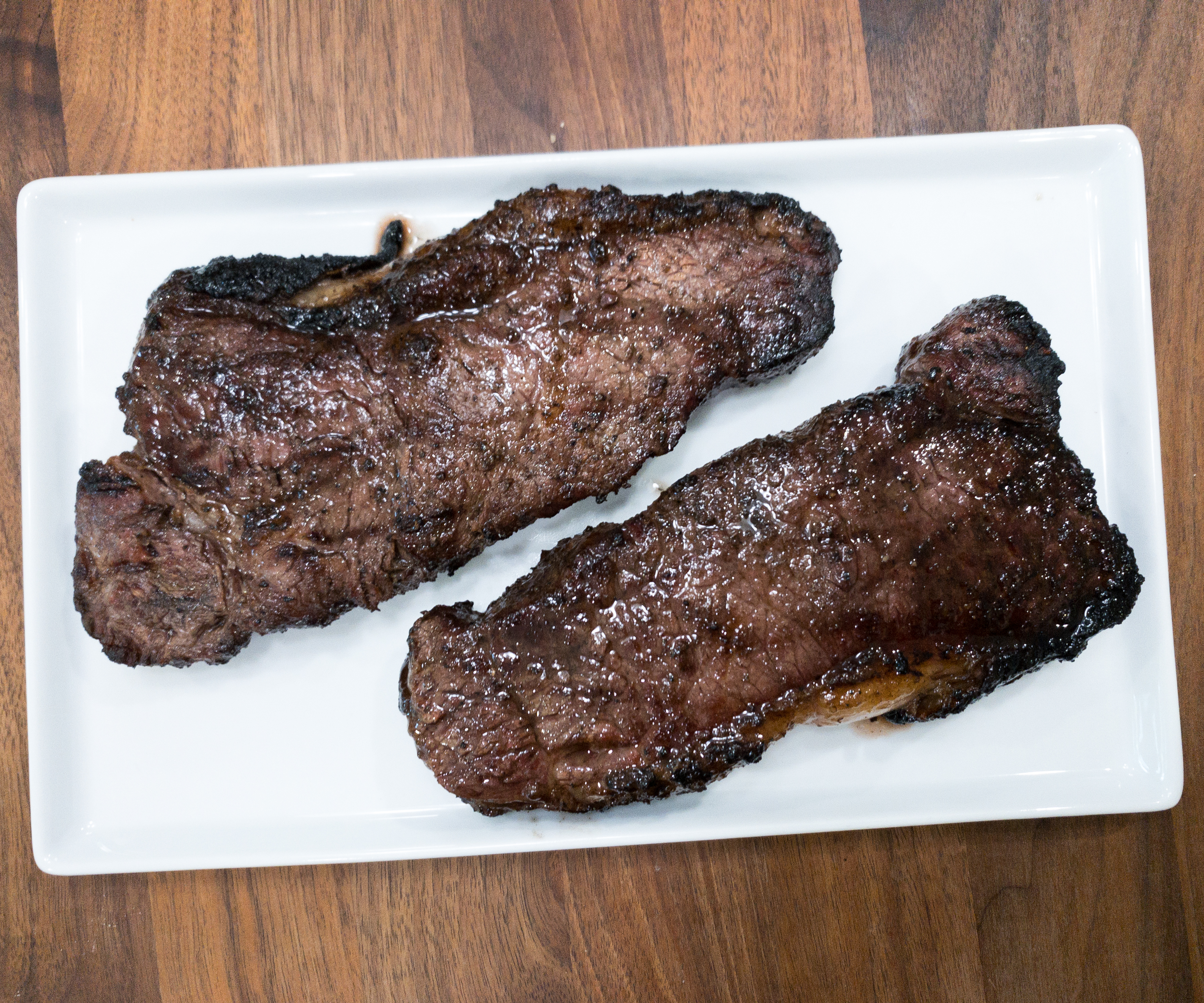 These were dry-aged for a minimum of 14 days. What makes them different is that they are extra flavorful and definitely more tender than regular steaks. Porter Road even ensures that these are free of added hormones and antibiotics.
I added some seasoning on these NY steaks and grilled them until the outer layer of the meat turned dark brown.
The strip steak turned out juicy, each bite was totally satisfying!
I served it together with some broccoli and cheesy scalloped potatoes on the side.
Dry-Aged Ground Beef. We also have a 1 lb pack of dry-aged ground beef. We use ground beef all the time, but we were excited about this one because dry-aged ground beef takes dishes to the next level because of its rich flavor.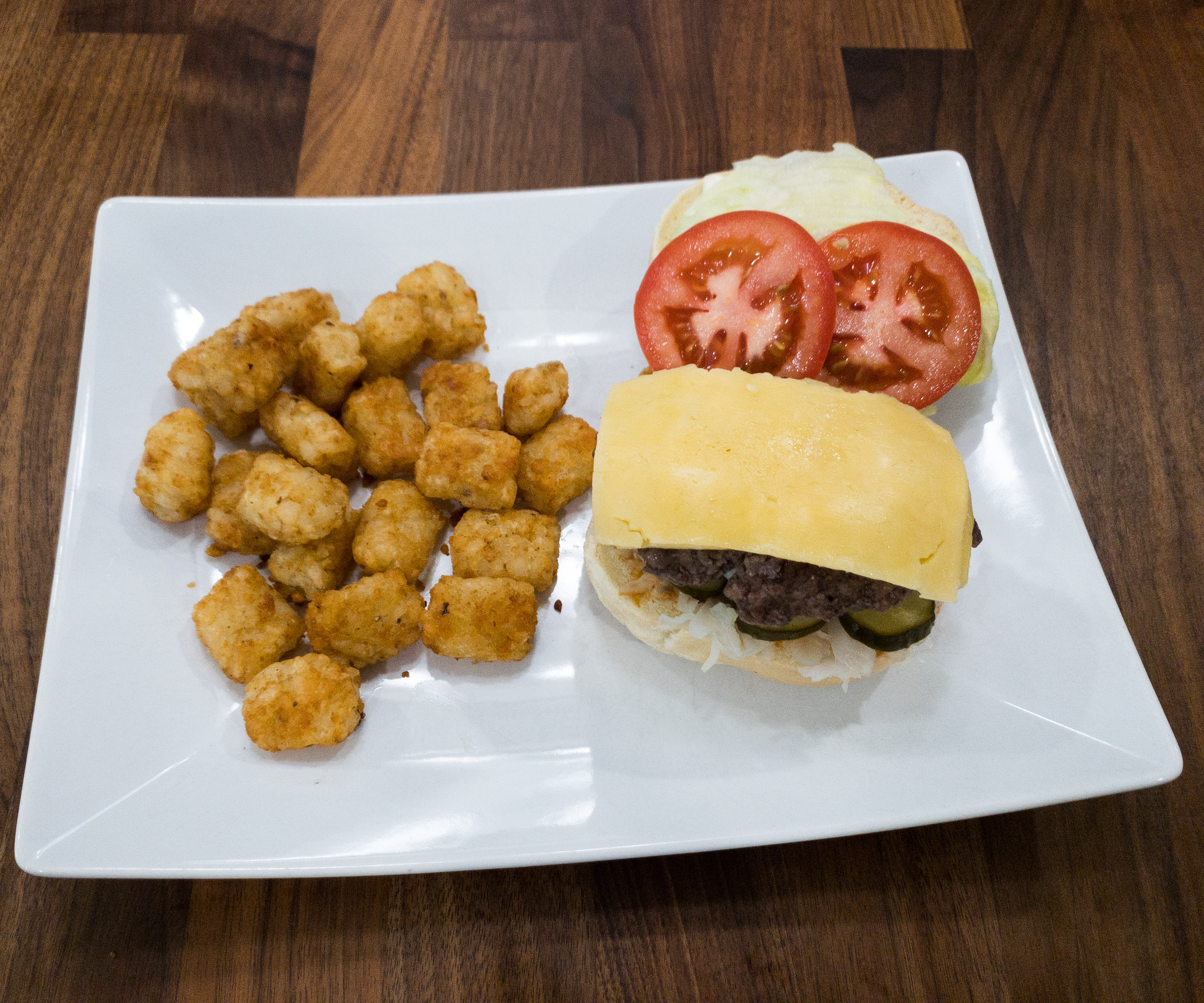 We love burgers so that's what we made using the ground beef from Porter Road, although these would be perfect for lasagna or tacos as well.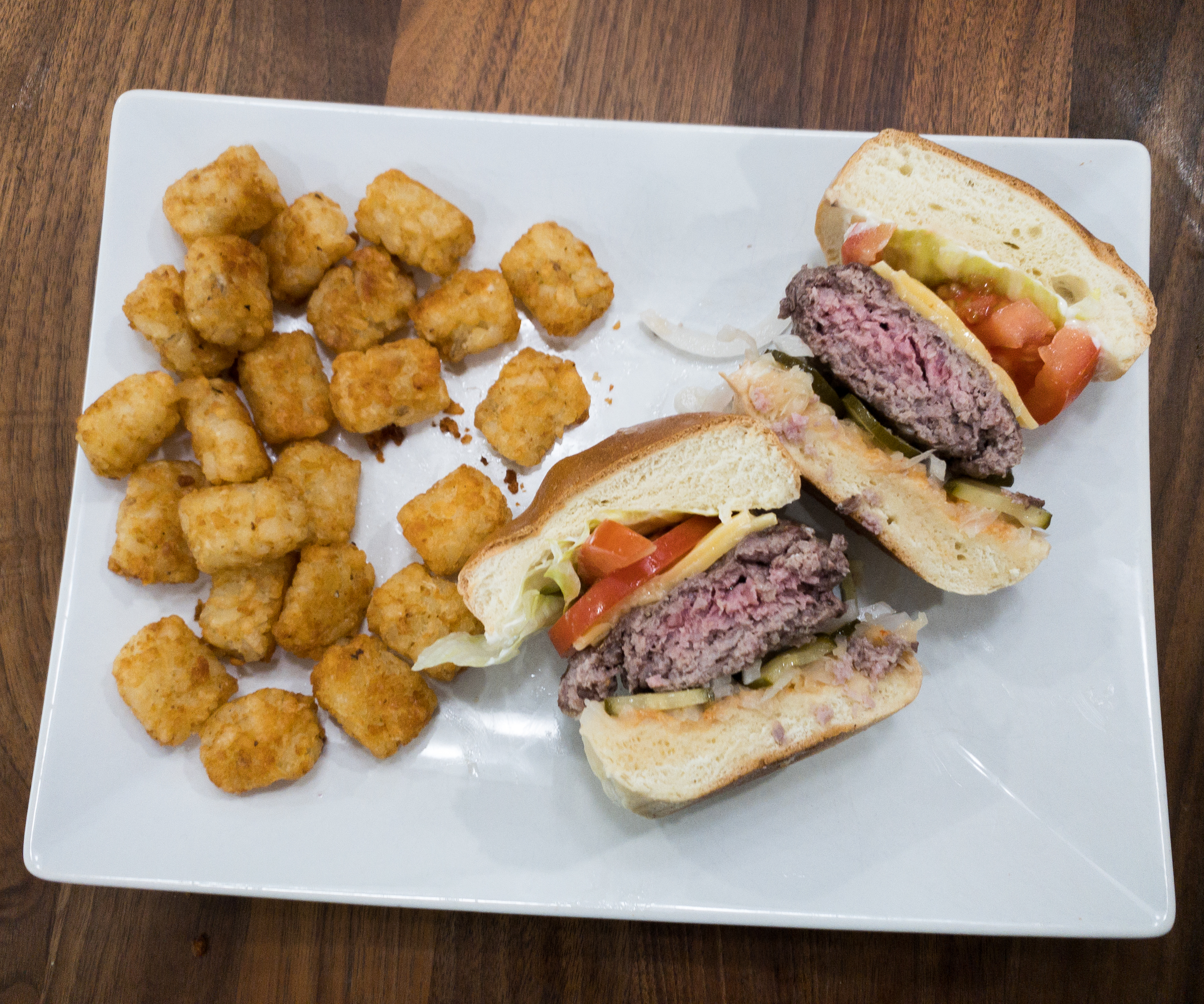 This patty made from dry-aged ground beef is one of the best ones I've ever made! It was flavorful and also had a high-fat content. We also partnered the burger with some tater tots and it was a big hit with my kids!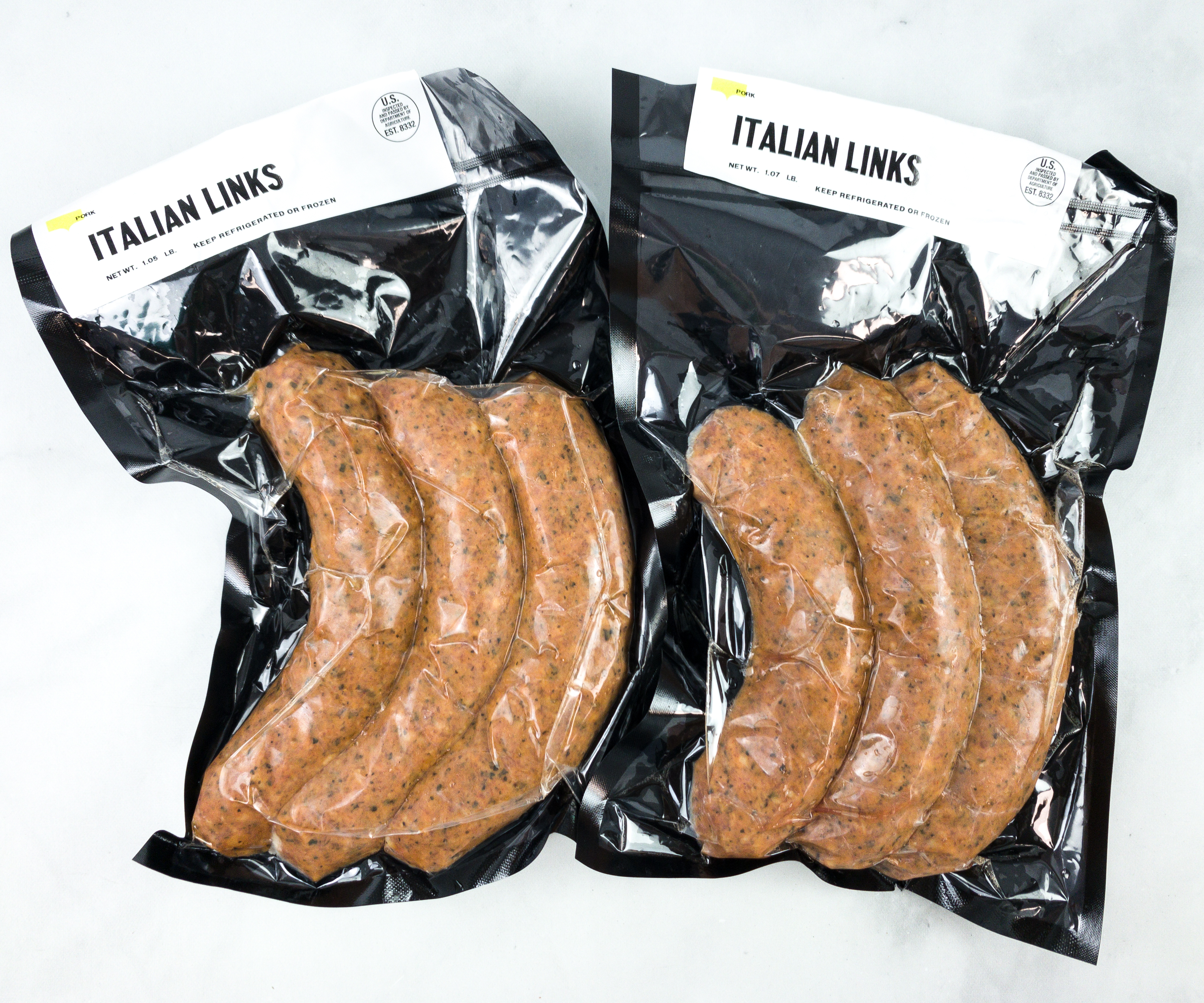 Italian Links. These Italian sausages are made with ground pork, sugar, salt, and other spices including some garlic powder, cracked black pepper, onion powder, and paprika. We have 2 packs and each pack has 3 pieces of Italian links.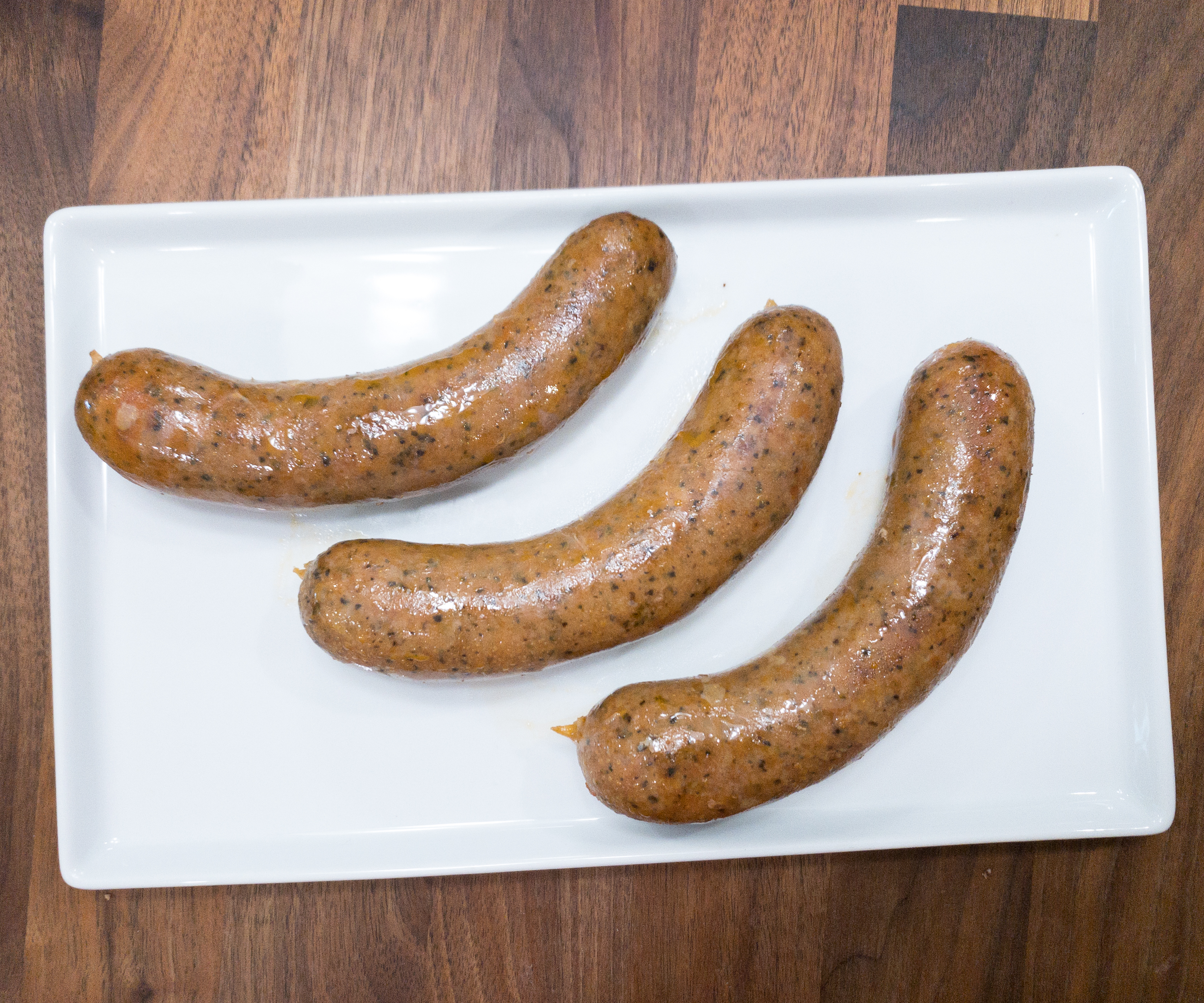 I pan-fried the sausage for 10-15 minutes until it turned dark brown! We enjoyed them as is, but you can also use these for pasta dishes and breakfast omelets.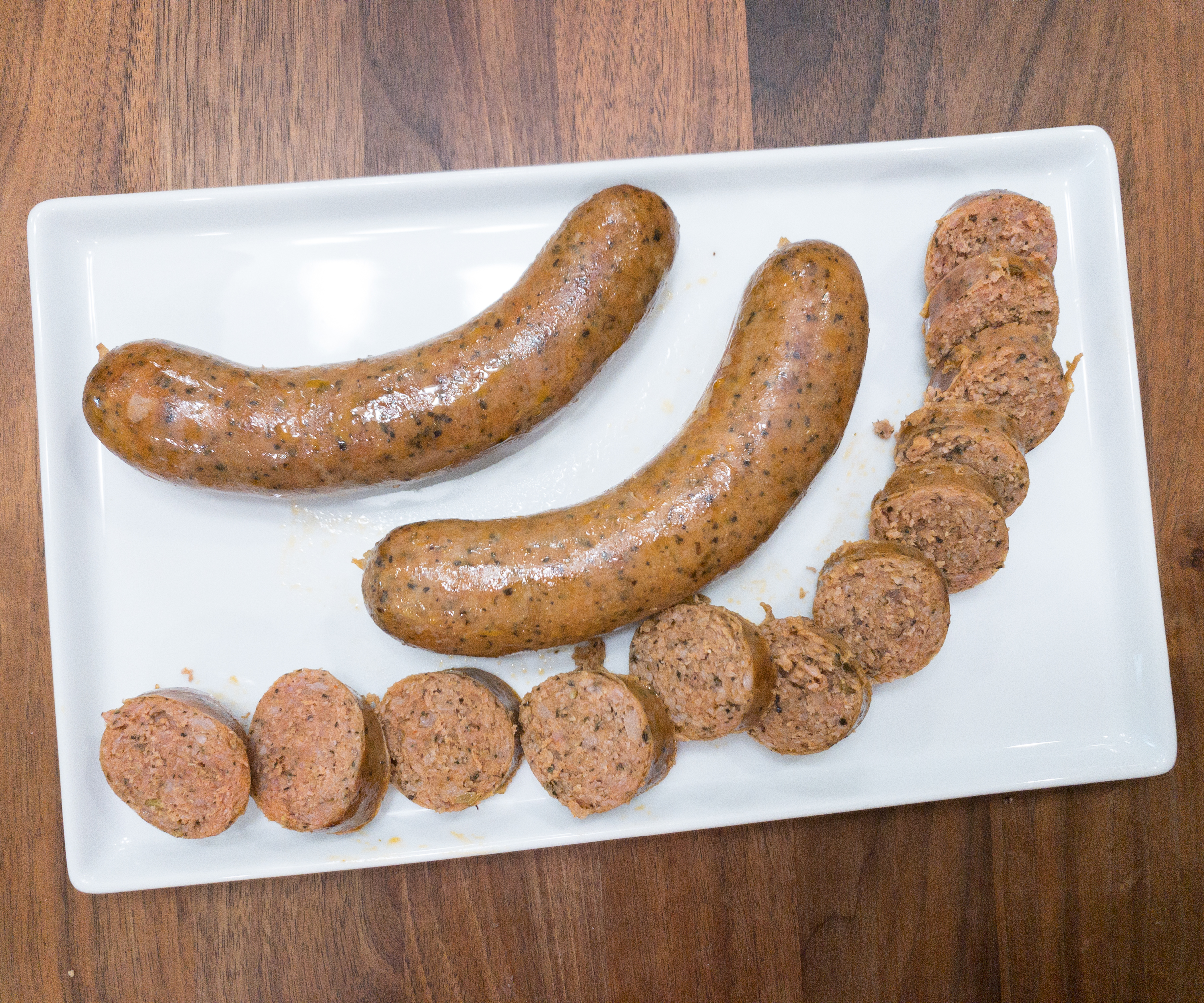 We loved how zesty these were! They surely weren't kidding when they said they use quality Italian herbs and spices for these links!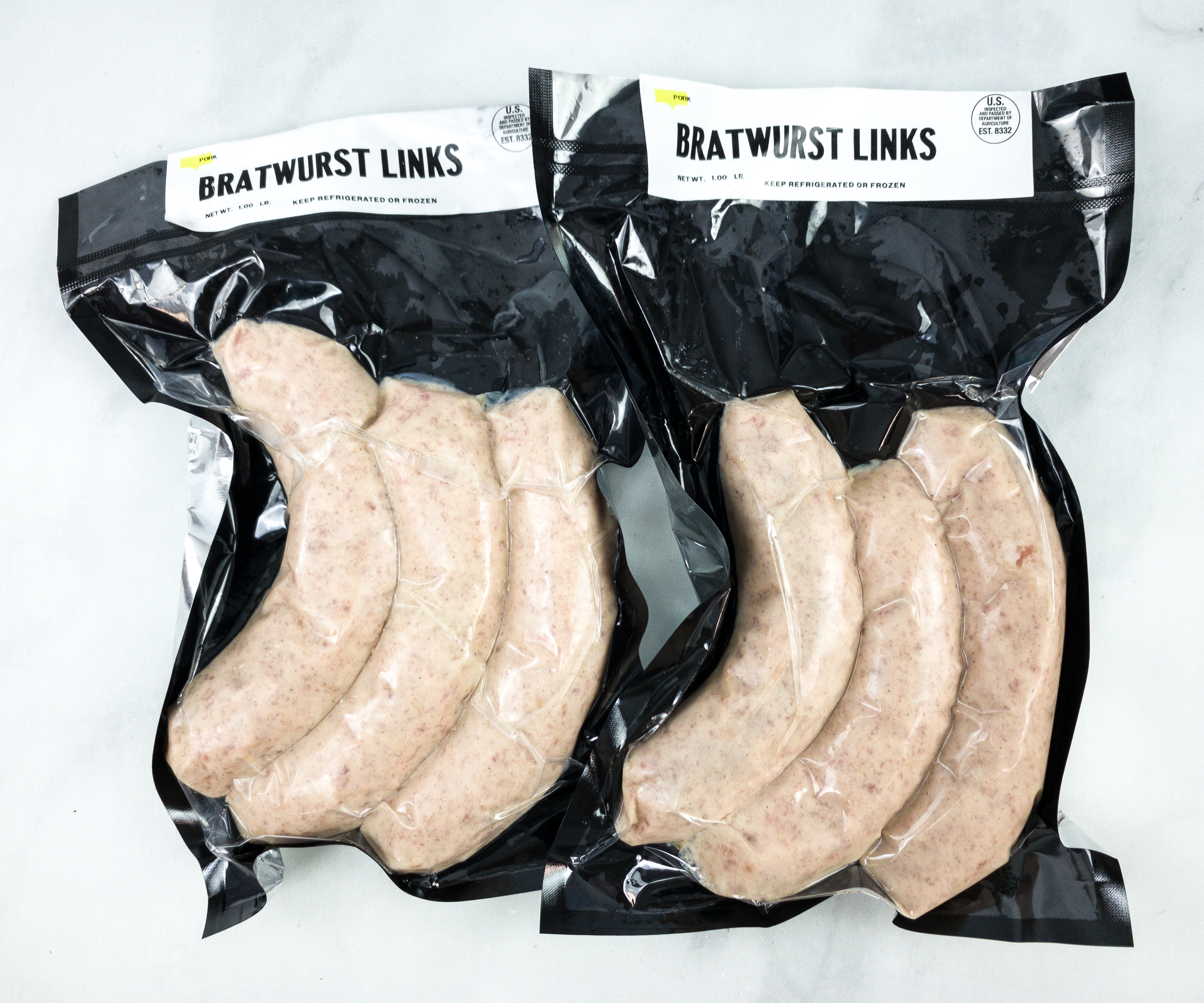 Pork Bratwurst Links. We've got 2 more packs of sausage links in our box, and this time it's Pork Bratwurst. If you're looking for traditional German-style sausages, this is it!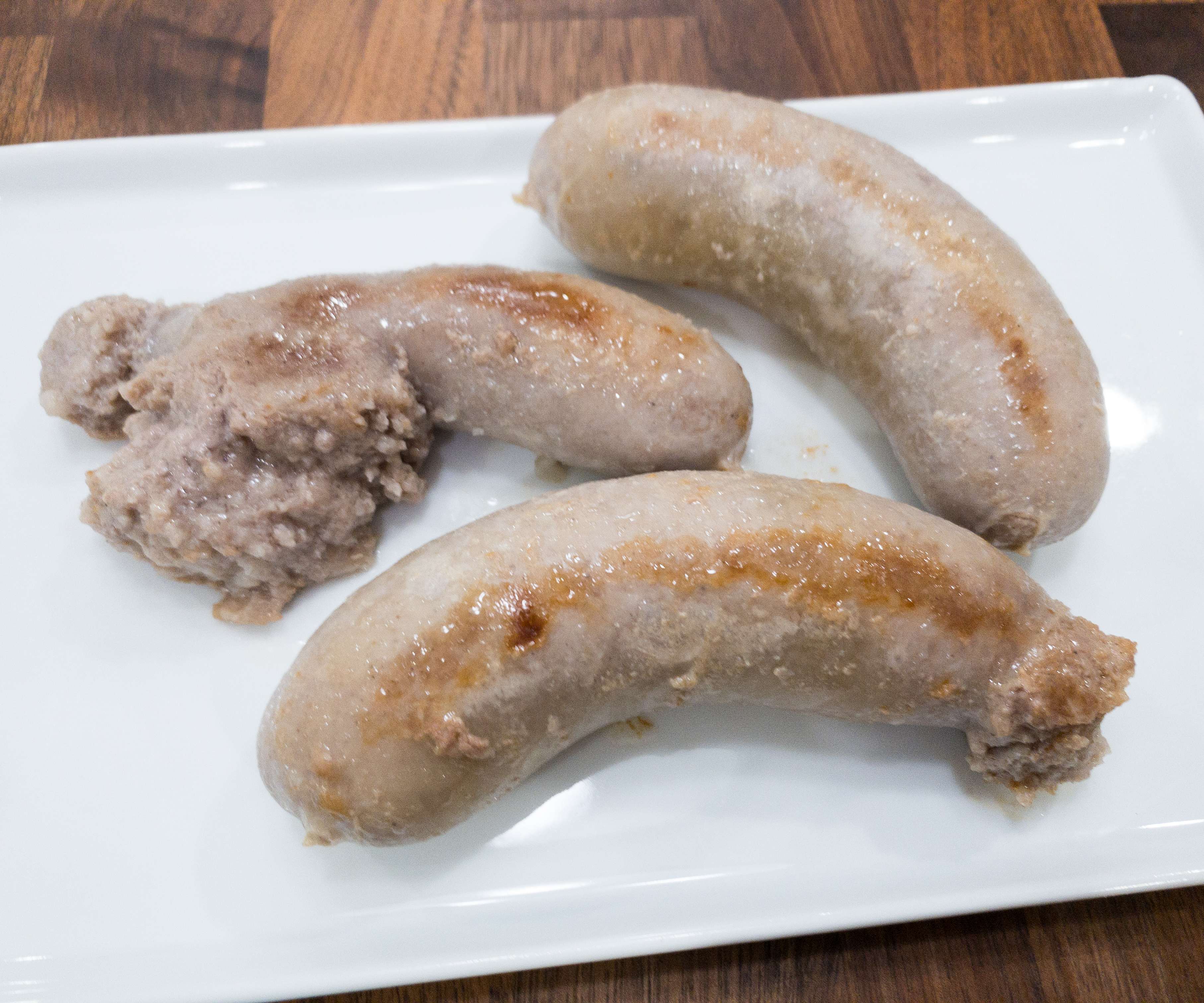 These were made with eggs, cream, ground ginger, and white pepper. Just like the Italian links, I also pan-fried these for 10-15 minutes, until they became a bit crisp on the outside.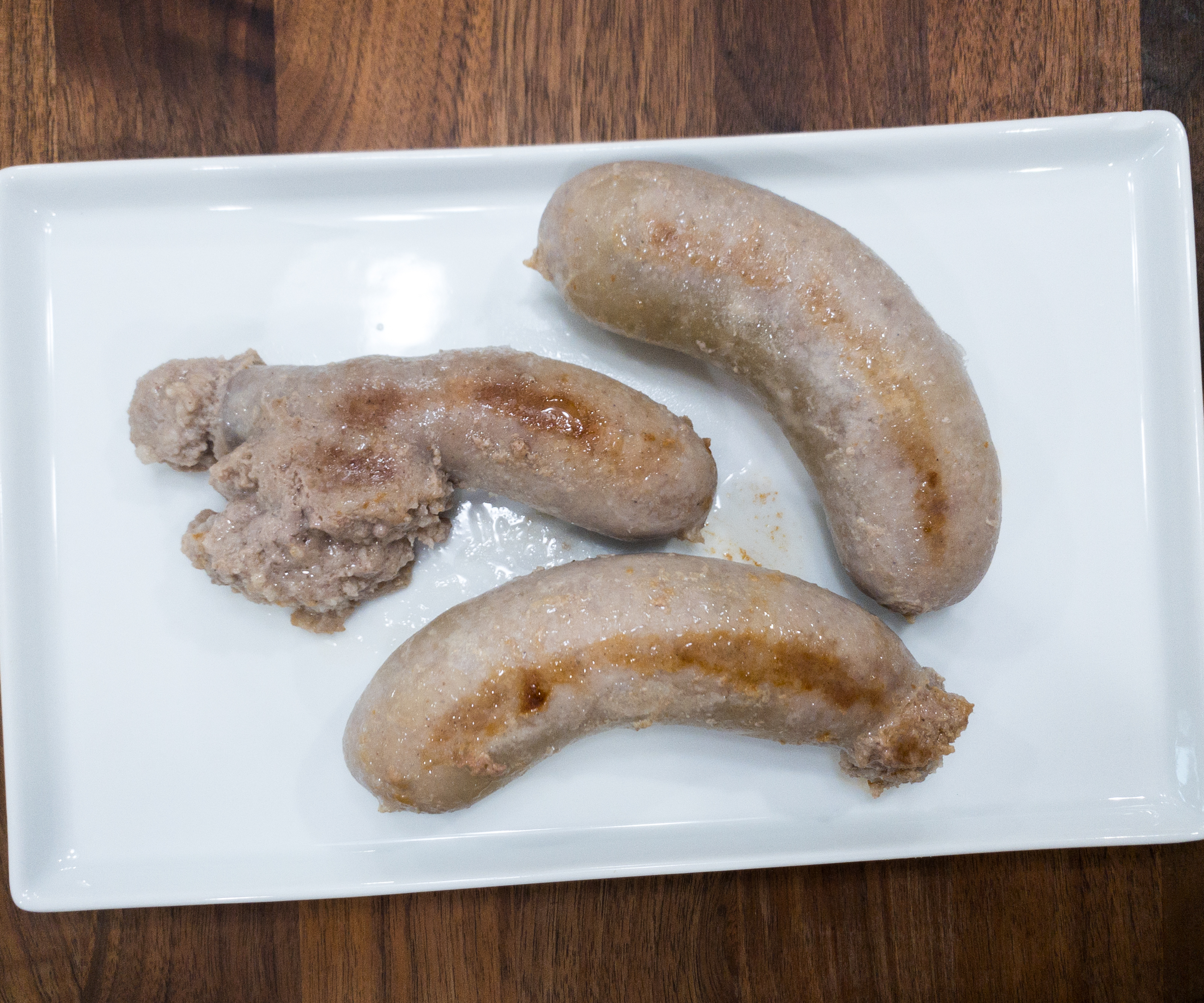 A piece burst while cooking, but they were tasty nonetheless! Bespoke Post also recommends braising them in beer, then pairing with spicy mustard!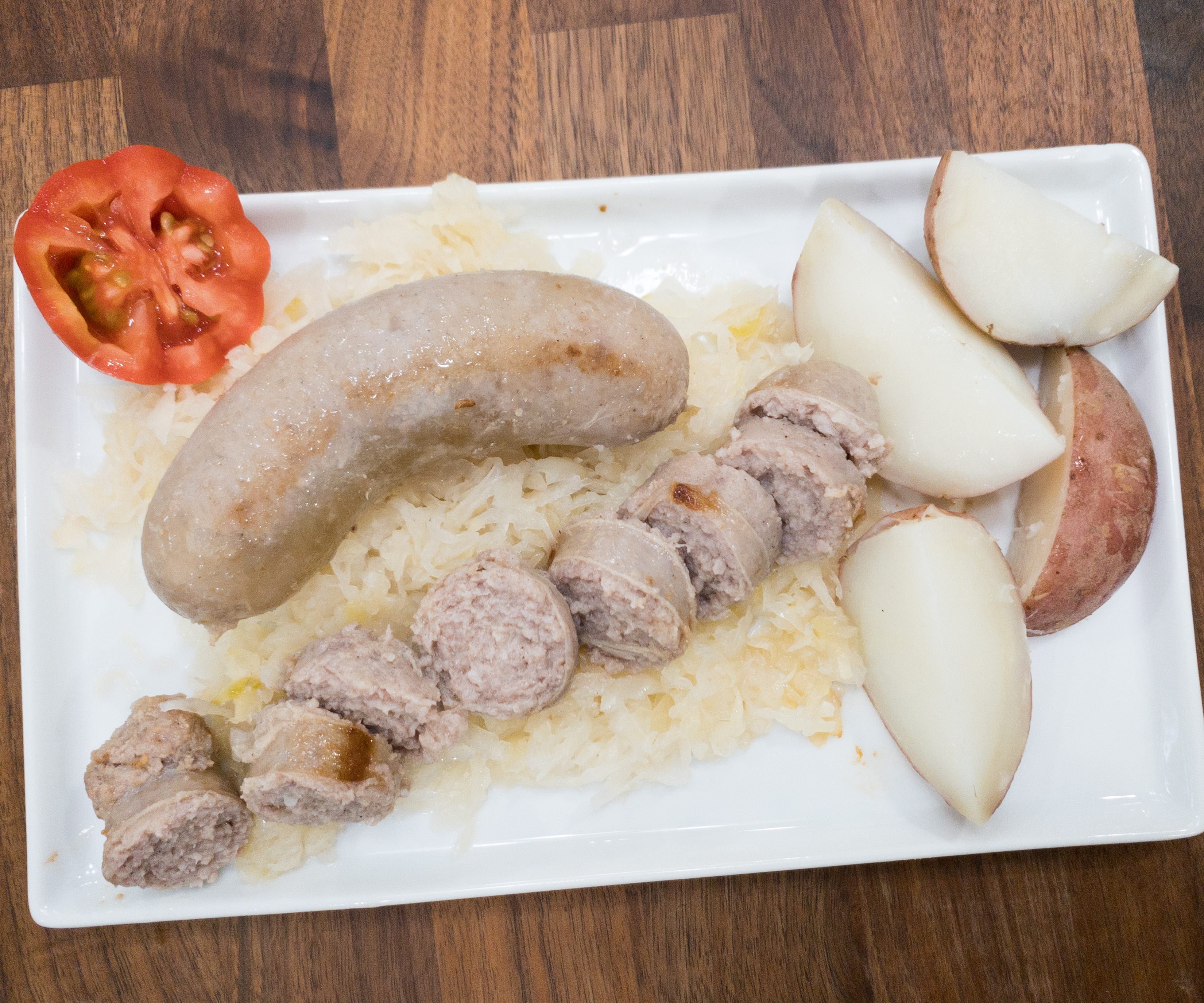 We opted to have the Pork Bratwurst together with some boiled potato and tomatoes on the side on a bed of sauerkraut.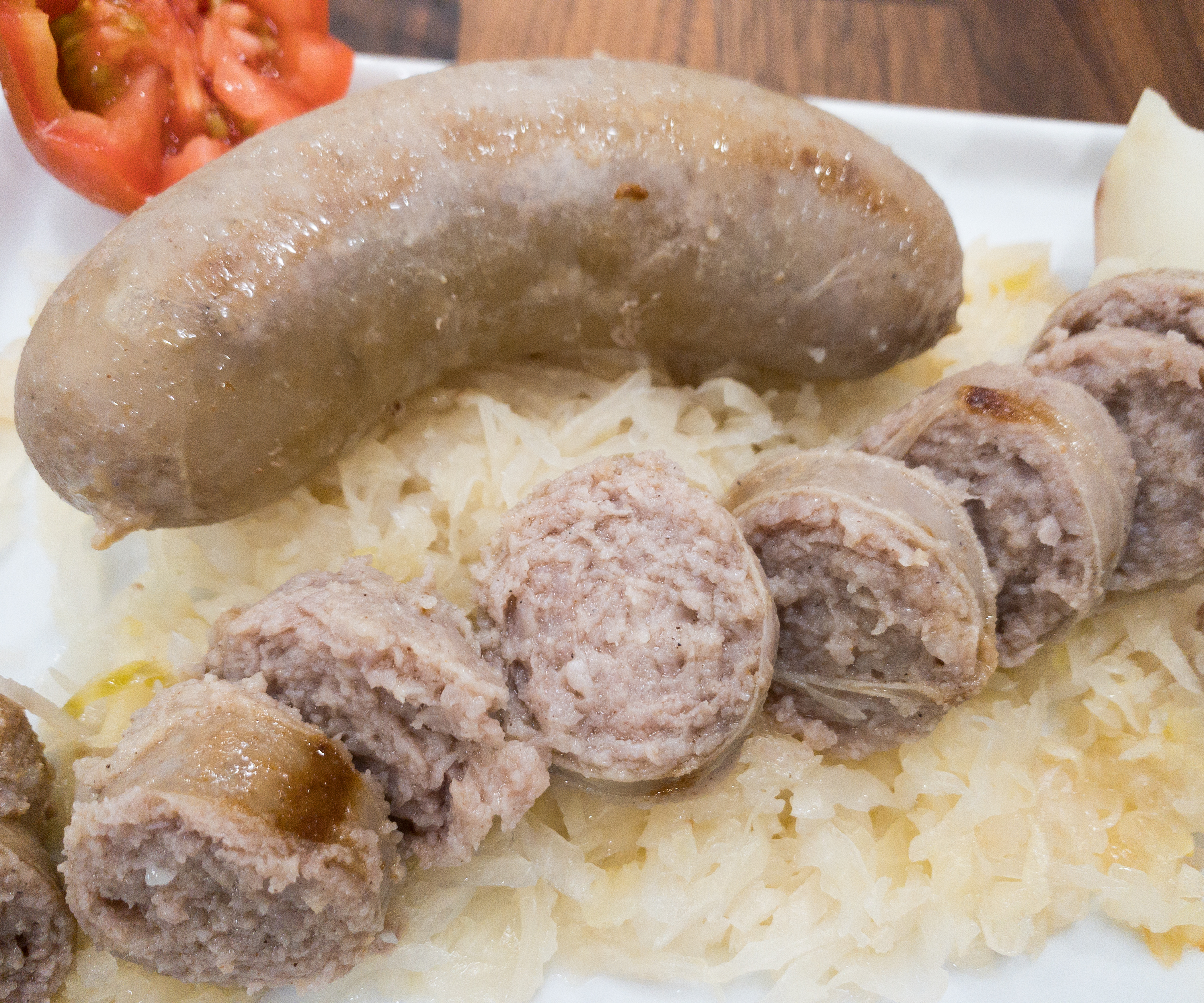 This was definitely filling, another great dinner choice. The texture of these traditional brats was absolutely perfect – I'm going to have to order again!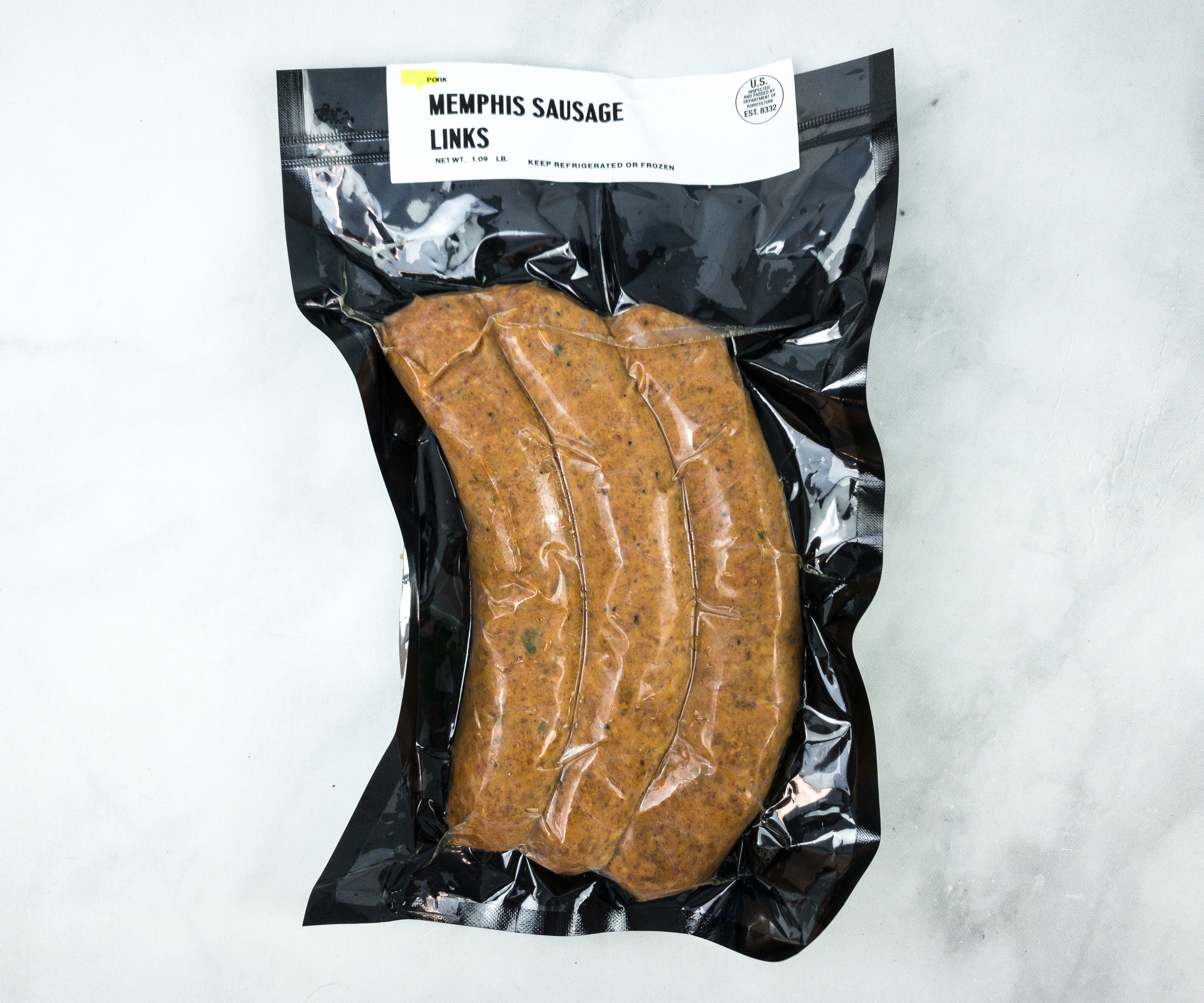 Memphis BBQ Sausage Links. The last pack of sausage links is inspired by the sweet and spicy kick of traditional Memphis barbecue! Ingredients include barbecue spices, fresh scallion and garlic, vinegar, and brown sugar.
The same procedure was made to cook this sausage. I pan-fried it for 10-15 minutes until the color changed and became a bit darker.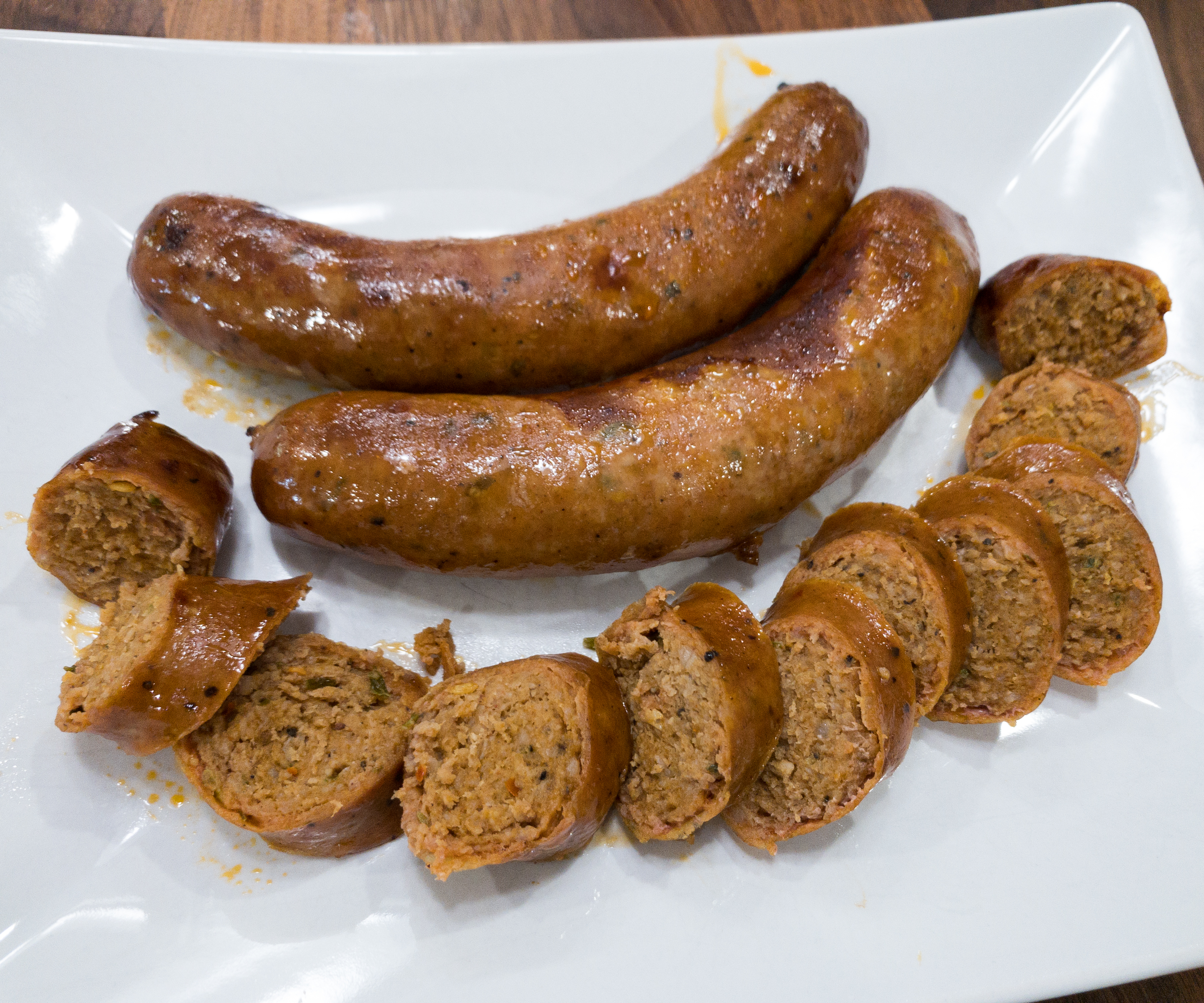 They have really captured the unique taste of Memphis BBQ! The sausages were oozing with flavor and I love that they used lean meat and back fat, so there were no weird bits!
I paired this sausage with fried potato and broccoli on the side. So delicious and the flavor was just oozing out of these links.
This Bespoke Post collaboration with Porter Road is one for the books! The box includes different meats and as someone who loves to cook, I'm quite pleased. Everything arrived in good condition because they were packed securely in an insulated box. I also love that Porter Road only uses pasture-raised meats for their products! These are also free from added hormones and antibiotics and the flavor was absolutely phenomenal. My favorite from this bunch is definitely the dry-aged NY steaks. They came out richer than the steaks I'm used to and I love it! The dry-aged ground beef is also great for making burger patties, and the sausages are ideal for breakfast because they are so easy to prepare. Of course, our sisig made from the pork chops were also fantastic! This is an awesome box overall, not a single piece went to waste. It's no longer available, but great news – you can still shop Porter Road for these amazing goodies!
What did you think of the Bespoke Post Porter Road Limited Edition box?