Pet Treater Deluxe Dog Pack is a monthly dog subscription. For $25 a month, each pack is filled with 5-8 hand-selected items which may include fun toys, mostly USA & Canada made treats, and extra goodies! Small, medium, and large dog options are available. They also offer a smaller version for $15 called Pet Treater Dog Pack.
DEAL: Get 10% off your first month with coupon code DOGPACK10.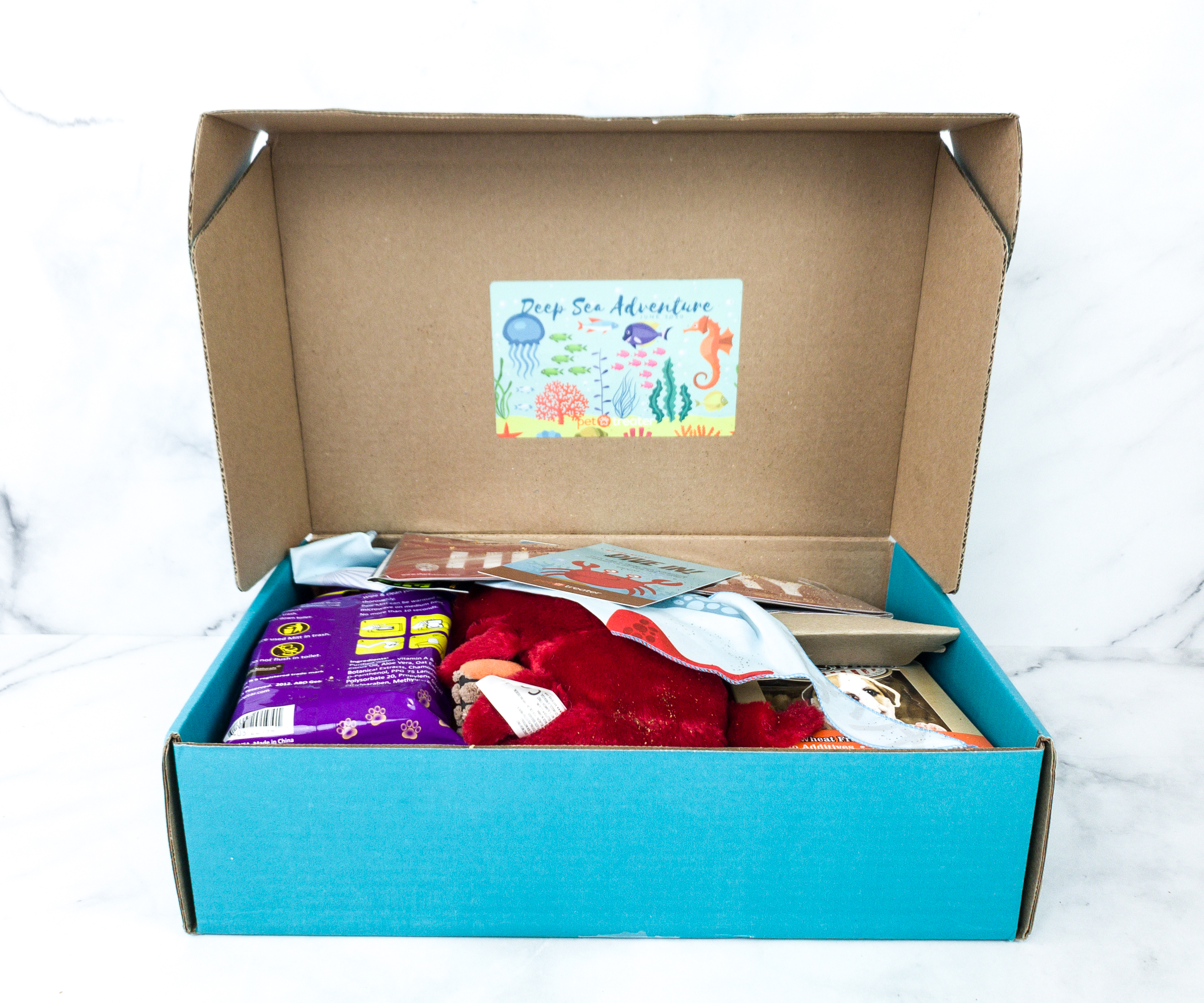 The items came in a sturdy, blue box.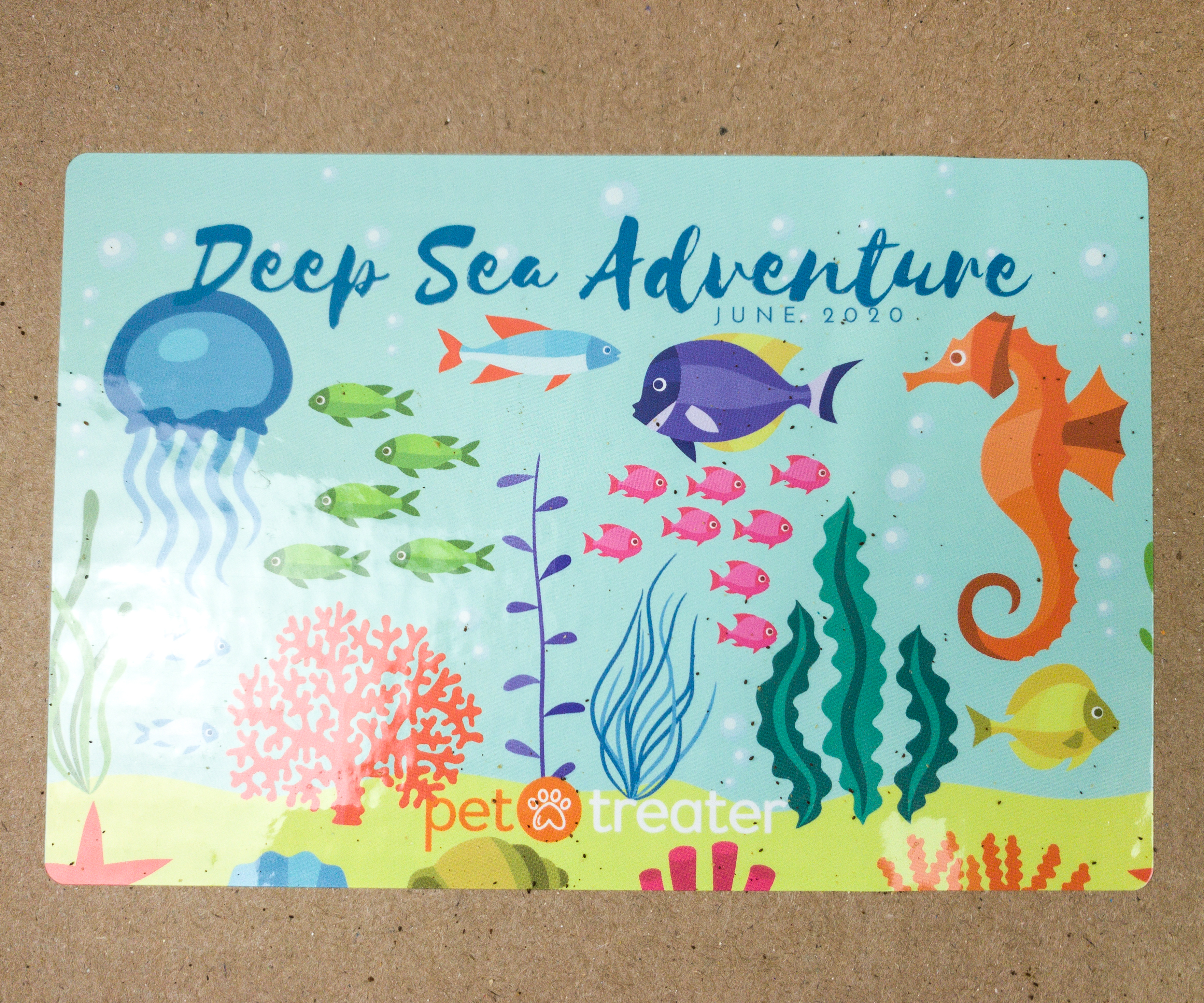 The box's flap comes with a sticker featuring the box's theme. This month's theme is Deep Sea Adventure!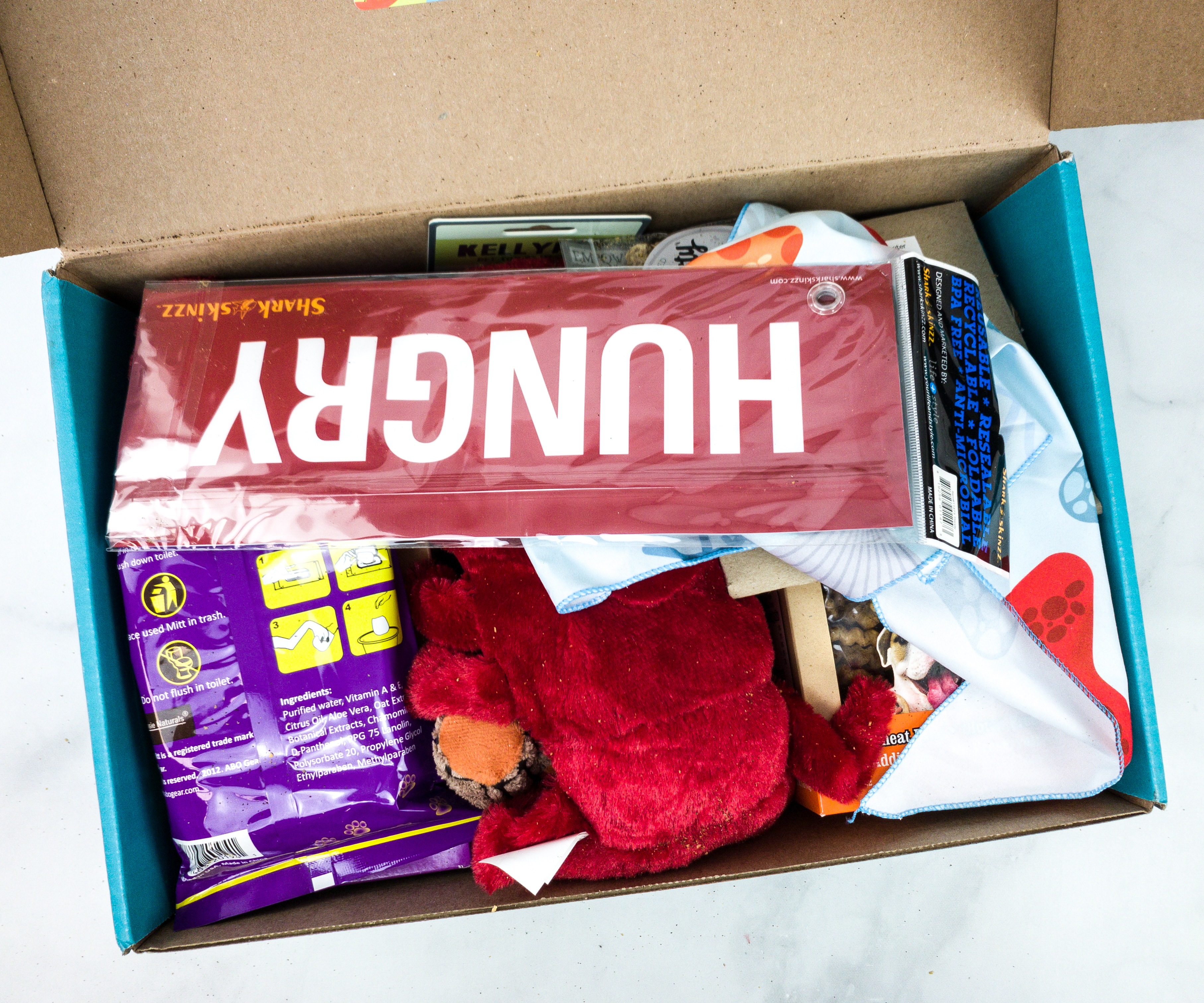 The box is jampacked!
There's a card with a message from Pet Treater.
The back of the card features this month's Pick of the Litter, Ginger. If you want your pup to be featured, just send their photo and name to the provided email. Winners will get a free item in their next box!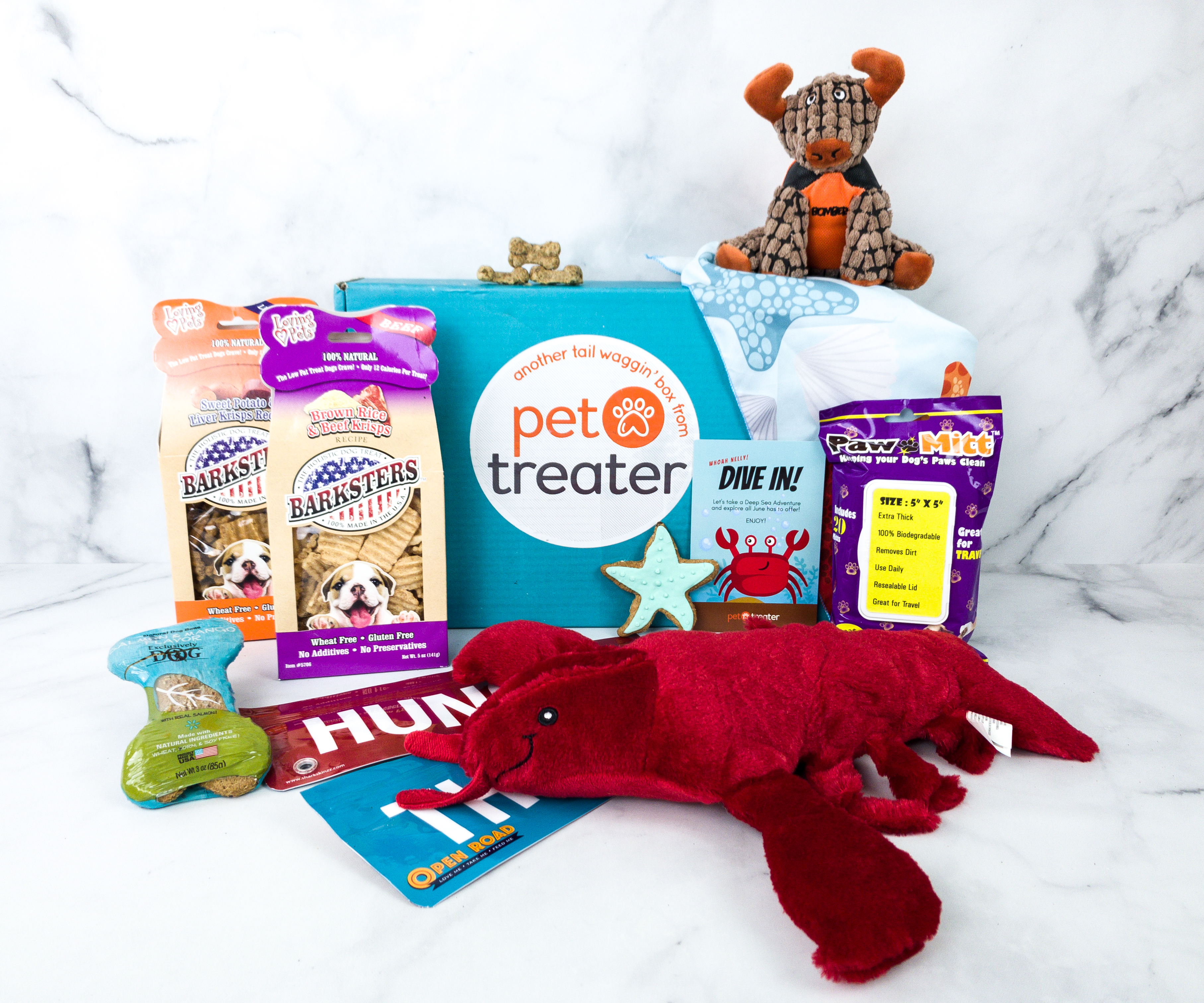 Everything in our June 2020 Deluxe Box!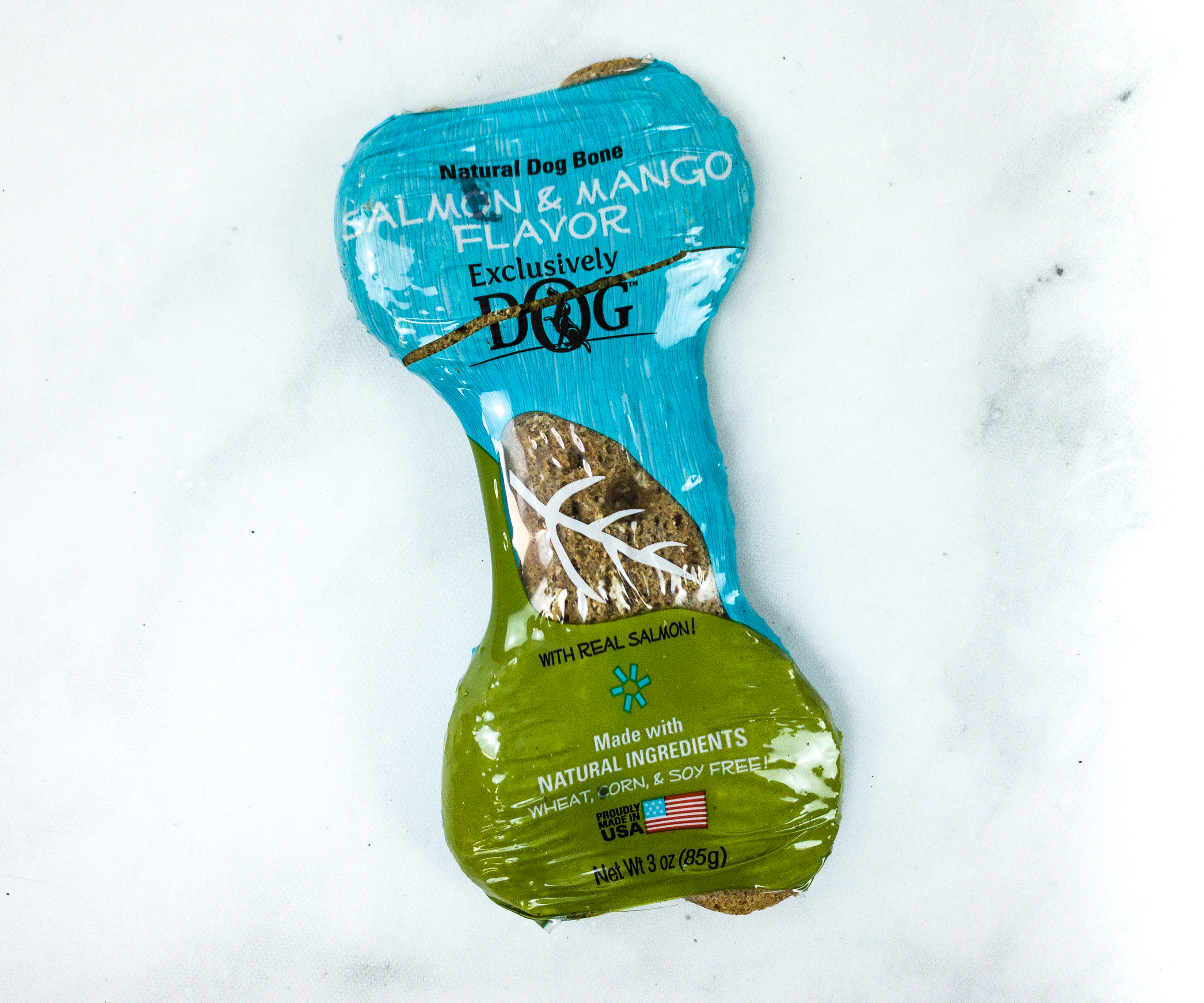 Exclusively Dog Salmon & Mango Flavor Natural Dog Bone ($2.91) This bone-shaped dog snack is made with natural ingredients including salmon, mango, rye and rice flour, canola oil, flaxseed, and rolled oats!
It's a nutritious cookie for dogs, packed with protein and fiber that are ideal especially for growing up pups!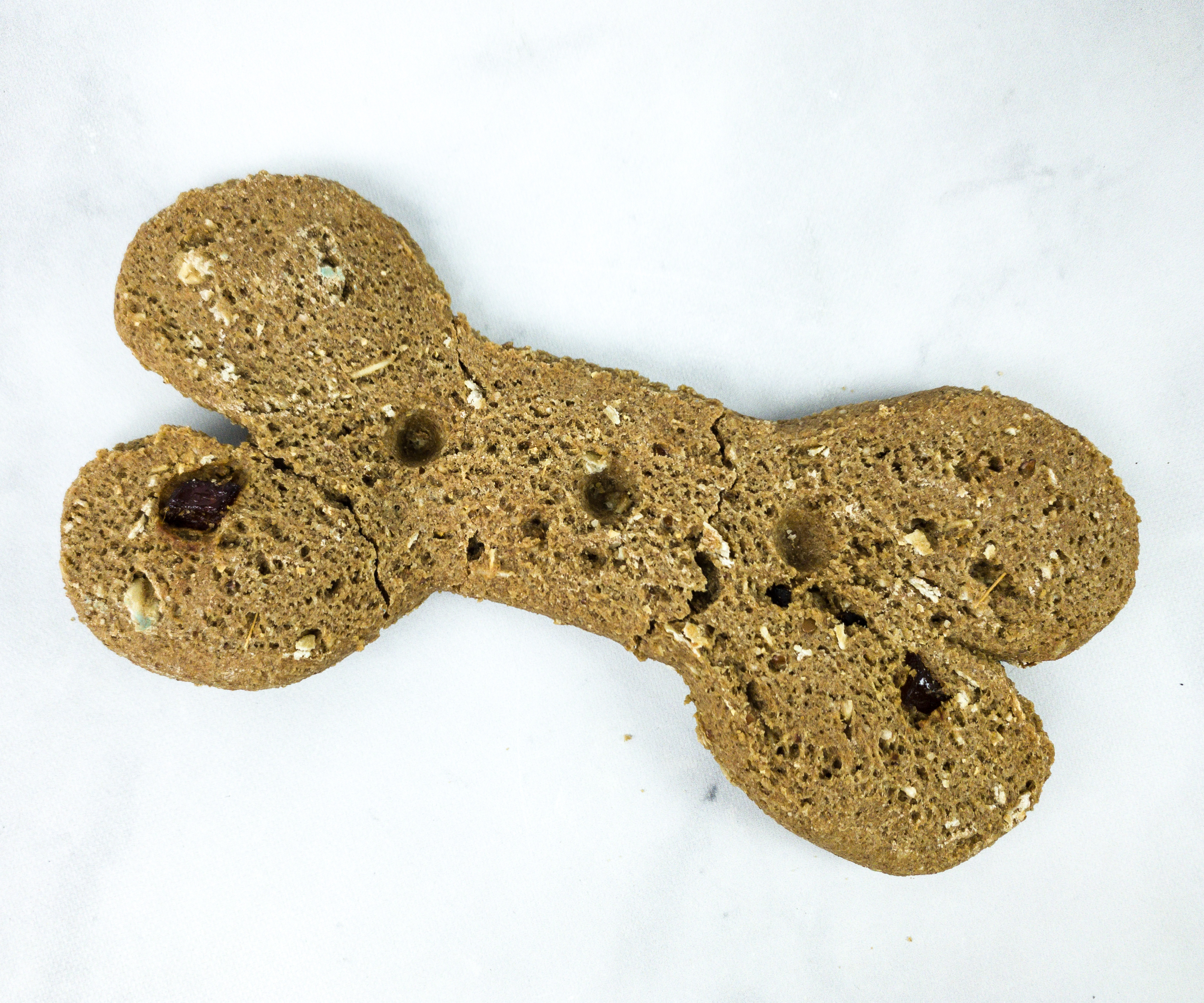 This cookie is chewy and crunchy. You can easily break it down into smaller pieces or give it to your pups as is for a filling snack!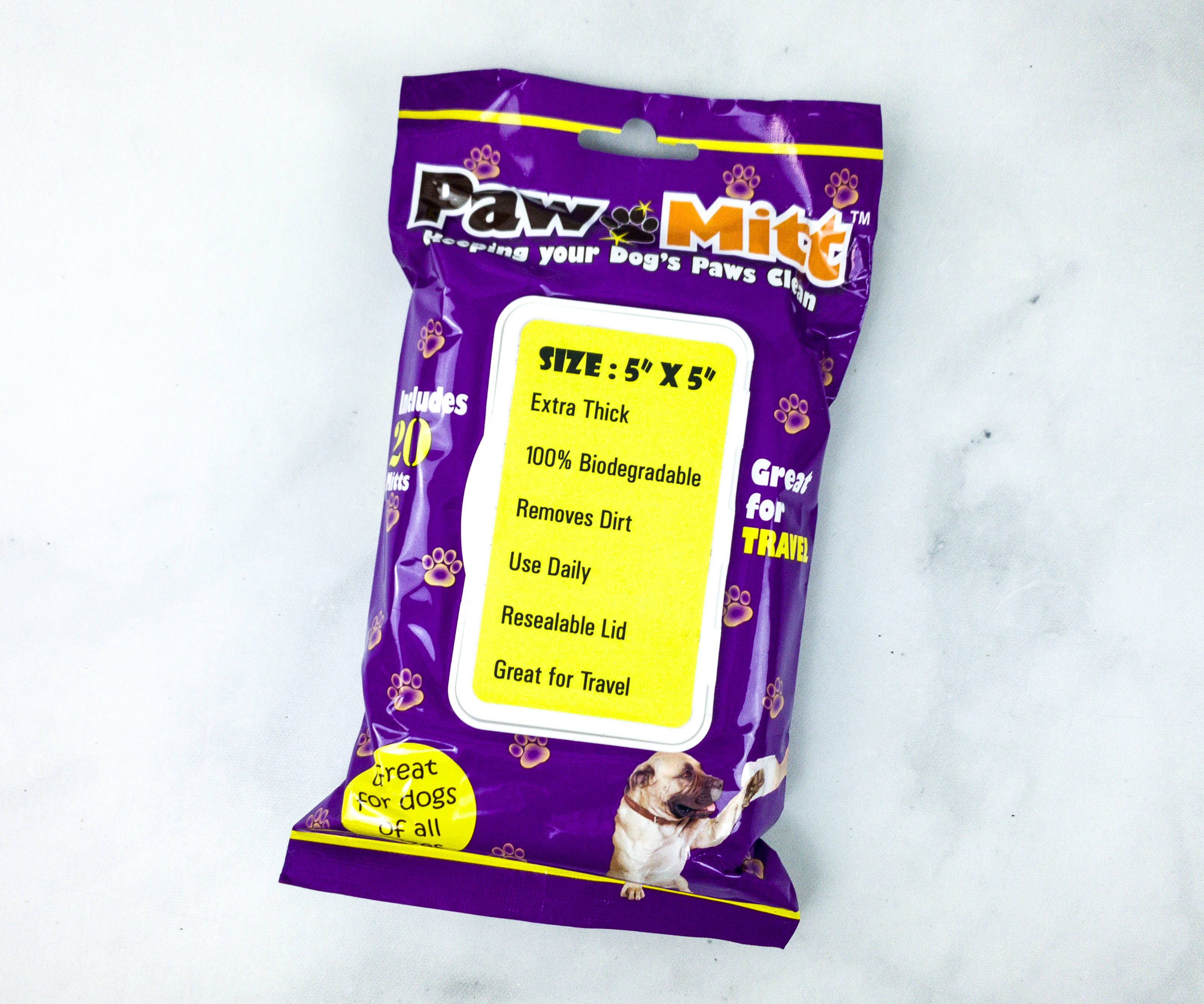 Paw Mitt. Made from biodegradable materials, this tool is designed to remove dirt and clean your dog's paw thoroughly.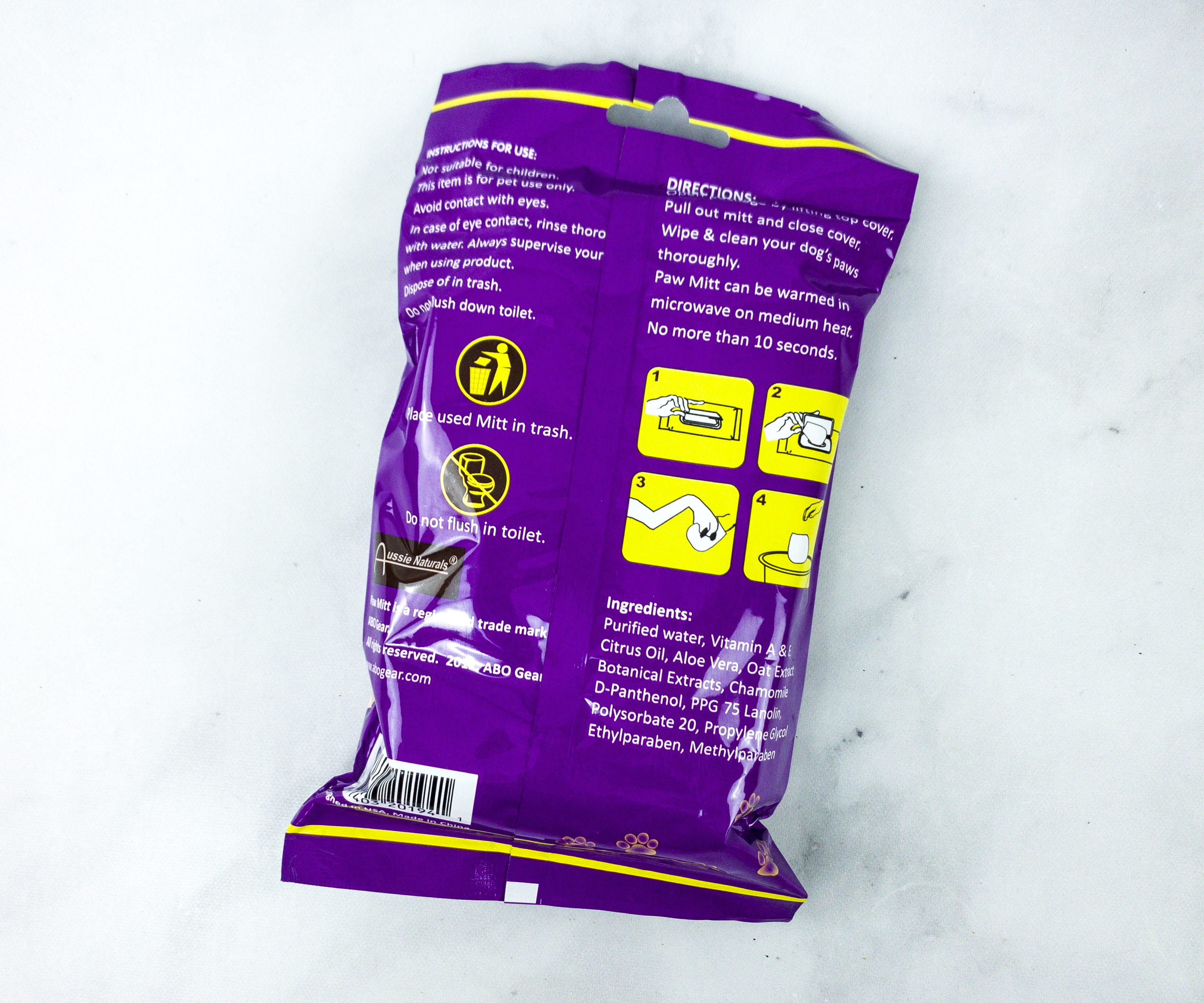 Each mitt contains purified water, vitamin A & E, citrus oil, aloe vera, oat extract, and chamomile.
To use, simply open the top cover, pull out the mitt, and close the cover. Wipe and clean your dog's paw and other parts of the body, and throw the mitt properly on the trashcan. It's gentle on dogs so we have no problems using it.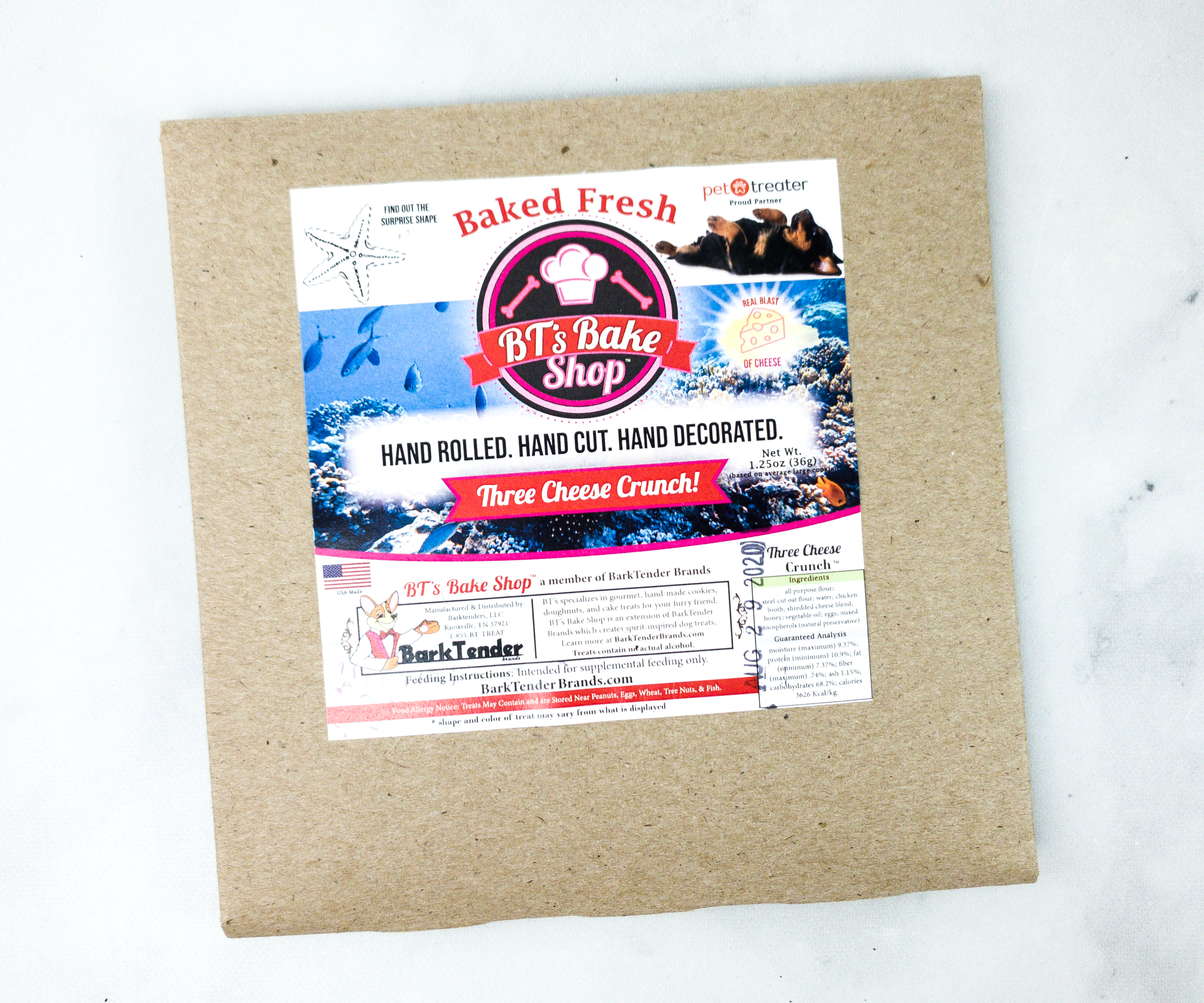 BT's Bake Shop Three Cheese Crunch. This gourmet dog treat is a staple in our box! It's a handcrafted treat made using all-natural ingredients including fermented steel-cut oats, chicken broth, shredded cheese blend, and honey.
This cookie is certified to be corn- and soy-free as well, making it the perfect snack even for dogs with a sensitive stomach.
This month's version is a starfish-shaped cookie topped with light blue frosting!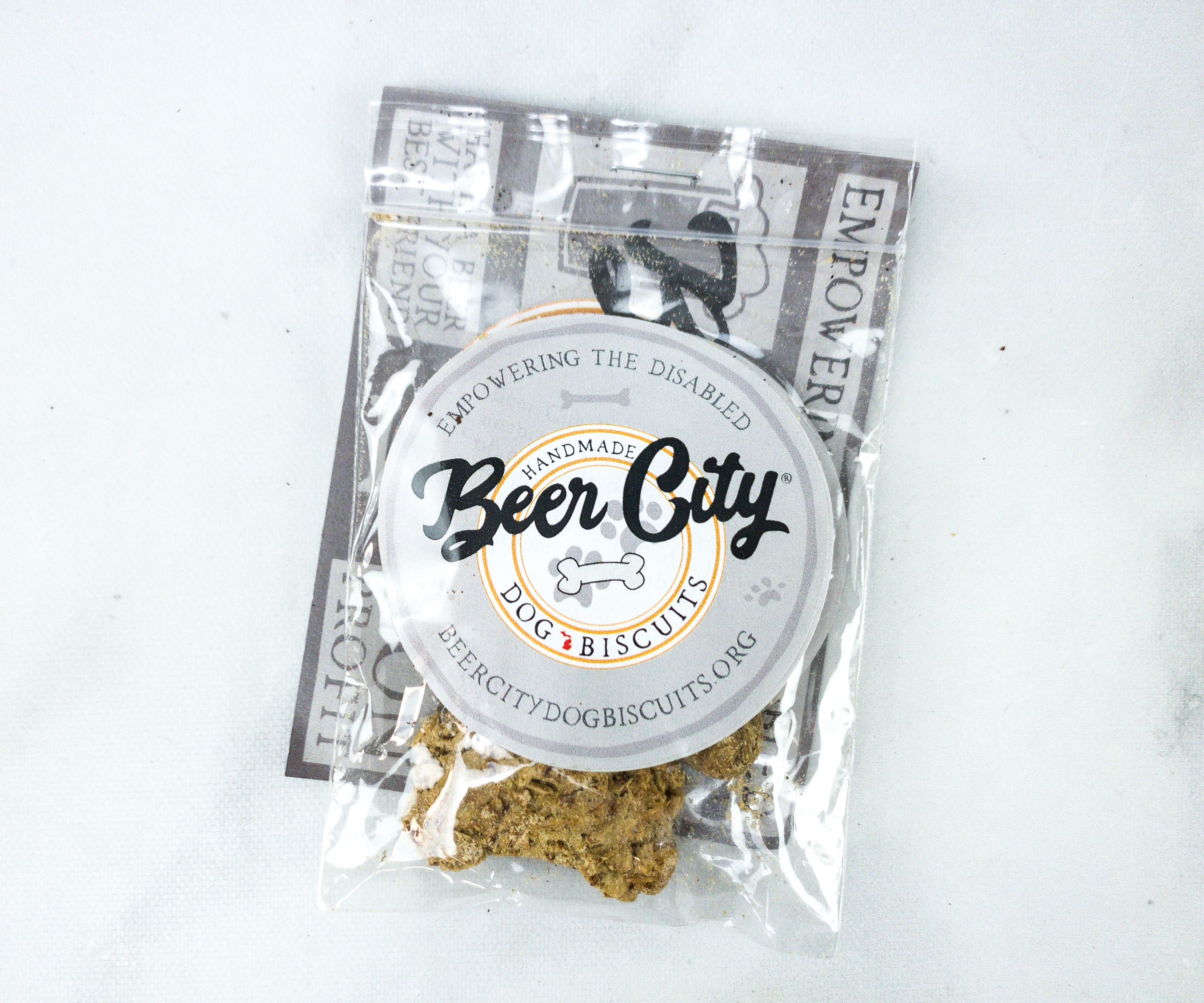 Beer City Dog Biscuits.  We have another handmade treat in the box, and this time, it's a pack of crunchy biscuits!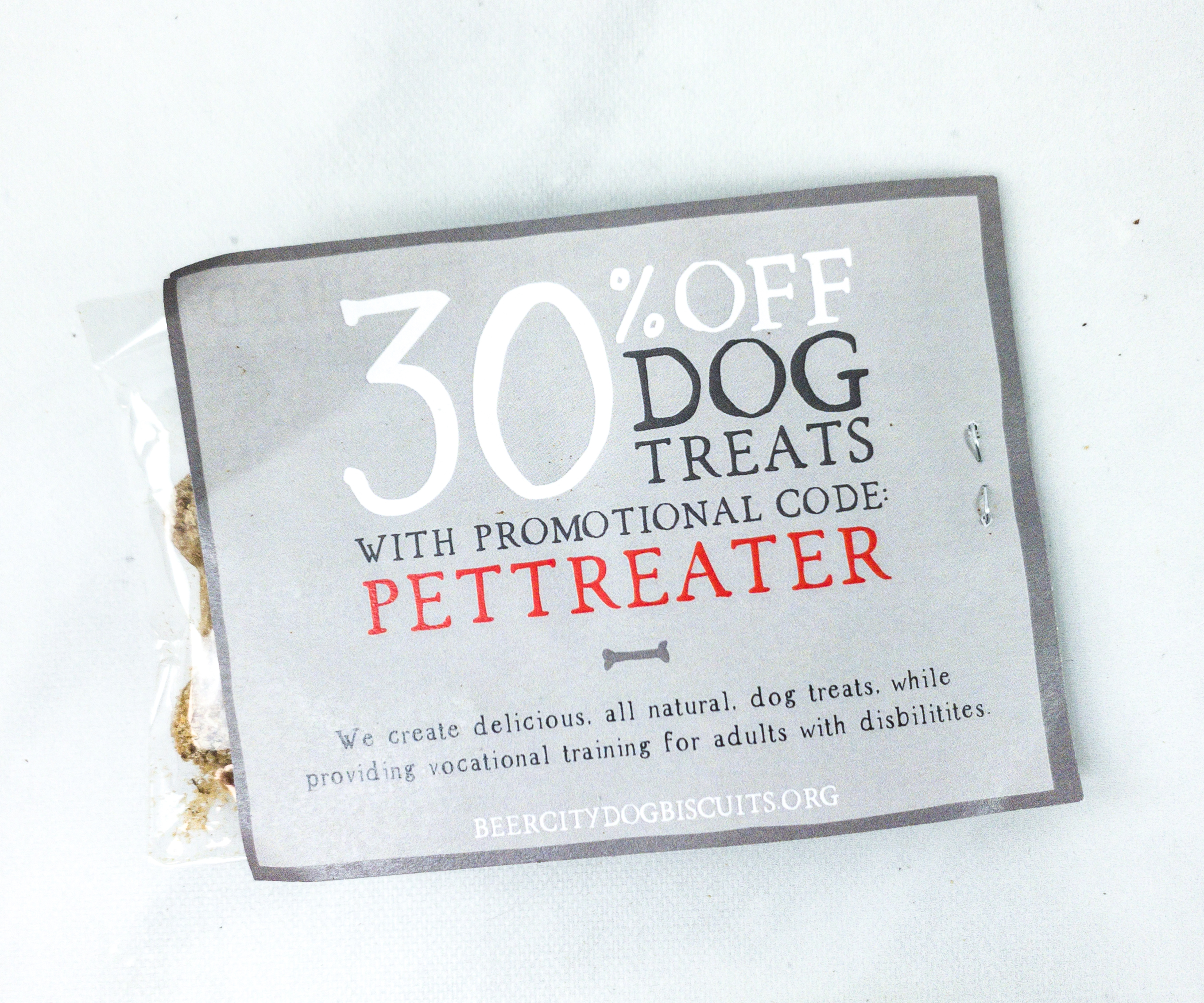 They also gave us a 30% off coupon code that we can use on our next Beer City Dog Biscuits purchase.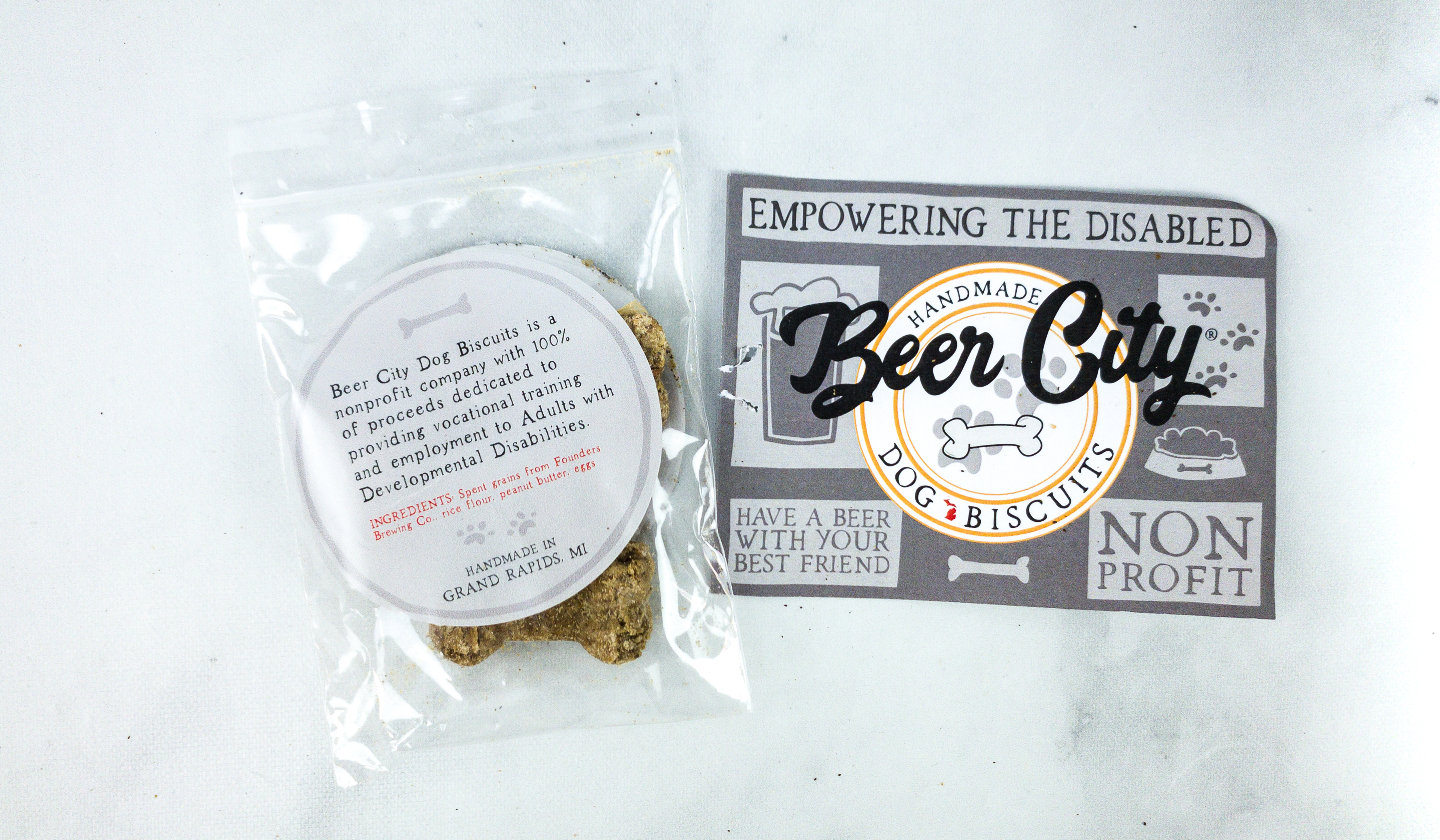 According to the back of the pack, the proceeds of their biscuits are dedicated to providing vocational training and employment to Adults with Developmental Disabilities.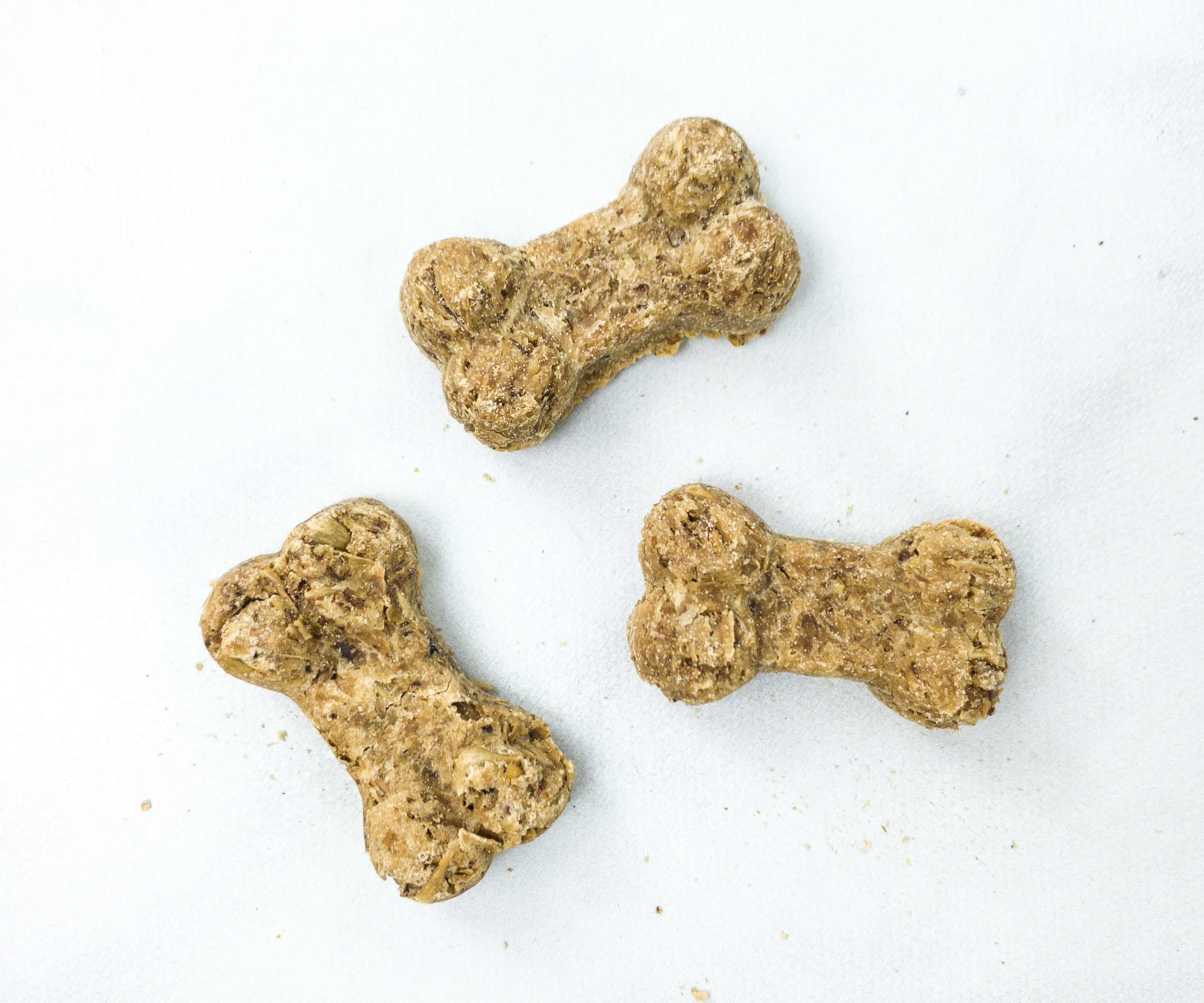 These bite-sized, bone-shaped treats are made with spent grains from Founders Brewing Co. rice flour, peanut butter, and eggs. They are crunchy and, judging based on how our dogs finished these in a whim, they're absolutely yummy!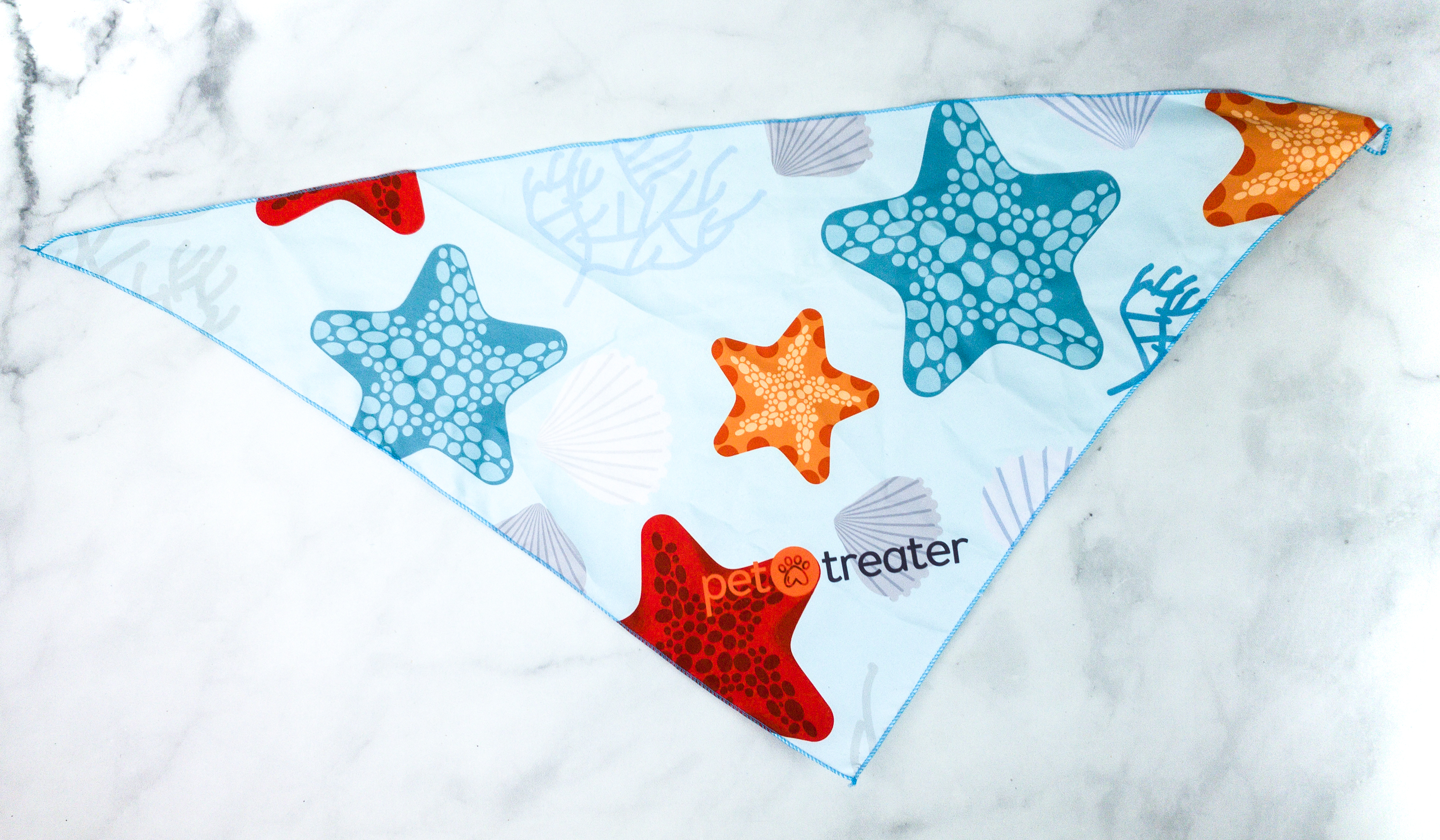 Bandana. This month's featured bandana is also deep sea-themed! It's made from premium-quality fabric, with a light blue base color and blue reinforced side stitching.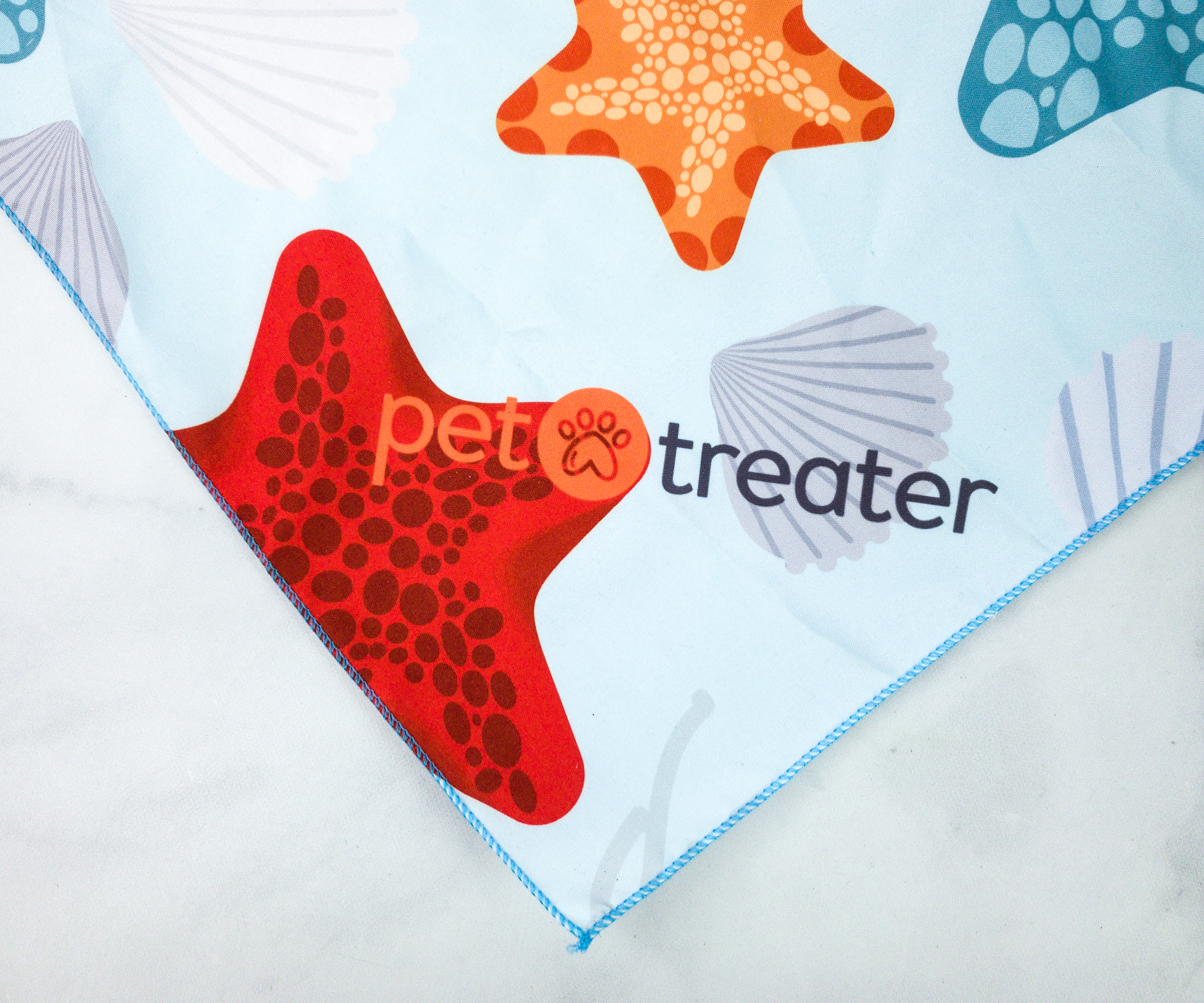 It's so cute! The bandana print includes starfishes, seashells, and other sea creatures in different colors.
Just like the previous bandanas we've received from Pet Treater, this one is lightweight and easy to tie on our dog's neck!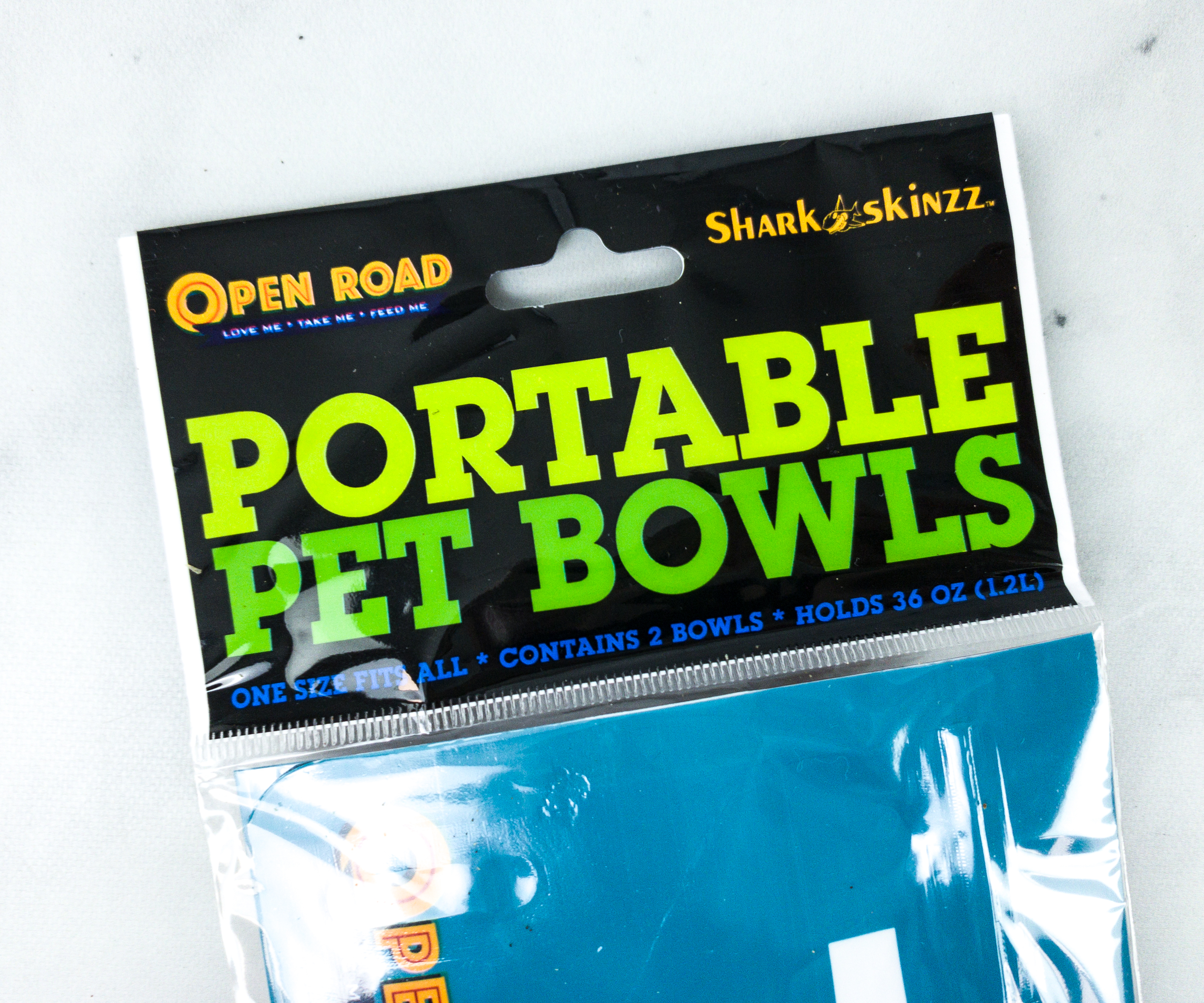 Shark Skinzz Portable Pet Bowls. It's a 2-piece portable pet bowl set made from resealable plastic.
The blue container is for the drinks and the red one is for the dog food.
These are lightweight, portable, and convenient to use. We can easily bring and use it anytime and anywhere, whether at the park or when traveling with dogs.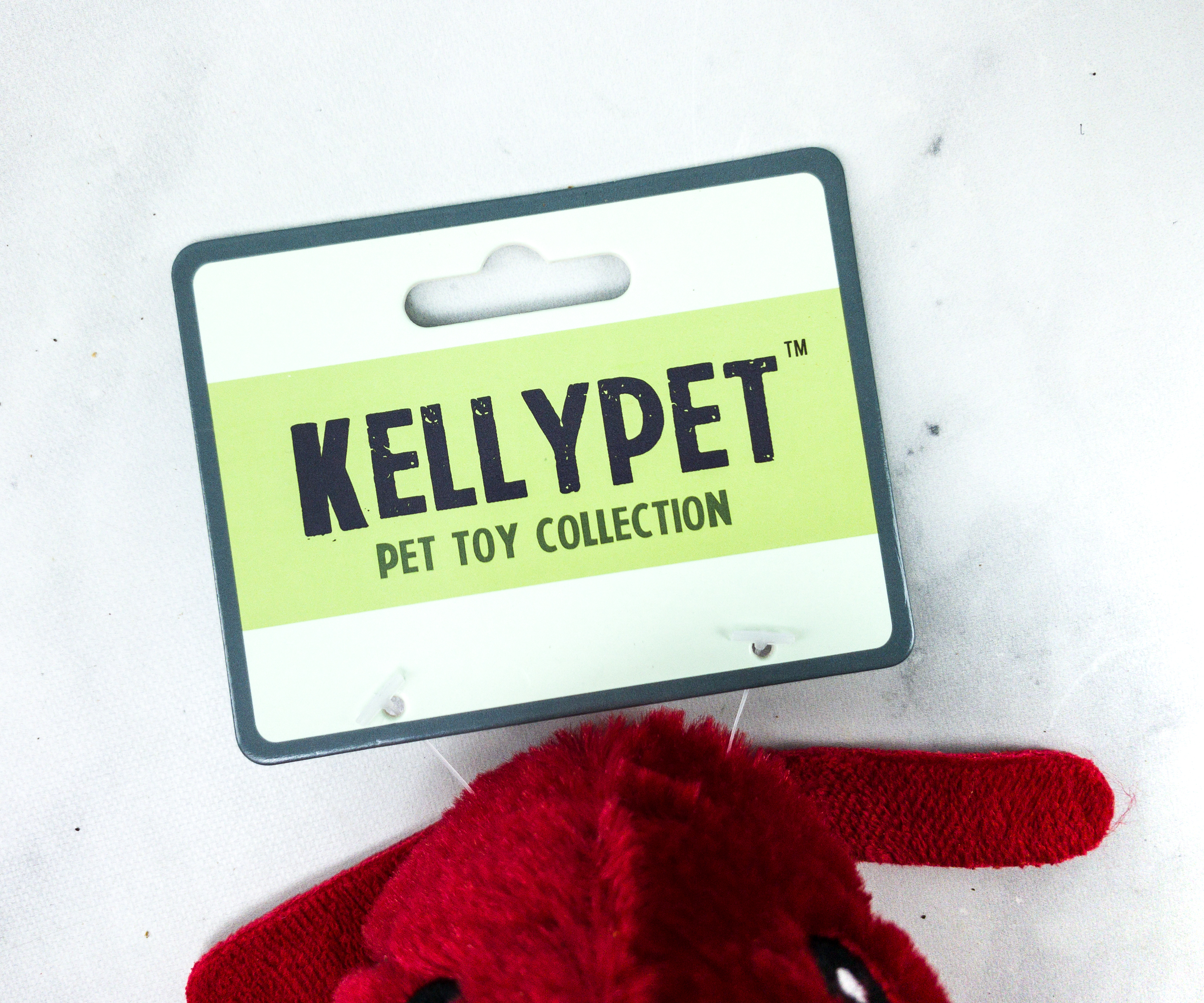 Kellypet Pet Toy Lobster. The first plush toy in the box is a red lobster made from soft and squishy yet durable fabric!
It's a medium-sized plush toy that is perfect for a game of fetch or simply as a cuddle buddy for our dogs.
This toy features a huge pair of claws, walking legs, flippers, and antennas, just like those of a real lobster.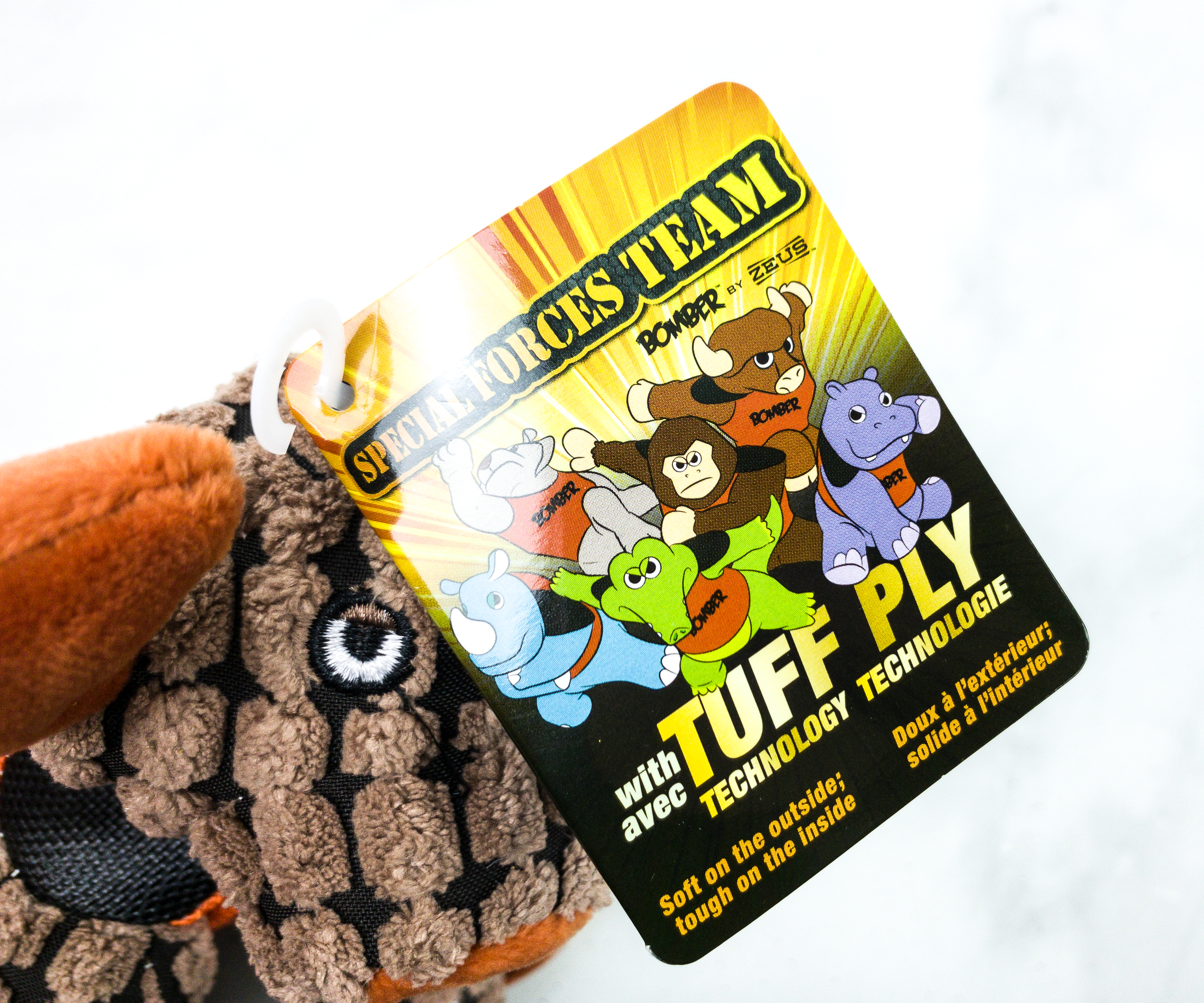 Bomber Special Forces Team Pet Toy ($18.73) The next toy is not a sea creature, it's a bull. Like the first plushy, this toy is fluffy yet tough!
Its vest and its body have different textures since they're made with different materials. Also, this toy squeaks so it's really entertaining for dogs.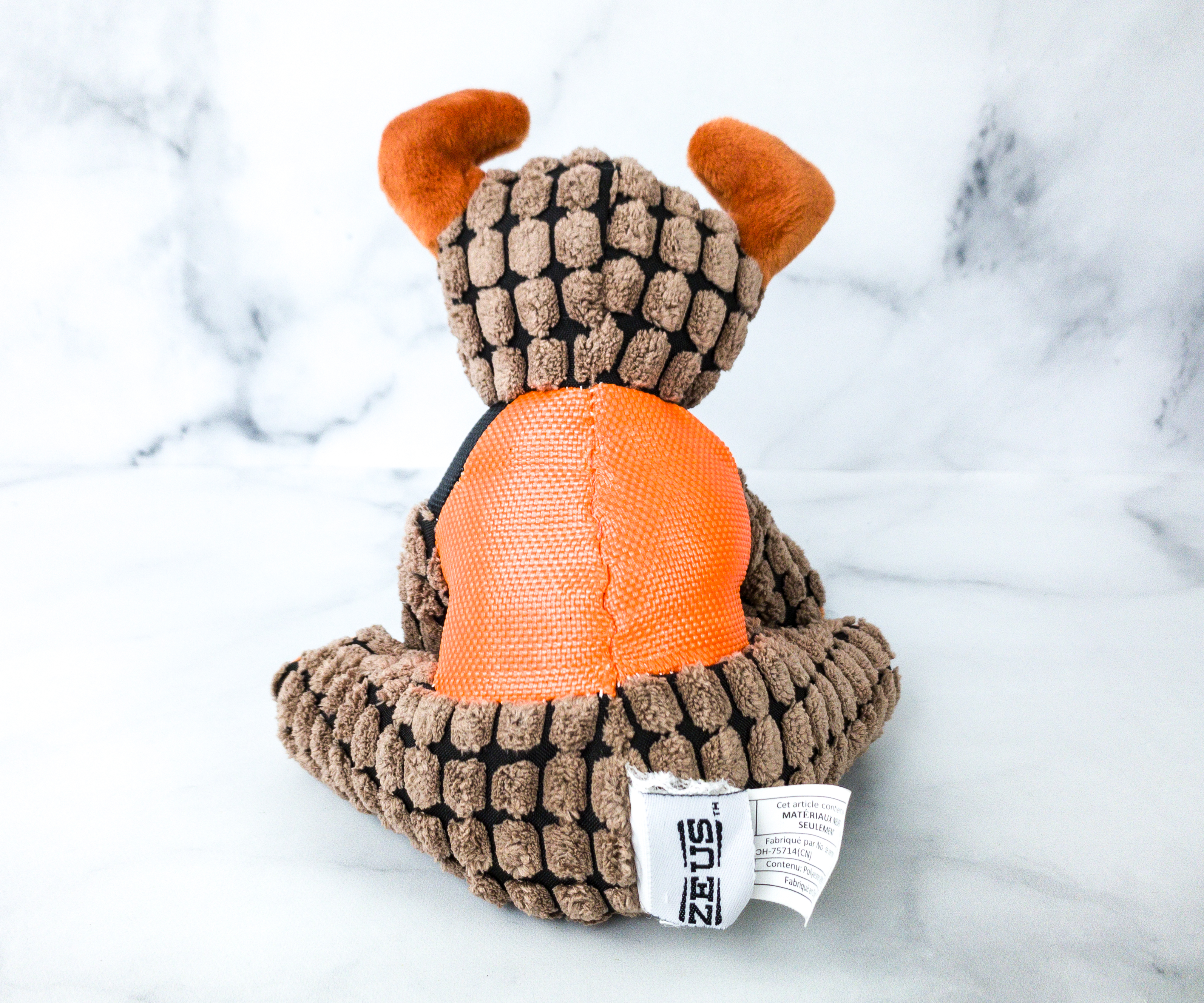 Our pups have had a great time biting on this one already, and so far it's still in great condition!
Barksters Sweet Potato & Liver Krisps Recipe Dog Treat. Pet Treater would not be complete without healthy dog treats. The first dog snack is this pack of krisps made with sweet potato and liver!
Sweet potato is rich in antioxidants which is essential for maintaining a dog's health. Meanwhile, liver makes a great source of protein minus the calories.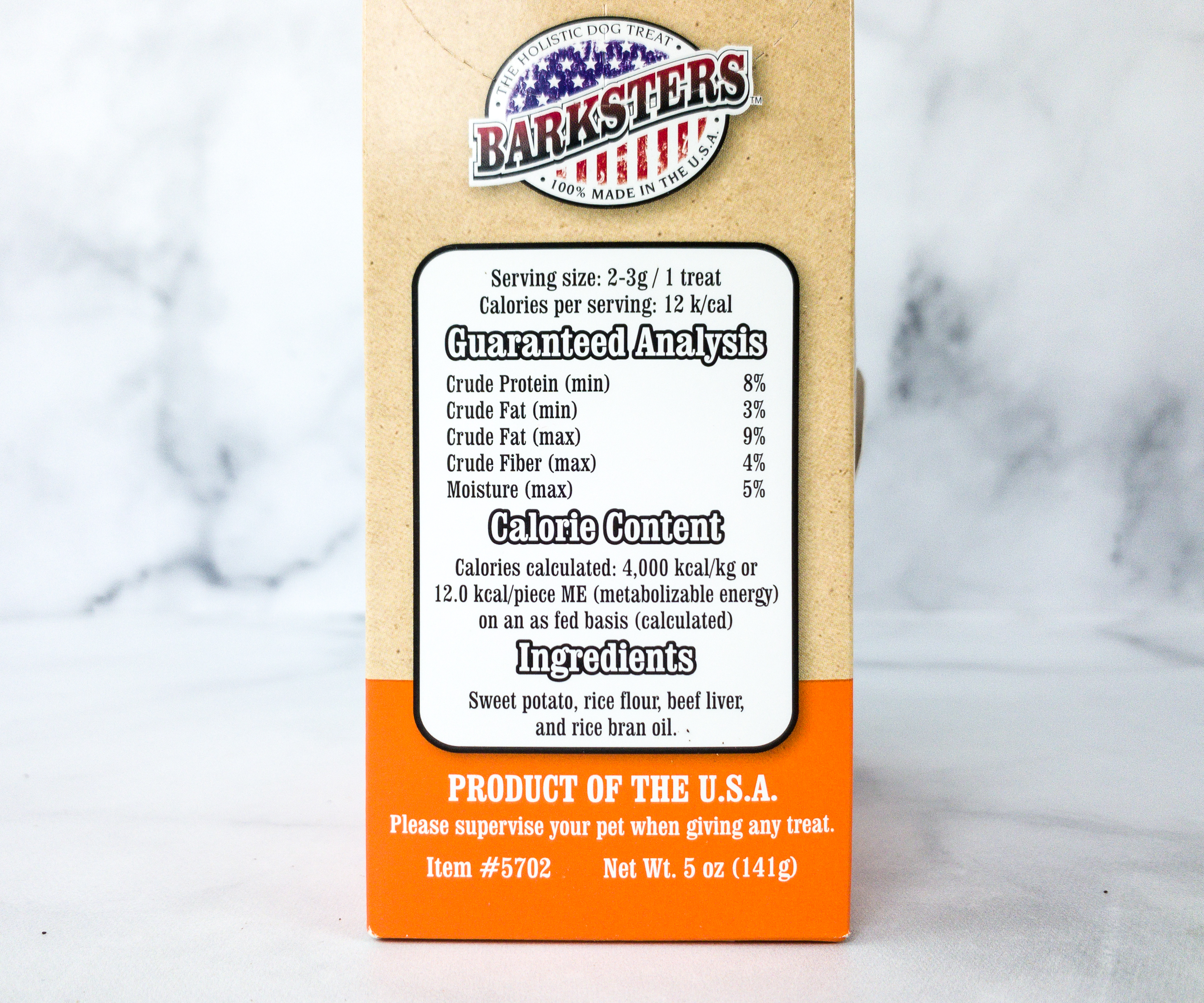 This treat doesn't contain additives or preservatives, plus it's wheat-free and gluten-free!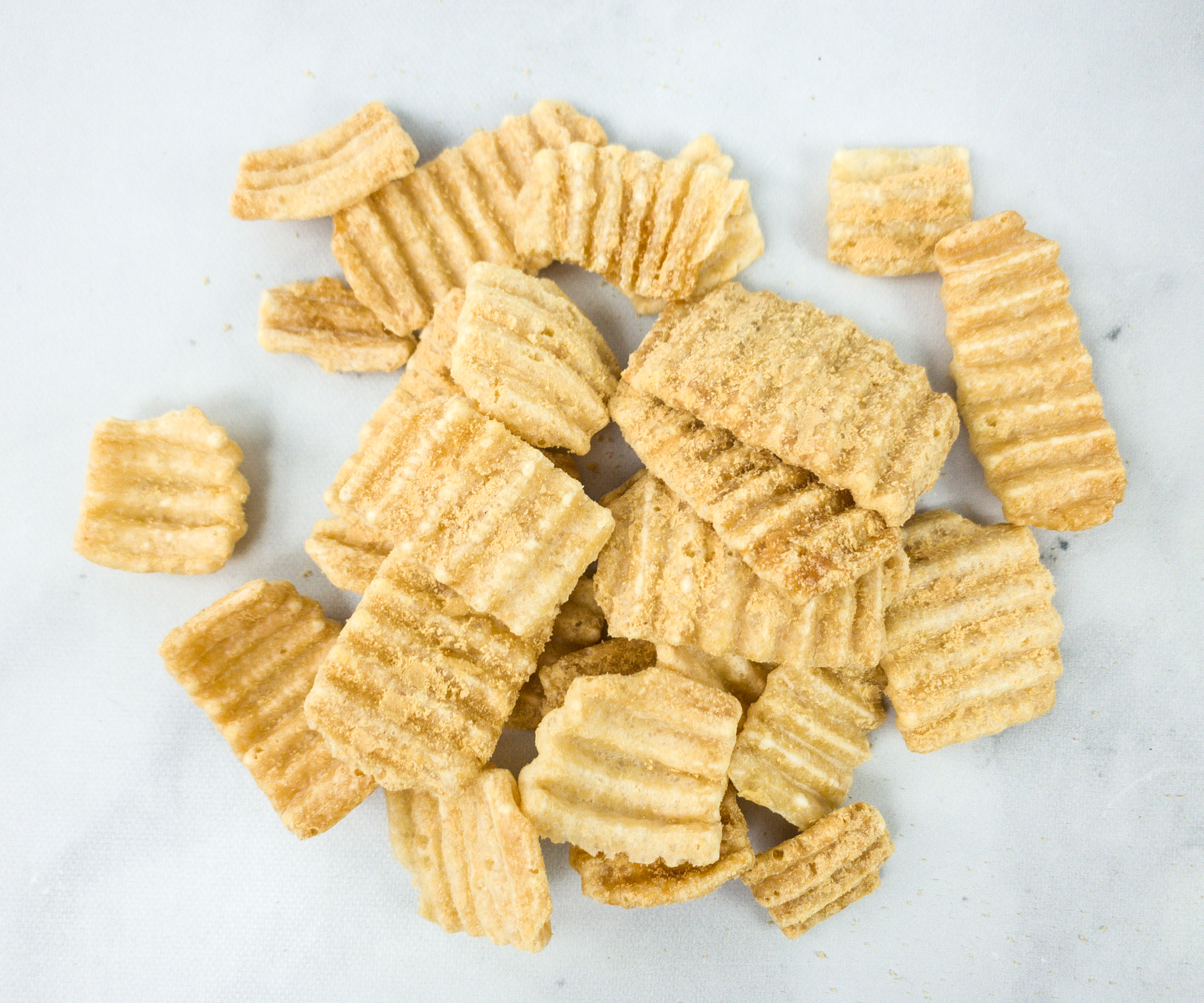 Inside are crunchy bite-sized treats with light brown color and powder coating.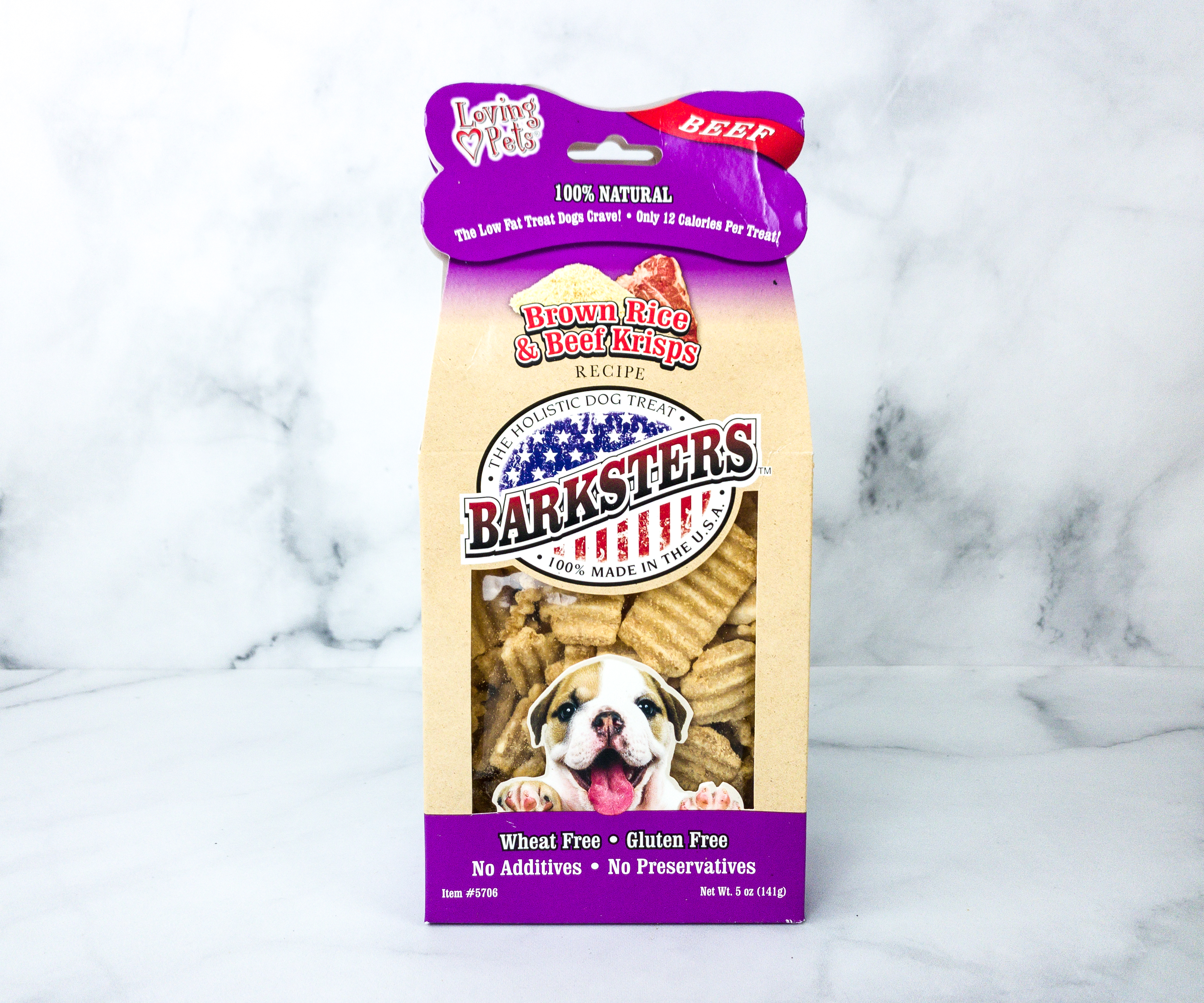 Barksters Brown Rice & Beef Krisps Recipe Dog Treat. This is another variant of the krisps and it's made with brown rice and beef!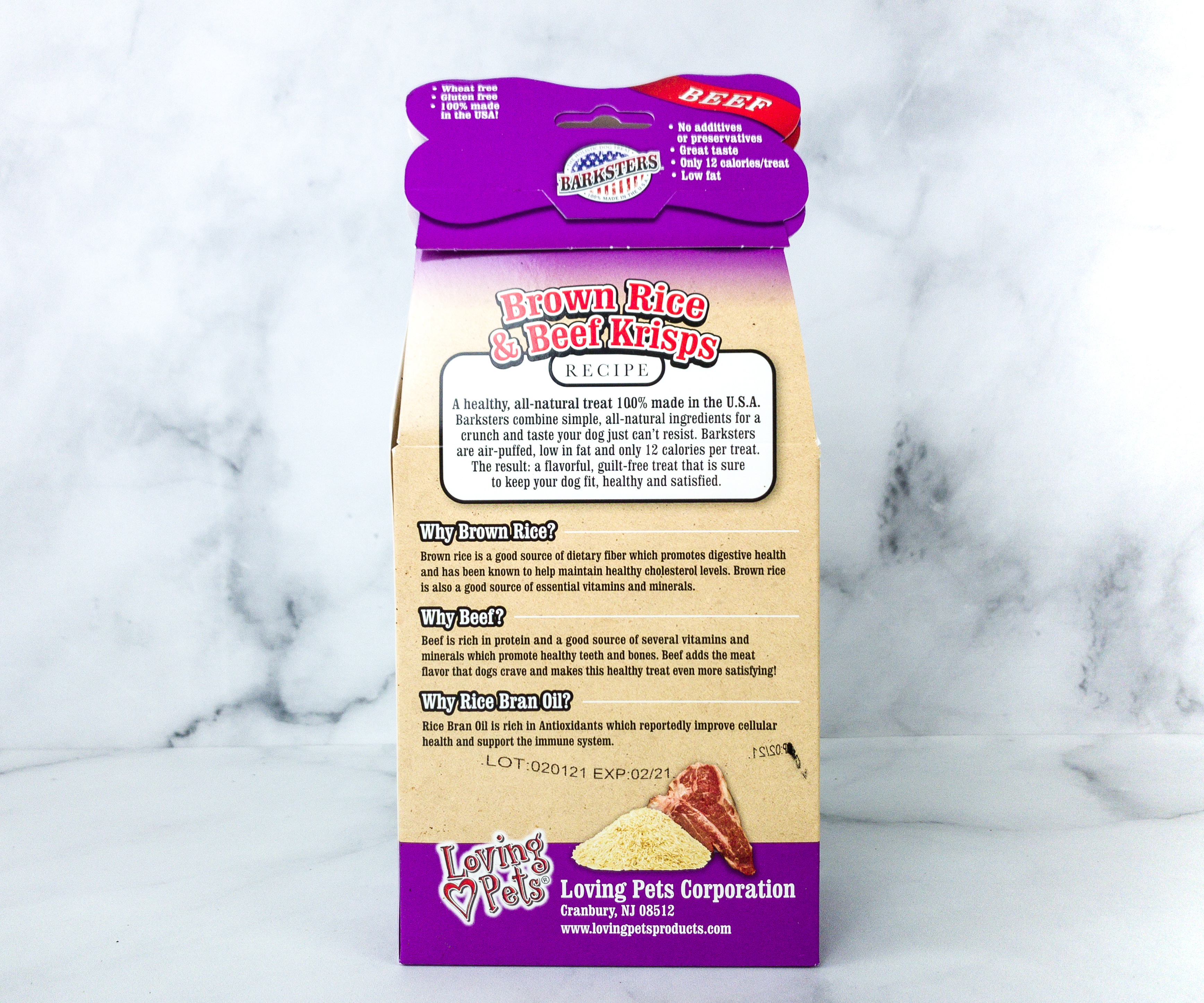 Since brown rice is rich in fiber, it promotes digestive health and helps maintain a dog's cholesterol level. Beef, as we all know, is rich in protein. Dogs also love its flavor.
Like the first one, this doesn't contain any harmful ingredients for dogs.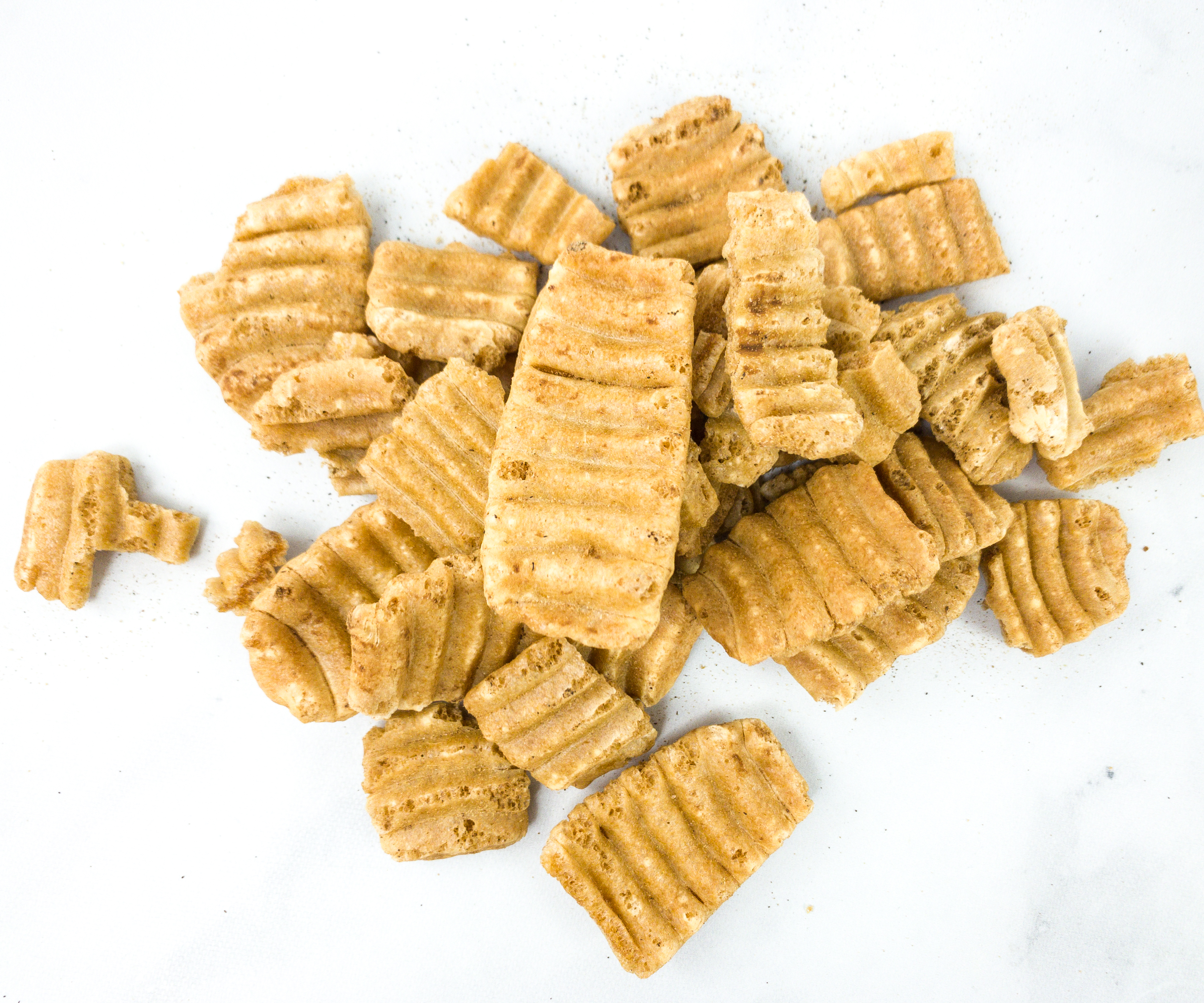 Inside are golden brown, bite-sized treats. They were crunchy and they smell good as well.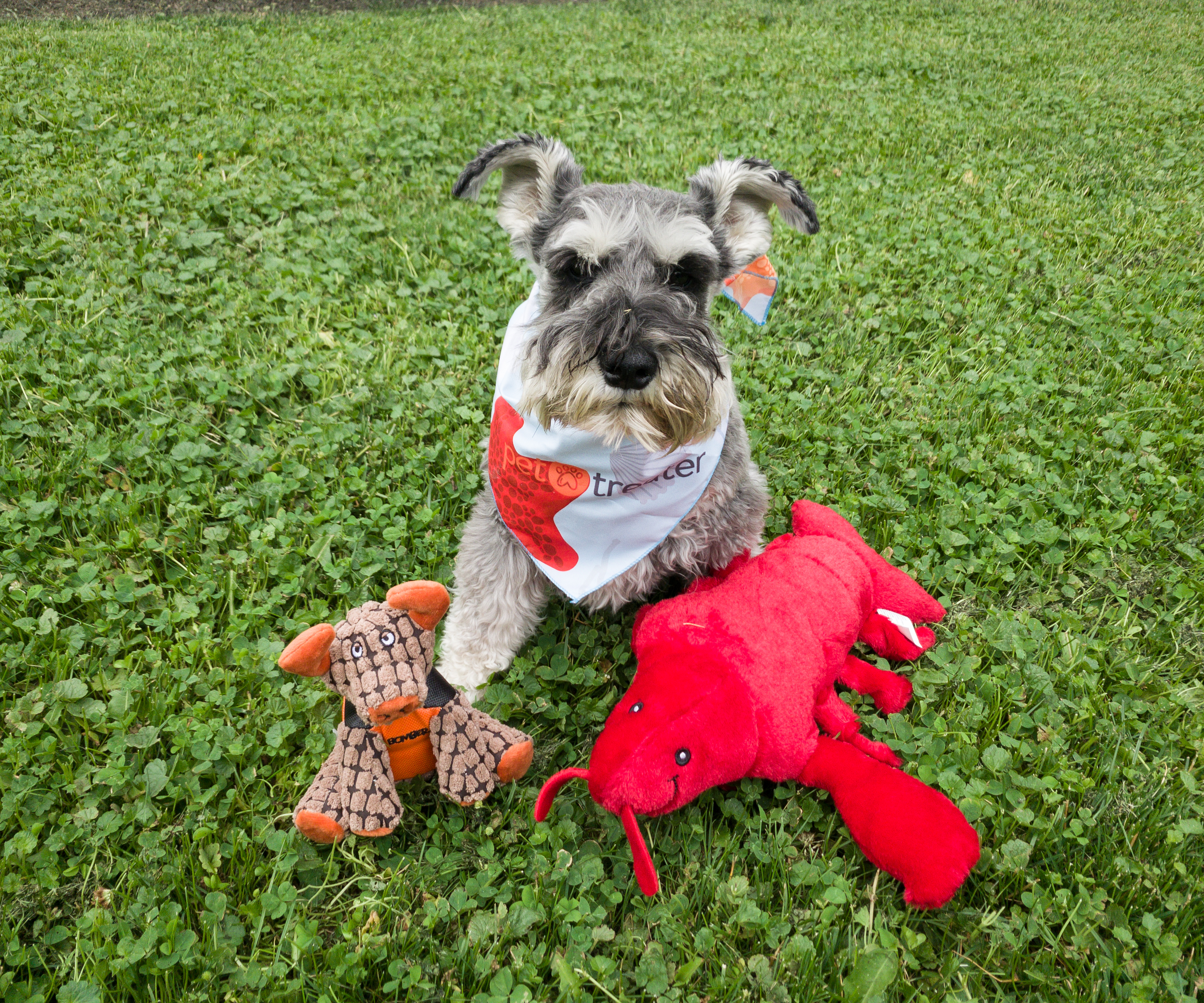 Here's Dean with his new toys! So handsome!
Pet Treater Deluxe Dog Pack always contains delicious treats along with durable toys for dogs! This month, there are 4 treats in the box and they are all made with healthy ingredients. Our dogs loved the krisps so much and kept asking for those. They also enjoyed hours of playing with the lobster and bull plush toys! As always, the bandana looks cool and fits Dean well. The design is even perfect for summer. Our pets deserve nothing but the best and this subscription gives us exactly that every month!
What do you think of this dog subscription?