Books & Treasures is a monthly box of a used book and handmade items to enhance your reading experience. There are four box options to choose from: Just a Book ($8 a month) comes with one used book and a handmade bookmark; Books & Treasures ($30) comes with one used book, 3 handmade items, a handmade bookmark, a thrifted mug or tea cup, and your choice of beverage mix; Bigger Books & Treasures ($42) comes with one used book, 6 handmade gifts, and choice of beverage mix; A Book in a Bag ($18) comes with a used book, drawstring bag, handmade bookmark, and two handmade gifts. For all levels you get to choose the book's genre!
The handmade items in your box were lovingly crafted by us just for you!
Our books come from libraries and used book stores so they may have some markings.
Our books are in like new to fair condition.
Books are used and dated 1930s – 2000s.
DEALS:
Get a FREE Book when you subscribe to a 3-month plan! Use coupon code FREEBOOK.
Get a FREE Box with 3-month subscription! Use coupon code FREEBOXG.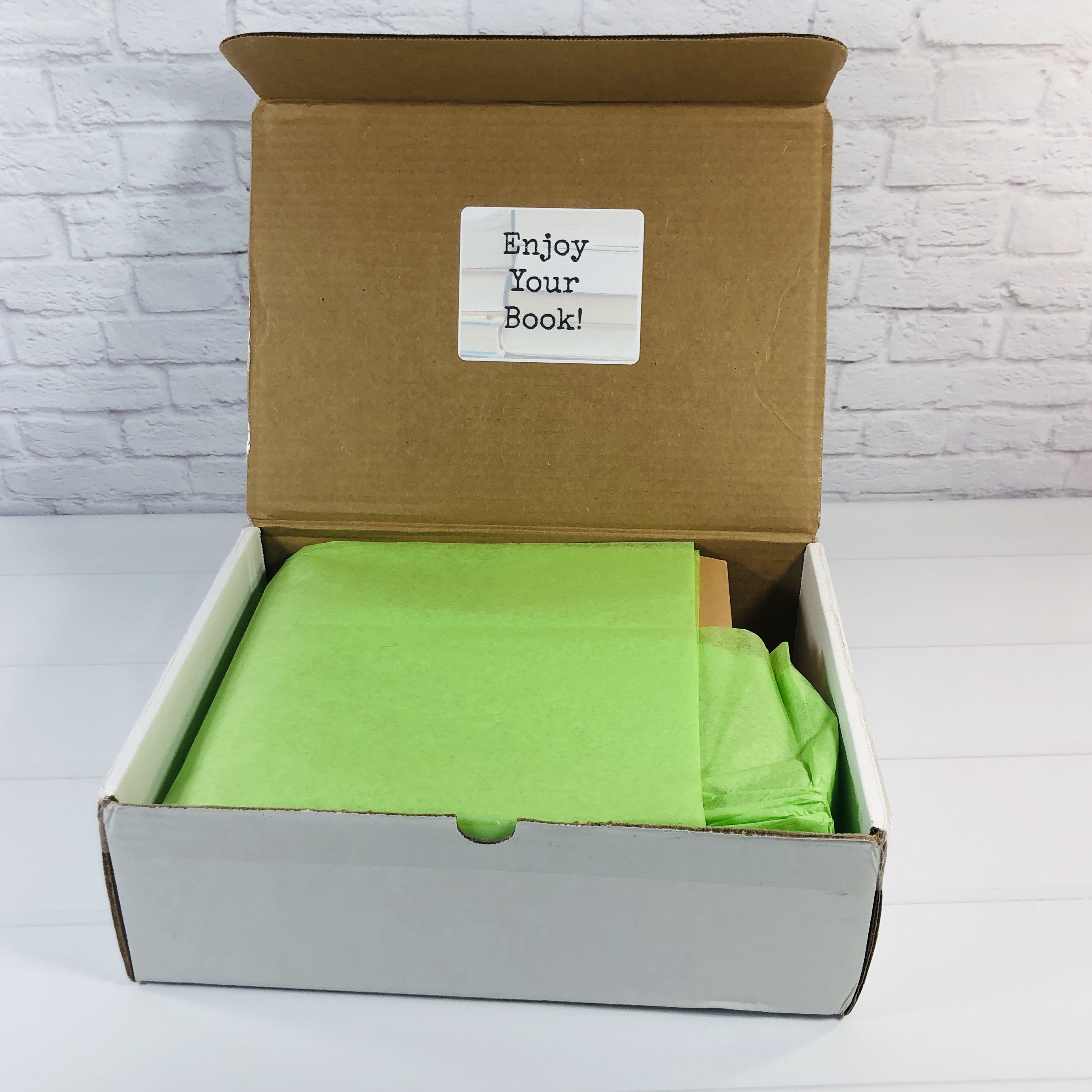 This is my first box! I got to choose the genre and they even have questions such as do you like teen or historical romance, is the box for a child or young adult, and do you want your accompanying items to be romantic or simple. For the plans that include beverages, you get to choose from coffee, tea, or hot chocolate.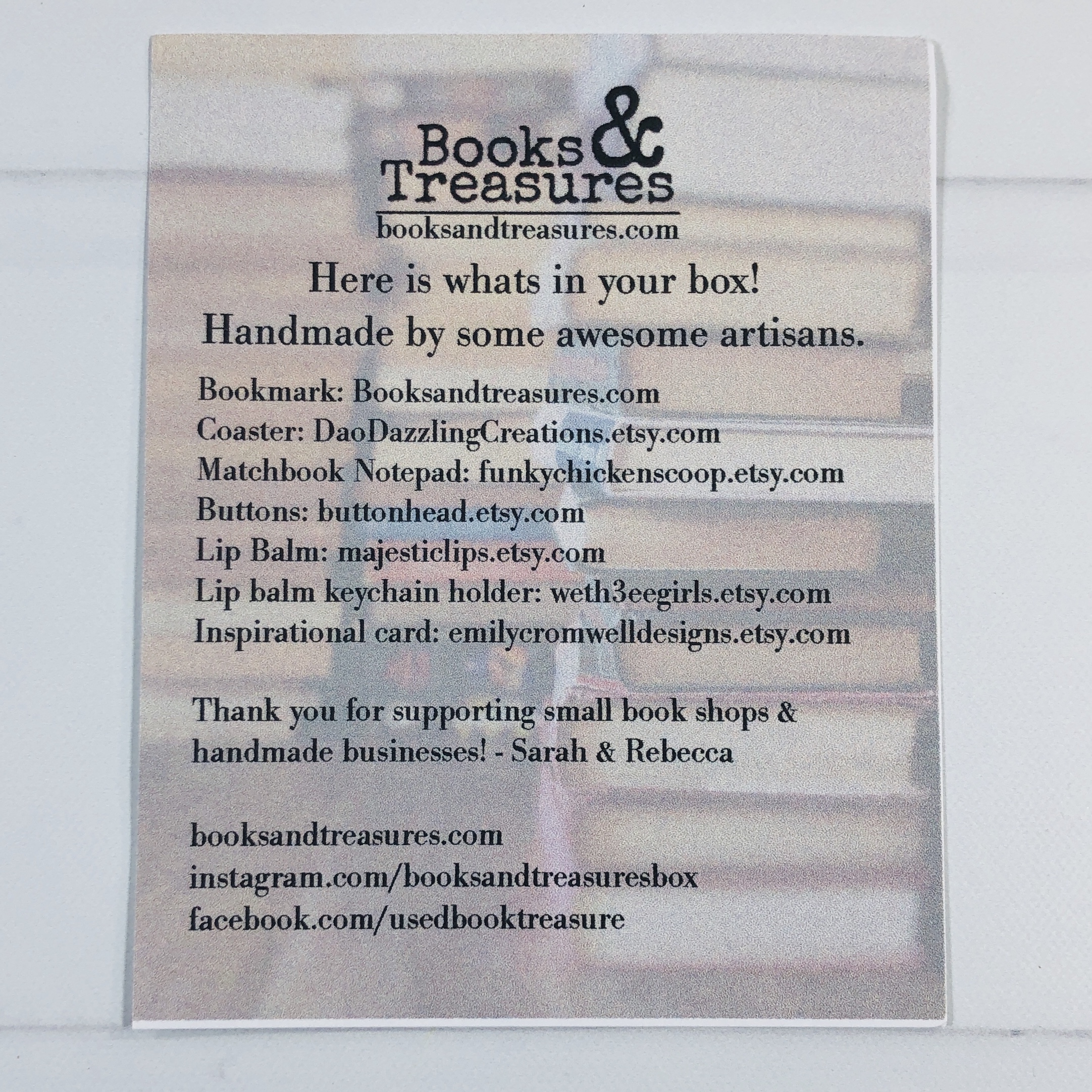 I found a paper with my items listed. It also directed me to the vendors websites. Most of the vendors are on Etsy.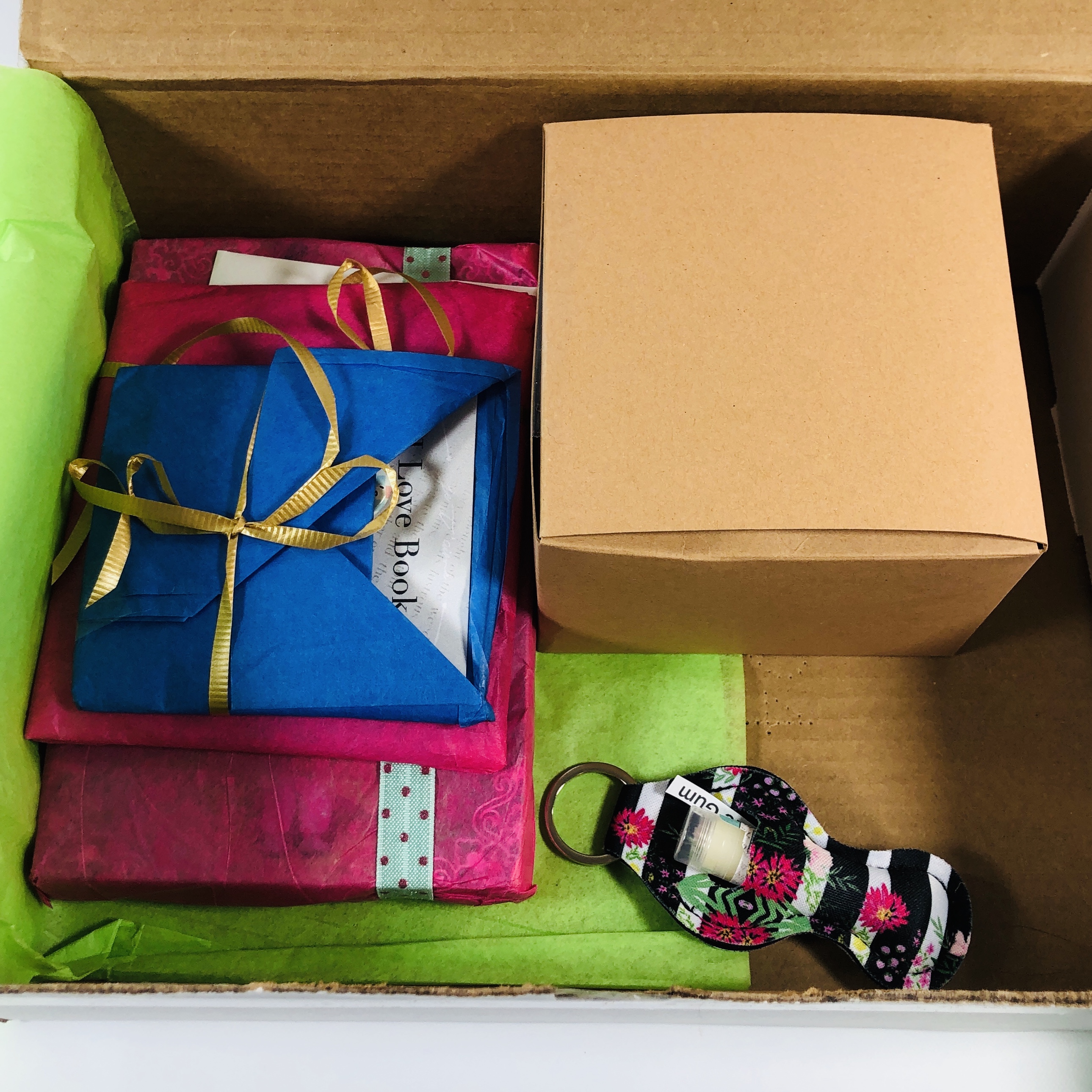 My items were tucked into green tissue paper.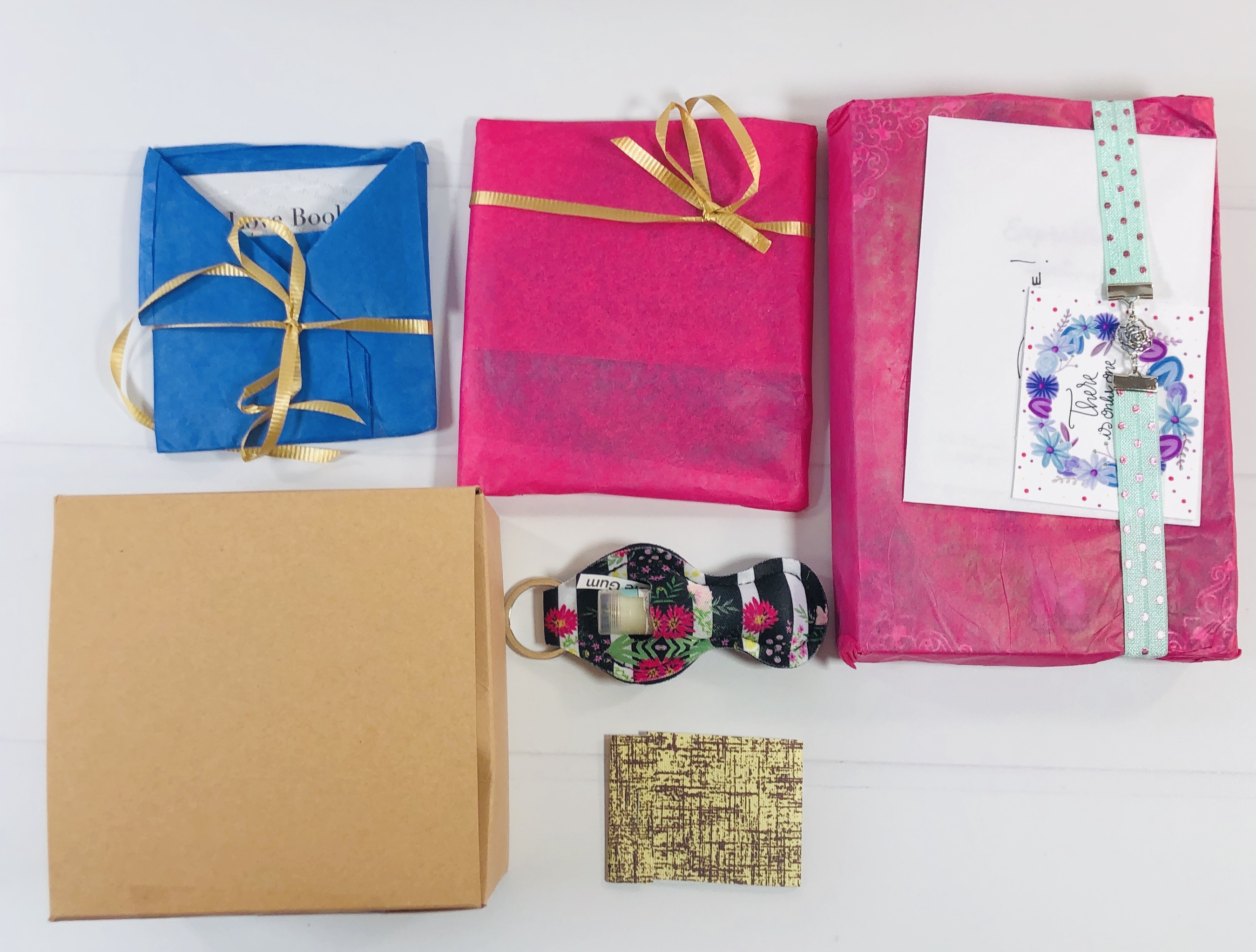 I also discovered that my items were wrapped individually so it was like opening a care package!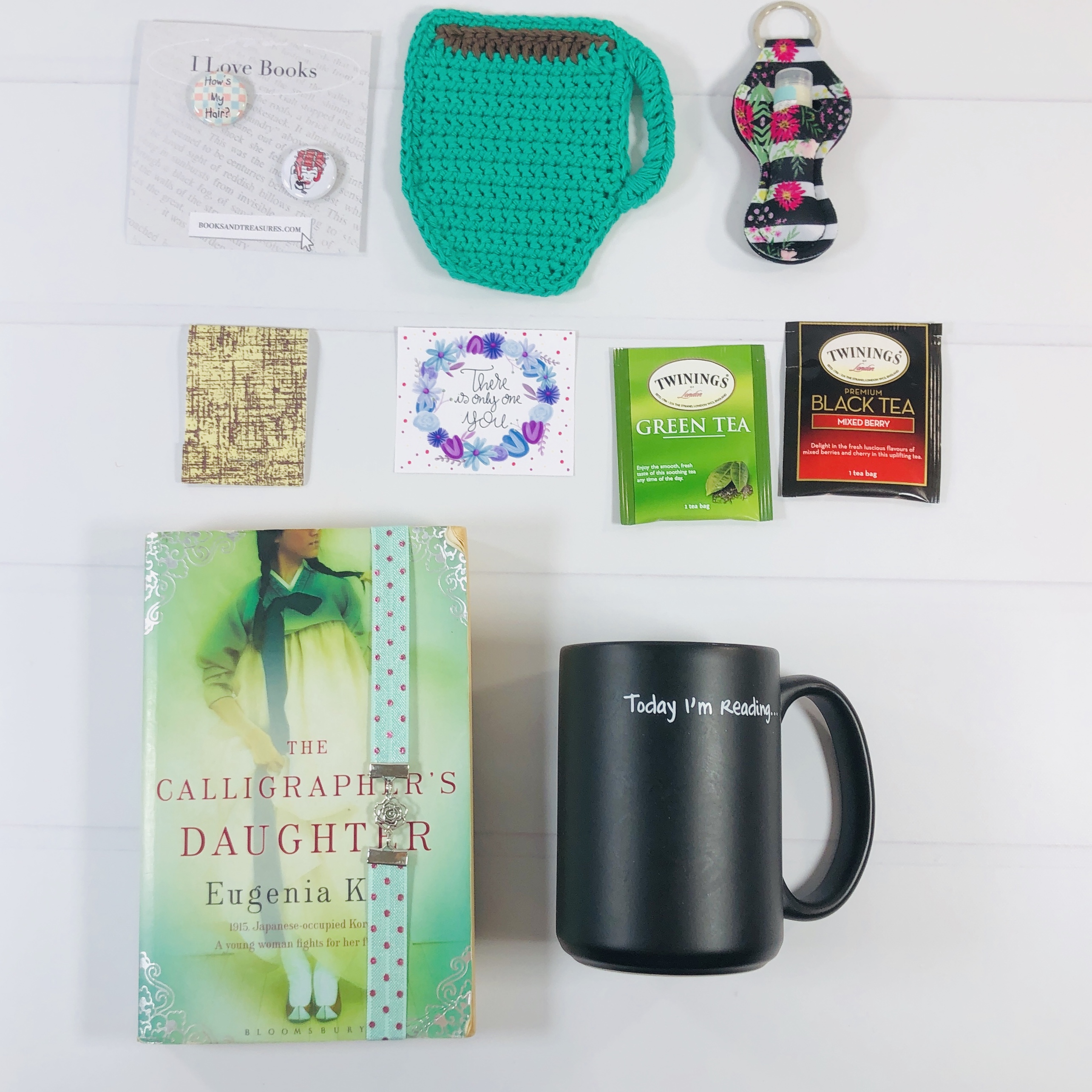 Everything in my box!
The book was wrapped with a few other items and looked so pretty.
I found a card!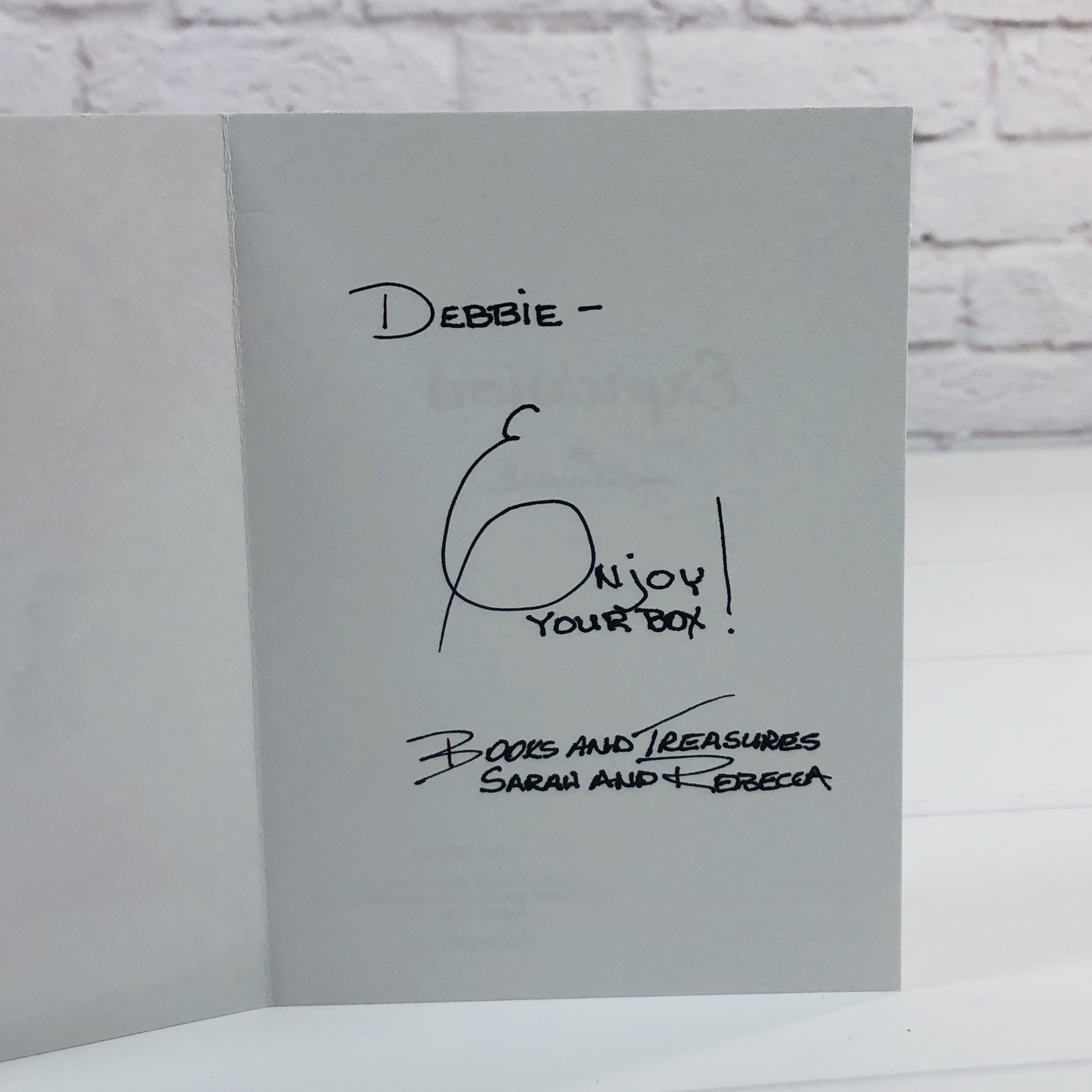 Aww, I love a hand written note!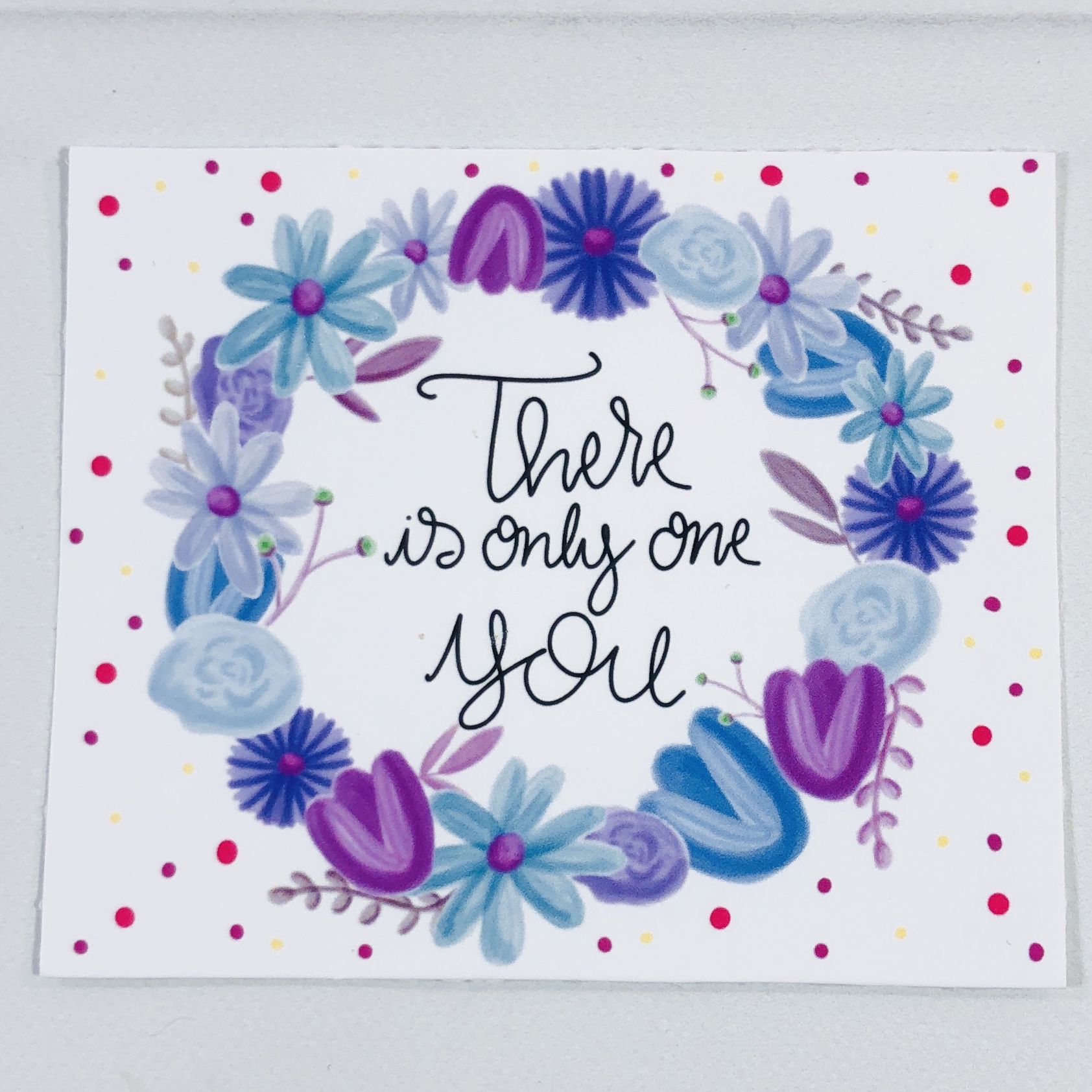 On top was also this lovely Inspirational Card from Emily Cromwell Illustration + Design. It is 2.5″ x 3″ and printed on cardstock and I adore the colors.
Both levels of subscription come with a Handmade Bookmark from Books & Treasures ($8.50 for similar).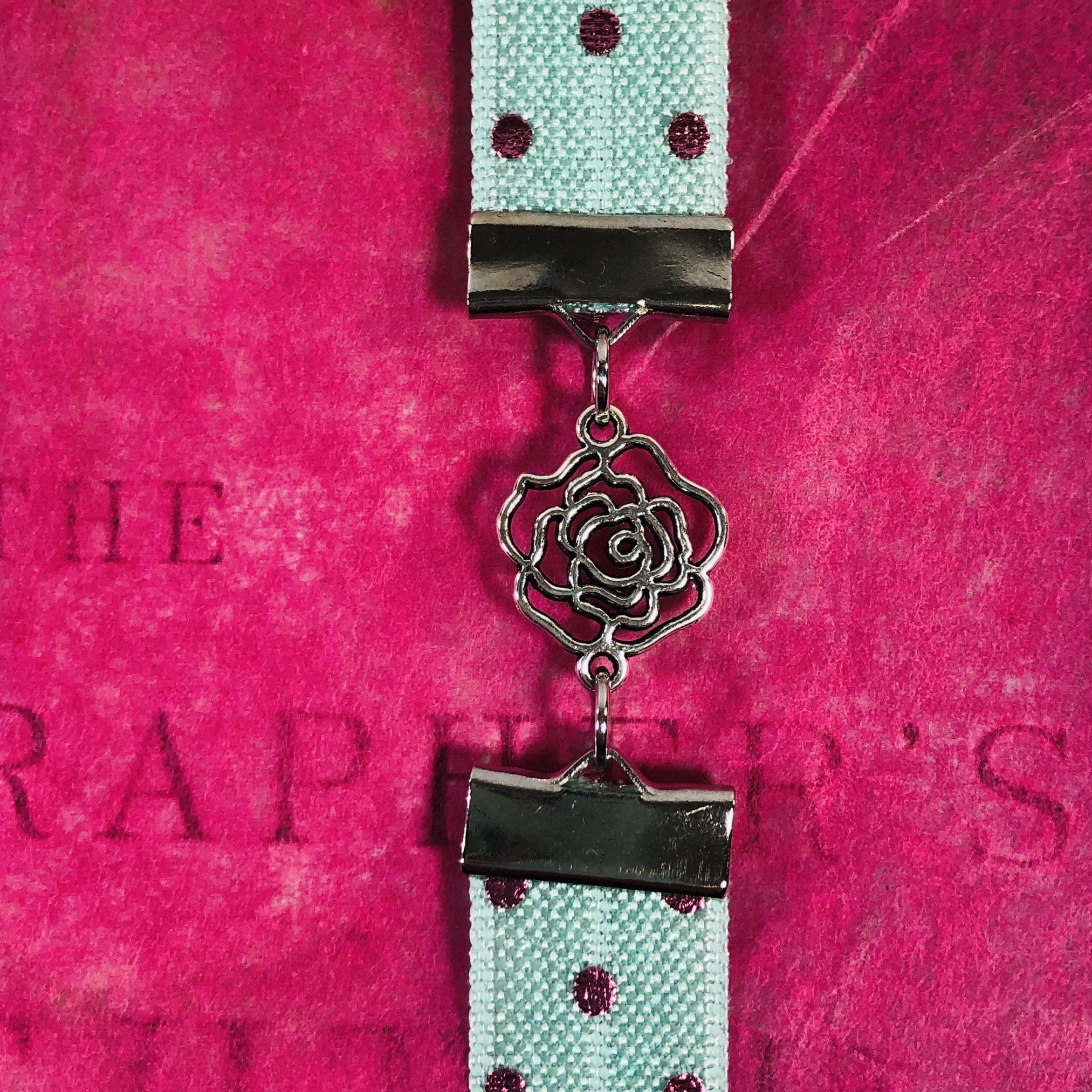 My bookmark is seafoam green elastic with metallic hot pink polka dots. There is a silver colored rose charm and the bookmark will fit most books sized 6.5″ – 10″.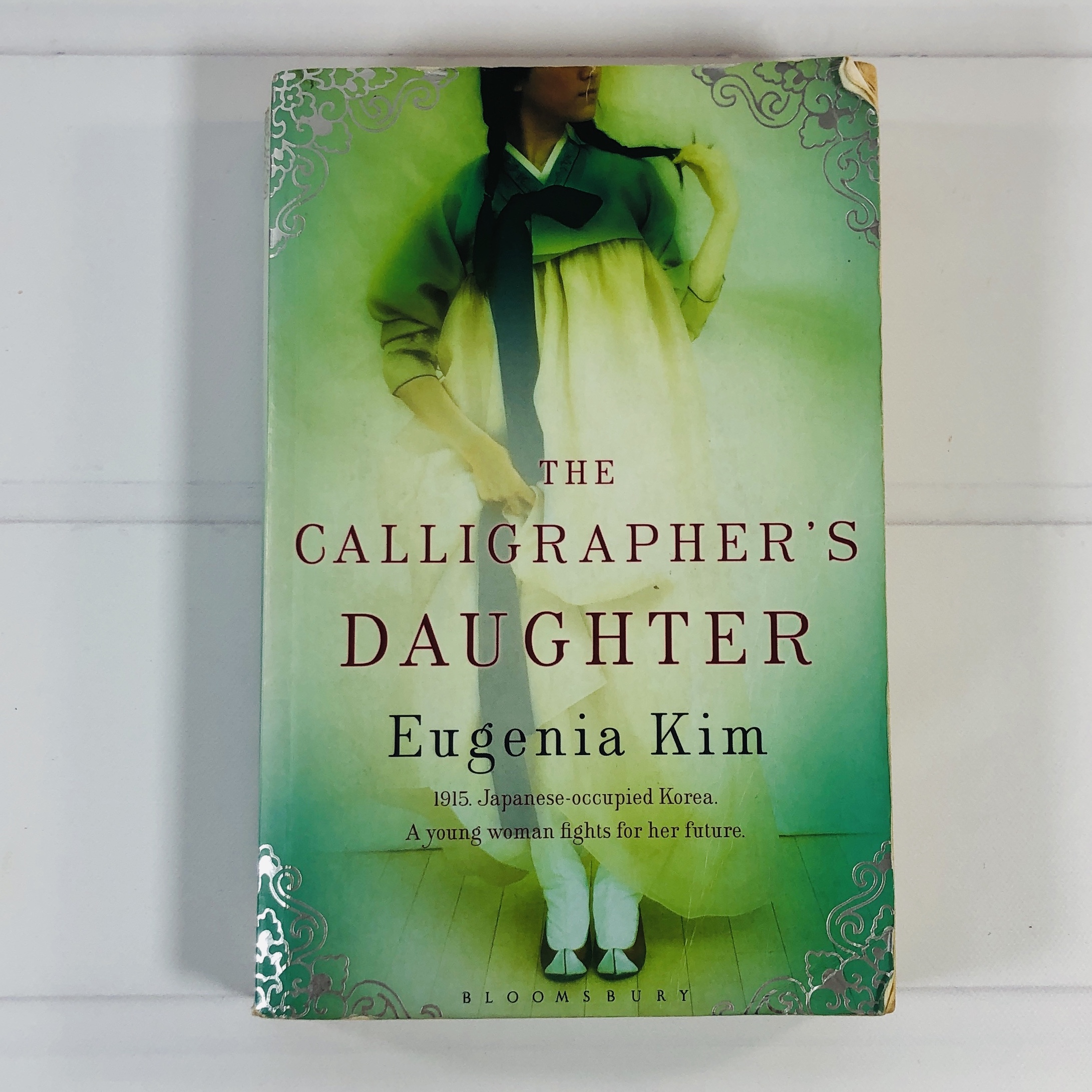 The Calligrapher's Daughter by Eugenia Kim ($17.12 for a brand new book, used starts at $2.55 on Amazon) I said I was game for historical or romance novels, and I received historical fiction about occupied Korea. This story was first published in 2009.
A sweeping debut novel, inspired by the life of the author's mother, about a young woman who dares to fight for a brighter future in occupied Korea

In early-twentieth-century Korea, Najin Han, the privileged daughter of a calligrapher, longs to choose her own destiny. Smart and headstrong, she is encouraged by her mother—but her stern father is determined to maintain tradition, especially as the Japanese steadily gain control of his beloved country. When he seeks to marry Najin into an aristocratic family, her mother defies generations of obedient wives and instead sends her to serve in the king's court as a companion to a young princess. But the king is soon assassinated, and the centuries-old dynastic culture comes to its end.

In the shadow of the dying monarchy, Najin begins a journey through increasing oppression that will forever change her world. As she desperately seeks to continue her education, will the unexpected love she finds along the way be enough to sustain her through the violence and subjugation her country continues to face? Spanning thirty years, The Calligrapher's Daughter is a richly drawn novel in the tradition of Lisa See and Amy Tan about a country torn between ancient customs and modern possibilities, a family ultimately united by love, and a woman who never gives up her search for freedom.
Keep in mind that Books & Treasures sends used books which may date between 1930 – 2000's. Mine had obvious wear and tear but no markings or actual tears, just don't expect a book to be in new condition.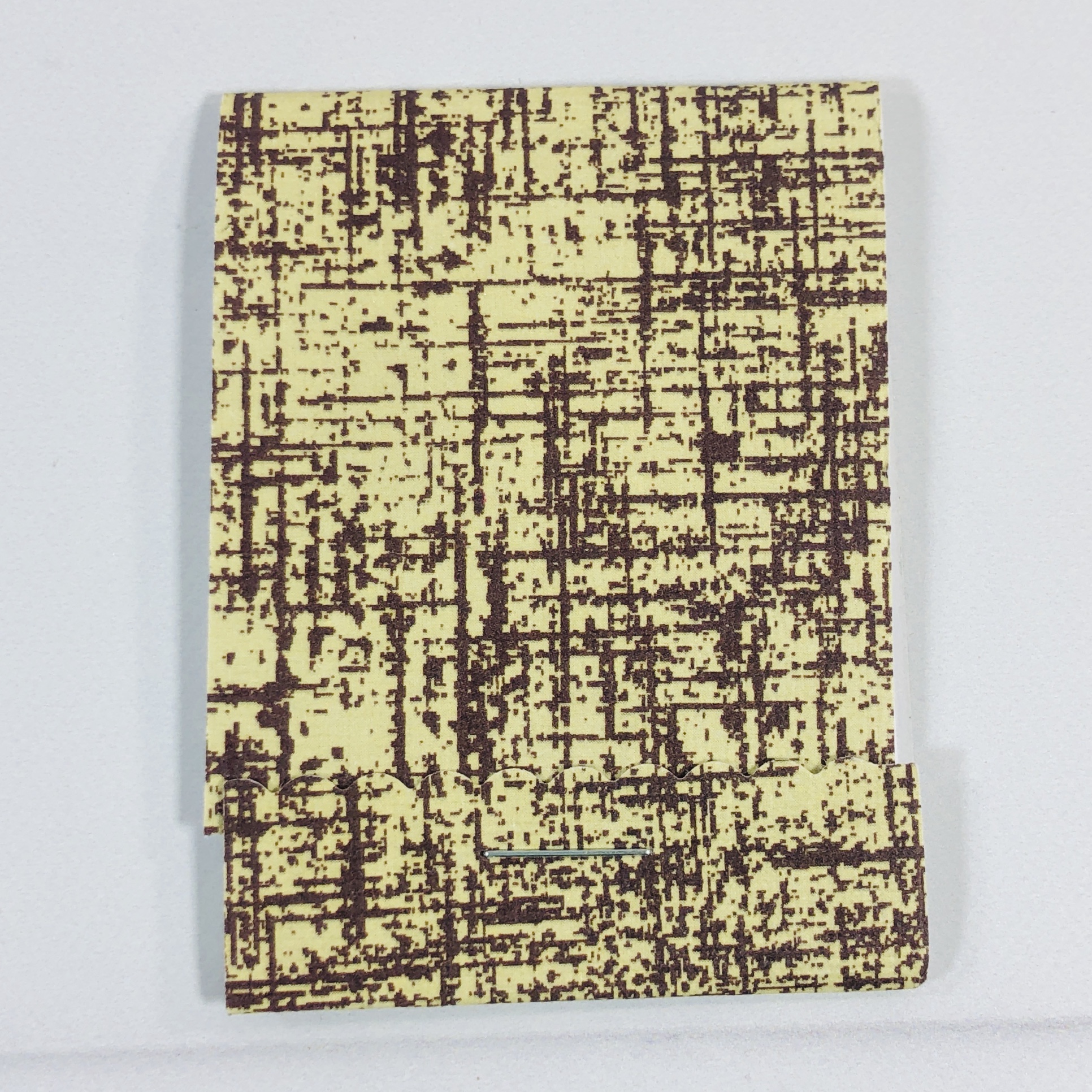 Funky Chicken Matchbook Notepad (Buy $5 for 20, 25¢ value) I received a matchbook-sized pad of paper with a crosshatch design on the cover.
Open it up to find 10 pages inside for tiny note taking. Booklet is about 2″ x 2.5″.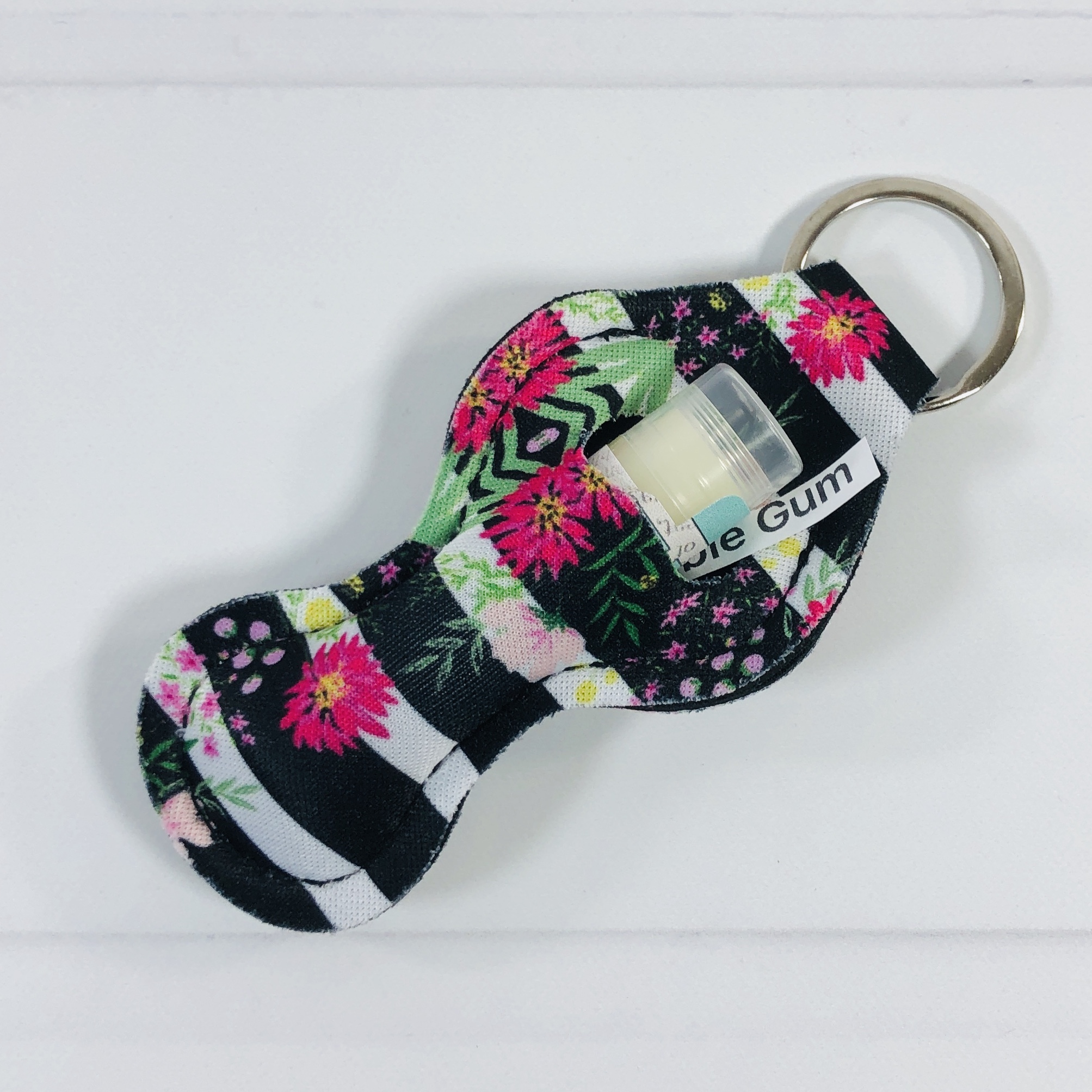 We Th3ee Girls Black Stripe Floral Keychain Chapstick Holder ($1.75) I think this little chapstick holder is so cute, and there are tons of prints to choose from on their Etsy site.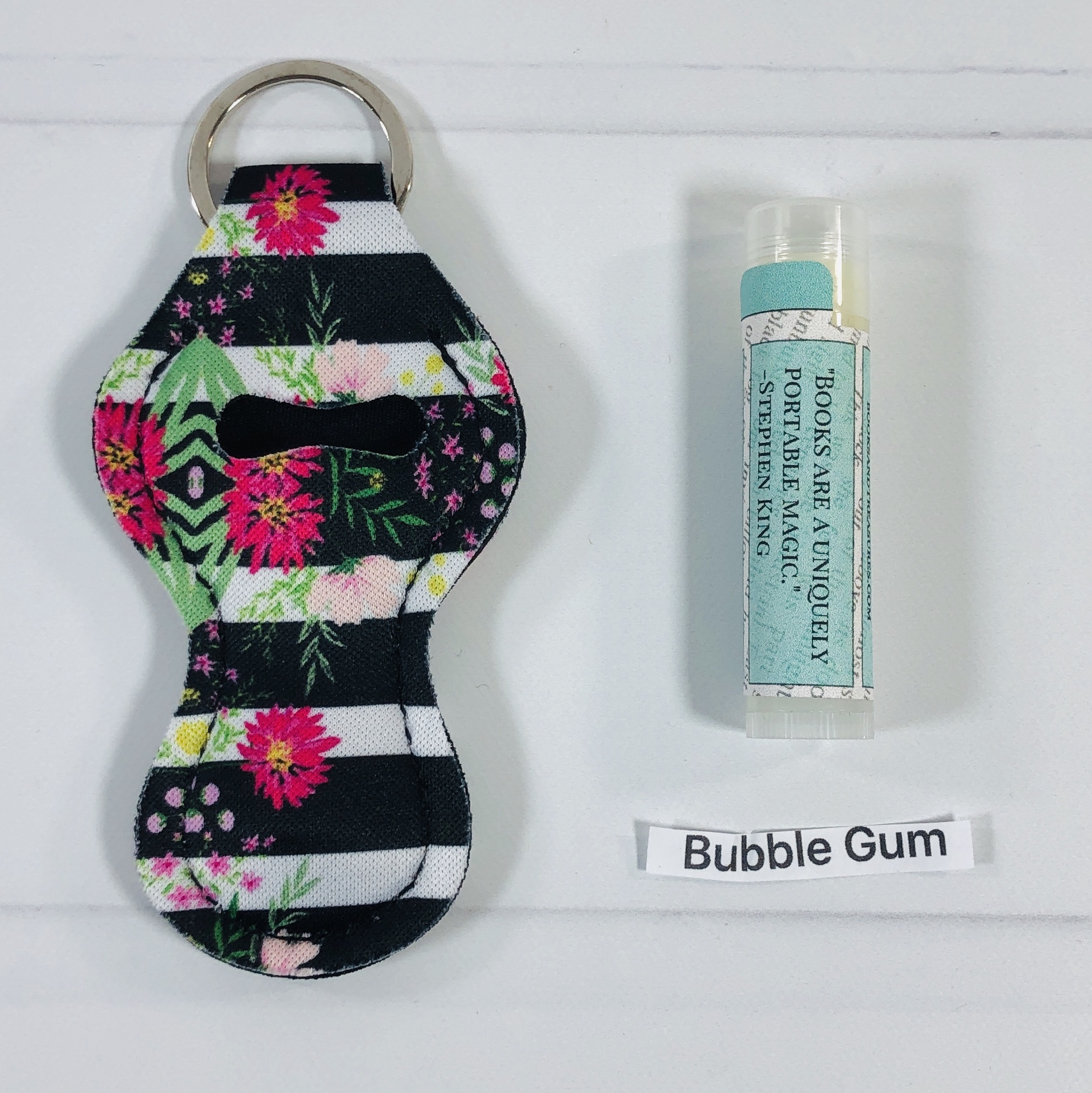 The opening works for a lip balm but you could also use it for a USB, essential oil rollerball, or lighter. The holder is made of neoprene and has a key ring at the top. I found the next item tucked inside.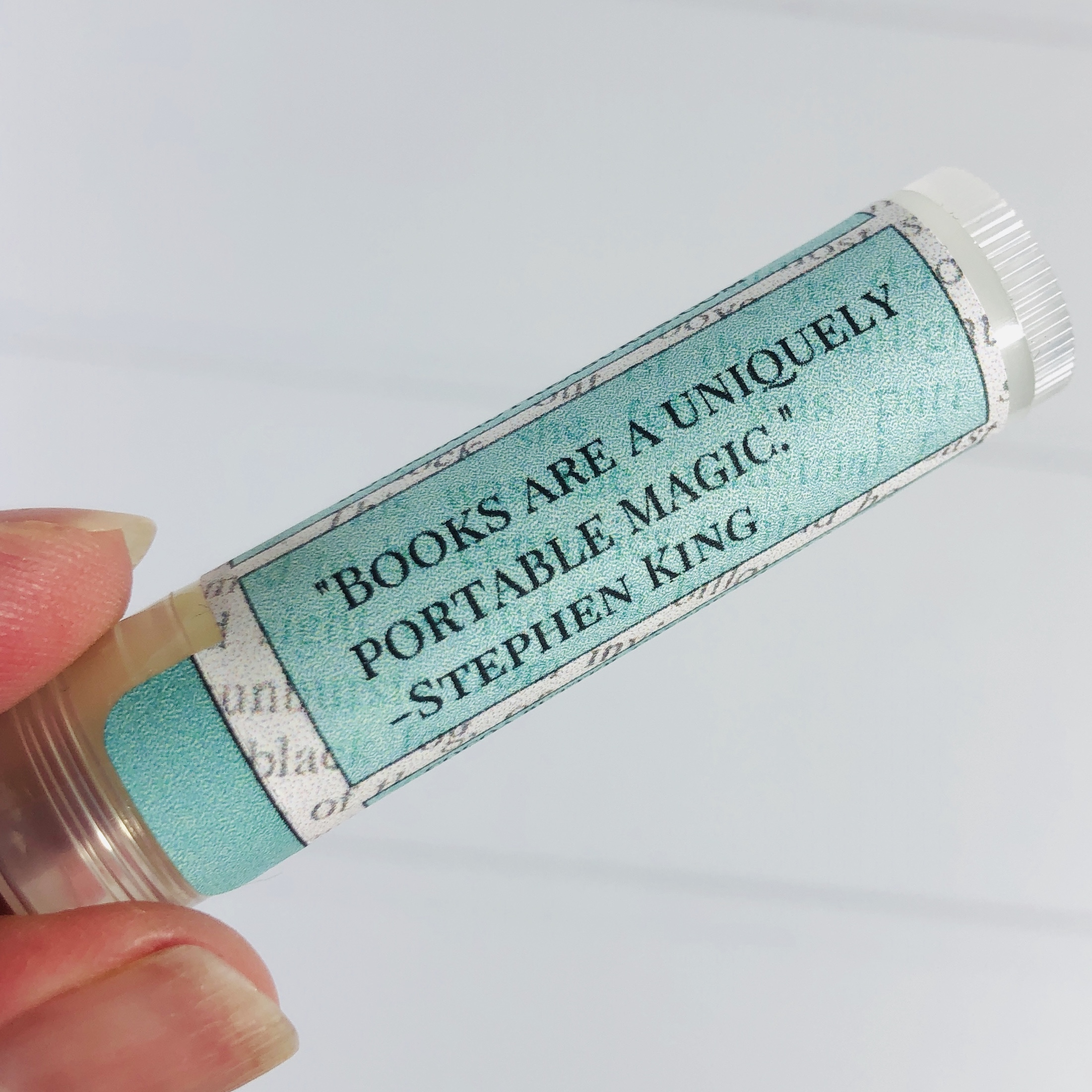 Majestic Lips Lip Balm in Bubblegum ($1.25 for similar) My lip balm had a bookish quote on the side from Stephen King.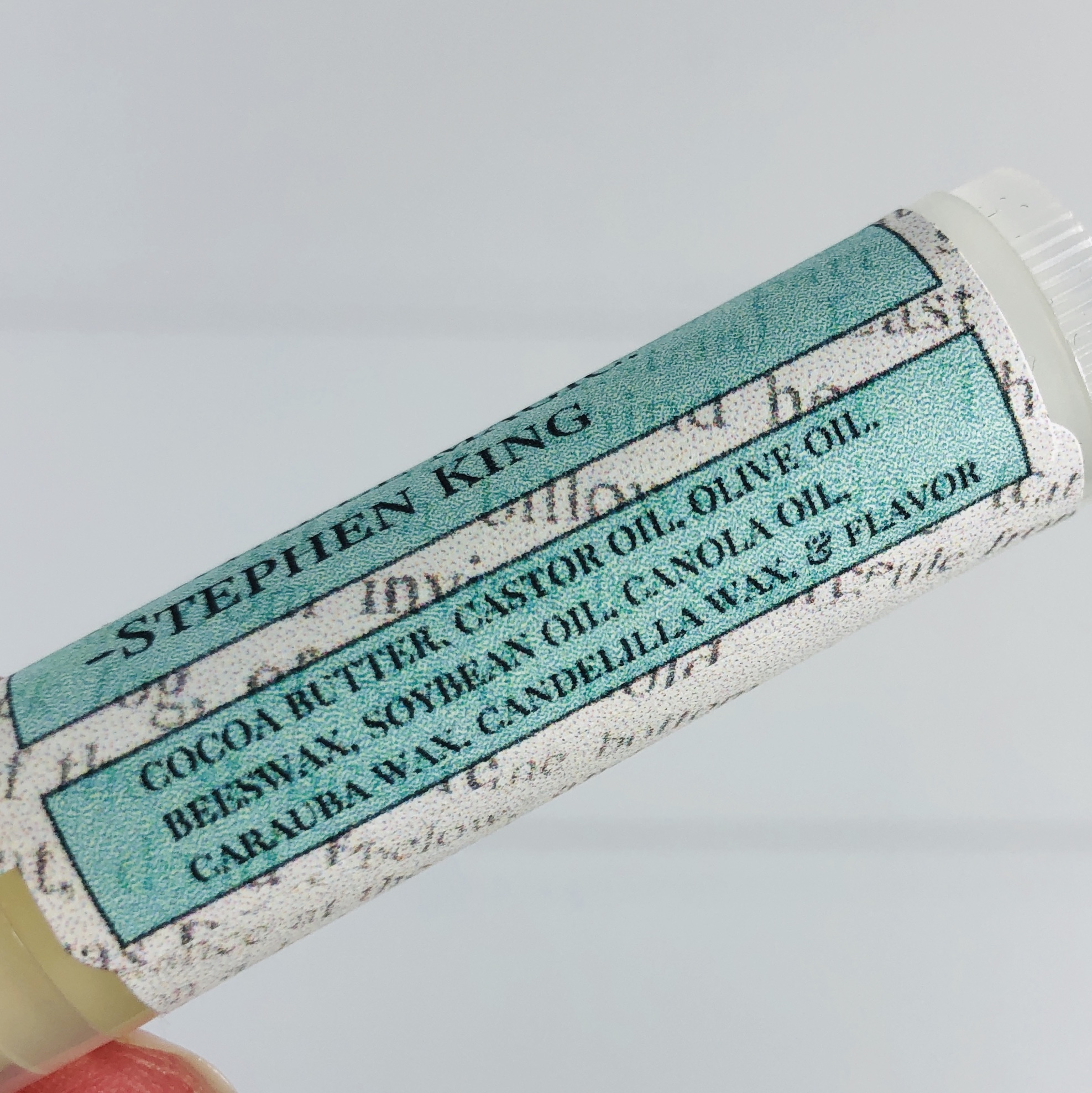 The ingredients were listed on the label and include cocoa butter and beeswax.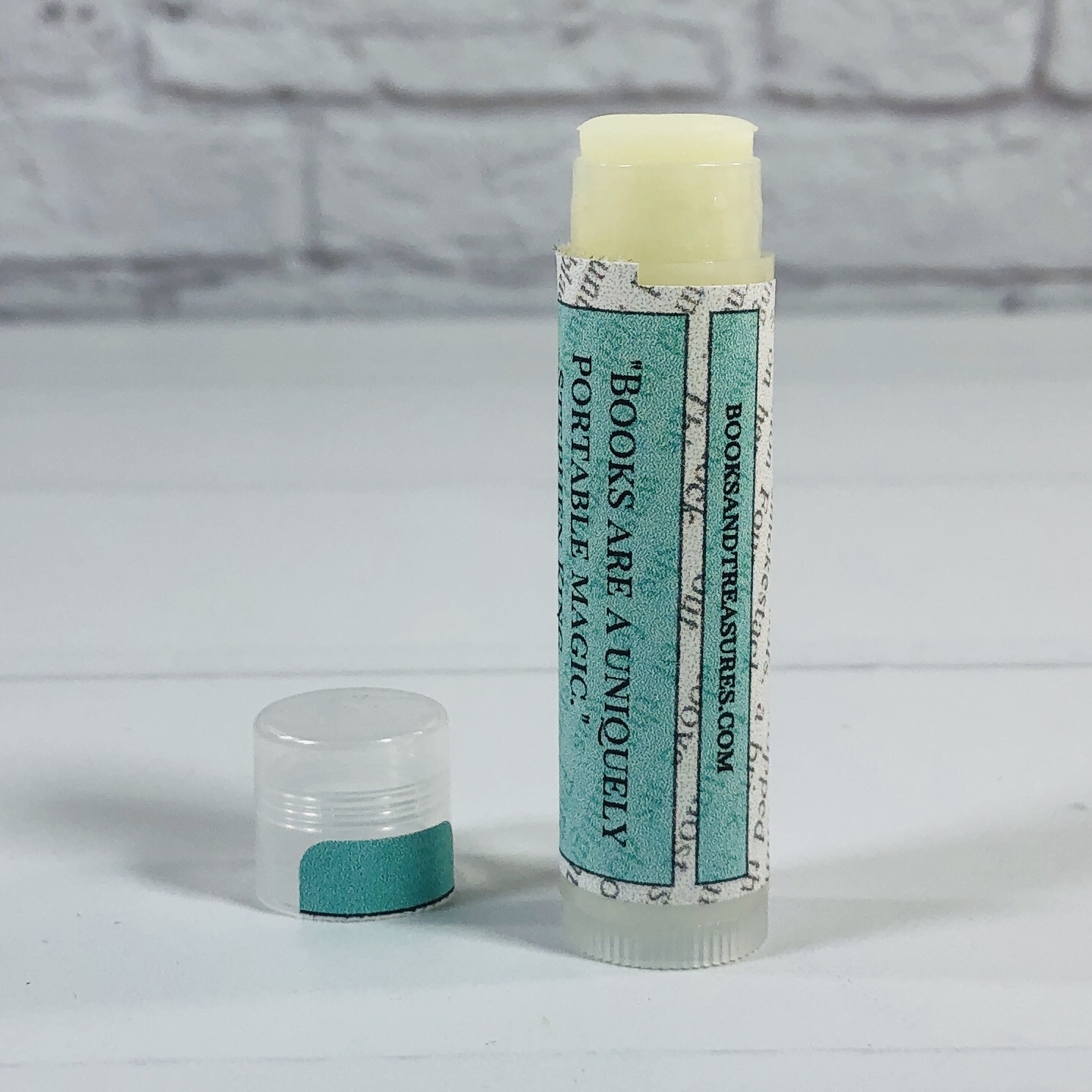 The flavor was spot on, I felt like I had popped a piece of pink bubblegum in my mouth! The balm itself was very slick and left my lips soft.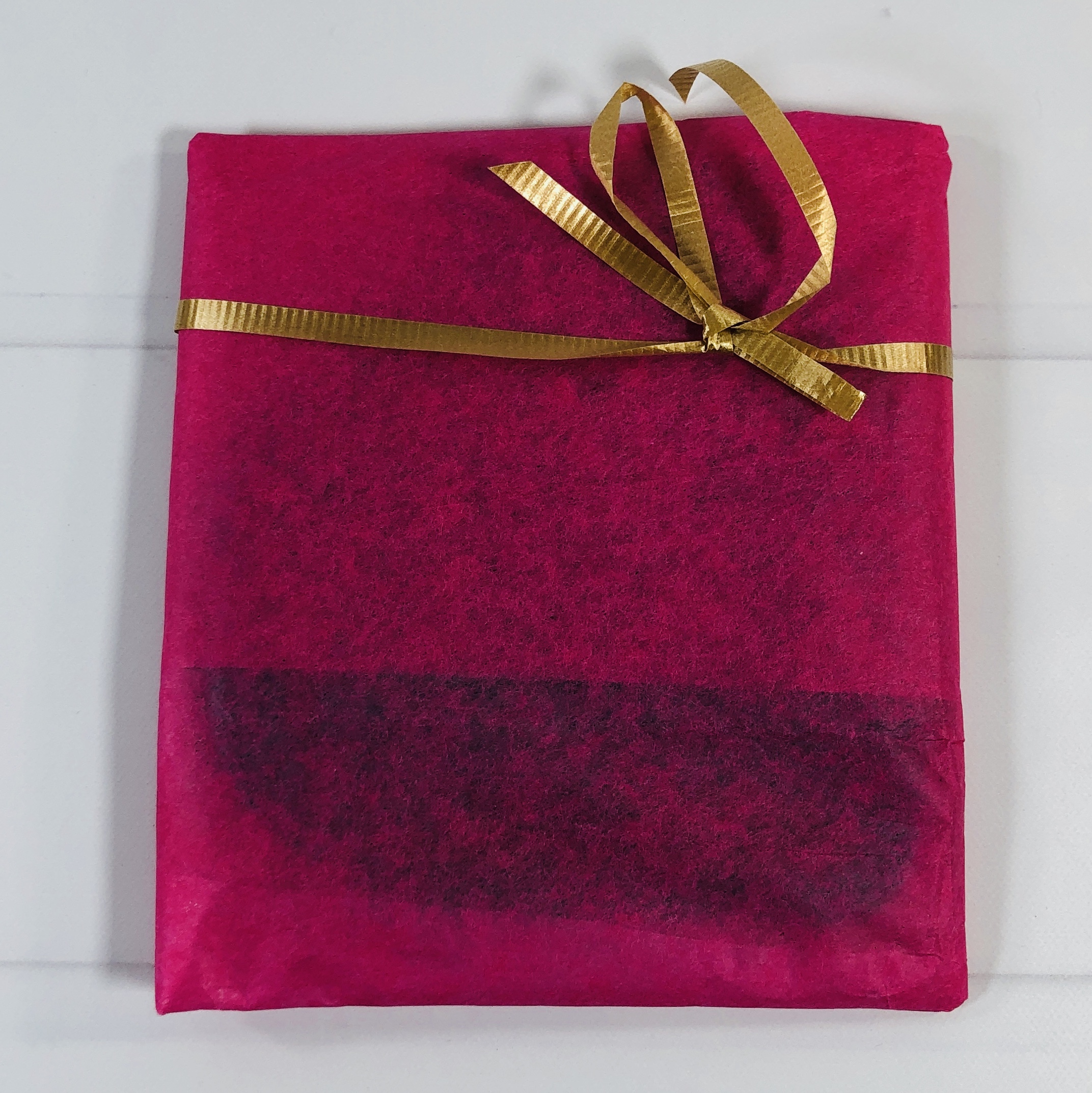 Hmm, I wonder what's in here?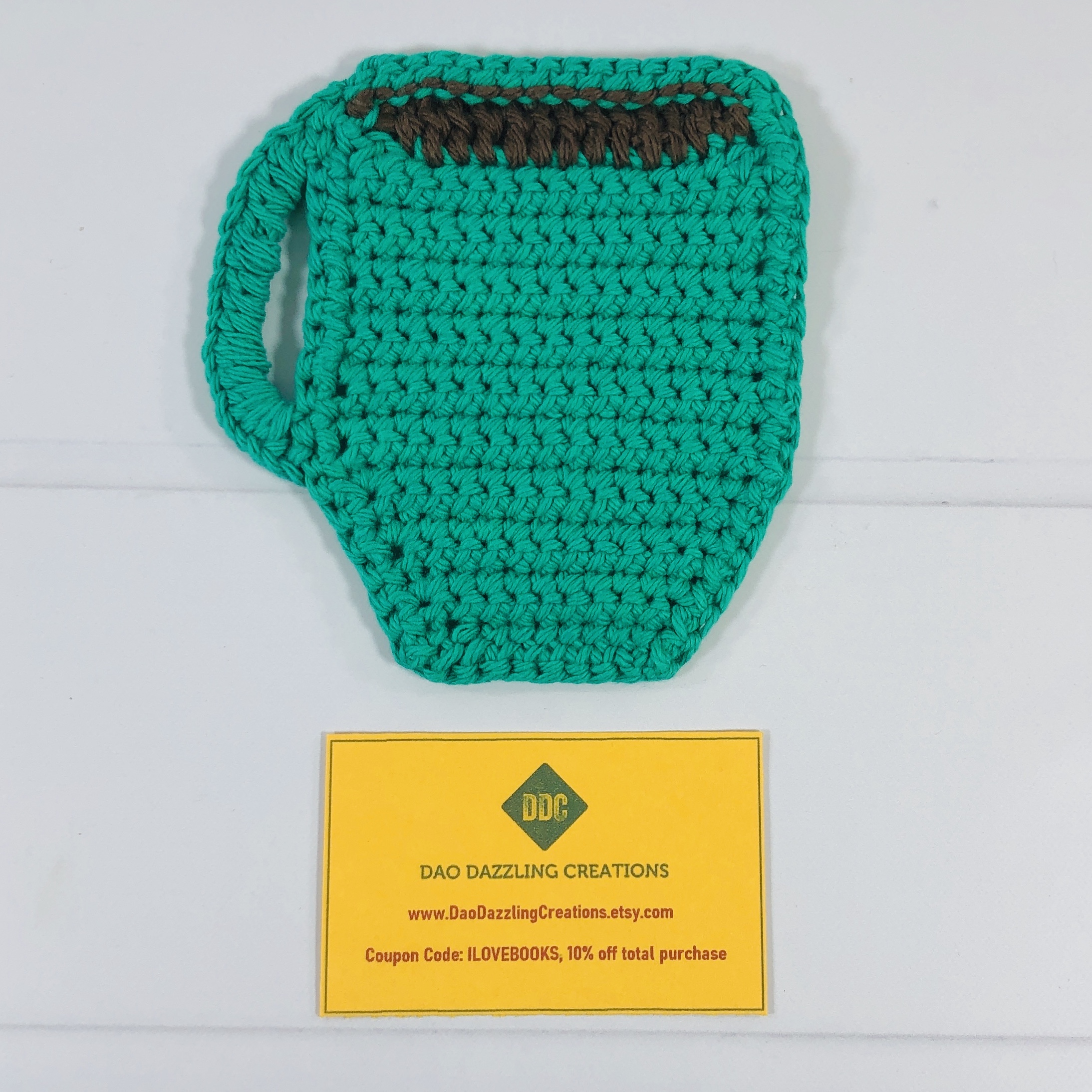 Dao Dazzling Creations Cup Coaster (Buy 2 for $14.95) It's a hand crocheted cup coaster!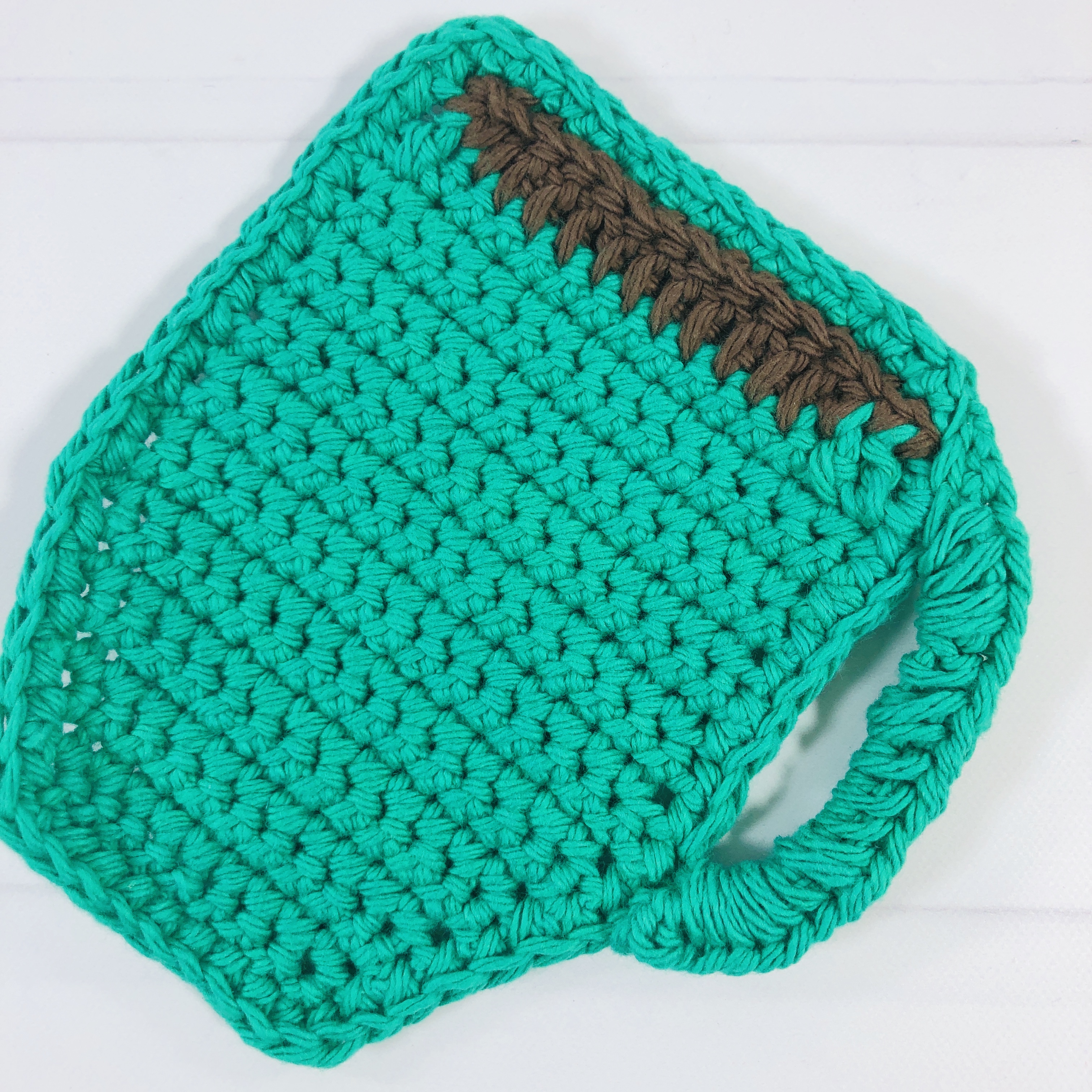 It's 5″ tall and mine is Mod Green. I feel like this would help protect my tables from tea stains.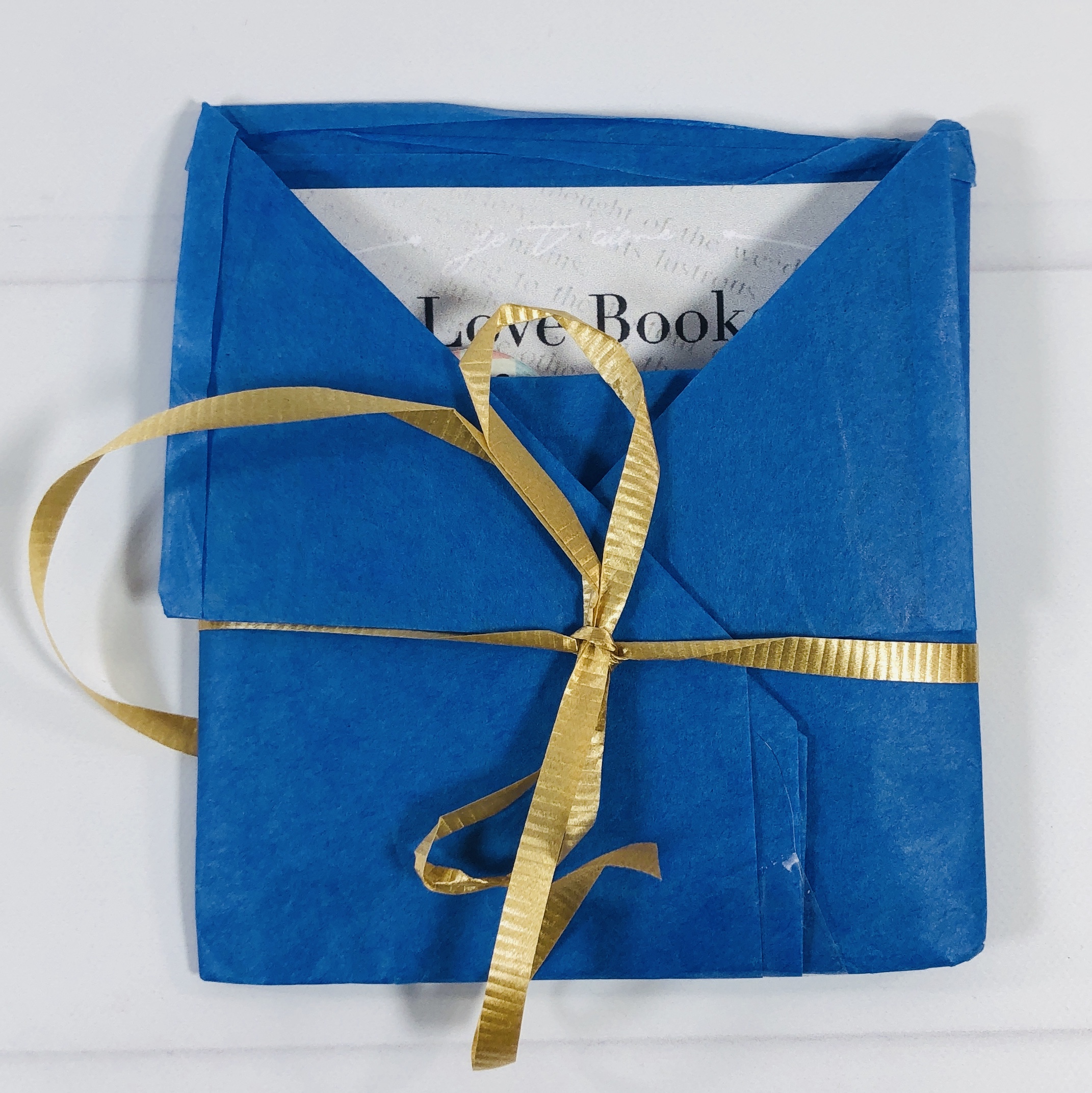 Another wrapped surprise!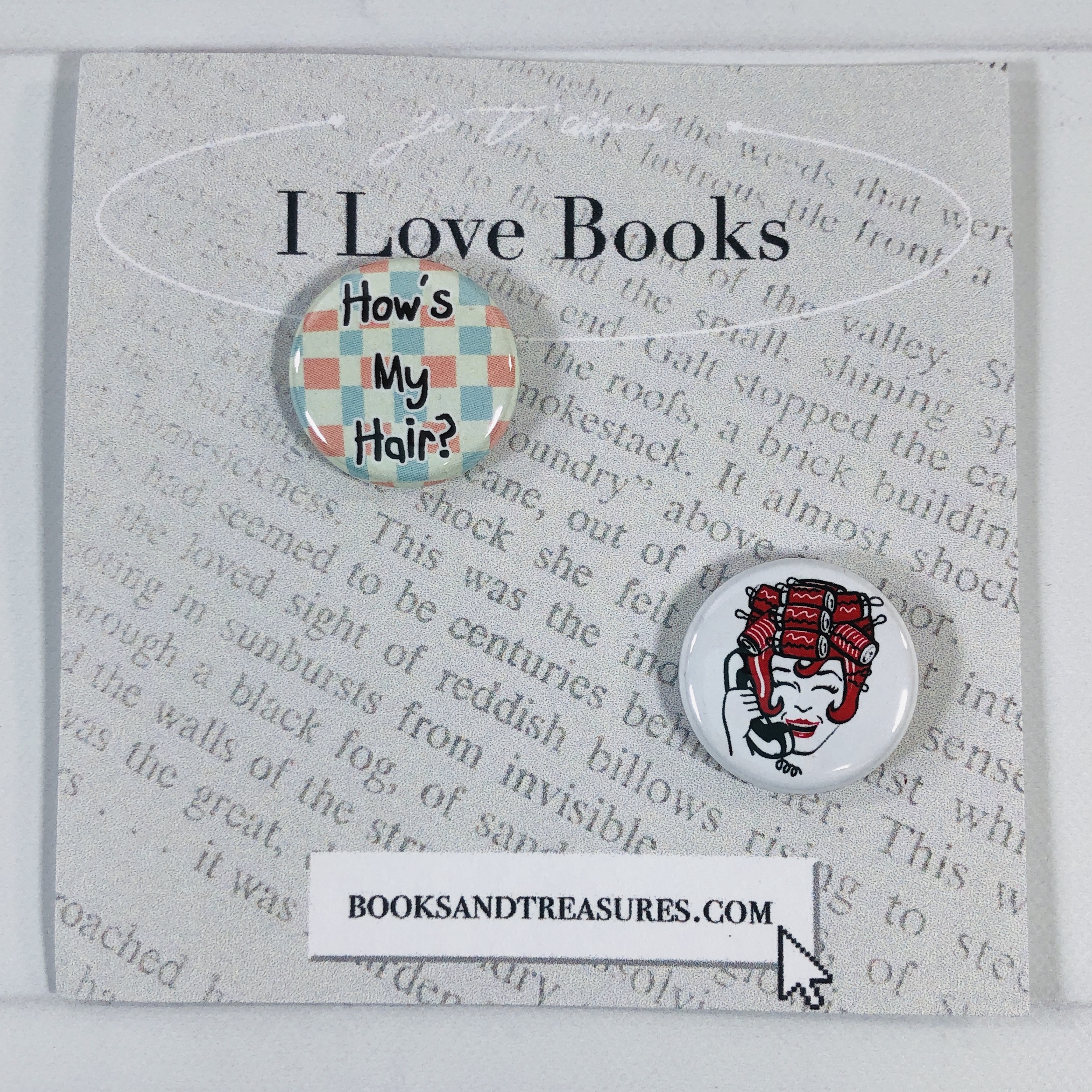 Buttonhead Buttons ($1 each for similar) has two 1″ buttons that I can relate to for sure. I have a book bag that holds all of my buttons so I will place them there. Some people put them on jean jackets.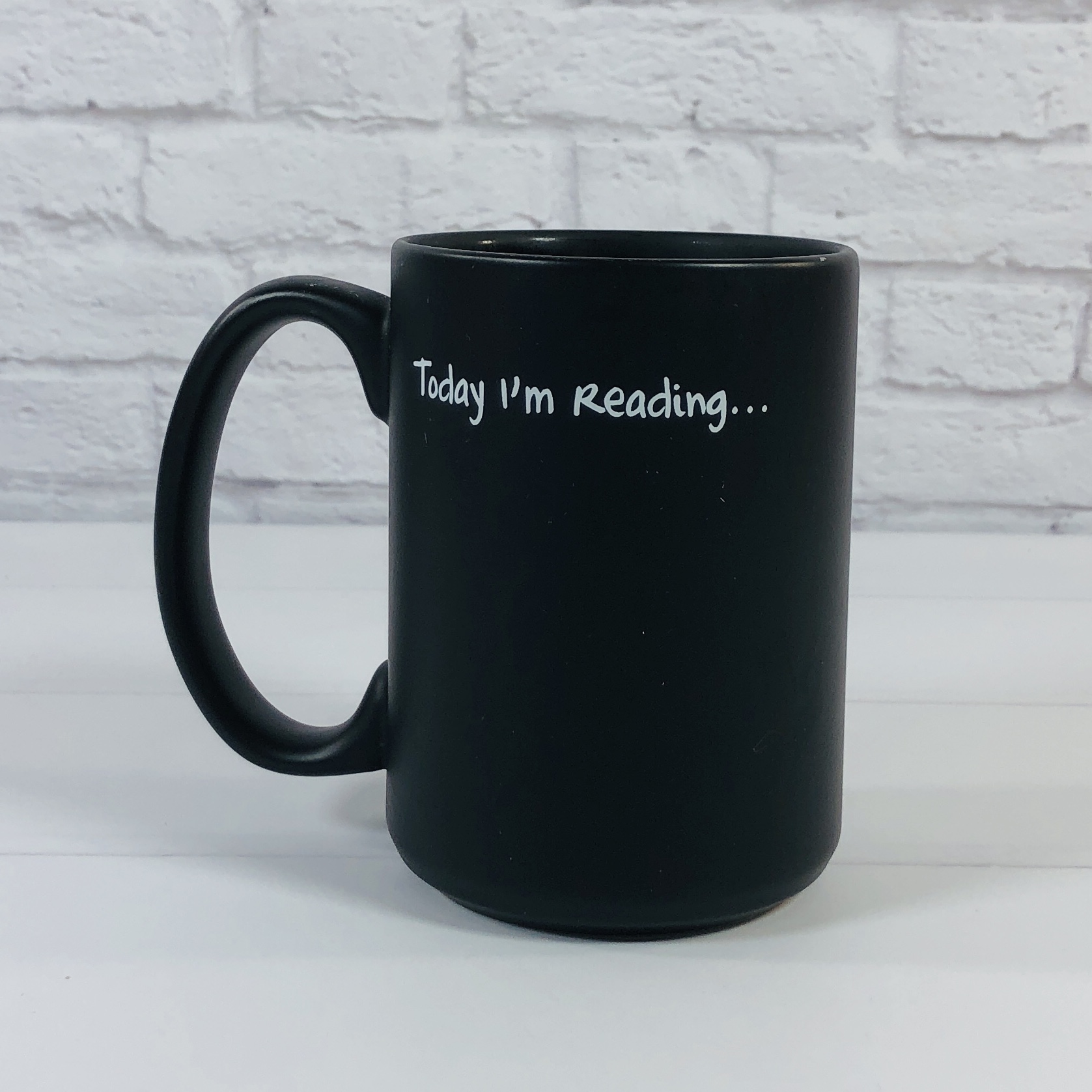 Chalkboard Mug ($9.49 for similar with chalk) My box came with a mug! The Books & Treasures website says the mug is "thrifted" but I found they are still selling them and they are reasonably priced when brand new.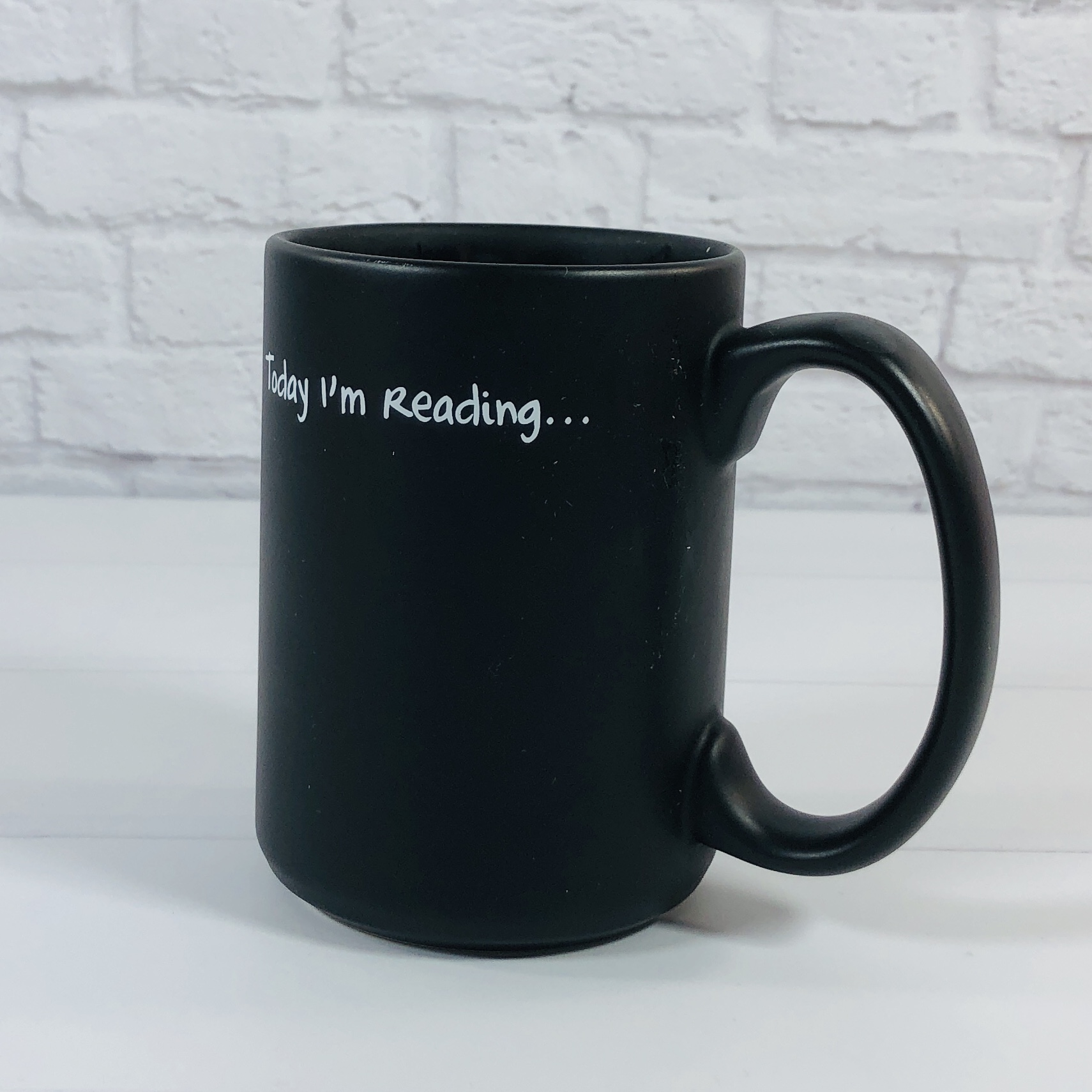 The mug is black and has a chalkboard finish for those who wish to write their current read on the side. The mug is microwave safe but not meant for the dishwasher.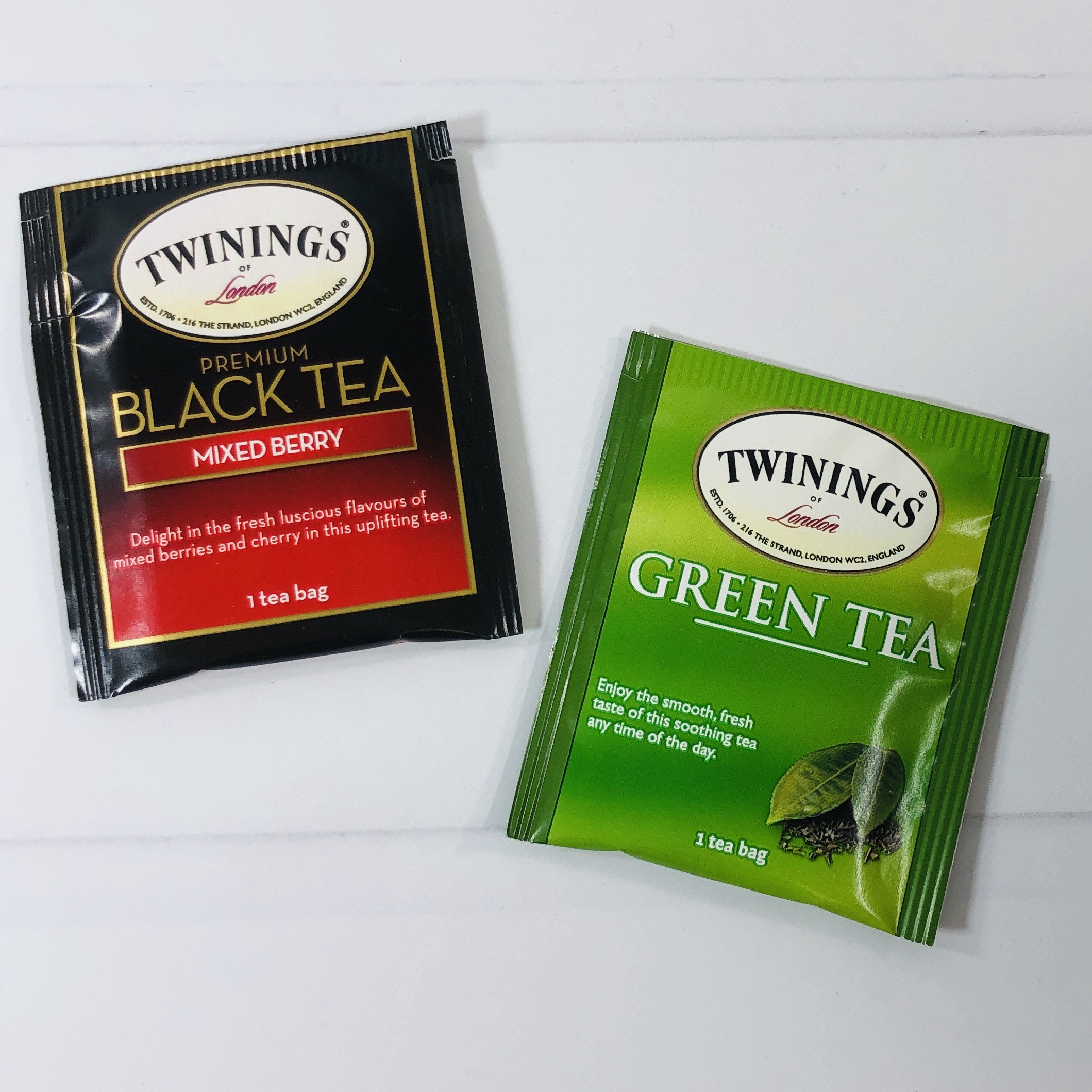 I also received two bags of Twinings Tea. I am especially fond of black tea and this one has added berry flavors so I'm considering making it iced but of course it would be wonderful with milk and sugar too.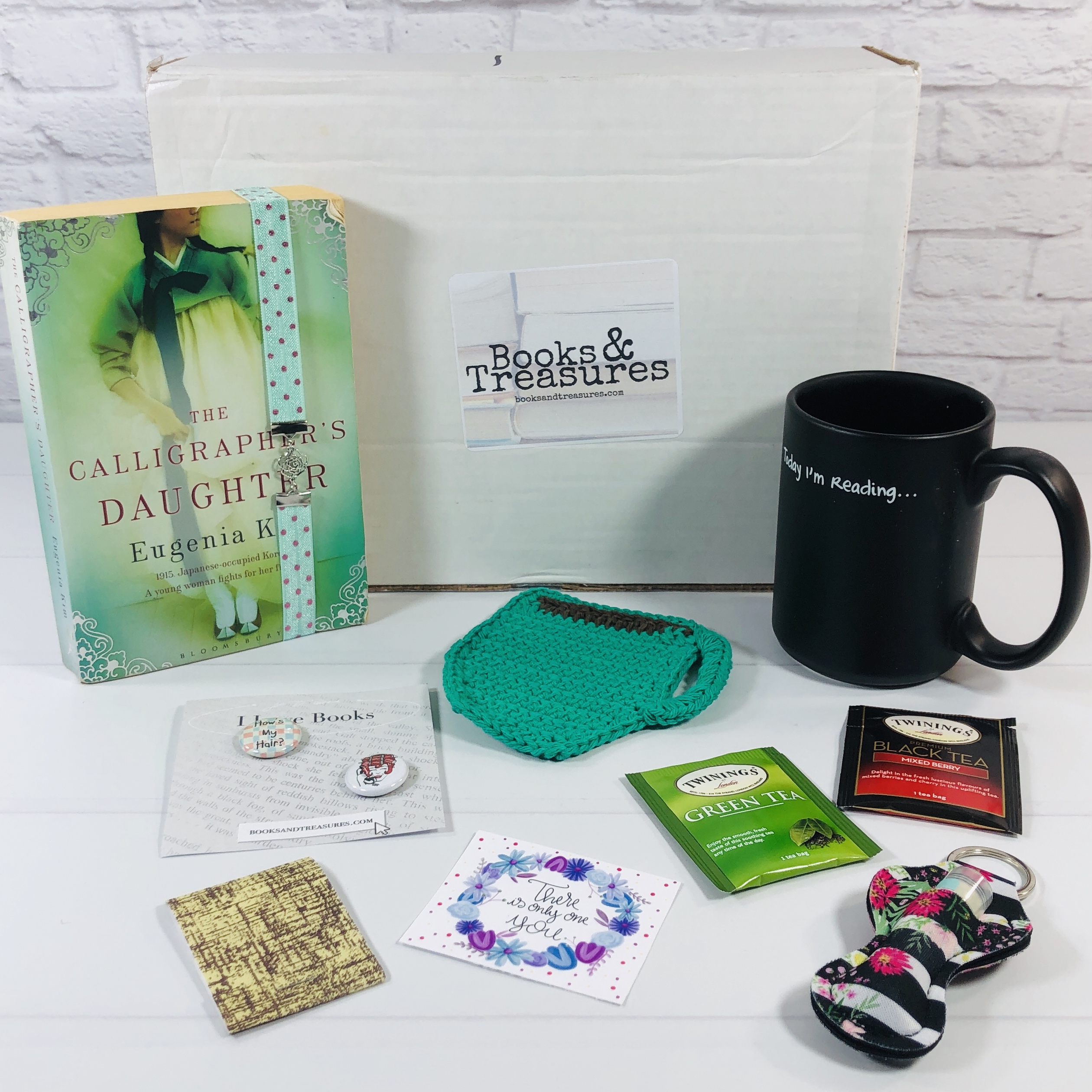 I think Books & Treasures is a neat way to get an older book plus some cute Etsy accessories that I might not find otherwise. It's got a little bit of everything in here – a book, mug, beverage, and other delights to help enhance reading time. I look forward to reading the book while drinking my tea and will place my mug on the coaster!
What do you think of this box?