Loved + Blessed has undergone some changes! They're now a monthly membership and subscription care package for women who want to live life encouraged. Aside from the box of encouragement, subscribers will also receive access to a blog article, a 4-week life appreciation workbook, 4 video lessons, an online fellowship in their private community, and access to their library of past videos and workbooks. A month-to-month subscription costs $25 and you can also opt to get a 3-month prepaid subscription for $60, which means you'll save $15!
DEAL: Get $5 off your first box! Use coupon code HELLO5. Cannot be combined with other offers.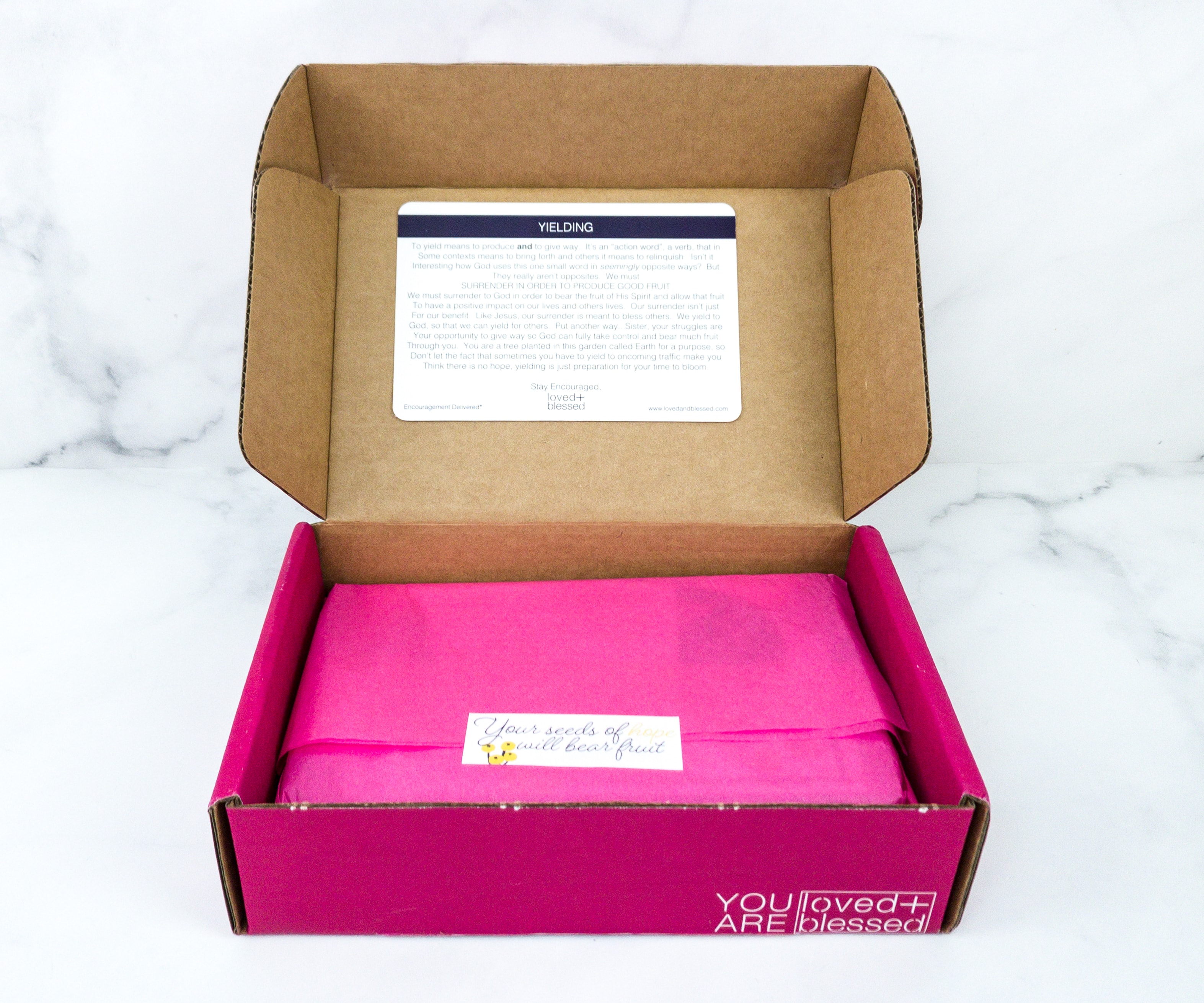 The items were secured in a bright pink wrapping paper.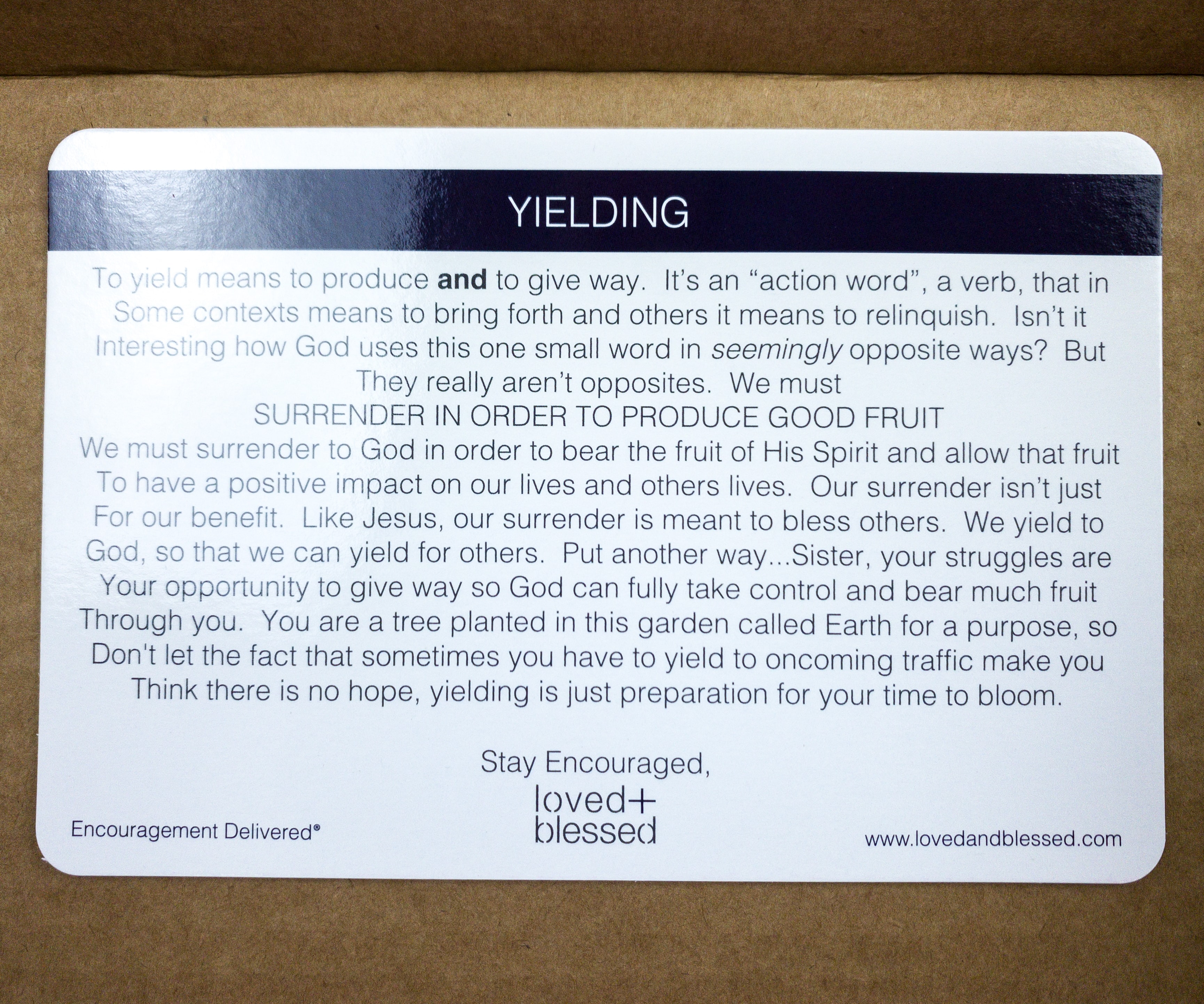 This month's theme is YIELDING.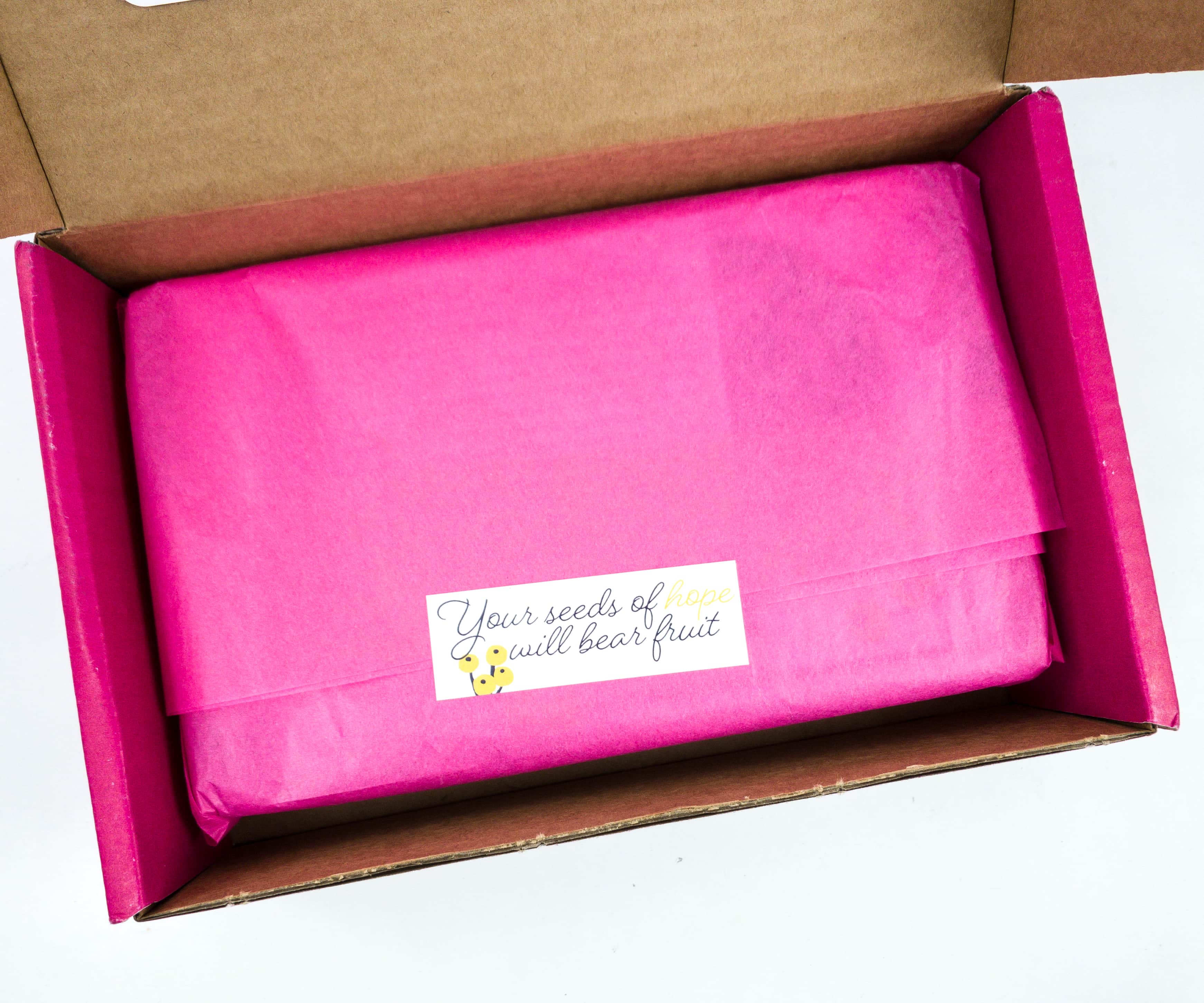 There's a sticker that seals the wrapping paper. It says "your seeds of hope will bear fruit."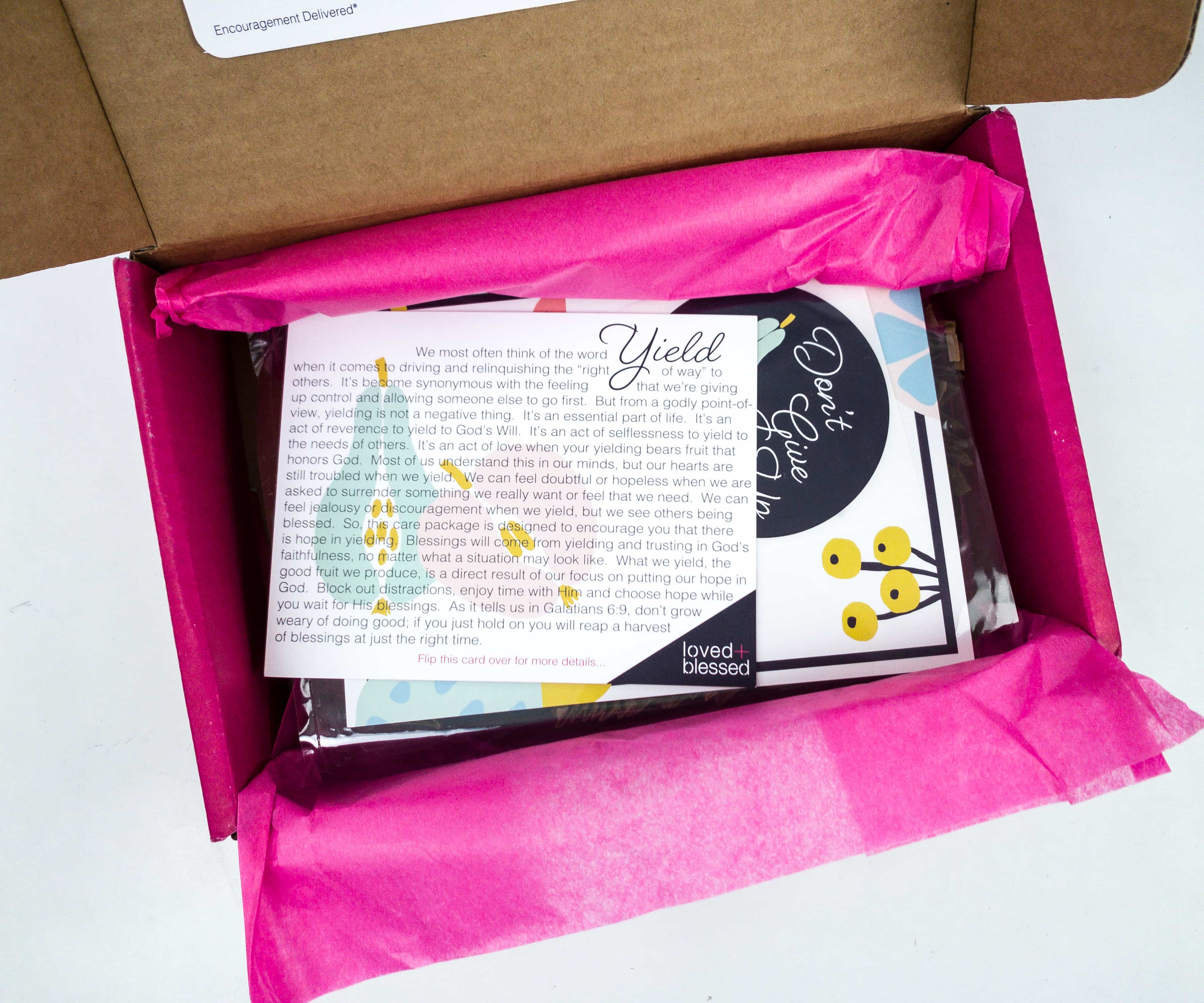 The items were neatly stacked in the box.
The card features a lot of nice things about this month's box and theme.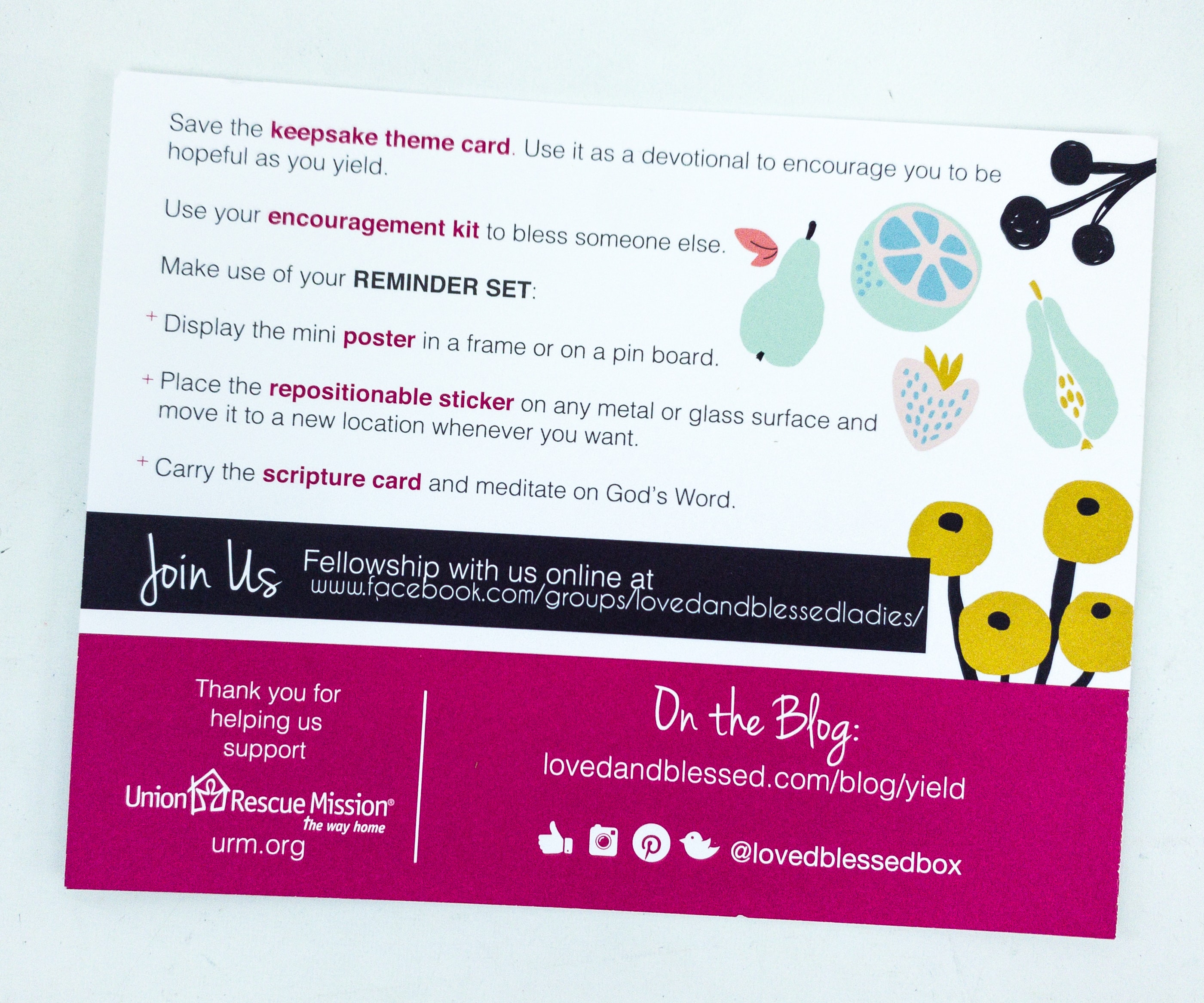 Listed at the back of the card are some reminders about the items inside the box. This box also supports the Union Rescue Mission.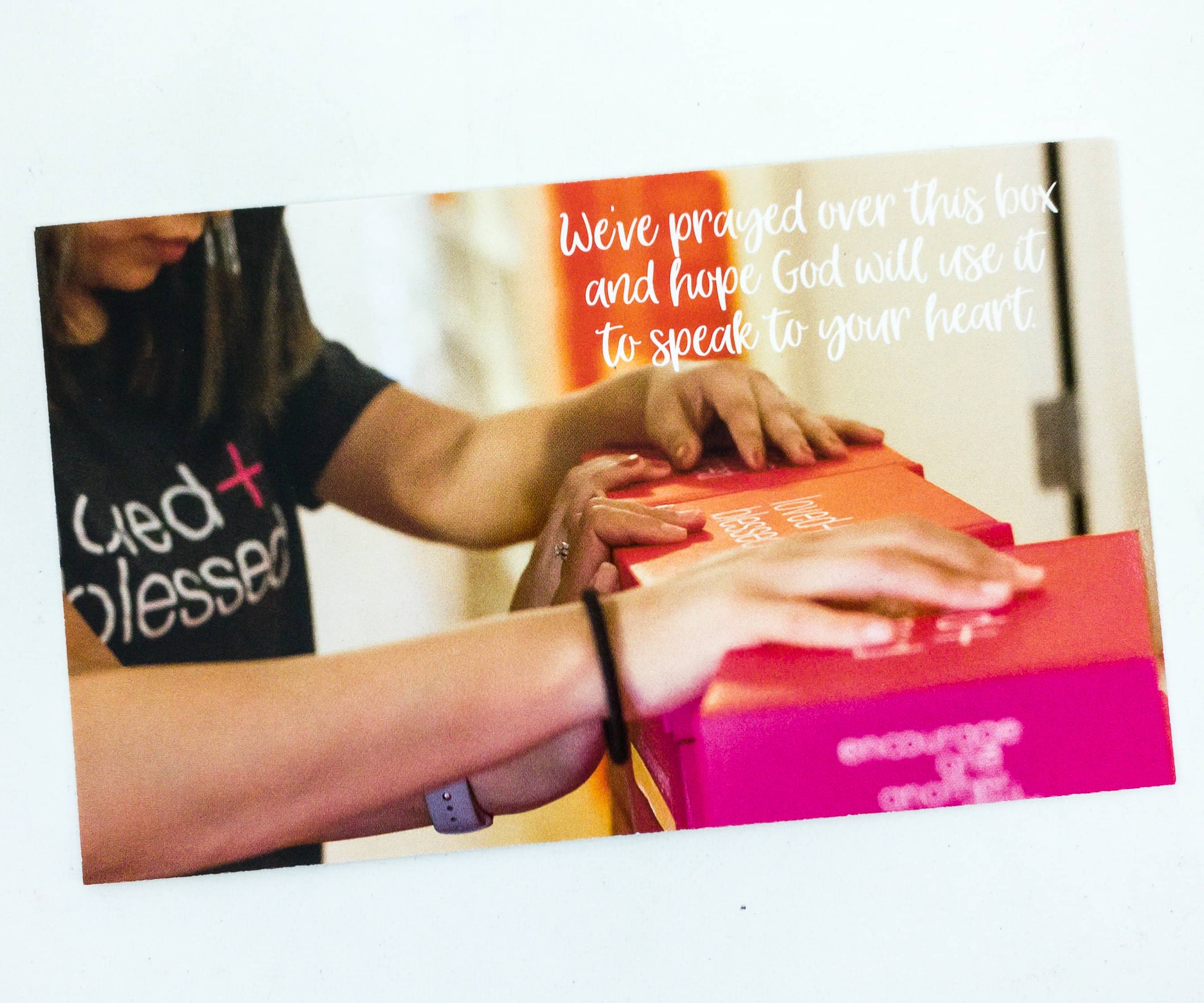 Here's another info card! It features a heartwarming message:
We've prayed over this box and hope God will use it to speak to your heart.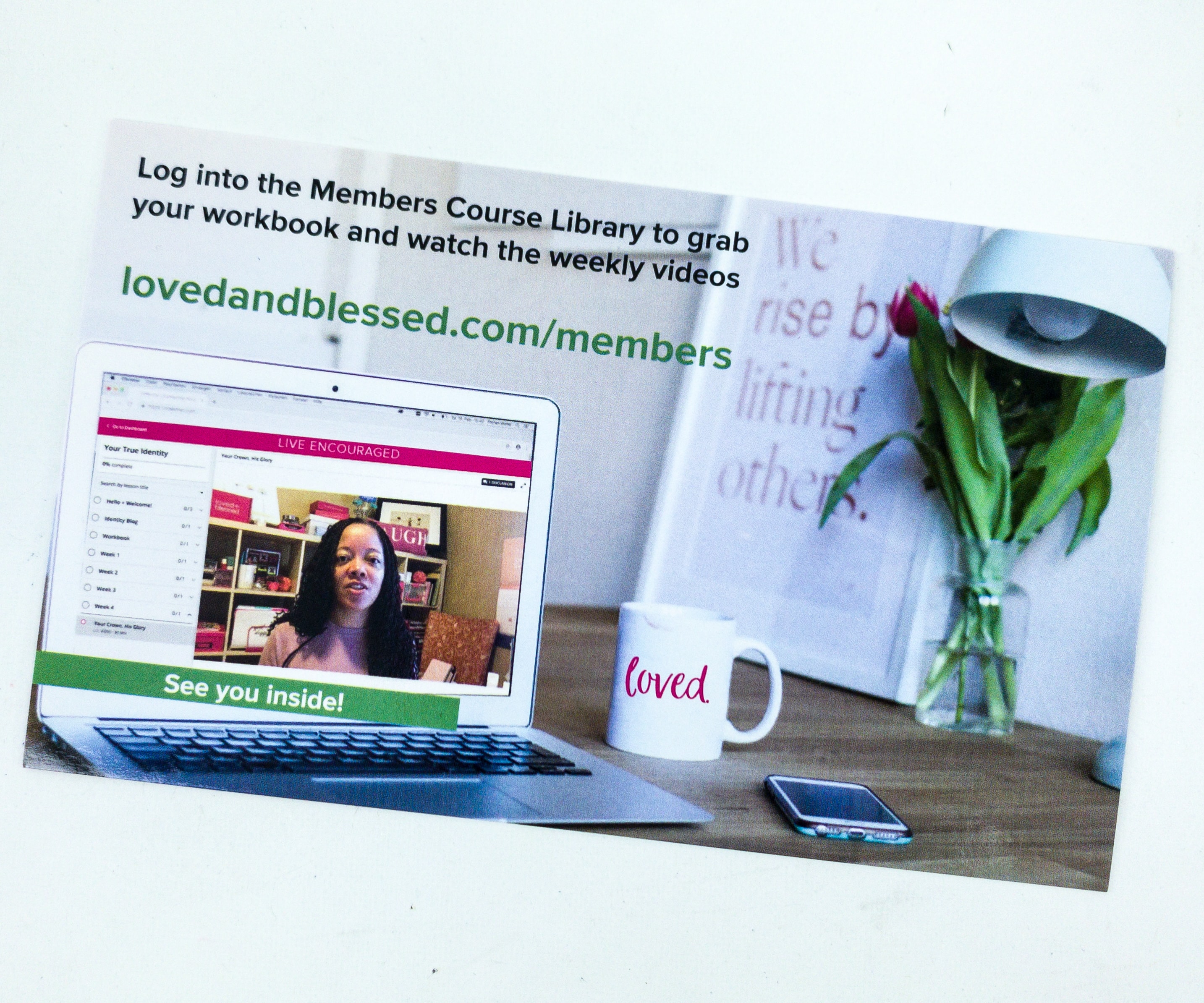 On the other side of the card, there's a reminder to log into the Members Course Library!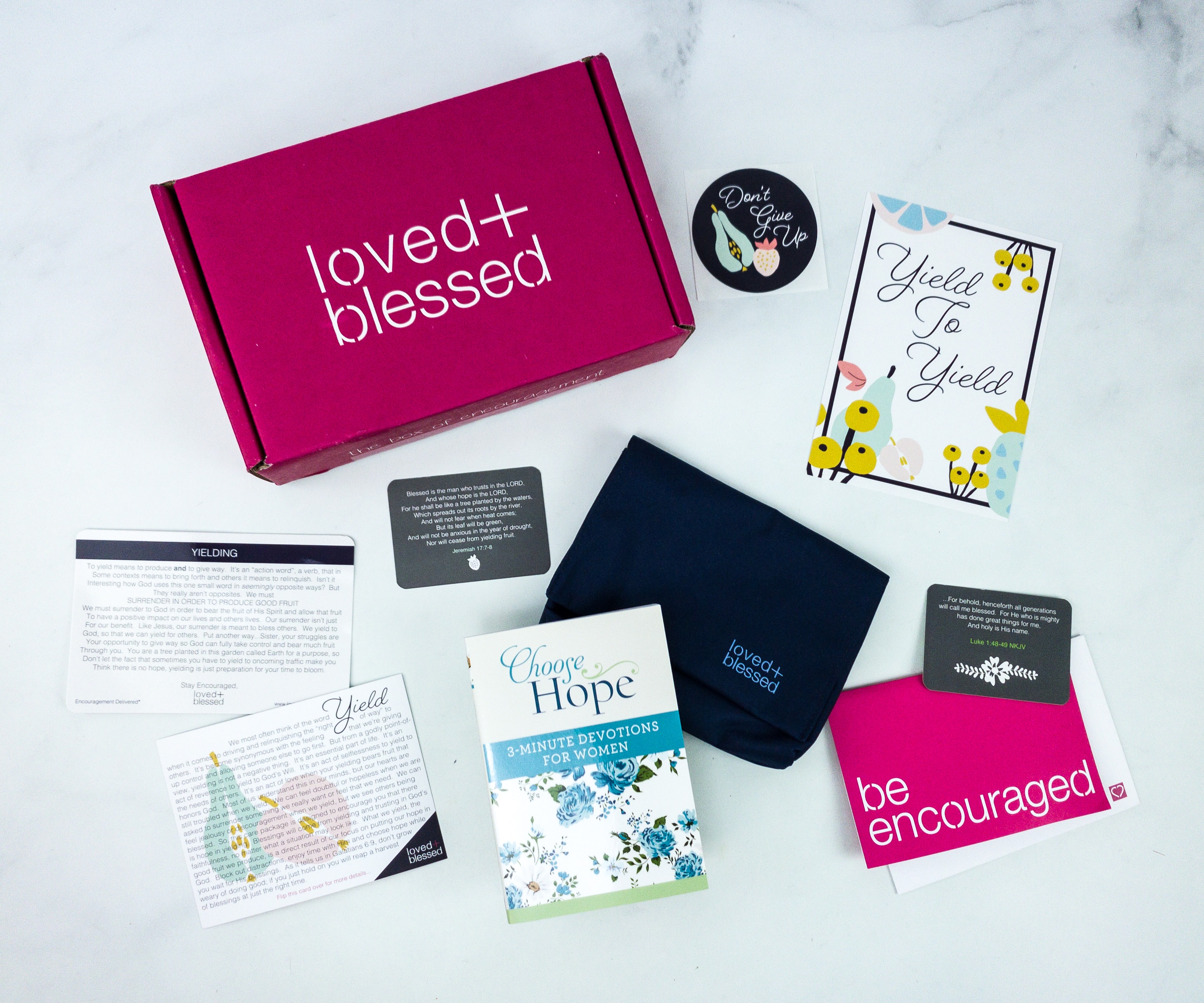 Everything in the January 2020 box!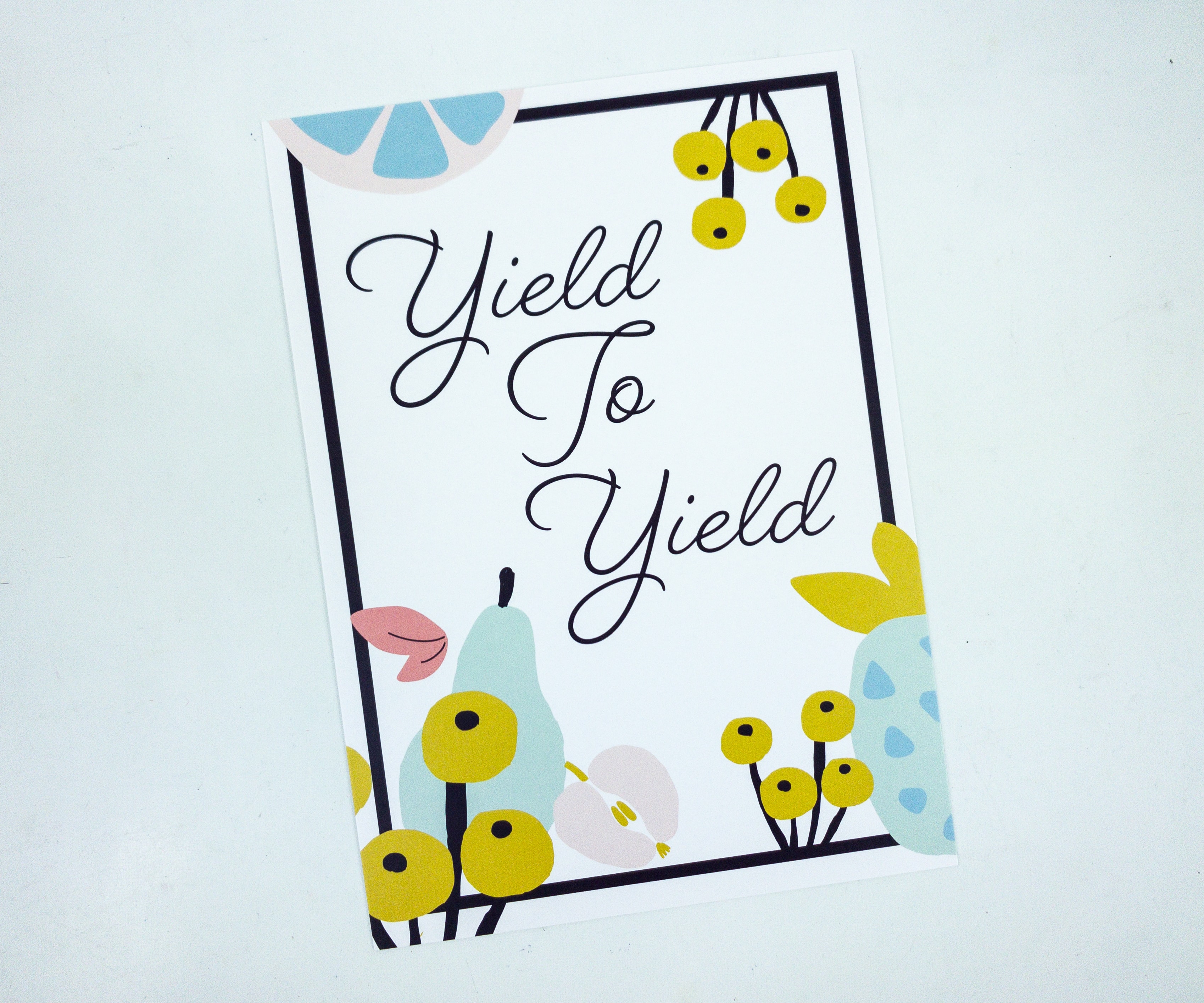 Poster. Loved+Blessed posters are always well-designed! This month, it features some fruits on the border and says "yield to yield."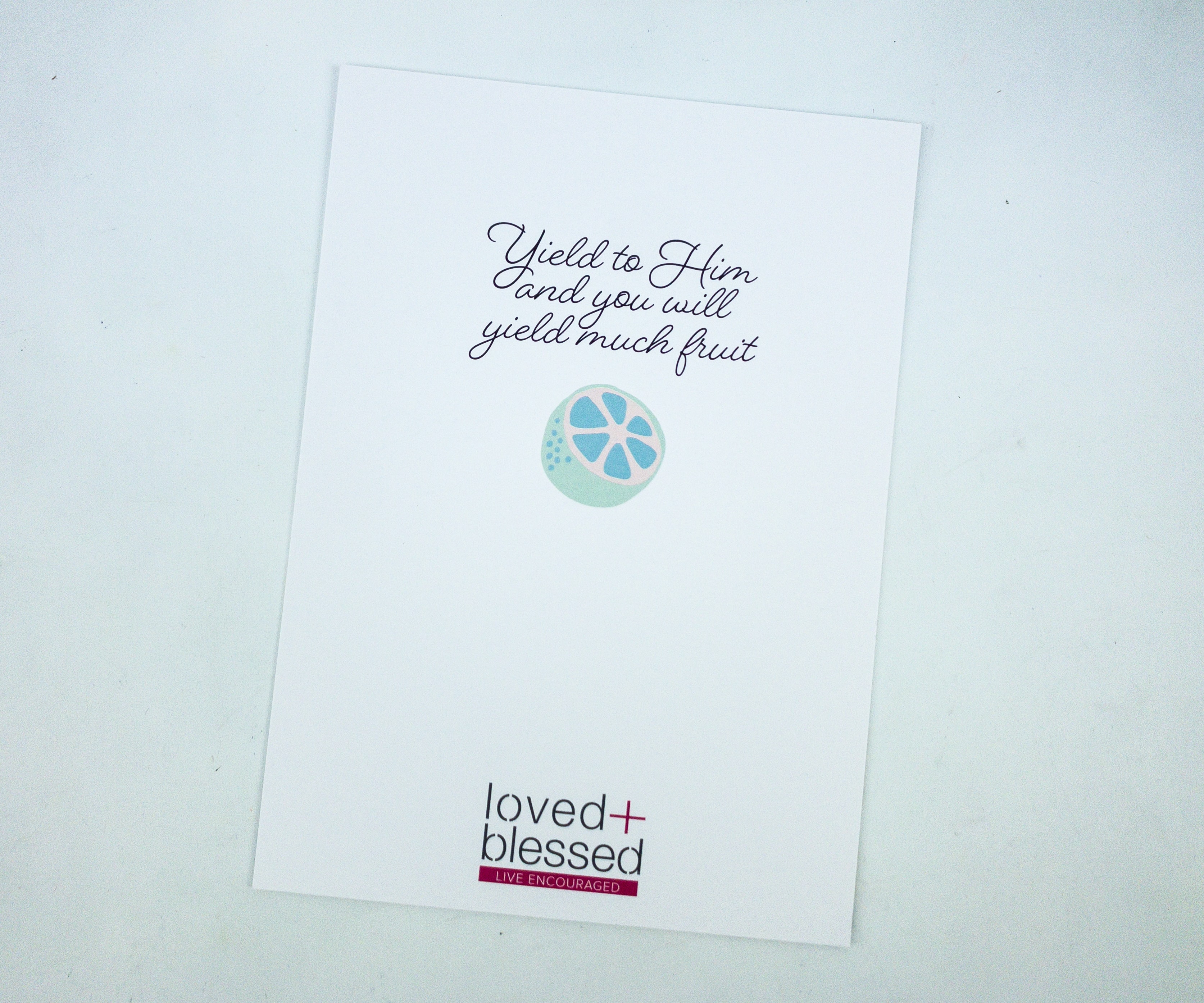 It also has a message at the back, which I definitely agree on.
Yield to Him and you will yield much fruit.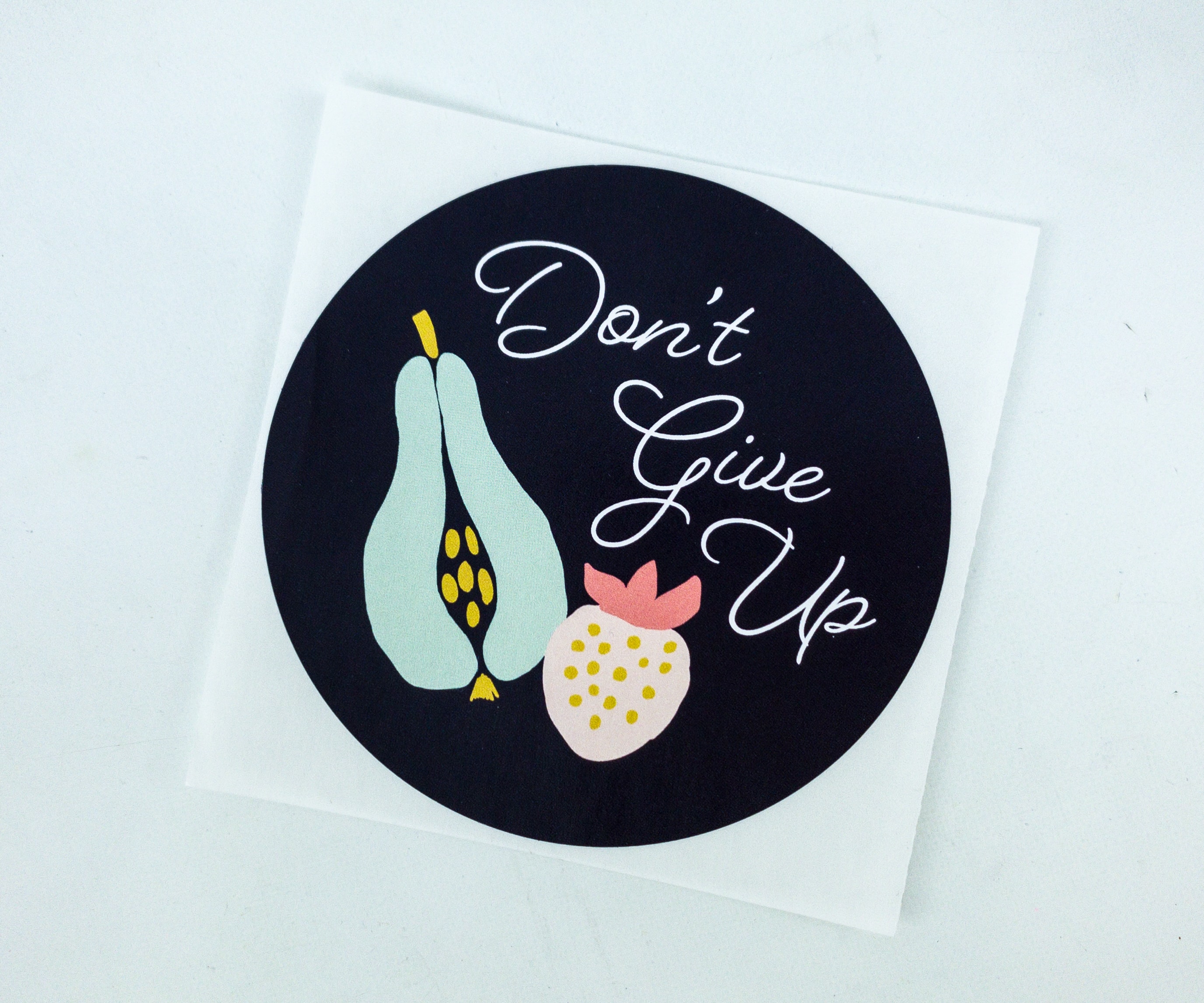 Sticker. Here's an encouraging sticker you can attach to your notebook, laptop, or other gadgets. The round sticker also features the same fruits as the poster. It also says "don't give up." Three simple words, but they mean a lot.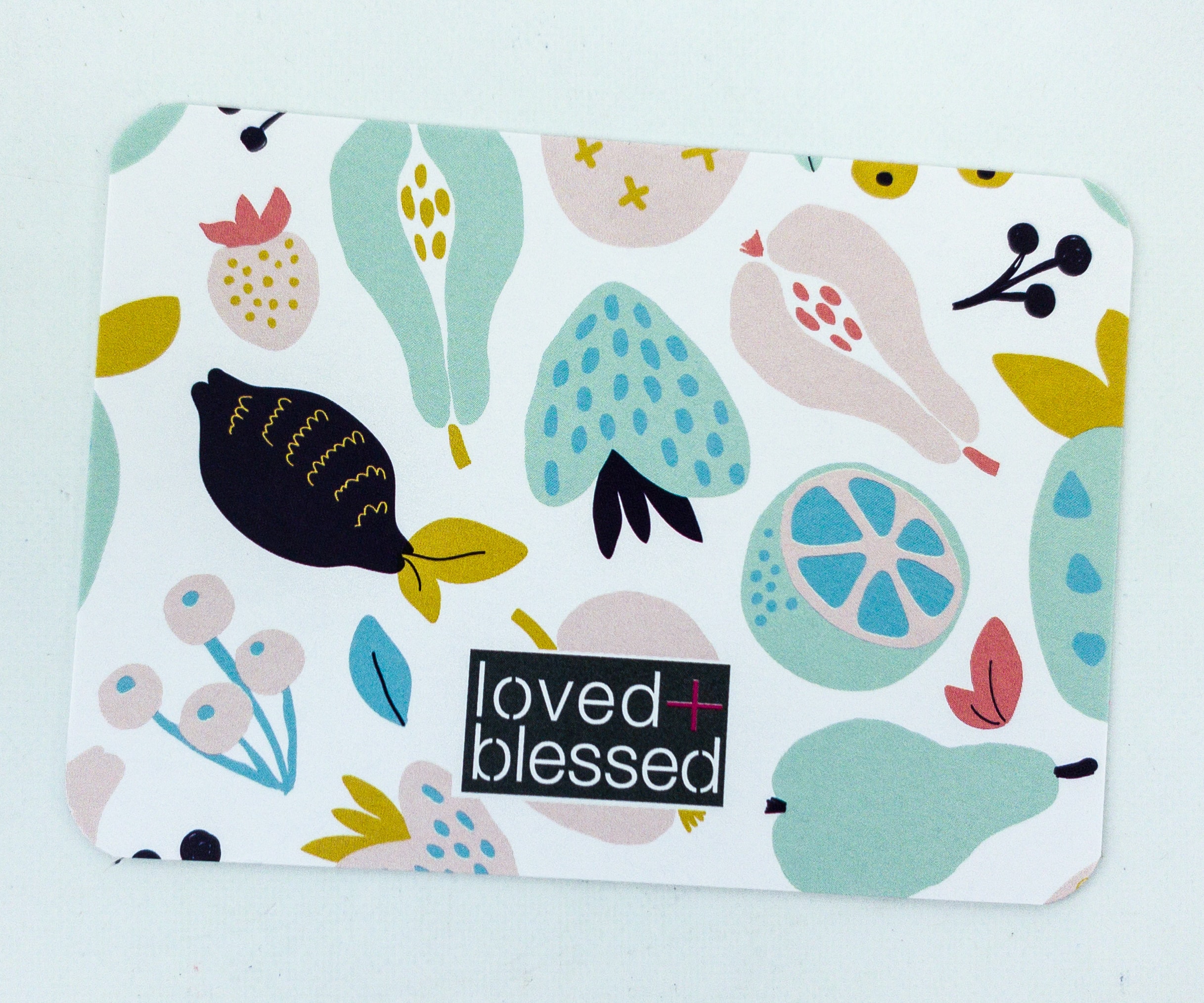 Scripture Card. The scripture card comes in a size that fits most standard wallets! The design also often follows the theme of the other items in the box.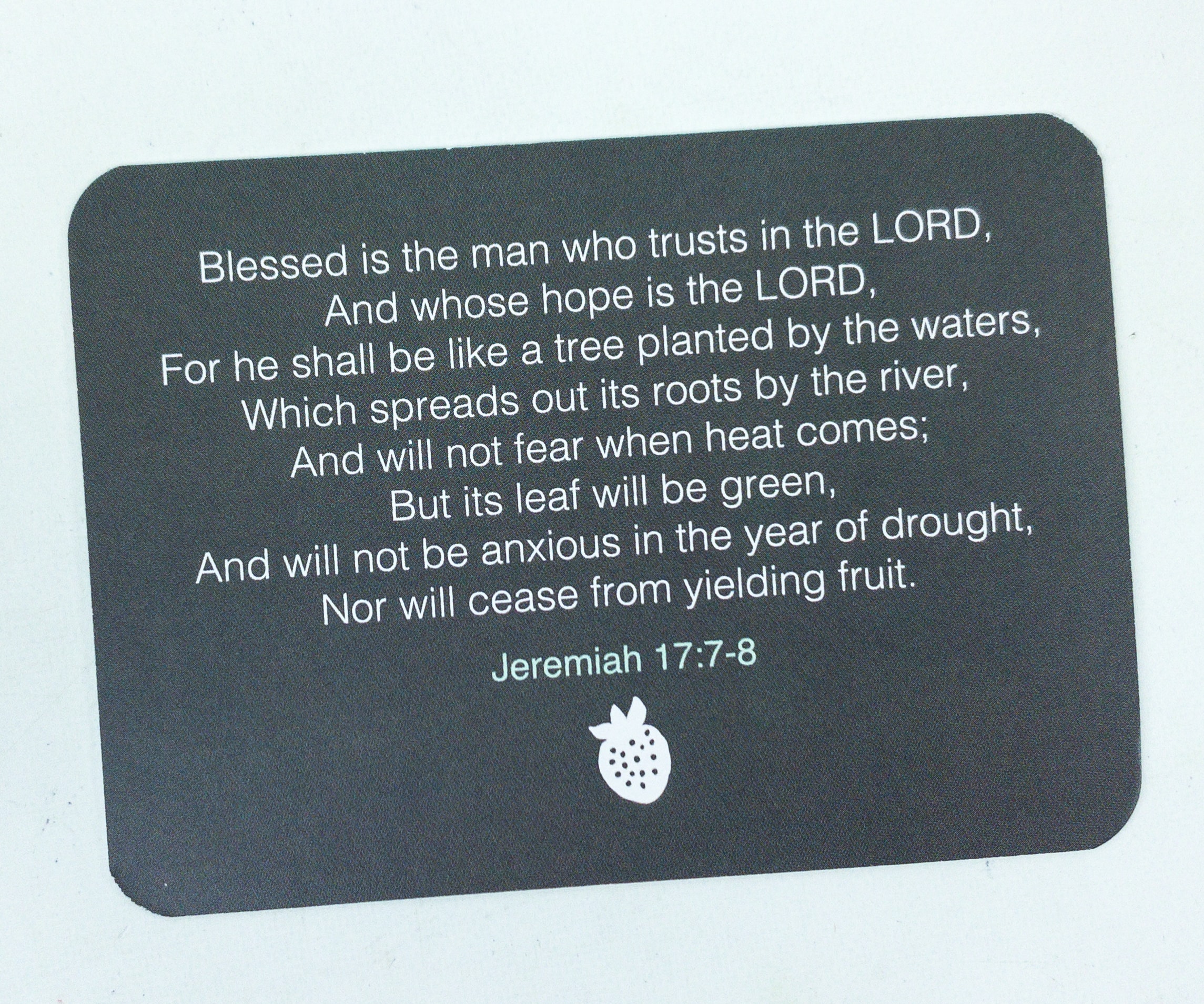 This month's featured scripture is Jeremiah 17:7-8.
Blessed is the man who trusts in the LORD,

And whose hope is the LORD,

For he shall be like a tree planted by the waters,

Which spreads out its roots by the river,

And will not fear when the heat comes;

But its leaf will be green,

And will not be anxious in the year of the drought,

Nor will cease from yielding fruit.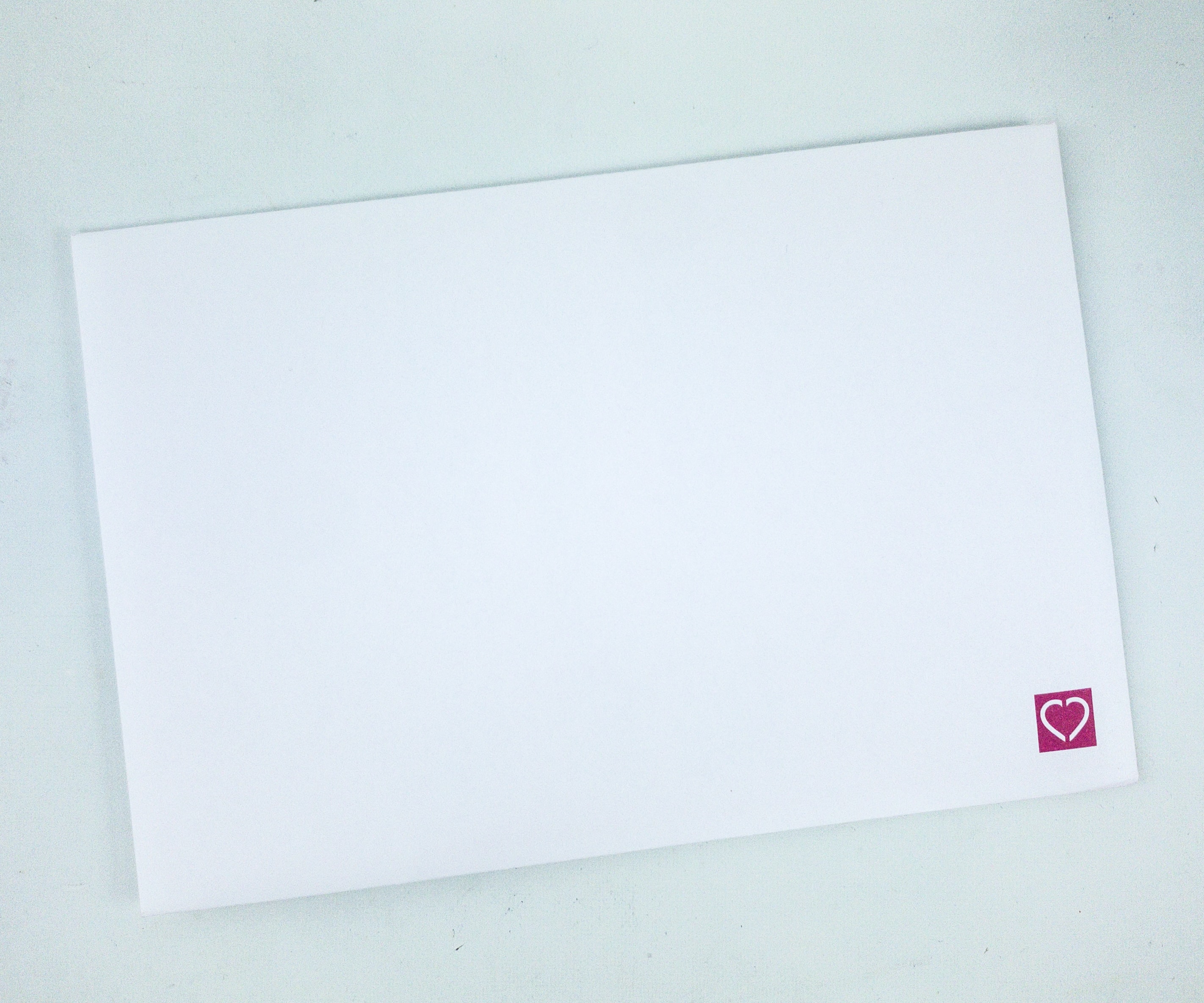 Encouragement Kit. Every box includes an Encouragement Kit, meant to be passed on to a friend, loved one, or even a stranger to encourage them or at least give them words of support.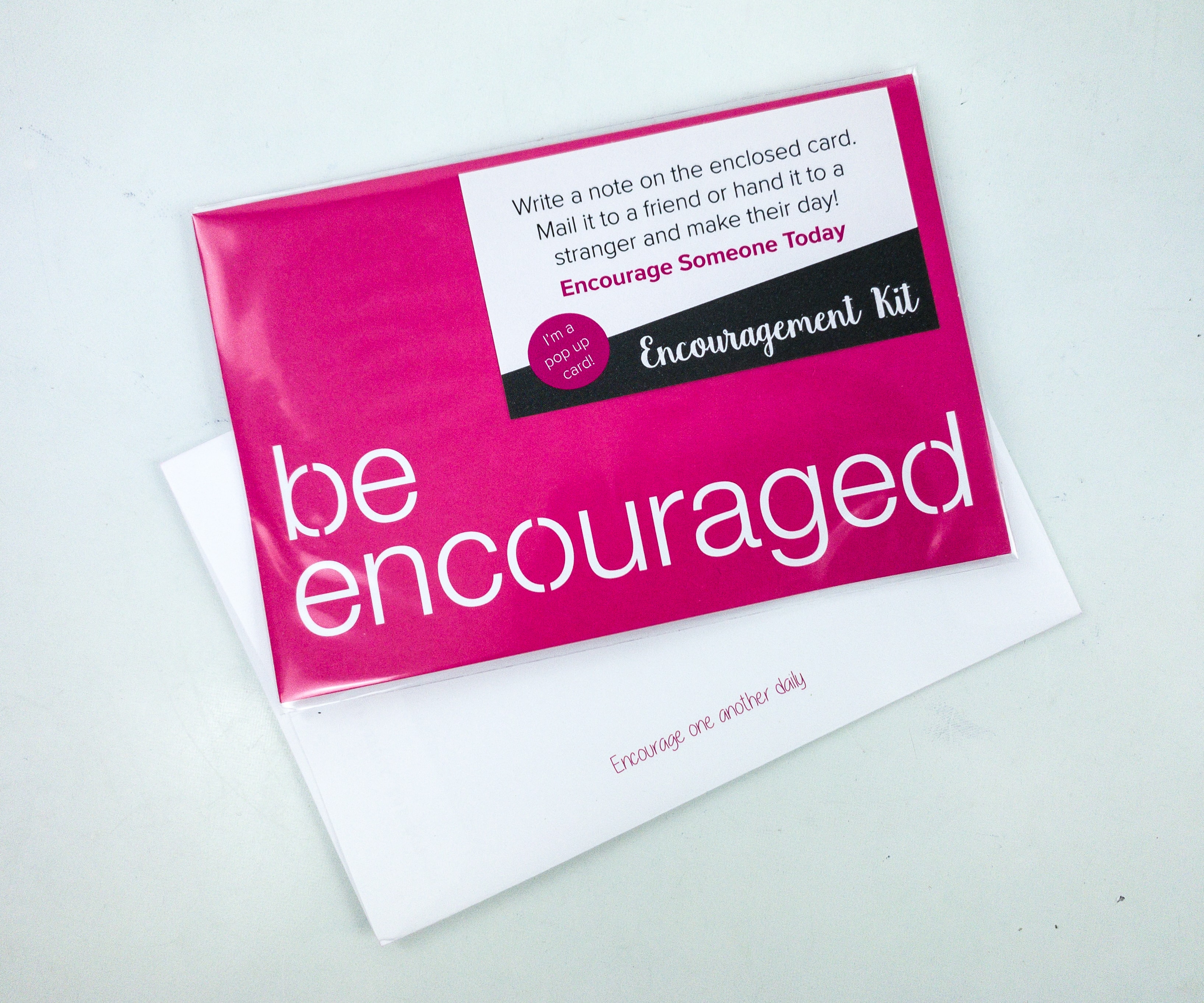 It comes with a bright pink card that says "be encouraged."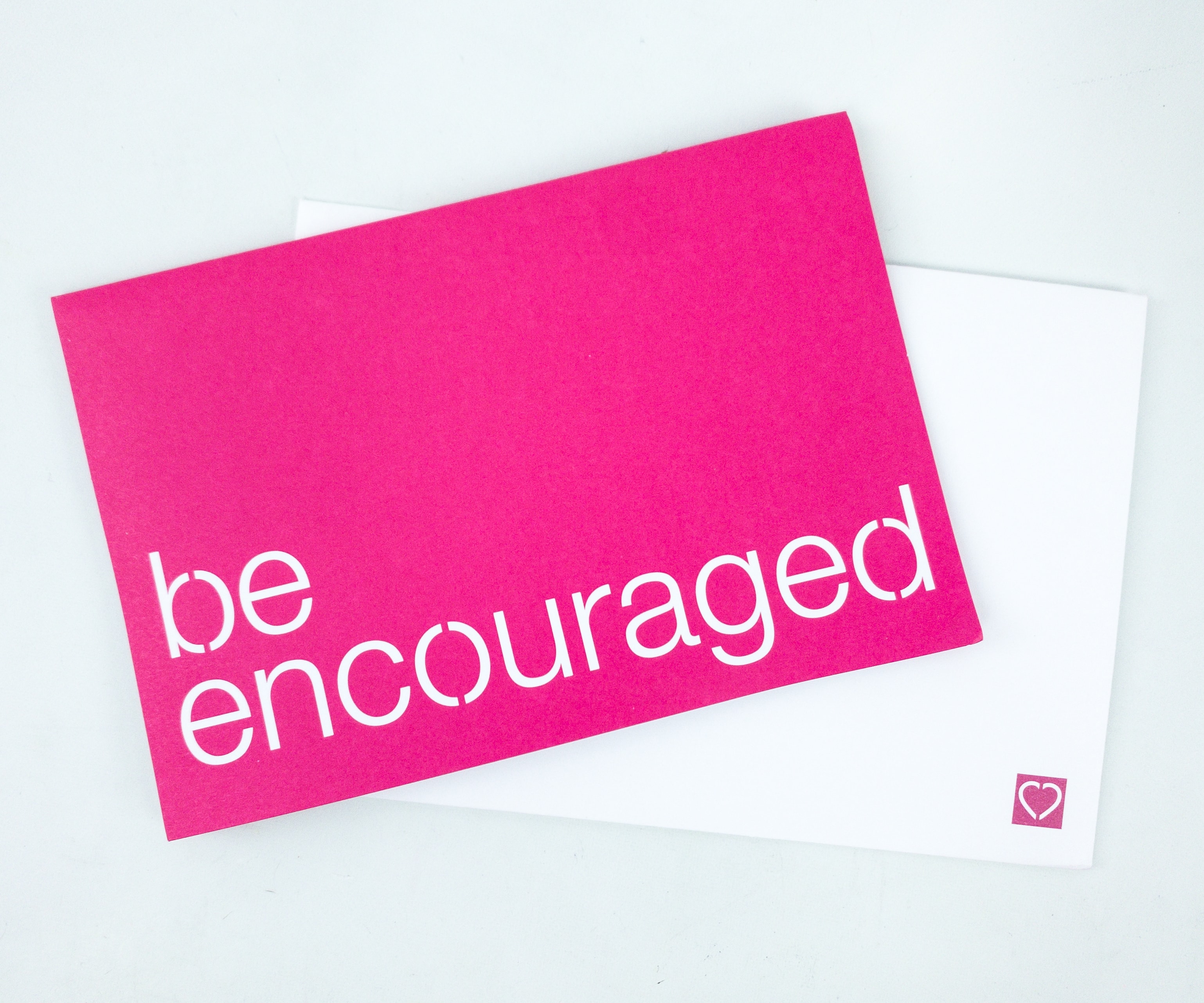 You can write a personal message inside as well.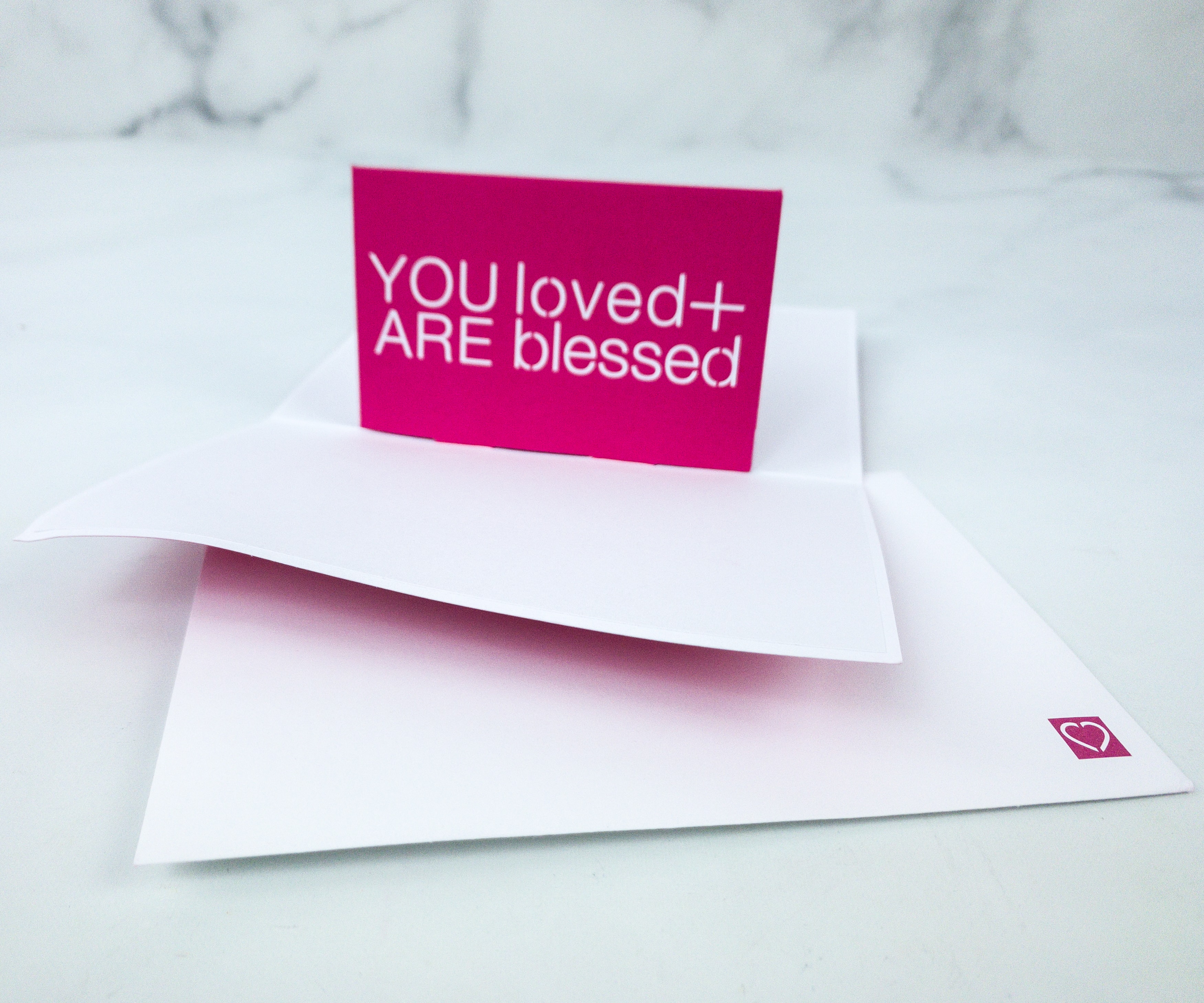 Inside the card is another envelope!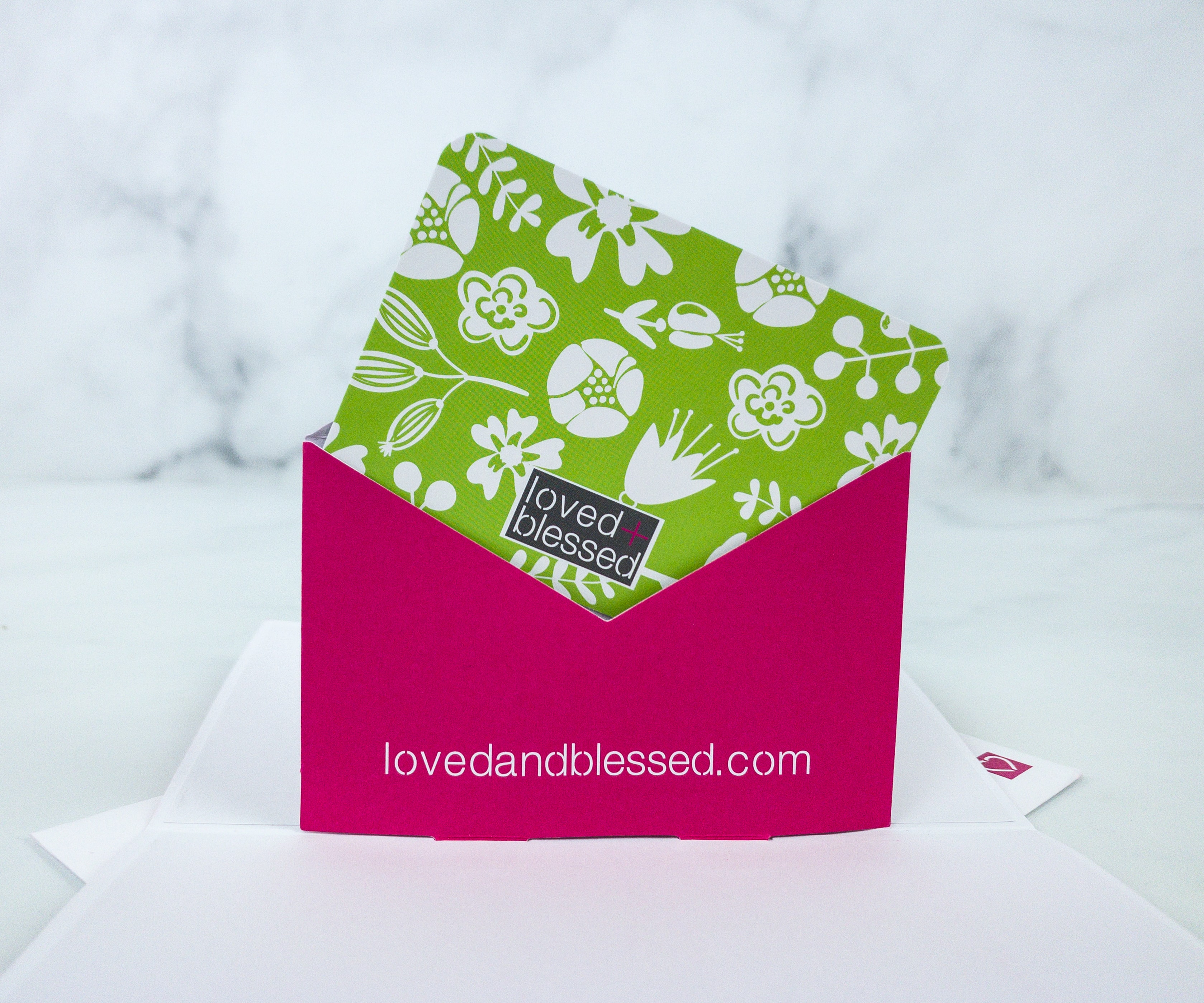 The pop-up envelope has another scripture card.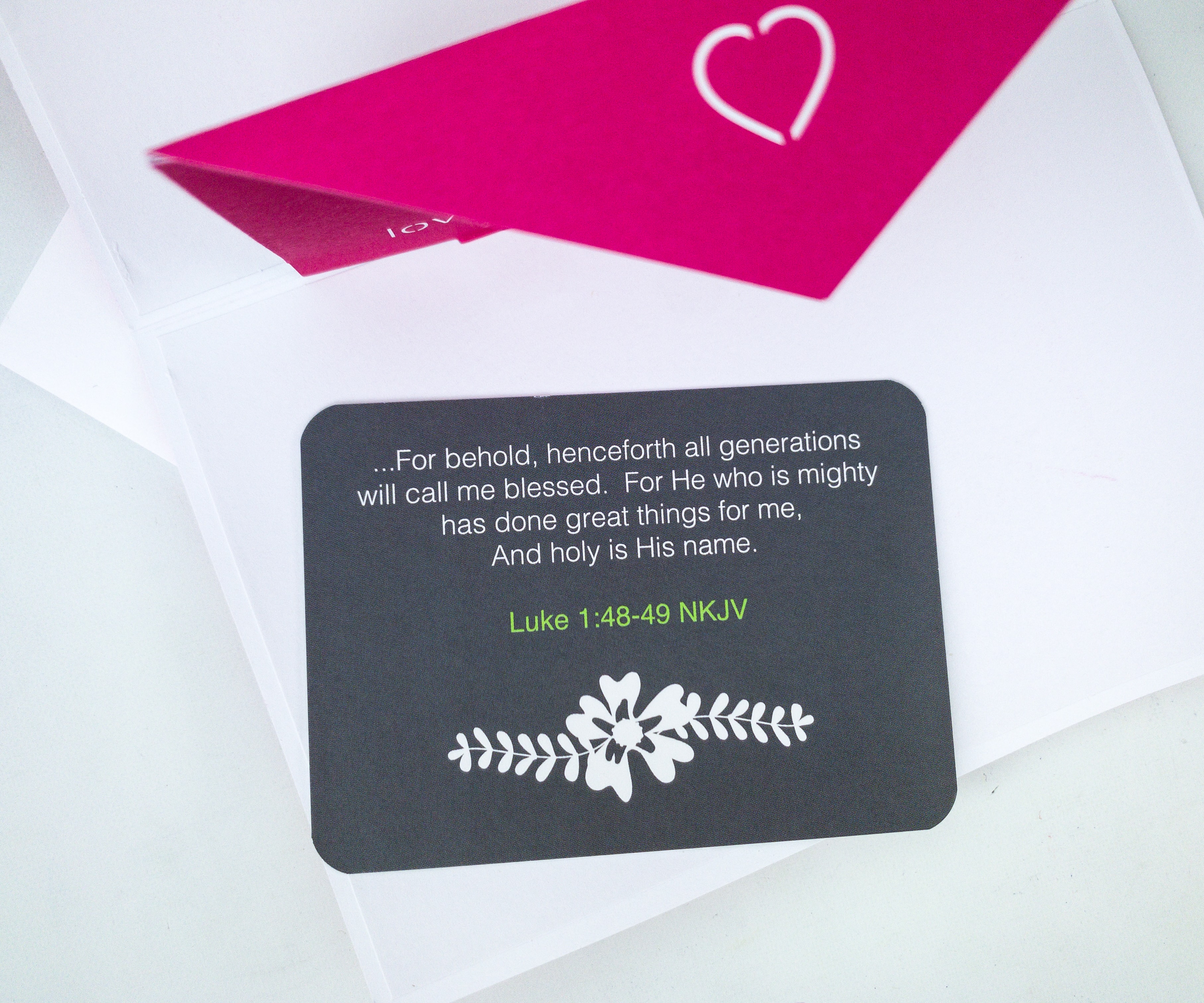 The scripture is from Luke 1:48-49 NKJV.
…For behold, henceforth all generations will call me blessed. For He who is mighty has done great things for me,

And holy is His name.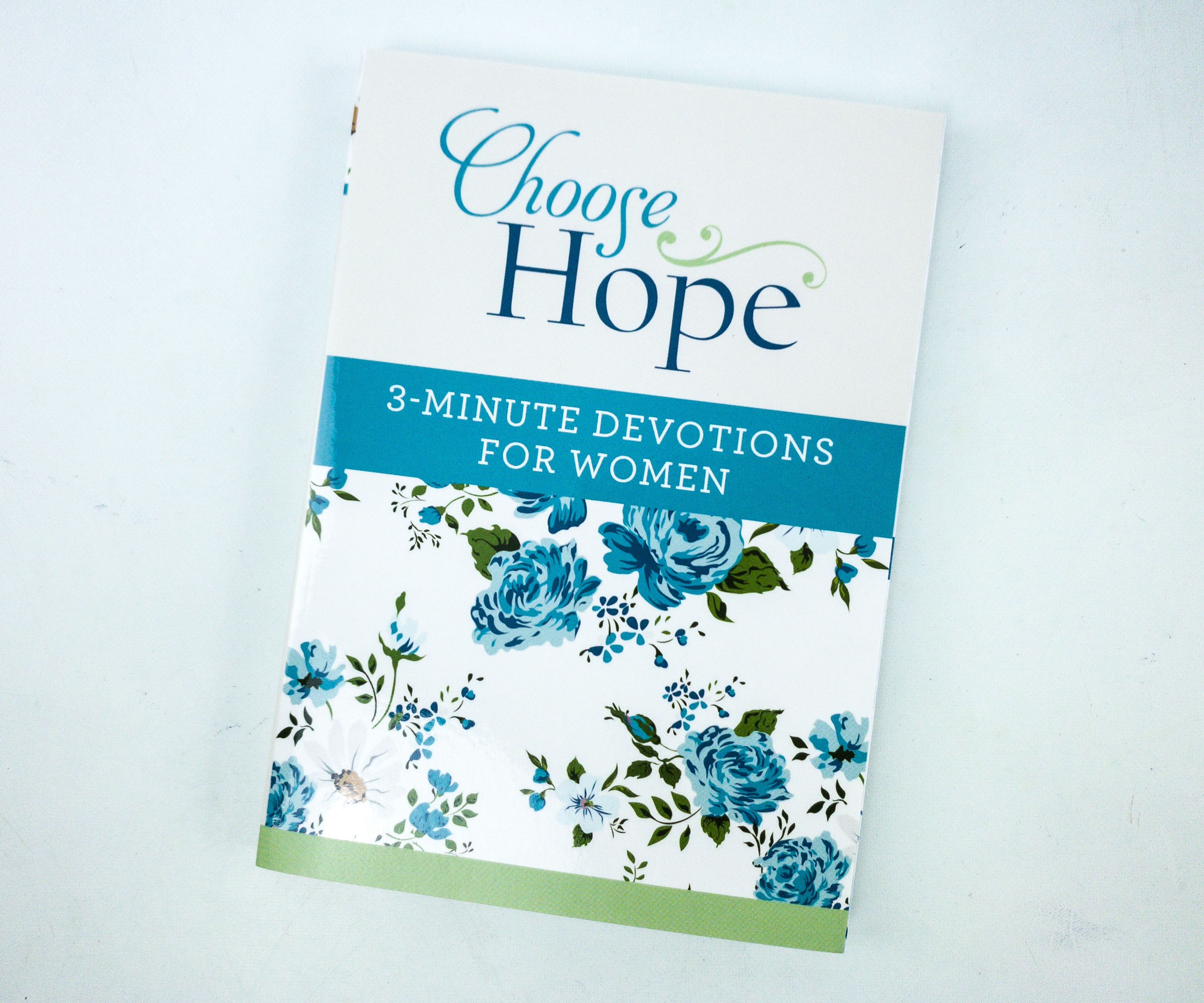 Choose Hope: 3-Minute Devotions For Women by Barbour Staff ($4.59)
Got 3 minutes to spare? You'll find the spiritual pick-me-up you need in Choose Hope: 3-Minute Devotions for Women. Written especially the twenty-first-century woman, this delightful devotional packs a powerful dose of comfort, encouragement, and hope into just-right-sized readings. Minute 1: scripture to meditate on; Minute 2: a short devotional reading; Minute 3: a prayer to jump-start a conversation with God. This portable package makes a fabulous any-occasion gift for every woman.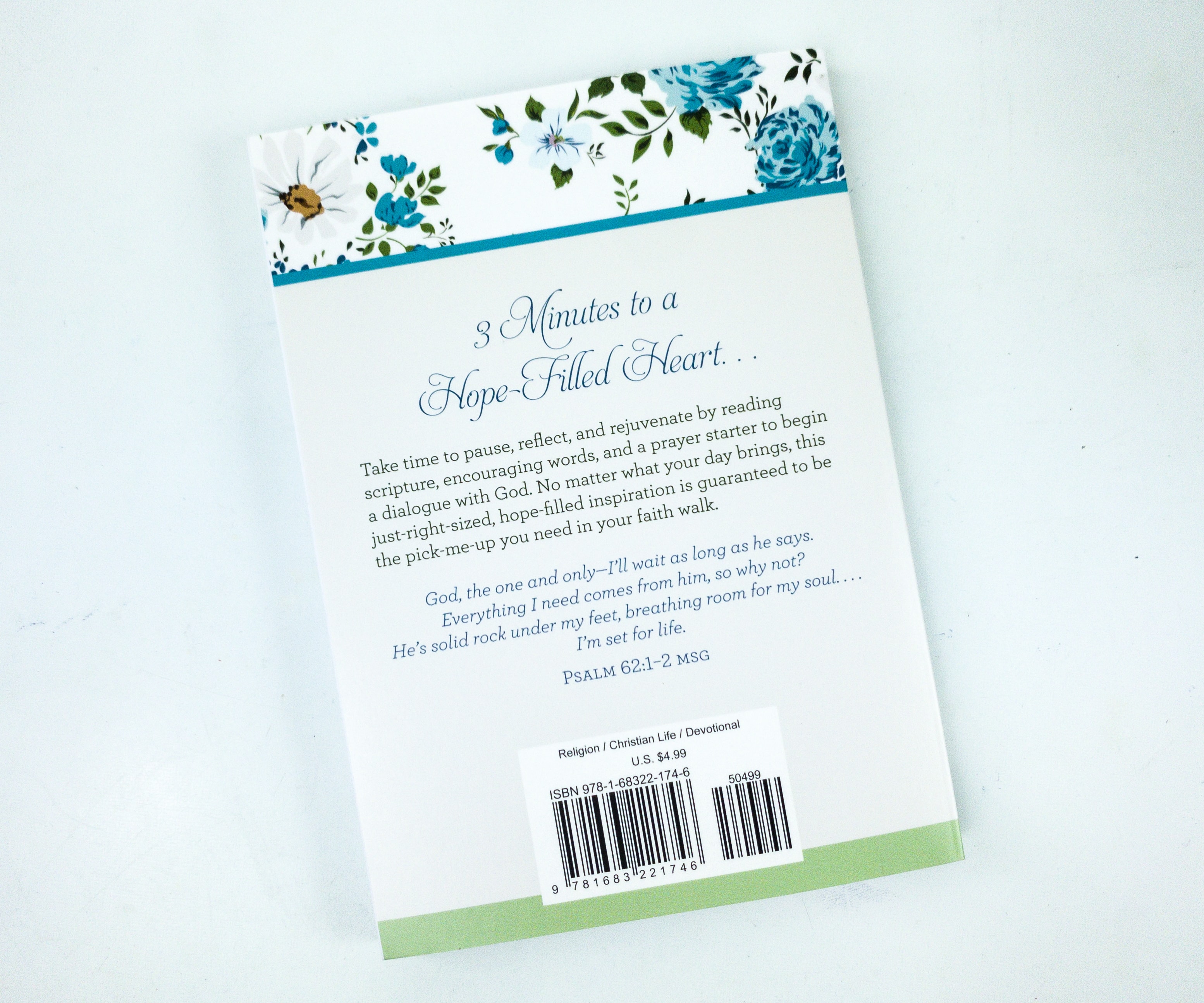 This book contains scripture and encouraging words.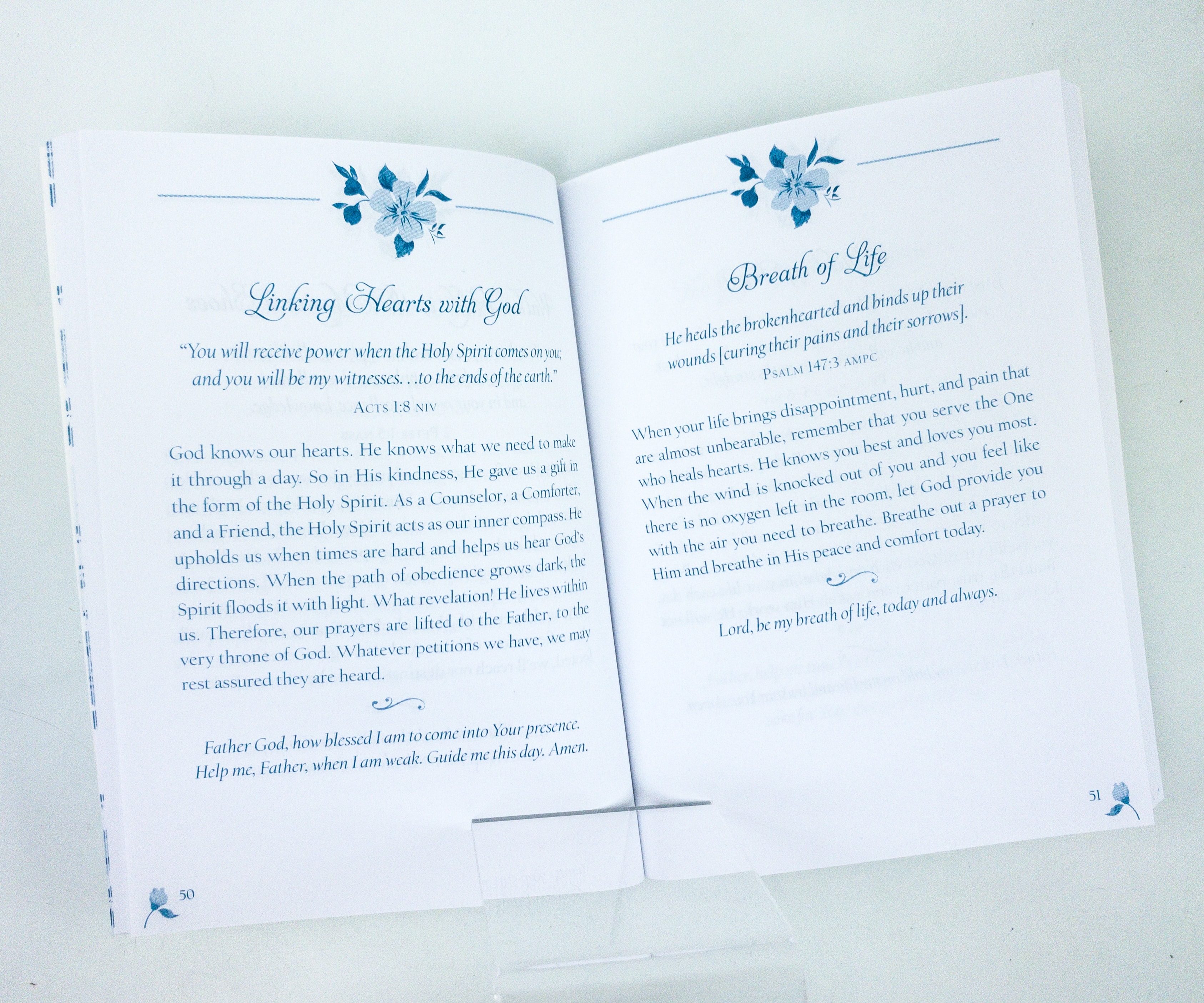 There's one page dedicated to each topic. Having a devotional book like this helps build a habit of reflecting even just for a few minutes every day.
There's even a prayer at the end of each page!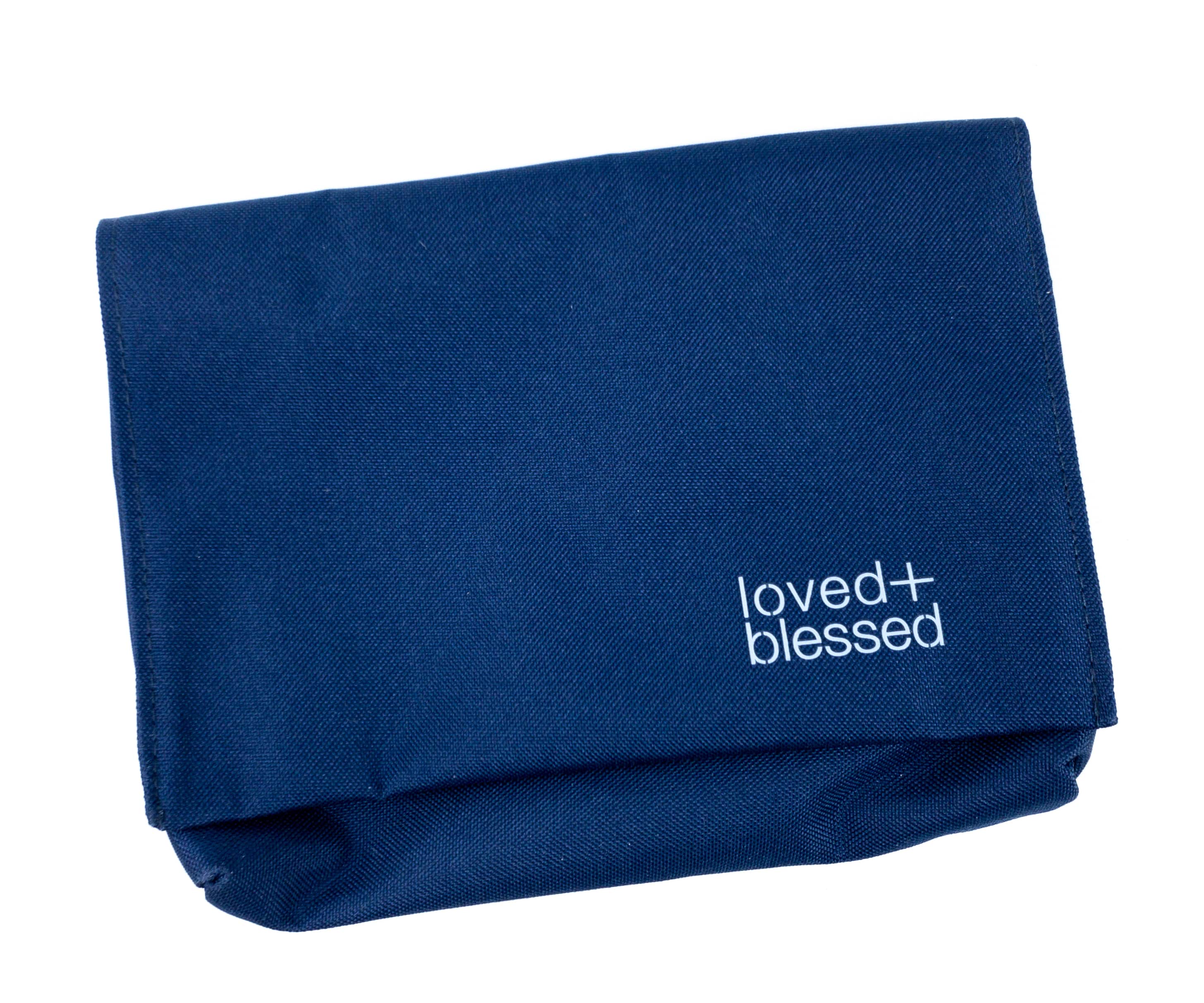 Clutch Bag. I like this clutch bag! Simple yet handy, it comes in navy blue with a Loved+Blessed branding embroidered on it.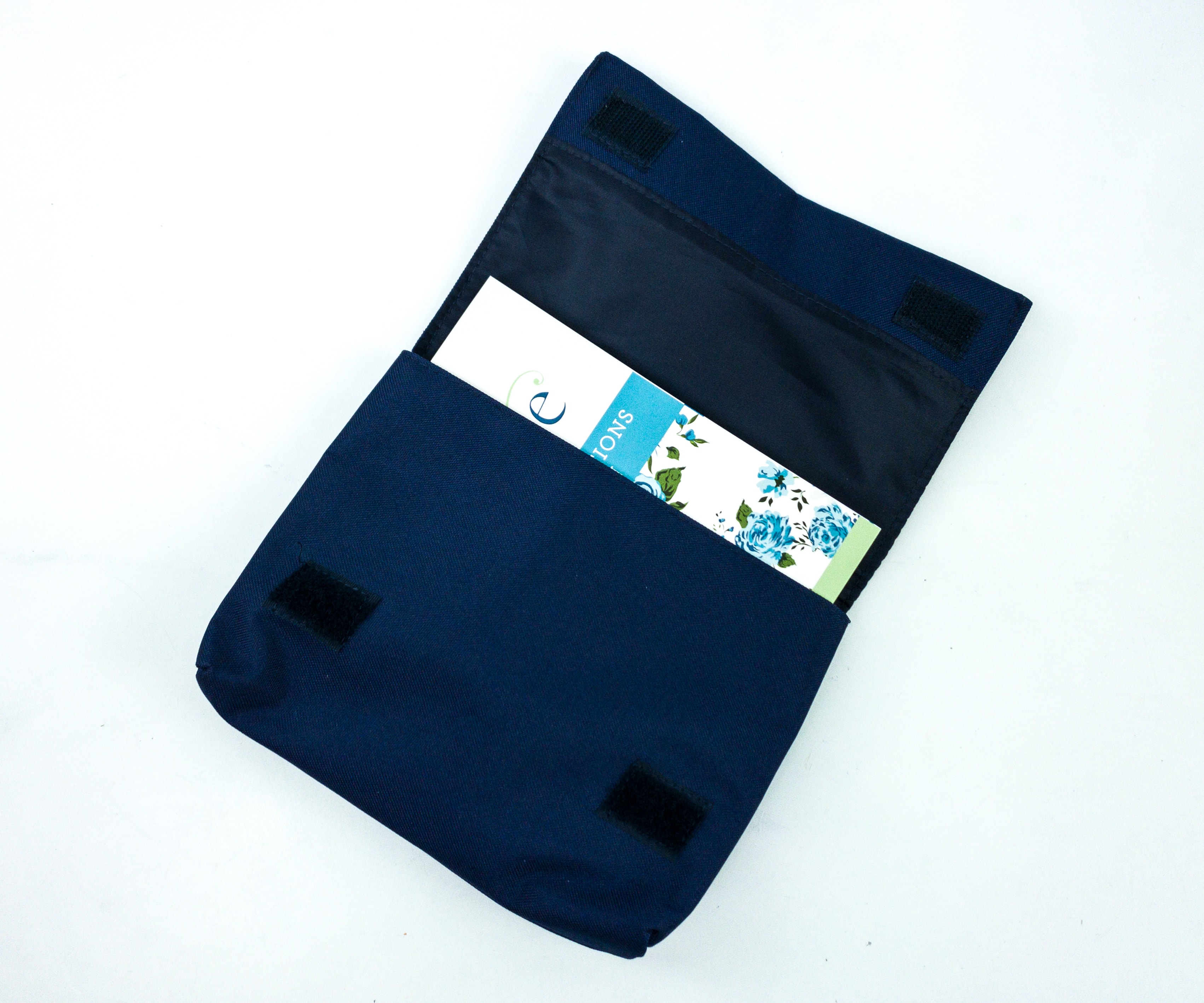 It fits the devotion book, making it easier for me to carry it around wherever I go. It can also fit a small notebook and pens.
It always feels nice to open a Loved+Blessed box, because I know it's filled with encouraging words and other goodies that I can share with others so I can help uplift them. As always, the poster, scripture card, and sticker have coordinated designs that go in line with the theme. I love getting new posters because I can put them up just about anywhere in the house to serve as a reminder or encouragement. I also like this month's clutch bag! It's pretty useful for me as it fits a bunch of my essentials and it's easy to bring with me when I do errands or when I travel. If you're someone who needs a monthly dose of encouragement, this subscription is for you. Their themes are always well-thought-out and inspiring!
What did you think of Loved + Blessed this month?