Free Your Tea is a tea discovery service that sends 6 samples to you in your first month based on answers you give to their tea survey. You try those samples and then rate them on the Free Your Tea website, and the next month they will send you a large bag of tea (enough for a daily cup of tea) plus one sample so you can keep discovering flavors you love. They also offer a caffeine-free option for those who prefer less stimulation from their beverage. Free Your Tea is $20 a month, or sign up for longer terms and the price drops, as low as $16 a month for the 12-month plan. You can also add on additional bags of tea.
Free Your Tea is a personalized tea subscription that tailors teas to taste based on subscriber preferences and tea ratings. The teas are premium loose leaf teas sourced from tea plantations around the world. The goal is for everyone to discover new favorite teas.
DEALS:
Get 50% Off You First Month of Personalized Tea subscription! Use coupon code BLACKFRIDAY50.
Pay only $15 per month for 6 months of Personalized Tea subscription – that's $30 off! Use coupon code BF6MO25.
Save 10% on 3+ month prepaid subscriptions! Use coupon code HELLOPREPAY.
Everything in my box! Last shipment I received two full-sized bags (one was an add on) plus a sample, so this month I received a full-sized tea based on the ratings I gave at the Free Your Tea website. The standard subscription comes with a full-sized bag of tea plus another sample, and you can add extra bags of tea for an additional fee. The big bags have enough tea to make about 30 cups each, while the sample is enough for around 3 cups. I am reviewing the One Cup a month plan, which is $20 a month.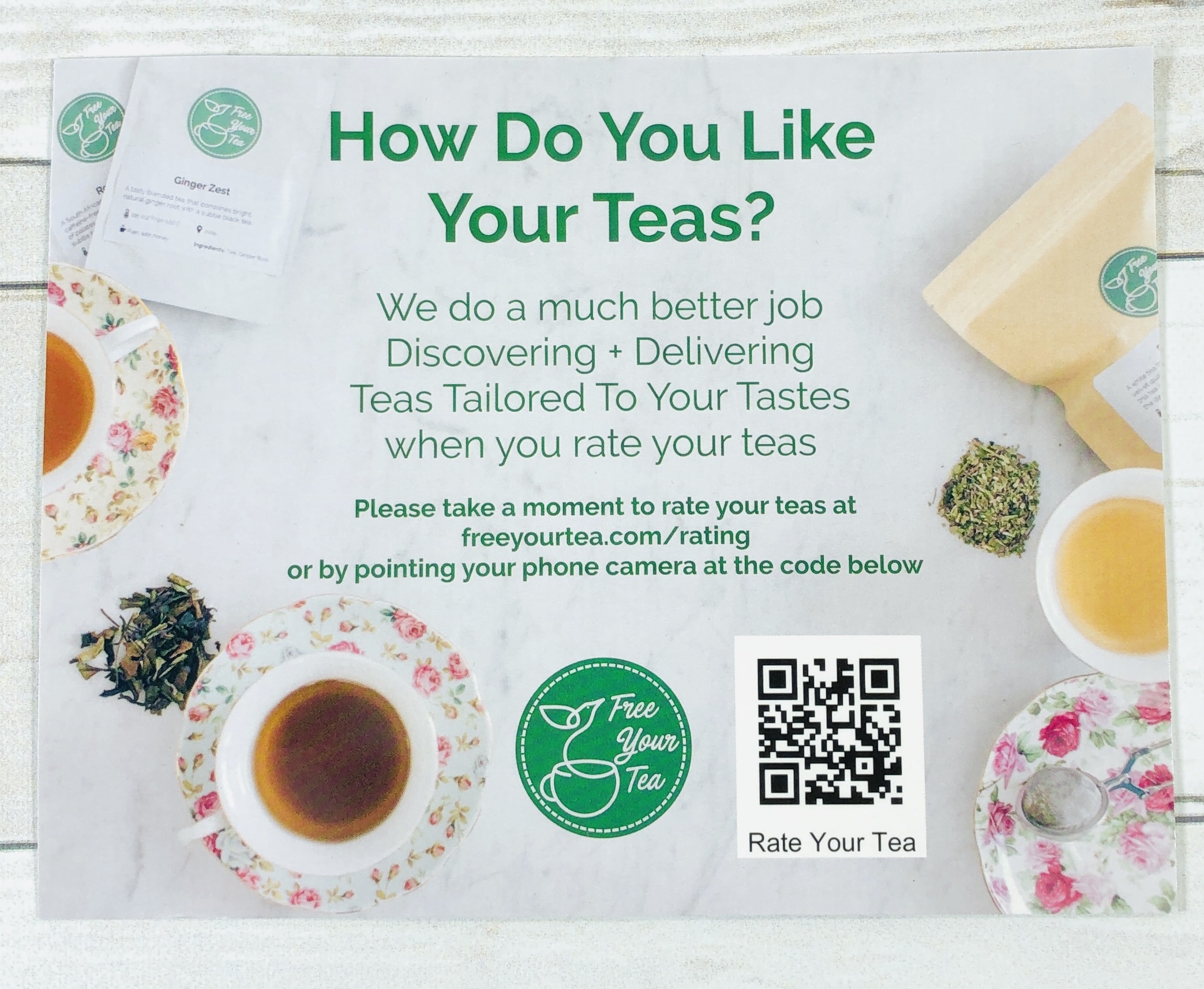 I received a card reminding me to rate my teas so future shipments will include teas picked especially for me.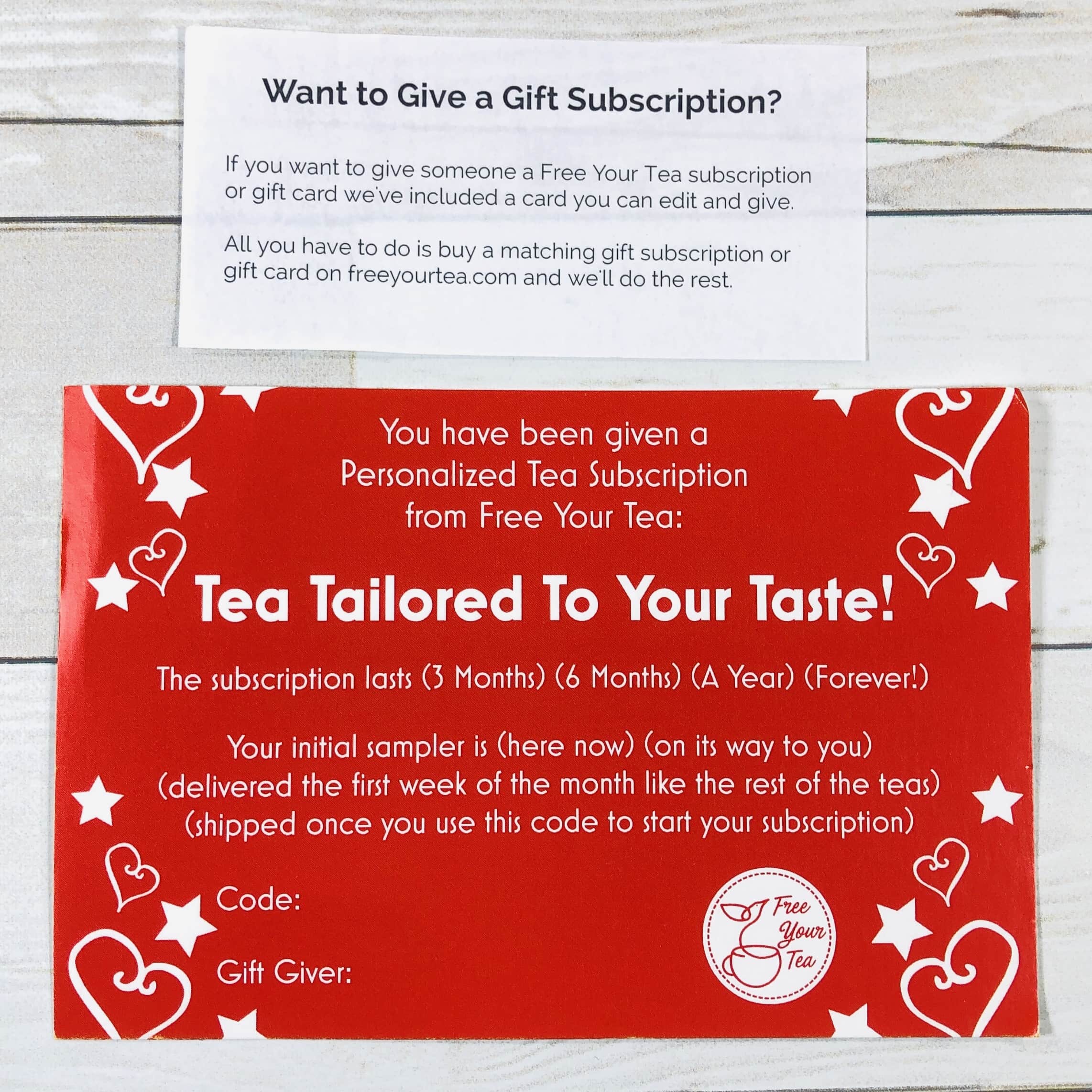 Know someone who would love the gift of tea? Free Your Tea included a card that can be given to a friend or loved one – just go to the FYT website to buy them a gift subscription! Free Your Tea also offers extra bags of seasonal teas that you can add to your subscription.
Free Your Tea Extra Strong Assam When I rated my teas I noted that I prefer strong black teas that will stand up to sugar and milk – this is how I start my day, just like some people prefer a cup of coffee. Free Your Tea sent an extra strong Assam, which is a very popular tea type and the type most often found in breakfast teas. My tea came from India and the front of the bag told me what temperature water to use – in this case I brought my water to a boil.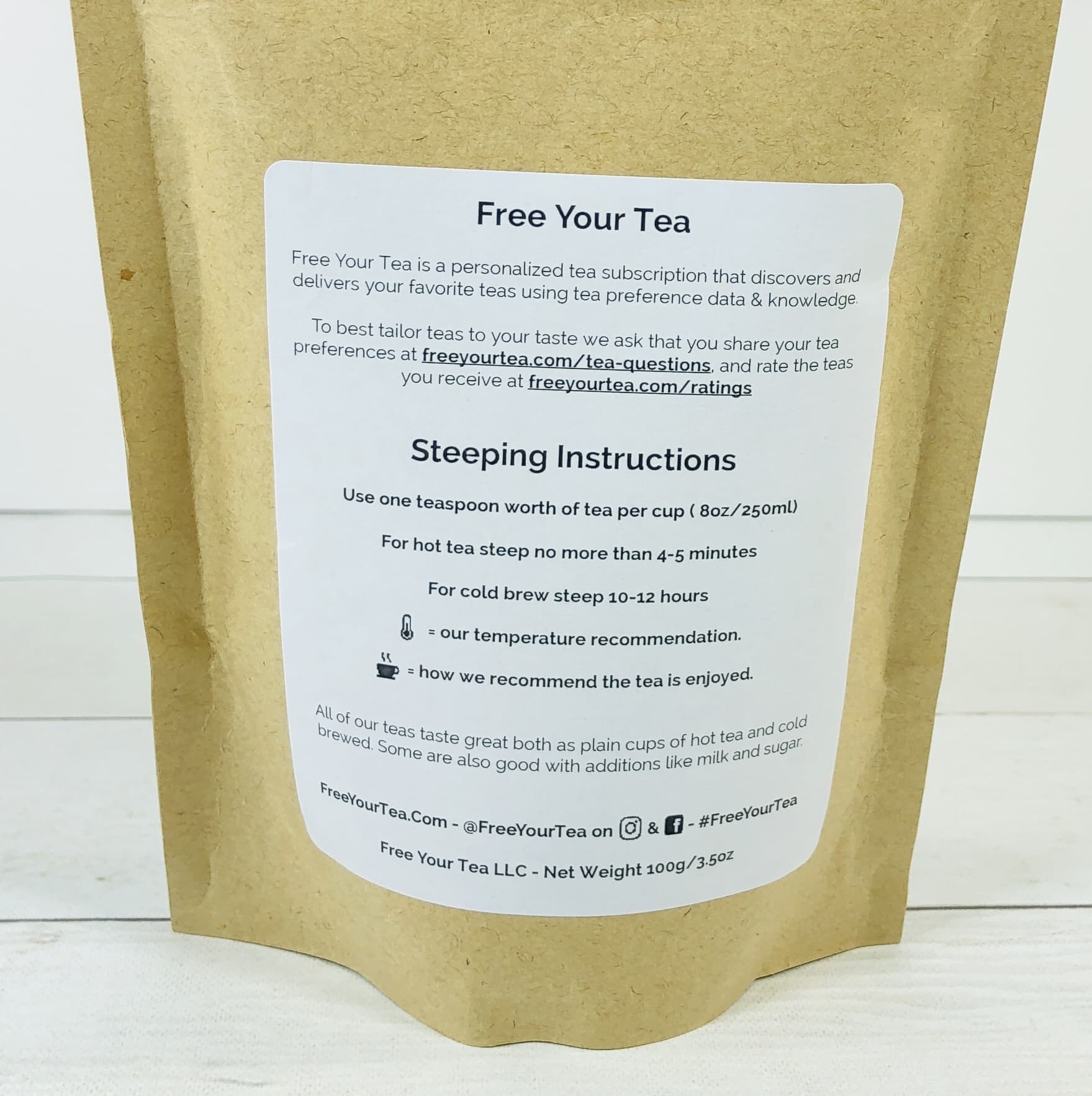 Steeping instructions were on the back of the bag.
Look at that, this almost looks like ground coffee! I loved seeing some open leaves in there too. I used 1 teaspoon of dried tea because I knew this style would be big and bold, and I was right! My taste buds were happy that I tamed those tannins with milk and sugar and I enjoyed the tea, what a wonderful way to start the day!
Free Your Tea Da Hong Pao I am familiar with oolong tea, which is in between black and green tea on the oxidation spectrum. This is much closer to black tea and had an almost smokey flavor with no bitterness at all. It can be an expensive tea too, since the original tea came from just 6 bushes, although nowadays it may come from clippings of those original bushes.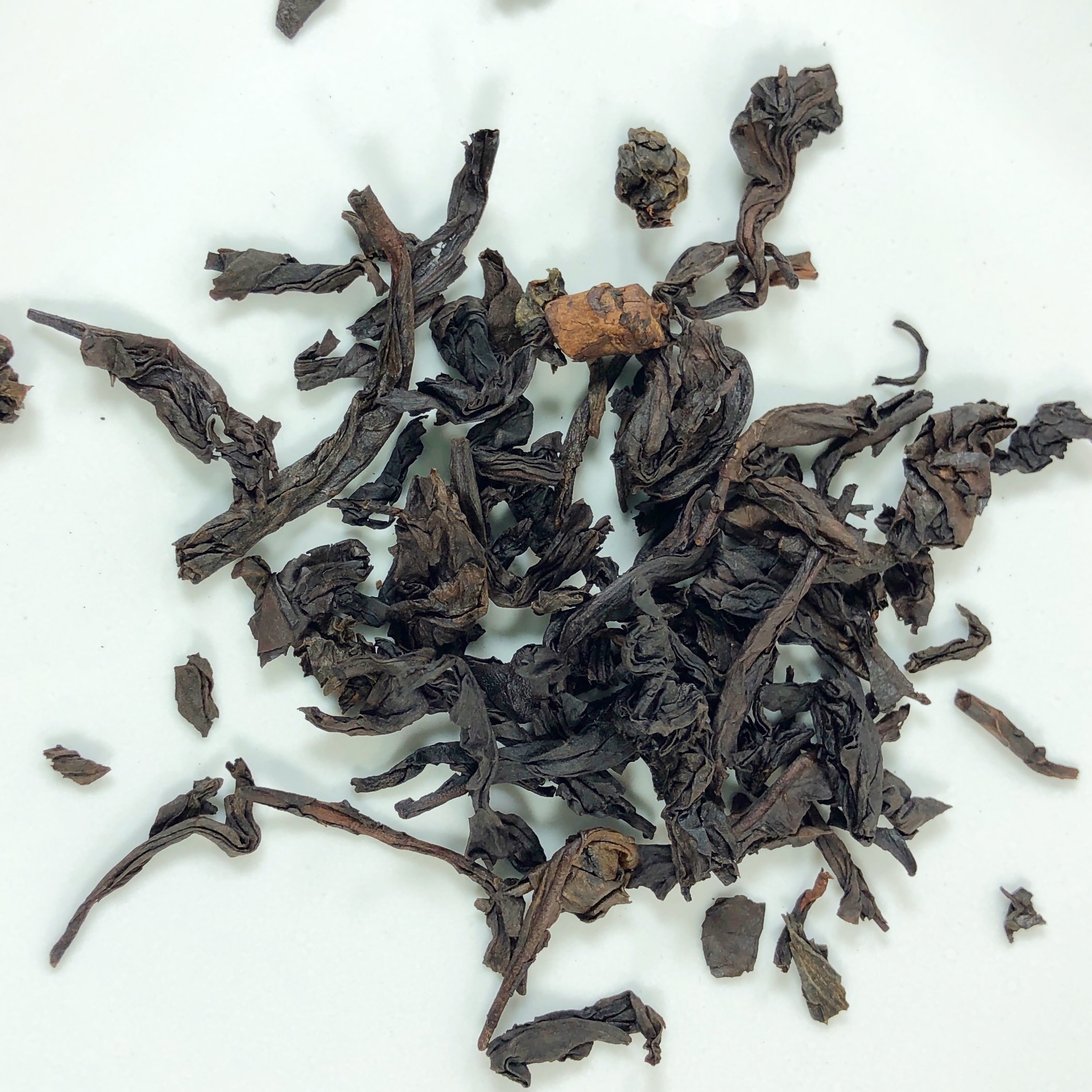 This is a wiry leaf so I used 2 teaspoons the first time I tried it, and 1.5 teaspoons the second. I went ahead and used boiling water and steeped for 5 minutes and really enjoyed this tasty tea, which didn't require sugar or milk, although I did use a bit of sugar after tasting but it isn't really needed.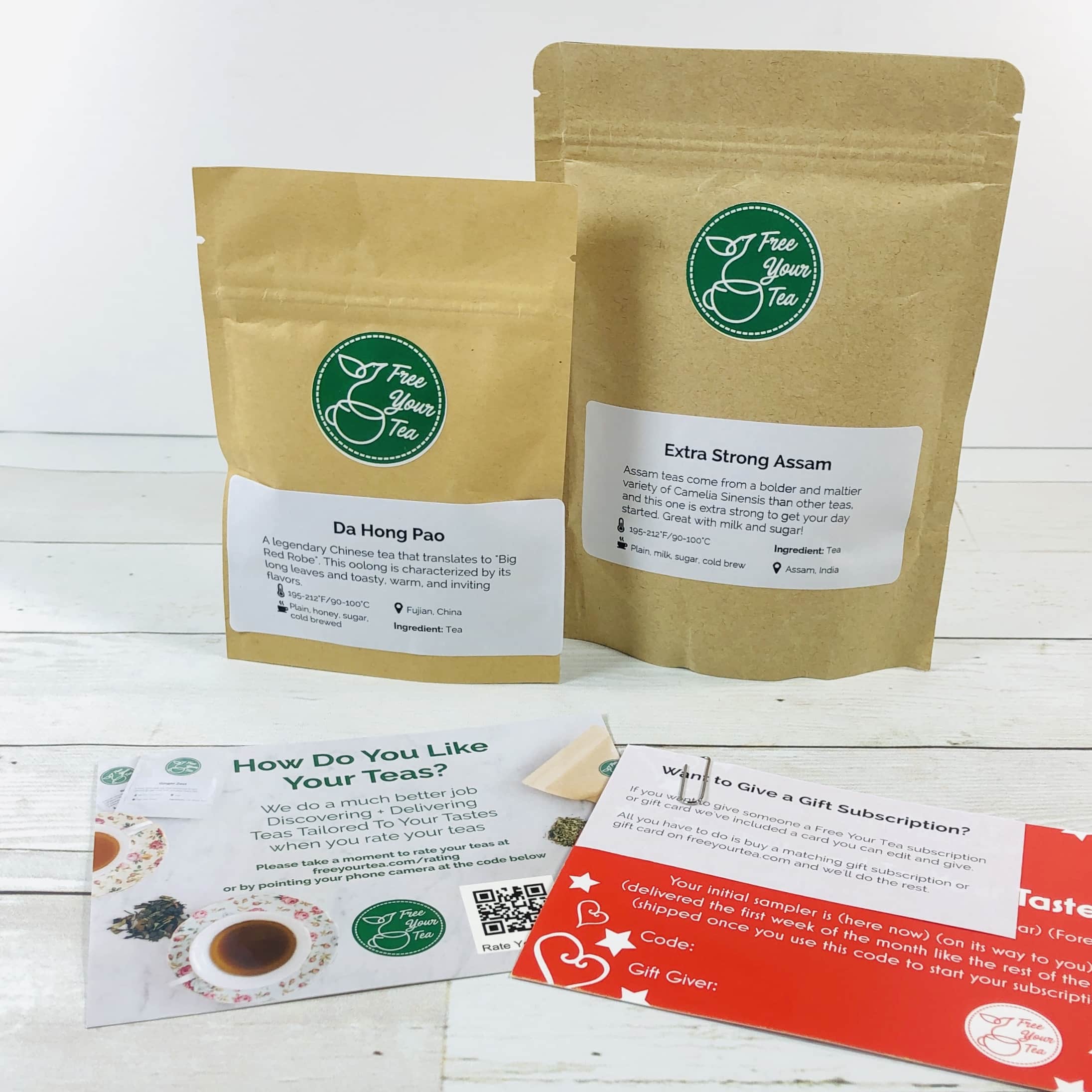 As always, I truly enjoyed my featured tea and tea sample from Free Your Tea! Please keep in mind that your teas may be completely different from mine, since this is a subscription that is customized to each account based on answers you give to the initial quiz plus the rating you give to the teas you receive. If you order by 2/28/2020, your first shipment of samples will be the specialty teas that are featured for February, and then you will make your initial ratings on the teas you receive in that shipment!
What do you think of this month's box?