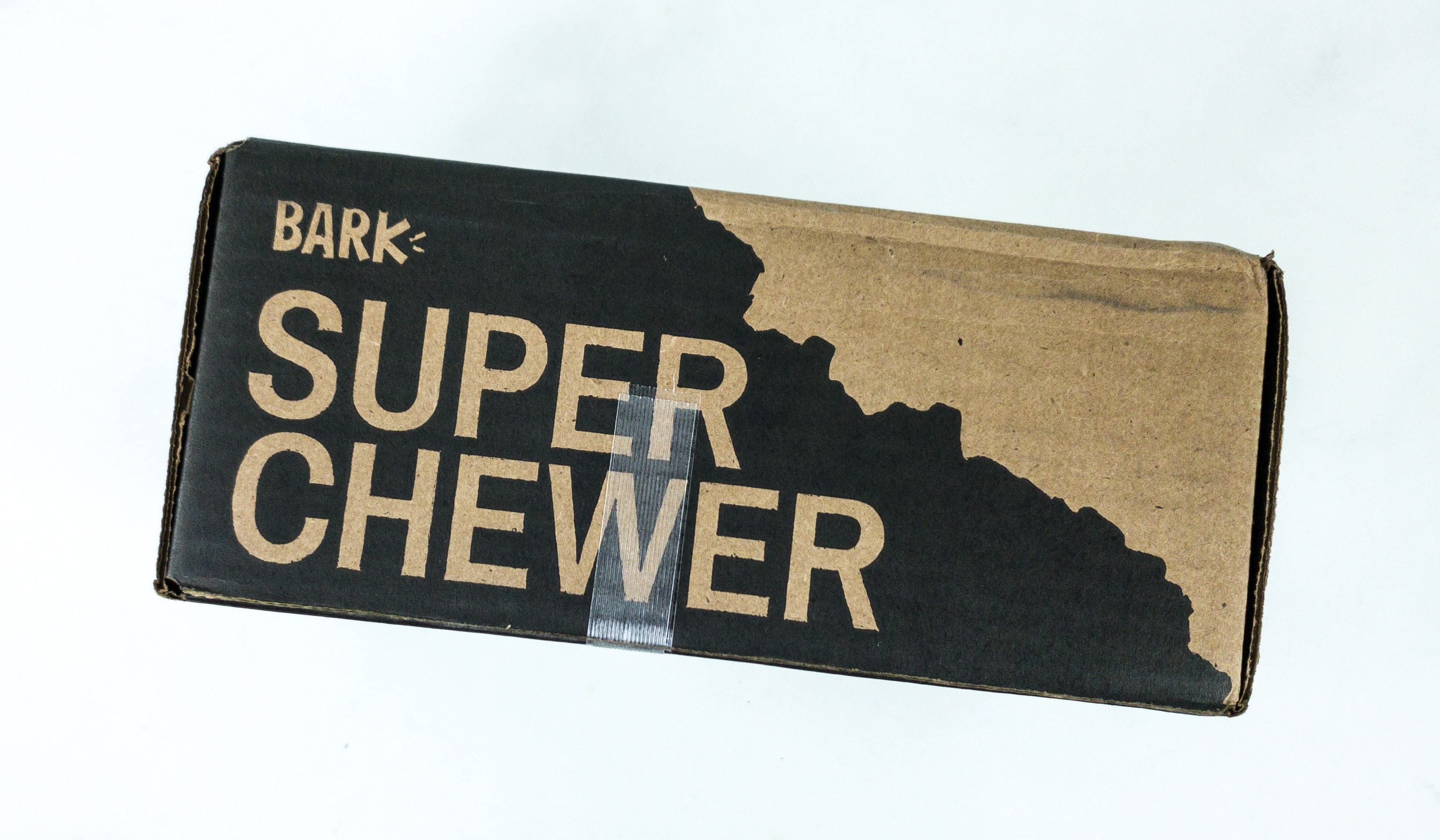 Super Chewer is a monthly subscription box for dogs "who demand a challenge." Each box has 4-6 dog products and is customized to the size of your pup, plus it has a cute theme. All-natural treats, tough toys, and challenging chews are included in the monthly box.
DEAL: Get 50% off on your first box on a 6+ month subscription! No coupon needed, just use this link to subscribe.
Super Chewer will replace a toy for free if your dog defeats it!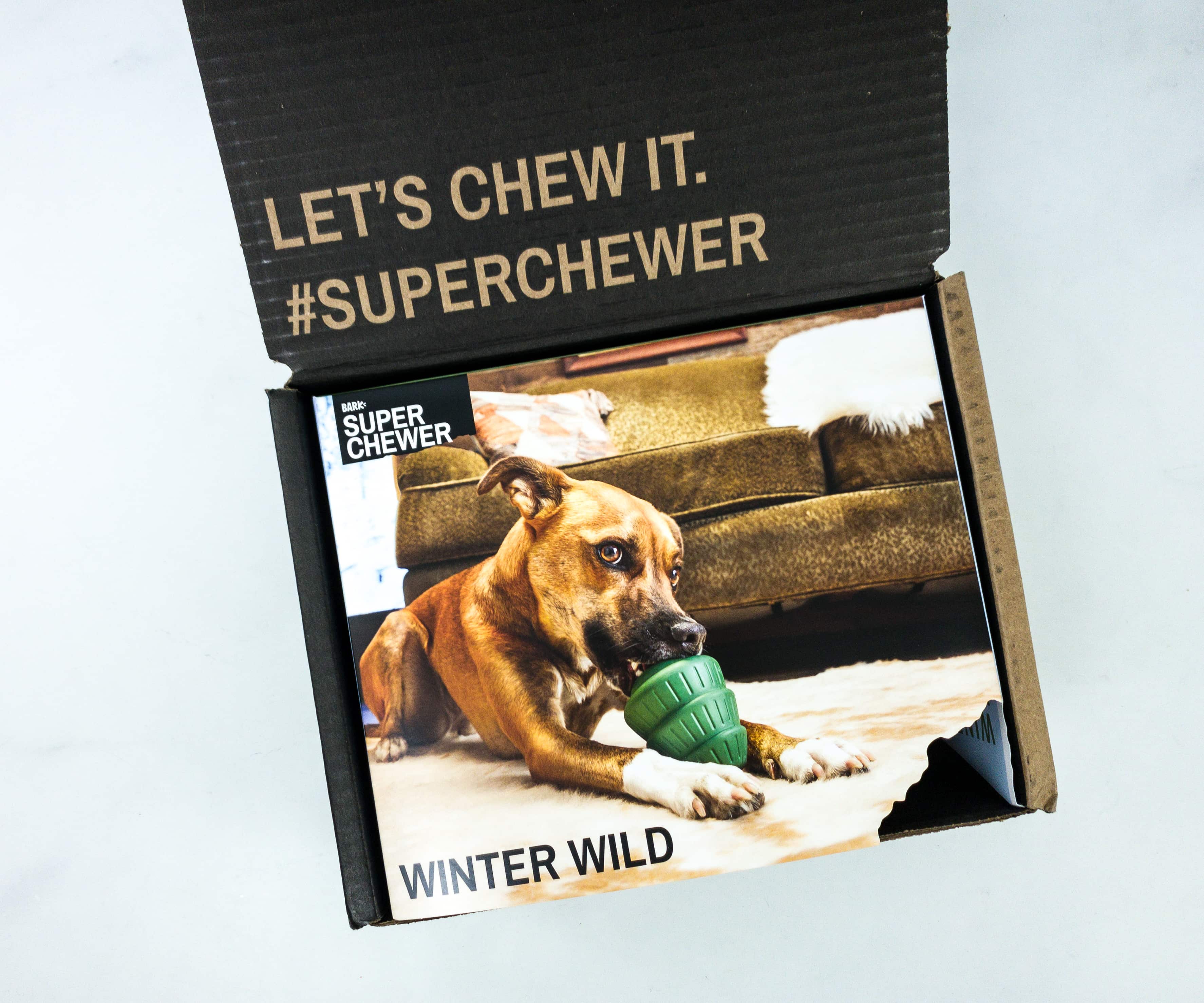 The December 2019 Super Chewer theme is WINTER WILD!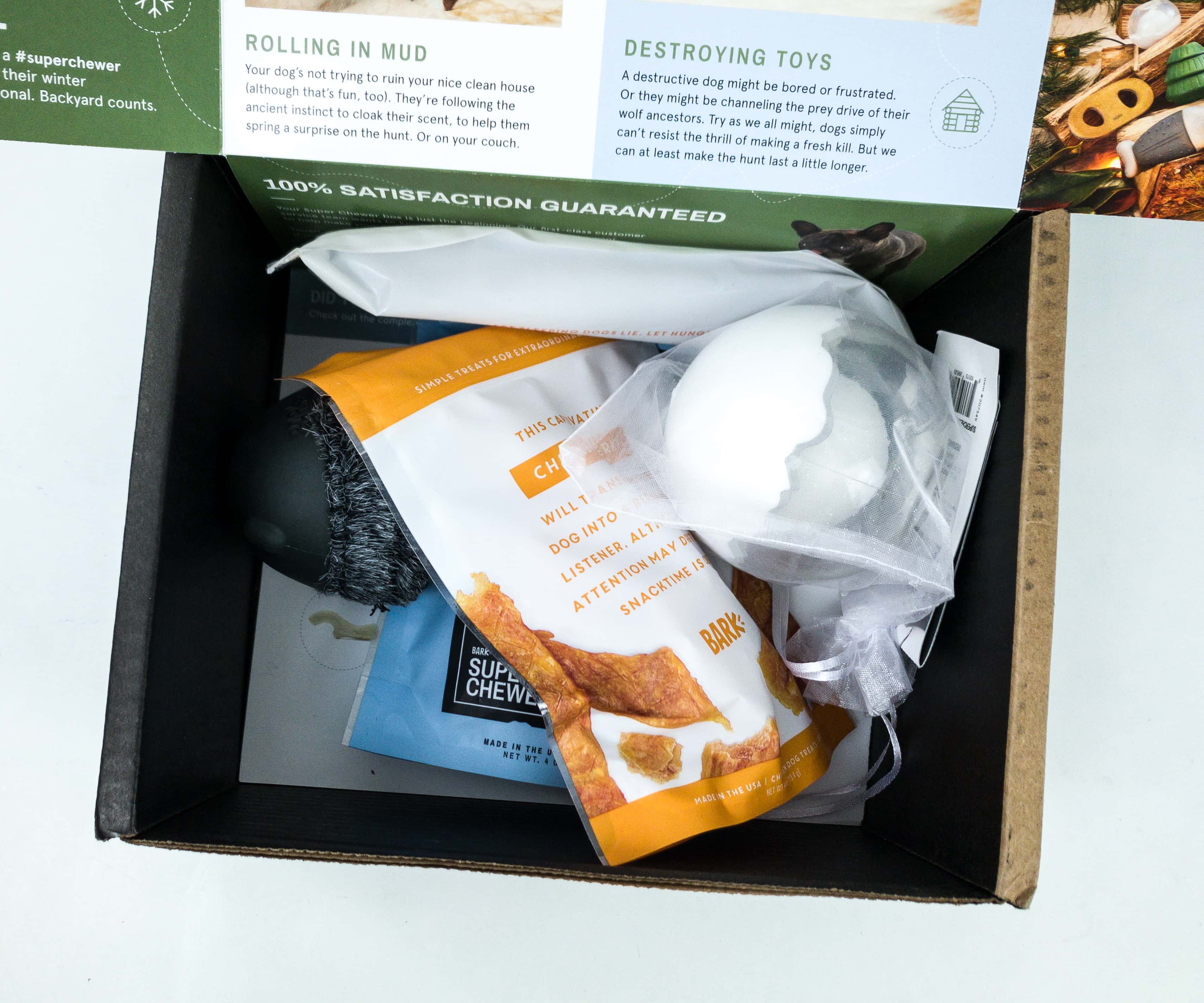 The box doesn't contain any extra packaging or fillers but the items are still securely packaged.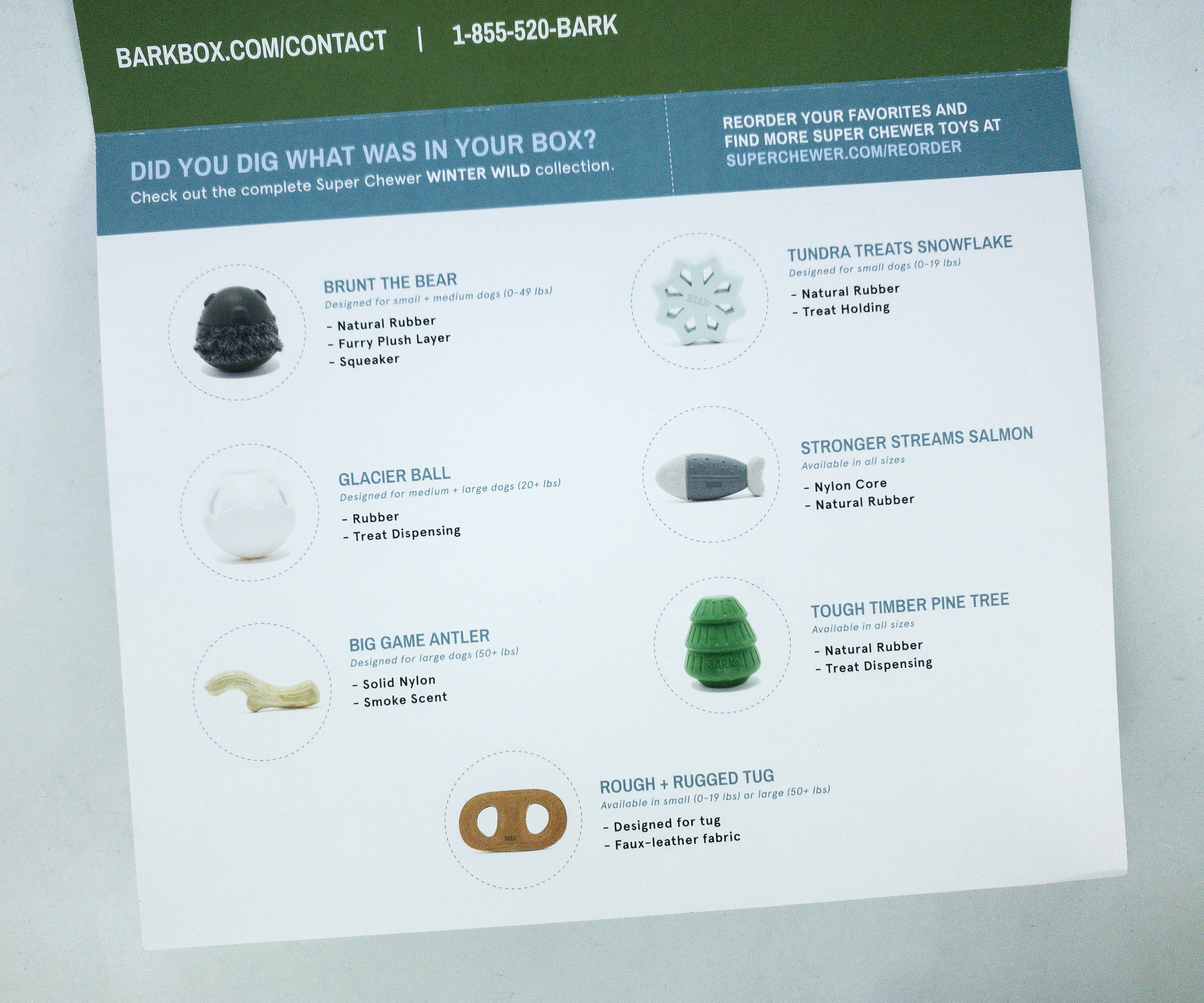 The flap of the box includes names and photos of the items in this month's box.
Also printed inside the flaps of the box are some useful info about dog behaviors and how to understand them!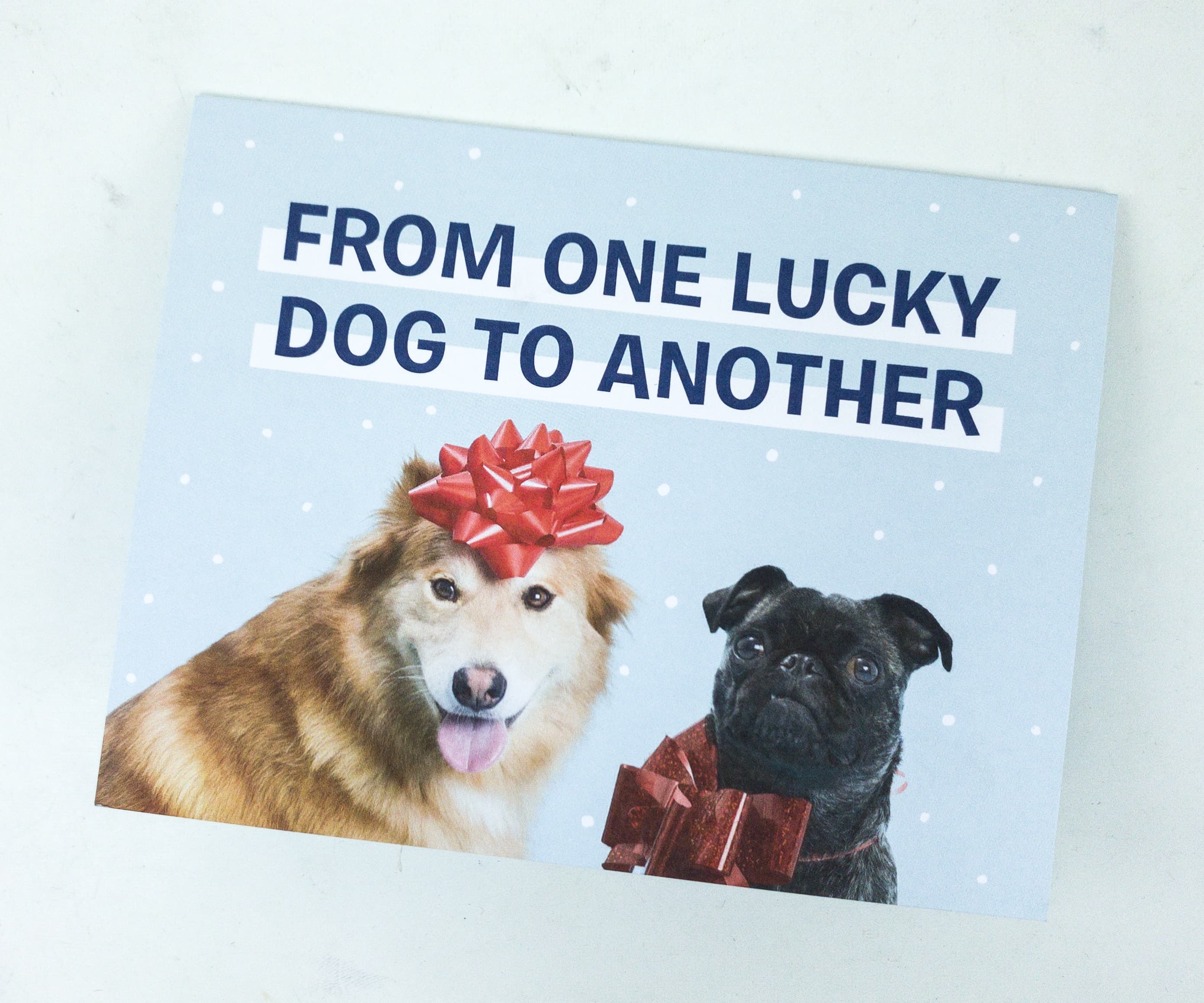 They also included a card that you can share with a friend!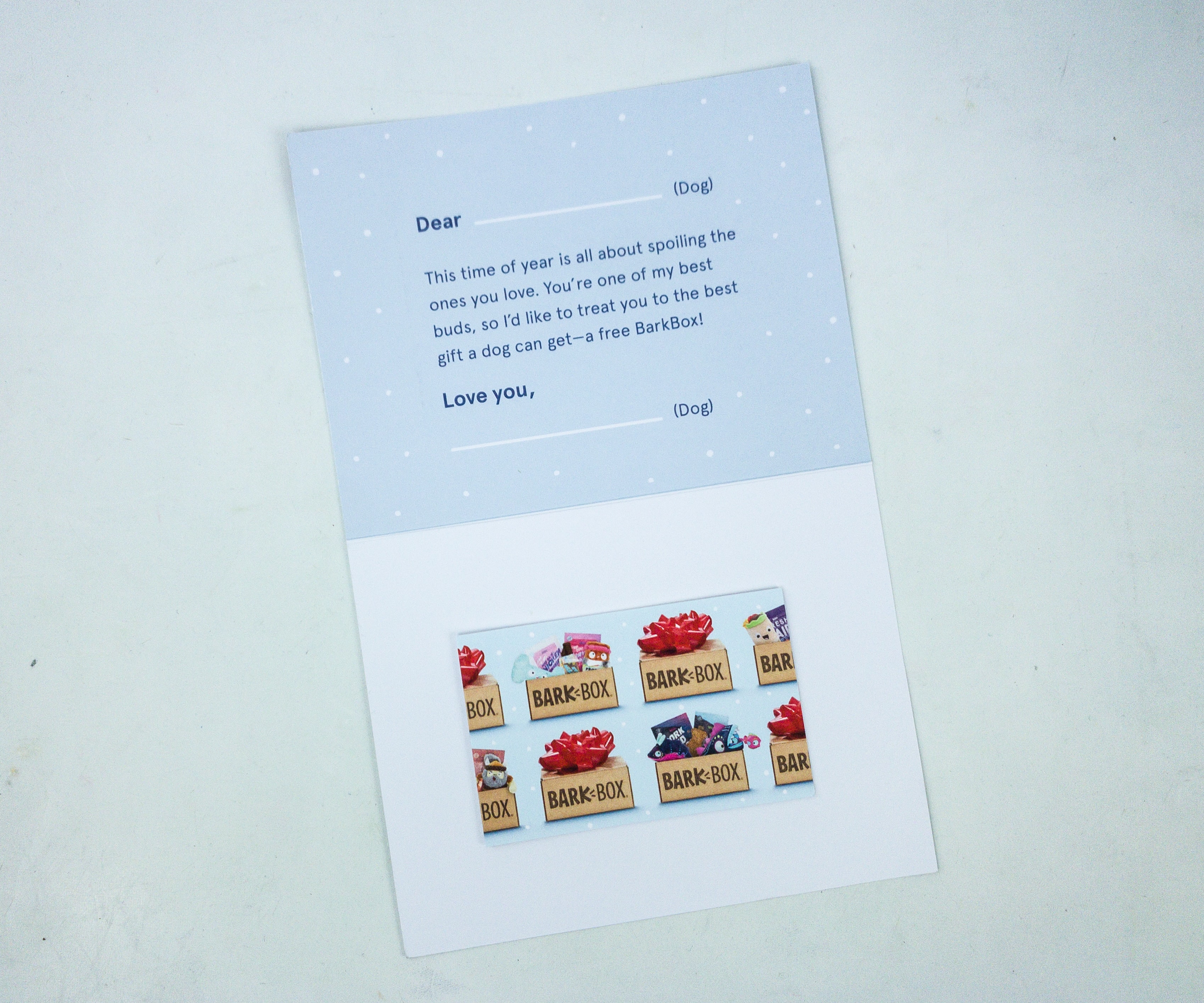 You can fill in the name of your friend's dog and the name of your dog inside the card.
This time of year is all about spoiling the ones you love. You're one of my best buds so I'd like to treat you to the best gift a dog can get – a free BarkBox!
Here are all the items in this month's box!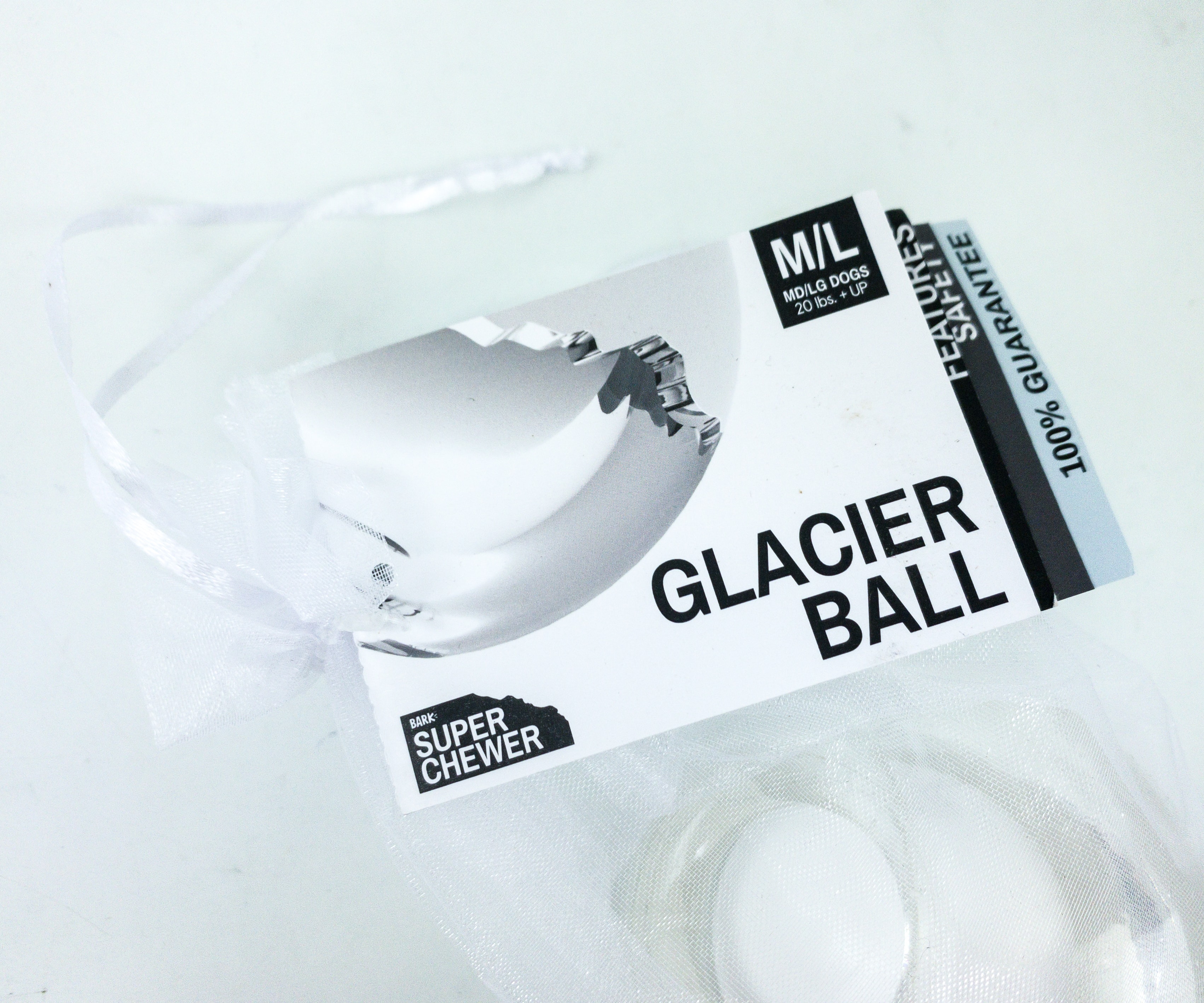 Bark Super Chewer Glacier Ball. ($14.00) This fun glacier ball is an extremely durable chew product for dogs. It's also treat-dispensing, keeping things fun and exciting for our beloved pups. It is great for medium and large dogs preferably 20 lbs. and up.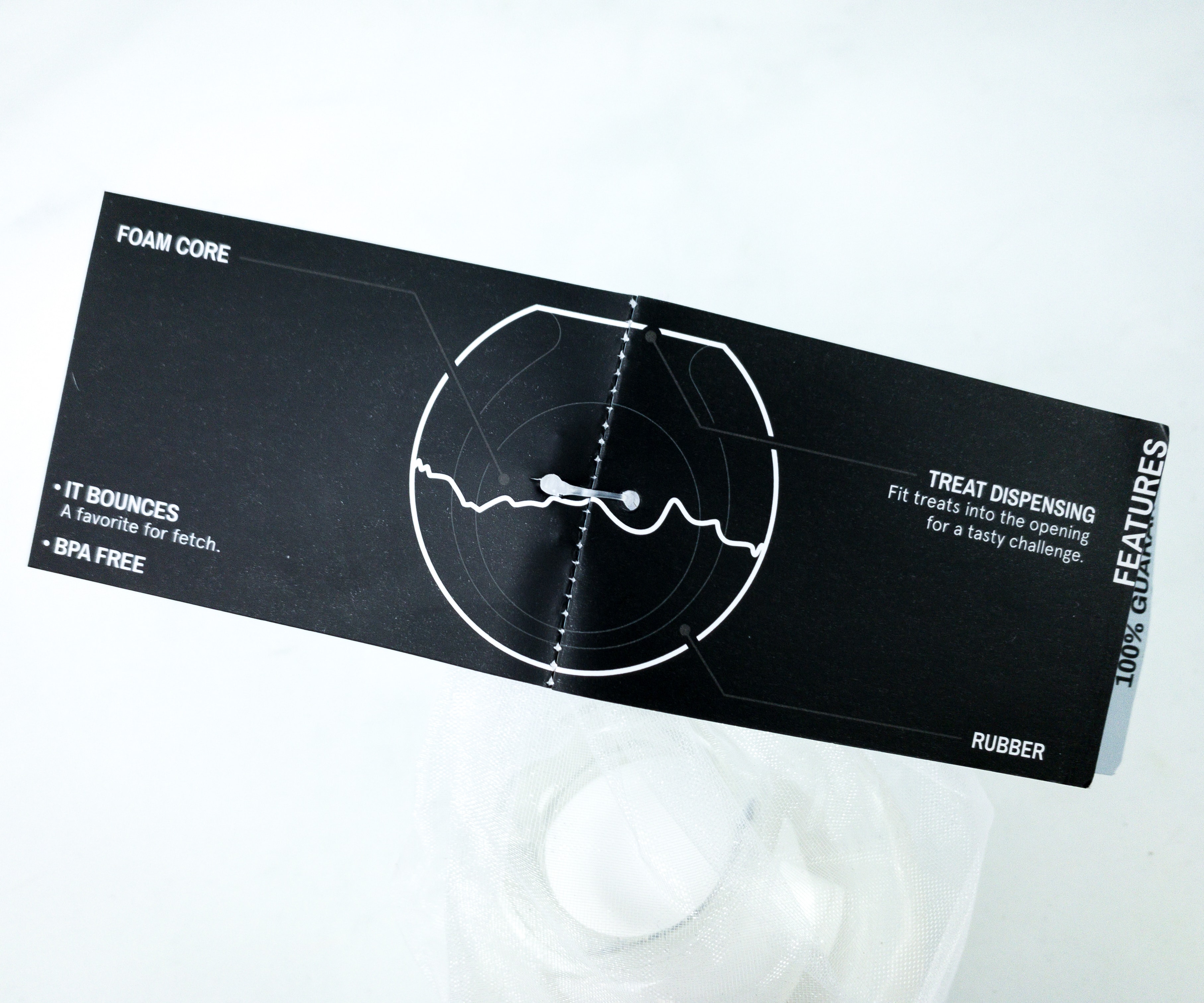 The ball features a small opening where dog food or treats can fit. It's made of rubber and has a foam core, making it bounce. What's good about it is that it's BPA-free, so it's safe for our furbabies.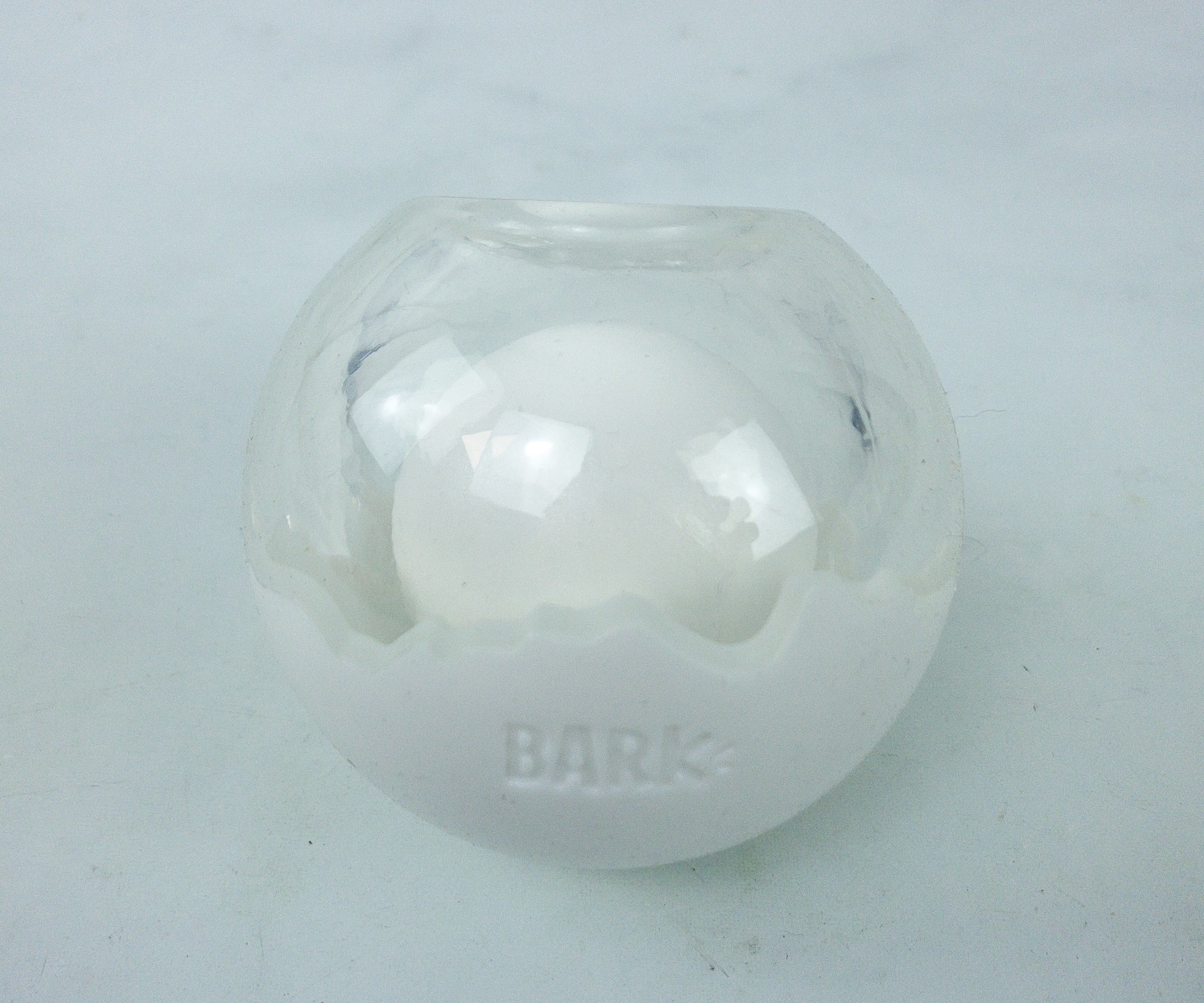 It jives with this month's theme, with its white color resembling the snow and snowflakes.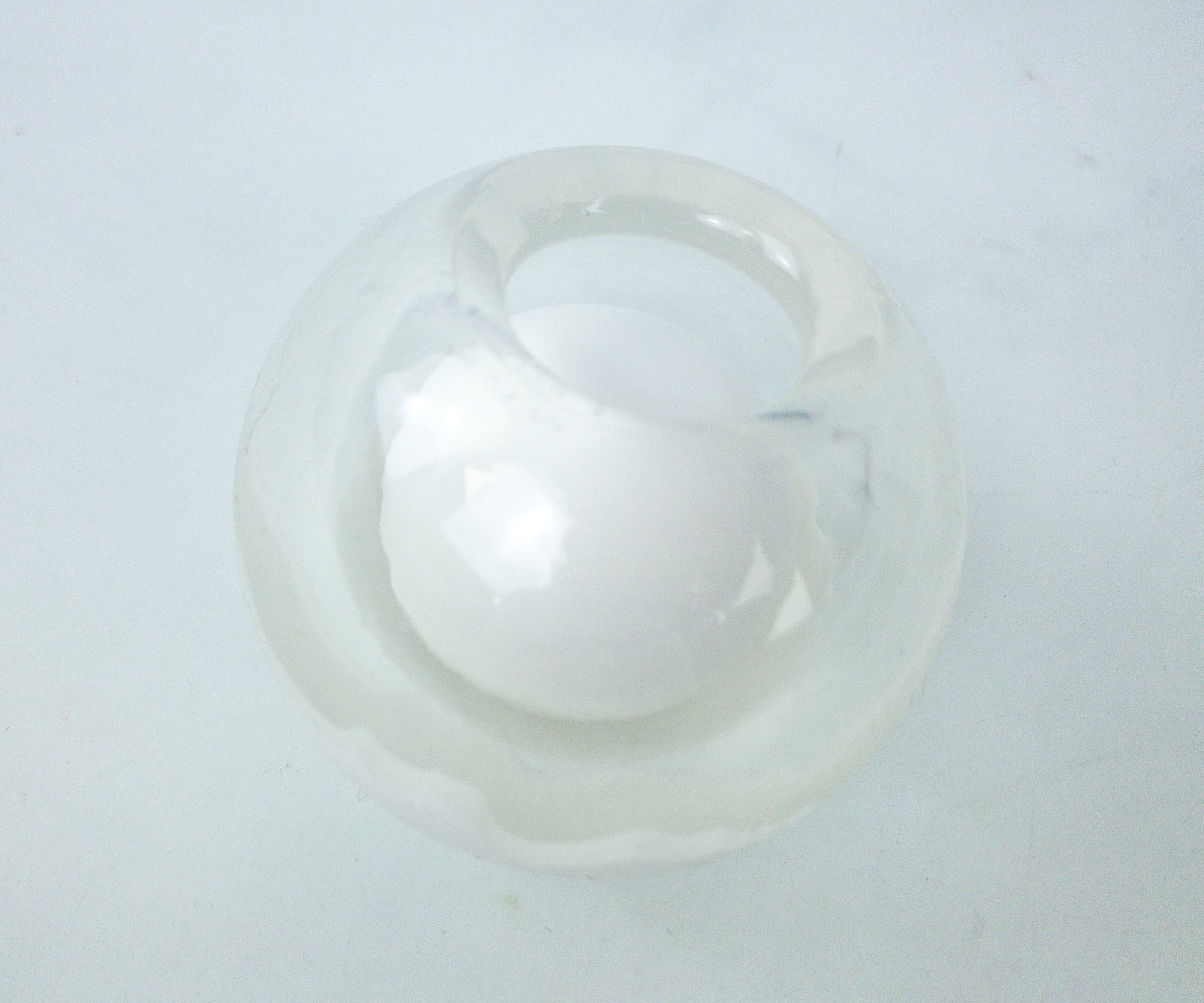 This dog treat-dispensing ball is designed to limit the number of treats our cute furry friends get while allowing them to learn how to roll the ball to get the treats to fall out.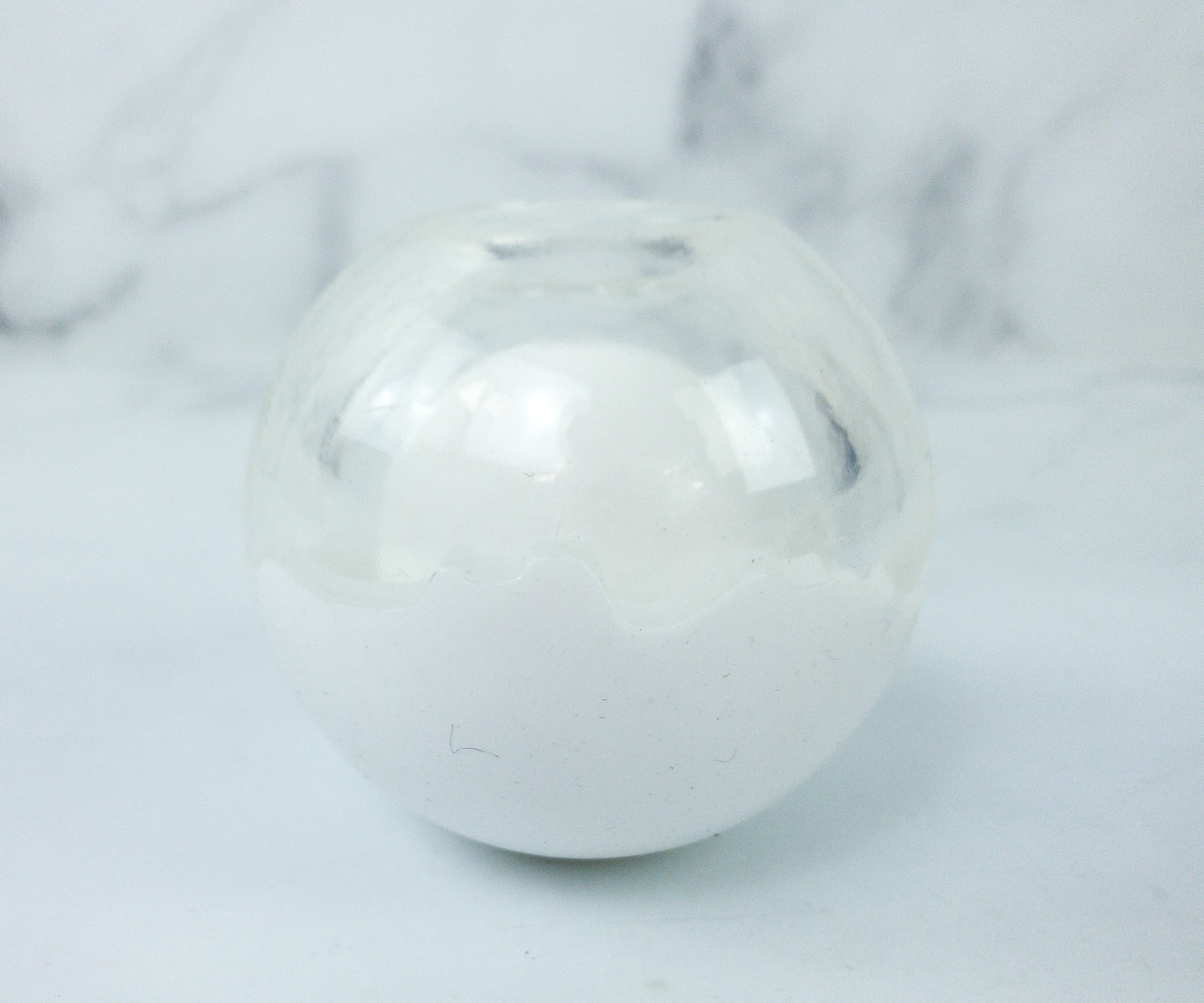 The small opening can effectively control the dog feeding speed which reduces bloating and helps digestion. It's so easy to fill the ball with treats or dog food to keep them mentally stimulated and happily occupied (and away from things they're not supposed to chew on!).
Bark Super Chewer Brunt The Bear. ($14.00) This Super Chewer toy is perfect for pups who like to shred! They can easily chew on the small layer of fabric with ridges underneath. It is recommended for small and medium canines from 0-50 lbs.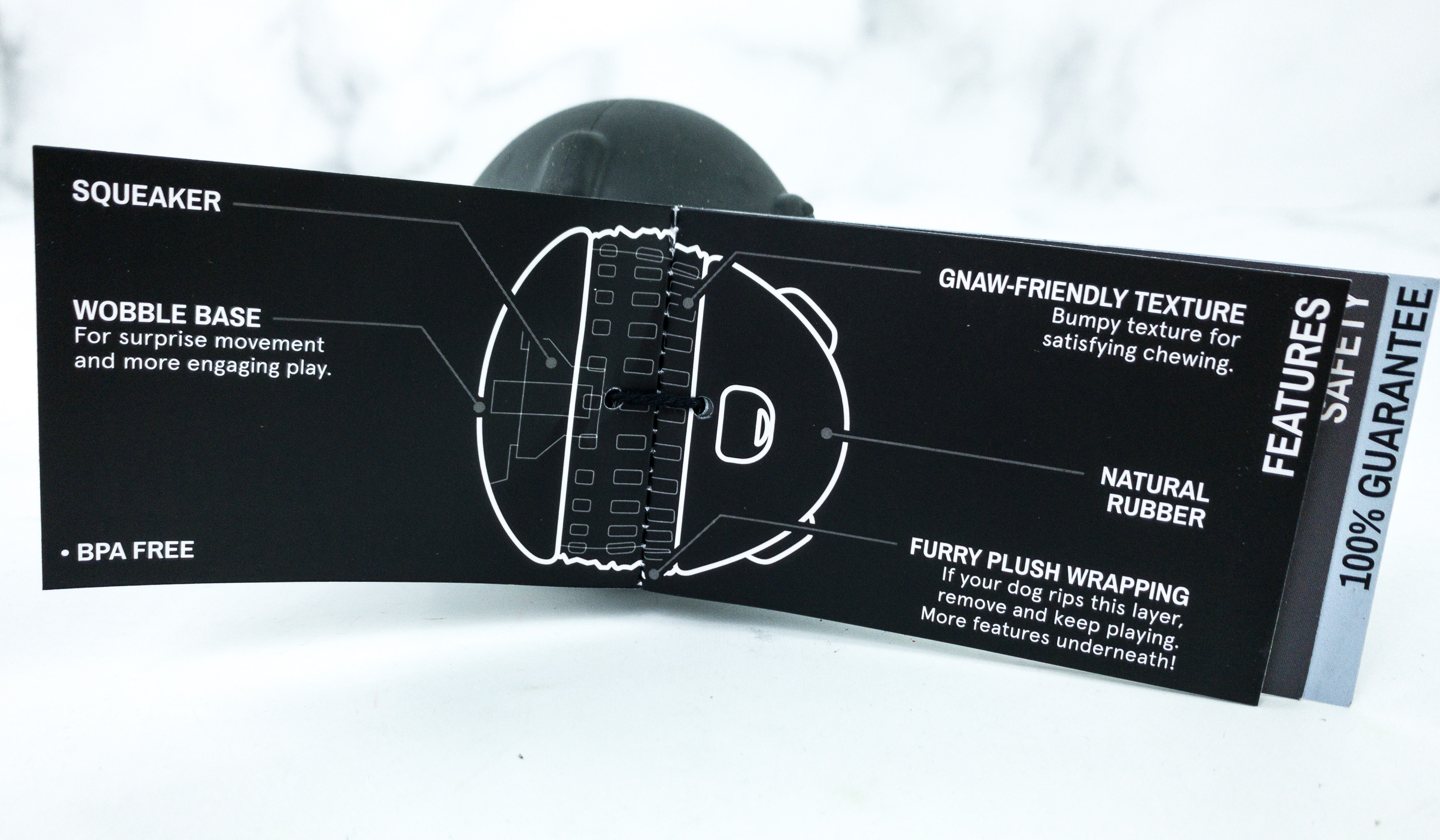 It has a squeaky sound that dogs love. It's made with natural rubber for durability and it's also BPA-free.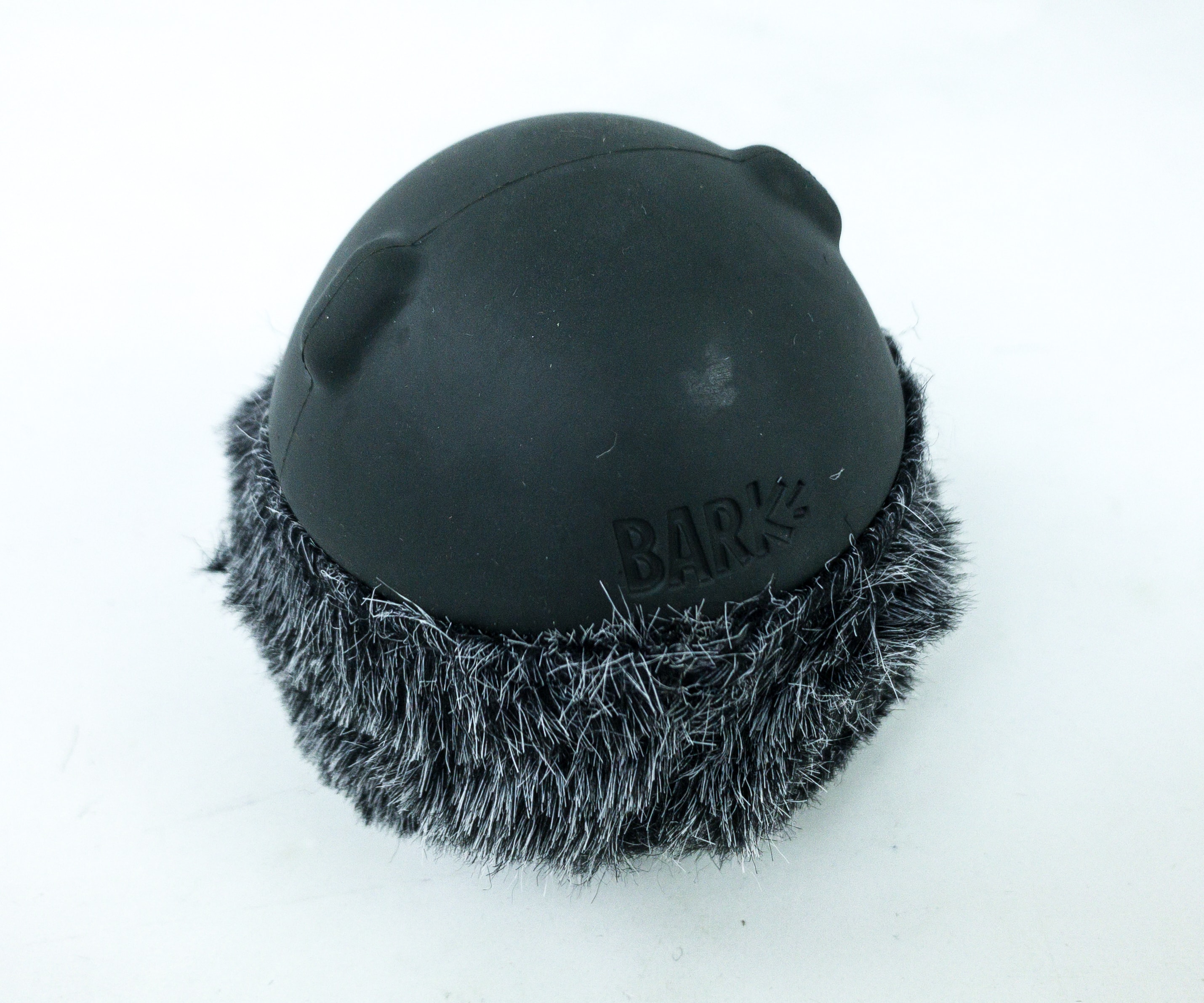 The furry plush wrapping invites dogs to rip and shred it, keeping them entertained. This faux fur outer layer is designed to be ripped off in order to reveal a tougher inner core and invites a more rigorous activity.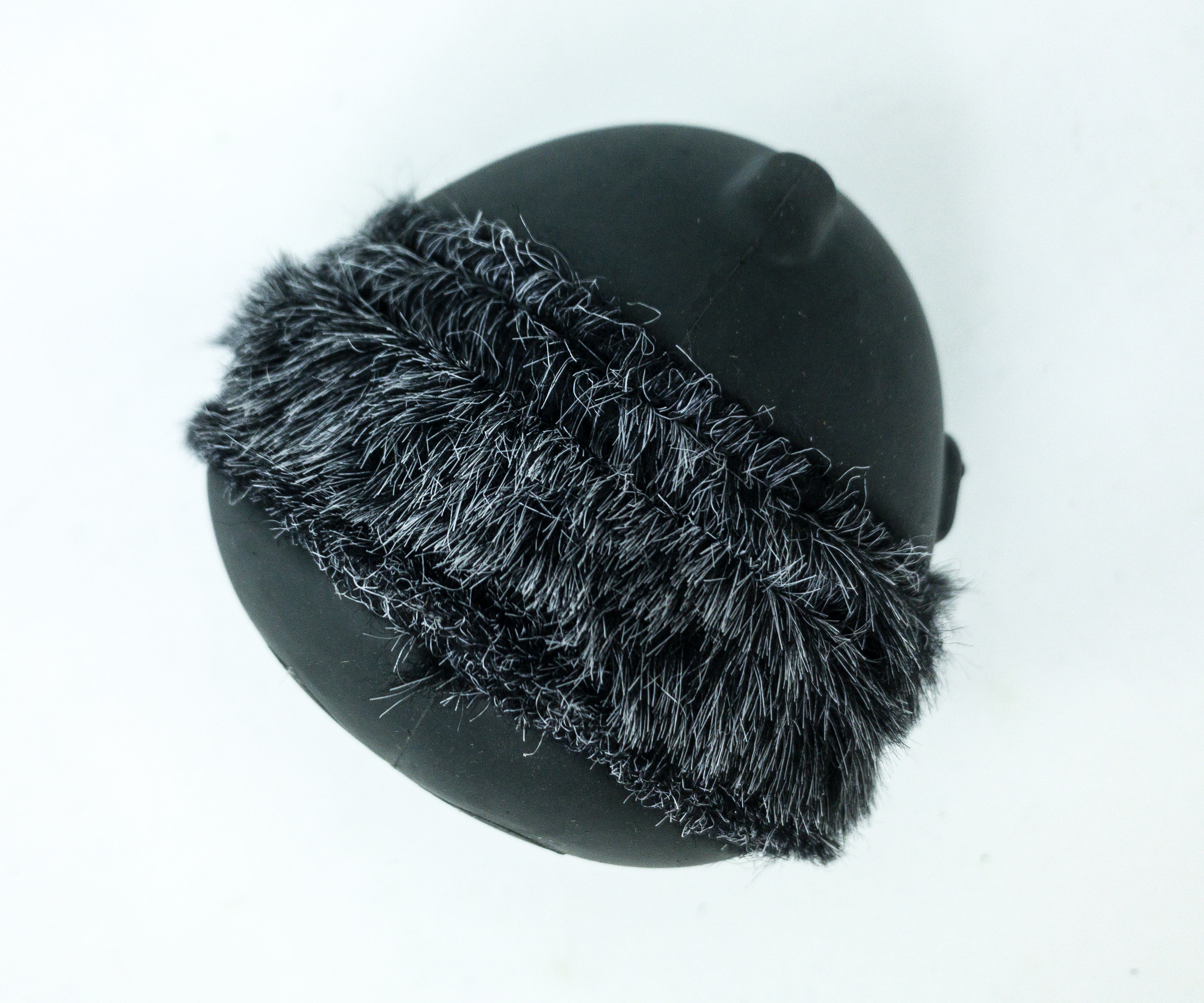 Once the faux fur is removed, there are ridges underneath that's made of natural rubber to satisfy our dogs' chewing pleasure. The wobble base will make playing more exciting!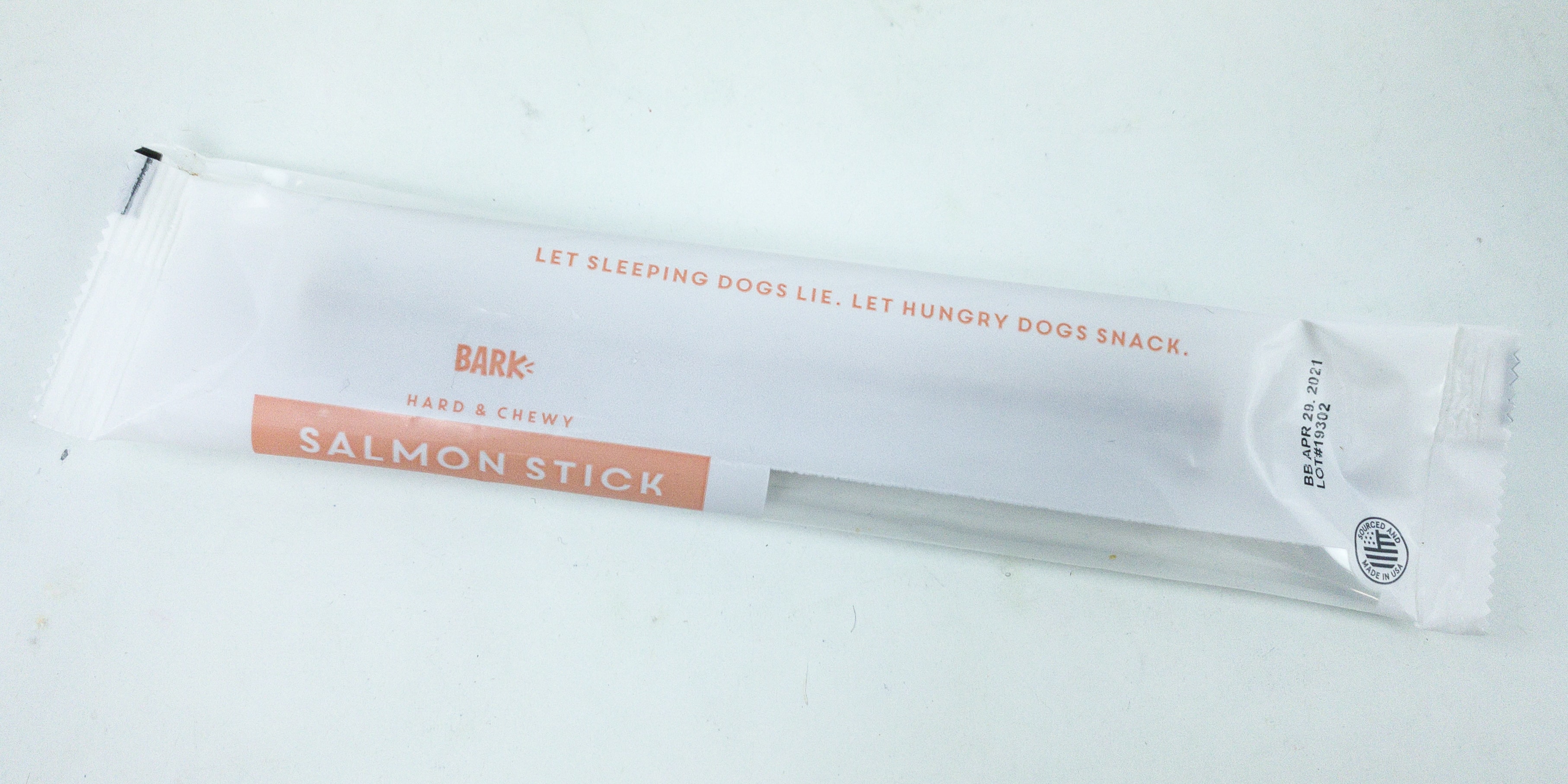 Bark Hard & Chewy Salmon Stick. This tender stick has a delicious salmon flavor. It is made with protein-rich and natural ingredients. It's really hard and chewy, as the name suggests, so it's also long-lasting. It even helps reduce our dogs' destructive chewing behaviors.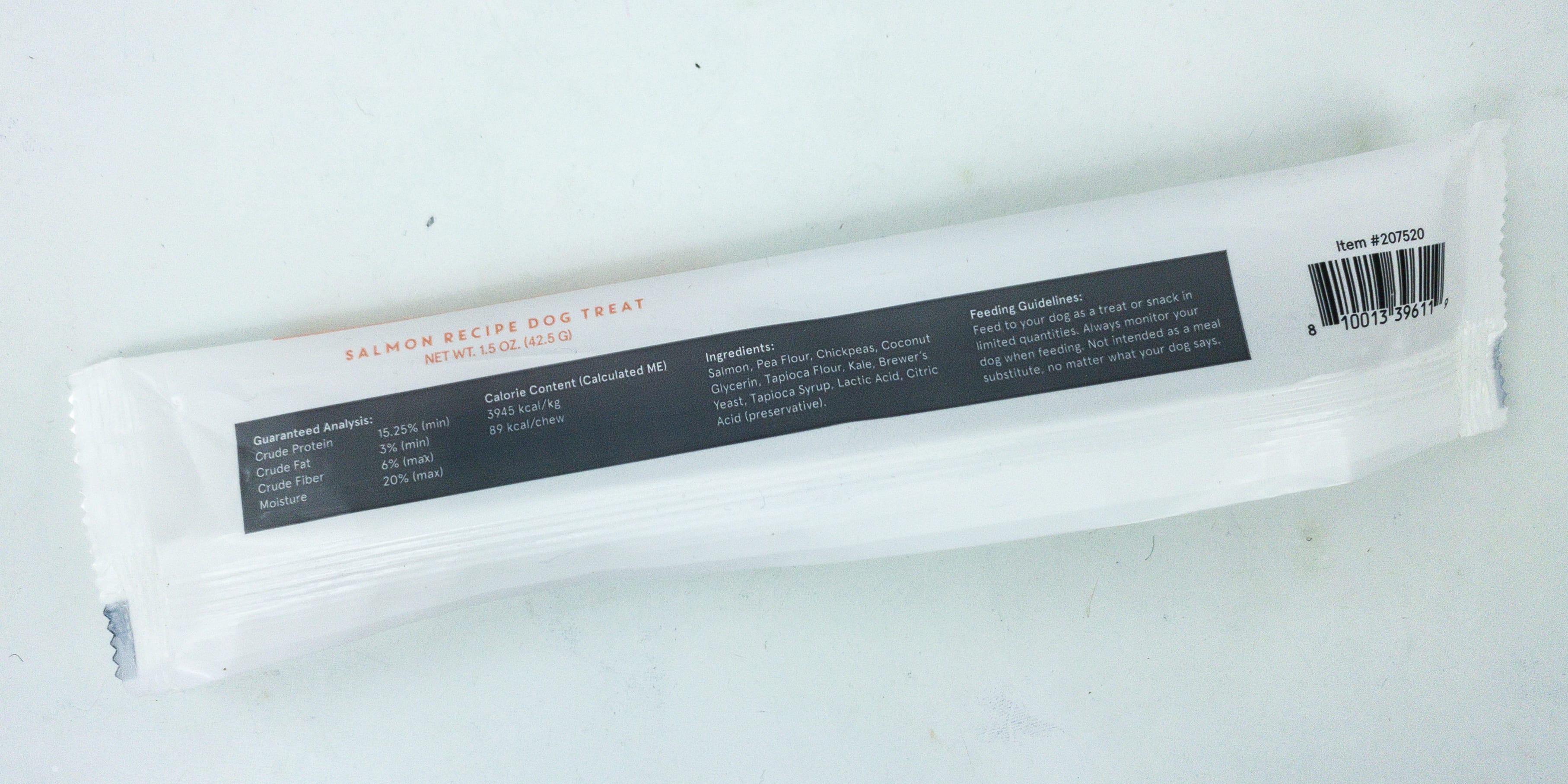 Since it's made from mainly natural ingredients, you won't feel guilty when you give in to those adorable puppy eyes begging for a second (or third, or fourth, or fifth….) treat. But of course, it is not meant to be a meal substitute.
Created for your dog's enjoyment and your peace of mind, each stick is made with real salmon with no added chemicals. It has a yellowish-brown natural color.
Bark Chicken Jerky Dog Treat. ($5.00) These all-natural dog treats are made in the USA using only 3 ingredients: chicken breast, vegetable glycerin, and salt. They were packed in a resealable container to keep them fresh for a long time!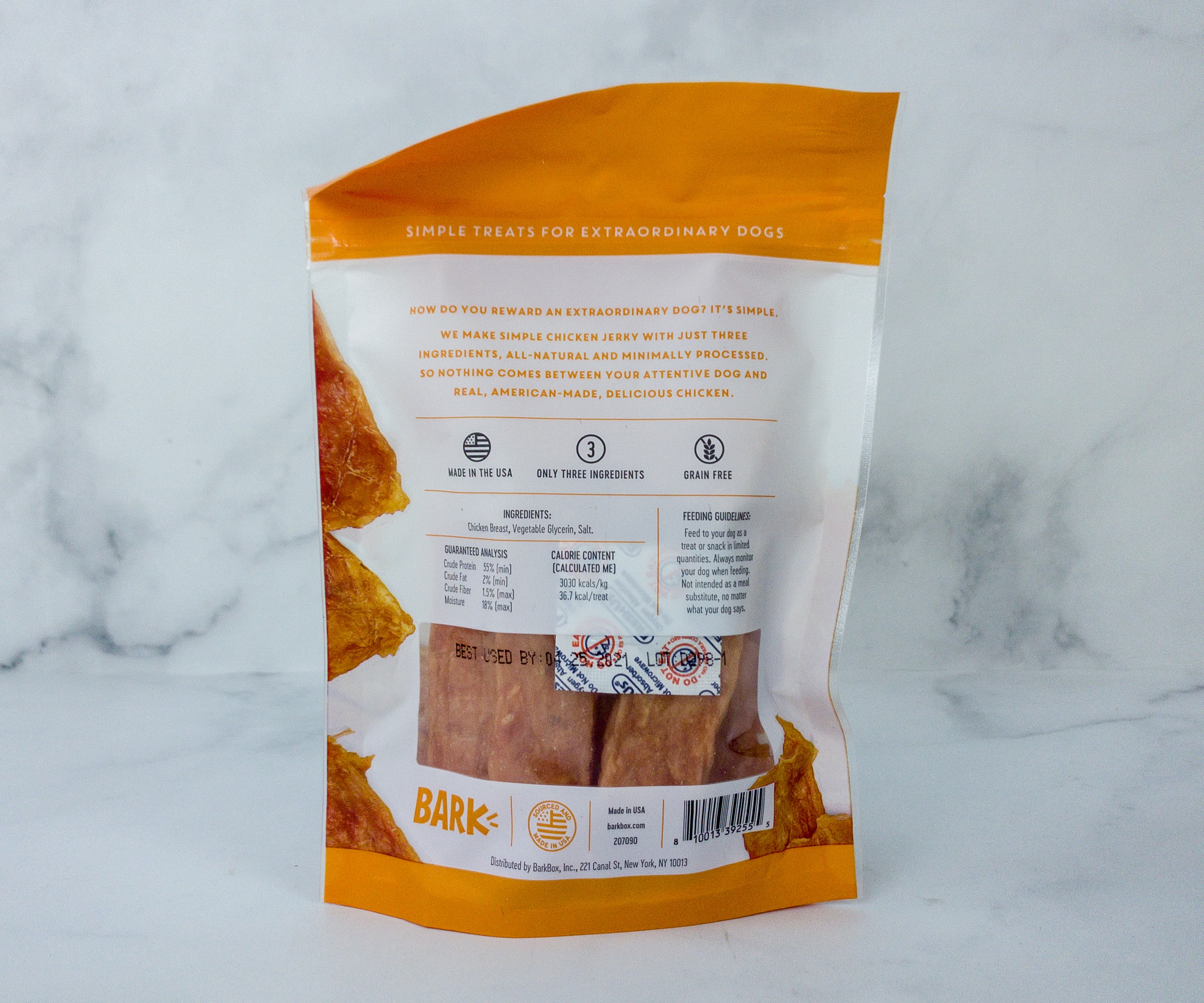 These treats are also protein-rich and grain-free. They're so good, your dogs would totally beg you for more but it is recommended to be given only in limited quantities and not meant as a meal substitute.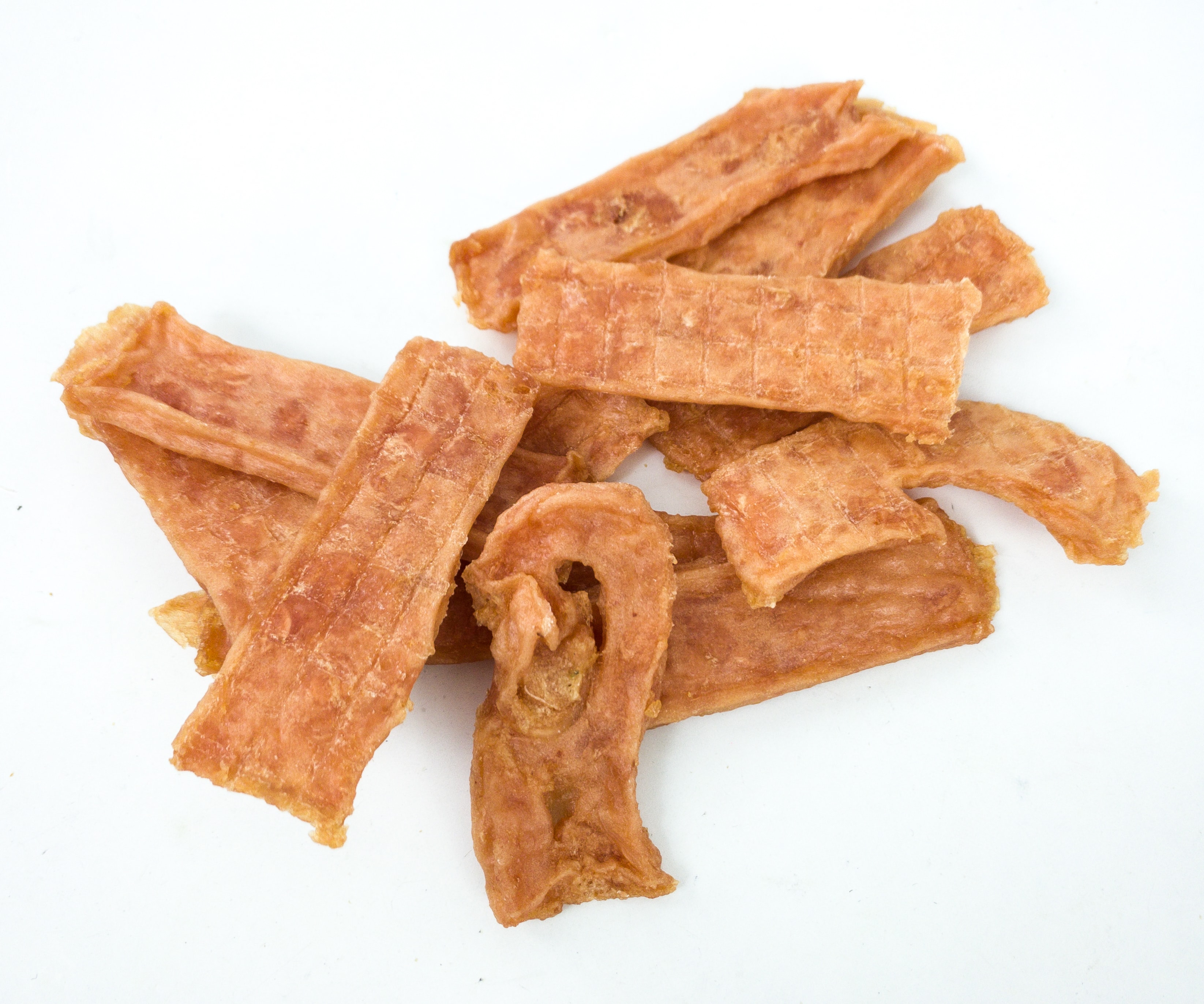 These chicken treats are thinly sliced for dogs of all sizes and ages. You can give them either as a treat or reward.
Bark Super Chewer Winter Wild Treats Wild-Caught Carp. These chewy dog treats are wheat-free, soy-free, and corn-free. The ingredients are naturally sourced and the treats are made in the USA, so you're sure that they're of good quality.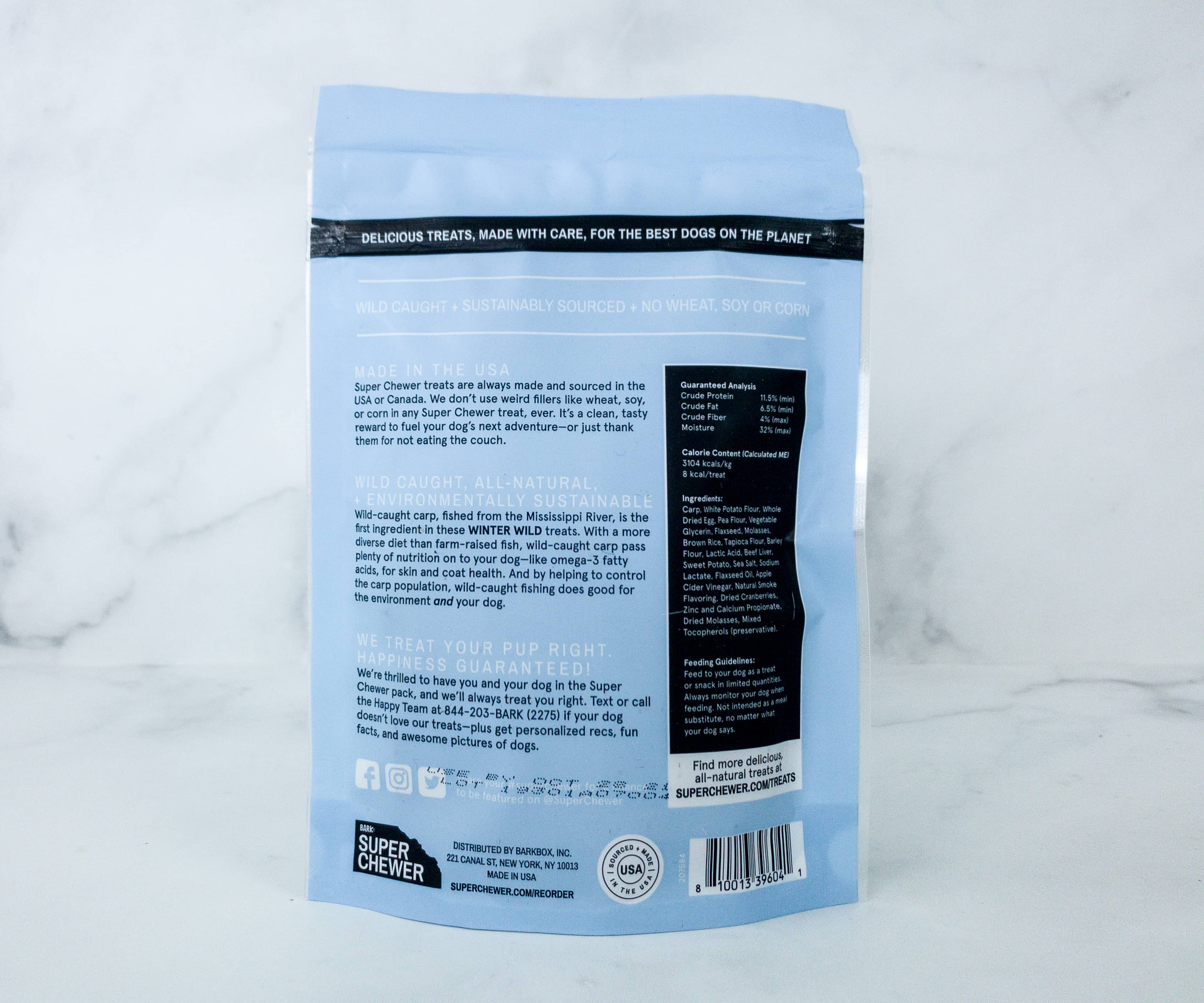 Formulated with wild-caught, sustainably-sourced silver carp, these treats are high in protein which supports the lean body mass of our beloved pets. It's also rich in Omega-3 fatty acids that promote a dog's healthy skin and coat!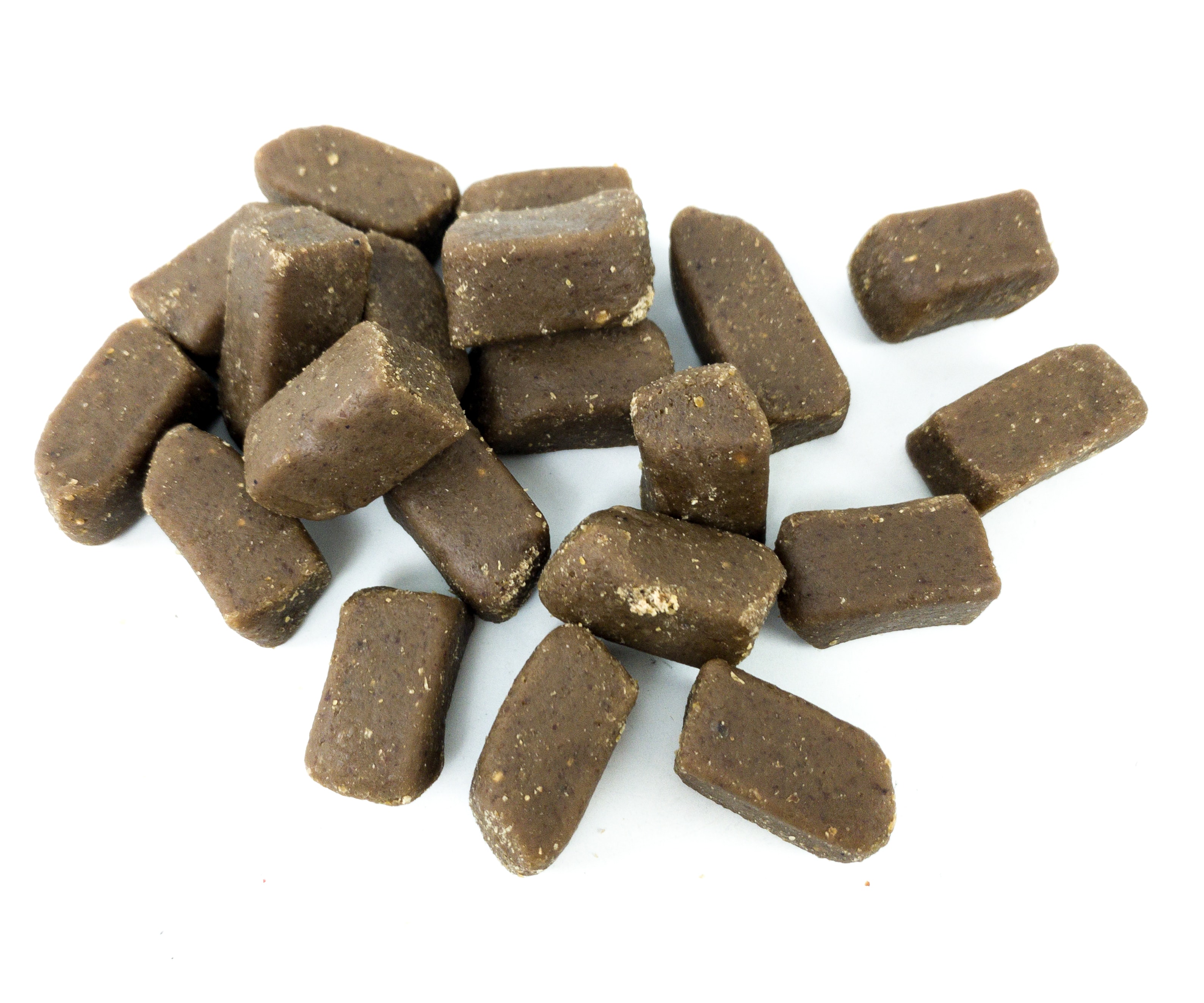 These rectangular kibbles come in small bite-sized pieces, perfect as training treats or just a plain snack. They are all-natural, low-calorie, and low-fat which promotes healthy nibbling for an optimal diet for your dog.
The items fit the Winter Wild theme perfectly! The toys are designed thoughtfully, bearing in mind to keep our pets active and healthy despite the cold weather. All the toys are made with premium quality materials that are durable enough to endure the bites of our heavy chewers. They are all safe-to-chew and I find the glacier ball very clever! It even enhances my dogs' mindfulness with the treats coming out while they roll it. This subscription is well-loved by all our furbabies and we're looking forward to receiving more enjoyable and yummy goodies for our dogs in the next Super Chewer boxes!
What do you think of this month's Super Chewer Box?