Ipsy is a monthly beauty subscription. You get five makeup, beauty, skincare, and hair care items in a cute bag for $12 a month! It's the most popular subscription box and a great way to sample new colors and beauty brands that you may have never heard of, as well as some of the bigger names. Ipsy also offers a Glam Bag Plus for $25 a month and Glam Bag Ultimate for $50 a month.
There are many bag variations every month for Ipsy – login to your account to check out how-to videos and tips for your products.
IPSY was founded on a singular mission: to inspire individuals around the world to express their unique beauty. Everything we do is to support you on your journey to self-discovery, so you'll feel confident letting your unique beauty shine every day.

All of my items were inside the bag! The bag has a marble look to it and the zipper is pink. The bag is 7.5″ x 5″.

The zipper pull is also pink and says Ipsy!

Here's the back of the bag. The material seems like it would be easy to clean, just wipe with a cloth.

The inside is lined with pink polyester material.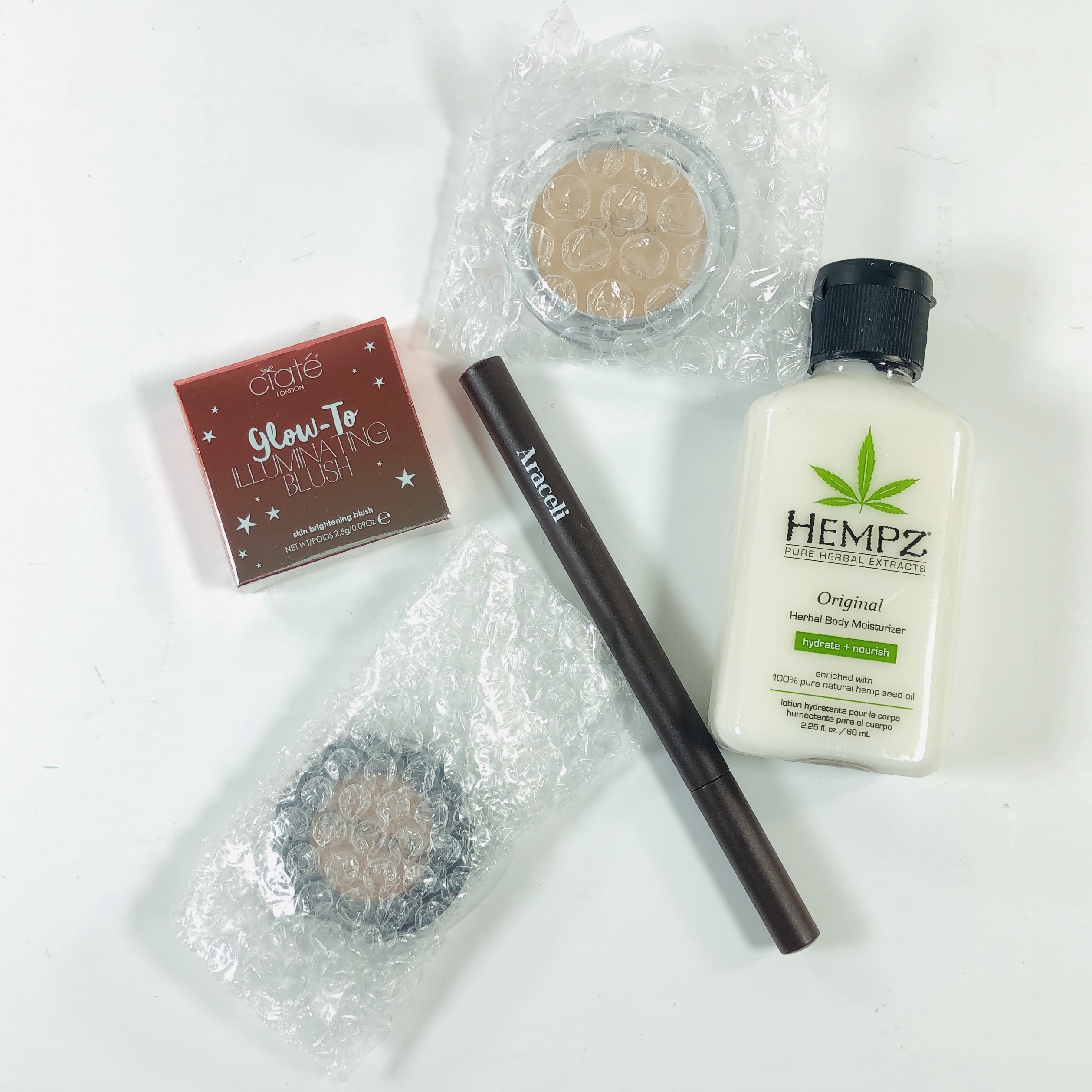 Some of my items were wrapped in bubble wrap to keep them safe.

I received a card telling me it's out with the old, in with the new.

The inside listed my five products and gave a tip for each one. It mentioned whether my items were full sized or sample sized and listed the retail value for the full sized products. I received 1 full sized item and 4 deluxe samples. I didn't make a sample choice for my bag, although every subscriber now has the opportunity to do that!
There was info on a giveaway on the back of the card.
Everything in my box!

Hempz Original Herbal Body Moisturizer ($1.84) My first item was a light body lotion. This is good for warmer days where I live but if you live somewhere that is pretty cold then you might want to stash this away until spring time. It was fast absorbing and non-sticky and it has a fruity scent, like if fruit salad became a scent, this would be it! The scent lasted a long time though, and you don't really need to wear perfume when you use this.
Ciate London Glow-To Illuminating Blush in Pinch Me ($8.13) January was a makeup heavy bag for me – I received 4 makeup items!

Pinch Me is described as coral and it has lots of shimmer.

At first I thought this was a highlighter – it just didn't really show up on my skin. I discovered that I need to really swirl my blush brush around more than I normally would to get enough to make it show up on my face, but when I did I was really happy with the flush of color. Swatched below.

PUR 4-in-1 Pressed Mineral Makeup in Light ($15.80) I recently switched to powder makeup so I was excited to try this product! It claims that it has 4 benefits in 1 compact – foundation, concealer, finishing powder, and SPF.

Titatnium dioxiade provides the SPF, although I use an SPF moisturizer too so this is like extra protection.

I was surprised at how well this matched my complexion! I applied it with a densely packed brush and then went over it with a fluffy brush and it covered my ruddy face and stayed on all day. Swatched below.
RealHer Eyeshadow in Incomparable (part of a palette found here, $3.11 value) I received an eyeshadow single that is part of a 9-pan palette.

The shade Incomparable is described as "matte warm toffee. The perfect transition shade, or to use all over the lid for a day-to-day look." I used it all over my lid from lashes to brow and then used a deeper color in the crease. I will use this when doing a warm look since it is slightly tan but I thought it worked well.

Araceli Ojos Perfectos Liquid Eyeliner in Coffee/Café ($16) I am not the best at using liquid liners but my daughter loves them so I pass them on to her after trying them out a couple of times.
I appreciate that Ipsy sent a dark brown liner instead of black, I was starting to wonder if liquid liners came in any other colors!

It has a spongy tip. No matter how many times I try a product like this, I can only manage to do a good cat eye on my right eye and the left one always ends up looking wonky. The liner dried really quickly, but I was able to wipe off my mistake with a wet tissue. After swatching I was alarmed at how easily this product wiped off of my arm, but it didn't smear around my eyes after wearing it all day. Overall I thought it worked well!

Here are the products swatched from top: liner, eyeshadow, powder foundation, and blush. That is one swipe for each product, and the blush was buildable.

Overall I was really happy with my Ipsy Glam Bag! I generally like the makeup that Ipsy sends and this was a makeup heavy month for me. I really adored all of the colors too, that doesn't happen very often so I give extra points to Ipsy this month for getting it right! The bag was adorable and seems easy to keep clean. The value for my January shipment was around $44.88!
What did you get in your Ipsy this month?