The Introverted Chick is created for women who value alone time and for those who'd rather stay at home than to go out and socialize. Items usually include relaxing goodies plus lifestyle items featuring the humor that only true introverts will understand. The subscription is $39.99 a month and a portion of proceeds are donated to charitable causes!
DEAL: Save 10% on your first purchase with coupon code HELLO10.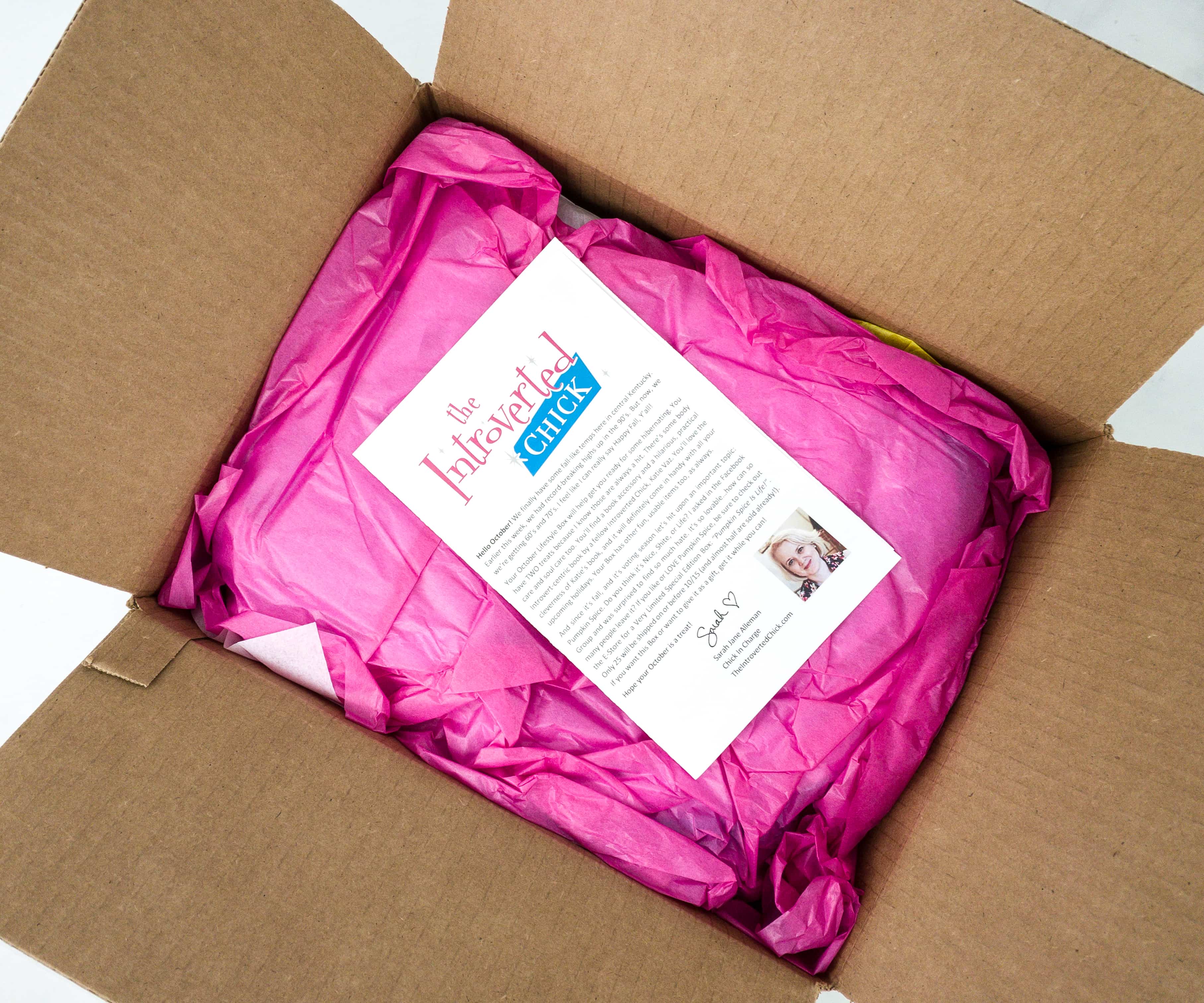 The items are in a simple brown box. On top of the items, there's a pamphlet.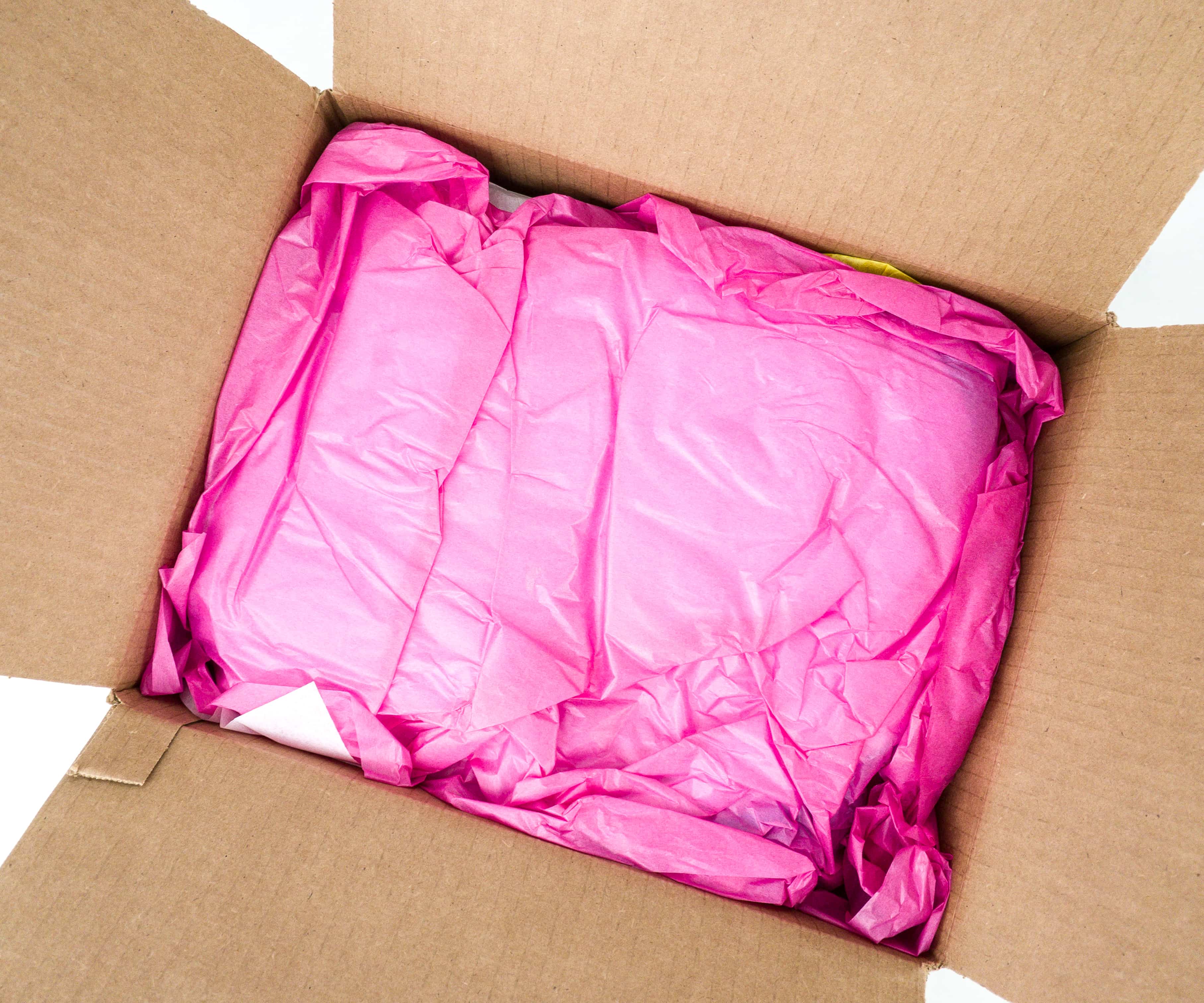 The items are all wrapped in a pretty pink tissue paper.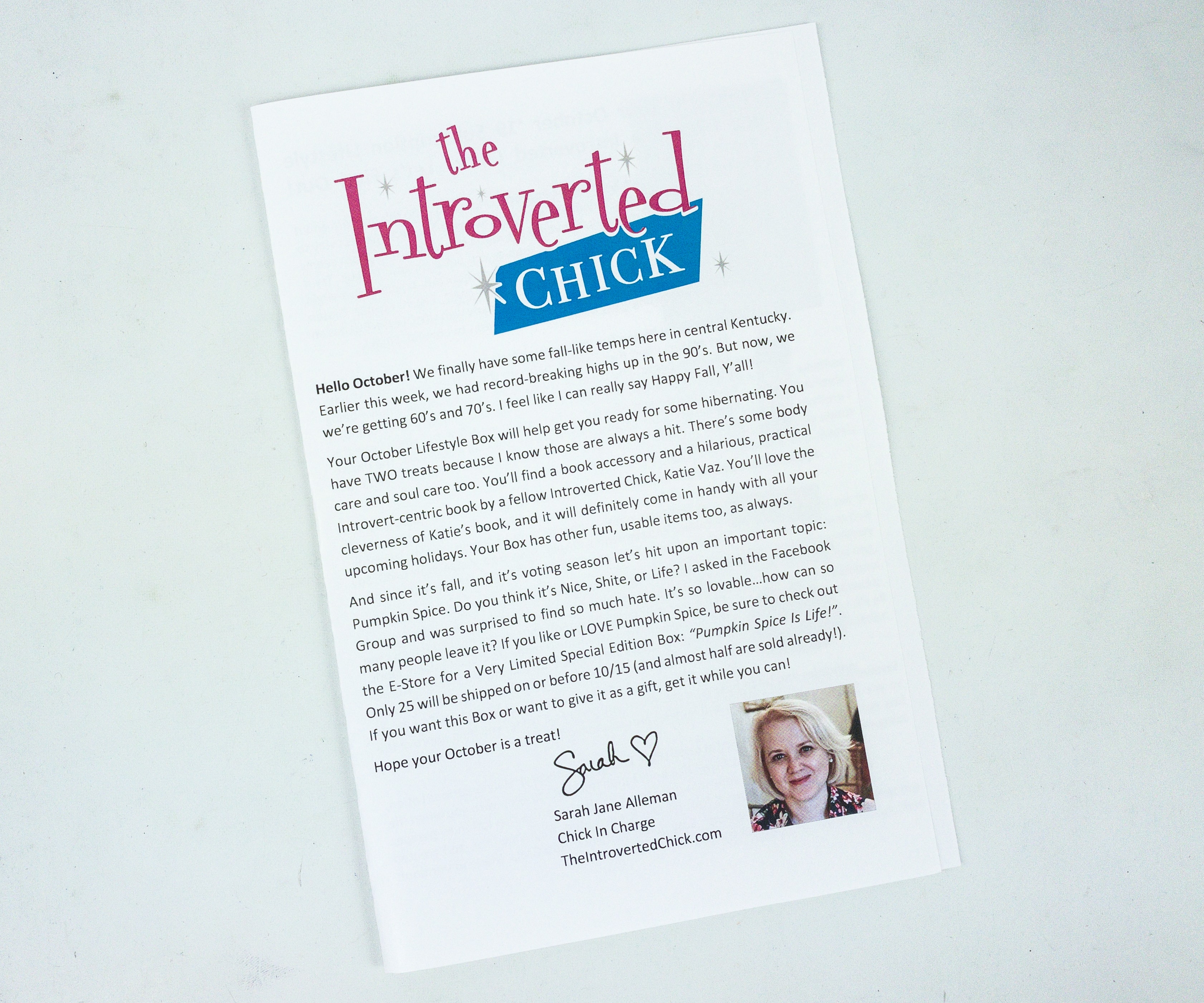 The pamphlet contains a message from Sarah, the box owner.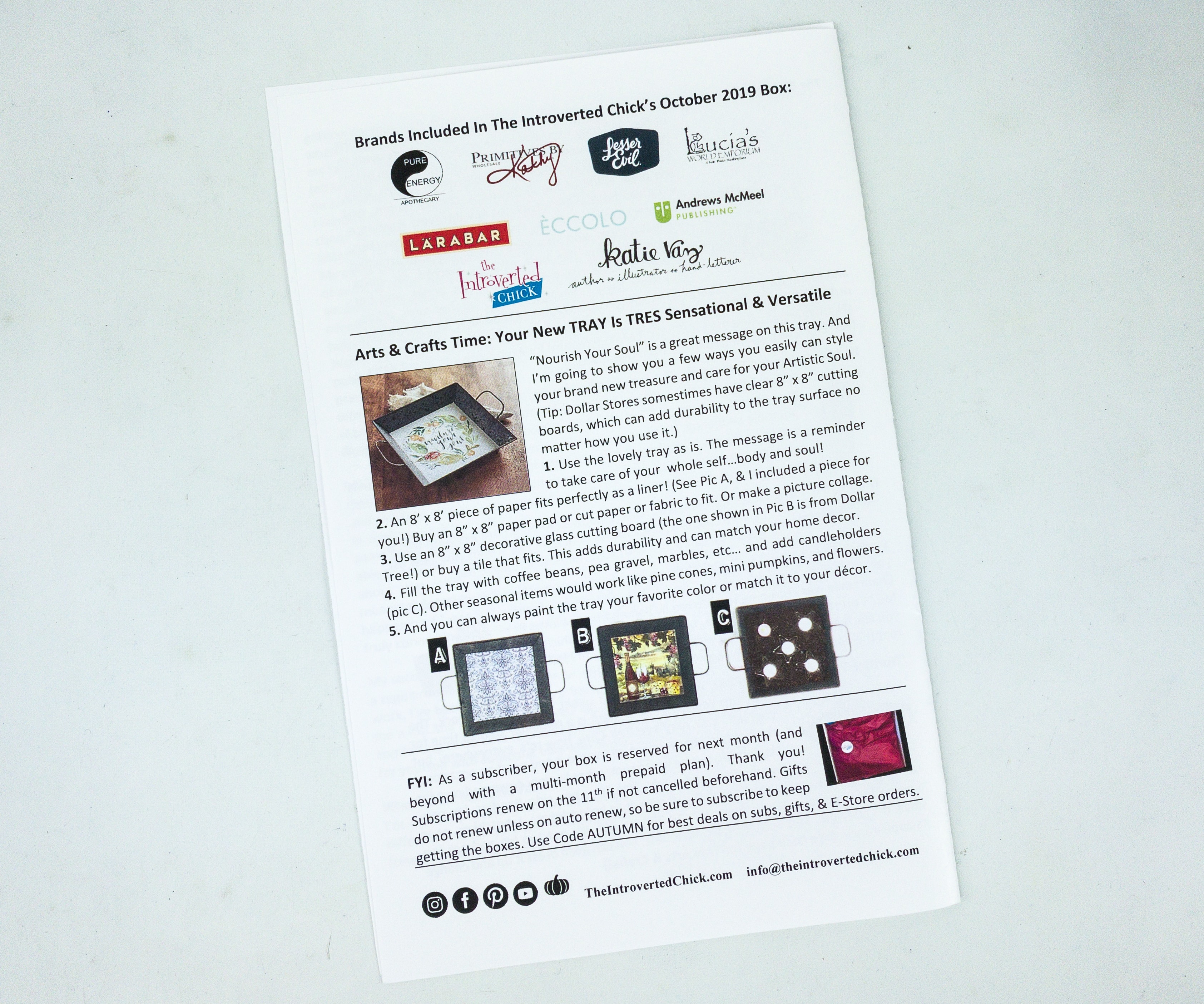 They also listed the brands featured in this month's box.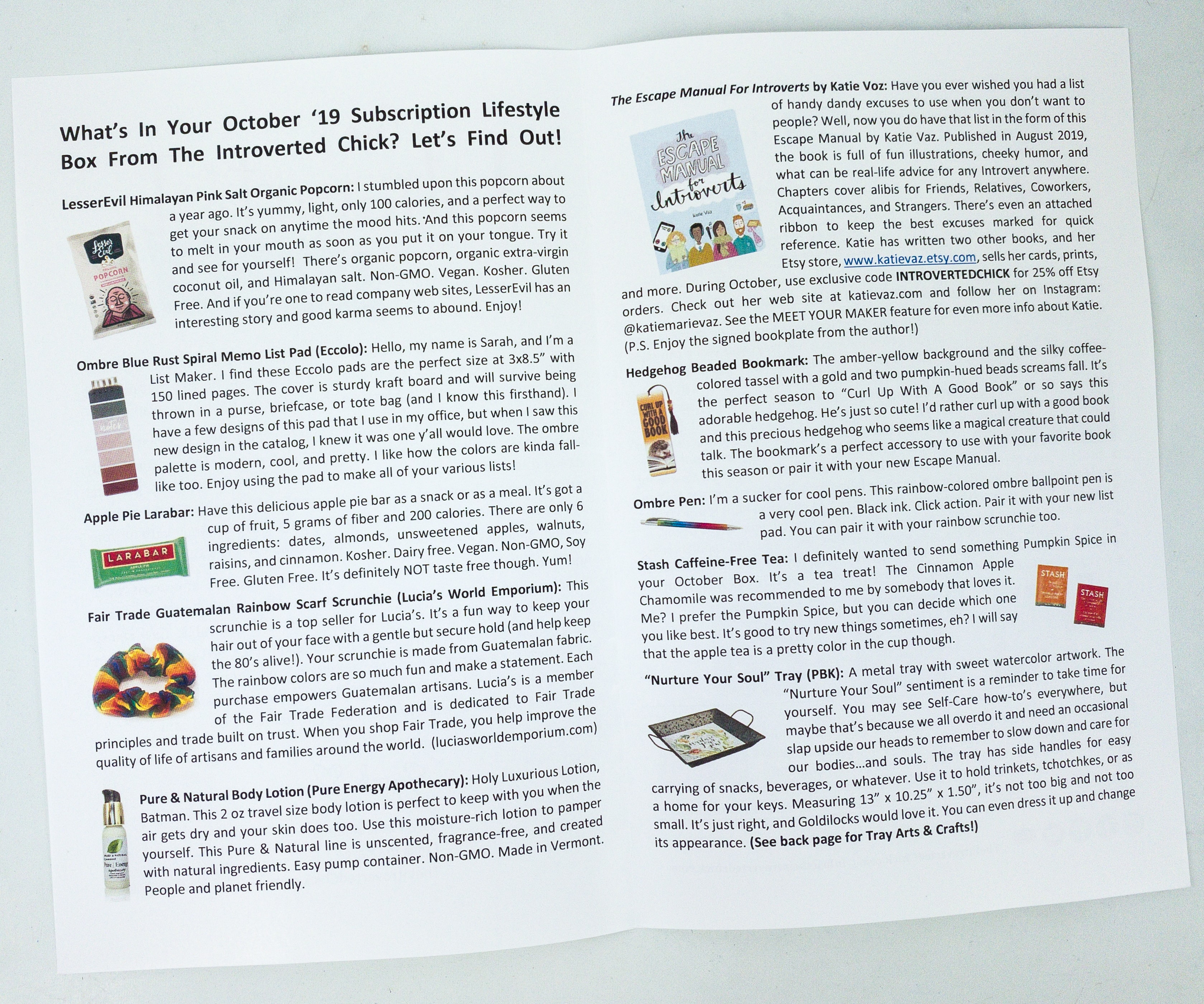 Of course, there's a rundown of all the items, plus a brief description for each.
Another page contains a Q& A with this month's featured maker, Katie Vaz.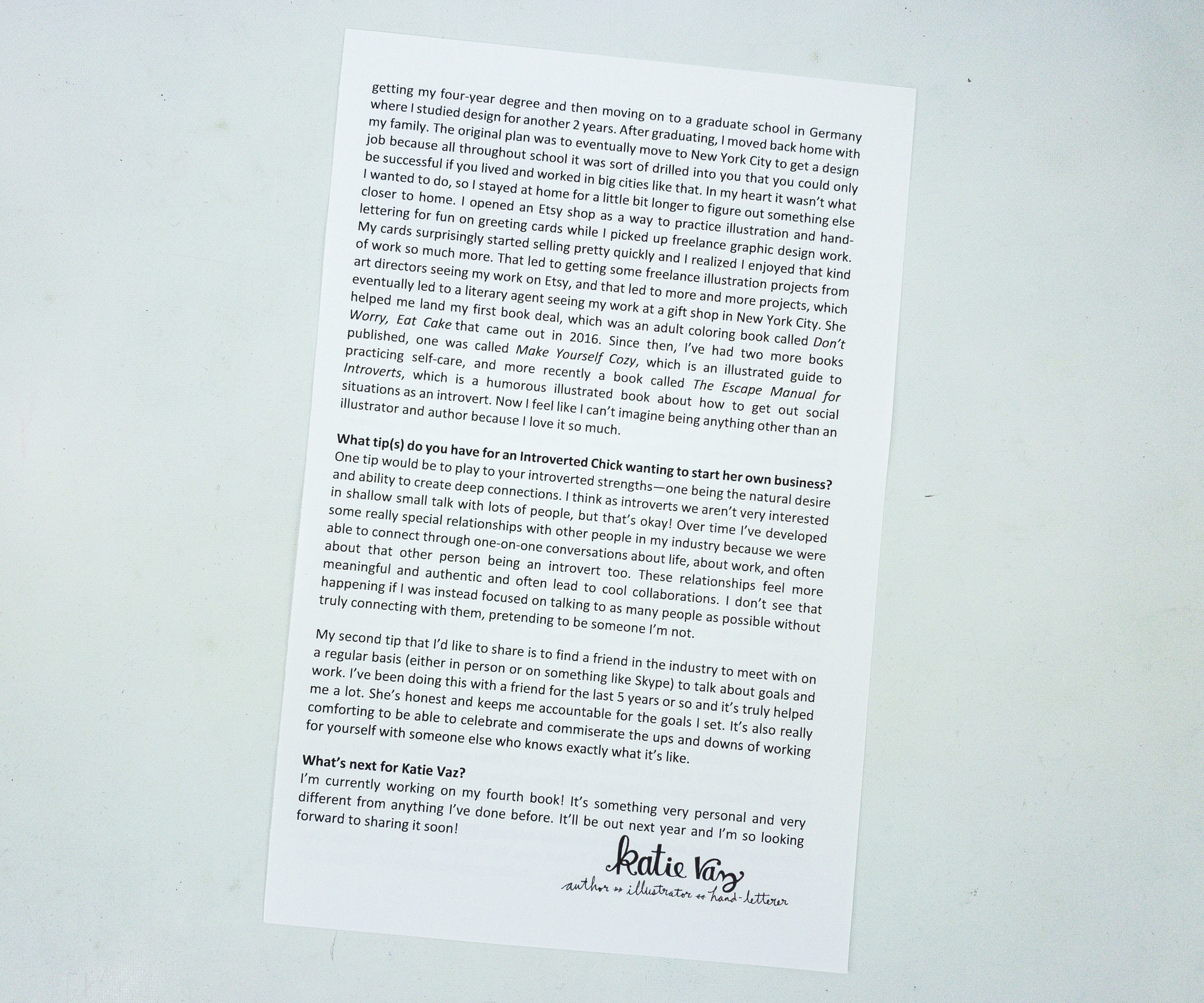 She shared her thoughts about being an introvert and about her business!
The contents are colorful! I'm excited!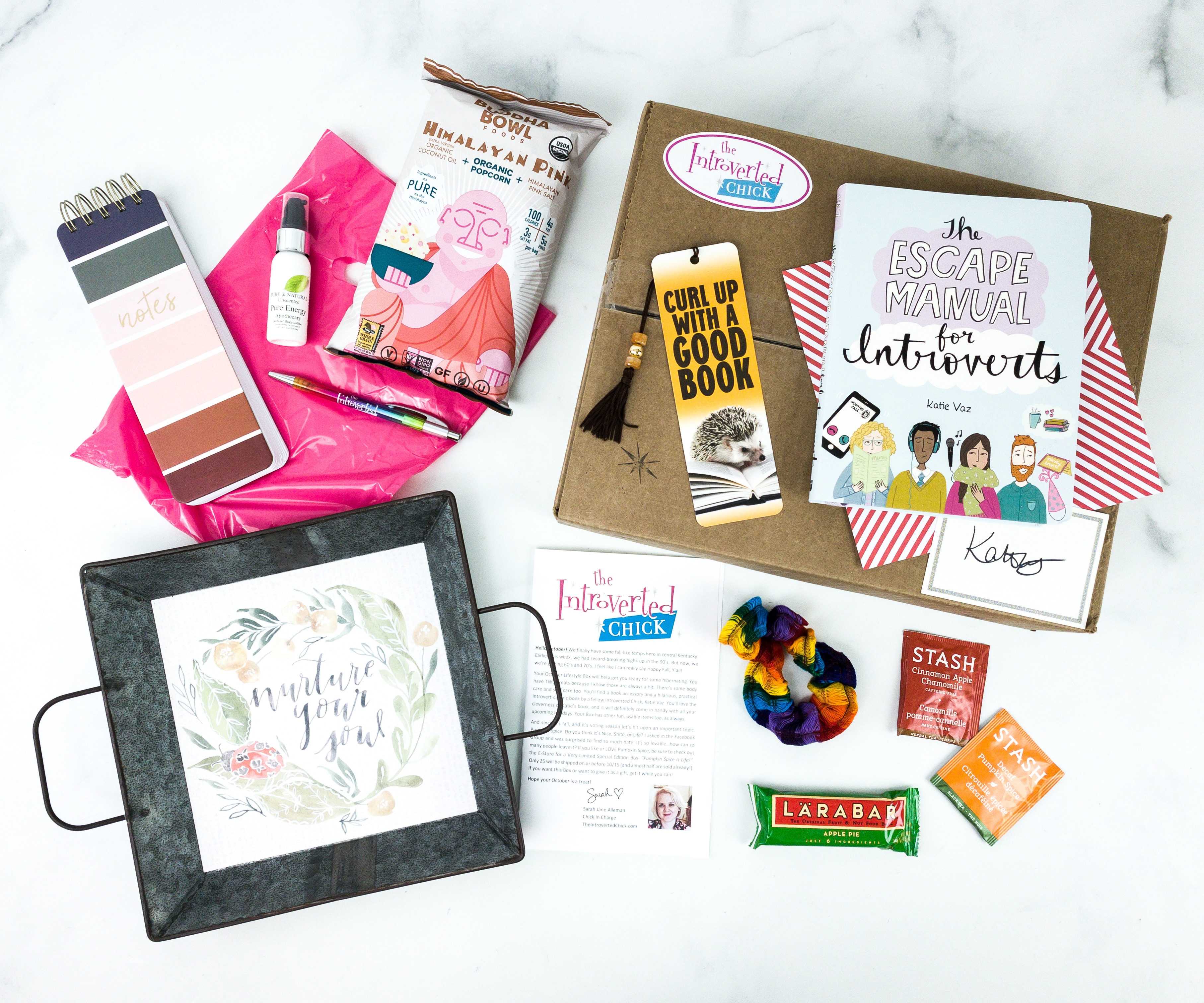 Everything in my box!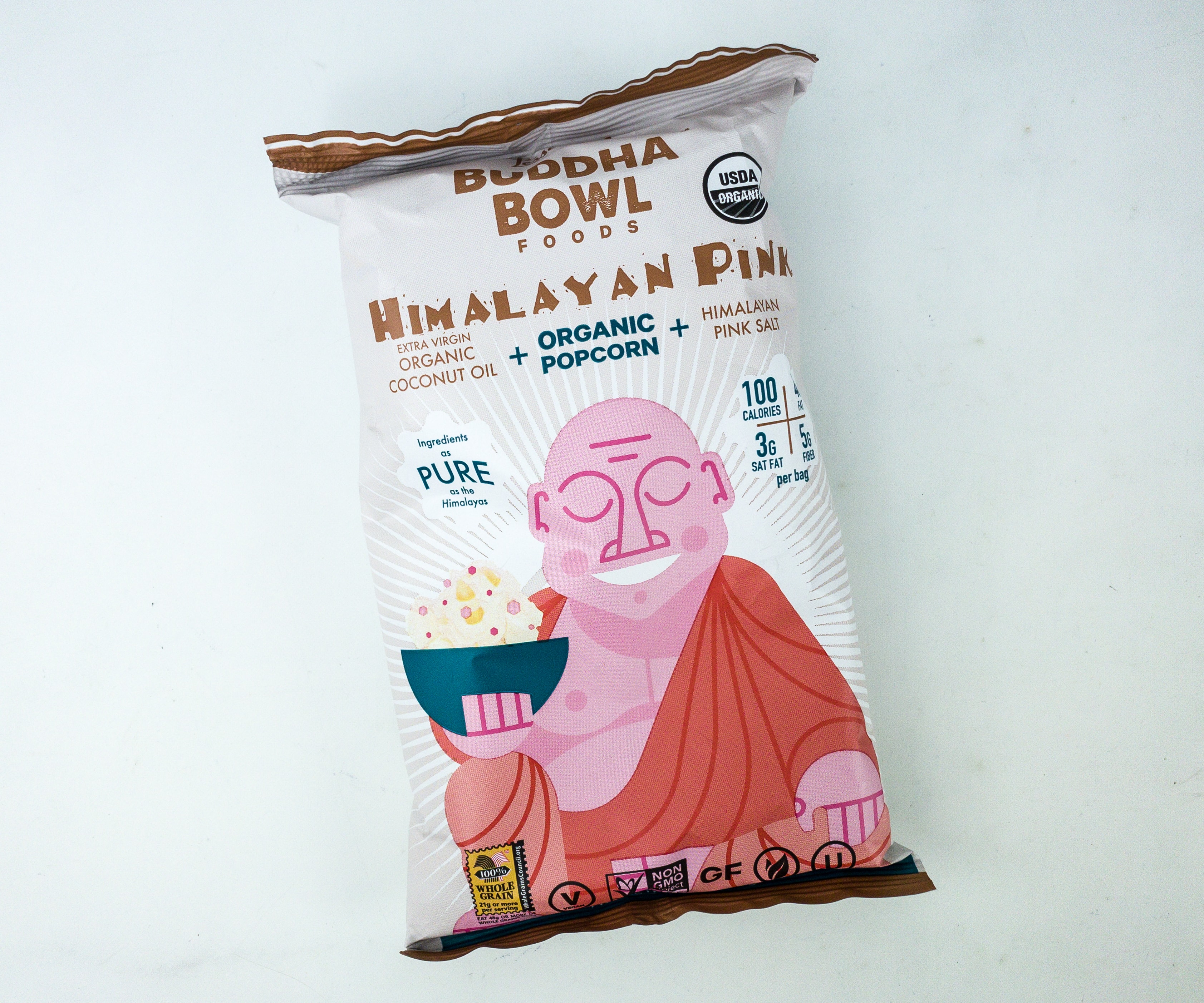 Lesser Evil Buddha Bowl Foods Himalayan Pink Organic Popcorn ($1.64) Fall is a great time to stay in and read books while munching on yummy snacks such as this organic popcorn. Made with extra-virgin coconut oil and Himalayan salt, this snack is light and low in calories, with just the right amount of saltiness.
Hedgehog Beaded Bookmark. Speaking of books, I love them and new bookmarks are never not needed. The bookmark they sent me this month features the cutest hedgehog I've seen, with a tassel and beads that added an extra charm! It also says "curl up with a good book" and I couldn't just wait to do exactly that!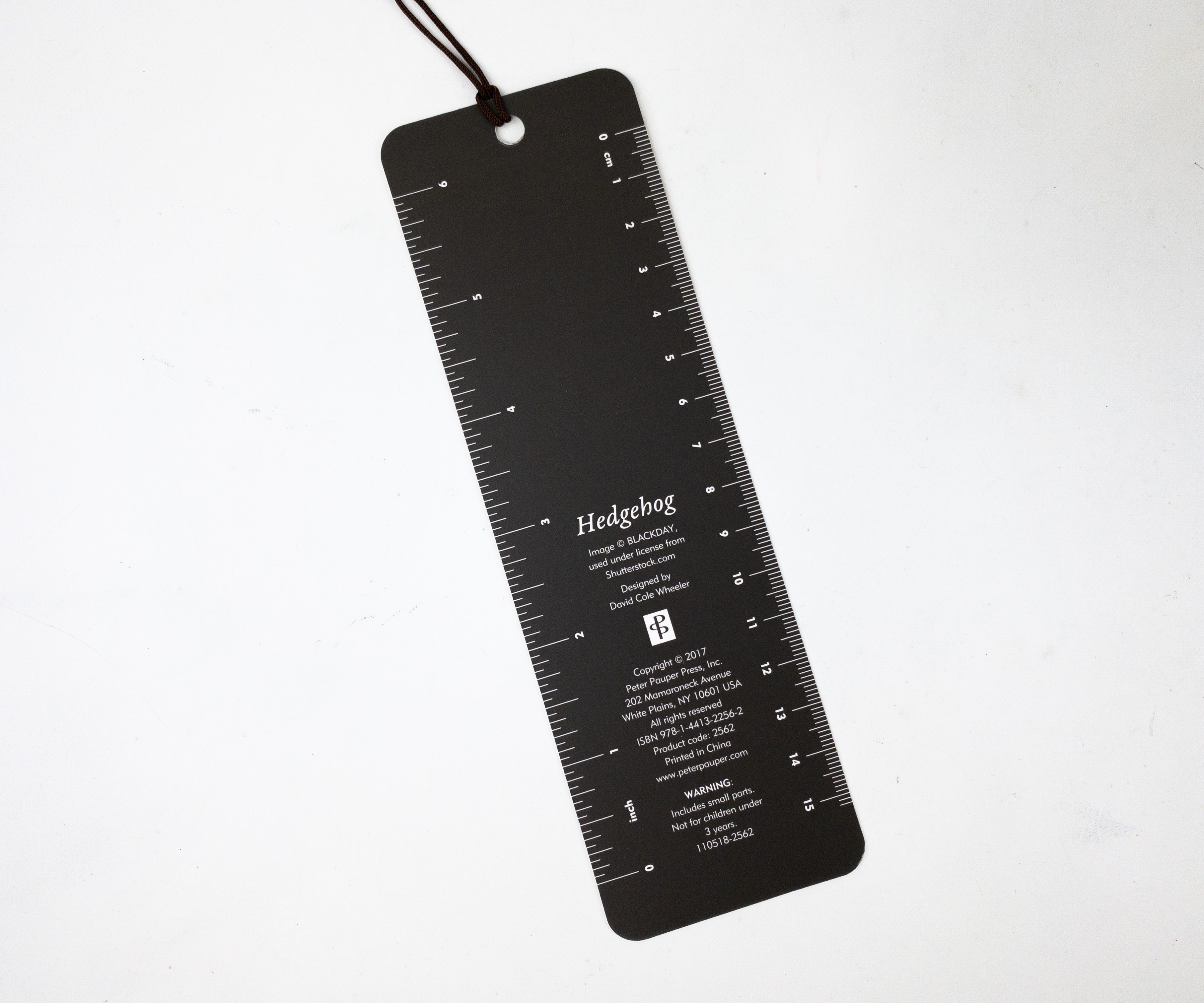 The bookmark also doubles as a ruler! So awesome!
Stash Caffeine-Free Tea. Tea in fall flavors? Why not! I got two sachets of tea, one in pumpkin spice and the other in cinnamon apple chamomile. Both are caffeine-free and absolutely delicious!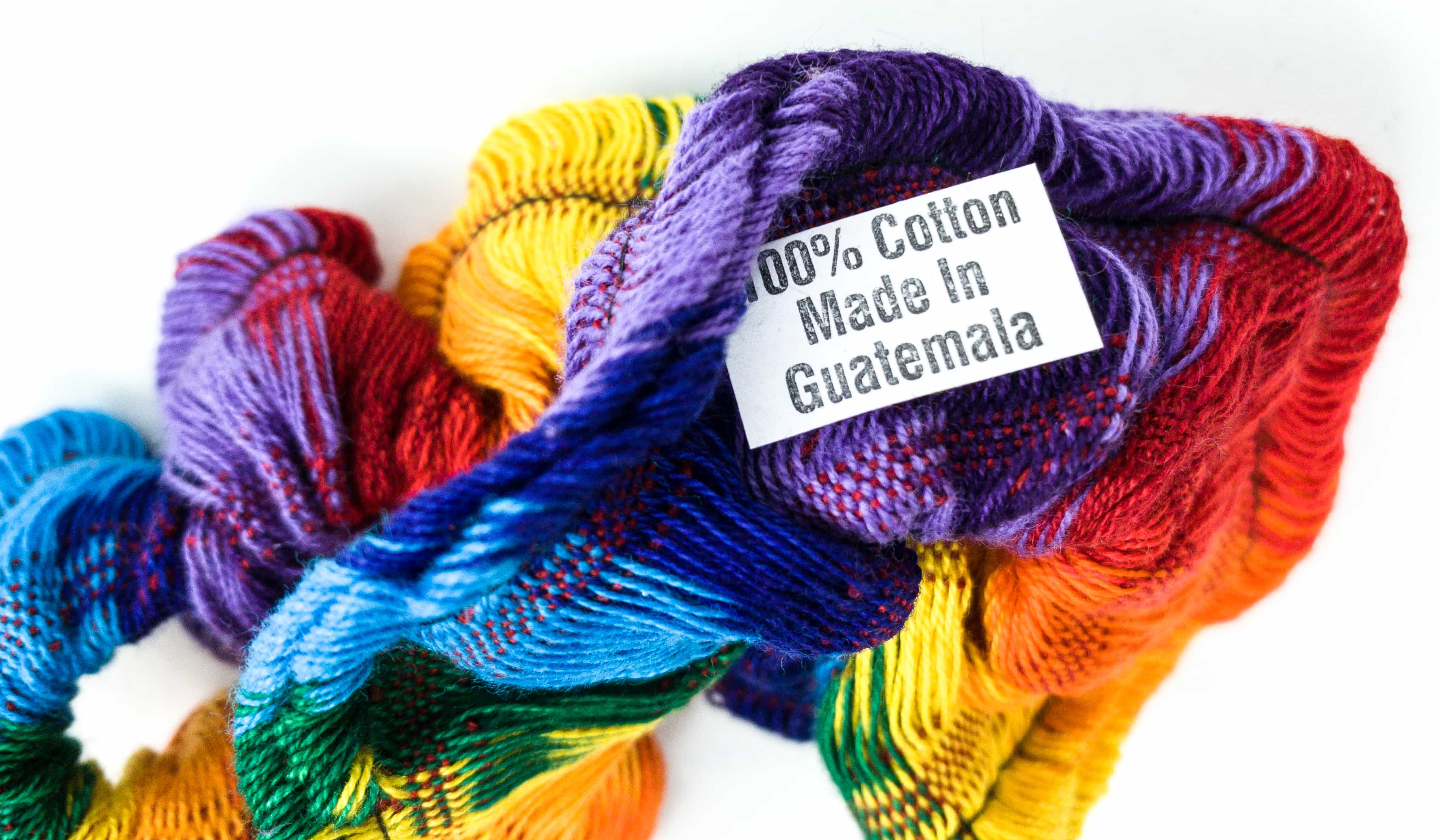 Lucia's World Emporium Fair Trade Guatemalan Rainbow Scarf Scrunchie ($10) This is scrunchie is rainbow-colored, so it's definitely cute and eye-catching! It gives me the retro vibes as well, and I really love that.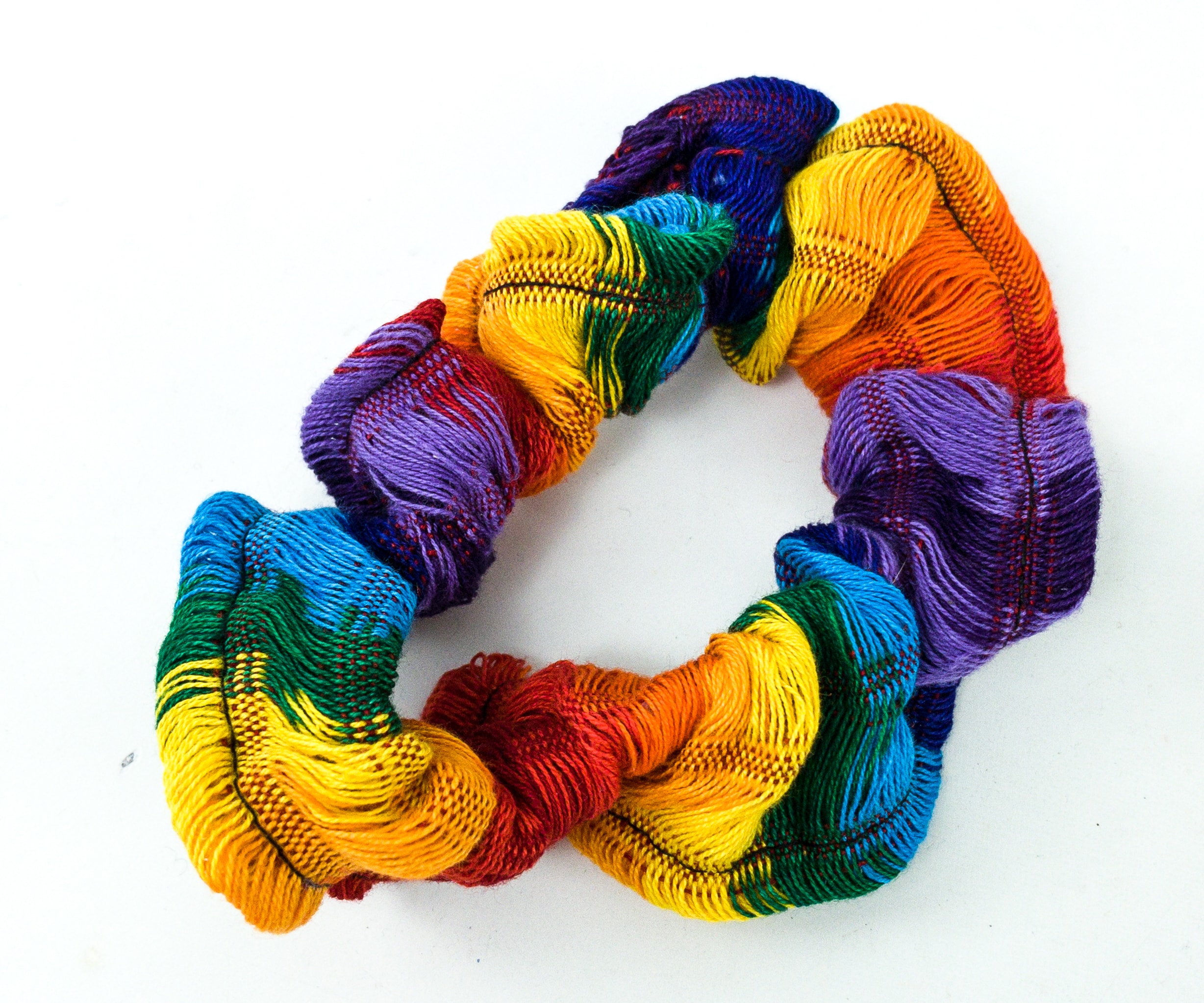 It holds your hair nicely without tugging or hurting your hair. Also, it's made with Guatemalan fabric and every piece sold helps empower Guatemalan artists!

Apple Pie Larabar ($1.32) Here's another yummy snack, a fruit and nut bar with a luscious apple pie flavor. It's made with just 6 ingredients and they're all healthy. It was sweet but not too much, I actually liked it. It filled my stomach pretty easily as well.

Ombre Pen. Yay, another rainbow-colored item! This ombre pen features The Introverted Chick logo. It's retractable and also writes smoothly with its black ink.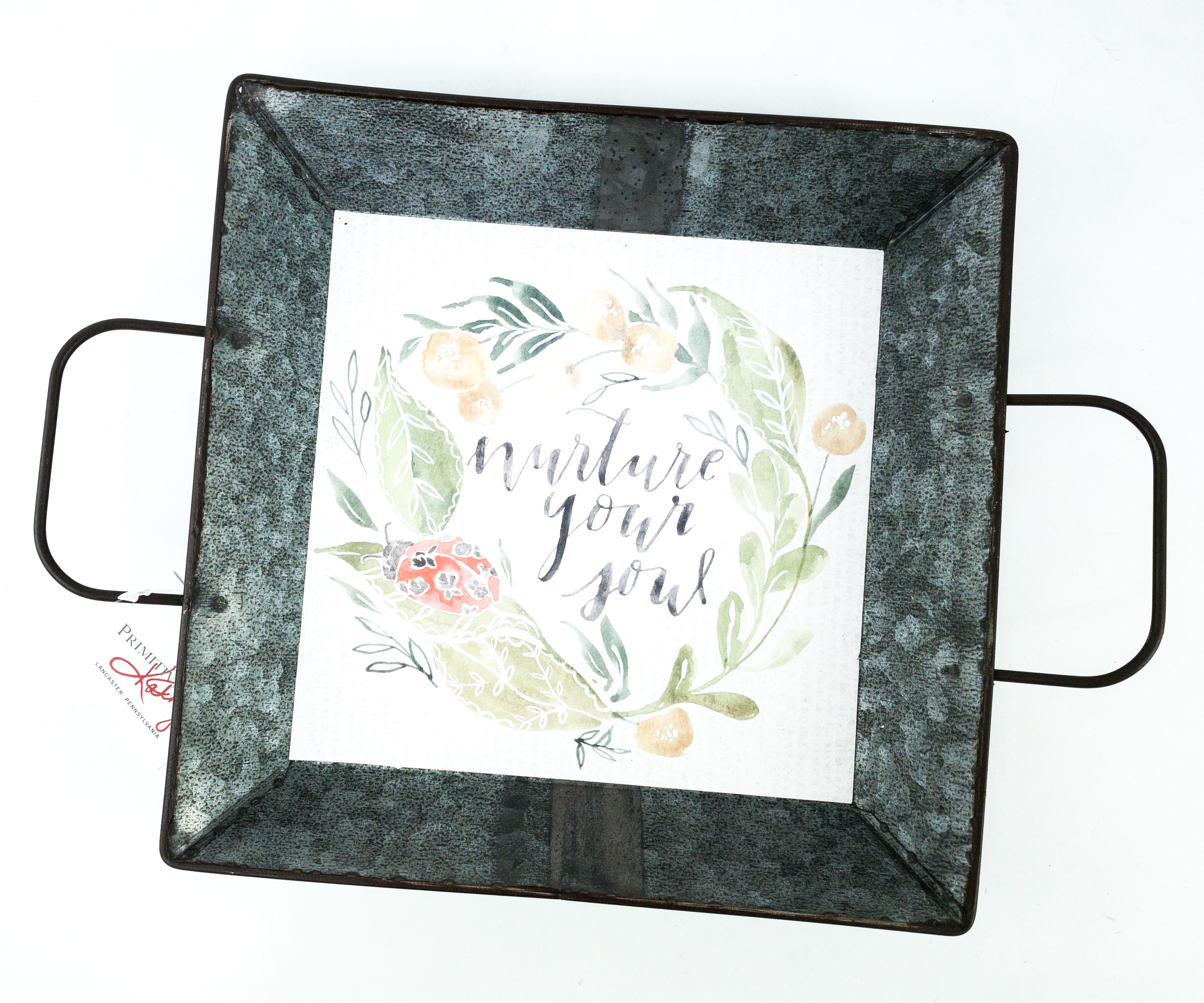 PBK "Nurture Your Soul" Tray. I found just the perfect tray for home use! What makes it more special is the watercolor design in the middle that says "nurture your soul." It's like a self-care reminder!
The handles make the tray easy to transport to any part of the house. The size is just right, whether for serving food and drinks or keeping your trinkets organized.
Eccolo Omble Blue Rust Spiral Memo List Pad – SIMILAR ($9.99) To pair with the ombre pen, they included this handy memo pad. It's small enough to stash into my purse for notetaking wherever I go.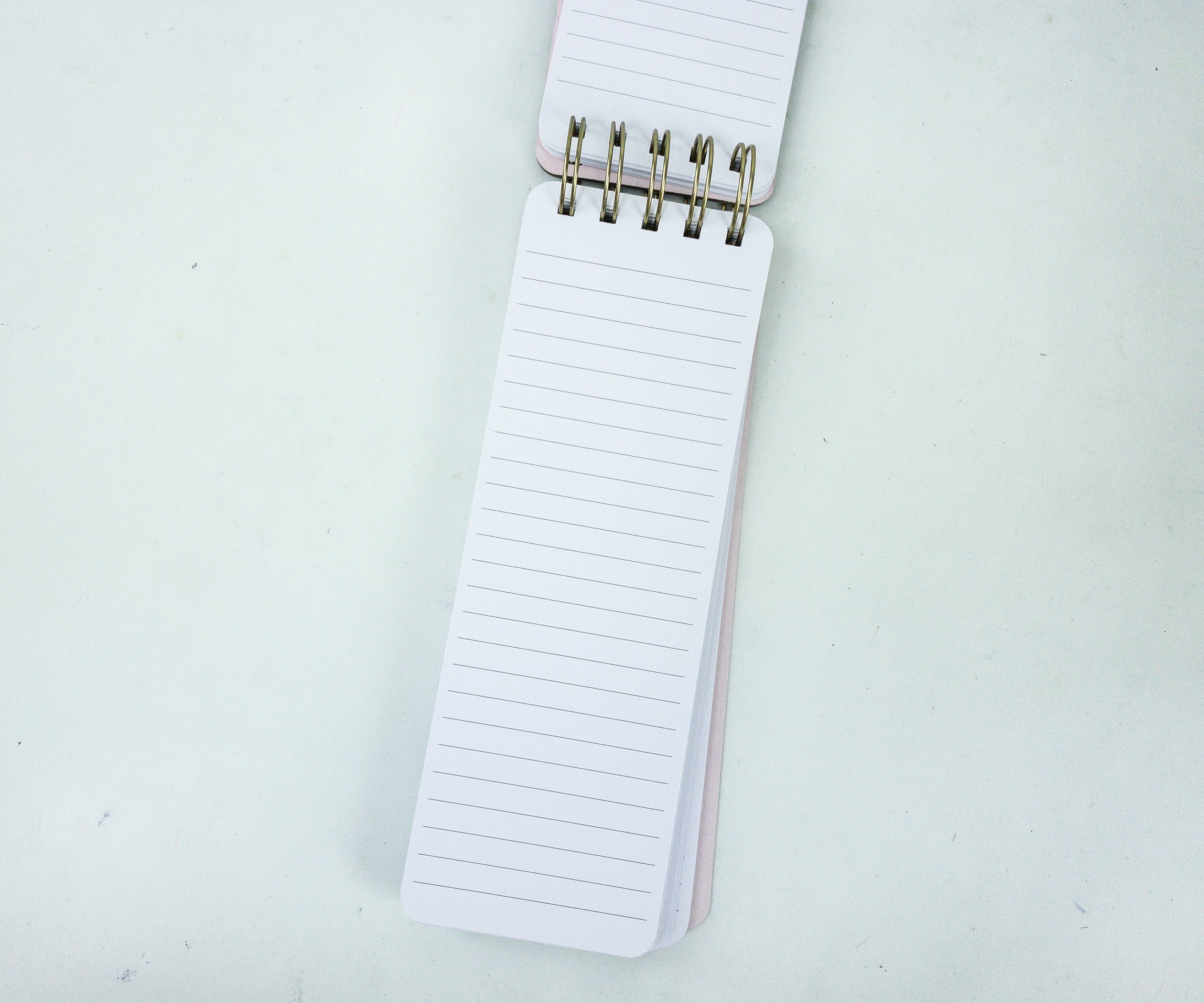 The pages are lined. It's great for making lists as well.
I also got a patterned paper in the box.
The Escape Manual For Introverts by Katie Vaz ($8.79)
Feeling cornered at a wedding reception by gossipy guests? Stuck at a holiday party that lasts forever? This beautifully illustrated book is the ultimate funny, sometimes absurd guide to escaping those painfully awkward situations. 

Trapped in an airplane seated next to a chatterbox? Are you hosting a dinner party with people who just won't leave? Katie Vaz has the key to your escape. The Escape Manual for Introverts guides readers through different scenarios with themed chapters ("Friends," "Relatives," "Strangers," etc.). Each chapter covers a range of situations, from an invitation to karaoke night to group lunchtime. And she offers a number of escapes for each scenario: bringing odoriferous foods to lunch for a while, having a pet (real or imagined) that "requires" frequent check-ins, and even investing in a jet pack. This book features Vaz's full-page illustrated spreads, hand-lettering, and spot illustrations. From the silly to the sincere, Vaz's clever, hilarious escape plans and bizarre excuses speak to the introvert in all of us.
This book understands exactly what introverts are going through and even gives us advice!
It's filled with fun illustrations and relatable text!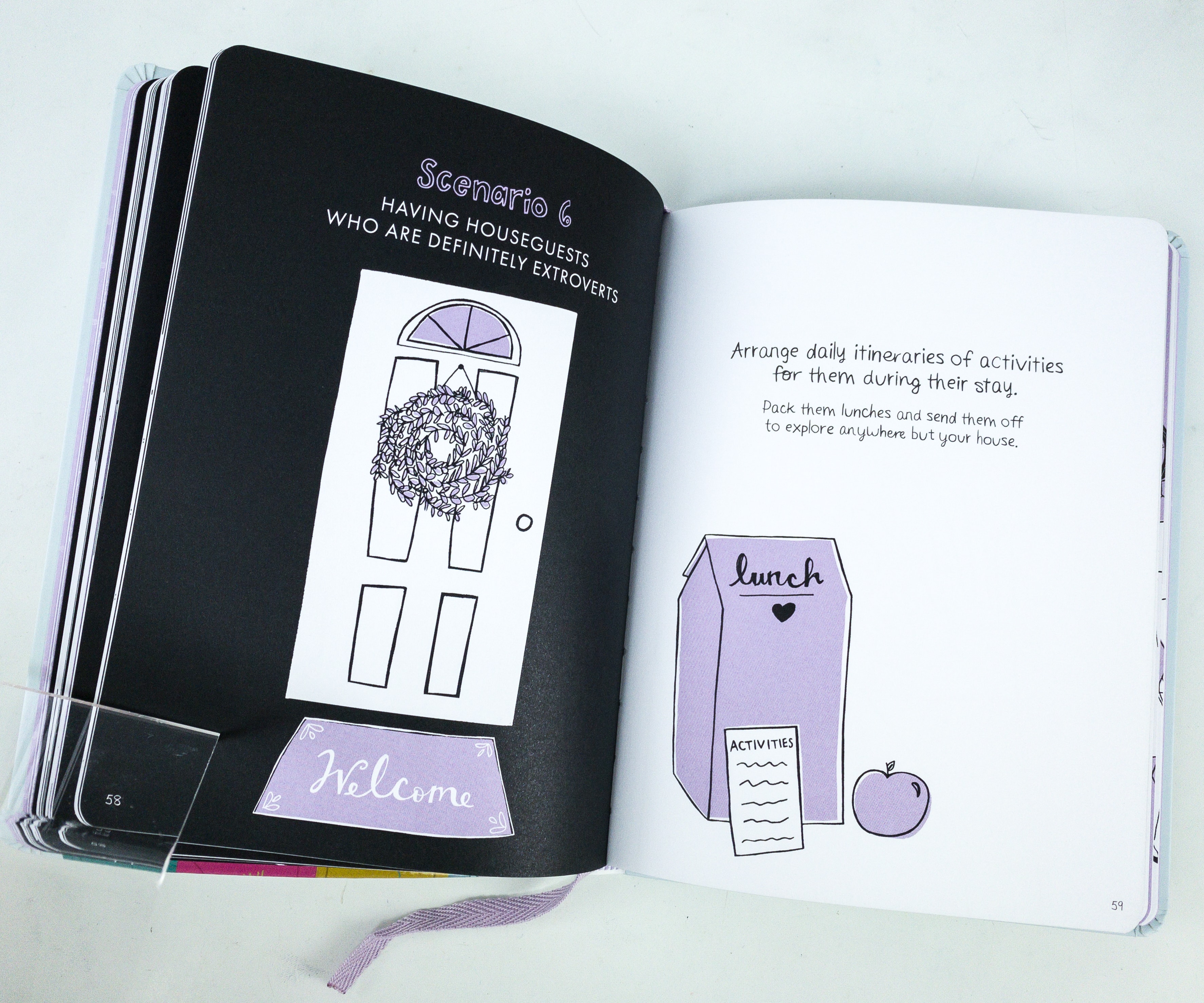 Alone time is a priority for introverts because it allows us to recharge and, well, just be ourselves. I'm so glad that I stumbled upon this book through this subscription! It's the best, really.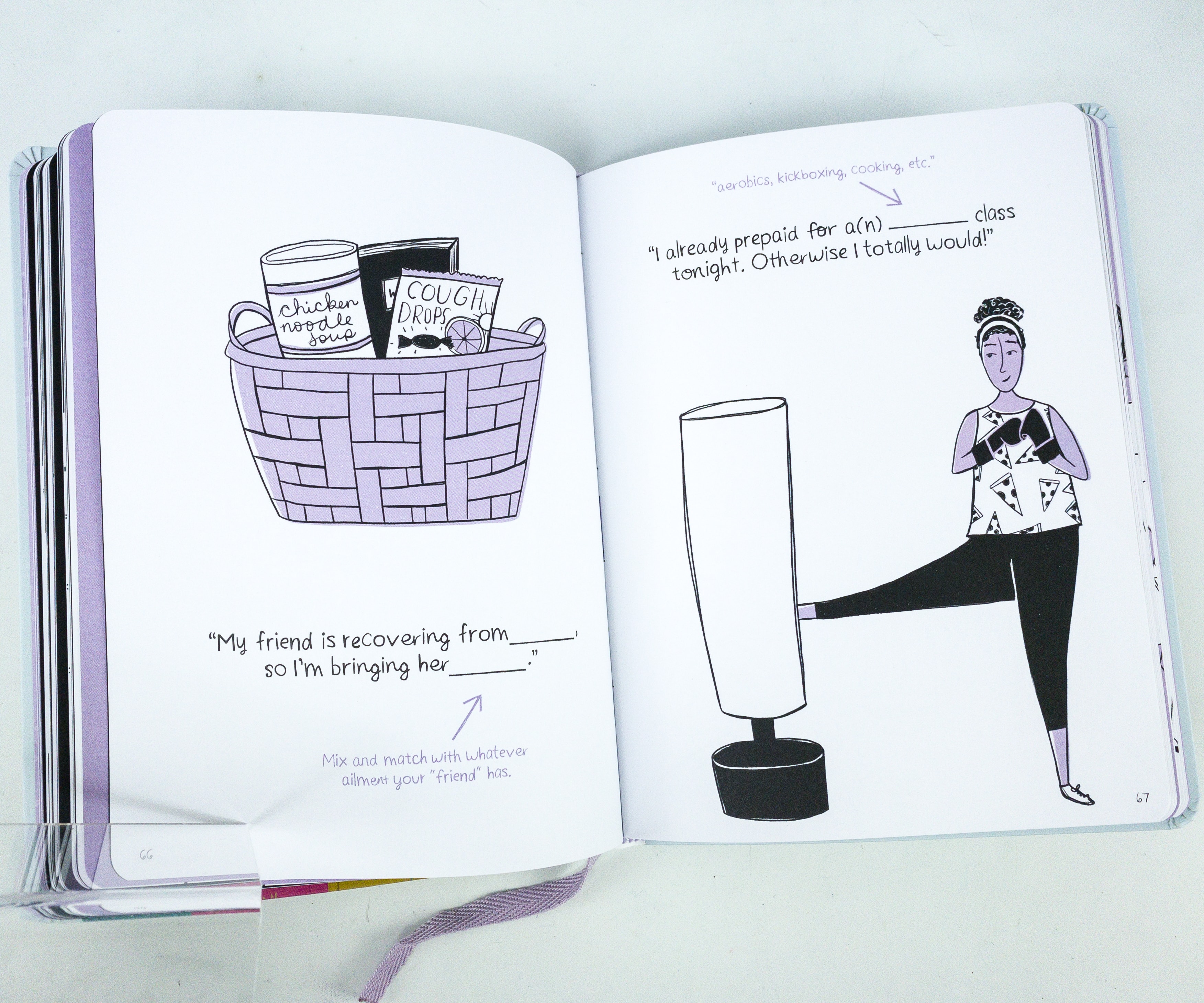 Even if you're already an expert at introverting, you'll still learn something from this book and you might even get a good laugh here and there.
Pure Energy Apothecary Pure & Natural Body Lotion ($1.87) Sometimes, self-care also means taking care of your skin. This body lotion is a nice cold-weather companion because it's super moisturizing.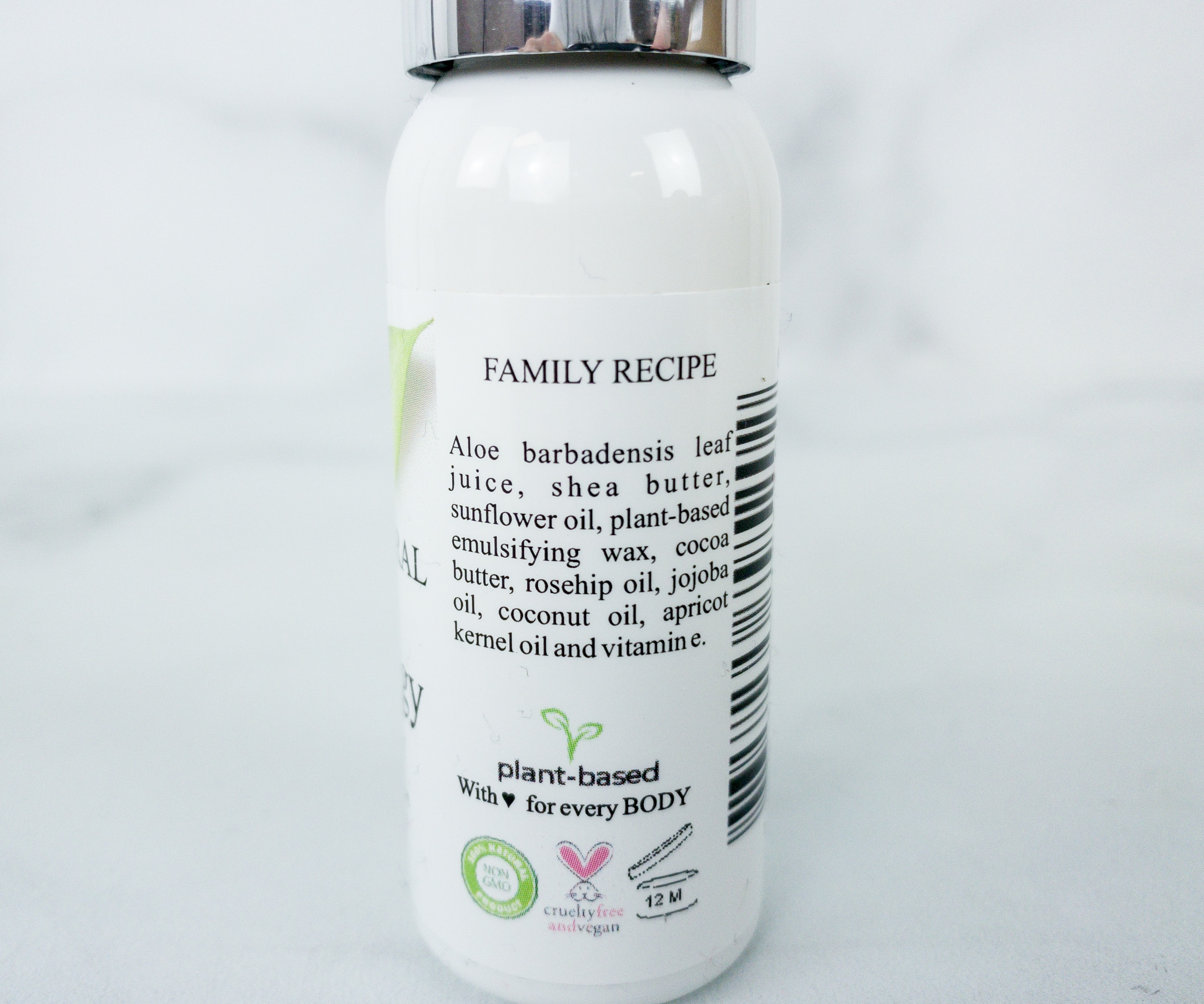 It's fragrance-free and plant-based as well! My skin loves the formula, it just felt so smooth and soft after application.
The Introverted Chick keeps getting better and better! I love that this subscription truly understands what being an introvert really means and that they send us stuff that makes us feel good and celebrated for who we are. I love everything in the box but if I have to choose a favorite, it would be the book. It's fun and witty, no doubt it's created by a fellow introvert. I hope to see more books in future boxes!
What do you think of The Introverted Chick box?