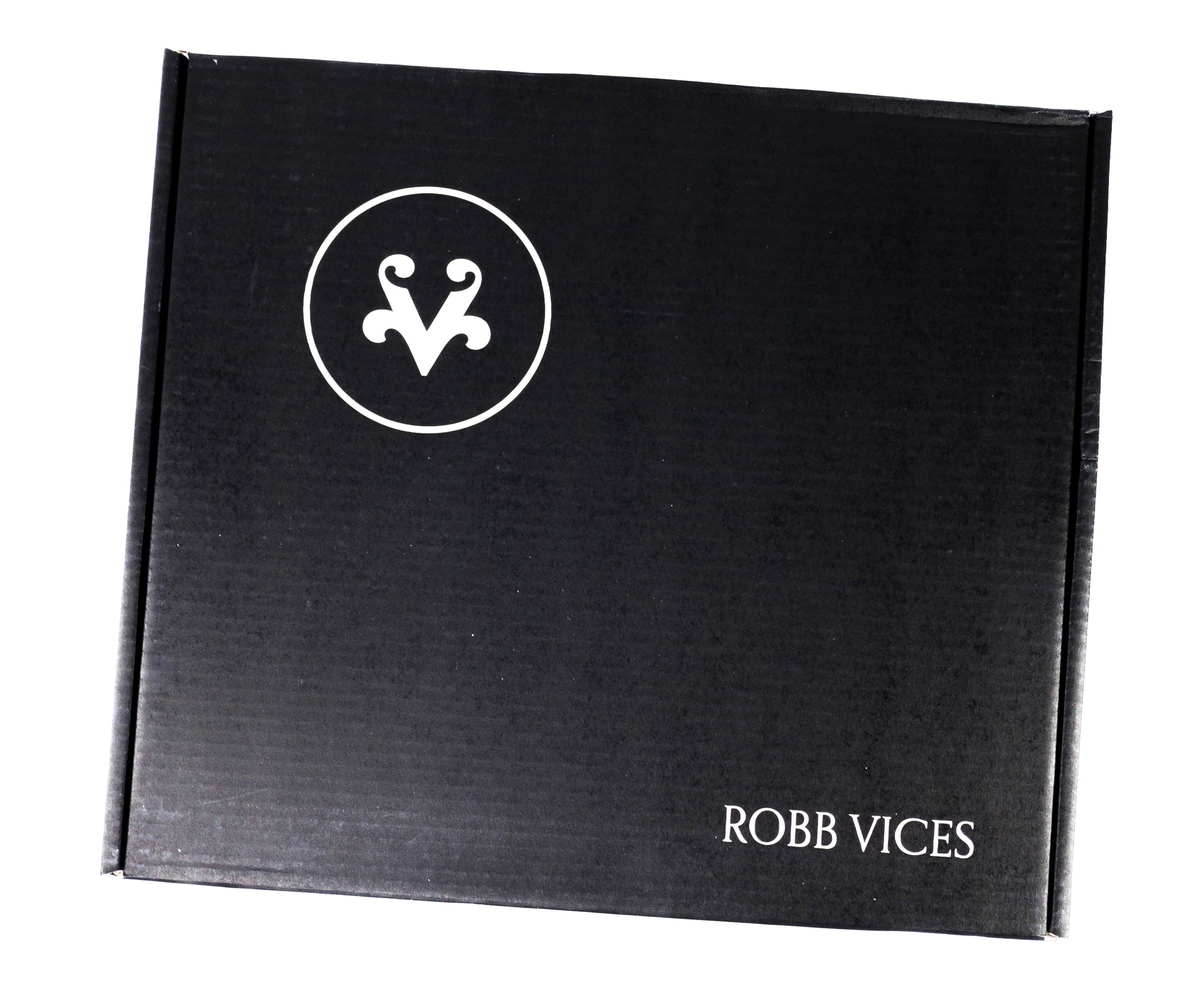 Robb Vices is a monthly luxury subscription service that delivers a collection of "storied treasures." The subscription costs $159.95 per month, and each box comes with a collection of incredible products and experiences that have been curated for your enjoyment.
All the items are cradled in a thick a customized carton case with the exclusive Robb Vices booklet on top.
The items are also wrapped in a white wrapping paper and sealed with the Robb Vices stickers.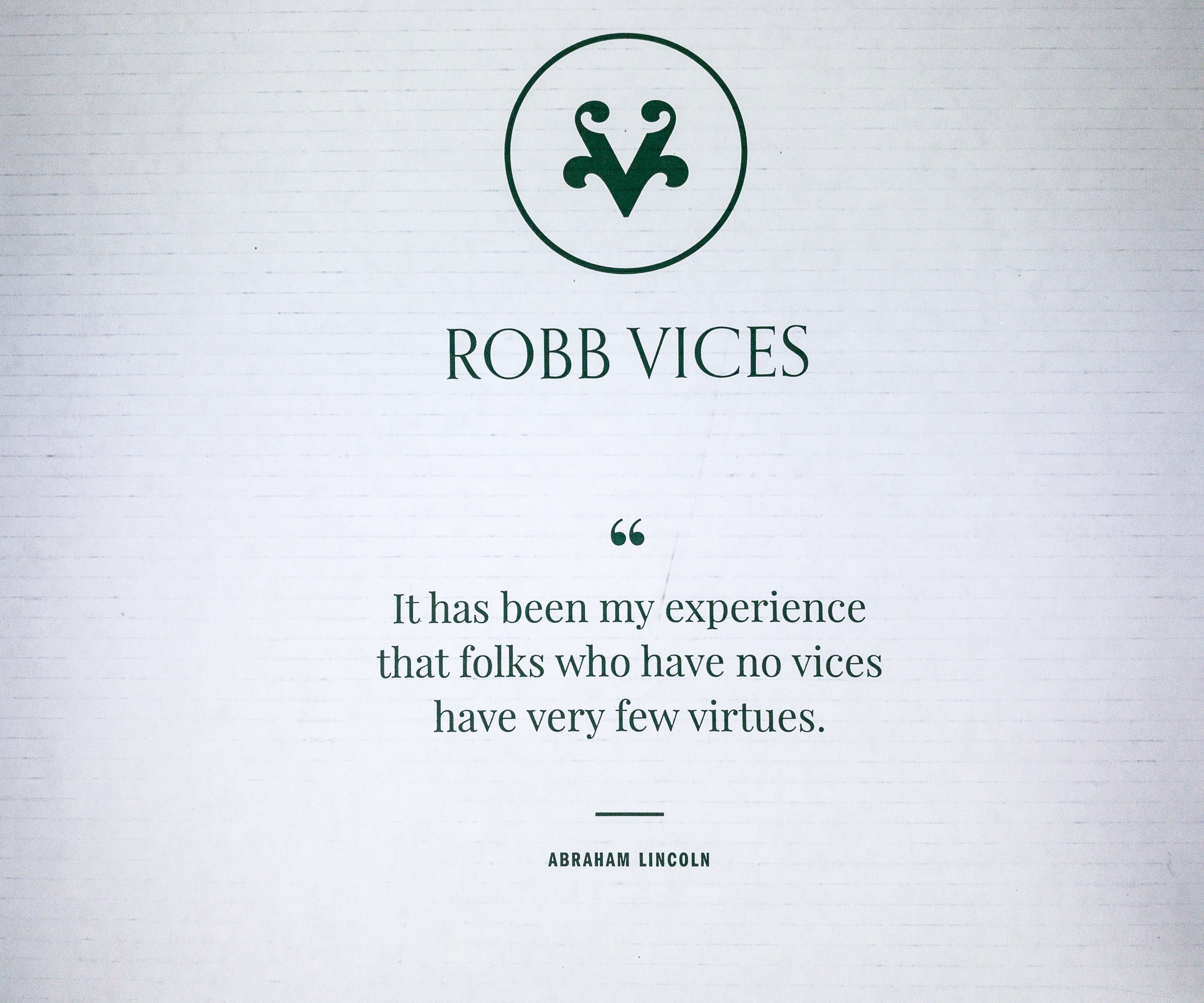 It has been my experience that folks who have no vices have very few virtues.  – Abraham Lincoln
This month's box doesn't contain any custom-fitted foam case since there is no fragile object that might get broken.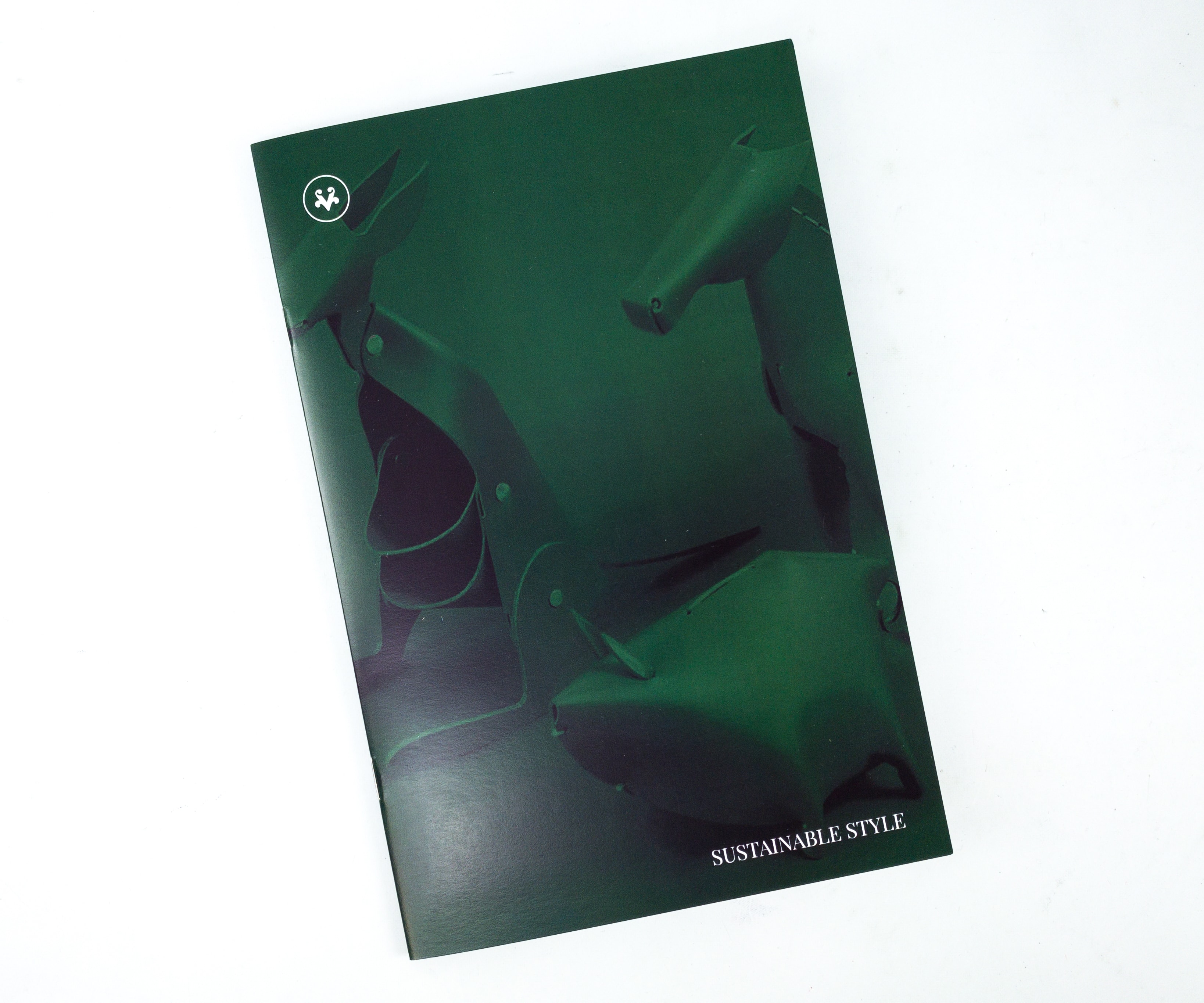 The story of the premium products is told through this novella-sized booklet with a multi-page featurette on each selection.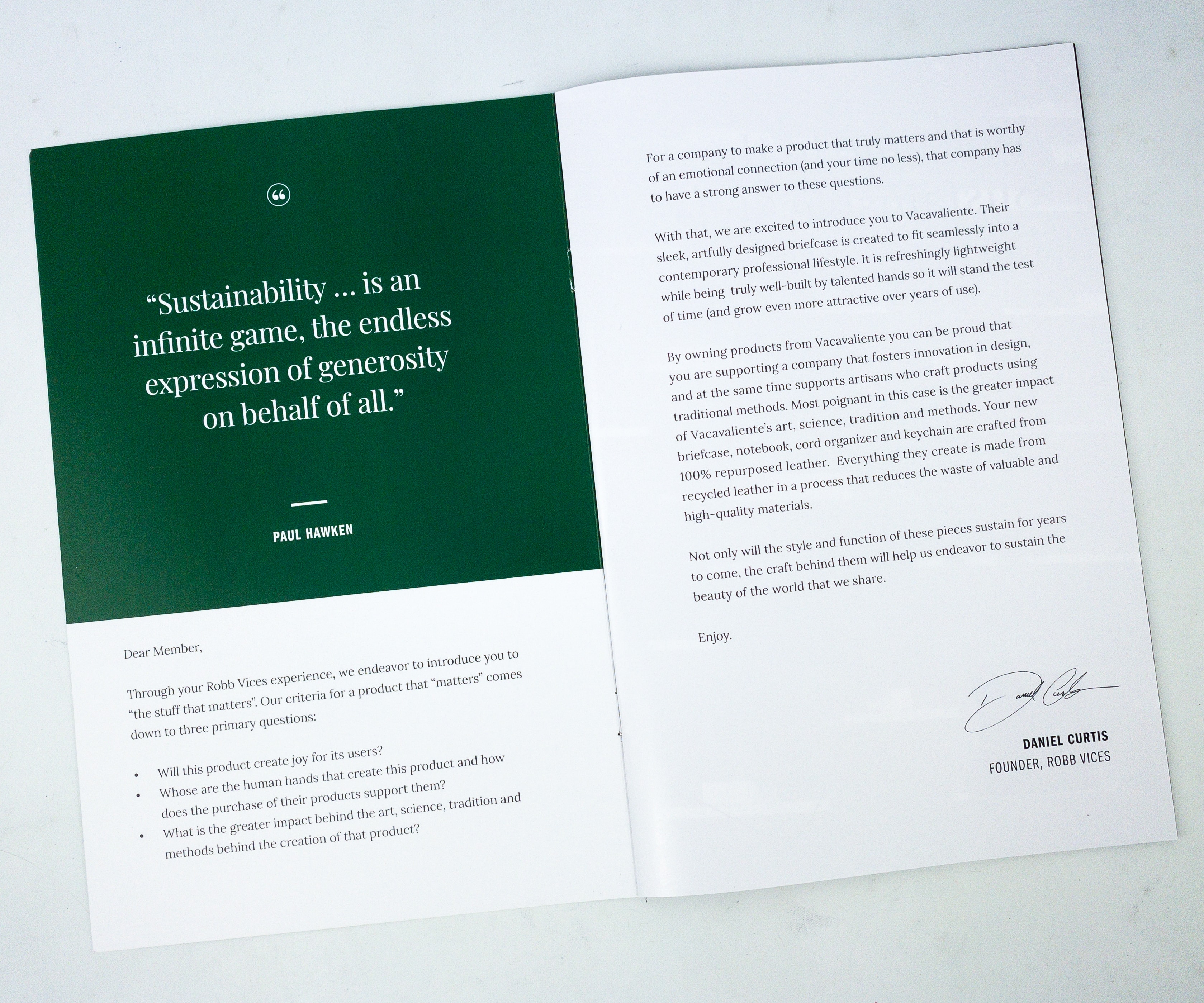 Featured on one side of the booklet is a full-page message from Daniel Curtis, the founder of Robb Vices.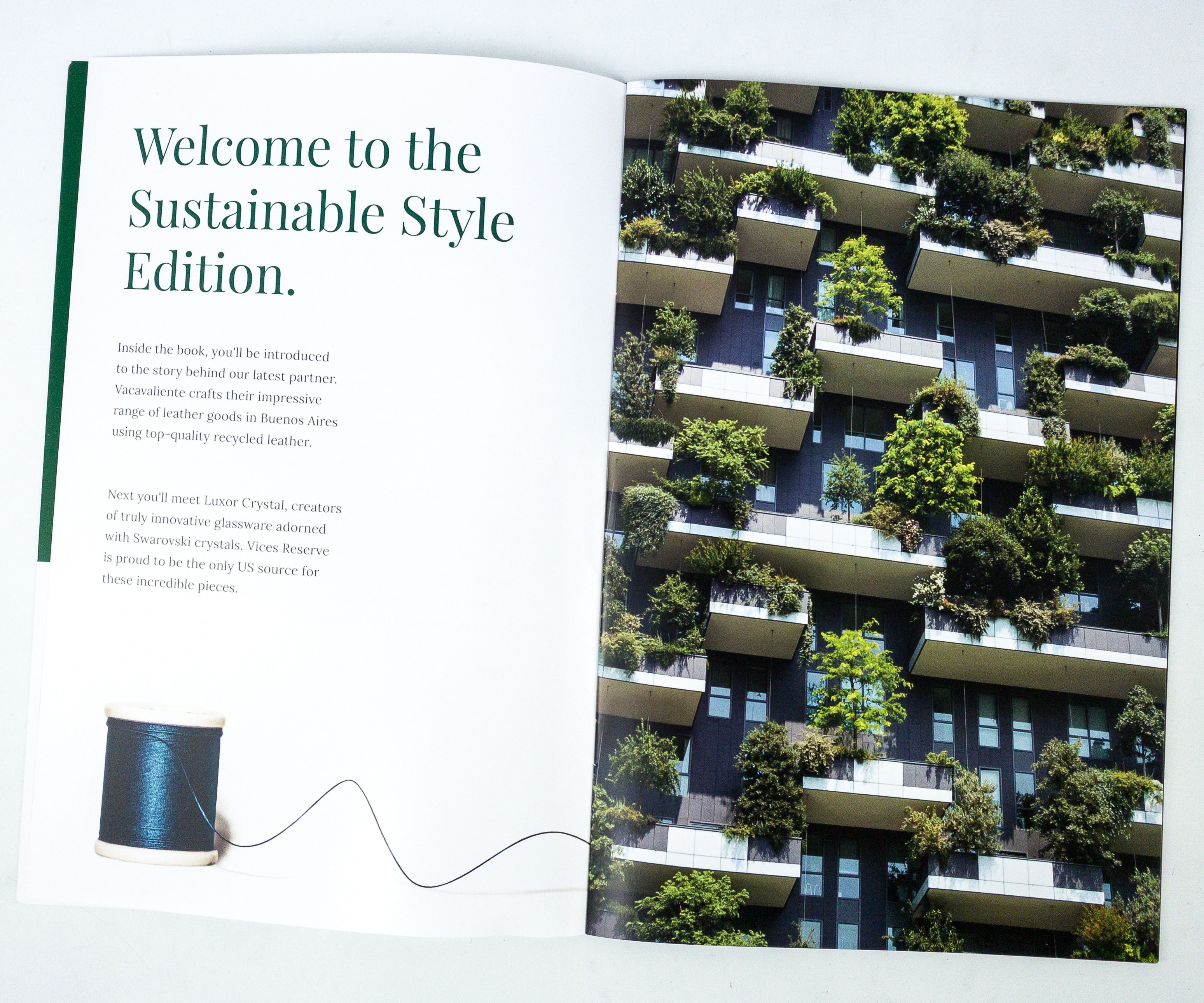 Here's an introduction to the latest partner of Robb Vices, Vacavaliente.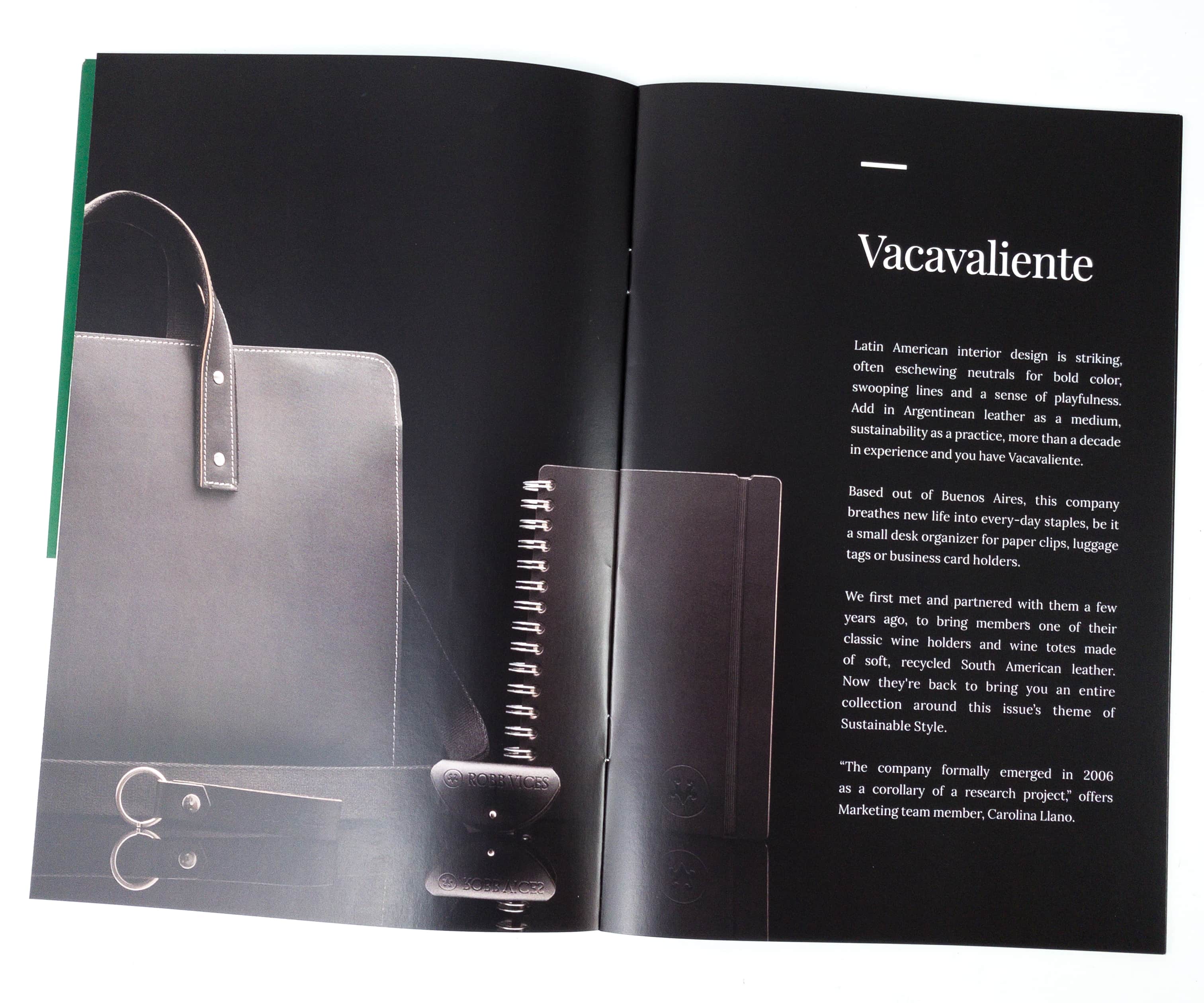 Vacavaliente is a well-known company that uses recycled leathers to produce a highly sophisticated, premium quality, durable, and well-designed leather goods.
They are committed to use recycled leather and give a second life to the discards linked to the value chain of the leather industry.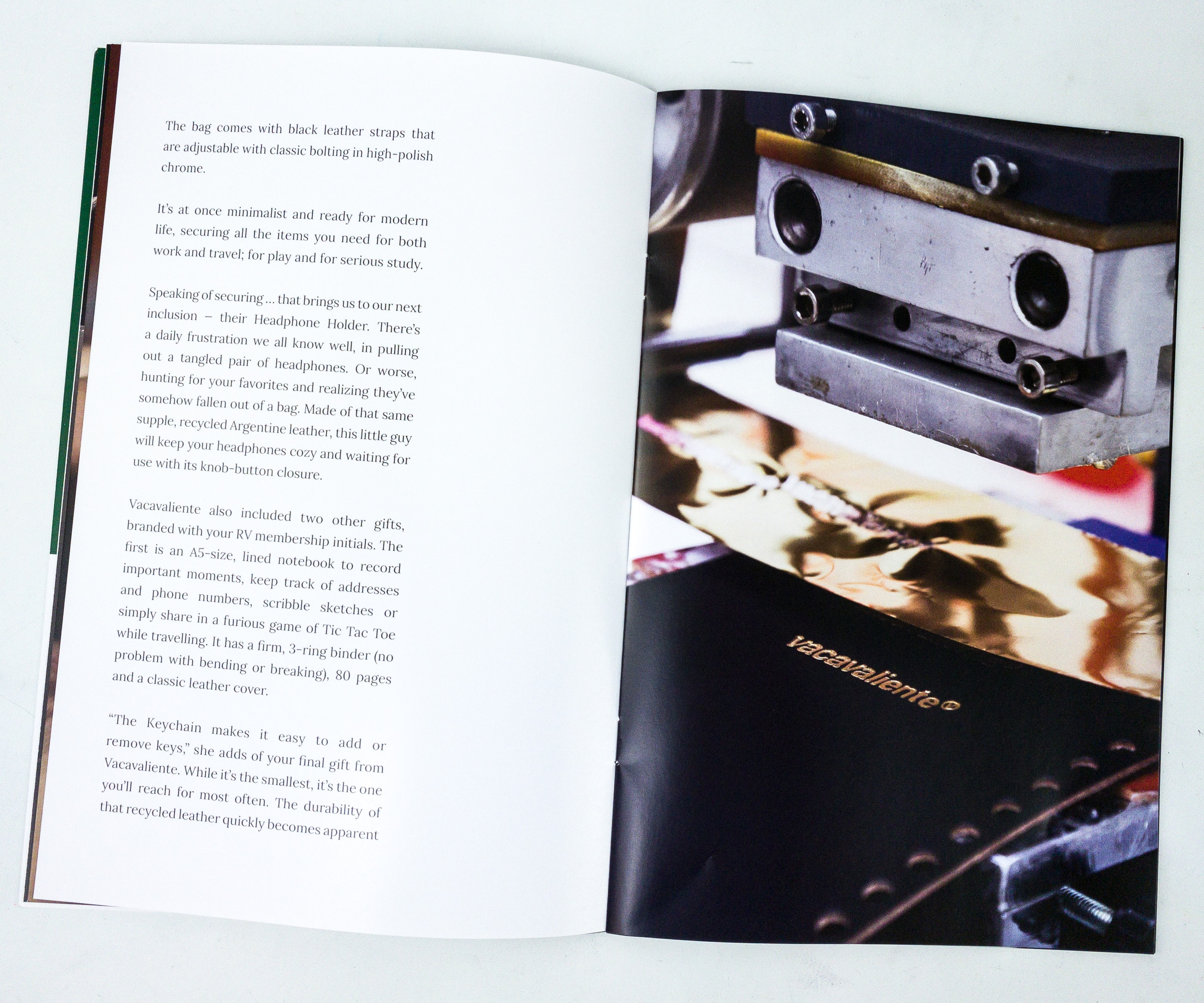 This article also comes with a brief description of all the items included in the box.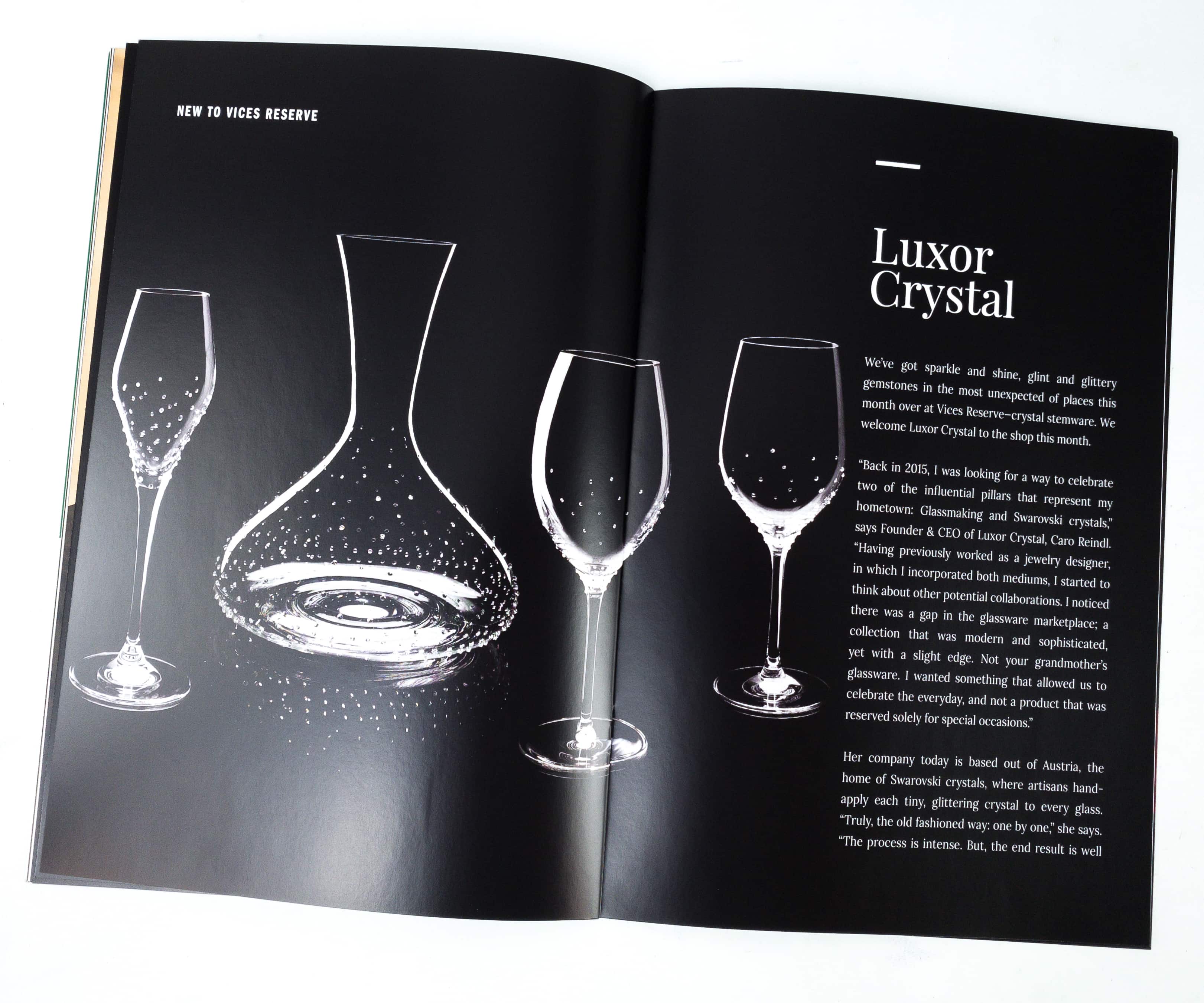 This month's Vices Reserve introduces us to Luxor Crystal. It's the home of the uniquely designed kitchenware that combines glassware and Swarovski crystals, giving you a pleasurable drinking experience!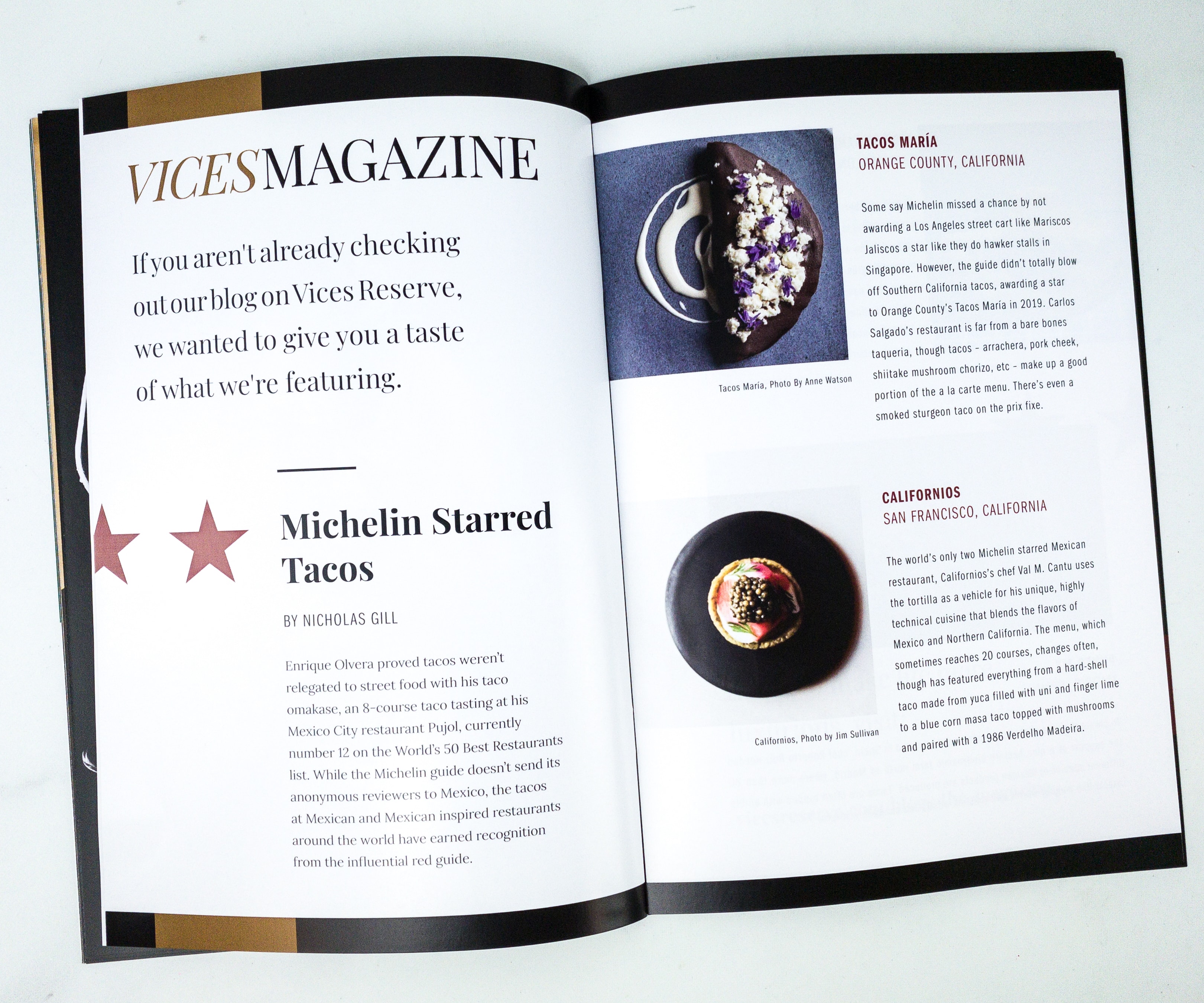 This booklet also features the Vices Magazine, it contains a glimpse of what you can see on the blogs on Vices Reserve.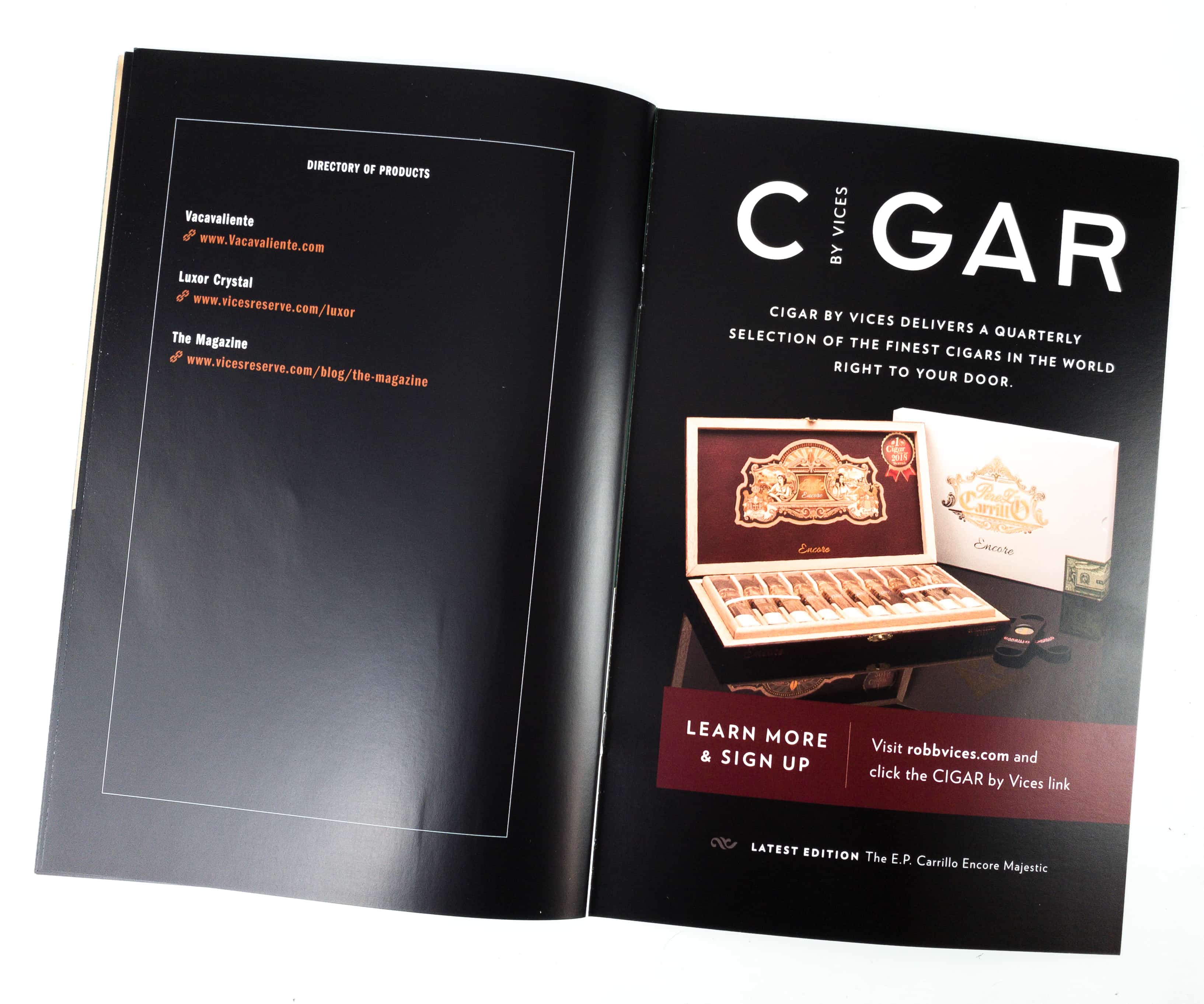 As always, here's the brief directory of all the featured products, plus an ad for Cigar by Vices.
Everything in my September 2019 Robb Vices box!
Vacavaliente – It's a sleek black briefcase made from premium-quality recycled materials that were bonded with latex and other natural fibers, transforming it into an environmentally friendly, durable leather case.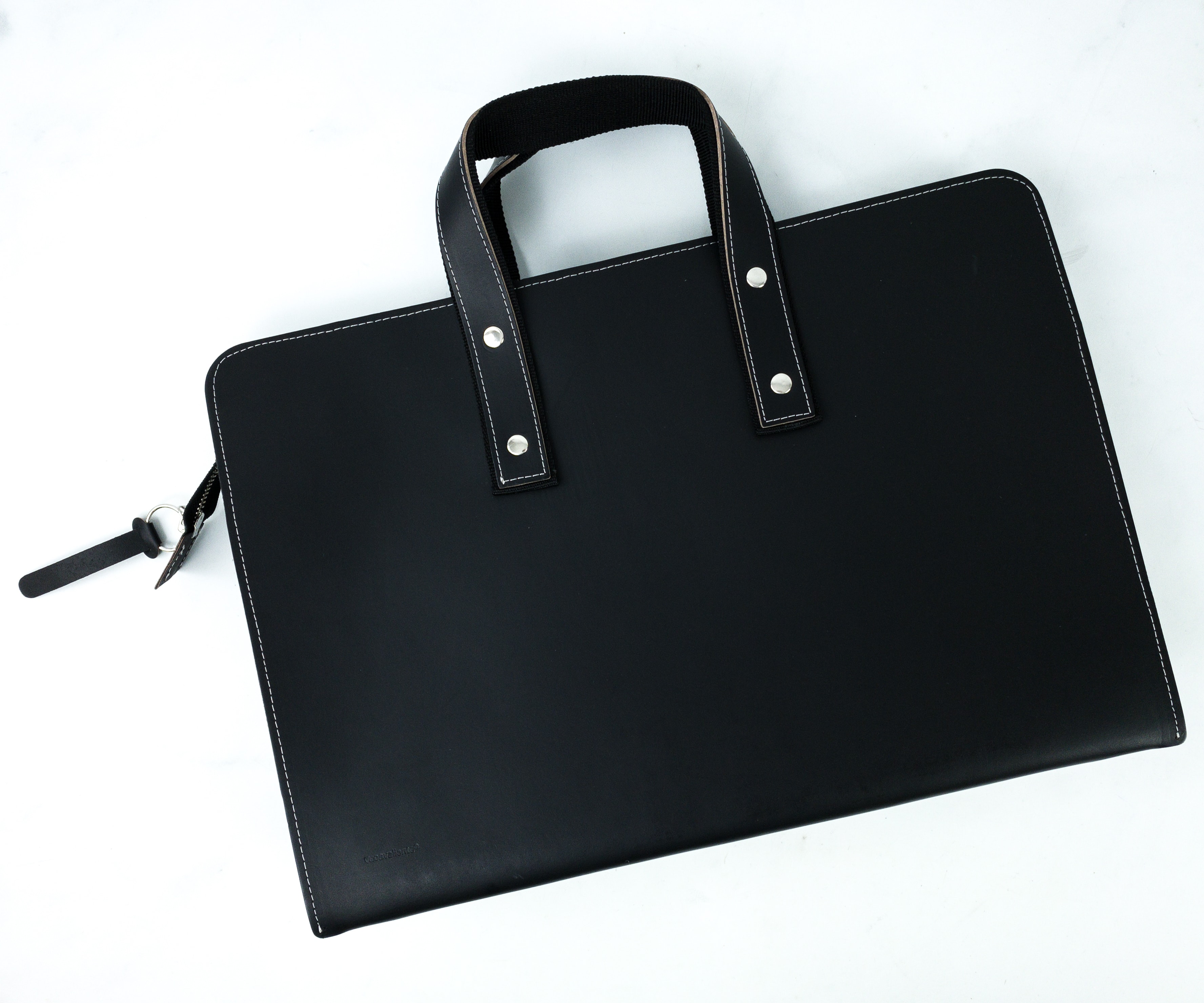 This leather bag is 15 inches in length, which fits a laptop, a tablet, or even a sketchbook.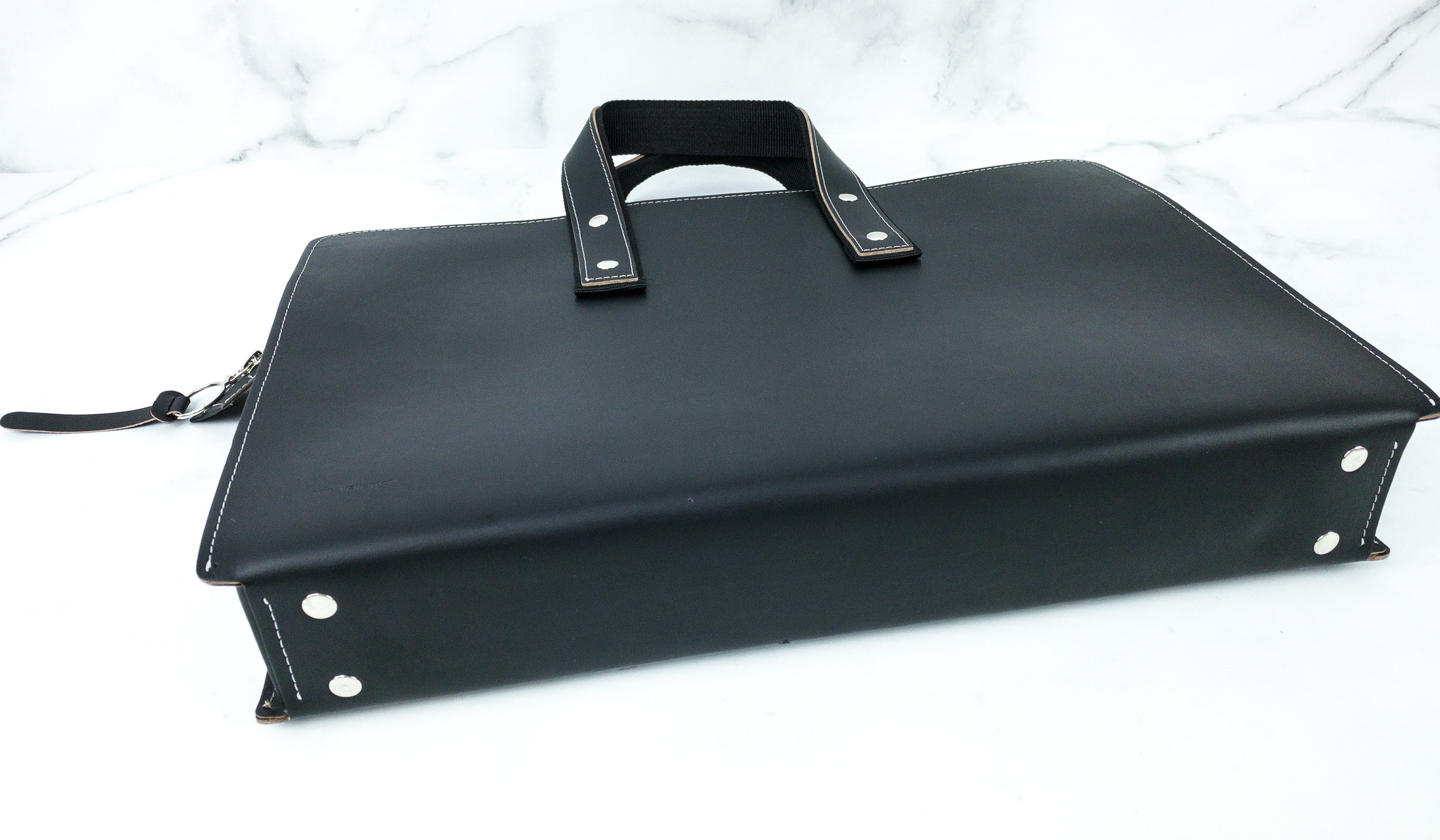 The bag comes in a sophisticated deep jet black base color with reinforced stitching on every edge.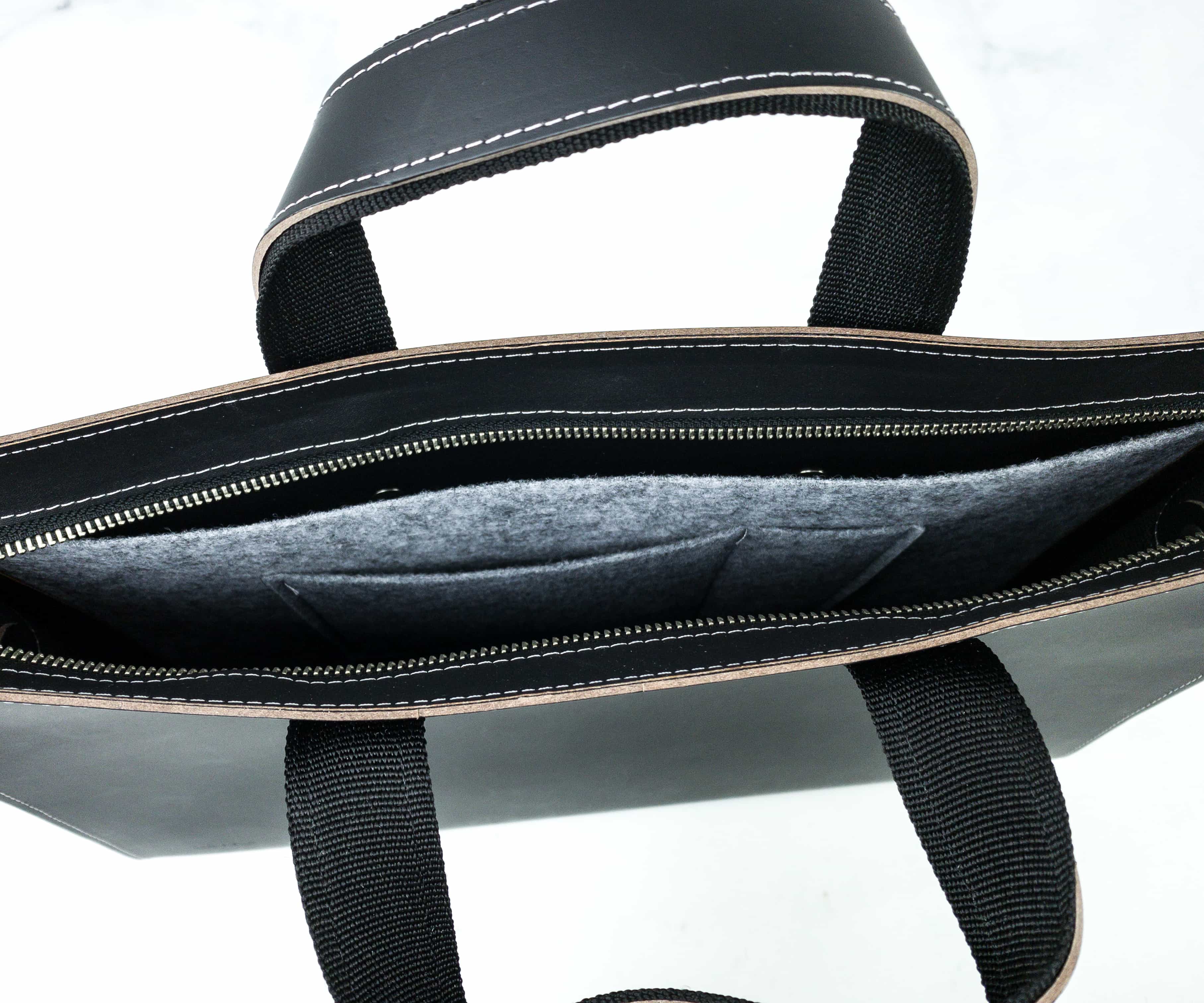 Inside the bag are two parallel compartments that allow you to carefully hold important documents or folders, all at the same time.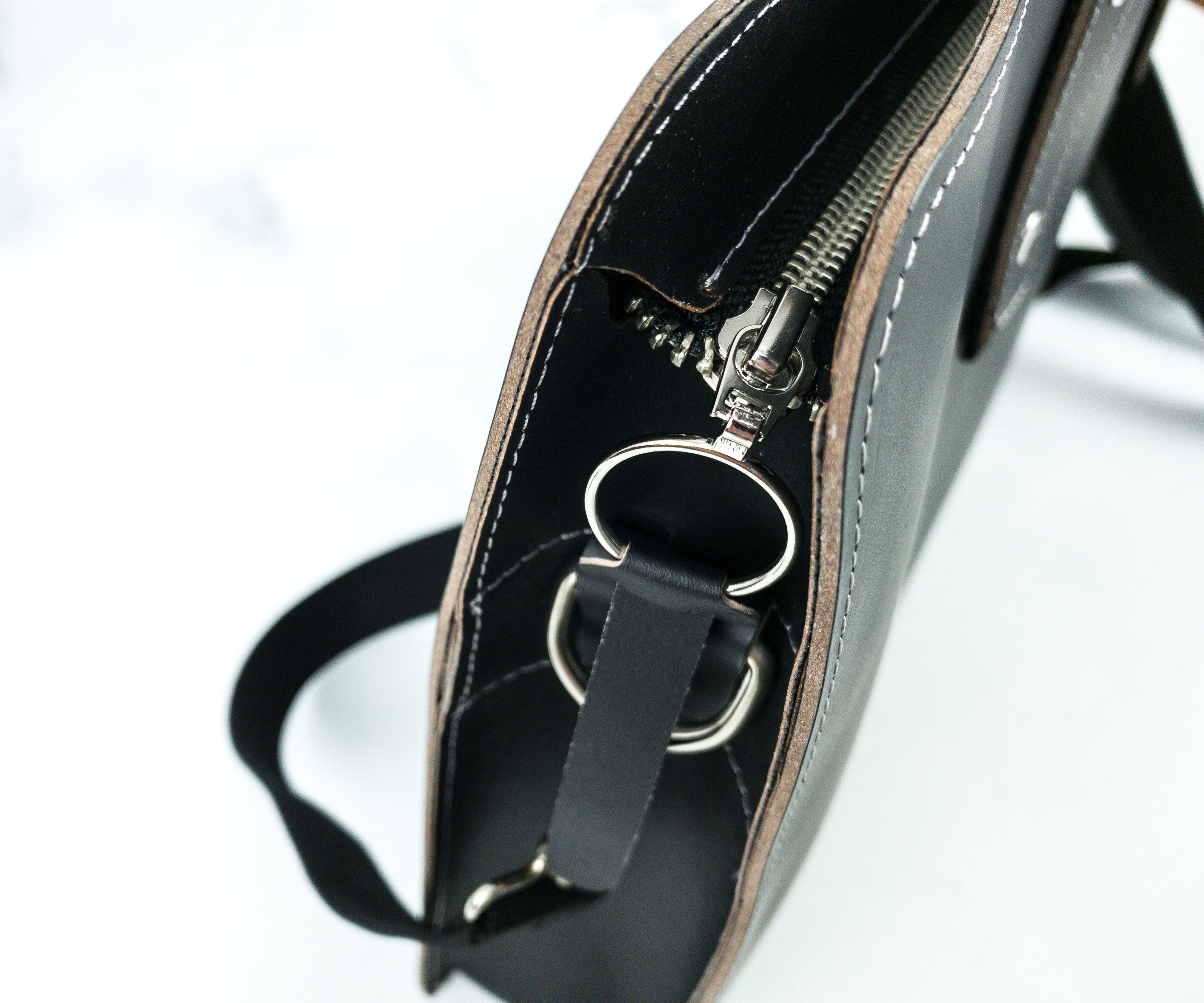 They also come with adjustable black, durable leather straps for much easier handling.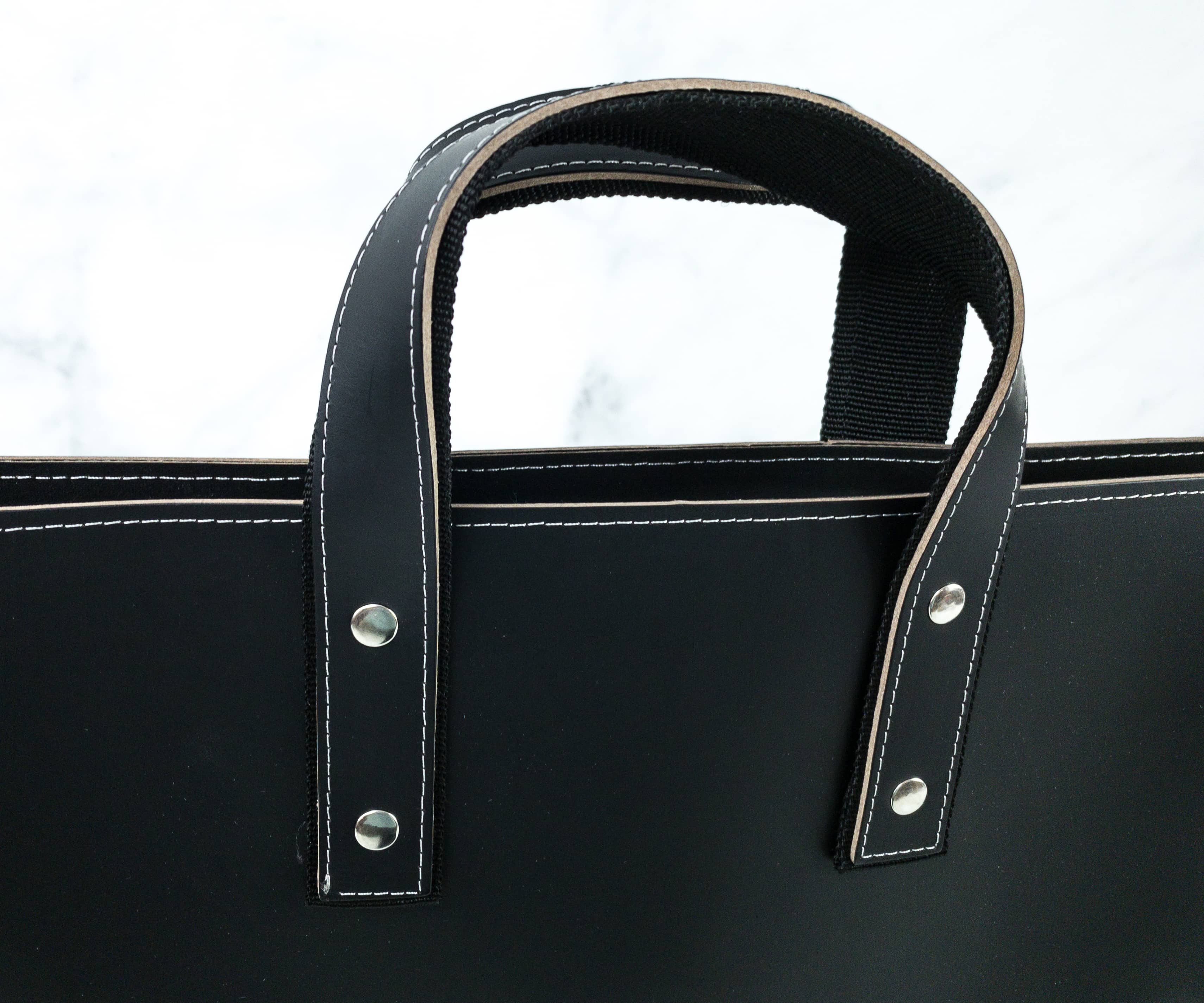 Each handle is locked using a highly polished classic bolting chrome, adding elegance to an already sophisticated leather bag.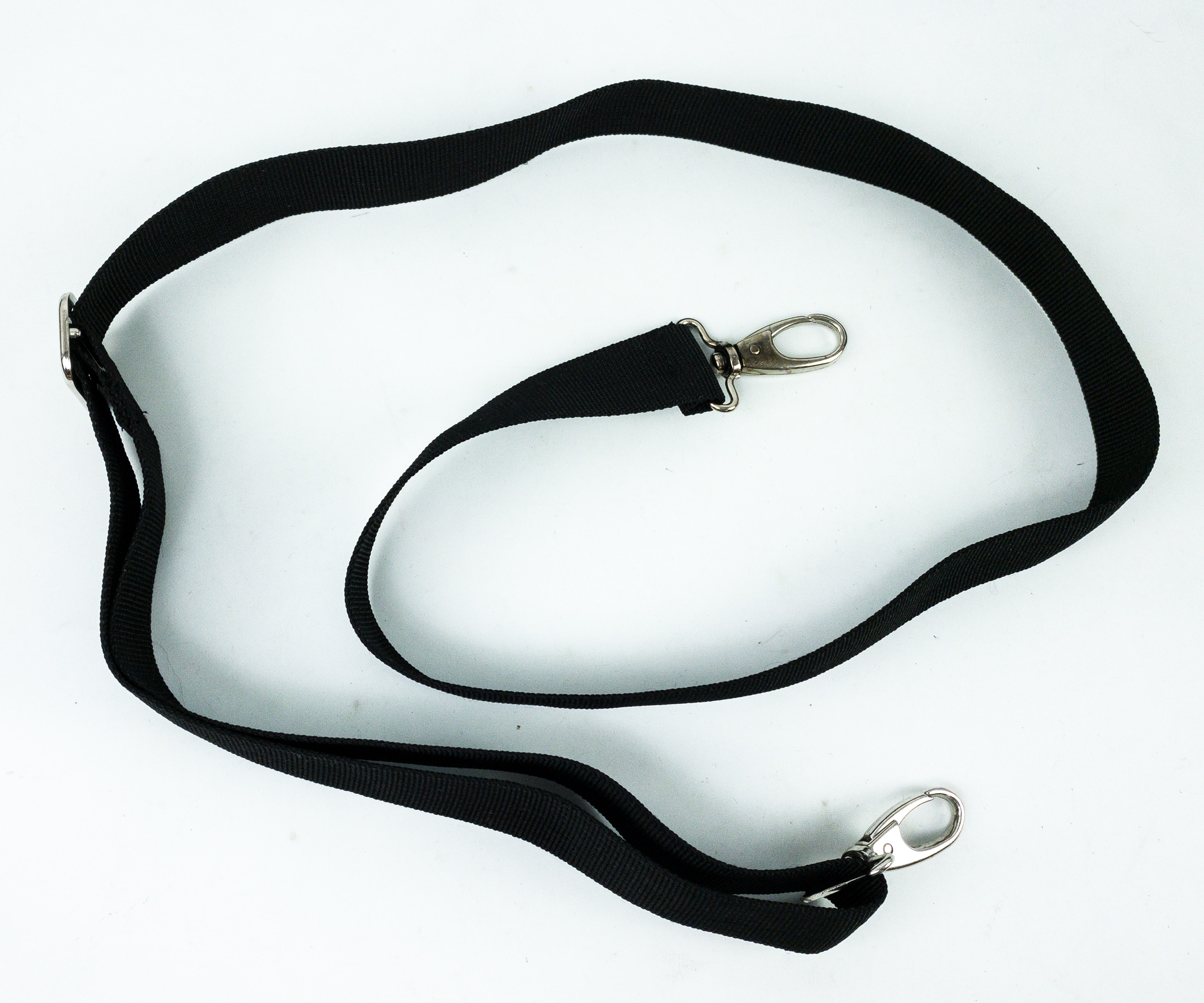 Also included is an adjustable strap for an extra handle.
Cord Organizer. The next item is an exclusive Robb Vices headphone holder!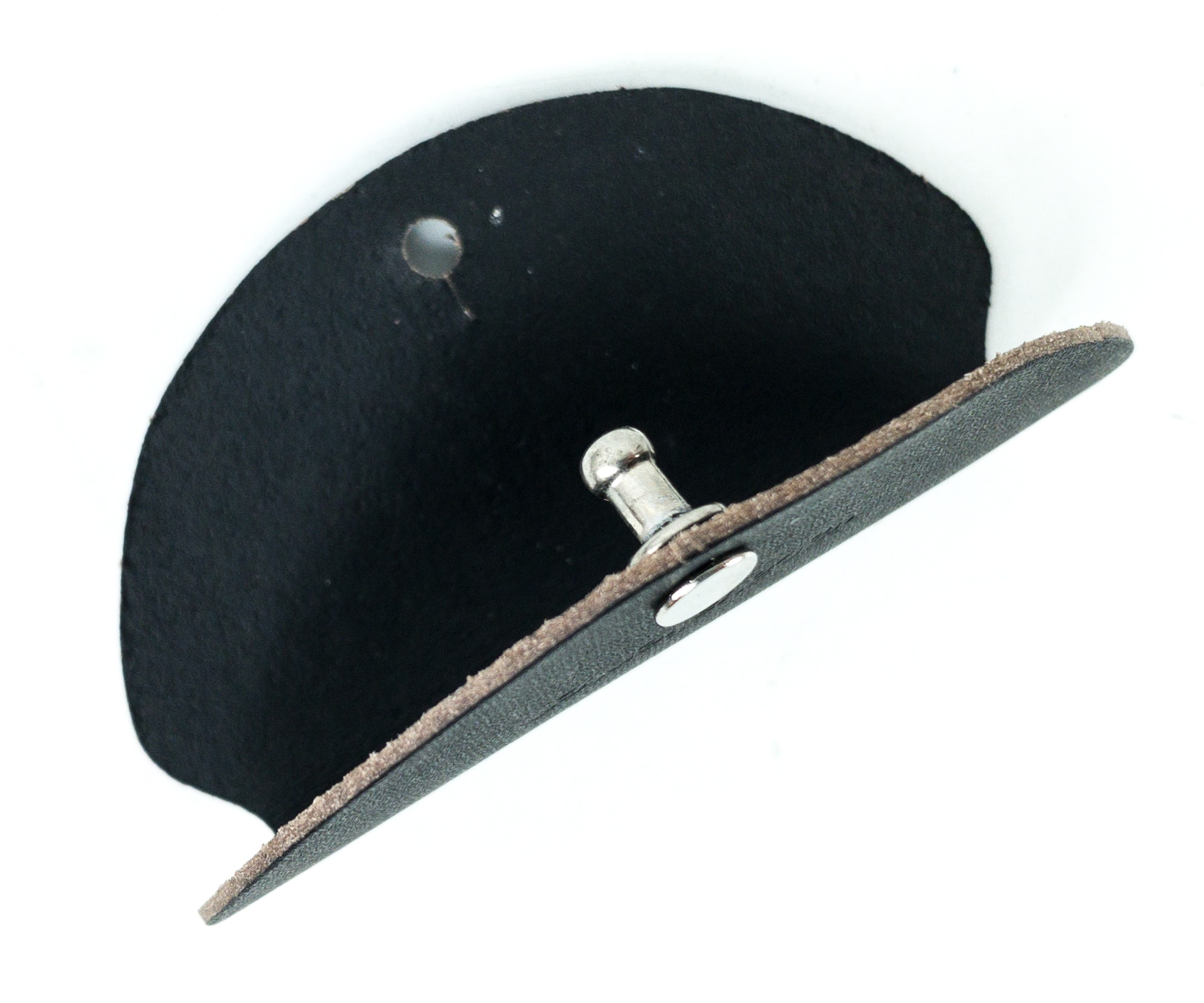 This holder is designed to ease the frustration of having tangled headphone cords. It will keep your headphones cozy with its easy-to-open, knob-button closure.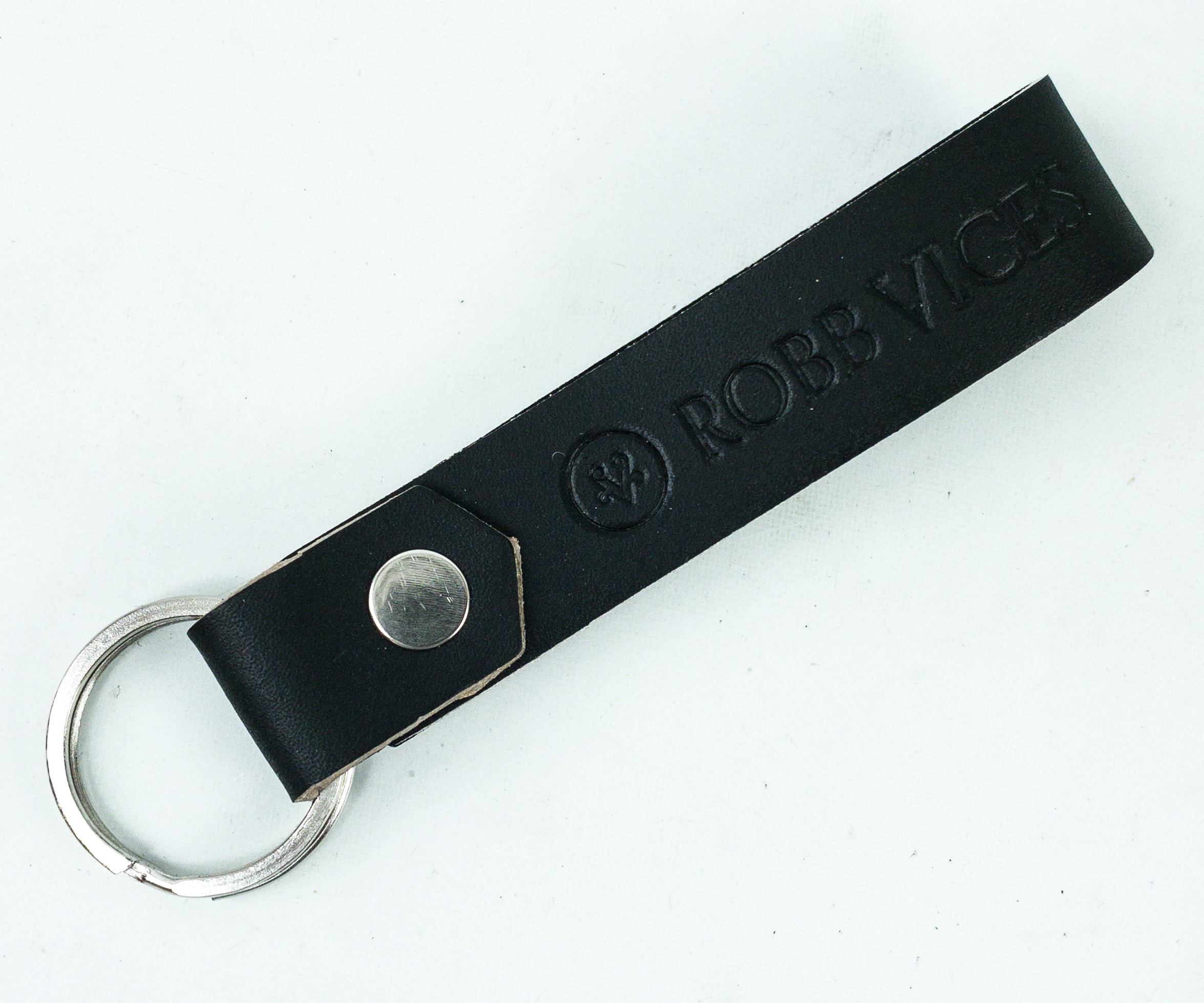 Keychain. For keeping important keys all in one place, they sent us this fancy keychain, also with an engraved Robb Vices logo.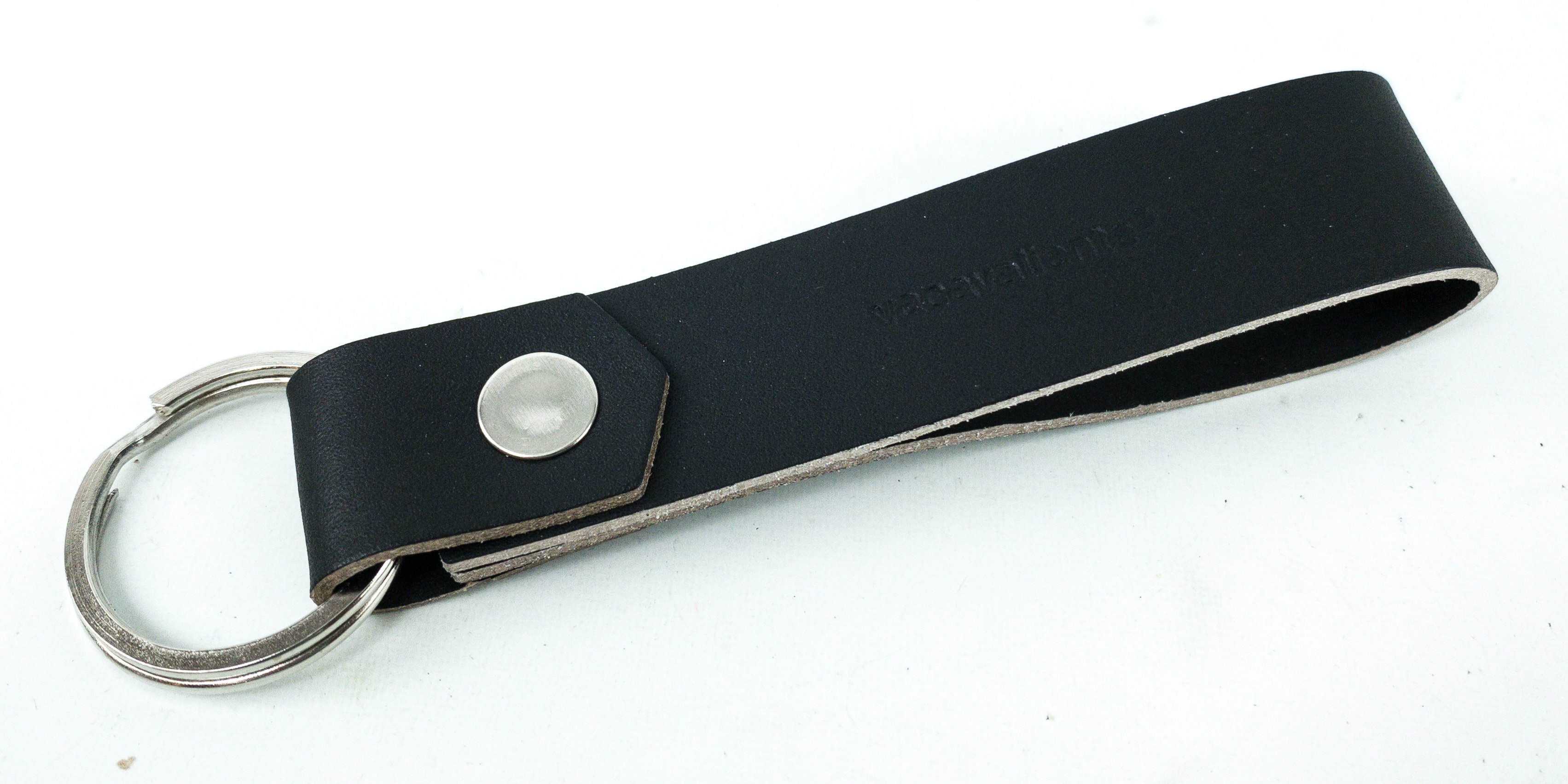 This keychain is also made from recycled leather handle paired with chrome bolting and stainless steel key ring. It's so portable, lightweight, and handy.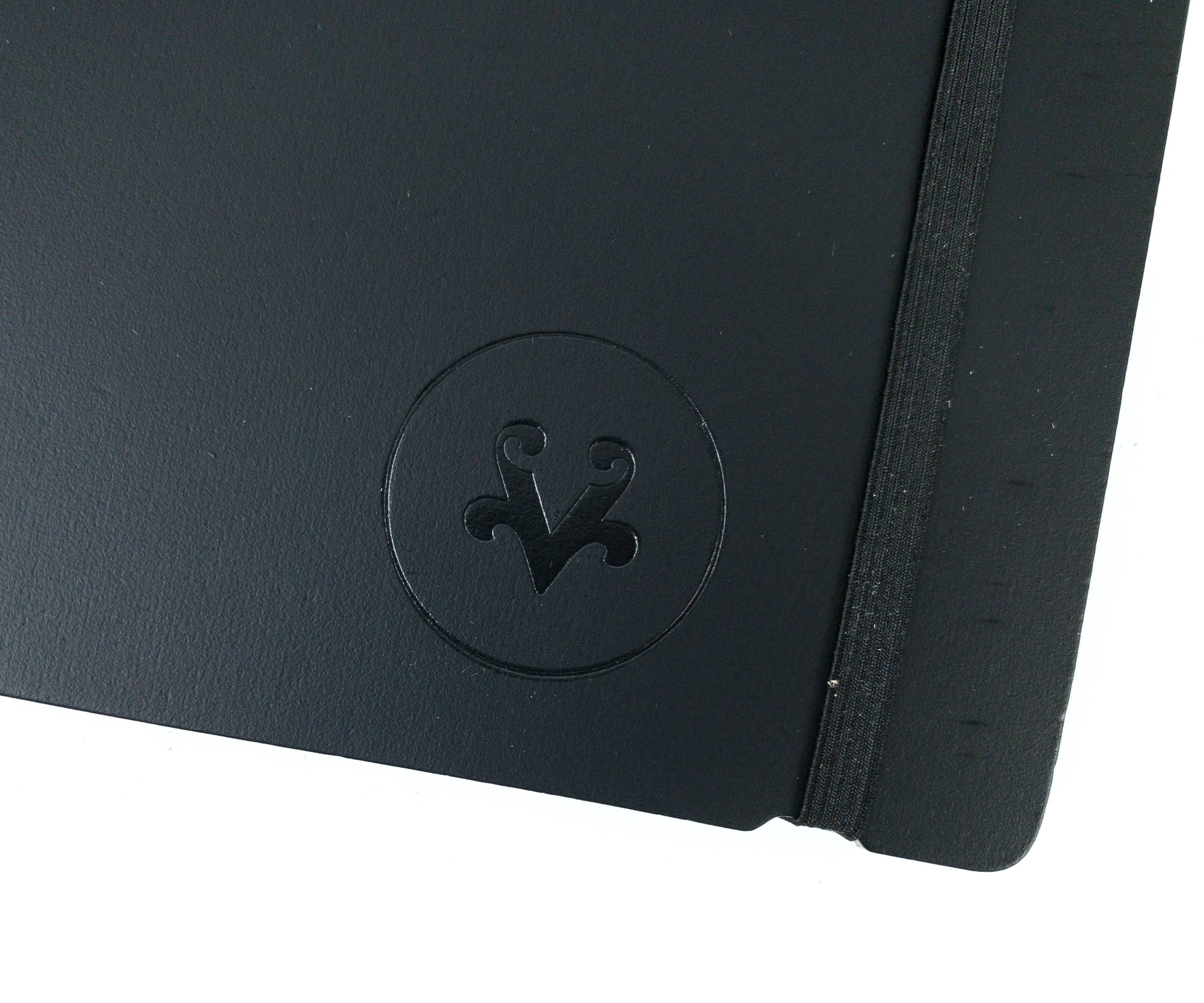 Vacavaliente Notebook. It's an 80-page, A5-sized lined notebook with a classic leather cover, ring binder, and smooth, high-quality papers.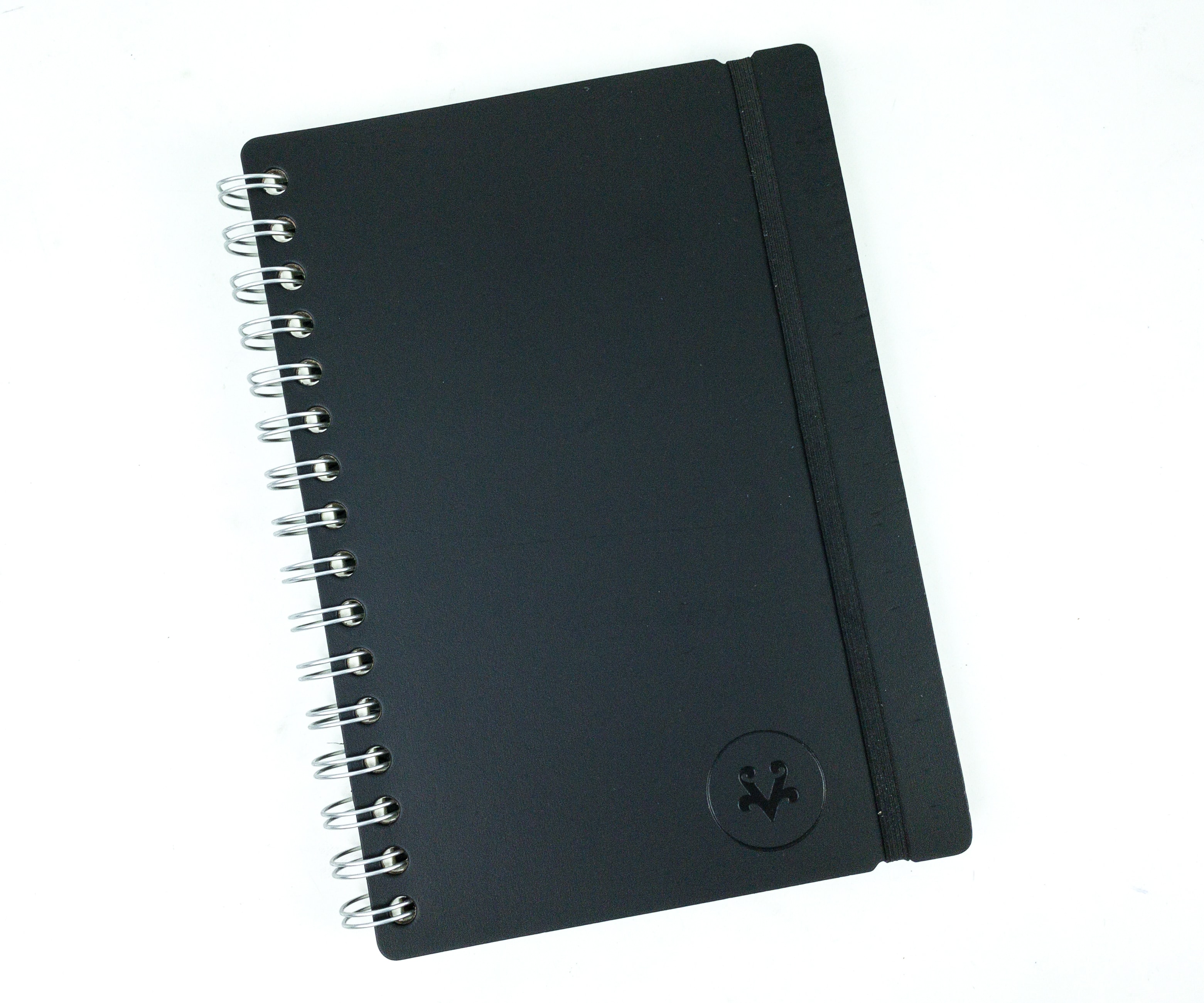 This notebook also comes with an elastic side lock, which doubles as a bookmark. Featured on the bottom right part of the notebook is the classic Robb Vices logo.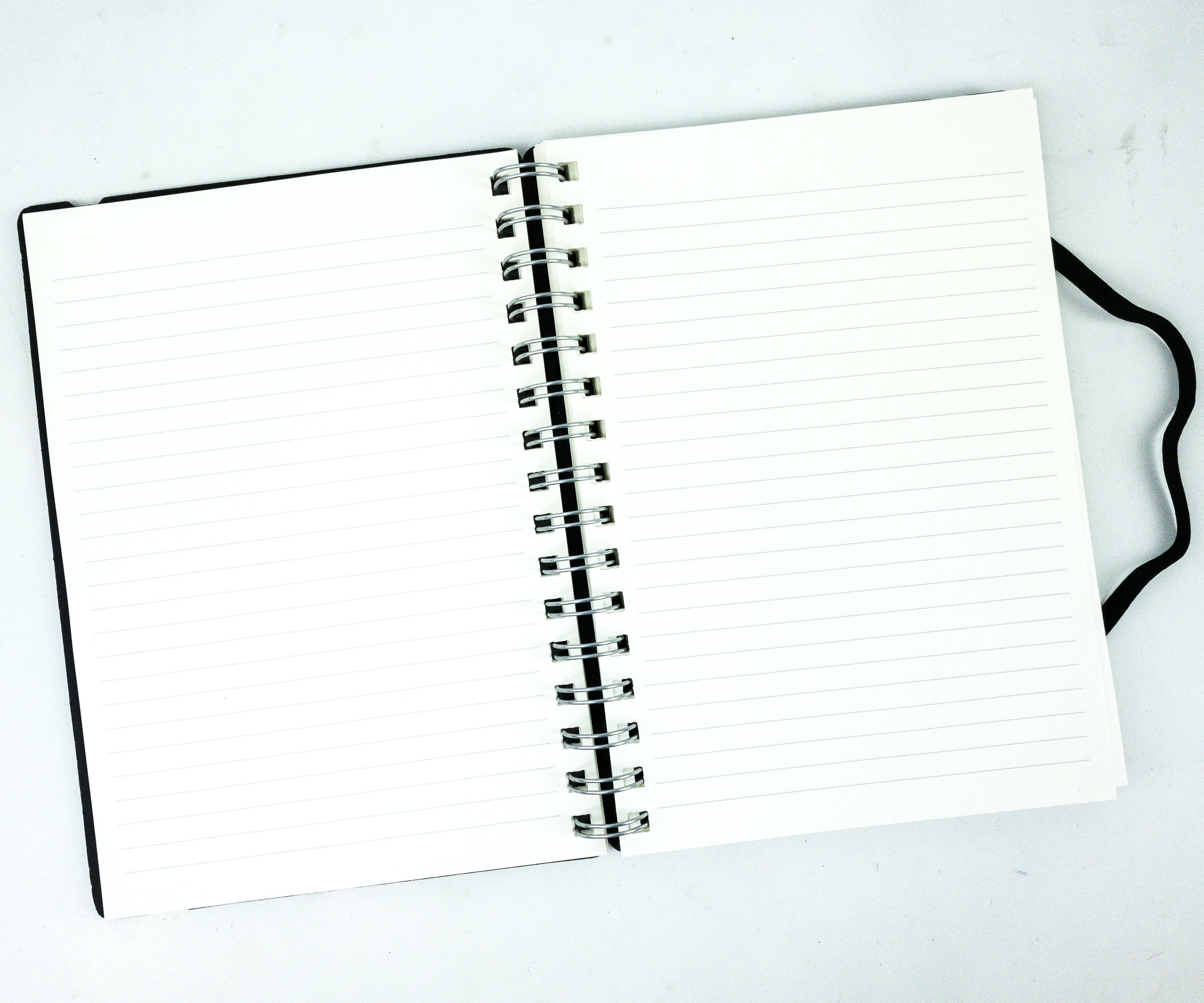 This notebook is versatile and handy. It's ideal whether for recording important details of your meeting, for journaling, or even for keeping your travel plans.
This month's Robb Vices curation is truly awesome! It's a classic curation of high-quality, durable, and well-designed leather goods made from recycled materials. They have once again proved that this is an exceptional subscription, delivering only the most unique, innovative items. I love all the items I received this month, especially the black briefcase. It's huge, lightweight, and very handy. Overall, this was a pretty extraordinary month, but it would be a downer if you didn't like the briefcase. Robb Vices is always fun to open, making it a perfect gift for any adult with a luxurious taste! The only other thing of note is that this September box was delivered at the end of the second week of October.
What do you think of this month's Robb Vices box?