The Korean Snack Box is a monthly subscription box dedicated to premium Korean snacks. The subscription starts at $14.95 each month (Medium and Large boxes available), with free worldwide shipping. Each box comes in a beautiful Bokjumeoni (traditional Korean silk bag) with 5-10 or 10-15 items and tasters. You can now find the previous month box and earlier month's boxes in the Korean Snack box shop.
This is a review of the large $24.95 per month Korean Snack Box.
DEAL: Get $2 off your first subscription box with coupon code HELLOKOREA.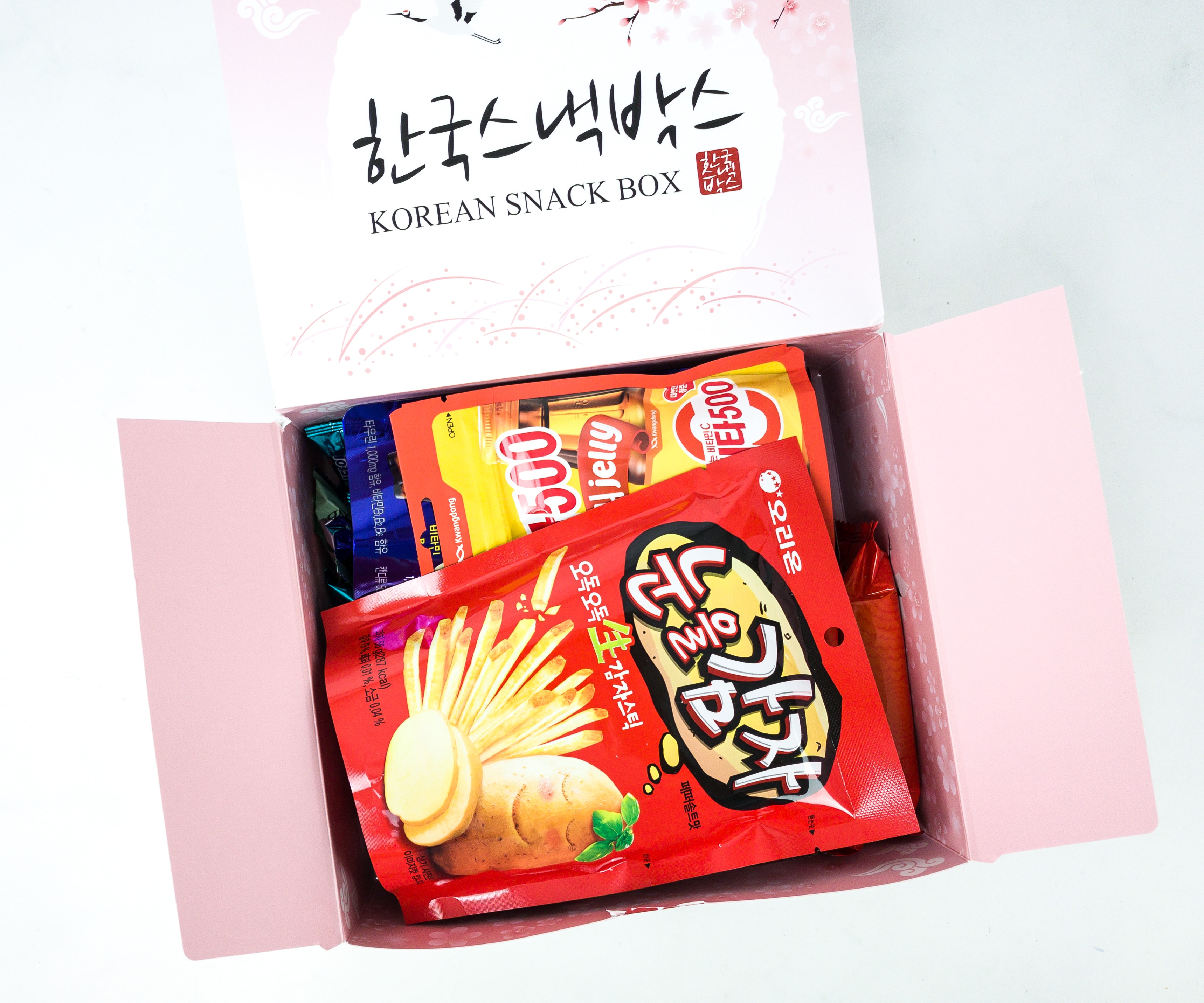 The box has improved. Instead of the usual plain box, it's in pink and cherry blossoms-inspired. The theme for this month is Hwaiting!
The card did not list the items in the box. Instead, they informed us that more information about the box contents can be found on their website.
This month's box includes a purple Bokjumeoni. It is reusable as a purse, pouch, or even as a makeup bag!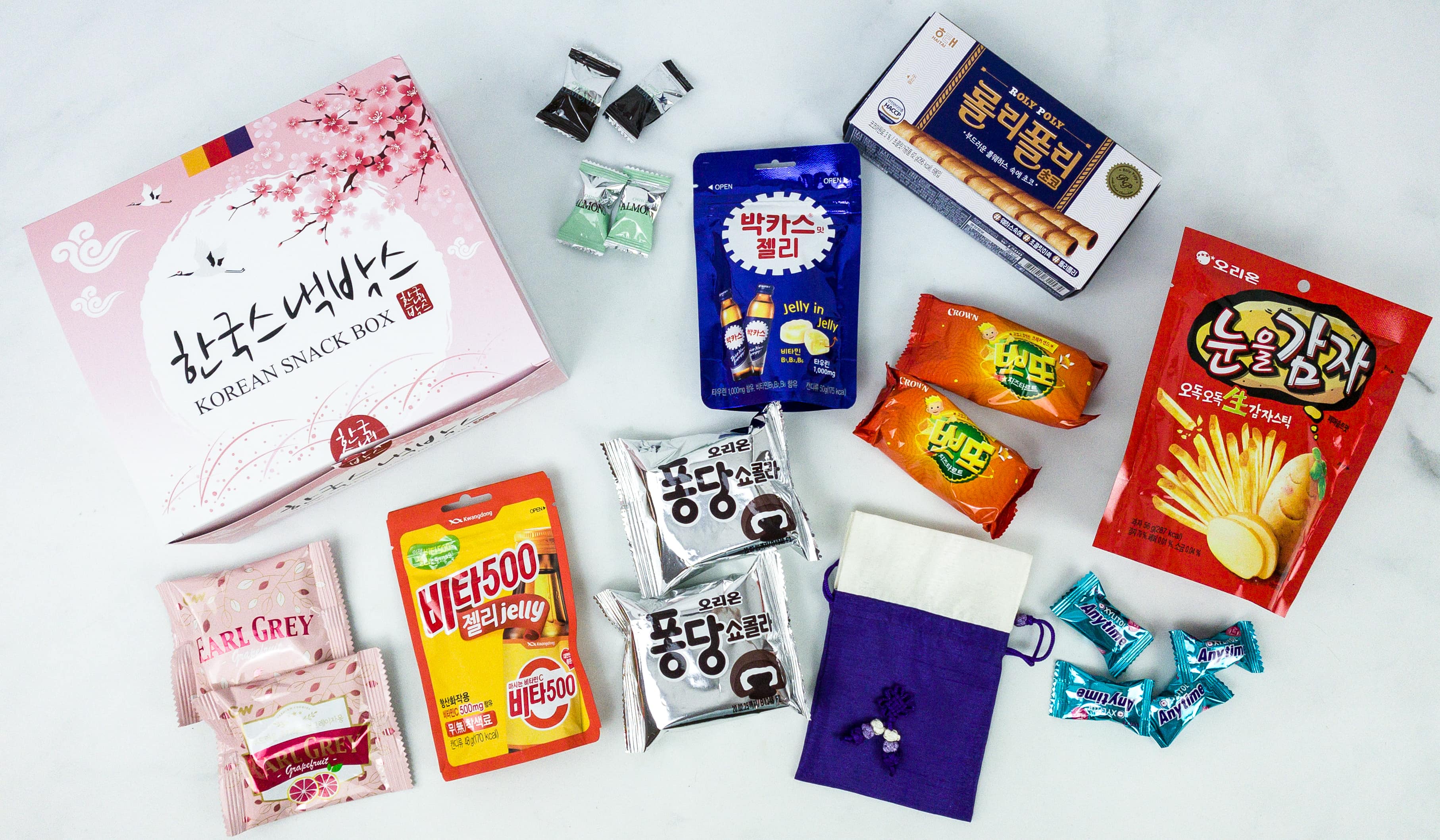 Everything in my box!
Anytime Mints / 애니타임. These are mint candies that you can easily carry around whenever you need to freshen your breath. The name "Anytime mints" is just so fitting. We got 4 individually wrapped pieces to share!
Whole Almond Candies / 통아몬드. We got sweet candies in this bunch as well! These almond candies taste similar to caramelized almonds with toffee caramel. There are 4 pieces and we just can't get enough of them.
Bboddo Cheese Tart / 뽀또 치즈타르트. This yummy snack features two buttery and salty crackers with cheese sandwiched in the middle. It's filling, especially when paired with a hot beverage like hot chocolate or tea. We got two packs of these cheesy goodies in the box!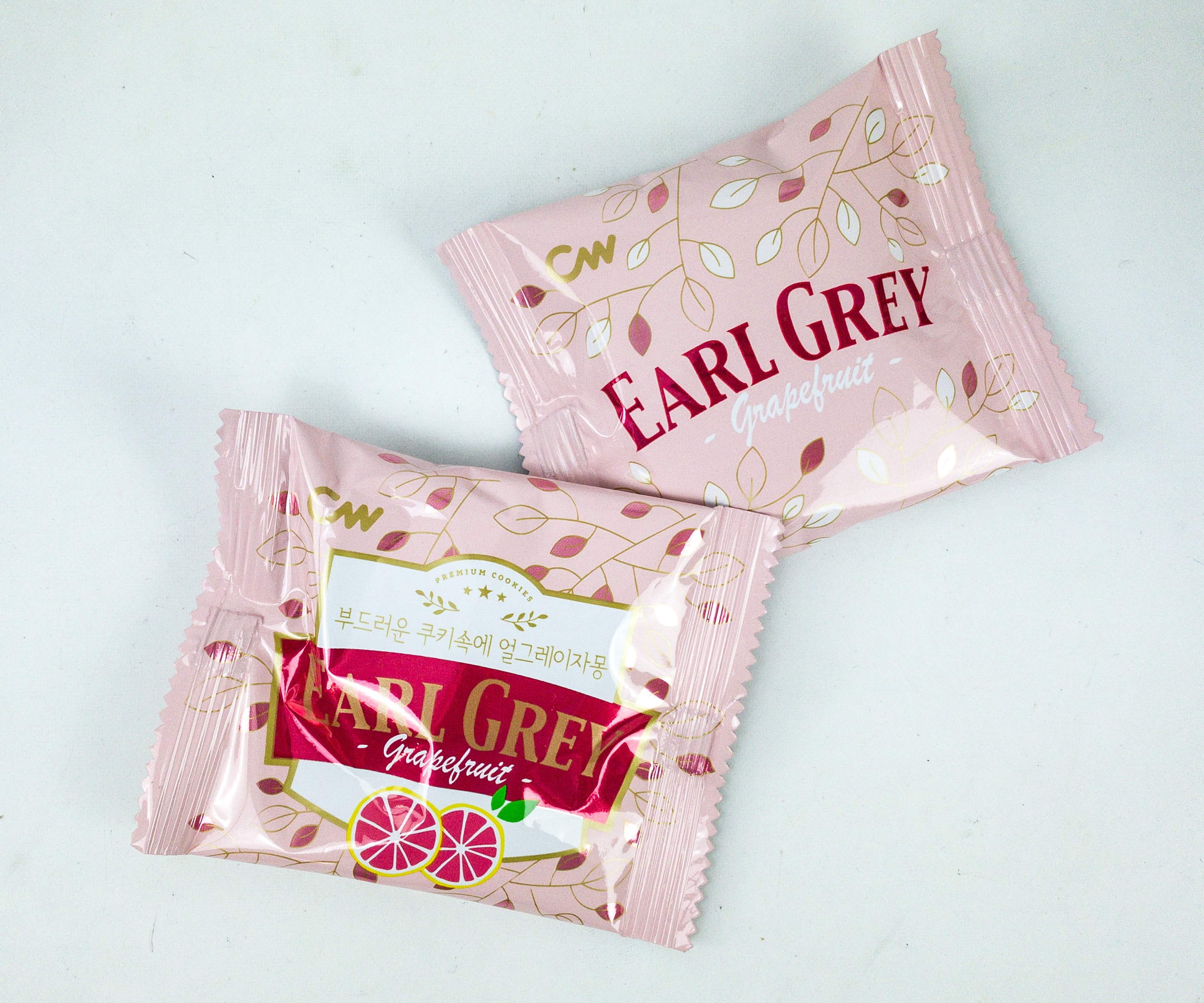 Earl Grey Grapefruit Cookies / 얼그레이 자몽 그랑쉘. This cookie is the real deal! Composed of a soft and sweet bread plus a grapefruit jam filling, it melts in your mouth and leaves you wanting more. We got two individually wrapped cookies in the box! They're great as on-the-go snacks and as a pairing for tea.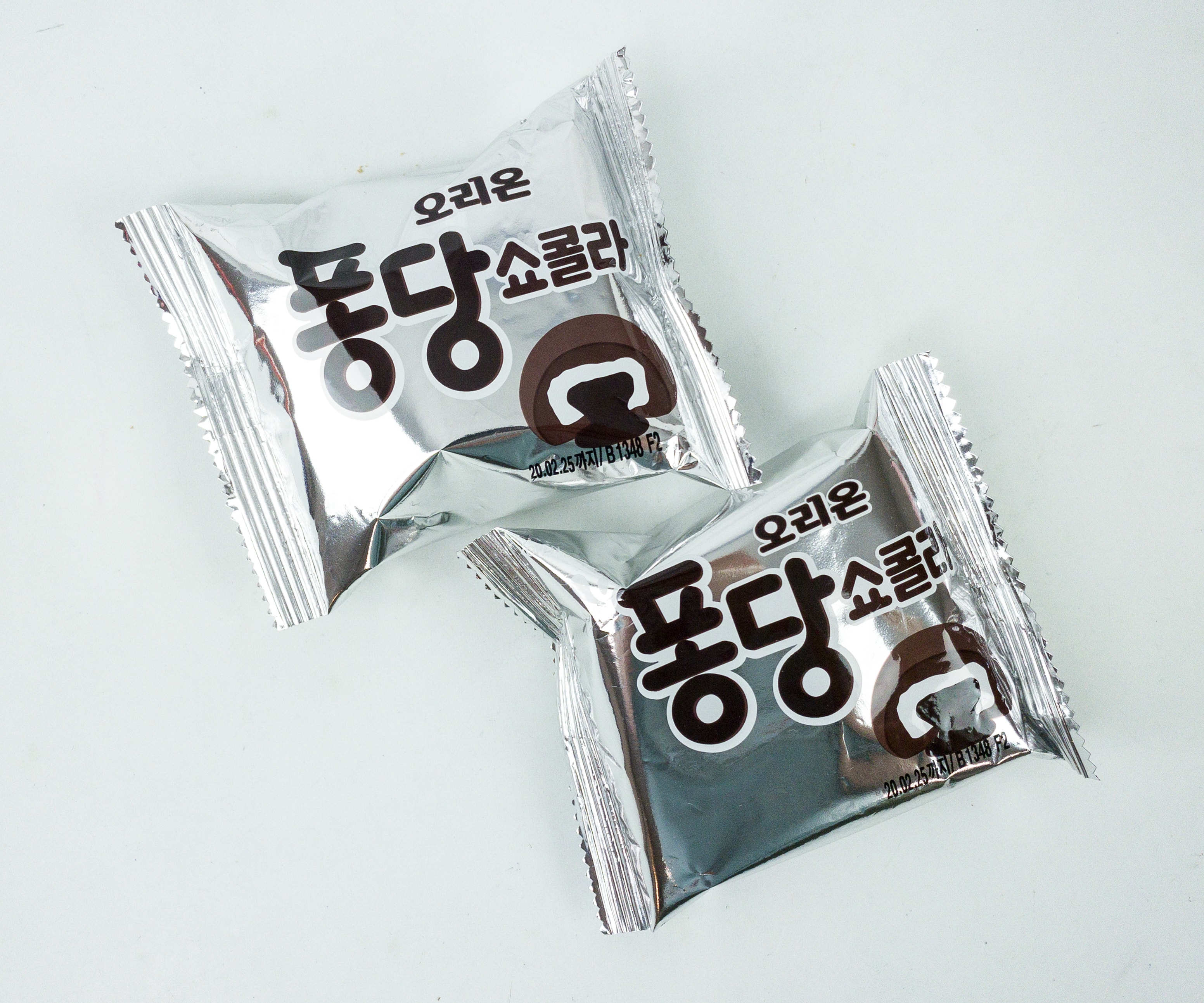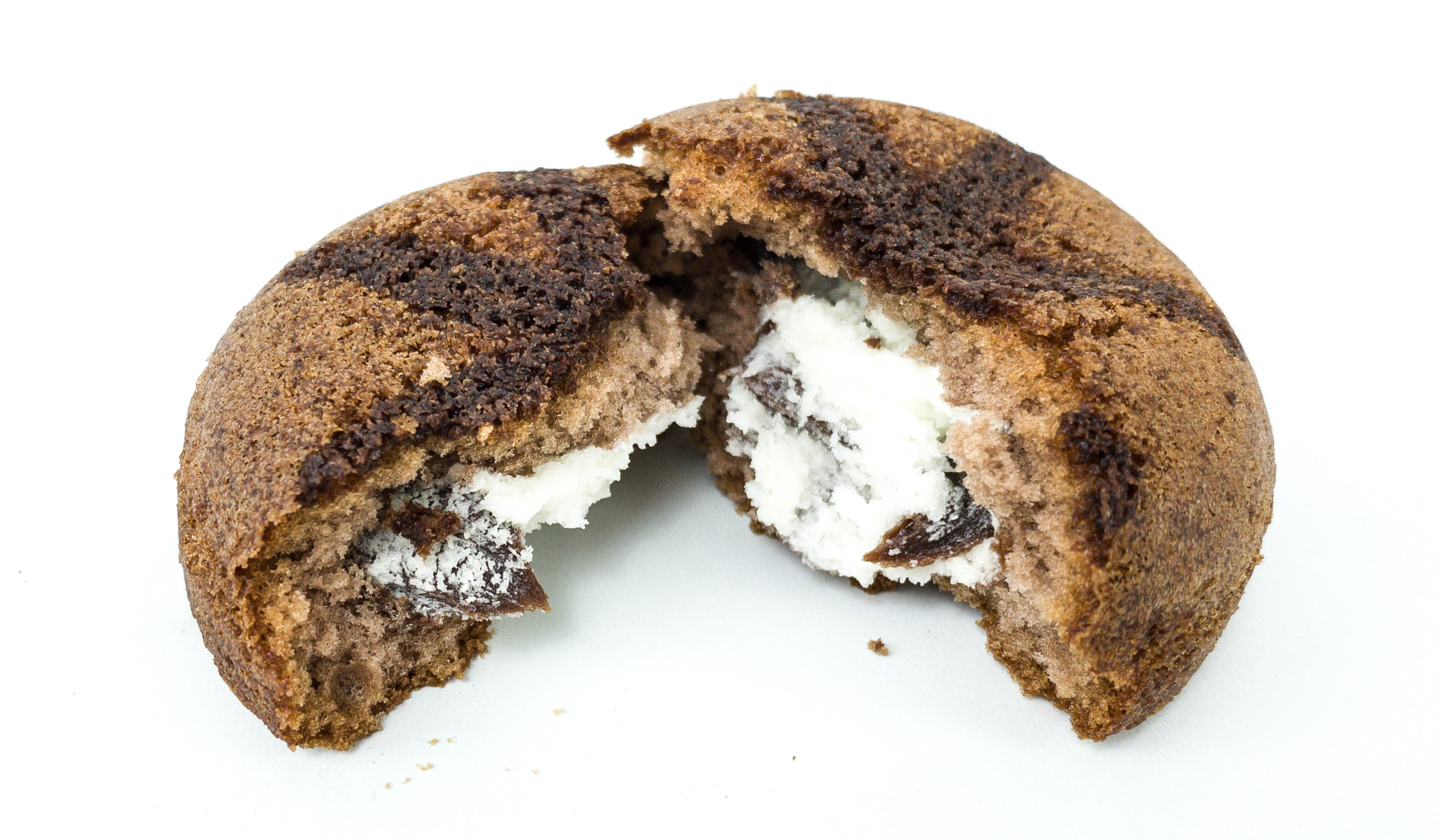 Pongdang Chocolate / 퐁당 쇼콜라. For chocolate lovers, this snack is a must-try. It's a sweet chocolate bread, made irresistible by the rich cream filling plus even more chocolate! These are recommended to be warmed up for a bit before eating for maximum deliciousness. It's the perfect dessert snack!
Roly Poly Choco / 롤리폴리 초코. These treats look exactly how they're pictured on the packaging: long, cookie sticks filled with chocolate. They're crunchy and sweet and we never seem to get tired of the taste no matter how chocolatey. It makes a good pair with ice cream as well!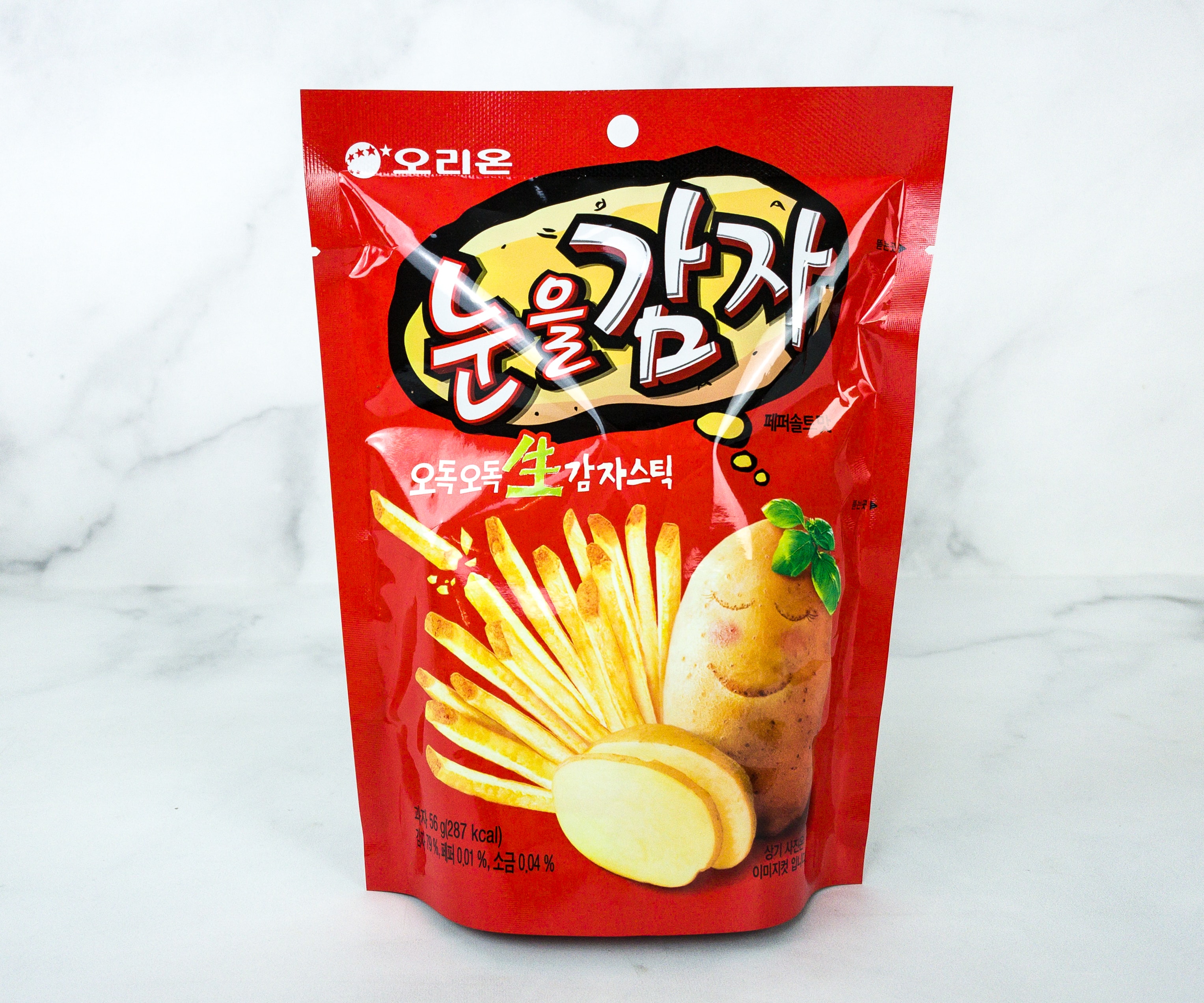 Eyes Closed Chips/ 눈을감자. This bag of potato sticks has a really amusing name. What they actually meant is that the potato is so delicious that you will close your eyes in enjoyment! Well, they didn't disappoint because the chips are all tasty, crunchy, and a delight to munch on. They weren't too salty either, just the right amount of flavor to keep your tastebuds satisfied!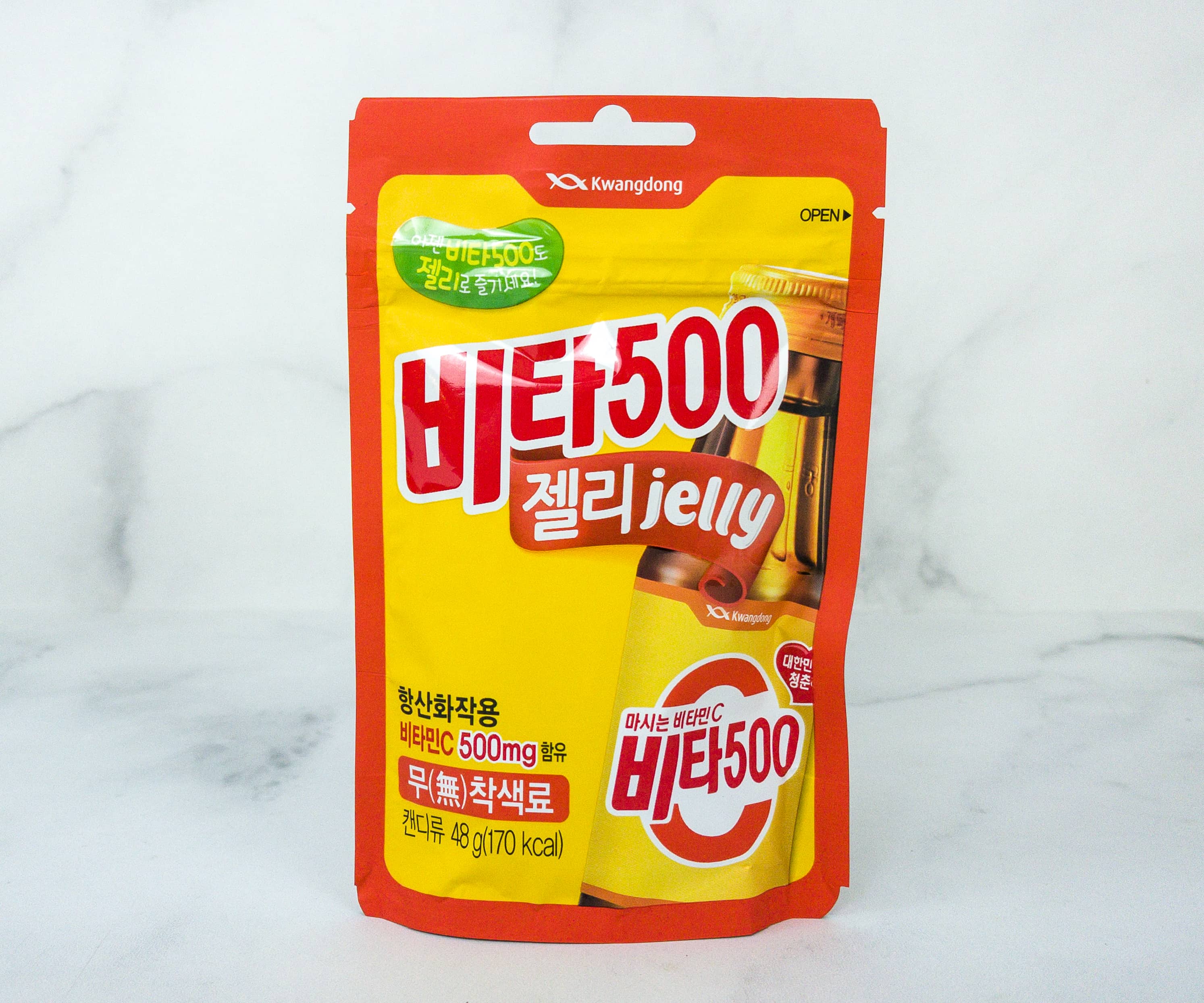 Vita500 Jelly / 비타500 젤리. The components of a health drink were packed in these bottle-shaped jelly snacks! Each piece is chewy and packed with vitamin C for a health boost.
Bacchus Jelly / 박카스맛 젤리. The Red Bull drink in Korea is more commonly known as Bacchus. They also turned this drink into chewy jellies, packed with lots of vitamins. They're not as intense as the drinks, so they're easier to consume.
Hwaiting is a Korean term used to cheer up another person, and that's what exactly this bunch of snacks did to us! The variety of snacks including sweets, chocolates, jellies, and cookies would definitely make any snack lover happy. They make great companions whether for work or school, or simply when binge-watching your favorite series. We also discovered new favorites from this month's curation, like the grapefruit cookies and chocolate bread! Whether you're a fan of Korean things or you just want a new snacking experience, this subscription is a must-try!
What do you think of Korean Snack Box?