STICKII Club is a monthly sticker subscription. This subscription is $10 dollars a month, and you get an envelope full of sticker sheets, sticker flakes, and sometimes an extra stationary item, like washi tape samples or custom-shaped paperclips. Shipping is $1 to the US, $1.75 to Canada, and $2.50 international.
Each month we carefully curate a themed pack of stickers for the specific style you've chosen. Each pack contains 1 STICKII Storage insert, 2 theme stickers, 5-7 sticker sheets, with 10-50 individual die-cut sticker flakes, and extra stationery items (like sticky notes or unique paperclips).
There are 3 choices for this subscription – Cute (kawaii, warm, pastel); Retro (vintage, earthy, nostalgic); or Pop (bright, trendy, cool). You can even change your order every month if you like, as long as you do it by the cutoff date.
This is a review of the Retro Pack!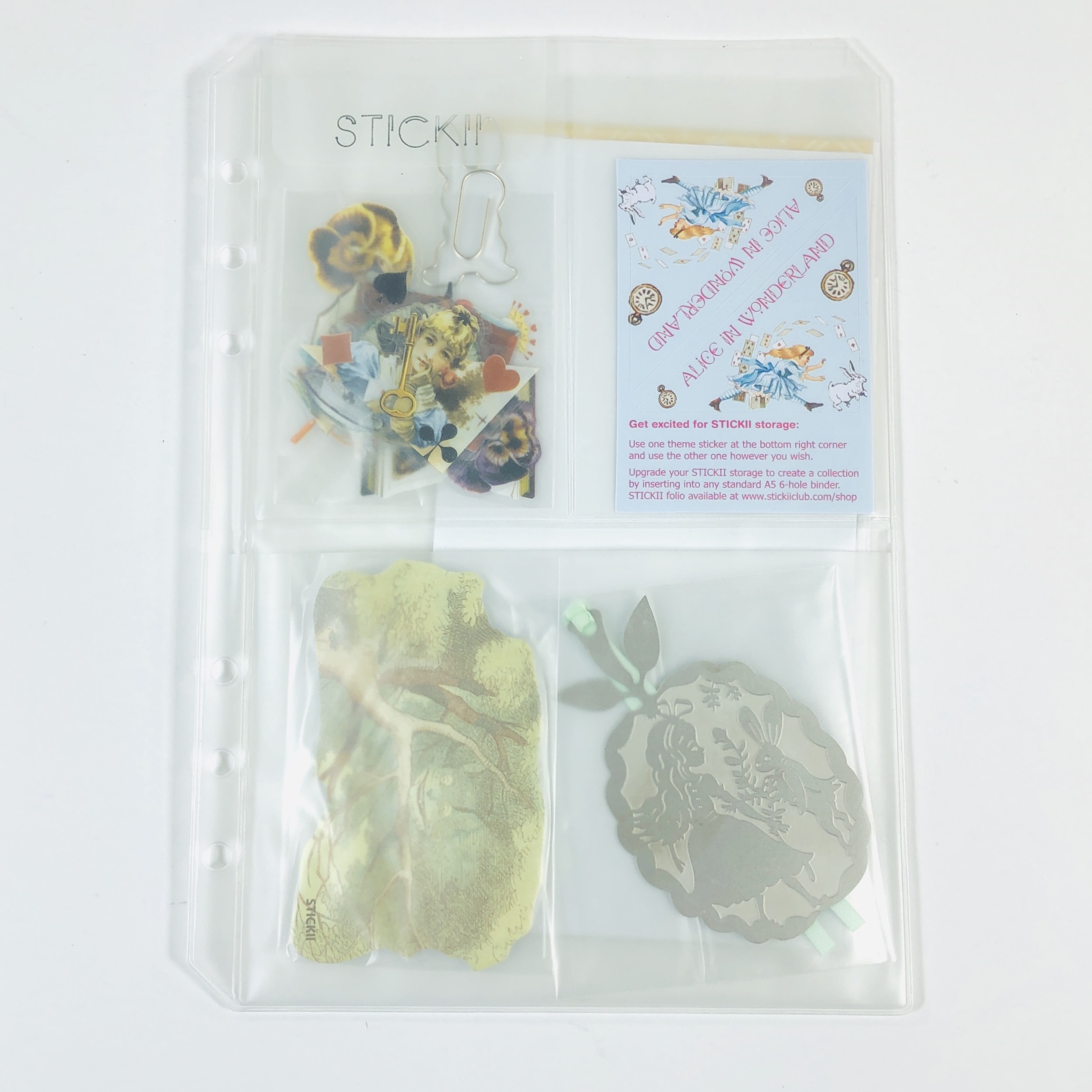 Everything in my RETRO Pack – Alice in Wonderland!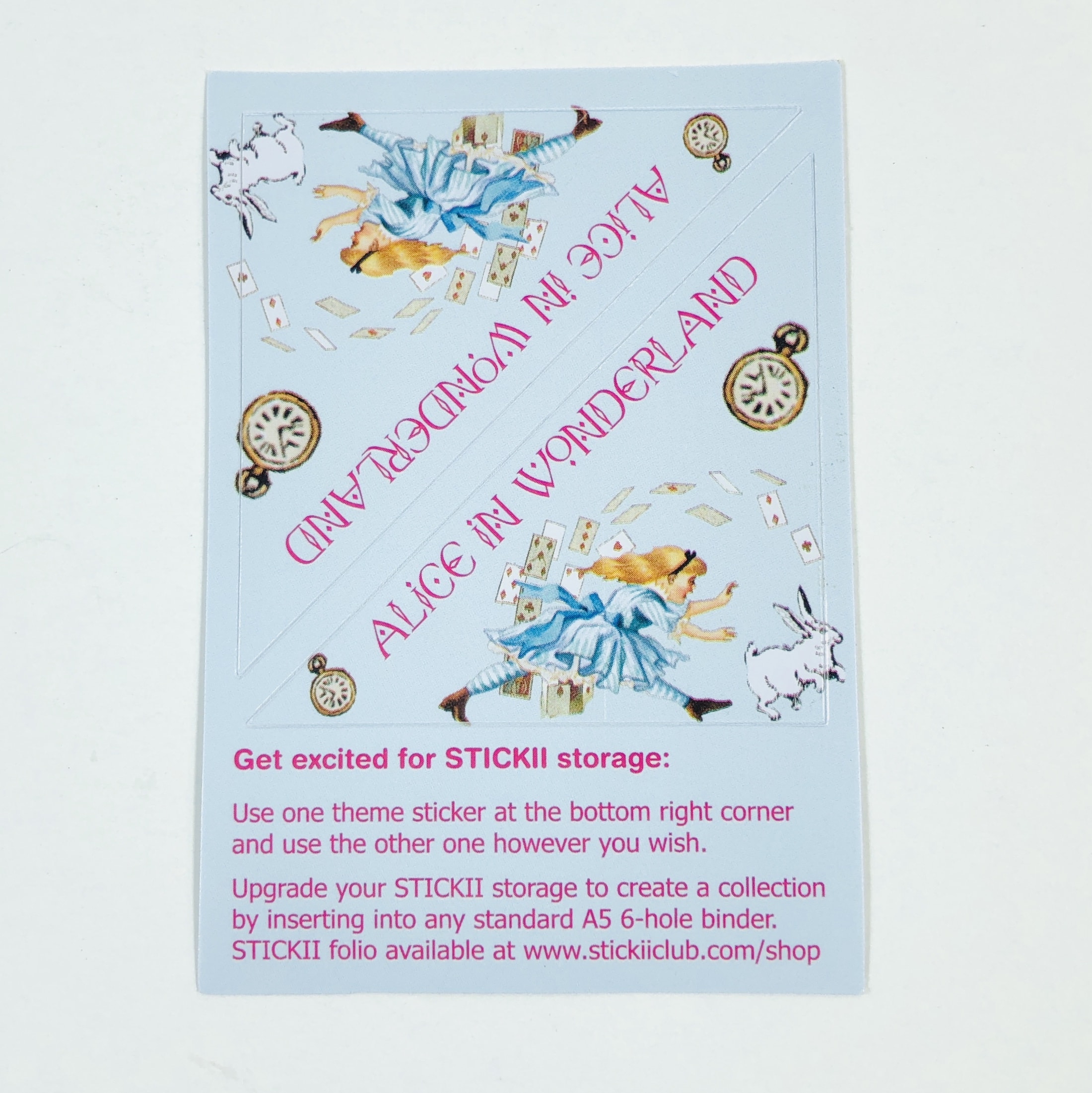 One thing to note about this first sticker – you can place one on the included vinyl holder (shown below) and use the other one however you like. STICKII now offers a folio that you may purchase on their website and then you can place your holders in the folio to keep them organized.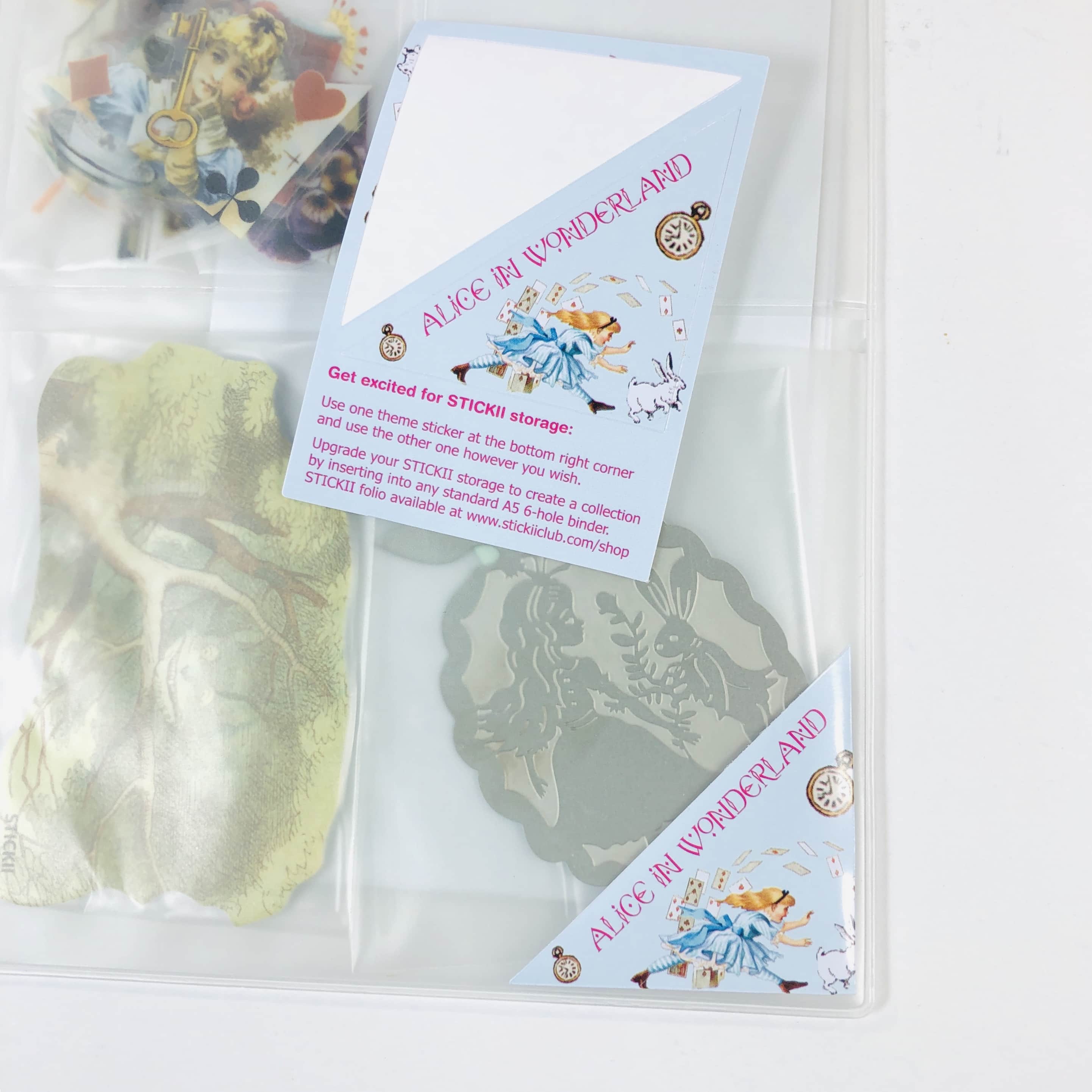 Here is one of the stickers in use in the vinyl holder. The holder has smaller pockets in front for organizing the smaller items and a big pocket in the back for the longer sheets.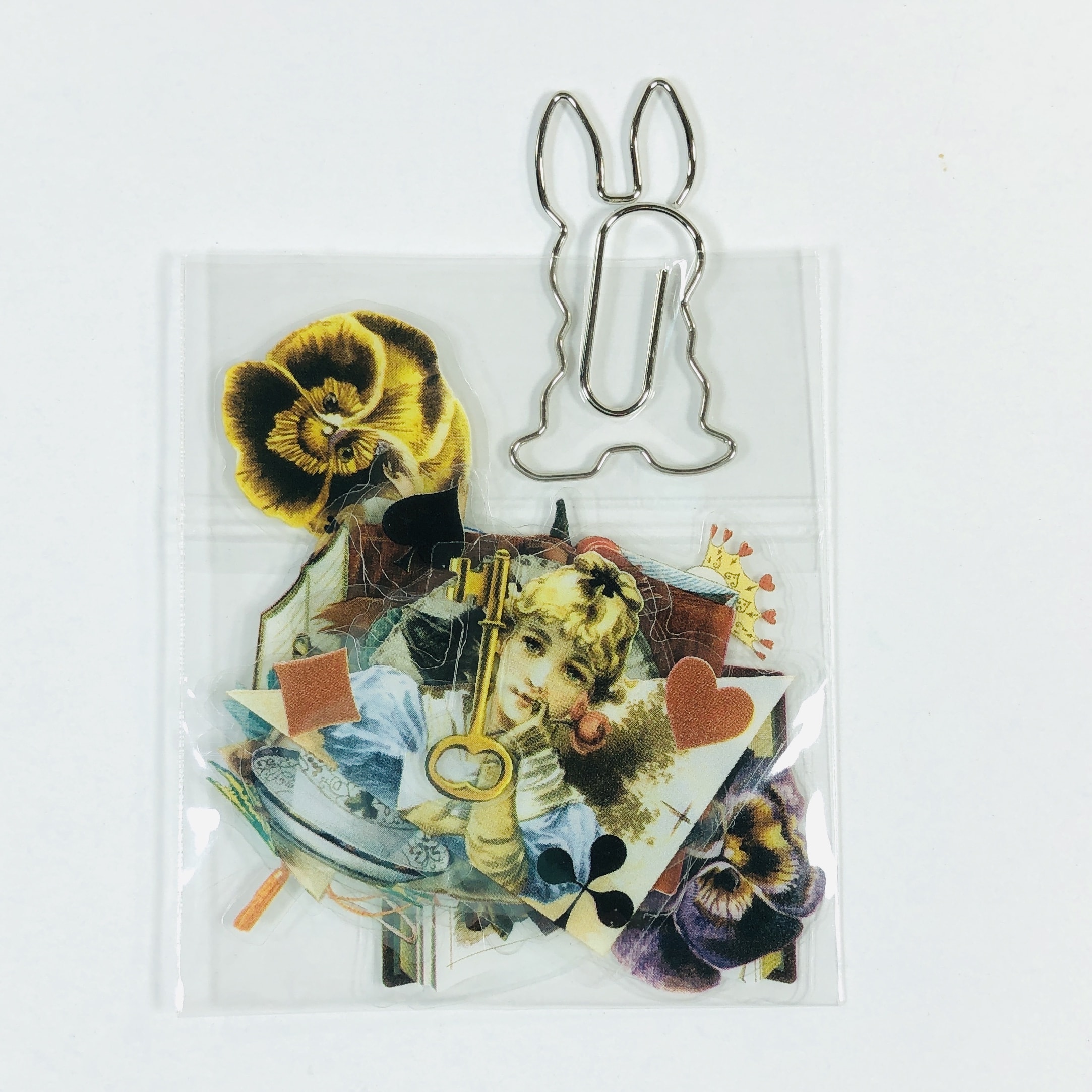 Check out this cool paperclip!
I've never owned a Rabbit Paperclip before!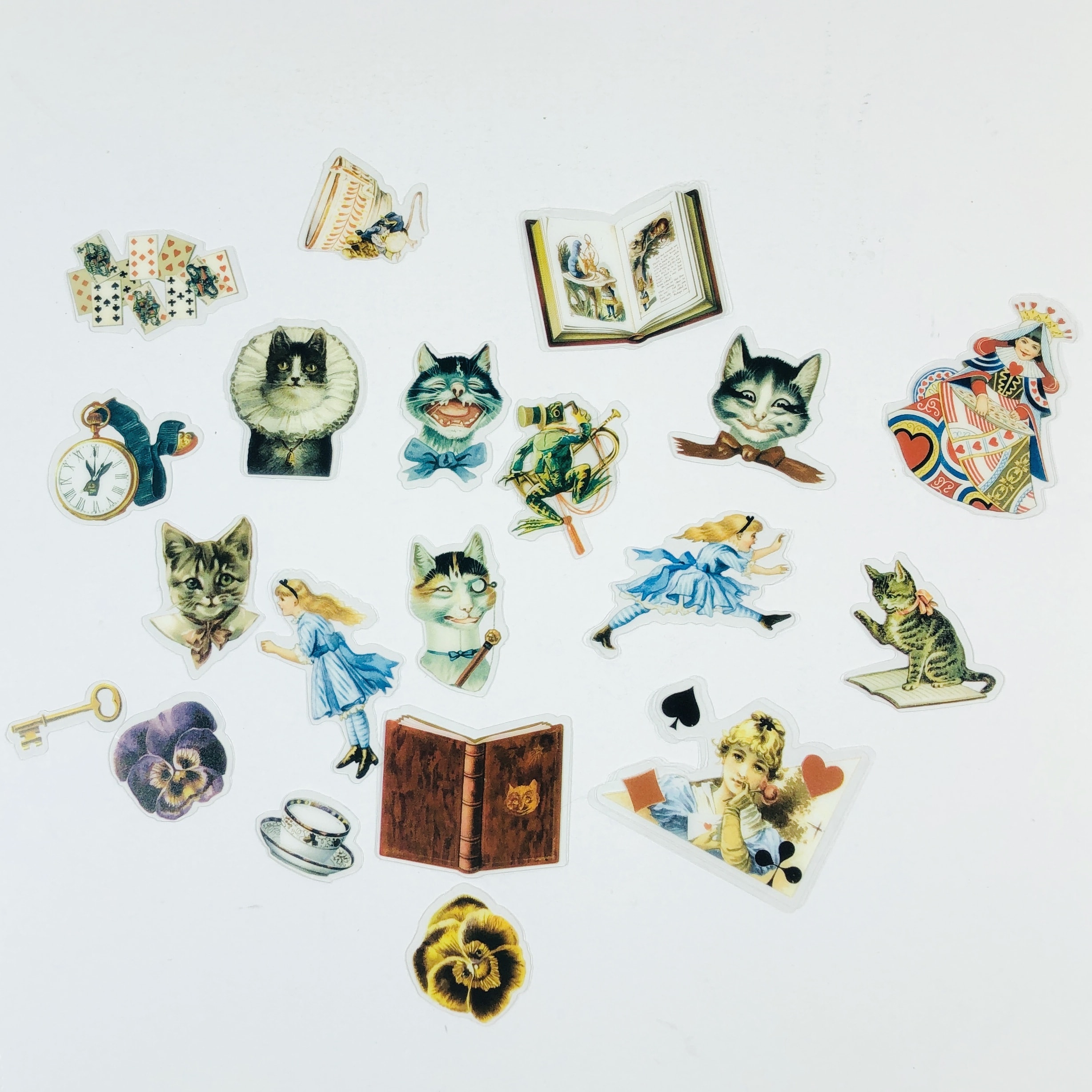 Here are the Sticker Flakes. I think I counted 20 flakes in all.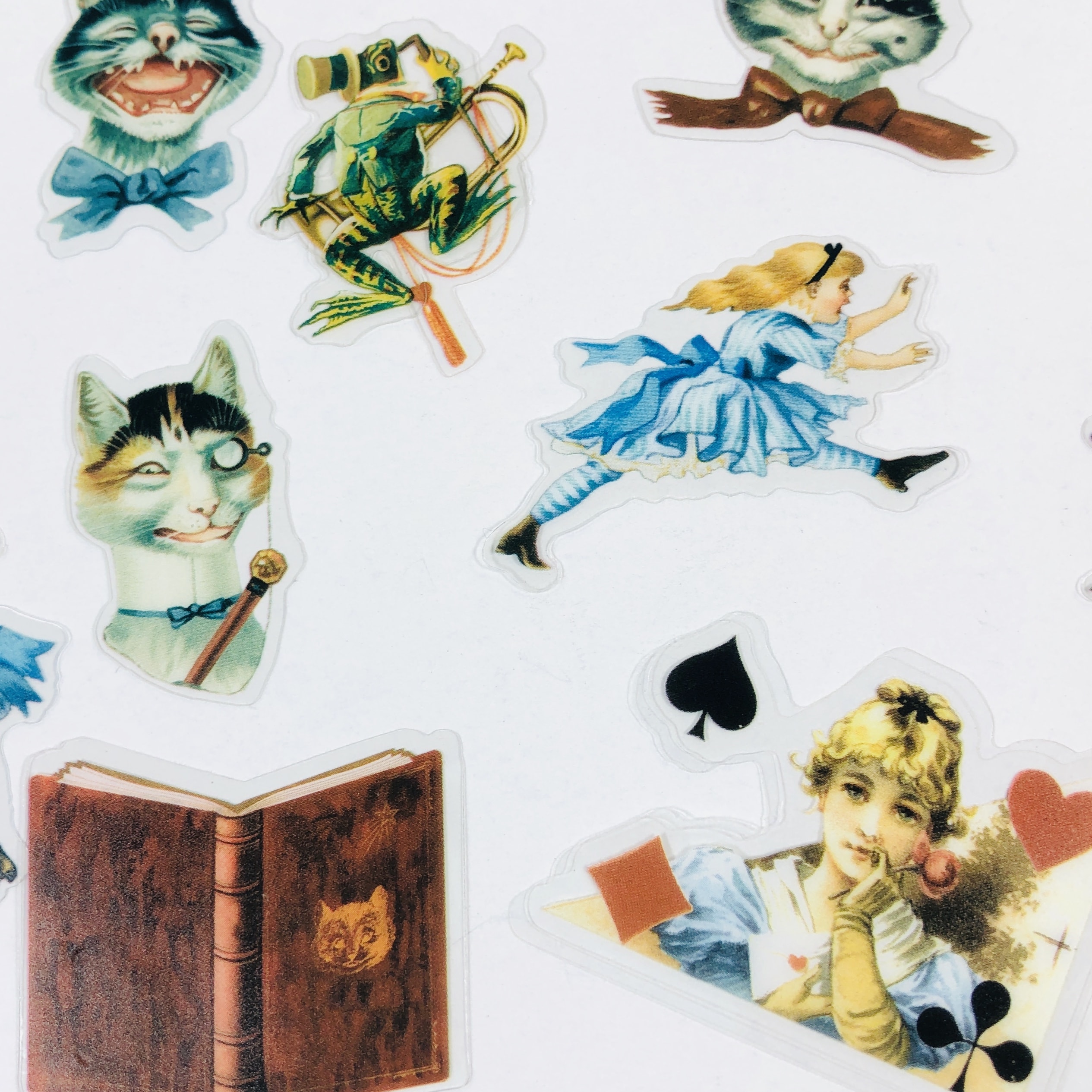 Sticker flakes are individual stickers, as opposed to sheets of stickers. The larger the flake, the easier it is to peel and stick. The sizes vary but the brown book shown above is about 1.25″ x 1.5″.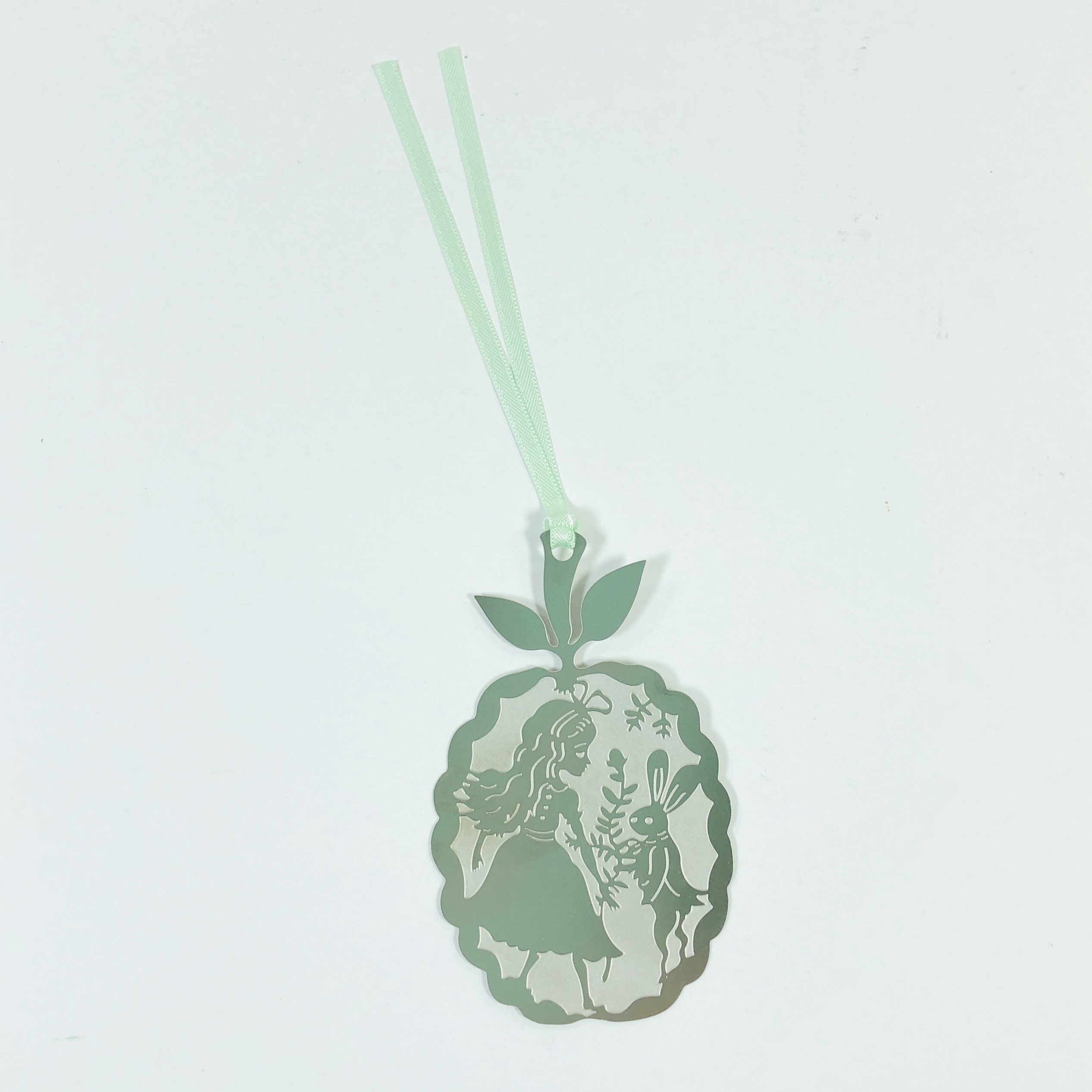 I am not 100% sure what this is, but if I had to guess I would say it's a Bookmark.
It is made of a silver-toned metal and is about 3″ tall at the tip of the "stem" and 2″ across. The ribbon is about 3″ inches long.

Cheshire Cat STICKII Notes are pretty cool and/or creepy!

You can purchase past STICKII Notes in the shop section of the Stickii website for about $2 a pack (they usually show up a month or two later). You can use them just like traditional sticky notes. They are about 2″ x 3″.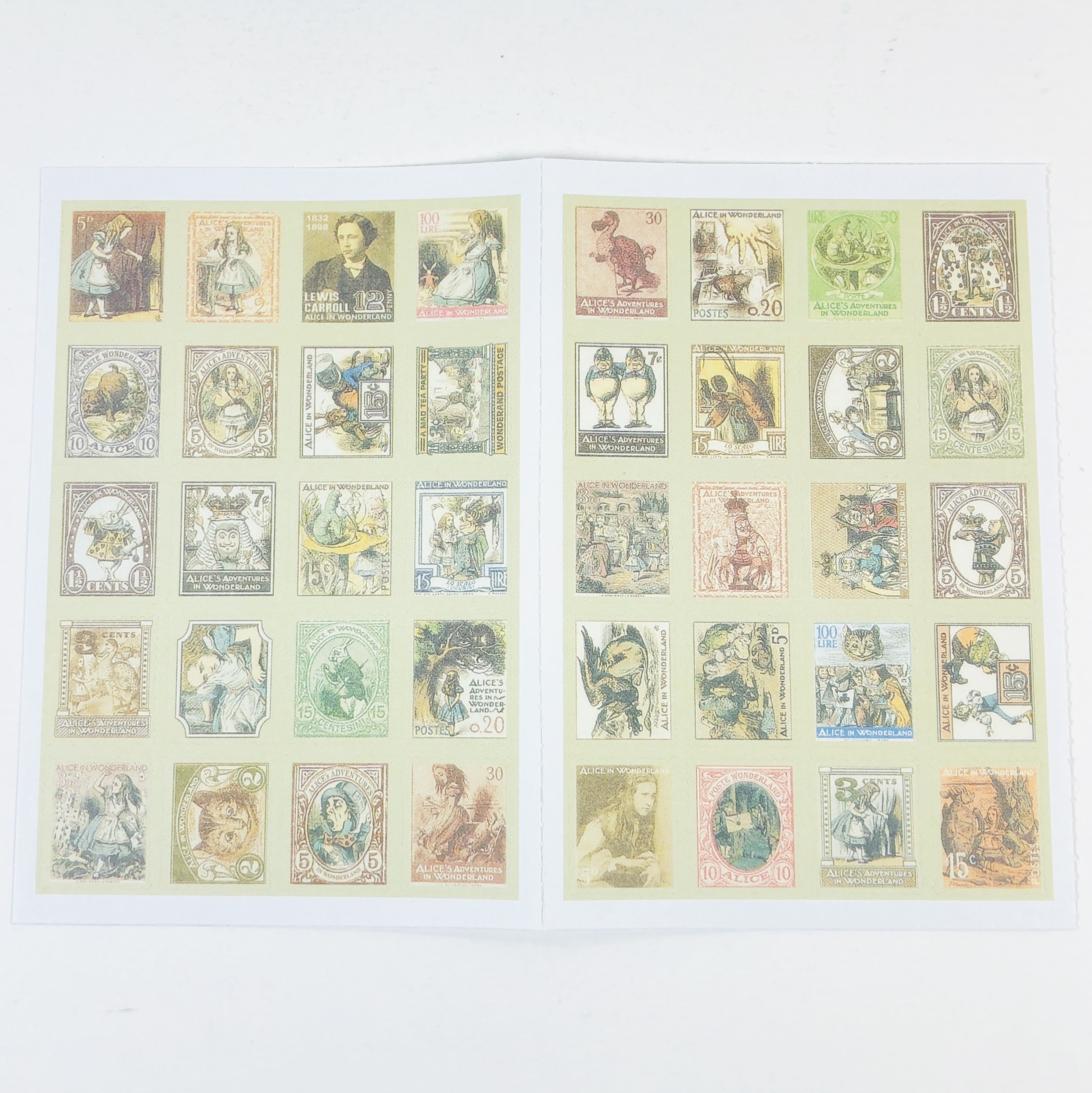 Postage Stamp-Sized Stickers are not actual postage but they do look interesting.
They are made of paper and are in subdued colors.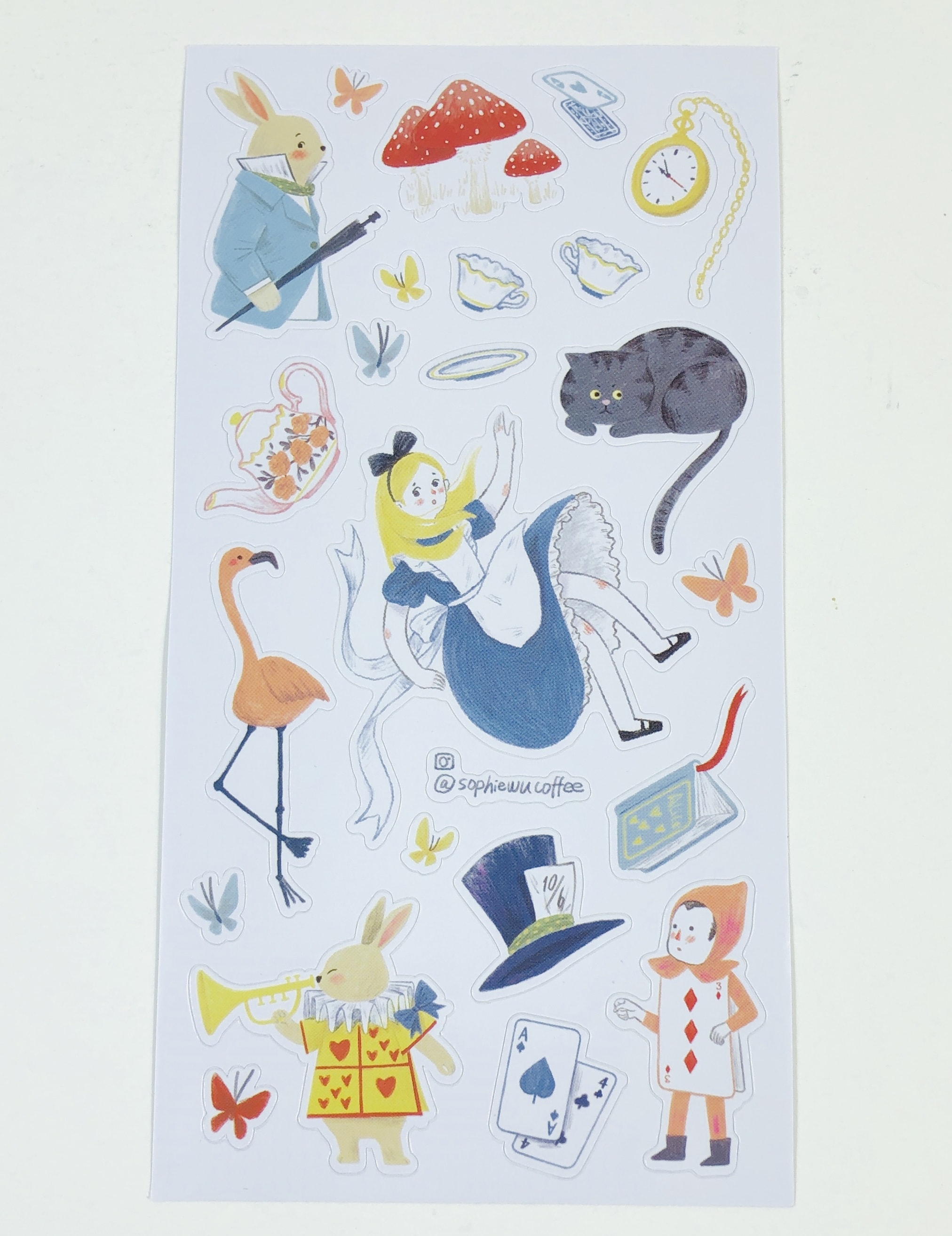 Alice Stickers look most like the character that I remember from the major motion picture cartoon that I feel like I'm not supposed to name but you hopefully know what I'm talking about.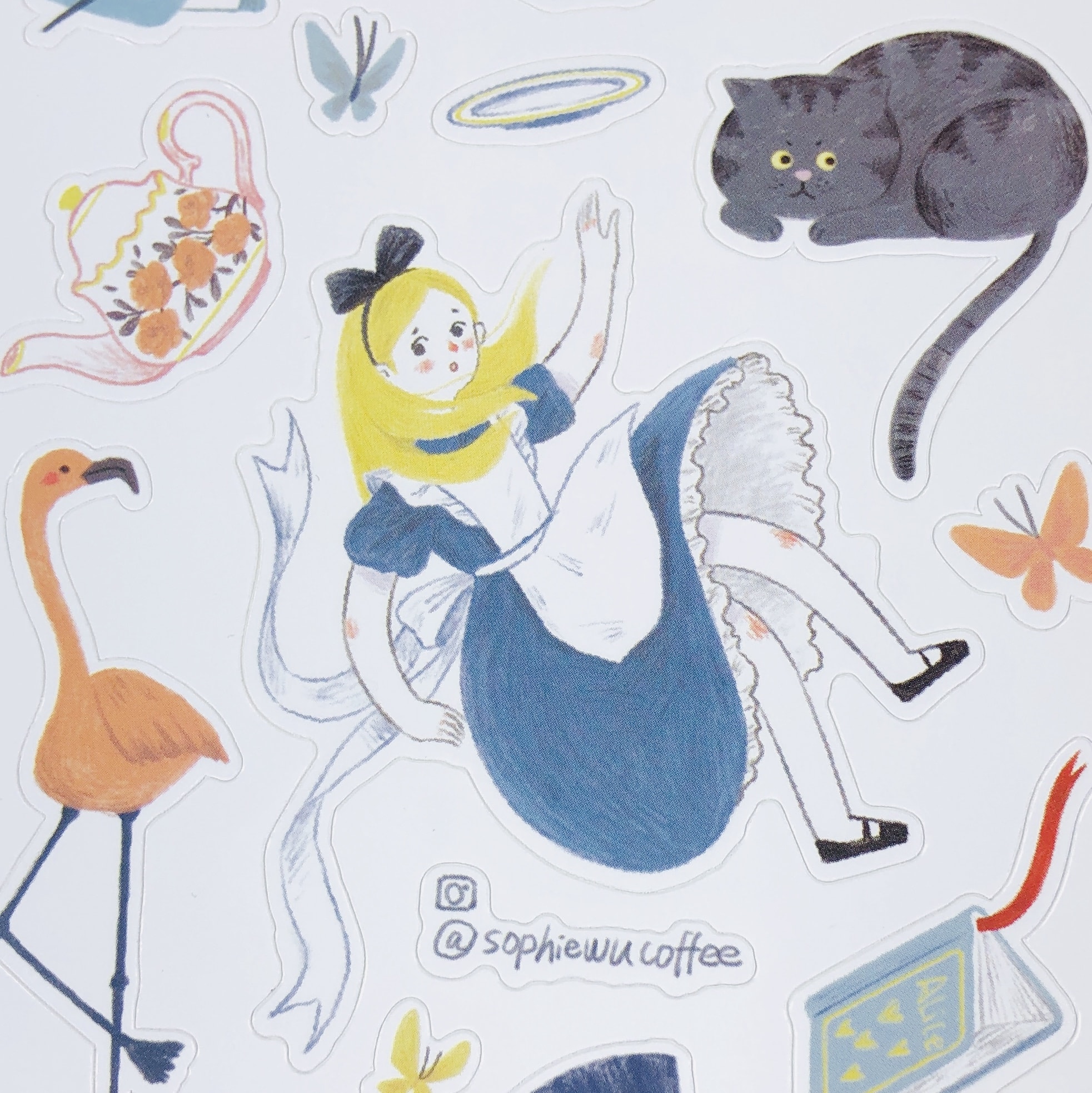 Tea pots, books, and butterflies, three of my favorite things. Oh, and cats!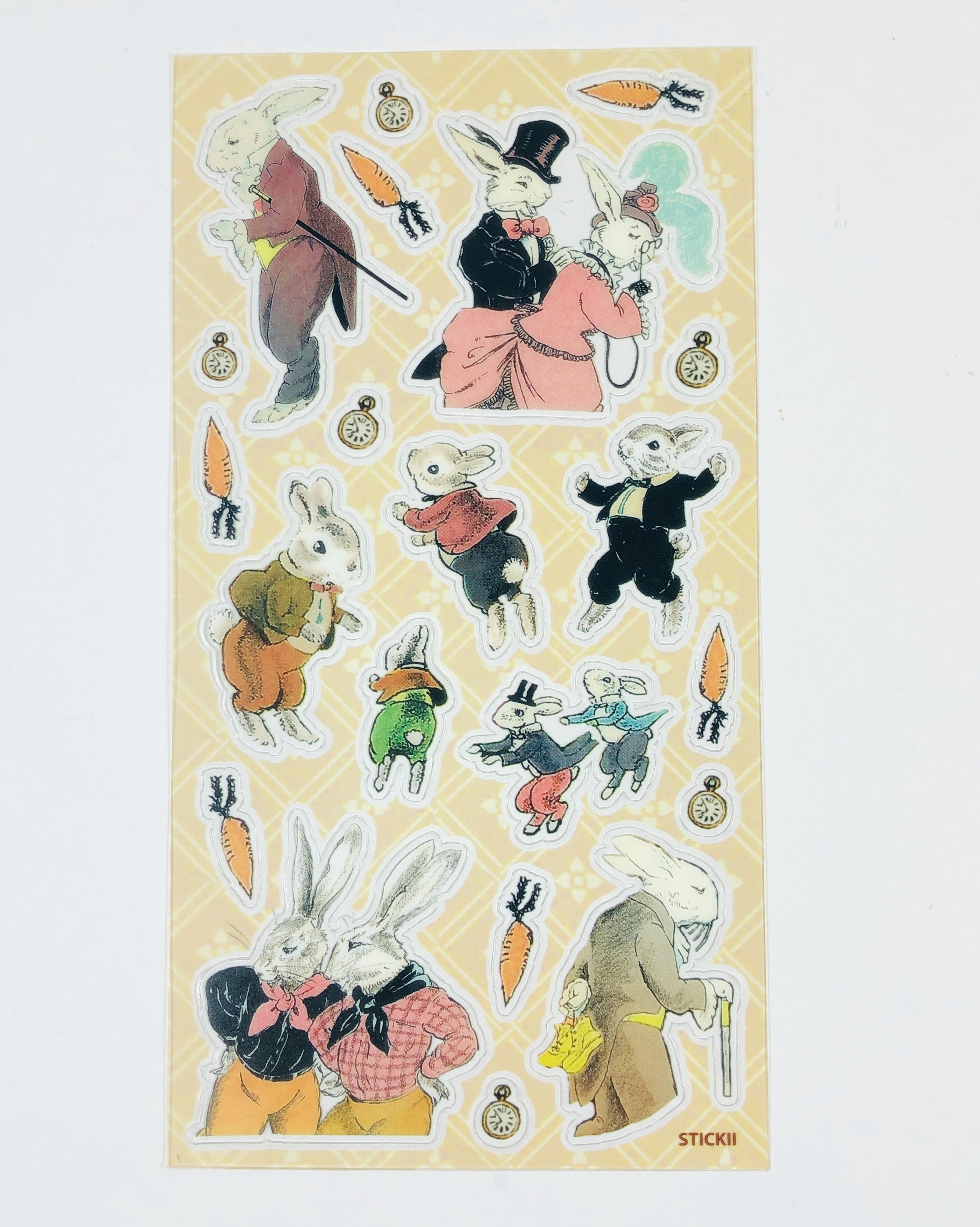 White Rabbit Stickers I imagine this is what the rest of the White Rabbit's family must look like.
Fancy bunnies in fancy pants.
Alice Quote Stickers I can't say for sure if Alice said all of these things but I know she said several of them anyways.
More tea. They get me!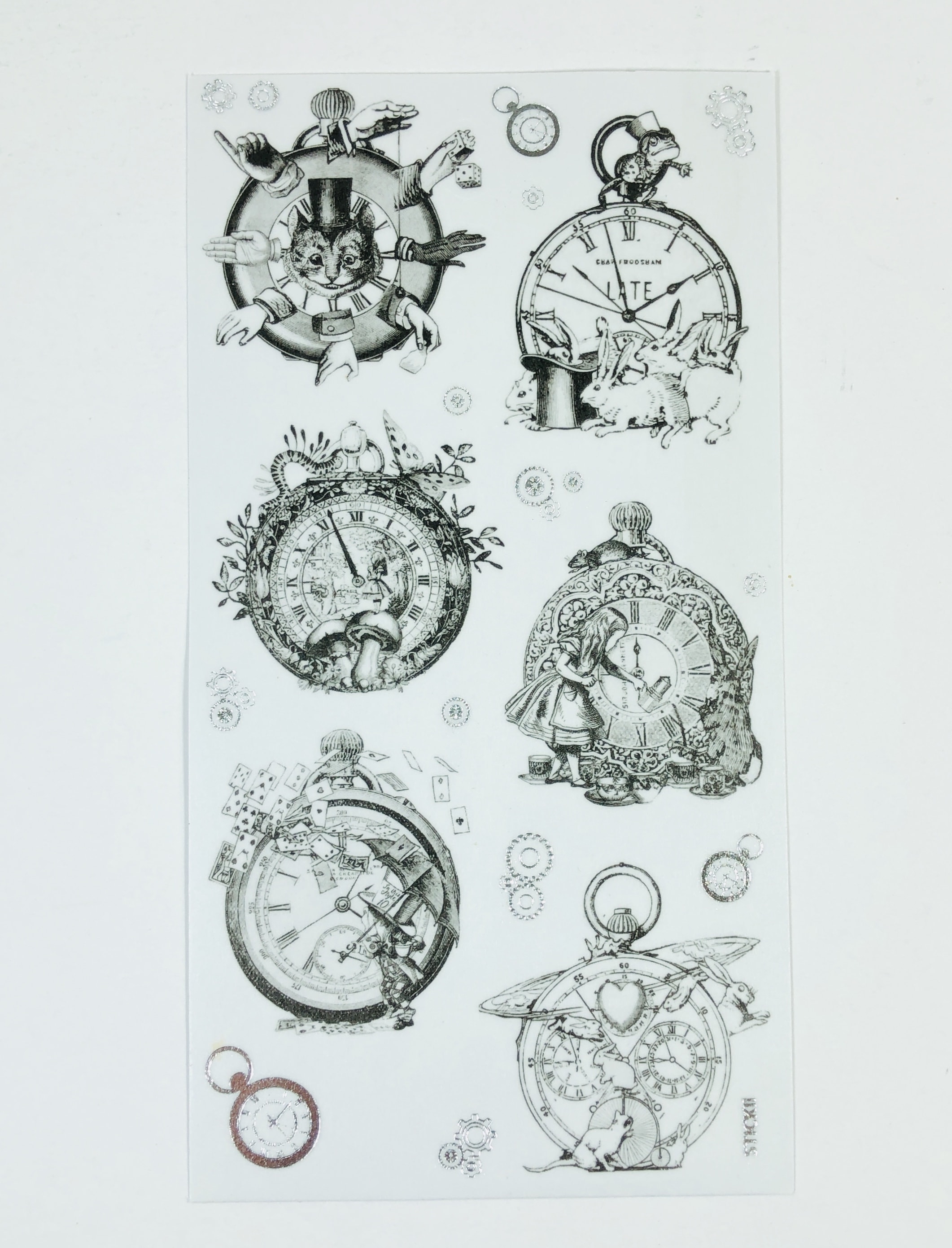 Clock Stickers Poor White Rabbit, he always looks to be in a hurry.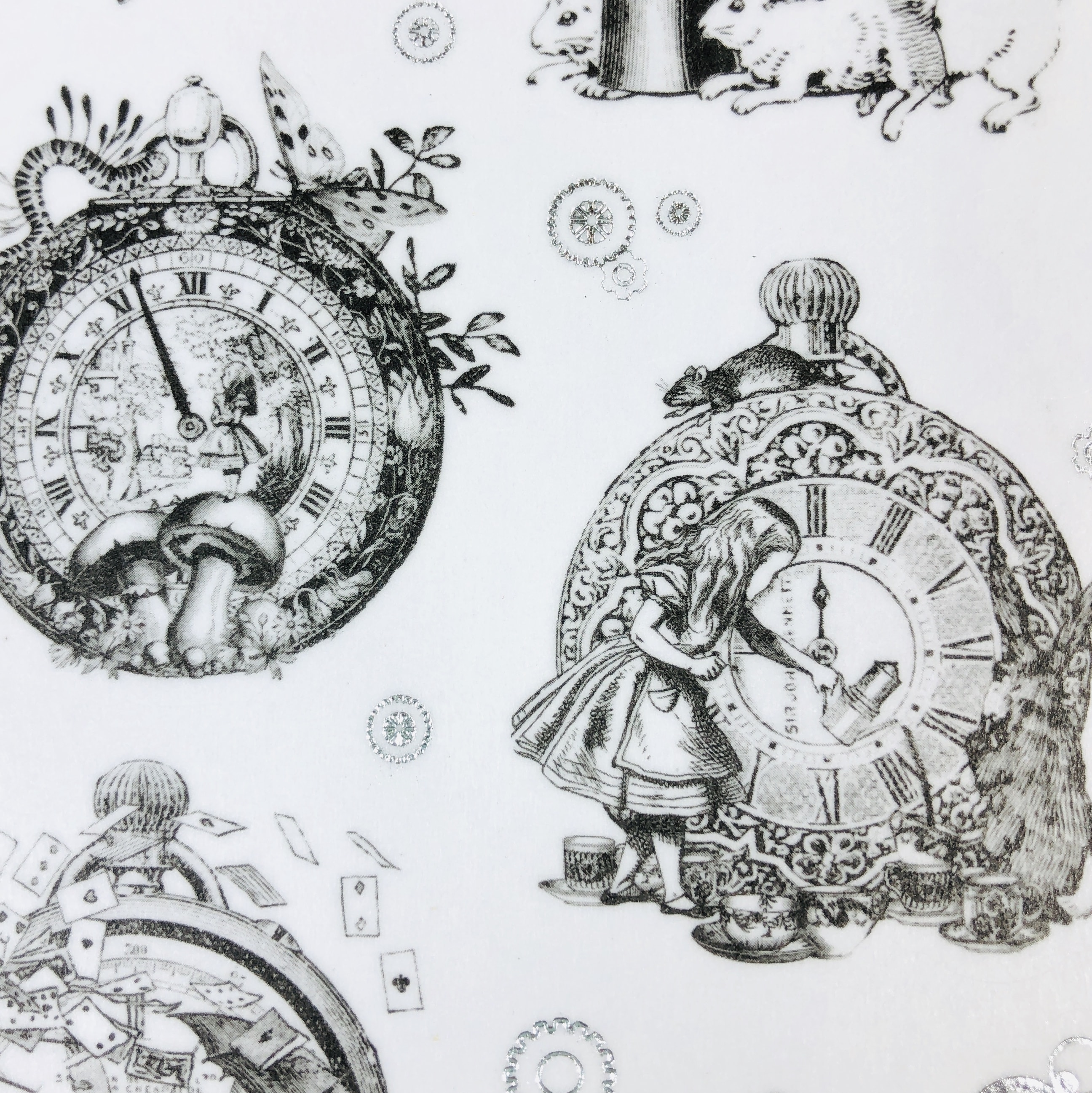 A variety of Wonderland characters and motifs are depicted.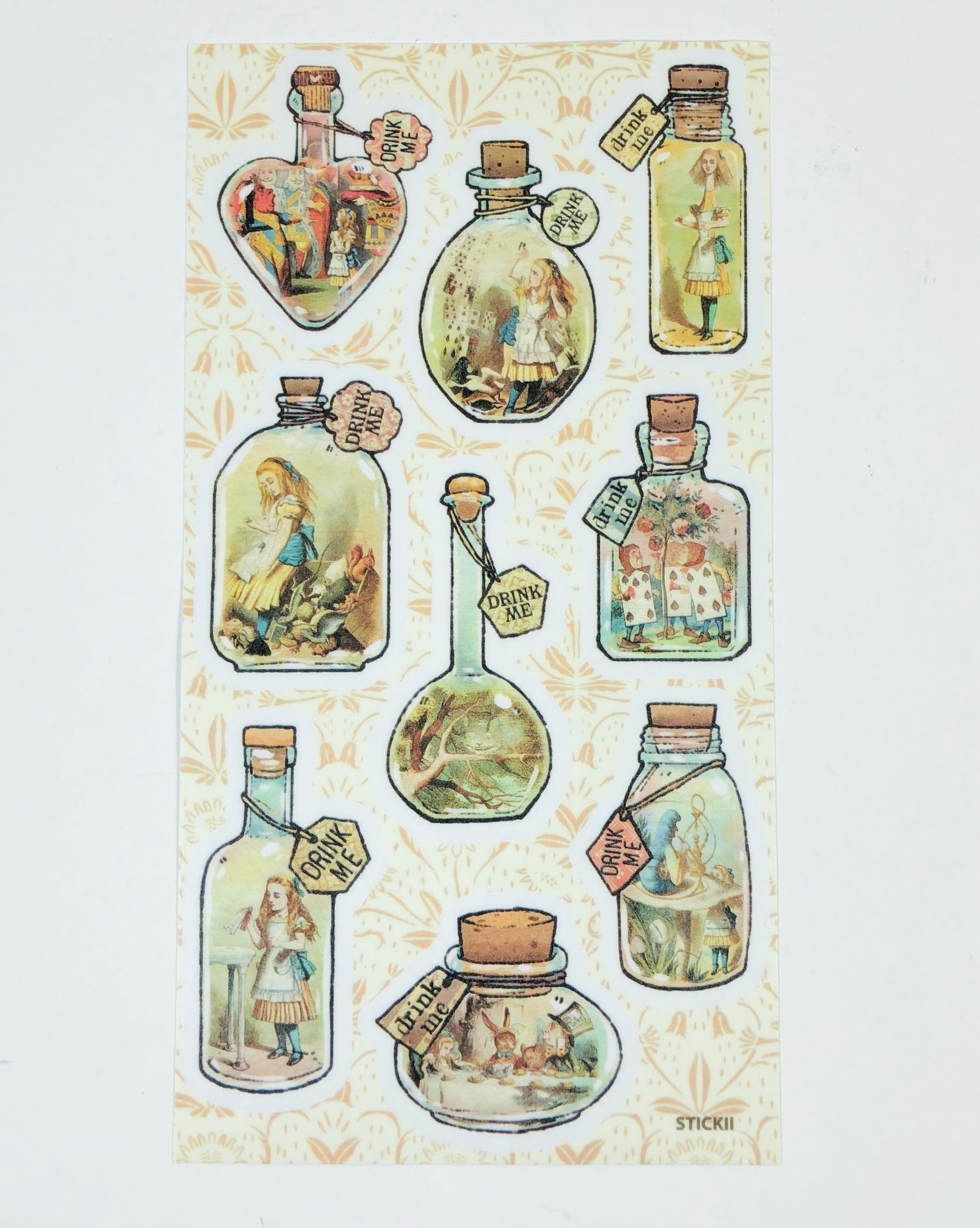 Drink Me Stickers Alice either made a great discovery or a terrible choice when she first sipped from one of these vials.

I guess she wouldn't have had such an experience if she hadn't imbibed.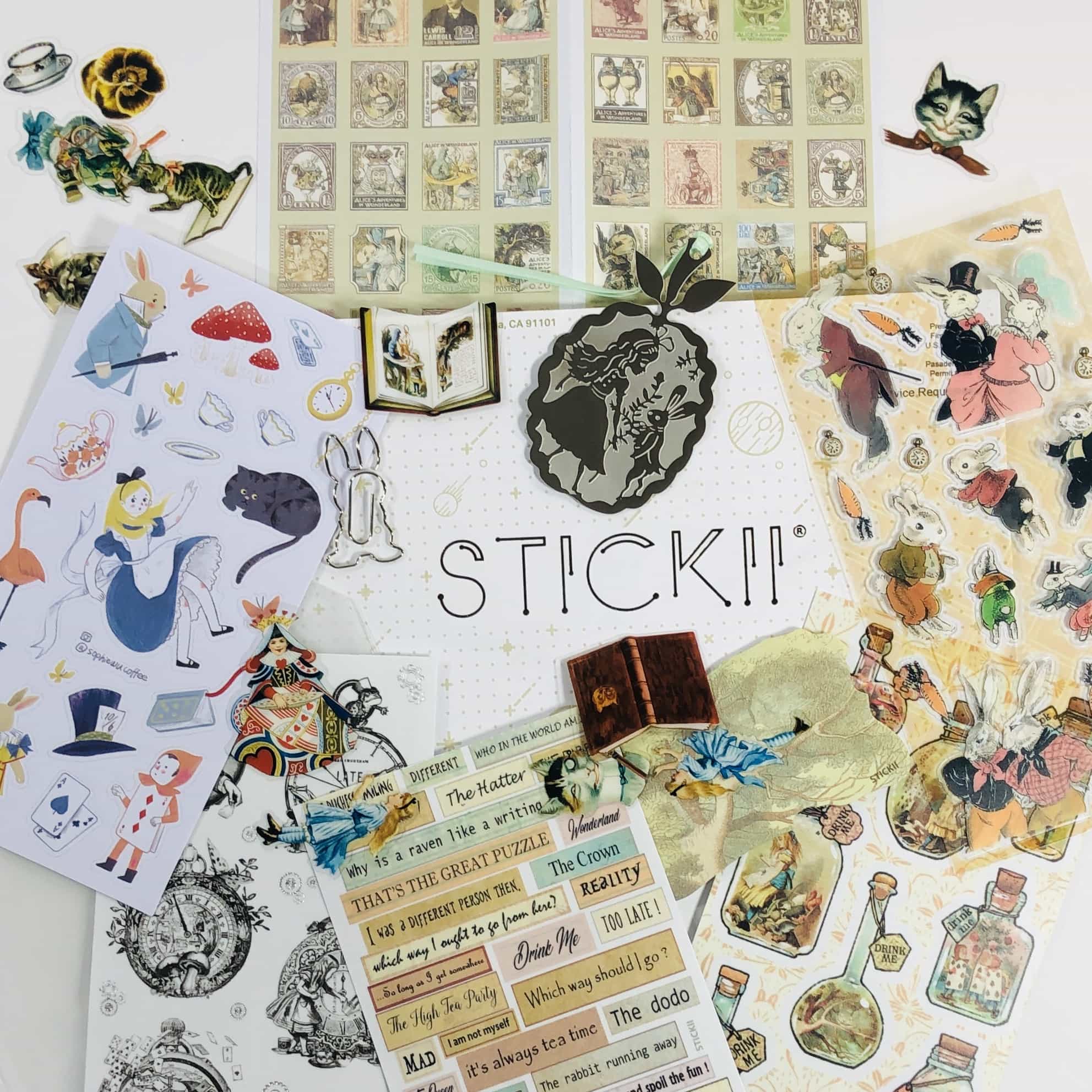 As always, I received a variety of sticker types and stationary items in my August STICKII Retro Pack! The designs were very retro and I believe many of the illustrations are classic and probably from the original books. STICKII is a fun subscription box for those who like to use stickers in bullet journals, planners, or in other ways. I appreciate that they sell previous packs in their online shop because sometimes I want one of the other packs and I can pay a little extra and pick one of those up too!
Let us know what you think of this month's STICKII pack!