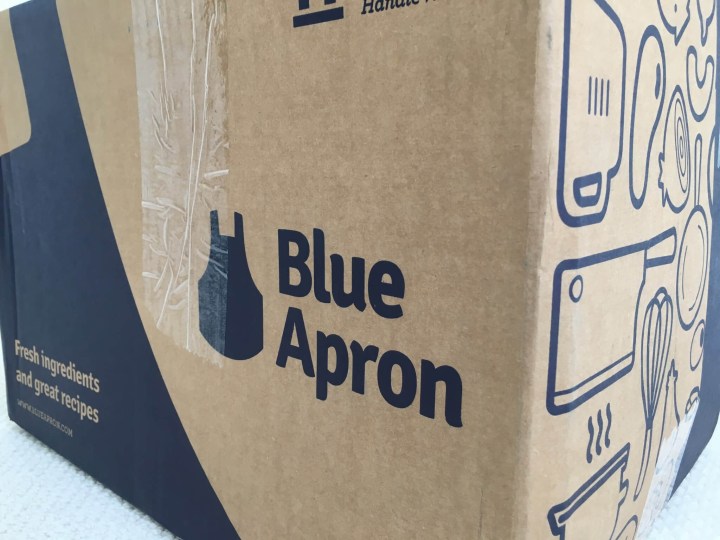 Blue Apron is a meal kit subscription that ships weekly. It's great for anyone who needs help with meal planning, whether you're just cooking for yourself or for the whole family. This subscription saves you so much time because you no longer have to research recipes and go to the grocery, everything is already provided in one securely-packaged box with ice packs and all you have to do when it arrives on your door is to cook. They offer a 2-Person Plan, which sends 3 meals a week of 2 portions each, and a Family Plan, which includes 2 to 4 meals a week of 4 portions each. You can set the delivery date and also tell them whether you have allergies or other ingredients you're avoiding.
The Blue Apron website got a redesign recently, and you now have more options from which to choose for your meals.  It's easy to switch up or add meals to your box.
We got the Family Plan for 2 meals. I set the delivery date and it arrived right on time, securely packaged in a heavy-duty box. All of the ingredients are wrapped in an adorable insulated blanket and cooled with ice packs.
Pricing: 2-Person Plan – $59.94 for 3 recipes. Family Plan (serves 4) – $69.92 for 2 recipes, $139.84 for 4 recipes. 
DEAL: Get $60 off your first THREE Blue Apron boxes! Just use this link to subscribe!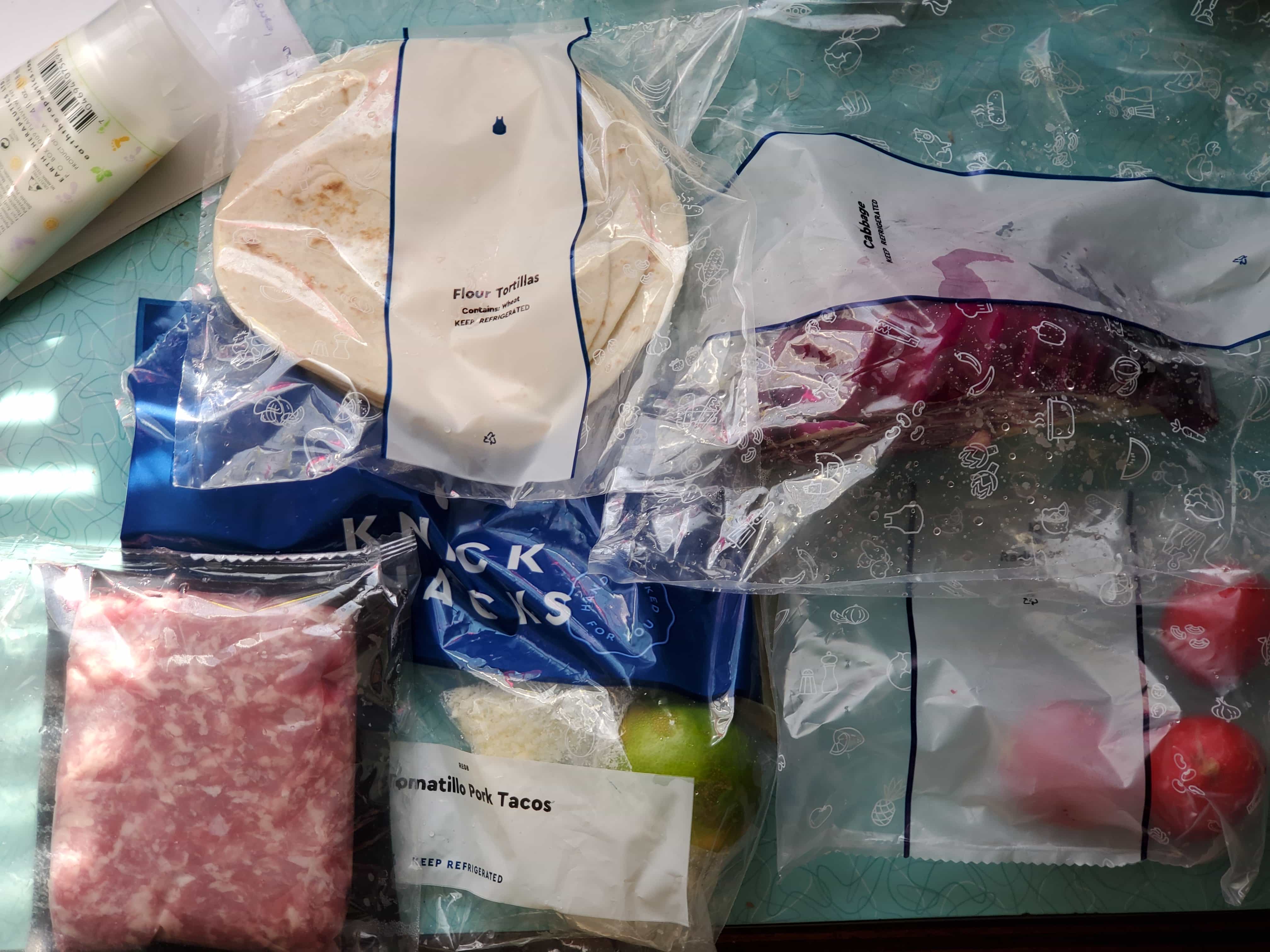 All the items arrived fresh and well-packed! Our recipes this week are Tomatillo Pork Tacos with Cotija and Cabbage Slaw and Chilled Lemon Grass Beef and Noodles with Marinated Carrots and Cucumber.
We started right away with the Tomatillo Pork Tacos with Cotija and Cabbage Slaw! For this, the box provided ground pork, flour tortillas, cabbage, radishes, lime, grated cotija cheese, mayonnaise, tomatillo-poblano sauce, and a smokey spice blend.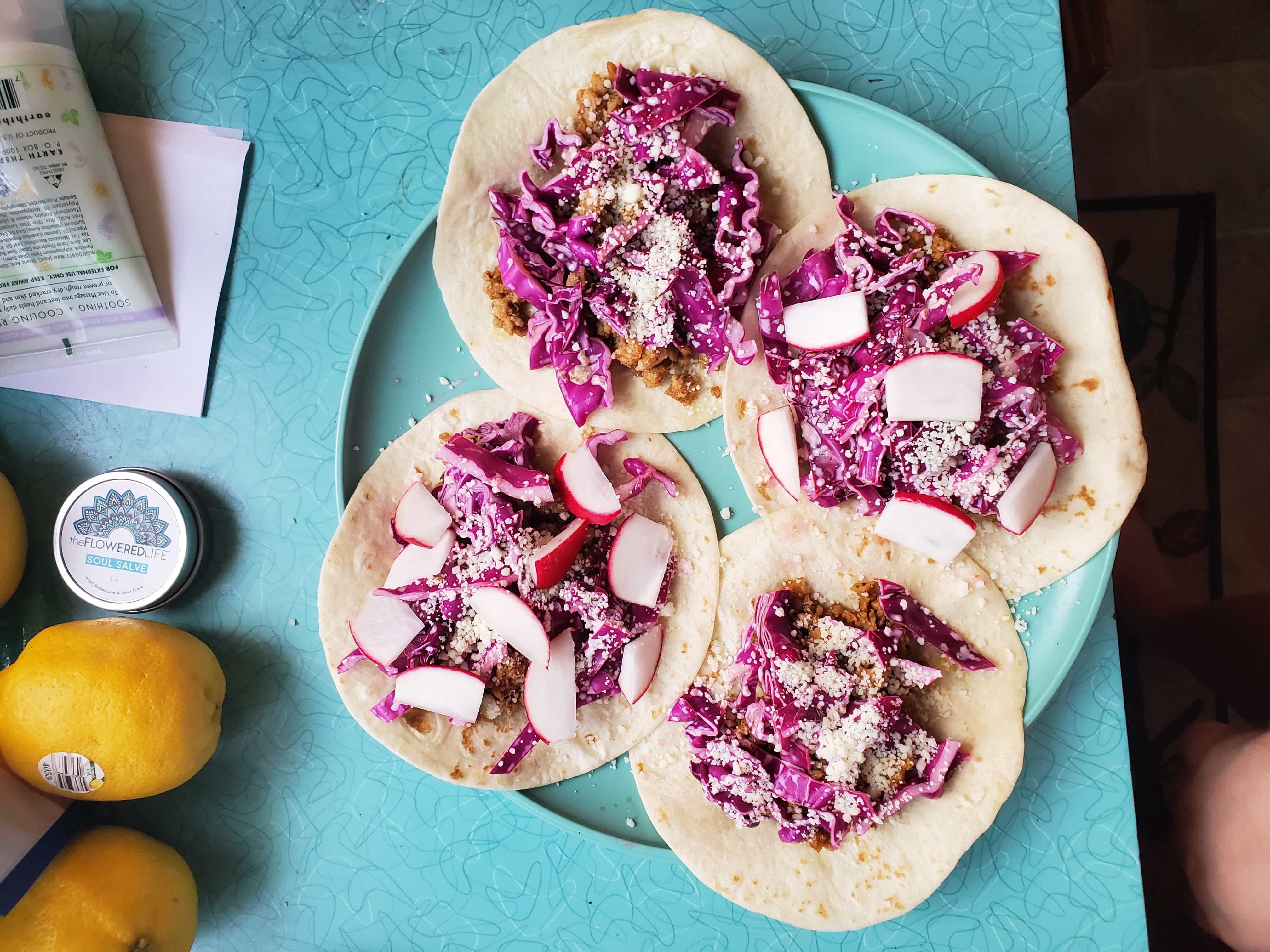 First, we made the slaw by combining the mayonnaise, lime zest, and sliced cabbage. Next step is to cook the pork with the tomatillo poblano sauce and then warm the tortillas. The last step is to assemble the tacos and serve them with the slaw. There were four tacos in total and they were definitely filling. Since it was quicky and easy to make, I think it's a great dinner choice on days when you're too tired to cook a complicated meal.
The next recipe is for Chilled Lemon Grass Beef and Noodles with Marinated Carrots and Cucumber! For this, the box provided thinly sliced beef, Lo Mein noodles, lime, lemongrass, garlic, carrots, Persian cucumber, soy sauce, light brown sugar, vegetarian Worcestershire sauce, and crushed red pepper flakes. It only takes 4 steps to cook this: make the sauce, cook and dress the beef, prepare the vegetables, and cook the noodles. This Asian-inspired dish can be prepared ahead, so you can just easily take it out when you're hungry and eat even without reheating. It was a nice combination of savory and zesty!
With Blue Apron, I could relax on some nights knowing that we'd have a tasty dinner without me exerting too much energy. I love that most of the ingredients are already in the box, and all I need from home are some basic stuff like oil and water. The variety of recipes they offer are also amazing. It's really a fun and convenient meal kit subscription and I can't wait for the future boxes!
In case you didn't know, Blue Apron has a wine program! They make it easy to match your wine to your meal!
What did you think of these recipes from Blue Apron?