The Detox Box is a monthly green and natural beauty subscription box from The Detox Market. For $49.95 each month, you'll get a box featuring one or more green beauty products with a value of at least $90. The price decreases by $10 per month on a 6-month plan!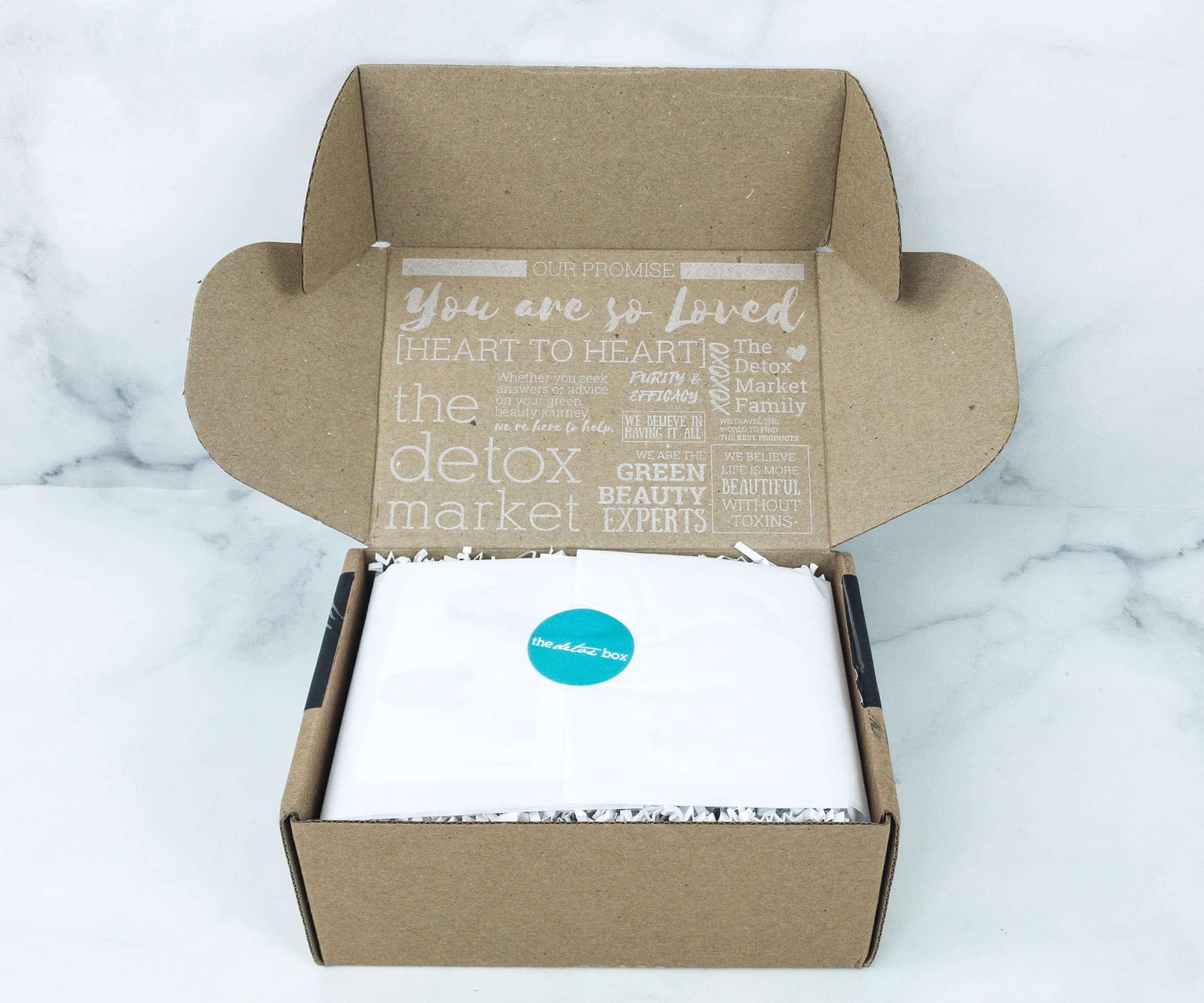 As you open the box, you will find feel-good messages from The Detox Box.
The products are covered with white paper squiggles.
This month's featured brand is HERBIVORE by Julia Wills & Alexander Kummerow!
The Detox Market had a little Q and A with the brand!
I like the information card they provide! It's complete with a product description, a list of key ingredients, and expert tips.
Here is the information page about the included items this month!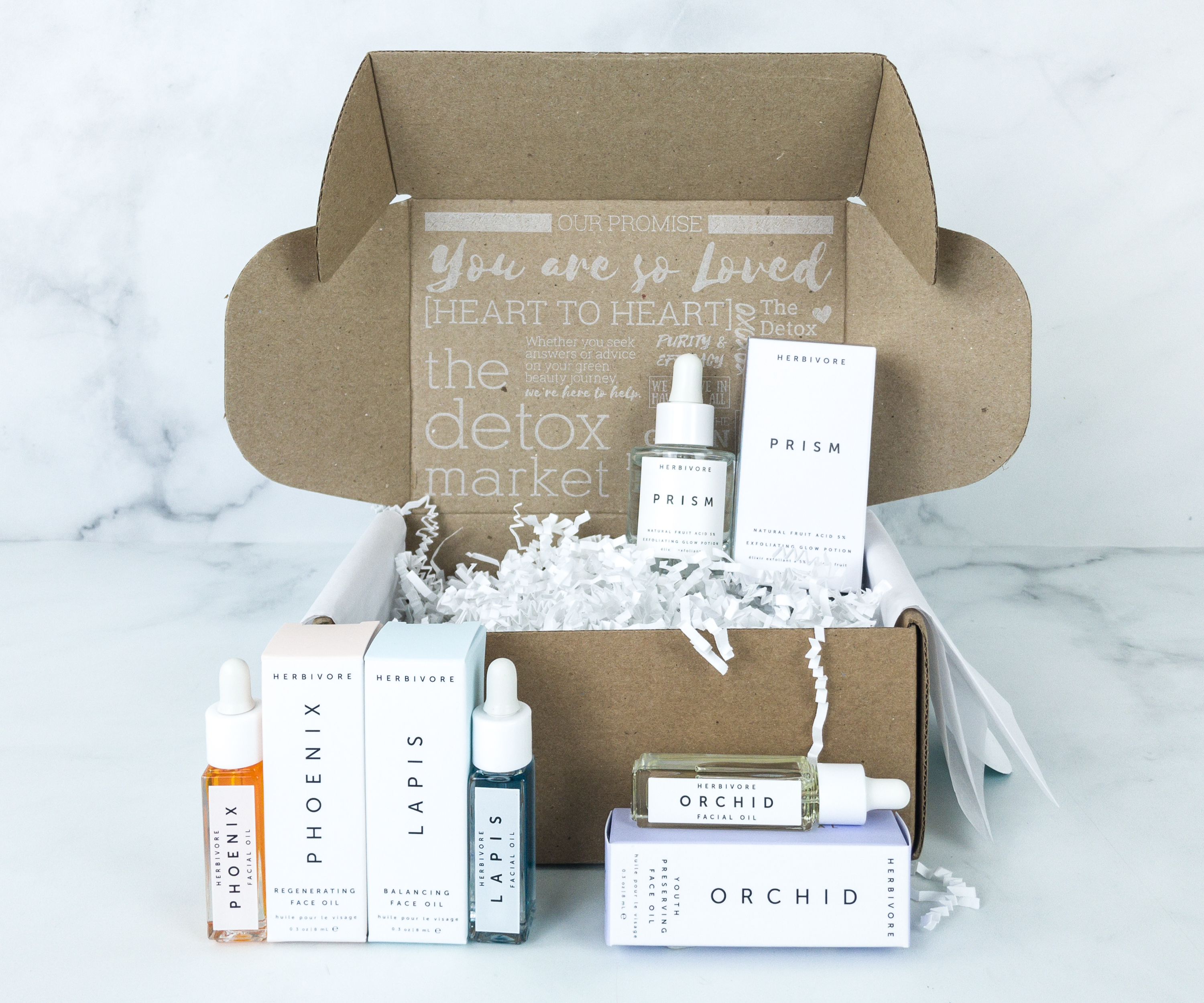 Everything in my box!
Prism Potent Glow Potion ($62) I'm all for natural skincare products, so I was excited to try this brand. Well, they exceeded my expectations. This serum, for instance, is light-as-air and exfoliates without adverse effects on the skin.
The formula is made with a blend of fruit acids – bilberry lactic, sugar cane glycolic, orange peel citric, and apple malic – which brighten and clarify skin. Other key ingredients are rose water and aloe water, both known for their calming properties. I love that this is so lightweight – it's not exactly like water, just a bit squishier, but not thick and heavy. Plus, $1 from every sale of Prism goes to a rotating LGBTQIA+ organization!
You put this blend on right after cleansing, and then use one of the other oils to top it off!
I'm a little iffy on the prices for the set of oils here – the prices on the cards are rather inflated – about 2x as much as the oils as we normally calculate them, and the trio itself is available for $29.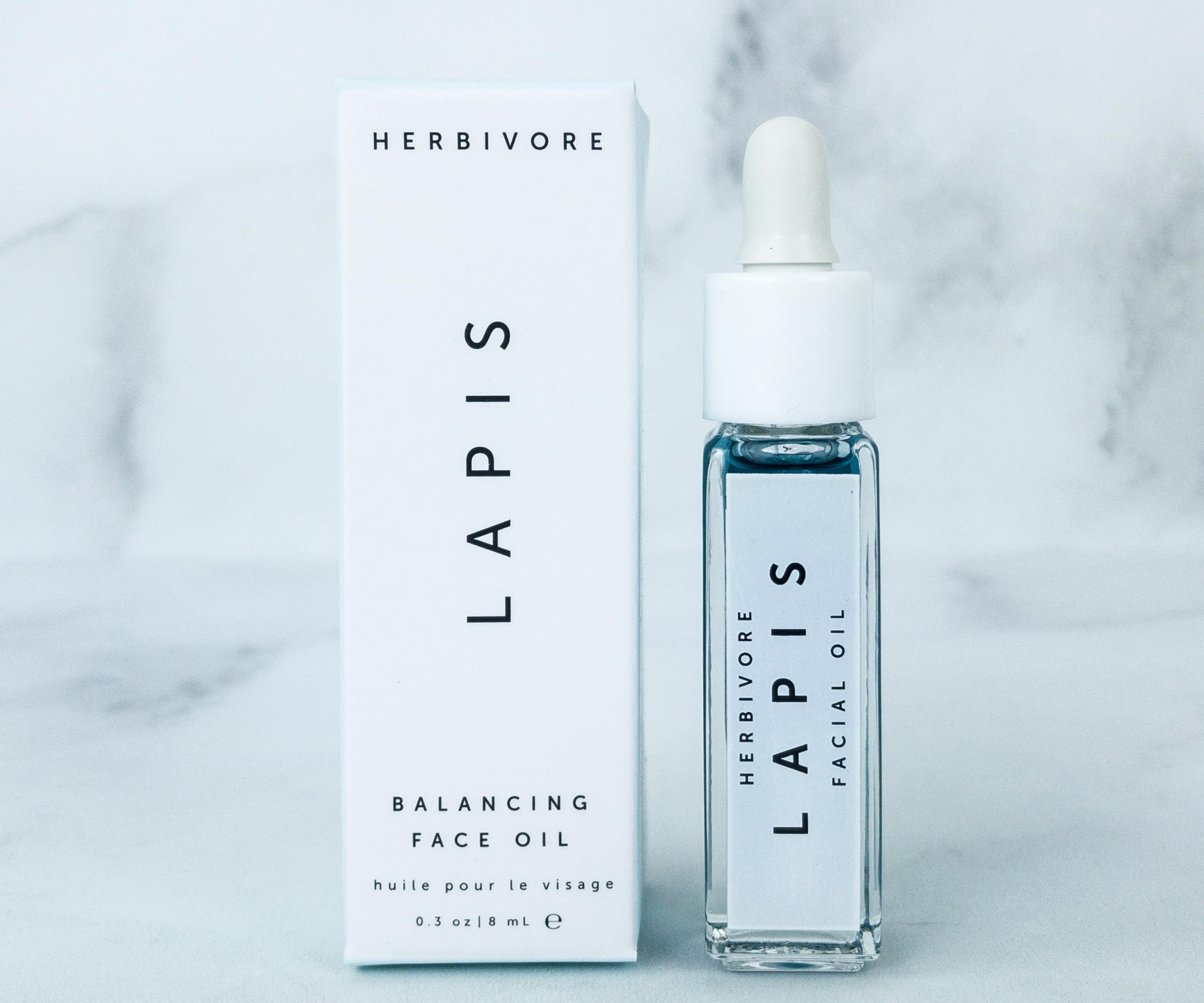 Balance & Sooth Lapis Oil ($12.70) This oil stands out from the rest because of its natural blue hue from Blue Tansy, a Moroccan oil. It's formulated to be soothing and balancing, perfect if you have combination skin or blemish-prone skin.
Composed mostly of natural fruit acids and botanical extracts, it results in smoother and well-balanced skin. The oil is recommended as a leave-on treatment. It feels a bit tingly when applied, but not for a long time.
Smooth & Brighten Orchid Oil ($11.29) Here's another facial oil, and this time it has anti-aging properties harnessed from orchid extract, camellia seed oil, jasmine sambac oil, and squalene.
The oil hydrates the skin, reduces visible signs of aging like fine lines and wrinkles, and then leaves it with a youthful glow. As with other skincare products, it takes continuous use to achieve the results. Upon first application, I could tell that's it gentle because it felt good on my skin. Also, I loved its floral scent.

Replenish & Renew Phoenix Oil ($15.52) Phoenix Oil is a fitting name for this face oil that aims to replenish and renew your skin. It contains a natural blend of rosehip oil, sea buckthorn oil, chia seed co2, meadowfoam oil, and neroli oil.

The concentrated formula of this revitalizing oil keeps your skin plump, deeply nourished, and radiant. The oil absorbs well, so there's no problem if you'd like to apply makeup afterward. It doesn't become greasy either.
I got 4 products in this box! I love discovering new natural, cruelty-free, and vegan products and they definitely fit the bill. Plus, the value was $91 (using the trio price). I think this is a great value, but wish that The Detox Box had been more accurate with the prices on the card. The items target various skincare concerns, from dryness to aging and everything in between. The oils are gentle on the skin and easy to use as well. If you're someone who loves exploring when it comes to skincare, The Detox Box is a great subscription choice. They always have something new to offer every month and they make you understand the brands and products better through the informative booklet. Can't wait for more green skincare products next month!
What do you think of this month's featured products?