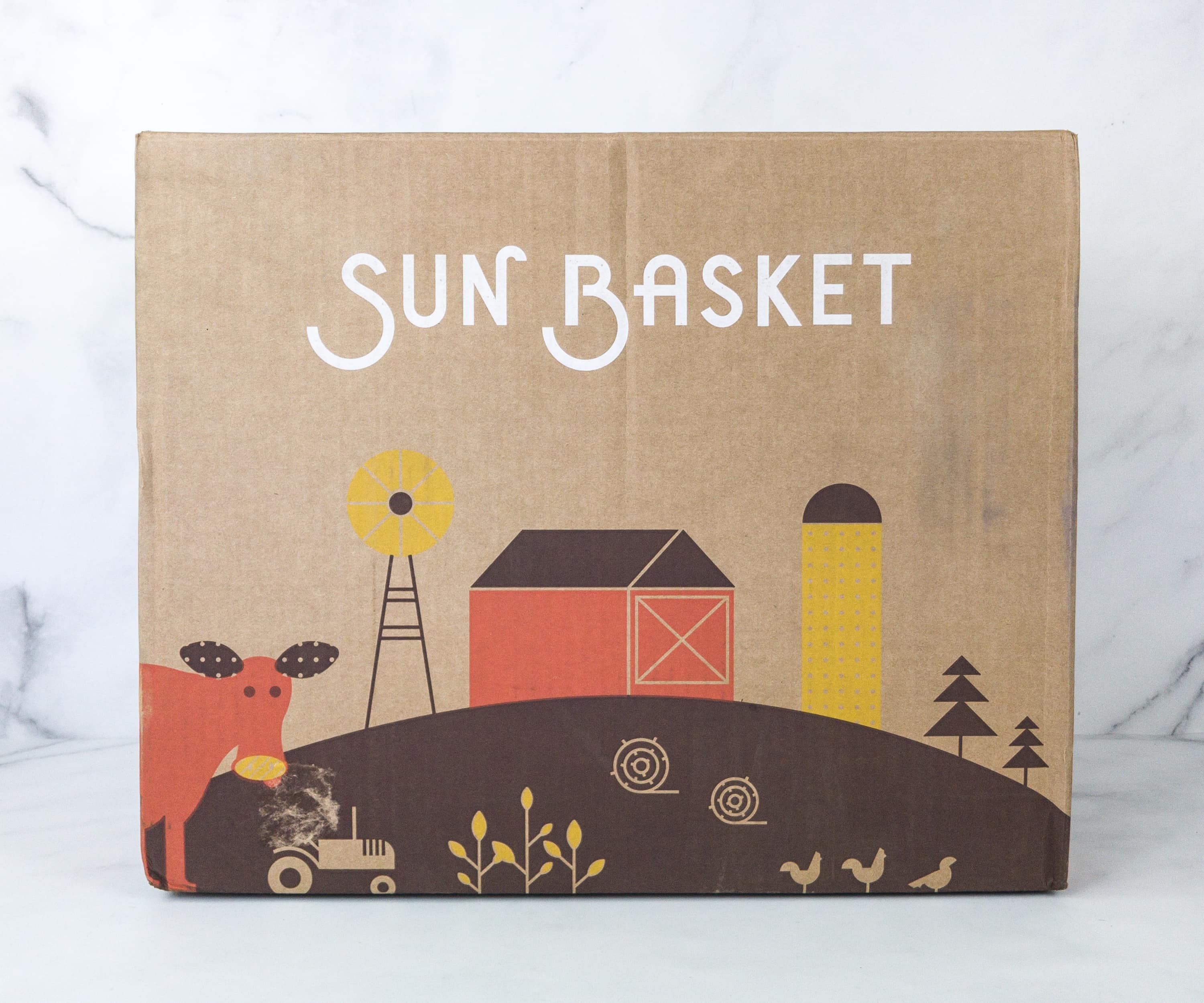 SunBasket is a new healthy meal kit service that delivers organic ingredients and delicious, easy-to-make recipes for cooking at home. Sun Basket makes it easy to cook healthy, with Paleo, Gluten-free and Vegetarian options, plus healthy breakfasts. Meals start at $11.99 per serving and now they have a ton of add-on options for your box, giving you the ability to really customize the meals you have available every week. For dinners, they offer so many choices: carb-conscious, paleo, vegetarian, lean & clean, gluten-free, mediterranean, vegan, quick & easy, pescatarian, and diabetes-friendly options are all on the menu! They even are now offering oven-ready meals.
DEAL:  Save $40 off your first box, $20 off on your second and third box! That's $80 in total!  Use this link to try out Sun Basket and activate the deal!
A mini booklet sits atop of everything in the box!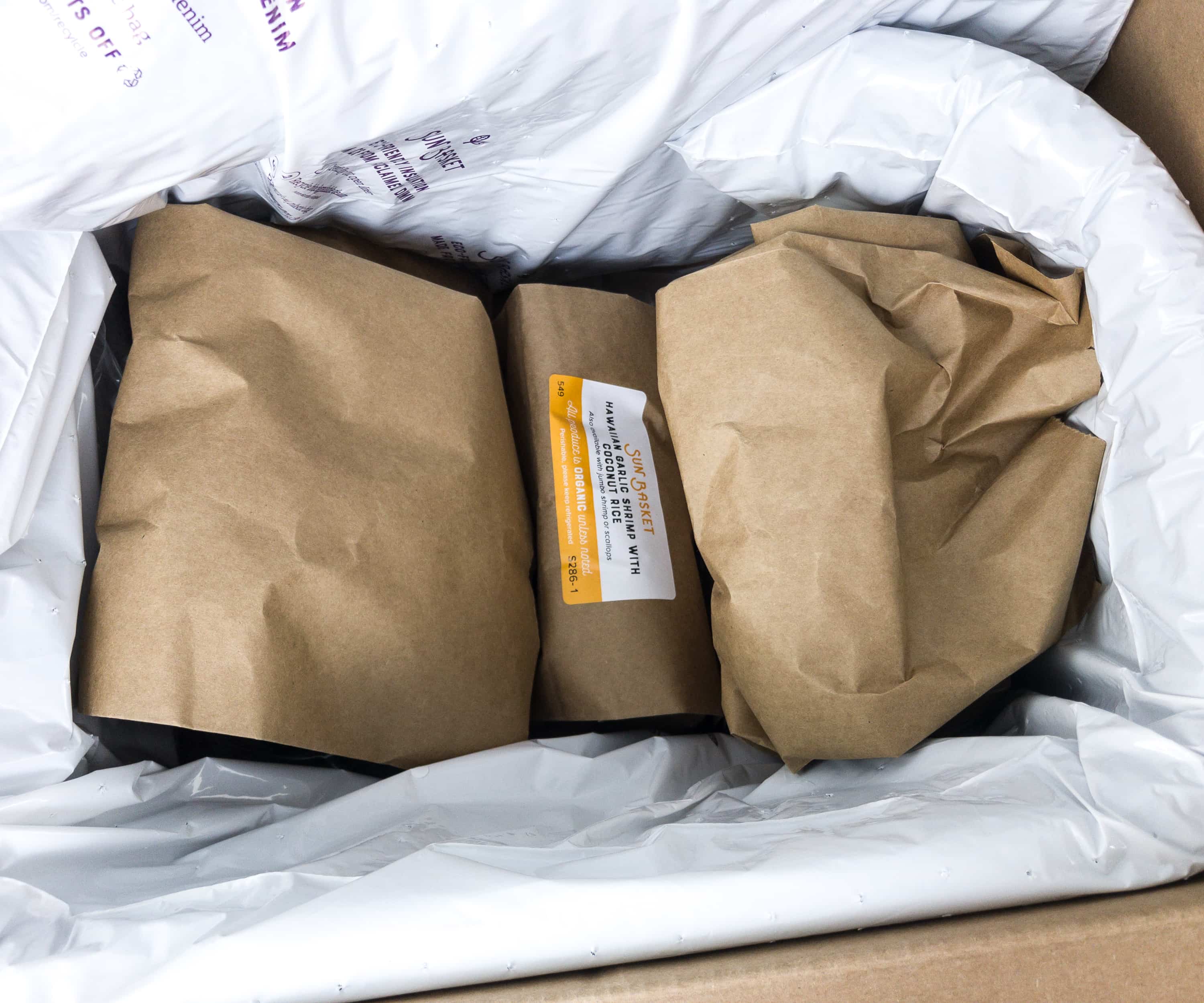 Every recipe is separated by labeled brown bags.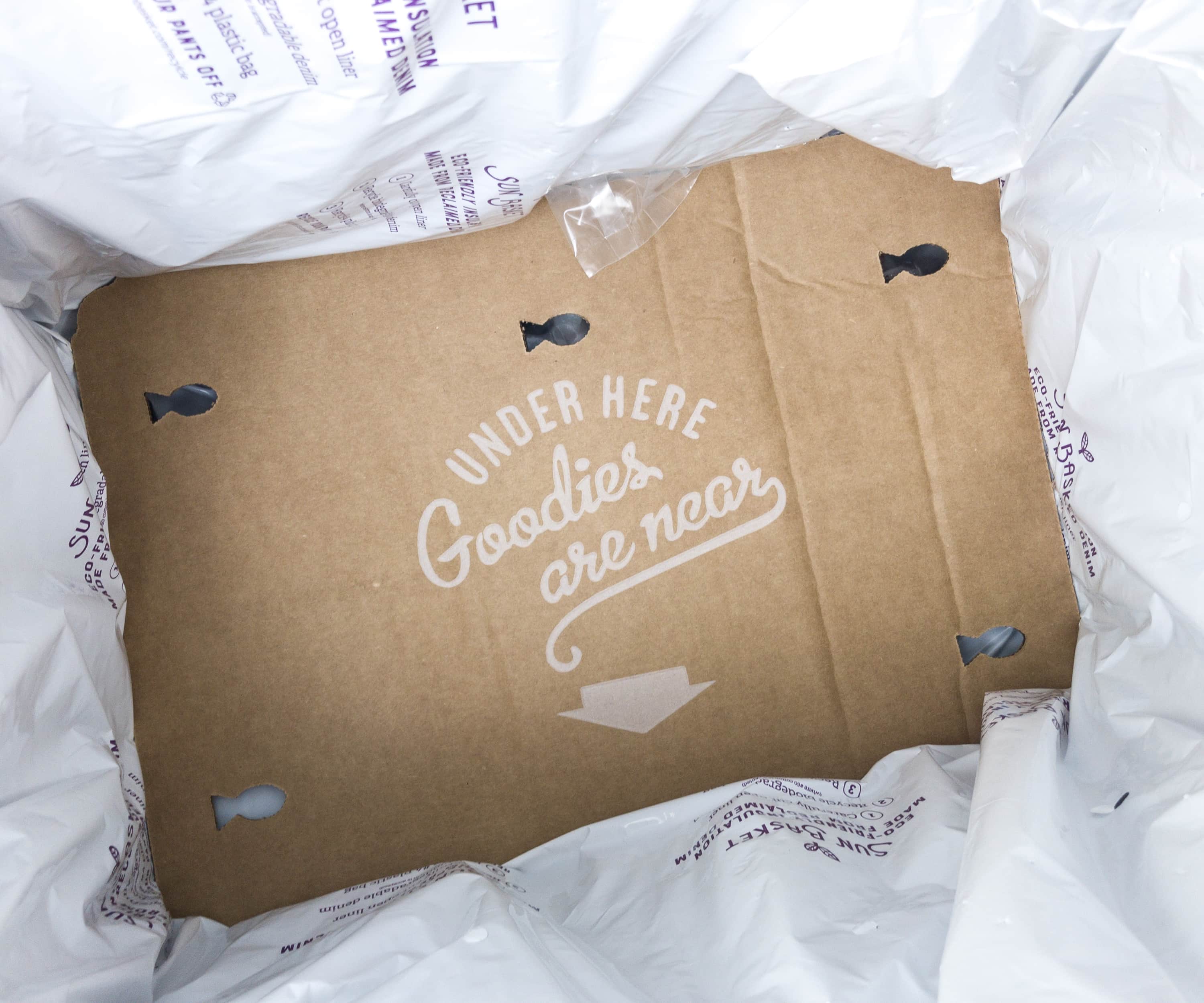 Protein (meats) and other ingredients that require being chilled are placed under this cardboard separator. Also, the box ensures that meals are packaged to stay fresh in the box for up to 8 hours after delivery.
Note from Sun Basket: recipes with delicate greens and fresh mushrooms are best used within 4 days of delivery.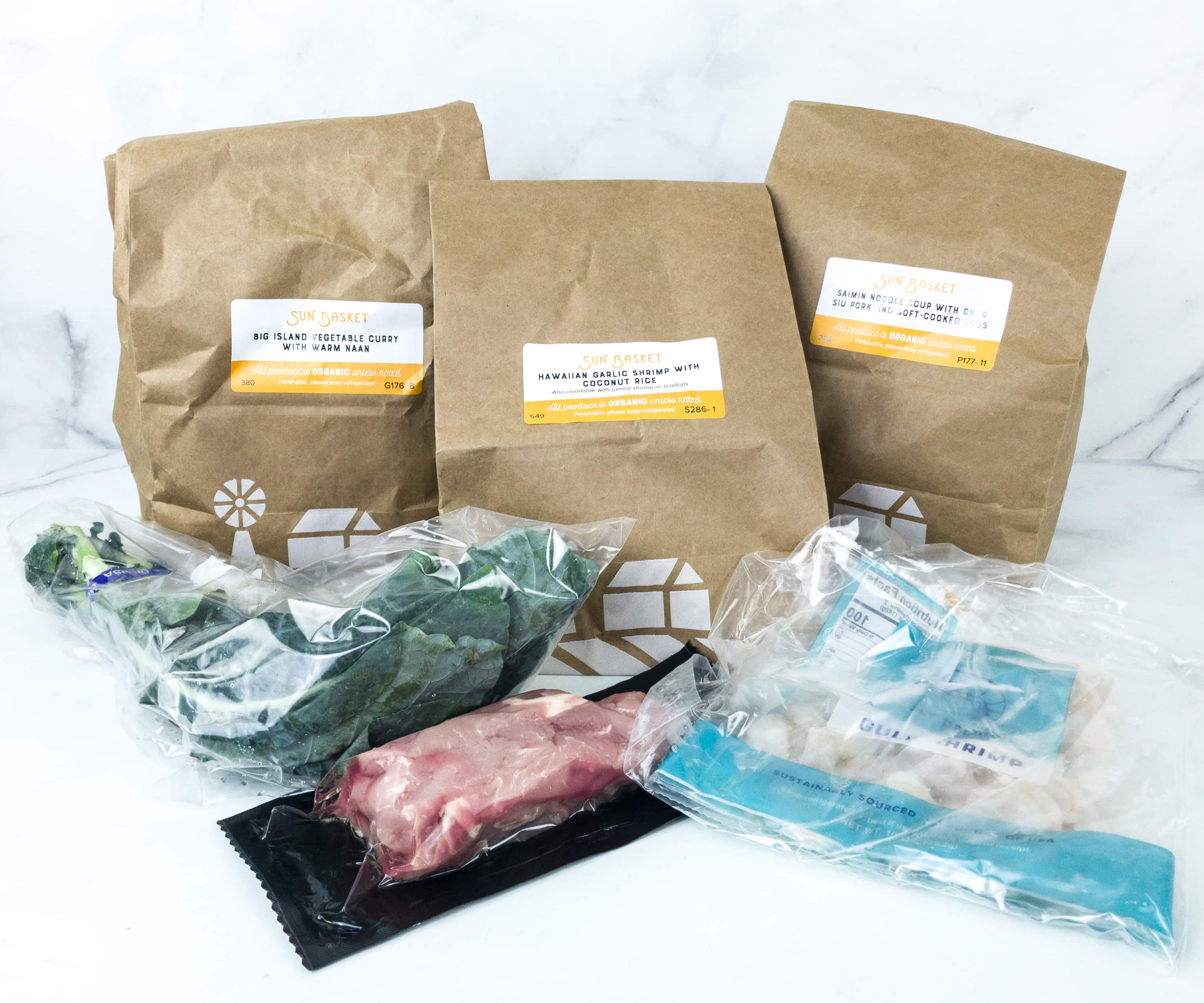 Sun Basket provides most of the ingredients needed for your recipes, but there are a few pantry staples that you'll be asked to add such as olive oil, grapeseed or sunflower oil, plus salt and freshly ground pepper. Occasionally, you'll be asked for wine or butter as an optional recipe item.
The Recipe Booklet looks great as it gives us the Island Vibe, which is also the theme for this box!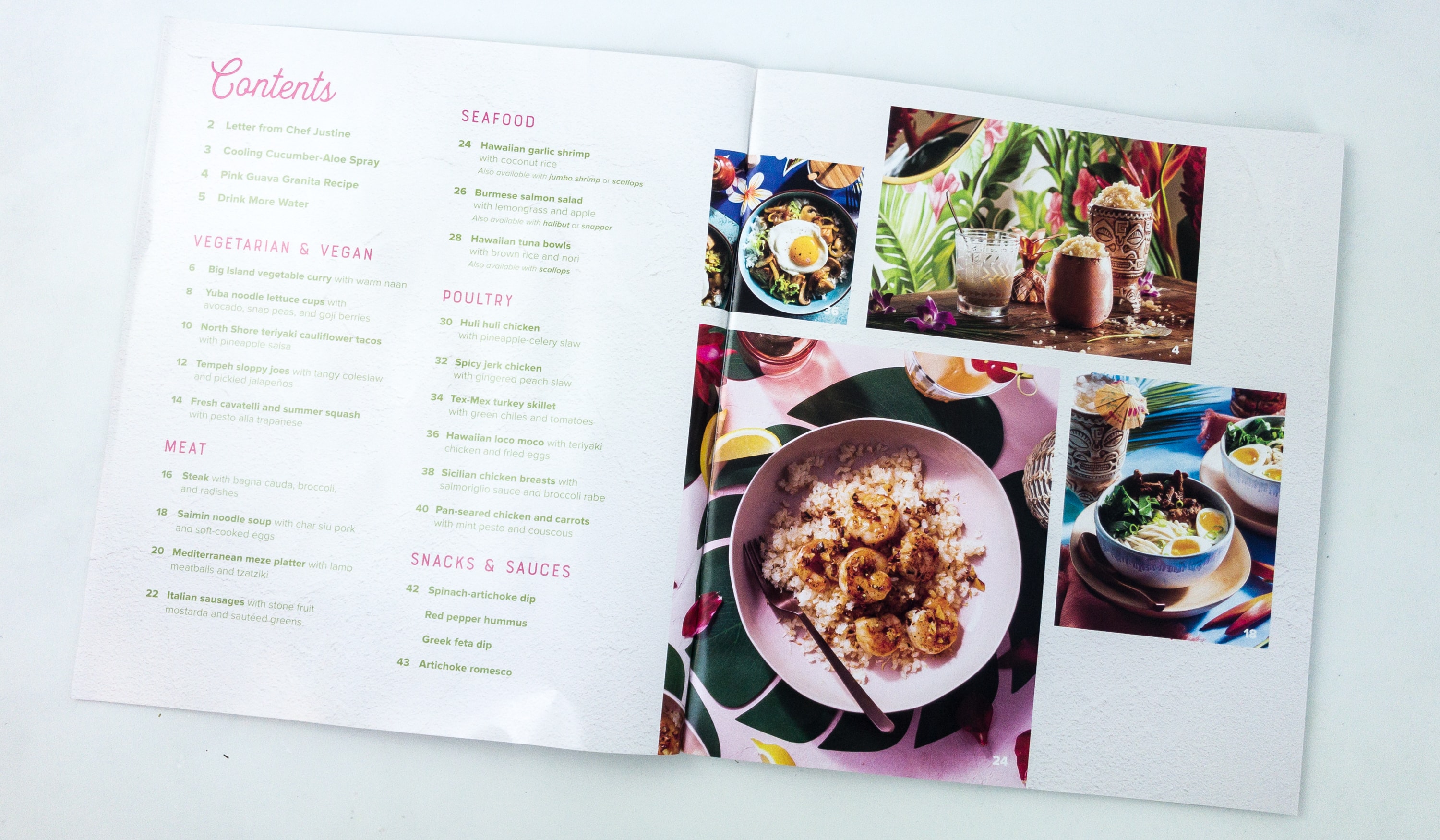 It contains different recipes, from vegan, meats, seafood, poultry, to snacks and sauces!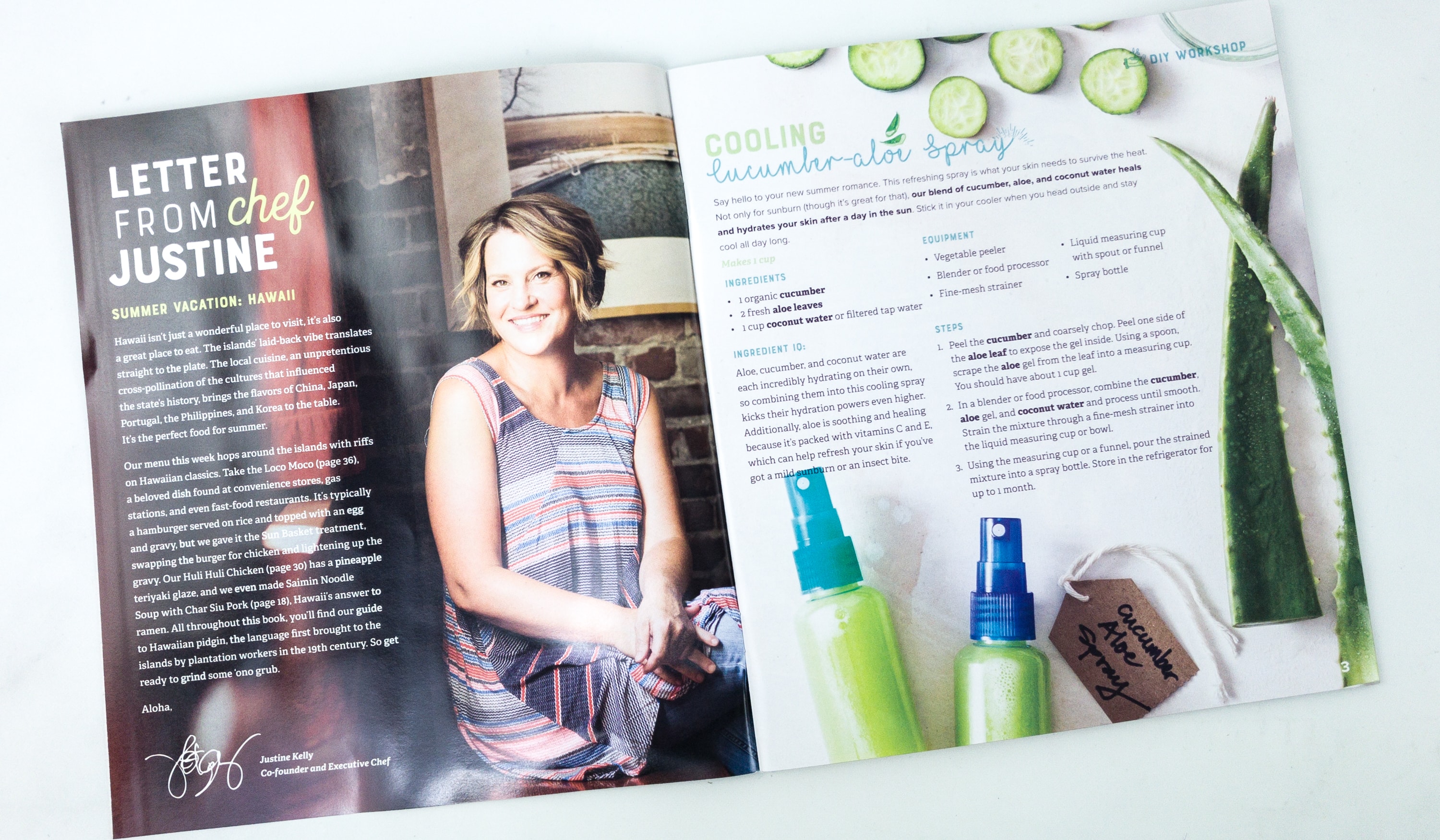 There's also a letter from Chef Justine, an executive chef and a co-founder of the Sun Basket. The other page features a cooling cucumber-aloe spray.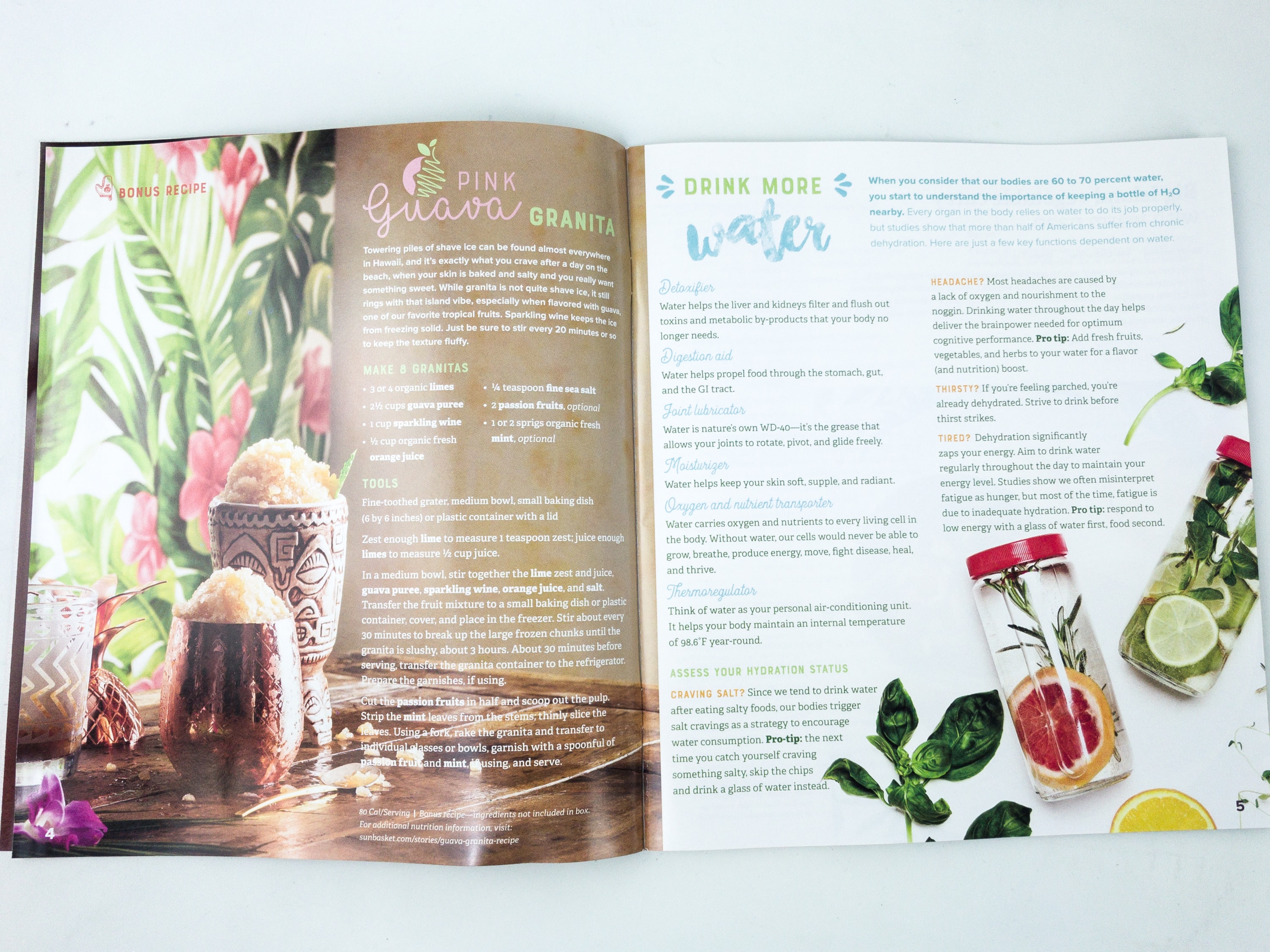 The bonus recipe in the booklet this month is a Pink Guava Granita. The booklet also includes an article about the importance of drinking water to keep yourself hydrated.
Each recipe features a full-color picture of the final dish, along with step-by-step directions with ingredients/quantities. The first recipe from this box is the Big Island Vegetable Curry with Warm Naan.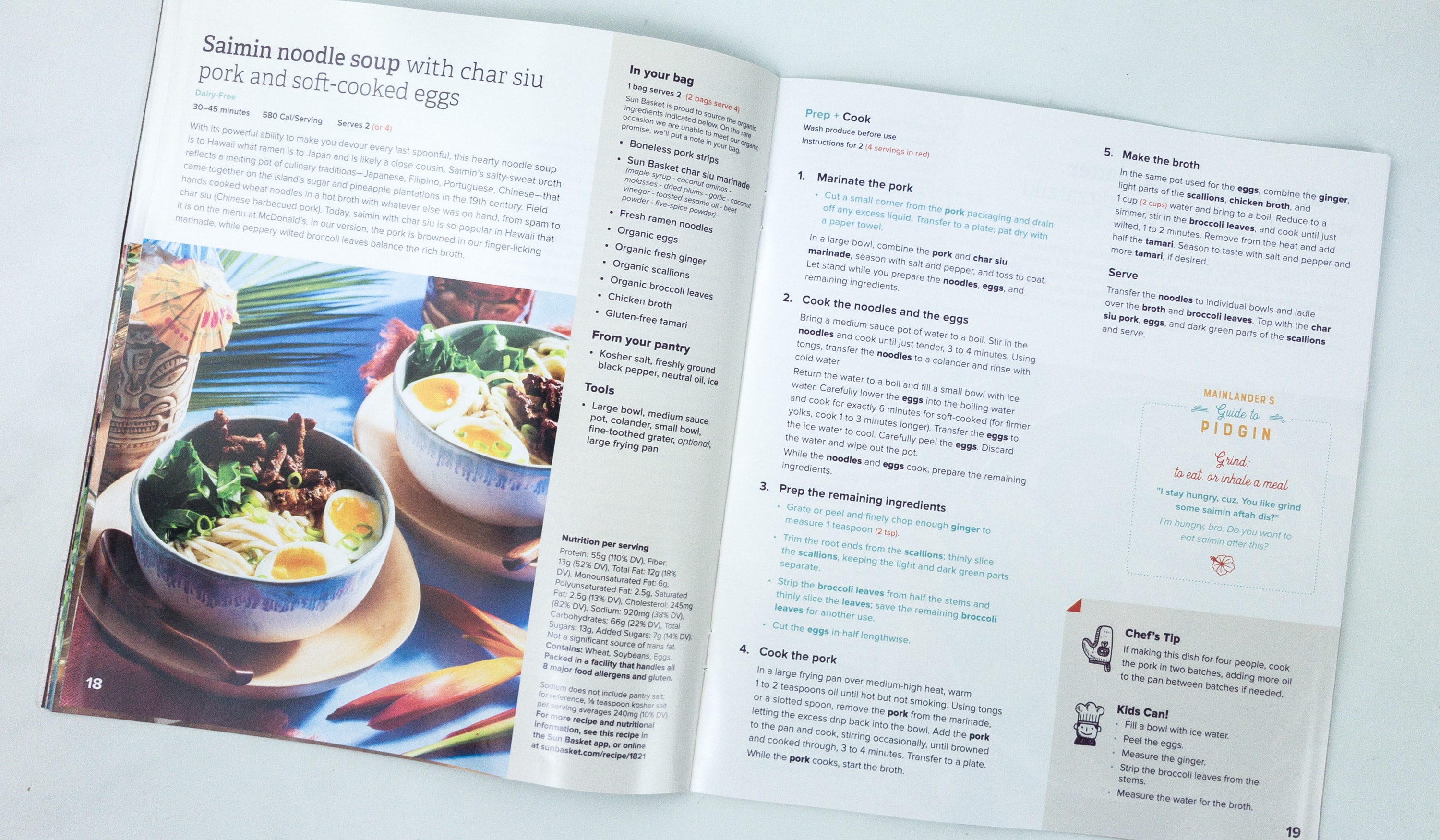 The second recipe is the delightful Saimin Noodle Soup with Char Siu Pork and Soft-cooked Eggs.
Last but not the least, the box also included this recipe that really gives us the Island Vibe, Hawaiian Garlic Shrimp with Coconut Rice!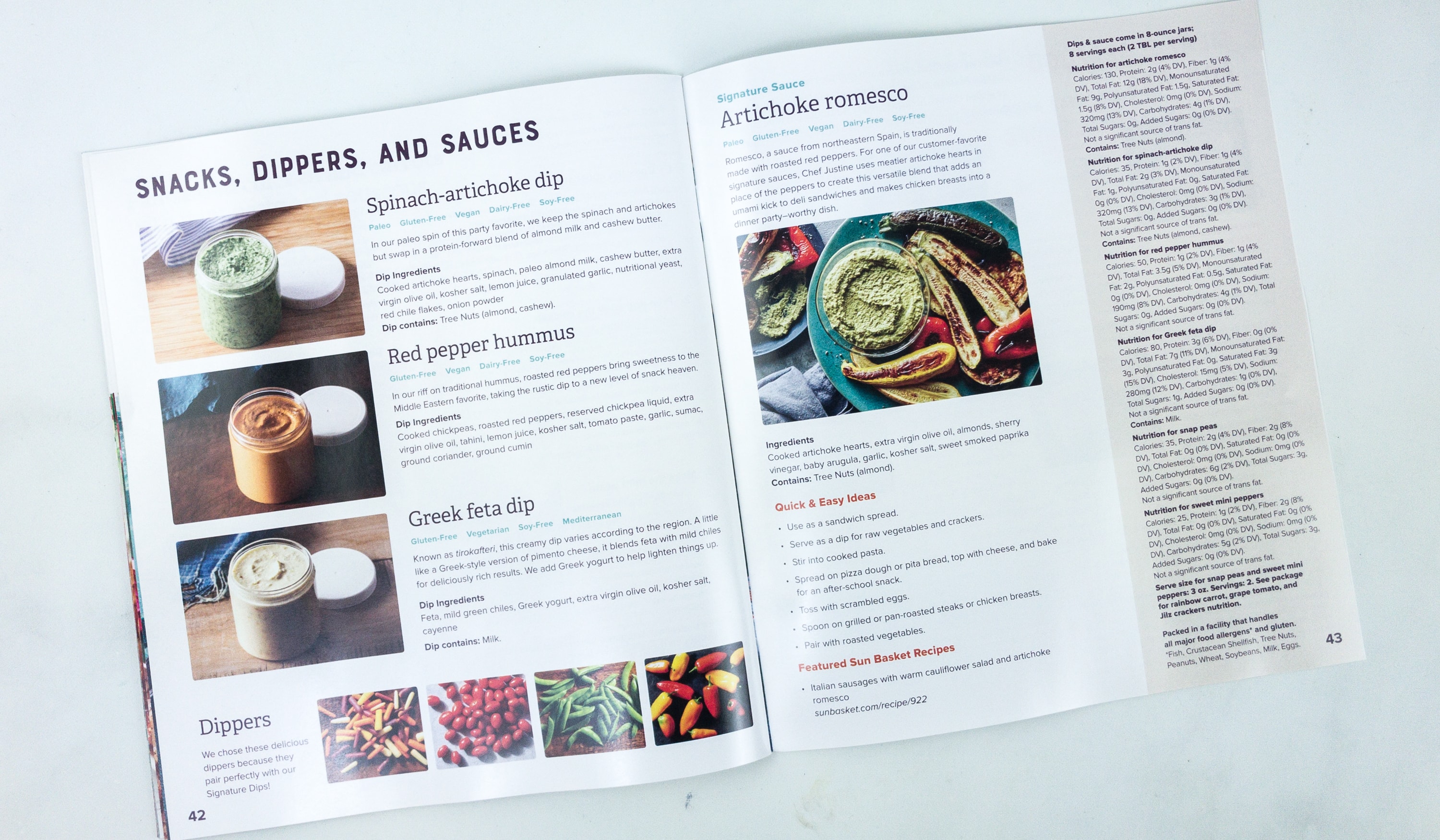 The booklet also provided recipes for a spinach-artichoke dip, red pepper hummus, and the Greek feta dip! Yum!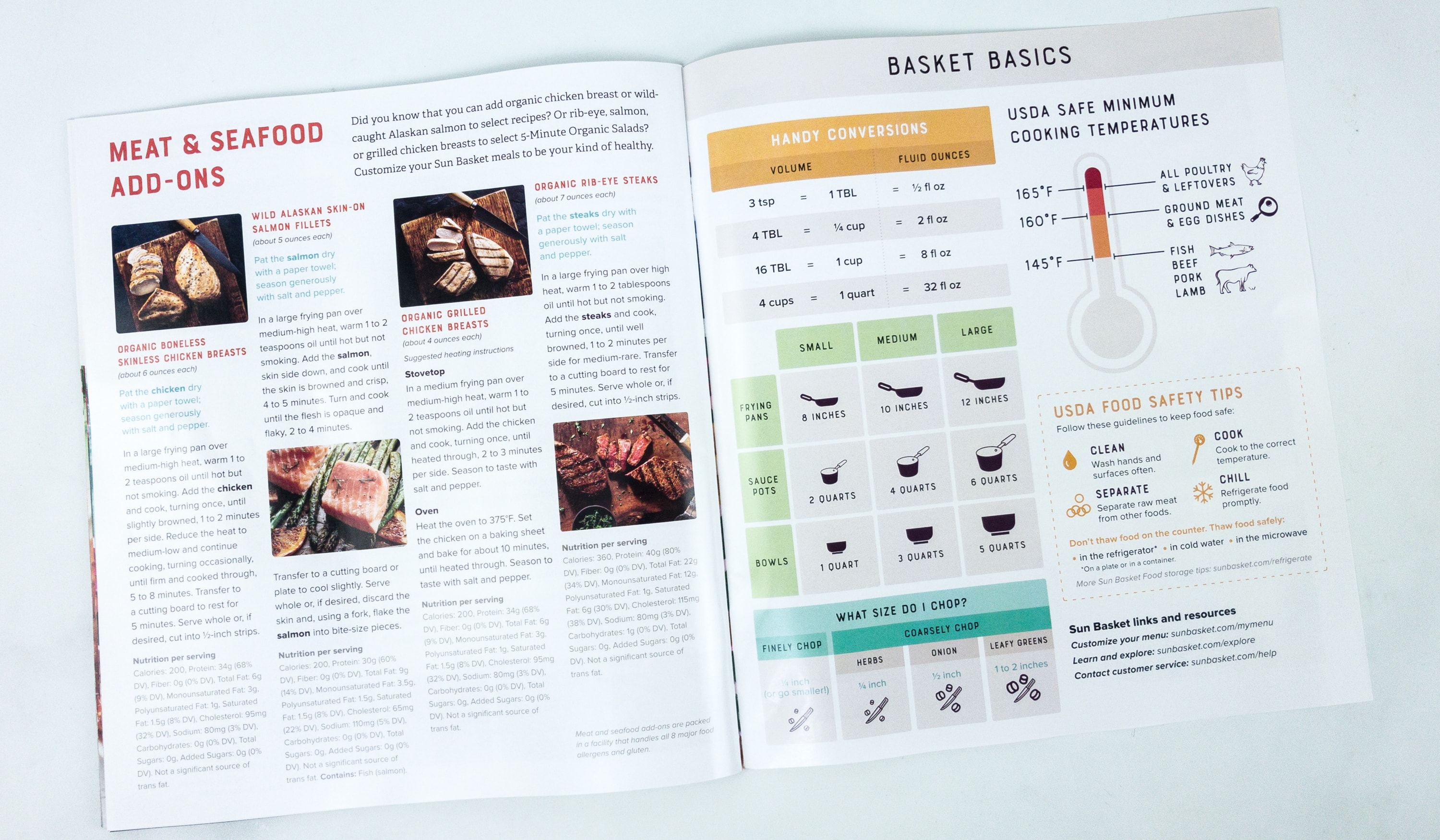 Aside from useful features, like this page that features Meat and Seafood add-ons, another page provides handy conversions and other cooking basics!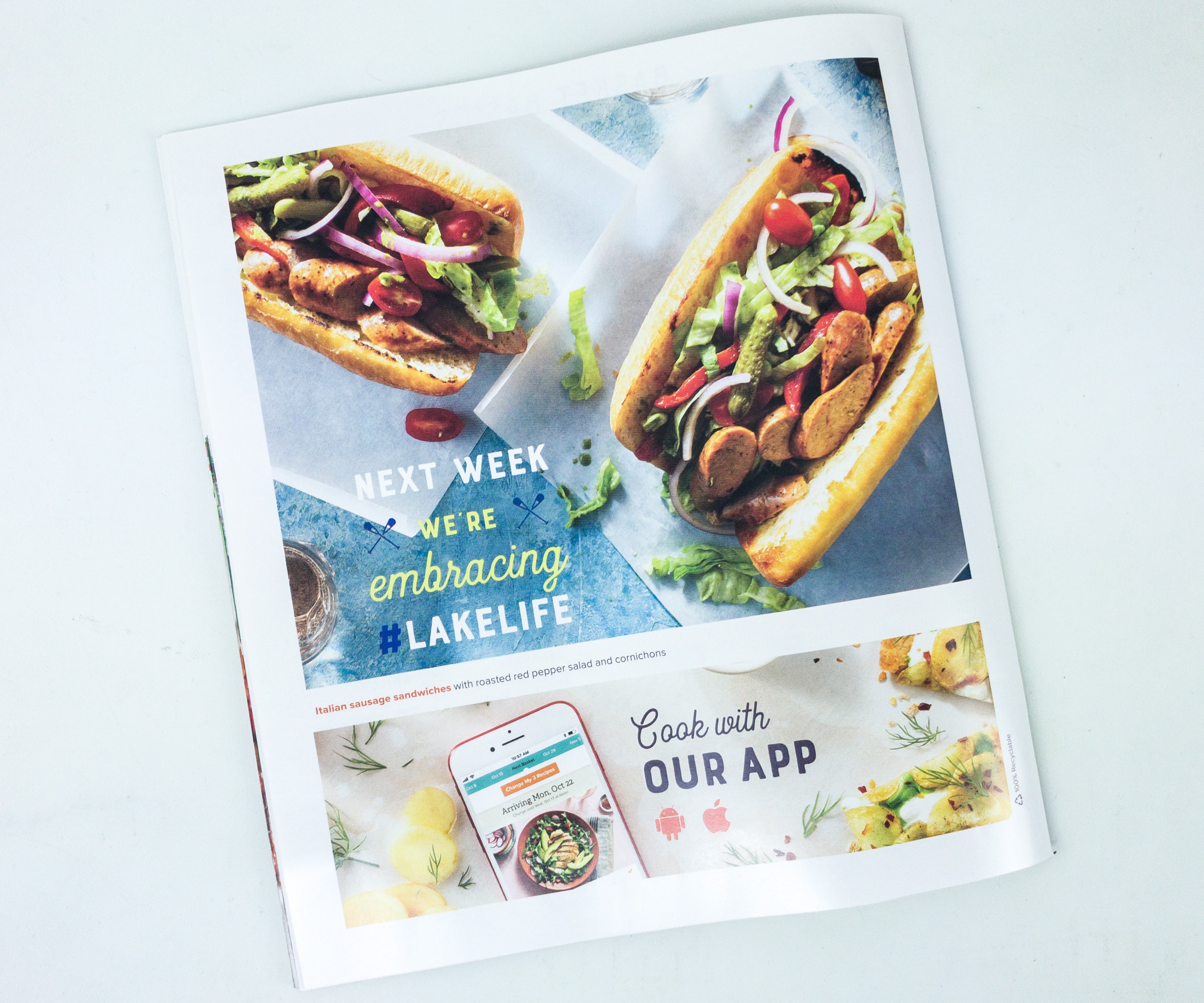 For the following week's box, it's all about lake life. I wonder what delicious recipes are they going to include!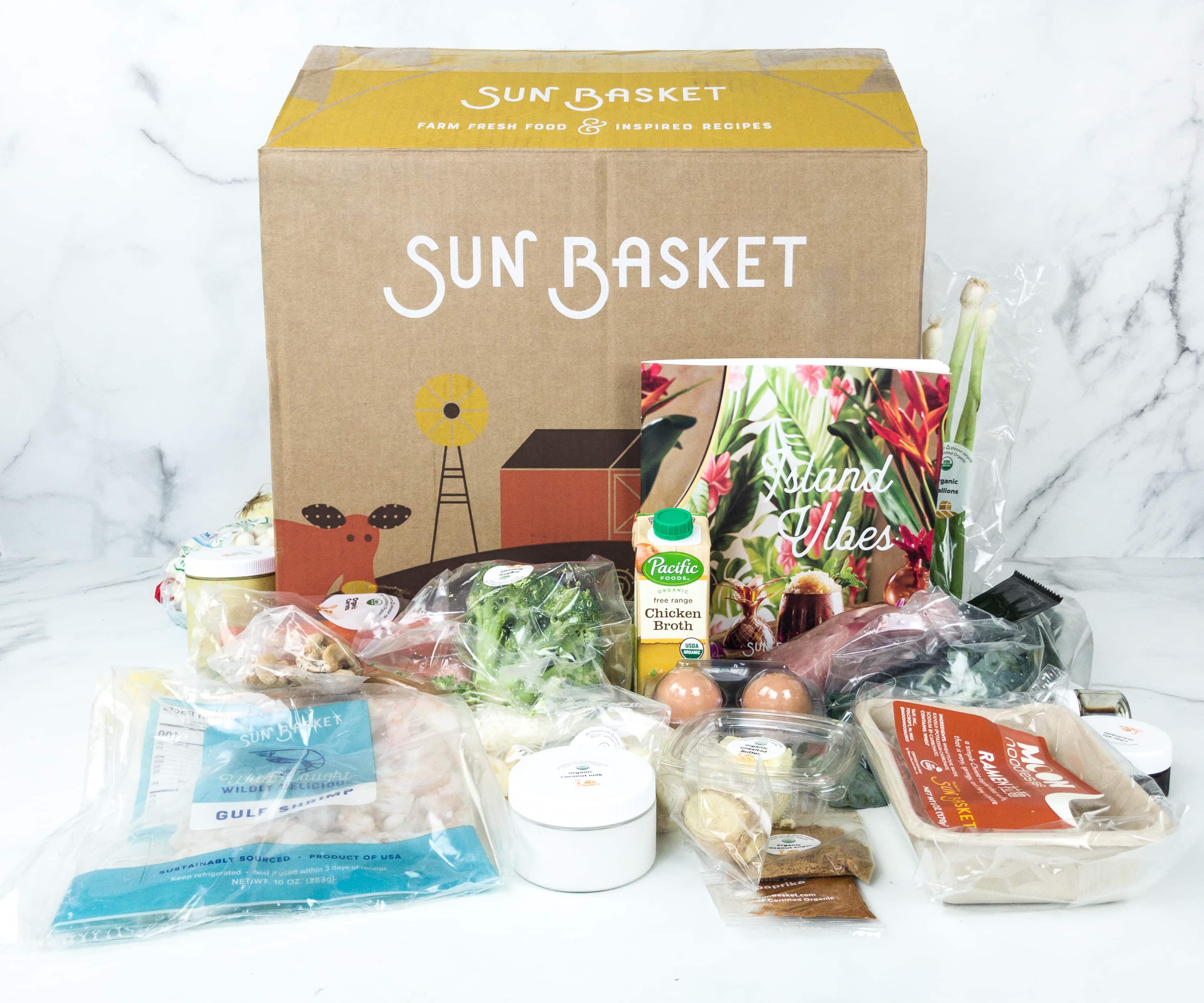 Everything in my box! We ordered the standard 3 meals but there are SO many add-ons, you can do half your shopping with this box now!
Big Island Vegetable Curry With Warm Naan – 45 minutes, 550 calories per serving. For this recipe, we'll need the following: organic carrots or 1 big carrot, organic onion, organic broccoli, organic beech or other specialty mushrooms, organic lemon, Sun Basket Pineapple Curry sauce base, cashews, organic fresh cilantro, and whole-grain naan. From your pantry, you'll need some seasonings for the dish like Kosher salt, freshly ground pepper, and some neutral oil.
Aside from providing most of the ingredients, the box, if needed, include some notes about ingredient change or why they chose another ingredient in place of the other. For this recipe, they changed the organic cilantro with just cilantro, but still, they ensure that the change will have the same delicious result.
Here's Sun Basket's delicious Pineapple Curry sauce base, with a big island flavor! This beautiful sauce base is made with coconut milk, pineapple, lemongrass, garlic, ginger, and curry powder.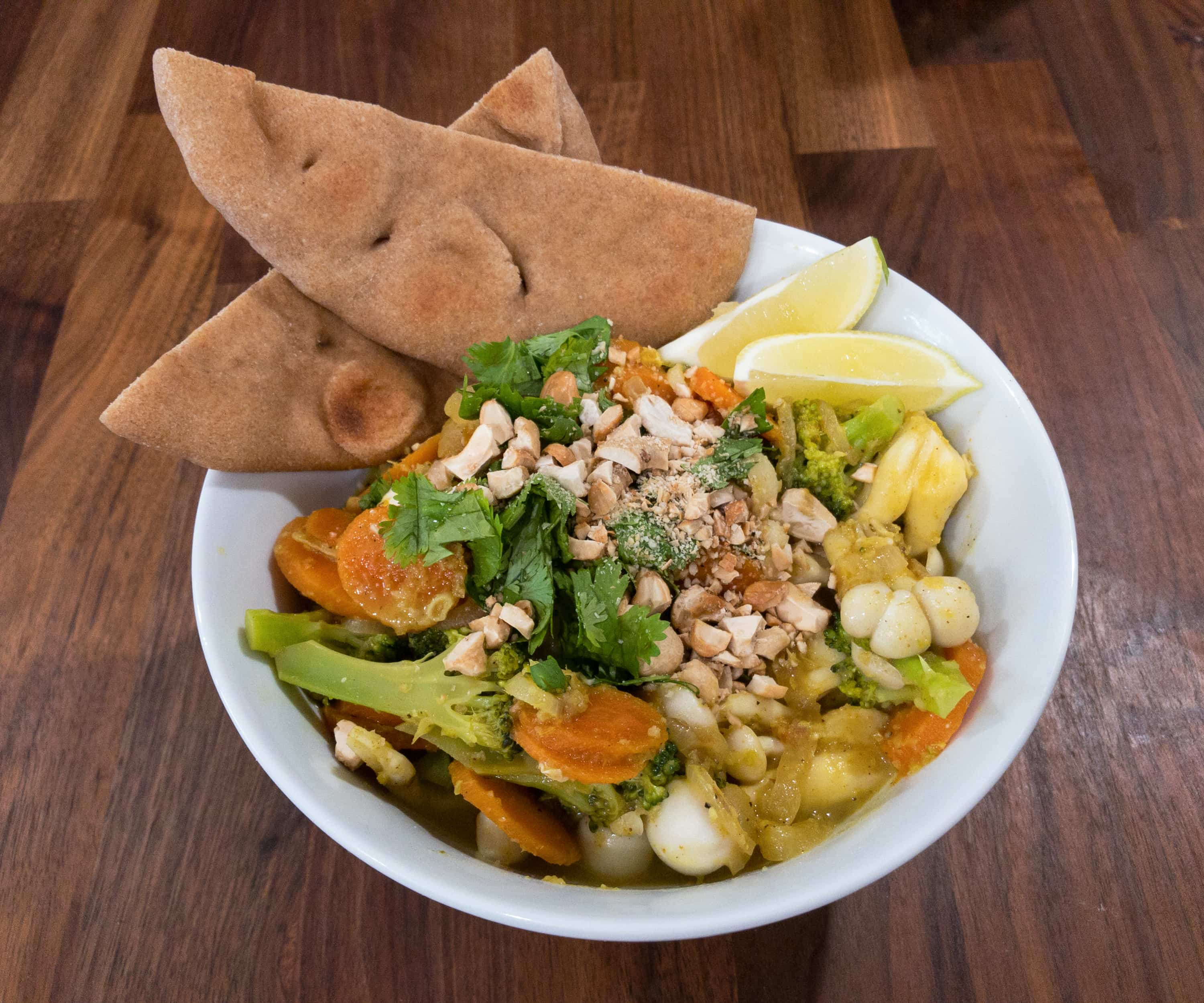 Here's the delicious dish paired with Naan! The dish is sweet and savory, and I like the addition of Naan that balances all the flavors and the lemon wedges that adds tang to the dish.
Saimin Noodle Soup With Char Siu Pork & Soft-Cooked Eggs – 45 minutes, 580 calories per serving. Noodle soup is definitely one of our comfort food, so we're really excited about this dish. For this, we'll need some boneless pork strips, Sun Basket's Char Siu marinade, fresh ramen noodles, organic eggs, organic fresh ginger, organic scallions, organic broccoli leaves, chicken broth, and gluten-free tamari in order to make this dish.
The addition of the Char Siu marinade made the pork tender and really tasty. It's composed of maple syrup, coconut aminos, molasses, dried plums, garlic, coconut vinegar, toasted sesame oil, beet powder, and five-spice powder. Just looking at the finished dish made our tummy growl, so we couldn't help but slurp the noodle soup right way. The egg really goes well with the noodle dish too! ?
Hawaiian Garlic Shrimp With Coconut Rice – 30 minutes, 720 calories per serving. Those who love seafood should really try this Hawaiian specialty. For this recipe, we'll need some short-grain white rice, coconut milk, coconut sugar, shredded coconut, organic fresh garlic, organic lemon, sweet paprika, and unsalted butter. For the shellfish, you can choose one or more of the following: wild Gulf shrimp, wild jumbo shrimp, or wild sea scallops.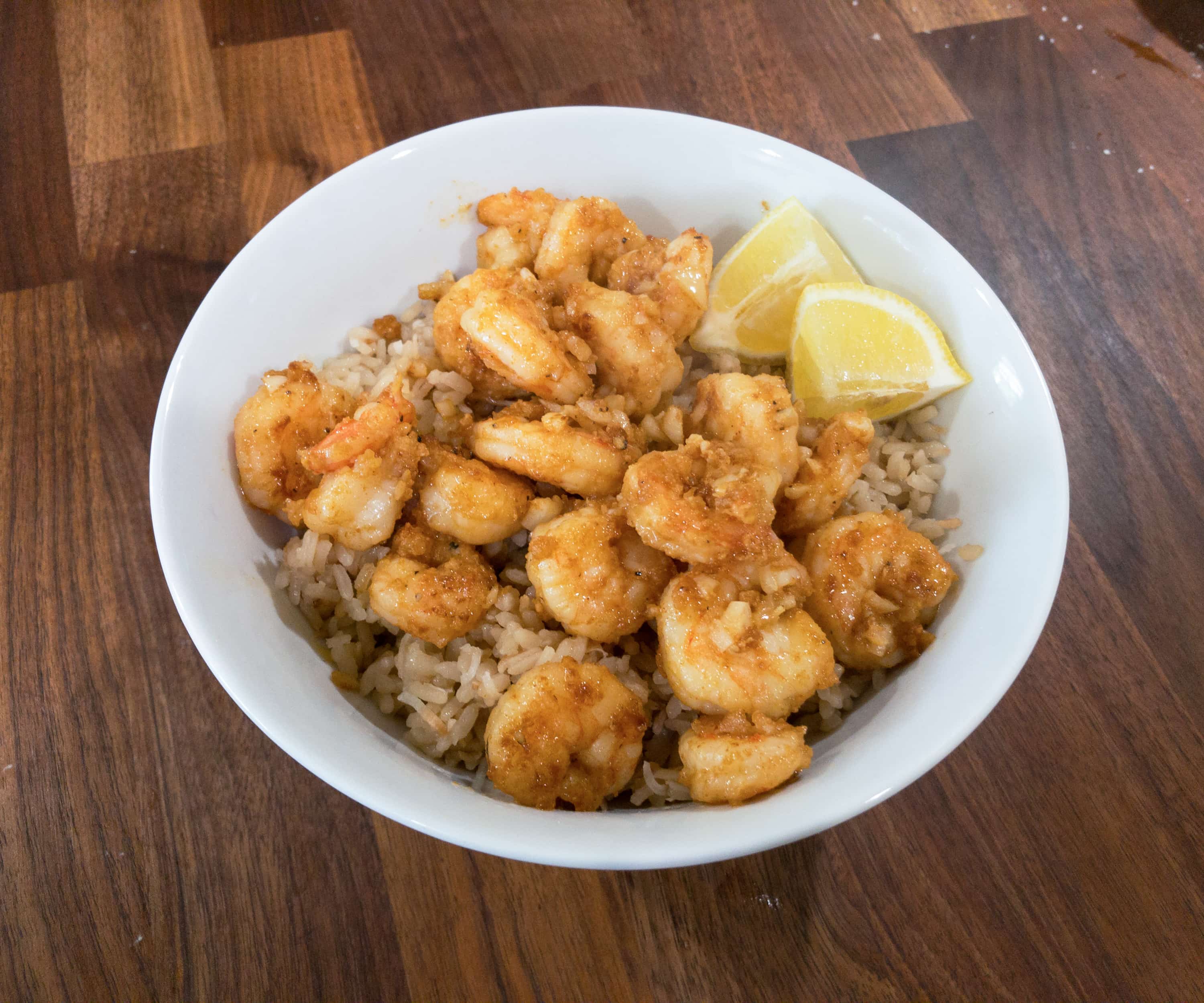 A piece of good advice for the shellfish to taste delicious and have a better texture is to avoid overcooking it. For the shrimp, once it turns orange, it's all good! The coconut milk and coconut sugar made the dish really creamy and sweet. It's really delightful, and a perfect Island dish that will go well with tropical drinks!
The Hawaiian-inspired meals from Sun Basket were a hit with our whole family! It's great that there are tons of options from this box, and that we're not stuck into the same type of dishes and meats to indulge ourselves with. Another commendable thing about this subscription is the packaging. Everything arrived fresh and unscathed, thanks to their sturdy and well-thought-out presentation. Overall, it's a wonderful box with recipes that weren't too fussy and we're really excited to try more dishes!
Sun Basket meals breakdown to $11.99 per person, which is similar to eating out at a casual restaurant, plus there's a weekly delivery fee. You can choose between the 2-person or 4-person plans. Skip or cancel at any time. Sun Basket has an expanded delivery area.
What do you think of this month's box?