The Gentleman's Box is a monthly men's subscription box providing the required essentials for the savvy man. Boxes contain specially-selected items that range from accessories to grooming. When you subscribe, you also receive a subscription to GQ magazine for your first year, which is delivered separately through the mail.
TIP: This box is still available through the last day of the month!
DEAL: Save $5 on your first regular box. Use coupon code HELLO.
The presentation is simple and elegant, making this a great ready-to-gift subscription.
All the items are neatly packed and wrapped in white paper. There is the signature gold seal of the Gentleman's Box holding it together.
They usually have some interior packaging to protect any watches, cufflinks, or other delicate items.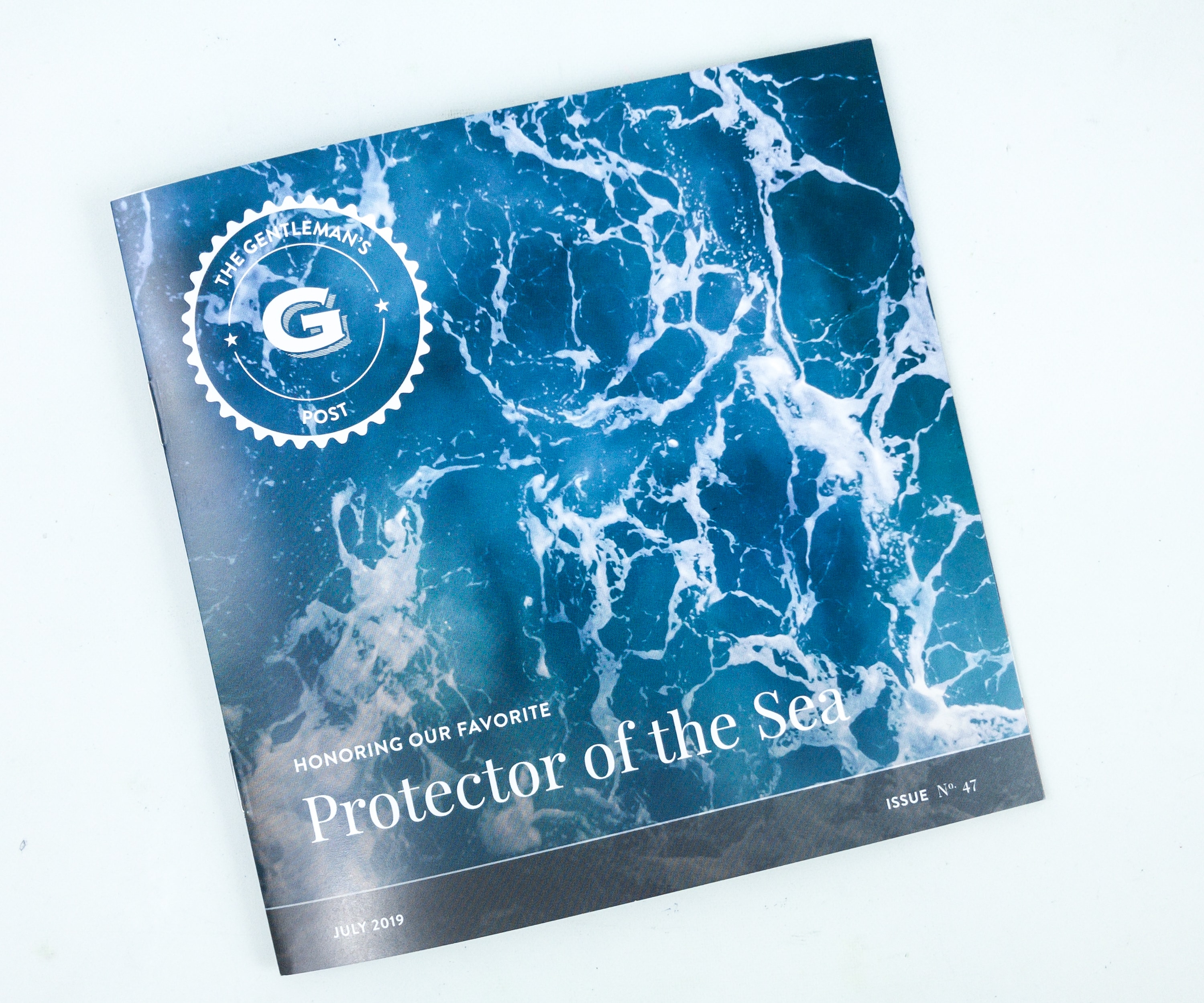 Each box includes a copy of The Gentleman's Post, a well-designed booklet describing the products in the box and offering styling suggestions for each one. This month's box is dedicated to honoring our favorite Protector of the Sea.
The Gentleman's Tip No. 112:
It is our collective and individual responsibility to preserve and tend to the world in which we all live.

– Dalai Lama
The Gentlemen's Post walks through everything in the box, and more. There is a handy table of contents that gives a quick list of the contents and the total retail value of the box. They regularly have a feature that introduces us to members of the Gentleman's Box team.
The booklet starts off with a style guide to give you some visual cues on wear and pairing options.
Every page is dedicated to each item — they include the usual picture and blurb, but they also include a handy section denoting the level of attire (e.g. formal, business, casual) for which the item is appropriate, as well as colors that best complement it. They also sometimes have discount promotions littered throughout.
This booklet is really informative!
It even includes ways to protect the ocean!
Every booklet also includes a Gentleman's Exclusive Deal of the Month. This month, they gave us a $30 off a Premium Subscription and it expires on 8/30/19 – just use code JULY30.
Everything in my July 2019 box!
Sock Life UK Socks ($15) One of the staple pieces from this box is a pair of socks. This month, I got them in crew cut style and their color is vibrant!
These socks are made with 80% cotton, 17% spandex, and 3% nylon.
The base color is dark pink, with dark blue toes and heels. The snug fit ensures that they don't easily slip down.
I also like the anchor designs all over. Some of the anchors are in dark blue and some are in white.
AUSCufflinks Tie ($35) To match with the socks is this dark pink necktie with small black polka dots.
The color gives a contemporary touch to a classic necktie. It's made of microfiber, which is known to hold its shape well. It's also soft and lightweight.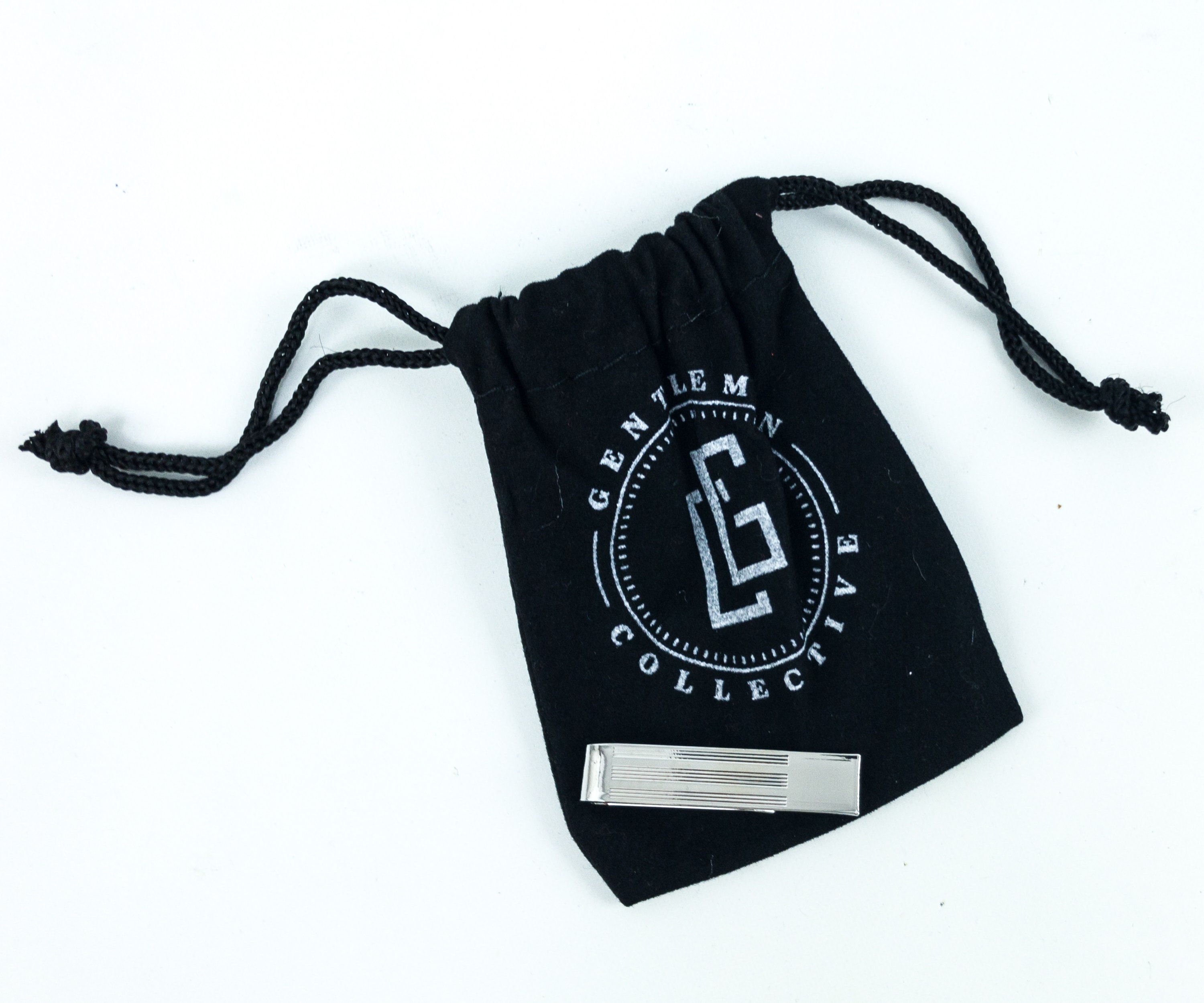 Gentleman Collective Tie Bar ($20) The silver-colored tie bar arrived in a drawstring pouch to keep it protected from scratches and such.
It's just a simple rectangular tie bar but it's classy. I tried it right away with the necktie from the box and it looked nice!
It ensures the tie hangs straight without damaging the fabric, of course.
Soft Landing Brand Pen ($10) I have lots of pens but nothing is as exquisite as this one!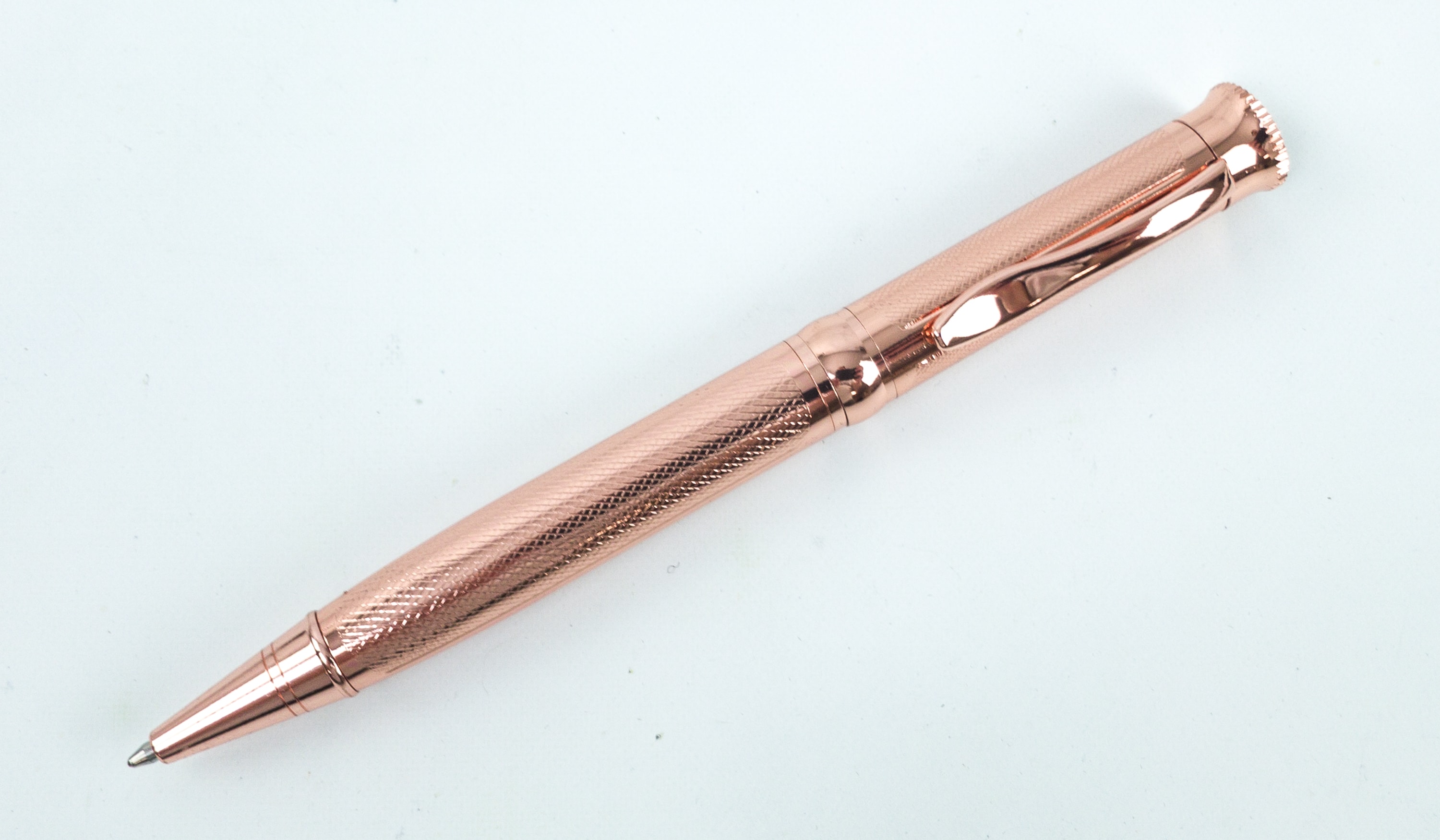 The retractable pen's barrel is in rose gold and the ink is in black. It writes smoothly on paper without bleeding.
Soft Landing Brand Notebook ($20) Of course, when there's a pen, there has to be a notebook where I can jot down notes, thoughts, or just about anything that needs to be written down.
It's in plain and simple in black, just the way I like it!
There's no closure for the notebook but it does have a loop beside it where you can insert your pen.
The pages are lined. There's even a black ribbon attached, so you can mark where you've left off.
I have new tools for notetaking the old fashioned way and I'm happy!
This month's accessories from Gentleman's Box makes a standout addition to my collection. The socks and necktie add a pop of color to any dark-colored business casual outfit. The silver-colored tie bar goes well with the necktie and serves its purpose without breaking your style. I also like the pen and notebook combo. They're simple yet sophisticated, plus they're handy enough for notetaking anytime and anywhere. If you want well-curated accessories along with some lifestyle items or even grooming items thrown in, this subscription is a great choice! It gives you value for money by making sure that you only receive refined and stylish items!
Have you tried Gentleman's Box?