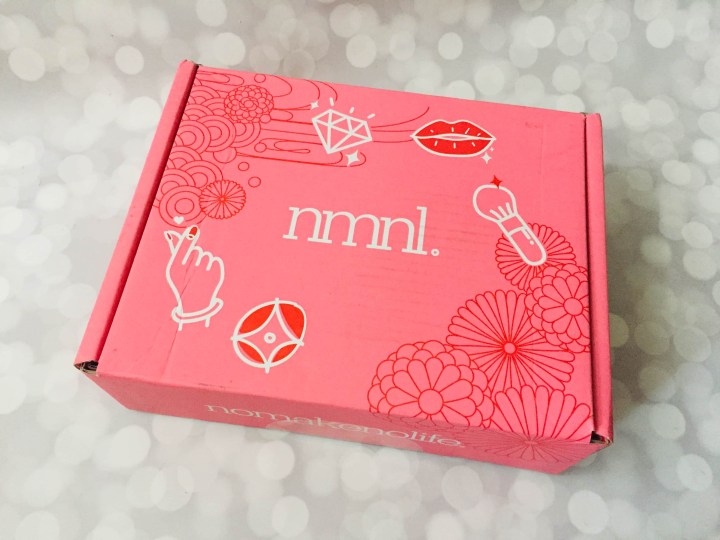 nmnl is a monthly beauty subscription box by the brains behind Tokyo Treat and Yume Twins. This is the new and improved nmnl! For the last few years since their launch, they have only included Japanese beauty brands but have taken subscriber wishes into consideration and have redesigned it to feature both Japanese and Korean beauty!
DEAL: Use coupon code HELLOSUBS at checkout to save 10% ($3.50) on your first box!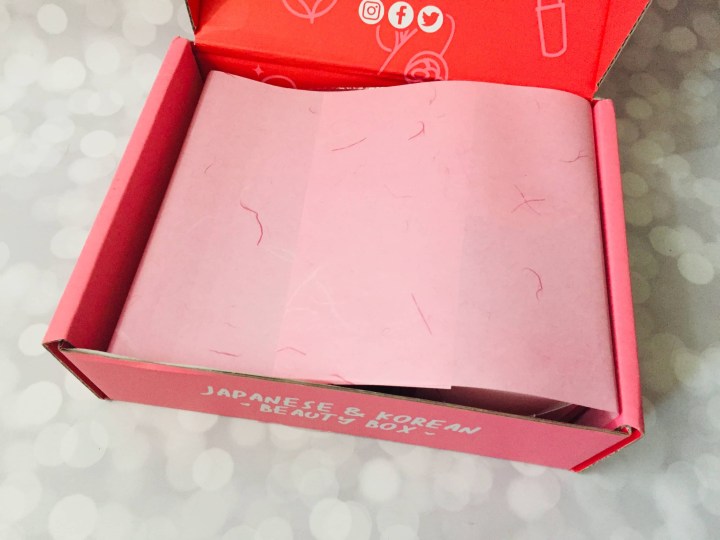 The items were wrapped in pink tissue paper.
The booklet has also been redesigned and features the same content as before, from box contents to contests and photo features.
Momo Uru-hada Face Cleanser and Bubbler Tool — This is a set of powder face washes along with a plastic bubbler/foamer pump. The idea behind tools like these and bubble nets is that you want to create the foam in your hands instead of on your face which causes extra rubbing/tugging.
Here's the pump and the two packages of powder face wash.
Choosy Lip Mask — Yum, mint chocolate! This is a hydrogel lip mask that helps keep lips feeling plump and hydrated.
Snail Essential Cream — A pack of face cream in a convenient squeeze package. Snail mucin is used in Korean beauty for its healing properties. I've used it on bug bites to remove the itch, pimples to bring down the swelling, and it's also just super hydrating and soothing.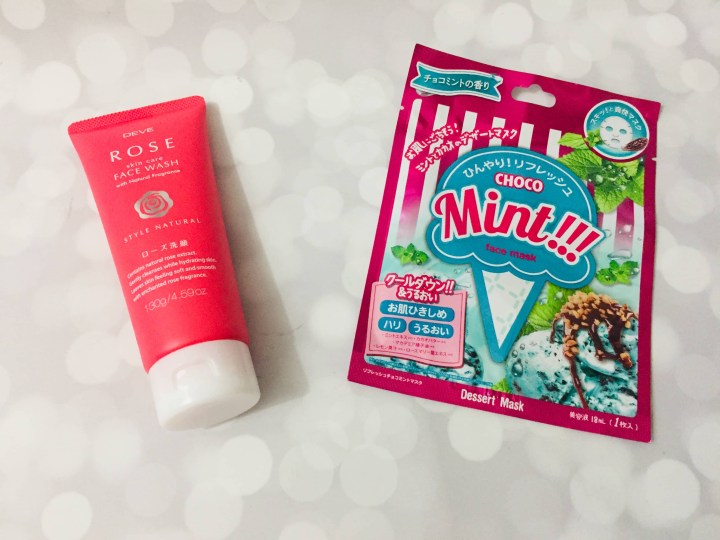 Rose Cleansing Foam — To pair with our new bubbler tool is a tube of cleansing foam. Several variations were sent out and I'm so happy with rose, one of my favourite ingredients! Foaming cleansers are what I use as a follow up to an oil based cleanser to make sure everything is completely removed off my face.
Mint Chocolate Sheet Mask — Yay, another yummy ice cream themed mask. This time it's a full face sheet mask with cocoa to hydrate and mint to refresh and tighten skin.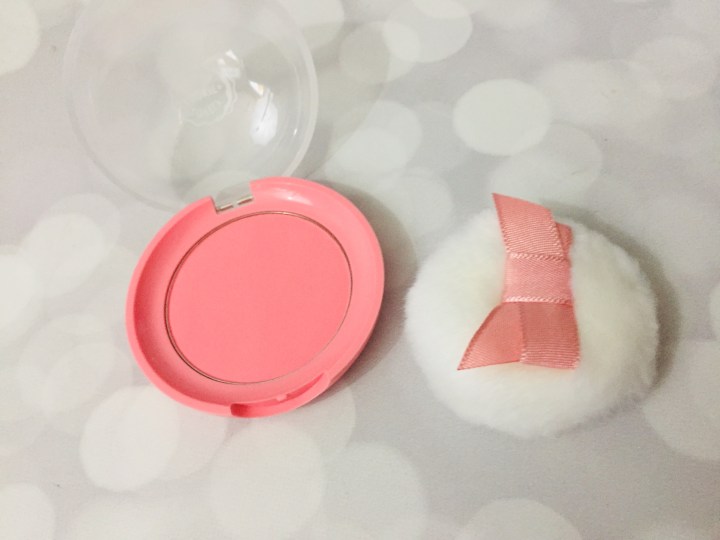 Etude House Lovely Blusher — EEEE!!! How princessy and cute is this soft blush? The fluffy powder puff looks so darling and sweet. It works well to sheerly apply the blusher to my skin.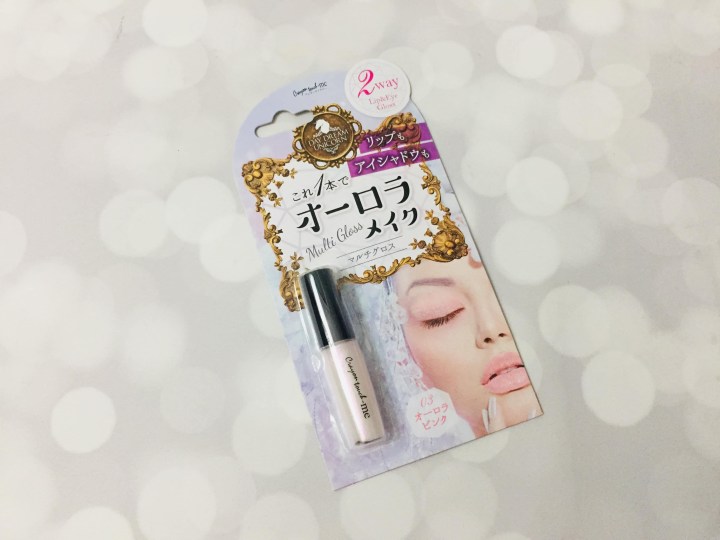 Aurora Multi Gloss — I like multipurpose products and this one can be used safely on the eyes, cheeks, and lips. It's a shimmery, iridescent colour.
Tony Moly Bunny Gloss Bar — How kawaii is this packaging? I love it! The balm itself is very sheer, so sheer I didn't detect any colour at all even when I swatched it. But it smells fruity, and keeps my lips soft and smooth.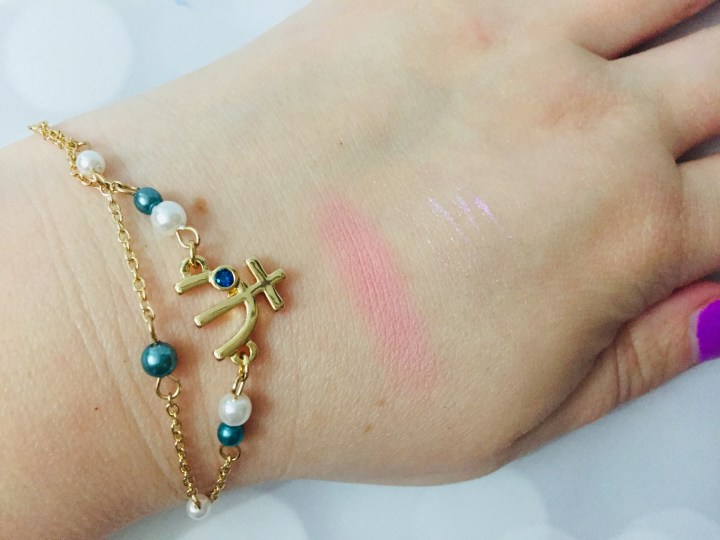 Swatches of the blush and shimmer gloss. The balm is swatched along the top but you can't see it at all!
The August box had a great mix of items for skin and face. I am very excited by my new bubbler and different face washes, and the mint chocolate masks are right up my alley. On top of that we got three super cute makeup products as well!