Cairn is a monthly subscription box (or bag!) for those who love spending time in the outdoors. Each month, you can expect to receive 3-6 cool products that will help you enjoy your time in the outdoors even more. Subscriptions cost $29.99 each month, but the cost goes down with longer subscriptions. Shipping is free for US subscribers and $5 to Canada.
Cairn promises that the total retail value of the items in each box will exceed $50, with a mix of gear, apparel, food, skin care, and emergency tools. If you complete the subscriber profile, the box will be curated to best match your outdoor lifestyle. As such, most months will see a variation of boxes, while there may be some months when everyone will get the same thing.
DEAL: Use code HAMMOCK to get the Hammock Collection Box as your first month! See the review of the Hammock Box!
OR Use code TRAILHEAD to get the Trailhead welcome box your first month!  See the review of the Trailhead Box!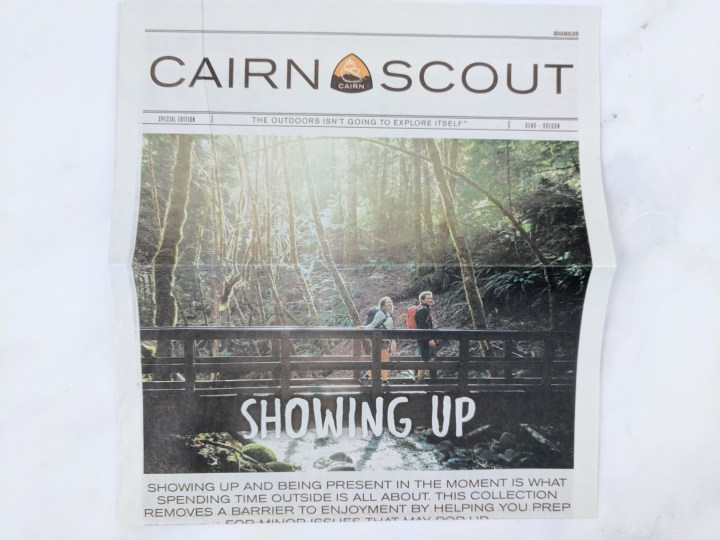 Every month, you receive a newsletter with some information and discount codes to the products included in this month's collection. Thie month's theme is Showing Up and this collection will help us getting better prepared to our time outside.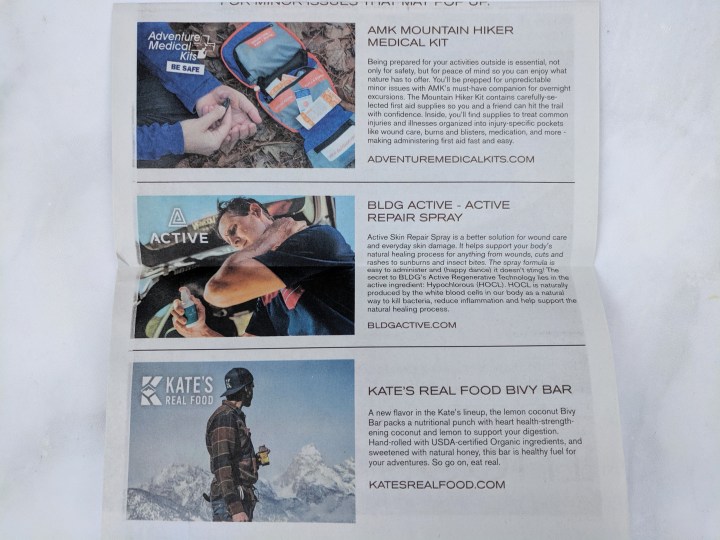 We get full information about the items included in the box.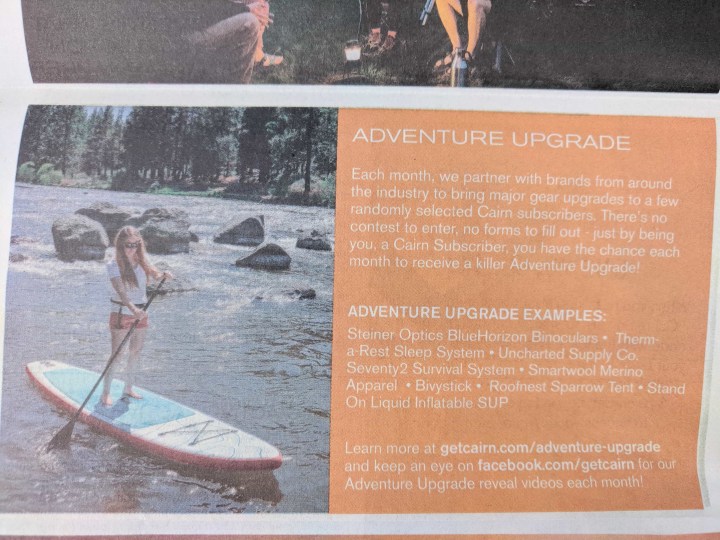 Every month, some lucky Cairn subscribers will be randomly selected to win an upgrade. All you have to do is being a Cairn Subsciber!
BLDG Active – Active Repair Spray. This all natural skin and wound repair spray can be used on the entire body including around the eyes, ears, mouth, and other sensitive areas.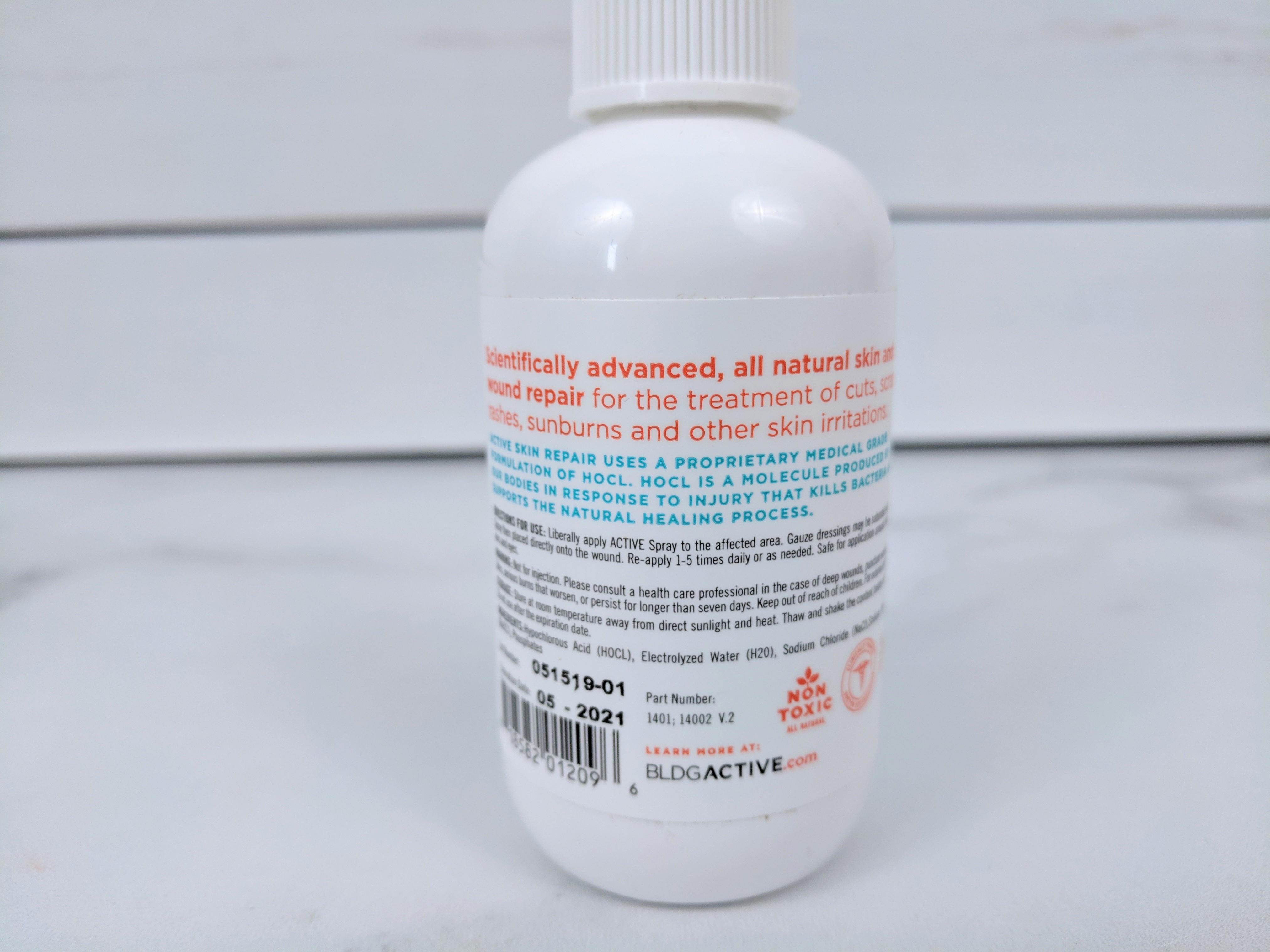 It use natural ingredients and a proprietary manufacturing process to replicate the same molecule white blood cells produce in response to injury.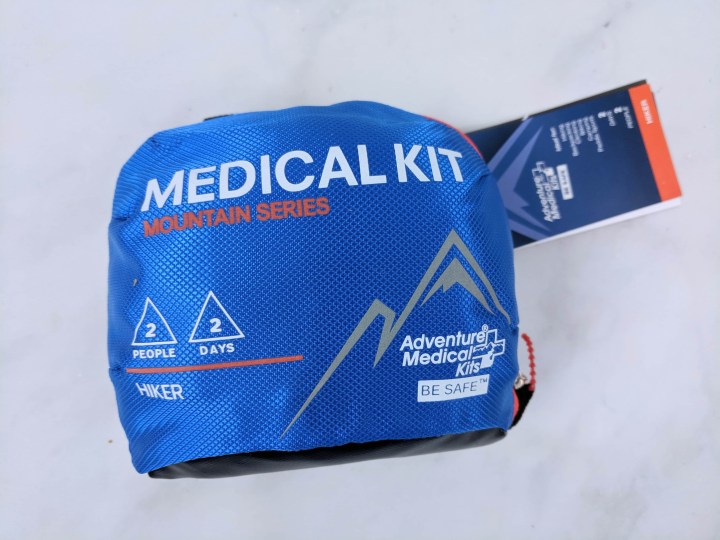 AMK Mountain Hiker Medical Kit. This medical kit contains everything to treat common injuries and illnesses on an overnight excursion for two people.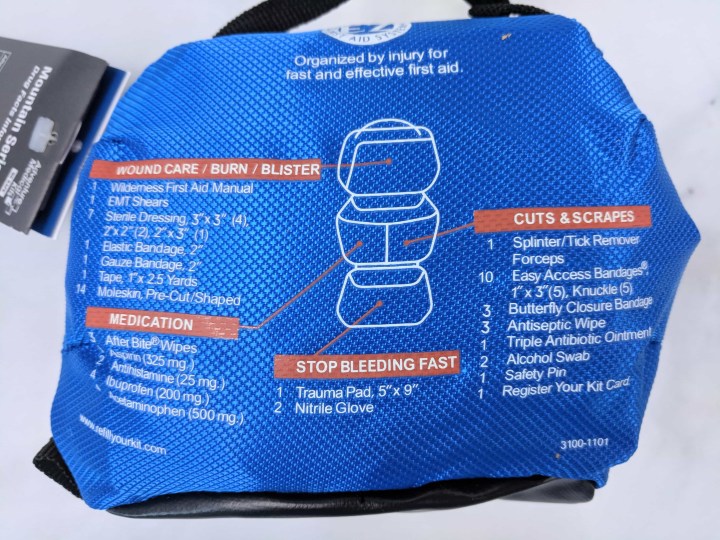 The back of the bag lists everything included in it. This is quite useful as you'll be able to refill it after every excursion and get it ready for the next one. Having it printed on the back is so much more convenient than having the list on a piece of paper that will be lost at some point.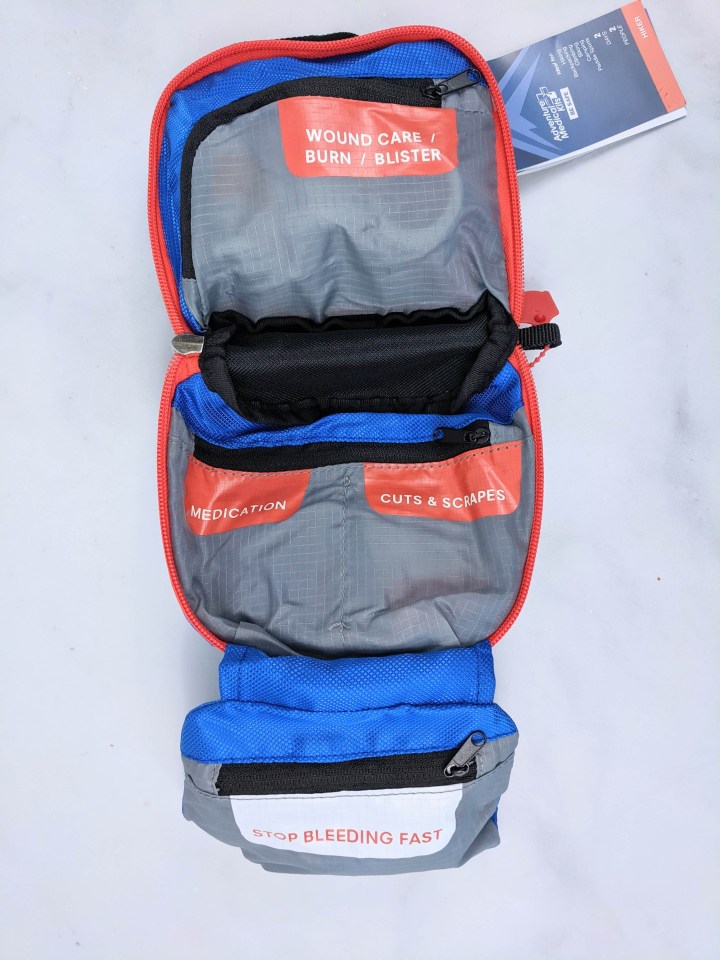 Once open, you can easily see how well organized it is and it makes it easy to find what you need with only a quick glance.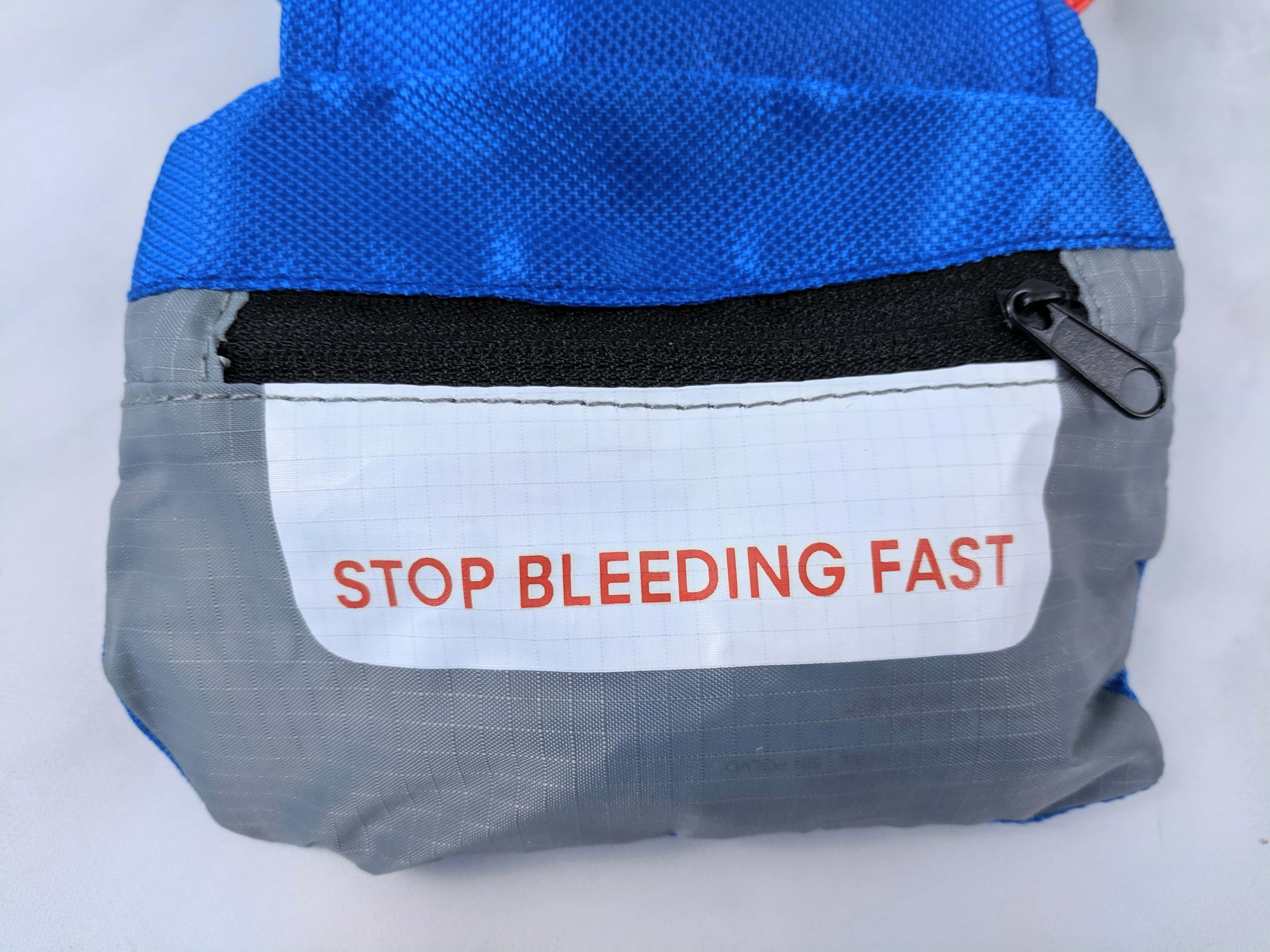 The first pocket is to stop bleeding fast.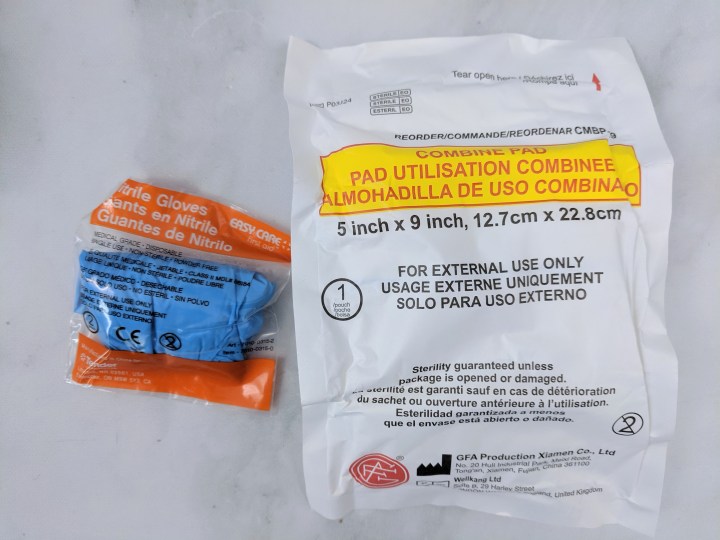 It contains Nitrile Gloves and a combine pad. Both are in a sterile, but easy to open package.
The second pocket is for medication and to deal with cuts and scrapes.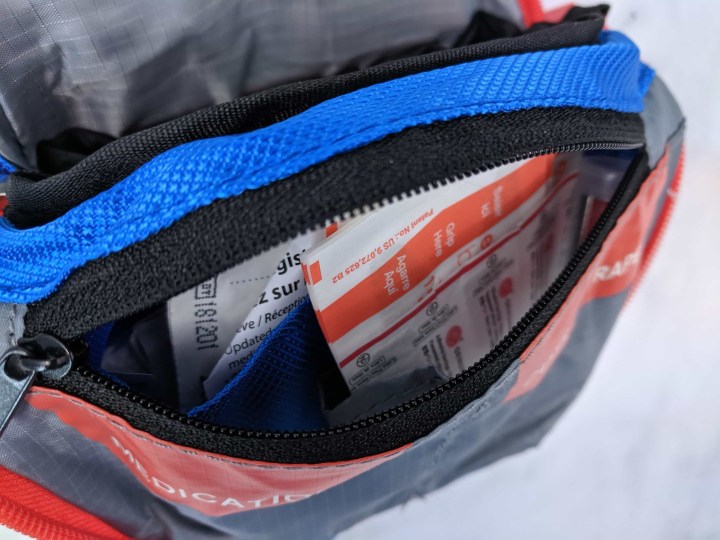 This pocket has divider so it's easy to add your own personal medication.
This pocket has a lot of stuff : AfterBite Wipes, Aspirin, Antihistamine, Ibuprofen, Acetaminophen. Splinter/Tick remover forceps, different kind of bandages, antiseptic wipes, Triple Antibiotic Ointment, Alcohol Swab and a safety pin.
The third and last pocket is for Wound care/Burn/Blister.
This pocket makes it easy to get bigger items out of the bag.
Inside, you'll find a Wilderness First Aid Manual, EMT Shears, Sterile dressings, Elastic bandage, Gauze Bandage, Tape and 14 Moleskin (in one sheet) pre-cut.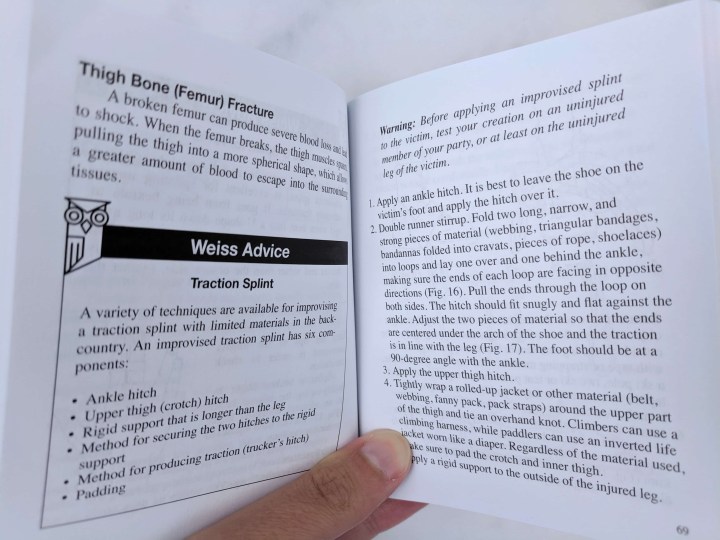 The Wilderness First Aid Manual provides us with in depth instruction for different kind of injuries you could have to treat in the wild.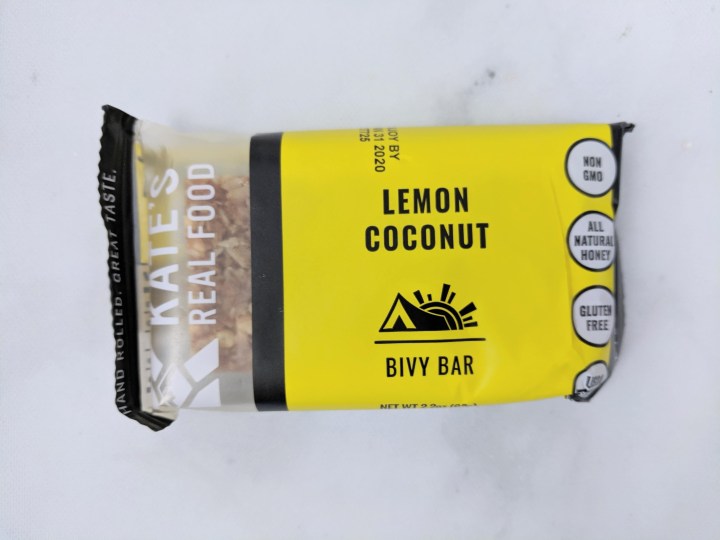 Lemon coconut Bivy Bar.  This bar is made with organic ingredients such as coconut, honey, almond butter, oats, brown rice crips, lemon extract and ground ginger. It is gluten-free and it's quite good and filling.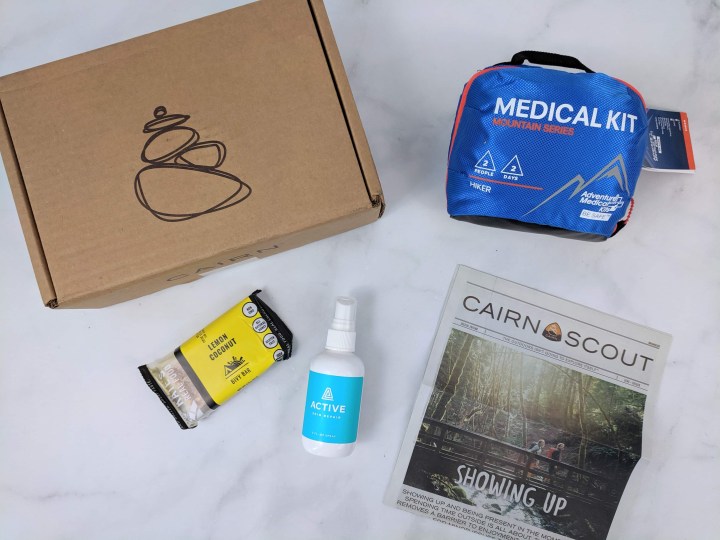 This "Showing Up" theme box contains very useful items for the weekend hikes that will happen all summer long. I'm glad to have a small medical kit that contain a lot of useful items without being overly bulking and taking to much of the needed room in my backpack.
What did you think of this month's Cairn box?