Robb Vices is a monthly subscription service that delivers a collection of "storied treasures." The subscription costs $159.95 per month, and each box comes with a collection of incredible products and experiences that have been curated for your enjoyment.
DEAL: Save $50 on Robb Vices subscriptions with coupon code VICES50. Ends 7/14! Plus save 10% on your first Vices Reserve purchase with coupon code GIVEME10 – visit Vices Reserve here!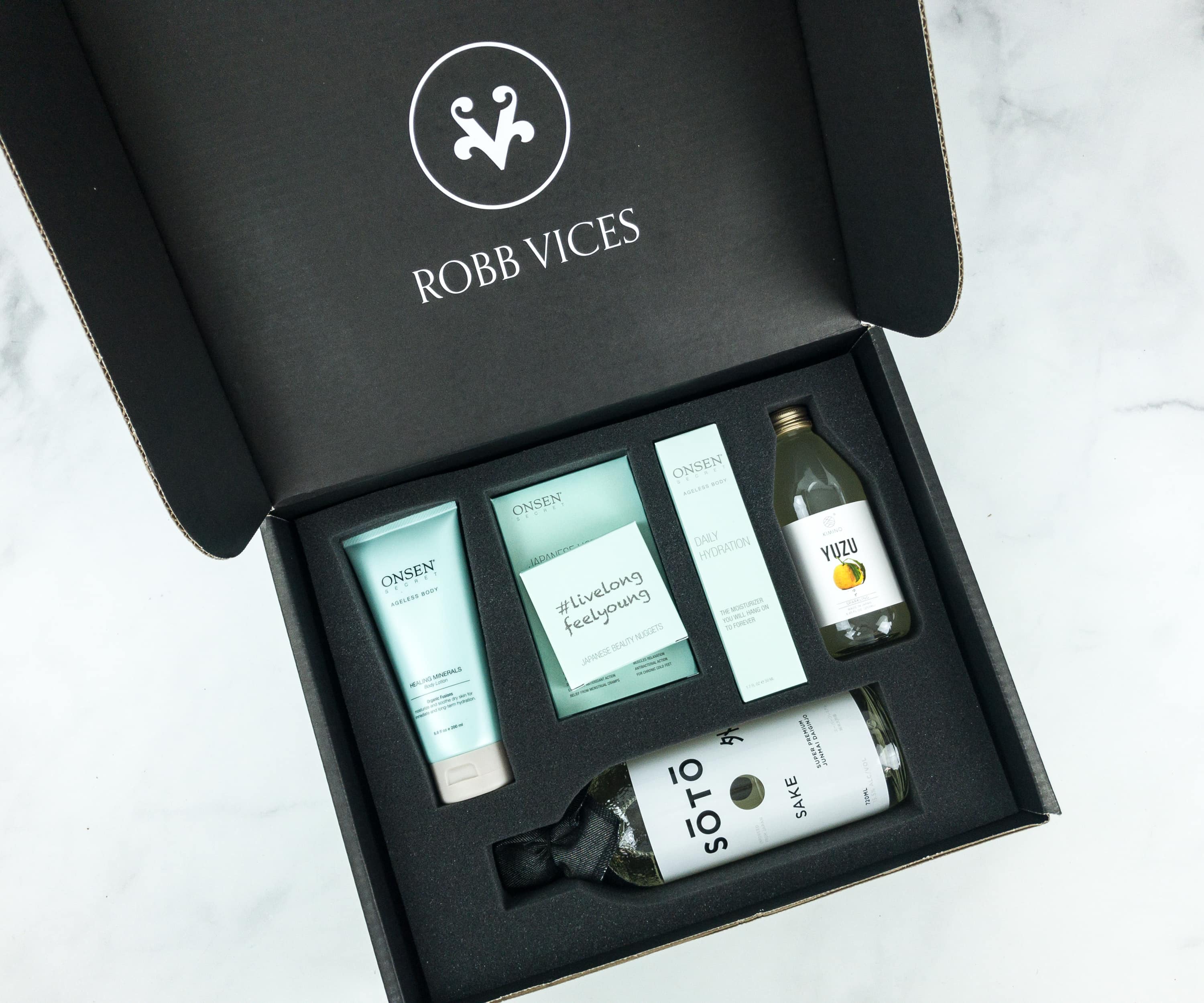 . Each item is cradled in a custom-fitted foam case which serves as a protection to make sure all that the item are safe and arrives in its best condition.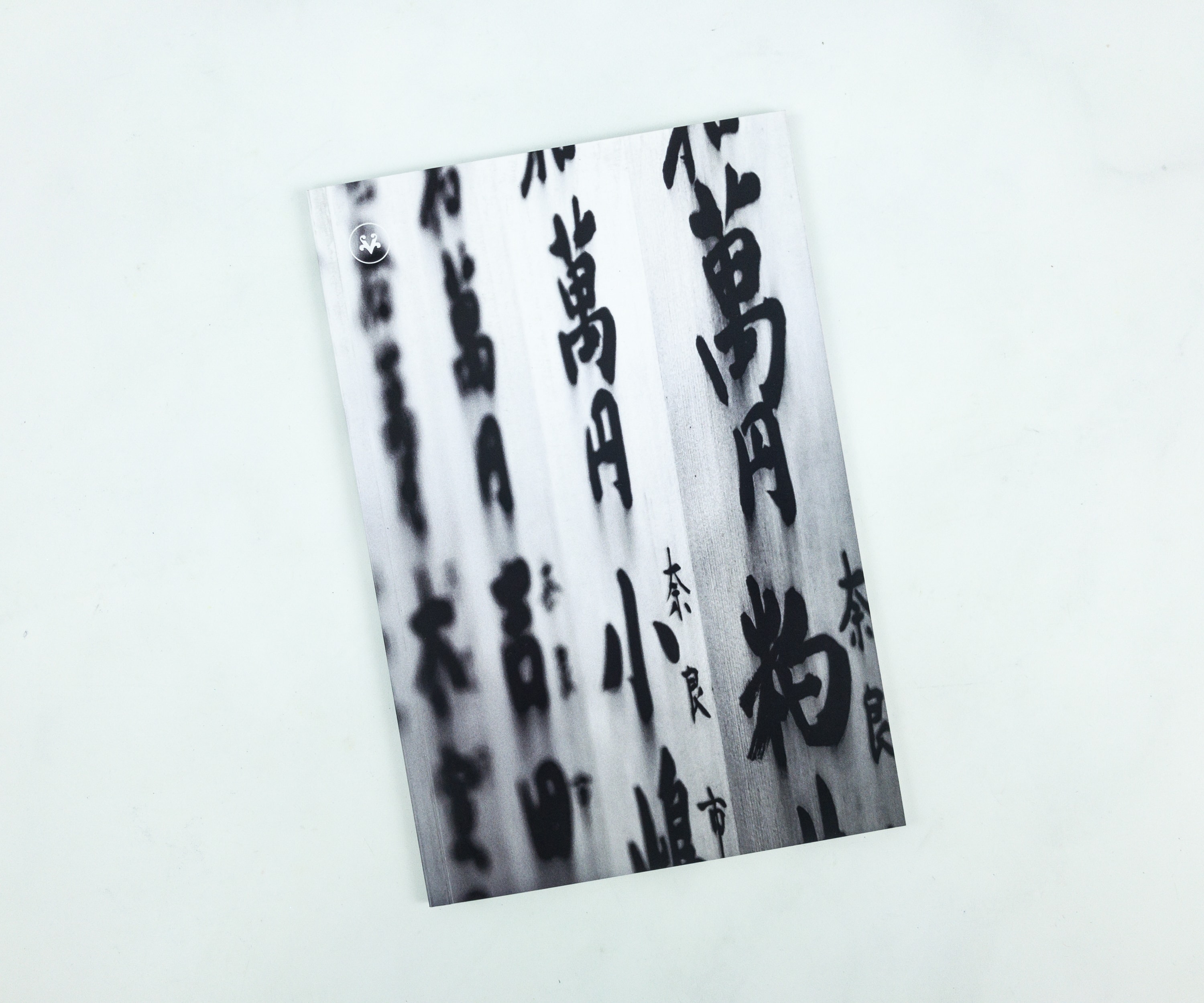 The cover of this month's Robb Vices booklet features Japanese characters.
Inside, there's a Japanese proverb that translates to "one life, one encounter." On the other page is a message from Daniel Curtis, the founder of Robb Vices.
There's also an article about the events and happenings in Kyoto during this time of the year.
There's even a promotion about Vices Reserve's Mother's Day deal.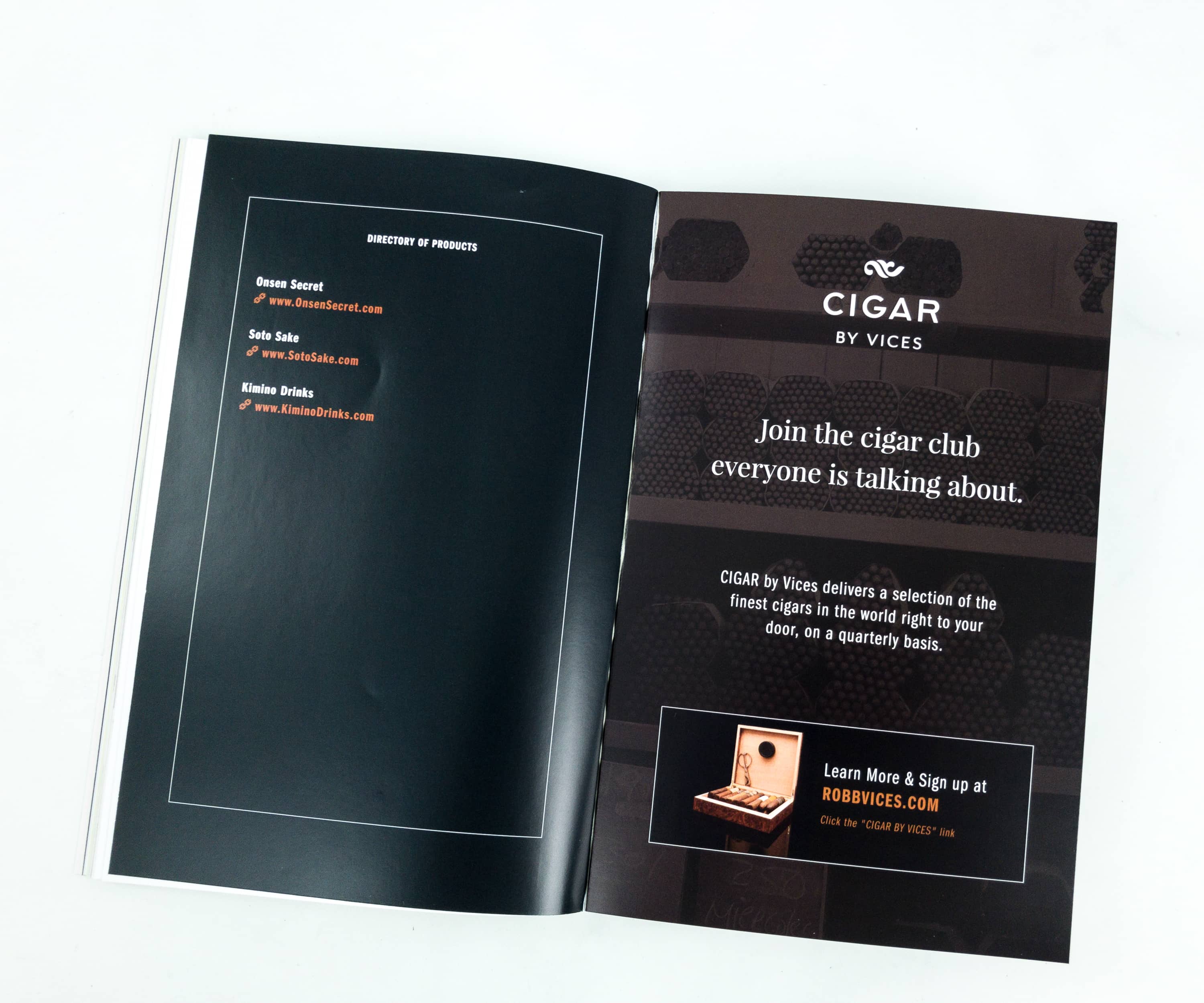 Here's the brief directory of all the featured products, plus a reminder of any coupon codes from within the pages of the booklet.
Everything in my April 2019 Robb Vices box!
FYI – this box shipped very late – we received it in the second week of May.
Further into the booklet, they explained what Onsen means. It's related to this month's featured items.
Onsen, the Japanese words for the thousands of mineral hot springs that can be found across the country, has evolved to encompass the rejuvinating resorts constructed around these healing pools. It's a colloquial verb now, too. As in, "Let's go onsen."
Apparently, they're giving us the onsen experience through this collection of products from the brand also named Onsen!
The box includes Japanese beauty nuggets, hot spring mineral bath, moisturizer, and body lotion!
Onsen Secret Healing Minerals Body Lotion ($17.95) It's an all-natural body lotion made with certified organic ingredients. The formula doesn't contain parabens or coloring agents. It's also safe even for sensitive skin.
It contains unique hot spring minerals that penetrate deep into the skin to detoxify and replenish it. Other important ingredients include Japanese botanicals with natural healing properties. A little of this lotion goes a long way! It's lightweight and fast absorbing!

Onsen Secret Daily Hydration Moisture + Protect ($187) Loaded with collagen, this formula provides hydration and repairs and revitalizes your skin.
It also helps keep your skin protected from radicals that accelerate the signs of aging. The airless bottle prevents the excessive exposure of the formula to air, so it has a longer shelf life compared to other products.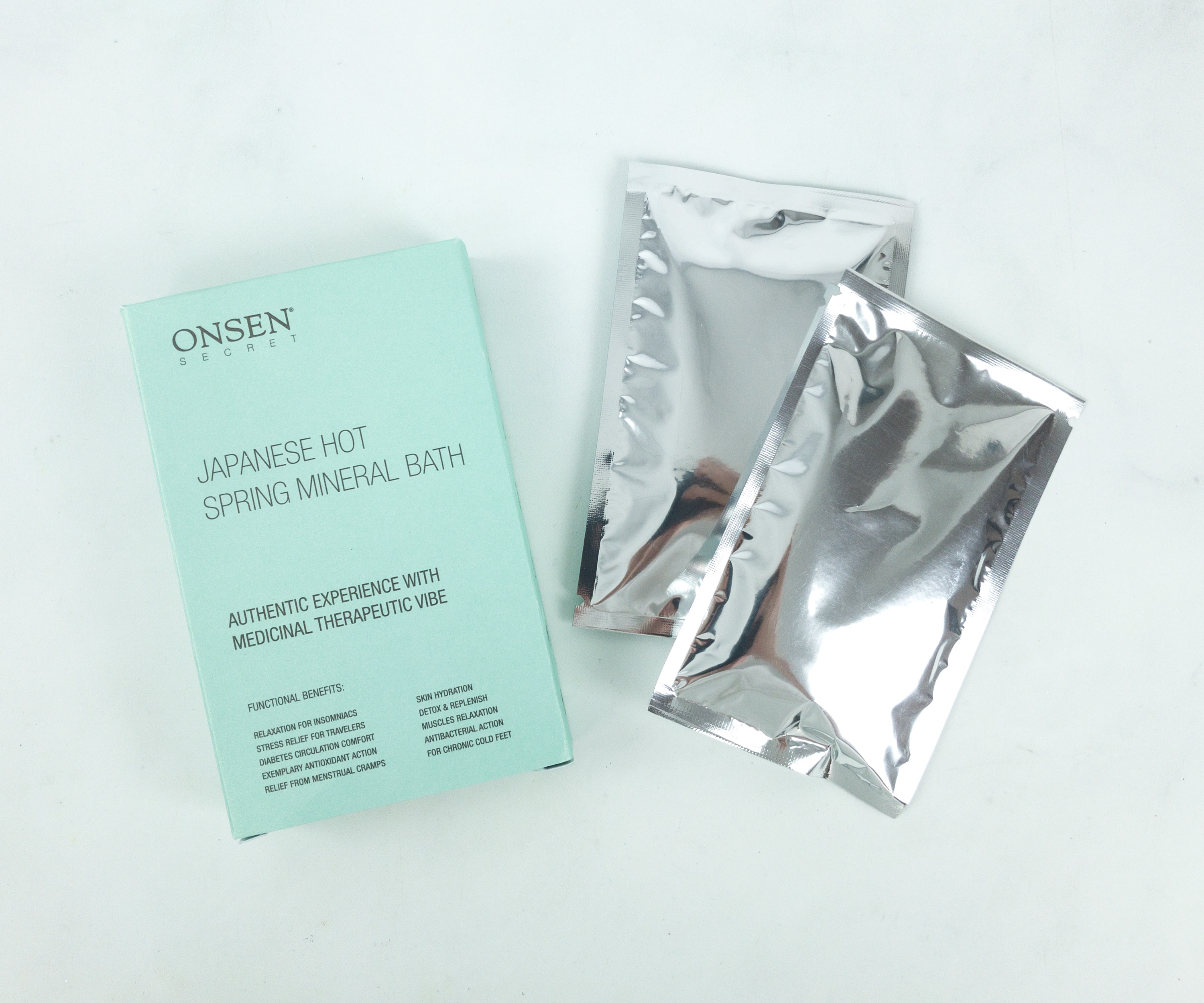 Onsen Secret Japanese Hot Spring Mineral Bath ($14.95) These therapeutic spring mineral baths are made from rare minerals and plant extracts from Japan's hot springs. It's known for detoxifying the skin, improving blood flow, and relaxing the muscles.

Printed at the back of the box are all the benefits you could get in using the detox bath soap. It also comes with a detailed step-by-step procedure on how to properly use it.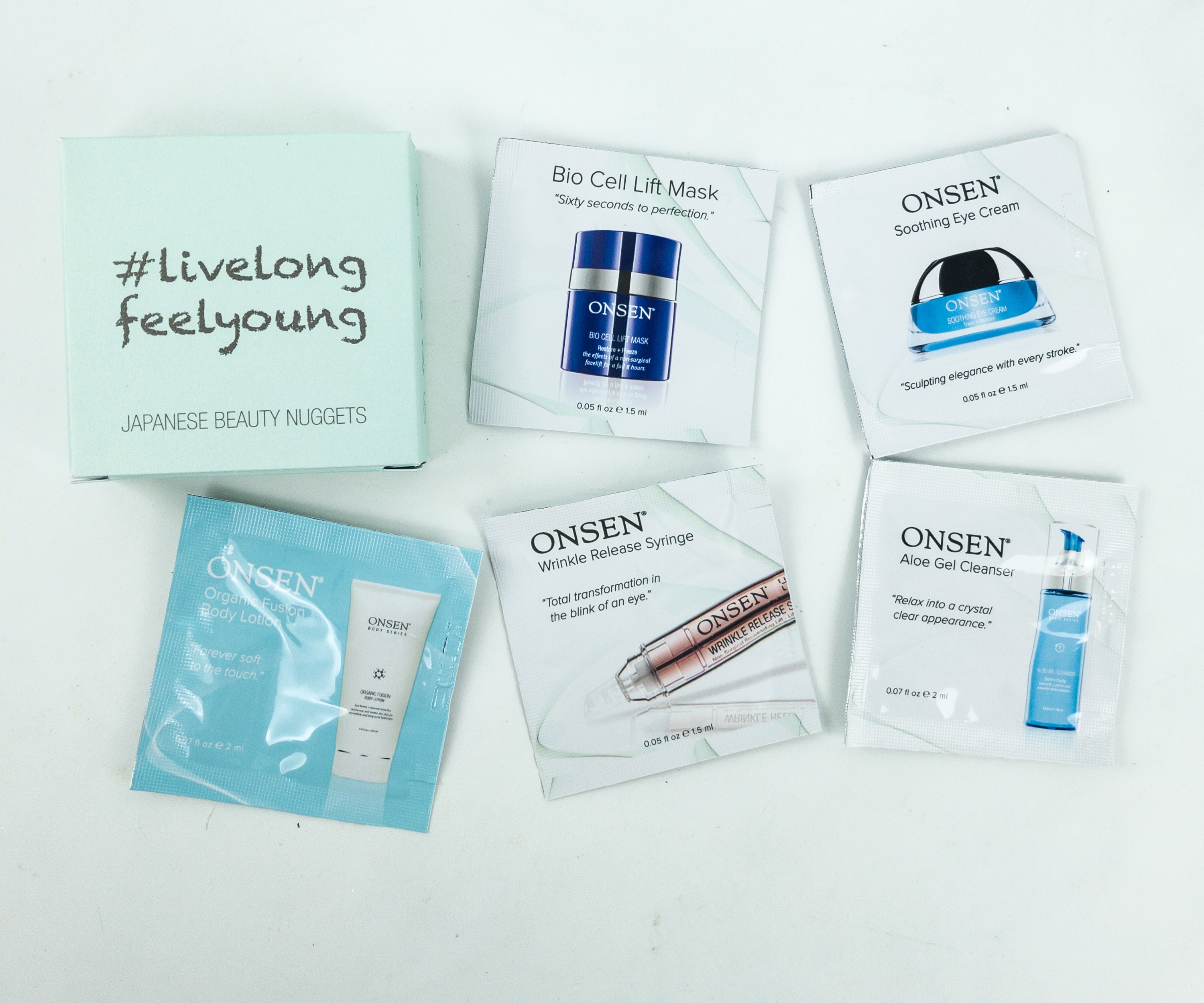 Japanese Beauty Nuggets. This kit contains five sample items from Onsen. Included in it are the Onsen Soothing Eye Cream, Onsen Limited Edition Wrinkle Release Syringe, Onsen Aloe Gel Cleanser, Onsen Bio Cell Lift Mask, and Onsen Organic Fusion Body Lotion.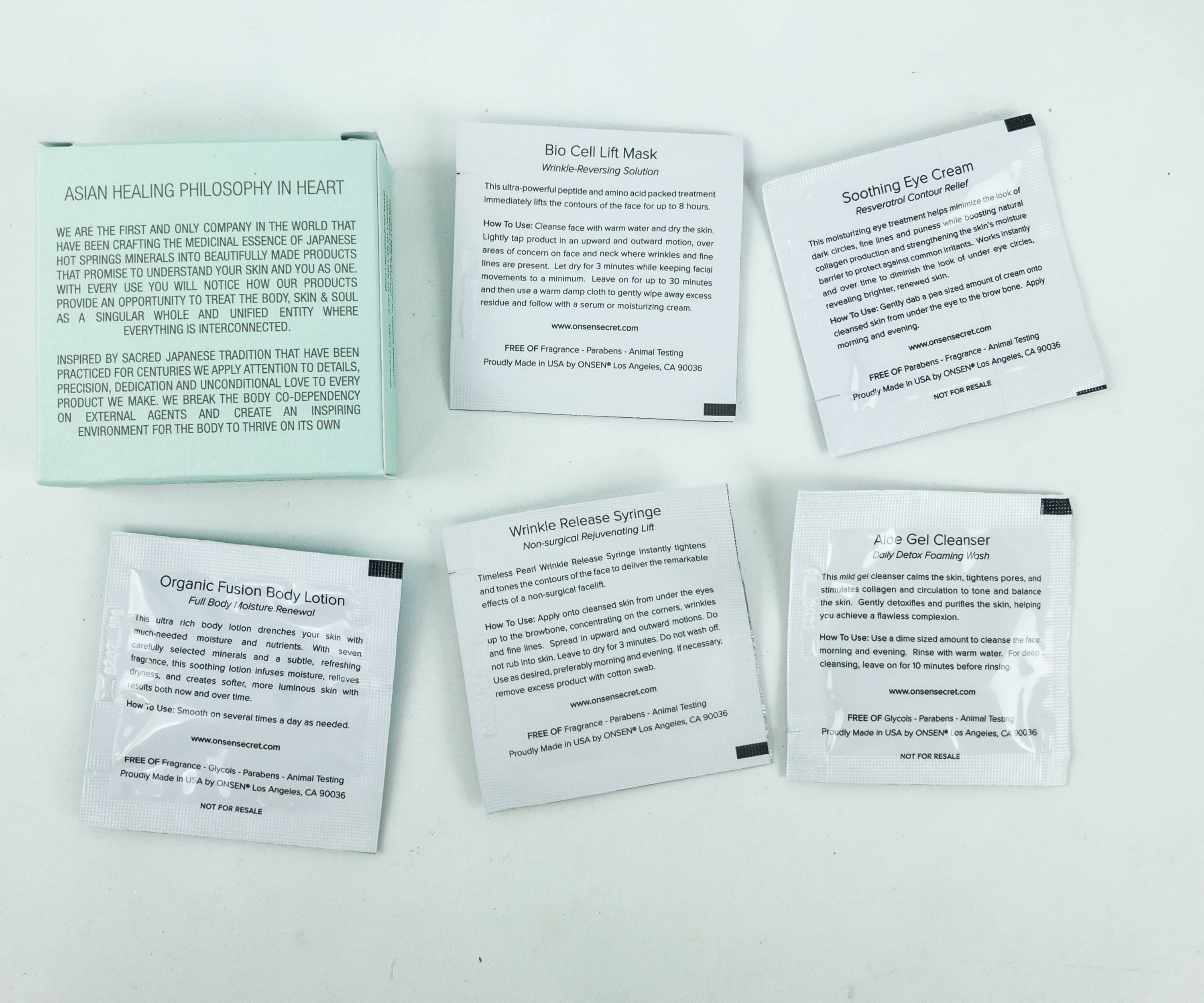 See the back of each sample packaging to know more about the products!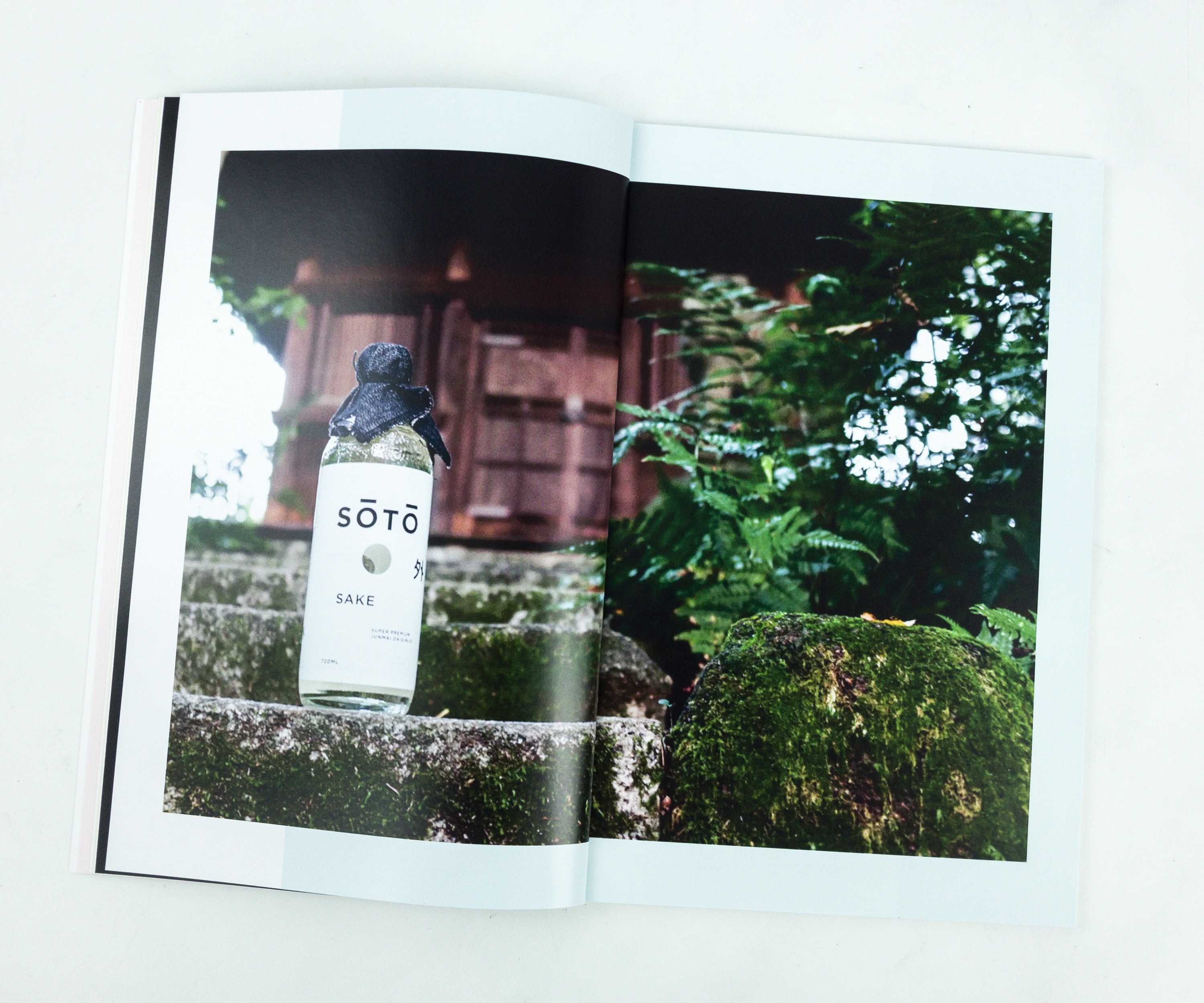 From Japanese skincare and wellness products, we're moving on to a Japanese drink!

SOTO means "outside" in Japanese and celebrates the confluence of pure elements.

This part of the booklet features an article about Soto Sake, including the company's brief history.

Soto Sake ($39.99) It's a multi-awarded, premium sake made from all-natural, gluten-free ingredients.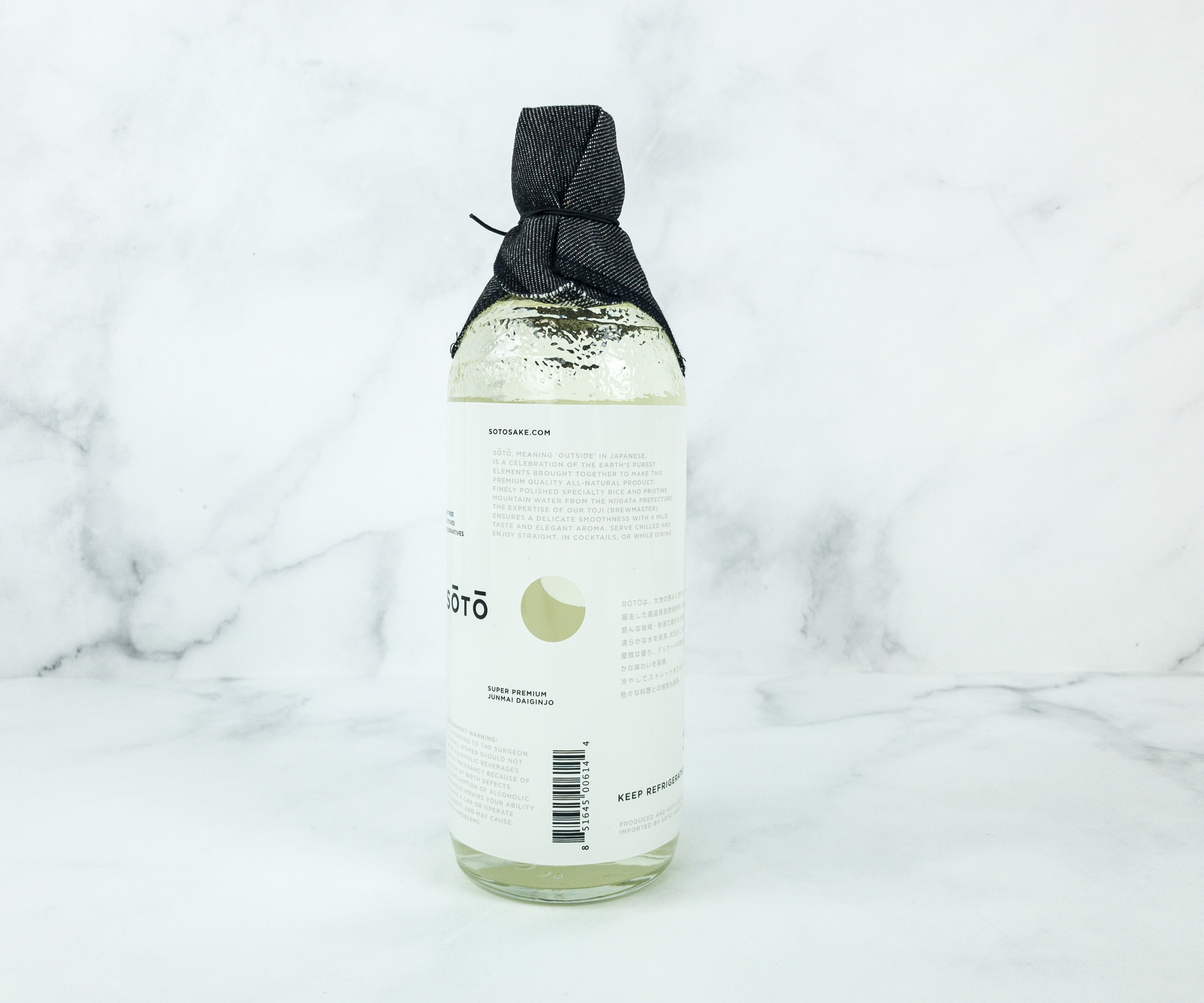 Once opened, this sake releases an elegant and inviting aromatic. It also features smooth notes of fresh apple and cucumber with a hint of lime zest.

"Kanpai" is the Japanese equivalent of "cheers!" which is used during a drinking toast.
We even got recipes for Sake Martini, Soto Kimino Spritz, and Koime.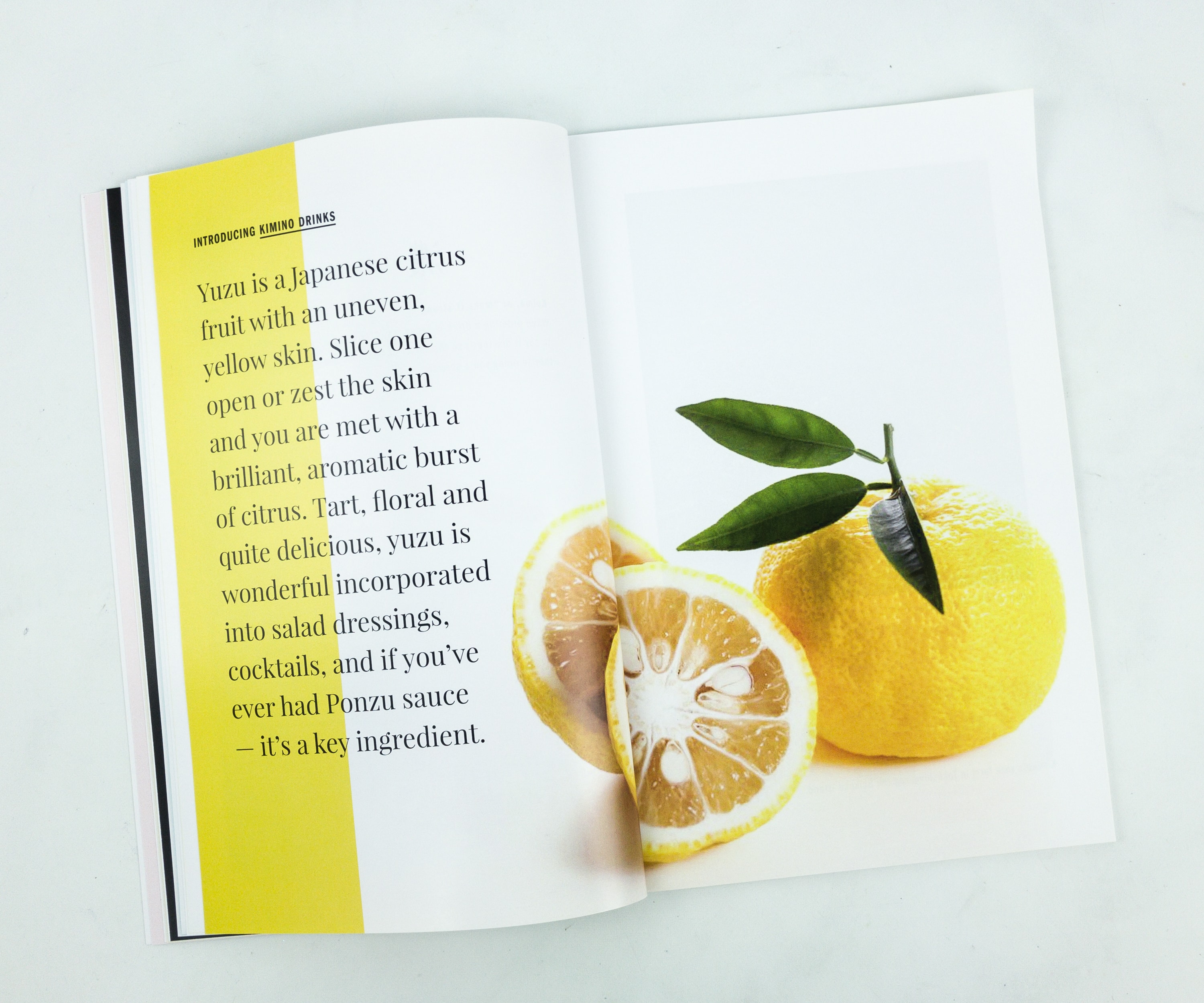 Yuzu is a Japanese citrus fruit with an uneven, yellow skin. Slice one open or zest the skin and you are met with a brilliant, aromatic burst of citrus. Tart floral and quite delicious, yuzu is wonderful incorporated into salad dressings, cocktails, and if you've ever had Ponza sauce – it's a key ingredient.
Kimino Sparkling Yuzu ($12) It's a delicious sparkling drink made from fresh Yuzu juice, sparkling water, and a bit of organic sugar cane.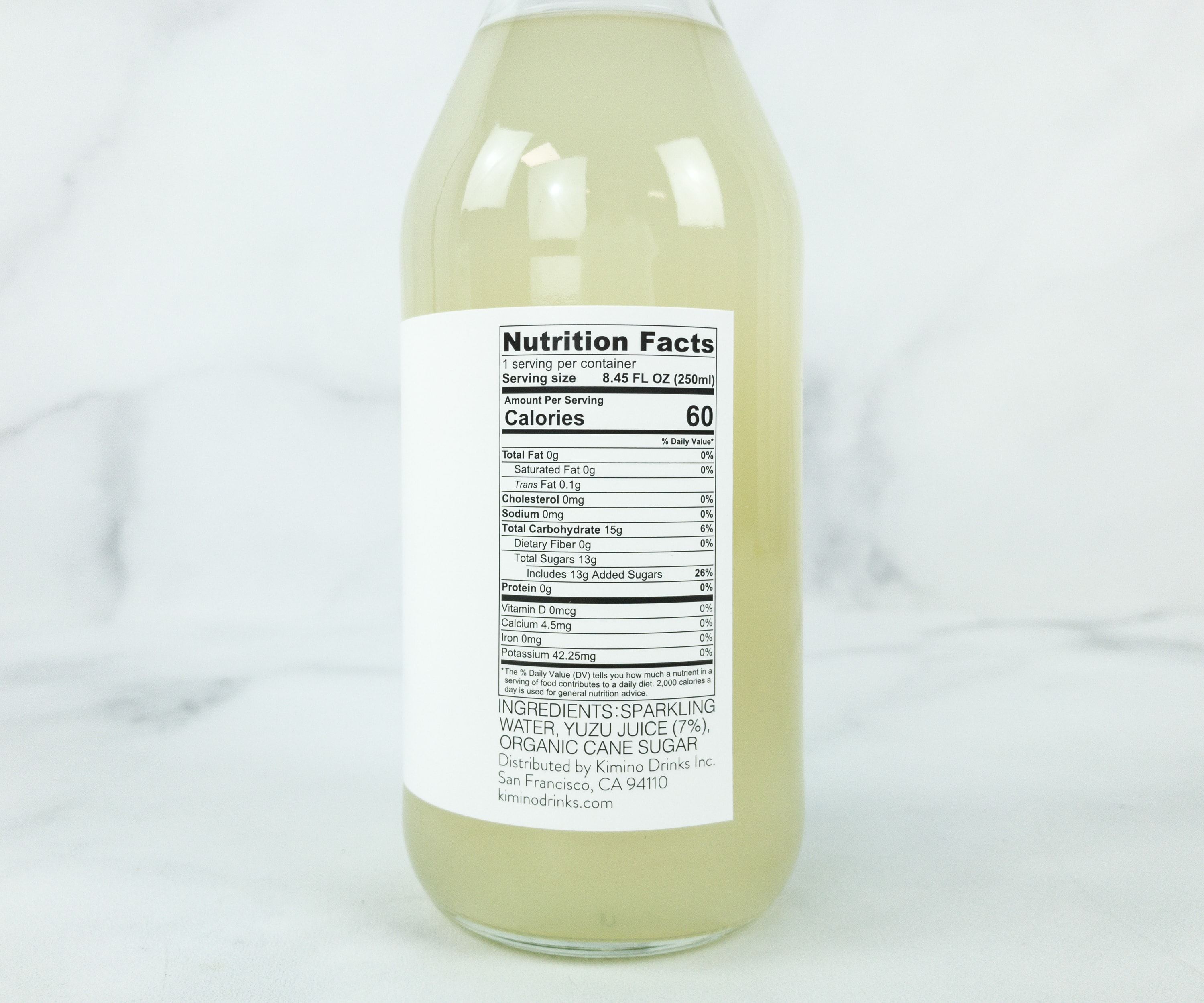 This drink also features a strong aromatic scent and a distinctly sour taste. The best thing about it is that it's low-calorie and rich in antioxidants and vitamin C.
The bottle used for this juice is made from recyclable materials. Kimino Yuzu is encouraging us to reuse the bottle to help keep nature clean!
This part of the booklet introduces us to the New York Prime Beef. It also tackles the term Wagyu and Kobe.
This article informs us about the partnership built between Robb Vices and the New York Prime Beef.
Here's the seven brief and detailed step-by-step procedure in making the best Wagyu!
For the second time this year, Robb Vices forgot to send the coupon for this "item" – but because you have to spend quite a bit of money to redeem it (it's 25% off), it's not really an item.

We also separately received a bonus item for our annual subscription renewal.

Inside the box is a bottle of red wine surrounded by a thick foam, making sure that the wine arrives in great condition.

2016 Virtuous Reserve Cabernet Sauvignon ($100) This red wine features a rich and deeply concentrated taste. It's a full-bodied wine with a smooth sailing fruity and plummy notes.
It's best paired with soft cheeses, grilled skirt steak, wild meats, or a roasted game hen.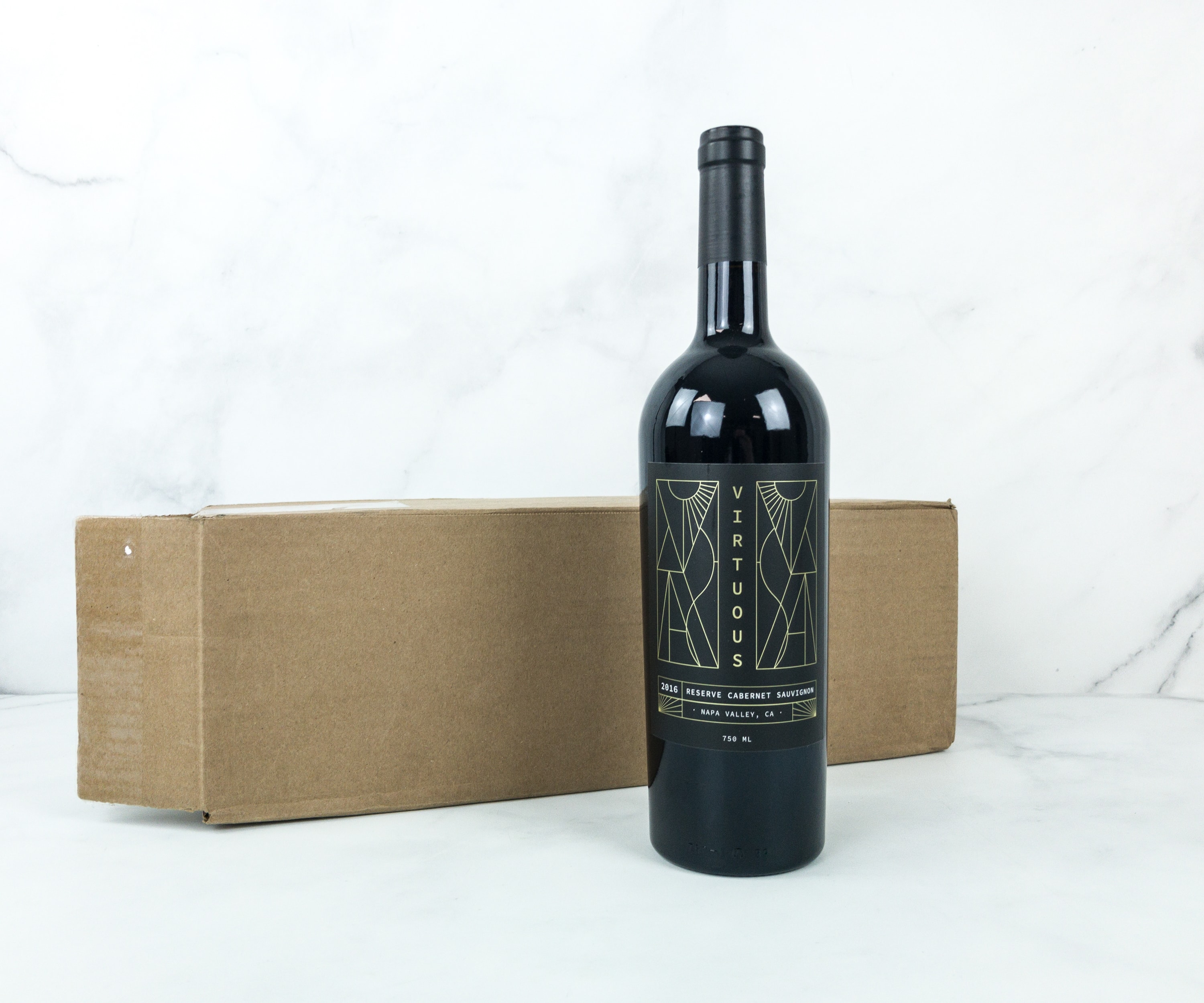 This red wine is the bonus item we got for having renewed our annual box subscription!
This month's Robb Vices Box arrived a bit late, and it has also been our second time this year that the code for an "item" has been missing. Though there are some challenges, I still find this subscription amazing. All the items we received this month were really awesome! The Onsen products are so useful and high-quality. I also loved the red wine we received as a bonus, it tastes really great. This subscription is definitely an easy way to indulge in extravagant goods, making it a totally worthy subscription!