Boxwalla has released the limited edition Perfumer Box! This Perfumer series is curated by Sigil Scent creator, Patrick Kelly, and comes in 2 phases – the Learning/Discovery phase and the Full Bottle Experience phase. The Perfumer Box is $84.95 + includes FREE shipping on both phases. Considering that a Magnum Opus flight of the samples is $50 and a full-sized bottle of Sigil Scent is $120 for 1 ounce (30ml), this is a great buy!
This is the review for the Phase Two Full Bottle Experience. The whole experience is described as "a Perfume Box for the luxury loving perfume nerd." Yep, that's me! You can read all about the Discovery Phase here!
Patrick Kelly, the founder of Sigil Scent creates beautiful natural perfumes using essential oils, absolutes, CO2 extracts and house-made tinctures in a base of certified organix sugarcane alcohol.

Each of you will have a different favorite from this mystical yet modern collection from Sigil Scent : maybe the effervescent, refreshing Solutio, the heady woody floral Anima Mundi, the grounding, resinous Amor Fati or the verdant, mossy Prima Materia.

Therefore the scent experience will happen in TWO phases: In the first Learning/Discovery phase you will receive all the four 2 ml spray samples, housed in a small Boxwalla box; In the second Full Bottle Experience phase, you will receive the full bottle of your choice.
Sigil Prima Materia Eau De Parfum ($120) After trying the four samples that I received last month, I had four weeks in which to choose my favorite of the bunch and then I let Boxwalla know so they could send me the second and final phase.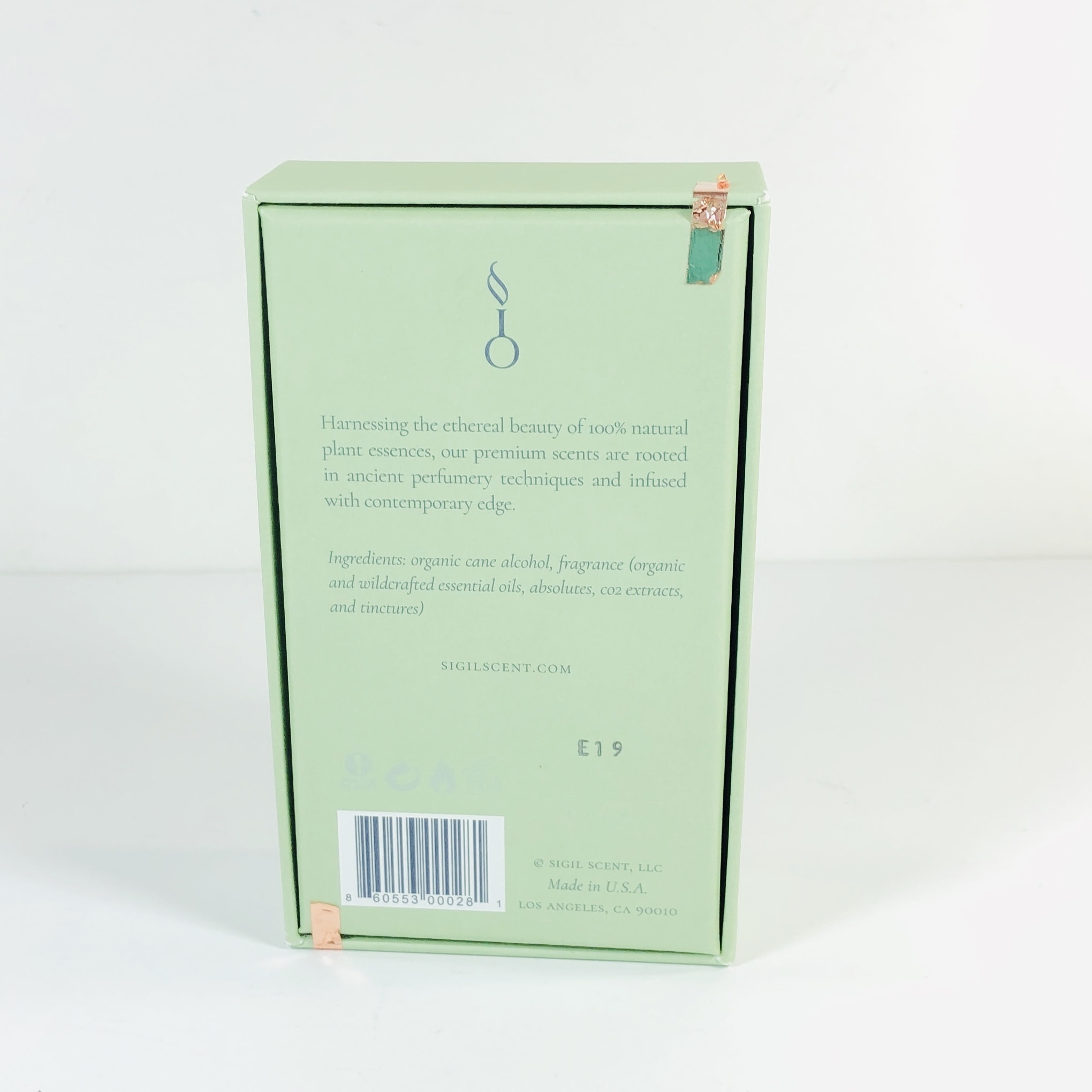 My box was sealed with two copper colored stickers so I knew my fragrance was fresh. The ingredients were listed and consists of organic cane alcohol and fragrance, which is made up of organic and wildcrafted essential oils, absolutes, co2 extracts, and tinctures.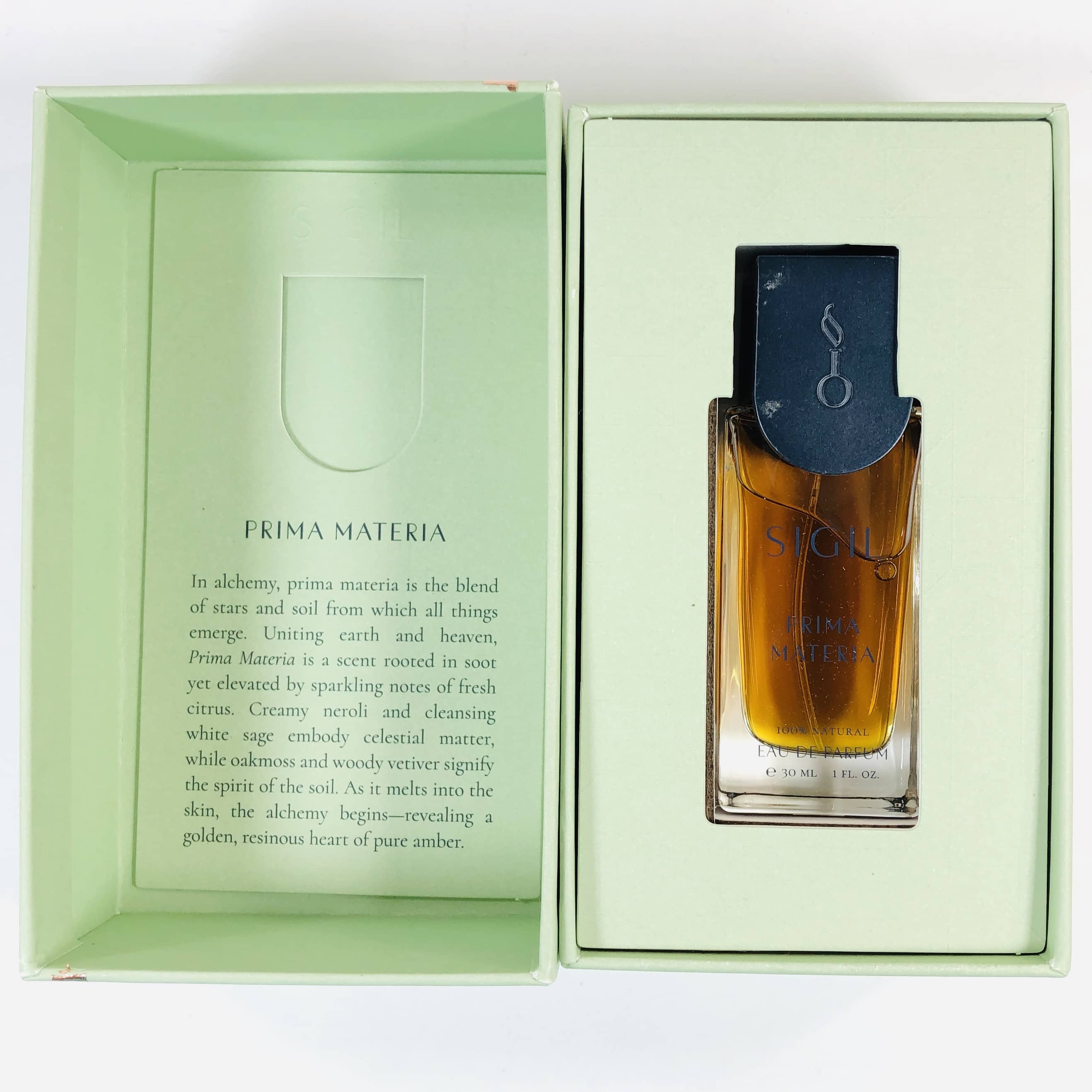 I went with Prima Materia, a warm scent that is better suited for fall but which was my favorite of the collection.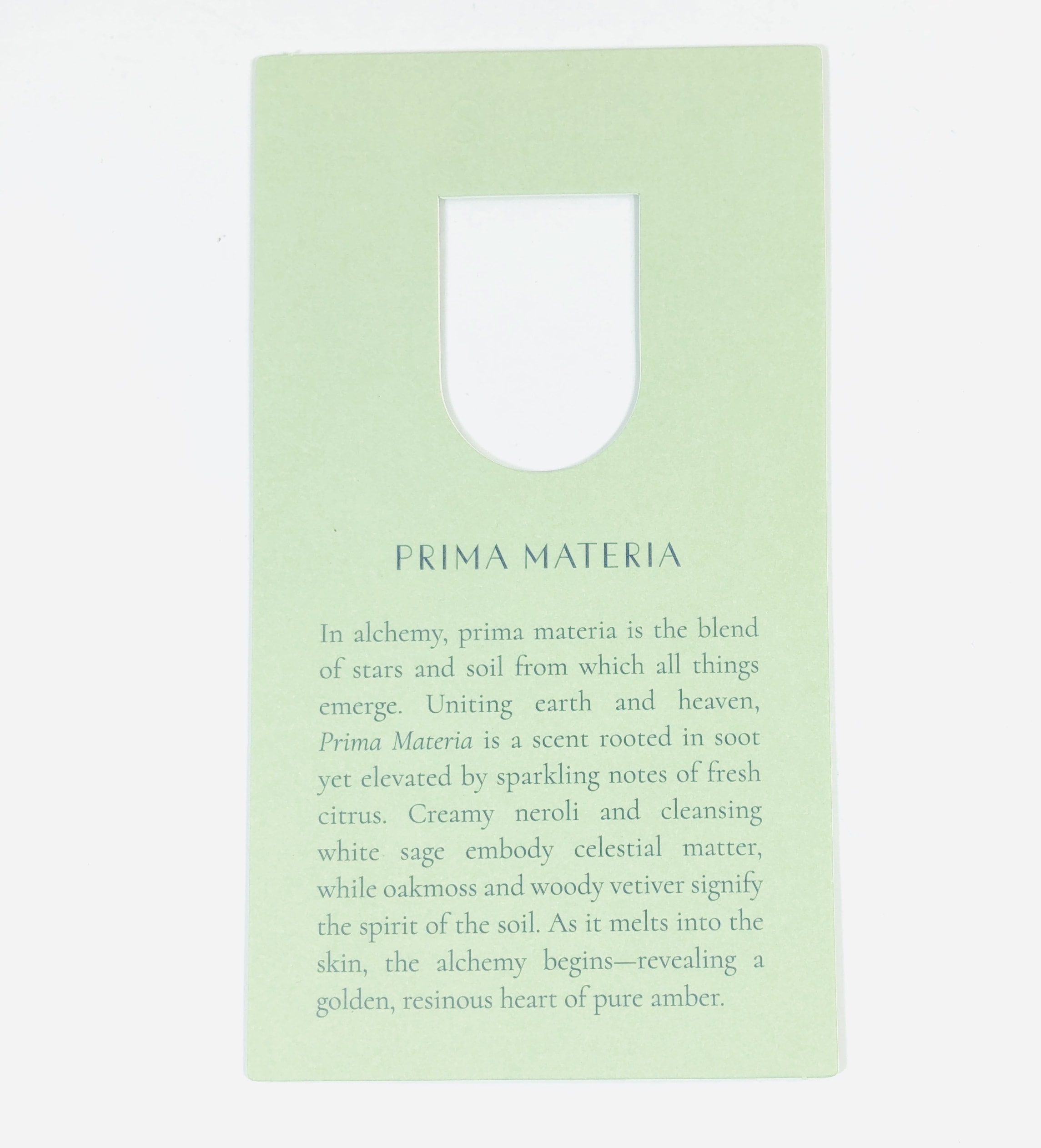 There was a card with a description of the scent.
Sigil Scent Prima Materia ($120 for 1 ounce/30 ml) My chosen scent has notes of vetiver, oakmoss, neroli, and white sage. On my body it smells warm and deep, comforting yet unusual at the same time. I picked up smokey notes and lots of vetiver. I told my husband he might like to wear this too. It is unisex and it doesn't feel manly to me, nor does it smell girly or sweet.
In ancient times, prima materia referred to the formless root of all matter—a blend of stars and soil from which all things emerge, and an essential component in the alchemy of turning base materials into gold. Uniting the earthly and the heavenly, Prima Materia is a scent rooted in soot yet elevated by sparkling notes of fresh citrus. The creamy sweetness of neroli and the cleansing power of white sage embody celestial matter, while oakmoss and woody vetiver signify the spirit of the soil. As it melts into the skin, the alchemy of the scent begins—revealing a golden, resinous heart of pure amber.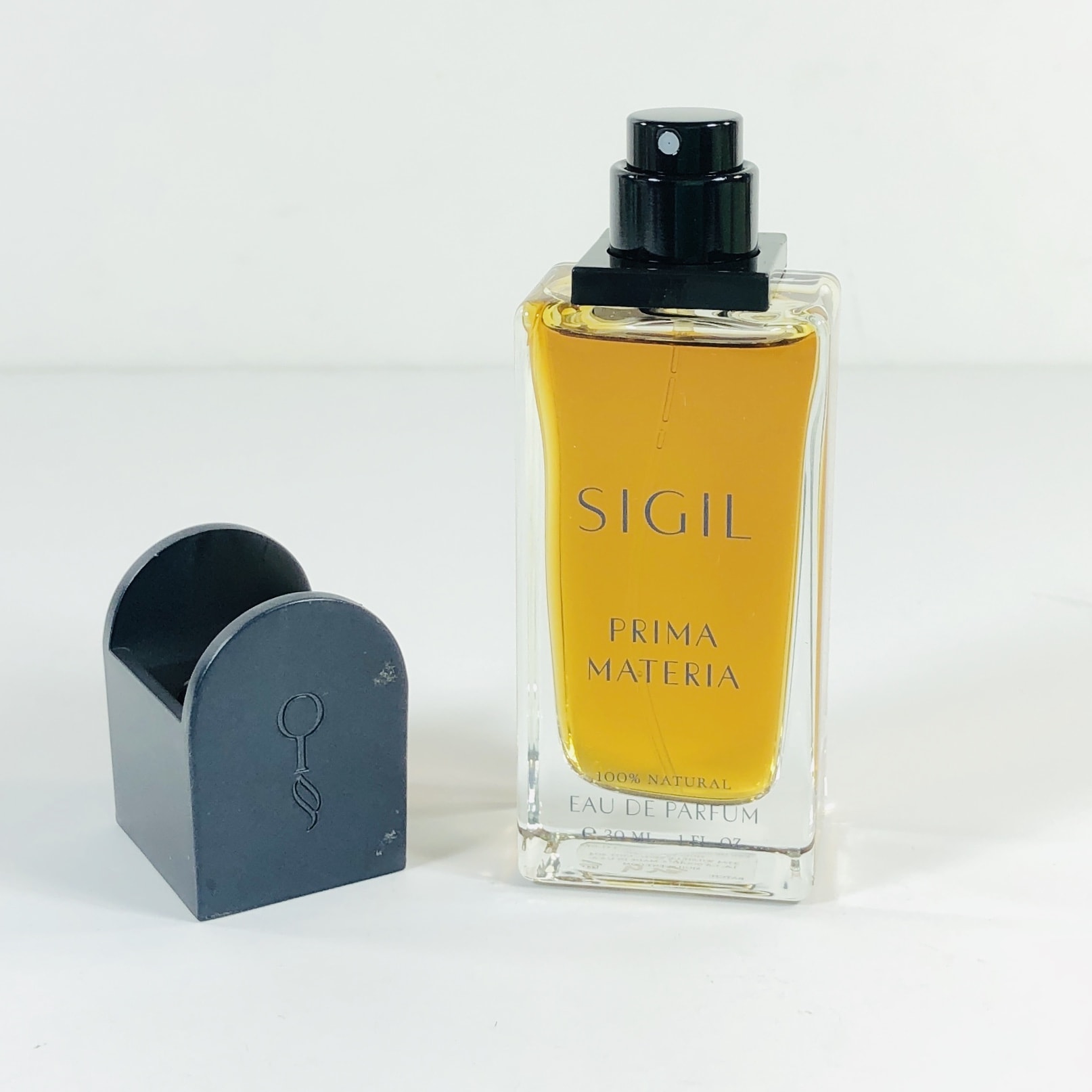 The lid is so cool, it is magnetized and grabs on to jar as you place it back on top.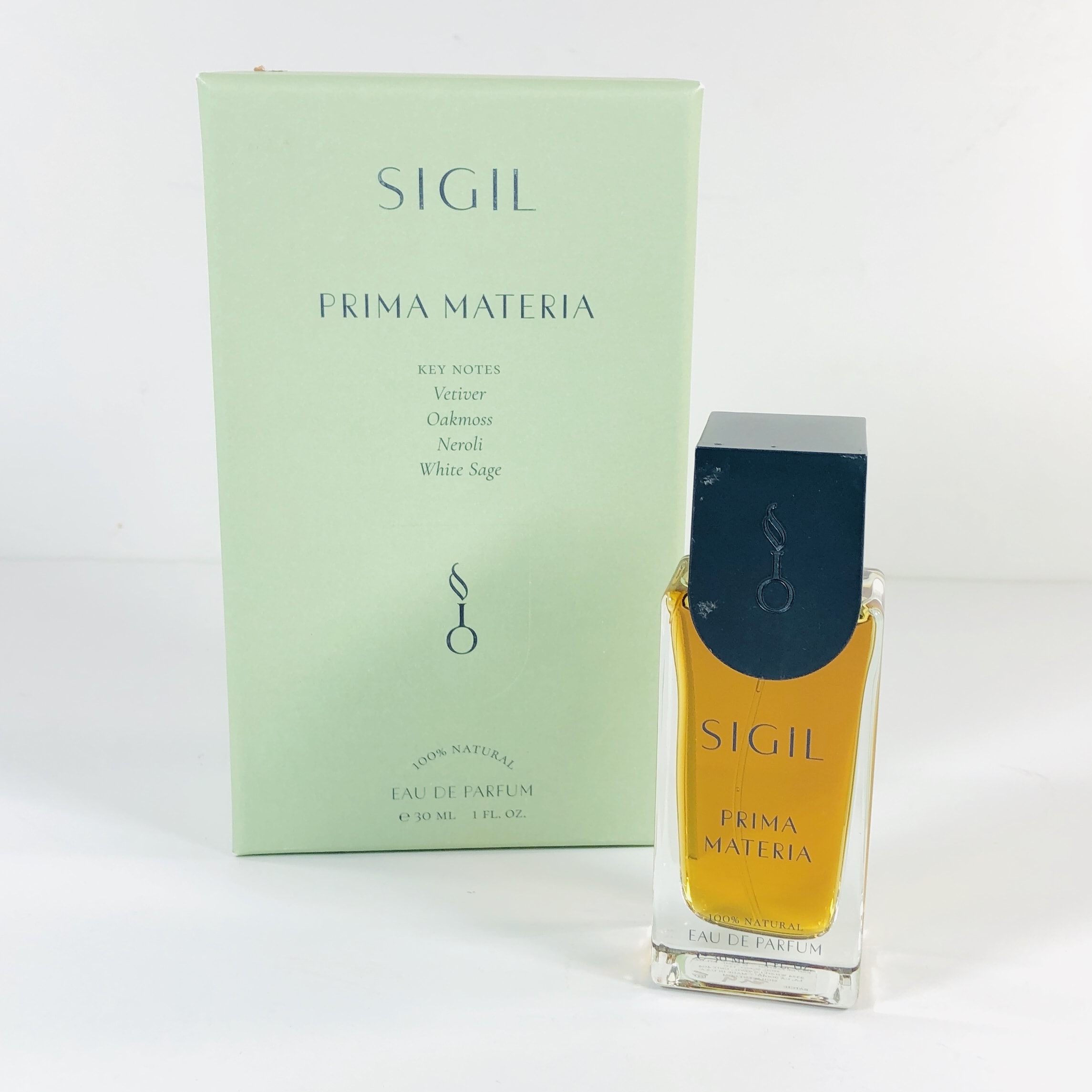 The scent nerd in me adored the experience of the Boxwalla Perfumer Box! I was very excited to test the fragrances from Sigil Scent and was impressed with how lovely they were, and I think they are probably the most unisex scents I have ever tried. Most of the scents were warm with a hint of wood or smoke but nothing screamed "aftershave" or "rose garden". I had a hard time choosing which full-sized bottle I wanted but went with one that makes me long for rainy fall days and standing next to a bonfire to warm up. I hope that Boxwalla has a similar experience with another fragrance designer in the future, what a cool way to pick your new favorite fragrance!
Are you getting the Boxwalla Perfumer Box?