Boxwalla has released the limited edition Perfumer Box! This Perfumer series is curated by Sigil Scent creator, Patrick Kelly, and comes in 2 phases – the Learning/Discovery phase and the Full Bottle Experience phase. The Perfumer Box is $84.95 + includes FREE shipping on both phases. Considering that a Magnum Opus flight of the samples is $50 and a full-sized bottle of Sigil Scent is $120 for 1 ounce (30ml), this is a great buy!
This is the review for the Learning/Discovery phase, which is described as "a Perfume Box for the luxury loving perfume nerd." Yep, that's me!
Patrick Kelly, the founder of Sigil Scent creates beautiful natural perfumes using essential oils, absolutes, CO2 extracts and house-made tinctures in a base of certified organix sugarcane alcohol.

Each of you will have a different favorite from this mystical yet modern collection from Sigil Scent : maybe the effervescent, refreshing Solutio, the heady woody floral Anima Mundi, the grounding, resinous Amor Fati or the verdant, mossy Prima Materia.

Therefore the scent experience will happen in TWO phases: In the first Learning/Discovery phase you will receive all the four 2 ml spray samples, housed in a small Boxwalla box; In the second Full Bottle Experience phase, you will receive the full bottle of your choice.
I received a card with an introduction to this discovery box.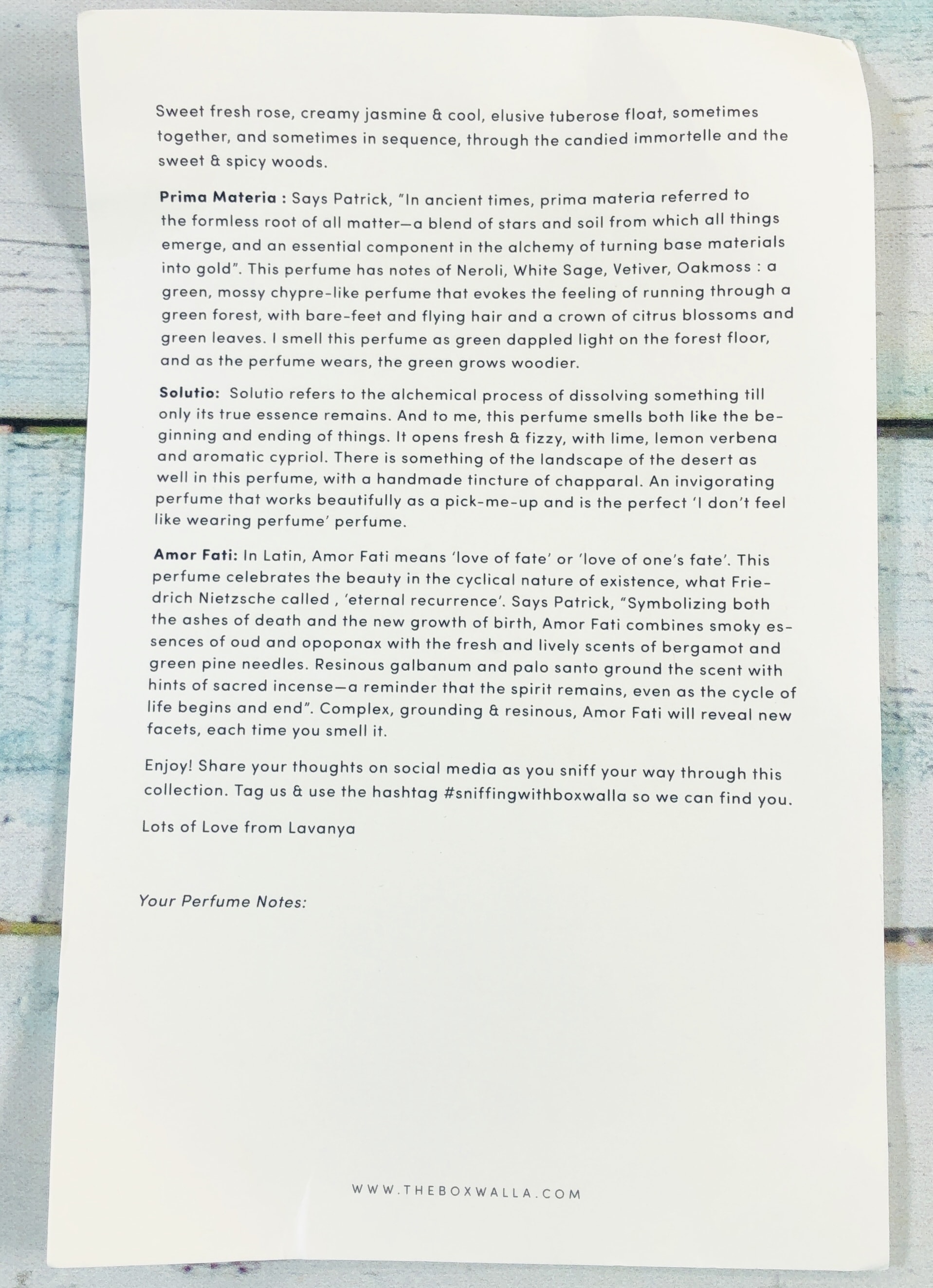 It also listed the notes of each of the four fragrances and has room for writing testing notes. Sigil Scent is vegan and cruelty-free.
The bottles were well protected by white squiggles.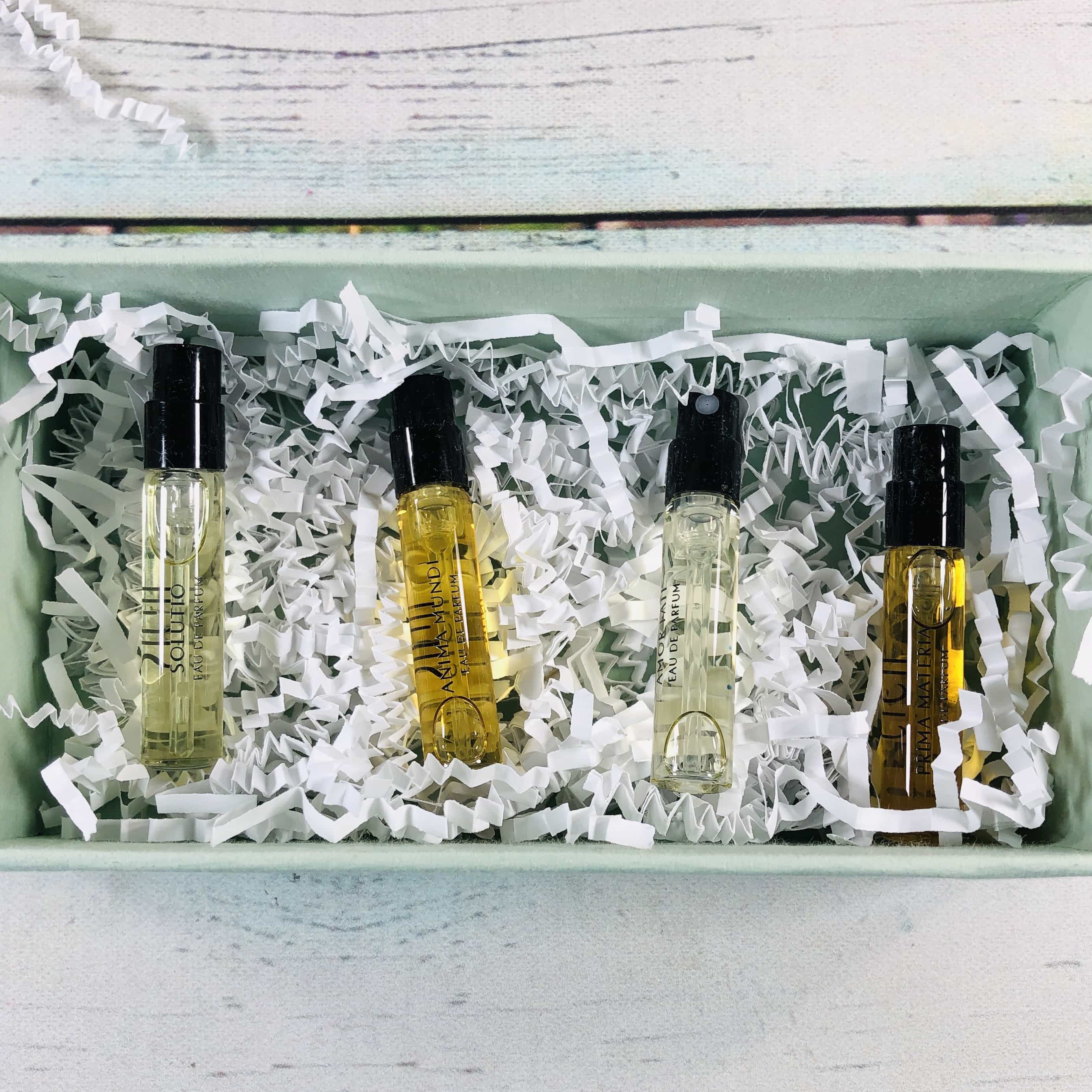 There are four scents included in the Learning/Discovery Phase – Solutio, Anima Mundi, Amor Fati, and Prima Materia. The scent samples are available in one set on the Sigil Scent website with a retail value of $50 (including a $50 voucher towards a full-sized bottle), but the Boxwalla gift box is a better value since you get a $120 bottle for the price of the Discovery kit, $84.95! This is a savings of $35.05, plus, you won't have to pay separate shipping charges!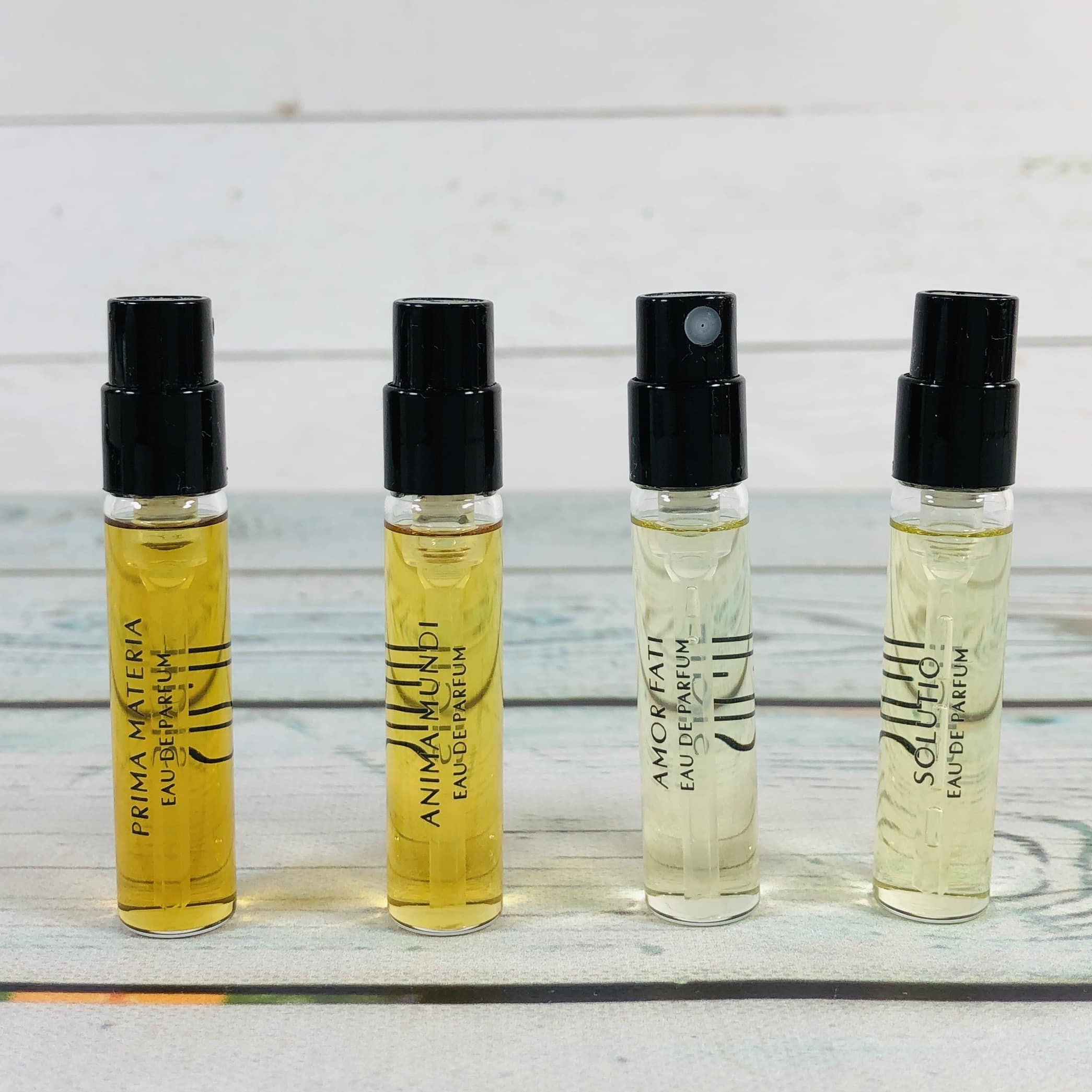 The idea is that you test/wear each fragrance a few times to discover which one is most appealing to your nose, then move on to Phase Two.
In Phase Two, you simply let Boxwalla know which scent was your favorite and they will mail you the full-sized bottle.
In the second Full Bottle Experience phase, you will receive the full bottle of your choice.

After receiving the samples, you will have up to 4 weeks to decide which perfume you would like to receive a full bottle of, after you sniff & test at your leisure.
I adore niche fragrance lines and was very excited to try this brand, which was new to me. It is supposed to be truly unisex, or rather, to appeal to both sides that reside within us all. Here is a little background info about Sigil Scent.
Sigil Scent was founded in 2015 by Patrick Kelly. Inspired by his love of nature (backpacking trips through the high desert, wild harvesting sage and chaparral, gardening with his grandmother), Patrick developed a line of premium fragrances that are long-wearing, nuanced, and 100% natural. Utilizing a combination of handmade tinctures, essential oils, and absolutes, Sigil perfumes are hand blended to evoke the natural world that surrounds us. The result is singular eau de parfums that unite the sensorial with the intangible.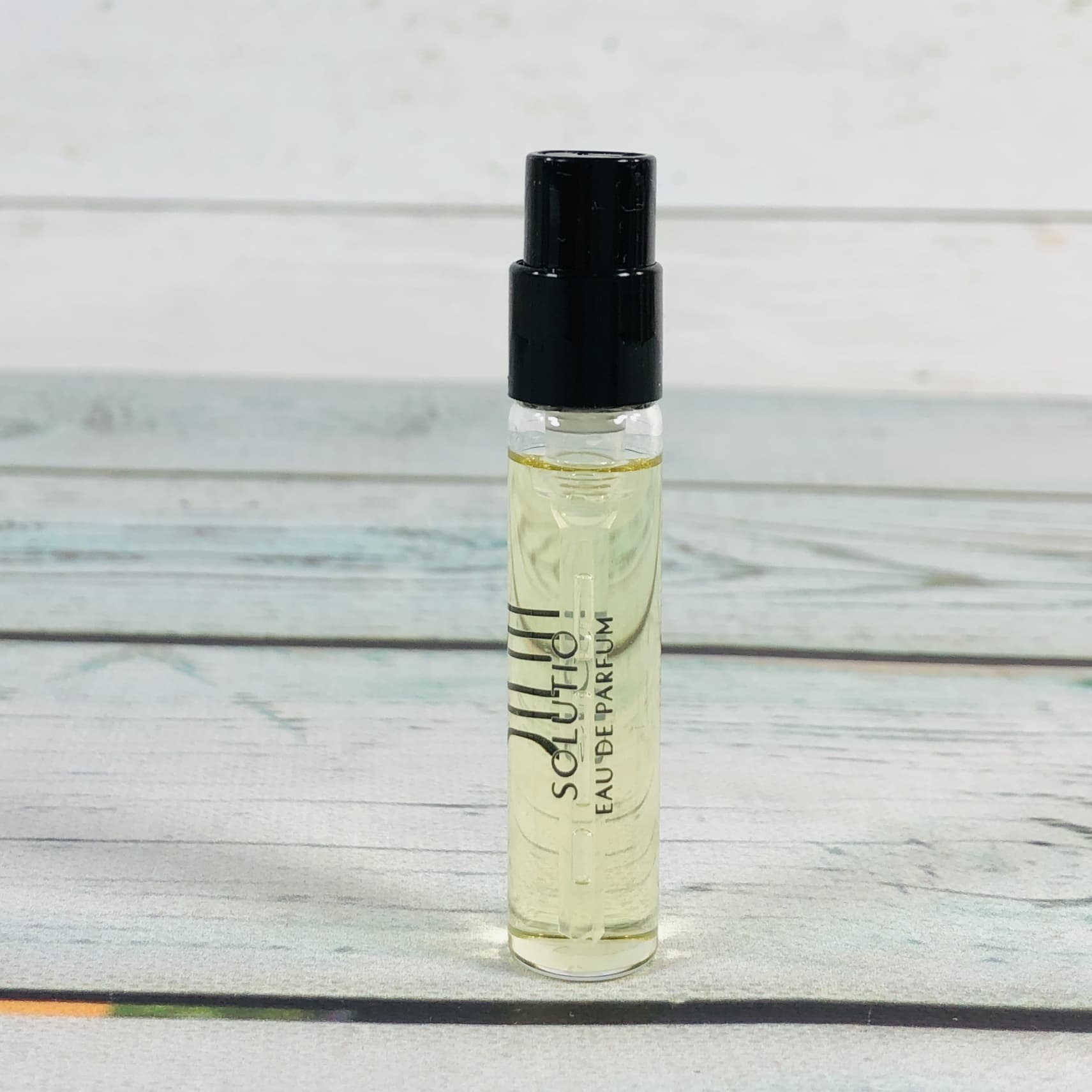 Solutio features notes of cypriol, labdanum, chaparral tincture, and cypress. It was a big burst of bright-green lime-centric Sprite, slightly sweet and bubbly. As it wore on the scent of lemon verbena was left on my arm. This was a lovely scent and a nice way to add pep to the morning or a warm afternoon.
Solutio is a green and buoyant blend of aromatic cypriol, bracing lime, and a handmade tincture of wild chaparral that releases the mind from the trappings of the ego. Like a hot coal hitting cool water, Solutio's effervescent spirit wraps the body and the mind in a cleansing vapor of scent.
Amor Fati features notes of oud, galbanum, palo santo, and opoponax. This scent is the hardest for me to describe, and also not my favorite of the bunch, probably because the notes are new to me. It's different, and both cool and warm at the same time. It also lasted the longest on my body, and after a while I ended up enjoying the scent but it was very strong at first.
Symbolizing both the ashes of death and the new growth of birth, Amor Fati combines smoky essences of oud and opoponax with the fresh and lively scents of bergamot and green pine needles. Resinous galbanum and palo santo ground the scent with hints of sacred incense—a reminder that the spirit remains, even as the cycle of life begins and ends.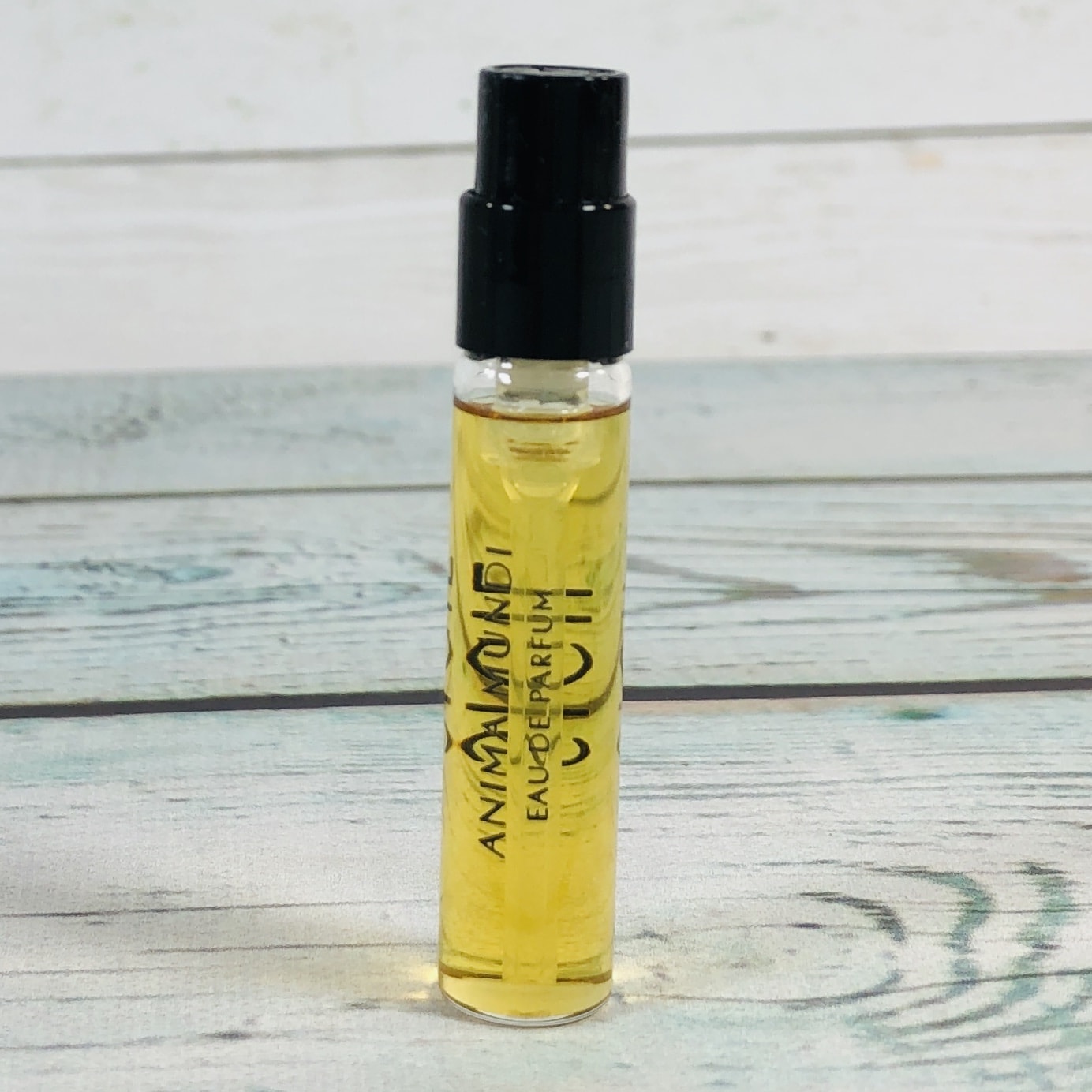 Anima Mundi features notes of immortelle, hinoki, rose, and jasmine. On my body it was smokey, herby, and woody. Although it says this is a floral, that isn't how I would classify it, it doesn't smell like a trip through the garden. I've smelled something similar before, either a natural face product or body oil. Maybe it's the immortelle?
Embodying the vital force of our universe, Anima Mundi balances masculine animus and feminine anima. Like petals floating through curls of smoke, luscious notes of rose and creamy jasmine mingle with spicy hinoki wood. The scent's intoxicating essence shifts from moment to moment, revealing fragrant notes of tuberose and the candied smokiness of pure immortelle.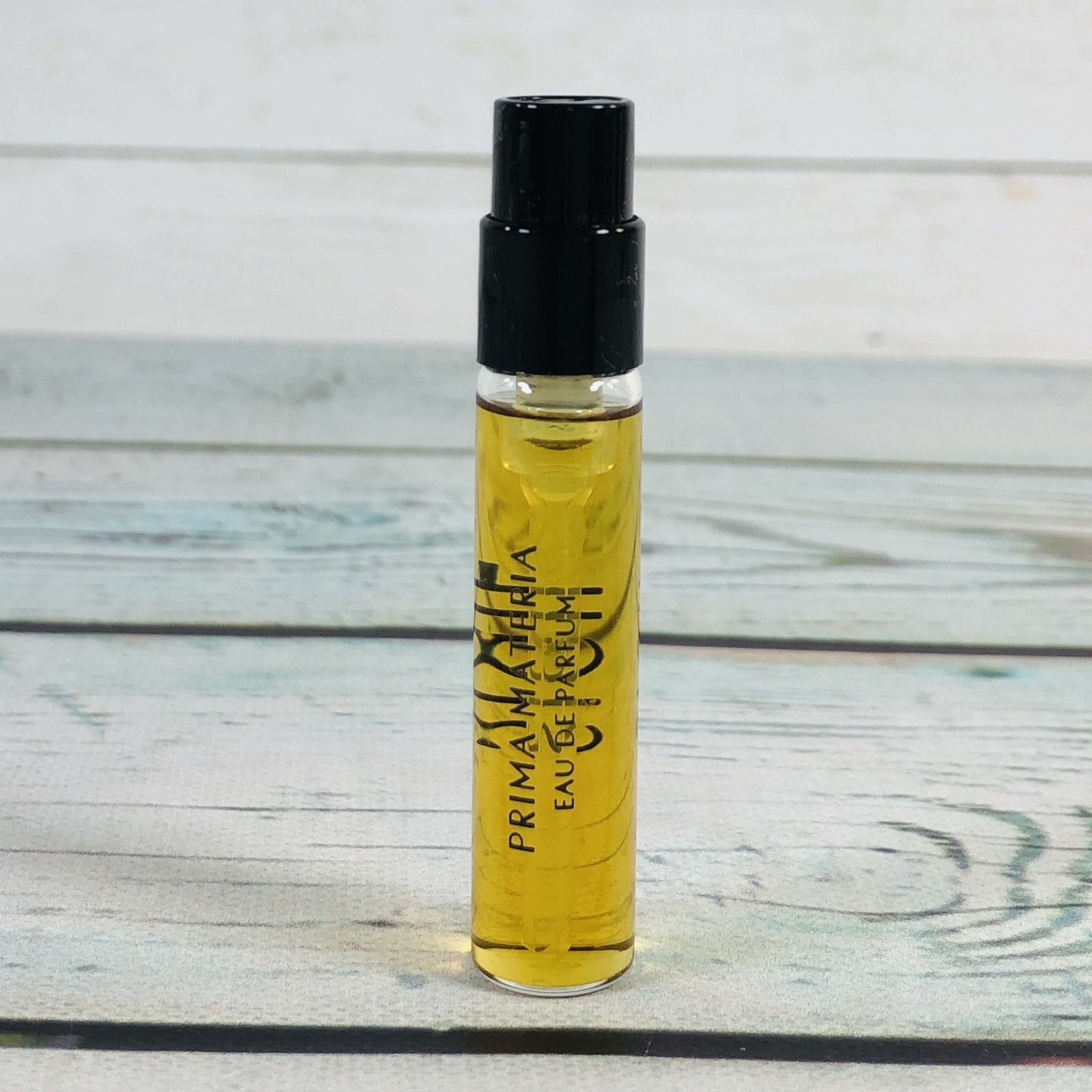 Prima Materia features notes of vetiver, oakmoss, neroli, and white sage. I caught a whiff of neroli and burning wood. The scent was warm and the base note was vetiver on my skin, which is quite distinctive to my nose. I believe this was my favorite of the scents, although it was really hard to choose!
Uniting the earthly and the heavenly, Prima Materia is a scent rooted in soot yet elevated by sparkling notes of fresh citrus. The creamy sweetness of neroli and the cleansing power of white sage embody celestial matter, while oakmoss and woody vetiver signify the spirit of the soil. As it melts into the skin, the alchemy of the scent begins—revealing a golden, resinous heart of pure amber.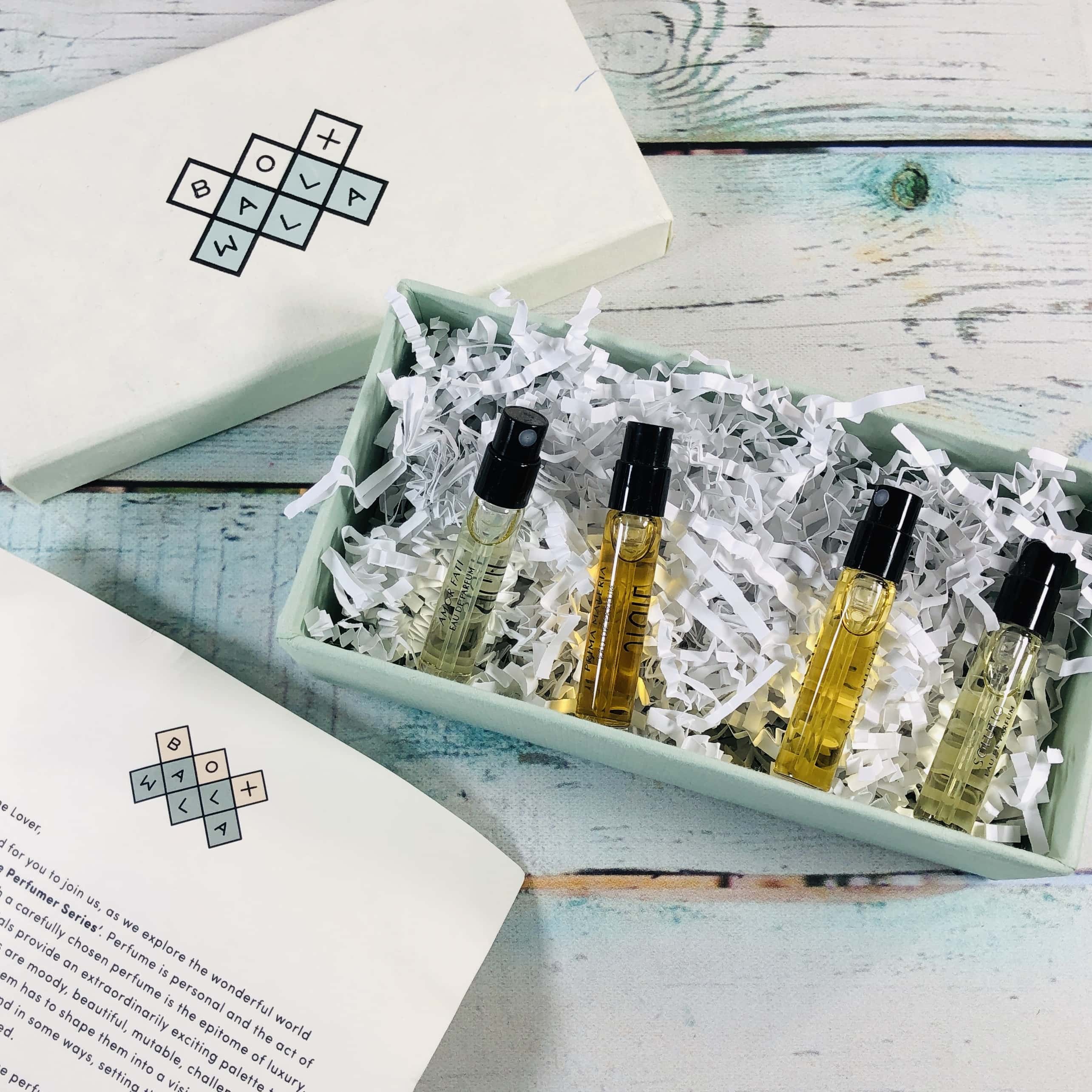 The scent nerd in me adored the experience of the Boxwalla Perfumer Box! I was very excited to test the fragrances from Sigil Scent and was impressed with how lovely they were, and I think they are probably the most unisex scents I have ever tried. Most of the scents were warm with a hint of wood or smoke but nothing screamed "aftershave" or "rose garden". Each scent evolved over the course of about 30 minutes and while they didn't project very far or last extremely long, they faded nicely and stayed on my inner arm for my own personal enjoyment. The perfume ingredients are simply organic cane alcohol and fragrance, specifically organic and wildcrafted essential oils, absolutes, co2 extracts, and tinctures. Don't forget to email Boxwalla within 4 weeks to tell them which full-sized bottle you want them to send for Phase Two!
Are you getting the Boxwalla Perfumer Box?