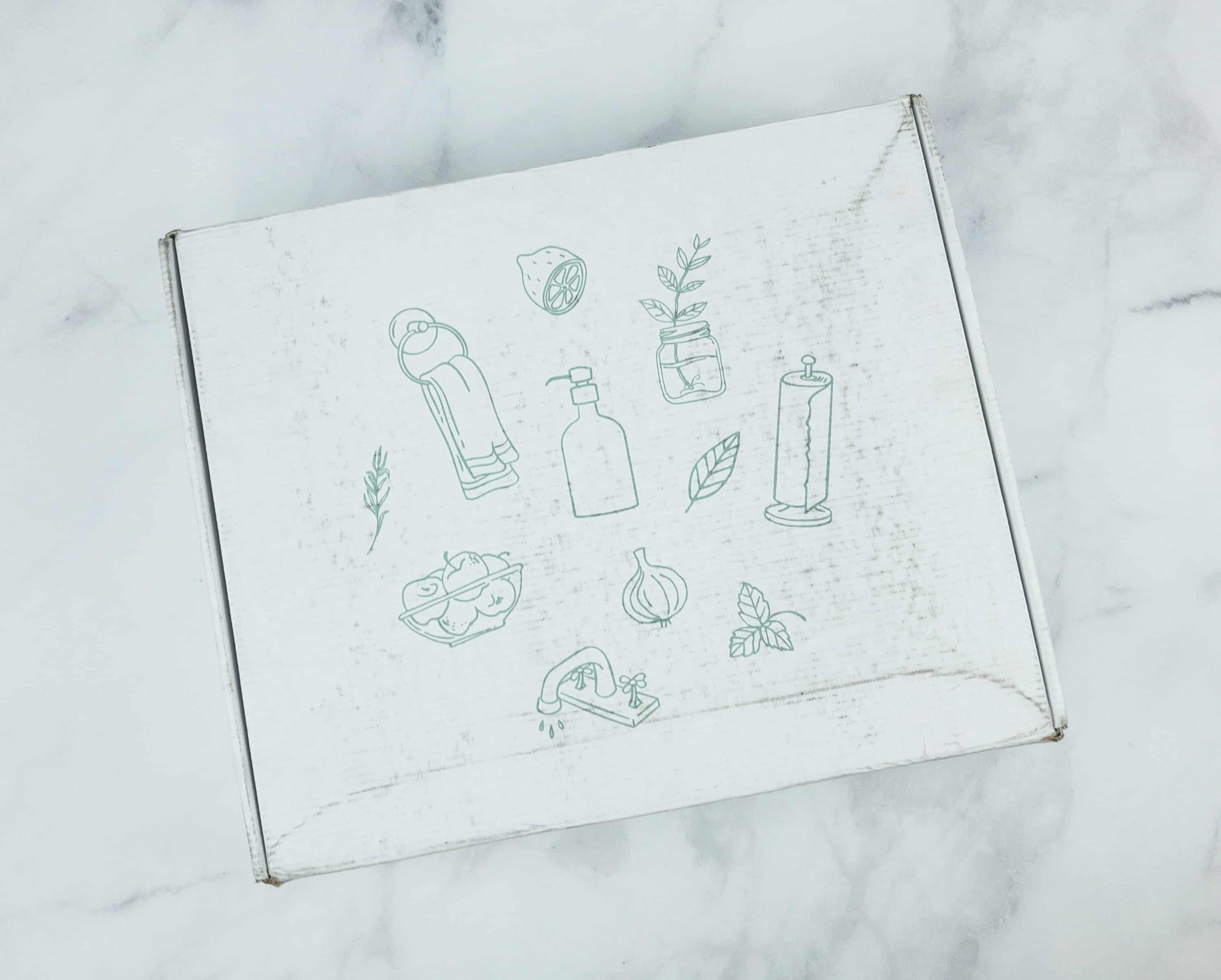 Grove Collaborative  is an eco-friendly subscription service that allows you to quickly pick your favorite high-quality cleaning and household supplies and set up a customized schedule for their shipment to you. Grove Collaborative carries a variety of brands including Method, Mrs. Meyers, Seventh Generation, Preserve, and more, including their own house brand.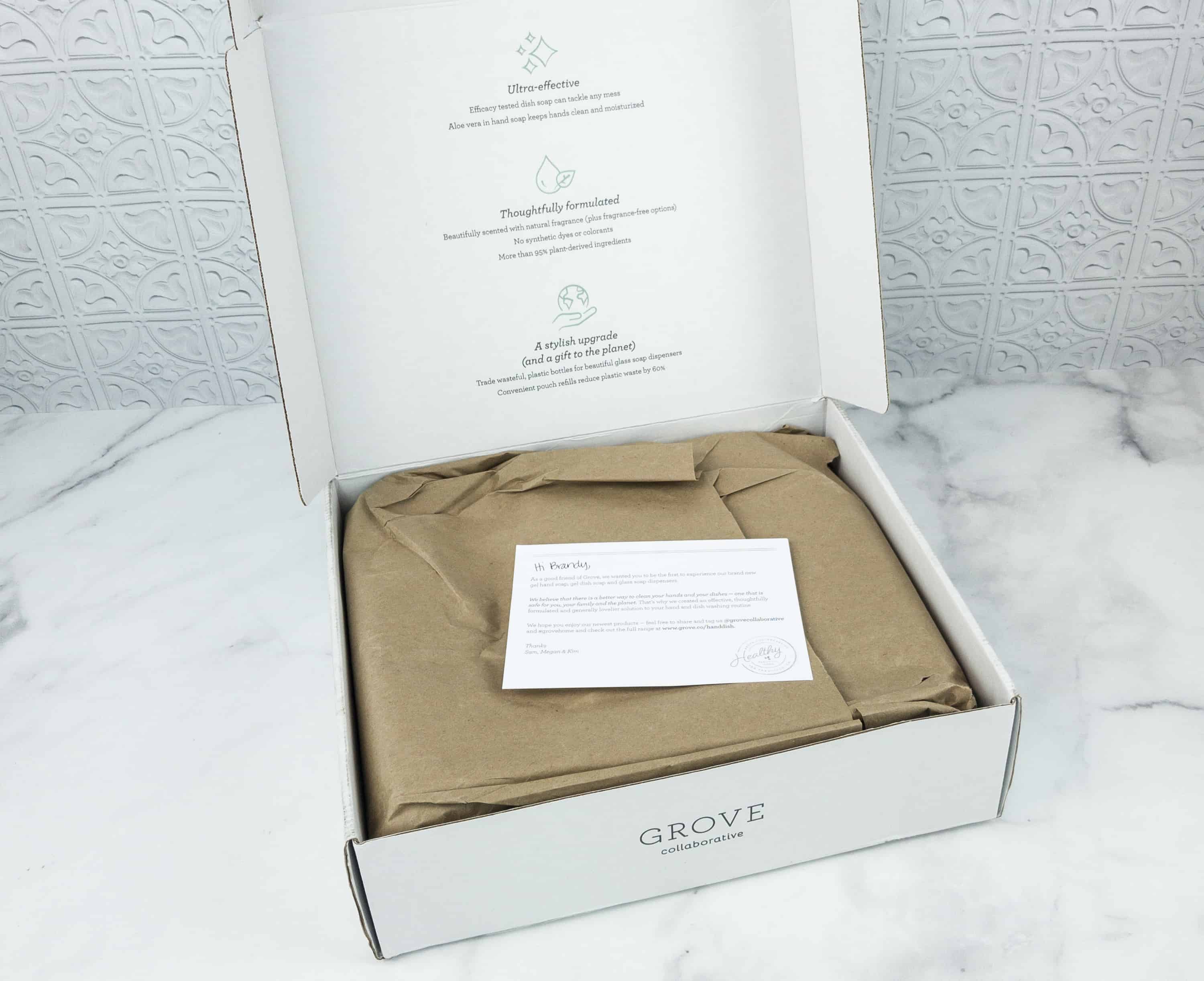 There's a quick quiz so they can create a suggested bundle for you when you sign up, but you can customize it as much as you'd like. See our complete Grove Collaborative/ePantry walkthrough here! Grove calculates exactly how much you need.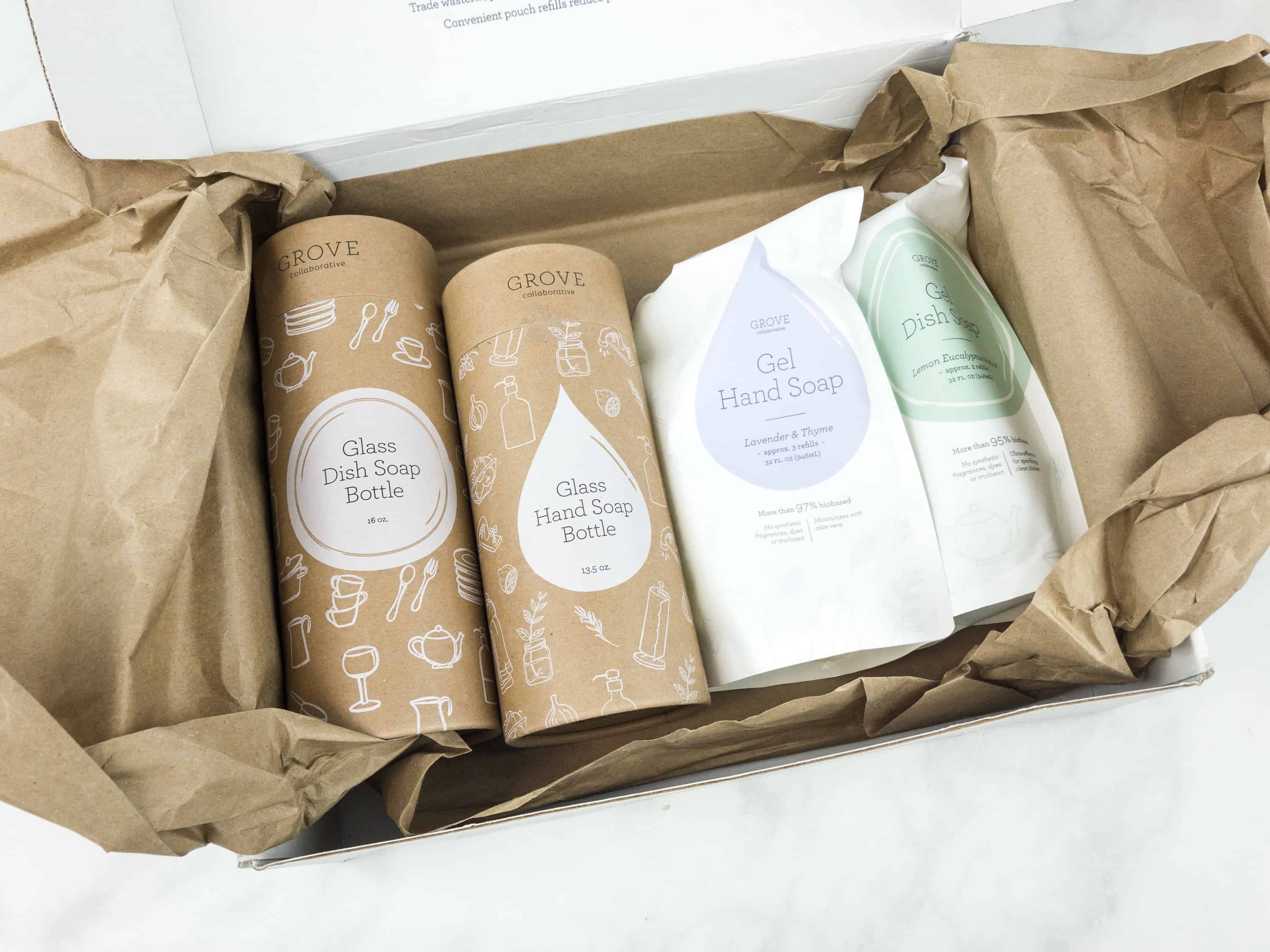 You'll pay the cost of the products (you can see the details on every product on the Grove Collaborative site), plus $2.99 shipping.
DEAL: Free Mrs. Meyer's hand soap & $10 credit! USE THIS LINK to get the deal.
When you sign up for Grove right now, you'll get a Grove Hand Soap Set (part of which is shown here) FREE with your first order of $20. Just use this link! OR get a Free Seedling Set with your first order of $20.
EXISTING Subscribers: Get a free Grove walnut scrubber sponges – just use this link! (Tip – check and make sure you aren't logged in, then click the link, then log in)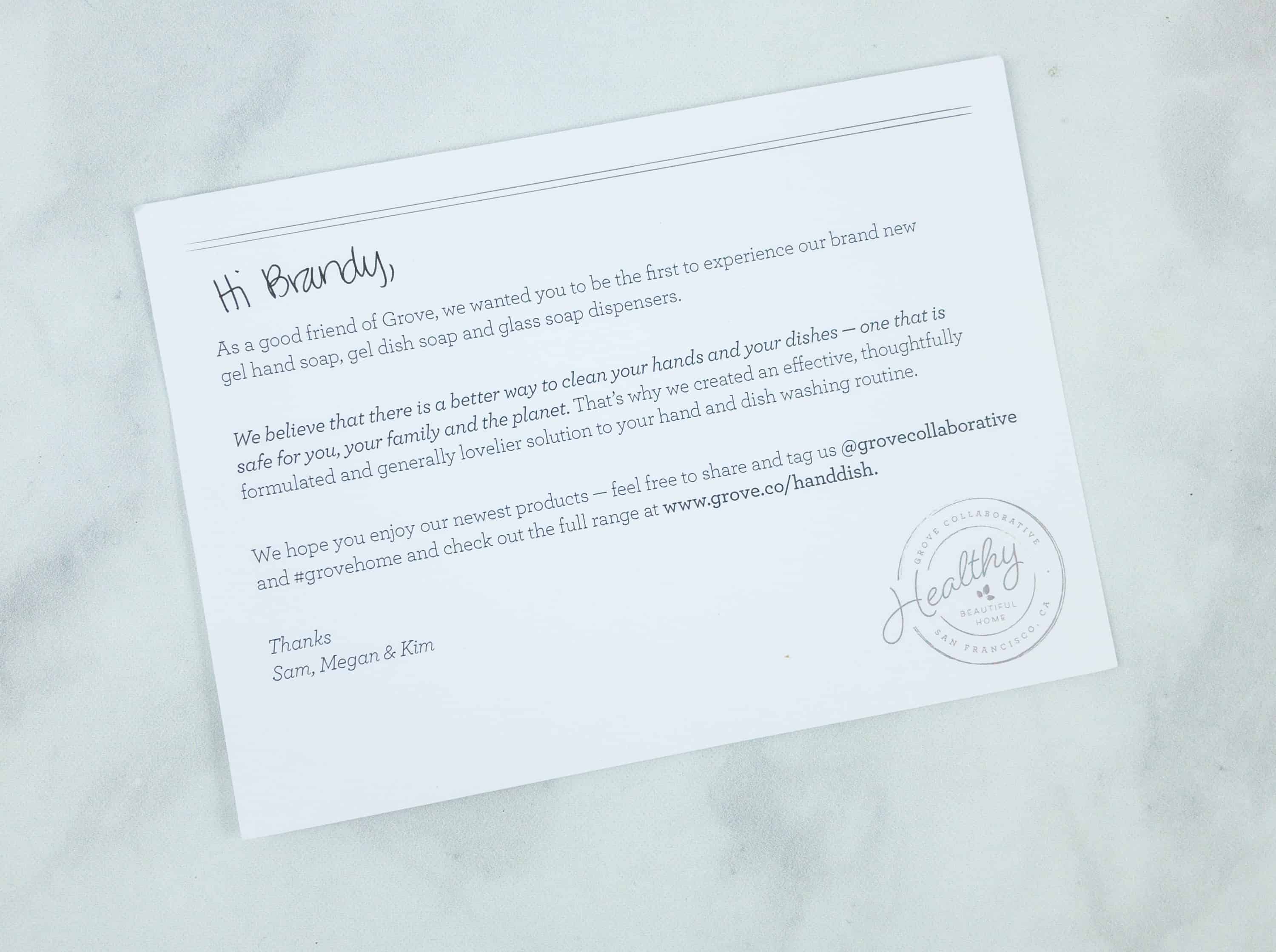 Grove sent along some of their latest products for us to check out. We can achieve a clean household while taking care of our skin by using these gentle soaps for hand and dishes. They also sent us environmentally friendly glass dispensers.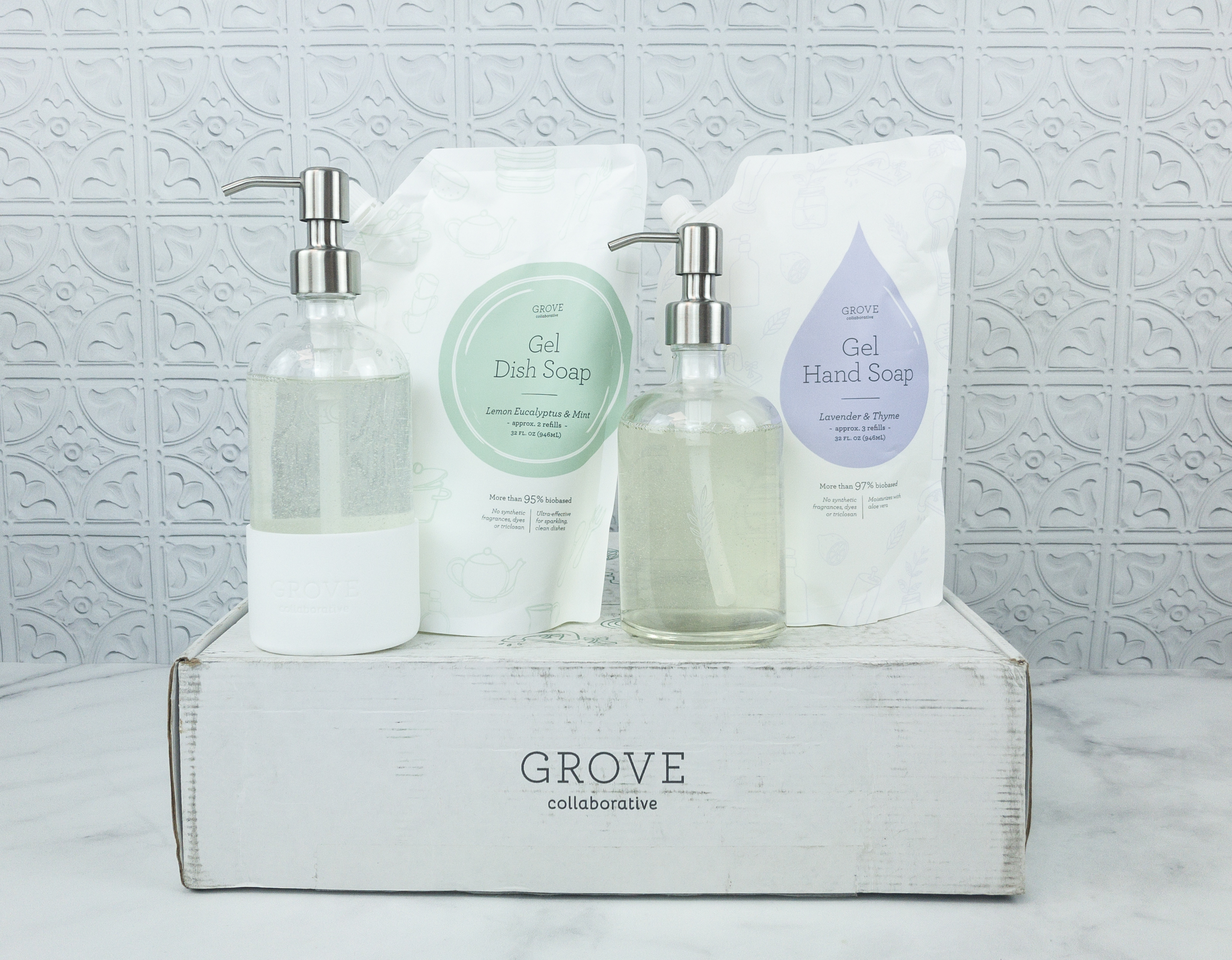 Everything in my box!
Grove Gel Dish Soap in Lemon Eucalyptus and Mint ($5.95) It makes luxurious suds which immediately and effortlessly cleans dishes. The formula has a natural eucalyptus and mint scent without synthetic fragrance, dyes or triclosan. It is cruelty-free and 95% biobased which is good for the planet.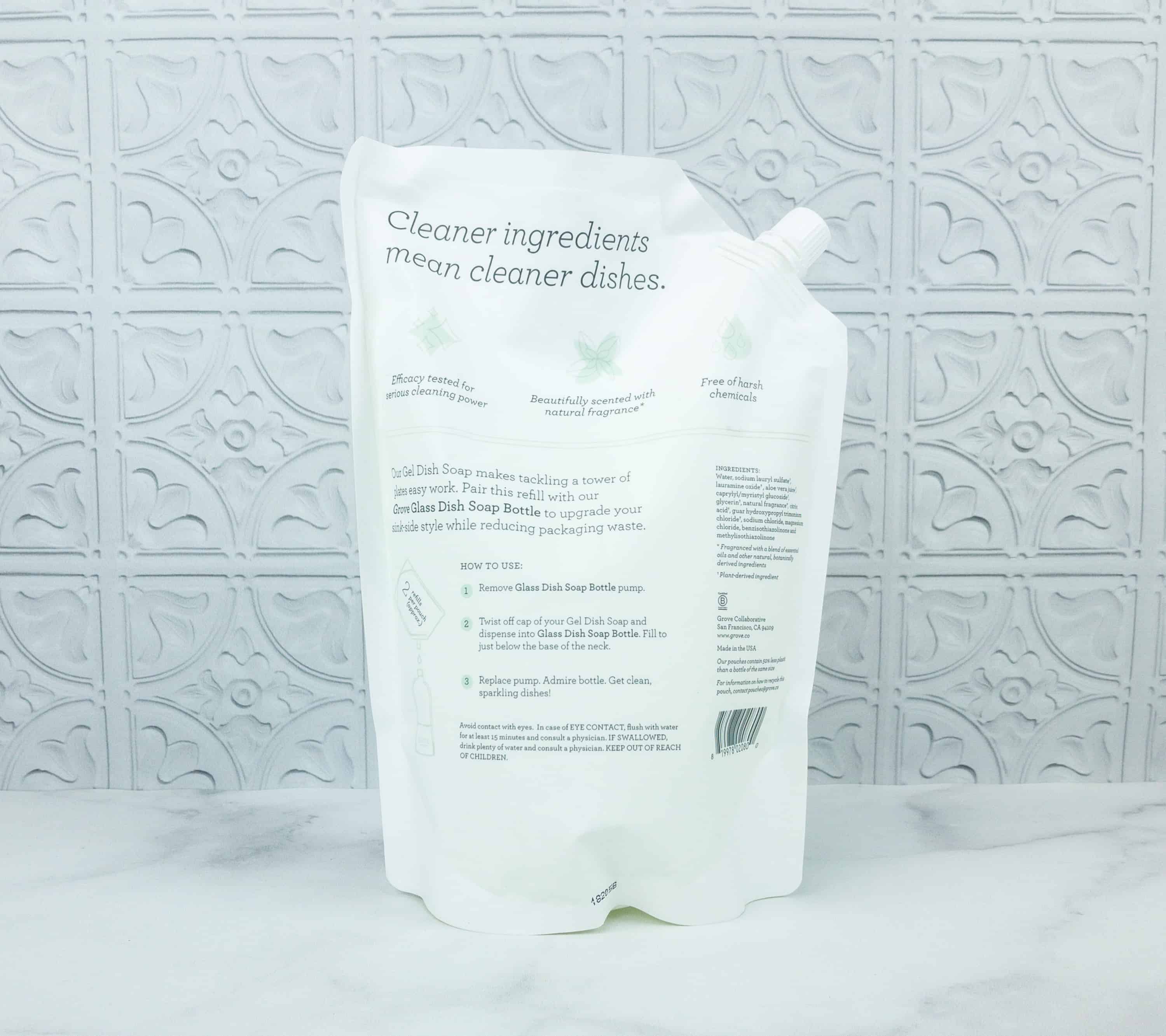 People with sensitive skin can greatly benefit as it is free from harsh chemicals. The pouch twisting cap closure so it is refillable and reusable. It helps the environment every way. A little goes a long way so this 2 refills worth of soap can be used for a long time.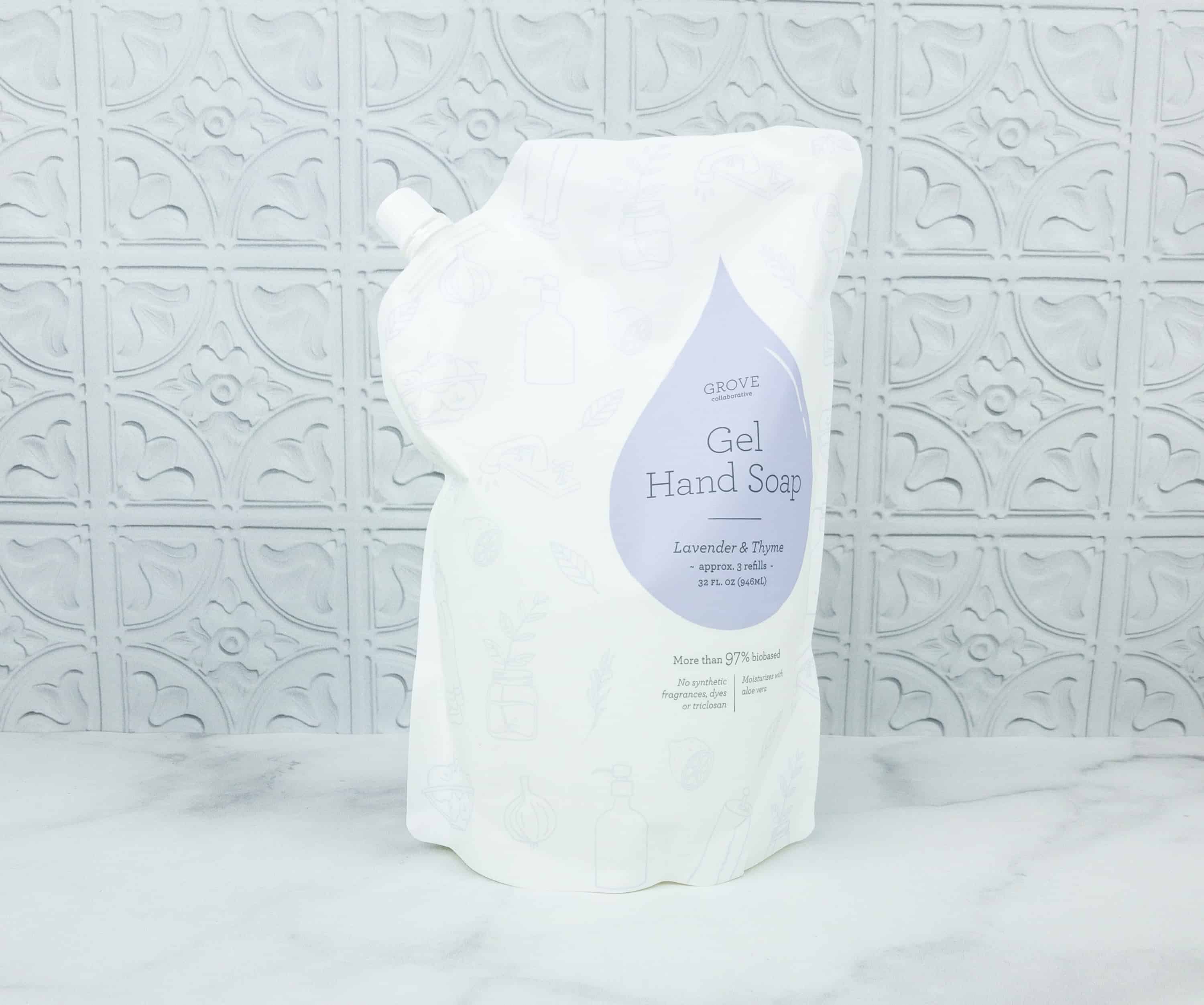 Grove Gel Hand Soap in Lavender & Thyme ($5.95) It's 97% bio-based, good for the planet and for your family. There is a natural fragrance of lavender and thyme which relaxes the senses. There are no parabens and dyes or triclosan. It is cruelty-free and dermatologist tested so it is good for sensitive skin.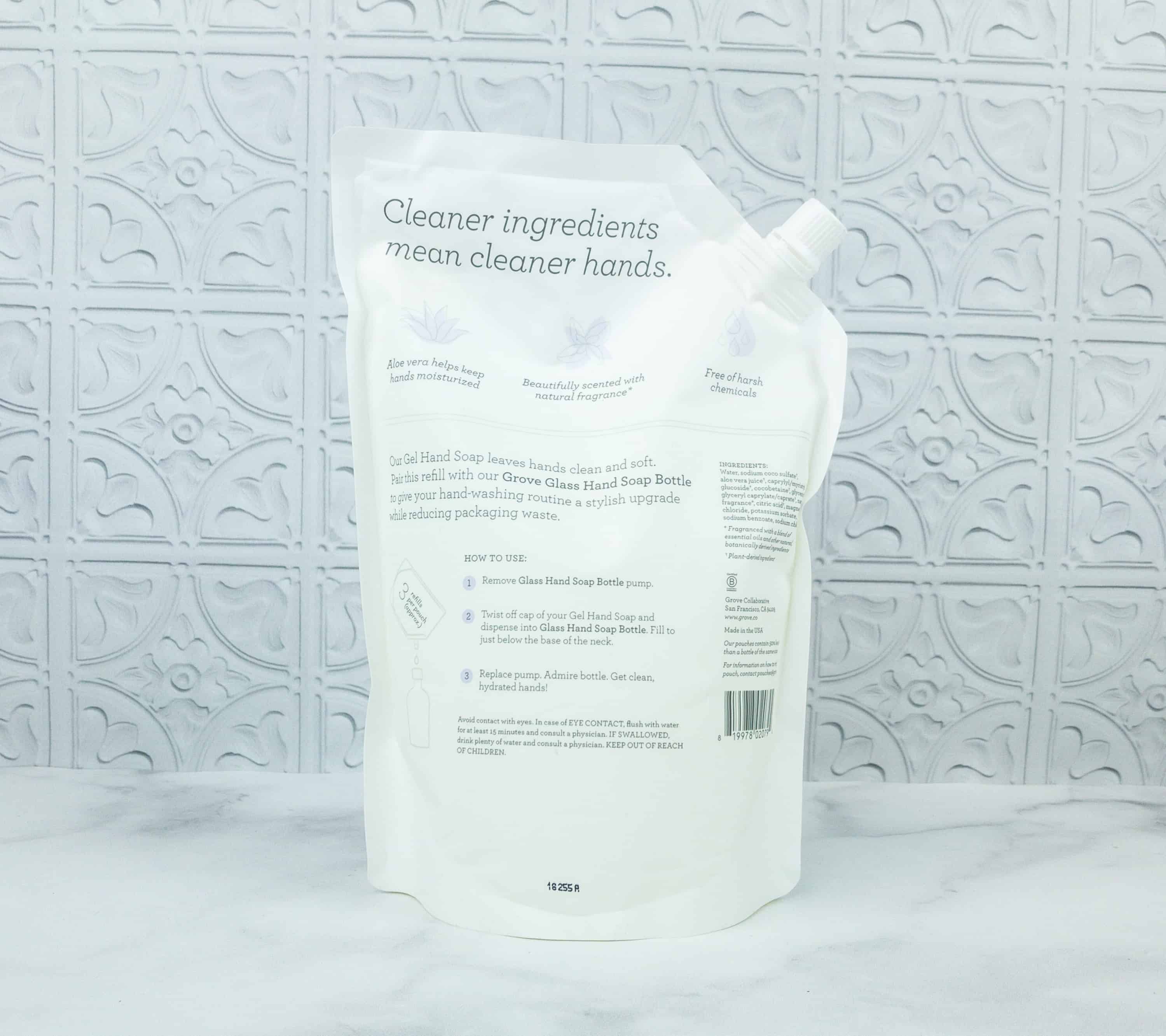 It is a natural way to clean hands while moisturizing and hydrating it at the same time. This pouch is good for 3 refills. We have a child that's big on washing his hands (yeah!) but very sensitive to hand soap, and we had zero issues with this! I was impressed!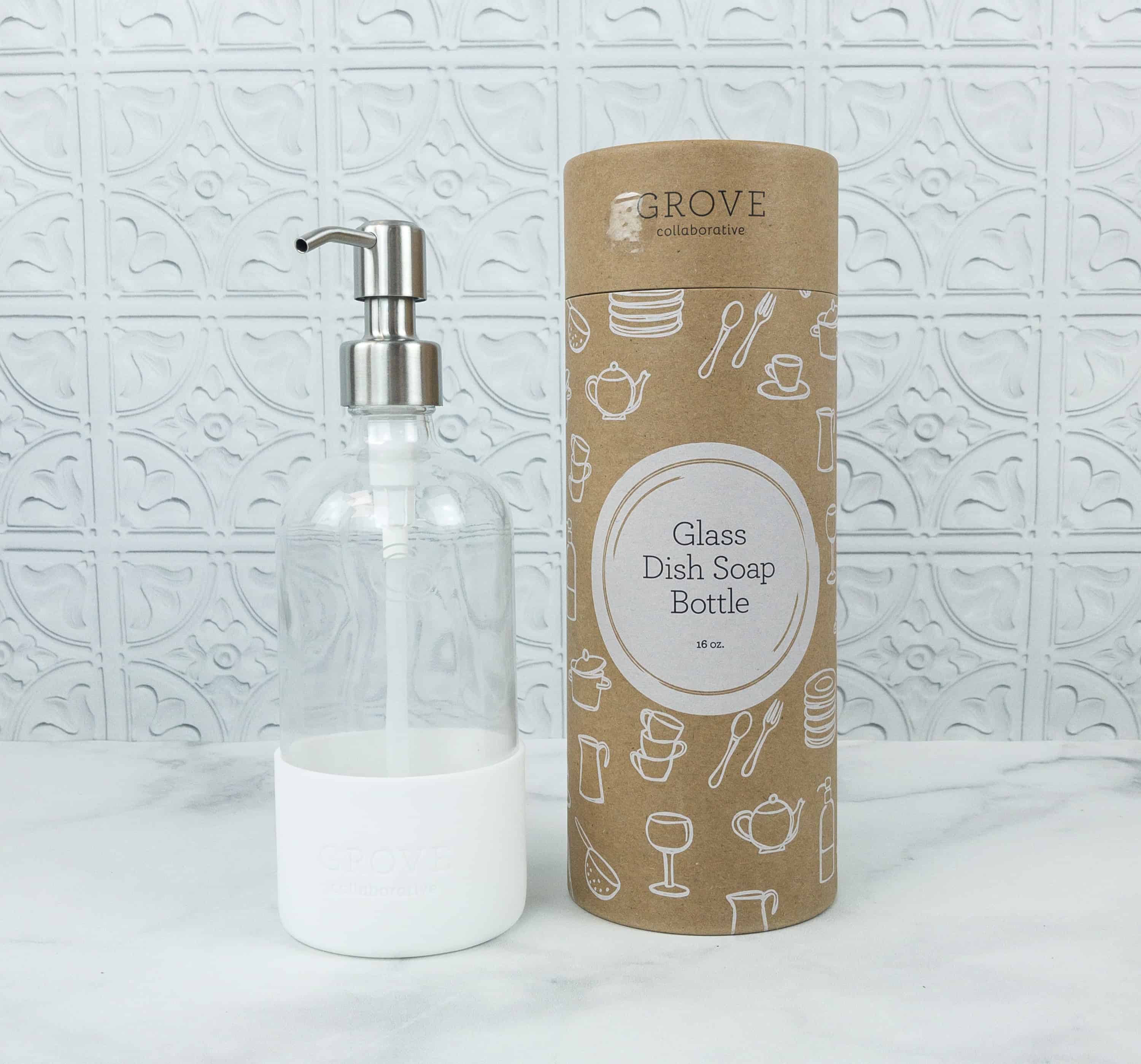 Grove Collaborative Dish Soap Bottle ($12.95) It's BPA free, refillable, reusable and chic. It's also very convenient to use because of the pump. What more can you ask for?

It also has a white sleeve at the bottom that added to the style and to prevent it from slipping.

Grove Collaborative Hand Soap Bottle ($10.95) This is smaller than the dish soap bottle and it doesn't have a bottom sleeve but it has the same effective brushed metal pump for easy use. It's sulfate free and recyclable.

It has a subtle leaf design which I think you can see once you put the soap in it. It is made up of sturdy refillable glass that makes it perfect for liquid soaps.
We tend to ignore the usual things we use. Grove's new soap products can do wonders on our skin, our dishes, and the environment. It just made our lives easier and healthier for our family. I love the refreshing and calm scents of both soaps and pairing them by giving us glass bottles is a thoughtful idea and helps us use less. They are recyclable and a huge upgrade from using plastics. Even the reusable packaging of the soaps with twisting caps are 60% less plastic. The products are both efficient in cleaning and a little goes a long way, plus the healthy and good effects it brings to us and our environment are priceless.
FYI, they also have a super pretty limited edition Pomegranate set! Perfect for the guest bathroom for the holidays!
Have you tried any Grove Collaborative products?
Visit Grove Collaborative to check it out and personalize your own subscription!