Each Pantry Boy box contains three delicious dinners for two or four people. Everything is chopped, measured, and marinated — in short, ready to cook when delivered. Their recipes are designed according to what's in season, while the ingredients are locally sourced.
FYI – Pantry Boy shut down about 2 months ago without warning. Find more meal subscription boxes in the directory here.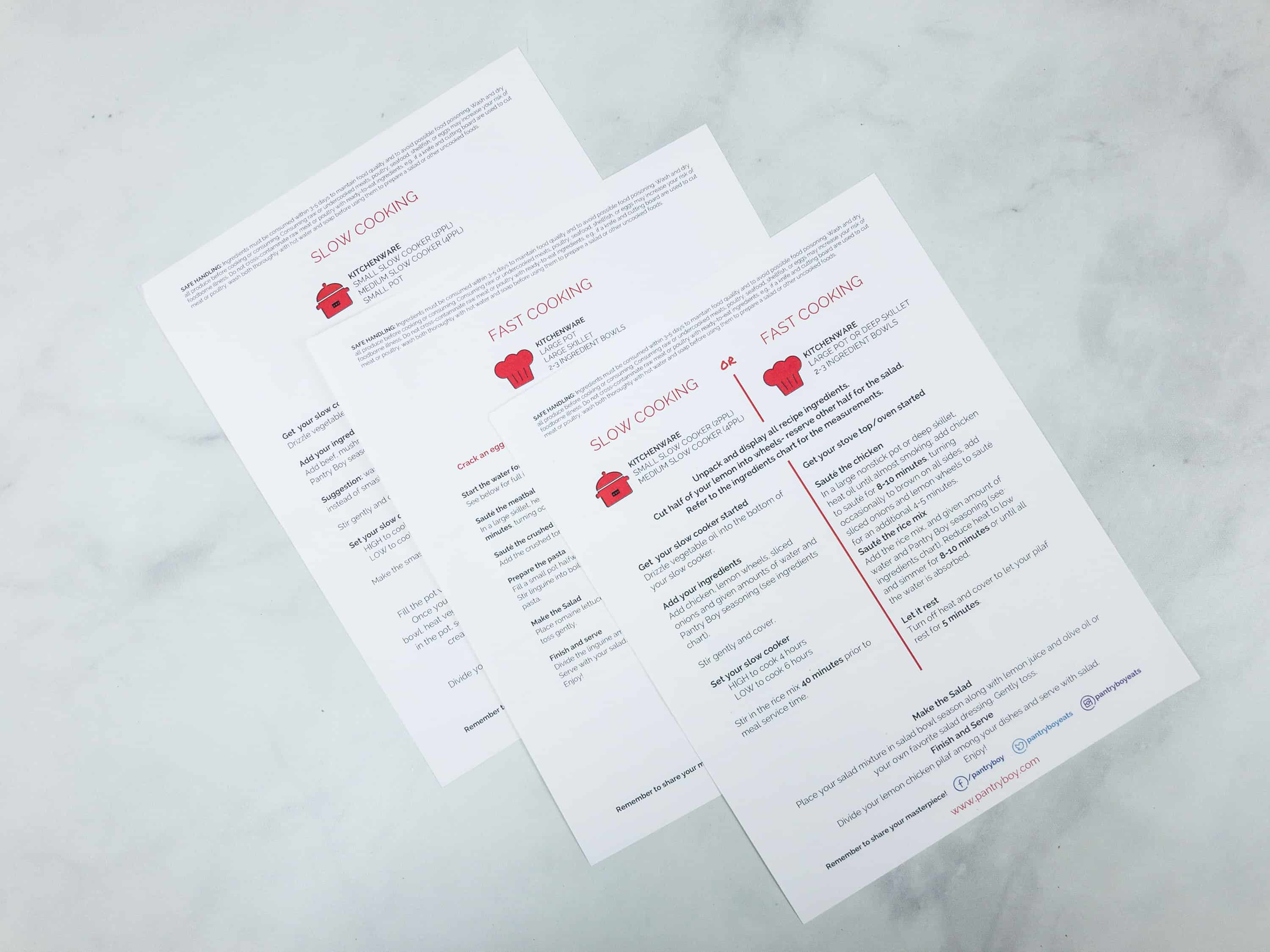 What sets Pantry Boy apart from most of the other meal kit subscription boxes is the focus on slow-cooker preparation. Nearly every ingredient is pre-cut and ready to toss into a cooker for 4-6 hours. It is extremely hands-off relative to other kits.
They also encourage the subscribers to be creative with their cooking, suggesting alternate preparation methods, add-ins, and little tweaks that you can do to customize your meals.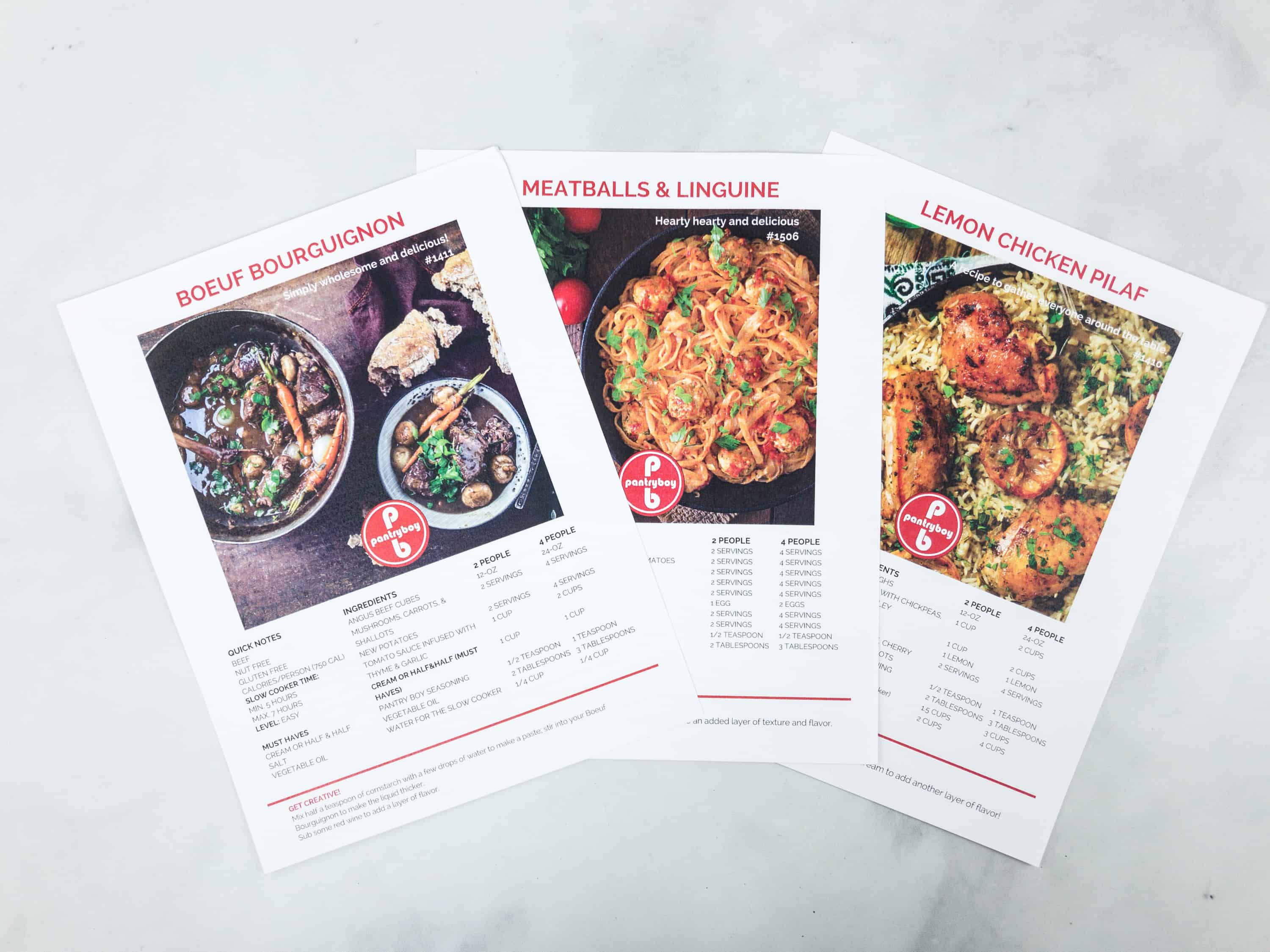 There are three recipes for this week: Boeuf Bourguignon, Meatballs & Lenguine, Lemon Chicken Pilaf. They all look good!
The recipe card lists instructions on how to cook the dishes, and most recipes even let you choose between slow cooking or fast cooking methods. Even the slow-cooker method gives you some flexibility on temperature and timing of cooking — this is a kit that tries to be very convenient and flexible.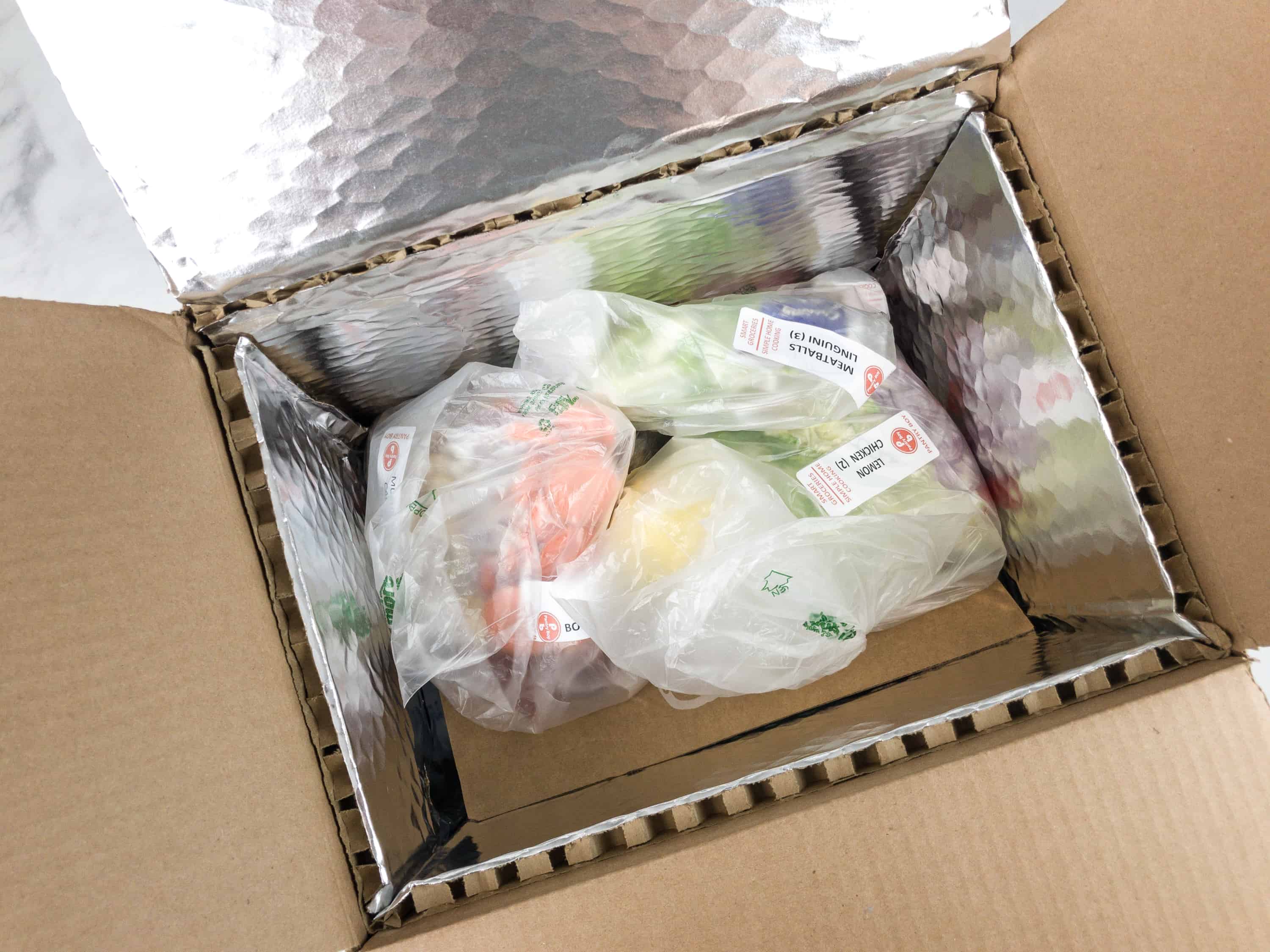 The ingredients don't contain preservatives, so the insulated shipping container is very important. Everything arrives bagged by the recipe.
They included a bunch of ice packs in the box to keep the ingredients cold, with the meat kept right in with the ice packs. Many of the recipes rely on ingredients that can be frozen for later use if you don't want to make them within the week. Most veggies freeze pretty well (but not potatoes and onions).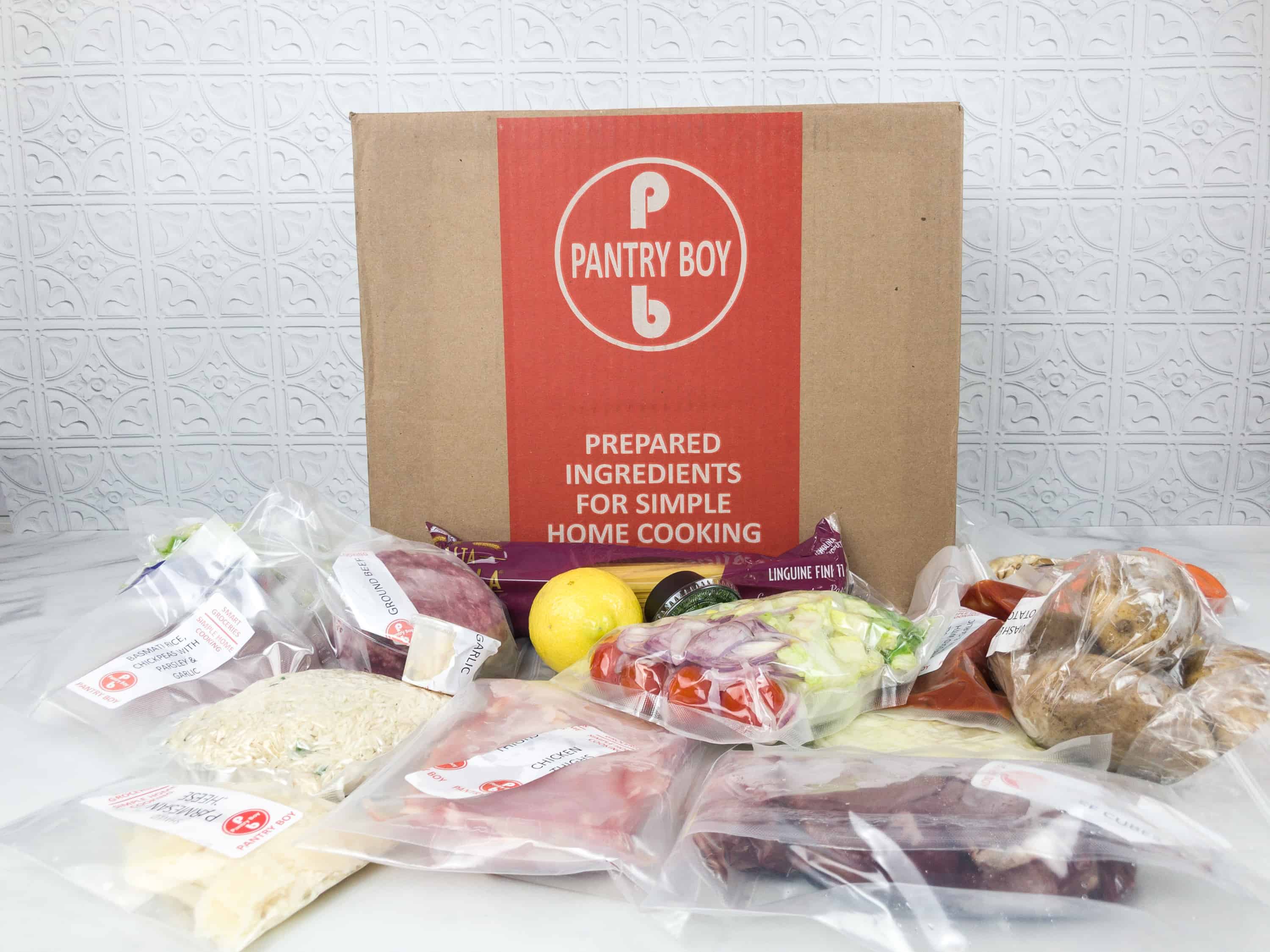 Everything in my box!
All of the pre-prep, like marinating, chopping, and slicing is already done for you. Ingredients are pre-portioned, so you can't really go wrong. You just have to open the neat packaging and cook. The only things you need to measure are water, oil, salt and pepper, and Pantry Boy Seasoning (paprika, cumin, black pepper, and salt) – a bottle of which comes in your first box!
All the items are packed separately separately in plastic bags.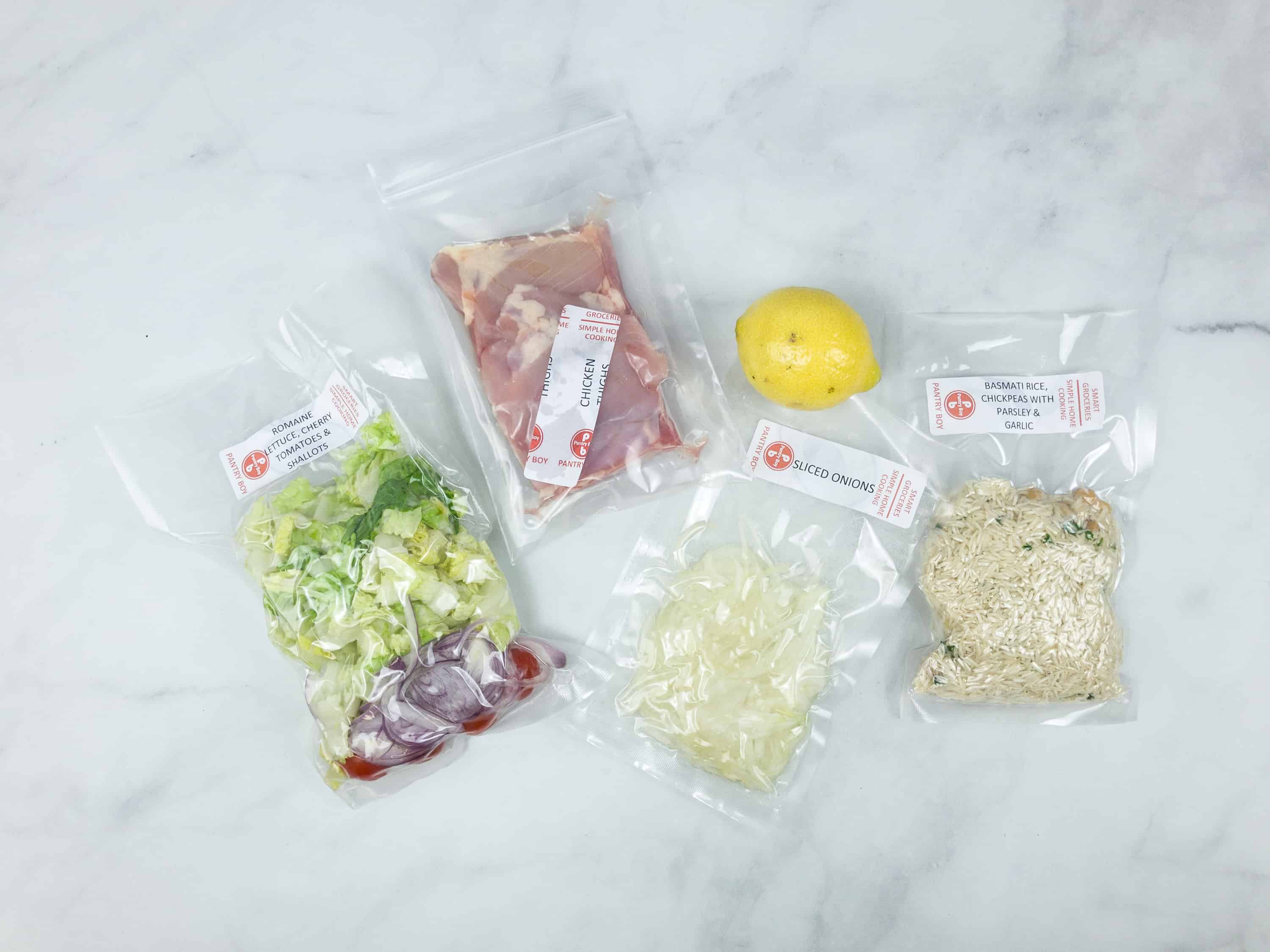 Lemon Chicken Pilaf. 50 minutes, Level 2, 520 calories per serving.
Pantry Boy's Chicken Pilaf is a Greek-inspired dish. It's a complete meal with rice and chicken, plus it's served with a side salad, too. I loved the way the onions and chick peas melded into the rice, making it both interesting and familiar. This dish could be made either quickly or slow. We slow-cooked the main dish.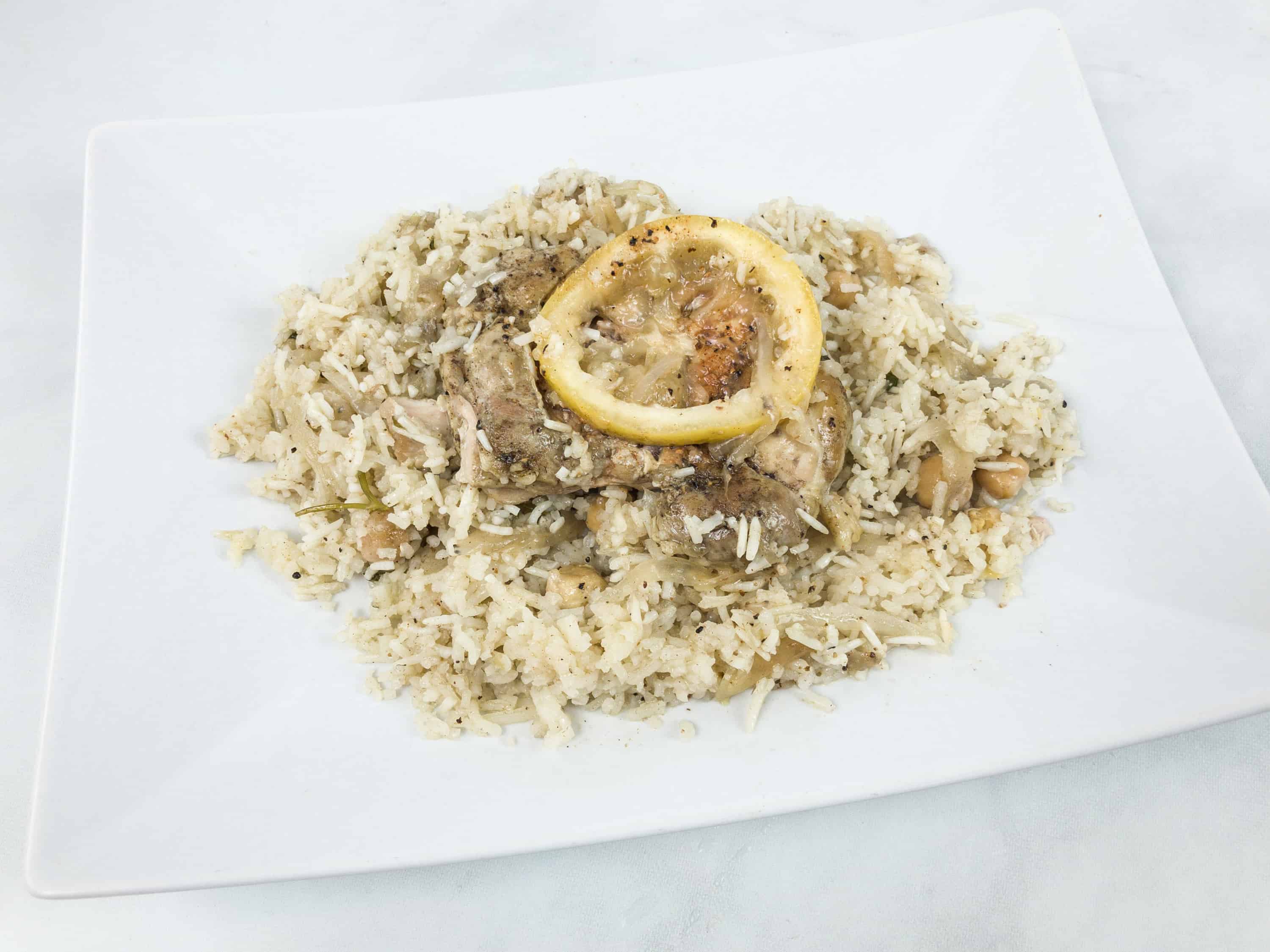 Lemon adds a nice citrusy twist to chicken, making the whole dish fresh and flavorful. The lemon is very potent, though, and the cooked sections make for a very tart mouthful when they find their way onto your fork.
The vegetable salad consists of romaine lettuce, cherry tomatoes, and shallots. All you need is to toss it with some lemon juice and olive oil, then it's good to go.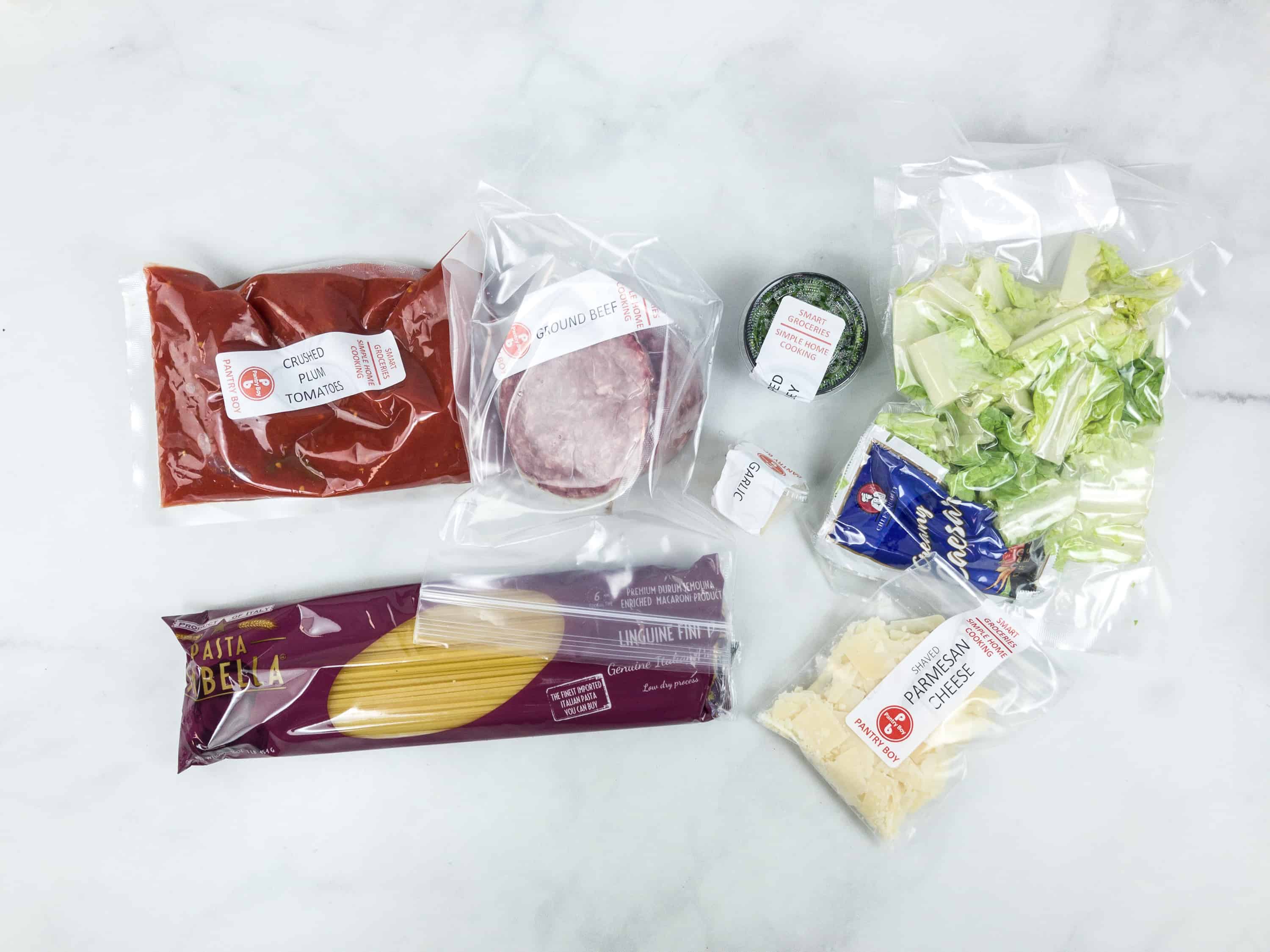 Meatballs & Linguine. 50 minutes, Level 1, 659 calories per serving.
This Italian/American classic relies on simple beef meatballs, with garlic and fresh parsley providing a kick of flavor. This dish doesn't take long, so the recipe had just a quick version, no slow-cooker needed!
I'm quite pleased with how ours ended up. It's so meaty and saucy. We topped it with the provided Parmesan cheese for the final touch. This is definitely a perfect midweek treat — like restaurant dining in the comfort of home.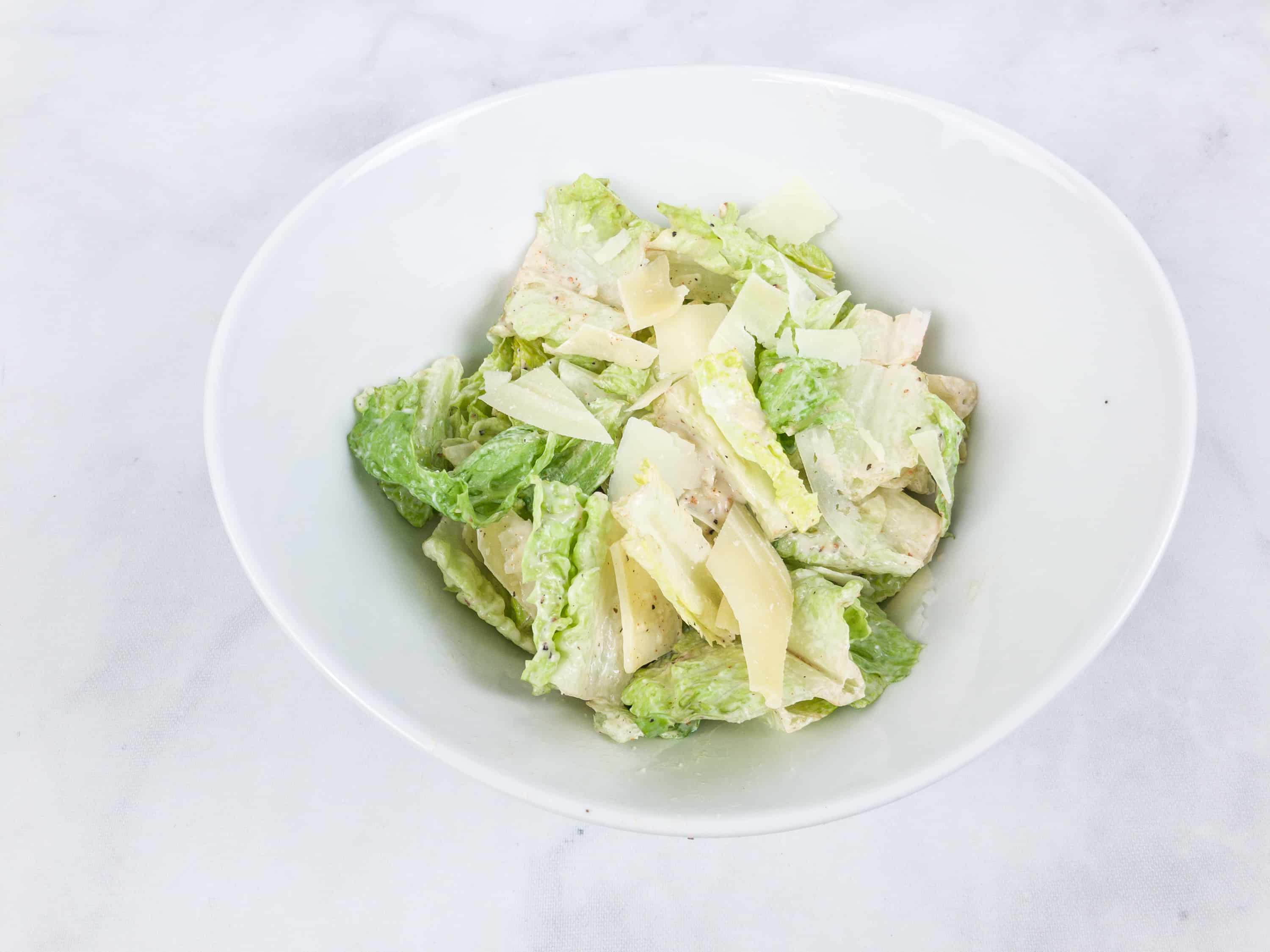 This Caesar salad was served together with the pasta. The greens were fresh and a still crisp, while the provided dressing was really tasty! Shave Parmesan really classes it up while keeping it simple.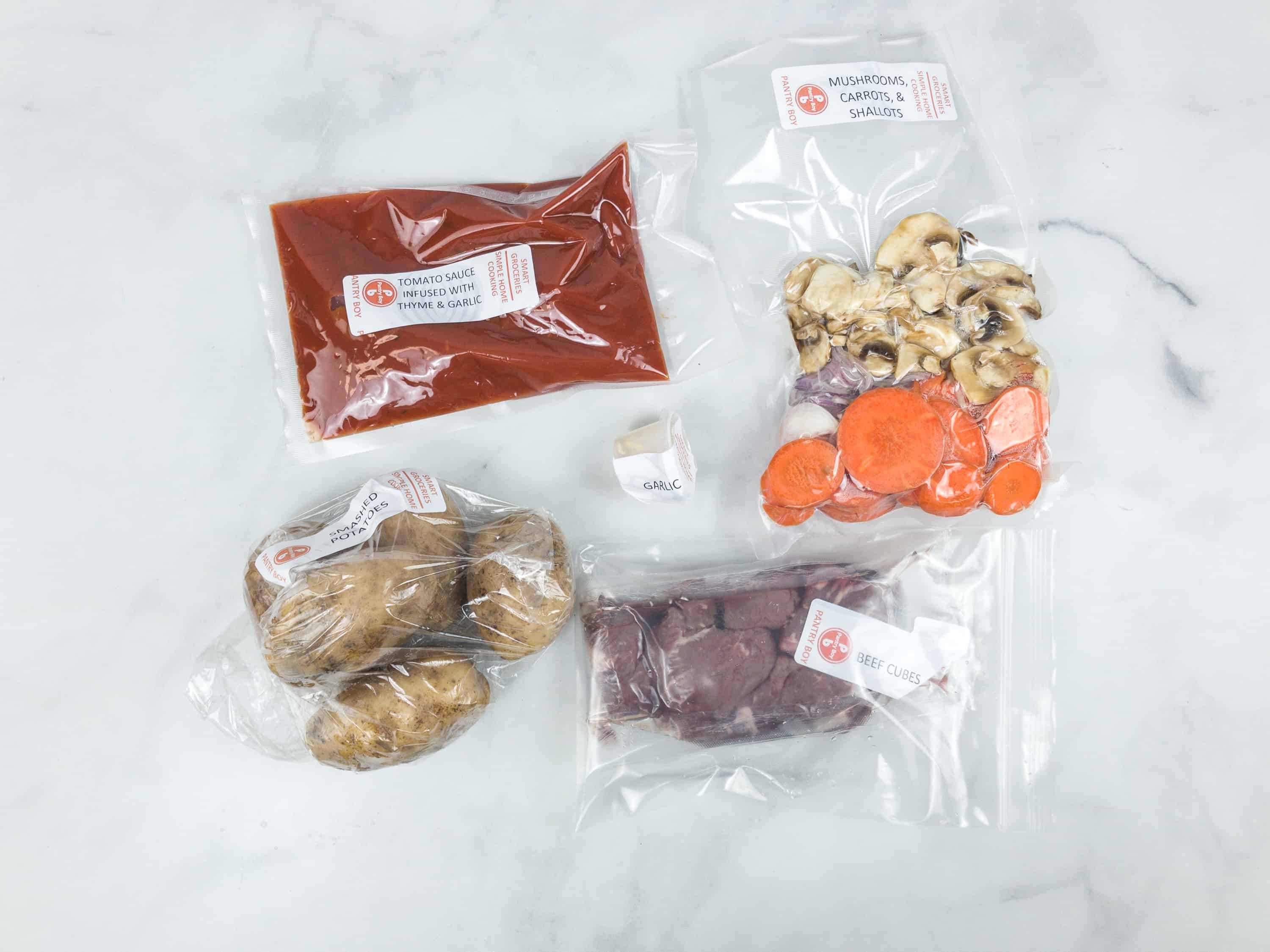 Boeuf Bourguignon. 2-3 hours, Level 3, 433 calories per serving.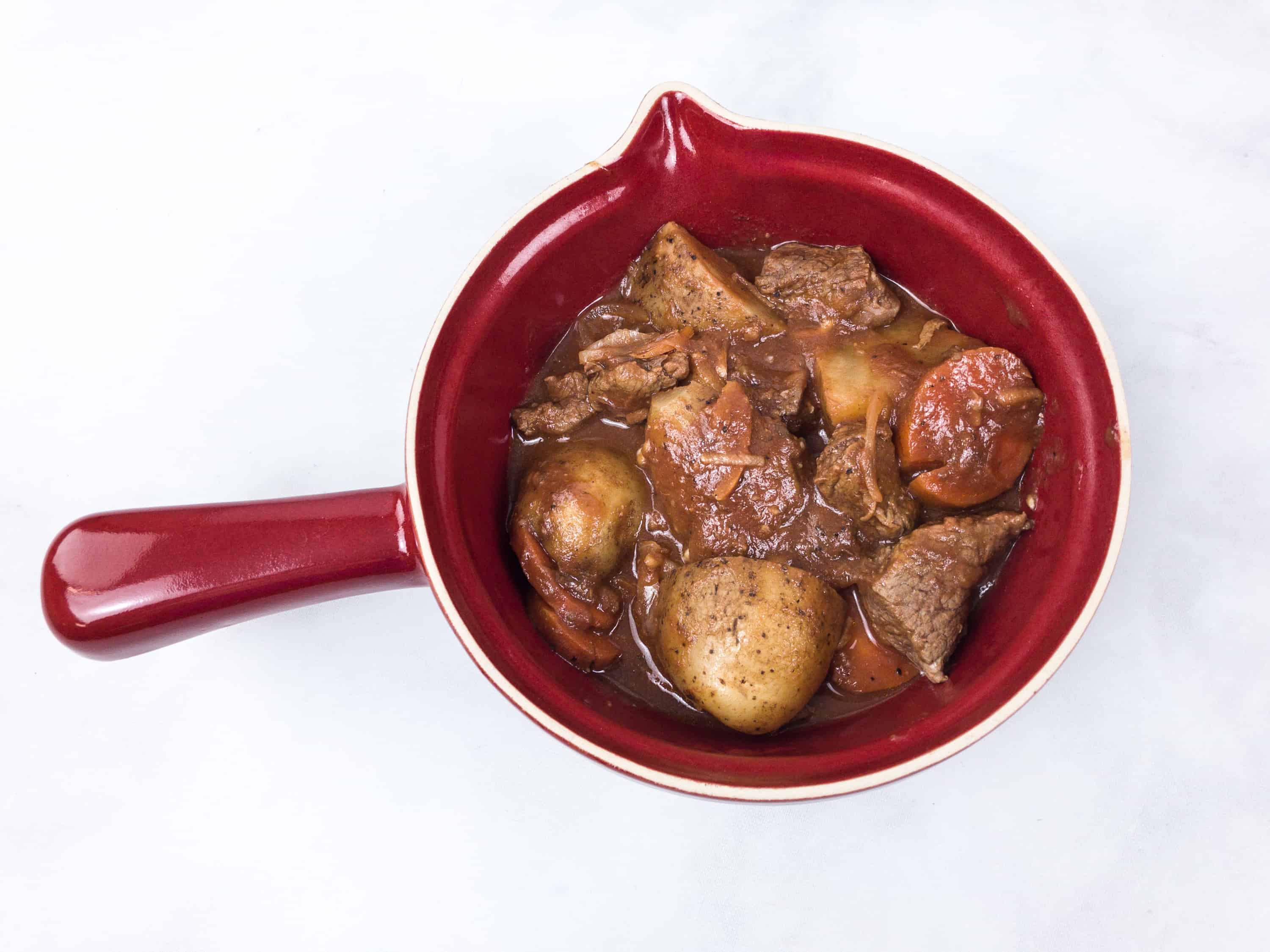 Boeuf Bourguignon is a well-known French recipe, which is sometimes called Beef Burgundy. It's a beef stew cooked with beef cubes, onions, garlic, potato, mushroom, shallots, carrots, and tomato sauce infused with thyme and garlic.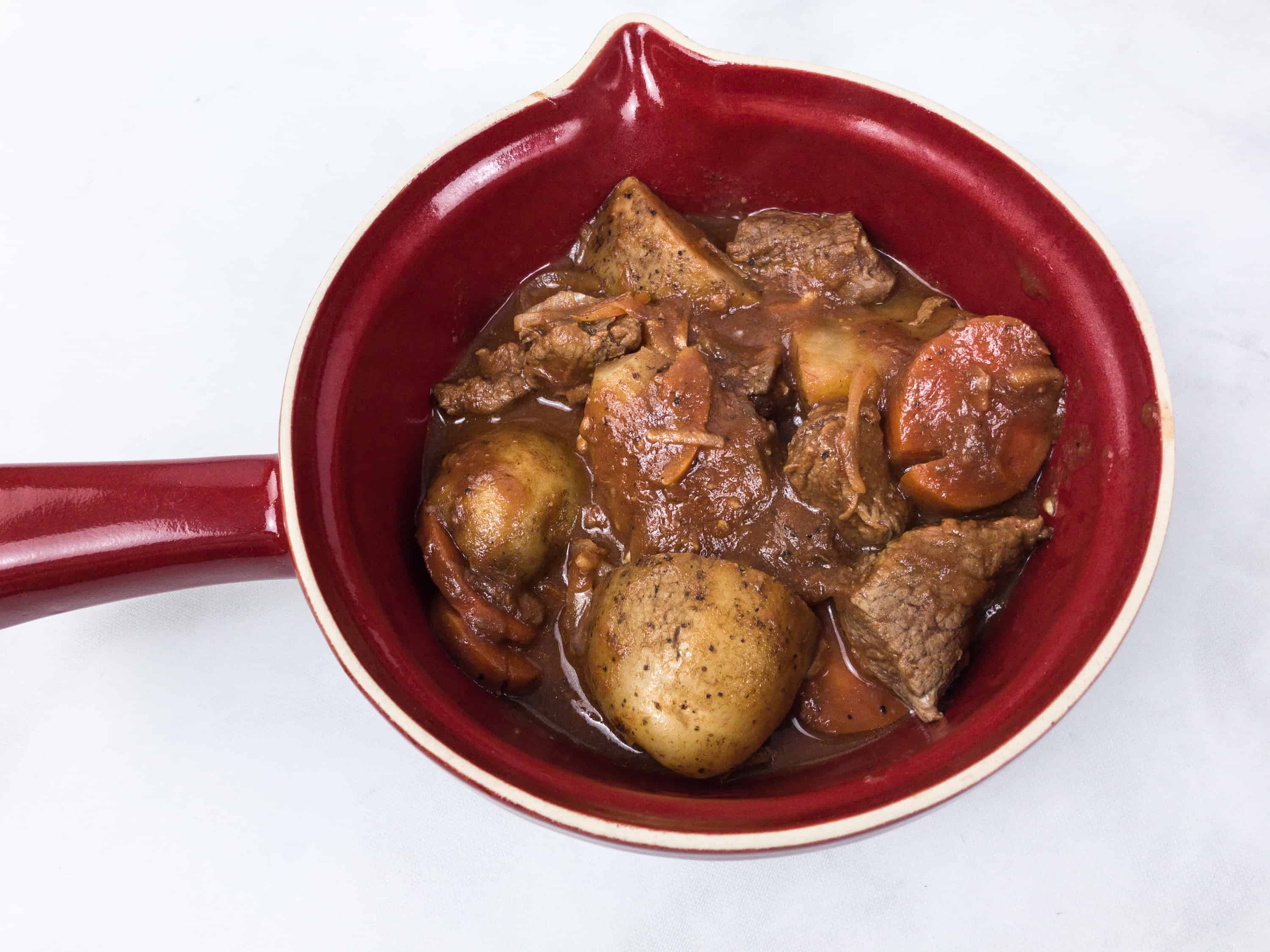 The sauce is everything! It's the key to making this dish tasty. Pantry Boy made it simpler by pre-seasoning the sauce, and all we really had to do is toss everything into the slow-cooker together and let it do its thing. The only issue with this dish is getting the vegetables to the right doneness — our slow cooker needed a little extra time to soften the potatoes and carrots to the point where we like them. The flavor was great, and this was an easier preparation than I would ever expect for this classic dish!
This week's recipes included one slow-cooker recipe, one stove-top recipe, and one that could be made either way. I really like how carefully they chose and pre-measured the ingredients, making it much convenient for me to just put it in with minimal prep. I love everything in this subscription, from the quality and freshness of ingredients up to the cooking manuals provided. Pantry Boy is a reliable meal kit subscription, and the slow-cooker paradigm is a huge help in fitting a family meal into a busy evening.
What do you think of the recipes from Pantry Boy?