Sensory TheraPLAY Box is a monthly subscription that sends sensory toys for 4 to 9-year-old children to your home. Each box is curated by a pediatric occupational therapist. While the box is ideally suited for autistic children, those with sensory processing disorders, and those who suffer from ADHD, anxiety, and behavioral issues, it's also just a really fun toy box for anyone interested in playing and exploring, although there may be a few items that are really sensory-specific. Boxes cost $39.95 each. Discounts are available for longer prepaid subscriptions.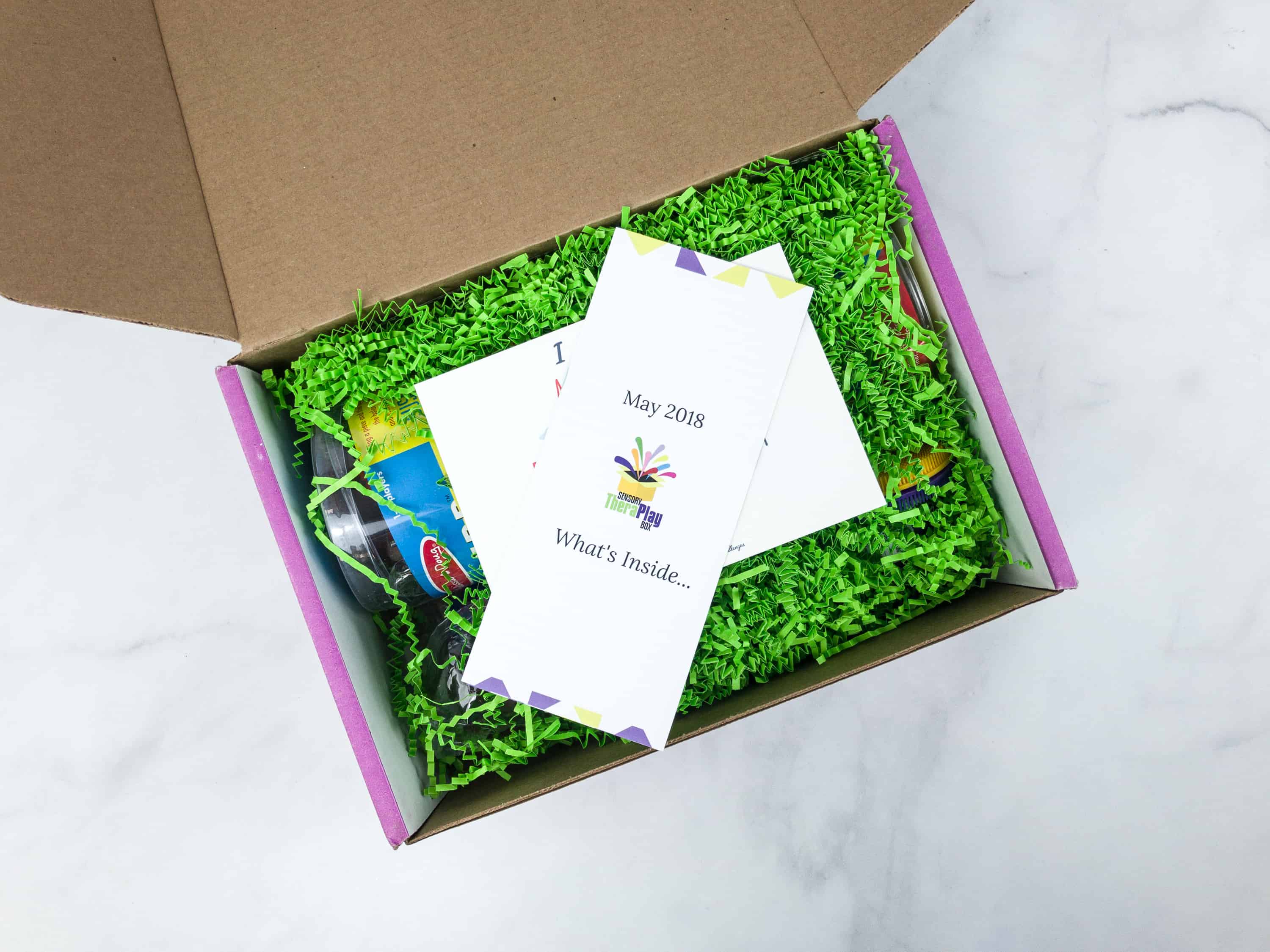 Every month you will receive a random surprise assortment of sensory toys and items for your child. This wonderful sensory box is intended for children on the autism spectrum and/or children with sensory processing issues, but it has anything but a clinical feel — it is packed with bright paper squiggles and is fun to dig into.
DEAL: Get 10% off your first box! Use coupon code WELCOME.
They also include a tri-fold brochure providing info about all the items inside the box.
Inside the brochure is a detailed explanation of each item and its common therapeutic use. Examples of items include putty, textured tactile toys/ fidgets, craft activities, light up toys, drawing utensils, etc. Kids with emotional disturbances (e.g., hyperactivity, impulsivity, excessive anxiety, temper tantrums, poor coping skills) can also benefit from the items in this box.
All the items are discussed thoroughly, like how they are used and their benefits.
Everything in the box!
I like the encouragement cards they sent. This one features a quote from Louisa May Alcott.
I am not afraid of storms, for I am learning how to sail my ship.
The back of the card states a short disclaimer about the products.
They also included a 20% off promo card for Aloha Feet!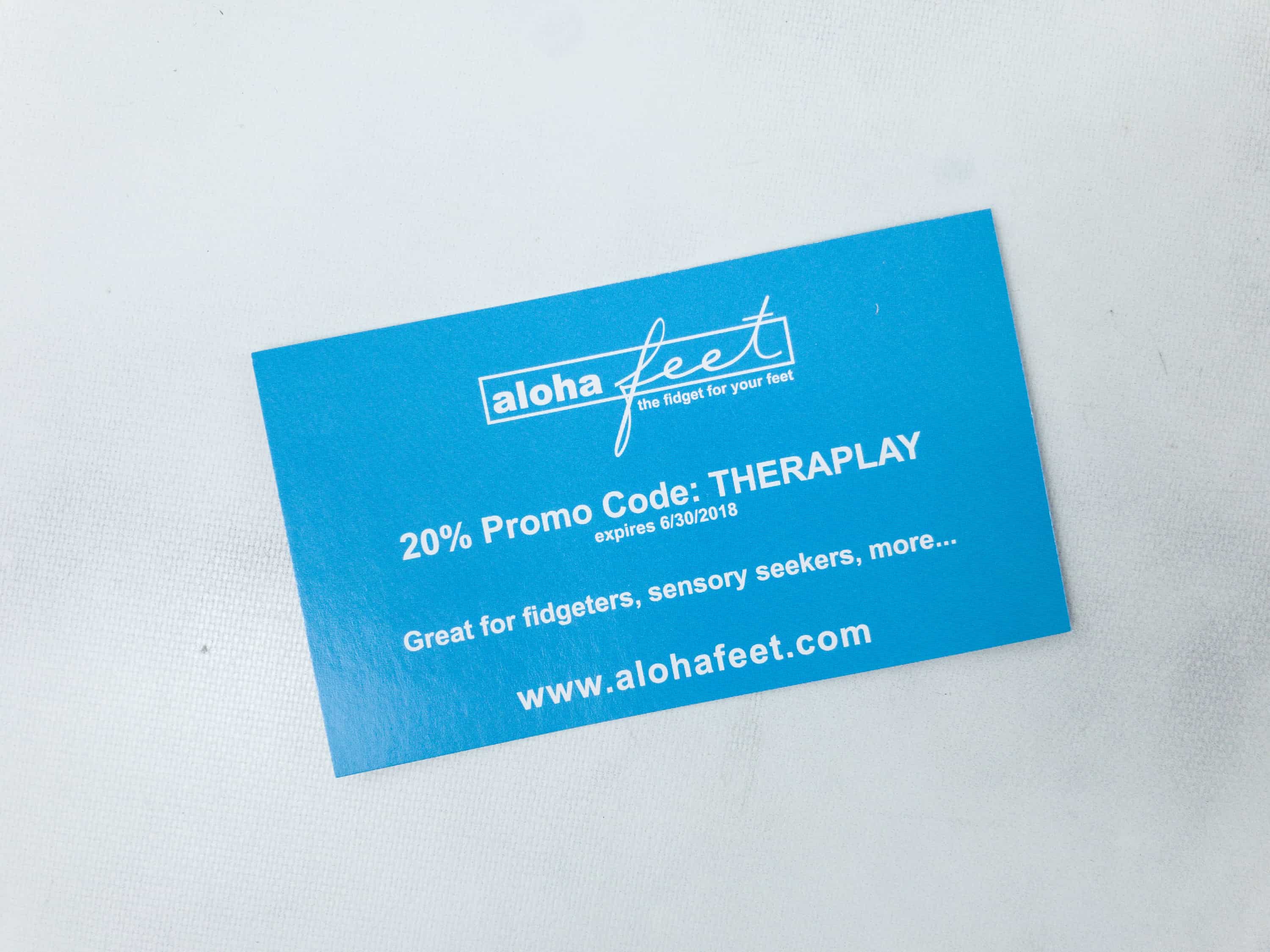 You can use this promo code until June 30, 2018.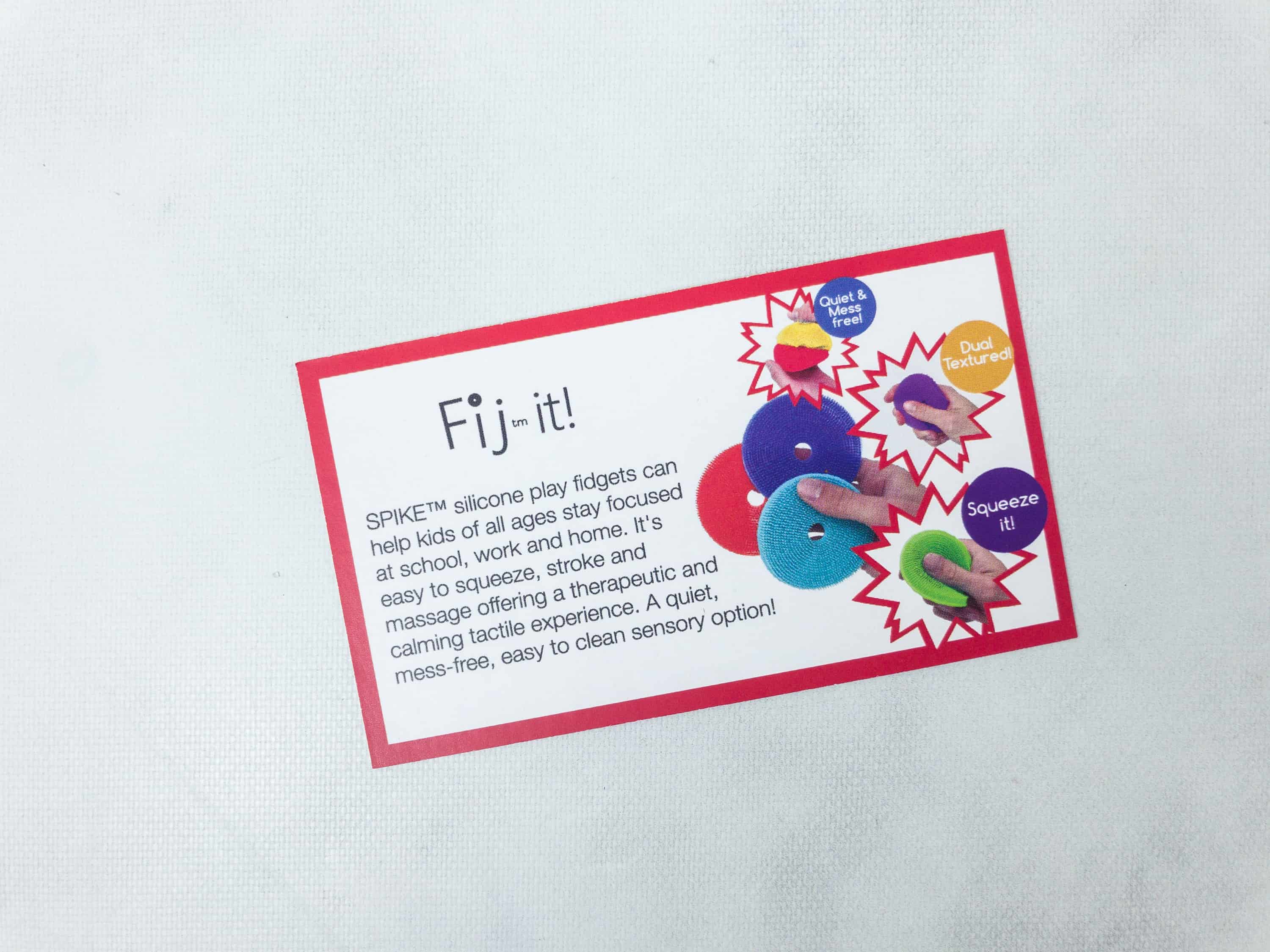 Spike Fij It ($9.99) Fidgets are normally used as a therapeutic gadget for kids, people who experience stroke, or people with special needs. They are normally used to enhance concentration, and also to provide a relaxing and calming effect.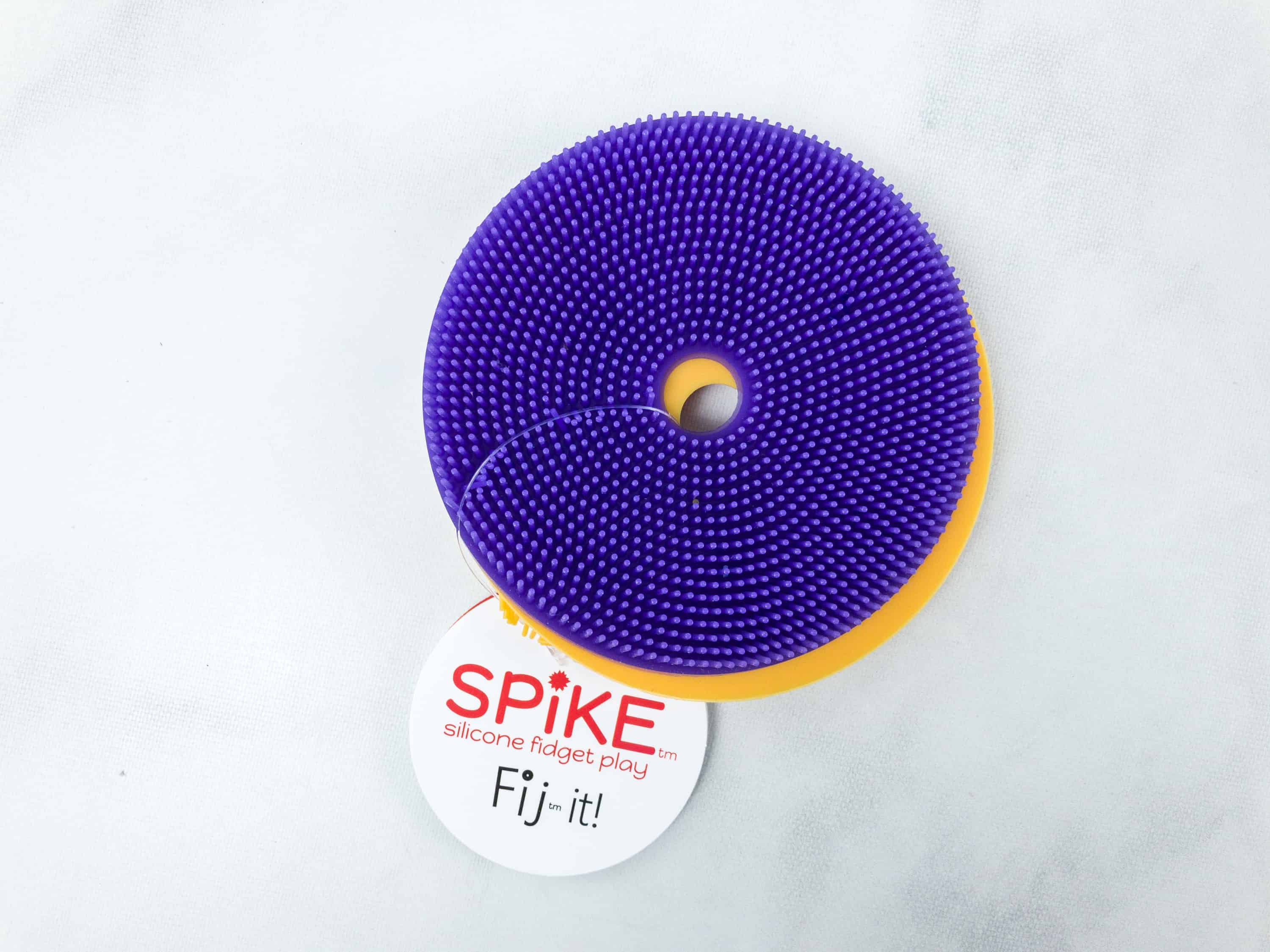 The Spike silicone fidget play is made from 100% food grade silicone. It's odor-free, non-toxic, and washable!
These disc-shaped fidgets are so soft and durable at the same time. You can smash it, squeeze it, press it together and peel it off, you can do anything on it as long as it makes you relaxed.
It also has a dual textured design that features soft silicone spikes on one side and a smooth surface on the other side.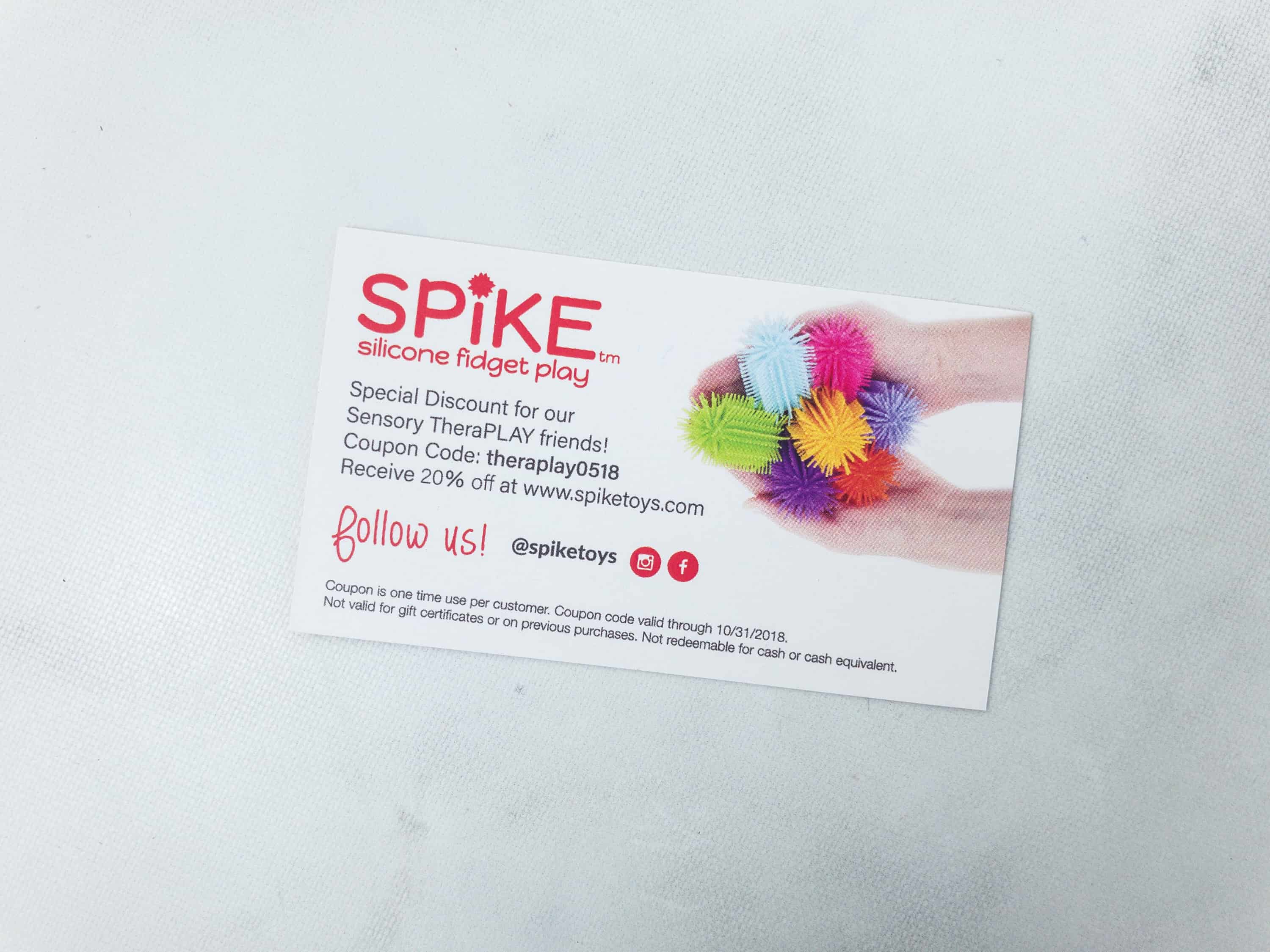 Another discount card is included, which gives you a 20% off coupon you can use on Spiketoys online shop!
Mesh Squishy Liquid ($3.99) So squishy! This squeezing ball fidget is primarily made from silicone, making it quite durable from spontaneous squeezing, pinching, and even biting.
When fully squeezed, this mesh ball forms a grape-like figure. It's visually entertaining, and also a great toy to keep your hands occupied! We can't get enough of this one!
Chew Stixx Tough Bar ($10.99) Tough Bar Chew Stixx is an oral motor device that enhances your child's biting and grinding ability. All the materials used on this product are FDA approved.
The textures of this product were intended by therapists to mimic the continuous changing textures of food, to assist children who have sensory issues when eating.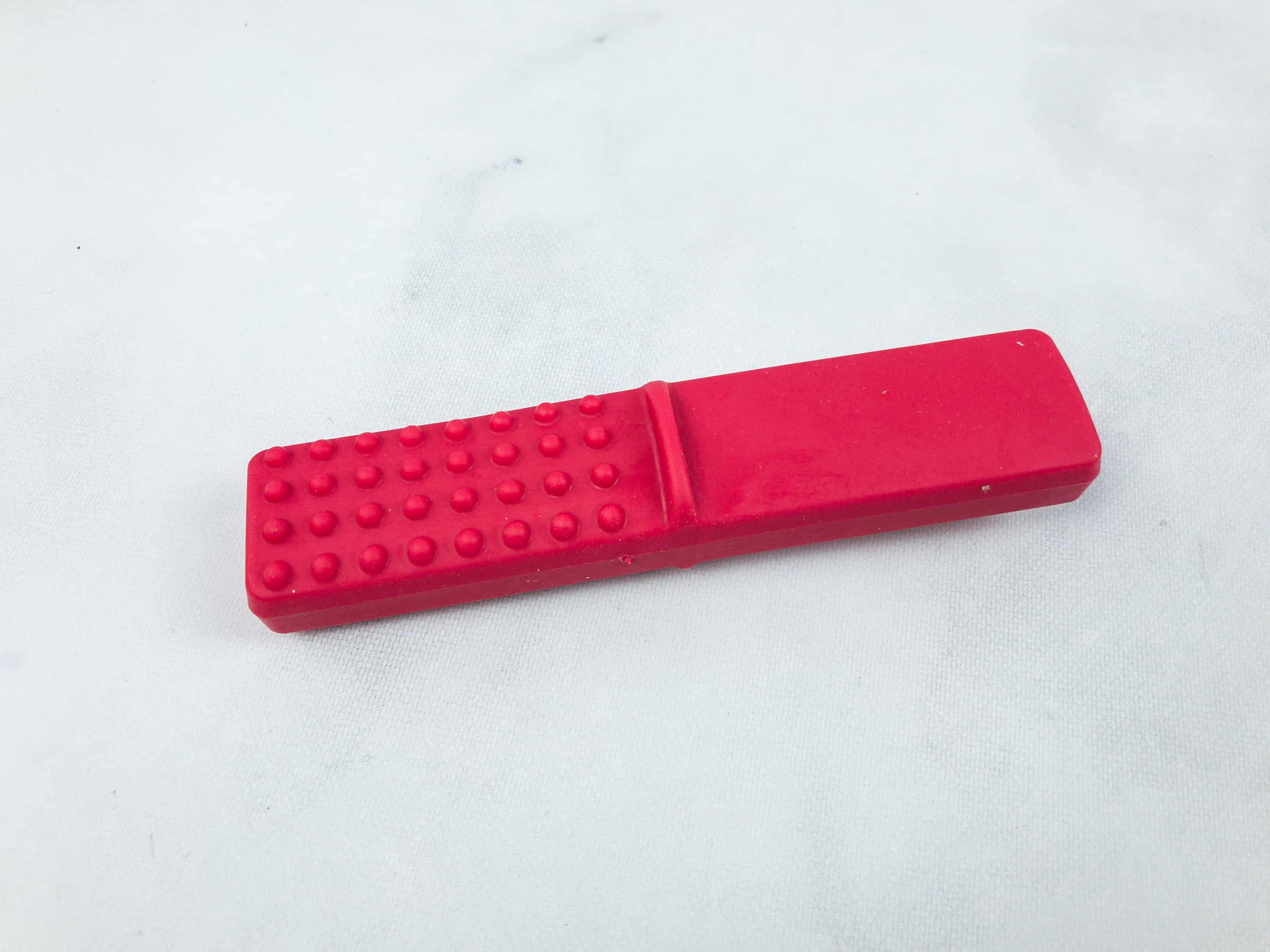 It is definitely a safe and bacteria free alternative for children who chew on shirts, pencils, fingers, etc.
Laki Kid Bands ($9.99) These rubber bands have the ability to contain or reduce unwanted leg movement, restlessness, anxiety, and just plain nervous energy.
Having an outlet like this promotes a sense of calm and enhances the ability of kids to focus.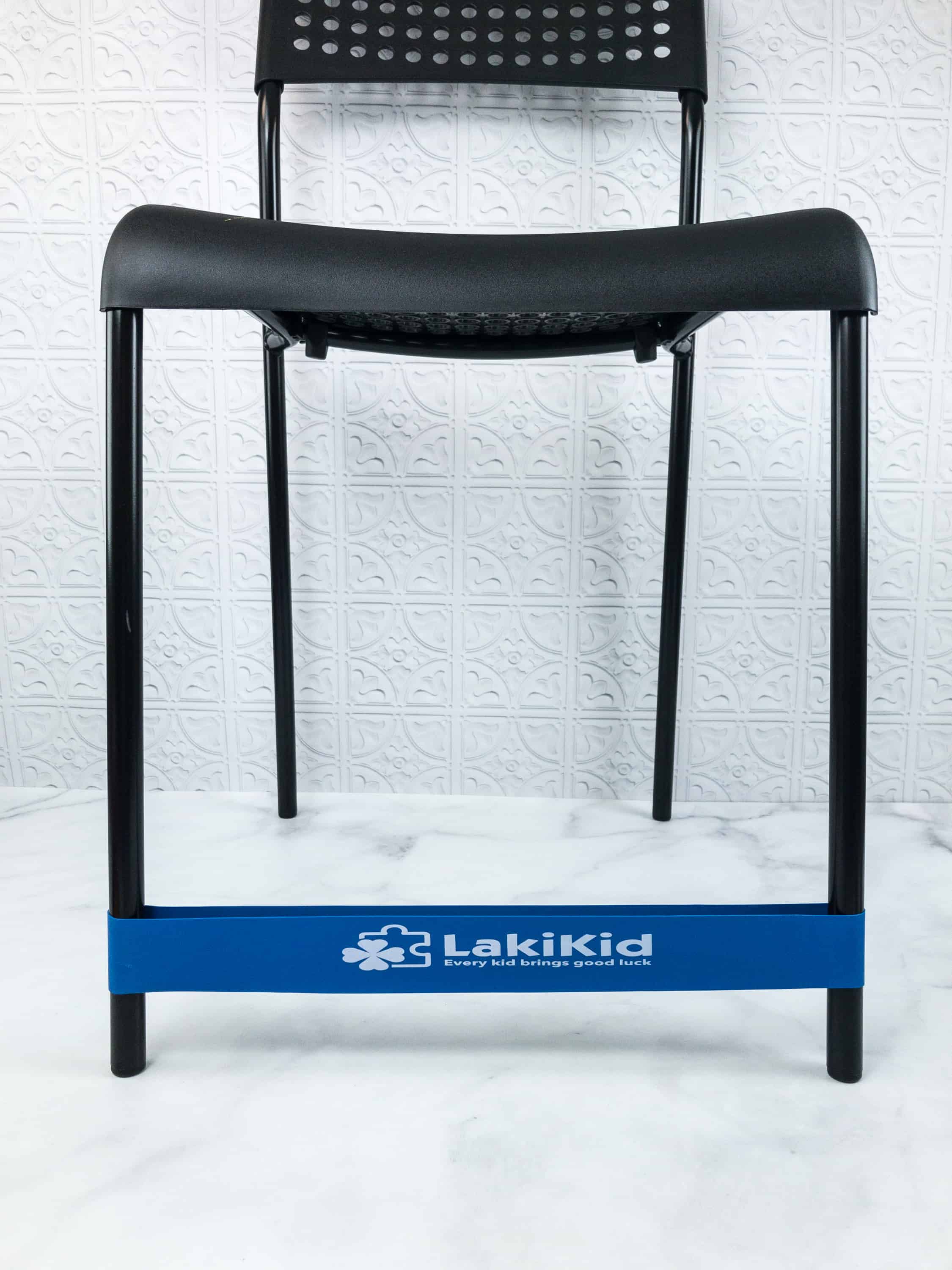 Made out of high quality, durable rubber, these bands are made to stand up to heavy use. Aside from its durability, the Lakikid Fidget Foot Band has a measure of 9 x 2 inches that can stretch long enough to just wrap around the front legs of any regular chair.
Melissa & Doug Suspend Jr. ($16.99) Suspend Junior is a fun balancing game for kids ages 4 and up. This game helps children develop their hand-eye coordination, reasoning, and interpersonal skills.
The back of the container shows how the game works. They even included some pictures to illustrate the game.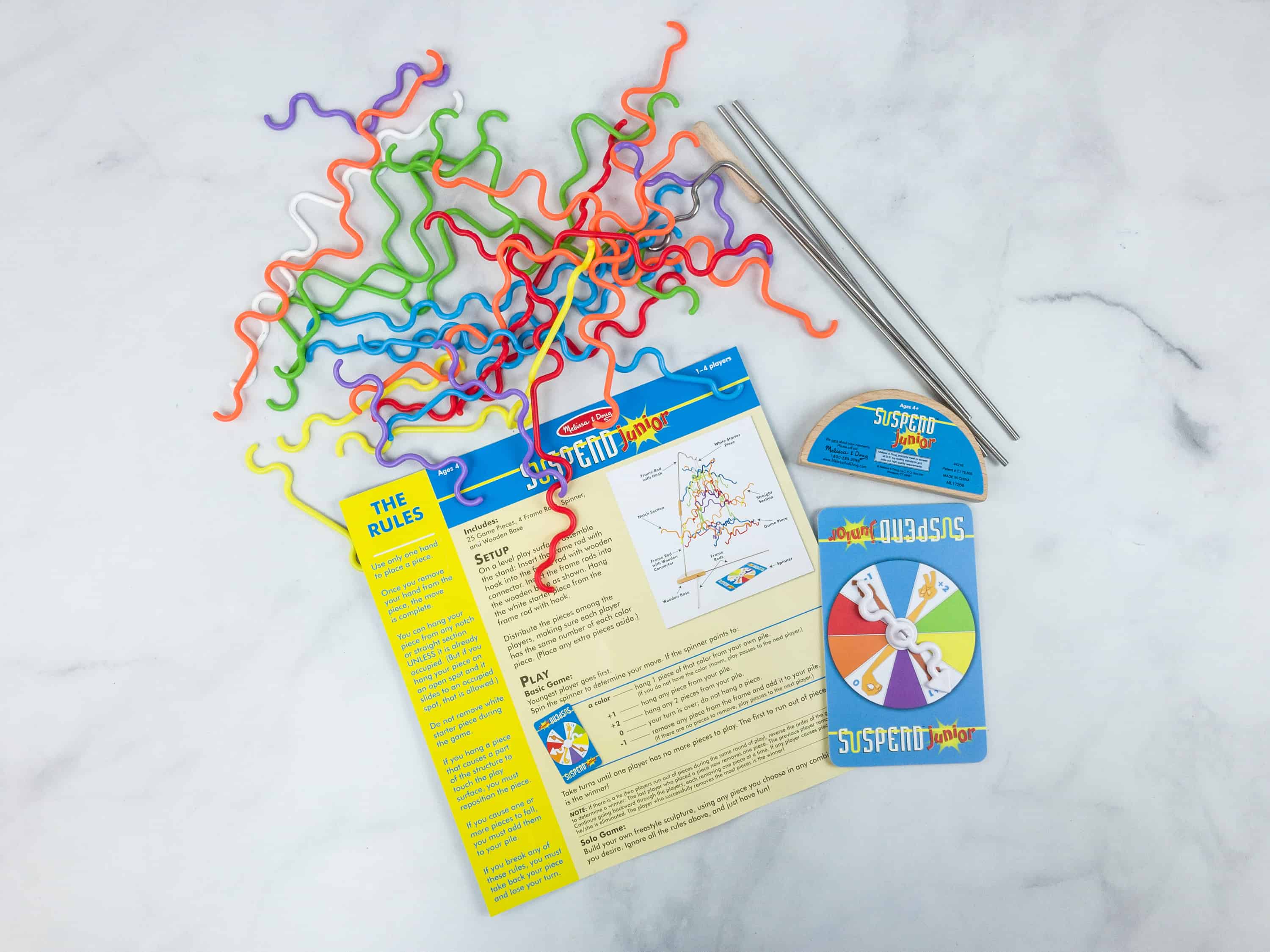 All the items inside the container: the base, pole, roulette, colored sticks, and rulebook.
The game is really easy to play: simply set up the frame, spin the spinner, and balance the color-coded pieces to create an incredible hanging structure. The first to run out of pieces win the game, but watch out: one wrong move and the whole structure could fall!
Crazy Foam ($7.99) It's a 3-in-1 body wash, shampoo, and conditioner packaged in an easy-to-spray collectible can with fun characters. We got the turtle design and there are 3 other characters available: shark, pirate, and octopus.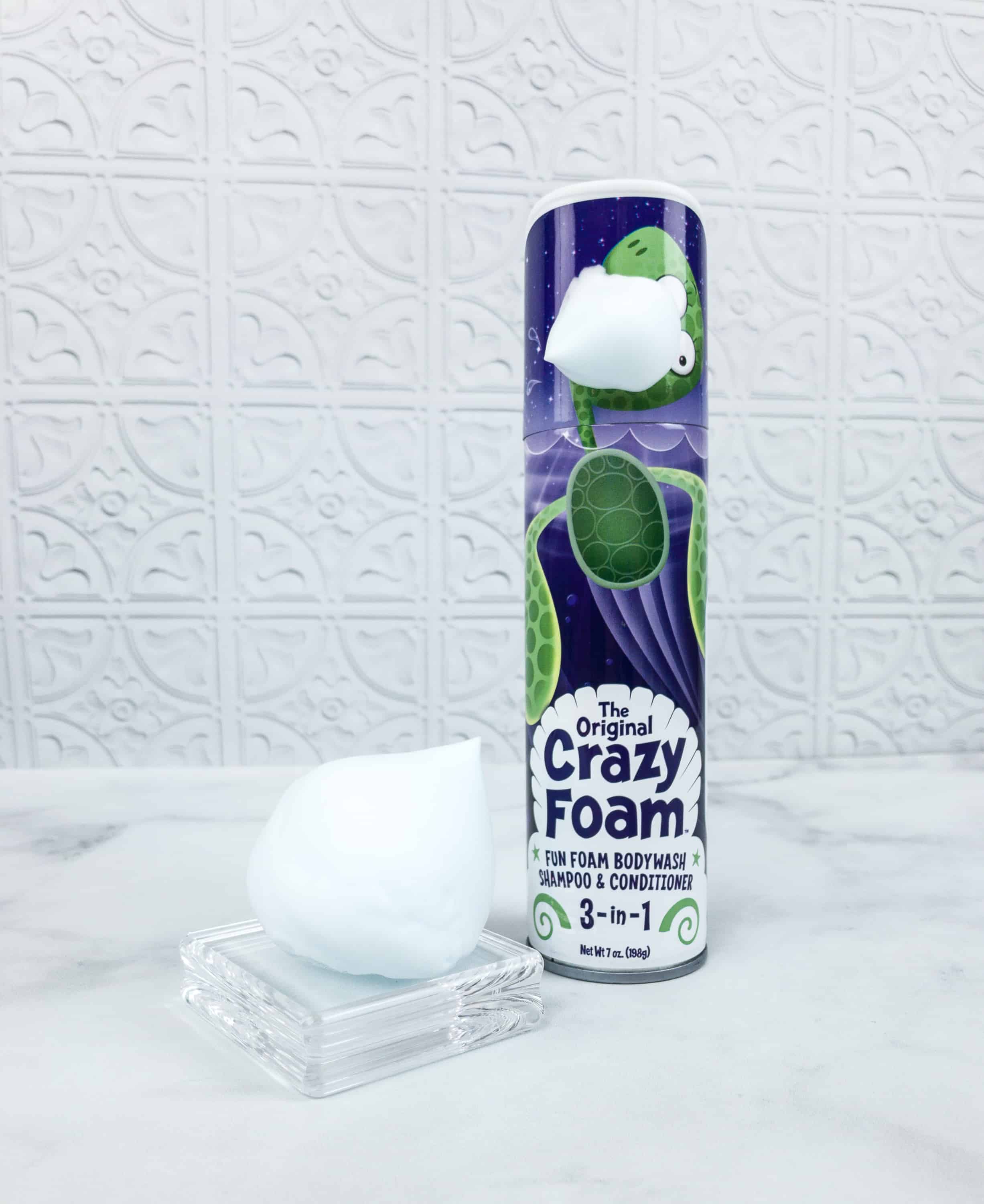 It sure is creamy and foamy. The can is designed like the turtle is spewing out foam! So much fun! Our kids grabbed this right away!
We are always excited to see what toys await us in every Sensory TheraPlay box. This month's curation has a great line up of fun fidgets and they even included a bath item. What stood out for my kids is the Melissa & Doug Suspend Jr.! The game was challenging, but they enjoyed balancing it. Sensory TheraPlay is indeed a great source of fun and therapeutic toys for kids!
Are you planning to subscribe the Sensory TheraPLAY Box?