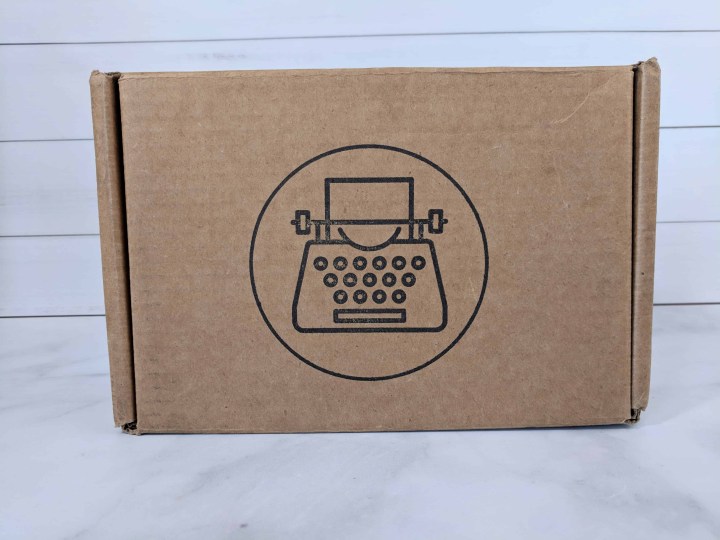 Scribbler is a new monthly subscription box for novelists, created by authors, for authors. Scribbler is committed to helping writers improve their craft and reach their publishing goals, month after month.
For $29.99 a month, you'll get a new released fiction, a "Writing Passport" from the featured author to help you master the monthly theme, curated writerly gifts, and an invitation to communicate with a publishing professional.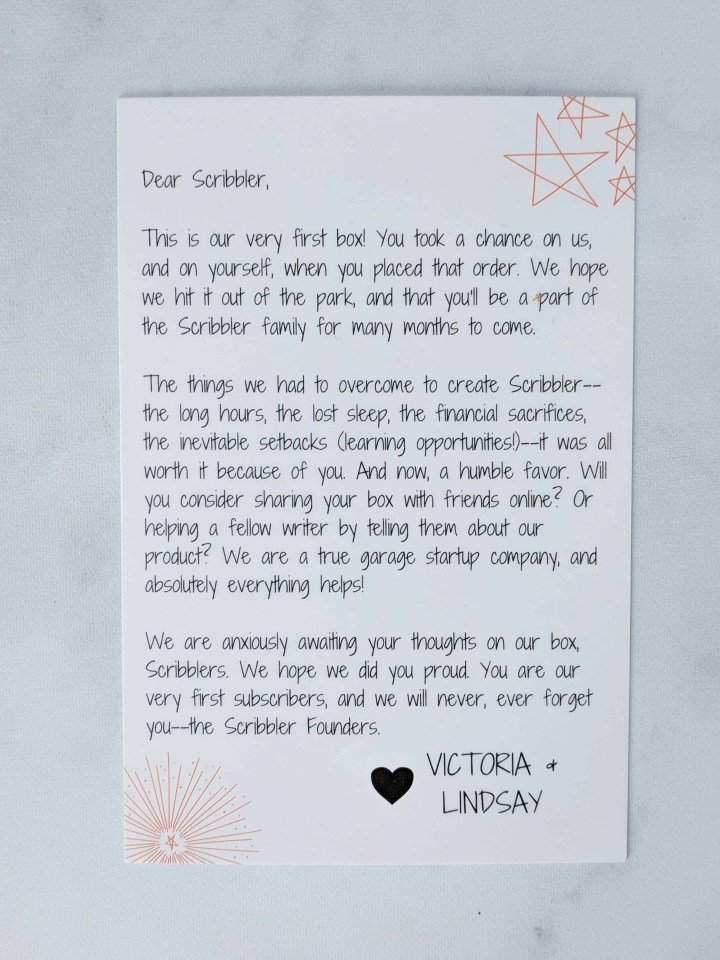 This is their very first box!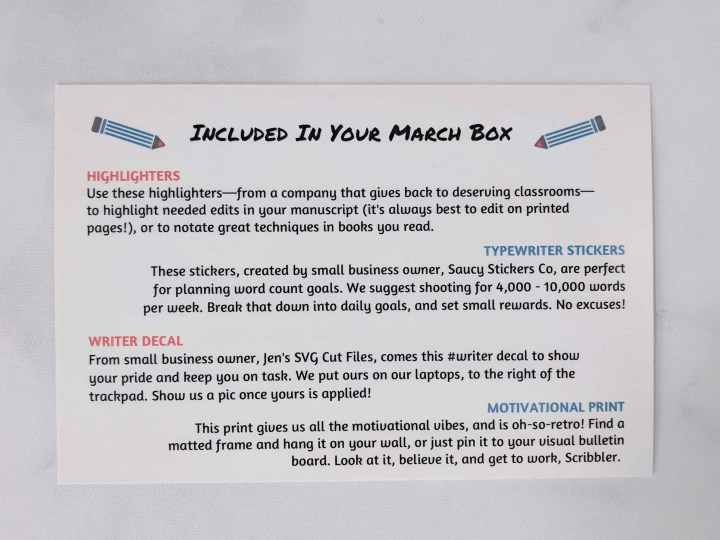 The information card only lists the extra items in the box. There's is no mention of the book or the author.
This month's theme is Emotional Touchpoints.
There's a quick introduction in the booklet about why the book was chosen this month.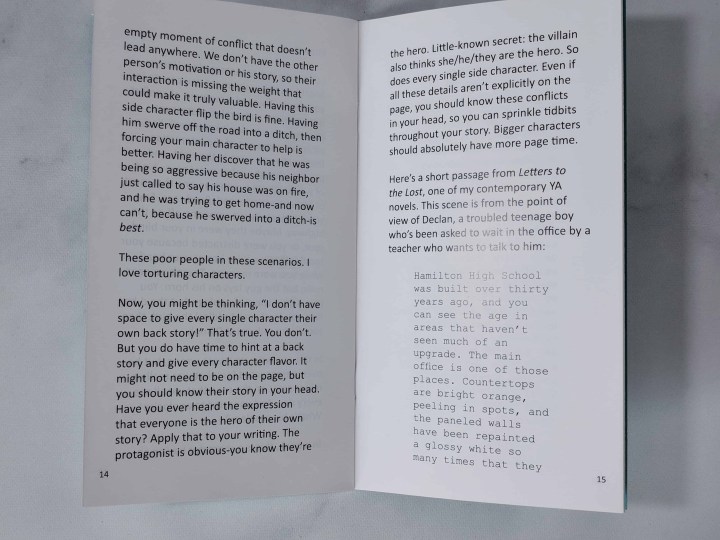 There is no exercises in the booklet to improve our skills, but we have examples and information about how to do it. I prefer that way as I like to play with my own story and characters instead of doing an exercise that has nothing to do with what I'm doing.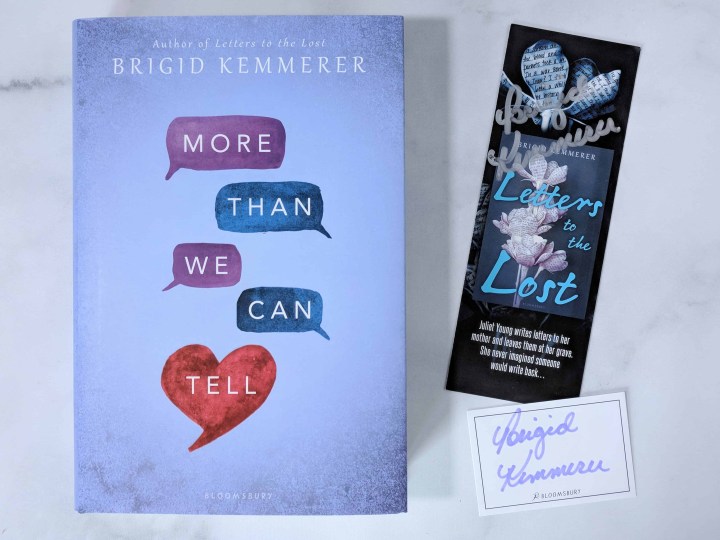 The book this month is "More than we can tell" by Brigid Kemmerer with a signed bookplate and bookmark. From Goodreads:
Rev Fletcher is battling the demons of his past. But with loving adoptive parents by his side, he's managed to keep them at bay…until he gets a letter from his abusive father and the trauma of his childhood comes hurtling back.

Emma Blue spends her time perfecting the computer game she built from scratch, rather than facing her parents' crumbling marriage. She can solve any problem with the right code, but when an online troll's harassment escalates, she's truly afraid.

When Rev and Emma meet, they both long to lift the burden of their secrets and bond instantly over their shared turmoil. But when their situations turn dangerous, their trust in each other will be tested in ways they never expected. This must-read story will once again have readers falling for Brigid Kemmerer's emotional storytelling.
This looks like a fun read that fits right into this month's theme! I'm looking forward to read it, even though it's a YA book, and I don't usually read those.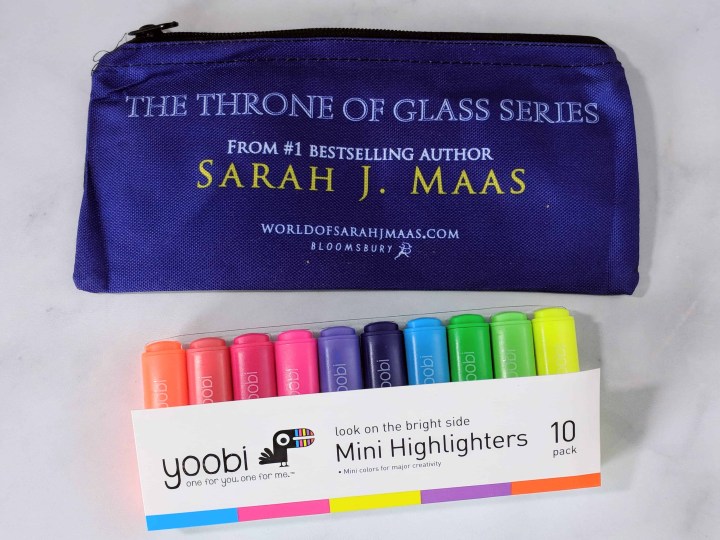 Bonus item: pencil case. I like pencil cases as I write by hand and it's easy to throw it in my bag. This one is made of a soft light canvas, so it doesn't get bulky.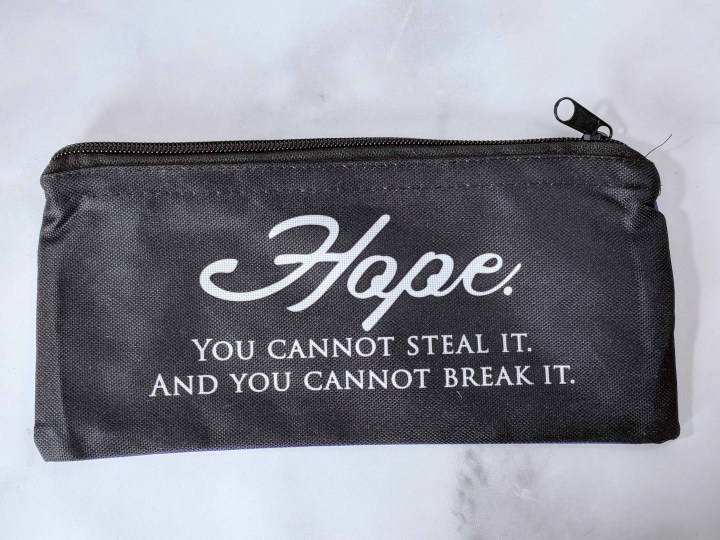 I'm not a fan of Sarah J. Maas, but I like this quote. I wished this pencil case would have been more about writing than an actual book that is not featured in the box.
Mini Highlighters by yoobi. These are so cute! I love highlighters, especially when I go back to my draft and destroy everything. I used them mostly for when I write by hand, and they smudge fresh ink, not day old one.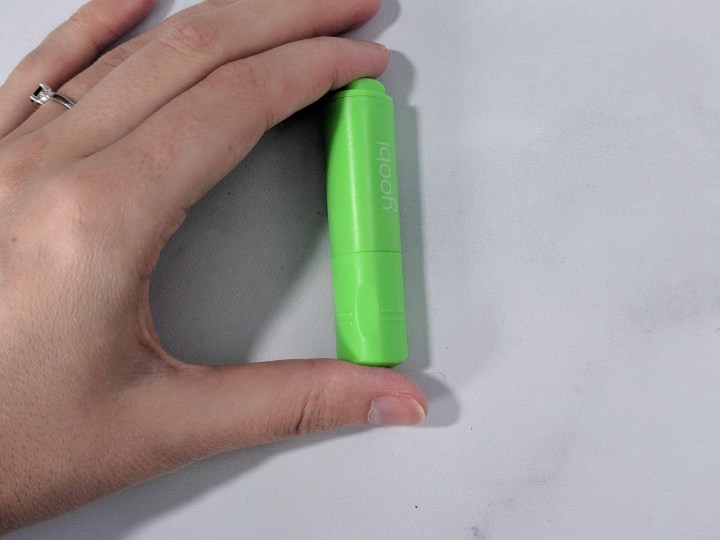 They are so tiny!!! Perfect to carry them all in my bag to go write in a coffee shop or when travelling. They are a bit awkward in my hand, they are very small, but I'm not highlighting hours at a time, so it's not a problem.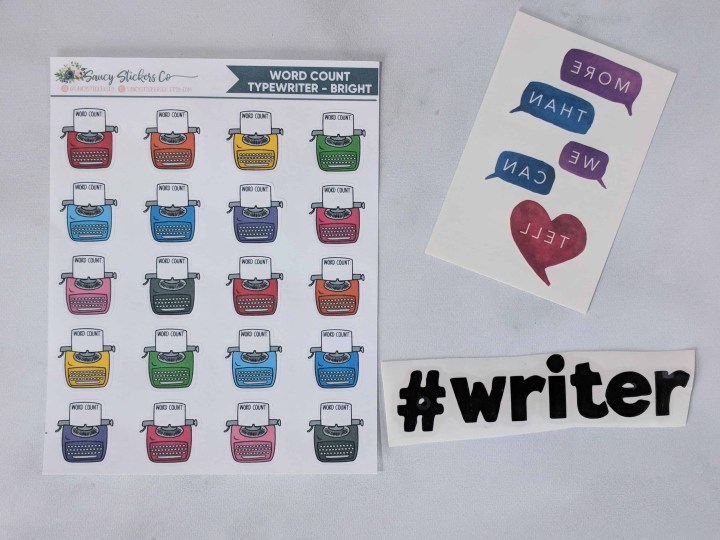 Typewriter Stickers by Saucy Stickers Co. Scribbler suggest to shoot for 4000 to 10000 words a week and to use these stickers to set our goals and small rewards. I will admit one thing here: I LOVE WORD COUNT STICKERS!!! Especially when I write by hand, I stick one of them in the corner of the page to remind me to count my words and enjoy my progress! I also like to add them to my planner as a reminder to write.
Writer Decal by SVG Cut Files. A cute little decal that you can put on your laptop or anywhere to remind you that you are a writer. It's a fun little addition.
"More than we can tell" temporary tattoo. It's a fun tattoo with this month's book title.
Motivational Print. I love this print so much! As a writer, your job is to write. And you don't need to see it as more than a word after the other one. Actually, as soon as my husband saw it, he said it fits me perfectly. When I write by hand, I write about 500 words per page, and I always write a page at a time. I also like to write flash stories with a limit of 500 words. So yeah, this print will be framed and hanged above my desk.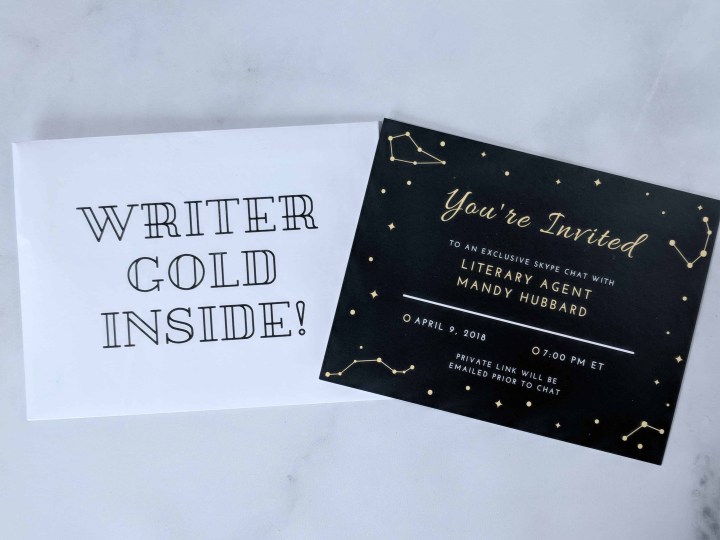 Writer Gold! This is an invitation for an exclusive skype chat with Mandy Hubbard, a literary agent and founder of Emerald City Literary Agency. This being the March box, even over here in Canada I got my box ahead of the meeting!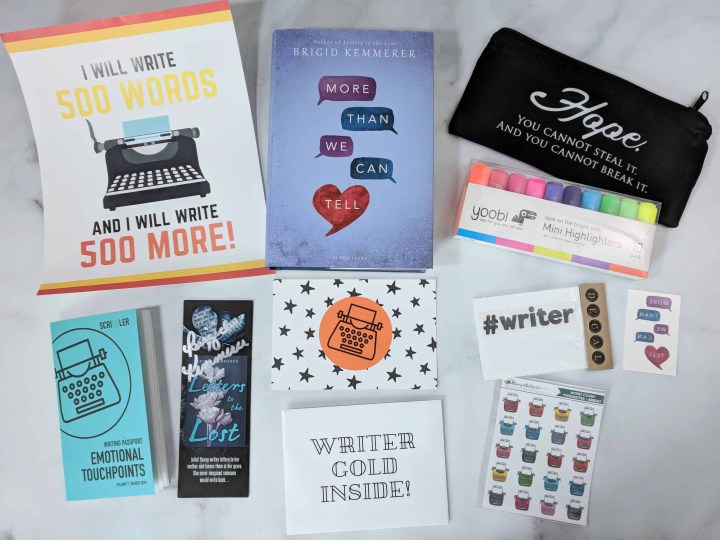 As a writer, I really really enjoyed this first box from Scribbler. I like the mix of office supplies that doesn't rely solely on a new notebook (nothing against that, but it would be an easy addition to this box). I also like the theme to work on this month with a book that showcase it, as well as a chance to speak with someone involved in the business side of writing. I wished the book chosen would have been something else than YA, but it works well as a book to learn from. Overall, a very nice first box and I'm looking forward to see where it'll go and what they will bring to the writer's life!
What do you think of this month's box?