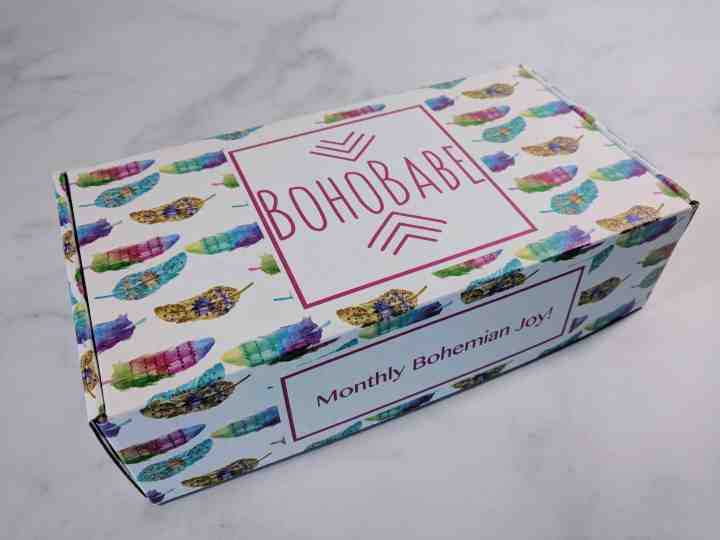 BohoBabe Box is a monthly subscription box that will bring you Bohemian Joy designed to stimulate your senses, promote positivity, health, and happiness – and of course, a free-spirited mindset! Every month follows a different theme and you will receive 4 to 6 items that will always be vegan, cruelty-free, organic, sustainable sourced, and quality made. When you subscribe, you answer some quick questions about your shirt size, your favorite colors, your favorite charity and your food allergies. The box is $39.99 and shipping is $7 in the USA.
This month, the box came inside a bigger box because of the cute little mug that couldn't fit inside the usual box! This subscription is about positivity and a new monthly uplifting message is printed inside the box. This month's reads:
She made BROKEN look BEAUTIFUL and STRONG look INVINCIBLE. She walked with the universe on HER SHOULDERS & made it look like a PAIR OF WINDS.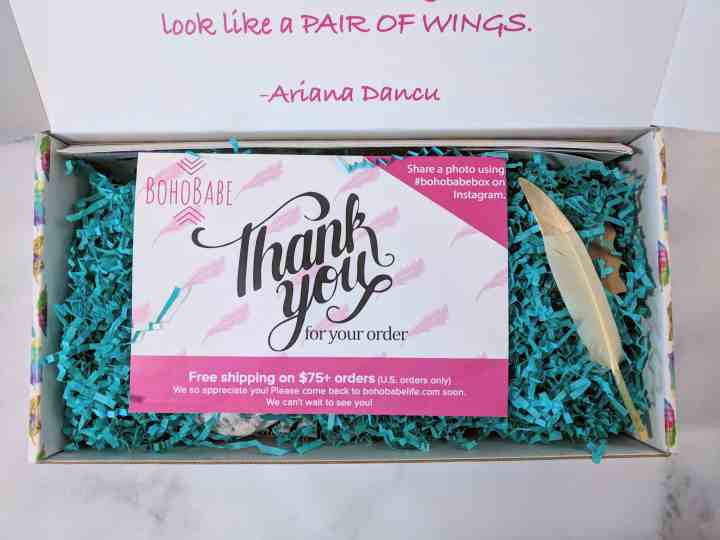 Everything but the mug were nicely packaged with fun colorful paper squiggles. I love the feather that comes in it, it feels like I found it while hiking in the wood!
DEAL: Get 10% off your first order! Use coupon code GYPSYHEART.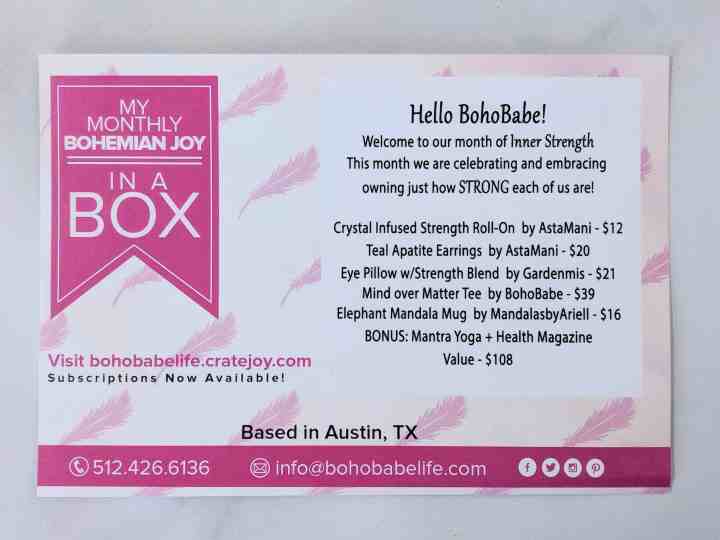 March's theme was Inner Strength and was all about celebrating and embracing owning how strong we are.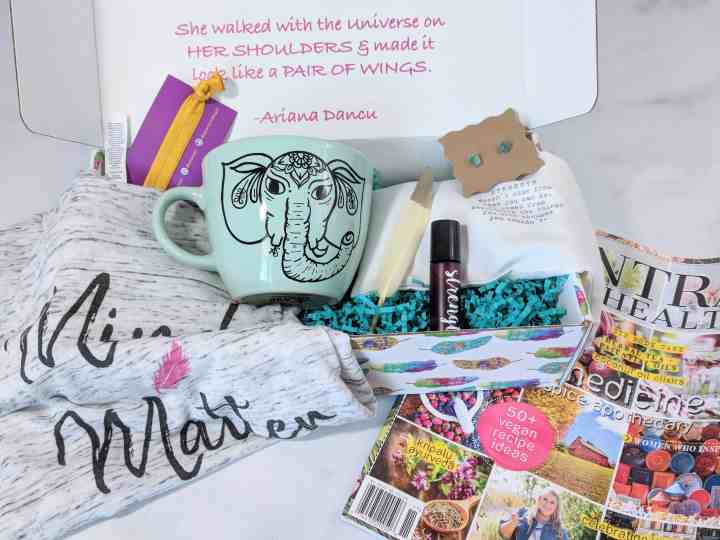 Everything in the box!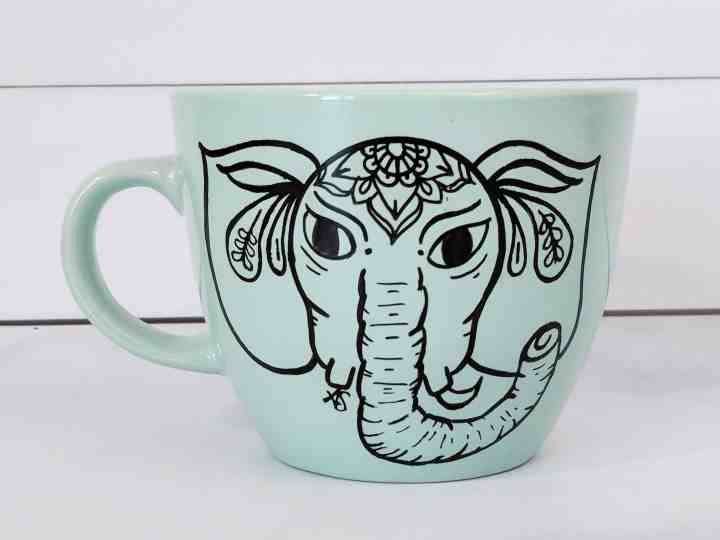 Elephant Mandala Mug by MandalasbyAriell. I love this cute mug! It's big enough to be used for soup or oatmeal, or just a big bowl of hot chocolate! I love the minty color, it's fresh and calming.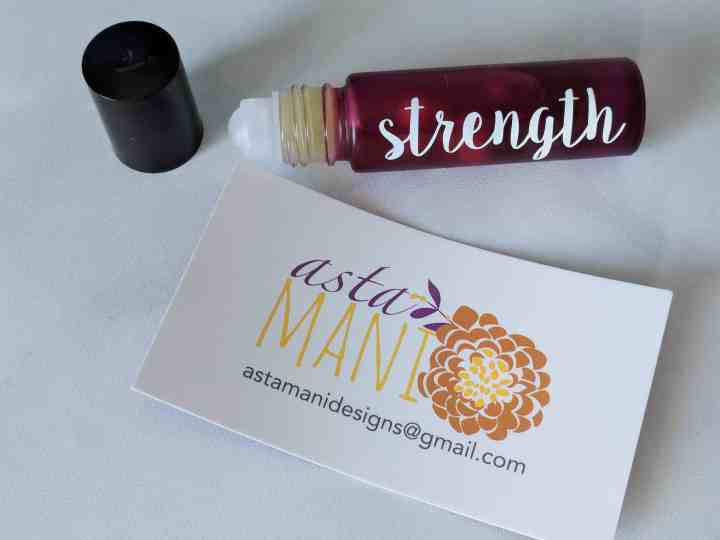 Crystal Infused Strength Roll-On by AstaMani. This roll-on is infused with frankincense and amethyst and contains a blend of orange, clove, cinnamon, eucalyptus, rosemary and flower essentials oils as well as coconut oil. It is made to help the immune system and has anti inflammatory benefits. It actually smells sweet! I really like the scent and the the dark burgundy glass bottle. I can't stop smelling my wrist, it's almost candy-like!
Teal Apatite Earrings by AstaMani. Lovely little apatite stud on solid surgical steel. Apatite is a lovely stone to help in personal growth and to help achieve our goals. I like their simplicity as they can be paired with pretty much anything, from a classic outfit to a boho look.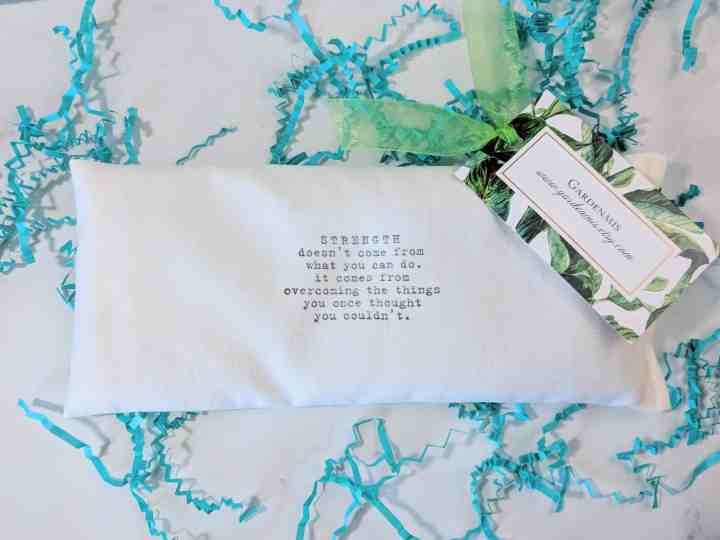 Eye Pillow with Strength Blend by Gardenmis. A simple white eye pillow, with a quote written in a font that reminds me of old typewriter (I LOVE typewriters!!!) There is no scent to it, as far as I can tell, so the filling is probably flax seeds only. It has a nice weight and is cool to the touch. I like the fabric. It's not satiny or slippery, so it stays on the eyes without too much effort. I love eye pillows for when I have a headache and I need something cool on my forehead, or on my eyes. I don't use eye pillow for savasana, as it puts me right to sleep, but I will use it for afternoon naps!
Mind over Matter Tee by BohoBabe. This is a nice lightweight tee, perfect for a workout, yoga, hanging out, or to go to the beach! It's soft, not too loose and I really like the fit.
The back has the BohoBabe logo in light pink. I've already used it twice, once for a sweaty workout and once for yoga and it was perfect for both activities!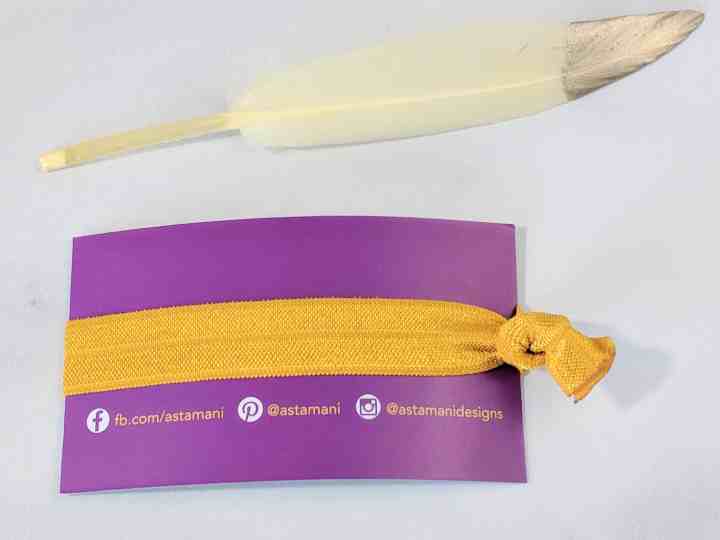 Bonuses! A cute hand painted cruelty-free feather designed by Paper Love Bugs and a hair tie by AstaMani. I like collecting feathers and I might hang this one to my Dreamcatcher, and you can never go wrong with an extra hair tie.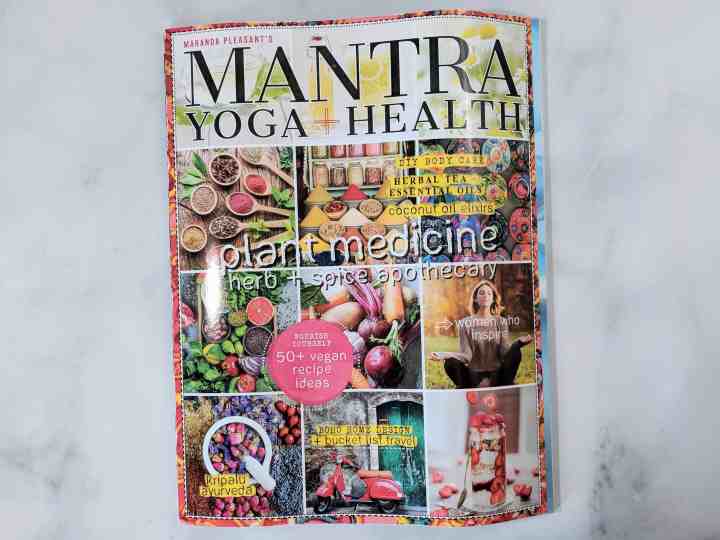 Bonus! Mantra Yoga + Health Magazine. I love getting reading materials in a box. And when it's a Vegan Lifestyle magazine, even better!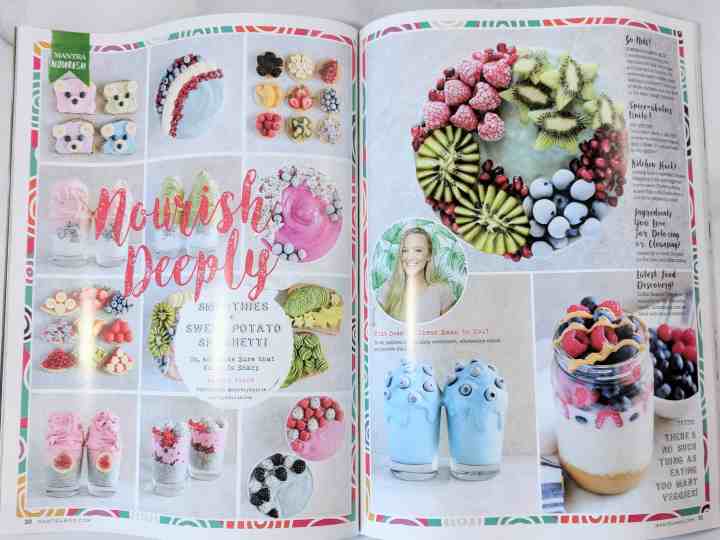 There are recipes! Yum!
And bios on influencial people in the industry of health, wellness, and yoga. The magazine is packed with fun information! I love it! Side note: the magazine is thick, and you can open it from both ends as the pages are upside-down starting in the middle.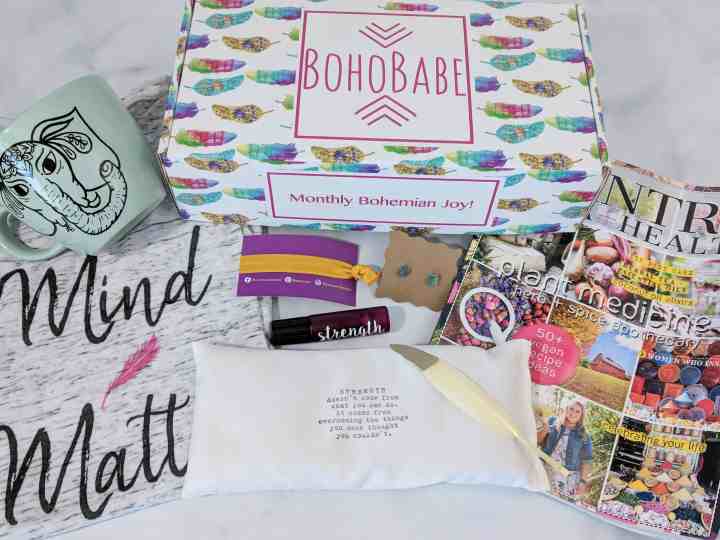 This was such a fun box! I really enjoyed the variety of items, from the eye pillow to chill out, to the t-shirt to get moving. Even though every item felt calming, I could see everything working with the "Inner Strength" theme as a way to remind us that self-care is a way to show strength, with a boho flair! I appreciate that nothing was extra or a filler in this box as I've already used everything!
What's your favorite boho item from this month's box?