Sharecuterie is an expertly curated subscription featuring artisan charcuterie meats, cheeses, and the right accompaniments. Every box will include everything you need to lay out an impressive spread, and will serve 4-6 people.
Our experts curate a ready-to-go "board" with artisan charcuterie, fine cheeses and the right accompaniments. Simply unpack and plate. We give you everything you need to impress your friends and show them you're a host with exquisite taste.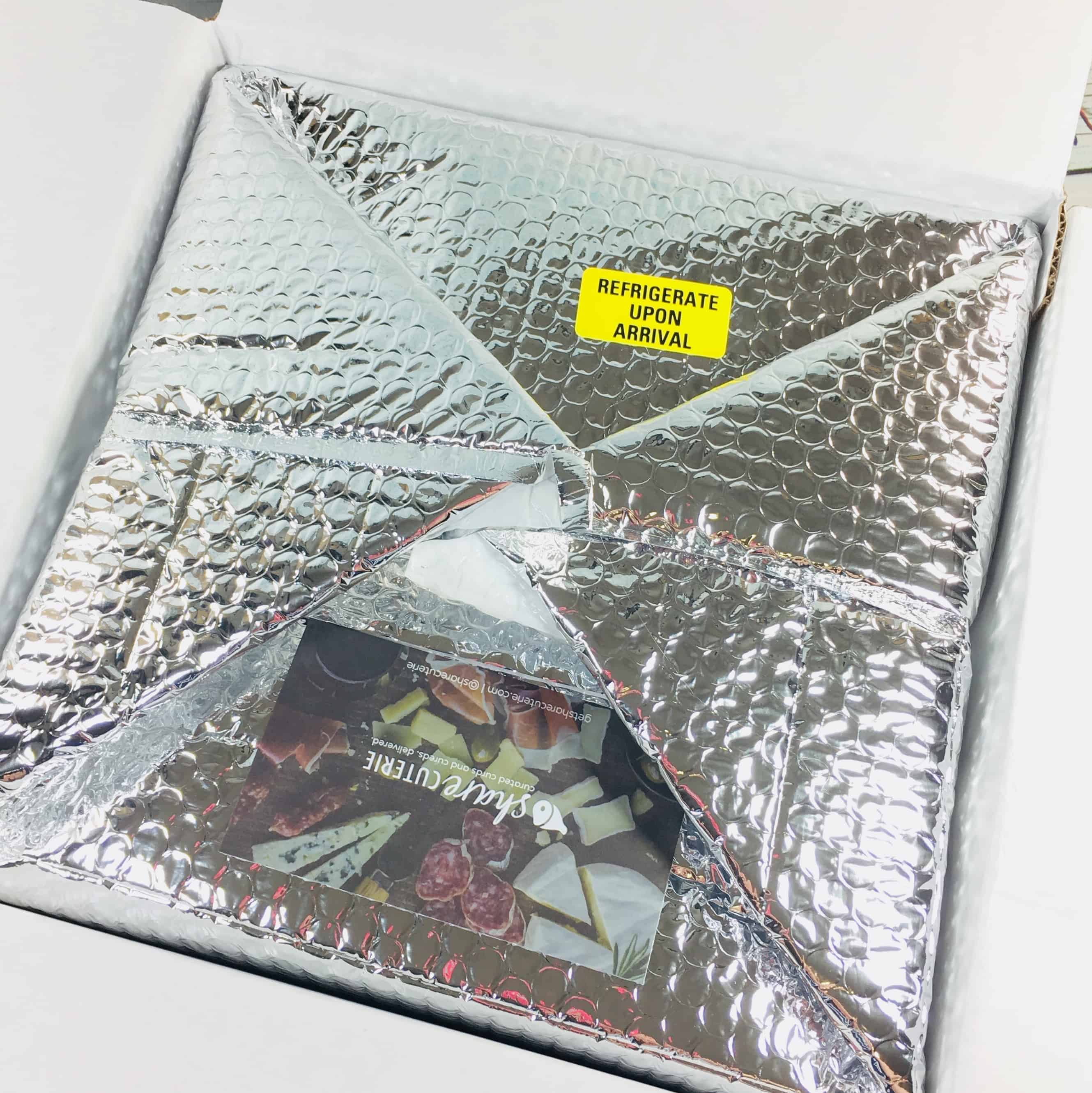 My items were in a special pack to help keep the items cold. There was a card on top and an ice pack underneath the items. I would like to say that in the interest of food safety Sharecuterie may want to add a second ice pack on top of the products, too. I have always thought that cold air sinks so those items on top may not be as cold as they should be.
The items were snuggled in a shredded paper nest.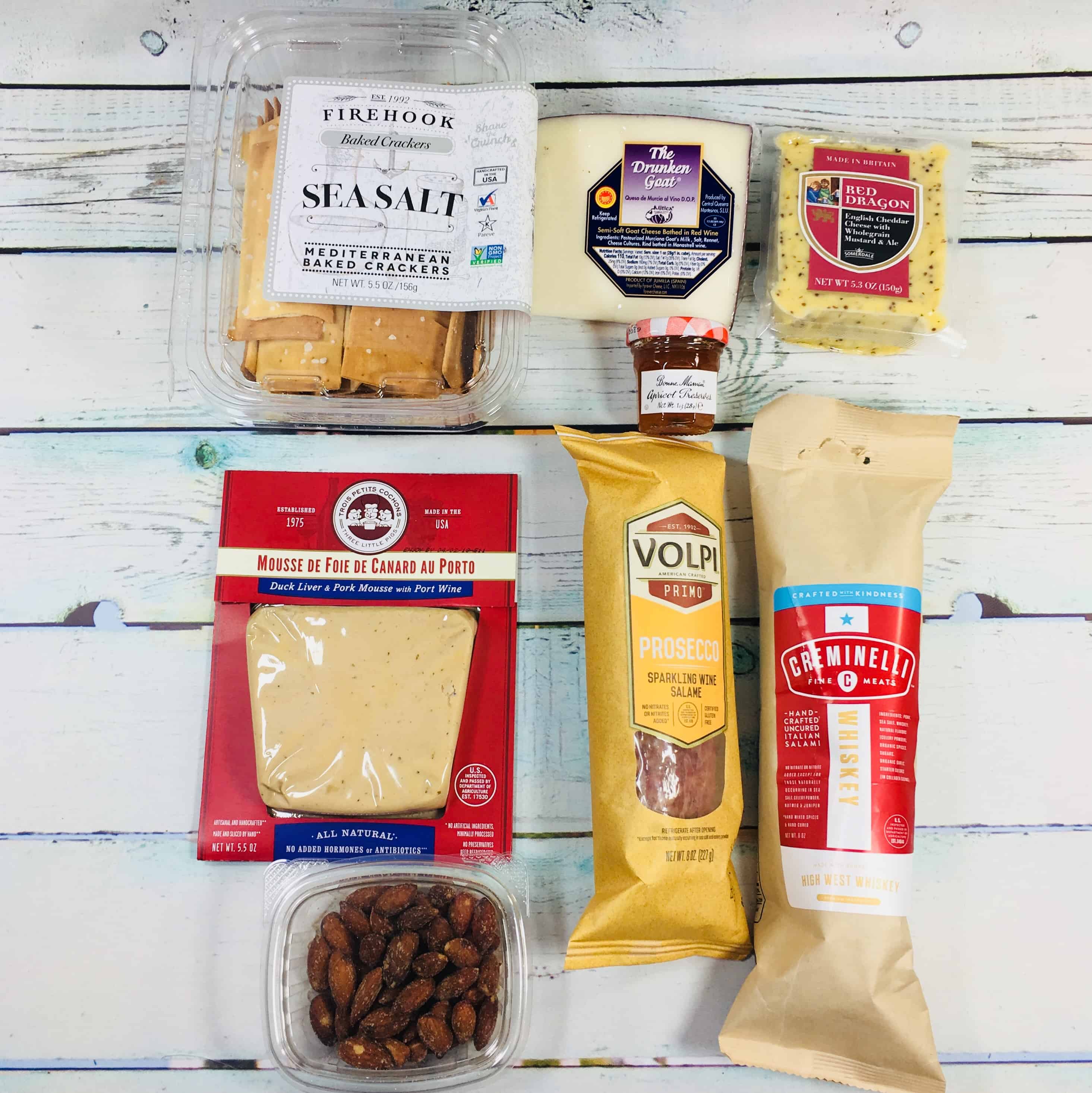 Everything in my Sharecuterie box! Sharecuterie sends 3 flavors of meat, such as smoked sausage or pate; 2-3 cheeses, both domestic and imported; and nuts, pickles, olives, crackers, etc. to round out the board.
I received a card with info on how to set up my board. I don't actually own a board so I will make do with a plate!
My board/plate!
Firehook Mediterranean Baked Crackers In Sea Salt ($6.05) I loved these crackers! They were crispy and let the food do the talking.
Smoked Almonds ($1.50? find similar here) These were classic smoked almonds, but any kind of roasted nut will do in a pinch.
Bonne Maman Apricot Preserves ($2.38) A little something sweet such as honey or this jar of apricot jam adds a nice touch and helps cut the saltiness. Make a special treat by layering salami and cheese on a cracker and topping with a dollop of this jam.
Three Little Pigs Duck Liver & Pork Mousse With Port Wine ($6.49) Duck liver and pork go into this pate, along with port wine and seasonings.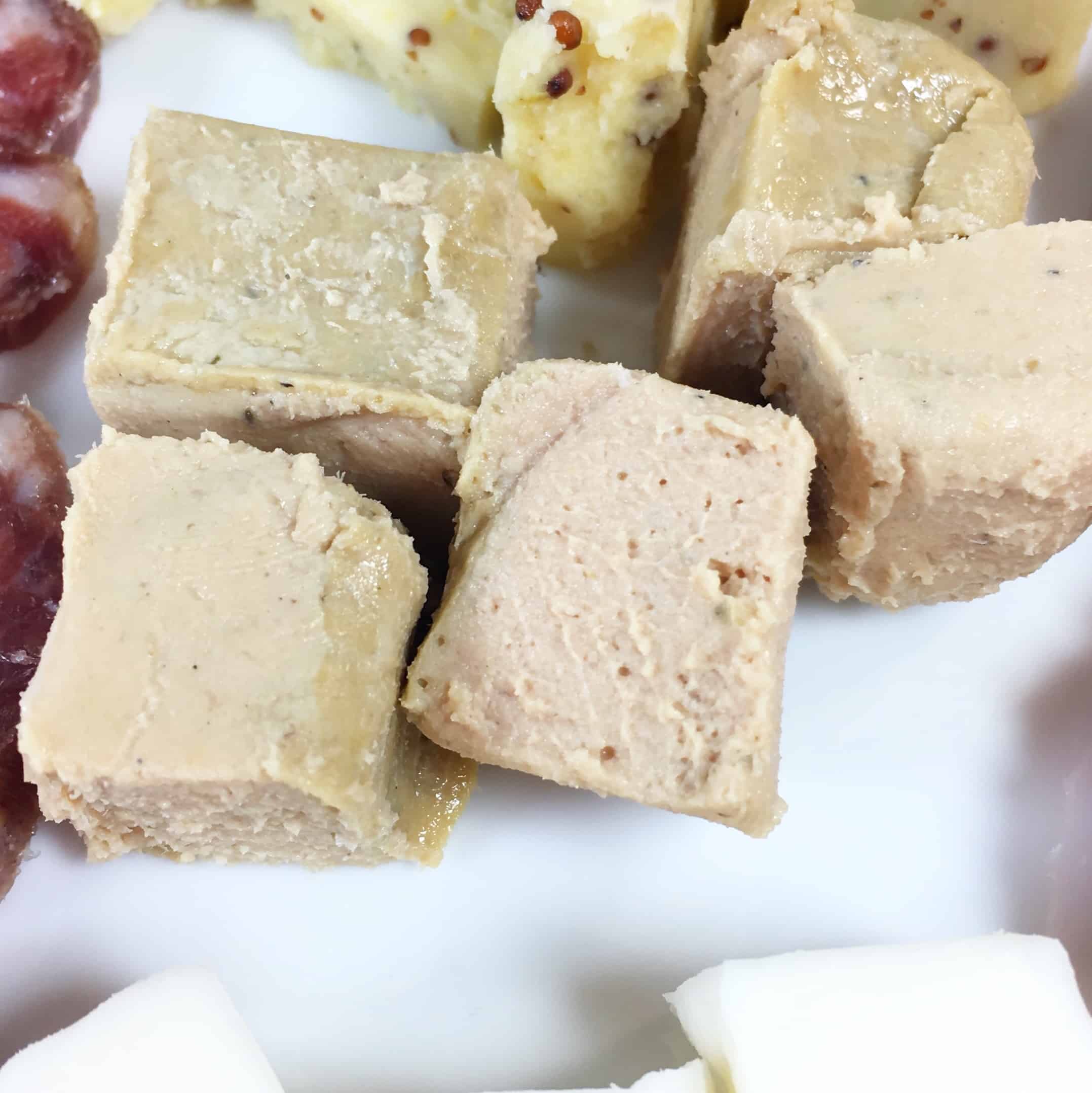 Creminelli Whiskey Salami ($14.99) I just want to say that the salami sent in this box bears little resemblance to the ones at my grocery store deli. This one in particular was very chewy and dense.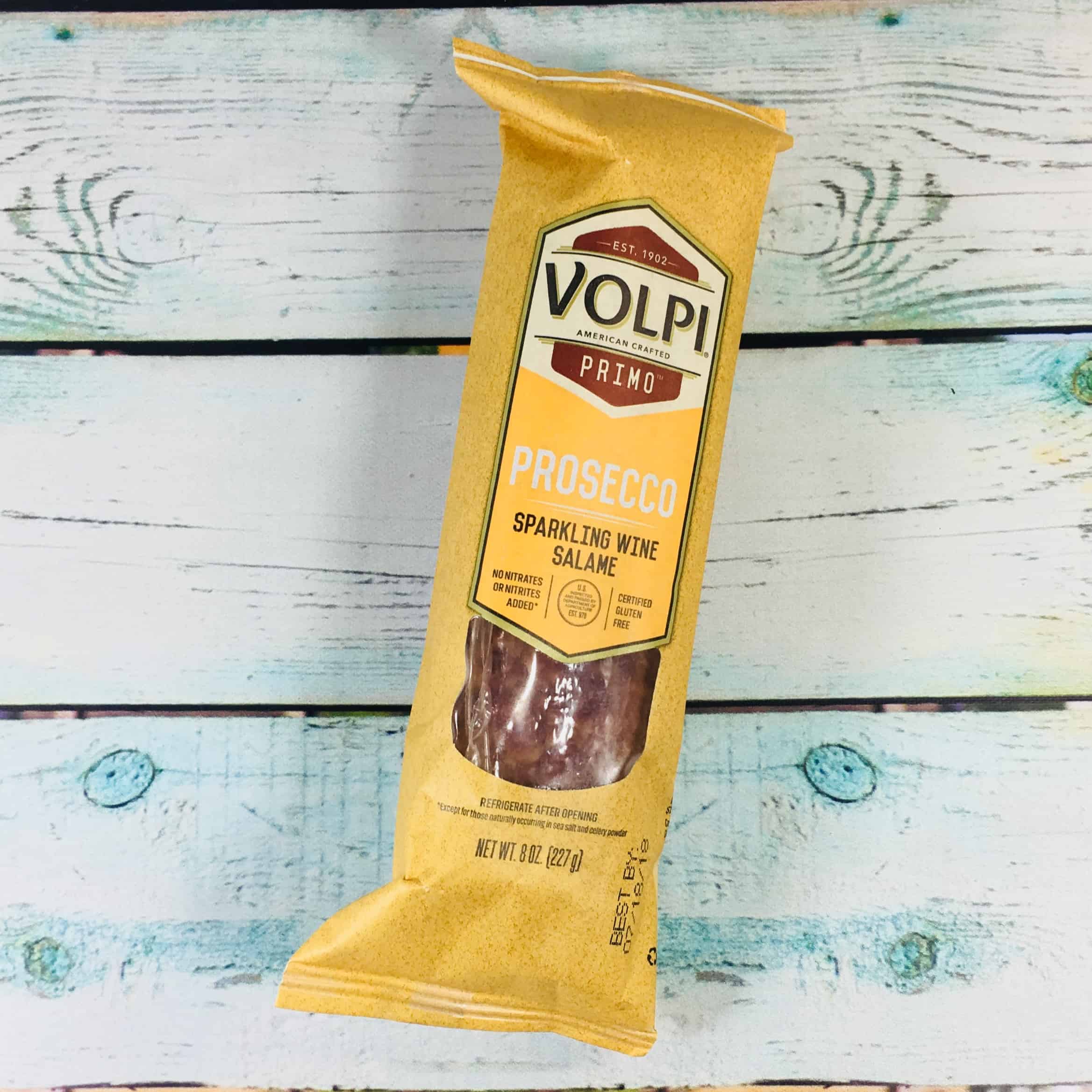 Volpi Primo Prosecco ($10.99) I couldn't find this one online but linked to a similar product. This was a little more like the ones from the store, but the prosecco gave it a unique flavor that is missing from the usual offerings.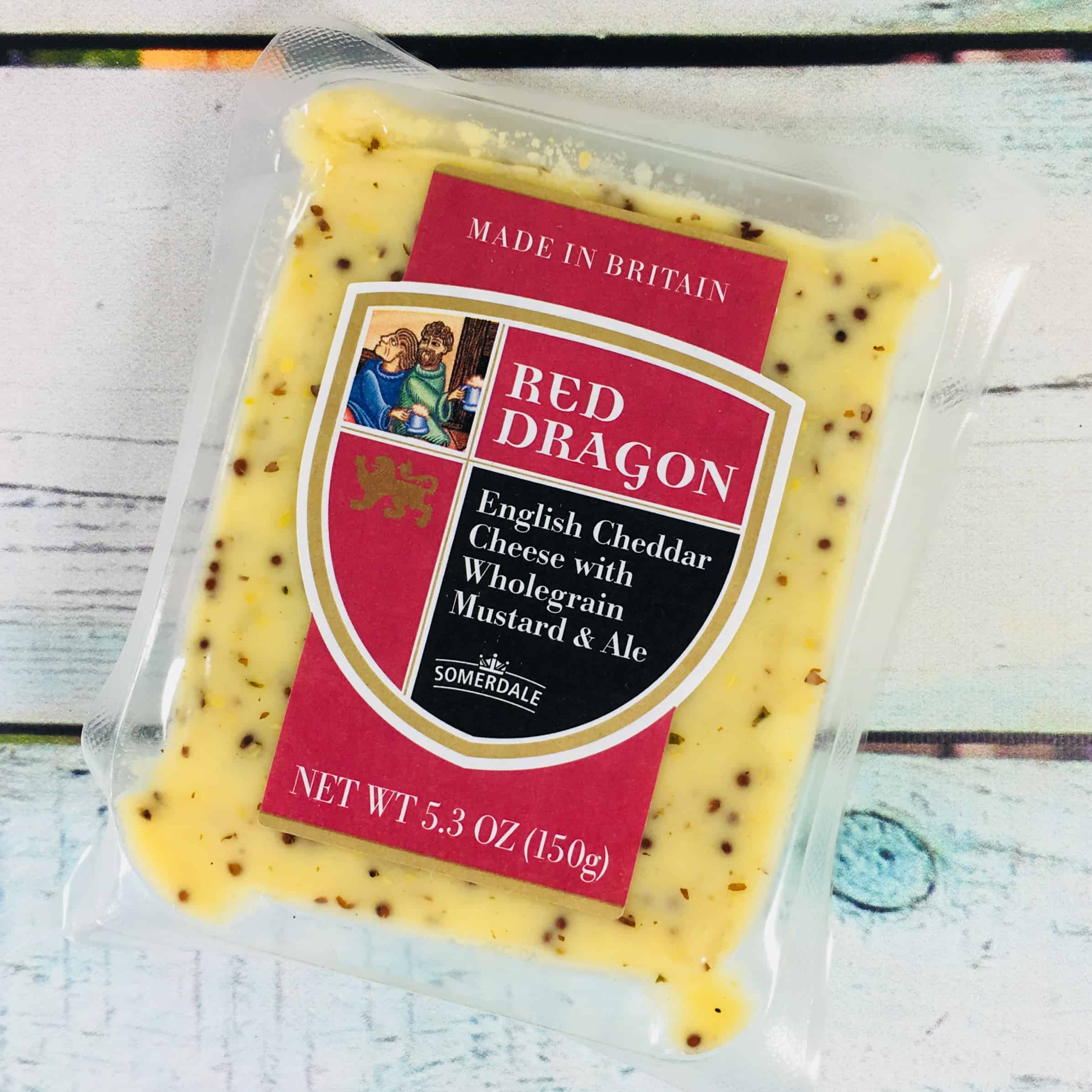 Red Dragon English Cheddar Cheese With Whole Grain Mustard & Ale ($7.77) If Dijon mustard came in cheese form, this would be it! Imported from England, where they know a thing or two about wonderful cheddar cheese. I loved the little pop from the mustard seeds!
The Drunken Goat Semi-Soft Goat Cheese Bathed In Red Wine ($15) I'm not usually a fan of goat cheese, it's too tangy and ripe but this changed my mind. It is soft, similar to Monterey Jack rather than a crumbly goat cheese.
I like the idea of Sharecuterie, but I was a little worried that the 3 items that needed to be refrigerated were not kept cold enough on their trip. To me, "refrigerated" means somewhere between 32-40 degrees. I think some additional ice packs might help with that. Please know that if you have any problems Sharecuterie will take care of it promptly.
I would also recommend this box to those who enjoy strong flavors. The sausages were very different from what I am used to, but I also liked trying the cheeses since they were ones I would have passed by at the store. The nuts, crackers, and jam were all perfect accompaniments and rounded out the experience nicely.
Any thoughts on our Sharecuterie Box? Let us know your comments!