Tinker Crate is a subscription box that inspires kids to learn about science, engineering, and technology, all while having lots of fun. Each month, the box explores a field of study within a STEM (Science, Technology, Engineering, and Math) discipline. Kids practice their problem-solving skills and learn how to engage in both structured and open-ended exploration and investigation. Most boxes walk the tinkerers through the construction of fairly complex mechanical devices.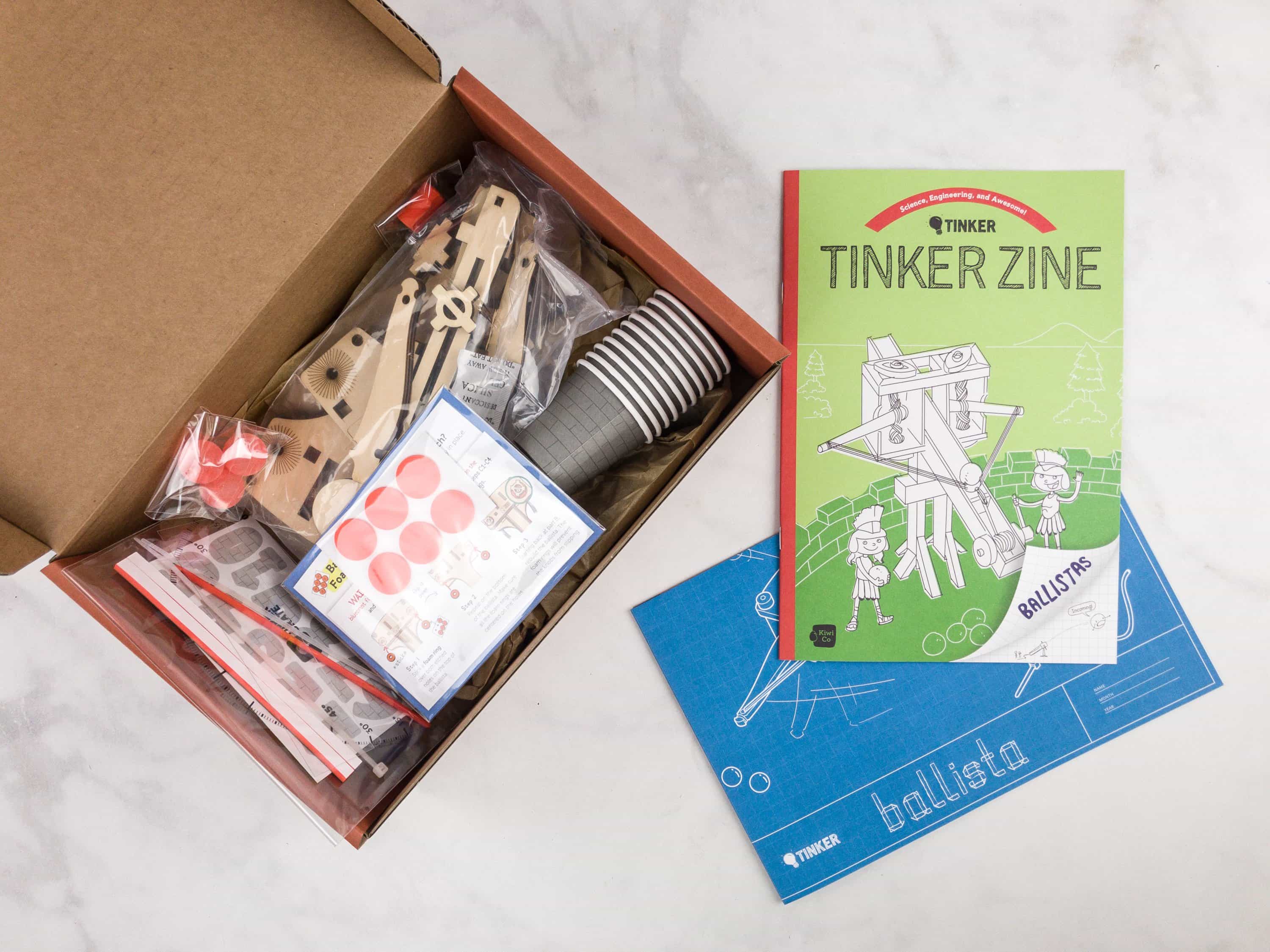 This month's theme is BALLISTAS!
Everything arrives together in a single Tinker Crate – the supplies, a fold-out instruction sheet, and the Tinker Zine.
The kit includes all the materials needed to construct a Ballista, an ancient siege weapon that harnesses the power of tortion.
DEAL: Use this link to save 40% on your first box of Tinker Crate! (or Kiwi Crate and the KiwiCo family subscriptions Koala Crate and Doodle Crate).
The main project is always a great hands-on activity and a great demonstration of the scientific principles featured in the box, but the Tinker Zine is full of well-written, historically and scientifically accurate background and explanatory materials. This where the lessons really take shape!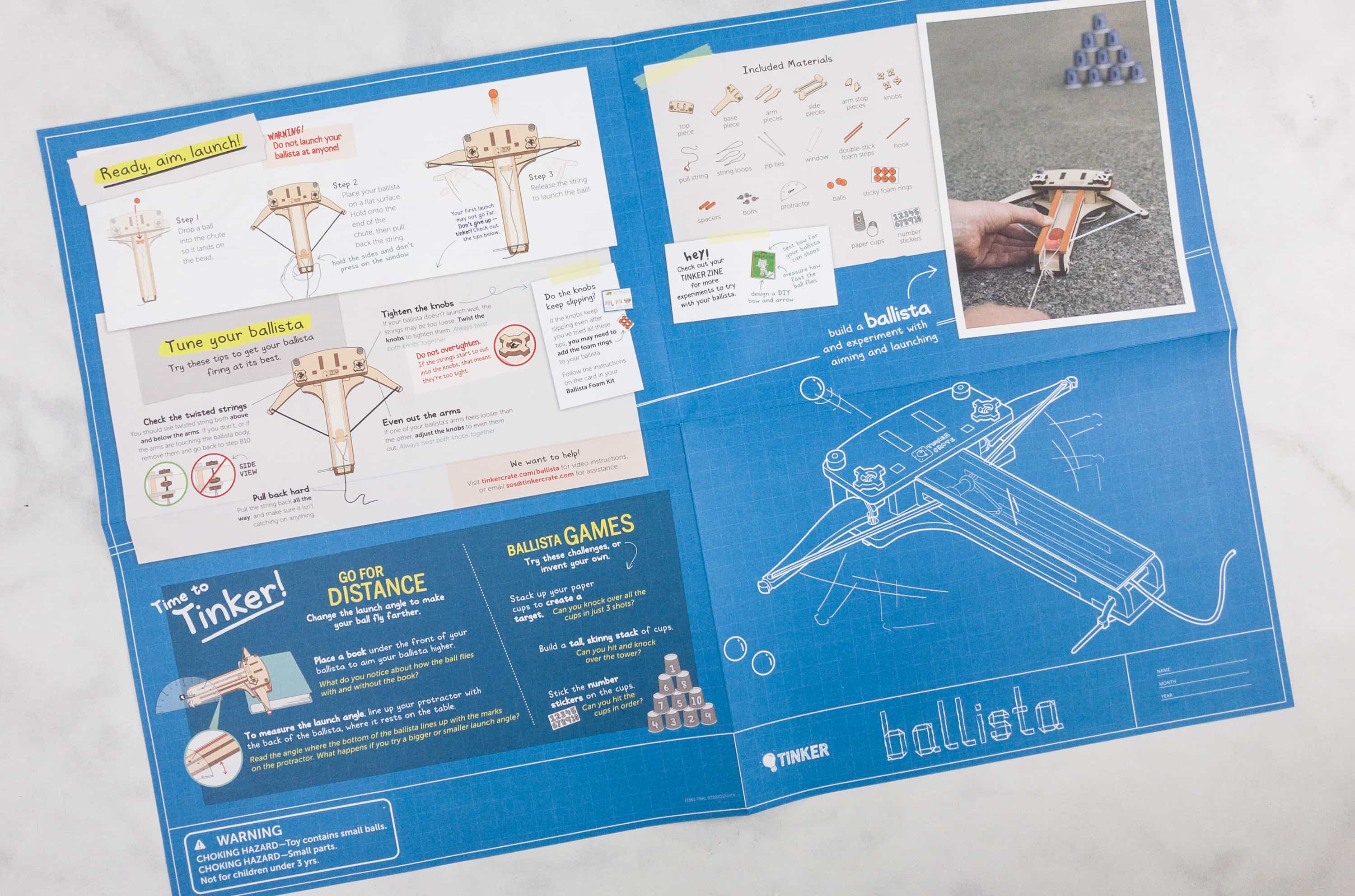 The instructions and other project info are printed on a faux blueprint fold-out sheet.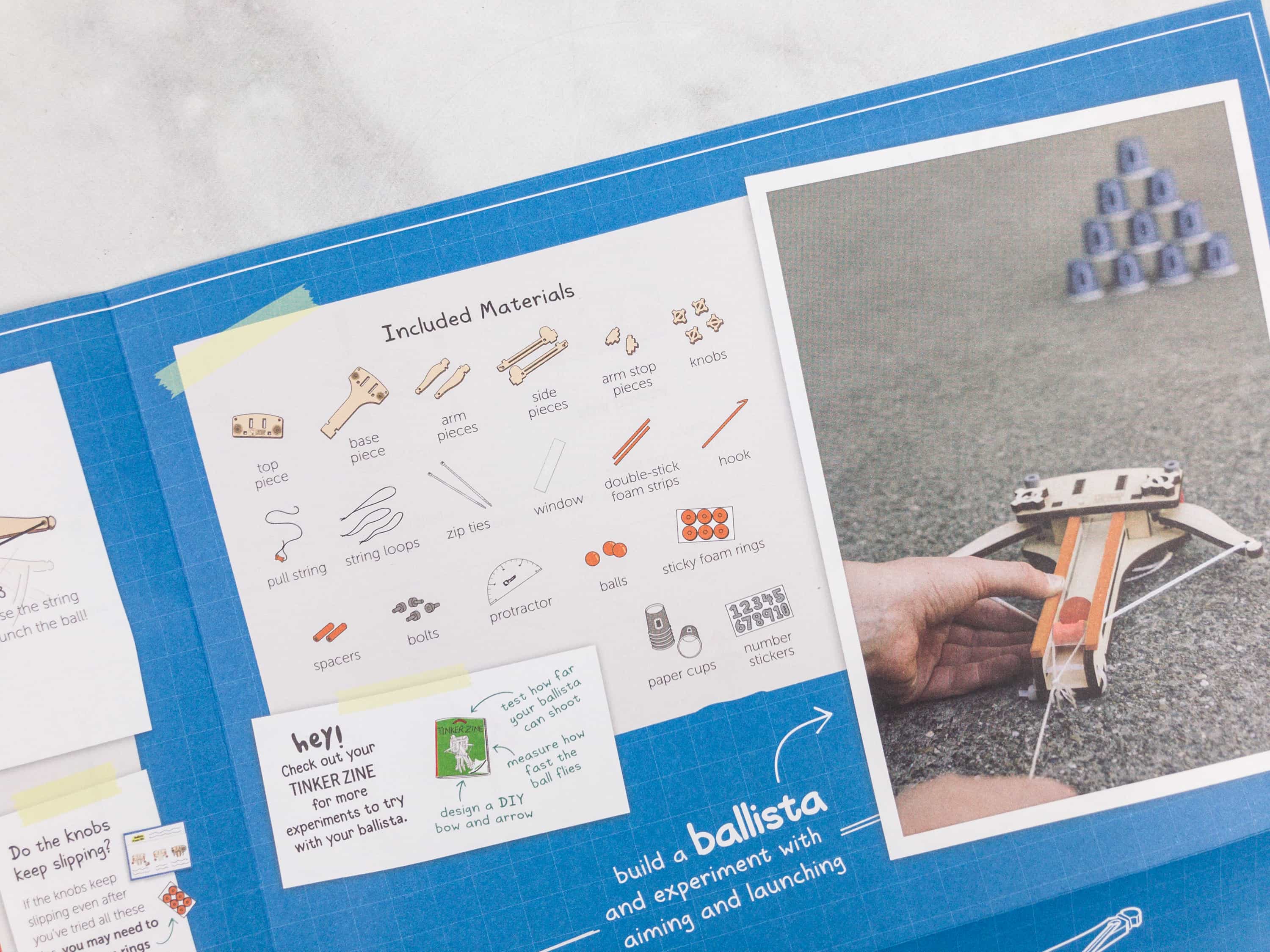 One side of the sheet has pointers for using your newly-constructed device, plus an inventory of all the supplies provided in the Crate.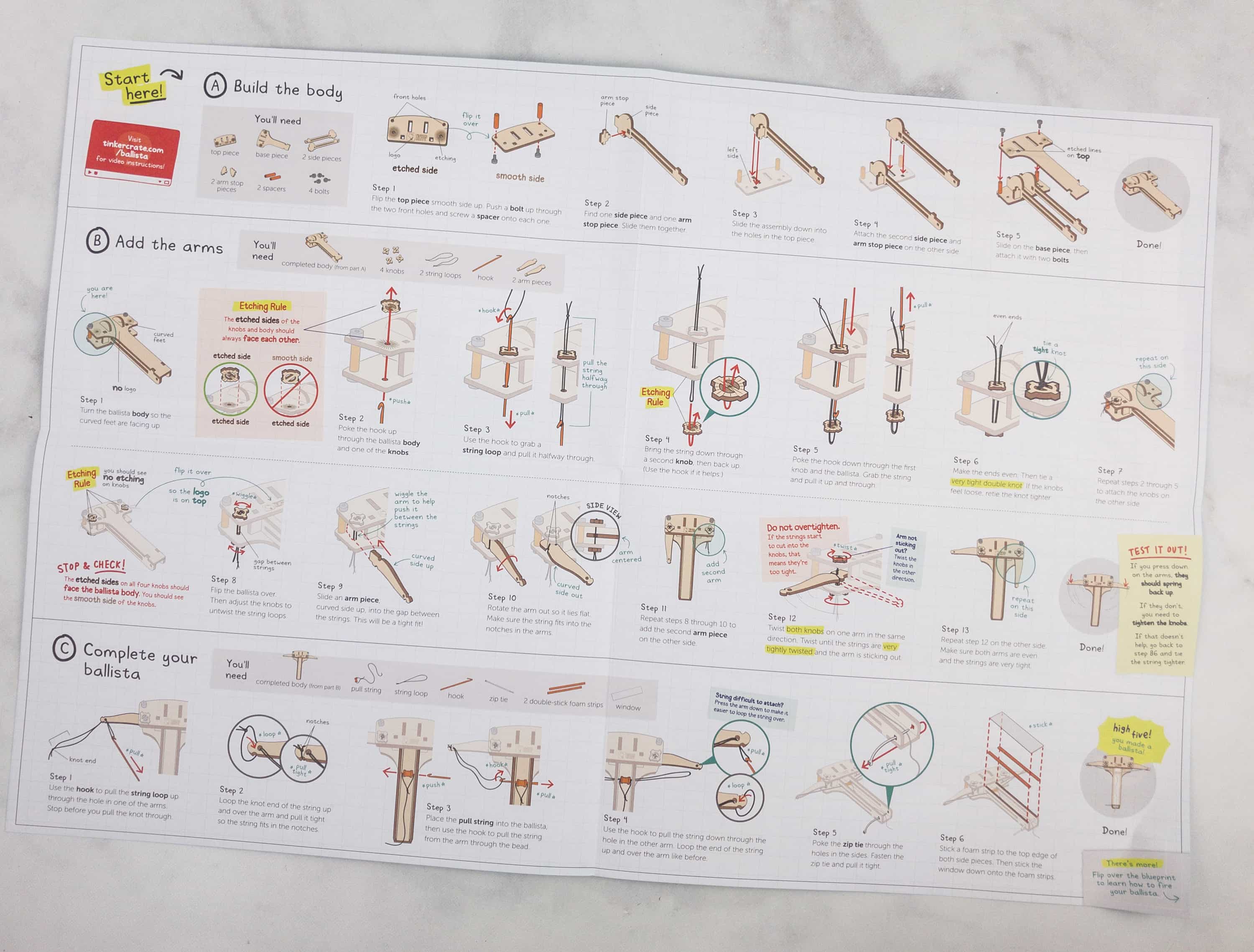 The other side contains highly-detailed illustrated instructions with lots of explanatory blurbs, close-ups of technical areas, and arrows to show where parts are to be placed.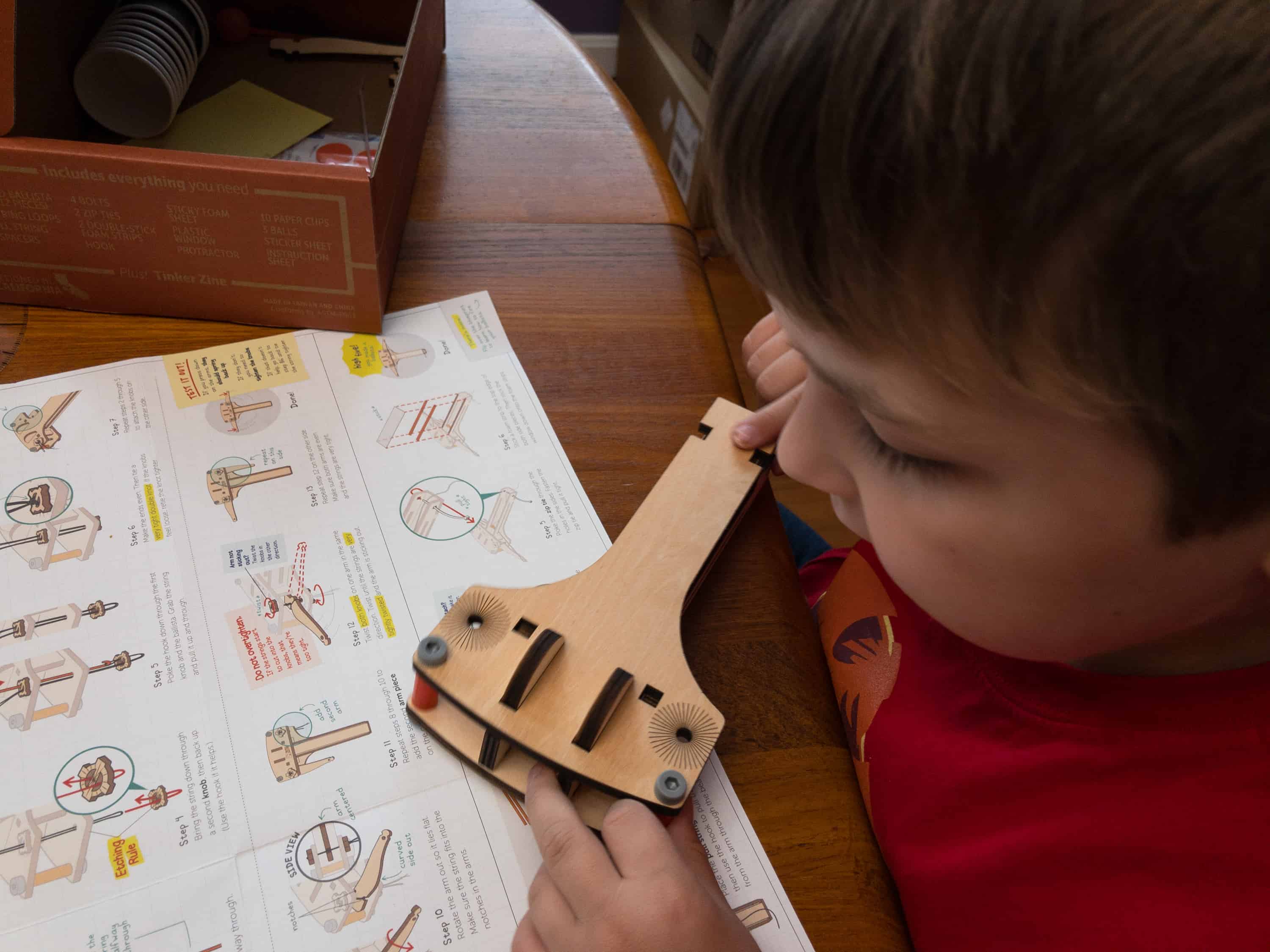 This project definitely got my son's attention! He was able to assemble the framework of the ballista with ease, but the project did get tricky once we started running the strings.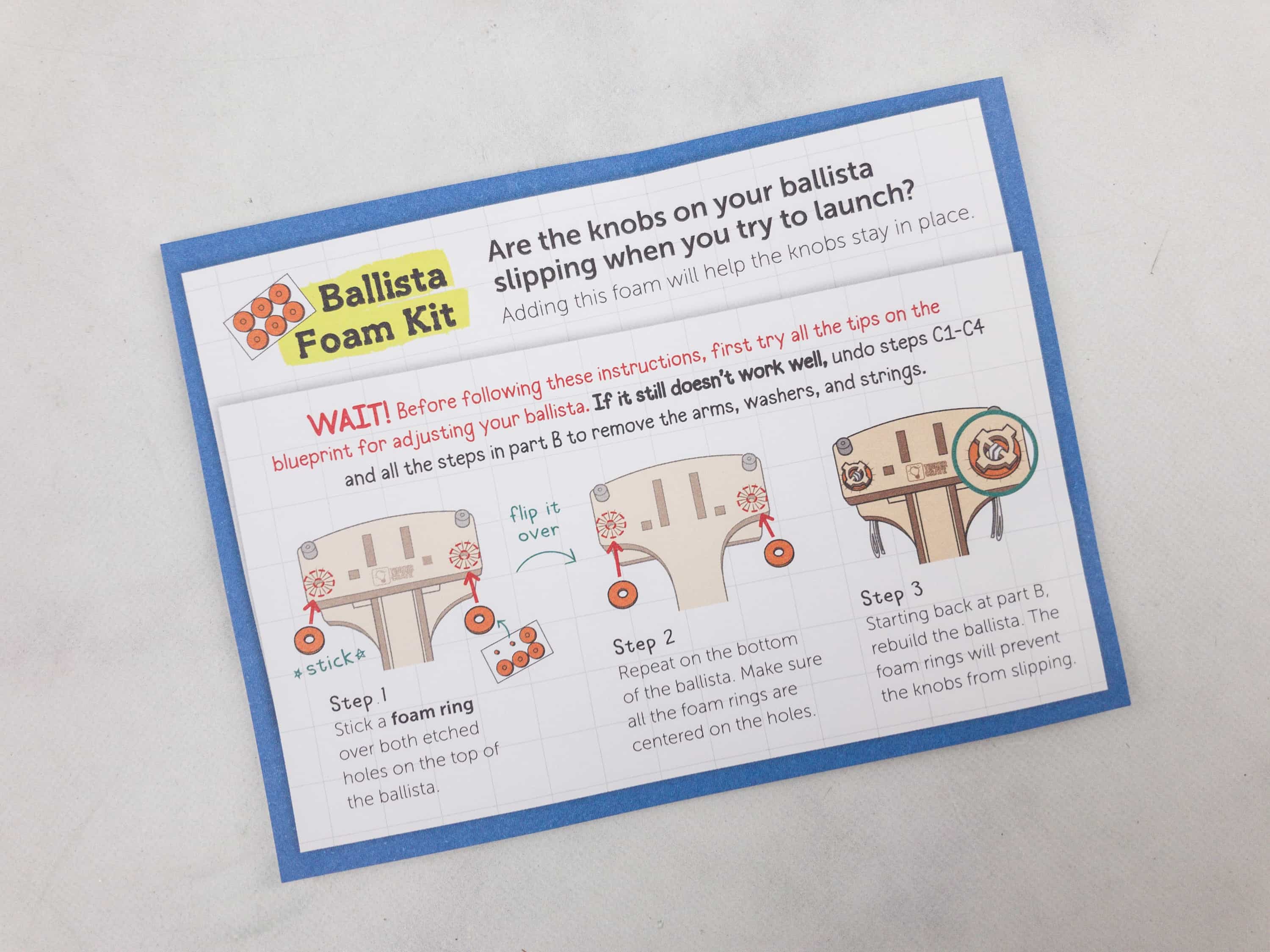 Whenever Tinker Crate identifies a potential point of failure in a design, they include a fix kit right in the Crate! Most of the time, these issues never present themselves, but the Tinker Crate engineers include the fix in every Crate, just in case — Our ballista worked very well without needed the extra padding.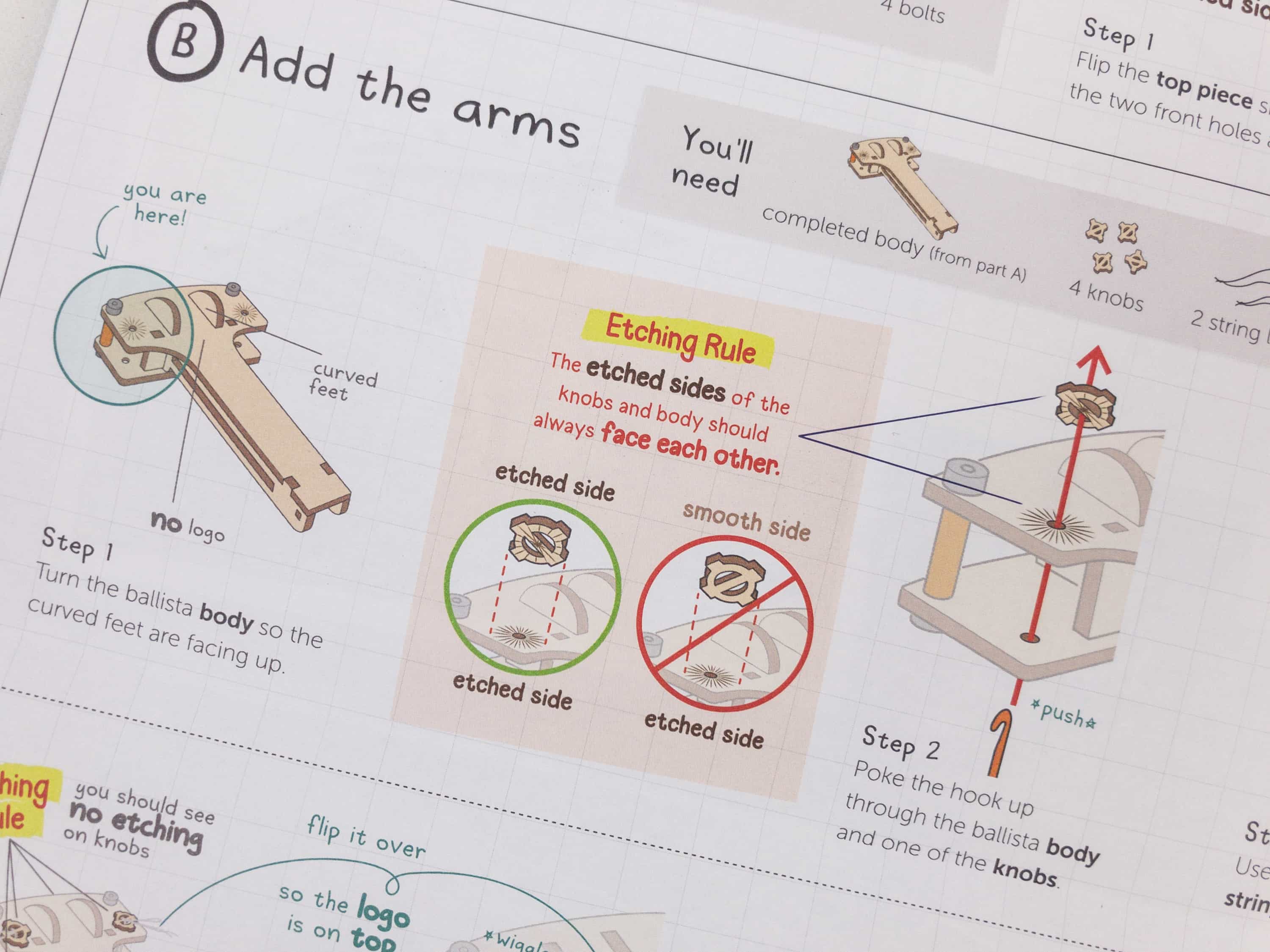 They give you enough information at every step that you never have to guess what to do next. They include checkpoints to verify that assembly is going properly, plus, there is help available if needed!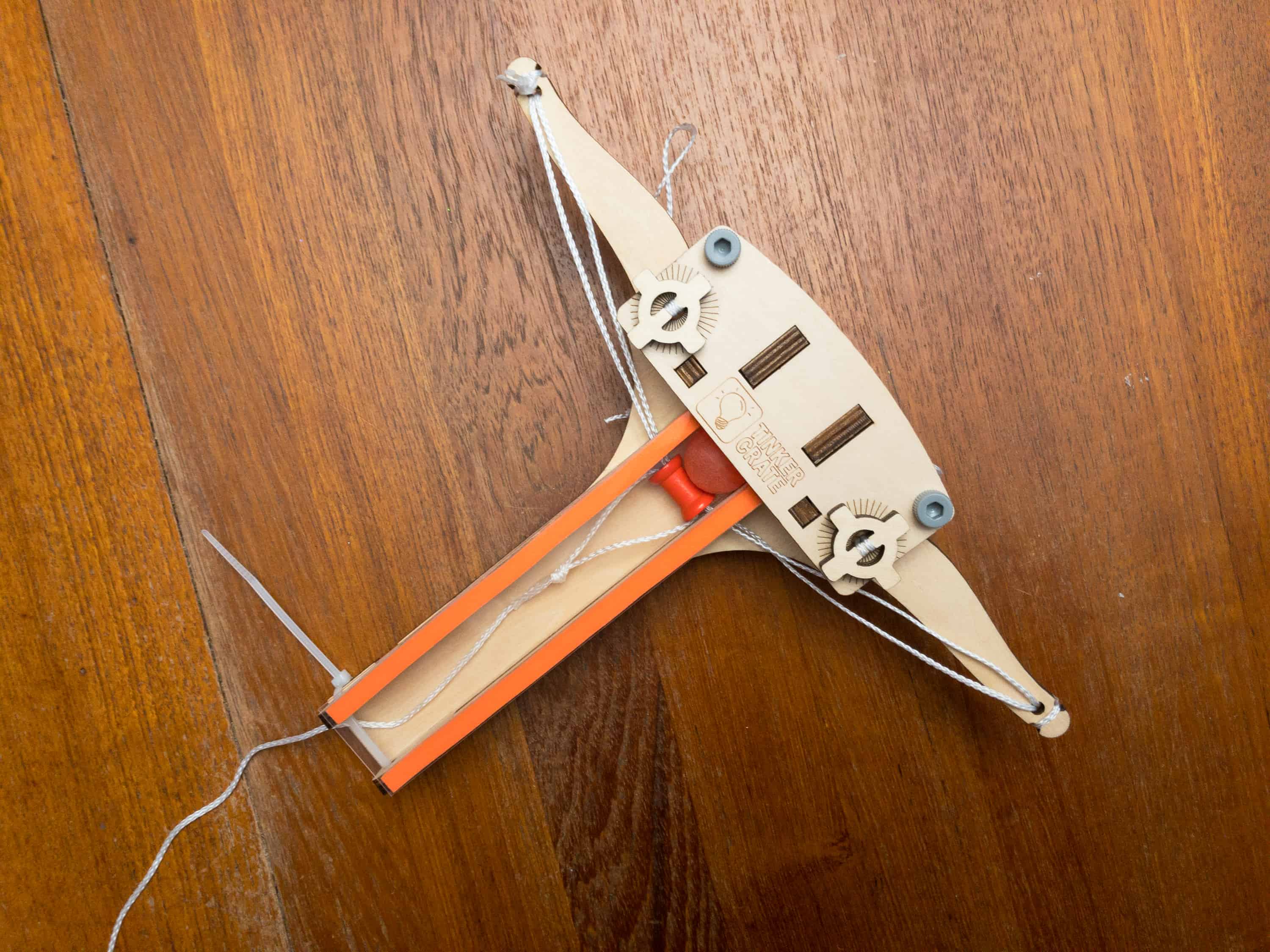 Our completed ballista!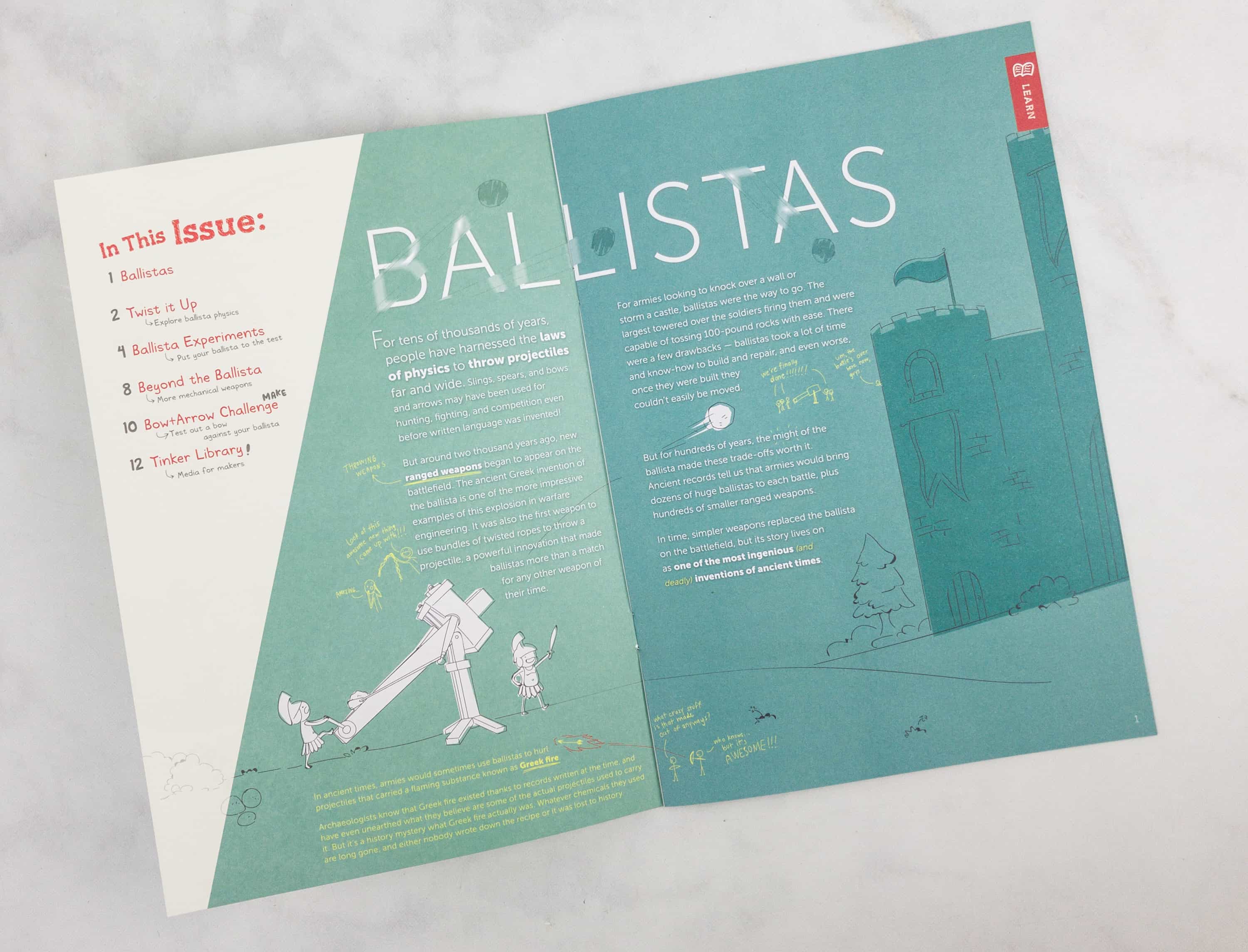 The Tinker Zine does a great job of explaining the technology and introducing it in a way that is interesting for kids. They had a sure-fire hook with this project, as not much is cooler to a seven year old than ancient siege engines.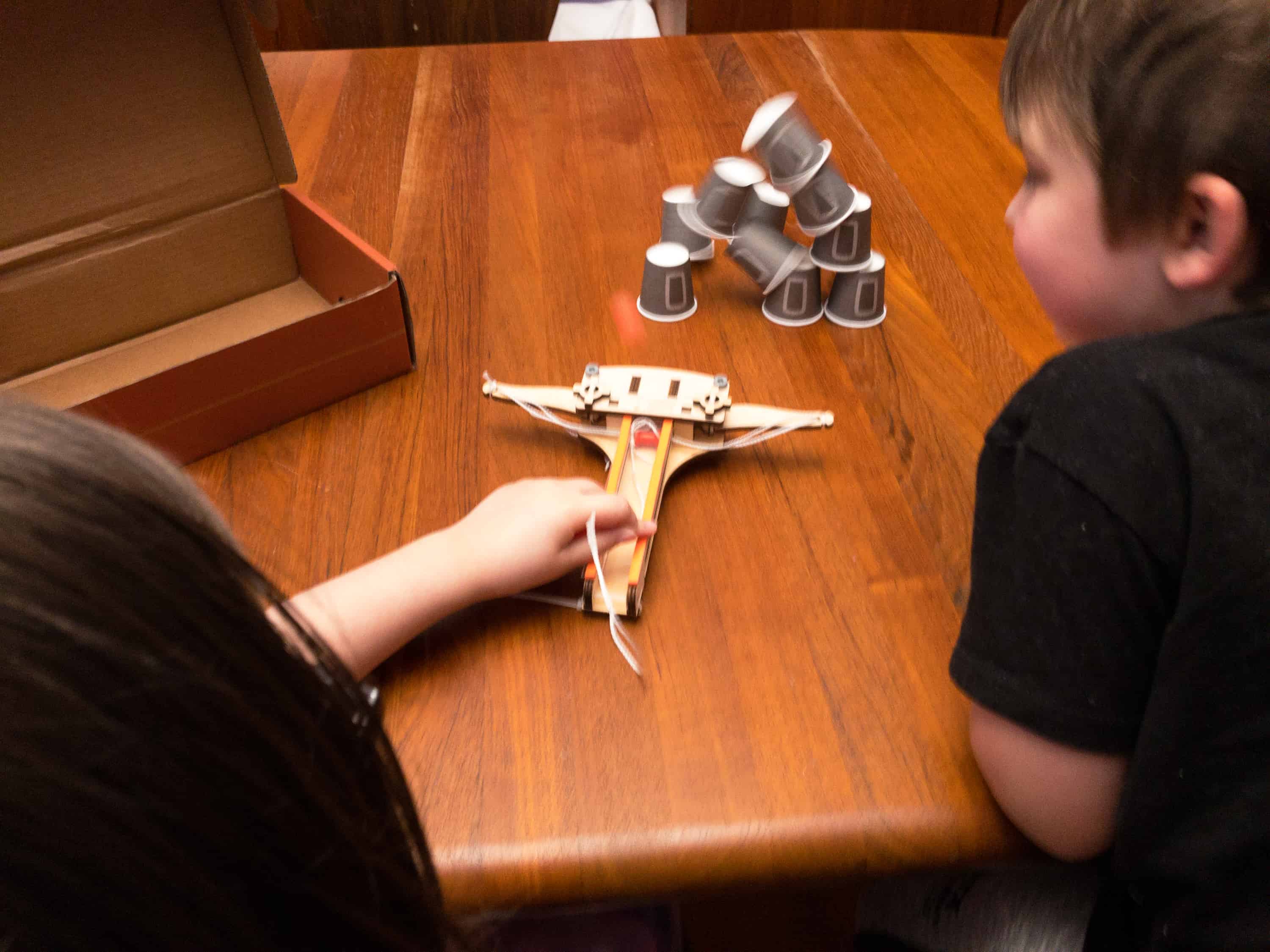 The ballista worked really well, firing hollow plastic balls (included in the Crate) that resembled small ping pong balls.
This was a very cool Crate! My son was totally psyched as soon as he found out the theme (well, actually, as soon as I explained what a ballista was). The construction was a little more difficult than many Tinker projects, though. It wasn't more complicated, and it was actually a very speedy build, but the threading, tying, and twisting of the tortion cords required a bit of hand strength, knowledge of knots, and fine motor coordination. The completed project was totally worth it!
Tinker Crate is well-designed and always a good time. It has a great balance of learning, building, and playing – you never build a static model, and there is always some tinkering, experimentation, or other use of the project once it is built. Tinker Crate's projects and supporting materials make complex scientific and engineering principles easy for kids to understand and see in action, and they build on themes that kids are certain to find interesting. It is a superb activity for evenings, weekends, and school vacations, as it's always fun and keeps kids mentally engaged and using their brains.
Have you tried Tinker Crate yet with your kids?