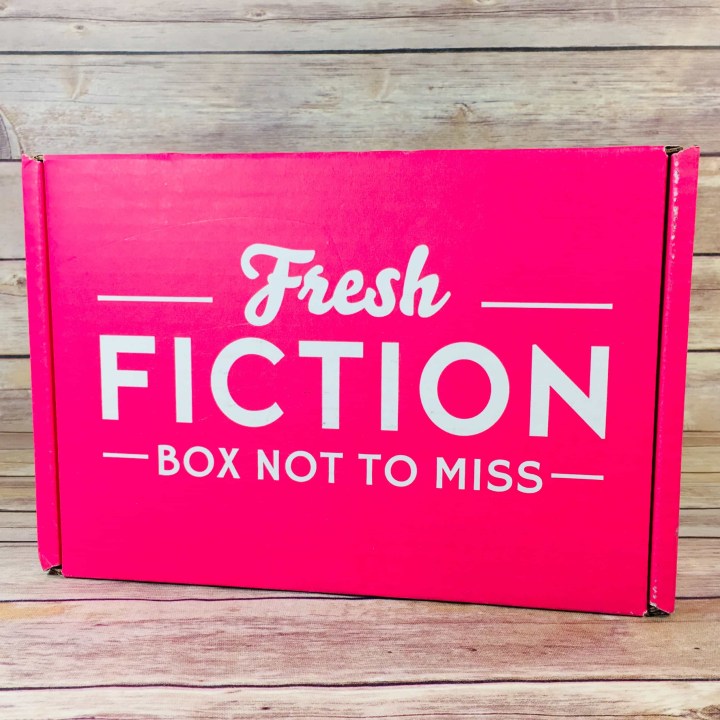 Fresh Fiction Box Not To Miss is a monthly book subscription that sends 5-7 books for $25.95. Shipping is free to the U.S. but they also ship worldwide. You can choose from a 1 or 3 month plan and both plans auto renew. Alternatively, you can also buy a one-time box from their online shop. They send 2-3 new release print books, codes for 2-3 downloadable ebooks, and a treat! Most of the books will be from the romance genre but they may occasionally send mystery, erotica, YA, and paranormal books too.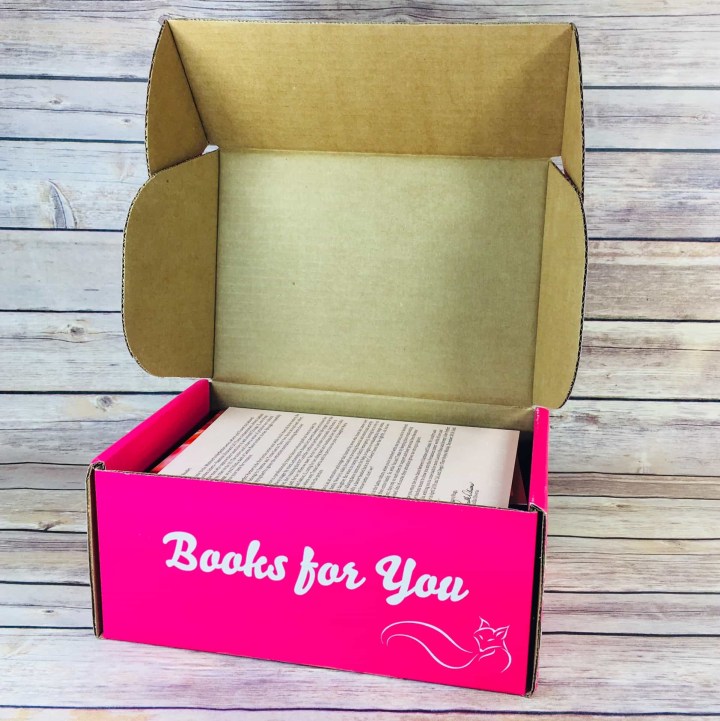 DEAL: Save $3 on your first Fresh Fiction Not To Miss box with coupon code HELLO.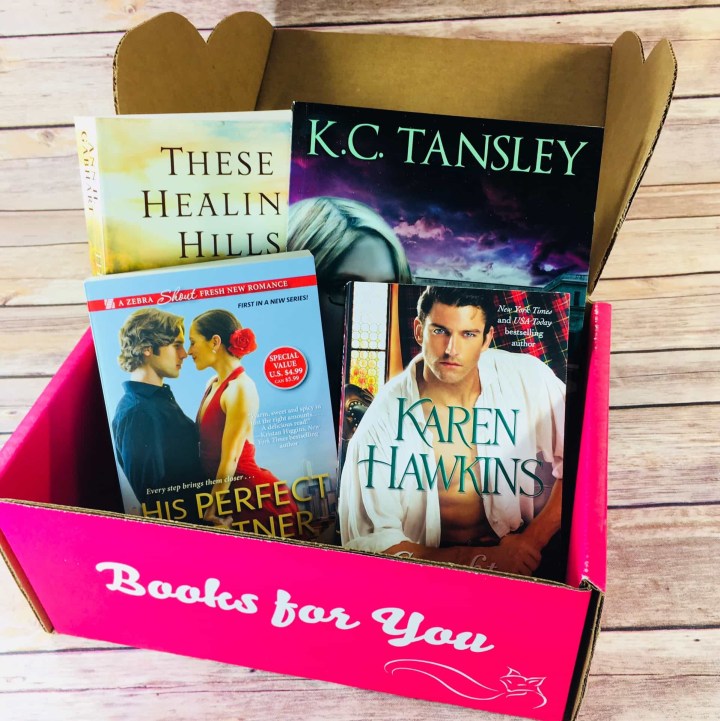 I received 4 paperbacks and codes for 3 e-books plus a couple of inserts, which I will describe below. Fresh Fiction sends different box variations each month so keep in mind that your box may vary from mine! Also, I have been getting this box for a year now and have always received at least 4 print books each time!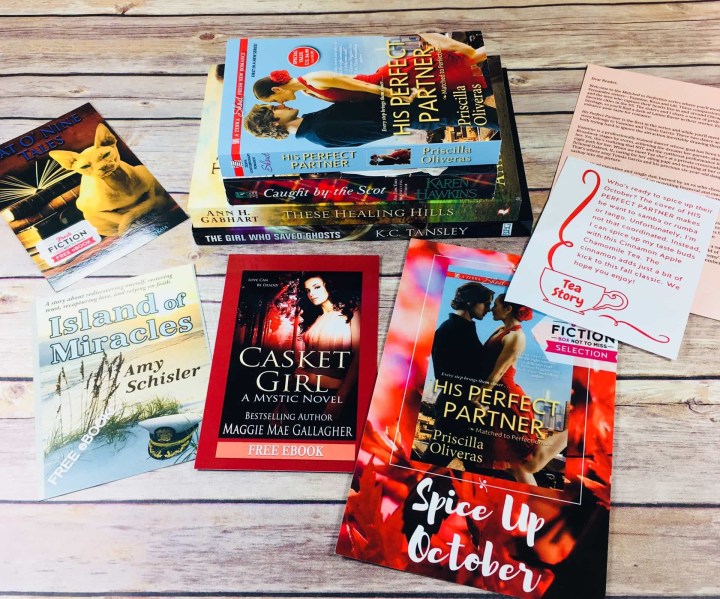 Everything in my October 2017 box!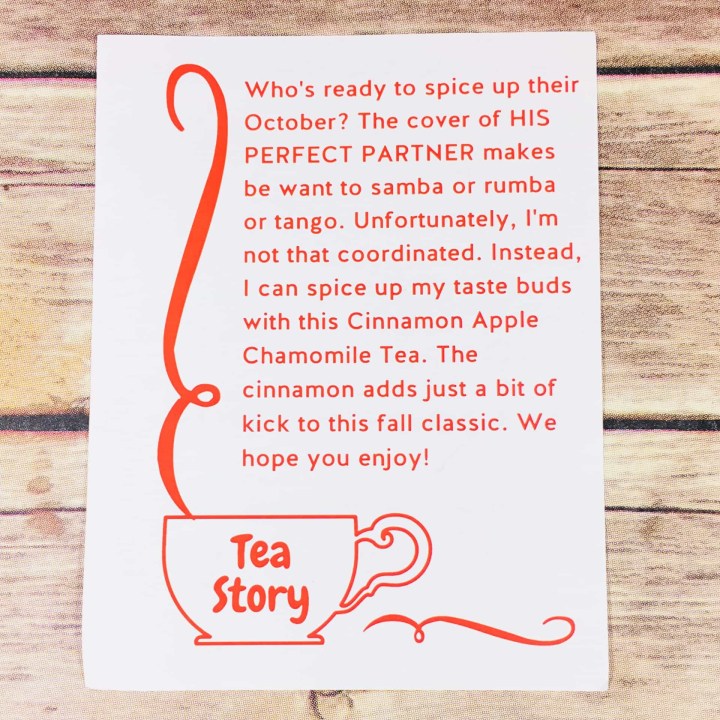 The past several boxes have included a tea bag from Stash but it looks like mine is MIA.

There was a card introducing the featured book for the month.
Each month, FFBNTM will feature an author or publisher and this month it's His Perfect Partner. Each subscriber will receive this book in their box, along with a letter from the author!
The author introduced her book's characters and provided some insight on the book. You can see more about this book below.
First up are 3 downloadable ebooks:
Casket Girl by Maggie Mae Gallagher ($4.99 for Kindle)
Island of Miracles by Amy Schisler ($2.99 for Kindle)
Cat O' Nine Tales by Krystal Lawrence ($2.99 for Kindle)
Note: For the hard copies, I gave the current selling price from Amazon.com.
His Perfect Partner by Priscilla Oliveras ($4.72) is the featured book of the month and the first in the Matched to Perfection trilogy.
Ad executive Tomás Garcia shouldn't even be thinking about his daughter's alluring dance teacher, Yazmine Fernandez. Burned by a shattering divorce, he's laser-focused on his career—and giving his young daughter, Maria, the secure home she deserves. Plus, he's certain that with her talent, Yaz will be leaving Chicago and heading back to Broadway as soon as she can. But Yaz's generous spirit and caring concern are sparking a desire Tomás can't resist—and doesn't want to let go . . .

For Yaz, good-looking workaholics like Tomás simply can't be part of her life ever again. She owes it to herself to get back her confidence and fulfill the dreams her papá could not. She's glad to spend time with Maria—and taste the family life she feels she can never have. And she's sure that she and Tomás can keep their attraction under control because there's so much at stake. But each unexpected intimacy, each self-revelation, makes the fire between them grow hotter with every step—and every risk to their hearts . . .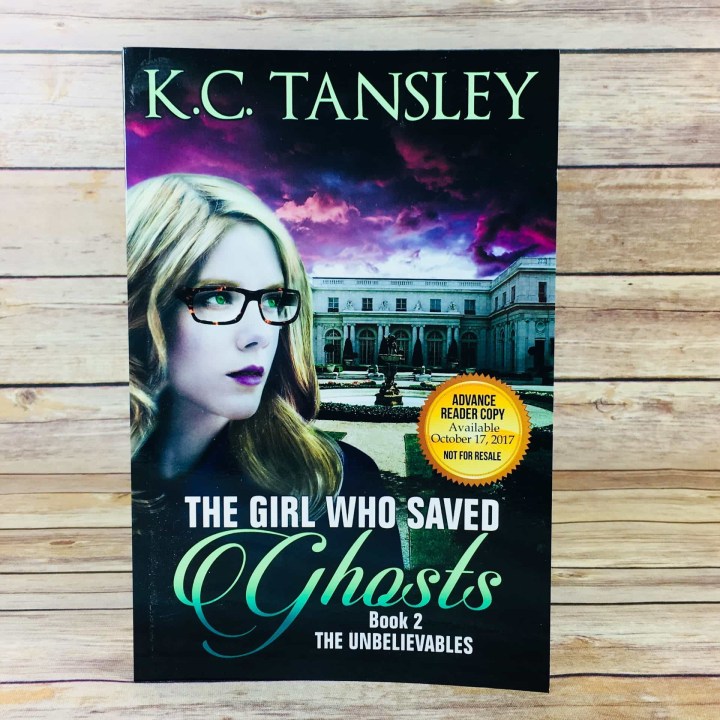 The Girl Who Saved Ghosts – The Unbelievables by K.C. Tansley (will be $12.99) is book 2 in The Unbelievables series. It features time travel and ghosts and all kinds of genres.
She tried to ignore them. Now she might risk everything to save them.

After a summer spent in a haunted castle—a summer in which she traveled through time to solve a murder mystery—Kat is looking forward to a totally normal senior year at McTernan Academy. Then the ghost of a little girl appears and begs Kat for help, and more unquiet apparitions follow. All of them are terrified by the Dark One, and it soon becomes clear that that this evil force wants Kat dead.

Searching for help, Kat leaves school for the ancestral home she's only just discovered. Her friend Evan, whose family is joined to her own by an arcane history, accompanies her. With the assistance of her eccentric great aunts and a loyal family ghost, Kat soon learns that she and Evan can only fix the present by traveling into the past.

As Kat and Evan make their way through nineteenth-century Vienna, the Dark One stalks them, and Kat must decide what she's willing to sacrifice to save a ghost.

The Girl Who Saved Ghosts is The Haunting of Sunshine Girl meets Outlander. It's a fast-paced YA time-travel murder mystery novel that combines paranormal and gothic elements to create a story full of ancestral legacies, powerful spells, unexpected connections, and inherited destinies.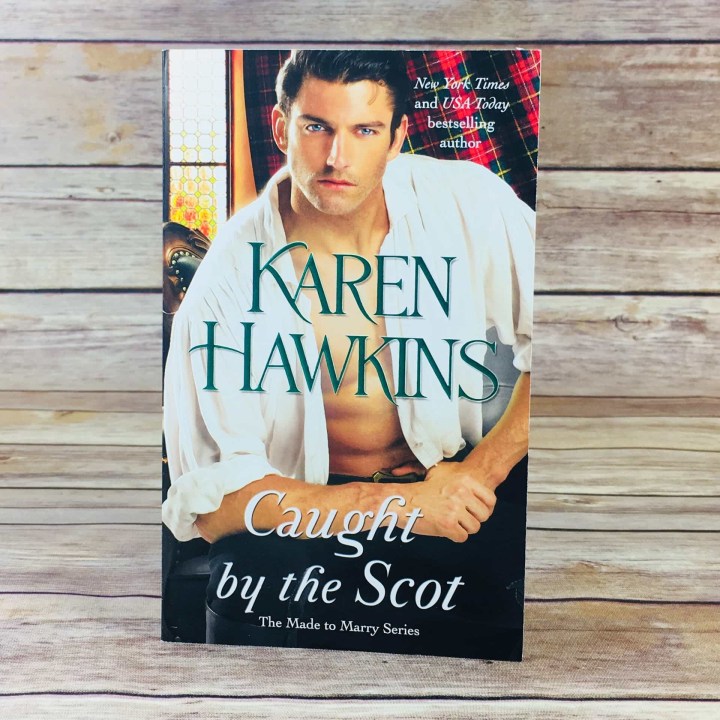 Caught by the Scot by Karen Hawkins ($5.98) Oohh, a historical romance that takes place in Scotland and features a pirate. Thanks for providing my weekend read!
Dashing Scottish privateer Conner Douglas must marry a respectable, well-born woman—and soon, if he wants to secure his rightful inheritance. Determined to still explore the high seas as well as his mistresses' beds, he aims to find a pliable wife who'll turn a blind eye to his antics. And he knows just the woman—childhood friend and mousy spinster Miss Theodora Cumberbatch-Snowe.

Unbeknownst to Conner, meek and plain Theodora has been hopelessly in love with him for years. But unwilling to wait forever for what will never happen, Theodora plans to wed a kind—if unexciting—local landowner, leaving behind the wild Highlander of her dreams.

Yet Conner refuses to let his perfect wife get away. He chases her to Gretna Green and is shocked to discover the real Theodora is an ardent and wildly sensual woman. Soon he realizes his passion to win her has nothing to do with securing his inheritance and everything to do with earning the love of the unforgettable woman who has vowed to leave him in her past forever. But have his wandering ways chased the woman he loves away for good? Or can Conner convince Theodora to give him one last chance before she marries the wrong man?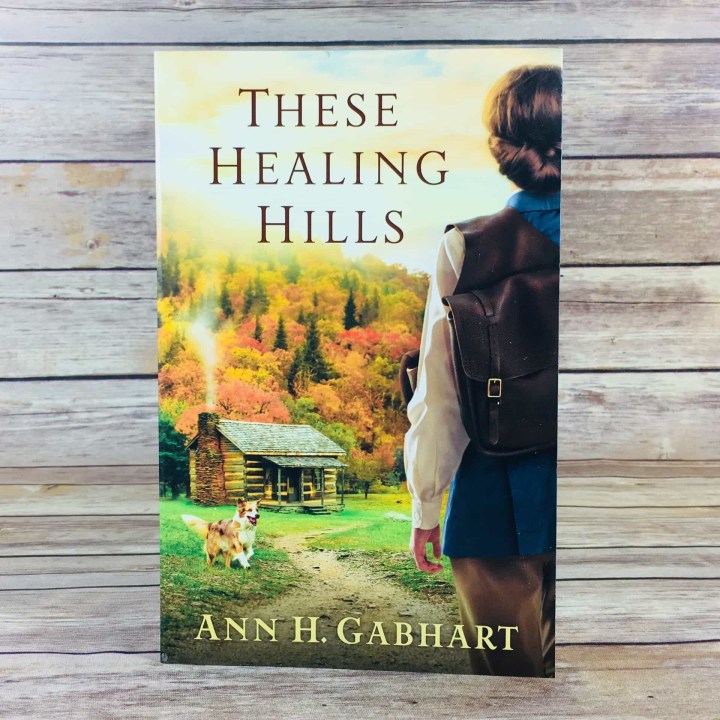 These Healing Hills by Ann H. Gabhart ($10.51) is a post-WWII novel and looks very interesting. A young woman must reevaluate her future when it falls apart before it has a chance to start.
Francine Howard has her life all mapped out until the soldier she planned to marry at WWII's end writes to tell her he's in love with a woman in England. Devastated, Francine seeks a fresh start in the Appalachian Mountains, training to be a nurse midwife for the Frontier Nursing Service.

Deeply affected by the horrors he witnessed at war, Ben Locke has never thought further ahead than making it home to Kentucky. His future shrouded in as much mist as his beloved mountains, he's at a loss when it comes to envisioning what's next for his life.

When Francine's and Ben's paths intersect, it's immediately clear that they are from different worlds and value different things. But love has a way of healing old wounds . . . and revealing tantalizing new possibilities.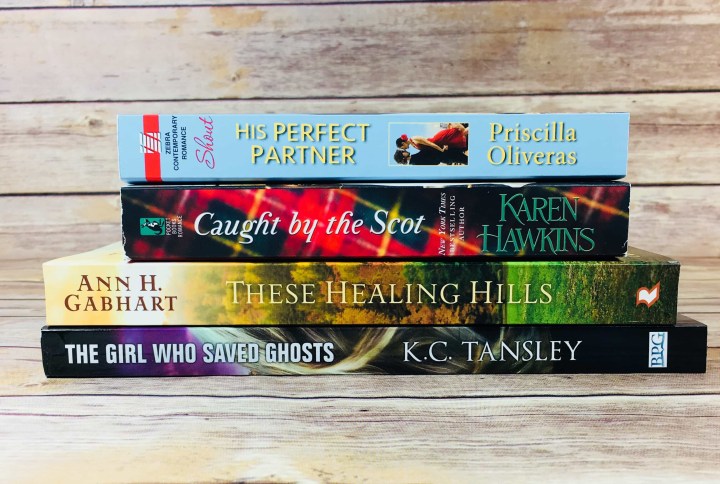 Fresh Fiction is always fun – I'm never sure exactly what's going to be in the box but I love being able to choose from a variety of books! My October box was worth $31.18, not including the not-for-resale advance copy which would be worth another $12.99. I am happy that Fresh Fiction has started including tea as a treat – it's my favorite pairing with a good book. I really enjoy this subscription and love that these books all have high ratings on Goodreads and Amazon every single time!
What did you think of this month's book selection?
Visit Fresh Fiction Not To Miss to subscribe or find out more!