PostBox is a new paper and stationery subscription box by PostMark'd Studio. Every month, you'll received a curated collection of beautiful paper and lifestyle products. PostBox will make it easier to deliver joy and love right to the mailbox! For $25 a month, you'll receive curated themed cards, postage stamps and artsy doodads. This month has the Breast Cancer Awareness ribbon all over it!
DEAL: Get 10% off on our 3-month PostBox Subscription Plan, plus free shipping! Use coupon code HSFreeship. Expires 10-30-2017.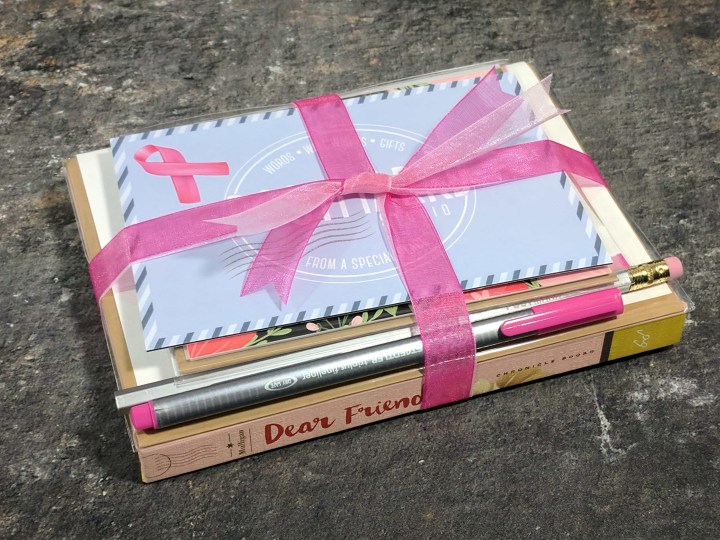 Look how pretty it is out of the box! Ooooh, I see a book!
October theme was Pink Box, to increase attention and support for the awareness, early detection, treatment and pallative care of the breast cancer. There's also a guidelines to participate in Girls Love Mail, an organization dedicated to sending letters to women who have been recently diagnosed with breast cancer. Such a lovely way to use some of your new stationery! You can use the yellow envelop to send your letters!
The flip side explains everything you get in this box!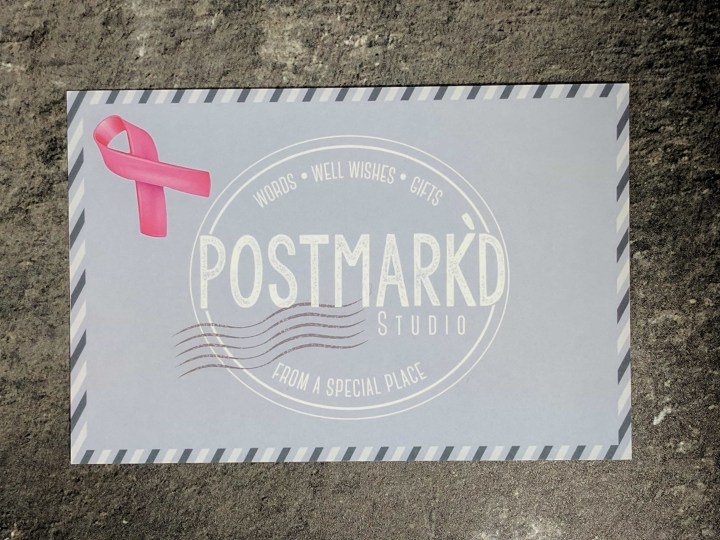 The first postcard is the usual PostMark'd Studio one.
It is a very thick cardboard postcard.
Another thing you'll get every month: the fun silver pencil from Postmark'd Studio. To keep with the Pink Box theme, we get a Staedtler Triplus Fineliner pen in pink! I pretty much only use these pen in my life, I find them so comfortable! And the point is quite fine, so you can write more words on a page!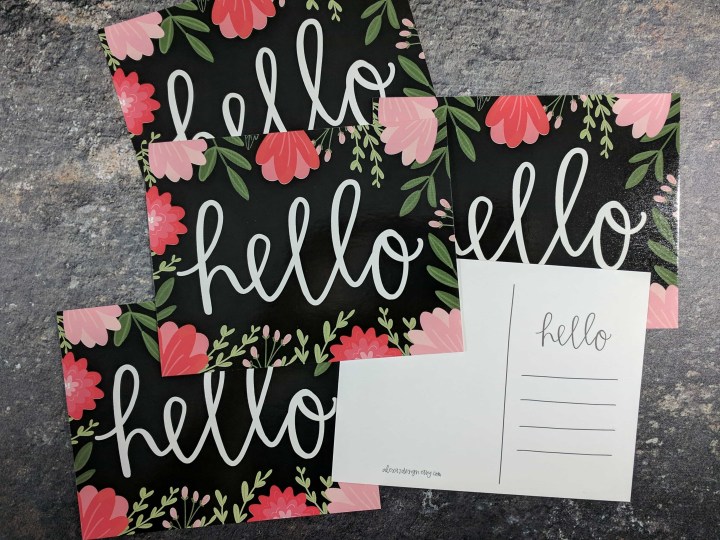 Hello, set of 5 postcards by Alexa Zucher, creator of Alexazdesign. They are so pretty!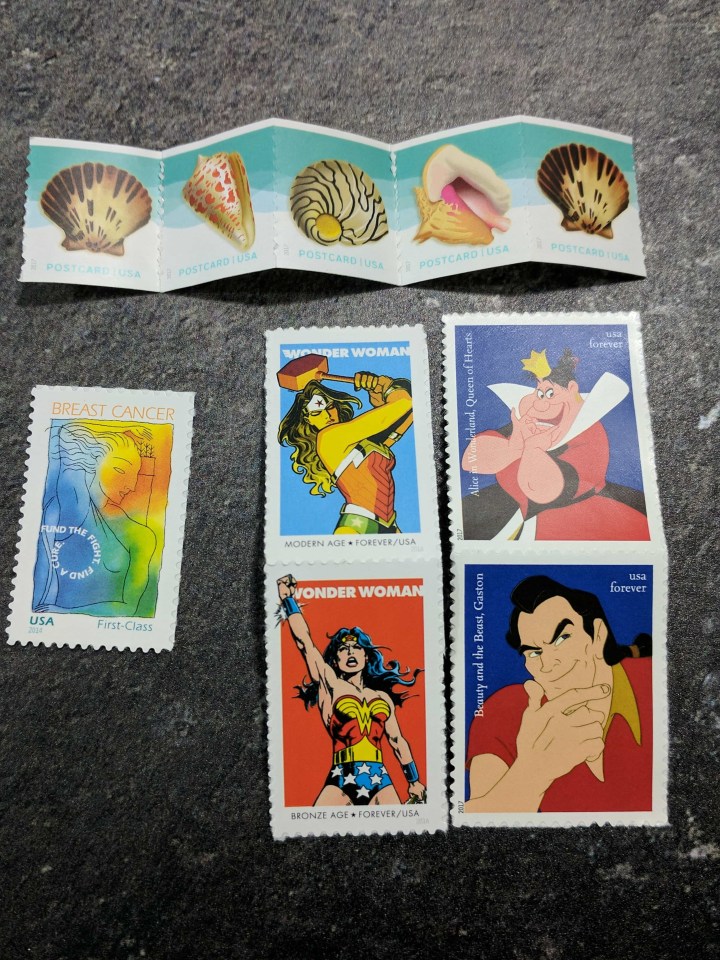 And we received enough postage for all 5 cards! Love these stamps, they are awesome!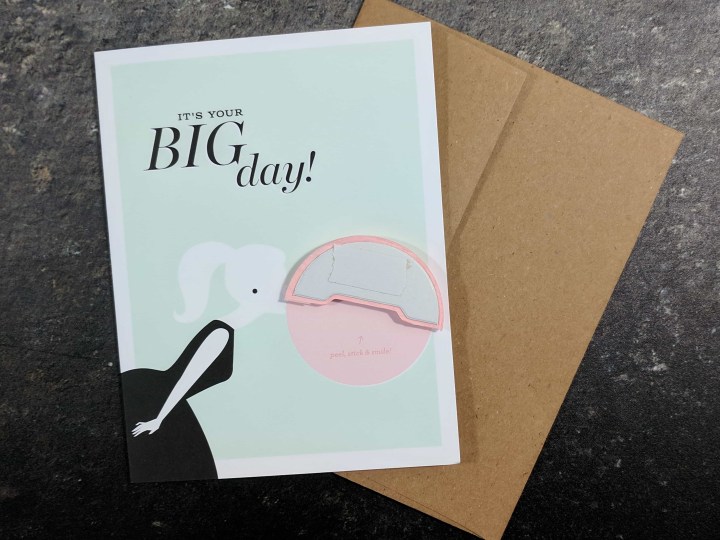 It's Your Big Day! by Inklings Paperie. A fun pop-up card!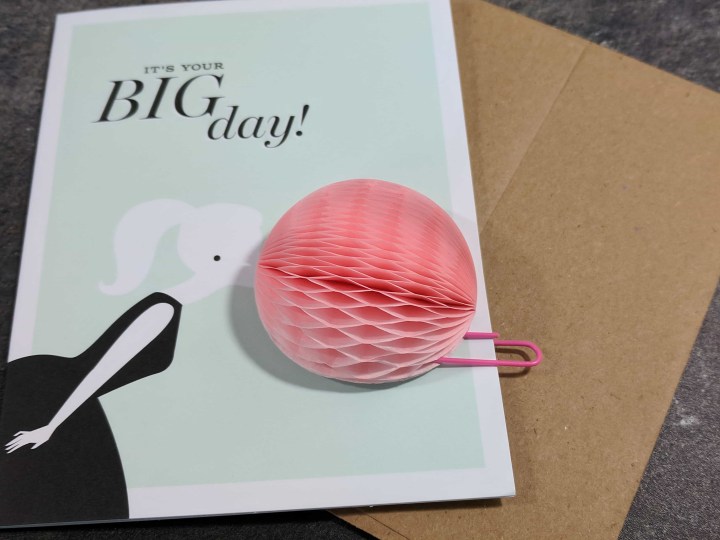 Your recipient can "peel, stick, and smile" when they receive the card!
I'm Possible! by Skel Design. A classic quote by Audrey Hepburn. I like how the silhouette is simple, but yet so recognizable! By the way, Skel Design makes hand made glass mementos, perfect for Christmas! Check them out!
Mima's Card by Open Sea Design. A simple, yet powerful image. This is a card that can be used for so many occasions : get well, thinking about you, thank you, happy birthday, I love you. Different meanings in such a lovely design.
You Go Girl by Bred & Butter Paper Co. Probably my least favorite card in this month's box, probably because I loved all the cards. This is the perfect one to congratulate a girl friend!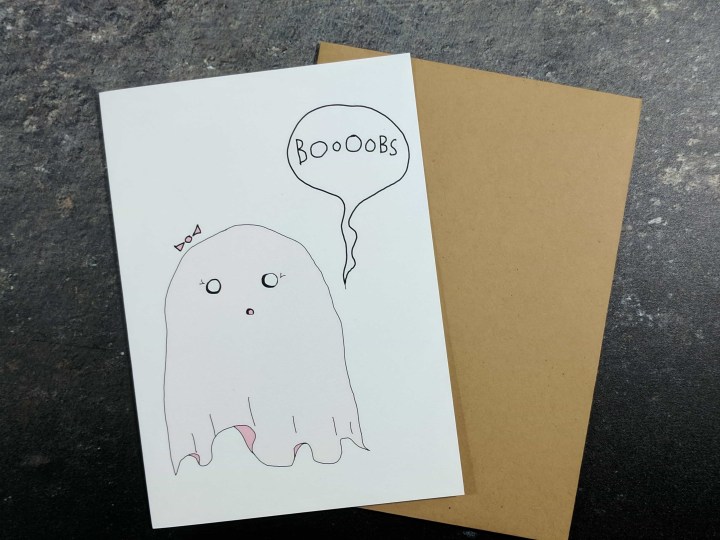 BOoOoBs by Tayham. This one is my FAVORITE! Perfect for both the Breast Cancer Awareness month AND Halloween! That ghost is sooooooo cute!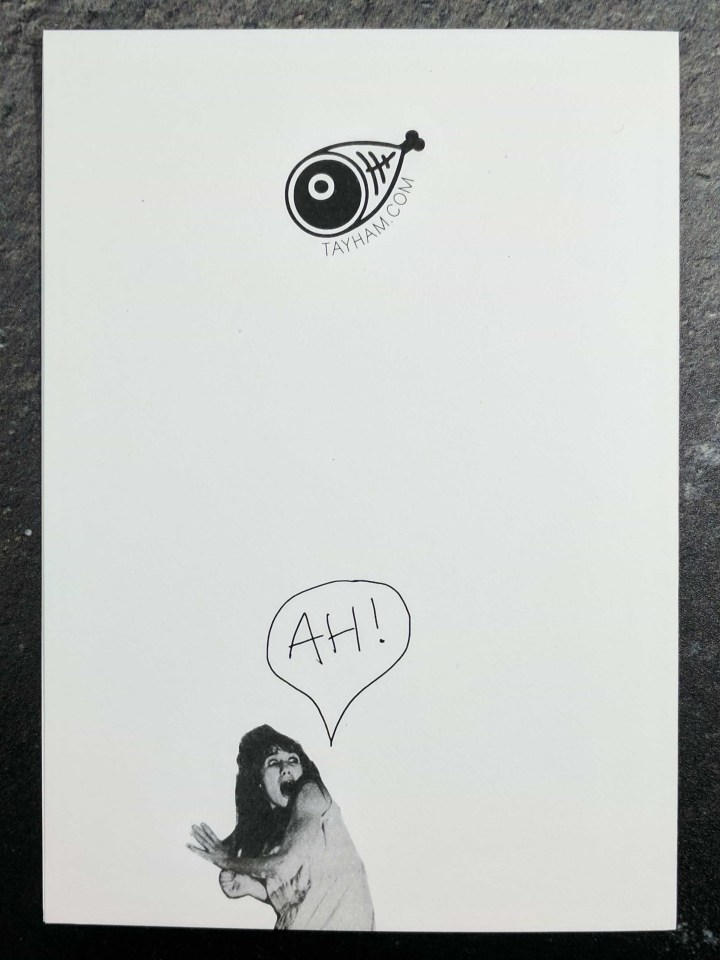 The back is also pretty fun! But this card isn't going anywhere.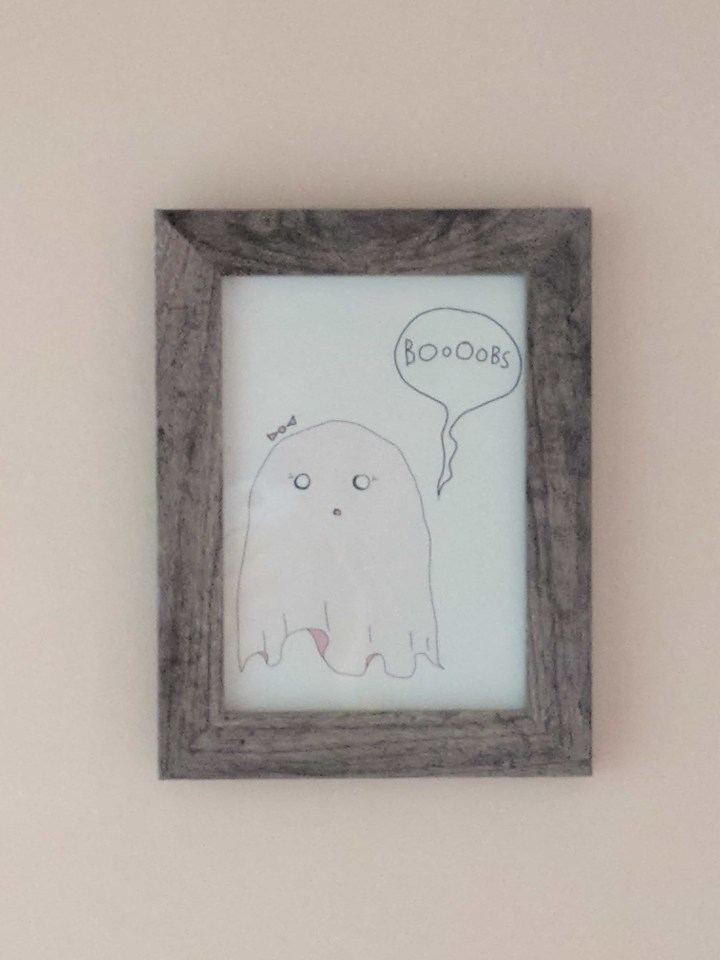 This happened. It's now on my wall. My husband got a huge kick out of this one!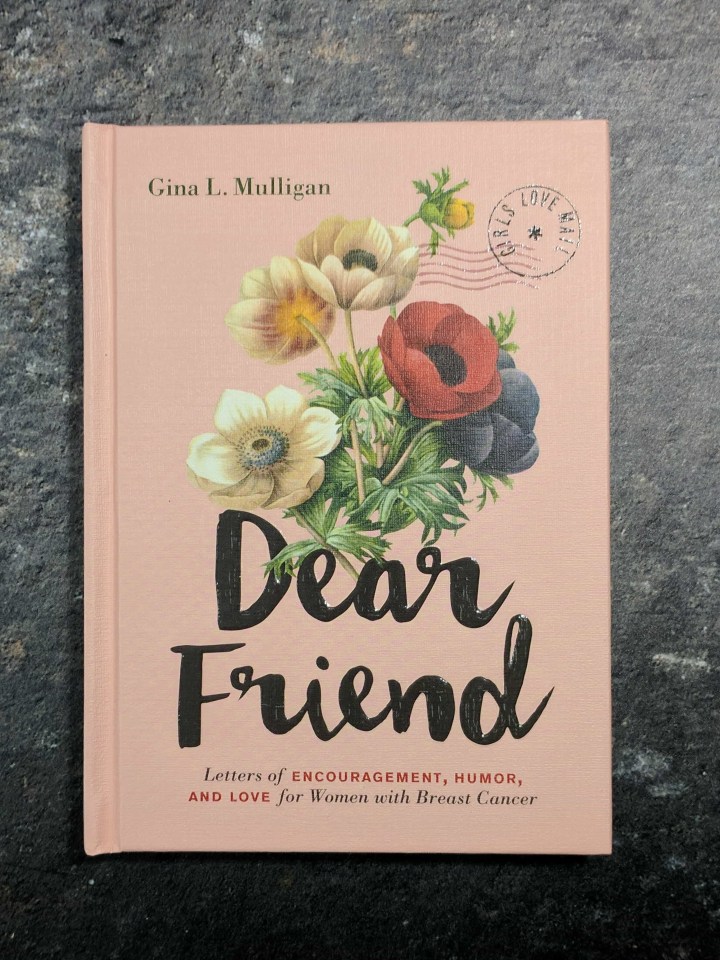 Dear Friend by Gina Mulligan, founder of Girls Love Mail. This is a collection of real handwritten letters send to women with breast cancer through the Girls Love Mail organization.
It is a nice book to give to someone you know who goes through this difficult time, when you feel that words are not enough.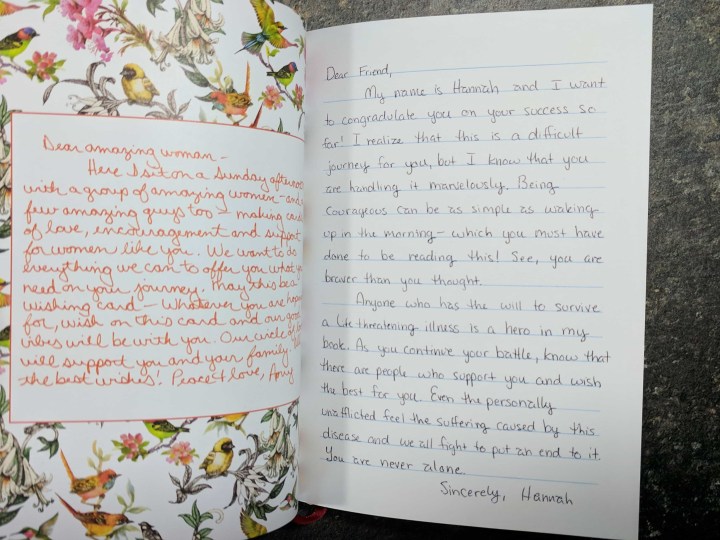 This is also something that the family of a Breast Cancer fighter, or any kind of cancer for that matter, would also find comfort in reading.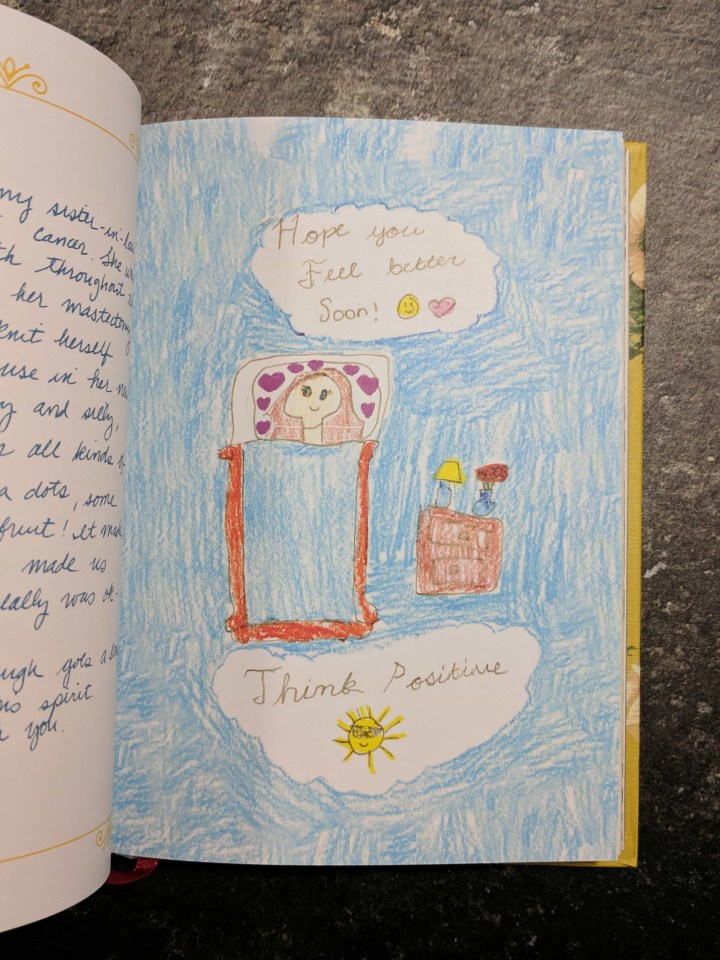 There's all kind of message and letters!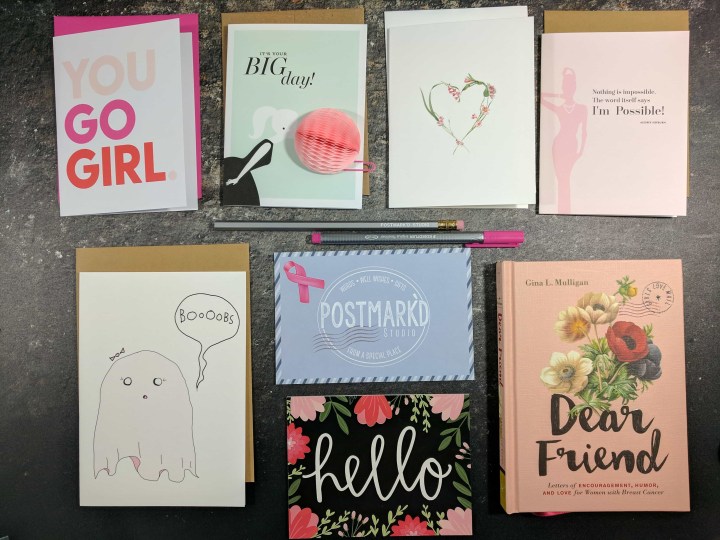 I love my PostBox subscription! Just seeing the box in my mailbox makes me smile because I know everything has been lovingly curated to be cute, fun, and perfect to share the joy of snail mail and letters to others. The cards are always of good quality, with a bit of everything to make sure you have a card perfect for any occasion or celebration.
What did you think of October's PostBox?