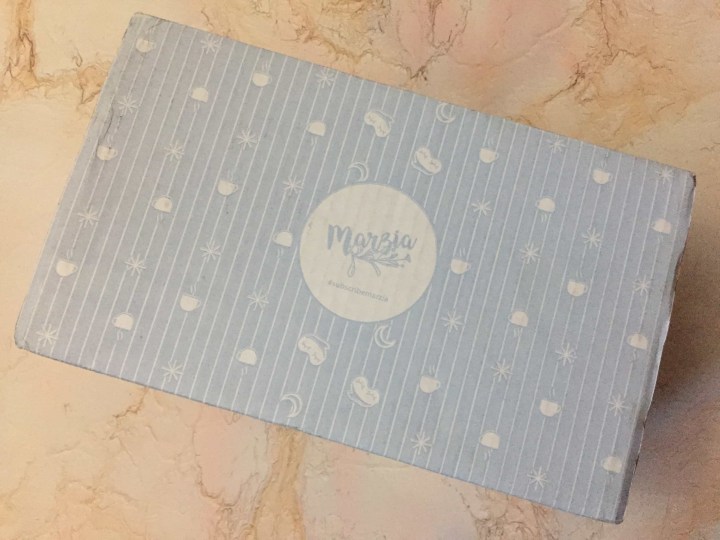 I'm so excited to review another of CutiePieMarzia's subscription boxes! It's a quarterly box curated by CutiePieMarzia, who is an Italian Youtuber. I love her fashion style, so I was really happy to hear she had her own subscription box!
There are 2 versions of this box – the regular one for $29 per quarter, and the Very-Important-Marzipan box for $89. This is a review of the regular box. The CutiePieMarzia box ships from Toronto, Ontario and ships worldwide.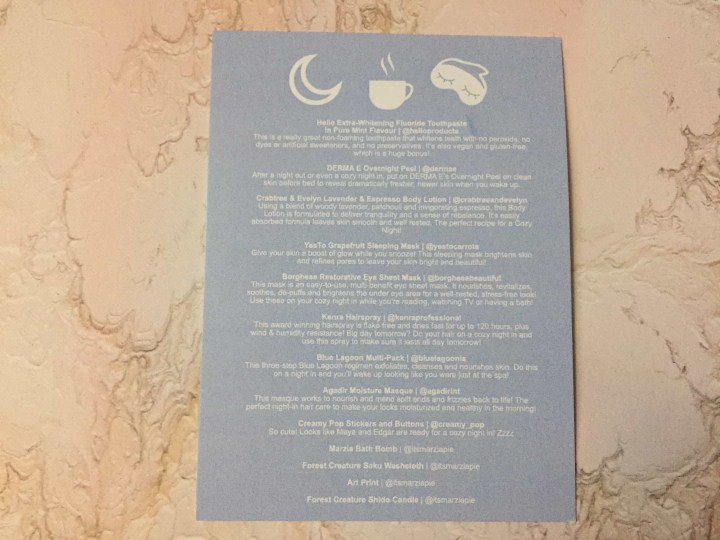 The theme this quarter is NIGHT TIME COZY. I love sleep, so I am loving this box already…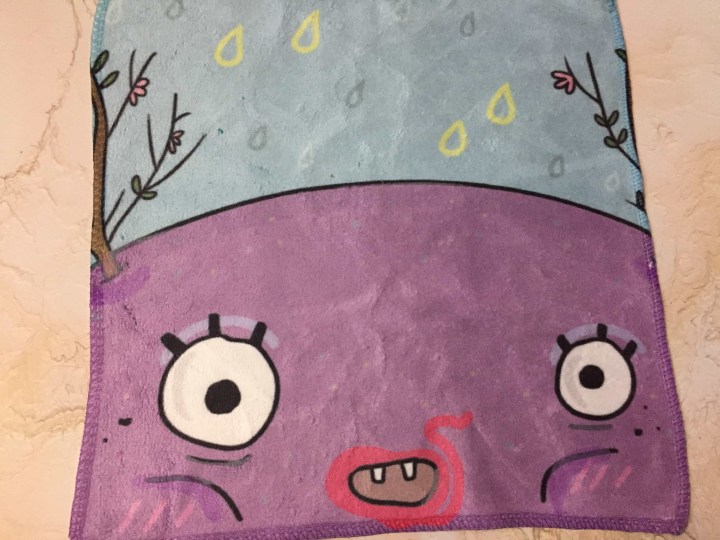 Forest Creature Saku Washcloth ($3?) — A super super super soft microfiber washcloth to remove makeup, cleanser, and so on at the end of the night. The set I linked includes the washcloth, candle, and print that were included in this box as well as pillowcases, so prices are a bit of a guesstimate. Art is by Marzia.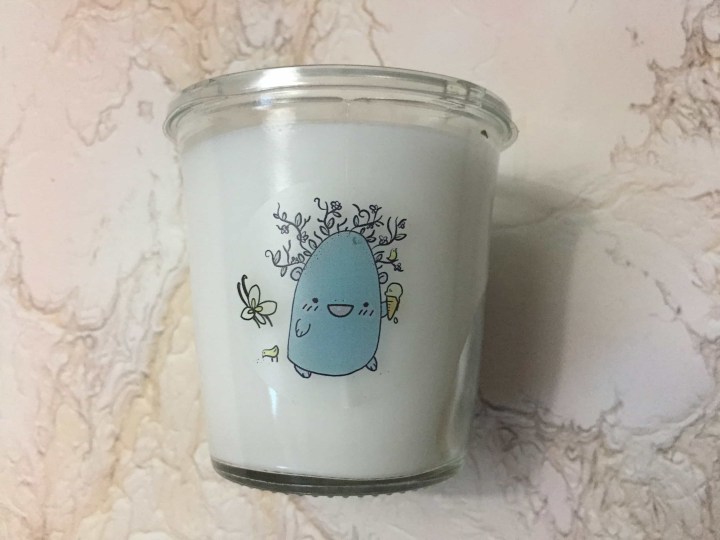 Shido Vanilla Scented Candle ($4?) — A yummy vanilla scented candle with a cute forest monster on the side. Art is by Marzia.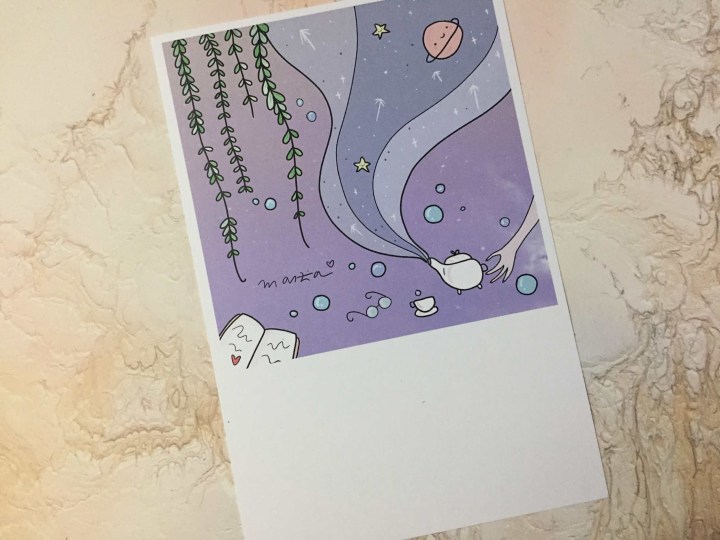 Sleepytime Print ($3?) — A dreamy print in purple hues featuring a tea set, books, and SPACE. I love this print and think it's absolutely adorable.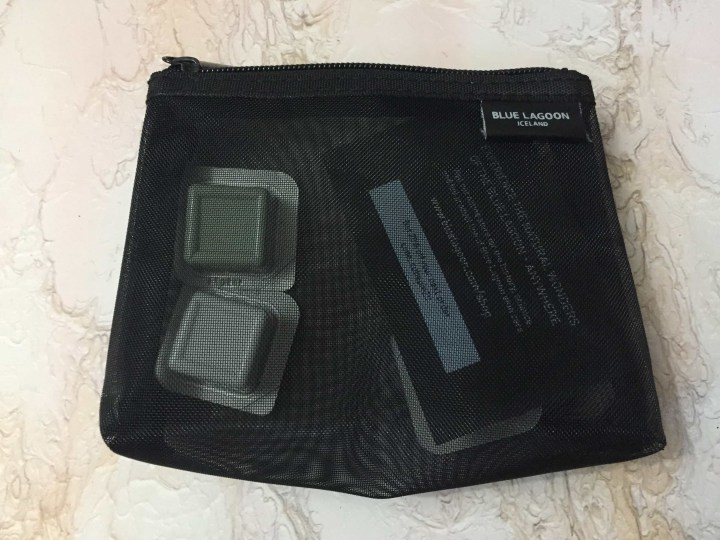 Blue Lagoon Mask Set ($59) — The set linked is in a box and not a bag but the contents are the same. Blue Lagoon is a geothermal spa in Iceland and they also sell a skincare line that takes advantage of the incredible water and minerals found in the Blue Lagoon.
Silica Mud Mask is made of Blue Lagoon's white mud to deep clean and tighten pores. The lava mask exfoliates and the algae mask hydrates and improves the signs of aging and wrinkles. These "ice cubes" sell individually for $25 each, so these are definitely going to be saved for a spa night!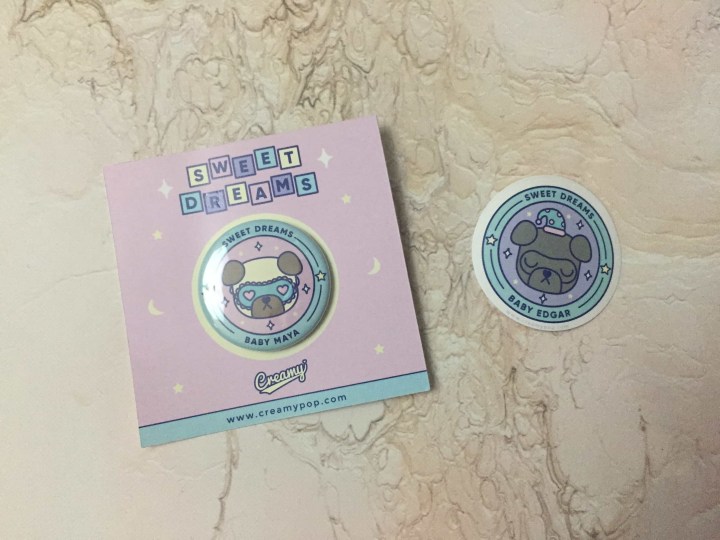 Sweet Dreams Baby Maya Button ($4) — A button featuring art of one of Marzia and Felix's pugs, Maya! She's looking ready for bed in her cute eye mask.
Sweet Dreams Baby Edgar Sticker ($1) — And here's Edgar, also ready for a snooze.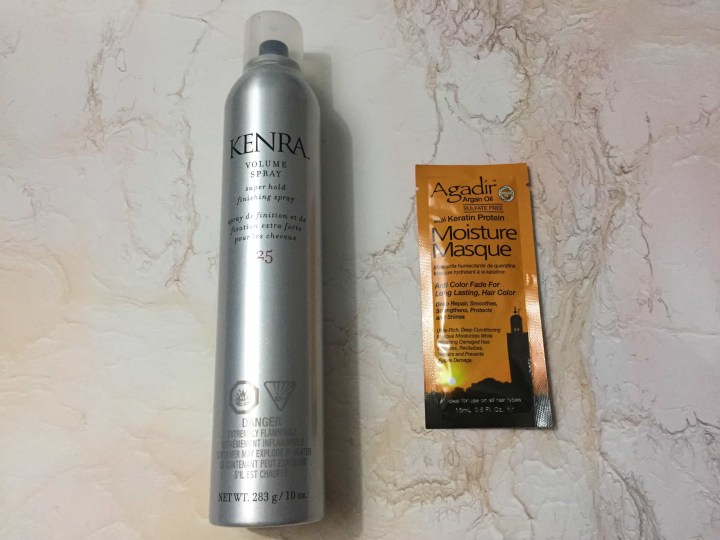 Kenra Volume Spray ($18) — I never wear hairspray but this adds volume which I definitely need. It holds up to 120 hours which makes me wonder who needs their hair to stay in place for that long…
Agadir Argan Oil Moisture Masque — I love argan oil for hair, it's lightweight and makes my hair so shiny. (I also like marula!) Single packs like these are great for a spa night because they're single-use.
Lavendar and Espresso Body Lotion ($7) — I dislike lavender but this is the perfect stocking stuffer for my mom. Or maybe my sister? Lavender is calming and fits in nicely with the sleepytime theme.
Hello Extra-Whitening Toothpaste ($2) — A travel size version of Hello toothpaste. This is the extra-whitening line that doesn't have peroxide in it.
Derma-E Overnight Peel ($4.50) — An overnight exfoliation with AHA (glycolic acid). Marzia has sent Derma-E products before and I have really enjoyed them.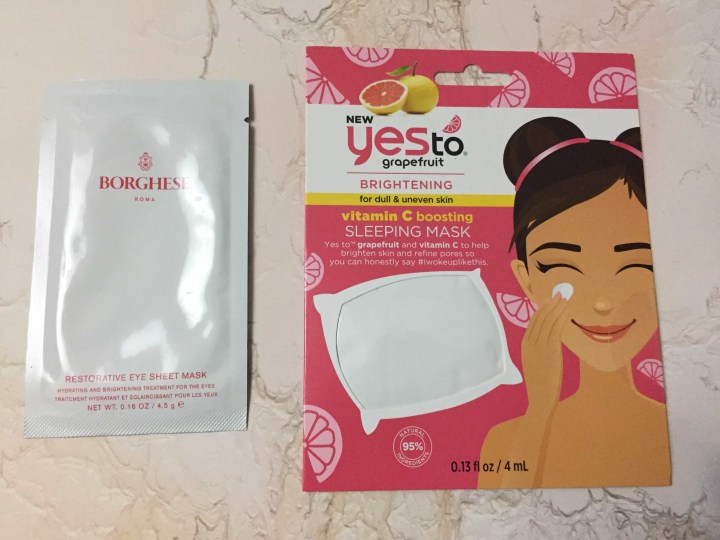 Borghese Eye Masks ($6) — I think I received these before either in another Marzia box or maybe Look Fantastic which is also UK/EU-based. Either way these are undereye patches that help hydrate and brighten.
Yes to Grapefruit Vitamin C Sleeping Mask ($3.29) — A sleeping mask with aloe, coconut oil, and cocoa butter along with citrus extracts which contain vitamin C. Ascorbic Acid (vitamin C) is not listed separately as an ingredient so it's hard to conclusively say how much vitamin C is in this to be effective.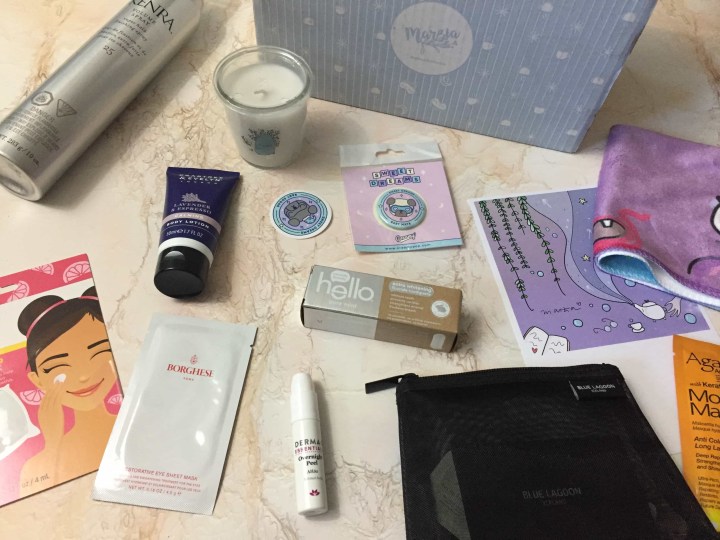 The Summer box was very low value but the Fall box is around $115 in value which is amazing. I feel like the box has a better balance of tangible products to Marzia exclusives this quarter, and I hope they continue this going forward. I love all the skincare items as well as the exclusive items too! What I don't use myself will be gifted easily due to the high quality.
What did you think of the Fall Marzia box?
Visit Marzia's Subscription Box to subscribe or find out more!