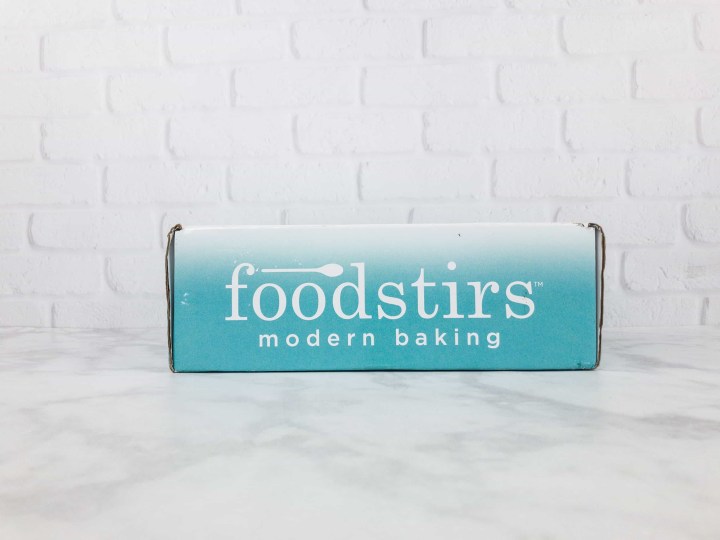 Foodstirs is a bimonthly baking subscription box. Every month, you'll receive family-oriented baking kits made with premium and real ingredients, free of preservatives, artificial dyes, and flavors. The mixes use organic and non-GMO ingredients when available.
Your subscription will start with the kit indicated on the subscription information page!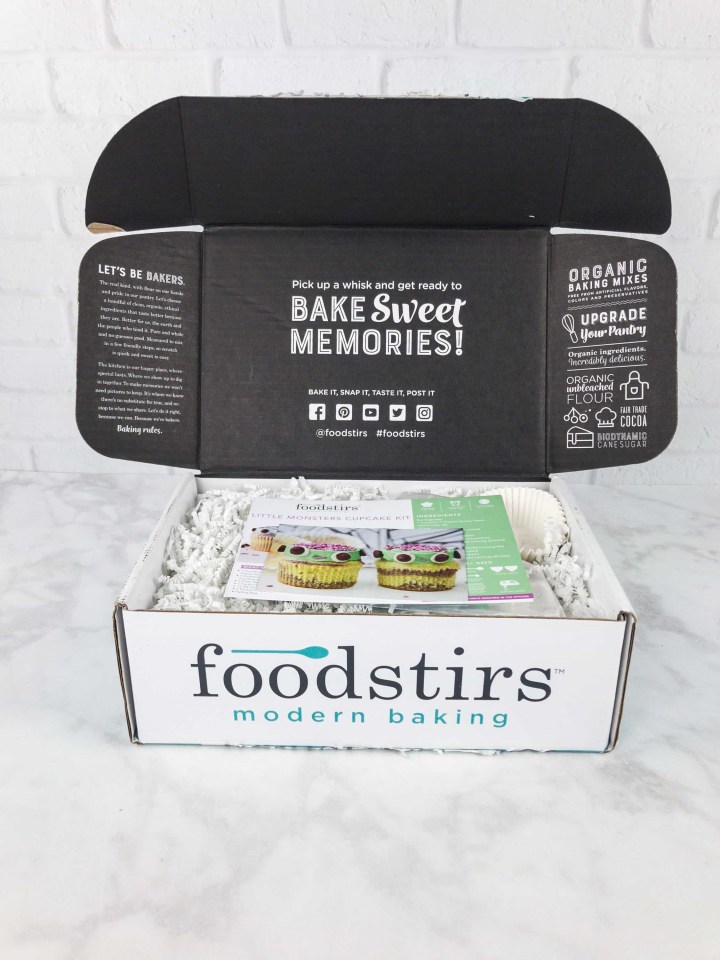 DEAL: Use coupon code HSFREE to get your first month for FREE plus $5.99 shipping!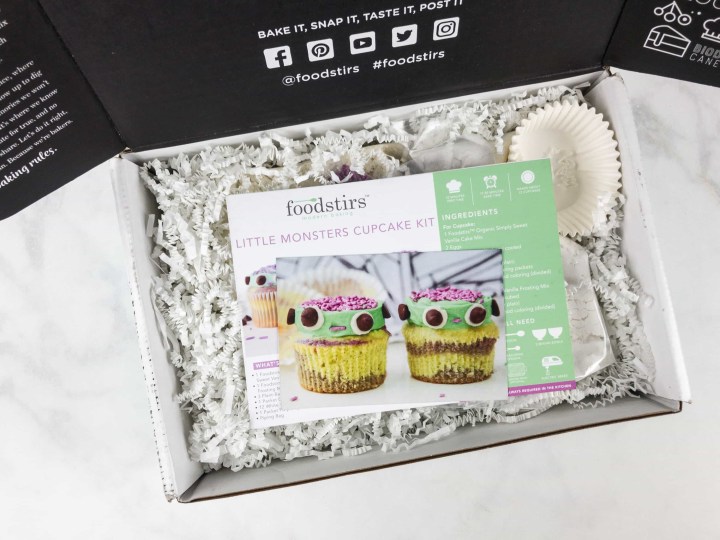 September's Foodstirs was a Little Monsters Cupcake Kit. When the treats have a holiday theme, this subscription typically comes way in advance of the holiday, so you'll have it not only in time to make for the holiday itself but also in time for pre-holiday parties if you like. This kit is obviously perfect for Halloween.
The box includes a card letting you know the ingredients needed, tools, baking time, quantity, etc. I like that it breaks down the ingredients you need twice (the second time being what you need at home).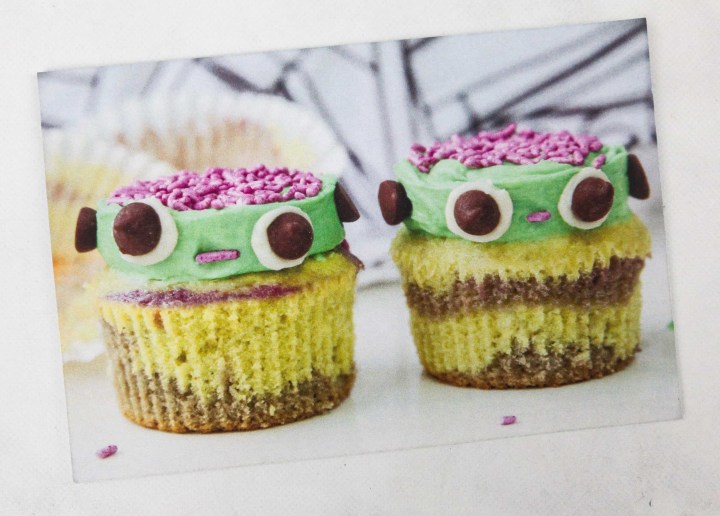 The kit includes all dry ingredients and decorative items — you supply eggs, butter, and other dairy when needed. When making Foodstirs, you'll always want to have plenty of butter and some plain Greek yogurt on hand, as these are almost always required. As always, Foodstirs provides organic mixes and contains no artificial ingredients!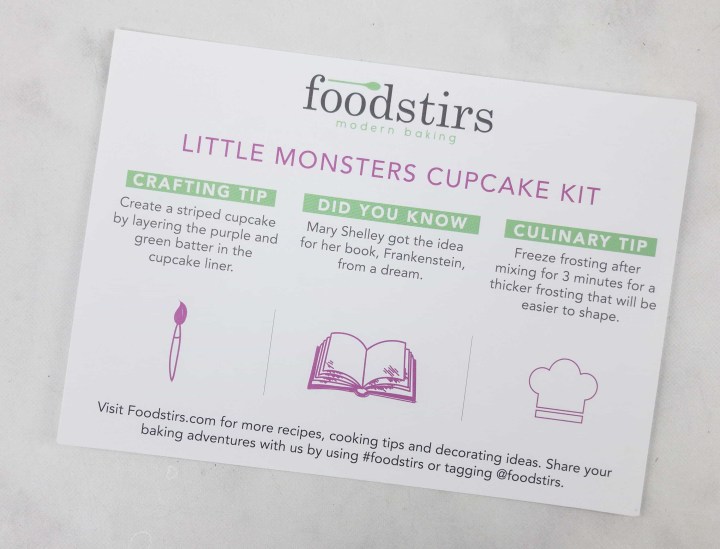 The information card also has useful tips written on it – usually, there is a factoid and a couple of options for adding some extra flair or flavor to your creation. This one suggested added stripes to your cupcake and freezing your frosting for a more moldable medium.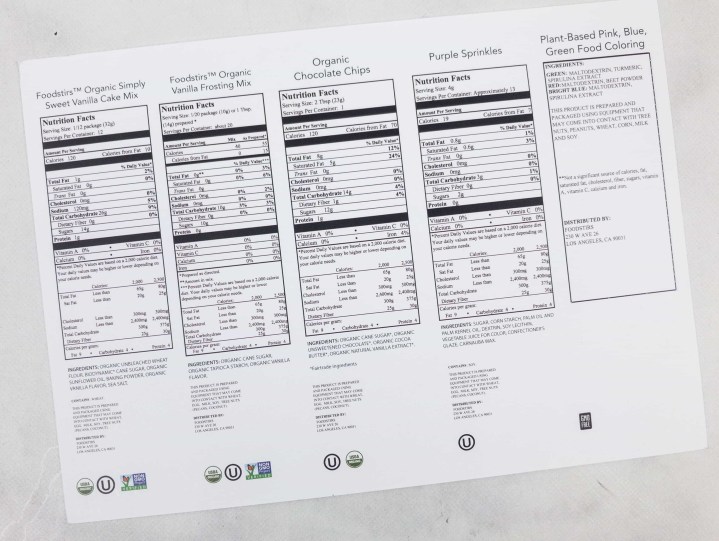 The box includes complete nutritional and ingredients information. You will like the ingredients – never anything artificial, and the ingredients are primarily organic with only natural food dye. Nutrition information covers only what is provided in the kit – they don't state the nutritional profile of the prepared food once you've added the required butter, eggs, yogurt, etc.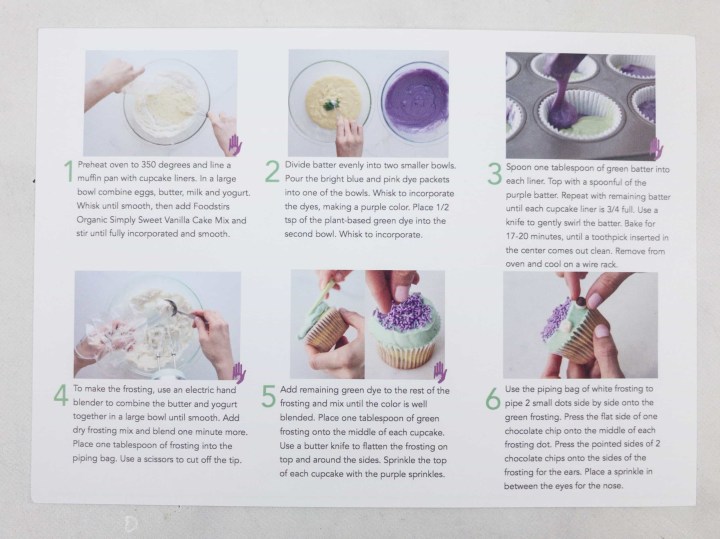 The instructions. They are step by step with a photo for each step. The single card covered the mixing, baking, and decorating of the cupcakes.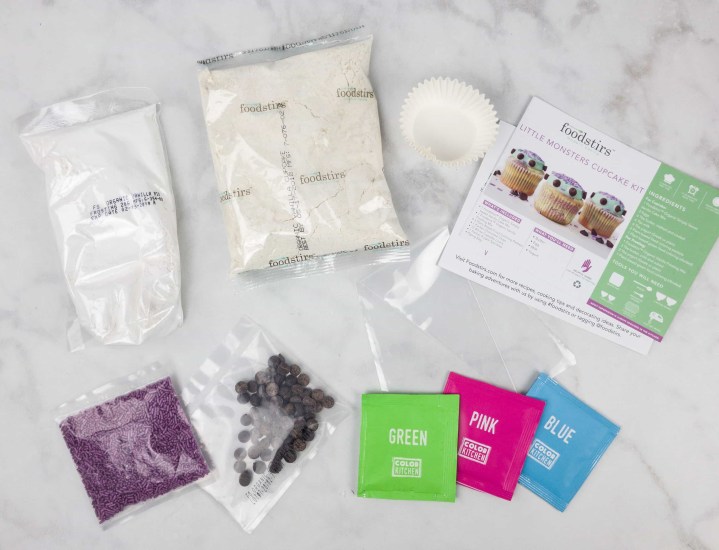 The kit comes with organic mixes for the baked items. We find their cake mixes to be really high quality and tasty. Regardless of how lovely our project turns out in any month, we know that it will taste good!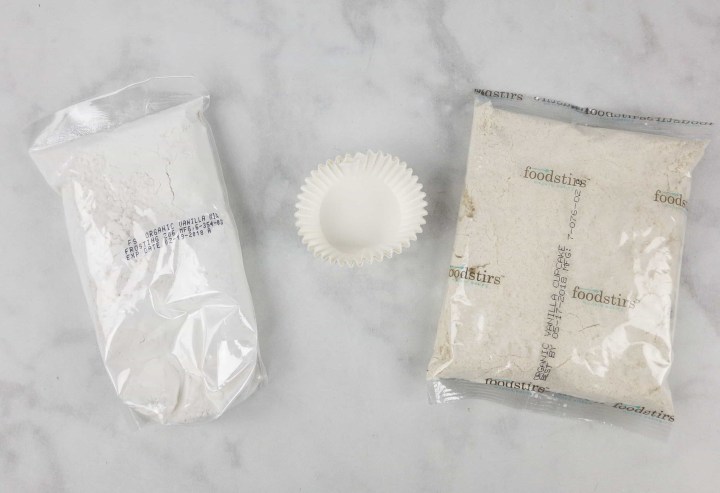 This month's baking kit included cupcake liners, cupcake mix, and vanilla frosting mix.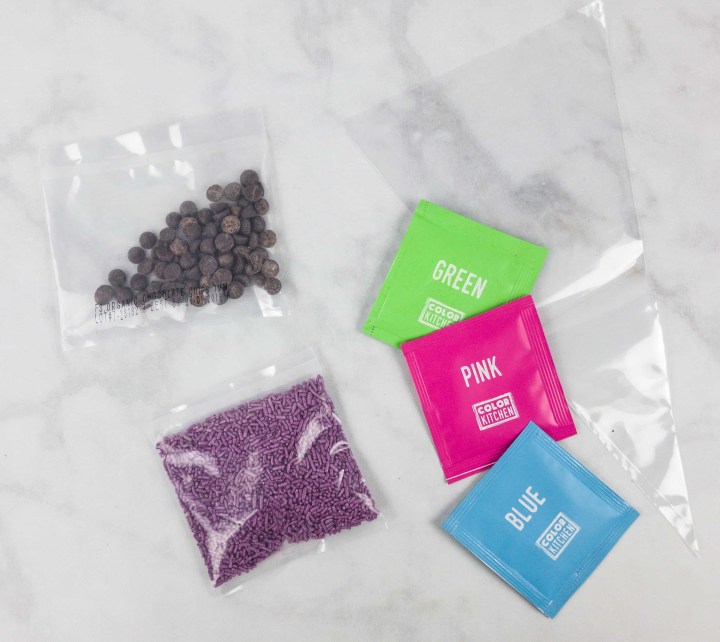 Plus everything to decorate! The dye is all-natural — they contain only powdered beets, turmeric, and spirulina.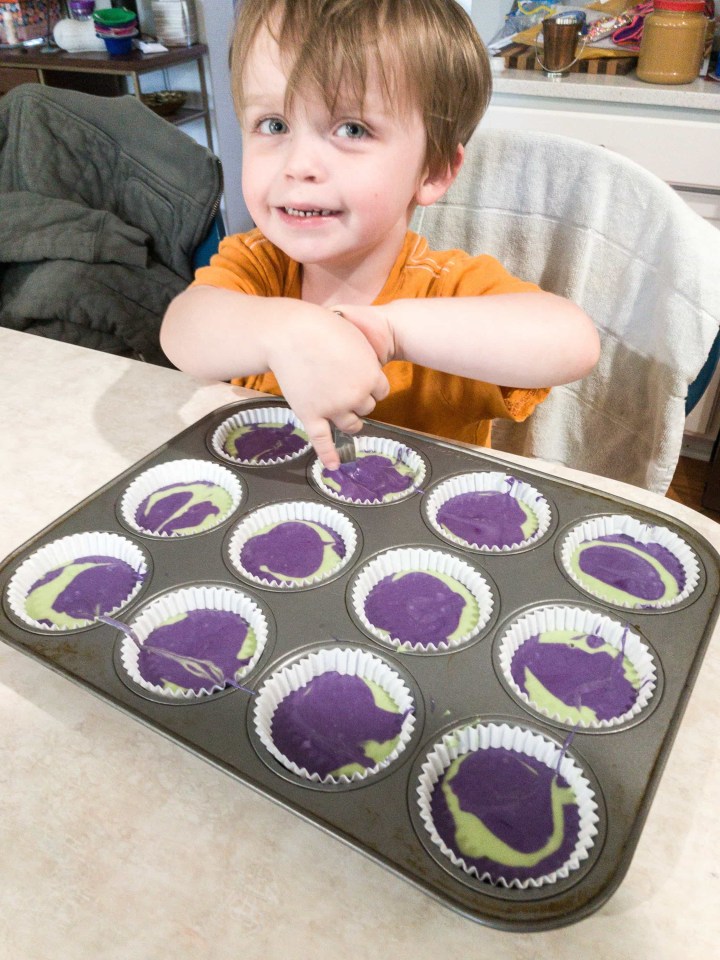 My youngest son was a HUGE helper for this kit. He helped mix the batter and pour it into cups (accomplishing the latter mostly by rotating my forearms as I held a spoonful of batter). He was also in charge of unwrapping the butter (his favorite, he does it whenever he sees a stick of butter, even if we aren't making any food!), and swirling the cupcake batter.
Our baked cupcakes. The color stayed fairly true through the baking.
Mixing the frosting. It's pretty funny — of all my kids, he's the one that can handle the hand mixer without any help or making a mess!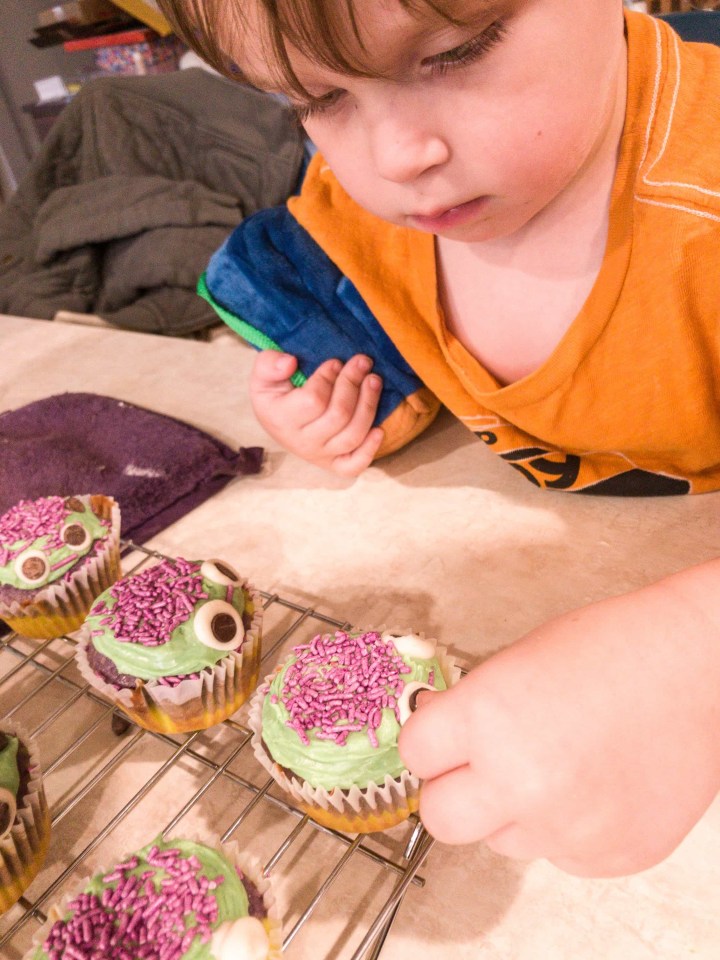 We topped our cupcakes with green frosting and then added jimmies on top, piped on some reserved, uncolored frosting for eyes, and finished with some chocolate chip pupils and ears.
Since Halloween is a little ways off, we thought we'd call our little monsters aliens.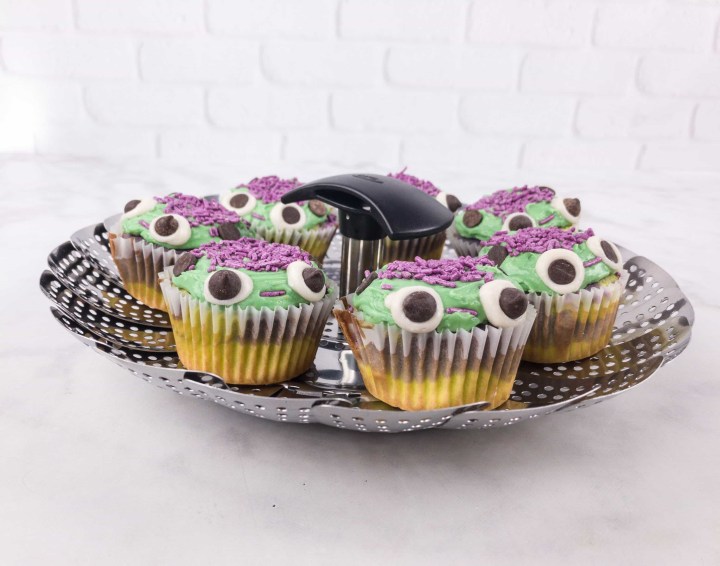 They look so cute! You can see the layering of the cupcake even through the wrappers.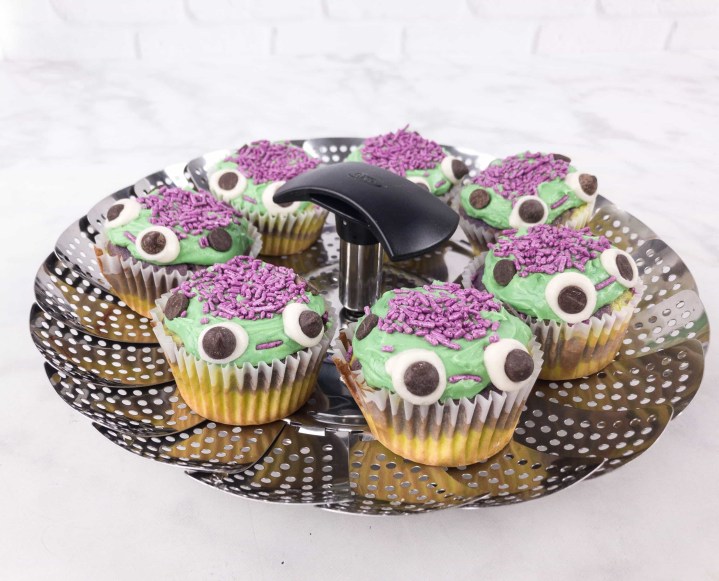 Our frosting didn't maintain tons of height, even with storing in the fridge for awhile beforehand. It was easy to work with, but it tended to slouch into a more traditional frosting posture than the squared off tower prescribed in the instructions.
My helper didn't mind at all. This is his favorite part of the baking process!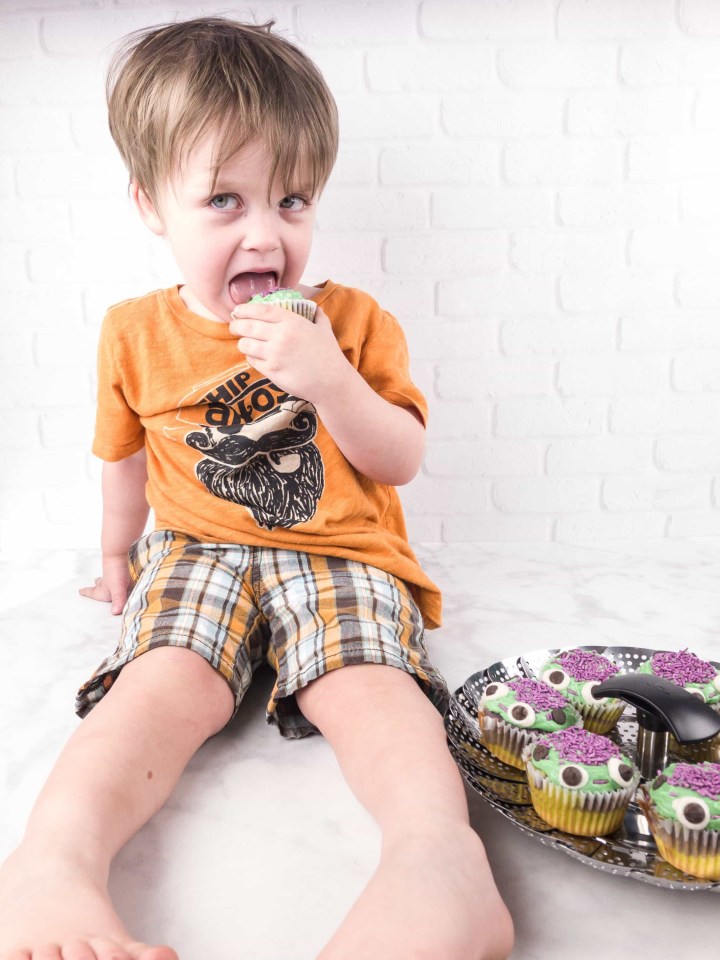 He had to sample the frosting first.
It's good! He actually ate the entire cupcake, which is a testament to the taste. Usually, he eats from the top down, consuming primarily frosting.
Unwrapped, the striping shows even more clearly.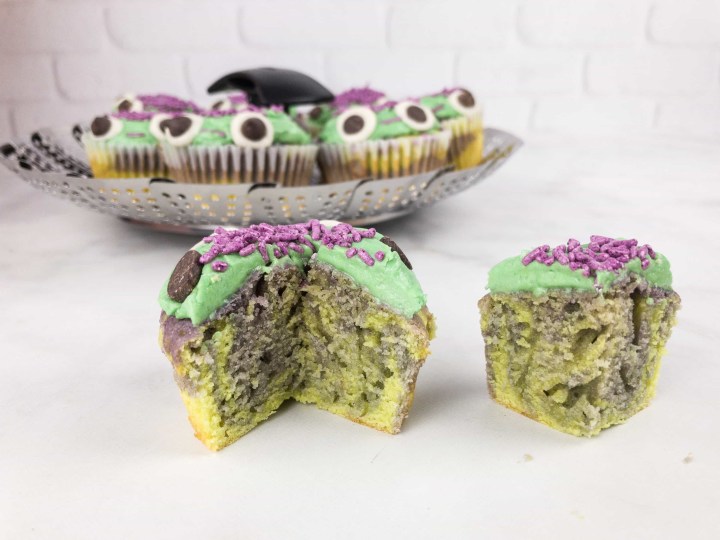 The inside also has nice marbling. The cupcakes tasted really nice. They very moist inside and cooked very evenly. The Foodstirs cupcakes tend to be slightly dense, like a high-end bakeshop cake, and they resist crumbing pretty well.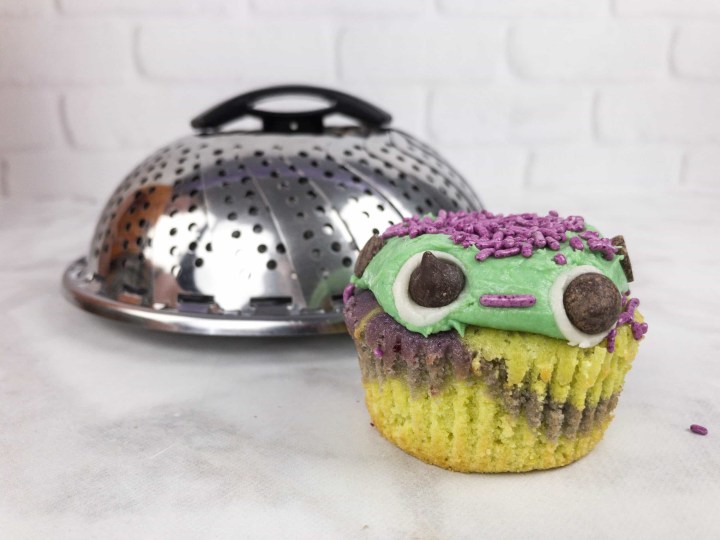 This was a fun baking project to do with my son. The frosting required a deft hand, and I couldn't even replicate the exact look of the examples, but I thought they still turned out super cute (and tasted great)! The use of jimmies (sprinkles) and chocolate chips for decorating made things a lot easier, as my son could apply the chips himself without any help (whereas frosting-based decorations require a bit of skilled pastry-tubery). The kits are a great activity to do with kids, and the finished product makes a great reward for a job well done!
Did you do Foodstirs this month?