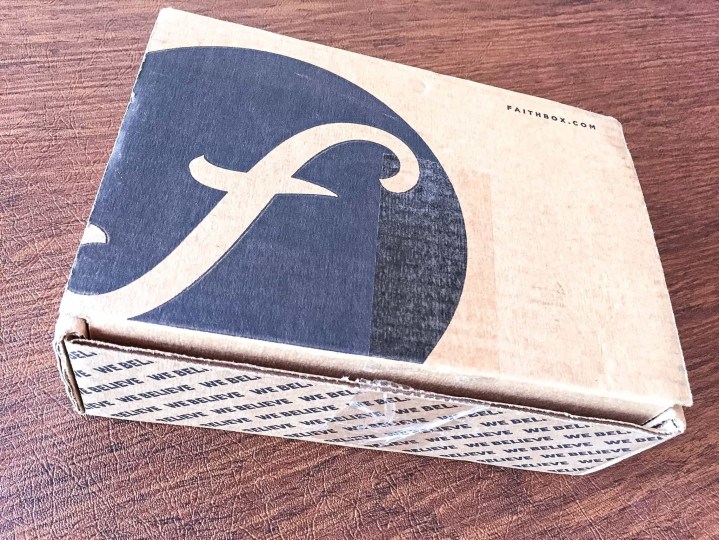 Faithbox is a Christian company that seeks to help strengthen your faith in God with their devotional and bring joy with their great products from companies that do good. With the purchase of each box, they provide 3 meals for hungry children through a partnership with Rice Bowls. In 2015, they were able to provide over 100k meals for hungry children. Plus, you get a box full of cool stuff in the process.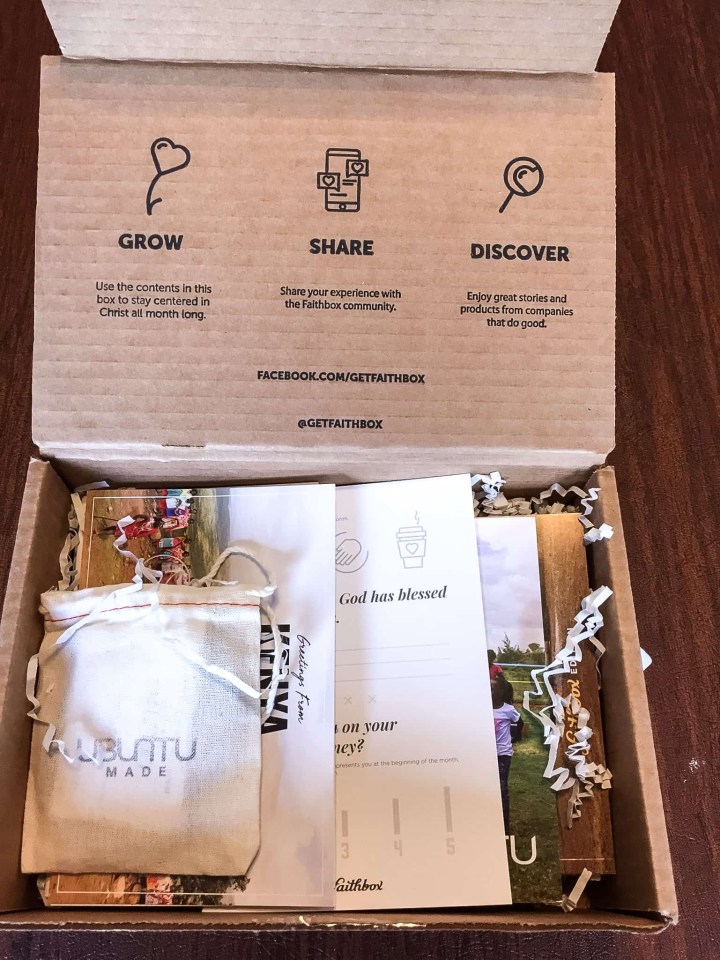 You can subscribe to Faithbox with a month-to-month plan, a 3-month plan or a one-year plan. With the month-to-month plan, you pay $20 plus $5 shipping each month. The 3-month plan reduces the price per box to $19 plus $5 shipping when you pay for 3 months ahead of time. For the best price per box, you can pay for one year at a time and get each box for the price of $17 per box plus $5 shipping.
Faithbox will help you reexamine your faith and your relationship with God, ensuring that you are being the very best you that you can be in your walk with Christ.
DEAL: Save $5 on your first box with coupon code SAVENOW.
Everything in my box! This box has items inside to inspire you and it's a simple joy to open the box to see the selection of products and the causes behind them.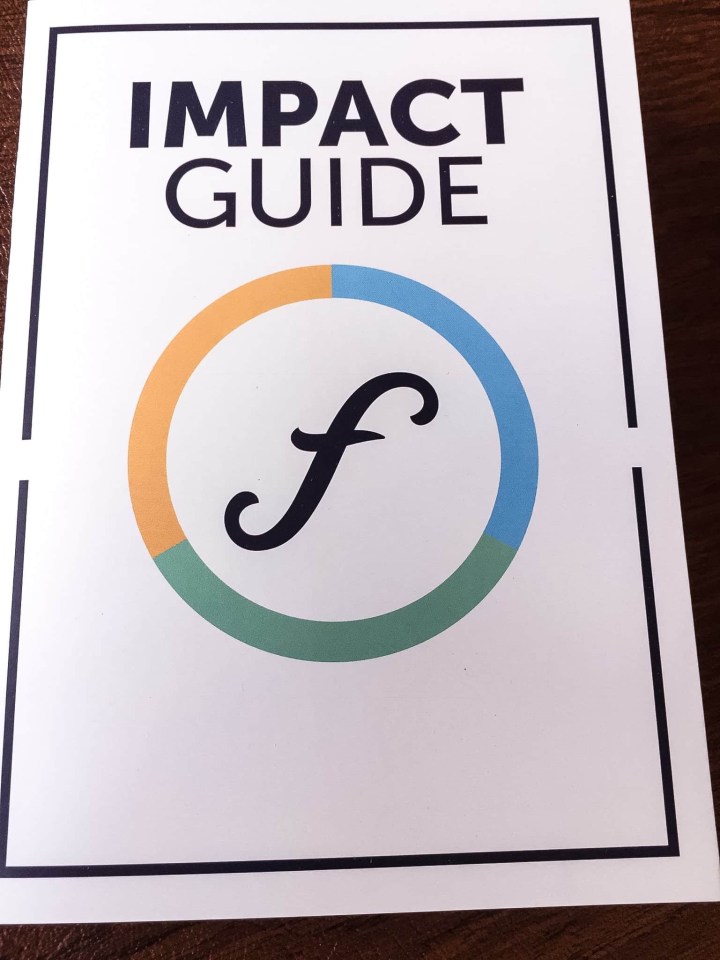 Included in this box is the Impact Guide which basically lets you know what you are getting and why.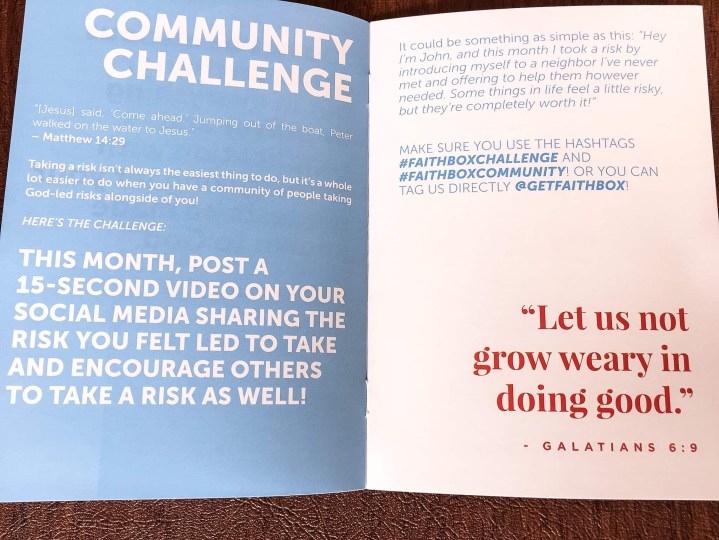 It also contains the theme, as well as verses and quotes that go along with it.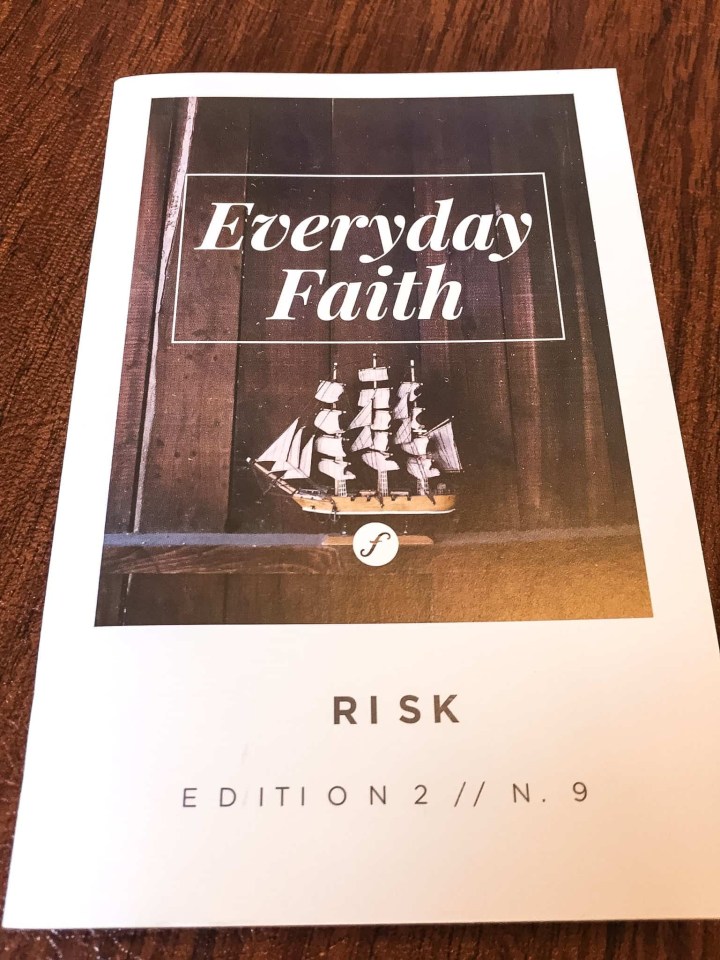 The Everyday Faith booklet's theme is Risk. A great little booklet with thought provoking verses, quotes, and passages, enough for 31 days.
The Everyday Faith guide is packed with verses, quotes, prayers and a place for notes. It's what I need after hectic days or sometimes just during a hectic day. I don't know about you but there are times I just need to stop whatever it is I'm doing and breath. So when I breath, I can read a page. It will get my motor slowed down and focused and remind me that with God all things are possible.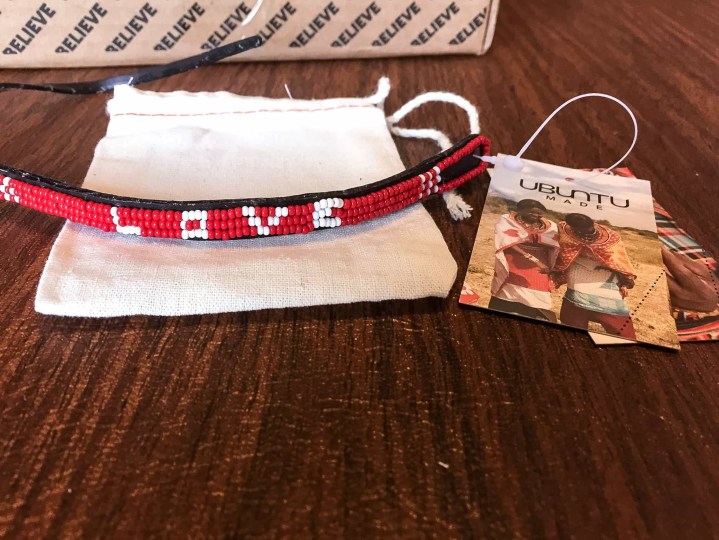 Faithbox is filled with products that are spiritually inspirational, environmentally responsible and socially conscious. I love reading where and who made the products inside and what their purpose is. Many of the products have a 2 fold purpose, take the bracelet, made by Ubuntu Made, for example, it's jewelry, meant to adorn the arm but it also is so much more.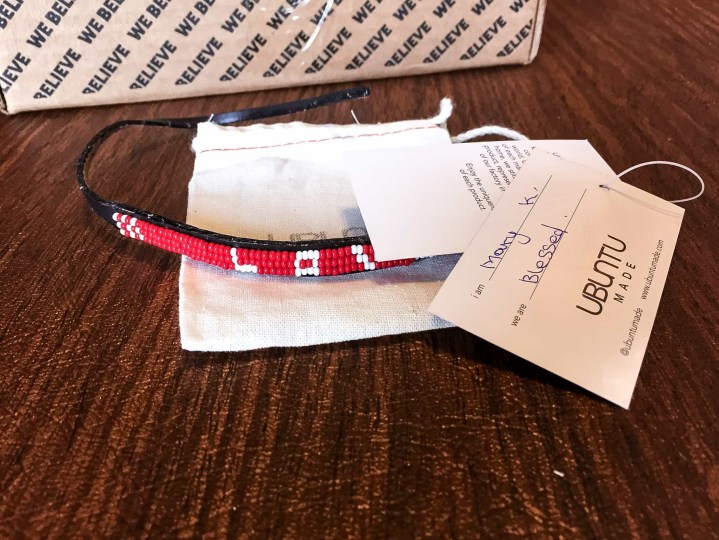 When you make a purchase, you not only provide a livelihood for the makers, you support the students physical rehabilitation services and education.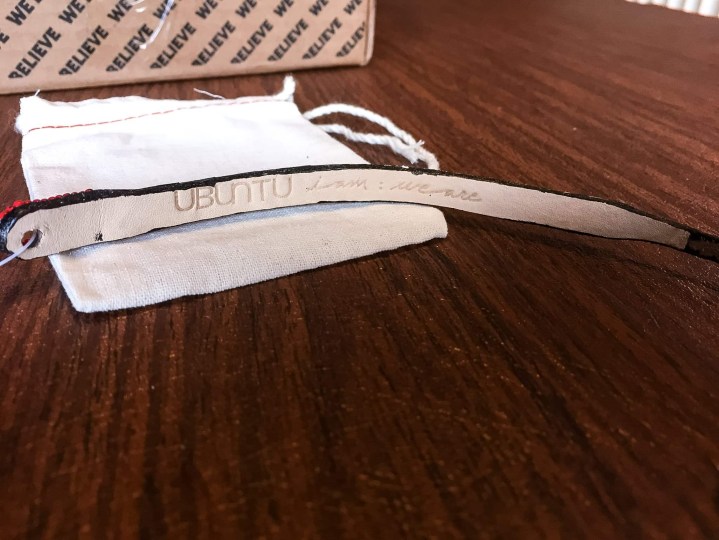 And let me tell you about the bracelet, it's red and white with "love" on it in beading. It's made so that any sized person could wear it. I especially like the card that is with the bracelet telling me who made it. Nice card I can slip into my Bible case and remember Mary K every time I pray.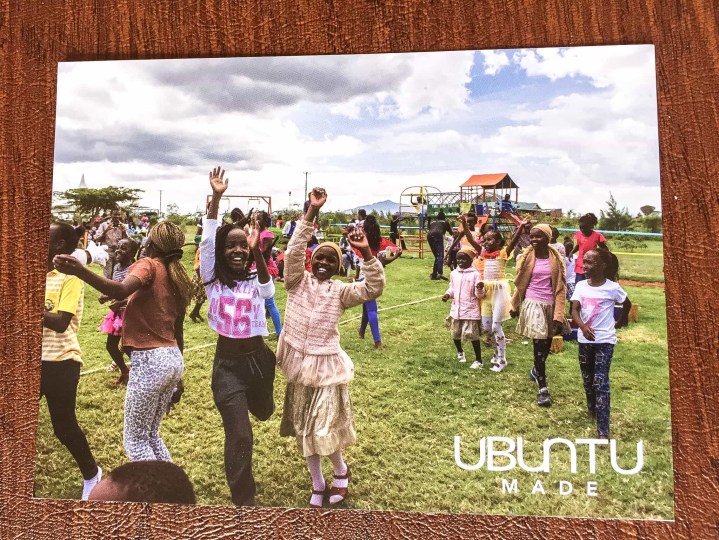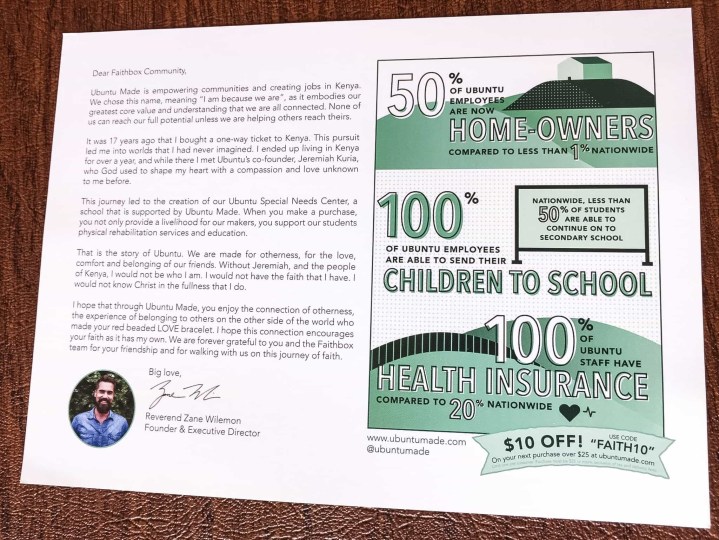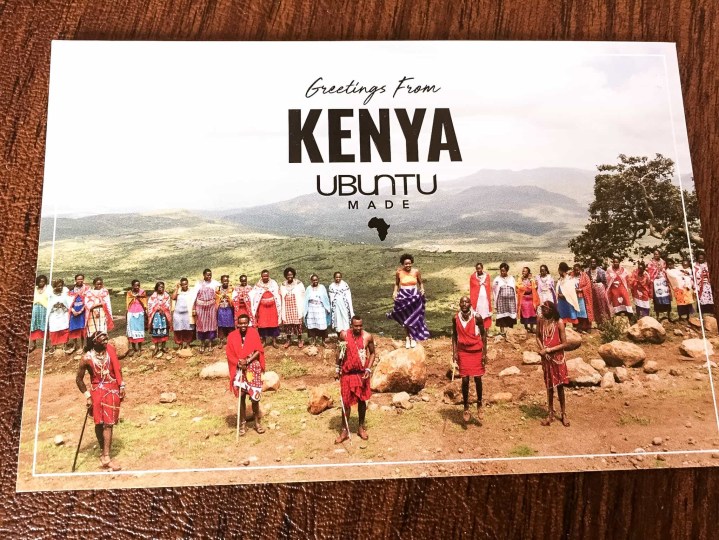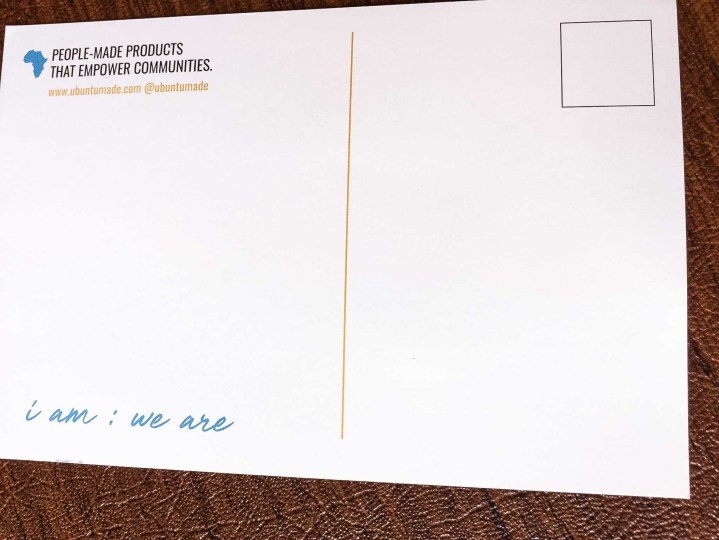 There's also a post card from Ubuntu Made.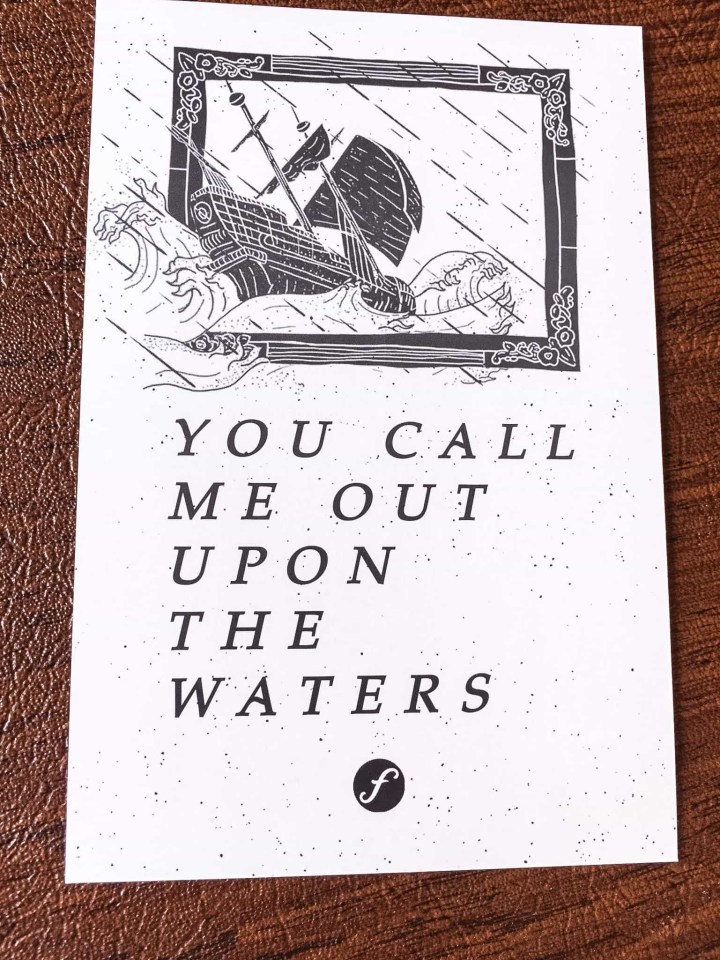 For inspiration, there's a postcard sized poster with the saying, "You call me out upon the waters."
I think most people know someone they can pass this onto, I sure do. We have a new evangelization director at our church, perfect!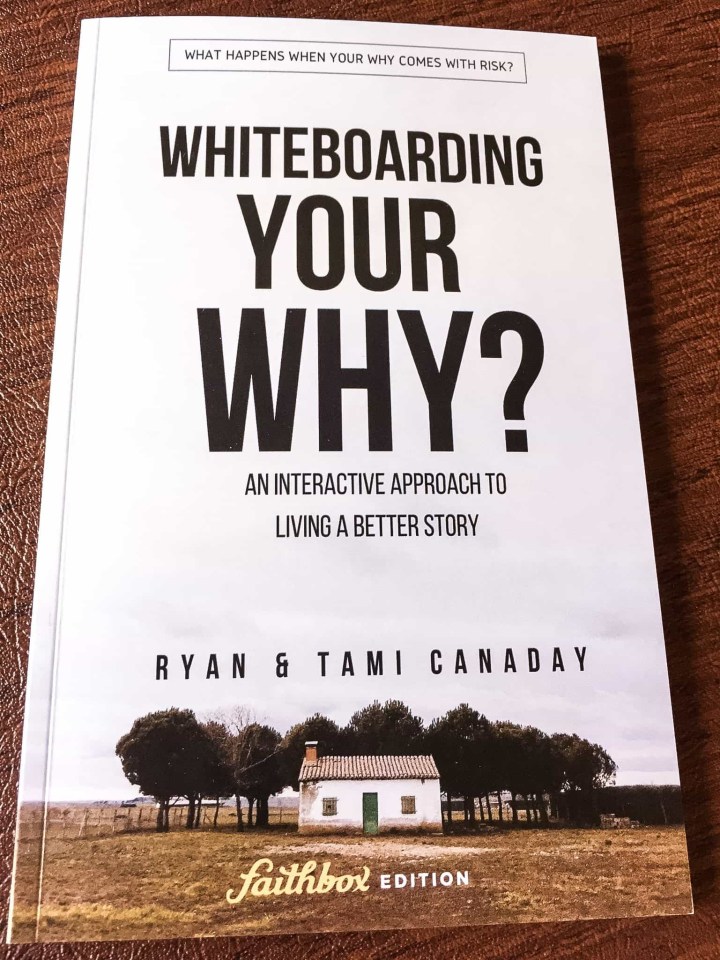 Whiteboarding Your Why? by Ryan & Tami Canaday ($16) will be an interesting book to read. This book has equipped people to take risks and step out of the routine cycle and into life-giving rhythms.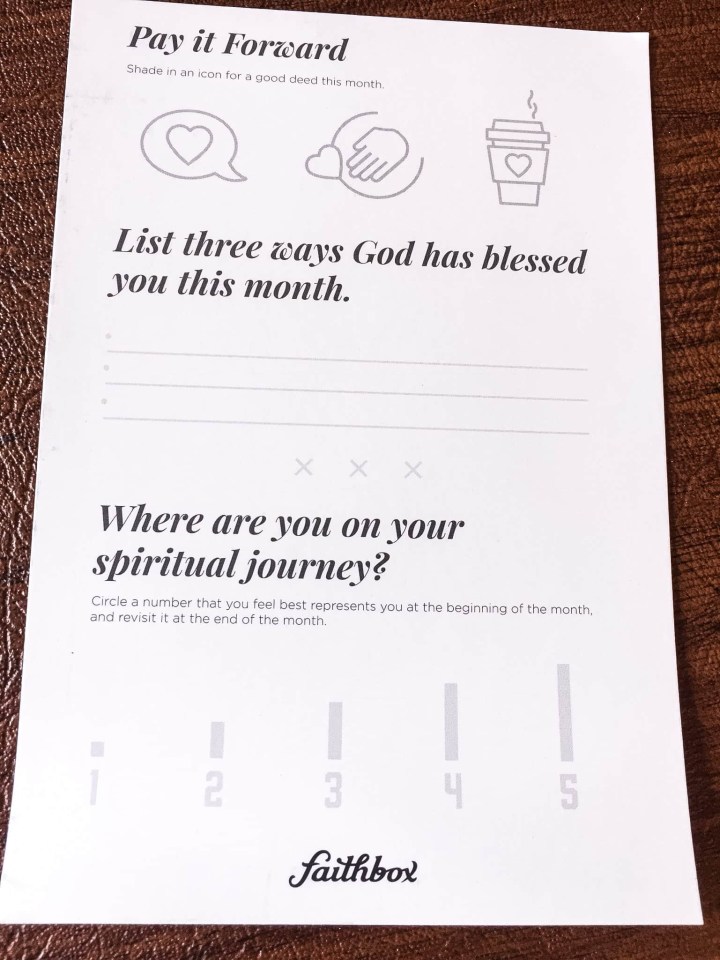 There's also the Tracking Your Spiritual Progress chart, a very small way to journal/jot down your spiritual journey, especially if you're like me and not a journaler.
Faithbox announced in May 2017 that their subscription is closing and now it's back! Compared to previous boxes we've received, the value of this month's box and the variety of items weren't that impressive. Hoping that this is just a temporary relaunch problem and they get back on track soon.