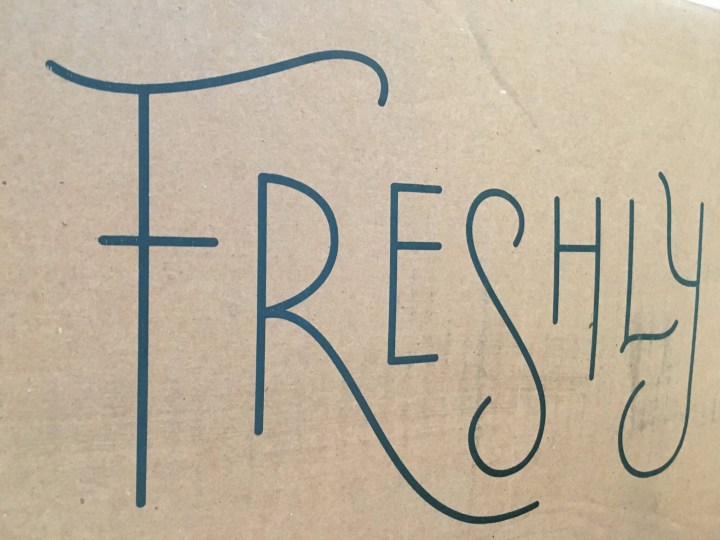 Freshly delivers deliciously healthy food right to your door – premade, prepackaged, and never frozen. This is a great subscription for people who want to spend less (i.e. no) time cooking but still want healthy foods. Freshly meals are free of gluten, refined sugars, and artificial ingredients. When you sign up for Freshly, you'll be able to select the number of meals you want per week plus the exact meals you want. You're able to skip weeks right from your account.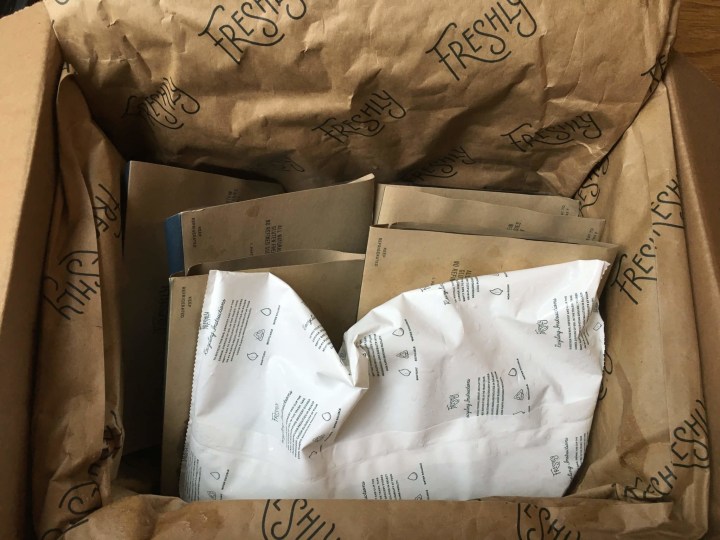 The food comes in a refrigerated box, surrounded by ice packs, and snugged up in an insulated blanket made from recycled denim (!). The box sat on my front porch for about 5 hours, and everything was still nice and cool inside. Yes, I checked it with my infrared thermometer gun, because #nerd. The insulation and the rest of the packing is all recyclable.
I ordered 6 meals, one of which was breakfast.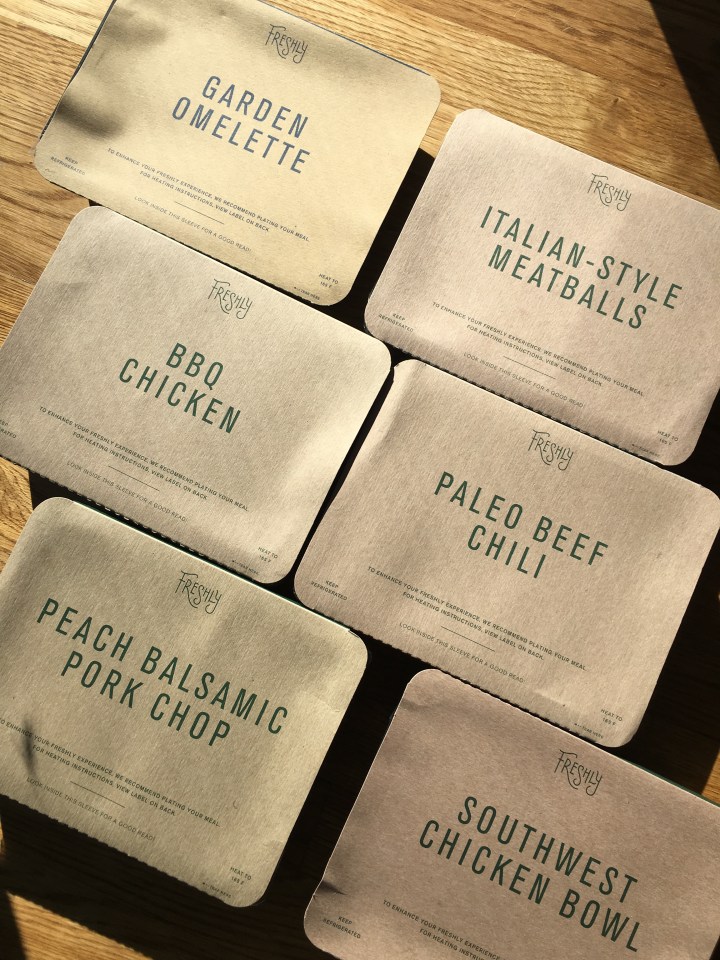 The underside of the wrappers have cute mini-essays on nutrition and wellness.
DEAL: Use this link to save 30% on your first box of Freshly!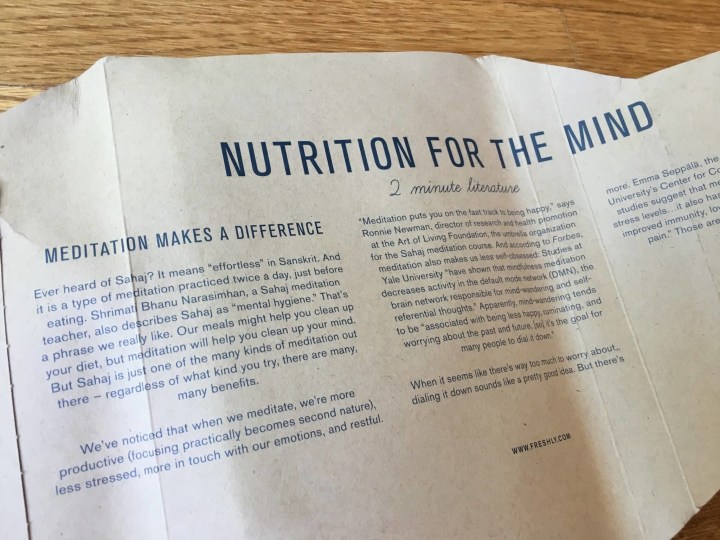 First up, breakfast! The Garden Omelette is, apparently, a customer favorite.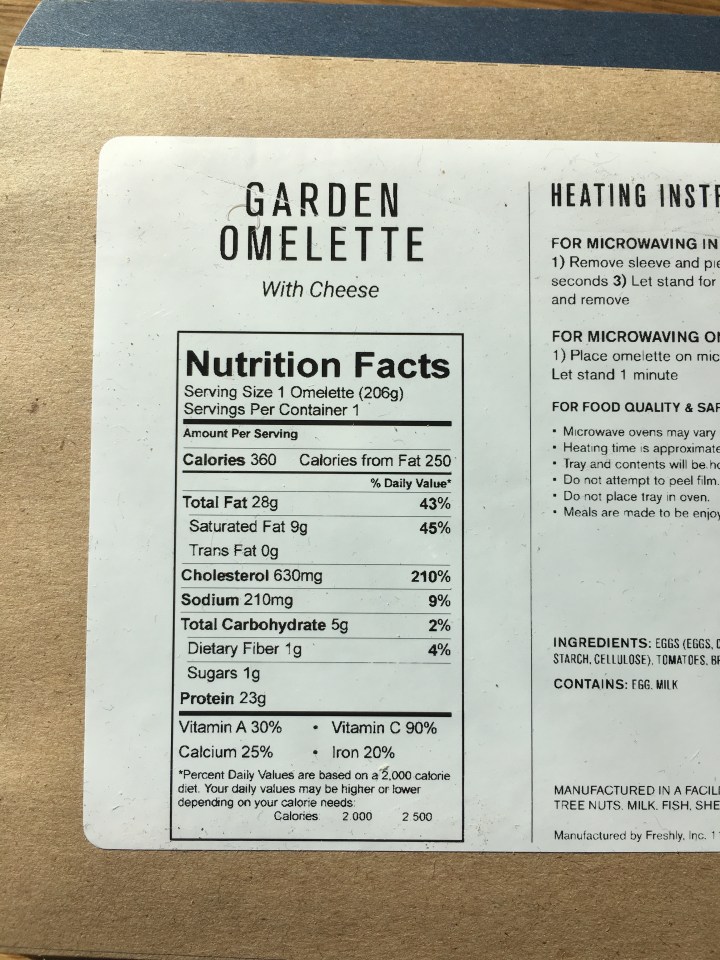 I was inclined to be dubious about pre-cooked eggs, but I shouldn't have been, because this came up reasonably tasty.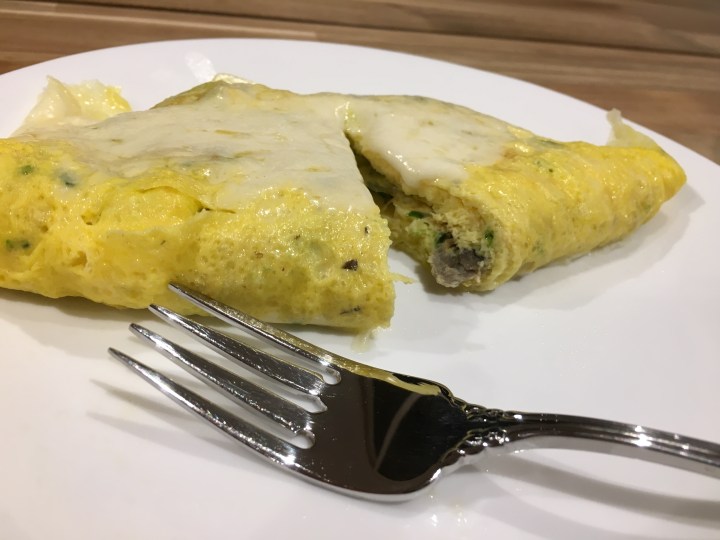 The cheese was good and the veggies were real. It was a great quick breakfast, though ketchup or salt or both would probably have improved it. Qualified thumbs up.
Next up was a round of dinners. Obviously, my whole family would not normally eat individually microwaved meals. But for review purposes, we went with it. And, let's be honest, I was pretty excited about the zero planning, prep, or cleanup required by me.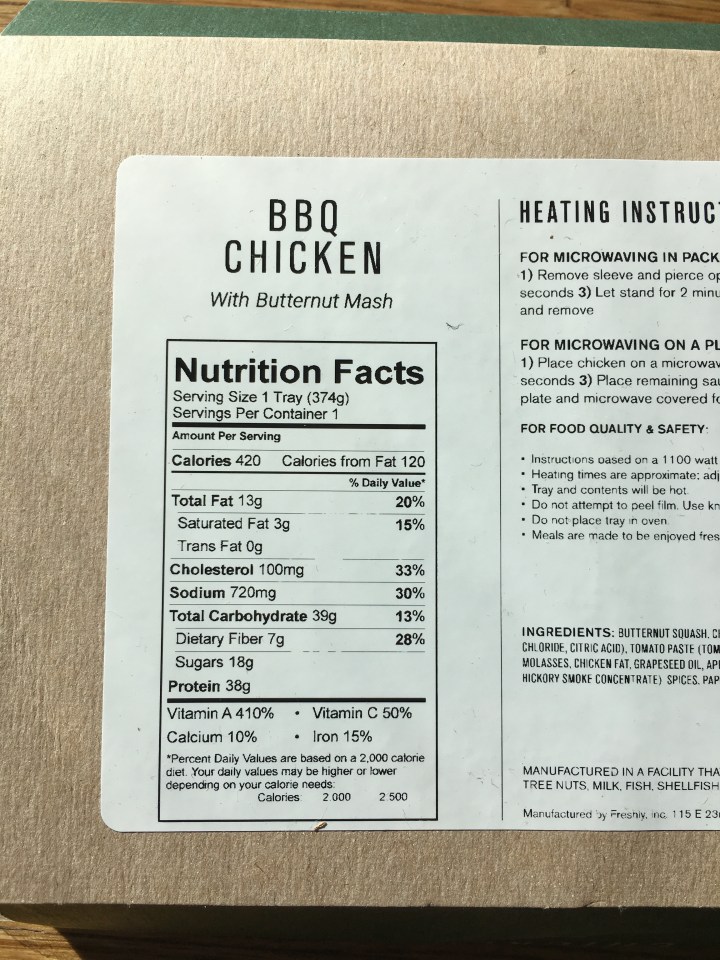 First up, BBQ chicken fo the girl.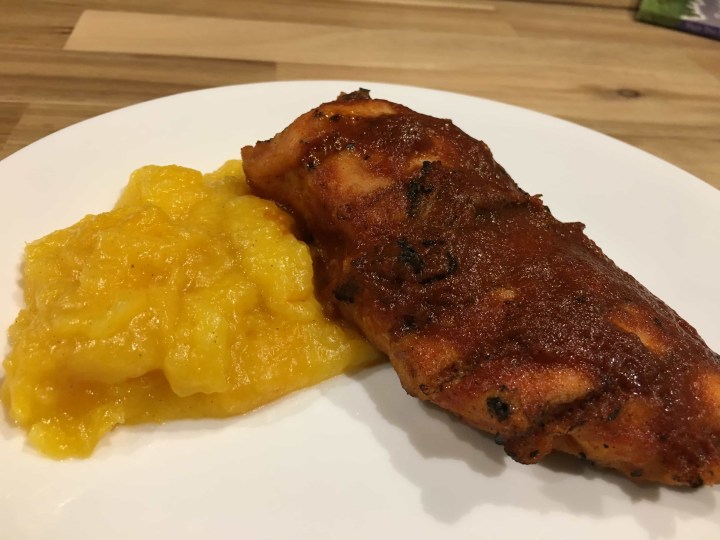 So, this is the Freshly M.O.–protein plus side item. I'd say, of the five entrees, this was the least interesting. The chicken tasted fine and was a sufficient portion, but the barbecue sauce had a somewhat off-putting sourness to it. The butternut squash side was tasty (that would be the butter) but the texture was more of a sauce than a fully-realized side. This one was FINE, because it took 3 minutes to cook and we threw away the box when we were done, but it wasn't our favorite.
I had the next dinner item, the Italian-style meatballs with spaghetti squash.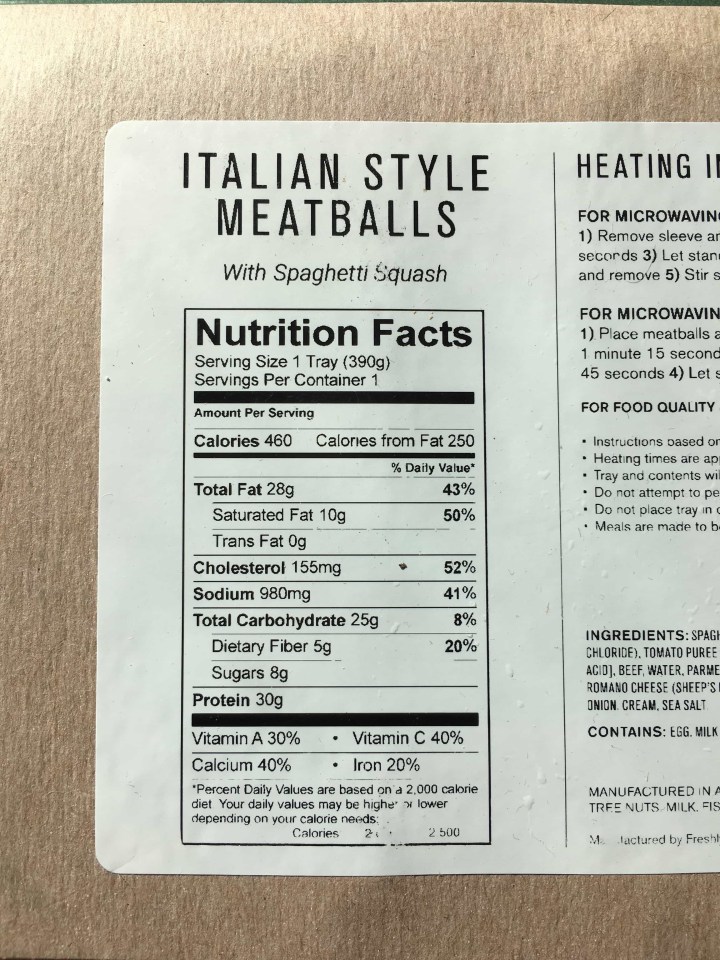 Both my husband and daughter turned their noses up at this because it was spaghetti squash, not spaghetti. The joke was on them, let me tell you. This was AMAZING.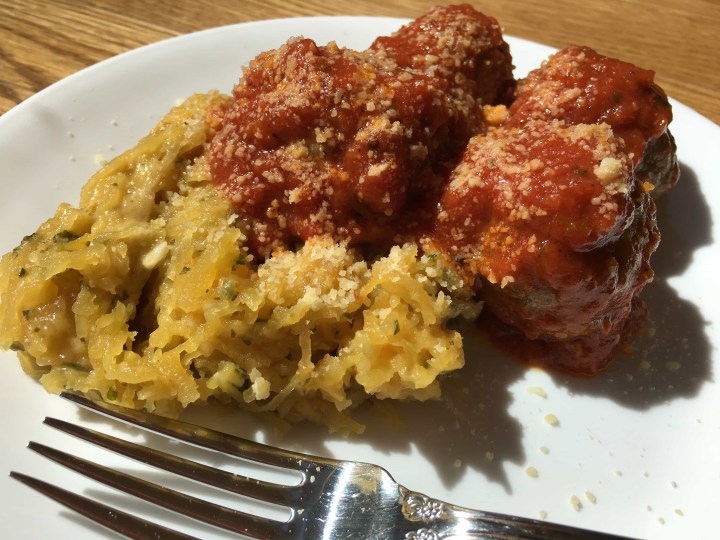 This took 3 minutes to cook/reheat, and everything was hot and perfectly cooked. The beef-based meatballs were tender and flavorful, and the sauce had a bright tomato flavor that you would think was homemade. This meal was high in fat, cholesterol, and sodium, so not exactly an everyday kind of thing, but everything in moderation, I say. And the squash? SO GOOD. It was more like a gratin – full of cheese and butter, but it was delicious and I would eat more of it right this minute. No, you wouldn't mistake it for spaghetti, but it was independently good tasting, and by getting it from Freshly, you avoid the gross stringiness of making it yourself. Big thumbs up.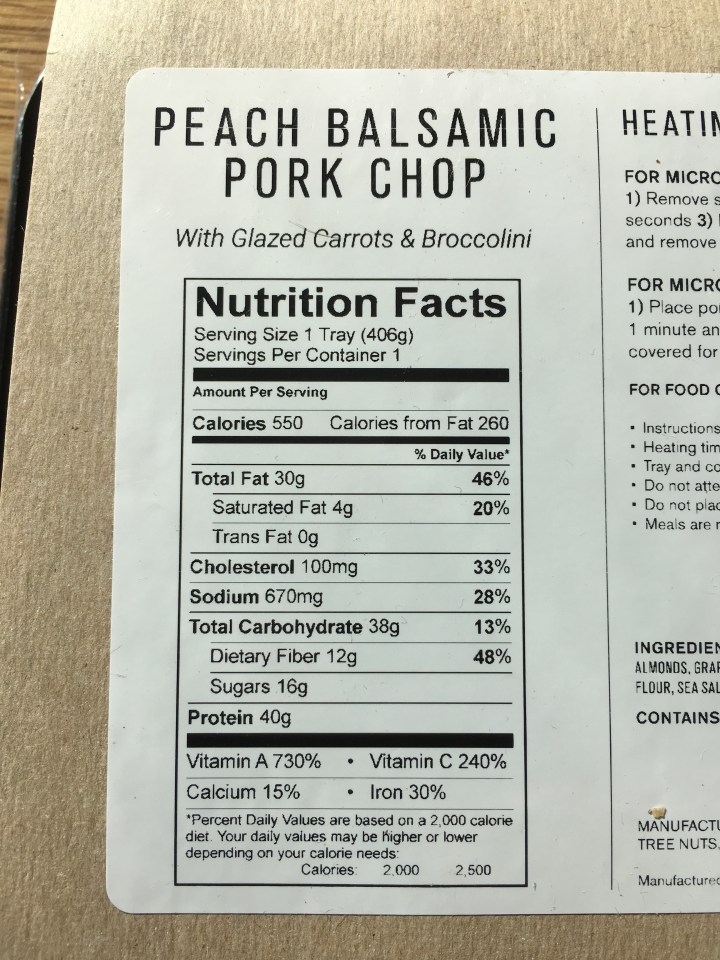 My husband had the Peach Balsamic Pork Chop.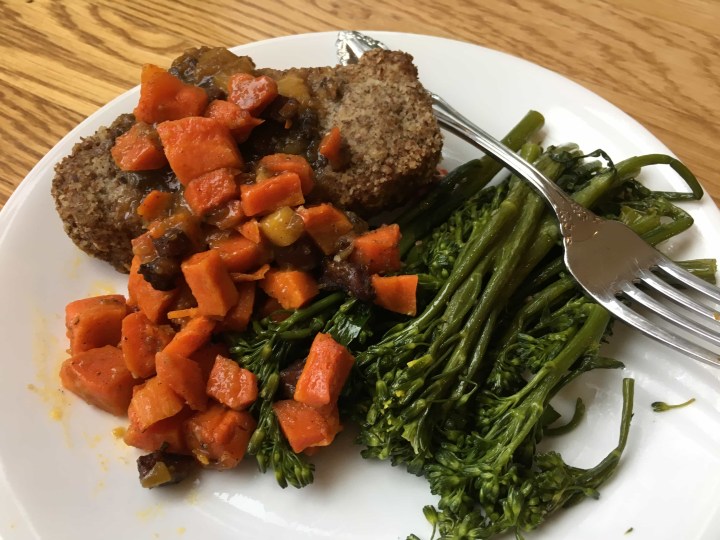 One thing that can be weird about Freshly is that the portion sizes vary a fair amount; they stay in a typical range on calories, but as you can see, this meal was a lot more food than some of the others. Pork is absurdly easy to ruin, and I was a little concerned about the microwaving, but it came up tender and properly cooked. The sauce, practically a separate side, was a touch sweet but complemented the pork well. The brocollini was buttery and delicious. And cleanup, of course, was a snap. This was a good one!
The next day, I had the Paleo chili for lunch.
This is a higher calorie count than typical for me at lunchtime, but the fact that it was low/no carb made me comfortable that it would ward off the 4pm snack urge.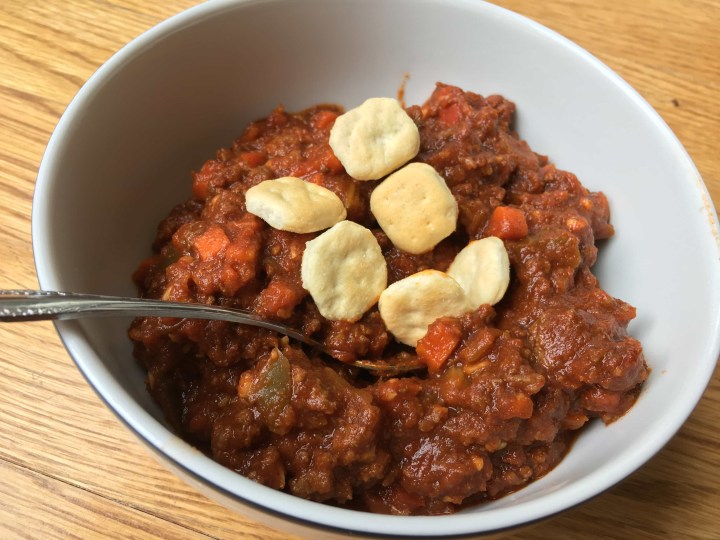 I've had Freshly chili before, but this was a different recipe than what I've tried. No, those non-Paleo oyster crackers did not come with the meal, but chili requires oyster crackers and I don't care if my homo erectus ancestors didn't have a Trader Joe's handy from which to buy them. The chili had a strong chili powder flavor and was mildly spicy. The beans had a nice dark flavor, and the beef was well-integrated. In spite of the chili powder, this seemed a bit on the bland side. Maybe it needed salt, or a pile of cheese and sour cream. One thumb up.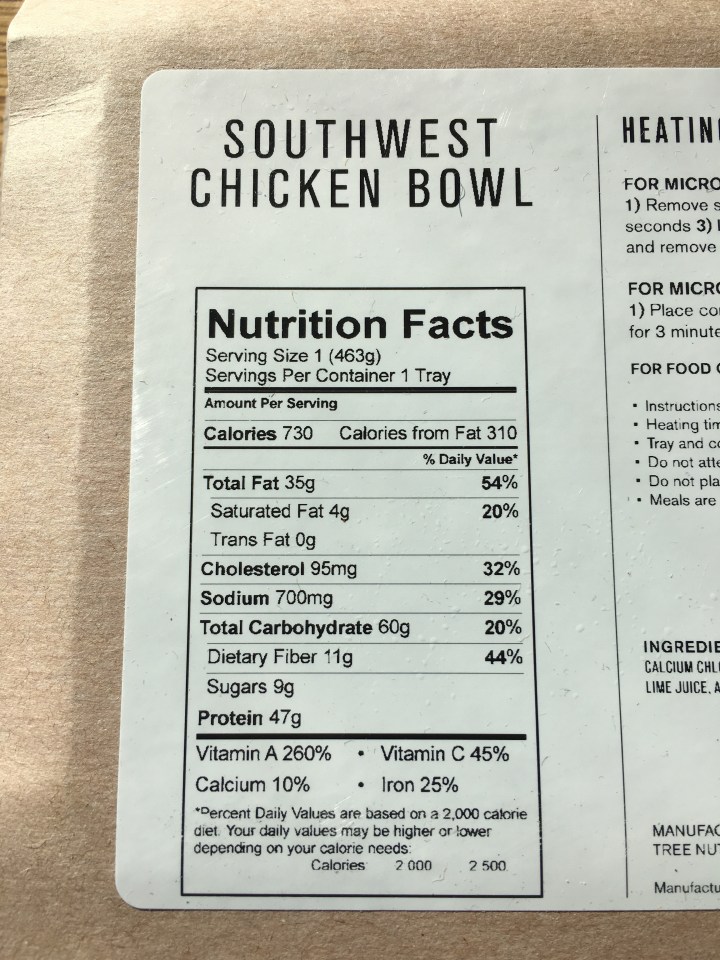 The last meal, which I also ate for lunch, was the Southwest Chicken Bowl.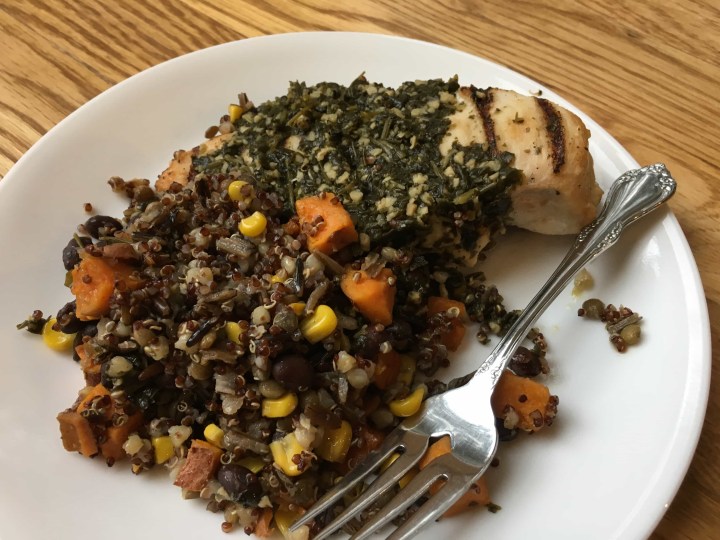 As you can see, this is quite the calorie bomb, presumably because of all the carby rice-quinoa-buckwheat that is included. In spite of that, this one was my favorite. The chicken came up perfect, and the chimichurri-style sauce that accompanied it was super-authentic tasting and really complemented the rice mix. I admit that I left some rice in the bowl, but all that chicken was very filling and this meal kept me totally full until dinner. Delicious! Two thumbs up!
Overall, I was pleased with my Freshly delivery. The food is high quality, tastes good, and keeps you full. And, of course, you simply can't beat the convenience of good food perfectly cooked in 3 minutes. I looked last time I was at the grocery store, and there really is no frozen food you can buy that is a simple and healthy as Freshly's meals.
This would be an awesome subscription for a busy professional who doesn't want to deal with cooking at the end of the day. (It would have been my dream years ago as a young attorney!) It also would be great for bringing to the office for lunch! These meals are designed to last in your fridge for a week.
It's nice to know that healthy choices can be so easy! Have you tried Freshly? Which meal did you like best? Let us know in the comments below!