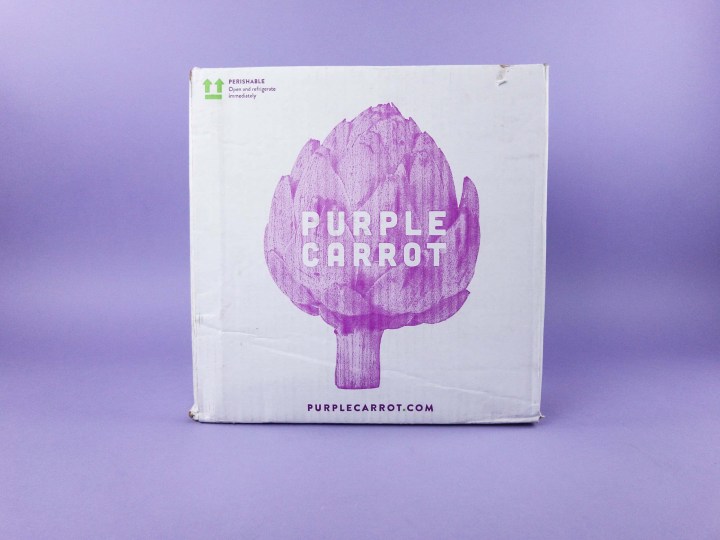 The Purple Carrot is a healthy meal subscription box that delivers raw, pre-measured ingredients and recipes to cook healthy, delicious vegan meals.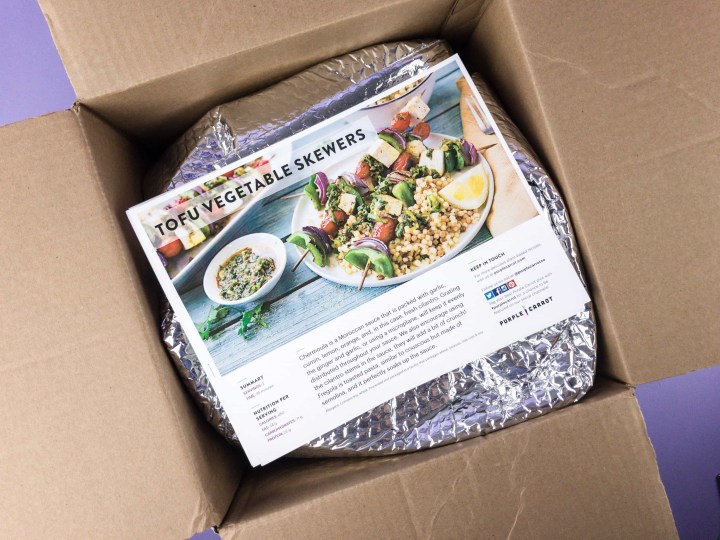 Though this subscription is designed with vegan dietary guidelines in mind, it is ideal for anyone looking to improve their diet by lowering their intake of cholesterol, eliminating animal fats, or boosting their veggie intake!
DEAL: Get $25 off your first order! Use this link to get the deal.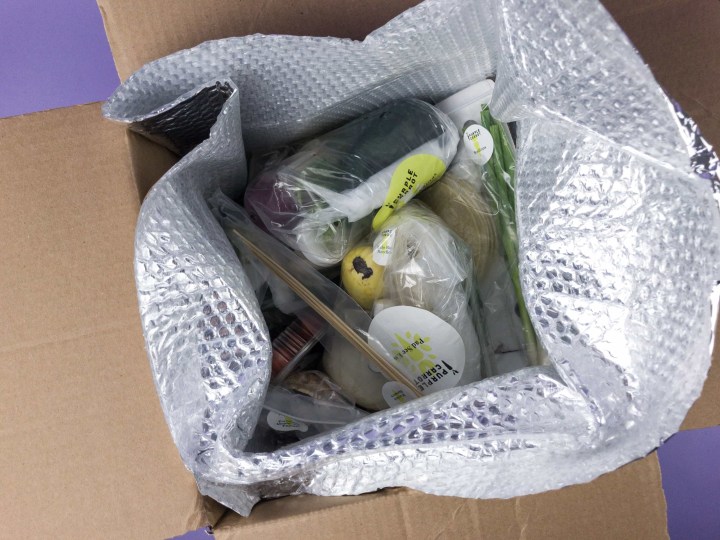 The Purple Carrot insulates the food with ecologically-sound padding.
A few huge icepacks sit below the food, separated from it by cardboard. The veggies are generally in fantastic condition. The only recurring issue I've had with the packaging is the tendency of the self-sealing tab on the large insulated bag to stick to the recipe cards.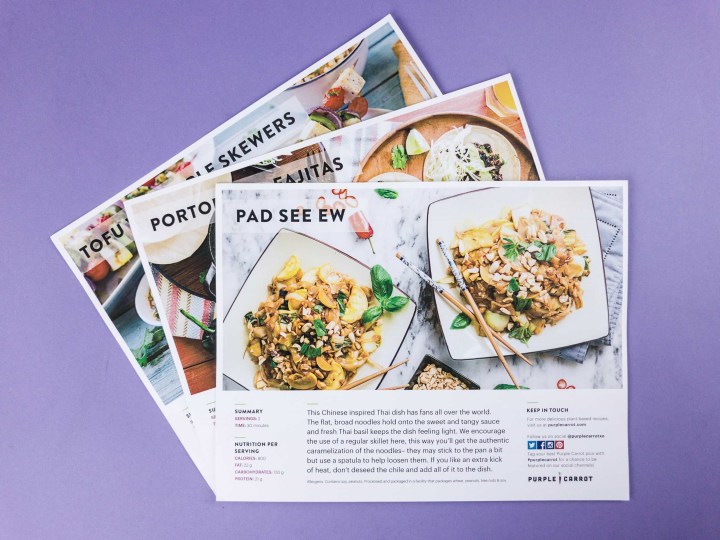 Our three recipes this week. On-card information includes an estimated prep-time, number of servings, and a breakdown of the essential nutrition info (calories, fat, carbs, protein). The carb and protein ratio varied greatly from dish. The pics of prepared food below show one serving, unless otherwise noted.
The recipes are really well designed, with most prep done ahead in a mise en place approach. Any items needed from your kitchen, whether food or cooking vessels, are set out separately. As far as ingredients, only olive oil and salt and pepper are needed. Ingredients are bolded for ease of recognition, and they even put ingredients in red font if they are divided and used in more than one spot in the recipe. Handy tips were worked into the text, like how to tell when a phase of cooking is done by smell or sound. They even have a hotline for phone or email help if you need it!
All our food! The meals are bagged separately, with some large or delicate items labeled in individual packages. Because of the amount of vegetable ingredients used, many items are packed in separate bags. The labels don't indicate which recipe the items go with, so you have to check the cards carefully when corralling your ingredients (maybe this is only an issue for people that obsessively photograph their ingredients, though).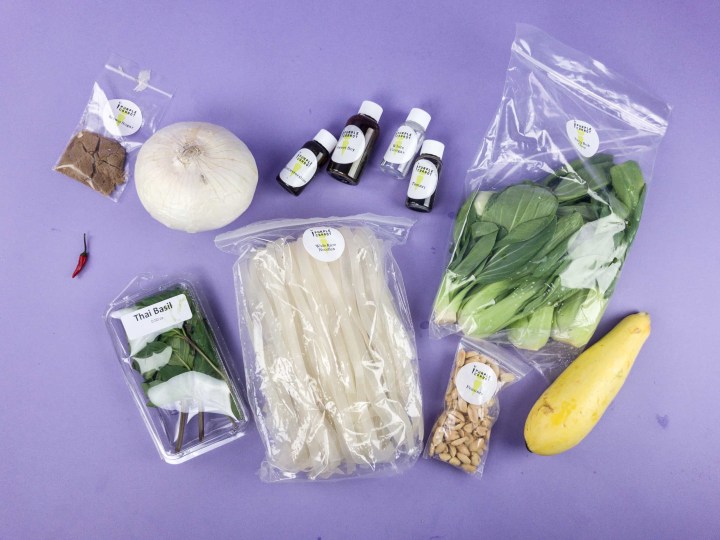 Pad See Ew With Summer Squash & Thai Basil. 30 minutes, 800 calories per serving.
I was amazed at the amount of food this recipe made! Pictured are both servings, but it was still alot of food. The noodles were tasty, but the proportions were a little off – it would have been better with about half the noodles, given the amount of veggies and sauce. The noodles and peanuts provided a bit of protein, but it definitely had the feel of being a noodle dish more than a noodle and veggie dish. Very easy to make.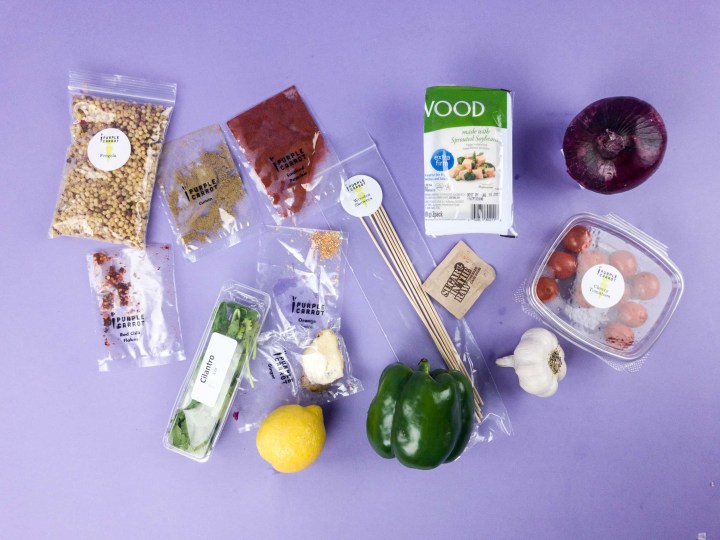 Tofu Vegetable Skewers With Chermoula Sauce & Fregola. 35 minutes, 650 calories per serving.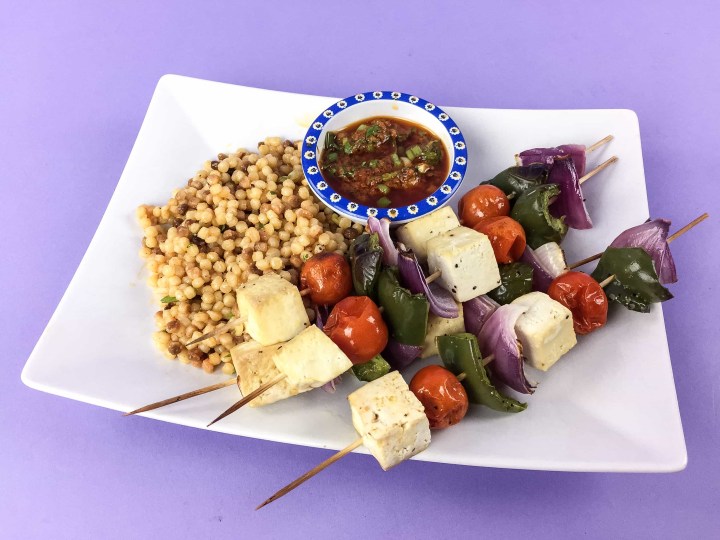 It took a little bit of time to prep and skewer the veggies – a little unnecessary, given that they were cooked in the oven anyway and not on the grill. Nothing was very complicated, though. The sauce was a bit intense. It wasn't overly hot, but the raw onion, garlic, ginger, and paprika made it tough on the tummy. A little cooking would've mellowed it and let the powdered spices plump a bit. The tofu was pretty plain, and it didn't have any seasoning or gain any real texture from the cooking process. The veggies and tofu were good, but I think it would have worked better as a dish to have used the sauce as a marinade instead of as a dip. The Fregola was great – the little bit of sauce mixed in flavored it well, and the texture and nuttiness was superb.
Portobello Fajitas With Black Beans & Poblano Crema. 25 minutes, 740 calories per serving.
I liked this dish quite a bit. The combo of beans and mushrooms made a dense and satisfying filling, and the poblano gave the crema a nice pop of heat. It was pretty easy to make, too – I used a knife and stick blender for the poblanos and it worked fine (the poblanos prepped well with the knife, the blender was really just to get the vegan cream cheese to blend smoothly). We also thought the corn tortillas were good – they weren't as rustic and grainy/chewy as many kinds.
Purple Carrot is a perfect subscription for vegans and vegetarians. I like the effort that has been put into creating creative and coherent vegetarian dishes, not just collections of veggies. It's good for folks who enjoy an occasional meatless meal, too, but they recipes are often very "vegan," in style, so you'll want to make sure you don't have hang-ups about foods like tofu, vegan butter/creams, or tempeh. The ingredients were very high quality, and the recipes were easy to prepare. We still prefer the TB12 Performance Meals (see our TB12 food box reviews), both on flavor and meal composition (protein versus carb balance) but these were pretty solid.