Gobble is a weekly dinner kit subscription box. Each prepped and portioned meal is $11.95 per person at regular price. Gobble currently ships to California, Nevada, Washington, Oregon, Arizona, Idaho, and Utah.
What's cool about Gobble is that they do the prep work for you! Each recipe comes with a high-quality recipe card, side one includes the household items that you'll need to prepare your meal, the contents of each dinner kit and a little bit of trivia. Side two has simple to follow directions that are as easy as one, two three. Gobble promises that dinner prep is only 10 minutes with their kits. That's a really small amount of time to prepare dinner in. All the ingredients neatly packaged with labels and individualized so there is no cross-contamination.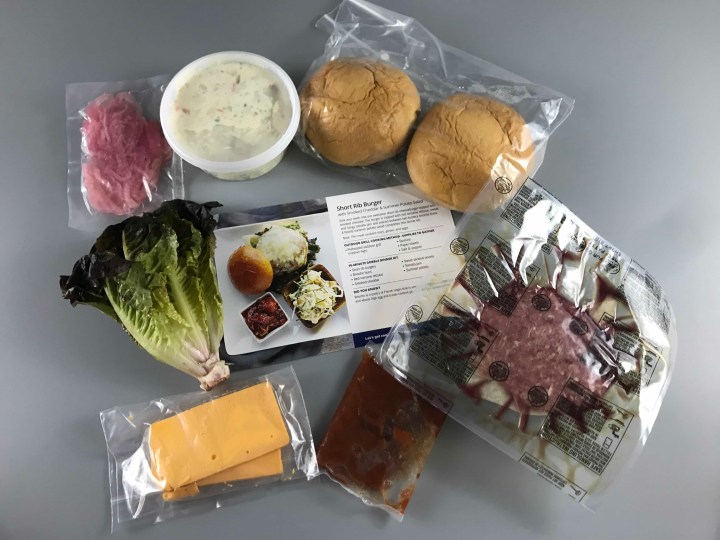 Short Rib Burger with Smoked Cheddar & Summer Potato Salad.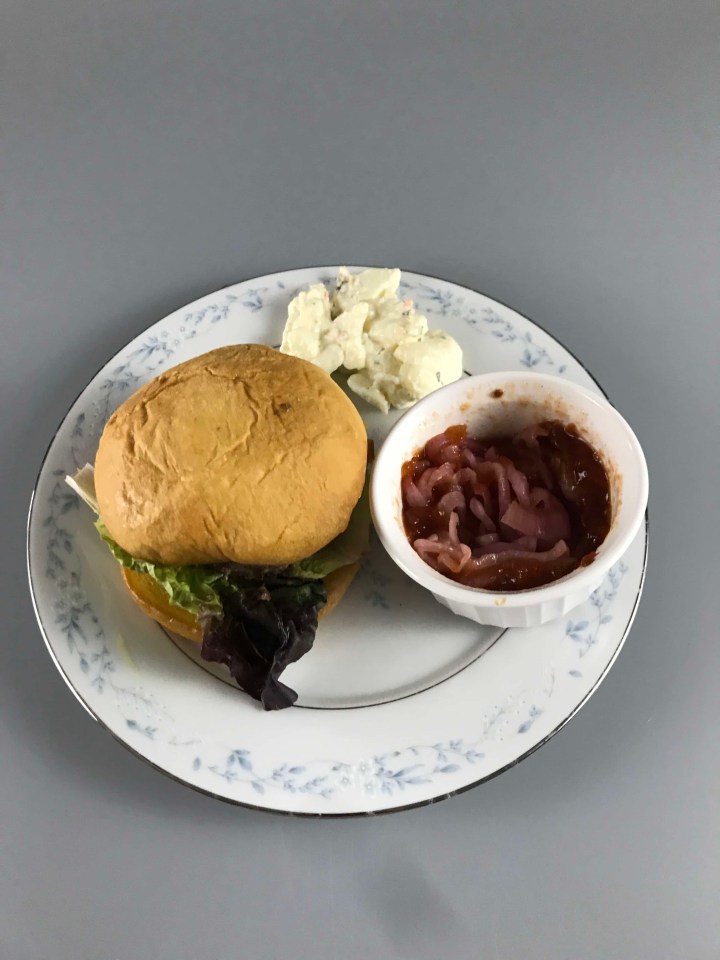 This might be the best burger I have ever eaten, it was tender and so juicy. The potato salad was a great way to round out the meal. I'm not a huge fan of anything pickled so I honestly didn't even try the sweet pickled onions. Now let me say I didn't grill this like the recipe card says because my grill needed propane and I was hungry. But even in the fry pan, I didn't ruin the burger but I should have covered it to get the cheese to melt correctly.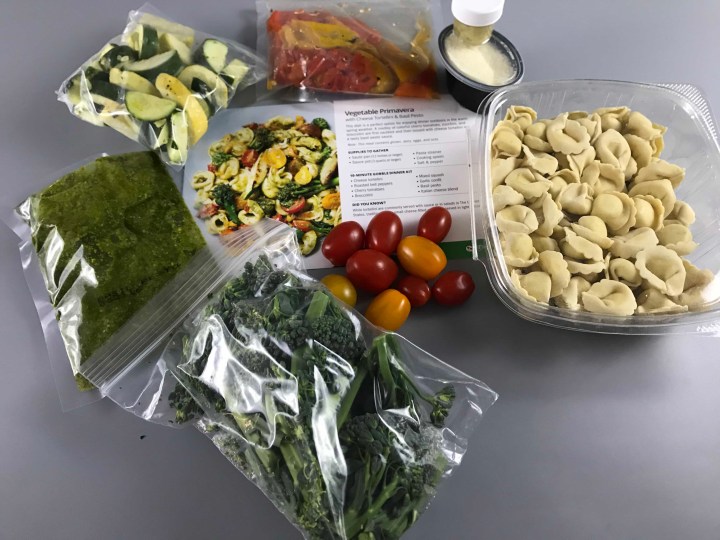 Vegetable Primavera with Cheese Tortellini & Basil Pesto.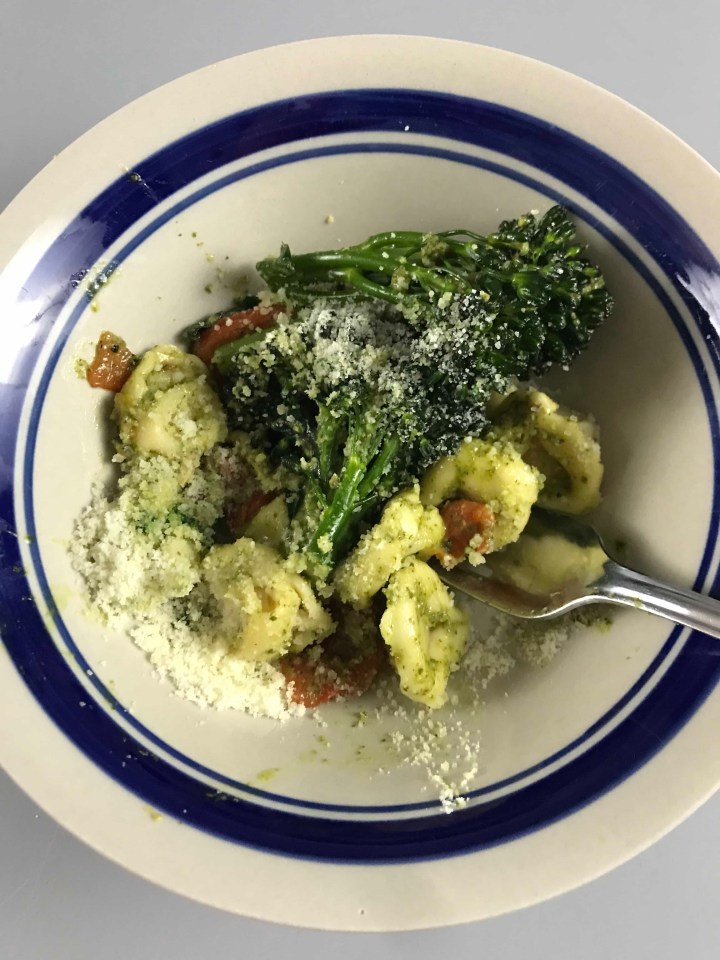 First off, please note the cherry tomatoes never made it to the dish, I don't like warm tomatoes and these tomatoes were so firm and beautiful that I just popped them into my mouth while cooking. I love dishes that are easy to toss together and this was great! Not too heavy on the pesto sauce but extremely heavy on the veggies and Italian cheese blend. It would be easy to stretch this meal by adding some cooked chicken for a kick of protein. I ate it cold for lunch the next day and fell even more in love.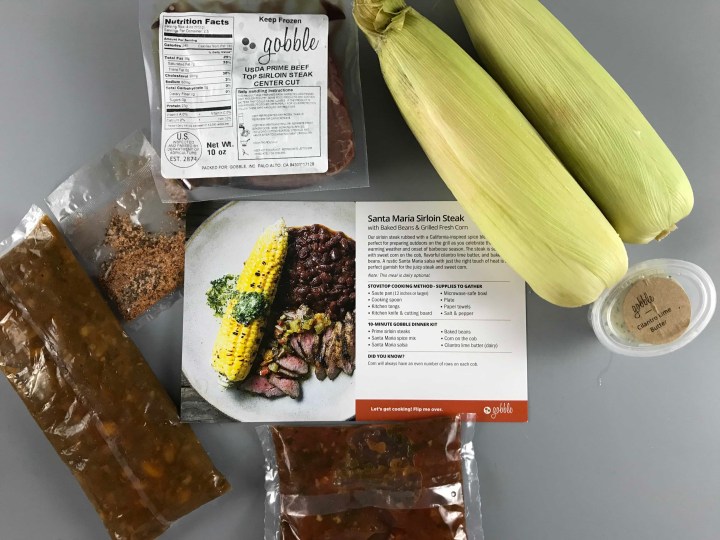 Santa Maria Sirloin Steak with Baked Beans & Grilled Fresh Corn.
The steak was perfect, rare in the middle and super juicy. Paired with the spicy salsa it was a wonderful mixture of flavors. The baked beans were touched with just enough sweetness that they made my mouth water. Unfortunately, I saved this meal for last and my corn was going bad. It would have taken more than half the ear of corn to get something edible so I opted not to chance it. I really should have known that such a delicate veggie should have been cooked first.
Gobble makes dinner time a stress-free and hassle free time in my home. I love knowing that with just 10 minutes I can make a well balanced delicious meal the entire family will tolerate. The easy to follow directions are great for cooks of every level. My 13-year-old daughter feels like a gourmet chef when she makes the Gobble dinners for me. The best part of this subscription in my opinion are the high quality vegetables. I can't wait to select my meals for next month… I'm thinking more meals on the vegetarian side.